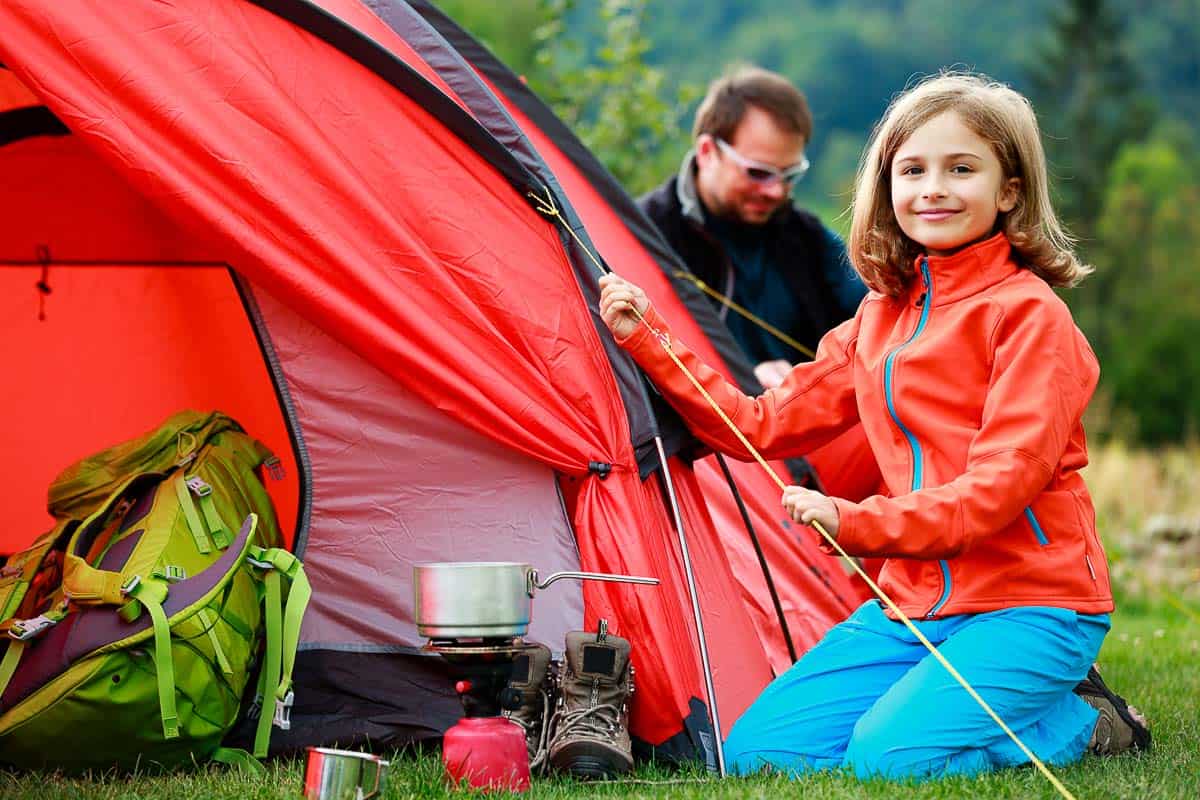 Are you on the hunt for one of the best family camping tents?  Not sure what to look for or even what to consider when purchasing one of the best tents for family camping?  Well you have come to the right place because in this best family tents 2020 guide I am going to take you through everything you need to know to purchase the best family tent on the market to meet your families needs, to ensure you have stress free family camping trips for years to come.
A tent is a camping essential and over the years we have purchased numerous so called top family tents only to find that they didn't meet our families needs in one way or another.  Like most families, we started with what we thought was the best budget family tent only to find the quality wasn't up to standard.  We then went to what the guy at the local camping store recommended as the best large family tent only to discover it took far too long to put up and was just too big for what we needed.  We are now onto our third tent and finally what we feel is the best 3 person camping tent for us (we are only a family of 3!)
After buying several top rated camping tents which turned out wrong for us, I feel we are somewhat experts now in helping others decide what the best tent to buy is.  In this best family tent 2020 guide, I will take you through the various questions you need to ask yourself so you can determine what's the best tent for you.  In these family tent reviews, I look at some of the best tent brands for a family camping tent as well as compare the various features of a range of top rated family tents.
The best tent for family can mean different things to different people, so whether you are after the best quality family tents, the best large camping tents, the best small family tent or even the best value family tent you will no doubt find what you are looking for in these best tent reviews.
This post may contain compensated links.  Please refer to my disclaimer here for more information.
Our Pick for the Overall Best Family Tent 2020: Coleman Instant Tent
Don't have time to read the complete guide to the top 10 family tents?  Our recommendation for the best tent for camping with kids is the Coleman Instant Tent.  We think this is one of the best rated family tents because not only is it one of the easy tents to put up, given it literally goes up in minutes, but it is a high quality durable tent that will protect you in a range of weather conditions.  This is the tent we go camping with and just love it!  Click here to check it out on Tentworld  or
See below for our full review on the Coleman tent as well as our video showing you around our very Coleman Instant Tent further below in the best tents 2020 guide.
Comparison Chart For Best Family Tents 2020
Check below for a quick overview of the top ten camping tents we recommend for families as well as their various features.
Things to Consider when Buying the Best Tents for Families
So what's the best tent for camping with the family?  Unfortunately, there is no such thing as the best tent in the world or the best tent ever.  A tent that suits my family may not be well suited to your families camping needs.  To purchase a tent that you will just love, consider the following questions.
What size is the best tent for family?
First things first, just because a tent says it is a 4 person tent, does not mean it will be the best tent for family of 4.  Basically the number specified on the tent describes how many people can sleep side by side in sleeping bags, without any room left over for any personal belongings.  So a 4 person camping tent, means side by side 4 person can sleep here – but it's probably better suited to 2 or 3 people.
In terms of the best tents for families, in my view, you should look for a tent that states it will fit at least an additional two people than you require it to.  So for example a family of four should look at a six-person tent. 6 person family size tents will give you room for bedding as well as some space for your personal belongings.
Unfortunately there is no standard sizing between any of the top rated tents, as they come in all shapes, sizes and designs.  Use the following information as a basic guide:
2 Person Tent: Suitable for 1 or 2 people with limited space for belongings. Average sizing is between 2-3 m in length, 1-1.5 m in width and 1-1.5 m in height.
4 Person Tent: Suitable for 2-3 people with a small area for belongings and to move around. Average sizing is between 2.4-3.5 m in length, 2-2.4 m in width and 1.2-1.9 m in height.
6 Person Tent: Suitable for 3-4 people with a small area for belongings and to move around. Average sizing is between 3-3.5 m in length, 2.5-3 m in width and 1.7-1.9 m in height.
8 Person Tent: Suitable for 5-6 people with a small area for belongings and to move around. Average sizing is between 4.2-4.7 m in length, 2.4-3 m in width and 1.8-2.1 m in height.
10 Person Family Tent: Suitable for 7-8 people with a small area for belongings and to move around. Average sizing is between 4.2- 6 m in length, 2.7-3.5 m in width and 1.9-2.1 m in height.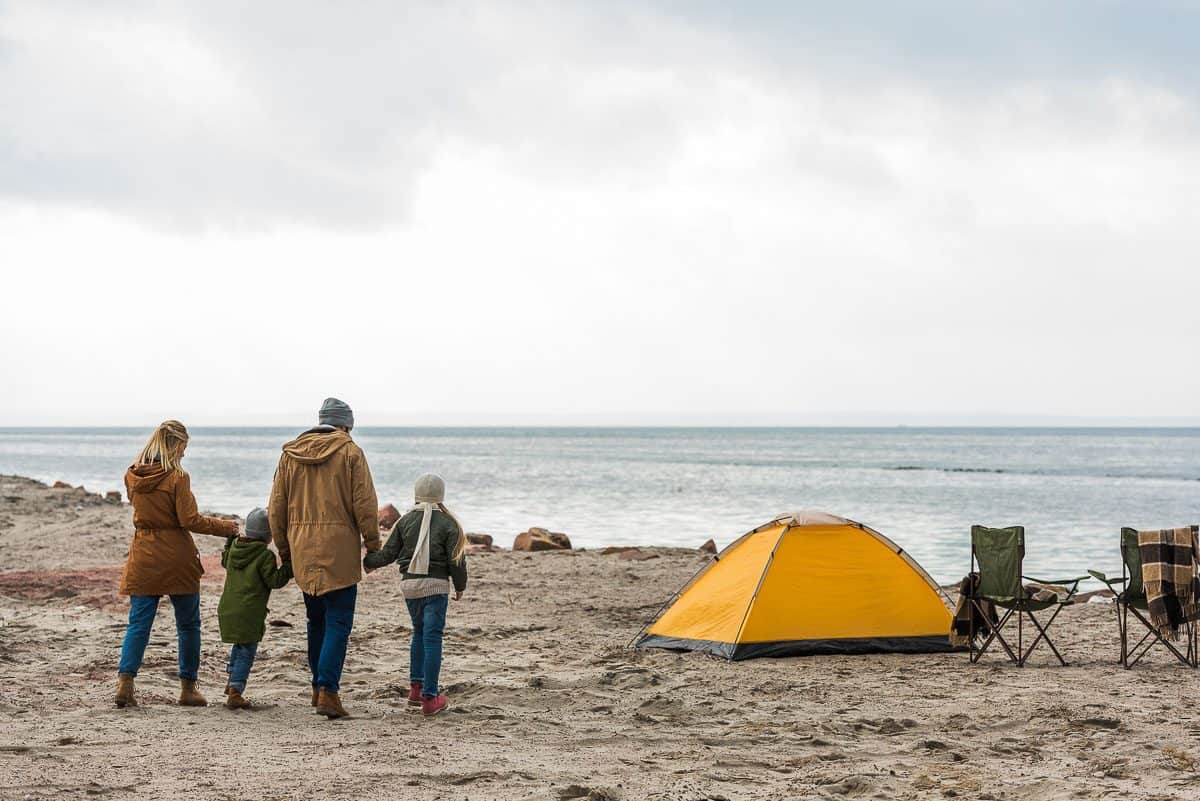 What is the best layout for tents for camping?
The best rated tents for families come in all different shapes and sizes.  The general layout is one or two internal rooms with an external canopy.
Personally I am of the view that a tent is for sleeping in and so a single room tent is what I recommend as the best camping tents for families.  If you don't have an additional outside shelter area, I would also recommend looking for a tent which has an external canopy giving you some shelter to sit outside.
However some families prefer to have a separate sleeping area for the parents and the children, in which case you will want to look for a tent which has two rooms.  Just keep in mind that the bigger the tent, the more rooms, the more expensive as well as more complex and timely to put up.
Should I be able to stand up inside?
For me, the top rated tents for family camping are the ones you can easily stand up in.  Of course this adds to the weight and cost of the tent, but for me, it also adds to my overall camping experience.
However if you are a family who is moving around a lot on a road trip, pack size and weight may matter more than standing room.  In this case, one of the best dome tents for camping will do the trick.
I have included the height of all the 10 best tents in this review, so consider the tallest person in your group and the tent height before deciding whats the best tent to buy.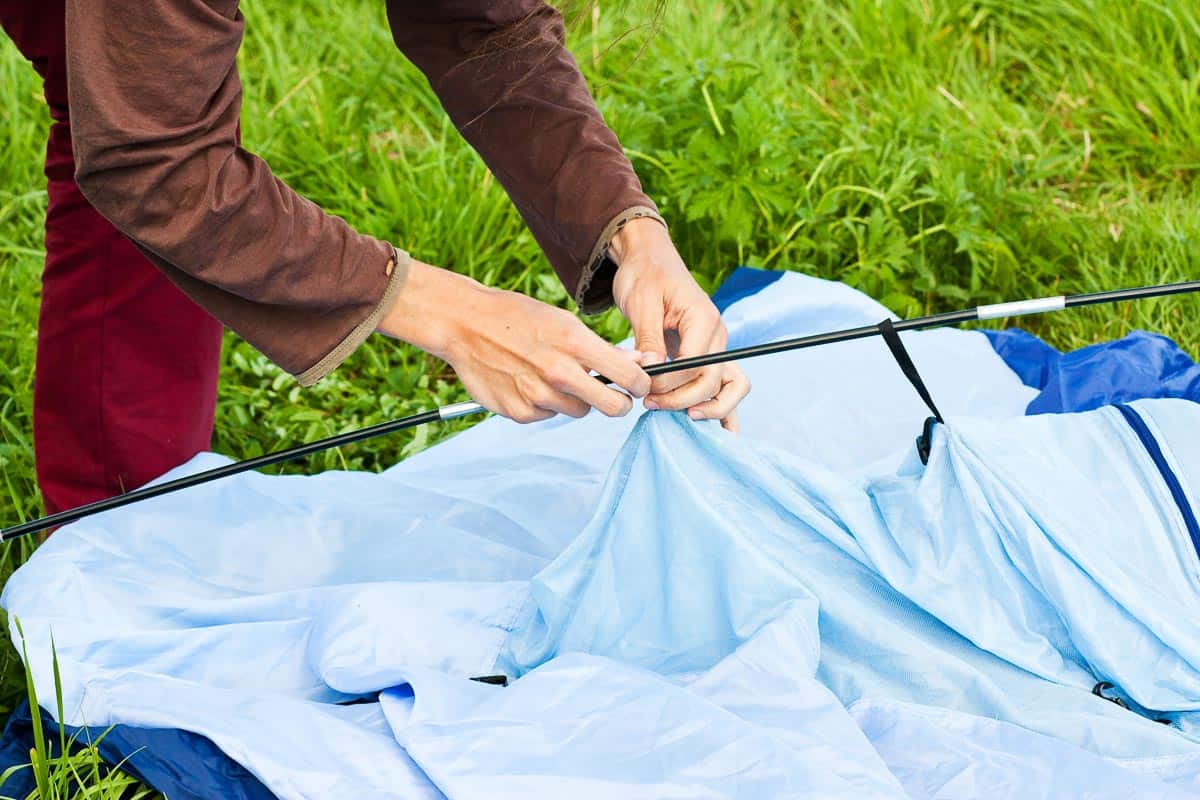 How long will it take me to put up the tent?
The best tents for sale are the ones that are quick and easy to put up as well as takedown.
Usually the smaller the tent, the easier and quicker it is to erect.  Some of the best big family tent options could take you a few hours to both setup and takedown.
If you are like me and want a tent that goes up as quick as possible, then I highly recommend you consider one of the best instant tents for camping.  As mentioned above, we have one of the top rated instant tents, and I honestly don't think I would ever camp with anything else.  The best easy set up tents go up in minutes, and while they do cost a little more than the traditional style tents, for me they are worth every penny.
What quality should I look for in a tent?
Are you after one of the best quality tents or will one of the best value tents for camping do the trick?  If you only camp one or two times a year, in similar seasons, a cheaper tent may be all you need.  However if you intend to camp many times a year and want a tent that can withstand the harshest of weather, I'd suggest the best tents to buy will cost you a little more.
Spending a little more gets you premium quality materials that are stronger, cater for all seasons and tend to have a longer lifespan compared to even the best cheap family tent. The best quality camping tents tend to have generous use of mesh in the tent body, which ventilates well in warm or muggy weather, and built-in vents in the rainfly help keep moisture from collecting on the inside. Most of these best made tents can withstand wind and wet weather very well, so are ideal if you are after the best waterproof family tent. Nearly all top quality tents have a full-coverage rainfly (or at least the option) and a sturdy pole design; these features make premium quality tents the best rated camping tents.
Typical budget tents use heavier fabrics, which make them bulky and adds weight, but they're also durable and resist moisture. However, weather resistance is their downfall so if a storm blows in, often, even the best budget camping tents leak. If camping is a new thing or you keep it casual in the summer, one of the best affordable camping tents will serve your needs just fine. Just don't expect a great outcome if the weather turns bad.
Are you looking for the best sleeping bags for your family?  Click here for our guide on the best sleeping bags for cold weather camping, or here for the best lightweight sleeping bags for backpacking.
Top 10 Best Family Camping Tents 2020

If you are looking for the best family instant tent, with a single room that you will have set up in minutes, the Coleman Instant tent is for you.  We have this tent and love it!!  This particular model comes in a 4 person, 6 person, 8 person and 10 person option.
Honestly, for me the best tent makes are the instant tents, and no one does it better than Coleman, one of the best camping tent brands around.  This particular instant tent has pre-attached poles that make setting up camp as simple as unfolding, extending, and securing by clicking and locking the poles into place. You will have this tent up in 1-2 minutes, so you can get on with enjoying your camping experience.  In fact this tent is so easy to assemble that one person can do it.
This one piece best quick tent also has an integrated vented rainfly which provides extra protection from the rain and improves airflow. The 4 person option is slightly larger and at 6.9 kgs heavier than many instant 4 person tents on the market, so it's not recommended for the avid backpackers but certainly is the best 4 person tent for family campers who will have their vehicle close by.  With a floor area of 2.4m x 2.1m, you will easily fit a double and a smaller mattress in this tent with enough room left over for your personal items.
Other features of this best 4 man tent include single entrance, height of 1.5 metres, built-in vented rainfly, reflective guy lines for greater visibility at night, two storage flaps inside to store your belongings and welded floors and inverted seams to help keep water out.
Coleman is one of the best tent brands around, and this instant tent is undoubtedly one of the top camping tents for families.  If you are a small family of three (like us) or a couple and want to spend more time in the great outdoors then putting up your tent, this Coleman Instant Tent is an excellent choice for you.  If you're a family of 4 or 5, consider getting the 6 person family tent.
Check out our video below showing you around our tent and click here to check the current price of the Coleman Instant tent on Tentworld or 
For families that need a bit more space, check out the 10 person Timber Ridge Tent, one of the best large tents on the market.
Made from polyester material and a breathable design structure with inner mesh and a floor area of 4.3m x 3m and high ceilings, this large family tent will comfortably fit a family of 5-6 people with plenty of room to move about and store all of your belongings.  If you are a family that likes to keep the parents separate from the kids or travelling with a group of friends, you will love the room divider for the added privacy.
The mesh body ensures a bug-free experience and aids in the great ventilation this tent offers. There is a large 2 D shape door at the front of the tent for ease of entry and exit among the group, and an internal hanging storage department that will help to keep everyone's belongings organised, tidy and easily accessible. For maximum ventilation, this tent also includes five large windows as well as a removable top.
While not as easy to put up as the previous Coleman instant tent, this tent is still reasonably easy to assemble, and the average camper should have this tent up in around 20-30 minutes.
If you are after the best prices on tents that a reasonably large, you can't look past the Timber Ridge one of the best rated camping tents for mid to large families.
Click here to check the price and to read more reviews or
The Coleman Red Canyon 8 person tent is perfect for families who require separate rooms for privacy, store extra camping gear, or separate sleeping children.
This Coleman tent is well suited to families of up to 6 people.  With a floor area of 5.1m x 3m and a height of 1.8m, there is plenty of room to sleep, move around as well as store your belongings.  Families will love the ability to split the tent into three separate rooms which are a great option to have for families with teenagers wanting their own space or for putting younger children to sleep at different times.
This tent comes with Coleman's exclusive Weathertec System that includes a protected seam, wind-strong frame, zipper protection and waterproof floors. All this ensures you will be protected from all kinds of weather conditions, including unexpected heavy rain and windy conditions. It also has a Cool-Air and Variflo adjustable venting system that will allow you to adjust the airflow and let a breeze inside in much warmer weather.
Another great thing about this tent is the super easy and quick setup (usually under 30 minutes) with the instructions that are so easy to follow with the shock-corded poles.
This is one of the best value tents from Coleman that is relatively easy to put up, giving you and your family plenty of room to comfortably move around inside while knowing you will be protected from all weather conditions.
Click here to check the price or
The Coleman Sundome 6-Person tent is a great option to comfortably fit a family of 4 and protect the family against a range of weather conditions.
With a height of 1.8m and 3m x 3m floor space, there is plenty of room for everyone to sleep comfortably and store their belongings without feeling cramped and unorganised. The dome design makes for a super quick and easy setup (around 10 minutes), meaning you won't waste half your first-day camping setting up the tent. It is also made with a durable frame and snag-free Polyguard fabric for long lasting use.
The WeatherTec system with patented welded floors and inverted seams fight to keep water out, making it waterproof in very wet weather, and the Insta-Clip pole attachments protect against strong winds. There is also a floor vent, half-flysheet and large windows to open and easily cool the tent down in warmer weather.
Other great features of this tent are the internal organiser storage pockets, Rainfly awning for shade and rain protection, and a one-year limited warranty.
Overall, this is a great tent, available in green or navy colour, that is super quick and easy to get set up and comes in various smaller sizes if you are looking for a 2, 3 or 4 person tent instead.  If you are after the best waterproof tent on a budget, definitely consider this tent.
Click here to check the price and to read more reviews or

The Mountain Trails Grand Pass is a 10 person dome style tent that would comfortably sleep a larger family of 8 people as well as store their extra camping gear.
Made from nylon with a height of 1.9 m and a floor space of 3 m x 5.5 m, this best dome tent offers families plenty of space to move around as well as the luxury of comfortably standing up inside. This is the largest tent in our reviews, and it has two separate rooms so you can easily sleep kids in one end and parents in the other. The two large D style doors with inside zip windows provide easy access to both ends, and the large removable mesh roof vents and windows provide excellent ventilation in the hotter climates.
This tent also has a Shock-corded fibreglass frame with a pin-and-ring system for super easy and quick setup. You can spend extra time exploring your new camping spot on the first day instead of wasting hours getting the tent set up.
Other great features of this best 8 person tent are the reinforced polyethylene floor with welded seams and the Stow'n'Go duffel system making it easy to grab the tent quickly for those spontaneous last minute camping trips.
Various camping tent reviews report that this is a fantastic tent for larger camping groups or families and is super easy to set up with heaps of room inside.
Click here to check the price and to read more reviews or
The Wenzel 8 Person Klondike Tent is a great tent for families of 4-6 that want the extra inside space as well as good weather protection.
This tent is made of weather-repellent polyester with polyurethane coating with double-staked power corners, making it extremely weather resistant to any kind of weather. The option of having the full mesh roof and 2 mesh windows is a great bonus as in warmer weather you can let a breeze in while keeping the bugs out and the zippers, threads and webbing have been treated with supreme water repellency applications.
This 2 door tent has a floor space of 4.9m x 3.3m, and the height is 1.95 metres giving you plenty of room to move around freely inside. The fully screened area of the second room can easily be used as a sunroom, picnic room, activity room or somewhere to keep all your gear so they main sleeping area doesn't become too crowded.
Another great feature of this 12.3kg tent is the double-stitched lap-felled seams that help to increase durability and provide a shingle effect against water.
Overall, this is a great choice of tent when camping with family and friends and is available in blue, green or grey/taupe colours.
Click here to check the price and to read more reviews or
The Hui Lingyang Outdoor Instant is a great tent for a family of up to 2-3 people who enjoys being able to take off on an adventure and have a super quick and easy tent setup.
With this pop-up tent, there is absolutely no need to fumble around with tent poles or pegs and worry about remembering to pack the instructions as this tent pop's up on it's own when you take it out of the packet in a matter of seconds. All you have to do at the end of your trip is fold it back down into the portable bag, and it's ready to be popped out again on your next camping trip.
With a height of 1.3 metres, floor space of 2m x 2m and 2 double doors, there is more than enough room to move around comfortably inside the one main room. Made from water resistant, PU coated polyester with durable seams and sturdy zippers; you know that this instant tent with 2 double doors will withstand all different types of weather and last you on many camping trips to come.
Other great features of this 3.67kgs tent are the mesh windows, ability to turn your windows into a rainfly, and the limited 1-year warranty.
This is a fantastic instant tent available in army green, blue, blue-37 and yellow, for anyone wanting a super easy and quick tent to set up.
Click here to check the price and to read more reviews or
If you are in the market for one of the best big tents for a large family as well as having plenty of extra room for storage then the Browning Camping Big Horn is one you cannot look past.
Made at an oversized size with a floor area of 3m x 4.6m and height of 2.2m, this tent with two separate rooms and 2 doors is perfect for a family or group of 6 people. The freestanding design with fibreglass poles and steel uprights to offer extra strength and support, along with the extra tall centre and straight walls, offer maximum inside space making everyone feel spacious and comfortable.
You will be able to receive ultimate ventilation during hotter climates through the 2 large doorways, 6 windows and the mesh roof while knowing that all the nasty bugs will be kept outside your tent.
This tent is a lot heavier than others in these reviews at 15.4kgs but offers other great features such as the mesh storage pockets, guy ropes, polyester fly, and steel stakes.
This is one of the best tents on the market for a large family and is available in brown and taupe colour.
Click here to check the price and to read more reviews or
The Lightspeed Outdoors Ample Instant Tent is a perfect sized tent for a small family of three people who want an easy and quick to set up option.
This tent is ideal for the family on the go or looking for a tent to go hiking with.  This is the smallest tent in our reviews, and at only 10 lbs, this is a super light tent, and despite having no rainfly, it offers plenty of protection from the elements. This tent is super easy to set up with the integrated poles, which makes taking down the tent a speedy process. It's a simple pop up system which will have your tent up in seconds.  The over sided carry bag makes putting your tent away a breeze too.
This tent has waterproof 2000 mm PU coated walls and a poly oxford bathtub style floor to protect from dampness and moisture.  There is an extended vestibule as well as 4 ventilation points with see through mesh and a large D shaped door.
This is a great no-fuss tent perfect for family camping all year round.
Click here to check the price and to read more reviews
This tent from Core 6 is the perfect tent for backyard slumber parties or a quick camping trip and would comfortably fit 4 people.
The Core 6 is an instant tent that is an absolute breeze to set up. It has a pre-assembled steel pole system and super easy to follow instructions that allow this tent to be set up in under 60 seconds! You can literally count out the seconds as it is being set up and the front D style doors make entry and exit from the tent super easy too. This tent weighs 10.34kgs, so it isn't too heavy to carry around if you need to get to your camping spot on foot.
The height of this tent is 1.8m giving you plenty of room, to stand up comfortably and the floor space is 3.3m x 2.7m leaving plenty of room in the one main room for all your camping gear as well as 2 inflatable mattresses. It also features CORE H20 Block Technology and an adjustable ground vent, as well as an advanced venting system that uses the adjustable air intake vent that is designed to draw in cold air from the ground and the mesh ceiling helps hot air to escape for good ventilation in warmer climates.
Other great features of this tent are the water repellent fabrics, active bead technology, sealed seams and rain resistant doors for added protection against wet weather, and a lantern hook, large wall organiser and an electrical cord access port.
This is a fantastic tent available in green or grey, and that would suit camping trips all year round and in any weather conditions and is also available in Core 3, Core 4, Core 8, Core 9, Core 10 and Core 12 if you are loving this tent but require a different size.
Click here to check the price and to read more reviews 
Australian readers, please check here for current pricing on this tent.  However please note this model is a 4 person tent
Disclaimer: Thrifty Family Travels is a participant in the Amazon Services LLC Associates Program, an affiliate advertising program designed to provide a means for sites to earn advertising fees by advertising and linking to amazon.com and its partners. Amazon and the Amazon logo are trademarks of Amazon.com, Inc. or its affiliates. 
Affiliate advertising is used throughout this site. These affiliate ads allow me to earn a small commission on any bookings you may make but they do not incur any extra cost to you.
Do you want to keep this handy for later? 
Click on one of the images below to save it to Pinterest.