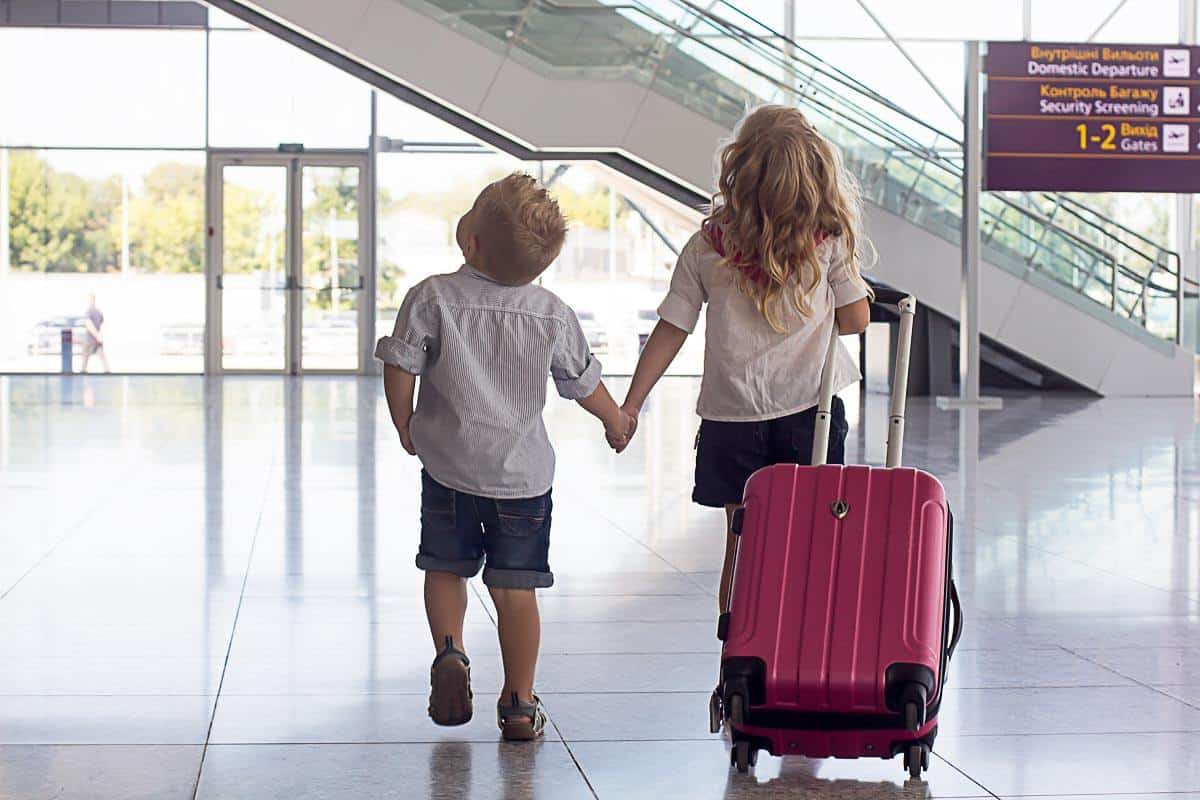 Having the best kids suitcase can make life so much easier getting through busy airports. Whether you've got your hands full with a baby, or you just want your child to start being responsible for their own luggage.
But what makes the best kids luggage? There are a lot of different options out there, so how do you decide?
If you want to buy the best children's luggage, then you'll find this article super helpful.
In this guide, I'll take you through everything you need to consider step by step to ensure you purchase the best children's suitcase. I will help you understand the importance of size and weight and a range of other factors such as wheels and handles. Lastly, I'll take you through some of the top-rated kid's travel bags from some of the best brands, so you can purchase luggage that is perfect for your child.
Whether you are looking for a kid's hard suitcase or soft, a kid's large suitcase or kids carry on luggage, top of the line kids rolling suitcase or just cheap kids luggage, no doubt after reading this guide, you will be well on your way to finding the perfect kids luggage bag.
This post may contain compensated links. Please refer to my disclaimer here for more information.
>> Looking for something else? We have guides on a range of luggage, including:
1. Kid's Ride On Luggage
2. Carry On Backpack
3. Wheeled Backpack
4. Kids Backpacks
5. Cross Body Bags
Why purchase a kids rolling suitcase?
You probably know that we prefer to travel with backpacks, however from time to time we do still use a suitcase. In fact, we have the Samsonite Oc2lite which I just love! There is undoubtedly a time and place for a good quality suitcase.
So why might you want to purchase a kids rolling suitcase? Let's take a look:
If you have multiple children, it's not possible to carry everyone's luggage, and so at least some of the children are going to have to be responsible for their own luggage;
Backpacks can be heavy for little one's bodies and so are not always practical;
Good quality kids travel luggage is easy for a child to manage and move around an airport; and
Have you seen how cute some of these children's suitcases are? Your kids will love being responsible for them.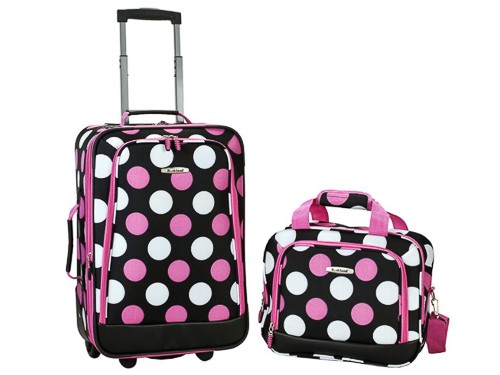 Don't have time to read the complete guide on the best travel bags for kids? If you want my recommendation for kids rolling luggage, then I recommend the Rockland carry on luggage set.
I just love this luggage for kids because as well as having a range of super cute designs, it's something that your child won't grow out of too quickly. Plus the set is not overly expensive, the bags are both lightweight and are a perfect size for carry on luggage.
Keep reading below to find out more about the Rockland set or click here to check prices now!
Comparison chart for best children's suitcases 2023
Check below for a quick overview of the various kids travel suitcase options reviewed in this guide.
Things to consider when purchasing the best kids luggage
What makes the best children's travel bags depends on a few things. Let's look a bit closer at a few of the things you should keep in mind when purchasing a kids travel case.
Size
When it comes to the size of the child luggage you purchase, you will want to consider what your little one can manage. If your child is only a few years old, then a small toddler suitcase will be your best bet, whereas a child around the age of 10 or so could pretty much manage a regular adult size case.
However, you really should buy a case only as big as you need. Buying a suitcase too big just adds unnecessary weight that you must carry around as you travel, as well as tempting you to fill it and take too much stuff with you. Plus if it gets too heavy, your little one will just complain, and you will end up having to manage it as well as your stuff.
You will also need to consider whether you want kids hand luggage or are you looking for children's luggage bags to check? If you're after kids cabin luggage, be sure to check with the airline you mostly fly with to ensure the bag you purchase meets their requirements.
In the table above, I have included the sizes of all the children's travel luggage reviewed in this guide for your convenience.
Weight
With airlines being strict on the weight of both your hand and checked luggage; it is super important to choose the lightest suitcase, which still meets your requirements. Some suitcases can be unnecessarily heavy, eating into your precious baggage allowance. At the same time, other suitcases are so light that they don't offer any protection for your belongings inside.
When considering the weight of your suitcase, you will need to think about a few things. If you prefer a kid's hard shell suitcase, you're going to have to accept that your suitcase will be a little heavier than it would be if it were a soft-side case.
Quality also comes into play when considering the weight of your suitcase. If a suitcase is large and cheap, it's likely not offering your personal belongings much protection. Whereas a good quality large light suitcase is generally going to be a bit pricey.
As you can see, it's a bit of a balancing game and will really depend upon what is a priority to you.
In the table above, I have included the weights of all the children's rolling luggage options for your convenience.
Wheels
When it comes to kids luggage on wheels, the number of wheels varies with the most common being two or four.
For young children (in fact for anyone) the easiest number of wheels to manage are those cases with four wheels. A kids 4 wheel suitcase is easily moved in any direction, including going around corners with ease. A light push on the handle is all that is usually required to move the suitcase around the airport and doesn't require you to hold any of the weight. Kids 4 wheel luggage does tend to be more expensive though than a two-wheel case.
A two-wheel suitcase requires your child to tilt it to wheel it, and it doesn't easily go around corners or through narrow spaces. This, of course, is much harder for a child to manage, particularly a young child. Two-wheel cases are also rather frustrating as they tend to fall over when left unaided.
Compartments
Some children's luggage bags come with various compartments and pockets, both inside and outside for you to organise their belongings. I don't think too many compartments are necessary – we prefer to use packing cubes to organise our stuff. However, a few compartments are worthwhile.
Children's travel luggage with expandable compartments is great as they provide a place to store any souvenirs your child may have received during their travels.
Hard or Soft
There are advantages and disadvantages of both a kid's hard suitcase or a soft suitcase.
Soft shell suitcases of course generally weigh less but aren't always the best for keeping your belongings well protected – notably cheaper suitcases. And with kids, of course, they do tend to be a bit rougher with their cases. The benefit of soft cases is of course, being lightweight they can be easier for your child to move around, and they tend to be much cheaper than kids hard luggage.
While kids hard shell luggage does a better job of protecting their belongings, they do weigh a fair bit more than their soft case counterparts, and they are more expensive too. However, another benefit of hard shell children's suitcases is it provides somewhere for your child to sit if there are no available seats, which is perfect when you're waiting for public transport.
In this guide, I have included a range of both kids hard side luggage and soft luggage.
Handles
To make the suitcase easy for your child to manage, you want to ensure it has a handle that retracts quickly and easily, as handles that don't can be a real pain when you are walking through a busy airport. It's also recommended that you look for handles that are tall or short enough to allow your child to pull their luggage at a comfortable arm's length easily.
Also, look for kids spinner luggage that has both top and side handles to make it easier when loading in and out of transport and off the baggage claim carousel.
The Best Children's Luggage Reviews 2023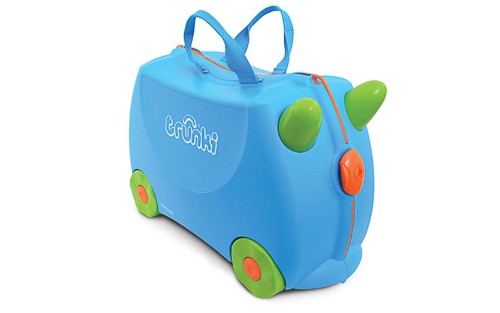 If you're looking for toddler luggage, one of the most popular choices is the Trunki children's ride-on suitcase. The Trunki is a kid's ride-on suitcase, so instead of pulling it along, they can ride it through the airport.
Lightweight at 1.7kg and with a capacity of 18 litres, this kids ride on luggage makes an excellent choice for a kids carry on suitcase, with plenty of space for all your child's belongings.
The Trunki is recommended to be ridden by children from 3 years (although in Trunki reviews customers have reported their children were riding them from age 2) and over, up to a generous weight limit of 50 kilograms. No doubt your child's legs will become too long to ride this kids cabin bag well before they hit the 50 kg mark.
The Trunki is designed for the child to ride themselves by holding onto the horns at the front and pushing along with their feet. Alternatively, children can use the strap to pull it along themselves. The pull along strap also doubles as a shoulder strap, which is excellent when it comes time for Mum or Dad to carry it. There is also a top carry handle.
This ride-on suitcase for toddlers comes in loads of different bright and colourful designs, so there's bound to be the perfect Trunki for your little boy or girl.
Click here to check the current price and to read more reviews.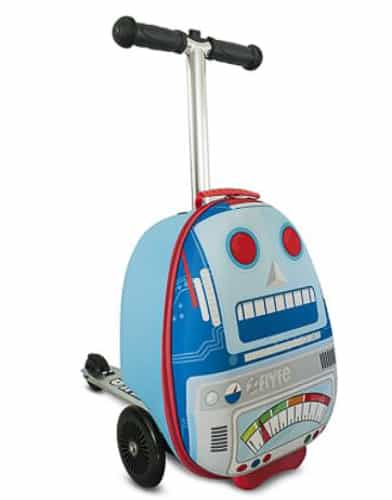 Kids scooter suitcase bags are also becoming super popular, not only with kids for being a fun luggage option but also with parents as they don't have to carry their kid's bags around.
The ZincFlyte Kids Luggage bag is a super stylish and fun children's scooter suitcase that can carry up to 25 litres of luggage and comes in 6 different designs so your child can pick the one that they like best. The bag itself weighs 3kgs so it isn't too heavy to lift in or out of the car or if Mum or Dad do end up having to carry it for a while.
The build of this kids scooter luggage is sturdy, but the bag compartment is squishy and has a soft, bouncy surface to help resist impact. The scooter deck folds away and locks in place and then it is compact enough to be stored away in the overhead compartment.
Other great features of this scooter suitcase are the stable steering system so your child will be able to manoeuvre it easily and the inner pockets and straps to help keep all the luggage in place while it is being ridden.
So if you are looking for boys or girls luggage that they will love, then definitely check out this one.
Click here to check the current price and to read more reviews.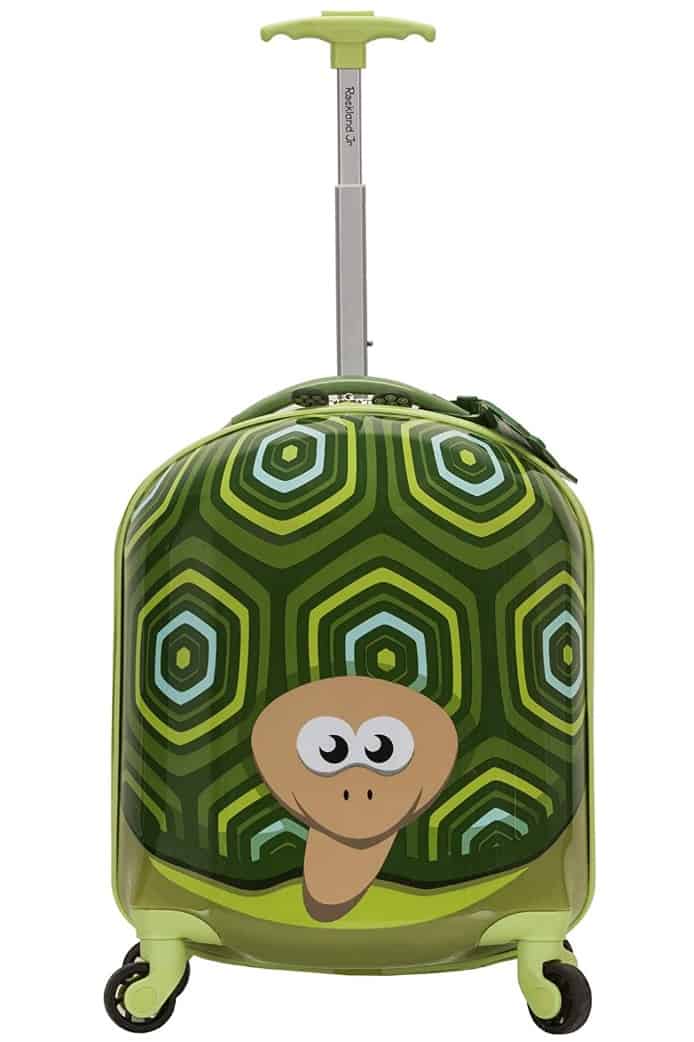 How cute are Rockland Jr Kids animal suitcases! Designed for little ones aged between 3-8, your child will definitely want to be responsible for their bags when they have this adorable small rolling suitcase.
These suitcases come in a choice of 8 different animal themed designs that little kids will love. Inside the main compartment is a zippered pocket and compression straps ensuring there is more than enough room to pack everything your child needs for their trip as well as a few activities to keep them busy on the trip.
The case weighs 2.4kg and with its strong protective casing with a wipable surface, it's easy to keep clean. The suitcase also features an adjustable pull handle, roller wheels and a carry handle.
So if you're child is starting to show interest in being independent, or you have young children and need your child to be able to look after their own bag, this adorable little suitcase is a great place to start.
Click here to check the current price and to read more reviews.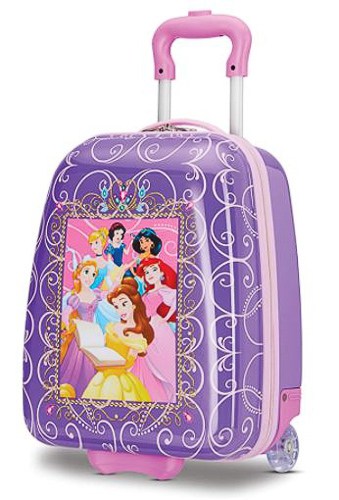 If your child is a huge Disney fan, then make sure you check out the American Tourister range of Disney luggage for kids suitcases.
Made from lightweight and durable ABD material, this suitcase has a sleek hardside design as well as two side-mounted wheels, this suitcase is easy to move around and will keep all the contents well protected. This case weighs just under 2kgs and has dimensions of 8 x 13 x 18 inches providing plenty of room for all of your child's belongings.
Other great features of this child's suitcase are the monotube pull handle as well as a top grab handle, crisscross tie-down straps throughout the interior to hold everything in place and a zip around divider to create two separate compartments.
So if you think a kids Disney suitcase will get your child excited about wheeling their own case, then check out the mickey mouse kids luggage design, Minnie mouse kids suitcase or the frozen kid's suitcase.
Click here to check the current price and to read more reviews.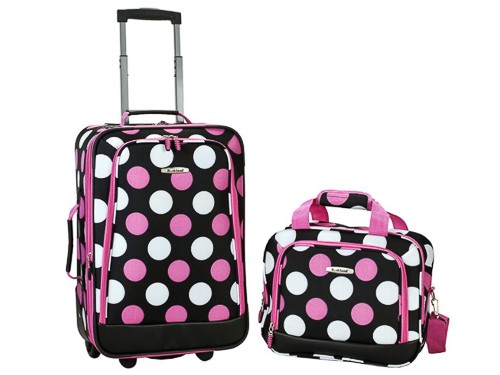 The Rockland carry on luggage set is an excellent option for the tweens or slightly older children. It comes in a stack of great colours and designs and is sure to be a hit with both boys and girls.
This children's carry on luggage is such a good size with the suitcase having a capacity of 32.4 litres and dimensions of 19 x 7.5 x 13 inches. The main compartment has plenty of room for everything, including internal pockets and there are also additional back and front zippered pockets. The case itself is made of durable 600D fabric and also features a retractable handle, an inline skate wheel system for easy manoeuvrability and soft top and side grip handles.
The tote back is a great personal item for all your child's things they need while in flight. The main compartment is spacious with a capacity of just under 14 litres. It comes with multiple storage pockets as well as a top grip handle and a detachable and adjustable shoulder strap.
So if you are looking for cute kids luggage for older children that can be responsible for their own bags and gear, definitely check out this luggage set.
Click here to check the current price and to read more reviews.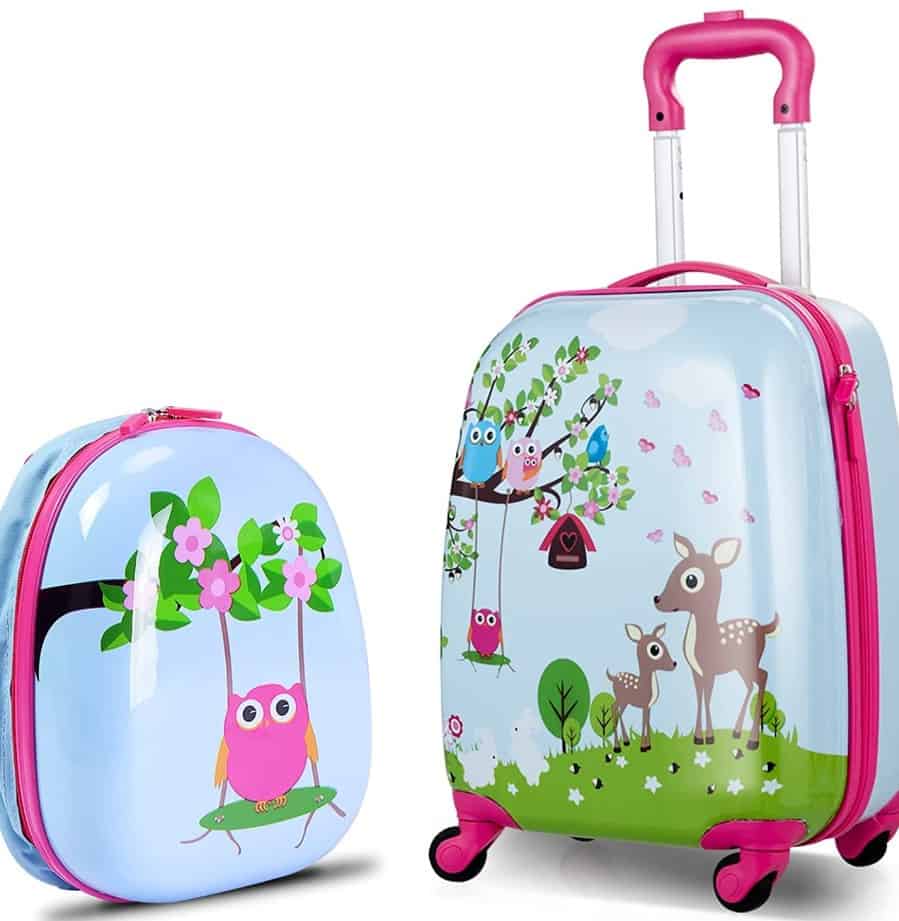 If you're just after decent cheap kids suitcases, the Baby Joy Kids Luggage Set is well worth considering. This great kids suitcase comes with a matching backpack and the two pieces of luggage together make this fantastic value.
These sets come in a range of super cute designs, so you're sure to find a design your child will just love, whether it's dinosaurs, unicorns, cars or something else entirely. Made from sturdy polycarbonate, weighing less than 2.5 kg and with 360 degree swivel wheels, even little kids will find this suitcase easy to pull or push along.
There is plenty of room to pack all your child's necessities for travelling and the criss cross strap coupled with the zip compartment makes it super easy to keep everything organised. The matching backpack that comes with this kids trolley bag has the same sturdy hard shell construction so it's great for protecting kids' gear from knocks and drops.
Coming in a design, your kids will love, this set is a great choice for those parents after the best toddler luggage for a low price without having to compromise on durability.
Click here to check the current price and to read more reviews.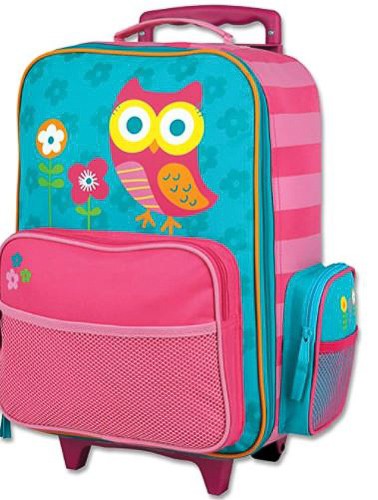 If you are looking for a children's bag with wheels that is super cute and has excellent storage compartments, then make sure you check out the gorgeous range of Stephen Joseph Luggage.
Made from polyester with multiple pockets to separate all your child's belongings, this kids wheelie bag would be great for a carry on bag for your child. All the pockets are zippered, so your child will be able to access everything on their own, and the extendable handle and two sturdy wheels mean they will be able to pull it along themselves. This bag only weighs 1.25 kg, and the dimensions are 7.5 x 19.5 x 11.4 inches, so there is plenty of room to pack everything in without effecting the weight allowance too much.
This range of children's cabin suitcase options comes in some gorgeous designs like an adorable owl, airplane, flowers and many more.
Click here to check the current price and to read more reviews.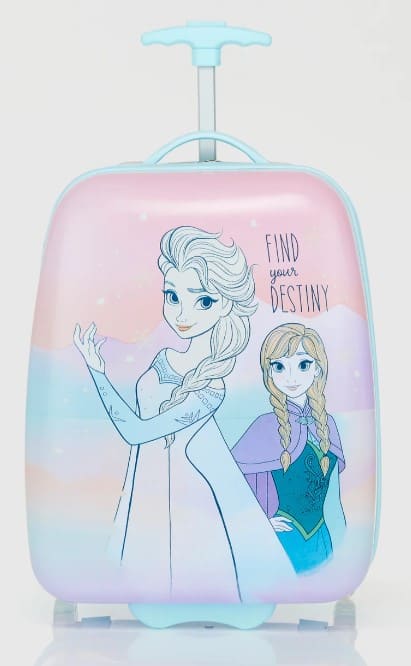 If you have a little one, who is obsessed with Frozen and needs a kid's trolley case, they can pull along themselves, then make sure you check out this Frozen Carry On Suitcase.
This children's trolley suitcase only measures 44 x 33 x 22 cm, so it's easy for even young children to pull along behind them. This children's luggage on wheels is a hard shell case so you know their valuables will be well protected.
There is a spacious main compartment and plenty of smaller pockets on this children's pull along suitcase that will help with packing and unpacking and also give you the ease of quickly pulling out a specific item in the middle of a flight. There is a large internal compartment with crossover straps and a large zip compartment on the other side of the case.
This is a great lightweight kids travel bag on wheels that would be great for your next family holiday.
Click here to check the current price and to read more reviews.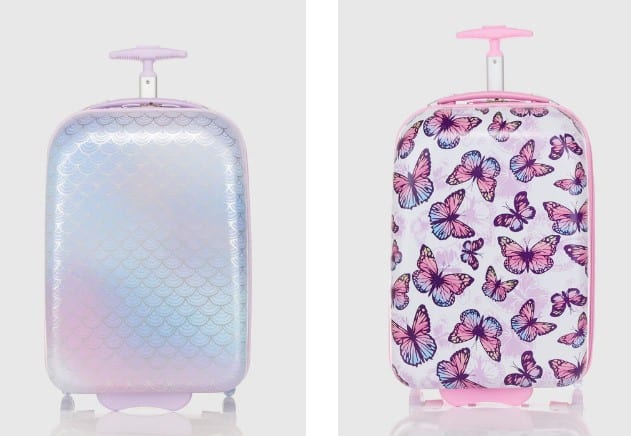 The Wish Wheeled Bag is well worth considering for anyone looking for the best carry on luggage for kids, particularly those obsessed with all things pink, rainbows or butterflies.
This children's cabin case comes in two beautiful designs (rainbows or butterflies). Both are fairly lightweight at just 1.9kg and so easy to manage by little children but still give over 33 litres of space.
There is a handle to pull along the suitcase and a grab handle on top. The rainbow design case has multidirectional wheels so it can be pushed upright but those who opt for the butterfly design will have to pull the case behind them.
Inside both the suitcases are crisscross straps to keep everything in place and several zipper pockets to separate and organise everything easily.
So if you are looking at children's carry on suitcases that will stand out from the crowd, then this is an excellent option for you.
Click here to check prices and to read more reviews.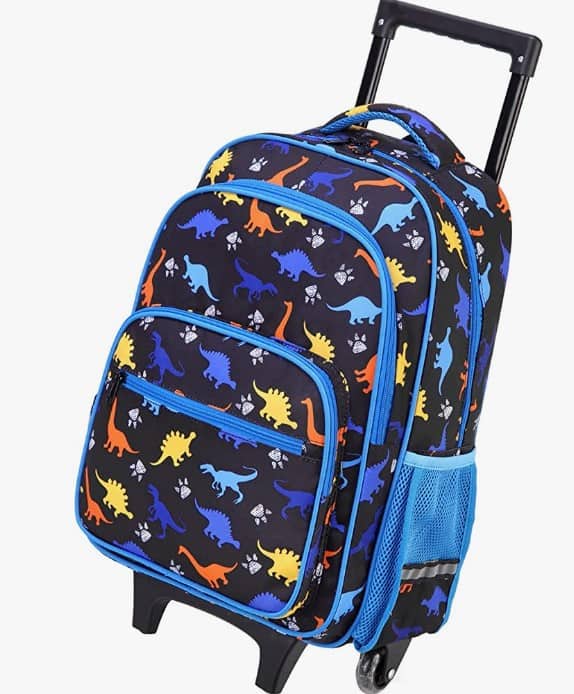 If you're after something super cute for your little toddler, this Vaschy toddler backpack with wheels is well worth checking out. It comes in a range of adorable colours and designs and can be used two different ways, so you'll get plenty of use out of it, not just on holidays.
Not only can this children's wheeled bag be pulled along behind them, but they can also wear them as a backpack. The five cute and playful designs of these bags make them so appealing to kids; they will never complain about having to carry their bags again! Being 16.5 inches and weighing only 1.4 kg, it isn't too heavy so it is entirely manageable for your child, especially with the wheels!
The back of the bag has a thick padded panel to ensure it's comfortable when worn as a backpack. There is also a hideaway wheel cover when being used as a backpack and the strap can be stowed away when being used as a rolling suitcase.
Other great features of this kids rolling backpack are the internal mesh zip pocket, an internal divider for books or ipads, padded front pocket and comfortable padded shoulder straps.
So if you are looking for the best rolling backpack for kids that can also be worn as a bag, the Vaschy is well worth considering.
Click here to check the current price and to read more reviews.
Disclaimer: Thrifty Family Travels is a participant in the Amazon Services LLC Associates Program, an affiliate advertising program designed to provide a means for sites to earn advertising fees by advertising and linking to amazon.com and its partners. Amazon and the Amazon logo are trademarks of Amazon.com, Inc. or its affiliates.
Affiliate advertising is used throughout this site. These affiliate ads allow me to earn a small commission on any purchases you may make but they do not incur any extra cost to you.