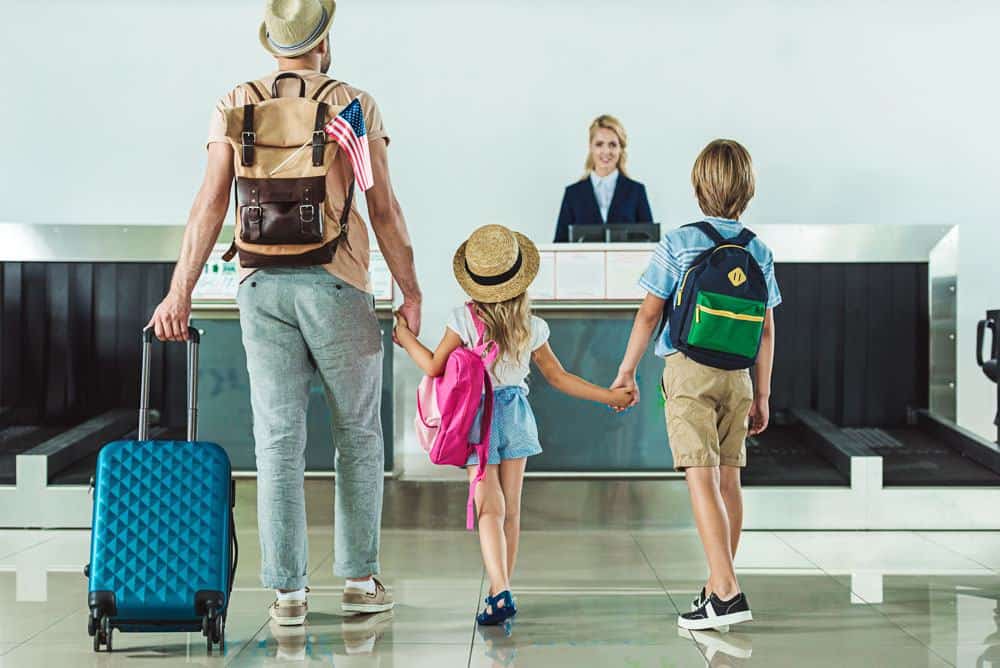 You've got your backpack sorted, but now you're wondering what the best kids travel backpacks are. By all means, the kids could use any old backpack they use at home, but as you know from your own experiences, backpacks for travel are designed a little differently and have specially designed compartments to make travel more convenient.
To help you choose the best travel backpack for kids, I have put together this guide covering everything you need to consider when purchasing kids travel bags. This guide will look at the various features that make great children's' travel bags as well as compare some of the best travel bags for kids currently on the market.
Whether you are looking for a standard backpack, kids carry on luggage or even a kids rolling backpack; hopefully, after reading this guide, you will be closer to finding the perfect kids backpacking pack.
This post may contain compensated links. Please refer to my disclaimer here for more information.
>> Looking for something else? We have guides on a range of luggage including:
1. Kid's Ride On Luggage
2. Carry On Backpack
3. Wheeled Backpack
4. Kids Suitcases
5. Cross Body Bags
Don't have time to read the complete guide on kids travel backpacks? If you want my recommendation for the best kids travel backpack then I recommend the Youth Court Jester from Northface.
The Youth Court Jester is lightweight, stylish and super comfortable for your child to wear. This bag has plenty of great storage and extra safety features and is great value. It could be used as a carry on travel bag as well as a daily backpack or hiking bag on your next family holiday.
Check out my full review on the North Face Youth Court Jester Backpack below or click here for current prices.
Comparison chart for best travel backpack for kids 2023
Check below for a quick overview of the various kids backpacking backpacks reviewed in this guide.
Things to consider when purchasing a kids backpacking pack
Just like when you purchased your backpack, to buy the perfect kids travel rucksack, various factors need to be considered. Be sure to take into account the following factors:
Traditional backpack or a kids rolling backpack?
First up, what sort of backpack do you want? Your standard everyday backpack or a kids trolley bag? – one that gives you the option of rolling it when need be?
A kids backpack with wheels is an excellent option for kids, as often full packs are heavy and so rolling makes it easier for them. However a kid's wheeled bag is slightly heavier than a standard backpack as it contains wheels, a frame and handle to wheel it.
When deciding on the type of backpack, consider if in reality, your child will be carrying their bag. If the truth is that mum or dad will most likely be carrying it, then it's best to opt for a standard pack rather than a rolling one.
Myla has a standard backpack (unfortunately the pack she has is no longer sold) and when she was younger, the reality was we mostly carry it for her when it was full (she carries it herself now). The other reason we prefer a standard backpack is once we get to our destination, we empty all her things and use it as our day pack. This saves us having to bring another separate bag along with us.
Size and weight – how heavy should a child's backpack be?
When it comes to a child's backpack, perhaps the most important thing is not only how heavy the pack is but how heavy it is when full. You don't want little growing bodies to be carrying more than what is safe for them. Generally, it is accepted that children can carry around 10% to 20% of their body weight. So keep this in mind when deciding which size pack to purchase.
This is only essential when it is likely that the child will carry their own packs. If in reality, Mum or Dad will carry the child's backpack, then the weight isn't such a big issue.
When it comes to size and weight, you also need to consider whether you intend to check the bag or whether it will be used as kids hand luggage bags. If you're going to use the pack as kids cabin luggage, then you're going to want to ensure it meets your airline's size restrictions.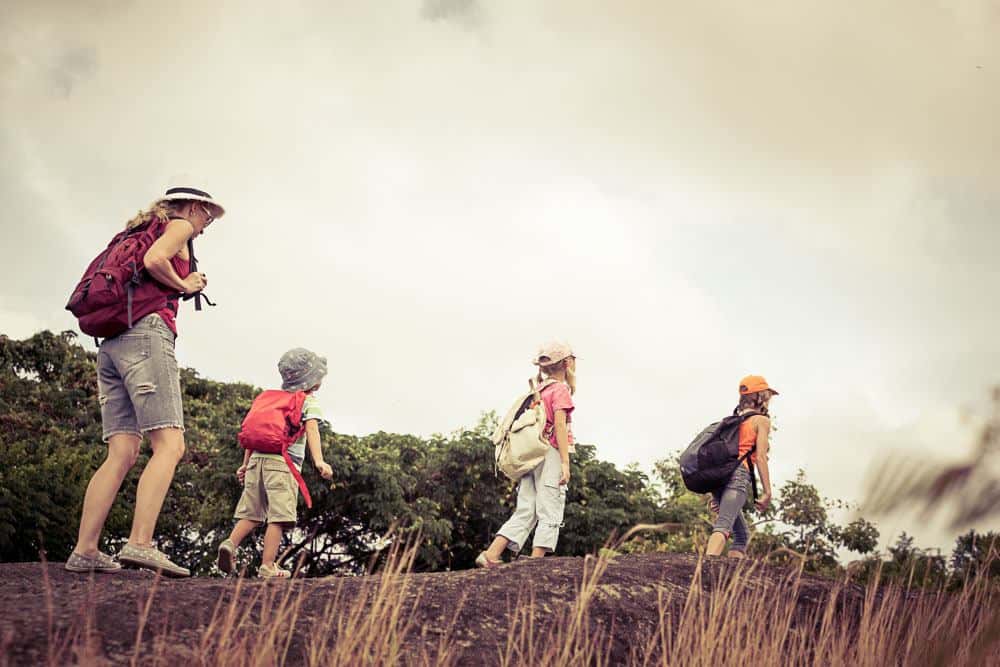 Compartments
I'm not overly concerned with the number of compartments as I like to use packing cubes and find this a far easier way to organise things rather than having multiple compartments (click here for information on packing cubes). However, I think around two separate compartments are ideal, plus a side pocket for a water bottle.
Straps
It's essential that a backpack is comfortable for your child to wear and fits them properly, so ensure the bag has padded and adjustable straps. Backpack straps are usually adjustable around the hips, the shoulders, and even across the chest to keep the shoulder straps in place regardless of body shape.
Carry handles
Like any bag, look for a backpack with additional carry handles. Top and side carry handles help load the bag in and out of overhead plane lockers as well as on buses, trains and taxis.
Water-resistant
A water-resistant bag gives you extra protection when travelling in wet weather. While water-resistant bags aren't designed to be waterproof, they do give you that extra bit of time to seek shelter or pull out a rain cover without having your personal belongings get wet. It also helps if kids accidentally spill their drinks over their bags.
Best kids backpacking backpacks 2023 reviews
Below I have listed my top picks for the best kids backpack currently available.
Weighing in at only 410g, the North Face kids backpack is a super lightweight travel backpack for kids, in fact, one of the lightest in these reviews, making it the ideal travel backpack for kids.
This bag is packed with excellent storage options, including a large main compartment, a front bungee system for bulky items, an internal divider for extra organisation and two side water bottle pockets. This bag can keep everything neatly organised and easily accessible.
Made from recycled polyester and with a capacity of 24 litres, this bag is not only super comfortable to wear but also the perfect size for a small child. The youth-specific shoulder straps, foam back panel, easy-to-use sternum strap, and 360 degree reflective safety piping are all other great features that give this bag maximum comfort and convenience.
This backpack would be a great choice if you were looking for a pack that would be suitable for day trips on your holidays as well as kids cabin baggage.
Click here to check prices and to read more reviews.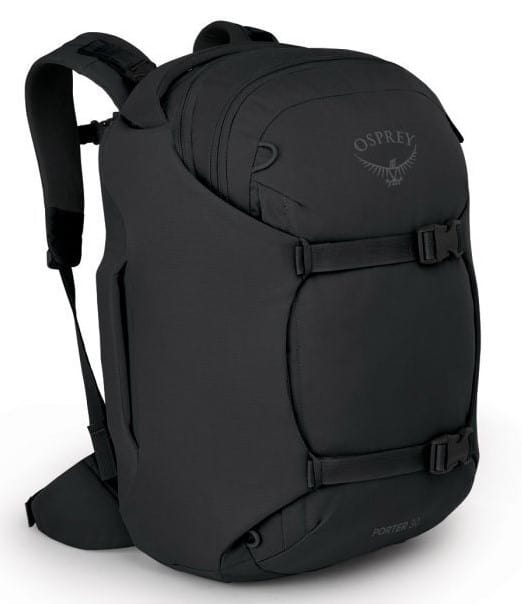 As you know, I travel with the Osprey Porter 46 which I just love, which is one of the reasons I'd highly recommend the Osprey Porter 30 as the best kids backpack. Osprey makes such top quality packs, and this one is designed to be the perfect size for the young adventurer.
With a capacity of 30 litres, this is a great size kids' cabin bag to store all your child's belongings in. For the perfect fit, this backpack includes fully adjustable padded straps including shoulder straps, hip straps and chest straps. The hip straps are also removable if not required.
This kids carryon bag has one main compartment with a front organiser storage pocket for easy access to those items you need frequently. The main compartment includes a built-in laptop sleeve, and there are also side mesh pockets perfect for water bottles.
Other great features of this pack include a pass through handle on the back to secure to your suitcase, a top handle for easy carrying as well as a padded side grab handles.
If you're looking for a good quality backpack for your child that is also ideal to use as the family day pack while out then the Osprey Porter 30 is a natural choice. It's also the perfect size as children's hand luggage bag.
Click here to check prices and to read more reviews.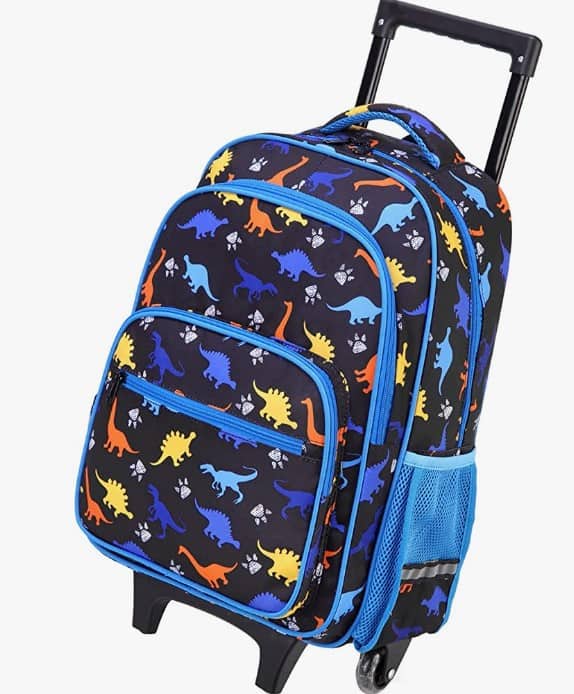 If your preference is for children's carry on luggage with wheels, then make sure you check out the Vaschy Rolling backpack. Not only can this children's wheeled bag be pulled along behind them, but they can also wear it as a backpack. The five cute and playful designs of these bags make them so appealing to kids; they will never complain about having to carry their bag again!
Being 16.5 inches and weighing only 1.4 kg, it isn't too heavy so it is entirely manageable for your child, especially with the wheels!
Other great features of this best kids rolling backpack are the internal mesh zip pocket, an internal divider for books or ipads, padded front pocket, comfortable padded shoulder straps and the hideaway wheel cover with elastic to cover the wheels when not in use.
So if you are looking for the best rolling backpack for kids that can also be worn as a bag, the Vaschy is well worth considering.
Click here to check prices and to read more reviews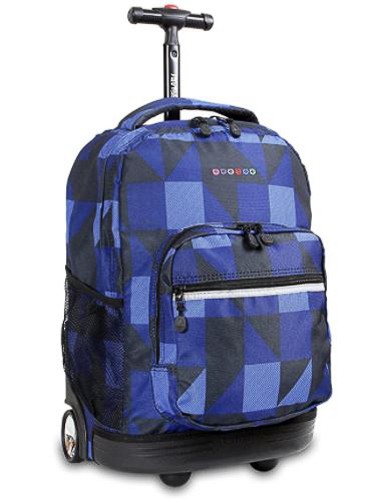 The J World Rolling Backpack is another great option when it comes to kids carry on luggage with wheels, particularly given you can both wheel it or carry it on your back like a standard backpack.
This children's carry on luggage with wheels is made from a durable 600D polyester water-resistant material, so everything inside is well protected if you get caught up in a light rain shower.
Being an 18-inch case, there is plenty of room for your child's belongings, and being 2.2 kg, it's reasonably lightweight. Plus if you choose to wear it as a backpack, the Air Mesh Cushion padded shoulder straps with a SLIP-IN system for added convenience make it comfortable to wear
Other great features of this kid's rolling carry on luggage or day bag are the reflective tape for increased night visibility, a large main compartment, a front pocket organiser, a key fob, five pencil holders, two side pockets and a front zipper pocket.
Overall, this is a great travel backpack with wheels that would be a perfect choice for your child on your next family trip.
Click here to check prices and to read more reviews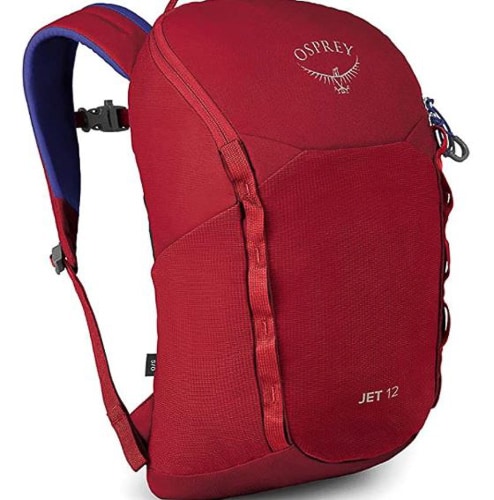 The Osprey Jet 12L Kids Hiking Backpack is a stylish and comfortable travel backpack that will keep all your child's items tucked away safely on your next family holiday.
A great sized bag with a 12-litre capacity and weighing only 380g, you won't ever have to worry about being weighed down by this backpack! If you plan on doing some hiking or long day trips on your next holiday, this bag could also double as your family's day bag.
Great features of this bag are the Airscape Backpanel with foam ridges for ventilation, reflective graphics, zippered panel access, stretch mesh side pockets, stretch front and harness pockets and sternum strap with emergency whistle.
This bag is suitable for children from 8 to 15 years, so it would not be ideal for a small child or toddler. If your child is over 15, they could move up to the adult size version of this backpack.
Click here to check prices and to read more reviews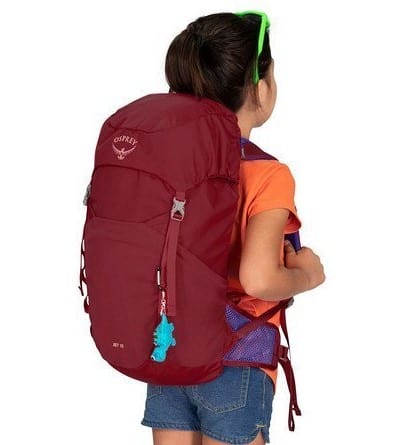 The Osprey Jet 18 is a great little backpacking bag that would be the perfect choice for your child's very own travel backpack. Although sharing the same name as the previous Osprey backpack – this is quite a different pack and offers plenty more space too.
Constructed from 400D nylon, the Osprey Jet 18 offers great durability, ensuring that it can withstand daily wear and tear while preventing rips from spreading and weighing just 515g.
This kids hiking backpack is designed with multiple pockets, including two stretch side mesh pockets, a front stretch mesh pocket, a small external zip pocket for valuables and an external hydration bladder sleeve. This variety of storage options ensures that users can keep their belongings organized and easily accessible.
The adjustable compression straps let you tighten the backpack, reducing its volume and minimising the movement of items inside. The pack features an open mesh back panel to allow for adequate airflow, an air mesh hip belt for stability, soft padded, seamless shoulder straps and the adjustable sternum strap even has a rescue whistle.
If you're looking for a kids backpack that can be used for day hiking, air travel and everything in between, the Osprey Jet 18 is well worth a look.
Click here to check prices and to read more reviews.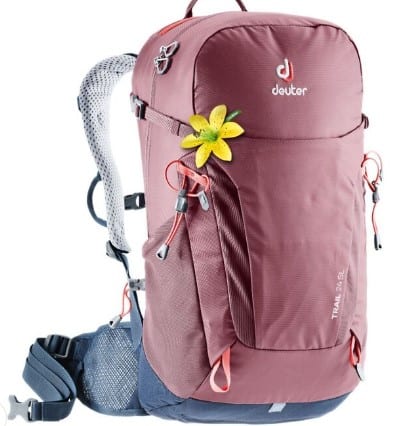 The Deuter Op Trail 24 litre backpack is a great all-rounder backpack that would be suitable for a carry on bag for your child as well as doubling as a great day pack while on holiday.
A great feature of this pack is the Aircontact back system, which provides greater comfort thanks to its lightweight frame construction. This design keeps the weight of the load compact and close to the body's centre of gravity and gives great airflow.
The Deuter Op Trail is designed for organisation, with details such as a carabiner clasp on the shoulder straps and multiple compartments, including side pockets and a front panel stash pocket. The main compartment is compatible with a 3L drinking system, ensuring kids stay hydrated during their adventures.
Constructed from highly durable 210D polyamide and 600D polyester with a PU coating, this backpack is built to withstand the rigours of travel and outdoor activities. The adjustable, contoured padded mesh shoulder straps and pull-forward mesh hip fins provide support and breathability for added comfort.
Other notable features include a built-in, stowaway, removable rain cover, hiking pole attachment system, and an SOS label for emergencies.
With its combination of practical features, durability, and comfort, the Deuter Op Trail 24L hiking pack is a fantastic choice for kids embarking on outdoor adventures or travels.
Click here to check prices and to read more reviews.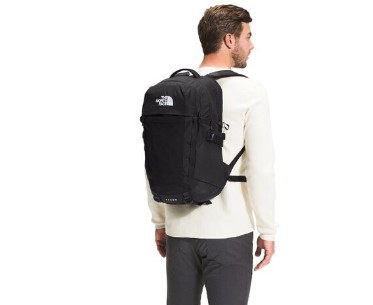 For slightly older children that don't want anything too young looking, the light weight and neutral design of the North Face Recon 30L will definitely appeal.
This backpack has a laptop compartment and a padded tablet sleeve, which is great if you have kids with tablets, to keep them secure during travel. The bag also includes an external fleece lined pocket for valuables, two mesh side pockets for water bottles and an extendable front stash pocket that is perfect for helmets or raincoats.
The Northface Recom 30L backpack is designed with easily adjustable, padded shoulder straps, a padded top handle, a sternum strap for extra support and even a removable hip belt for when carrying larger loads.
Overall the Northface Recom backpack is a great choice for older kids looking for a stylish and functional bag to carry their belongings securely and comfortably.
Click here to check prices and to read more reviews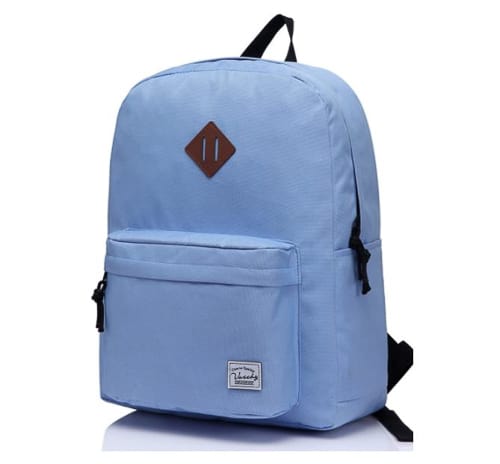 If you are looking for a budget travel backpack for your child, then be sure to check out the Vaschy Lightweight Backpack.
The Vaschy only weighs 360 grams and has a capacity of 20 litres, so there is plenty of room for all your child's travel items in this bag. Most of your child's things will go in the main top-loading zipper pocket, but there is also a smaller front pocket and two drink bottle pockets as well. The main zipper pocket also has a divider sleeve.
This backpack is water-resistant and comfortable to wear with the padded back and adjustable shoulder straps. This backpack can also be folded up very small, so if you needed to pack it into a suitcase to be used on day trips for your travel, it wouldn't take much room in your main bag either.
Available in 8 different colours, this stylish, lightweight polyester bag would work as a great bag to keep all your child's travel items safe on your next family holiday.
Click here to check prices and to read more reviews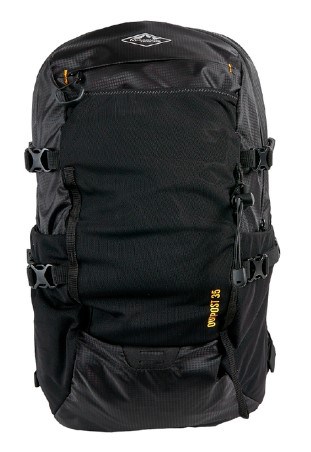 The Mountain Designs Outpost Backpack is another excellent option if you are looking for a good travel backpack for a teenager who needs a bit of extra storage space and likes to explore the outdoors so needs something a little more durable.
With its PU coated 200D polyester fabric and YKK zippers, this backpack is designed to withstand everyday wear and tear, ensuring durability and longevity. The Inca Extreme also includes a stowaway waterproof rain cover concealed in a pocket, providing protection against unexpected weather conditions. This coupled with the 35L capacity makes it a great option for a hiking backpack for tweens and teens.
The backpack's 3D mesh back panel has an air flow channel, allowing air to circulate freely between the wearer's back and the backpack, ensuring optimal comfort and keeping the back cool and dry. Additionally, the chest/sternum strap helps distribute weight evenly and balance the pack for added support.
Other great features include a mesh front pocket, two mesh side pockets, a front panel hanging loop, safety whistle, hiking pole attachment loops and dual compression straps.
Featuring multiple pockets, the Outpost 35L Backpack allows teenagers to keep their valuables safe and organised. Weighing in at just 1.09 kg, this backpack is lightweight and convenient enough for everyday use.
Click here to check prices and to read more reviews
Disclaimer: Thrifty Family Travels is a participant in the Amazon Services LLC Associates Program, an affiliate advertising program designed to provide a means for sites to earn advertising fees by advertising and linking to amazon.com and its partners. Amazon and the Amazon logo are trademarks of Amazon.com, Inc. or its affiliates.
Affiliate advertising is used throughout this site. These affiliate ads allow me to earn a small commission on any purchases you may make but they do not incur any extra cost to you.