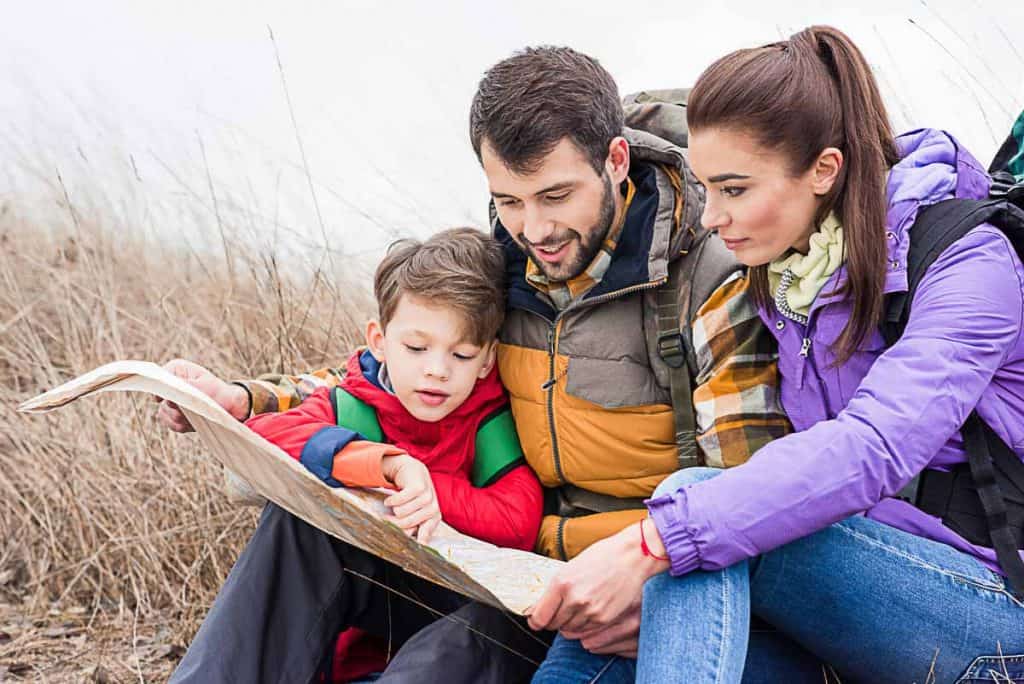 By having the best wheeled backpack for travel, you get the best of both worlds, luggage that you can easily roll around and a backpack that you can carry on those odd occasions that wheeling luggage is just not practical. Whilst a backpack is fantastic for carrying up stairs and across uneven surfaces, the reality is the majority of the time you can easily wheel your luggage.
If you're looking for the best travel wheeled backpack then you have come to the right place, as this guide takes you through everything you need to know when purchasing rolling backpacks. In these wheeled backpacks reviews I'll take you through everything you need to consider step by step to ensure you purchase the best rolling backpack for travel. I will help you understand the importance of size and weight and a range of other factors such as wheels and handles. Lastly, I'll take you through some of the best wheeled travel backpack options currently available, so you can find the perfect backpack with wheels for you.
In this guide we look at all sorts of cool rolling backpacks, from the best carry on backpack with wheels to large backpack with wheels, as well as options for the top of the line packs to good overall cheap rolling backpacks. So no matter what type of travel rucksack with wheels your after, you're sure to find it here.
This post may contain compensated links. Please refer to my disclaimer here for more information.
>> Looking for something else? We have guides on a range of luggage including:
1. Kid's Ride On Luggage
2. Carry On Backpack
3. Kids Backpacks
4. Kids Suitcases
5. Cross Body Bags
What is a Wheeled Travel Backpack and When should you use one?
Basically, a rolling travel backpack is just as it sounds – a backpack which is on wheels. You have the option to either wheel it like a regular suitcase or carry it on your back like a regular backpack.
I've travelled with most kinds of luggage, a backpack (my preferred choice), a suitcase and a travel backpack with wheels. There are benefits of all kinds of luggage depending upon the type of travel you're embarking on. So what are the benefits of travelling with wheeled backpack luggage and when might you use them? Let's take a look at some of the advantages of travelling with backpacking bags with wheels:
Backpacks weigh you down and it's nice to have a travel bag with wheels so you can wheel it around when you're on even surfaces;
Suitcases can be a nightmare going up and down stairs or across uneven surfaces, so rolling backpack luggage is awesome as you can easily carry it on your back as needed;
If you're travelling with kids, often it can be easier to take less but use bigger cases and combine everyone's luggage together – as stated above having a rucksack with wheels allows you to wheel it along for the most part, but safely carry it when required; and
Given what soft materials backpacks are made from, you can easily compact them when not full, and save on space.
That's not to say there isn't still a time and place for your regular backpack or suitcase, because there absolutely is! My backpack is still my preferred choice when travelling, but for example if you're travelling somewhere like Europe and staying in cheap hotels, you might appreciate being able to easily carry your bag upstairs (not all hotels have lifts), but you'll also appreciate being able to wheel your bag around when there is even surfaces.
My Pick for the Best Travel Wheeled Backpack for Travel 2020: Osprey Ozone
Don't have time to read the entire best wheeled backpack review? For the best wheeled backpacks, you can't go past one by Osprey Ozone, my favourite Osprey wheeled backpack is the Osprey Ozone
I just love this bag because of how well its design has been thought through. There are many pockets that all have a great purpose intended and it is super convenient and comfortable to wear. It has a detachable day pack that would be perfect for day trips while on your travels but won't take up any extra space in your bag while you are travelling to your destination.
Click here to check out prices for the Osprey Ozone or to buy yours now.
Comparison Chart for Best Wheeled Backpacks 2020
For a quick overview of all the convertible wheeled backpack options contained in this guide, check out the handy table below. Here you can easily compare the various features of the bags side by side in order to make an informed decision as to which is the best convertible backpack for you.
Things to Consider when Purchasing the Best Rolling Backpack for Travel
There's no one size fits all when it comes to a backpack suitcase with wheels. What's perfect for me, is not necessarily the perfect bag for you, so it is important that you take the time to consider what it is you need out of your backpack.
Consider the following features before purchasing your wheeled backpack.
1. Size
Often people think bigger is always better, but when it comes to luggage nothing could be further from the truth! You should only ever buy luggage as big as you need, and if in doubt go smaller.
If you're looking for a small backpack with wheels or a rolling backpack carry on size, don't go over 45 litres – even then, double check the size restrictions of a few of your favourite airlines and compare this to the bag you're considering purchasing to ensure it meets their requirements.
If you're looking for a large rolling backpack, I probably still wouldn't go past 60-70l. I travel with a 46 litre bag and find this is plenty for just me. I've even used this bag for traveling in Europe during the winter. However I do travel light – but as you can see, even if you have an extra 10-20 litres you're going to have oodles of room.
For your convenience I have included the size of all the convertible wheeled luggage contained in these reviews in the above comparison table.
2. Weight
You will find that even the best wheeled backpack travel options are going to be heavier than your standard backpacks. So if weight is a priority for you, you may need to skip the wheeled backpack and stick with a traditional pack.
With airlines being super strict on the weight of both checked and carry on baggage it is super important to choose a lightweight backpack with wheels which meets your requirements. For your convenience I have included the weight of all the wheeled luggage contained in these reviews in the above comparison table.
3. Fabrics and Materials
Wheeled backpacks tend to be made with much sturdier and heavier fabrics such as canvas, nylon or cordura. Look for packs made with durable yet lightweight fabrics, with heavier fabrics around the edges and back where most of the wear tends to happen.
You'll also want to ensure that the hardware of the backpack is made with sturdy yet lightweight materials. Look for packs made with lightweight aluminium frames, high-quality moulded chassis, and robust wheels with strong bearings.
Keep in mind that there's always a trade-off between the quality of materials and weight as well as price. The lighter the backpack and the higher quality of materials used, the more pricey the pack will be.
4. Compartments
I am not overly concerned with compartments as I like to use packing cubes and find this a far easier way to organise my things rather than having multiple compartments. Click here for information on packing cubes.
Even for people carrying a laptop, I personally don't think it is necessary to have a separate compartment for a laptop as usually your laptop comes in its own protective case. Neither Andy's or my backpack have laptop compartments and we always travel with our laptops. However many of the best rolling backpacks for adults do in fact come with laptop compartments.
I prefer to keep items such as passport, tickets, purse, phone etc in a smaller bag across my body so I am not concerned about having compartments for these items either. Click here to see my guide on cross body bags.
5. Straps, Comfort and Fit
Now whilst for the most part you will likely be wheeling your pack, you will still want to ensure it's comfortable to wear on your back and fits well.
Ensure the backpack comes with a good strap system to spread the load of the backpack across your back, with most of the weight resting on your hips via the hip belt. Things to consider when looking at straps include padding, breathable fabric, are they removable, adjustable and do they stow away for plane travel? Backpack straps should be adjustable around the hips, the shoulders, and even across the chest to keep the shoulder straps in place regardless of body shape.
Compression straps are also helpful when it comes to a good fit. Not only do compression straps help to pack your bags tighter, they also bring the load closer to your centre of gravity for more comfort.
6. Handles
Ensure your backpack has a handle that retracts quickly and easily, as handles that don't can be really frustrating when walking through a busy airport. It is also recommended that you look for handles that are tall enough to allow you to pull your luggage at a comfortable arm length while also contracting to mid-way.
Also look for a pack which has both top and side handles in order to make it easier when loading in and out of transport and off the baggage claim carousel.
The Best Wheeled Travel Backpack Reviews 2020
I just love anything from Osprey – these guys know how to make top quality packs for travellers, so it's not surprising that quite a few Osprey wheeled bags feature in these reviews. But my top recommendation for a backpack with roller wheels is the Osprey Ozone Convertible.
Although it comes with a fairly pricey price tag, this Osprey rolling backpack combines the best of both a standard suitcase and backpack. In order to keep it lightweight, it has been constructed with a lightweight aluminium frame, as well as a plastic back plate. These means it's super sturdy but lightweight for when you carry it on your back as well as not eating into your precious weight allowance.
In fact, if you don't overfill this Osprey wheeled luggage, you may be able to use it as a carry on backpack (just double check with your airline first). There's plenty of room for your belongings with various compartments. The main large compartment comes with a separate zippered mesh compartment as well as dual compression straps to keep everything together. The front part of the pack even comes off so you can use it as a day pack! The top of the day pack also includes a small zippered pocket which is perfect for keeping those smaller items you need easy access to.
Other awesome features of this ultra light wheeled backpack include padded handles, a large, easy access liquids pocket at the top, rear panel pocket and large wheels with sealed bearings for a smooth ride – even on cobblestones, so awesome if you're after the best wheeled backpack for Europe travel.
With so many features, you can see why I'm raving about the Osprey Ozone pack. It comes in a 38L, 42L or 75L pack.
Click here to check the current price and to read more reviews.
The Osprey Sojourn 45L is another great Osprey rucksack with wheels with loads of great features and a quality build.
This bag is ideal size for a great cabin backpack with wheels and is super comfortable to wear on your back. The deployable harness, hip belt and back panel all help to provide ultimate comfort while the high-rolling clearance HighRoad Chassis and dual tube extendable handle gives a smooth ride on any surface. Whichever way you decide to transport this bag at least you know it will be in comfort.
There is plenty of room in this 22 inches long and 45 litre capacity small rucksack with wheels. The back panel suspension components can be removed to increase the packing capacity and the Dual Straight Jacket compression straps help to secure and stabilize the load, just make sure you don't over pack if you plan on using it as a carry on bag.
Other great features of this rolling backpack are the grab handles, dual front panel daisy chains, zippered top pocket for easy access and the technical pack suspension with ventilation to keep you dry in hot climates and is removable when you need room for extra gear.
This is one of the lightest wheeled backpack options in our reviews and it also comes in 60l, 75l and 80l size if you are wanting something bigger.
Click here to check the current price and to read more reviews.
If you are looking for a large rucksack with wheels then make sure you check out the Eagle Creek Expanse Convertible Wheeled Backpack.
This large travel backpack with wheels is made from Bi-Tech Armor fabric, 420D two-tone Poly, 300D diamond ripstop poly and 500D oxford poly Bi-Tech Armor Lite material that gives it the best chance at withstanding wear and tear and easily hides scuffs and stains.
If you need a big backpack with wheels then this is a great choice as it is 29 inches and has a capacity of 78 litres. The bag itself weighs 9.5 pounds so it won't cut into your weight allowance too much but it is definitely on the heavier side of bags in these reviews. As mentioned above, this is something you have to compromise with having a larger bag.
Other great features of this bag are the zipaway backpack straps and adjustable suspension, padded hip belt, sternum strap and load stabilizer for ultimate comfort while wearing in backpack style. There is a front external deep stash pocket, side zippered water bottle pocket, lockable self-repairing zippers, Central Lock Point and ultra durable wheels for a smooth glide on any type of terrain. The interior compression straps and interior mesh pocket help to secure and organise all your belongings.
This is an awesome large wheeled backpack that really ticks all the boxes if the weight isn't an important factor in your decision.
Click here to check the current price and to read more reviews.
The Jansport rolling backpack comes from the super popular brand Jansport who have been making backpacks since 1967 and they are known for their great and spacious style backpacks and the travel pack with wheels is no exception.
If you are looking for rolling luggage with backpack straps that is a great size for carry on luggage, then make sure you check this one out. At 19 inches high and 14 inches wide and weighing only 4.3 pounds, this is a great sized bag for your next travel adventure.
This bag is made with durable fabric, zippers and straps that are sure to last. The 80mm action wheels are large and side mounted and provide traction and stability when you are wheeling the bag instead of carrying it on your back. The single pole retractable handle is super easy to control.
Other great features of this wheeled day pack are the padded laptop sleeve, two main compartments including a padded laptop compartment that will fit a laptop up to 15 inch, front drawbridge compartment with organiser, front zippered stash pocket and a side water bottle pocket. This bag also has tuck-away shoulder straps, a padded back and a quick-grab handle.
This is a fantastic rolling backpack that is fashionable and comfortable to carry.
Click here to check the current price and to read more reviews.
The Hypath 2 in 1 Convertible Travel Bag is an extra large backpack with wheels and is super versatile with 8 different ways to use the bag.
The large convertible carry-on bag and a smaller detachable backpack can be used in combination while zipped together or can be used individually depending on your needs. The size of both bags combined is 22 x 14 x 16 inches and it weighs 7.65 pounds with a capacity of 65 litres.
This large wheeled backpack luggage is made from quality materials including Hex-Nylon Rip-stop with water-resistant PVC coating and strengthened interior lining. It also features mesh pockets, customised zipper handles, a rigid wheel base with threaded wheels and lockable loops and upgraded buckles and clips.
It is super comfortable to wear this large wheeled backpack luggage with the backboard and chest strap for extra support. Other great features are the additional pockets, reflector and felt lined tablet pouch.
If you're after wheeled backpack with a large capacity, the Hypath 2 in 1 is well worth considering.
Click here to check the current price and to read more reviews.
This High Sierra Convertible Wheeled Backpack is another great option to consider if you're after the best rolling duffel backpack. The High Sierra AT7 is a great mid-sized bag which is reasonably priced.
This backpack with wheels and handle has some great features to ensure it is easy and comfortable to transport. This best-wheeled duffel features a top handle that tucks down flat when not in use, while the telescopic aluminium handle with locking mechanism and the polyurethane inline skate wheels make for smooth rolling. The case itself has fabric lining on the inside with a zipper closure and 1208 Denier Durawave for the outter construction.
Weighing 7.3 pounds and dimensions of 22 x 9 x 14 inches, it is on the larger and heavier side but offers plenty of storage space for your belongings. Other great features of this duffel bag are the spacious main compartment with book-style clothing straps, zippered dividing panel, drop-bottom compartment, external security pocket, reflective piping for increased visibility and top grab handle for easy grabbing of the bag.
Click here to check the current price and to read more reviews.
The High Sierra AT3 Carry on Backpack with wheels is a great option for those that want flexibility. With this backpacking backpack with wheels, you can use it as a regular wheeled bag, a backpack, or you can unzip the front and use it as a smaller day pack.
This rucksack with wheels and handle is made from material including 900D Duralite and water-resistant Tech-Weave. The telescopic handle has a soft grip and the grab handles have an ergonomic sure-grip mould.
The bag itself weighs 9.5 pounds and the dimensions are 22 x 13.5 x 9 inches on the main bag and 16.5 x 12 x 5.75 inches on the day pack. The overall capacity is 52 litres of luggage so there is plenty of room for everything you would need on your next adventure.
Other great features of this bag are the large book-style opening main compartment, hidden padded backpack straps, accessory pocket, headphone port, water bottle pocket, back strap, padded S-shaped shoulder straps and individual pockets for pens, key fob and your phone.
This is an awesome convertible backpack that would easily be all you would need to take on your next backpacking adventure.
Click here to check the current price and to read more reviews.
The Osprey Meridian Wheeled Backpack is a fantastic wheeled luggage bag that is super comfortable to transport and has so many great features.
This 60l backpack with wheels is a great sized bag for that aren't necessarily light packers. This bag weighs 8.37 pounds and dimensions of 22 x 9 x 14 inches so plenty of room to fit everything in.
This backpack has great manoeuvrability and is super comfortable to wear with the lightweight high-rolling clearance chassis, dual tube extendable handle, adjustable sternum strap with whistle and torso adjustability on the backpack harness. Other great features of this bag are the rear panel pocket, detachable day pack, padded laptop sleeve up to 15 inch and padded tablet sleeve, ID card window, internal compression straps, grab handles and zippered top pocket and zippered main pockets.
This fantastic 60l wheeled backpack also comes in a 75l size as well and is available in 3 different colour options.
Click here to check the current price and to read more reviews.
The Outdoor Products Sea-Tac Travel Backpack with wheels is a great option for anyone after a cheap wheeled backpack. This the cheapest backpack in these reviews but still stacked with all the great features you need in a wheeled backpack.
This knapsack with wheels is made from 420D polyester that is ¼ Ripstop and has a retractable telescoping tow handle so it can easily be pulled along behind you. The in-line skate wheels make for a smooth glide on a variety of surfaces.
It has a capacity of 50.2 litres and dimensions of 21 x 13.5 x 7.9 inches so there is plenty of room for all your belongings on your next family holiday. The weight of the bag itself is only 7.3 pounds so it is quite lightweight and won't negatively impact your baggage weight allowance too much. Other great features of this backpack with wheels are, the large expandable main compartment, divided second compartment, exterior phone pouch and quick-access mesh pocket. The front organizer pocket is great for pens, keys or business cards.
This is a great backpack on wheels for such a low price and it most definitely ticks all the boxes for a basic wheeled backpack.
Click here to check the current price and to read more reviews.
The Victorinox VX Sport is a great size for anyone looking for a small rucksack backpack with wheels which is perhect for carry on luggage.
This rucksack with wheels and handle is made with smooth-rolling inline skate wheels and a trolley handle that make pulling this luggage along behind you a breeze. Made with rugged and durable nylon construction and air-flow channels in the padded back panels mean this bag is sturdy and comfortable to wear as a backpack. The retractable wheel cover protects against dirt flicking up.
This pack weighs only 5.48 pounds so is one of the lighter bags in these reviews. The dimensions are 14.6 x 10.2 x 21 inches and it has a 30-litre capacity so it's the perfect size if you're after a carry on bag.
Other great features of this rolling backpack are the padded, anti-scratch rear compartment which can fit a laptop up to 16 inch; a 10-inch anti-scratch padded pocket for a tablet; front organisation panel including electronics storage pocket, peripherals pocket, mesh ID pocket, pen loop and key fob. There is also a pocket for a water bottle or umbrella, padded haul handle and side compression straps to clinch the bag and stabilise your load.
This is a great rucksack with wheels that would be suitable for your next family adventure or just as a backpack to use daily.
Click here to check the current price and to read more reviews.
Disclaimer: Thrifty Family Travels is a participant in the Amazon Services LLC Associates Program, an affiliate advertising program designed to provide a means for sites to earn advertising fees by advertising and linking to amazon.com and its partners. Amazon and the Amazon logo are trademarks of Amazon.com, Inc. or its affiliates.
Affiliate advertising is used throughout this site. These affiliate ads allow me to earn a small commission on any bookings you may make but they do not incur any extra cost to you.
Do you want to keep this handy for later?
Click on one of the images below to and save it to Pinterest.