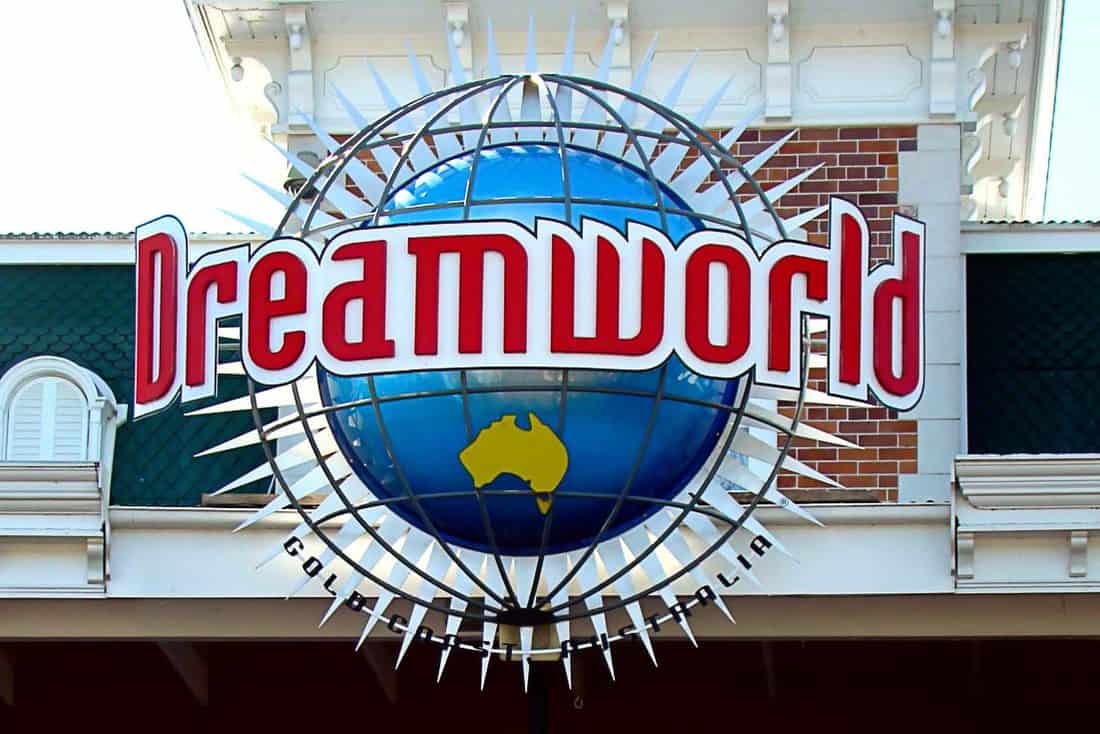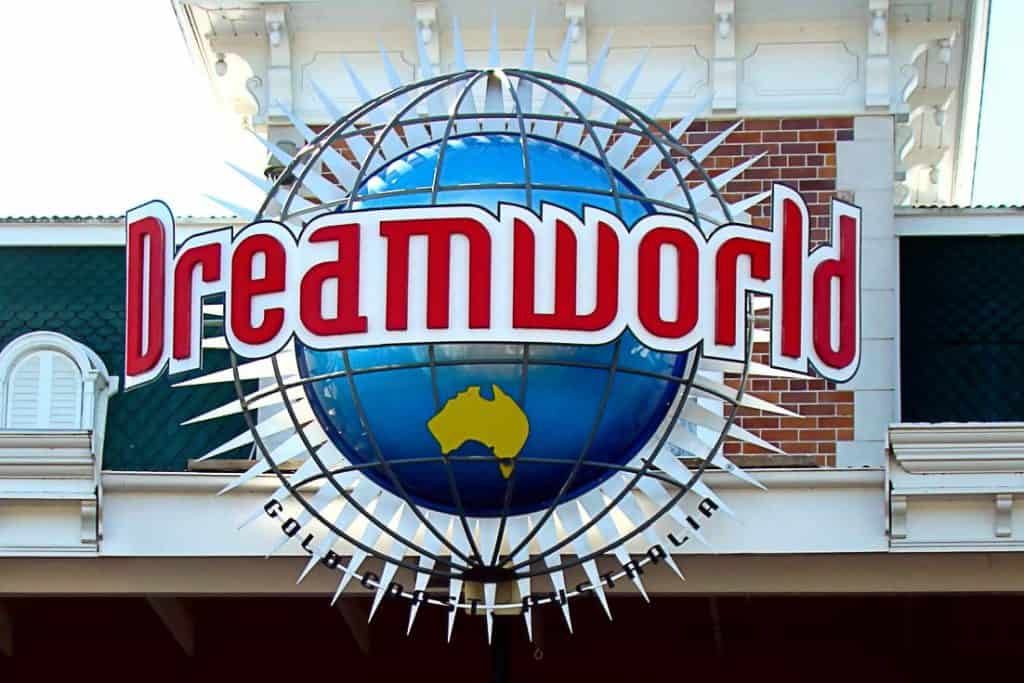 If you're coming to the Gold Coast with kids, no doubt you're going to want to hit up at least one of the famous Gold Coast theme parks. All of the Gold Coast theme parks are a lot of fun, but for me my all-time favourite park is Dreamworld.
No matter how old your kids are, whether they are tiny tots, pre-teen or teenagers, there are the perfect rides for them. There is also a range of shows and plenty of animals to see including the popular tigers on Tiger Island.
Living in South East Queensland my entire life, I have visited Dreamworld many many times. I visited as a young child with my parents, on several school excursions as a teenager and also several times with my own child. It is not the sort of place you visit once. There are regularly new rides and shows added, plus you want to go back on to your old favourite rides time and time again.
If you're considering going to Dreamworld and wanting to know what to expect, then you're going to want to read my Dreamworld review. Below I share with you everything you need to know about the park as well as tips for visiting; including when to visit, how many days, where to stay and how best to get there.
Once you finish reading this review, you are going to be super prepared and excited about your trip to Dreamworld on the Gold Coast.
This post may contain compensated links. Please refer to my disclaimer here for more information.
Planning a trip to Queensland? Have any questions? Join our Queensland Travel Planning Facebook group here now! It's the perfect place to ask any questions and to be inspired!
Just want the cheapest Dreamworld Tickets? We recommend buying online from Klook – click here and buy now.
Where is Dreamworld?
While Dreamworld is located on the Gold Coast, don't expect to see the ocean. Dreamworld is located in Coomera which is an inland suburb of the Gold Coast.
Dreamworld is located around 25 kilometres from the beaches of the Gold Coast (approximately 30 minutes drive) and 56 kilometres (45 minutes drive) from the Brisbane CBD. It is relatively easy to reach the park from either Brisbane or the Gold Coast, which I have detailed below.
If you are flying in specially to visit Dreamworld, you have the choice of either the Brisbane Airport (64 kilometres) or the Gold Coast Airport (44 kilometres).
What is the Dreamworld Opening Hours?
Dreamworld is open every day of the year except for Christmas Day (25 December) and Anzac Day (25 April). Opening hours are 10 am to 5 pm, although WhiteWater World is open between 11 am and 4 pm.
When visiting Dreamworld, I recommend you aim to arrive by 9.30am so you can ensure you're in the park right at 10 am.
It's important to note that not all rides are open all day every day due to maintenance. To avoid disappointment, you can check for scheduled maintenance here.
When is the Best Time to Visit Dreamworld?
With an average of 300 sunny days per year, you can visit Dreamworld at any time. However, it's important to note that being on the Gold Coast, it can get super-hot and humid during the Summer months.
If you are not keen on the hot weather, it's best to avoid going to Dreamworld during the months of January and February where temperatures reach between 30 to 40 degrees daily.
No need to be concerned about winter months – it doesn't get that cold on the Gold Coast. If you're not worried about going to WhiteWater World, the winter months (June to August – outside of school holidays) are the best times to visit because the days are lovely.
To avoid crowds don't go during Queensland school holidays. School holidays are scattered throughout the year, and the exact dates change every year – you can check the exact dates here though. However in general school holidays are January, April, late June, early July, late September, early October, late November and December.
If you do want to visit Dreamworld during school holidays, I suggest you visit on a weekday, even mid-week if possible.
What is the Best Way to Get to Dreamworld?
The best way to reach Dreamworld is to drive. There is a great big carpark outside the park, parking is free and unlike other theme parks around the world, its only a 2-minute walk from the car park directly to the theme park itself.
Of course, not everyone has a car, so there are plenty of other options too, including taking a train, bus or private transfers.
Getting to Dreamworld from Brisbane
The cheapest way to get to Dreamworld from Brisbane is via public transport, but it is also possible to book a shuttle bus with a ticket.
Public Transport
If you're staying in the Brisbane CBD, you can take a Gold Coast train from any of the main stations to Coomera Station. From here you take a bus to Dreamworld. The entire journey will take around 1.5 hours and cost $8.11 AUD per adult and $4.06 AUD per child – with a Go Card.
You can plan your journey with the Translink Journey Planner here.
Shuttle Bus
I'm not aware of a shuttle bus that will take you from Brisbane to Dreamworld.
Getting to Dreamworld from the Gold Coast
The cheapest way to get to Dreamworld from the Gold Coast is via public transport, but it is also possible to book a shuttle bus too.
Public Transport
If you're staying on the Gold Coast, depending upon where you are staying you will need to take either a bus or tram to Helensvale Station. From Helensvale Station, you take a bus to Dreamworld. The entire journey will take around 1.25 hours and cost from $4.03 AUD per adult and $2.02 AUD per child – with a Go Card.
To check which is the best route for you – check on the Translink Journey Planner here.
Shuttle Bus
You can also get a shuttle bus service that will pick you up from your hotel and take you directly to Dreamworld. Click here for more information.
Where is the Best Place to Get Dreamworld Tickets?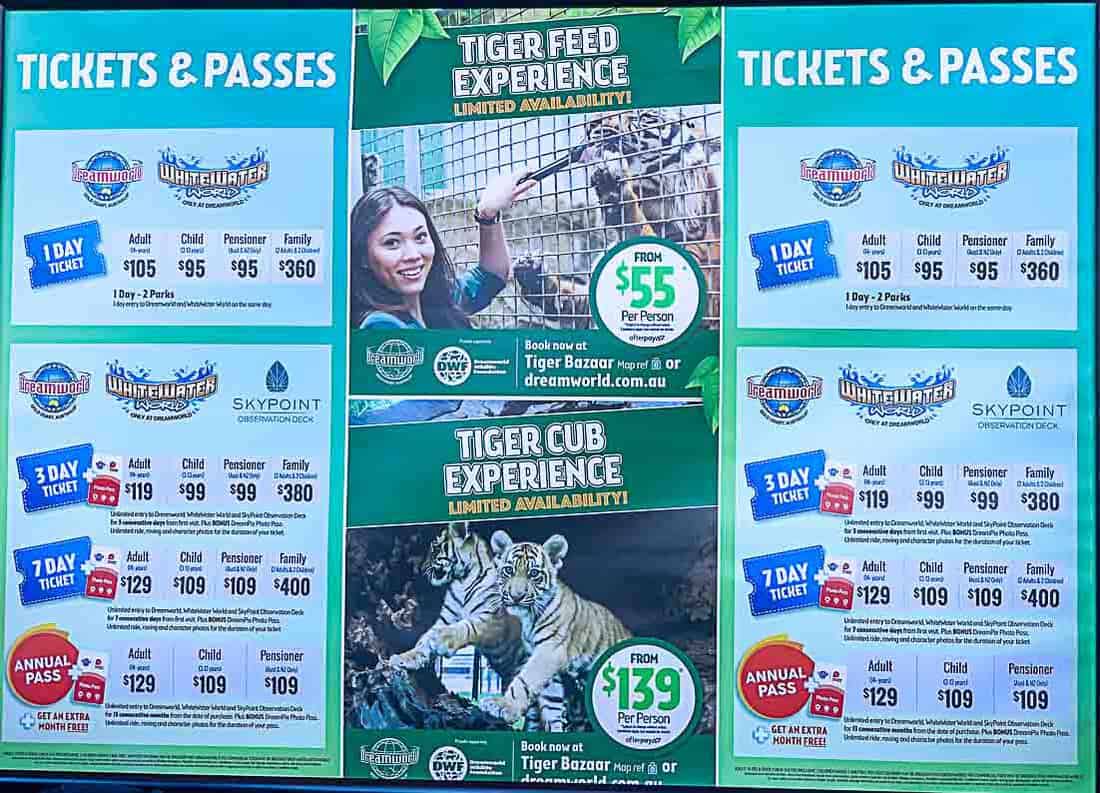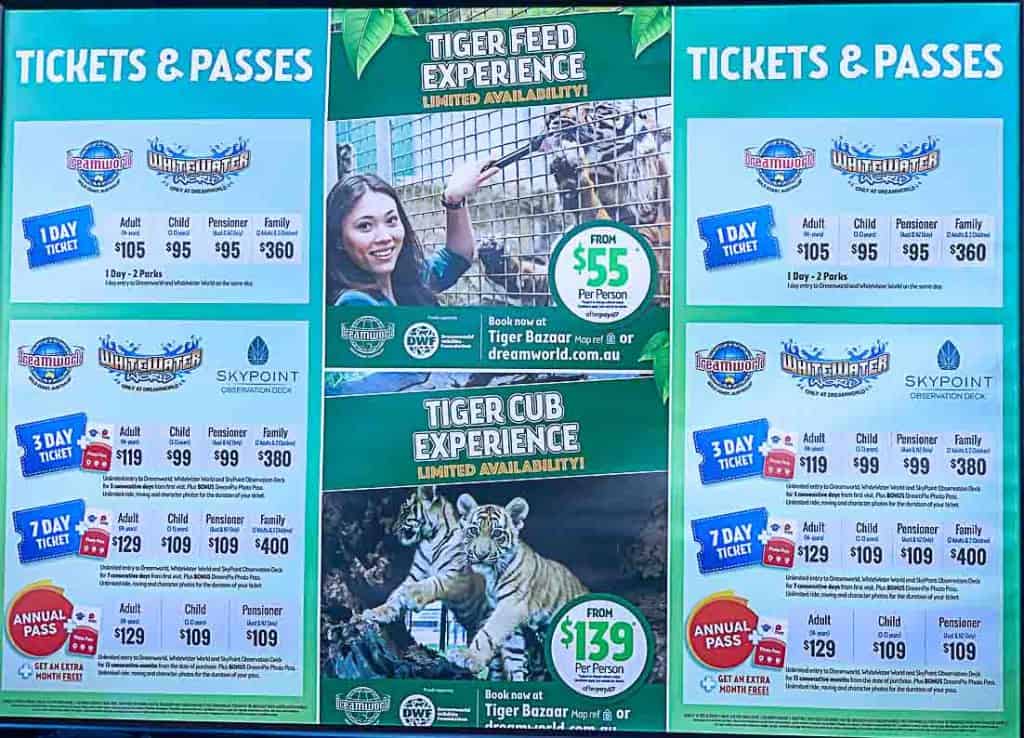 You can, of course, buy Dreamworld tickets at the gate but if you want to get yourself some discount Dreamworld tickets (and who doesn't!) then I suggest you buy them online in advance with Klook.
At the time of publishing one-day Dreamworld tickets at the gate were $105 AUD per adult and $95 AUD per child (see picture for all prices). However also at the time of posting the cheapest tickets on Klook were $62 AUD per adult and $49 AUD per child AND you receive a cuddle with a koala PLUS a photo!
So think about this – Mum, Dad and two kids would usually cost $400 AUD if you bought tickets at the gate – but buy them online at Klook and it will be $222 AUD – which is almost HALF PRICE! That's a HUGE saving.
If you've been reading any of my other blog posts, you'll know that we always use Klook for tickets where ever we go in the world as they are 99% of the time the cheapest place. So if you are checking out any other Gold Coast attractions, be sure to check on Klook first.
Dreamworld Review
Ok so enough with all the boring bits, you want to know what Dreamworld is really like right????? I have broken my review up into sections based on the "worlds" at Dreamworld.
Main Street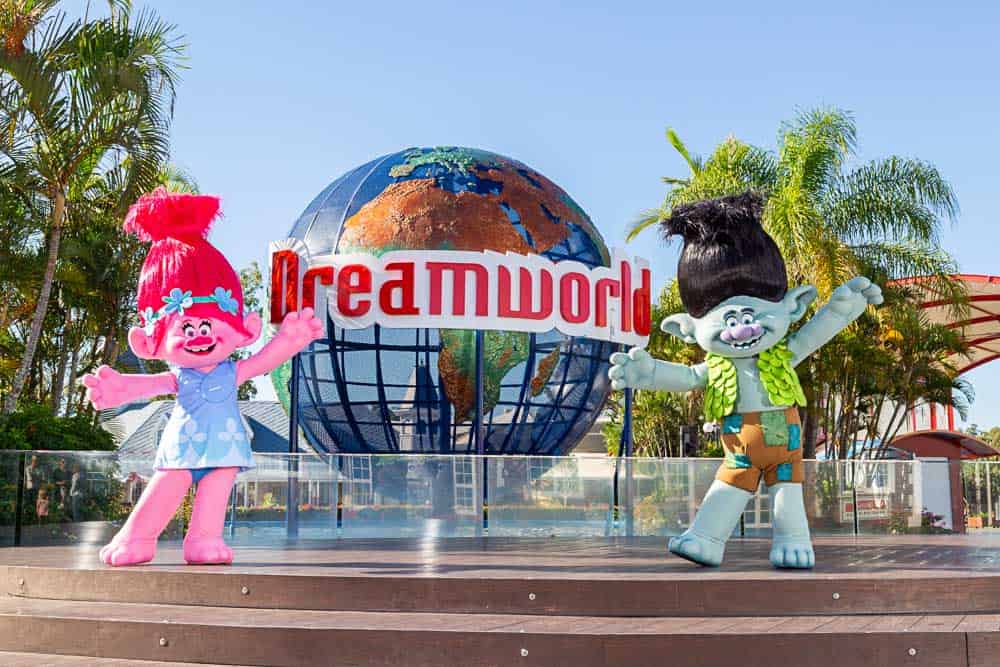 Main Street is the area as soon as you enter the Dreamworld gates. The first thing you will see is a massive globe with the Dreamworld sign. This is an excellent spot for a family photo – however, usually everyone wants one as soon as they enter so I recommend stopping by during the day when most people have already got their picture.
In Main Street, you will also have the opportunity to get a photo with the Dreamworld mascots Kenny and Belinda – two adorable cute koalas. Be sure to check your showtime guide on entry, so you don't miss the meeting times.
There is also a range of food outlets and the LEGO store in the Main Street Area.
Rides in Main Street:
Dreamworld Express
Taking the train around Dreamworld a great way to reach other parts of the park with stops at the Rocky Hollow Ride and Corroboree. Also each day you can see the Bushrangers hold up the train at Central Station – check the show guide for time.
Mick Doohan's MotoCoaster
This is a super fun ride where you ride a life-size 500cc race bike around a 605m roller coaster track at speeds of 72km per hour. There is also a couple of side carts for kids to ride next to their motorbike riding parents.
I really like this ride; it's super fun. While I wouldn't say it's a thrill ride, riding the motorbike through the track with some extreme high speed turns is pretty cool.
The minimum height to ride this ride is 110cm.
Tower of Terror II
This is my all-time favourite ride in the WORLD – that's right not just at Dreamworld but in the WORLD!
This ride involves boarding a vehicle, and in less than 7 seconds, you are at a speed of 161km/per hour, going backwards up a track 38 stories in the sky. Then as you reach the top, you plummet back down, face first. The whole thing is over before you know it and you'll be begging to go again!
While Dreamworld lists this ride as being in Main Street, the entrance is actually behind between Tiger Island and Wiggles World.
The minimum height to ride this ride is 120cm.
Sky Voyager
This is a brand-new ride which is due to open any minute – so I haven't been on it, but it sounds AMAZING!!! The write up on the Dreamworld website says you board gondolas where you will be taken over the Australian landscape. I reckon it's going to be something like those interactive cinemas where the seat moves and sways.
We just recently came back from Japan and went on a few of these types of rides and boy can they make them life-like these days – I can't wait to see what this one at Dreamworld is going to be like.
The minimum height to ride this ride is 100 cm, and children must be 4+ years.
Ocean Parade
Most of the rides in this area have a minimum height of at least 120cm, so it's not an ideal area for little kids, but great for pre-teens to adults.
Ocean Parade also has Flow Rider (a surfboard simulator which costs $10 per person), a gaming arcade (additional cost) and the RedLine Simulators ($15 per person).
Rides in Ocean Parade:
The Claw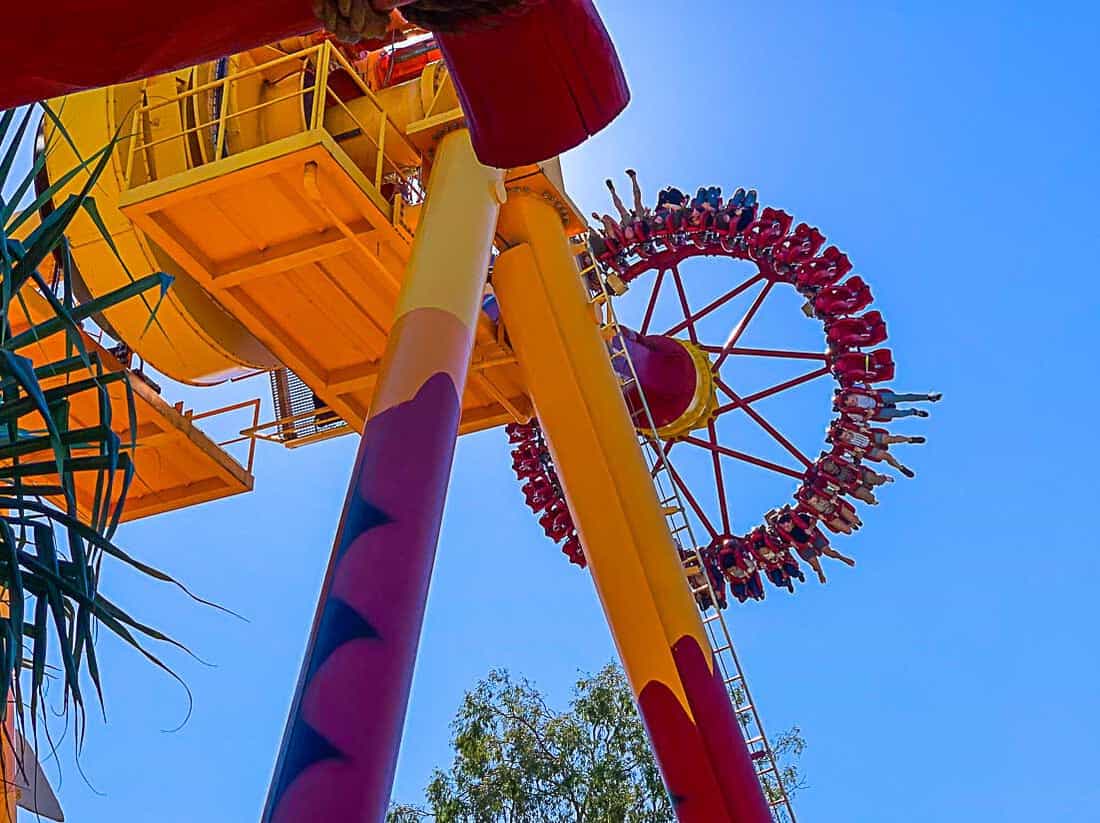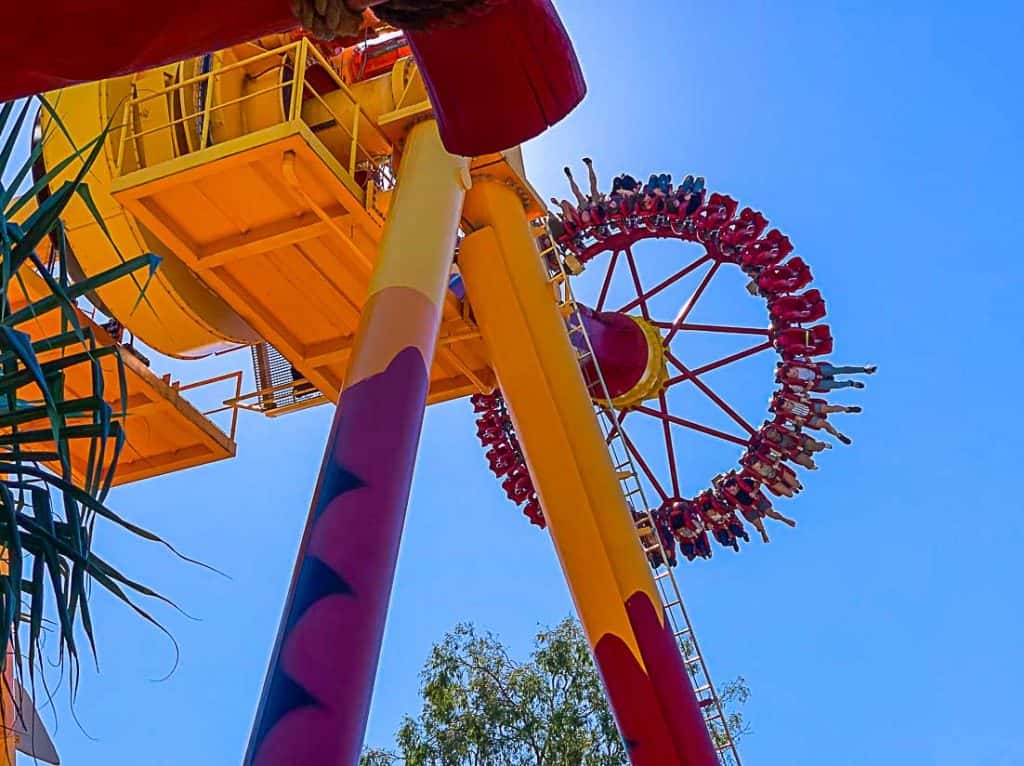 One of Dreamworld's most popular ride, the Claw is undoubtedly not for the faint-hearted. This ride spins 360 degrees as well as swings you nine stories into the air at speeds of up to 75km per hour. While the ride doesn't turn you completely upside down, it comes pretty damn close!
You must be 120 cm and ten years to ride this ride.
Tail Spin
This ride has you flying planes 22 metres in the air at speeds of 33 km per hour. You control how you fly the plane, keep it upright or spin yourself around 360 degrees.
You must be 130 cm to ride this ride.
Hot Wheels
Hot Wheels is a typical high-speed roller coaster, reaching speeds of up to 85 km per hour. The track includes a reverse sidewinder and 360-degree loop.
You must be 120 cm to ride this ride.
Shockwave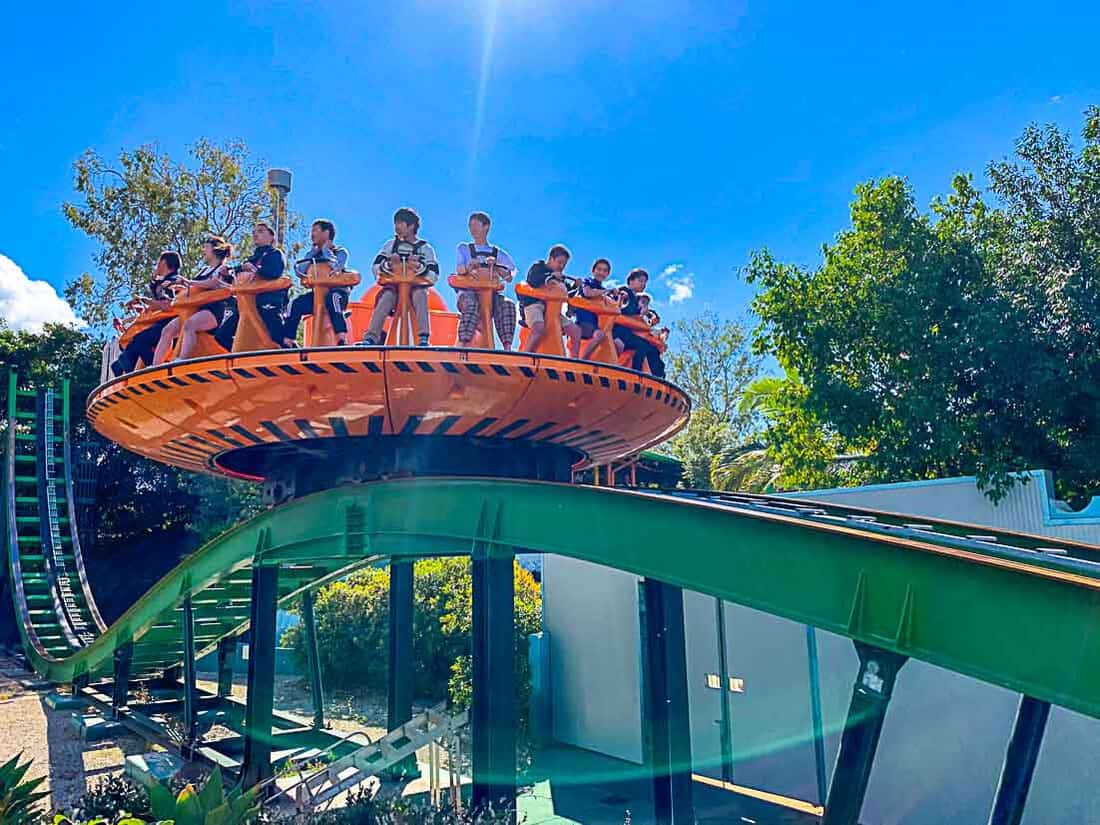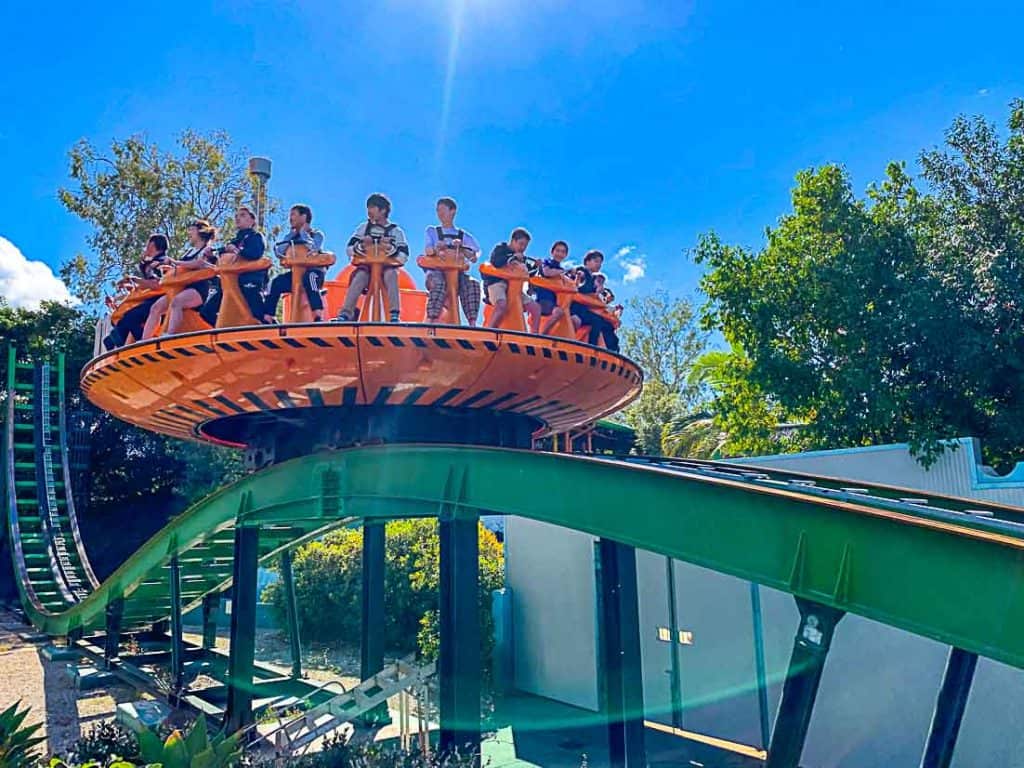 The Shockwave is a great one for the whole family. Not overly scary, but you get a great buzz from it. This ride spins around while moving from side to side on a 63m track at speeds of up to 54 km. On this ride, you feel entirely weightless and experiencing up to 2.5 G force.
You must be 120 cm to ride this ride.
Dreamworks Experience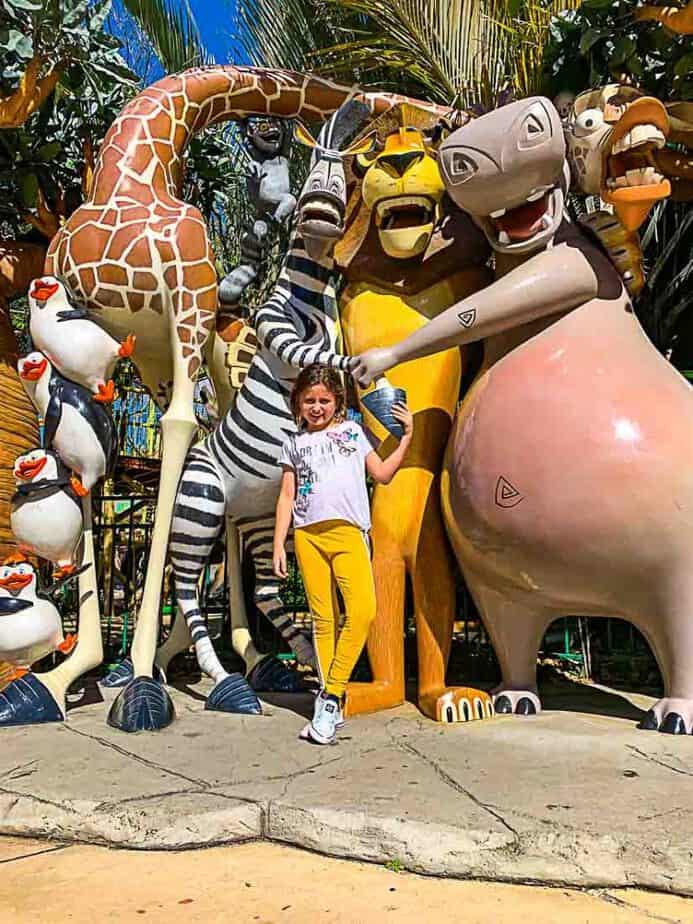 This is an excellent area for the little to pre-teens as all the rides are based on the movies Madagascar and Kung Fu Panda. There is a good range of kiddy rides as well as some thrill rides here too.
In Dreamworks Experience, you can get your photo taken with statues of your favourite characters from the movies as well as can meet some of the characters in person. The little ones will also love the Madagascar Live show which is full of interactive singing and dancing. There is usually only one show a day so be sure to check the show guide on entry.
One of Myla's favourite thing to do in Dreamworks Experience is the MAD Jungle Jam. This is a super cool two-level enclosed area where kids can pop softballs into air canons and shoot them at each other. The whole area is absolute mayhem – but no doubt the little ones will have an absolute ball!
Rides in Dreamworks Experience:
Escape from Madagascar
For those little ones wanting to experience their first roller coaster, this is a great one to start with. Certainly not a scary roller coaster at all. No loops, or high speeds and the ride is over no sooner then it started.
You must be 110 cm to ride this ride.
Gingy's Glider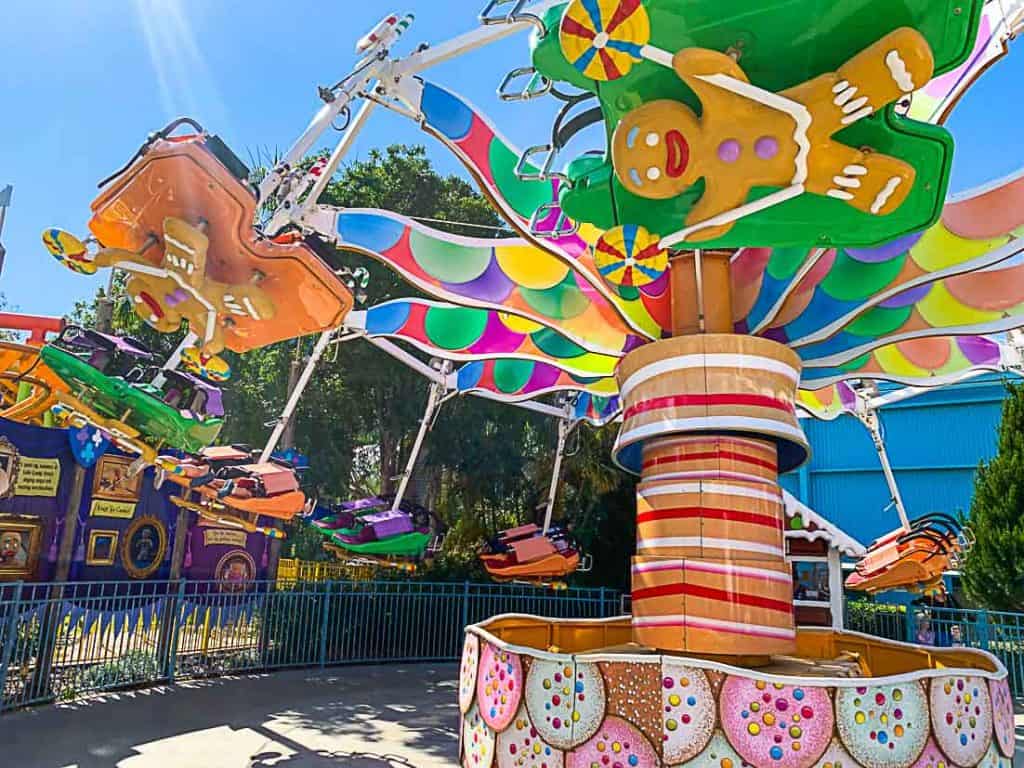 Another great one for the kids that are too big for the tiny tot rides but not ready for the big thrill rides. With the Gingy's Glider, you lie down and fly through the sky.
You must be 110 cm to ride this ride.
Shrek's Orge-Go-Round
All the little ones love a good old fashion merry go round — especially one Shrek themed.
Dronkey Flyers
Another awesome ride for the little ones, kids can ride dronkeys (half donkey, half-dragon) through the air. Kids can control how high or how low they go with the controls.
Puss in Boots Sword Swing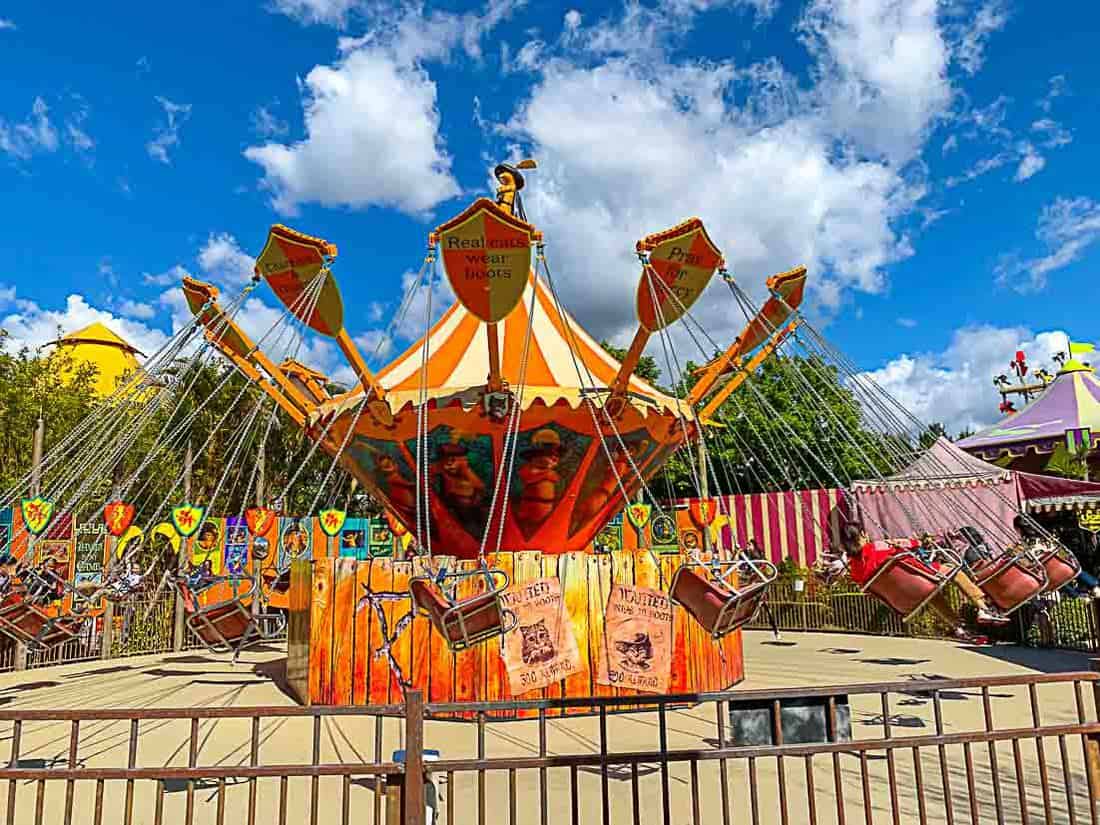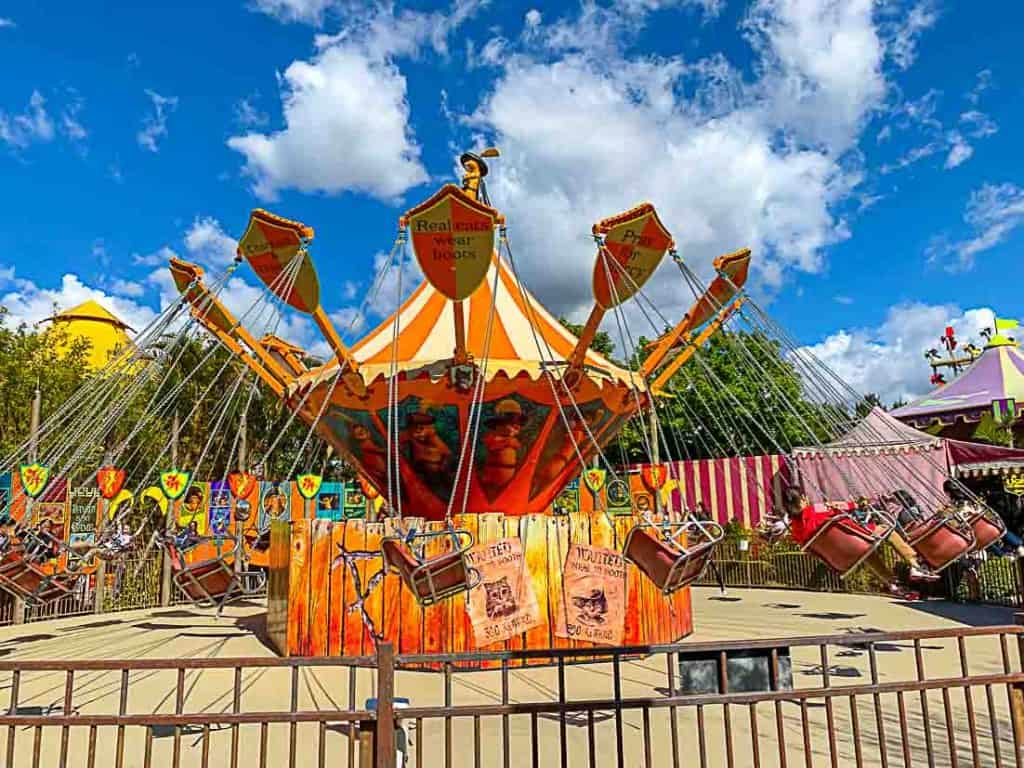 One of Myla's favourite rides the swinging chairs. A pretty simple ride, kids ride chairs as they swing through the air in a circle.
You must be 110 cm to ride this ride.
Pandamonium
With this ride, you can choose the heart racing gondolas or the "not so crazy" gondolas depending upon how brave you are. These gondolas swing up to 8 metres high into the air, while the crazy ones swing you upside down, side to side and will have you experiencing up to 3.8 G forces.
You must be 120 cm to ride this ride.
Skadoosh Bumper Cars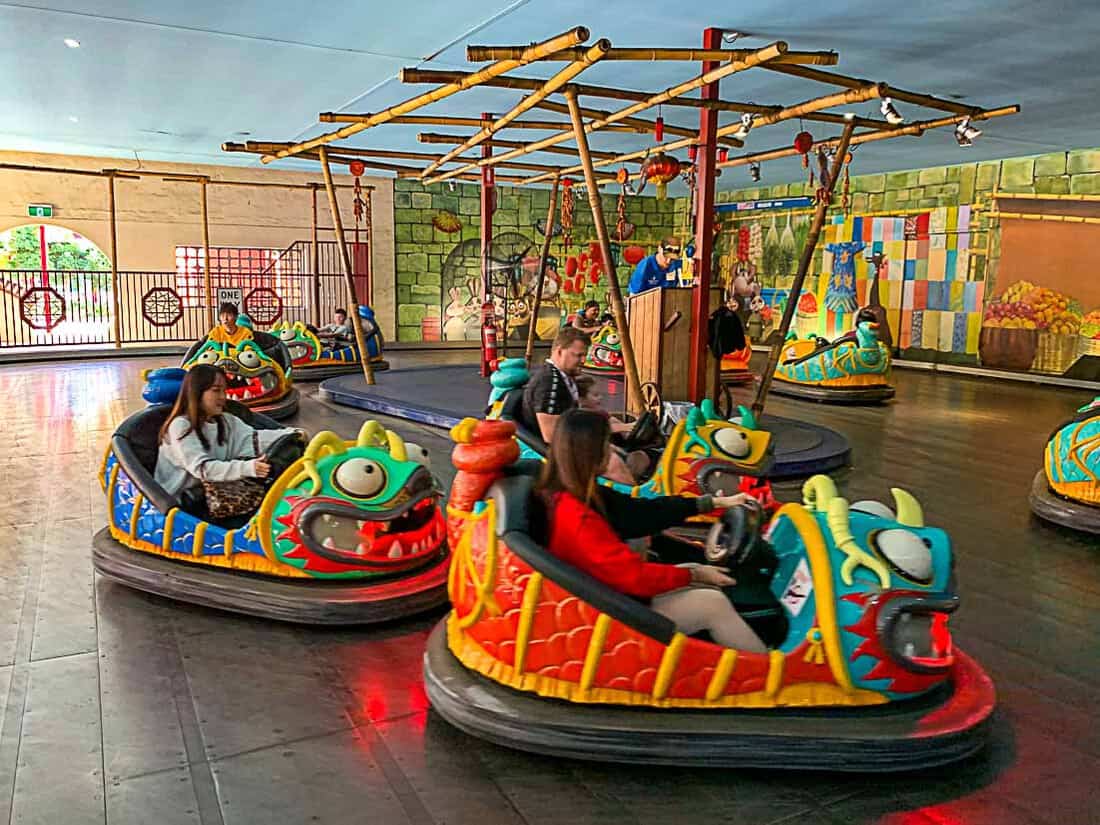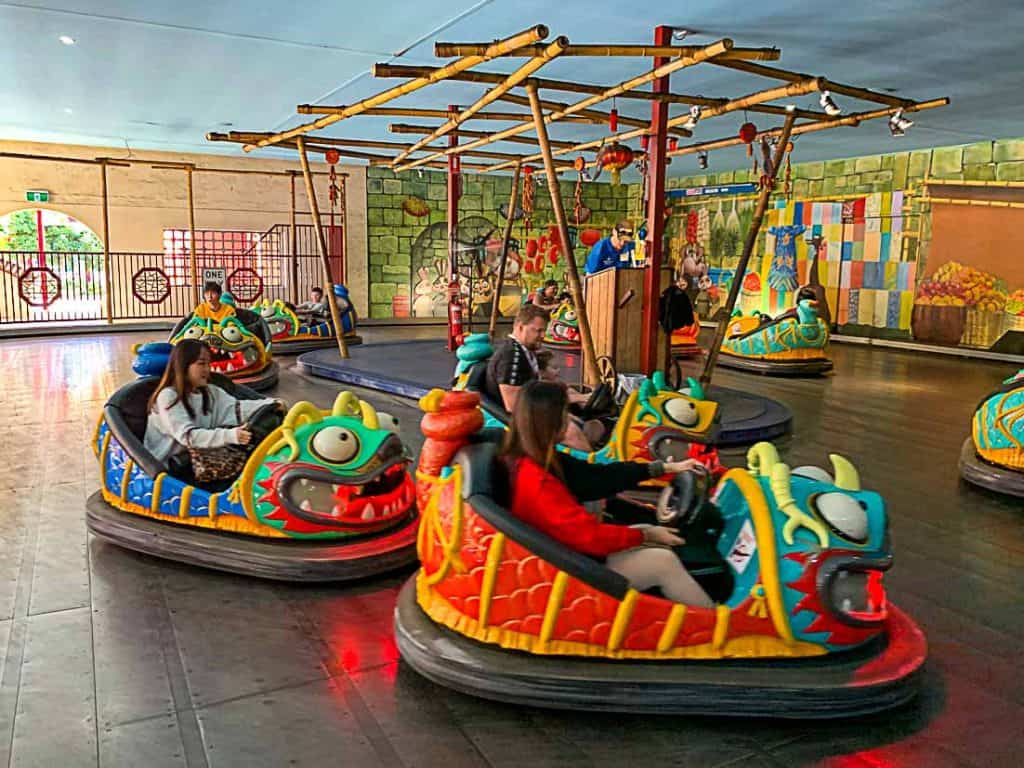 Dodgem cars are everyone's favourite and a great one for families with kids of all different ages.
You must be 120 cm to ride this ride.
Tiger Island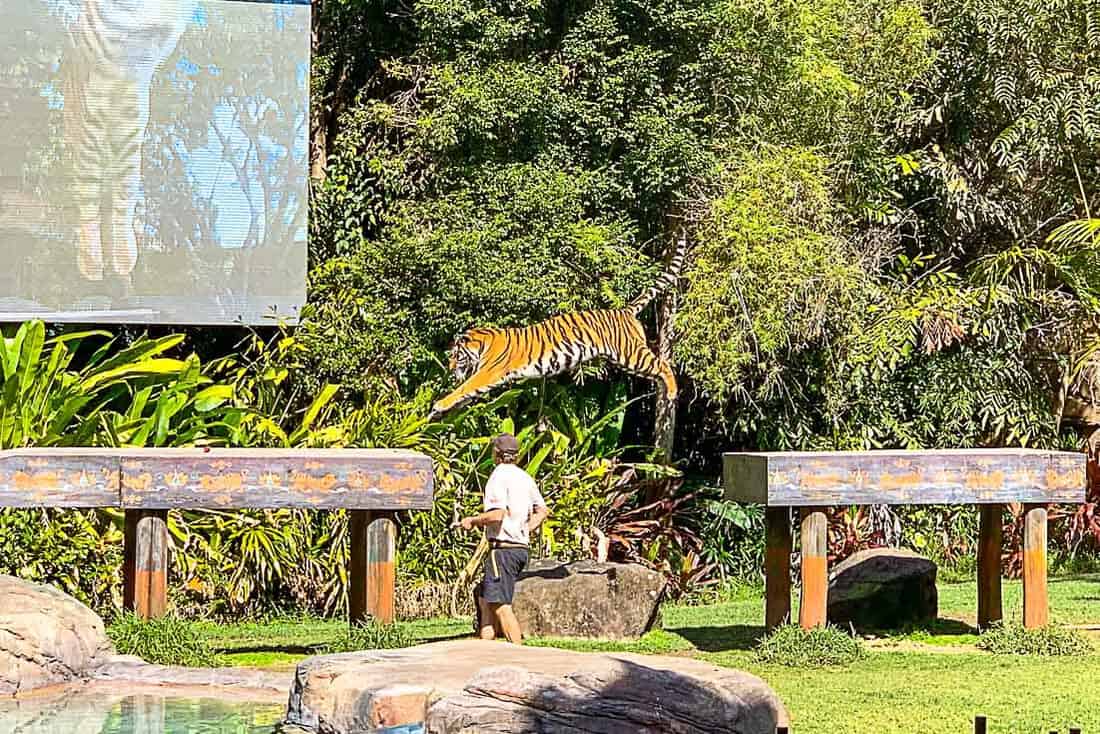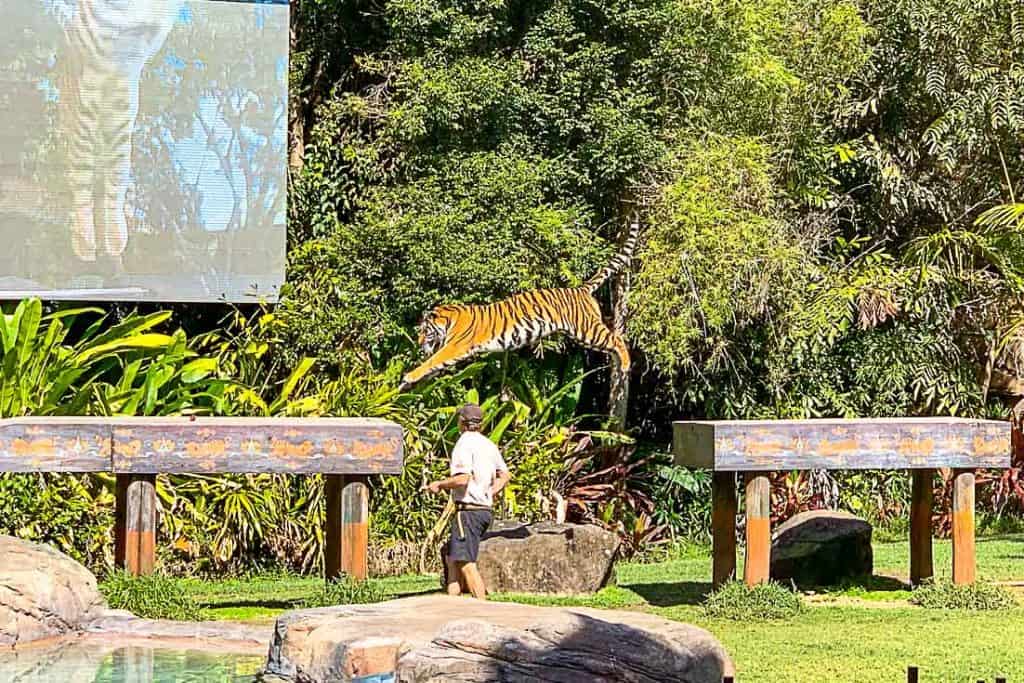 Whatever do – make sure you factor in a visit to Tiger Island during your day at Dreamworld. The enclosure here is fantastic, and each day at noon there is a great show where you can see some impressive natural tiger behaviours.
The show is super popular, so I recommend you get there early to get a great spot.
ABC Kids World and Wiggles World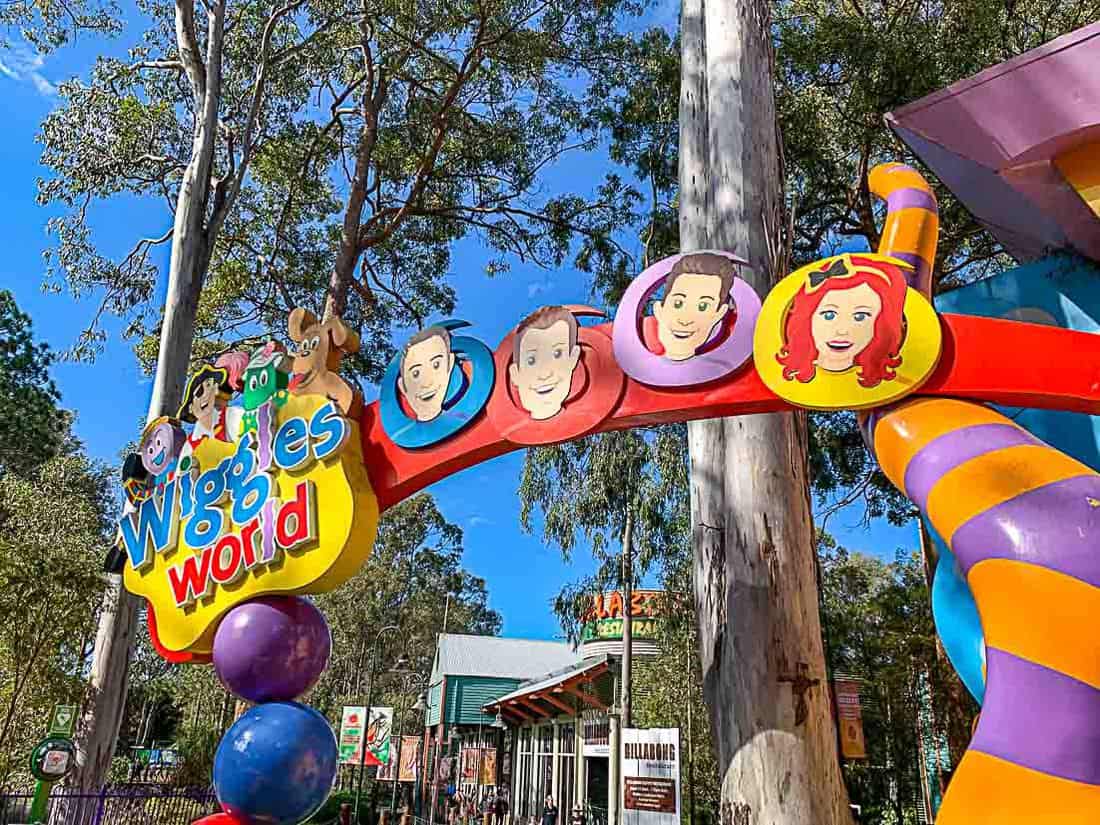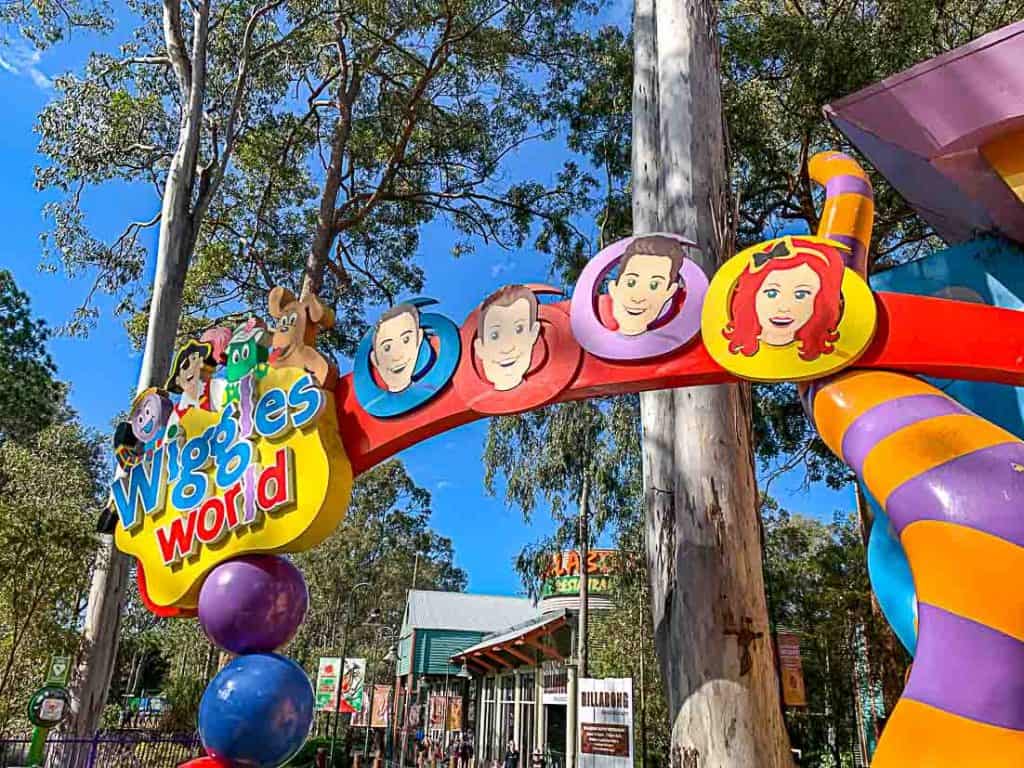 For the super tiny kids or little ones that aren't too keen on big rides, the place to be is ABC Kids World and Wiggles World. All these rides are themed after popular kids shows from the ABC and of course the world-famous Wiggles.
Even at eight years of age, this is still Myla's favourite place to be in all of Dreamworld, mostly because she isn't really into the thrill type of rides.
Apart from the rides, there are a few other things here for kids to do including a maze, a pirate ship the kids can play in, an activity room with toys (a great place for some chill-out time) and the Play School art room which has some interactive games for the kids on iPads.
Rides in ABC Kids World and Wiggles World:
Big Red Car Ride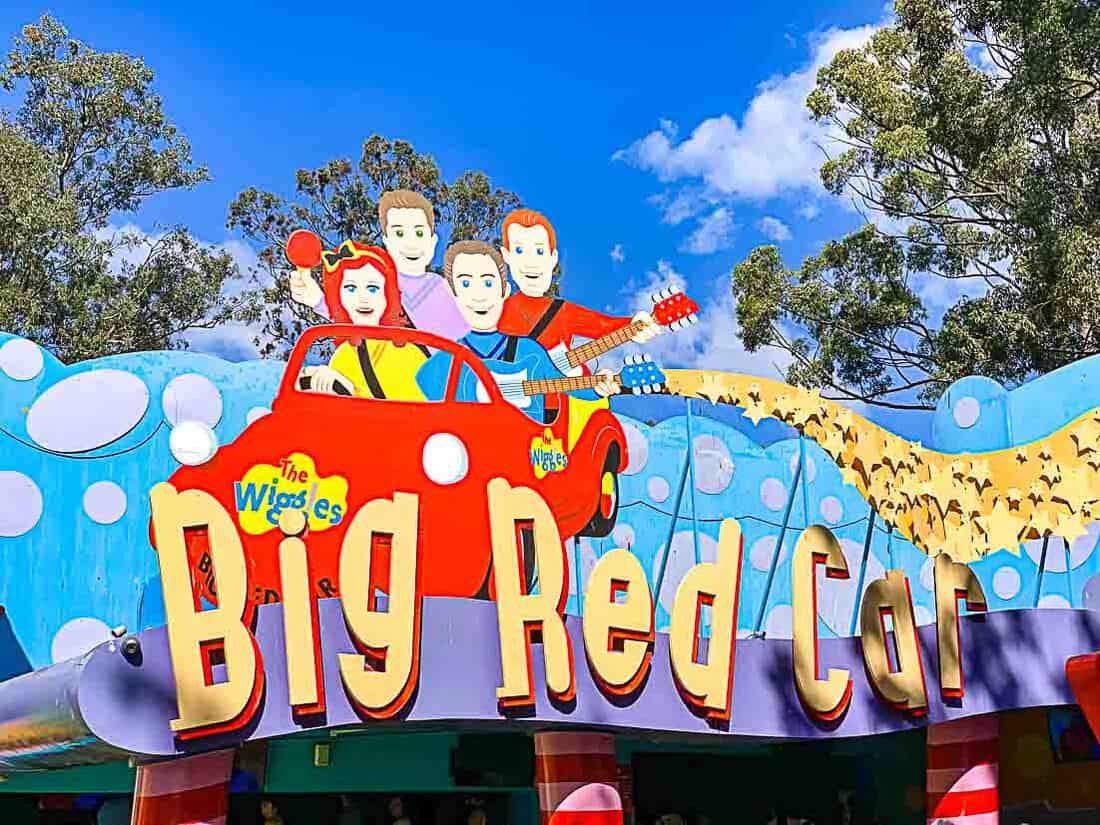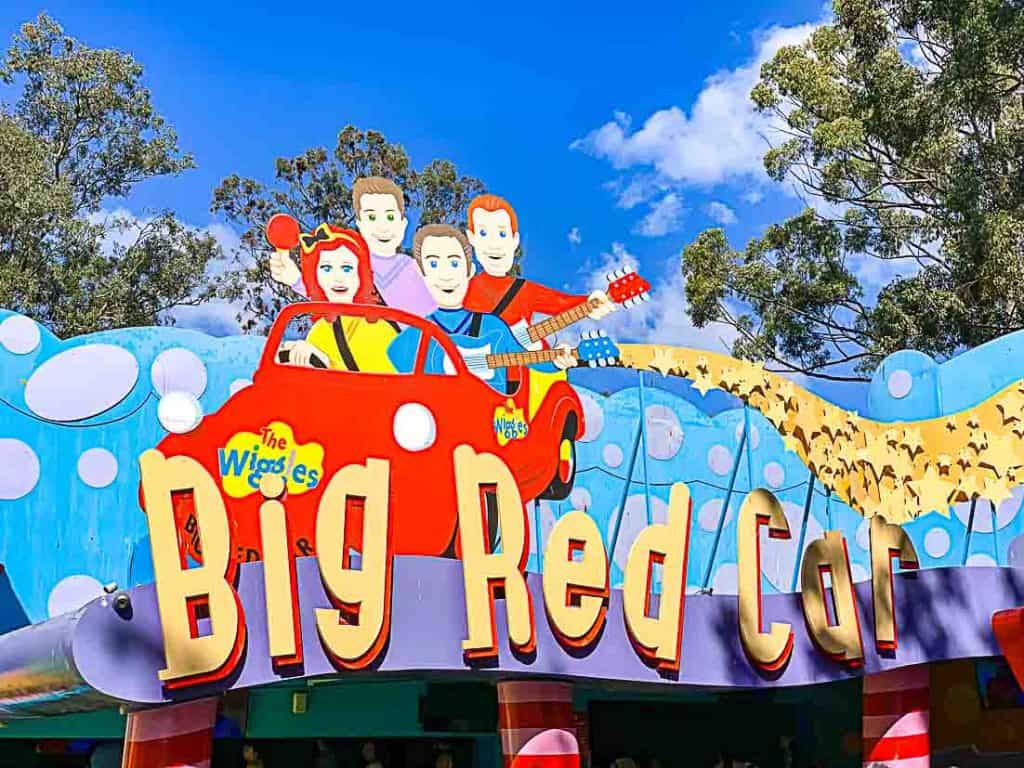 A must for all little Wiggle fans. The Big Red Car rides takes you through the Wiggles home, while you get to sing all of your favourite Wiggle songs. You might also see some of your other favourite Wiggle characters, including Wags the Dog, Henry the Octopus and Dorothy the Dinosaur.
Big Red Boat Ride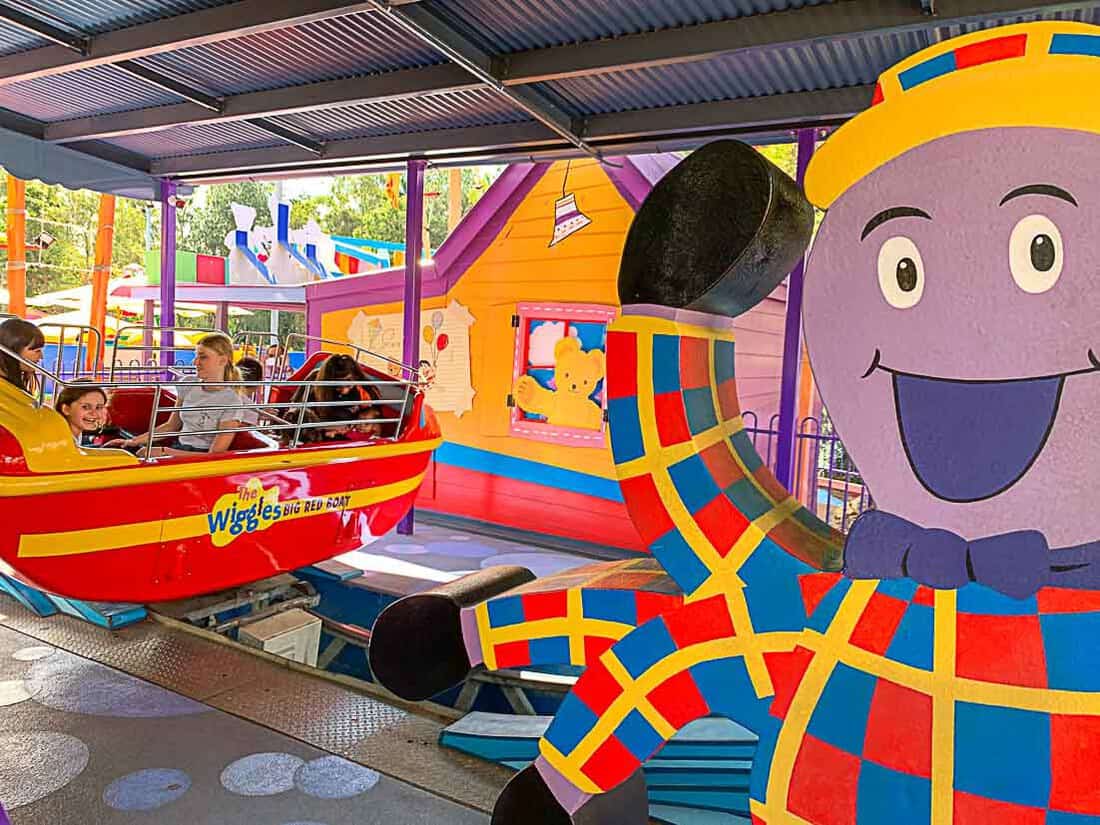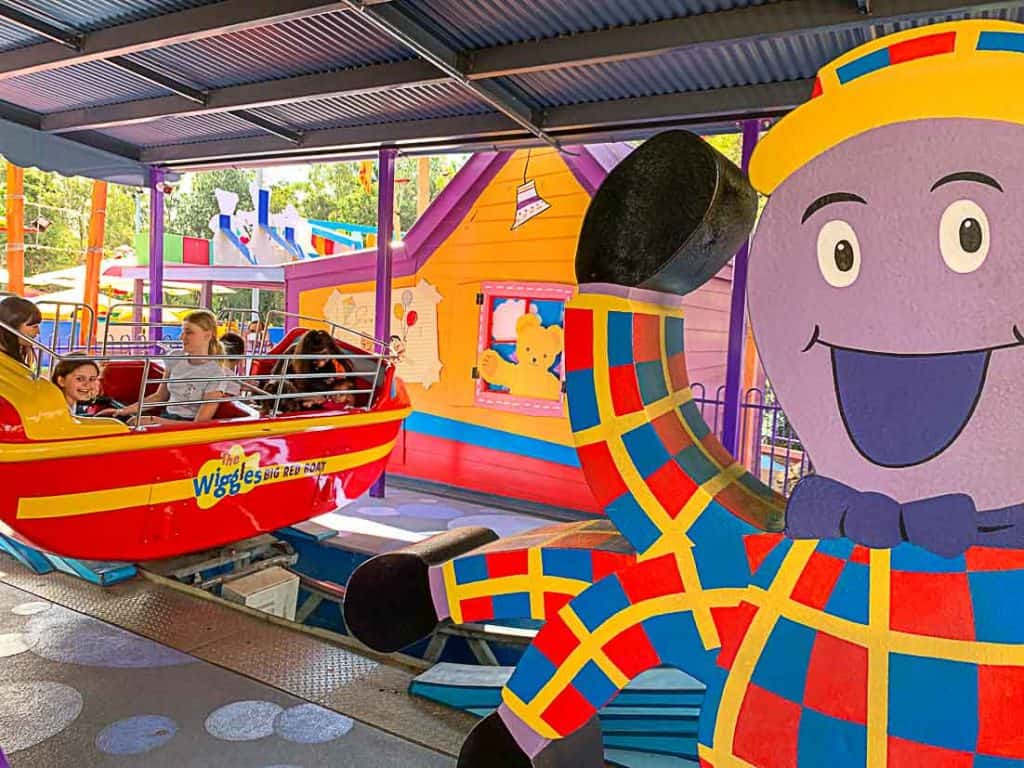 Kids will love riding the Wiggles big red boat, which glides from side to side.
Dorothy's Teacup Ride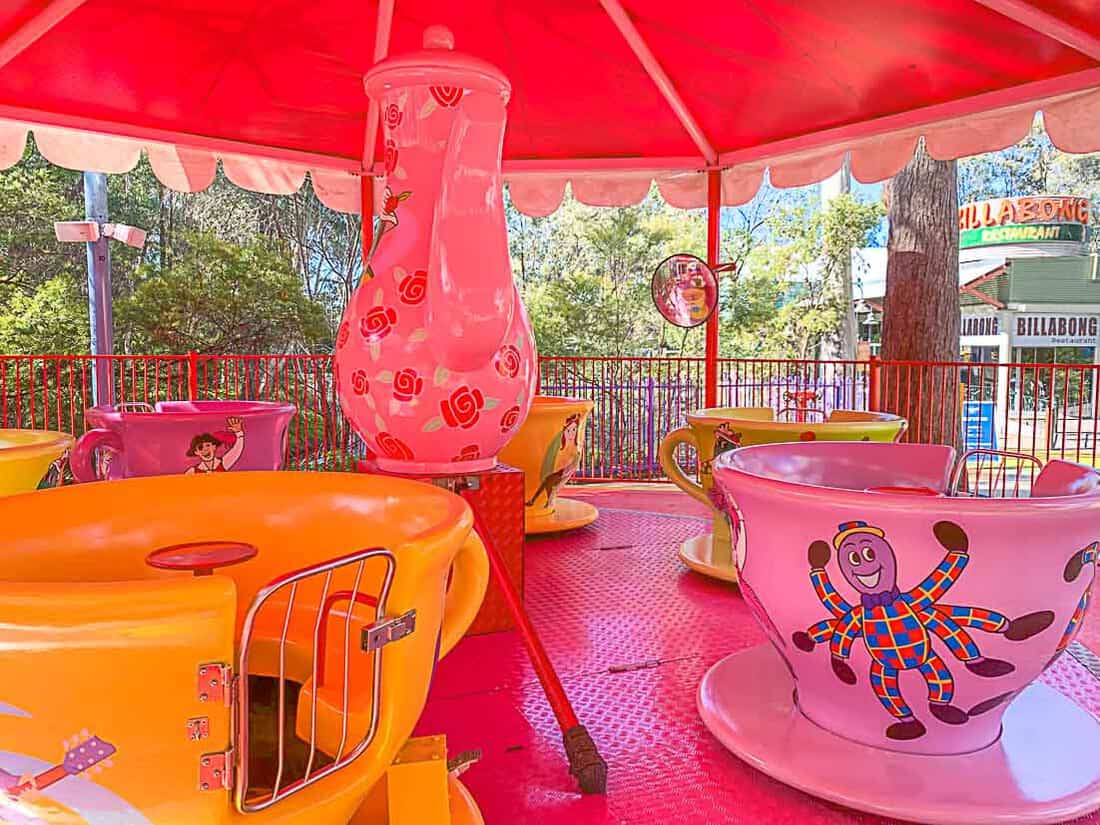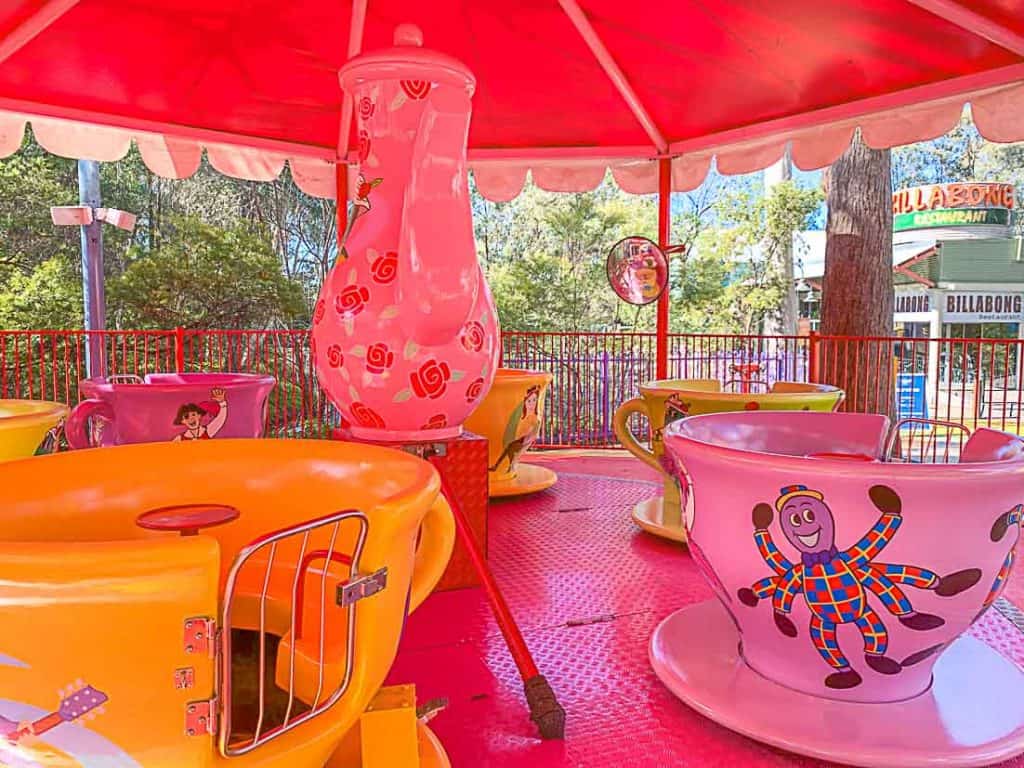 Spin round and round in Dorothy's teacups – but don't ride if you're like me and prone to getting dizzy.
Play School Wheel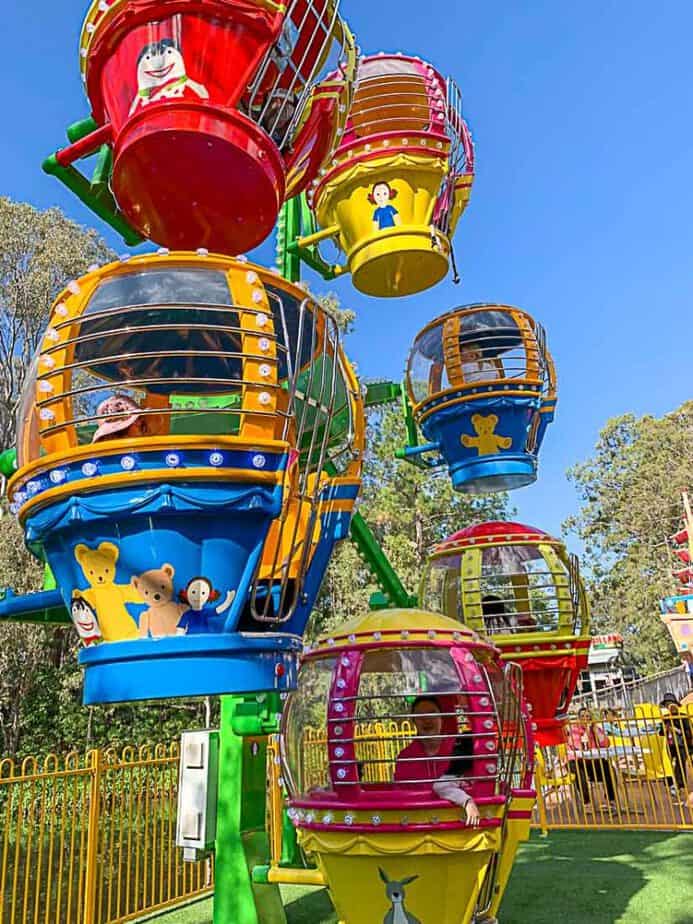 This is the perfect size Ferris Wheel for little riders.
Corroboree
Corroboree is the place to be to see a range of Australian animals as well learn about our indigenous culture.
There is a stack of animals you can see here. Some of the animals include wombats, dingos, birds and Tasmanian devils. There is a great area where you can pat and feed the kangaroos as well as being able to have a cuddle with a koala. Also, don't miss checking out the crocodiles and if you can see the crocodile talk to learn more about these fierce creatures.
One of the shows here I really like is the Sheep Shearing Show. Other great presentations include seeing the ancient art of fire-making, cultural face painting, weapon making, and cultural dance and music. Be sure to check the showtime guide on arrival, so you don't miss any of these presentations.
There is just one ride in the Corroboree ride:
Vintage Cars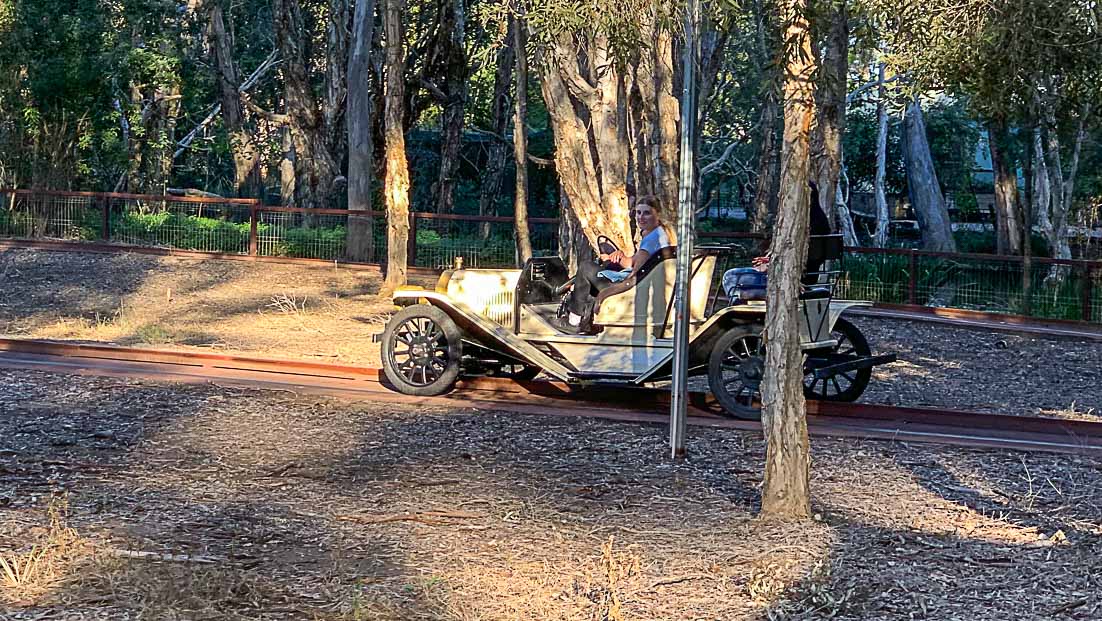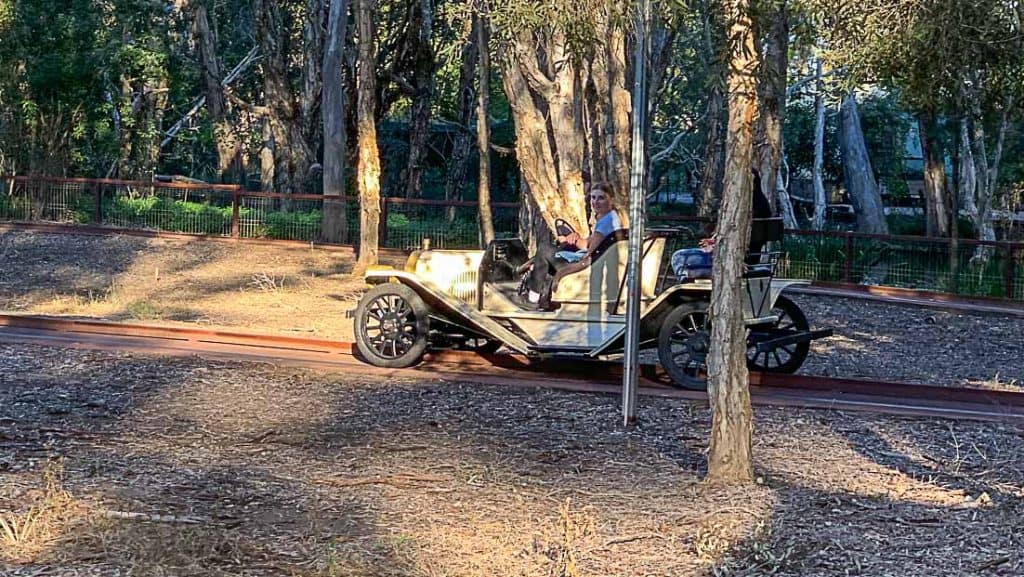 The only ride located in Corroboree, these vintage cars are great for families with young children. Myla just loves this ride as she gets to drive a car! It's pretty slow and not terribly exciting, but kids will love being the driver while Mum and Dad take a rest in the back.
You must be 120 cm to drive.
Gold Rush Country
Rides in Gold Rush Country:
BuzzSaw
This is probably the only ride at Dreamworld that I have not been on and likely never ever will because it just looks far too scary for me!!
Supposedly the highest inversion ride in the Southern Hemisphere, this is a 15 storey looped roller coaster. There is a 360-degree roll followed by a 90-degree drop at speeds of up to 105 km per hour.
Andy has been on this ride and loved it – but it's not for me!!
You must be 130 cm to ride this ride.
Giant Drop
Another one of the big Dreamworld thrill rides, this ride is also not for the faint-hearted or for anyone scared of heights for that matter.
This ride takes you up 39 stories into the sky, with fantastic views from the top. The part that makes me sick to my stomach is the few minutes you quietly wait at the top for your seat to free fall to the ground. Waiting, waiting and waiting and then without warning, you drop at speeds of up to 135 km per hour to the ground.
You must be 120 cm to ride this ride.
Rocky Hollow Log Ride
One of the few original Dreamworld rides, the good old Rocky Hollow Log Ride a family favourite. Families sit inside the logs which float downstream before climbing the aqueduct and plunging down the ramp at speeds of up to 50 km per hour.
WhiteWater World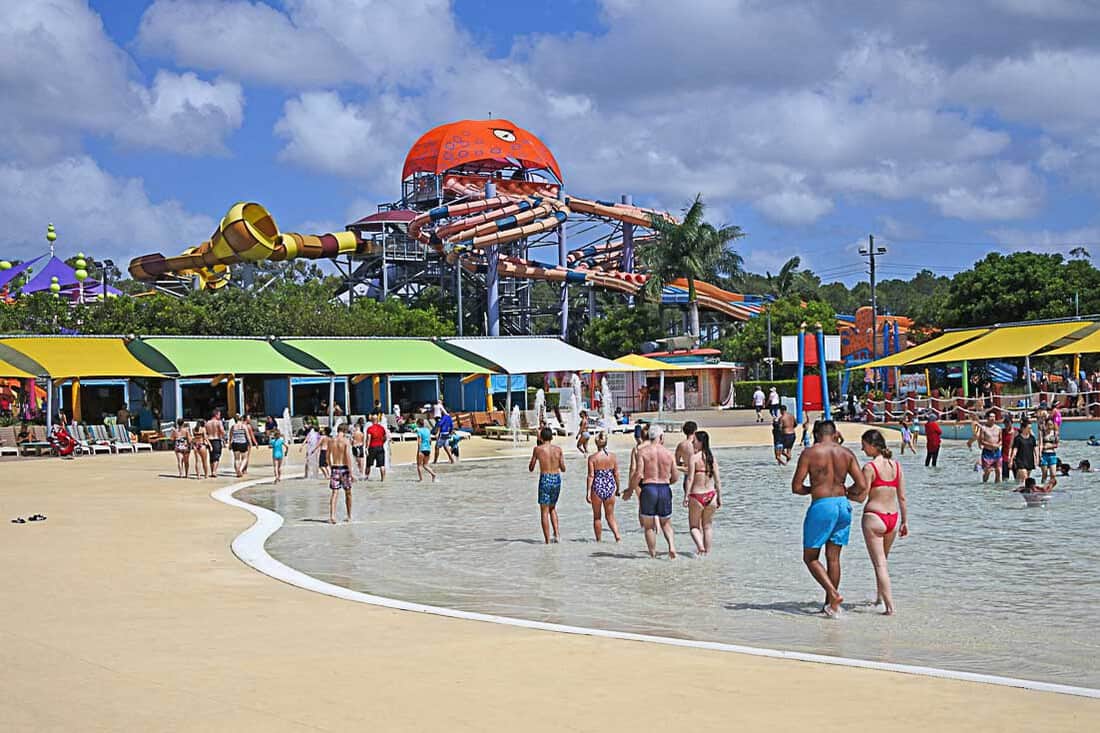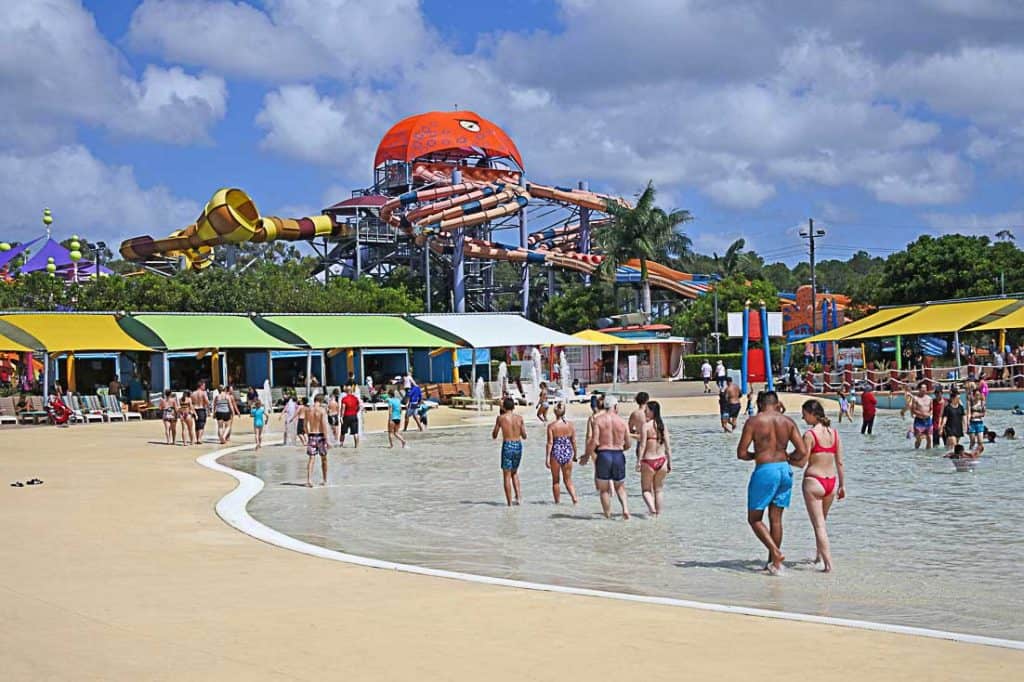 When the weather is hot, WhiteWater World is the place to be! I recommend you allow an entire day to see everything at WhiteWater World as you won't get to go on all the Dreamworld rides and WhiteWater World rides in one day.
The rides and attractions at WhiteWater World are:
Wiggle Bay
For the little kids, this is where they will want to be. Wiggle Bay is full of mini slides, interactive sprays, water cannons, giant musical instruments as well as plenty of space for a good old splash about.
Pipeline Plunge
For the kids that are too big for Wiggle Bay, but too small for the crazy waterslides, Pipeline Plunge is just for them. This area has the perfect size slides, interactive sprays and canons as well as the giant dumping bucket.
Cave of Waves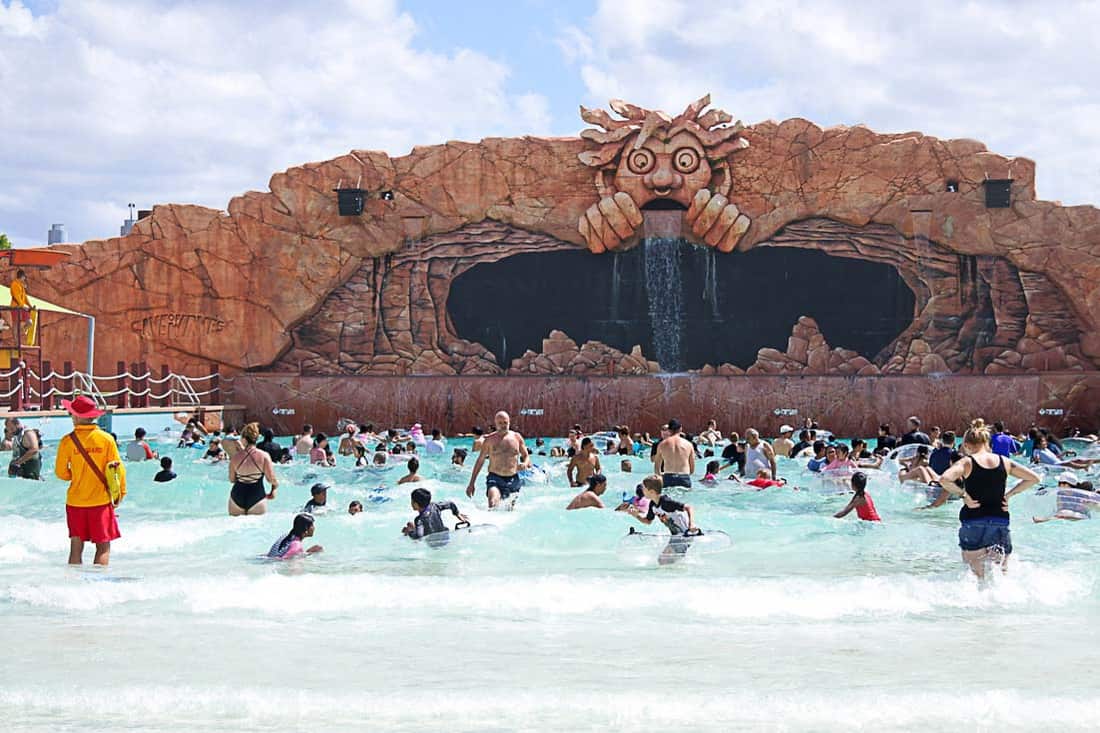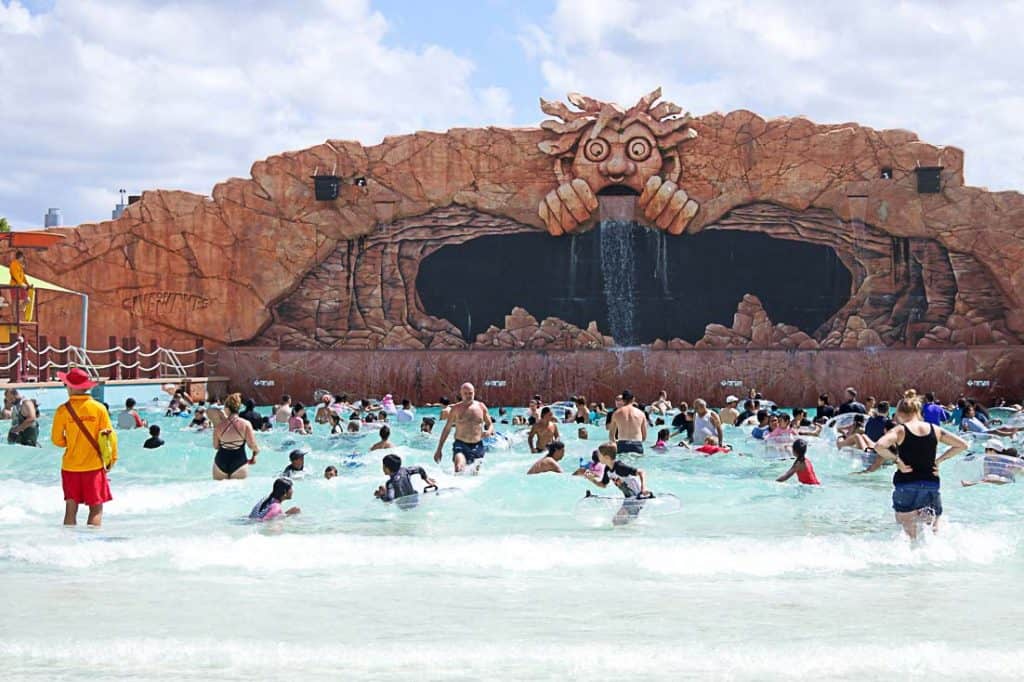 Everyone loves the wave pool. Just like the ocean, this pool has waves reaching a height of around 1.5 metres. The pool alternates between calm water and waves so families with kids of all ages can enjoy the fun.
Super Tubes Hydro Coaster
This waterslide has you blast down the slide from an 18 m tower and with the momentum you are propelled up and over other slopes too. This ride is great for families because you can ride 2 to 3 people at once. You must be 110 cm to ride this waterslide.
The Wedgie
Not for the faint-hearted, this waterslide has you drop down five stories. Cross your arms and wait for the door to open – when it does you plummet feet first through the course which includes Australia's only human half coil. You must be 130 cm to ride this waterslide.
The Green Room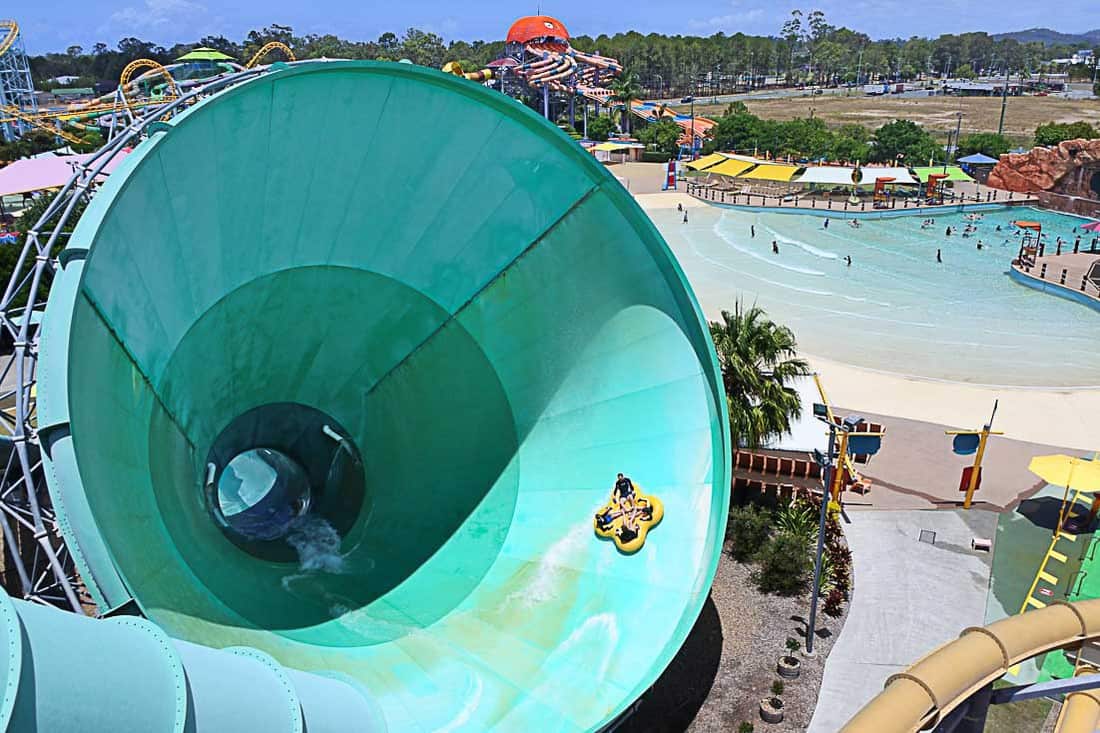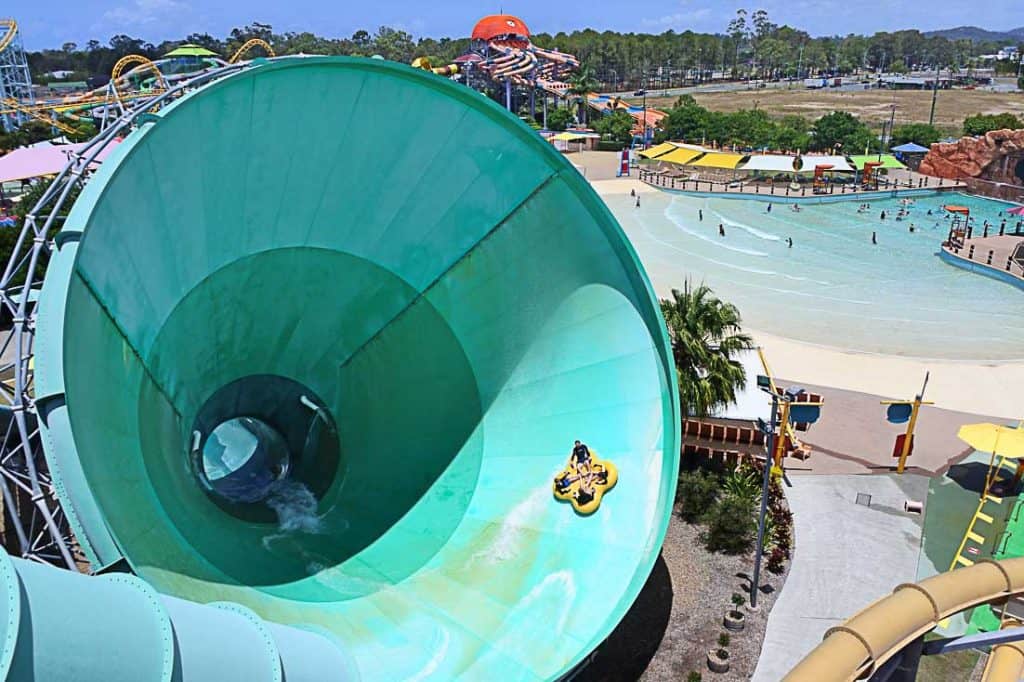 This is one of my favourites, the Green Room! From 20 metres high, jump on your tube built for four people. Your tube then takes you through a 75-metre tunnel to the 15-metre funnel before dropping you out with a big splash. You must be 120 cm to ride this waterslide.
Triple Vortex
One or two people take their inflated tube and ride through dark, windy tunnels and three open funnels. You must be 120 cm to ride this waterslide.
The BRO – Blue Ring Octopus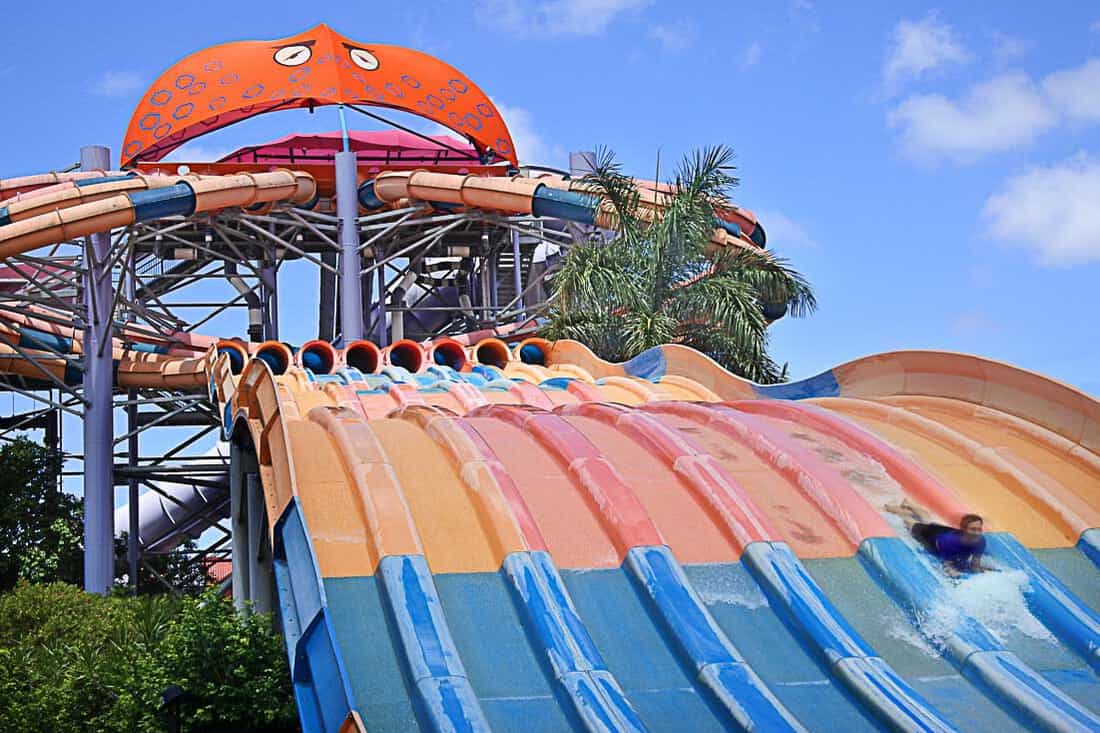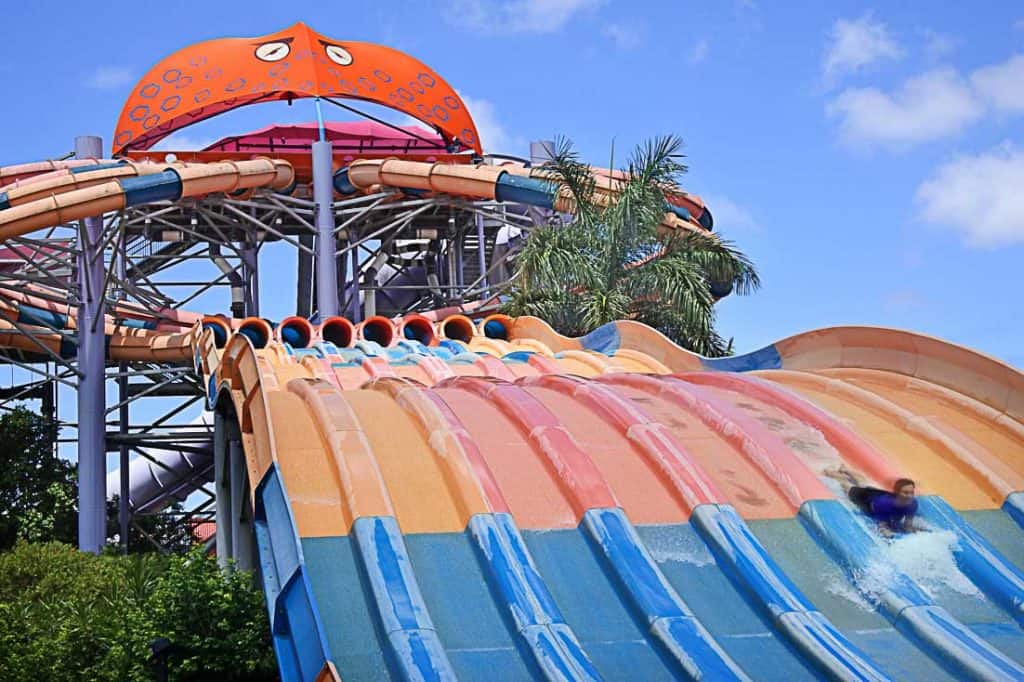 With eight lanes, even the biggest of families can race on the BRO. Jump on your mat headfirst and slide down the 120-metre slide with twists and turns as you reach up to speeds of 50 km per hour. You must be 140 cm to ride this waterslide.
The Rip
From a height of 16 metres, on your tube for 2-4 people, you slide into 12 metres of pitch-black before landing into a massive whirlpool and then onto the plunge pool below. You must be 120 cm to ride this waterslide.
The Little Rippers
Similar to the Rip, but with a tube built for 1 or 2 people and with smaller tunnels but higher speeds. You must be 120 cm to ride this waterslide.
The Temple of Huey
Intertwined between the tracks of the Hot Wheels roller coaster, this is an excellent ride for the whole family. There are three different slides to choose from all with various twists and turns. Choose to ride either in a single or double tube. You must be 100 cm to ride this waterslide.
Dreamworld Food
There is a huge range of places to eat in Dreamworld, but it is fairly expensive. Most of the food options are things like burgers, hot dogs, chips and pizza, and you will find a food outlet in pretty much every world. There are also plenty of snacks like ice cream, lollies and even Churros (mmm yum my favourite!).
If you are looking for a restaurant type of meal, there is a Billabong Buffer Restaurant just near Wiggles World. The buffet is $30.90 AUD per adult and $13.90 AUD per child. If you like this idea –I recommend you purchase a ticket from Klook which comes with the buffet as it's soooo much cheaper. At the time of publishing, you could one-day tickets, including lunch for $70 AUD for an adult and $50 AUD per child.
A cheaper option is, of course, to bring your lunch. While you are not permitted to bring food into Dreamworld, you can leave an esky in your car and get a pass out to eat. However, we have always carried snacks and drinks in our backpacks and never had any issues. They don't check your bags on entry or anything. You can bring food into WhiteWater World though, just not commercially prepared food.
Dreamworld Shopping
I must stay I've never really looked in the shops at Dreamworld, but if you would like to buy a souvenir or two, there are plenty of places to buy them from. Pretty much every "world" has a range of stores so you can purchase little trinkets related to the world.
For the little (or big) LEGO fans, there is also a fantastic LEGO store at Dreamworld too. Here you will find some awesome LEGO displays as well as one of the largest ranges of LEGO in all of Australia.
Other Dreamworld Tips
Here are a few more tips for how to make the most out of your visit to Dreamworld on the Gold Coast.
There is no way you can see everything at both Dreamworld and WhiteWater World in one day, so consider buying an annual, three day or 7-day pass. Just note that the three and seven-day passes are consecutive day passes – so even if you are only visiting the Gold Coast for a week or so, you might be better off buying the annual pass so you can visit whenever you like during your stay. A yearly pass is only a few extra dollars anyway.
If you can go on a weekday AND outside of school holidays, this will ensure you avoid the biggest crowds.
Be sure you are there around 9.30am, 30 minutes before opening time. Unlike other theme parks around the world, Dreamworld has relatively short opening hours – between 10 am to 5 pm. You will need every minute of that time to see the park.
Be sure to pick up a map and show time pamphlet on arrival. Decide which shows you want to see and plan your day out around the shows. Some shows like the one at Tiger Island is only on once per day, so you don't want to miss it.
Go straight to one of the big thrill rides as these tend to be most popular and where you will encounter long lines during the day. I suggest heading to the Giant Drop or the Tower of Terror II first up.
Where to Stay when Visiting Dreamworld
Most people visiting Dreamworld will be staying either on the Gold Coast or in Brisbane. If you want some tips on where to stay – here are a few articles I've written which include accommodation tips:
If your visit to the area is solely to visit Dreamworld, there isn't a Dreamworld hotel, or anything like other theme parks around the world has. However, there are a few places you could stay nearby, which I have provided below.
The Coomera Motor Inn is the closest accommodation to Dreamworld, so close in fact that you can walk to Dreamworld from here in about 5 minutes.
Accommodation is in studio type rooms which include one double bed and either two single beds or three single beds. Rooms also include a refrigerator, TV, air conditioning, microwave and kettle. The hotel also includes a swimming pool, guest laundry and has free wifi.
Click here for more information about Coomera Motor Inn.
Paradise Country Farm Stay is linked to another attraction called Paradise Country. While not a park with rides or anything, this is a great place for families who like animals.
Accommodation options at the farm stay include basic two-room tents and stunning glamping tents – all set up for you. Vans are also available to hire, or you can rent a van site if you would like to bring your own. A toilet and shower block is provided.
There are plenty of great activities here for the kids, including animal feeding, milking cows, collecting eggs and learning about life on the farm. There is also an onsite restaurant, and you can even toast marshmallows around the campfire.
To get to Dreamworld from here, you will need to walk 20 minutes to the bus stop and from here its just a 12-minute ride to Dreamworld. Alternatively, get a taxi or rideshare as it's only 15 minutes by car.
Click here for more information about Paradise Country Farm Stay.
The BIG4 is located right in the centre of Dreamworld and Movie World, making it the ideal base for exploring the theme parks. With a bus stop right outside it's easy to reach all the theme parks too.
The BIG4 has some excellent facilities, including a resort-style swimming pool which is heated to 28 degrees all year round and a waterslide. There is also a toddler pool, jumping pillow, tennis court, bike track and pedal carts for the kids too. Other on-site amenities include a spa, a camp kitchen, laundry facilities and poolside café.
There is a range of accommodation options with even families of up to 12 people being catered for. Stay in either a motel style room, cabins or villas. There is also a range of camping and caravan sites available too. Most rooms include air conditioning, kitchen, TV and balcony.
It's super easy to reach Dreamworld from here as the bus stop is right outside. From here it's a just a 10-minute ride to Dreamworld.
Click here for more information about BIG4 Gold Coast.
Dreamworld the Verdict
If you are coming to the Gold Coast with the kids and wondering whether or not to take the kids – don't hesitate any longer!! In my view, Dreamworld is the BEST theme park on the Gold Coast. There is so much to do here for kids of all ages, from the tiny tots, to pre-teens as well as the big kids who love the thrill rides.
If you are coming from overseas, as well as rides, you will also get the opportunity to see plenty of Australian animals as well as learn a little about our indigenous people. This really is one of the places on the Gold Coast where you can experience it all. Plus if it's a hot day you can cool off in the water park too.
Book your Dreamworld tickets NOW!!!
A Note on the Tragic Events of 2016

I know families from all over the world come to Dreamworld for a day of fun and laughter, and I sincerely hope you have a wonderful day with your family when you visit. However, writing this article, I felt it was wrong of me not to pay my respects to the people who lost their lives here in 2016.

The four people who tragically died in 2016 were people just like you and me who came to have a wonderful day with their families and died while doing so. The ride these people died on has since been demolished, and I really hope the management of Dreamworld ensures that something like this never ever happens again. Unfortunately, the pain of that incident no doubt lives on for those families.

To the families who lost their loved ones in 2016, I am terribly sorry for your loss. I can't even imagine the pain you endured that day and every day since. May your loved ones rest in peace.