Surfers Paradise is absolutely teeming with fantastic family-friendly restaurants and cafes, however here a few that we have personally been to and recommend.
Family Friendly Surfers Paradise Resturants
1. Hurricane's Grill & Bar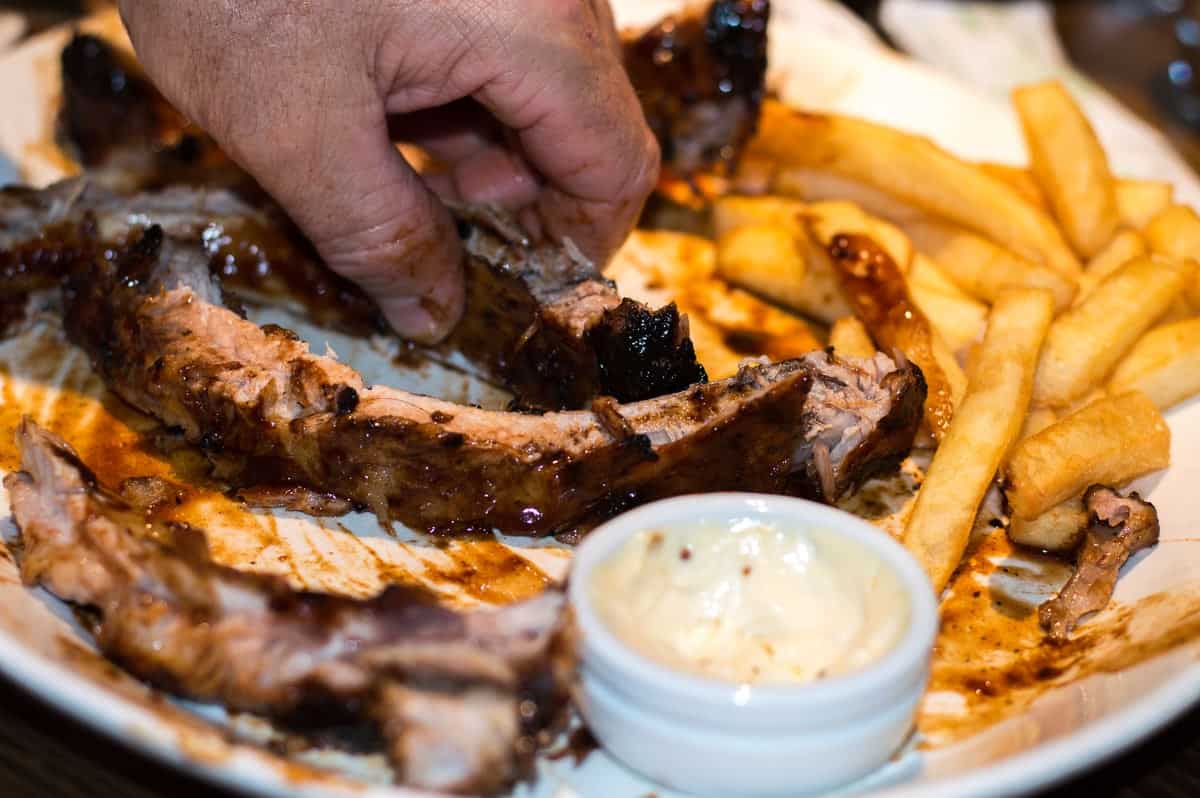 If you're down at Surfers Paradise and looking for somewhere to get a really good meal, with big servings, great atmosphere and stunning views then you want to get down to Hurricane's Grill & Bar. ⠀⠀
Hurricane's Grill & Bar is located right on the Esplanade, on level 1 of the Soul building. Being on level 1 these guys have the best views across Surfers Paradise beach, they even told me that during the day when it's Whale season you maybe even lucky enough to spot a whale or two!⠀
⠀
The signature dish here is their ribs – which I have to say are bloody good! We all tried them and loved them! They also have a great kids menu with all meals being $12 and a good dessert menu too (if you have any room left that is). My advice would be that unless you have a massive appetite, share the ribs! That way you'll have room for dessert too. ⠀
The staff here are super friendly and totally welcoming to the kids too. As soon as we arrive Myla was given an activity sheet and pencils to keep her occupied.
Whilst at first glance the menu might appear a bit pricey, given the generous serving sizes and as I think you could easily share, it works out to be not too bad.
⠀
These guys also have a great looking bar too – so get here early before your booking (oh yeah definitely book – this place is super popular!) and have a drink or two. Even if you're not eating here – this is a great spot for drinks with the gorgeous views across the ocean. ⠀
Hurricane's Grill & Bar is open 7 days and open from 12 pm to 10.30 pm daily.
2. Pancakes on the Rocks
If you love good value pub type food AND pancakes, then Pancakes on the Rocks is for you.
This is a great casual restaurant with a huge variety of food on the menu such a great menu with salads, pizzas, savory crepes and steaks. This restaurant offers great value for money with all meals being are under $20 with steaks starting from around $30. The kid's menu is cheap too with meals around $7. They also have a breakfast menu.
Of course the star of this family friendly restaurant is their amazing pancakes! Now I am not a huge pancake fan, but OMG, these pancakes are to die for!!! Absolutely amazing with so many different delicious toppings to choose from – I counted 18 different options. I had nutella – amazing!
Pancakes start from $13.95 for two pancakes, but there is the option of ordering crepes instead of the pancakes as well as ordering just one pancake instead of two. The kids pancakes start from $6.95.
We had both lunch and pancakes here and both were amazing. However Andy and I just shared one pancake and we were still full!
This is a super kid friendly restaurant. Myla was given an activity sheet and pencils as soon as we arrive, plus her lunch came with a smiley face made from tomato sauce and her pancakes were in the shape of a butterfly.
Pancakes on the Rocks is located at the bottom of the Soul building on the Esplande at Surfers Paradise and is open daily from 7 am to 10.30 pm.
3. Liv Eat
We decided to visit Liv Eat to grab some takeaway food for a picnic in the Gold Coast Hinterland, I'd been following them for a while on Instagram and was dying to get their food!
Seriously if you love excellent quality healthy food you will absolutely love Liv Eat – their food is amazing!!! Who knew healthy food could taste this amazing! There is a huge selection of food too from salads, wraps, sandwiches, juices and slices too. I reckon you will have a hard time choosing what to eat.
The restaurant is super trendy and modern and is located in the heart of Surfers Paradise just off the Esplanade. The staff here are super cool too – really friendly and happy to have a chat, which is nice. I so wish this store was near where I lived – I'd eat here everyday!
Disclaimer: We were guests of all the restaurants mentioned in this guide, but all opinions expressed remain my own.