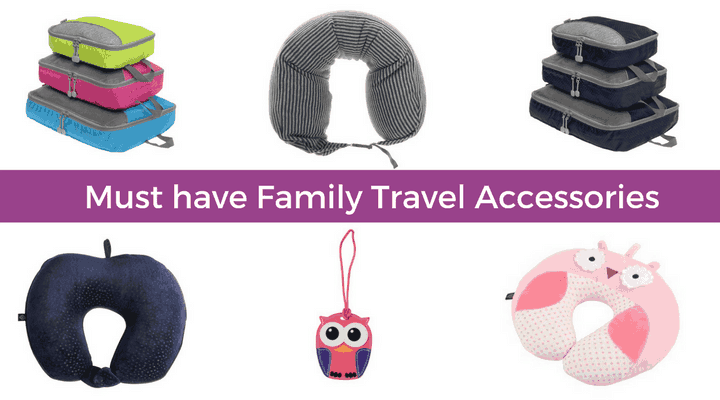 To make family travel a little more comfortable and a little more organized there are a couple of must have travel accessories that you should have before any trip. I am not talking about your camera or your passports – those things are essential for all kinds of travel, I am talking about accessories that will make your kids comfortable when flying and your family organized whilst on the road.
Packing Cubes
I am completely OCD about being organized, both at home and when I travel and so I can't believe I have only just started using packing cubes – seriously packing cubes where have you been all my life!!!
Let me tell you why I love packing cubes:
They make it so easy to find your things whilst travelling – allocate one cube or various cubes of the same colour to a family member so they can easily locate their clothes whilst you travel;
They are perfect for organizing your clothing and belongings whilst travelling – for example use a small cube for your underwear and a bigger cube for shorts and tops;
They help you take less luggage – if you use the rolling method you can fit so many clothes into one little cube, the cubes compress your clothes into a smaller space so you need to take less luggage with you. Less luggage is so important when you are travelling with kids, the less bags to worry about the better;
They keep your bags tidy – its like having individual draws in your backpack or suitcase – no more untidy bags whilst you travel;
They are lightweight and rarely add any weight to your precious luggage allowance;
They make it easy to stay organized, simply pull out the cube you want without messing up your entire suitcase;
They help you avoid unpacking and re-packing while travelling, simply put the cubes in to hotel drawers to keep clothes organized; and
They can be used to sort clean and dirty clothes or for organizing cables and small electrical items while travelling.
We only travel with one bag and so before we began using packing cubes, after a few days our clothes were all jumbled up together and it was impossible to find anything. You think about it, 3 separate people going through looking for something – and it didn't help that Andy and Myla are messy!
When we are headed to a warm destination, we can fit all our clothes for an entire trip into 1 cube each (to see a list of the clothes we bring, download our free packing checklist below). Andy and I each have 1 large packing cube each and Myla has a medium one. This does not include our jackets or jumpers though. The 3 cubes go into the same bag and once we reach a hotel the cubes come out and its like we each have our own individual draw. Then when its time to move on each cube goes back into the bag. So simple and no more unpacking and repacking as we move around destinations.
You can see in the image below – our packing cubes fit in the bottom of our backpack and the top section is completely free for our toiletries and shoes. We put our jackets and jumpers flat underneath the cubes.
Best Packing Cubes for Travel
Ok I should confess when I first used packing cubes I bought the cheapest set I could find on eBay and whilst the packing cube concept was great – some of the cubes zippers broke in the first few days of travel. I now have a set of the Globite packing cubes which are the best travel packing cubes.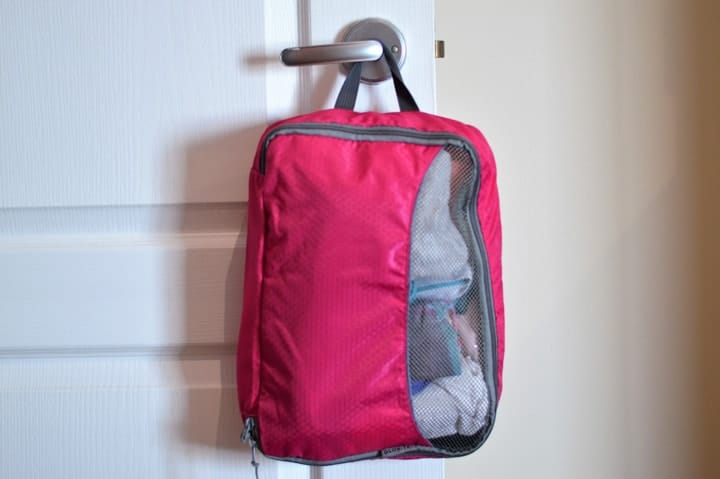 I love the Globite brand of packing cubes as they are durable and have a two-way zipper opening for easy use. You can even throw the cubes in the wash after your trip. Like most packing cubes, they have mesh panels which means you can see what's packed inside and the cubes even have hanging loops so you can hang them in wardrobes or on hooks if need be.
The Globite packing cubes come in a variety of colours – but my favorite is the bright coloured pack – with different colours it is much easier to allocate a colour to each family member.
Each set of packing cubes comes with 3 different sizes being small (26cm x 18cm x 6cm), medium (31cm x 20 cm x 7 cm) and large (38cm x 28cm x 7 cm). I find the medium size perfect for the kids clothes and the large packs good for adults clothing.
The Globite packing cubes packs sell for $29.95 each. As I said, you can buy cheaper packs – but they are likely to break within a few days. Packing cubes are a great investment for a more organized family trip – so definitely buy yourself some good quality ones to last you years to come.
Click here for more tips on how to use packing cubes and here for a list of some great packing cube brands.
Travel Neck Support Pillows
Having a good quality neck support pillow is a must on any flight over a few hours long and particularly any overnight flight.
Back when I first start taking long haul flights I bought the cheapest crappiest inflatable pillow I could find and regretted it that entire trip. Being comfortable and with any luck sleeping on a long haul flight is so important especially when travelling with kids.
Let me tell you a few of the features you should look for in order to purchase the best travel pillow:
Easy to carry – good quality neck support pillows are a bit bulky so make sure any pillow you buy has a strap or snap button so you can strap it onto your bags when you walking around the airport or to your hotel. The neck support pillows we have are a bit old and don't have this feature and let me tell you it drives me up the wall having to physically hold the pillows! The snap button or strap also helps keep it around your neck when your sleeping on the plane.
Removable and washable covers – if you travel often you really need to be able to take off the pillow cover and give it a wash.
Good quality – given you are going to be sleeping on the pillow (well hopefully!!) you want it to be good quality and above anything else comfortable.
Globite recently gave us 3 of their different neck support pillows to try out and they are awesome. They have all the must have features that I listed above and a few more features which I will list below: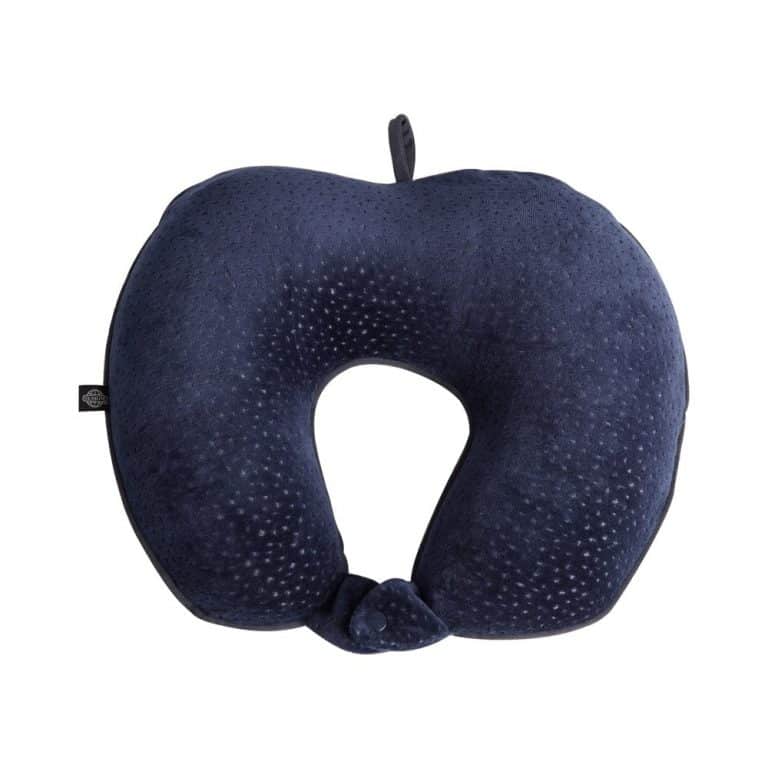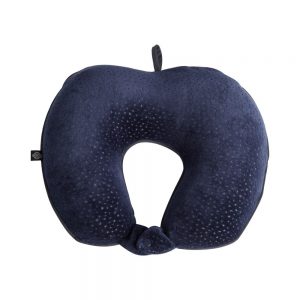 Delux Memory Form Travel Pillow
This pillow is made from high density memory foam which molds to your neck and shoulders which helps you be super comfy on the plane. This is so much more comfy then my neck pillow it feels so nice!!
It even has a little pocket where you can keep your iphone or other small items like headphones.
The cover on the pillow is a super soft velour.
The delux memory foam travel pillow is $29.95 and comes in navy or grey.
Flexi Pillow
This pillow is awesome for people who want flexibility and not just a neck support pillow as the pillow can adapt to a variety of body areas. I love this because I often wish that I could have a travel pillow which was more a typical pillow shape as opposed to shaped around my neck – seriously I think this is going to be my new pillow for travel!
The adjustable strap on the pillow is also great as it means you can adjust it for different sized people or different parts of your body. For example, you might want it tighter around your neck or a bit looser around your lower back.
The flexi pillows are $29.95 each and come in grey or striped.
Kids neck Pillows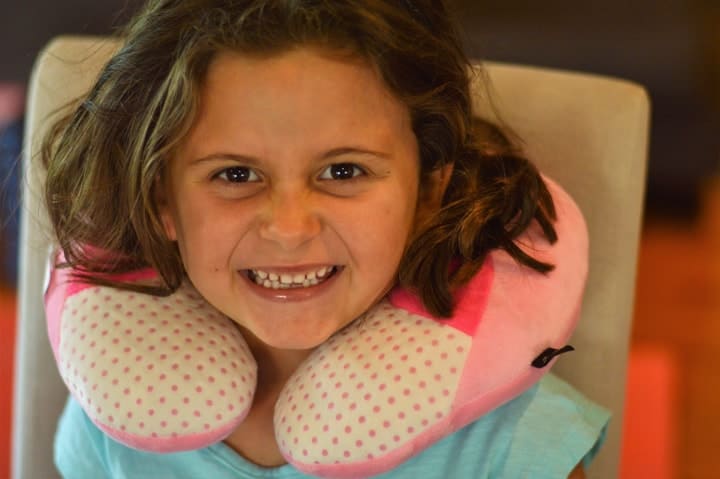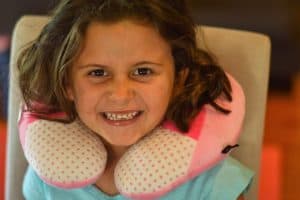 These come in two super cute designs that kids are going to love!!! There is a cute owl or cheeky monkey – Myla has already said she wants the owl pillow.
These kids neck pillows are the perfect size to contour around a small child's neck and shoulders.
The pillows are super soft and cuddly.
Hanging loop perfect for storage.
The kids pillows don't have a snap button or removable cover for washing.
The travel pillow for kids sell for $16.95 each and come in the owl or monkey design.
Luggage Tags
With so many similar looking backpacks and suitcases you really need something to make your bag stand out from the crowd so you can easily spot it as it comes around the baggage carousel.
Grab a bright pink ribbon and tie it to your bag or better still make your kids happy and get some of Globite's super cute kids luggage tags. The Globite tags come in a variety of designs including crocodile, dog, cat, monkey, owl and robot.
The advantage of having a luggage tag over a bright pink ribbon is you can add your personal details so if your bag does go astray it can easily be returned to you.
You could even use these kids bag tags for your child's school or sports bag. Myla has been eyeing off the owl luggage tag for her school bag.
These luggage tags for kids are $5.95 each and come in a crocodile, dog, cat, monkey, owl and robot design.
More great family travel accessories
If you are after some tips on more great travel accessories for the family check out these posts: