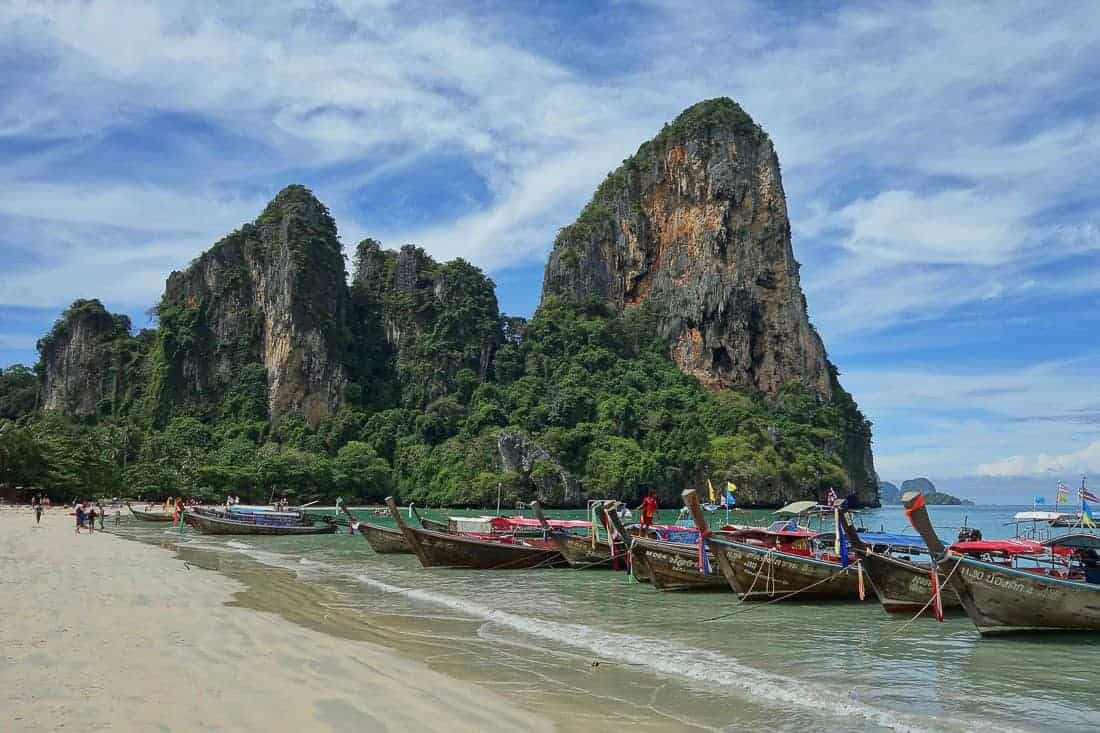 If you are wondering what to pack for Thailand then you have come to the right place as in this post I am going to share with you our Thailand packing List.
With Thailand's year-round warm weather and its casual vibe, it is very easy to travel light when packing for Thailand.  With a good carry on only size back pack and our essentials for Thailand list you will be all set.
Whether you are packing for a 2 week trip to Thailand or even 1 week or 1 month, I recommend you take the same amount of clothing.  It is so much easier if you take less and travel lightly.  Even as a family it is not too difficult to pack lightly and I am going to show you how in this post.
Click here if you want to find out more about doing carry on only luggage.
In this post I will show you all the things to bring to Thailand, including the best backpack for Thailand, essential toiletries, electronics, the best clothes for Thailand as well as what shoes to wear in Thailand.  I will also give it all to you in a printable Thailand travel checklist!
What to pack for Thailand – Thailand Packing List
Best Backpack for Thailand – and other bags
One of the best Thailand backpacking tips I can give you is to ensure you have the right pack.  Having the right pack as well as good packing cubes and toiletry bags will help organise all the things to pack for Thailand as well as keep your items tidy whilst you travel.
Looking for the best backpack for travelling carry on?  Click here to see our full guide for the best backpacks for travelling carry on.
Click here to read more about how to use packing cubes.
Toiletry bags – I use multiple smaller ones – this is much easier when doing carry on only luggage as you can squeeze little bags into smaller spaces much easier than a great big bulky toiletry bag. 
Headed to Thailand?  Read about Krabi here.
Clothes
Wondering what to pack for Thailand backpacking in terms of clothes?  The best clothes for Thailand are light weight clothes.  The good news is there are super cheap laundromats everywhere in Thailand so you don't need to pack a stack of clothes.  For your Thailand packing, just take the essentials, there is no need to take any more than a few days worth of clothes.
See below a list for both females and males for what to pack when travelling to Thailand.
Click here to read out guide on island hopping in Thailand
Females 
3 x dresses – this is personal choice – but I find in the hotter weather, light dresses are the way to go.  I like the kind pictured here.  Dresses are my Thailand travel essentials; 
1 x shorts – I am not really into shorts – but if you are and want to take more – swap some dresses out for shorts;
1 x leggings – perfect for plane flights or in areas where it may get a bit cool at night;
2 x swimmers – if you won't be swimming on consecutive days, 1 pair will do;
3 x bras  – 1 x black, 1 x white/nude and 1 x strapless;
Men 
5 tops  – a range of tank tops and t shirts that will cover your shoulders – merino tops are perfect for the warm weather as they keep you cool and don't smell; 
2 swimming shorts – if you won't be swimming on consecutive days, 1 pair will do;
What shoes to wear in Thailand
What shoes to wear in Thailand depends upon your personal preference and the sort of activities you will be partaking in.  At the very least the best shoes for Thailand is a good quality walking sandal.  You may like to consider a pair of basic thongs / flip flops and some joggers as additional shoes to wear in Thailand.
Thongs / Flip Flops – whilst I prefer to wear sandals for Thailand a pair of flip flops are perfect for beach or pool days;
Toiletries
Below are the toiletries you will need to mark off your Thailand backpacking checklist.
If you are just packing essentials for Thailand and using carry on only luggage you will need to transfer liquids and creams to small clear bottles under 100 ml.
Sunscreen– the best sunscreen for Thailand is one with a high SPF – I prefer the spray on sunscreen;
Bug spray– you will need a high deet concentrate;.
Minimal make up – this is totally optional – I usually just take mascara – you don't need foundation it will melt off anyway;
Hair brush, hair ties and clips – no need for anything fancy in Thailand just a few hair bands and bobby pins is all I take.  No need to take hair straighteners and hair dryers, certainly not essential for your Thailand packing checklist;
Toothbrush and toothpaste;
Deodorant– a small roll on is better as it takes up less room;
Hand Sanitizer– great for cleaning hands before meal times, highly recommended for your Thailand travel essentials list;
Razors and shaving cream;
Wet wipes– more so for families – but I love these for all cleaning all sorts of things – definitely on our Thailand travel packing list!;
Toilet Paper (optional) – I always like to have a roll-on hand quite often you find toilets in Thailand with no toilet paper, up to you if you think its one of the things to take to Thailand;
Medication – any medication you are taking on a daily basis, plus medication for kids – all other medication can be purchased as needed;
Moisturizer – for face and body.
Electronics
Camera, memory cards (get the biggest you can afford for loads of photos), camera accessories and camera charger.
Selfie Stick – ok I know some people think this is self indulgent but there are great for taking happy snaps of the entire group when traveling.  I recommend getting a one with a tripod and remote so you can sit it on a table and take a nice photo of the group rather than the typical close up selfie.  We have the Cygnett selfie stick (click here if you want one too). 
Phone and phone charger – I recommend buying a local sim card with data once you arrive.
Laptop and cords – clearly optional – but if you are a blogger or need to work whilst you are travelling you will need this.
Headphones– I recommend wireless ones for kids so they can listen to their ipads without annoying everyone either on the airplane, airports or in your hotel room.
IPad and charger – an essential for the travel with kids packing list – great for keeping the kids (or yourself) entertained on long flights.
Documents
Here are the essential documents and other similar things to carry while travelling to Thailand:
Passports
Visas if necessary
Drivers License
Credit Card/s
ATM Card/s
Travel Insurance documents
Flight Documents
Hotel Documents
Transfer / Tours / Activities Documents
Travel Itinerary
Foreign Currency
Wallet / Purse
Pens – you will need these to fill out the various documents at the airport
Other
And lastly the other things to take to Thailand backpacking:
Wallet / purse – I also take a few coin purses with me so I can separate my home currency from the international currency
Hand bag– when I travel I leave my usual hand bag at home and take a smaller bag which I can easily put across my body – this makes it harder for bag snatchers and allows you to have your bag in the front of your body for easy access to your money. I also like to ensure its big enough to carry my camera and various documents.
Click here for a full guide on the best cross body bags for travel for both men and women.
Kids toys – don't take too much – there will be some much going on that they don't need much.  We just take a few reading books, colouring in books and pencils and 1 special doll.  We use to take far too much and Myla just didn't play with it all.
Jewelry – certainly not necessary when considering what to pack for Vietnam, but I love my costume jewellery so I usually pop in 2 necklaces and 2 sets of earrings which match the clothes I pack.
Neck Pillows– only for for long flights where you are likely to be sleeping – otherwise leave it at home as they are super bulky.  Make sure it can easily attach to your luggage so you don't have to carry it. 
Drink Bottles– you can't take filled water bottles through customs, so take empty ones and fill them up after clearing customs, then you don't have to worry about waiting for the air hostesses to bring you water during the flight except to refill your bottles.  I recommend you buy yourself some good quality no spill drink bottles. We use the drink bottles from the Contigo range.
Stroller– if this is necessary make sure it is light weight and folds up tightly.
I have turned this Thailand packing list into a printable checklist.  I love it, print it off and packing is so much easier.   Get your packing checklist here. I am sure this list will be helpful to both single backpackers as well as those looking for a traveling list for family.
The above post contains affiliate links, which means I may get a small commission should you purchase anything from using these links at no extra cost to you whatsoever.  Thank you for supporting our website.
If you want to save this for later, please click on the above image and pin it to Pinterest.
Thrifty Family Travels is a participant in the Amazon Services LLC Associates Program, an affiliate advertising program designed to provide a means for sites to earn advertising fees by advertising and linking to amazon.com, amazon.co.uk, amazon.ca. Amazon and the Amazon logo are trademarks of Amazon.com, Inc. or its affiliates.