Hello fellow travellers!
I'm Melissa and together with my partner Andy and our daughter Myla, we are Thrifty Family Travels! With a love for travelling, we have seen a lot of the world- including little Myla who is only 5 years old!
The true passion from our little team of Thrifty Family Travels truly lies in our desire to see the world and to travel as much as possible. With no web design or creative writing experience, we are slowly learning how to share our thrifty travel ways with the world! We don't have lots of disposable cash to spend on travelling, so we are always looking out for the best deals.
We currently live in the beautiful city of Brisbane in Queensland, Australia. I work in employment law, while Andy is a carpenter and runs a small construction company. Little Myla has just started grade 1 and is just about to turn 6 years old.
Although I love my day job, my true passion has always been to work in the travel industry. If I'm not travelling, I am daydreaming about where we should visit next or already planning the next adventure. Planning trips and creating itineraries is as exciting as travelling itself for me! I love nothing more than researching various destinations around the world, reading reviews on hotels, restaurants, and places to visit, learning how to navigate around a city, and discovering exciting activities. I have so much passion for this that I love to help out my family and friends too and plan them their dream holidays and trips around the world. I have now decided to take this passion I have for travel and turn it into something that I hope can help you too!
I started travelling when I was 18, where I took both my first plane trip and my first solo trip 90 minutes away to Sydney to visit my older sister who had recently moved there for work.  Whilst my sister spent her days at work, I spent my days wandering around Sydney, developing a rather serious case of the travel bug! It was not until 5 years later that I took my first overseas trip to the USA and from there, there was no turning back. I have now travelled throughout Asia, North America, South America, Australia and Europe, visiting 34 countries.  Many countries I have visited multiple times and much of it I accomplished backpacking alone.
I have numerous places still on my must see list including Kenya, Spain and Brazil, which sit rather high on the list! This year we travelled to Vietnam…and the wanderlust is so strong that we have already booked a trip to Bali and Lombok in April and are in the early stages of planning a mammoth trip to Canada and the USA for Christmas!
Since having my daughter Myla, my travel style has changed a lot. I have gone from backpacking and moving quickly and efficiently during each trip to sleeping in private rooms and staying put in the same place for longer durations of time in order to let Myla rest and to discover places more in depth. I'm not sure Myla is the one who needs all the rest- she is turning into quite the little traveller and has been on 6 overseas trips in 5 different countries! Her favourite game is packing up her dolls and role playing that she is travelling with them to exotic destinations around the world.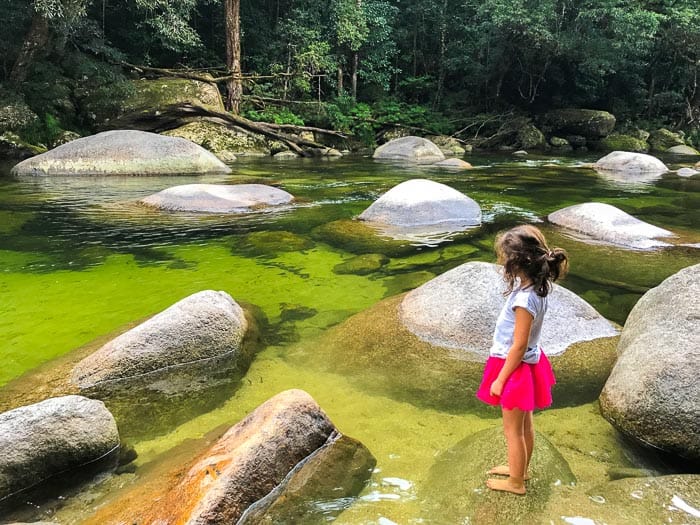 Andy also loves to travel and is originally from New Zealand, but after living overseas in the U.K for a few years, he decided to make Australia his full-time home and has been here for about 20 years now. Andy is a carpenter by trade and owns a small construction company, but one of his strongest passions is to cook foods from all over the world. He particularly loves cooking curries! Our kitchen always has amazing smells drifting from it. Andy loves to travel the world, trying out local foods, and learning how to cook local specialties with the locals people.
Andy and I make a good pair – whilst I am more interested in the destination, he is more interested in the food from the destination.  We both love watching travel cooking shows – but for different reasons! It's our dream to travel regularly and hopefully sometime in the future travel full-time for at least a year or so and try my hand at world-schooling Myla.
Right now, my goal is to help people fulfill their dreams of travelling by providing them with tips, tricks, and itineraries to ensure affordability, value for money, and an unforgettable time!
If you would like to use this page to start planning your next trip, check out our Planning Tools or check out one of the itineraries on the Destination page.
Or why not download our FREE printable family packing checklist.  This is available just for our followers.  You can sign up below.
Can't find what you're looking for? Let us know! Contact us via email, facebook, twitter, instagram or pinterest.  We would love to help you with your travel plans!