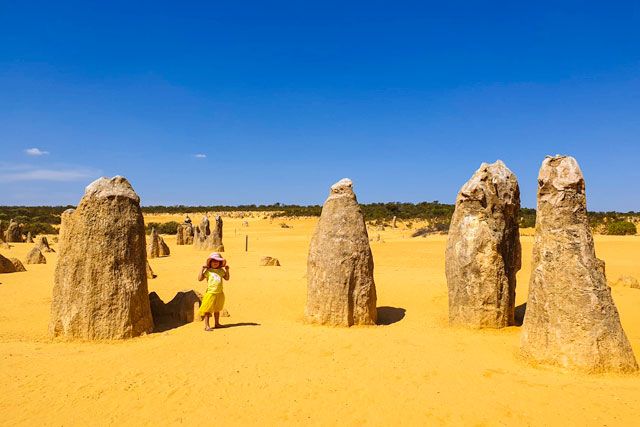 With its sunny weather and many pristine natural attractions there is plenty of things to do in Perth with kids. Perth local families love spending time outdoors and many of Perth's attractions for kids revolve around outdoor activities. Perth has heaps of amazing playgrounds, and many venues cater for families, ensuring that the kids are occupied and have a good time.
Thanks to Rochelle from Love Family Life Travel for this guest post on what to do in Perth with kids.
The Best Things to do in Perth with Kids
1. Explore the Beaches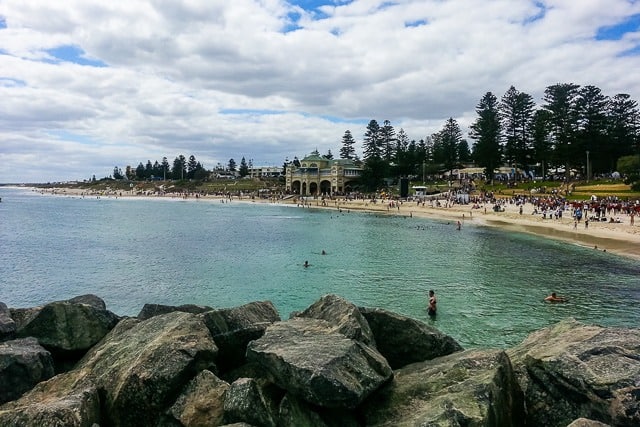 One of the fun things for kids to do in Perth is to spend the day at the beach. The beaches in Perth are incredible. Pristine white sand, sparkling aqua blue water and a bright warm sun. Almost all the beaches in Perth come with a kid's playground, public toilets and free parking and barbeques.
If you are trying to decide which one to visit, I would suggest Cottosloe as one of the best places for kids in Perth – there are 2 playgrounds, heaps of grassed areas and large trees for shade, and of course the beach is incredible.
If you are travelling with toddlers or very young children, Hillary's Boat Harbour is very sheltered with shallow water. The protected environment makes it excellent for young kids.
Remember the sun sets in the West, so an evening of take away fish and chips on the beach watching the sunset over the water will be an amazing ending to one of your days.
2. Kings Park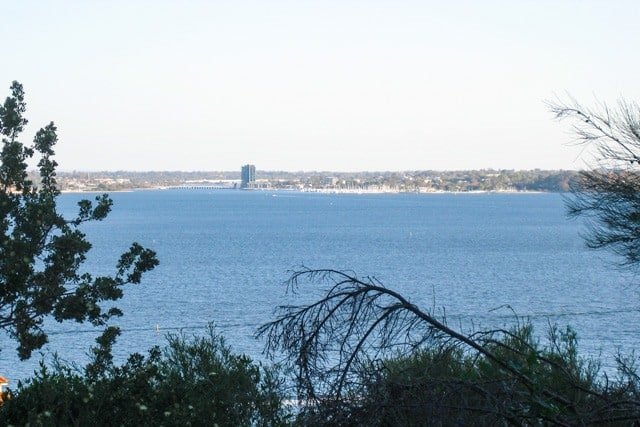 Another one of the fun places for kids in Perth is Kings Park. Kings Park is located right on the edge of the city and has incredible views over the Swan River and the CBD. It is a huge park and could easily fill a day in Perth.
At Kings Park there are 3 excellent playgrounds, a number of cafes and quite a few walks, many of which are suitable for kids. If it is a warm day I would suggest the Rio Tinto Nature Scape Park which has a rocky little creek for the kids to splash in (bring some bathers or a change of clothes). The whispering wall is heaps of fun for kids, located near the War memorial, it is a long curved wall. Sound seems to travel along the curve so two people sitting at opposite ends of the wall can hear a whisper from the other end.
3. Elizabeth Quay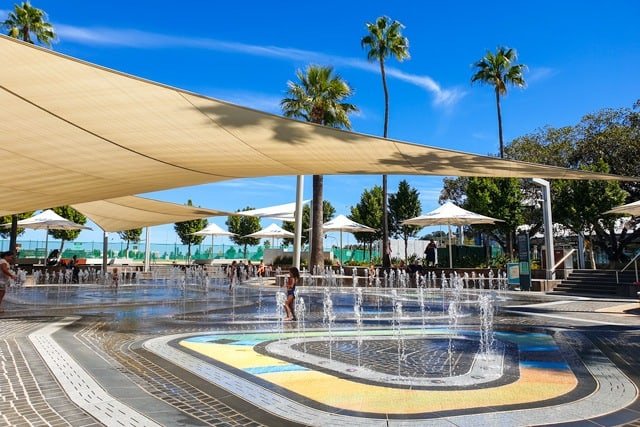 Another one of the great places to visit in Perth with kids is Elizabeth Quay. Elizabeth Quay is located right in the city on the Swan River. The kids will love the old-fashioned Carousel. At only $6 per ride it is excellent value. There is an excellent pirate playground, a water park with spraying water and all sorts of other pop up events and attractions.
Transperth operates a ferry from Elizabeth Quay across the river to South Perth. A return ticket is $3 per adult and $1.20 per child. It is excellent value for a ride on the Swan River, and you could choose to get off at South Perth to have a look before coming back. The ticket is valid for 2 hours.
4. Yanchep National Park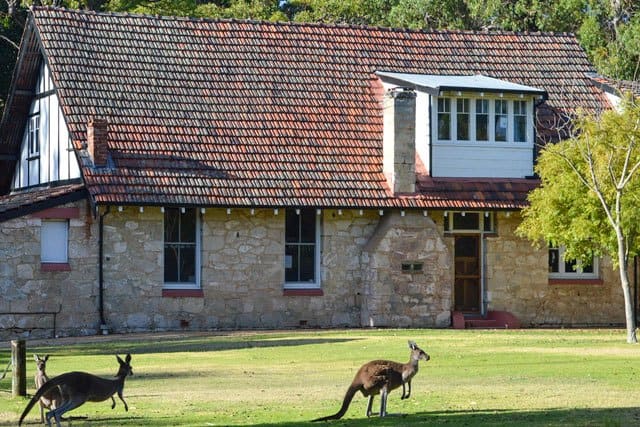 Located only 40 minutes north of the City is Yanchep National Park. At Yanchep National Park there is heaps to do for an entry fee of only $13 per vehicle. There are plenty of Western Grey Kangaroos to see, a Koala boardwalk where you can spot the koalas, tours are available through Crystal Caves for $10 per adult and $5 per child. There are plenty of areas perfect for a picnic, or a tavern in the park if you prefer a pub meal.
If you're keen on seeing more native Australian animals take the kids to the Caversham Wildlife Park.
5. Cervantes Day Trip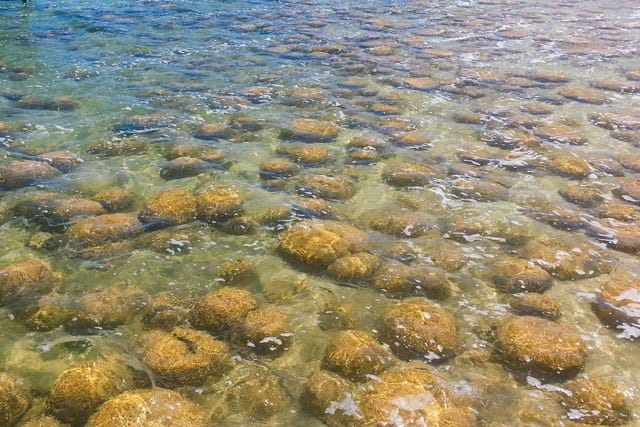 If you have time, invest a day in a quick drive up the Indian Ocean Drive to Cervantes. There are two amazing natural wonders located here that are truly special – Nambung National Park and Stromatolites.
Nambung National Park ($13 entry per vehicle) is home to the mysterious pinnacles. You can walk or drive through the yellow desert amongst these amazing structures. You won't find anything else like them in the world.
Also located in Cervantes at Lake Thetis are some Stromatolites. These 'breathing rocks' are the oldest lifeform on earth. They are only found in half a dozen places in the world and 3 of them are in Western Australia. A truly incredible thing to see and completely free.
6. Lake Leschenaultia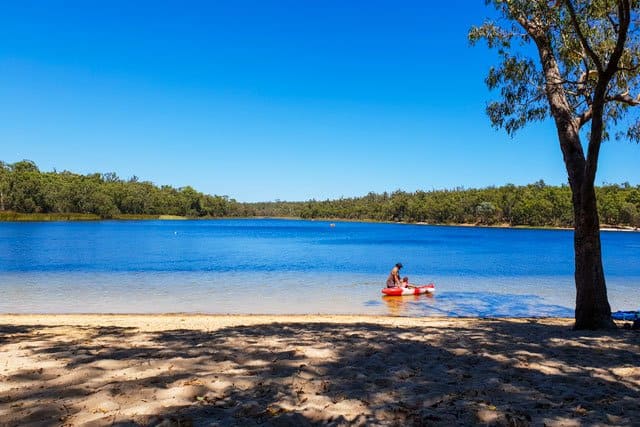 45 minutes east of the city, Lake Leschenaultia has been transformed into an incredible picnic area for families to enjoy. There is a playground, kiosk and café, barbeques and canoe hire available. There is a 3km walking track around the lake which is fine for most kids to manage or a longer 6km loop if you are into mountain bike riding. The lake is great for swimming on a hot day and there is camping available which you can book through the Shire of Mundaring website.
7. Whiteman Park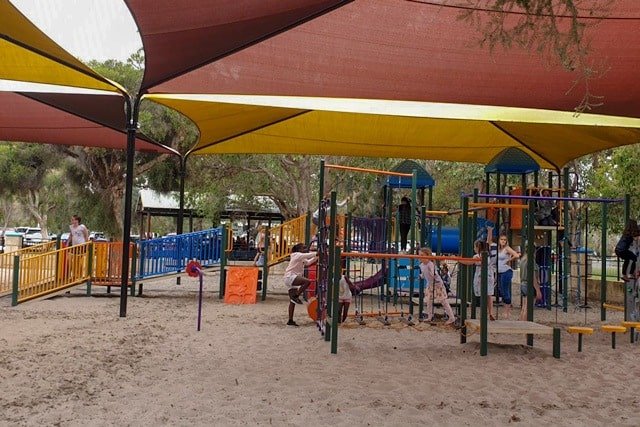 There is heaps to do at Whiteman park including a gated playground, miniature train and tram rides, a splash pool for the kids, a miniature village and 3 transport related museums. Heaps of walks, bbqs, tables and grassed areas for picnics. This is a favourite of many Perth locals.
8. Swan Valley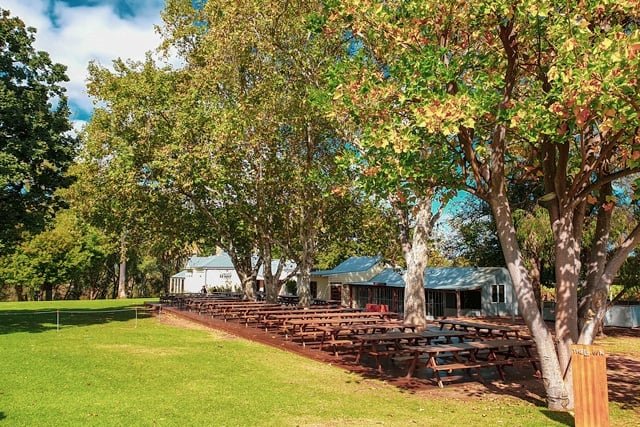 Swan Valley is the food and wine producing region of Perth. You will find wineries, breweries, cideries, pubs and restaurants. There are also heaps of specialty food producers ranging from honey, nuts, chocolate and so much more.
Head to Mandoon Estate which has a kids playground on site, a winery and a brewery, a restaurant, pizza bar and art gallery. My other pick would be Whistler's Chocolate Factory who make an incredible coconut rough and rocky road. They offer free samples of a variety of their chocolates and have a café at the back which opens out to a huge grassed area with sandpits for the kids to play.
9. Fremantle
Fremantle is located south of Perth and is an historical Portside town. There are several beautiful old buildings to see, including the Fremantle market which is a local icon.
Tours are available of the old Fremantle jail which was built by convicts and the Maritime museum is a favourite to learn about the area's history. There is a large grassed area with a Ferris wheel, skate park and kids playground on the foreshore. In the port area you will find a statue of Bon Scott from ACDC who grew up in Freo and a number of fish and chip shops located on the river, beside a tiny beach which is great for swimming.
If you're into street art, there is also some great street art in Fremantle too.
10. Penguin Island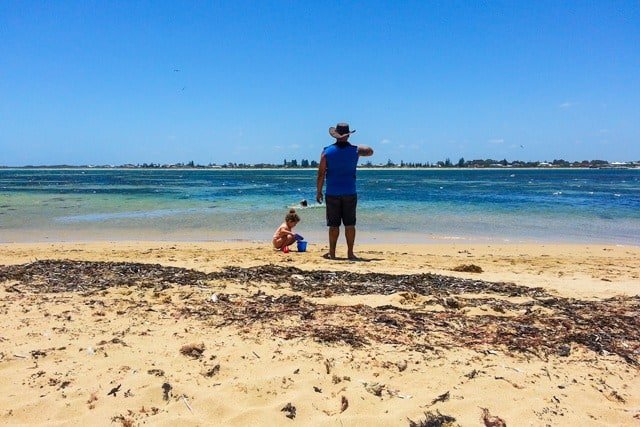 A short 10 minute ferry ride from Rockingham, Penguin Island is heaps of fun for the whole family. The ferry is $18 per adult and $14 per child for a return trip. There is a board walk around the island, a few beaches appropriate for swimming, a penguin feeding demonstration a few times per day and a number of wild penguins living around the island that you can spot as you walk around. Avoid the Island on a windy day if possible as it can detract from the experience.
Where to Stay in Perth
There are a number of hotels located close to the airport in Rivervale. Most of them have pools and views over the Swan River. The Aloft Hotel is newly built and convenient for travel to and from the airport.
If you are after luxury accommodation the Crown resort is hard to go past with 2 luxury hotels to choose from. There are heaps of restaurants in the precinct, a huge pool area and the Casino if the adults are interested.
There are plenty of hotel options found right in the centre of Perth. Most of them are located near St Georges Terrace near the river. The Parmelia Hilton is popular with families with a pool and great location. There are also plenty of other accommodation options close to the attractions that I mentioned above. You could find a hotel close to Cottosloe beach, stay at the Yanchep National Park tavern or one of the many options in the Swan Valley. There are also heaps of options around Cervantes, Rockingham and Fremantle.
How to Get Around in Perth
By far the cheapest and most convenient option is to hire a car in Perth. The roads in Perth are wide, well signed and easy to navigate. Generally it is cheaper to hire a car than rely on ubers and taxis as the attractions for kids in Perth are quite spread out.
You could use public transport to get around, however outside of peak traffic hours the buses and trains run less regularly. On a Sunday, when buses are less frequent, you could wait an hour for a bus. The trains run a little more regularly. Monday to Friday public transport is not too bad, especially if you plan on staying close to town. So you could hire a car for a few days and use public transport the rest of the time. There are 4 different circuits for the free City cat buses which are convenient for travelling around the city.
When To Go
Perth's great weather means that it is a great destination for most of the year. The winter months are cold and wet so the months of May through to September are best avoided, although, winter can occasionally throw some beautiful sunny days your way. January and February are normally hot with most days over 30 degrees Celsius so you can avoid those months if you are not used to hot weather.
Perth has a lot to offer visiting families. I hope that you find this list useful to direct you to the best value and most fun attractions in the city. Enjoy!
Thanks again to Rochelle from Love Family Life Travel who is a Perth local and has created this list to make it easy for families travelling to Perth to decide what to do.
Please note that this post contains affiliate links, which means that should make any bookings using my links, I may be paid a small commission at no extra cost to you. This allows me to provide this information free of charge – thank you for supporting our website.
Want to save this information for later?
Click on one of the images below and save it to Pinterest