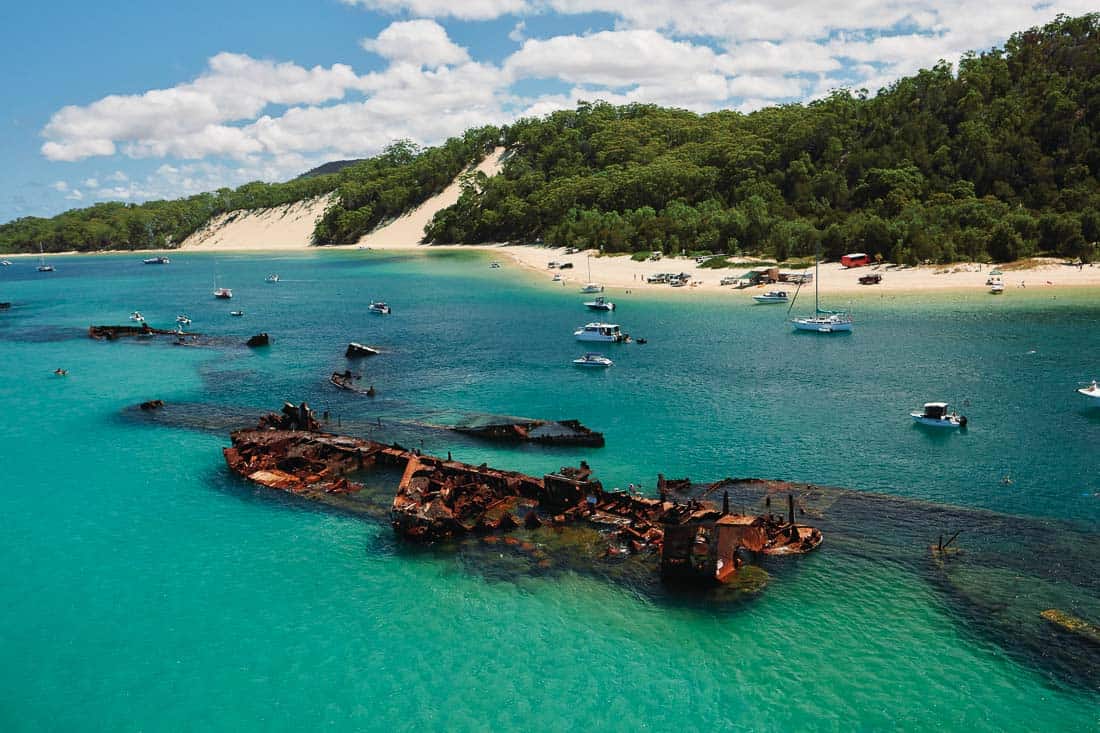 Photo Credit: Tangalooma Island Resort
If you're not from Brisbane you may be surprised to learn that there are some stunning islands off Brisbane including North Stradbroke Island, Peel Island, Bribie Island and Moreton Island just to name a few. All of these Brisbane islands are easily accessible by a short ferry ride or with Bribie Island you can drive right there.
We recently spend a gorgeous weekend at Tangalooma Island Resort which is one of the island resorts near Brisbane located on Moreton Island. During our Tangalooma trip we tried out a stack of Tangalooma Island resort activities, ate at the island restaurants and enjoyed all the resort's facilities.
If you're wanting to visit Tangalooma and wanting to know everything from how to get to Tangalooma to information on all the Tangalooma activities, then this Tangalooma review is for you. In this article I'll tell you all you need to know about the Tangalooma ferry times, Tangalooma accommodation as well as all there is to know about the things to do in Tangalooma. Once you've read this article, you'll no doubt be scrambling to book your Tangalooma holidays!
Please note that all quoted pricing was correct at the time of publishing.
Planning a trip to Queensland? Have any questions? Join our Queensland Travel Planning Facebook group here now! It's the perfect place to ask any questions and to be inspired!
Where is Moreton Island and Where is Tangalooma Island Resort?
Where is Moreton Island? Moreton Island is the third largest sand island in the world and a stunning spot for a family holiday full of adventure, relaxation or a bit of both. Moreton Island is 58 kilometres northeast from Brisbane or 40 kms from the Queensland coast.
Where is Tangalooma Island Resort? Often referred to as Tangalooma Island, Tangalooma is not an island, rather the only resort located on Moreton Island. The resort is located on the central western coast of Moreton island.
How to get to Tangalooma?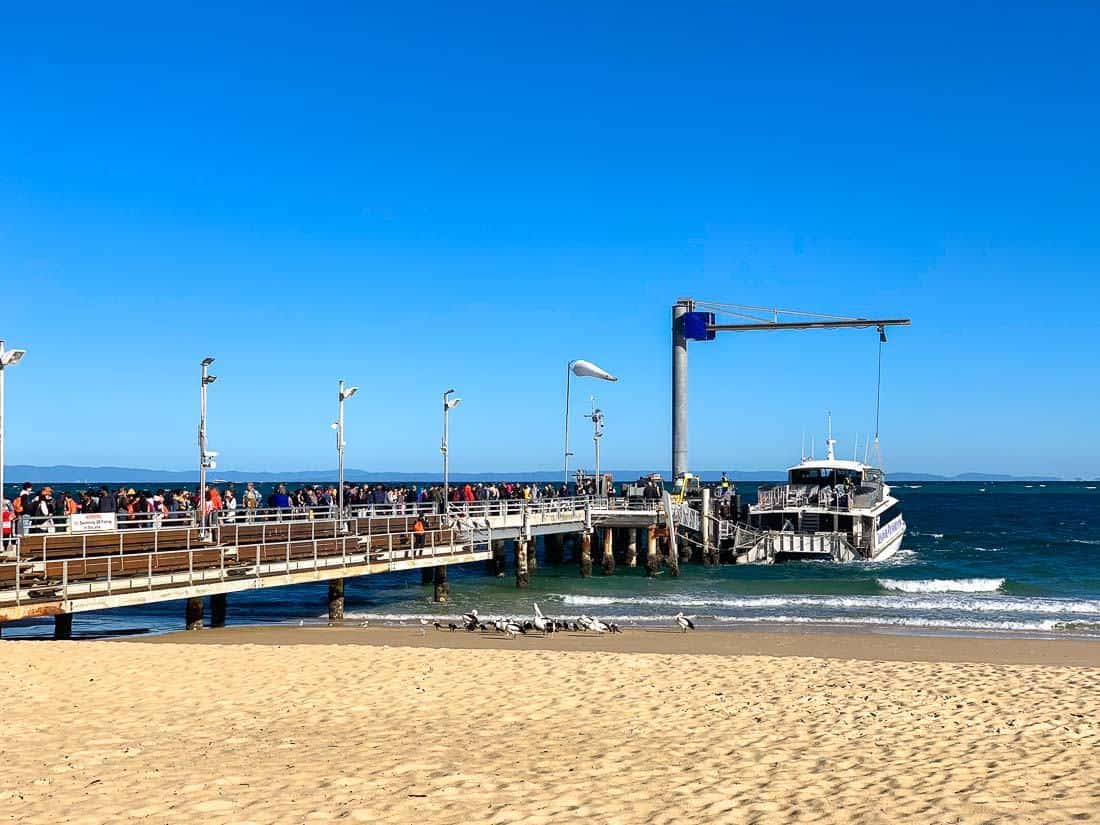 Whether you're coming for a Tangalooma day trip, or for a few days, to get from Brisbane to Moreton Island, you must catch a ferry from the Holt Street Wharf. The ferry ride from Brisbane to Tangalooma takes just 75 minutes.
The Tangalooma Island ferry departs Brisbane daily at 7am, 10am, 12pm and 5 pm, whilst ferries depart Tangalooma daily at 8.30am, 2pm, 4pm and 7pm.
Tangalooma ferry prices are $84 per adult and $46 per child return. Children 2 and under are free.
If you are staying in Tangalooma accommodation, the boat to Tangalooma fare includes luggage porters to and from your accommodation.
Here are some things worth noting for the ferry:
Each guest is permitted one carry on bag not exceeding 23cm x 34cmx48 cm;
Beach trolleys and prams must be collapsed prior to boarding;
Guests staying in accommodation can bring one checked in bag with a maximum weigh of 20kg plus one esky with a maximum weight per accommodation booking; and
Surfboards, bicycles and other large items can be brought over at an additional cost.
Parking at the Holt Street Wharf is $15 per day or $60 per week.
We found the whole process from checking in at the ferry terminal, to getting to the island relatively well organised and easy. When you check in at the ferry terminal, they give you everything you need for once you get to the island, including any vouchers for meals and activities you have already paid for.
If you can, I recommend getting the early ferry, we got the 7am ferry and by 8.30am were enjoying all the fantastic facilitates of the resort.
Tangalooma Island Resort Activities
When it comes to Tangalooma Island activities there is no shortage of things to do! Whether you enjoy getting out into the water, prefer to stay on land, love wildlife, are a thrill seeker or prefer to relax there is plenty of things to do on Tangalooma for everyone.
To help you work out what you want to do on Tangalooma, I've split the activities between water based and land-based activities.
Water Based Activities
Of course being located on an island Tangalooma has numerous awesome water-based activities. Whether you just want to go swimming, exploring on your own or joining a guided tour there is plenty to choose from.
1. Join a Tangalooma Wrecks Snorkeling Tour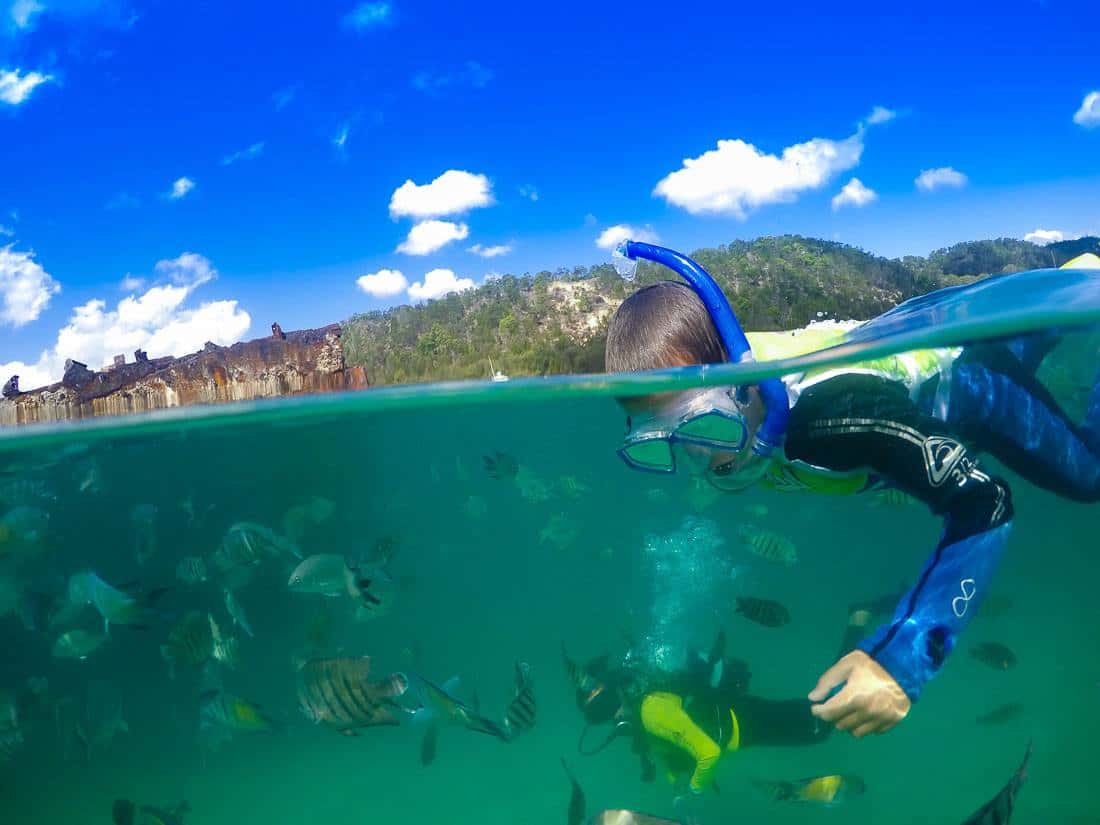 Photo Credit – Tangalooma Island Resort
When it comes to what to do in Tangalooma, one of the most popular attractions is to explore the Tangalooma wrecks. These Tangalooma shipwrecks are a collection of ships that were scuttled between 1963 and 1984. Now, coral has formed inside and around the wrecks, which acts as a new habitat for a plethora of fish and fauna species.
There are plenty of ways to explore the Moreton Island shipwrecks with a guided snorkel tour being a great way to not only get close to the wrecks but to also see the different corals as well as spot stingrays, turtles and over 200 different species of fish.
Exploring the wrecks was a priority for me during our recent trip so we joined a guided snorkeling tour. On the day of our trip it was quite chilly and windy, and I was concerned how we were going to manage getting into the cold water. However I needn't have worried as they provide you with thick wetsuits that keep you nice and warm. I was honestly completely shocked, as we weren't cold at all in the water with the suits on.
To reach the wrecks we all jumped into a small boat and were taken close to the wrecks. They even make it super easy to get into the water with some stairs from the boat into the water. There's no need to have had any experience in snorkeling either as they show you everything you need to know; they even have a ring you can hang onto and they will pull you around.
As mentioned on the day we went it was quite windy and so the water was a bit choppy which meat quite low visibility. However nevertheless we saw heaps of colourful tropical fish and even a stingray which was a bit of a highlight.
Our guide, Will, was awesome and gave us plenty of commentary throughout the snorkel about the marine life, the wrecks and Moreton Island. He was absolutely wonderful with Myla too, who got a little scared being surrounded by so many fish, but he did everything he could to calm her down which was lovely.
If you come to Tangalooma, I really think a snorkel tour is a must! Sure, you can go in a kayak, boat or even DIY – but with a guided snorkel tour you get up close to the wrecks and marine life and have an experienced guide with you who knows just where all the best spots are.
A 90-minute guided Tangalooma snorkelling tour is $59 per person and included everything you need such as snorkel equipment, wetsuits, fins, life jacket and pool noodles. Tours depart daily at 10, 1pm, and 3.15pm.
2. Hire some Snorkels
For Tangalooma wrecks snorkelling, it's not essential to join a guided tour. You can bring your own snorkels or hire some and go exploring the gorgeous marine life around the island. Snorkel hire is $25 for 1 hour or $49 for the whole day.
3. Go on a Fish Feeding Tour of the Moreton Island Shipwrecks
If you're not too confident in the water, you can still go explore the Moreton Island wrecks via a boat. On this sightseeing and fishing tour, you'll get up close to the wrecks plus get the opportunity to see the marine life whilst staying dry!
This 45-minute trip costs $39 per adult, $25 per child or $109 for a family (2A+2C). Tours depart daily at 11.45am and 2.45pm.
For something a little different, take a night tour of the Moreton Bay wrecks onboard a purpose-built glass bottom boat. Your guide will illuminate the sea where you can get a glimpse into the nocturnal marine nightlife.
This 90-minute tour costs $59 per adult and $39 per child and departs daily at 5.30pm.
4. Join a Kayaking Tangalooma Shipwrecks Tour
Another great option to see the wrecks and marine life is via a guided kayak tour – the perfect way to see marine life without getting wet.
A 90-minute guided kayak tour is $69 per solo kayaker or $54.50 per tandem rider. Tours depart daily at 10, 1.30pm, and 3.30pm.
For something a bit different you can also join a night kayak tour, where your kayak will illuminate so you get a glimpse into the nocturnal marine nightlife. These 90-minute night tours depart daily at 5pm and cost $79 per adult and $59 per child.
5. Hire Kayaks and Explore on your own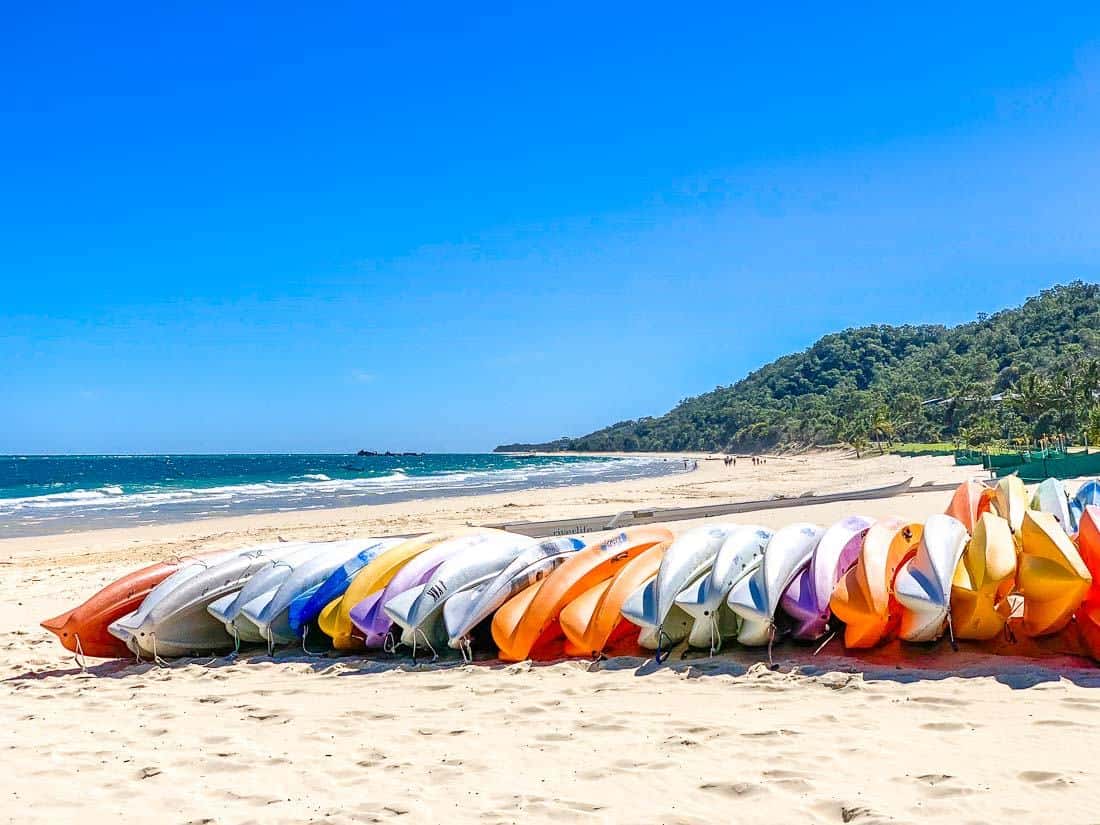 If you prefer to kayak on your own time, the resort offers kayak hire by the hour, so you can explore the waters in self-guided way.
Kayak hire is $25 per hour for a solo kayaker or $17.50 per person for tandem. For 3 hours hire its $40 per solo kayaker or $25 per person for tandem.
Kayak hire also includes life jackets.
6. Scuba Diving
If you're into diving the Tangalooma Wrecks provide a fantastic place to go exploring. Even if you haven't dived before, you can learn here.
For qualified divers a 60-minute scuba diving tour costs $139 per person. If you're interested in a scuba diving lesson, they are $99 per child or $159 per adult (minimum 4 people required). Hire of scuba diving equipment is $119.
7. Go on a Jet Boat Ride
A jet boat ride is another one of the great Tangalooma resort activities for the thriller seekers. This jet boat gets up to 80km/6 all whilst doing tail slides, figure 8s, wave jumps and 360-degree spins.
A 60-minute ride on the jet board costs $79 per adult and $59 per child and depart daily at 10.15am, 11.15am, 1.15pm, 2.15pm, 3.15pm and 4pm.
8. Go on a Sea Scooter Safari
Now this looks interesting! It's basically snorkeling with your very own motor. You can also use an Aqua Ranger Sea Scooter which are ideal for children or anyone who's not a confident swimmer.
90-minute Sea Scooter Safaris depart daily at 10am, 1pm and 3.15 and cost $99 per person and $79 per child.
9. Enjoy the Resorts Swimming Pools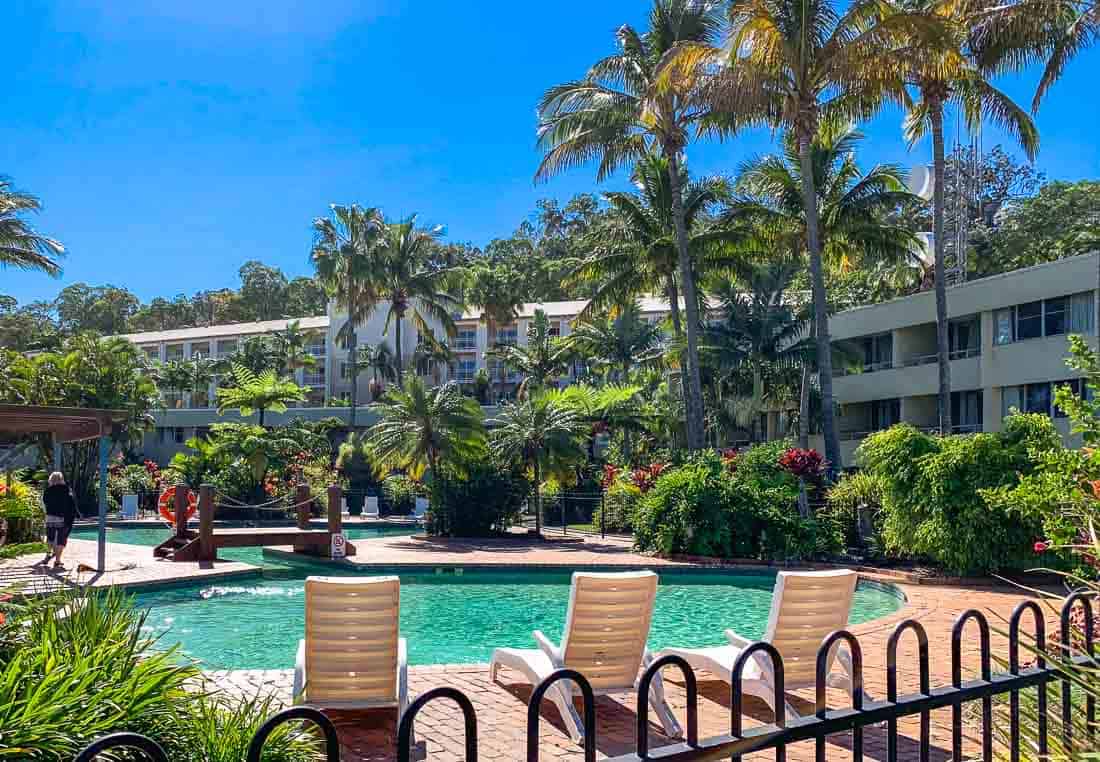 The Moreton Island Tangalooma Resort has not one but two gorgeous swimming pools for guests. During our visit they were renovating one of the pools, but we did check the other one out.
It was far to chilly for me to swim, but Myla got in there. The good news is the pools are heated so you can swim almost all year round. There are also plenty of sun loungers around the pool for relaxing.
10. Hire Stand Up Paddle Boards
SUPing is all the rage right now isn't it – and I can't think of a more beautiful spot to partake than off the shores of the Tangalooma Beach.
You can hire a SUP for $35 per hour, $50 per 3 hours or join a 90-minute sunset tour for $69 per person.
11. Take a Banana Boat or Tube Ride
Another one of the fun things to do on Tangalooma for the families that love to get the heart pumping, is to do a 15-minute banana boat or tubing ride.
A banana boat ride is $29 per person for a solo ride or $25 per person for three people riding together. Tube rides are $29 per person.
12. Join a Fishing Tour
If you or the kids are into fishing join a two-hour fishing tour where everything you need is provided. Just to note that this is a catch and release fishing tour.
Fishing tours are $79 per adult and $69 per child.
13. Join a Marine Discovery Cruise
Here's your chance to spot some of Moreton Bay's most beautiful marine life. During this 2-hour Marine Discovery Tour. On board a purpose-built catamaran you will go in search for dolphins, dugongs, green sea turtles, sea cucumbers, stings rays. Whilst you are searching for marine life your guide will provide you with information about the habitats and behaviours of the marine life.
Marine Discovery Cruises depart daily at 9.45am and 12.45pm and are $69 per adult and $49 per child.
14. Go Parasailing
Fly high above the shorelines of Tangalooma. During your 6-8-minute parasailing adventure you will have fantastic views across Moreton Island and may even spot some marine life too.
Parasailing at a height of 100m is $95 for a solo rider, $85 each for a tandem ride, or $80 each for a triple ride. Parasailing at a height of 150 is $105 for a solo rider, $95 each for a tandem ride, or $90 each for a triple ride. Spectators in boat are $15 per person.
15. Take a Whale Watching Cruise
During the months of June to October, the 3-hour Tangalooma whale watching cruise is perfect for observing these magnificent creatures in their natural habitats.
The Whale Watching Cruise is $75 per adult and $55 per child and departs daily at 12pm.
16. Relax on a Sunset Cruise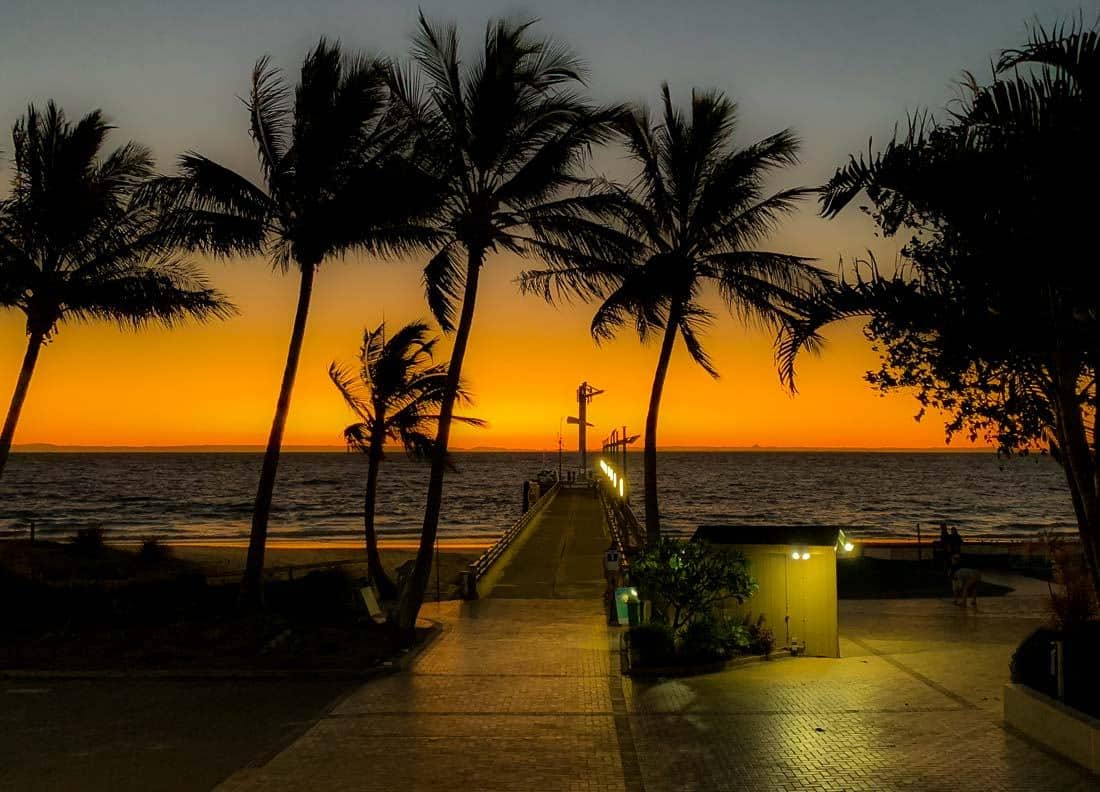 There aren't too many places on the East Coast of Australia where you can watch the sunset over the water, but lucky for Tangalooma, here is one of them!
The perfect way to enjoy the sunset is onboard a sunset cruise. During the 60-minute cruise you will enjoy drinks, snacks, music and commentary and of course the stunning sunset.
Whilst we didn't join the sunset cruise, we did watch the sunset from the window of our accommodation (see above), and it was spectacular! The sunset cruise is definitely something I'd like to do next time we go to Tangalooma.
The sunset cruise departs daily at 6pm and costs $56 per adult and $45 per child.
17. Motorboat Hire
A pretty cool thing to do on your family Tangalooma island holidays is to hire a boat for a few hours and go exploring on your own. Anyone can hire one, no boat license is required.
We've hired a boat a few times ourselves (not at Tangalooma) and it's such a fun way to go exploring.
Boats can be hired for 1 hour at the cost of $79, 2 hours for $109 or 3 hours for $139.
18. Hire Catamarans
You can hire catamarans too which can be a bit of fun with the family. Go explore the island at your own pace, go swimming, snorkeling or fishing. No experience is required as the guys at Tanga Watersports will show everything you need to know.
Catamaran hire is $49 for 30 minutes or $79 for 1 hour.
19. Dolphin Feeding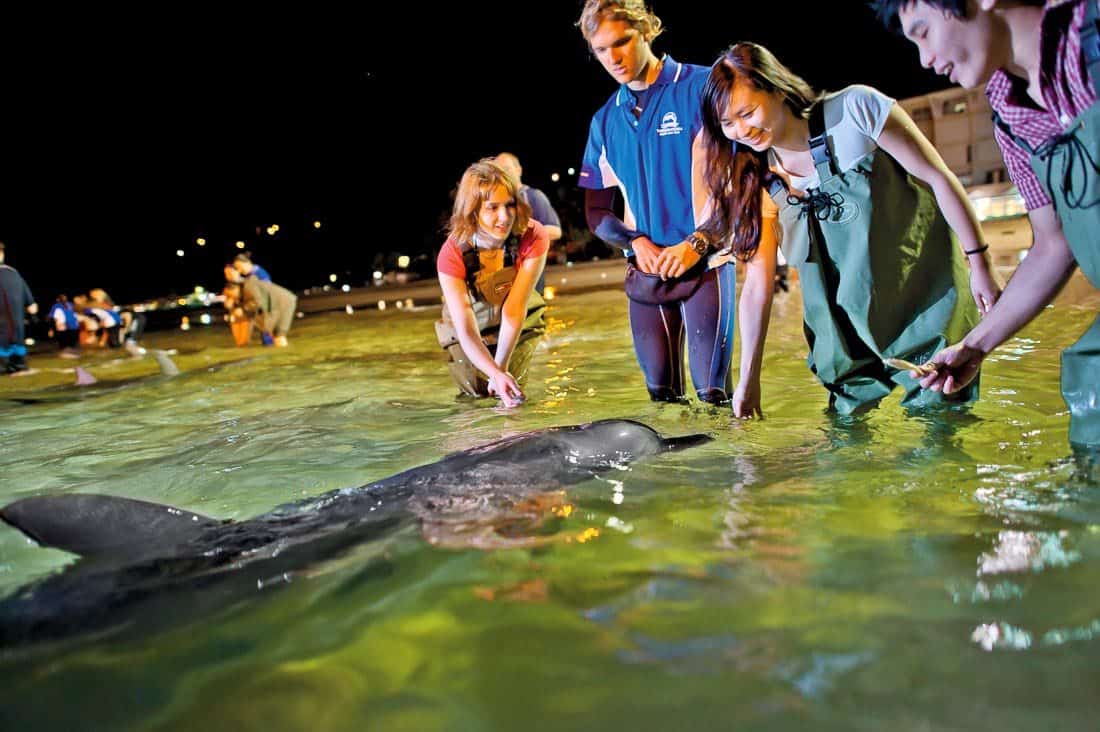 Photo Credit – Tangalooma Island Resort
Tangalooma dolphin feeding is definitely a highlight for many people's visit to Tangalooma. At Tangalooma you can join experienced marine professionals and help feed the wild bottlenose dolphins that visit the resort each evening.
Feeding the Tangalooma dolphins is only provided to guests staying overnight at Tangalooma as part of the dolphin feeding program or for day guests who have booked the official Tangalooma dolphin feeding day trip.
Whilst we were supposed to do the dolphin feeding during our trip, we couldn't unfortunately as the water was a little choppy. They did however allow us to through a fish each off the side of the jetty though. It was still pretty cool seeing dolphins in the wild.
Even if you don't participate in the dolphin feeding, its worth while heading down there as they have a special stadium like seating area off the jetty so you can easily see the dolphins.
Click here for more information about the dolphin feeding.
Land Based Activities
Whilst many of the activities at Tangalooma are based around the water, there are also some fantastic land-based activities too. Perfect for those that don't want to get wet or for days where the water is a bit too rough or cold.
20. Moreton Island Sandboarding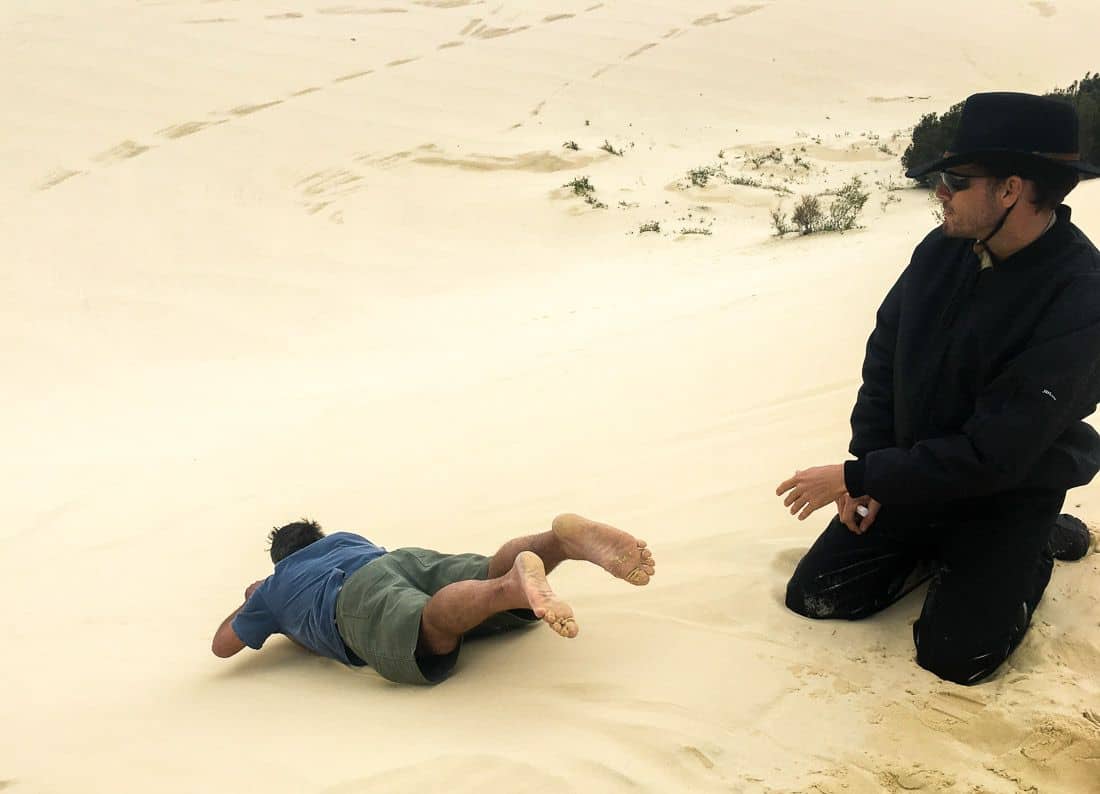 An absolute must whilst you're at Tangalooma is the Moreton Island sandboarding! This was easily one of the highlights of our trip and in my view another one of the must do things in Tangalooma.
Sand tobogganing can only be done as part of the desert safari Moreton Island tour, where you're taken into the Moreton Island desert via a 4WD bus. Once you get onto the track its super bumpy which Myla thought was hilarious!
Seeing the Moreton Island desert is something you have got to see for yourself! It's absolutely stunning! Your guide then takes you over to the sand dune and gives you a briefing of how to ride the sand boards.
Walk up the 30-metre-high sand dune is pretty challenging though. My calves were screaming and by the end I was falling all over the place. Unfortunately, Myla only made it about halfway and then went back down. I however was determined to get to the top!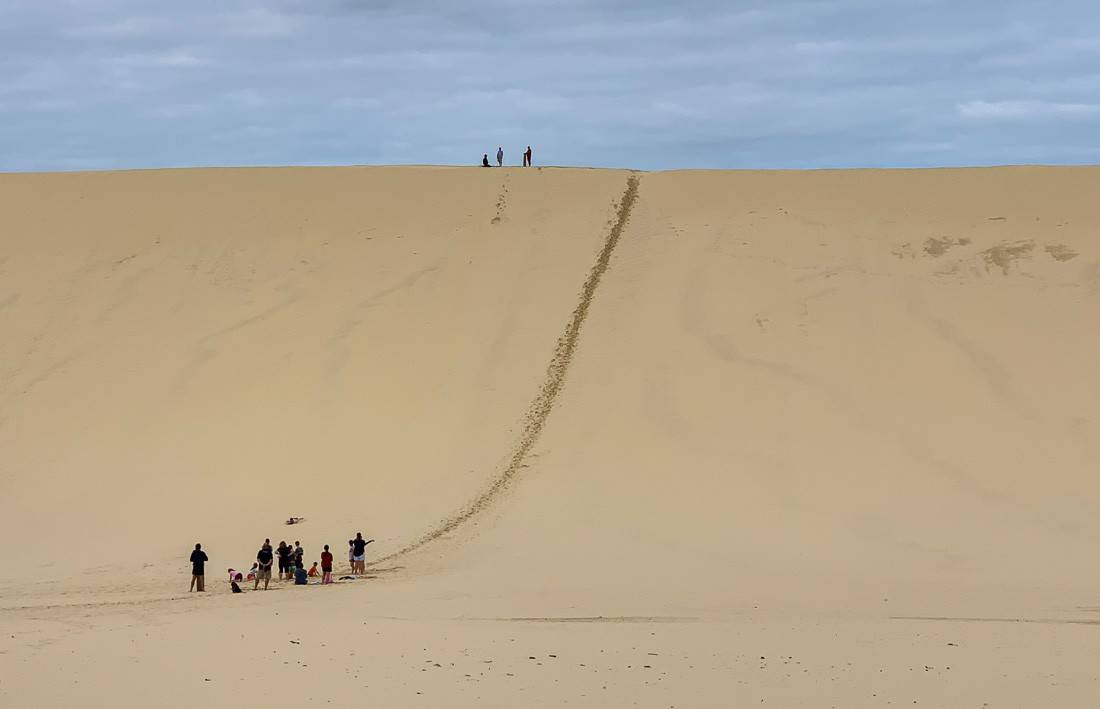 Once you lie on your board ready to go over, it's absolutely terrifying!!! But as soon as you get going its friggin awesome!!!!! Seriously it's so much fun.
Myla ended up having a go from about halfway up the dune – she didn't go too far but she still enjoyed what she did do.
This tour goes for 90 minutes and is $49 per adult and $32 per child. The tour departs daily at 8.45am, 1.30pm and 3.30pm. Do yourself a favour and do this tour!!! So much fun.
21. Tangalooma Quad Bike Tour
If you're looking for an adrenaline activity, the Tangalooma quad bike tour is something you will definitely enjoy. Have fun exploring the bushland and beach of Tangalooma on this guided tour.
The price of the quad bike tour is $80 per solo rider or $60 per tandem rider.
22. Northern Safari 4WD Bus Tour
If you want to see even more of Moreton Island, join this 4-hour tour and explore the western beaches of the island. On this trip you pass through the townships of Cowan Cowan and Buwer and see the oldest lighthouse in Queensland at Cape Moreton.
The tour also includes a good ole Aussie damper morning tea.
Northern Safari Tours leave daily between the months of October to May at 8.30am and cost $110 per adult and $70 per child.
23. Southern Safari 4WD Tour
Join this 6-hour guided 4WD drive tour to explore the southern end of Moreton Island. On route see the Eastern Beach, WW2 Rous Battery Site, Mirapools, Big and Little Sandhills and the Kooringal Township. You will also enjoy a delicious seafood lunch at the Gutter Bar.
The Southern Safari Tour is $145 per adult and $99 per child and departs at 9am.
24. Hire a Bike
Hire a bike on Tangalooma, but not just any bike – hire a beach bike! These bikes are specially designed to easily be ridden along the beach.
Bike hire is $30 per hour or $50 for 2 hours.
25. Spoil yourself with a Massage
For 30 minutes, relax and treat yourself to Tangalooma Resort's massage hut, where you can choose from massages, facials, manicures and pedicures, waxing, tinting, body treatments and different spa packages.
Click here for a full menu and price list.
26. Tangalooma Helicopter Tour
For something extra special, why not enjoy a bird's eye view of the whole of Moreton Island via a Tangalooma helicopter tour of up to 30 minutes.
Prices vary depending on the length of trip, starting at $90 per person for 6 minutes up to $365 per person for 30 minutes.
27. Segway beach tour
For something a bit different you can even join the beach Segway tour and easily explore the stunning Tangalooma beach.
Segway tours are $55 per person for a 25-minute intro lesson or $99 per person for a 45-minute scenic tour.
28. Hire a 4WD and go Exploring at your own pace
If you want to get out and explore Moreton Island at your own pace, the best thing to do is hire a 4WD. There is plenty to see – click here for all there is to see on Moreton Island.
4WD hire is $380 for the day.
29. Go Whale Watching from Land
During whale watching season, which is June to October, you can even spot whales from the land. Join this bus tour where you will go and down the cliffs of Cape Moreton in search of these magnificent creatures.
This 4 hour tour is $110 per adult and $99 per child and is perfect for anyone who want to go whale watching but is partial to sea sickness.
30. Join Old Whaling Station Tours and Talks
Did you know that Tangalooma use to be an old whale station? Join a 60-minute discussion where you can learn all about the history and operations of the whale station and hear how the island went from exploiting whales to becoming the home of sustainable whale watching tourism.
Discussions are free to join, check with the resort for times.
31. Let the kids get burn off some energy on the Trampolines
Tangalooma even has a beach trampoline! The trampoline is in front of the Tangalooma Water Sports and costs $5 per person for 30 minutes.
32. Take the Kids to the Playground
There's a small pirate ship playground at Tangalooma for the kids. It includes slides, climbing equipment and a fireman's pole. It's only small but Myla had a great time playing on it.
33. Hire some Sports Equipment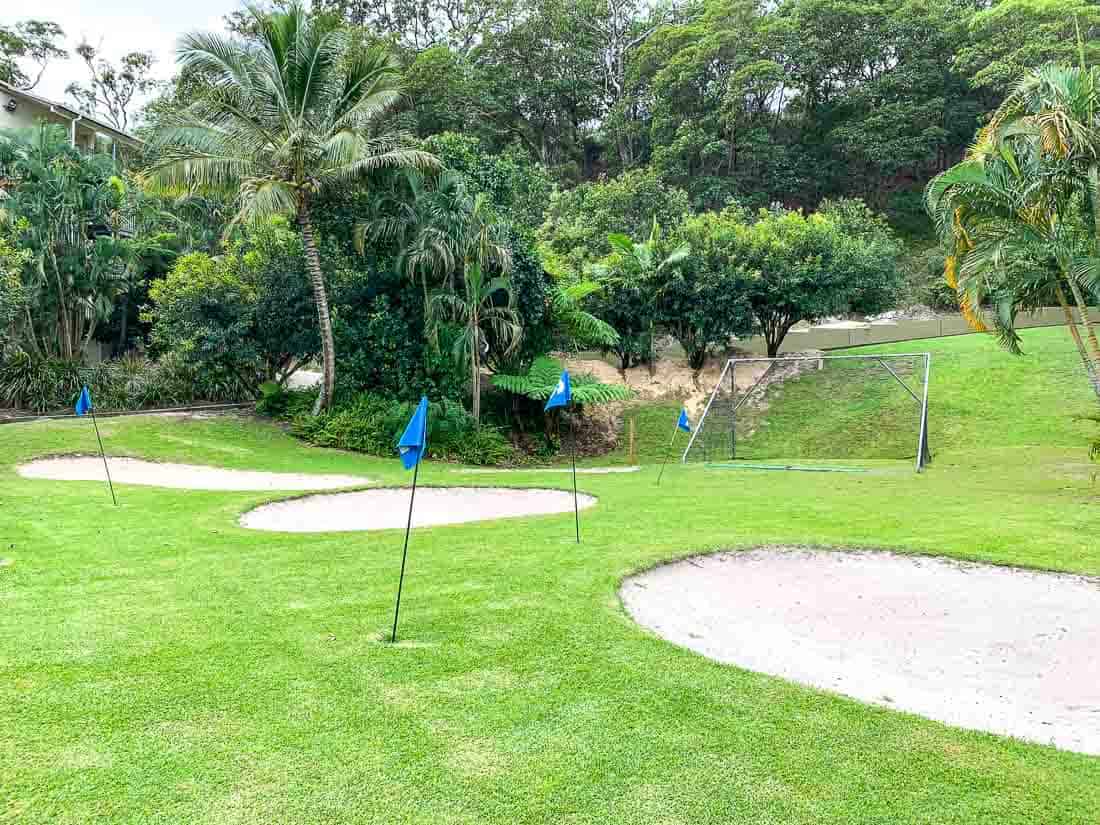 If you're the sporty type, you're in luck because you can hire a range of sports equipment for free! There's badminton, basketball, beach cricket, boules, croquet, island gold, squash, table tennis, tennis and beach volleyball.
34. Learn all about Dolphins at the daily Dolphin Talk
Before you get the opportunity to feed the dolphins why not pop in for the free dolphin briefing. Here you will learn all about the Tangalooma Wild Dolphin Feeding Program, as well as learn about the dolphins that come to be feed each night.
The dolphin briefing takes place each day at 3.15pm and is free. Unfortunately we didn't get to hear the dolphin talk as we were off on our snorkelling tour.
35. Feed the Kookaburras
Kookaburra feeding takes place each day at 4.45pm and is free to attend. On the day we were there only one little fella popped down for some food and unfortunately, he was gone again before I got to take a photo. Apparently there was an eagle in the area which was preventing the kookaburras coming down.
The ranger left a few pieces of meat out in case any other kookaburras came and whilst we were still in the area a kite attempted to come down a few times for the meat. It looked amazing watching this bird keep circling and having its big claws out ready to grab the meat. But I guess due to a few people hanging around it was too scared to come down and eventually disappeared.
36. Feed the Pelicans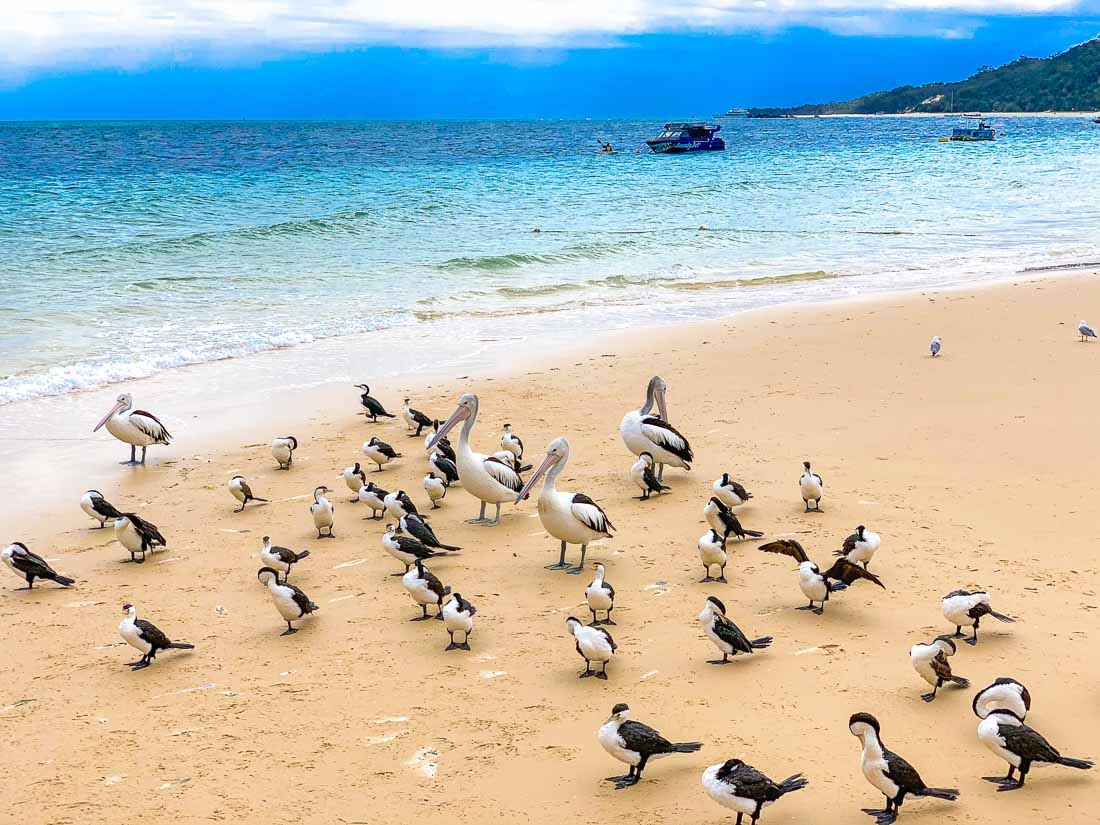 At 11 am each day there is also pelican feeding. You won't forget it's on as all the pelicans and other birds know the precise time to come and wait for their feed! It was quite cute seeing all the pelicans standing around waiting.
And when the range came along with her esky all the pelicans went running for her.
For even more fun in the sun – click here to read our Gold Coast family holidays guide.
Tangalooma Day Trip Cruises
If you don't have the time to spend the night at Tangalooma, you can also join a Tangalooma Island day trip. Honestly with this stunning island on Brisbane's doorstep – a day trip is so worth it.
There are a few different day trips to choose from, check out our guide here which includes all the different options.
Where to Eat: Tangalooma Restaurants
So where to eat whilst visiting Tangalooma? There are a range of Tangalooma restaurants and even a convenience store so you will never go hungry. Being an island resort, you can expect pricing to be a little high, so be sure to consider some self-catering mixed in with eating out.
Remember for guest staying overnight at Tangalooma, you can bring an esky (cooler) up to 20kg per group!
Beach Café: Here you will find pizzas (from $21), pasta (from $17), salads (from $12) and more. There is also a good kid's menu with most things $10. We found all the servings really large and most people could easily share a meal for a light lunch.
Beach BBQ: The beach BBQ has a limited menu each day – for example one day we ate there and it was burgers and chips which was $19.
The Coffee Lounge: If you just want something quick and easy come here as they serve sandwiches (from $4) and pies etc.
"Fire" Sichuan Chinese Dining: We love out Asian food and so couldn't resist coming here for dinner. The food was beautiful and again the servings were generous. Myla's kids' meal was absolutely huge!!! This would easily feed 2 children.
"Stone" – Australian Resort Dining: We didn't eat here during our stay, but this restaurant serves upmarket Australia pub food.
Tursiops Breakfast Buffet: For breakfast they have a great buffet with all the usual things one would expect such as eggs, bacon, pancakes, cereals, fruits and pastries. The buffet is $30 per adult and $20 per child.
B&Bs Bar: We didn't visit the bar during our stay either – but I did note they had a happy hour between 7-8pm each day – although I'm not sure what that entails.
Lucky 7 Convenience Store: There is also a small supermarket at the resort which has a small range of items for self-catering. I took a note of some of the items here and their prices – bottle of wine $20, loaf of bread $4.80, 1.25l coke $6, 1l milk $3.70, sausages $6, 6 eggs $3.95.
Where to Stay – Tangalooma Accommodation
There is a wide range of Tangalooma Island accommodation options from hotel rooms, to self-contained suites to large holiday homes.
Here is a brief overview of the Tangalooma resort accommodation option:
Hotel Standard and Deluxe Rooms
The hotel rooms are in the Kookaburra Lodge which is located by the swimming pool and close to all the main facilitates at the Tangalooma beach resort. If you want to be guaranteed an ocean view, book the deluxe option, although you may land yourself an ocean view even when booking a standard room, but it's not guaranteed.
Hotel rooms can accommodate up to 4 people and facilities include air conditioning, hot beverage making facilities, a TV, a bar fridge, hairdryer and Moreton Island dolphin feeding.
Price per night starts at $209 for the standard or $259 for the deluxe. Click here to check availability and current pricing.
Resort Units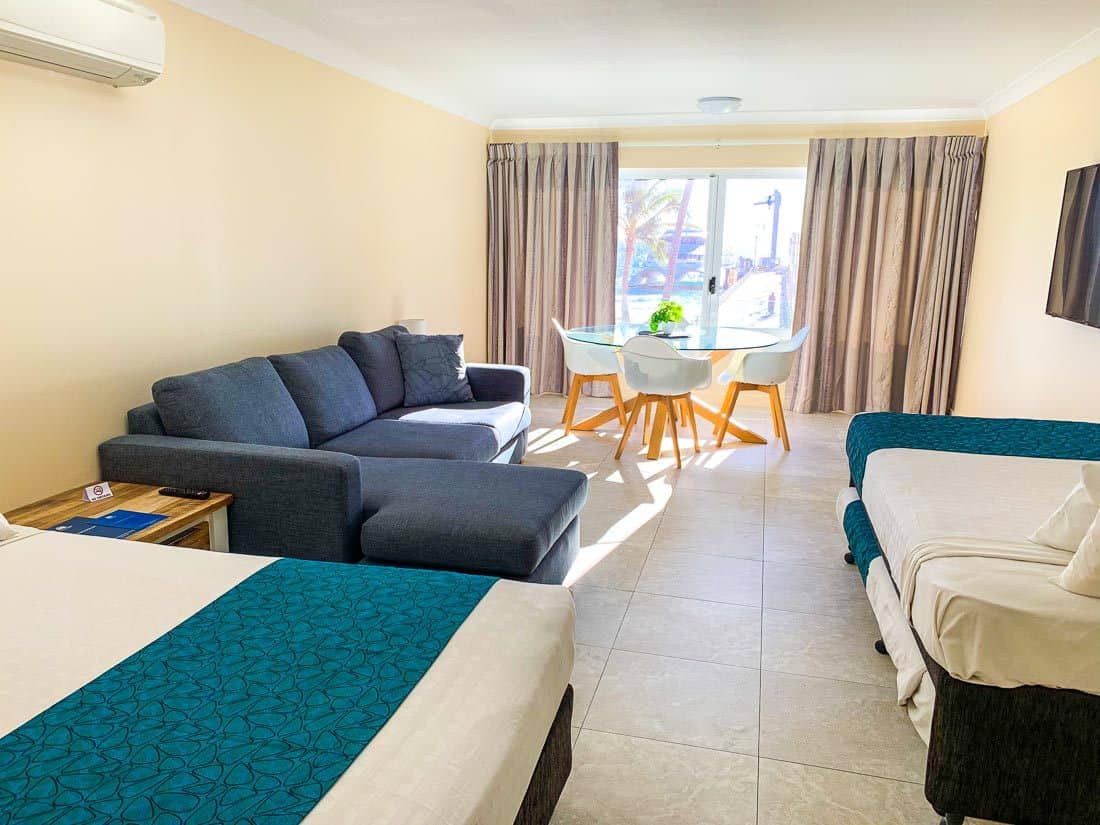 This is the accommodation type we stayed in during our visit to Tangalooma. These rooms are like the hotel rooms but also include a small kitchenette which has a microwave, kettle and toaster so you can prepare some basic meals during your stay. They also have a small dining area.
Resort units also accommodate 4 people and start at $239 per night. Click here to check availability and current pricing.
1 Bedroom Family Suites
The Tangalooma family suite is very similar to the resort units, however there is a separate main bedroom. These suites can accommodation up to 6 people and start at $289 per night. Click here to check availability and current pricing.
Beachfront Villas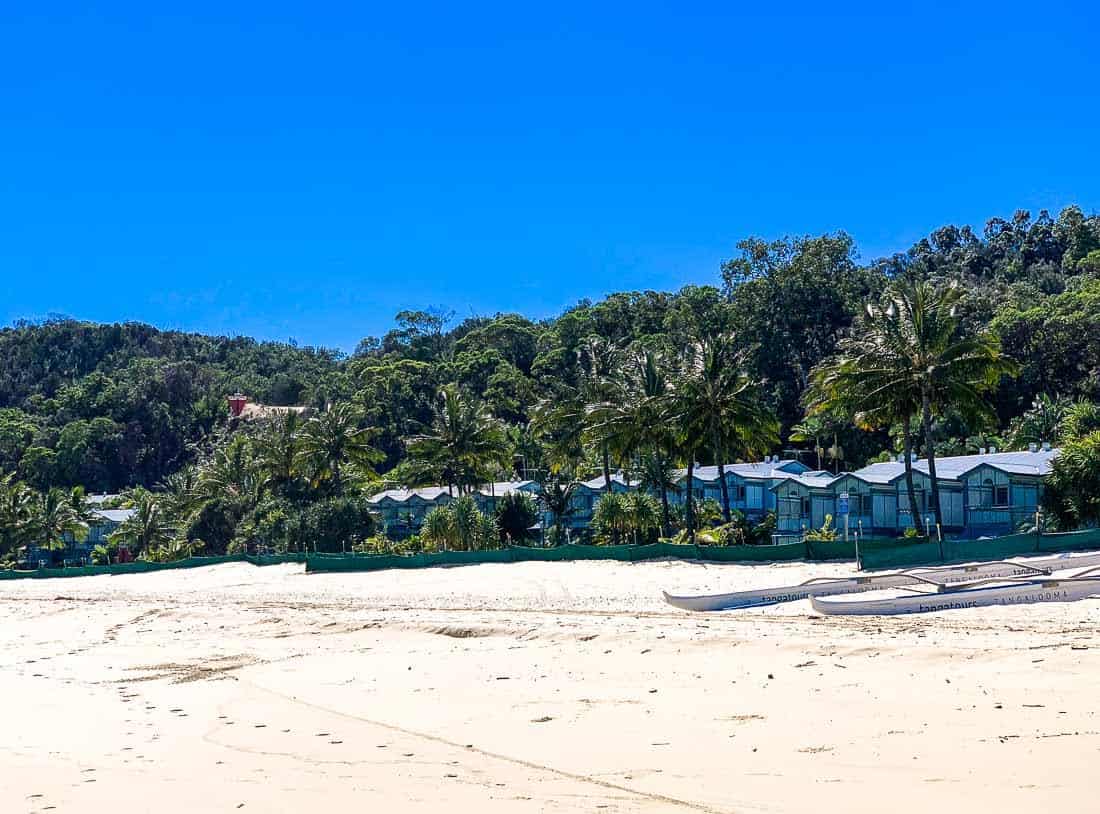 For large families and groups of up to 8 people, the Tangalooma villas (pictured above) are a great way to go. These villas are two levels, include two bedrooms, have a full kitchen and even a washing machine. There is a garden patio downstairs and a balcony upstairs with fantastic views across Moreton Bay.
The standard villas don't have air conditioning but do include ceiling fans throughout. If you want air conditioning book the deluxe villa. Deluxe villas are pretty much as the standard villas; however some only accommodate 6 people as opposed to 8.
The standard villas are from $399 per night whilst the deluxe villas are from $459 per night. Click here to check availability and current pricing.
Deep Blue Holiday Apartments
The Deep Blue apartments Tangalooma has on offer include 2-bedroom, 3 bedroom or even 4-bedroom apartments.
Each apartment is fully self-contained with a furnished balcony with views of Moreton Bay (includes barbecue), full kitchen, ducted air conditioning, washing machine and dryer, a TV, use of the Deep Blue swimming pool and an in-room spa.
The Deep Blue apartments can accommodation from 4 people up to 8 people and start at $479 for a 2-bedroom apartment, $509 for a 3-bedroom apartment and $549 for a 4-bedroom apartment. Click here to check availability and current pricing.
Holiday Home Rentals
For those families or groups that want spacious accommodation in a quieter pocket of the resort, a Tangalooma holiday house may be what you're after. There are a range of stunning homes to choose from offering accommodation for up to 12 people.
Each house is individually styled and has facilities such as entertainment decks, barbecue facilities, alfresco style dining and have stunning views over the water of Moreton Bay.
Holiday houses start at $349 per night. Click here to check availability and current pricing.
Our Verdict: Tangalooma Review
Well despite being right on our doorstep, it's been years since I have visited Tangalooma – in fact not since I was a young girl. And now I'm asking myself why? It's so easy and quick to get there. I mean from the minute we left home to the moment we arrived on the island took no more than around 2.5 hours. 2.5 hours and we were in a stunning tropical island paradise!
Sure, Tangalooma is a bit pricey to what we are use too. But usually we have to spend at least 8-10 hours on an airplane to get there. Not to mention the time to get through customs etc.
Tangalooma is absolutely stunning, a wonderful place for a relaxing family holiday, perfect if you're looking for a short weekend away from Brisbane. Spend your days swimming in the calm crystal-clear water, join various free activities and splurge on one or two activities that cost extra.
If you've been considering taking the family over to Tangalooma but for one reason or another haven't got around to it – do it – you won't regret it!
______________________________________________________________________________________________
Thanks so much for Tangalooma Island Resort for hosting our stay – however as usual all opinions expressed in this post are not influenced in anyway.
Please note that this post contains affiliate links, which means that should make any bookings using my links, I may be paid a small commission at no extra cost to you. This allows me to provide this information free of charge – thank you for supporting our website.
Want to save this information for later?
Click on one of the images below and save it to Pinterest