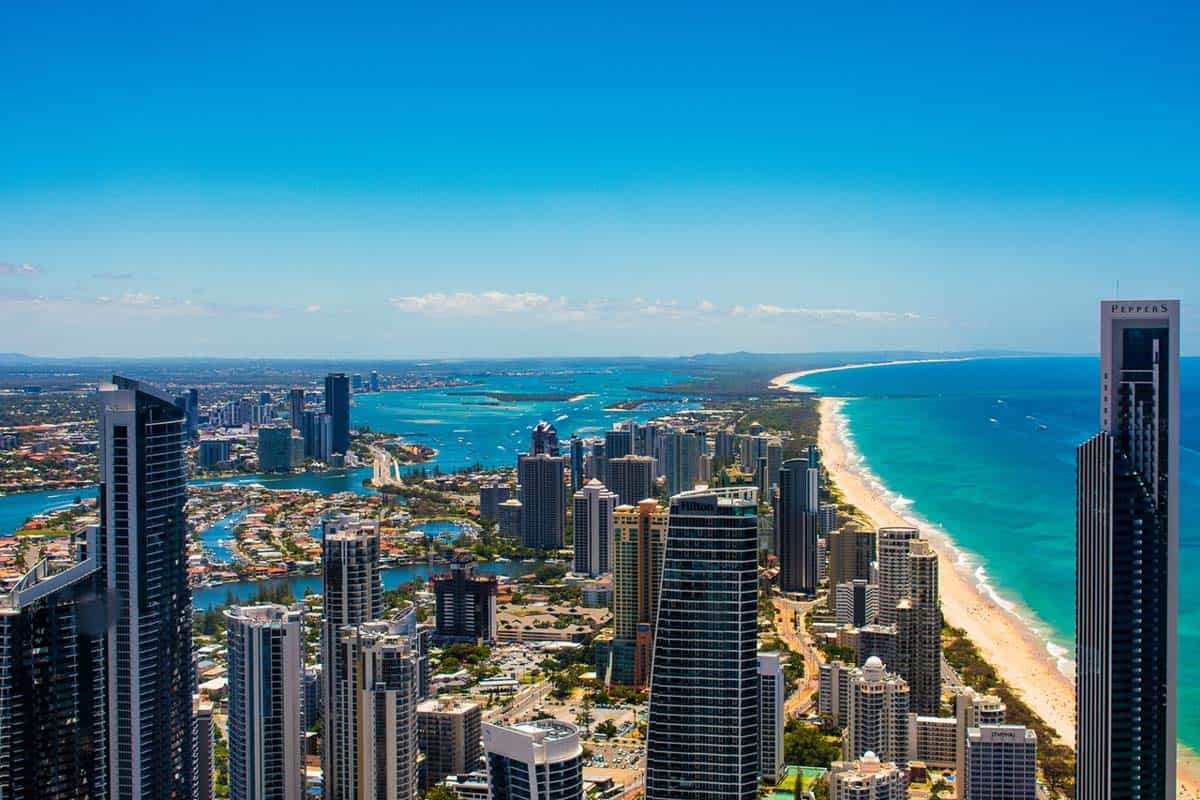 Are you looking for some of the best day trips from Brisbane? Awesome because in this guide we have put together some of our favourite Brisbane day trips. This guide on the best Brisbane day trips as been complied with some help from some other travel bloggers, who were only too happy to share with me their favourite day trips out of Brisbane.
We love living in Brisbane and when we're not travelling the globe we love to get out and about and do as many day trips around Brisbane as we can. Living in Brisbane we are spoiled for choice as we can easily access the Sunshine Coast attractions as well as the Gold Coast attractions within an hour or so drive, and of course there plenty of great Brisbane tourist attractions to explore too.
In this Brisbane day trips guide you will find a vast range of Brisbane attractions, from the exciting theme parks, to stunning Queensland beaches, to wonderful animal encounters and the gorgeous National Parks. So whether you're local looking for some Brisbane day trips ideas or you are coming to Brisbane for a holiday and looking for tips on the best tourist places in Brisbane and the surrounding area, you're sure to find plenty of great ideas from this guide.
Planning a trip to Queensland? Have any questions? Join our Queensland Travel Planning Facebook group here now! It's the perfect place to ask any questions and to be inspired!
33 of the Best Day Trips from Brisbane
Island Day Trips from Brisbane
If you're not from Brisbane you may be surprised to learn that there are some stunning island day trips from Brisbane. Whilst many of these Brisbane islands are best explored over a few days, those short on time can nevertheless explore the island's highlights in a day.
Whilst you can often catch a passenger ferry to the various islands and explore on your own, quite often one of the Brisbane island tours is your best bet for an island day trip.
1. North Stradbroke Island Day Trip from Brisbane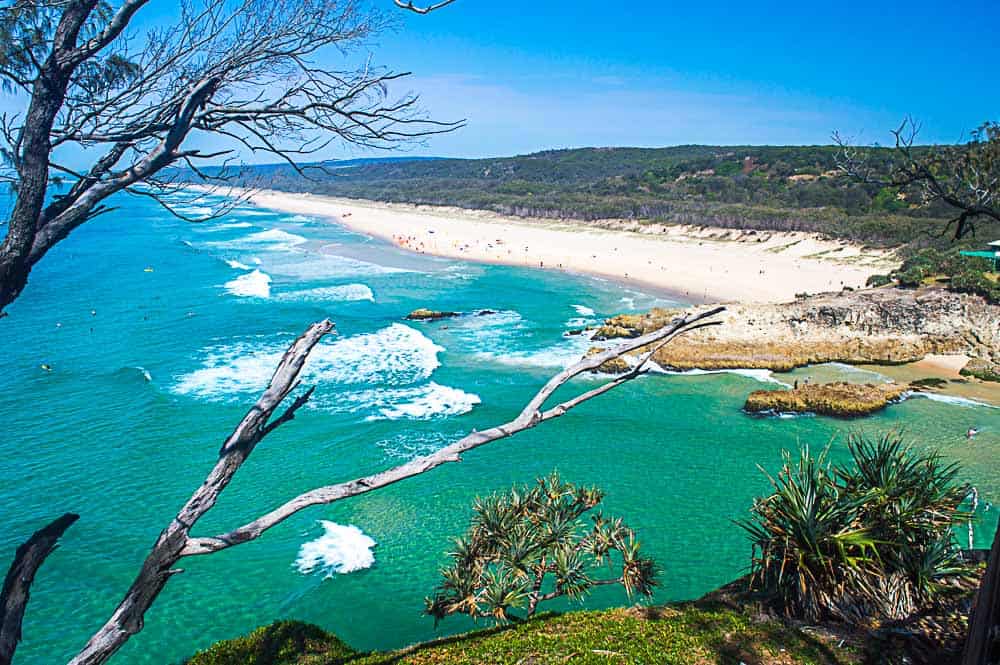 Stradbroke Island is the world's second largest sand island, being 38 kilometres long and 11 kilometres wide and is located only 30 kilometres southeast of Brisbane.
As well as it's stunning beaches, North Stradbroke has some great opportunities for wildlife spotting. Keep an eye out for koalas and kangaroos on the mainland and dolphins, whales, turtles and pelicans in ocean. You can also visit stunning lookouts and swim in the gorgeous Brown Lake (yes despite it's less than glamorous name, it is gorgeous!).
You can either take a passenger ferry across to the island, but you will need a vehicle to get around and explore. Whilst it's possible to take your own vehicle across it is very expensive for a day trip and may work out better to join a North Stradbroke Island day trip from Brisbane. Click here to see a range of tours that leave Brisbane.
For more information on North Stradbroke Island, click here for my full guide.
2. Moreton Island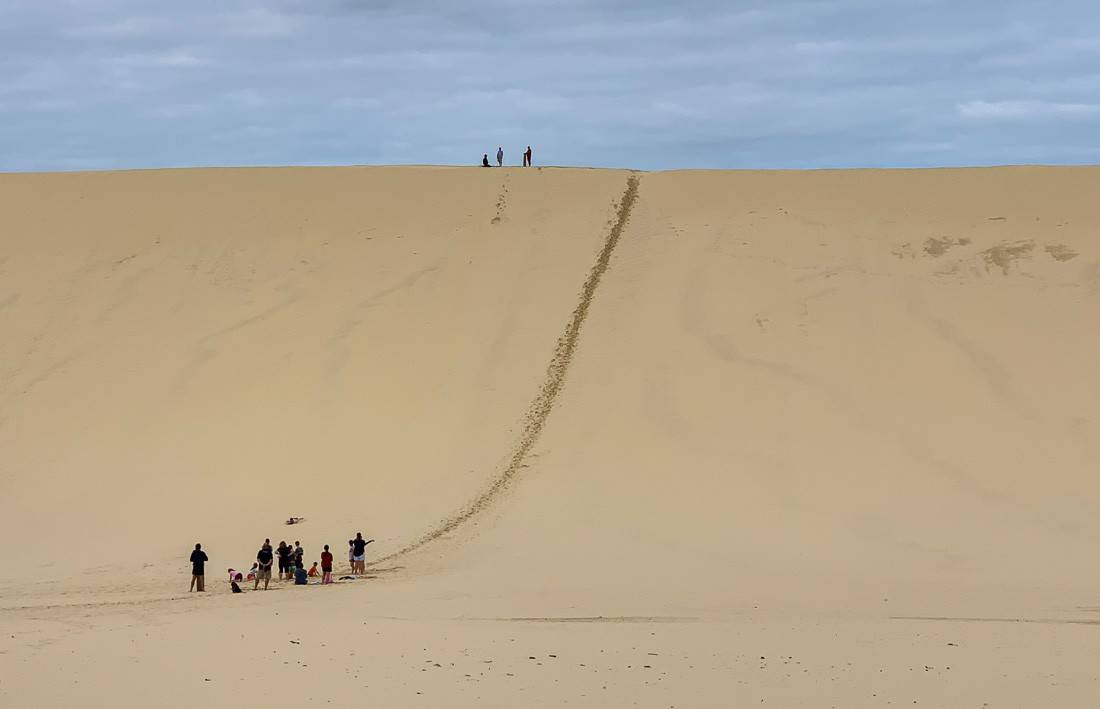 Moreton Island is the world's third largest sand island and is located just off the coast only 40 kms north east of Brisbane. On Moreton Island you will find stunning beaches, amazing scenery and absolutely massive sand dunes – perfect for sandboarding!
Moreton Island is just stunning and perhaps most well known for the Tangalooma Wrecks. Around these purposely sunk ships you will find gorgeous coral and fish. Other marine life you can see around Moreton Island include dolphins, whales and dungeons.
There are no roads on Moreton Island, it is completely sand, so the only way to get around is by 4WD. You can come across on a barge with a 4WD, but it can be pricey so a Moreton Island day tour from Brisbane is often your best option. A range of Moreton Island day trips from Brisbane exist – you can read our guide here on tours to Moreton Island.
3. Tangalooma Day Trip from Brisbane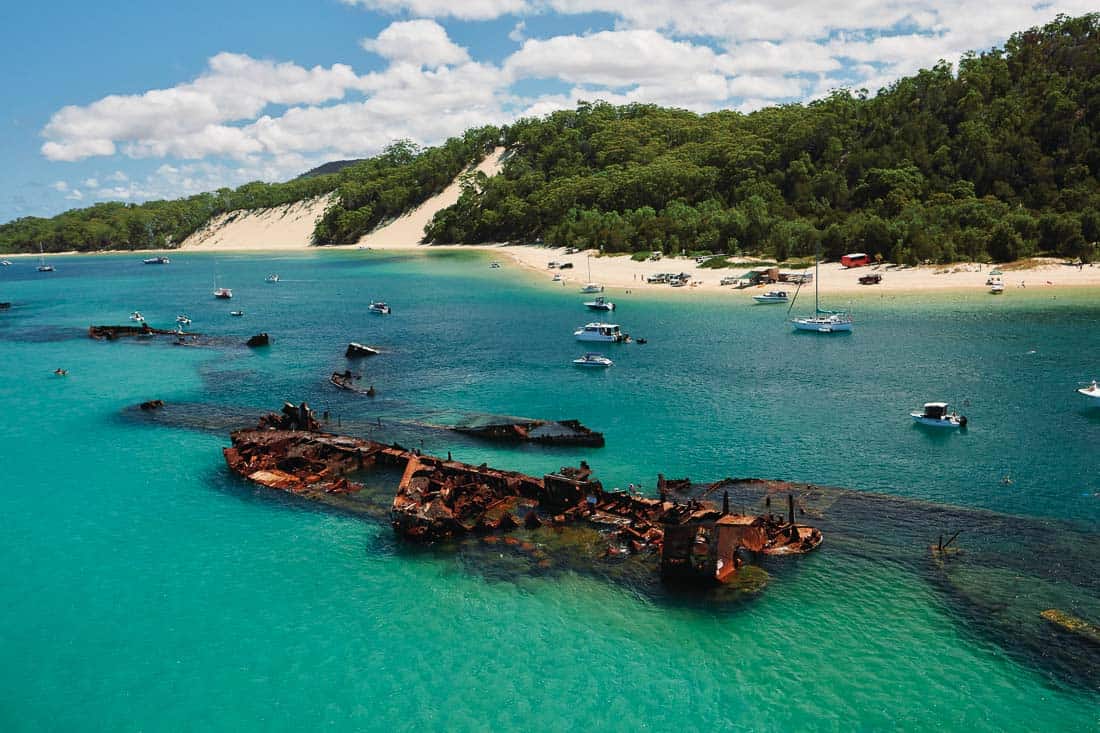 Whilst Tangalooma Island Resort is in fact located on Moreton Island, the resort is massive and so I thought it was worth listing it separately. You can easily reach Tangalooma Island Resort by passenger ferry and be there within 75 minutes. Given it is so close to the CBD, a Tangalooma day trip from Brisbane is the perfect outing.
During a Tangalooma Island day trip you can enjoy a range of activities including snorkeling the Tangalooma Wrecks, sandboarding, parasailing, glass bottom boat rides, dolphin feeding and more. During a day trip you also have access to all the resorts facilities such as their swimming pools, playground and food outlets.
You can't access Tangalooma Island Resort on your own and must join a day trip or stay in their accommodation to access their facilities and activities. Click here to see a range of Tangalooma Island Day tours
Click here for my full guide on visiting Tangalooma Island Resort
Theme Parks
When it comes to Gold Coast and Brisbane attractions, many tourists flock to South East Queensland for the theme parks!!! Whether you want to see your favourite movie characters come to life at Warner Bros. Movie World or get your heart pumping on the thrilling rides at Dreamworld there is something for everyone. Theme Parks certainly make one of the best family day trips from Brisbane.
4. Movie World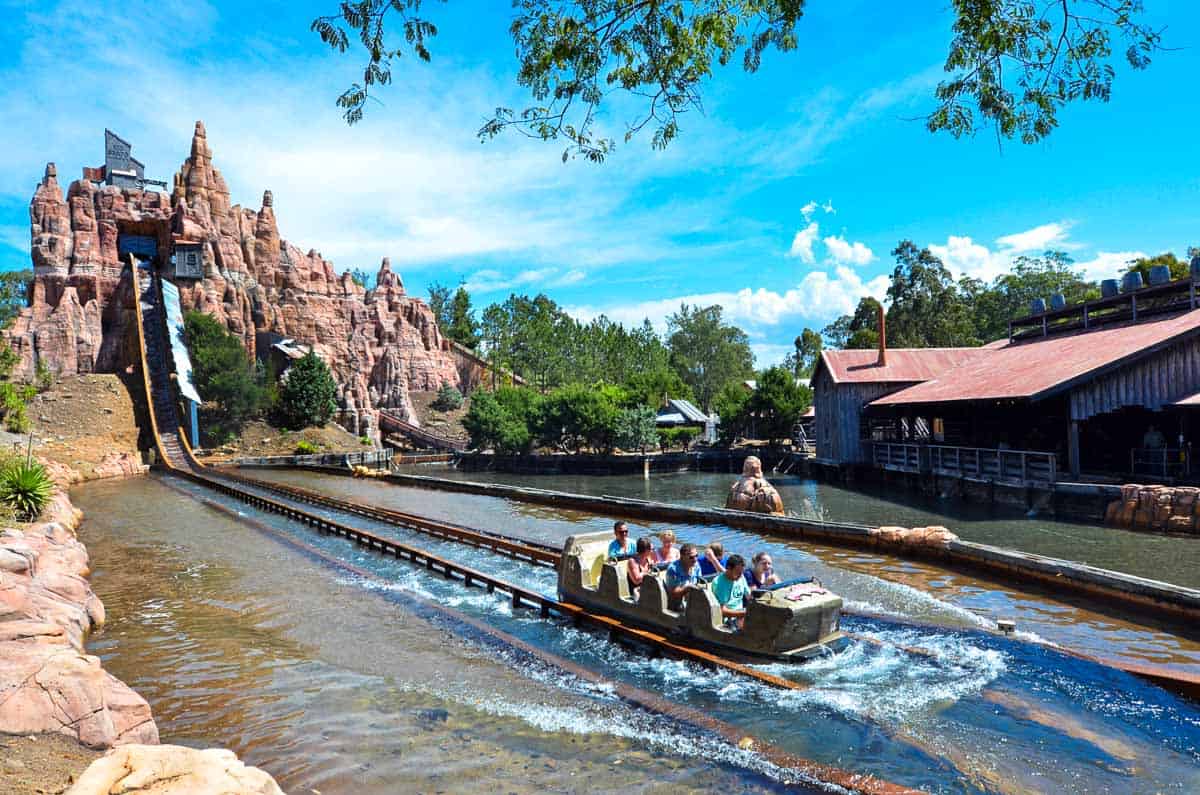 Contributed by Christina from Travel 2 Next
Movie World is a great one day trip from Brisbane – particularly if you're visiting with kids. This theme park has 28 attractions and a range of rides suitable for younger children. Toddlers and pre-school-aged children will love riding the Looney Tunes Carousel, driving around on the mini cars at Speedy Gonzales' Tijuana Taxis and the thrill of Sylvester's Pounce 'N Bounce.
For family fun, the Scooby Doo Spooky Coaster is a wild indoor roller coaster in the dark. It has a height requirement that riders must be 120cm tall or 110cm tall if riding with an adult. Adrenalin junkies will love the big roller coasters and there's a programme of shows to entertain the entire family.
Warner Bros Movie World is an easy 50 minute drive from the Brisbane CBD and public transport is also available by train (to Coomera Station) and by bus on the TX7 route every 15 minutes.
Warner Bros Movie World is open all year round from 9:30AM to 5PM (rides operate from 10:00AM to 5PM). The park is closed on ANZAC Day and Christmas Day. Ticket prices for a single day pass are $95 (adult), $89 (children aged 3 to 13 and pensioners).
If you are on holiday in Brisbane, you can book Movie World tickets that also include transportation from the CBD. If you're planning to visit other theme parks such as Sea World and / or Wet'n'Wild, it's recommended you purchase one of the Gold Coast theme park deals to save money. Click here to book your cheap Movie World tickets.
5. Sea World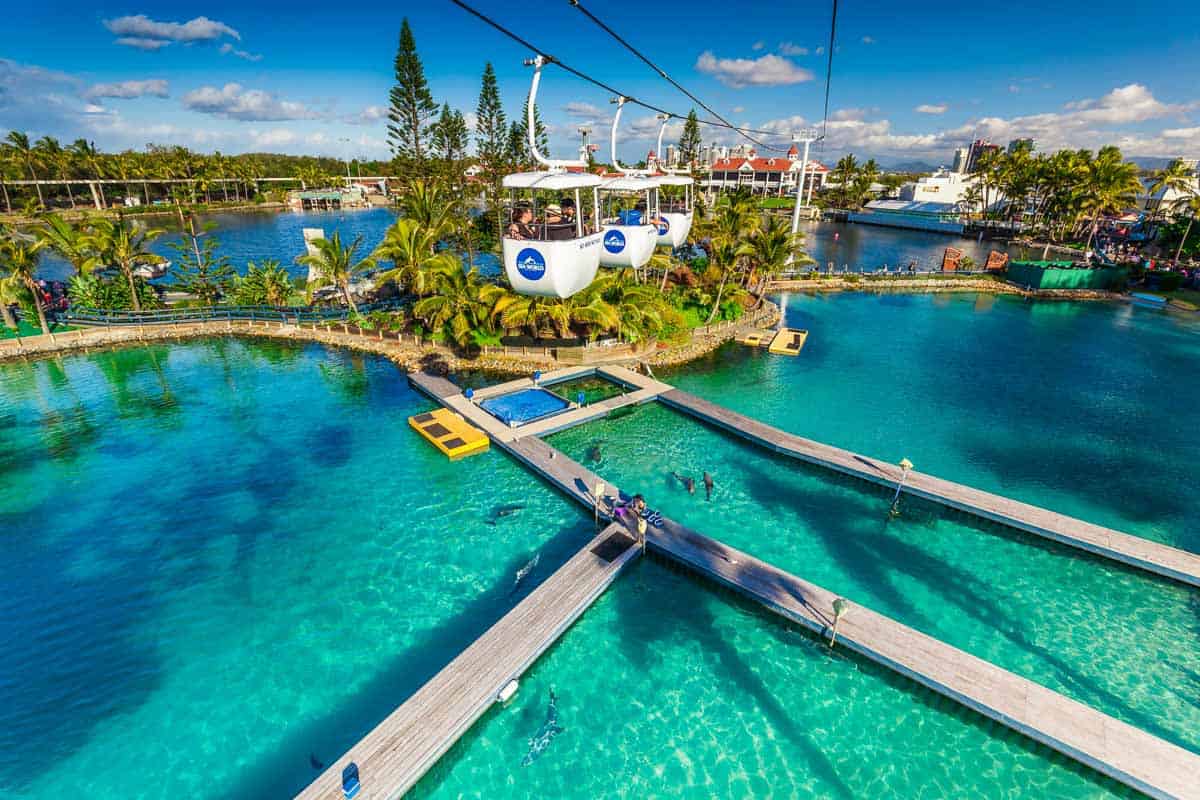 Another one of the top day trips from Brisbane is a visit to Sea World. Located in Main Beach, Sea World is an hour's drive south of the Brisbane CBD and is one of the Gold Coast theme parks that the whole family to enjoy.
At Sea World you will see some of Australia's most beautiful marine life including Polar Bears, Stingrays, Dolphins and Penguins. There are rides and shows as well as educational presentations and an interactive splash zone for the little ones, hands down one of the best things to do in Gold Coast with the kids.
Whilst this Queensland theme park does seem to cater best to families with young children, there are a few thrill rides that the older kids will love and come on who doesn't love seeing a cute Polar Bear! Older kids will love rides such as Jet Rescue and the Storm Coaster, whilst little ones will love seeing Dora the Explorer and Spongebob.
One day Sea World tickets start from $79 per adult and $69 per child with children under 3 free. If you plan on visiting other theme parks such as Movie World and / or Wet'n'Wild, it's recommended you purchase one of the combined Gold Coast attraction deals to save money. Click here to book your discounted Sea World Movie World Pass.
6. Dreamworld and White-Water World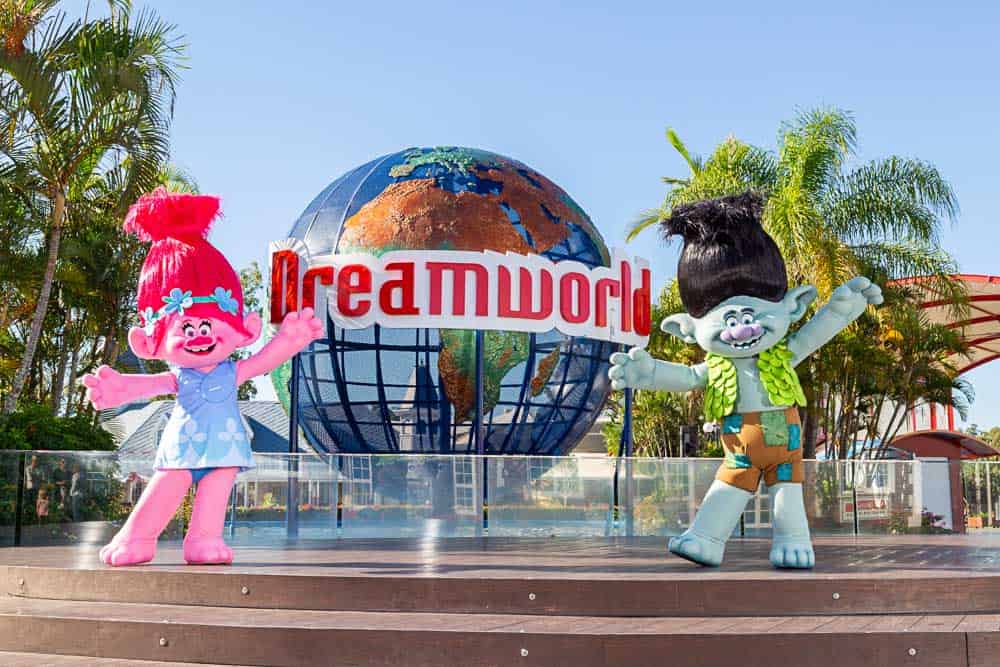 Dreamworld is one of my personal favourites when it comes to awesome day trips from Brisbane with kids. Dreamworld offers some of the most exciting rides on the Gold Coast and is home to the Big 9 Thrill Rides including the BuzzSaw, the Giant Drop and the Tower of Terror II. But there is plenty for the little kids too including ABC Kids World and Tiger Island.
Also right next door to Dreamworld is their water park which is called White Water World. Your Dreamworld entry ticket includes entry to the water park. Here you will find water slides and activities suitable for all ages so the whole family can enjoy the day. From Wiggle Bay for the little ones to the Triple Voretex for the older thrill seekers, whilst the entire family will love the massive wave pool.
At the time of publishing one day Dreamworld tickets start from $95 per adult and $85 per child with children under 3 free. You really do need a full day at both Dreamworld and WhiteWater World though, so if you do this its best to get a multi-day pass which starts at $109 for adults and $89 for children with under 3 free. Click here to book your tickets.
Dreamworld is a 50 minute drive south of the Brisbane CBD and is located on the Pacific Highway (M1) at Coomera. It is much easier to drive yourself, however there is the option of public transport. Alternatively, you can book theme park tickets which include transfers – click here for more information.
Dreamworld is one of the Gold Coast top attractions and is open 7 days a week between the hours of 10 am to 5 pm.
7. Wet n Wild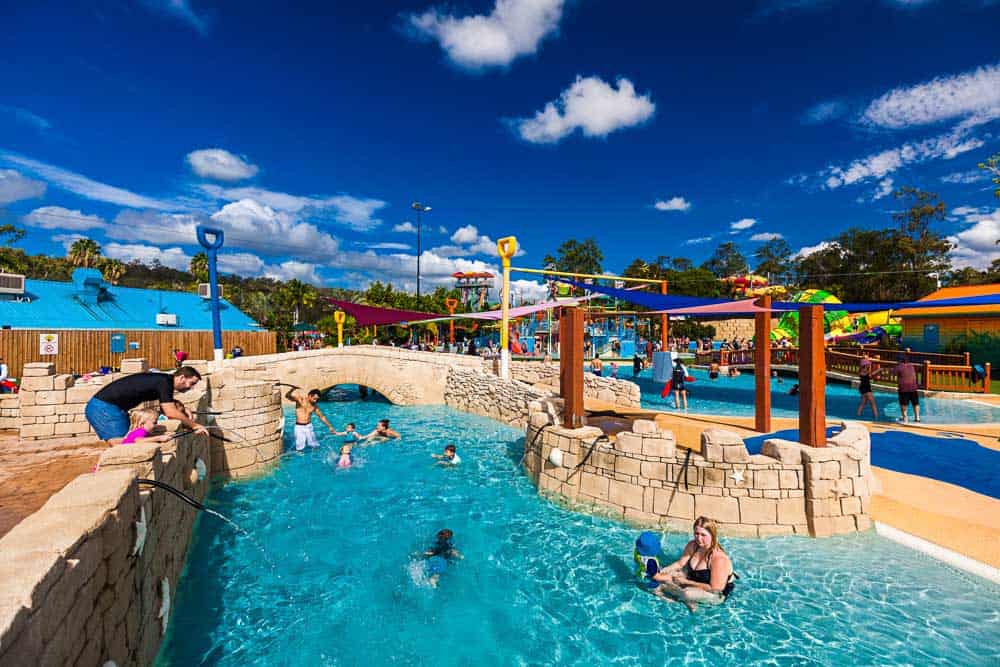 Located right next door to Movie World, if you're visiting during the peak of Summer a visit to Wet'n'Wild is an absolute must! This Gold Coast water park is suitable for families with children of all ages you will find some of the tallest and fastest waterslides as well as the Wet'n'Wild Junior area and family favourites such as the Wave Pool and Calypso Beach.
One day Wet'n'Wild tickets start from $74 per adult and $69 per child with children under 3 free. If you plan on visiting other theme parks such as Movie World and / or Sea World, it's recommended you purchase combined Gold Coast theme park tickets to save money. Passes for the 3 parks start at $129 per person at the gate or buy online from Experience Oz and save $10 per ticket. Click here to book your discounted tickets.
Wet'n'Wild is open 7 days from 10 am and closing at 5 pm during the warmer months. At other times of the year it closes at 3.30 pm or 4 pm.
8. Aussie World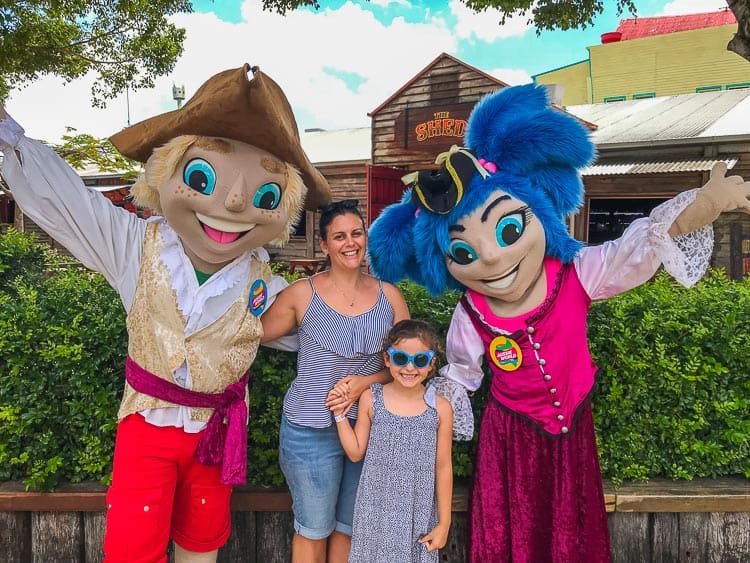 Whilst much smaller than the Gold Coast theme parks, Aussie World – Sunshine Coast certainly makes up for this in the fun to be had, no queue lines and ticket prices are much cheaper! Located 1 hour and 15 minutes from the Brisbane CBD on the Bruce Highway at Palmview, families are guaranteed to have a fantastic day at Aussie World. As they say "fun is our thing", and they are not lying!
There are over 18 Aussie World rides and attractions spread out over 15 acres. All your family favourite rides are here including chair plane, Ferris wheel, dodgems, giant slides, swimming ship, carousel and tea cups. There are also a few thrill rides for the older rides and gentle rides for the tiny tots.
As well as rides there is roving entertainers, Professor Bogglesworth's Illusionarium, horror house ( must be over 12 yo), water play area (bring swimmers and towels), mini golf, sideshow alley, crazy mirrors and arcade games.
Aussie World opening hours are 10 am to 5 pm daily (except Christmas Day and Anzac Day). Aussie World tickets are $40 per person, under 3s are free and discounted family passes are available.
Animal Encounters
Whether you want to cuddle a koala, feed a kangaroo or see one of the fearsome crocodiles made famous by Steve Irwin you can experience it all in the various zoos and animals' sanctuaries all accessible from Brisbane.
9. Paradise Country
Paradise Country is full of animals and shows that the whole family will enjoy. There are a variety of farm animals you can come face to face with as well as a range of glorious Australian Wildlife that you are able to get up close with. You can also see the very cute babies in the Animal Nursery, one of the best kid friendly activities Gold Coast has.
The cost of getting into Paradise Country for admission is $27 per adult and $17 per child or you can select the option of having lunch included which makes the prices $39 per adult and $29 per child.
The park is open from 9.30am to 4.30pm daily and is located on Production Drive in Oxenford in South East Queensland, which is around a 55 minutes' drive south of the Brisbane CBD.
10. Currumbin Wildlife Sanctuary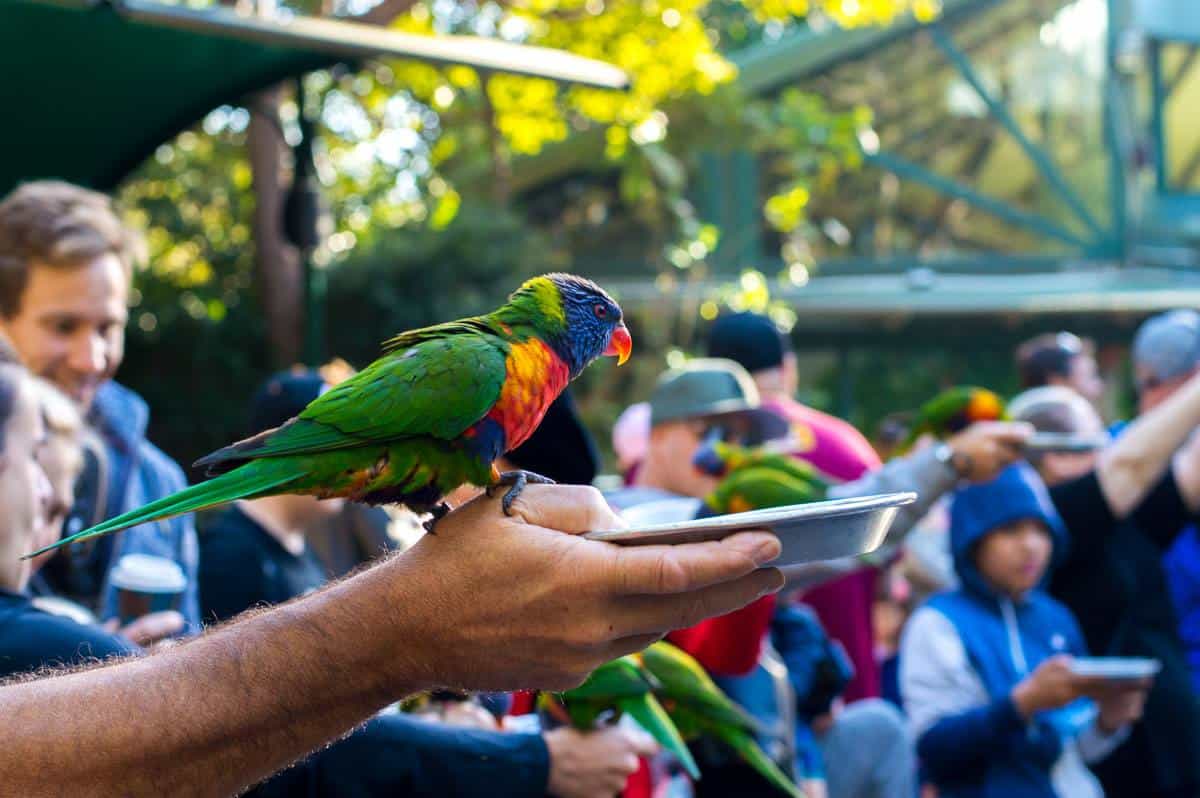 One of the favourite Gold Coast attractions for families who love Australian wildlife is the Currumbin Wildlife Sanctuary. Located a 1 hour and 15 minutes drive from south of the Brisbane CBD, at Currumbin Wildlife Sanctuary you get the opportunity to get up close with a range of animals.
Arrive by 8 am so you can join in the lorikeet feeding where you may be lucky enough to have a lorikeet or two sit on your arm whilst they eat breakfast. Then wander through the park checking out a range of Australian wildlife as well as other exotic animals from across the globe.
Of course the Australian favourites are here including the cute and cuddly koalas as well as kangaroos and emus. You can even hand feed the kangaroos and emus, a Gold Coast must do!
There are a range of shows throughout the day where you can learn more about the animals. Shows include the pelican and eel feeding, snakes, crocodiles, birds, Australian show (see sheep shearing) and the Blinky Bill show. One of the best shows would have to be the bird show. It fantastic seeing a range of different birds as they fly right above the heads of the audience. So close in fact that the wedge tail eagle had its tail feathers brush across my head!
At the time of publishing tickets at the gate were $49.95 per adult, $39.95 per child and $149.95 for a family pass (2A+2C). Kids under 4 are free. You save by purchasing your tickets online from Experience Oz. Online tickets are $39 per adult, $39 per child and $125.93 per family pass. Click here to book your discounted tickets.
11. Australia Zoo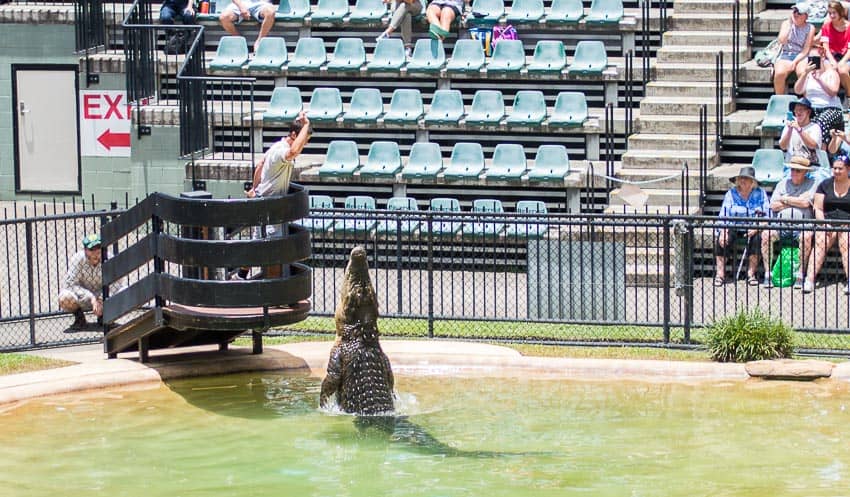 Contributed by Sophie from Baby, Toddler and Kids
Australia Zoo is just over an hour away from Brisbane by car, so it's not so far that the kids will get cranky on the drive. If you don't feel like driving you could book a transfer through a tour operator or catch the train to Beerwah and there is a free courtesy coach from the station.
Whilst exploring the park, there are loads of great opportunities to get up close and personal with some of the animals. You will be able to stroke a koala and take a walk through the kangaroo enclosure to give them a feed. The world famous wildlife warriors show is sure to thrill the kids, with birds swooping overhead, a crocodile feeding display and tons more.
As well as all the incredible animal species to learn about, there are various play parks dotted throughout the zoo, including a great water splash park for the kids to cool off at whilst parents take a rest on the grass nearby.
Kids under 3 go free, an adult ticket is $59 and a child ticket $35 – click here to book tickets online. If you're staying in the Brisbane CBD you can also book tickets which include bus transfers – click here to book these tickets.
With the park open 9am to 5pm every day, except Christmas Day, there are plenty of chances to miss the busy periods. Next time you are stuck for ideas to entertain the kids, definitely consider a trip to Australia Zoo!
12. Lone Pine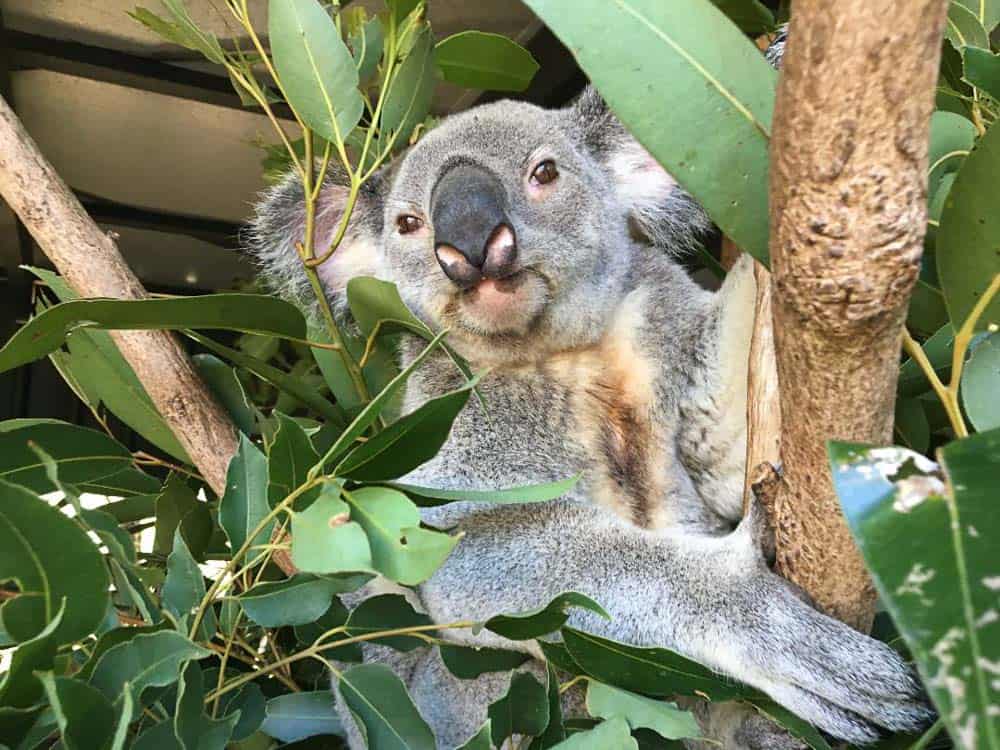 Contributed by James from Travel Collecting
A day out at the Lone Pine Koala Sanctuary is one of the perfect Brisbane day trips with kids. There are dozens of koalas (mostly sleeping) and you can get your photo taken with them (for an additional fee). There is also a large lawn with kangaroos. You can purchase food from the gift shop to feed them.
Other Aussie animals you can see include dingoes, platypuses, Tasmanian Devils, wombats and enormous monitor lizards. Each day there are special shows including a sheepdog demonstration and birds of prey show, as well as keeper talks where you can learn more about snakes, platypuses, Tasmanian Devils and koalas.
The sanctuary is in a suburb of northern Brisbane and you can drive there easily. However for people staying in the Brisbane CBD, the easiest way to get there is by boat. Lone Pine is right on the river, and a boat leaves daily at 10:00am from the city center and returns at 2:15pm, taking 1.25 hours each way.
The boat costs $80 return for adults and $48 return for children, but this incudes entry to Lone Pine – click here to book your tickets. Entry to Lone Pine only costs $38 for adults and $22 for kids – click here to book your tickets without boat transfers. The sanctuary is open daily 9:00am – 5:00pm.
Lone Pine is easily on of the Brisbane top attractions and well worth a visit.
Parklands
One of the fun day trips Brisbane offers is without a doubt a visit to one of the various parklands. These parkland's are fantastic for families with plenty of play equipment, walking trails and quite often swimming areas. Bring a picnic lunch and stay all day – one of the best day trips around Brisbane and its free!
13. Redcliffe Lagoon (Settlement Cove)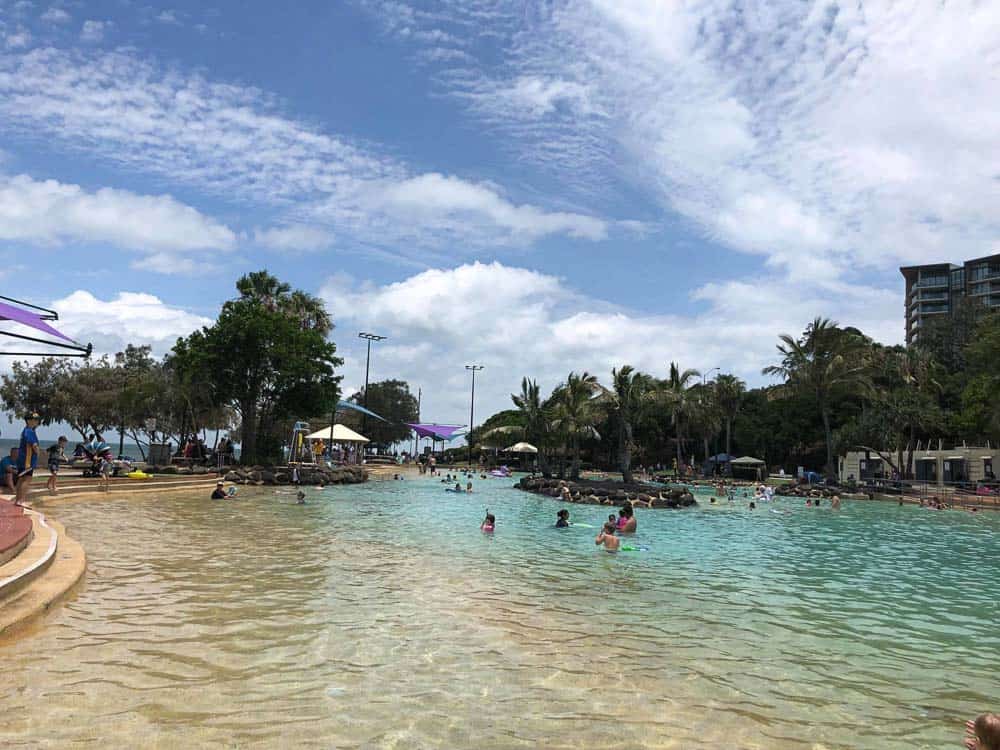 Contributed by Alex from Get Out With Kids
Redcliffe Lagoon, also known as Settlement Cove, is a man-made lagoon located in Redcliffe on Marine Parade and is one of the best Brisbane attractions for families. It hosts a large pool (lagoon) for older children, and a small paddling pool for little kids. If you haven't been, you're really missing out on heaps of fun for the entire family. We like to have our Australia Day breakfast there, as the lagoon hosts quite a few barbeques.
The lagoon is on the beachfront, although I like to stick to the pool. The lagoon is under watch of lifeguards and has some man-made island looking mounds in the centre of the lagoon. You can't jump off from the islands though, as tempting as it looks. If you don't feel like swimming or want to get some exercise in a different way, there are also walking tracks along the foreshore in both directions.
Our family would happily swim at this lagoon for a full day out. There is also a huge playground near the lagoon with a sandpit and pirate ship, cafes and restaurants on Marine Parade and plenty of BBQ's and picnic areas. Pack your suncream and make a day trip to Redcliffe Lagoon.
The Redcliffe Lagoon is located around a 40 minutes drive from the Brisbane CBD and is one of the awesome attractions near Brisbane CBD for families.
14. South Bank Parklands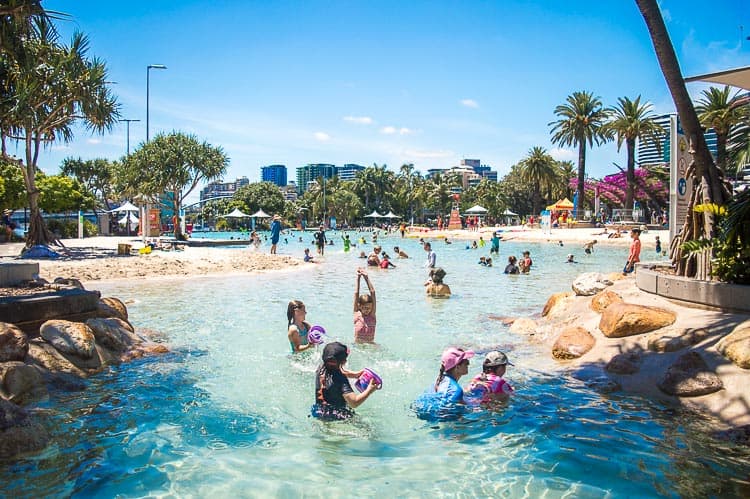 Without a doubt one of the best Brisbane city attractions is the South Bank parklands. Located right in the heart of the Brisbane CBD, you could easily spend your entire day at here.
In the hotter months you can't beat a swim in the man-made Street's Beach as well as the surrounding rock pools. For the kids there are also playgrounds and everyone will love the Brisbane Wheel (buy your discounted tickets here). Other things to do in South Bank include dining at the various food outlets, cafes and restaurants, see a movie or shopping at the markets.
Click here for my full guide on things to do at South Bank.
If you're looking for the best Brisbane City tourist attractions – you will find them all here at South Bank.
15. Broadwater Parklands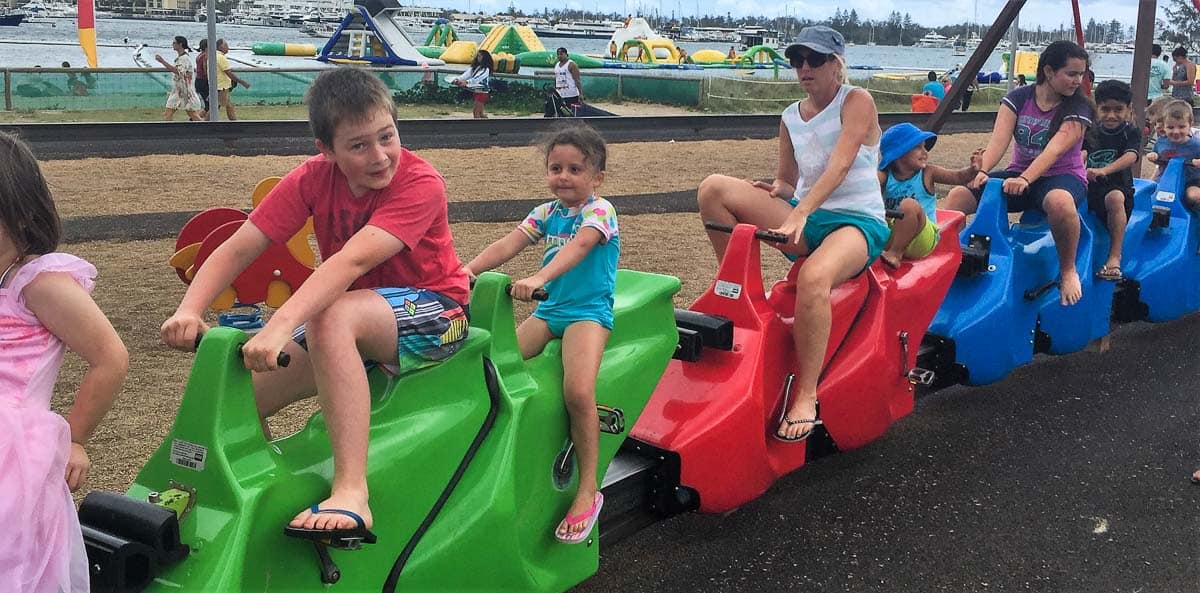 Located on the Gold Coast (about an hour's drive south of the Brisbane CBD), the Broadwater Parklands a fantastic for families with young children given the large lagoon like body of water here is calm. The Parklands also include the most innovative and imaginative kid's playground that you have ever seen and the Rockpools which is a great water park for small children.
If you're looking for a day trip to Gold Coast from Brisbane with the kids – make sure you stop in here at the Broadwater Parklands.
National Parks
From Brisbane you are spoiled for choice when it comes to National Parks as you easily access both the Sunshine Coast and Gold Coast National Parks. The National Parks have a range of different walking trails from easy to difficult and all levels in between. The walking trails take you through thick lush tropical rainforest, where you can see waterfalls, spot a native animal and enjoy the local fauna.
16. Tamborine Mountain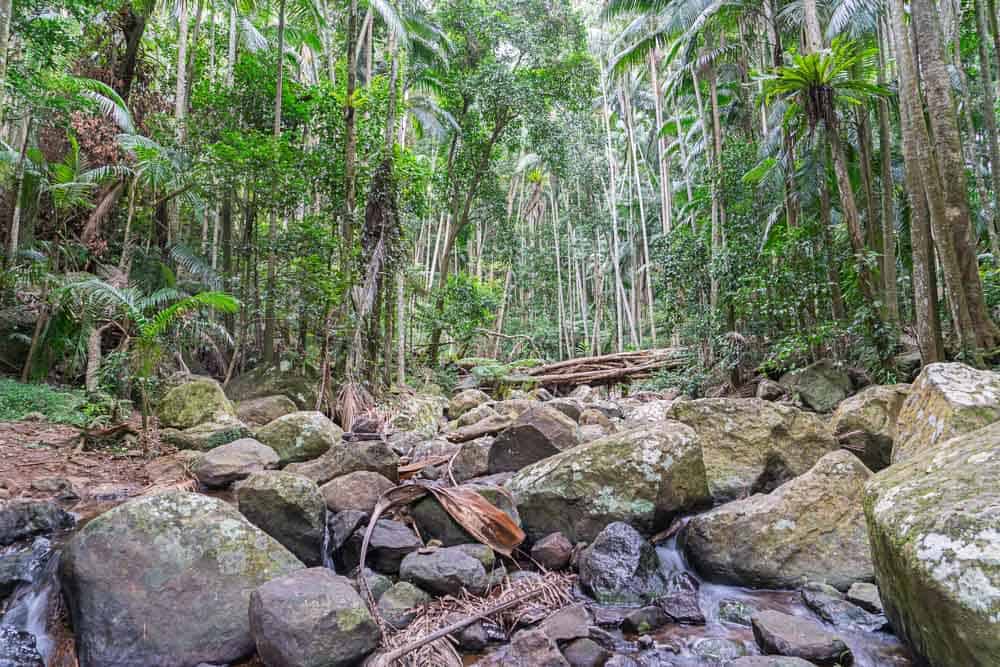 Contributed by Holly from Four Around the World
One of our favourite family day trips from Brisbane is Tamborine Mountain and the Gold Coast Hinterland. It takes around an hour from Brisbane by car or bus and there is plenty to do for the whole family.
If you are looking for a family friendly place to explore the great outdoors, Mount Tamborine has plenty of opportunities for rainforest walks, wildlife spotting and waterfall views. Visit Tamborine National Park to enjoy getting close to nature. The Cedar Creek Falls walking track is a good option for younger children as it is an easier option and under 1KM return.
For a bit more adventure and fun, the Tamborine Rainforest Skywalk is a popular family attraction, taking you over bridges and walkways high in the rainforest for a different perspective. Entry is $49 for a family of four.
Big kids will love the TreeTop Challenge at Thunderbird Park with Australia's longest zipline. There are plenty of other things to do for the whole family too, including a rope climbing adventure park, fossicking and crystal mining, horse riding and mini golf, just to name a few. Check their website for pricing packages and times.
Otherwise simply enjoy a stroll along Gallery Walk, stop for an ice cream or enjoy yummy food at one of the many restaurants in Tamborine Mountain.
If you're looking for good day trips from Brisbane that will keep the whole family entertained, you can't beat a day out at Mount Tamborine.
Read our complete guide to Mt Tamborine here.
17. Springbrook National Park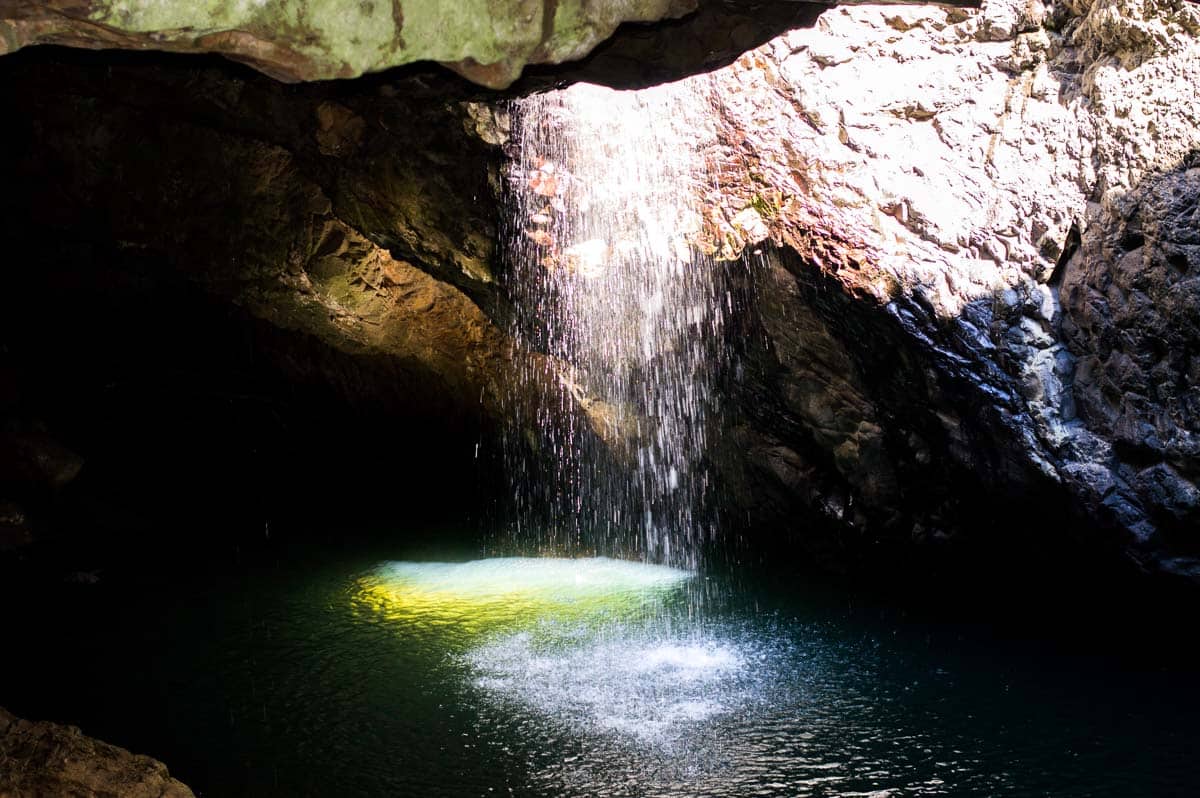 The Springbrook National Park is a stunning region where you can take various walks to see beautiful water falls, rock pools, lush rainforest and some of the oldest trees in Australia.
Some of the must see in Springbrook National Park include:
Natural Bridge – Springbrook National Park: Located in the western part of the Springbrook National Park it is a little isolated from the other attractions but well worth the drive. It is an easy 30 minute return walk to see the Natural Bridge rock arch.
Purling Brook Falls – Springbrook National Park: This is an easy waterfall view from the lookout just a few minutes' walk from the car park.
Canyon Look Out – Springbrook National Park: Gorgeous views across the valley towards Surfers Paradise. This is also the start of the Twin Falls walk.
Twin Falls Circuit – Springbrook National Park: Its a short 30-minute walk to see these waterfalls. Here you can see lush rainforest, rockpools and waterfalls.
Best Lookout of all – Springbrook National Park: Fantastic view across the southern edge of the Springbrook Plateau – the lookout is located an easy 350m walk from the carpark.
The Springbrook National Park is around 1.5 hours' drive from the Brisbane CBD.
18. Lamington National Park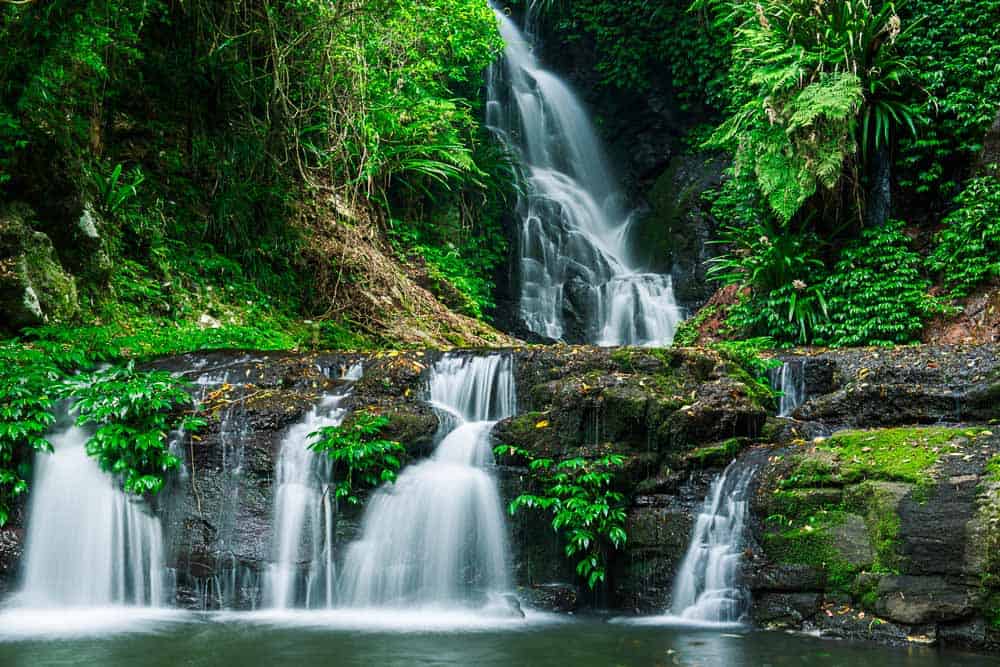 Lamington National Park is made up of two different sections, the Green Mountain which is located on the western side and includes the area called O'Reilly's (see below) and the Binna Burra section.
Across the Lamington National Park visitors can enjoy a range of walking tracks which will take you through rainforest and past creeks and waterfalls. You can also find some fantastic views across the region at the look outs.
One of my favourite things to do in the park is to visit Picnic Rock and Elabana Falls. The falls are set deep in the Green Mountains section and surrounded by lush rainforest with water gushing down shiny rocks make it a stunning sight. It is 3.3 kms each way to reach the picnic area and a total of 7.6 km to Elabana falls.
The Lamington National Park is around 1.5 hours' drive from the Brisbane CBD.
19. O'Reilly's Rainforest Retreat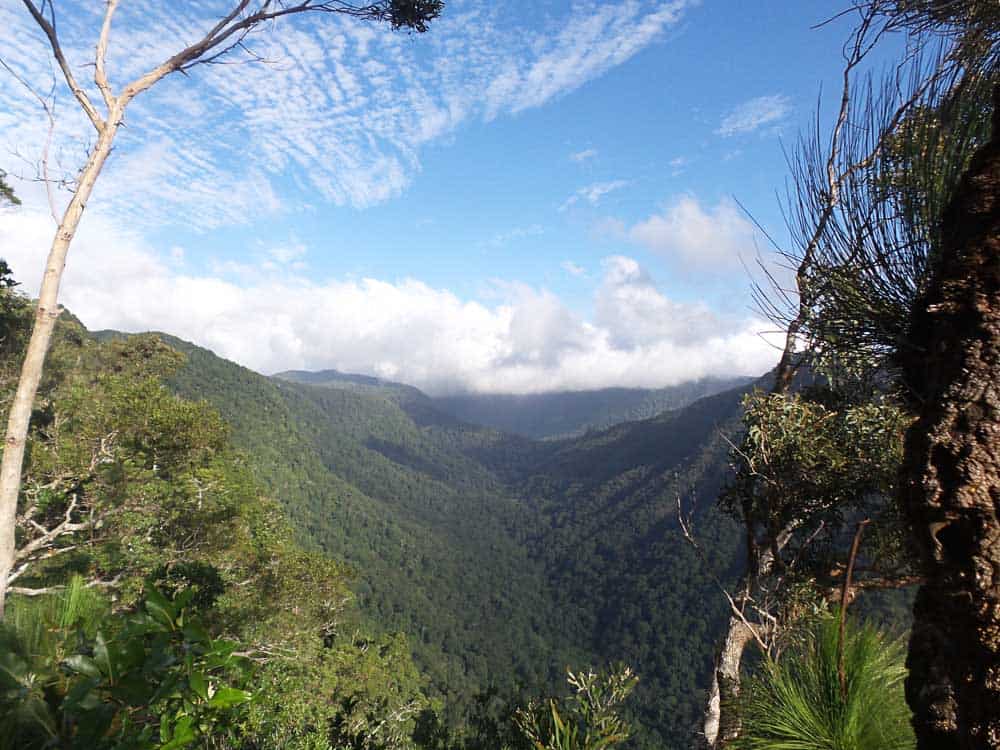 Contributed by Karen from Smart Steps to Australia
O'Reilly's Rainforest Retreat is a resort in the Gold Coast hinterland. Set within Lamington National Park, two hours south of Brisbane, it makes a great family day trip from the city.
The road to O'Reilly's is long and winding, so be prepared with travel sickness preventatives (and sick bags!) if any of your little ones are prone to being travel sick. The journey is well worth it though, so don't let that put you off.
There are a wide range of paid activities on offer – booking ahead is a good idea if you're only visiting for the day, especially during school holidays. These include the Birds of Prey Show, Wildlife Encounters, a Flying Fox Adventure, a Segway Safari and – our personal favourite – the Glow Worm Experience (although as this takes place at night you really need to be staying over to take part in this one as you wouldn't want to do the mountain drive back home after dark).
Prices range from $8 upwards per person, with many activities offering a family price. You can also do the free Tree Top Walk, watch the daily bird feeding and explore the walking tracks so you can mix in some free time in between paid activities.
O'Reilly's Rainforest Retreat is a great weekend retreat with kids but even if you don't have that much time, you can still get a lot out of a full day experience there as there is so much to see and do.
If you are holidaying in Brisbane and don't have a car, you can join a tour which includes bus transfers from Brisbane and a range of other activities. Click here for more information.
Queensland Beaches
You will find all the best beaches from Brisbane either on the Sunshine Coast or the Gold Coast and I might be a little bias here, but Queensland has some of the best beaches in the entire world! Not only that but Queensland has some of the best weather to make the most of these gorgeous beaches too.
Don't come to Brisbane without spending a day or two exploring the gorgeous South East Queensland beaches.
Here is a short list of some of my favourite beaches accessible from Brisbane in a day trip.
20. Noosa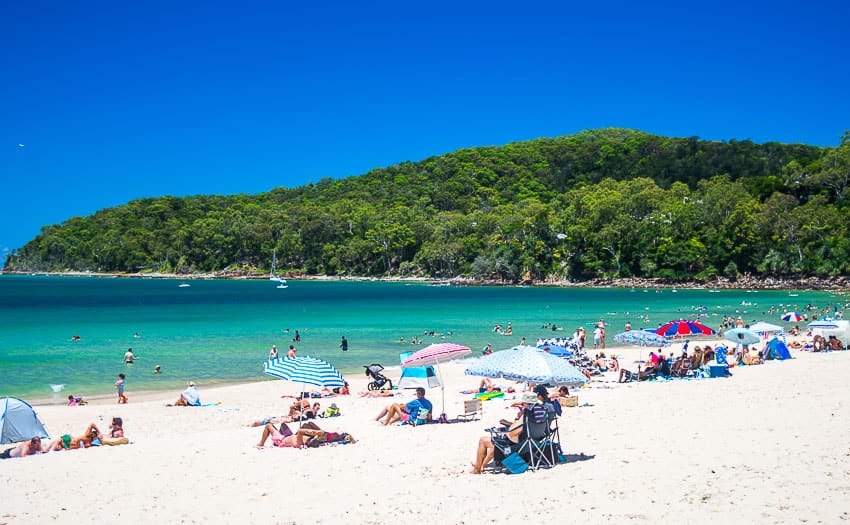 Contributed by Sophie from Remote Rainforest Mum
One of our favourite day trips from Brisbane has to be a trip to Noosa! We are a real outdoors, beach bum family and Noosa just has everything we need for a great day out.
It's about a 90-minute drive away from Brisbane, so not to epic of a journey for young kids and if you're not keen on driving there are tour operators who offer full day tours with transfers.
The great thing about Noosa is you can have a whole day there and spend next to no money at all. The main beach is very popular with surfers so it can get a little crowded but if you walk down towards the river the beach becomes much quieter and is still just as beautiful. The surf club looks out over the main beach and is a great spot to grab some lunch looking at the ocean.
There are a ton of walks around the forests, clifftops and beaches of the National Park so plenty of space to get some fresh air and burn off some energy.
Next time you need a day away from the city, I'd definitely recommend a trip to Noosa to explore everything it has to offer!
Click here for our full guide on things to do in Noosa with kids.
21. Coolum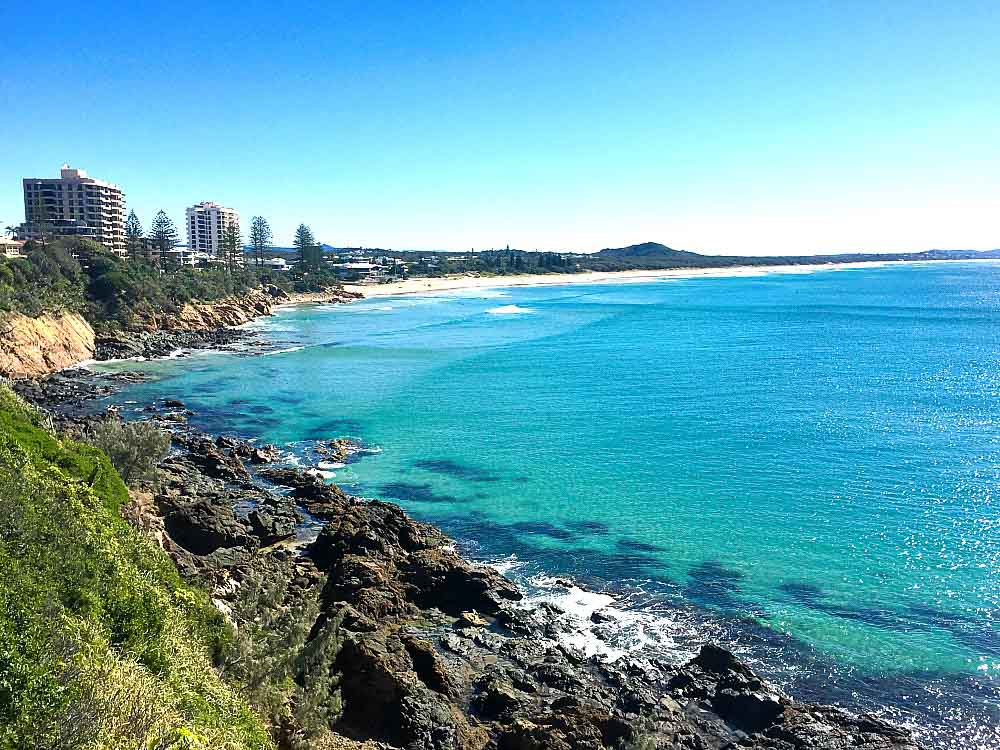 Contributed by Jan from Budget Travel Talk
Coolum Beach is a laid-back surfing town 1.5 hours by road north of Brisbane in Queensland. Whether you love the beach life, chilling in a Café or climbing Mount Coolum, Coolum Beach makes a great day trip from Brisbane.
Fit families with 1.5 hours to spare, make a pilgrimage of Mount Coolum just 3.5 km south of Coolum Beach. At 208 metres tall, the 360° views from Double Island Point in the north to Caloundra are breathtaking, but don't forget water bottles and snacks for the summit.
Australian Professional Surfer Julian Wilson, is a Coolum boy and even if only day tripping, learning to surf is great thing to do with kids or the whole family. Coolum Surf School has daily 2 hour beginner lessons from 10 am to 12 noon, with another in the afternoon during peak times. Price $60.
For watery fun minus the waves, Blast Aqua Park Coolum has a variety of fun inflatables in a fresh water lake. Sessions or all day passes can be booked on line and are suitable for the whole family 3 years and over. Prices range from $20 p.p. for 50 minutes to $55 for an All Day Pass. Spectactors are free. BYO food and non-alcoholic drinks and enjoy the free BBQ's.
Coolum Surf Club overlooks the patrolled beach with a family friendly outdoor deck with amazing views. Try their gourmet pizzas or wood fired steaks and kids eat free on Mondays from 5.30 pm till 7 p.m.
22. Caloundra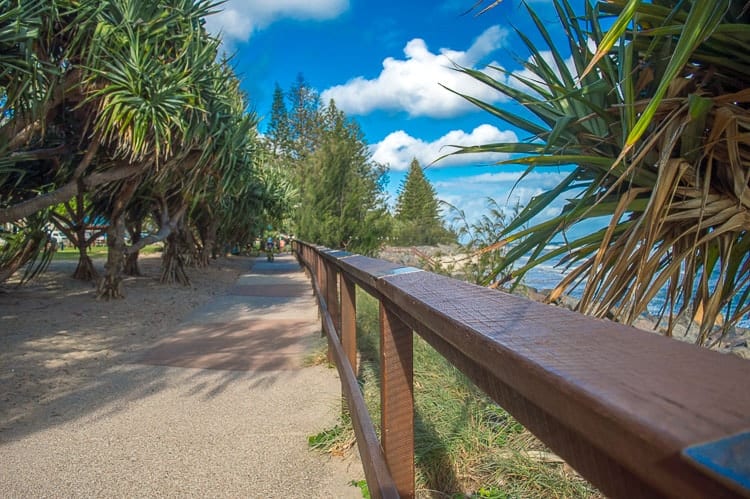 Caloundra is such a great area to visit for a family day out. There are numerous beaches to choose from, multiple kids playgrounds and some lovely casual family dining options – including the classic fish and chips on the beach.
Some of the best beaches in Caloundra for kids are Bullock Beach and Golden Beach with their calm waters backing on to Bribie Island. Currimundi Lake is another excellent one too as is the free pool at Kings Beach.
Another great thing to do is to stroll the Caloundra section of the Coastal Pathway for some great views. The Caloundra section is 9 kms, but you can choose where you start and finish.
Caloundra is located 1.25 hours' drive from the Brisbane CBD.
Click here to read my full guide on everything there is to do in Caloundra.
23. Surfers Paradise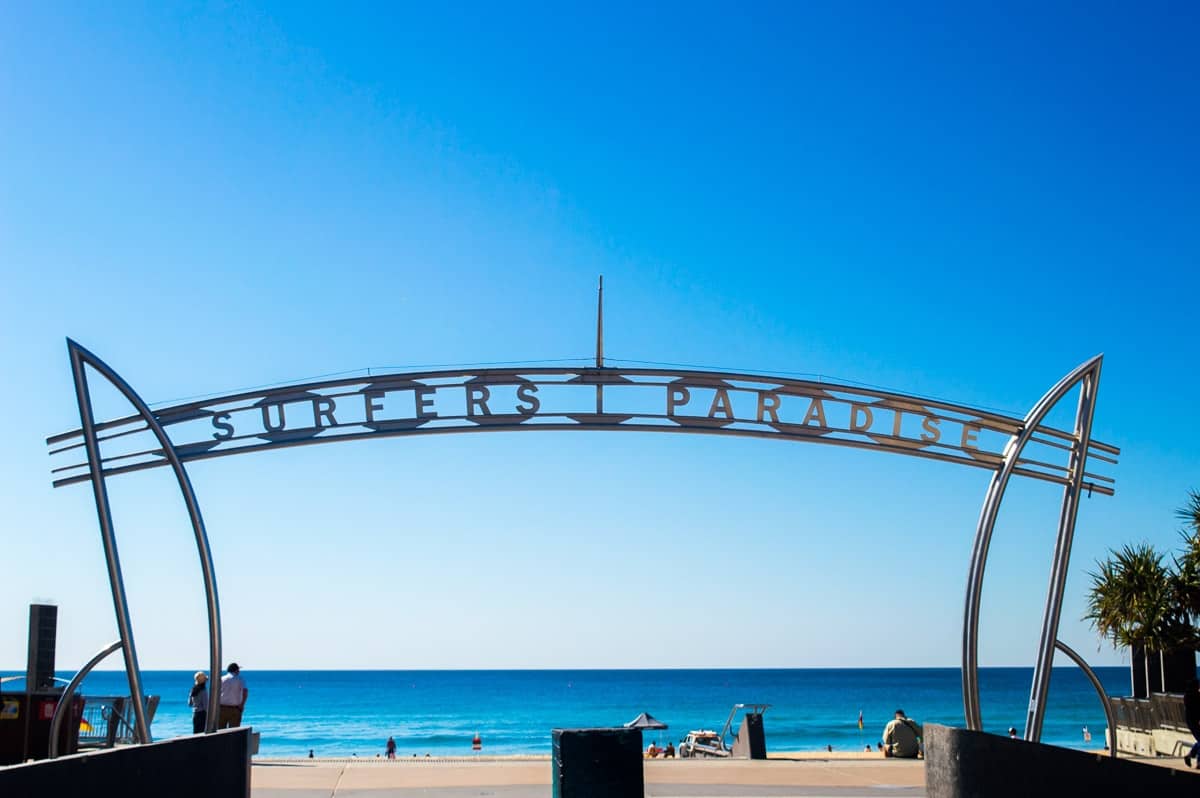 The main tourist spot on the Gold Coast is Surfers Paradise. Here not only will you find a gorgeous stretch of swimming, but you will also find the largest amount of family friendly attractions on the Gold Coast. From putt putt golf, to massive gaming arcades, interactive cinemas, thrill rides and more.
Surfers Paradise is located a 1 hours drive from the Brisbane CBD or you can take the train also.
Click here to read my full guide on everything there is to do in Surfers Paradise.
24. Broadbeach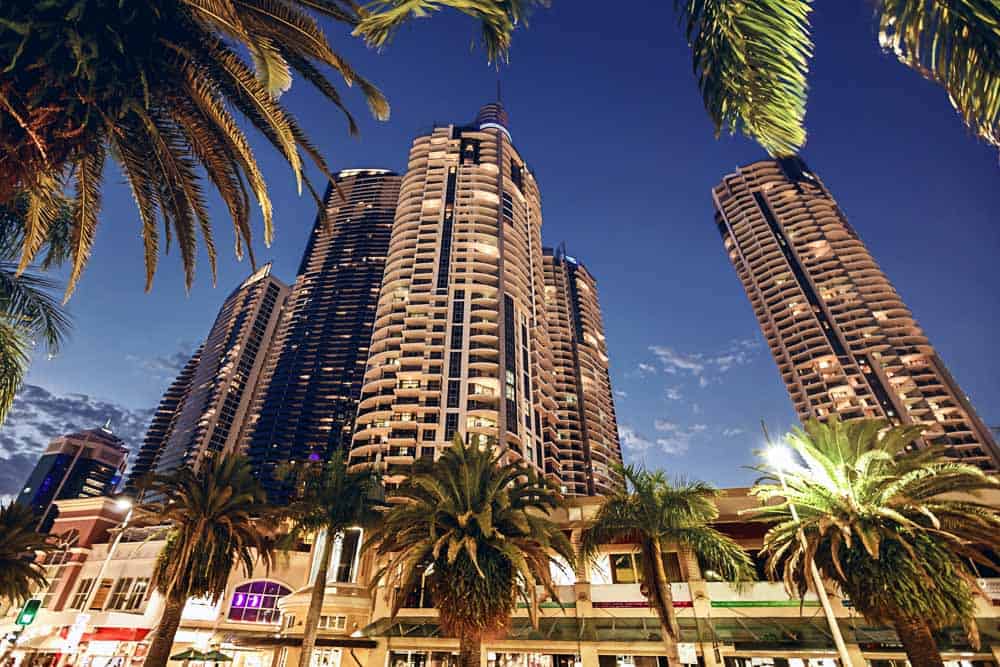 Similar to Surfers Paradise, Broadbeach is a very popular area for tourists. Home to the Broadbeach Mall full of shops, restaurants and family friendly hotels as well as Jupiter's Casino, the Gold Coast Convention and Exhibition Centre and Pacific Fair Shopping Centre, the largest shopping precinct on the Gold Coast. There is also an excellent swimming and surf beach at Broadbeach with a fantastic playground, one of the best kids' playground, Gold Coast has.
Broadbeach is located an 1 hours' drive from the Brisbane CBD or you can take the train also.
25. Tallebudgera Creek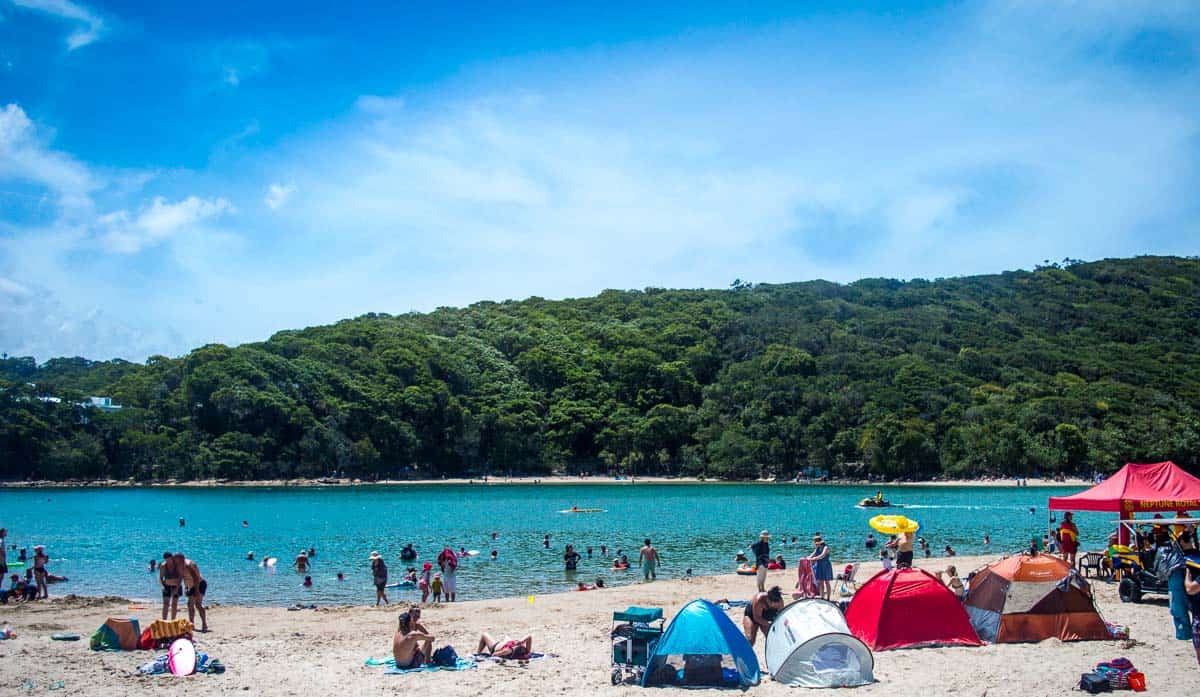 In my view one of the best kid friendly beaches, Gold Coast to offer and one of my all-time favourite places to swim on the Gold Coast. In fact, not technically a beach but a creek, although don't let the word "creek" put you off, this creek is absolutely stunning with bright turquoise coloured calm water, perfect for little ones. This is a popular spot for SUP and kayaking.
Tallebudgera Creek is located 1 hour and 15 minutes' drive from the Brisbane CBD.
26. Palm Beach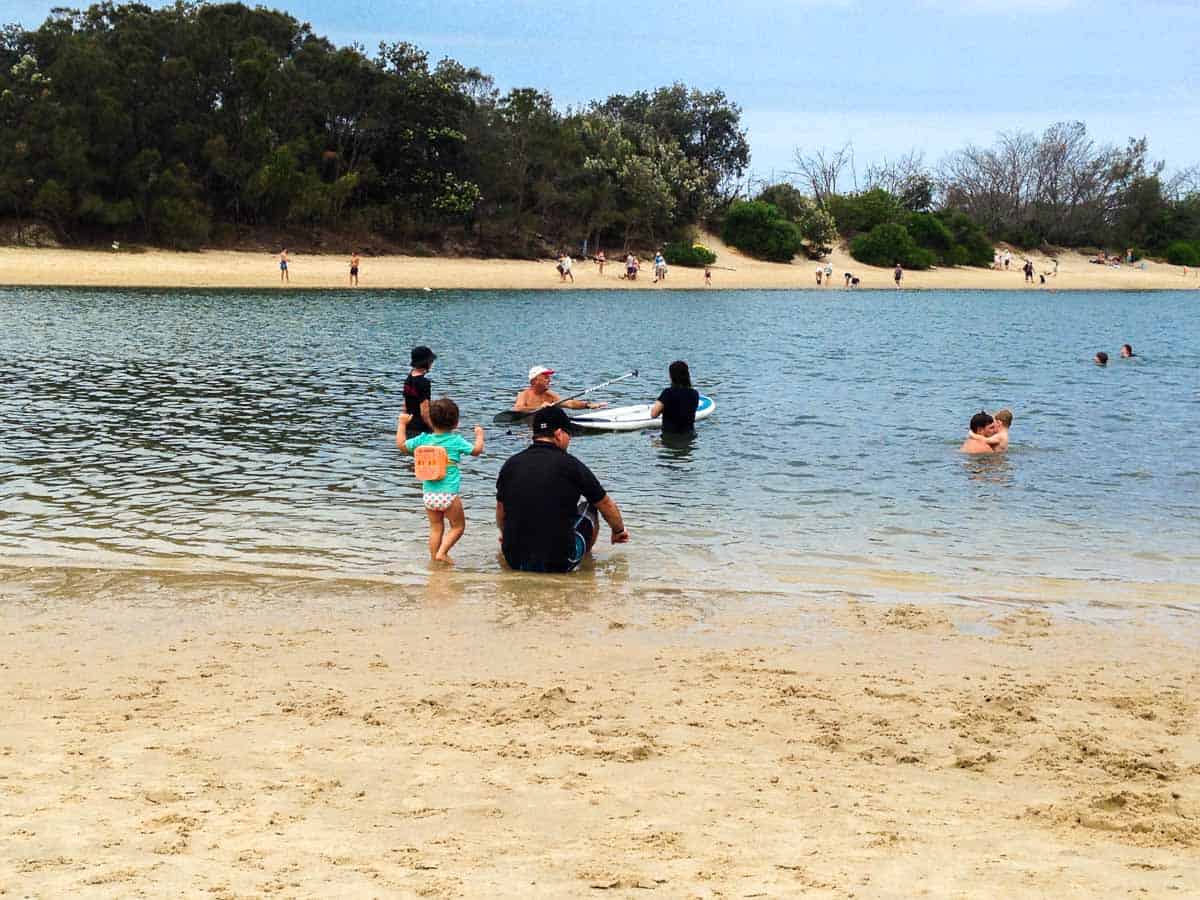 Another great choice if you're looking for the best beach for kids Gold Coast has is Palm Beach, also another personal favourite. Palm Beach has the benefit of having both a surf beach as well as being situated on one side of the Currumbin Creek. Currumbin Creek is perfect for the kids as the water is calm. Whilst a fairly quiet area in terms of shops and restaurants, there are plenty of great family apartments available as well as an excellent playground, another one of our favourite kids parks, Gold Coast has on offer.
Palm Beach is located 1 hour and 15 minutes' drive from the Brisbane CBD.
27. Currumbin
Similar to Palm Beach, Currumbin has the advantage of having both a surf beach and the stunning Currumbin Creek, yep you guessed it another one of my favourites! This is a popular spot for families to enjoy a variety of water sports such as surfing, stand-up paddle boarding and kayaking.
There's not a great deal of accommodation here, but what is here is certainly family friendly and there are a few cafes sprinkled throughout the area.
Also a 15 minute drive inland you will find the gorgeous Currumbin Rock Pools. There are varying pool depths, rope swings, rock slides and ledges to jump off providing plenty of fun for the whole family.
Currumbin Beach is located 1 hour and 15 minutes' drive from the Brisbane CBD.
28. Coolangatta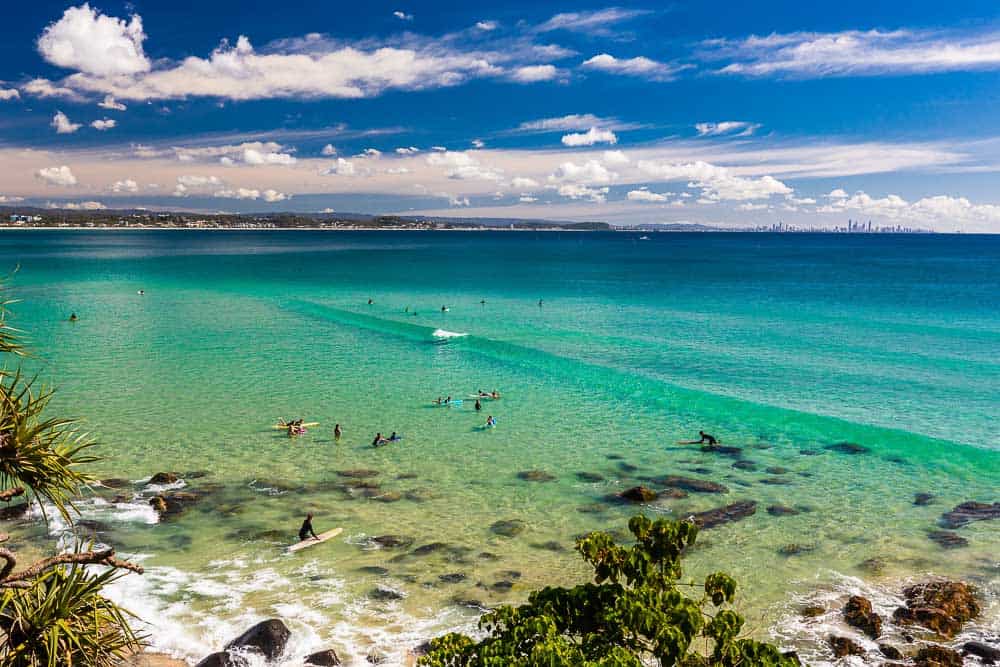 Another fantastic spot for families that want to be in a central location to shops, restaurants, gorgeous beach and playgrounds is Coolangatta. This stretch of beach is 800 metres long, north facing and also protected by the headland. This beach is generally safe and has low waves making it fun for the whole family to enjoy.
Included in Coolangatta are the two smaller beaches of Greenmount and Rainbow Bay – both absolutely stunning beaches and my favourite stretch of beach on the entire Gold Coast, Rainbow Bay. As well as plenty of family friendly accommodation and a shopping centre there is also a lovely walking trail that wraps around Greenmount Hill. You can walk right up to the New South Wales border here.
Coolangatta is located 1 hour and 15 minutes' drive from the Brisbane CBD.
Food Related Attractions
Queensland has the perfect climate for growing a range of produce and some of the best attractions to visit are based around food! Come for some fun whilst getting the opportunity to try some delicious Queensland grown local produce.
29. Tropical Fruit World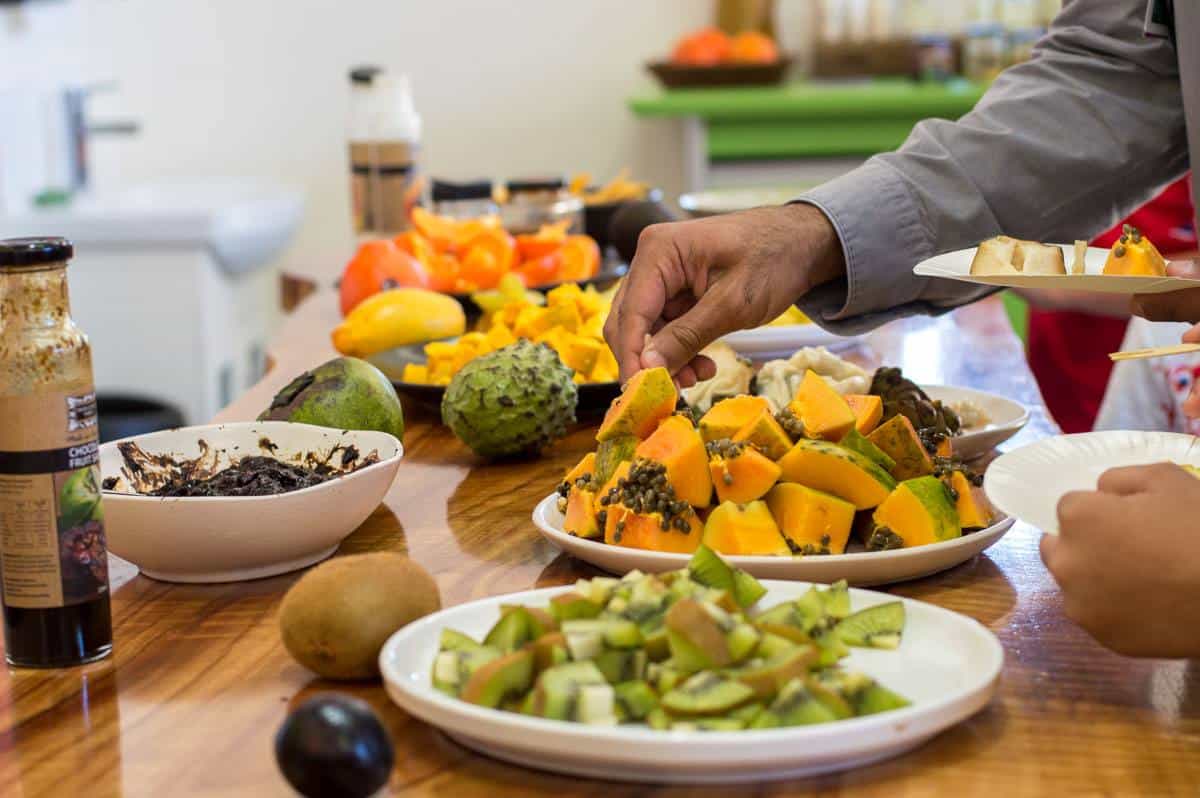 Tropical Fruit World is great attraction for the family which is located just over the New South Wales border in the gorgeous Tweed Valley.
At Tropical Fruit World families get the opportunity to taste a range of different tropical fruits from around the world. I hadn't even heard of most of these fruits – including Black Sapote which is basically chocolate mousse in a fruit!
Entry into the attraction also includes a tractor tour around the gorgeous property, where along the way your guide will share interesting facts about the various fruits as well. It isn't all about fruit either, here are some great family friendly activities including cracking macadamia nuts straight from the tree, patting the animals at Old McDonald's Farm, riding the miniature train around Treasure Island as well as taking a boat cruise down the property's stunning river.
The fruit tasting, and tractor tour takes 2.5 hours, but you're quite welcome to spend as long as you like at the property.
Located on Duranbah Road, Duranbah you will need a car to get to Tropical Fruit World. The attraction is open daily from 10 am to 4pm. Entry into Tropical Fruit World is $47 per adult, $25 per child and $115 for a family pass (2A+2C). Click here if you wish to purchase your tickets online.
Tropical Fruit World is located 1 hour and 30 minutes' drive from the Brisbane CBD.
30. The Ginger Factory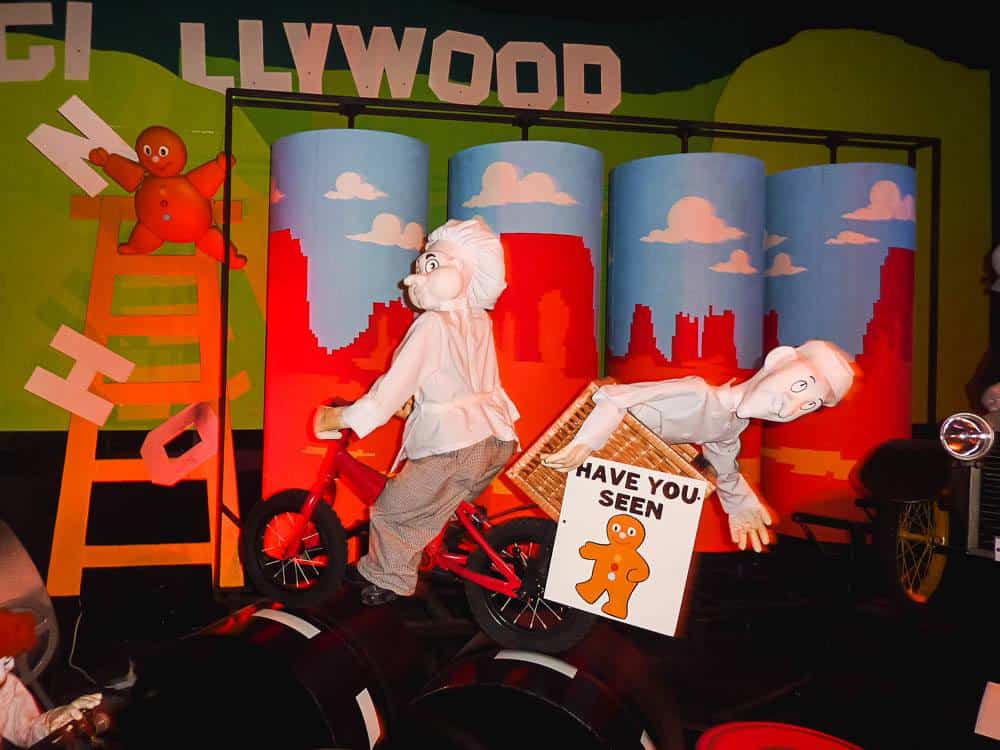 Contributed by Sharee from Inspire Family Travel
Around an hour and a half north of Brisbane is one of the most family-friendly places to visit on the Sunshine Coast. The Ginger Factory has everything from great food, fun activities, exciting tours all surrounded by sub-tropical gardens.
Open everyday entry is free which allows you to visit as often as you like to enjoy the children's play area, rainforest walk, ice creamery, and café.
There are three paid attractions and major drawcards a the Ginger Factory. Moreton is a 116-year-old retired sugar cane train that you can ride around the 9 hectares of gardens and factory grounds. From train to boat join the gingerbread man on the overboard ride as you float around the magical world where puppets come alive to animation and music. It has similarities to the Disneyland attraction it's a small world and lots of fun as you try to name all the countries along the way. Sweet tooths will enjoy the live bee show and tasting the different variety of honey. If you are going to partake in at least two of these tours, they have a bundle ticket option to save money.
The Ginger Factory is a 1 hour and 15 minutes drive from the Brisbane CBD and prices for activities vary. Click here to book your tickets online.
Cities
If you want to get away from the hustle and bustle of the Brisbane CBD, there are various little quaint towns and cities you can easily explore as a day trip from Brisbane.
31. Maleny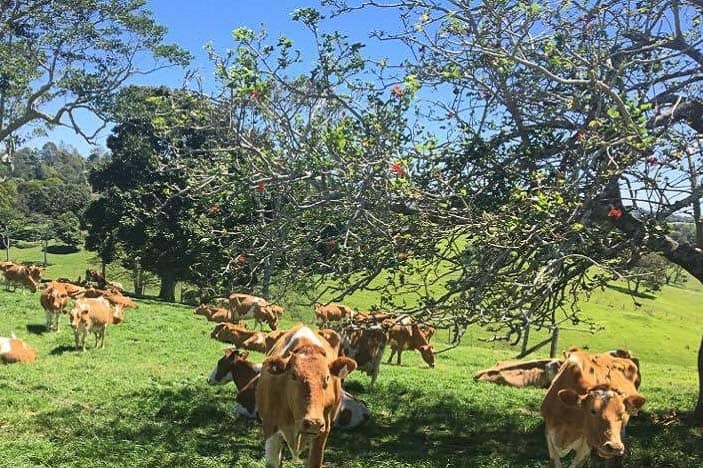 Contributed by Ngaire from Brisbane Kids
Maleny is a relaxing day trip adventure for Brisbane families looking to escape the city for a day. Located just one and a half hour's drive from the Brisbane CBD, Maleny is nestled atop the rolling green hills of the Sunshine Coast Hinterland.
The Maleny Botanic Gardens, featuring Bird World is the perfect midmorning pitstop for some Devonshire tea and a chat to some local parrots. For those families keen for a country experience, take the kids on a farm tour at Maleny Dairies, feed the animals and take a tractor ride.
To cool off after your farm experience head to Kondalilla Falls or Gardner Falls and enjoy a cool dip in a rainforest waterhole. Both are best experienced after some seasonable rains, with Kondalilla Falls more suited to older kids and Gardner Falls more suited to younger ones looking to splash in the shallows.
For those interested in local food options, book a lunch at King Ludwigs German Restaurant and finish the day with a gelato at Maleny Food Co.
32. Toowoomba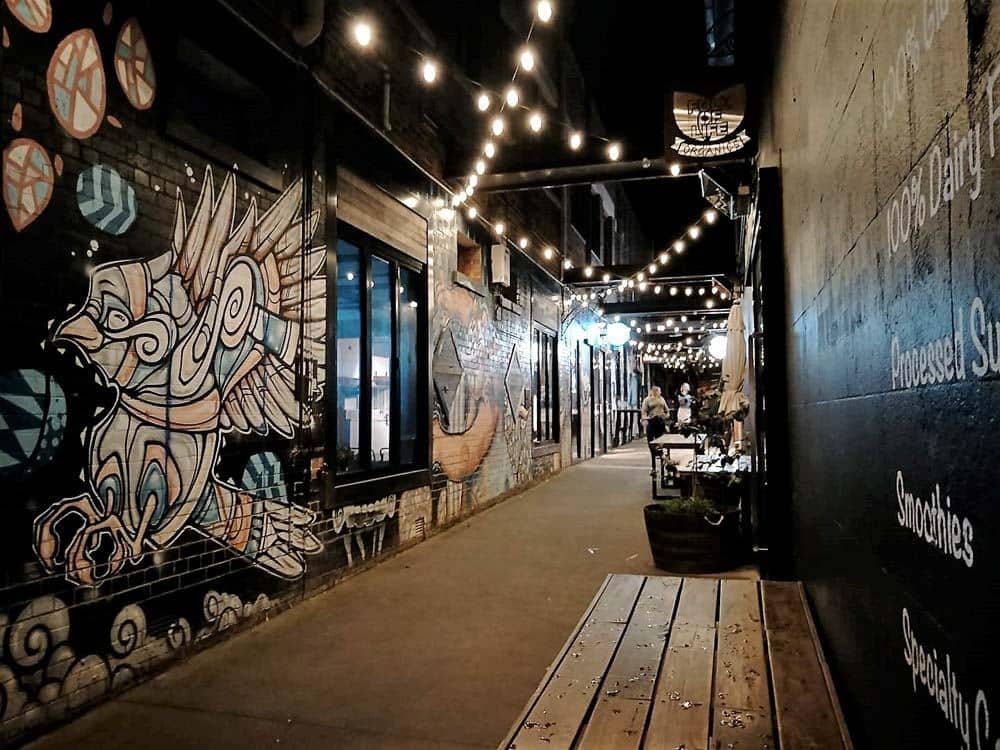 Contributed by Stacey from Adventure By 3
A visit to the 'Garden City' of Toowoomba is perfect for a family day trip from Brisbane. In just a 90 minute drive west of Brisbane via the Warrego Highway, you will find yourself perched high on top of the Great Dividing Range.
Toowoomba is home to a range of family-friendly attractions and activities. With over 150 parks and public gardens such as Queens Park, there is plenty of wide-open, green spaces for the kids to explore, play or to enjoy a picnic lunch in. Best of all, they are free to visit!
Follow up with an excursion into history at one of the many historical attractions in Toowoomba. The Cobb+Co Museum is home to Australia's National Carriage Collection (entry fees start from $12.50 for adults and $10.00 for kids). See Toowoomba's railway history preserved at DownsSteam Tourist Railway and Museum (entry by donation) or Australia's only road-building museum at The Transport and Main Roads Heritage Museum ($2 entry fee).
For more adventures, go searching for the hidden alleyways and cute coffee shops that boast amazing street art, or hike to the top of nearby Tabletop Mountain for panoramic views.
Markets
If you feel like combining some shopping with your Brisbane day trip, go find a market! There are some fantastic markets around Brisbane all offering a great range of items (quite often made locally), local produce and entertainment.
33. Eumundi Markets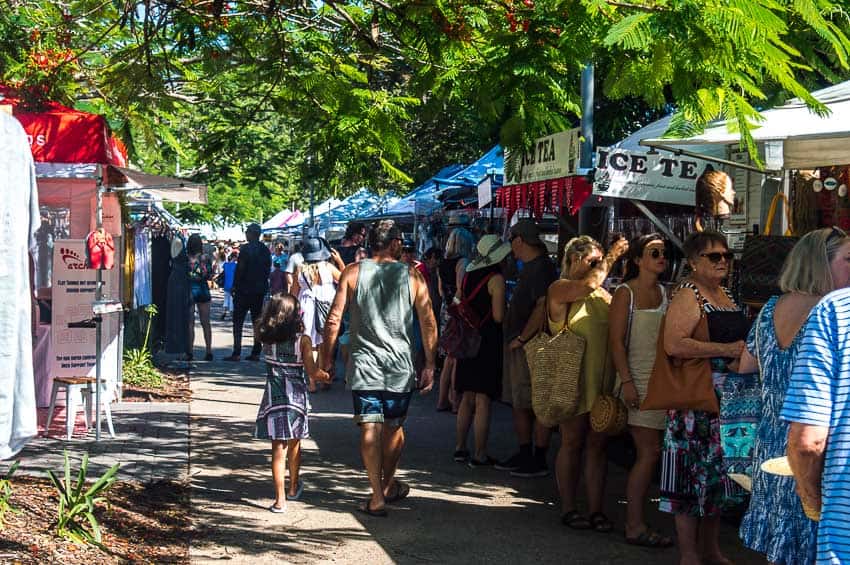 Contributed by Sinead from Map Made Memories
Shopping with kids is always an unpredictable gamble and not an activity that usually features on our family travel to do list! But we were surprised how much we all enjoyed our day spent at Eumundi markets.
The free to enter markets are held every Saturday 7 am – 2 pm and Wednesday 8.00 am – 1.30 pm in the rural, inland town of Eumundi around a 1 1/2 hour easy drive north of Brisbane. They are a very popular attraction for both tourists and locals.
The market contains hundreds of stalls covering an enormous site. There are food and drink stalls (both farmers and artisans), clothing, jewellery, ceramics, wellness and even furniture stalls. There is a diverse range of high-quality handmade crafts for sale, many of which we had not seen elsewhere on our travels through Australia. You won't leave empty handed!
There is live music which helps to create a buzzing, lively atmosphere, plus a playground as an escape from shopping. Our kids were kept engaged and entertained by the many free samples of food and drink and by the range of unique and unusual toys on offer. Their favourite purchase was a fabric beach ball that you use with balloons – great for travelling families!
Please note that this post contains affiliate links, which means that should make any bookings using my links, I may be paid a small commission at no extra cost to you. This allows me to provide this information free of charge – thank you for supporting our website.