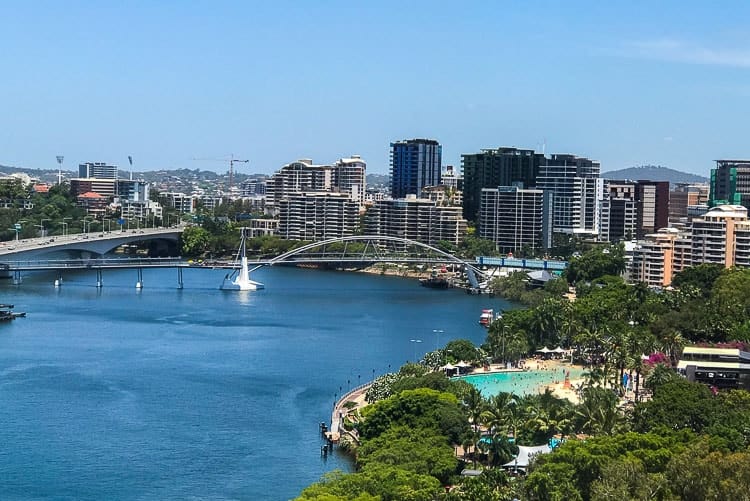 Hands down the best attraction in the Brisbane CBD is the South Bank Parklands.  There are so many things to do in South Bank Brisbane that you could easily spend a few days here on your family holiday to Brisbane.  Whats even better is that the majority of the best South Bank activities are completely free!
In this post I will share with you everything you need to know about visiting South Bank with your family.  I cover the best things to do in South Bank Brisbane, the best family friendly South Bank cafes, the best South Bank accommodation and how to get around.
Make sure you visit South Bank on your family holiday in Brisbane!
Visiting Brisbane?  Don't forget to check out our complete guide to Brisbane here.
The Best Things to do in South Bank Brisbane with Kids
1. South Bank Beach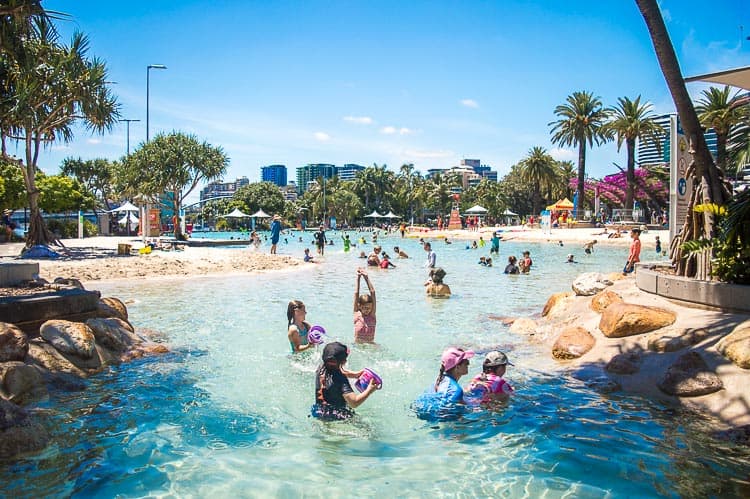 No doubt the main attraction in South Bank is the man made beach, rock pools and swimming pool.  There are 3 main areas to swim at South Bank:
Streets Beach Brisbane (man made swimming beach);
Boat Pool (the South Bank lagoon style swimming pool); and
Aquativity (water play area surrounded by shallow rock pools).
All areas are patrolled by life guards and are one of most popular Brisbane tourist attractions.  In Summer you can even watch a movie for free on the South Bank Beach.
2. Riverside Green & Picnic Playground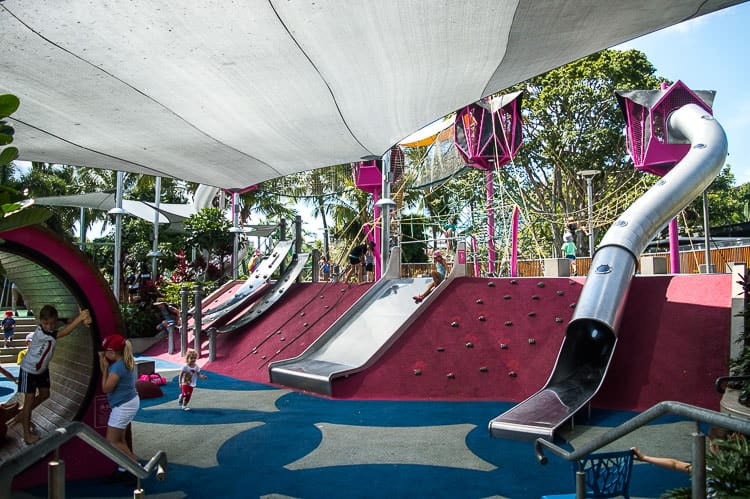 Riverside Green is probably the most popular playground with a stack of interactive equipment for kids of all ages, including a seperate toddler zoned area.  The playground has giant slides, skywalk, bridges, climbing equipment, giant hamster wheel, spinning wheel and swings.
Picnic Playground is located in a quieter setting but still has plenty of equipment for the kids including swings, slides, cubby house etc.
3. The Brisbane Wheel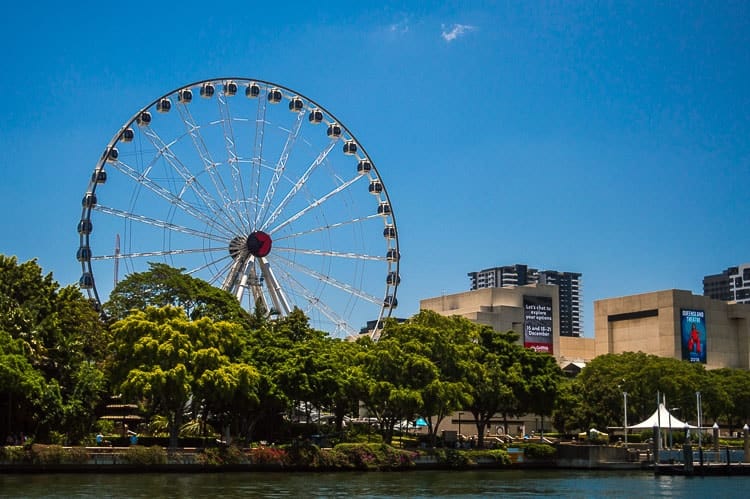 In a fully enclosed air-conditioned gondola, the Brisbane Wheel will take you 60 metres above the ground for fantastic 360 degree panoramic views of Brisbane.  During the 12 minute ride you can listen to the audio commentary which points out attractions around Brisbane.
Also if you are looking for fun things to do in Brisbane at night, put this on your list as the lights from the city buildings look gorgeous at night.  The Wheel of Brisbane is open daily from 10 am until 10 pm Sunday through to Thursday and 11 pm Fridays and Saturdays.
If you want to save money, I recommend buying your tickets online.  You can save up to $5 per ticket or save $14.25 on a family pass.  Click here to buy your discounted tickets.
4. Rainforest Walk
Wander the raised wooden walk ways through the man-made rainforest.  The rainforest features tropical and sub-tropical plants, native wildlife and water features.
6. Nepalese Pagoda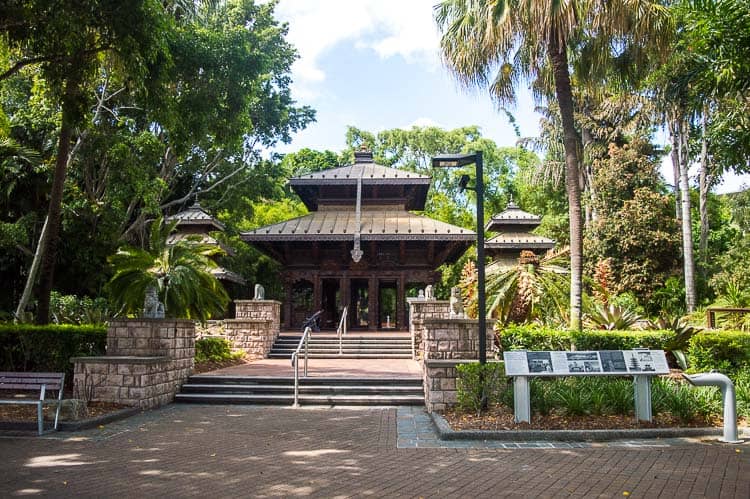 This three story high Pagoda was originally brought to South Bank as part of Expo 88.  The pagoda took 160 Nepalese families to built over 2 years and features 80 tonnes of hand-carved Nepalese timber.
7. South Bank Cinemas
If you are wondering what to do in Brisbane on a super hot day or even on a rainy day, catch a movie at the South Bank Cinemas.  The best part is the South Bank movies here are cheap!  Adult tickets are $8.50 and kids are $4.50.
Click here for the South Bank Brisbane cinema times.
8. South Bank Markets Brisbane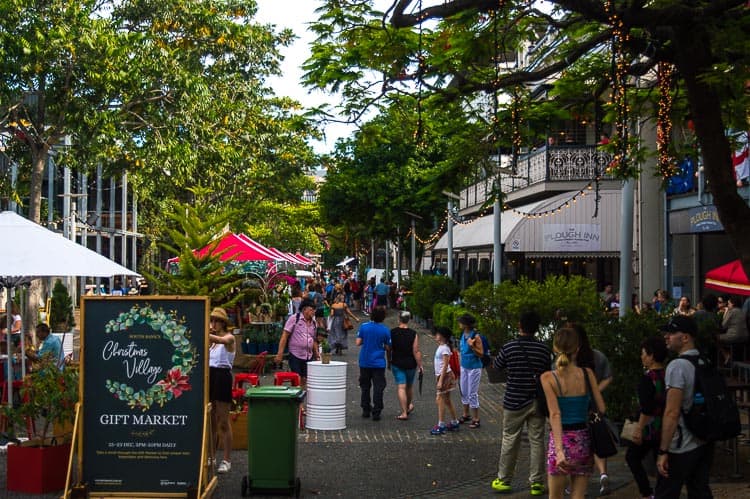 The South Bank markets Brisbane are awesome!  They are on Friday nights, and all weekend.  Here you will find clothes, art, jewellery, home decor, food, live music and more.
9. Brisbane Sign South Bank
A must do whilst visiting Brisbane is to get your photo taken in front of the funky three dimensional, 3 m high Brisbane sign.  The sign was commissioned by the Queensland Government for the G20 Leaders' Summit in 2014 and was designed by community groups across Brisbane.
10. Have a BBQ or Picnic
There are endless green grassy spaces in South Bank, with excellent BBQ and picnic facilities.  If you don't want to bring your own food, grab some take out from one of the many South Bank eateries and enjoy in one of these open spaces.
11. Queensland Maritime Museum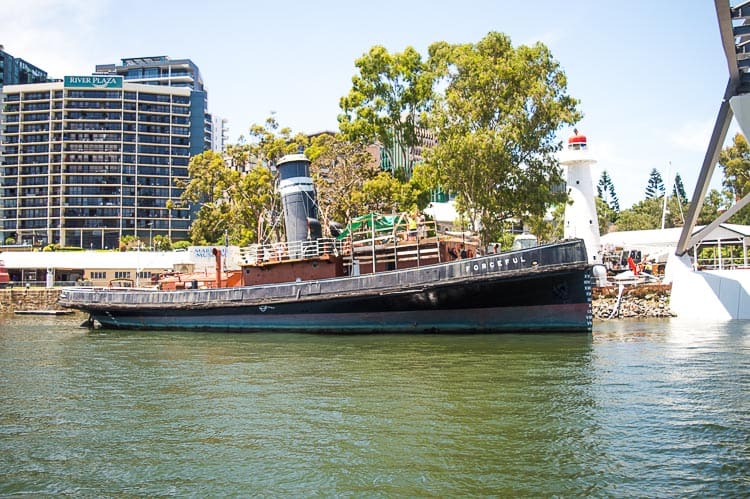 The Queensland Maritime Museum features the historic 1945 warship Diamantina, the 1925 steam tug boat and Jessica Watson's Pink Lady.  Visitors can board the Diamantina and explore.
The Museum is open daily between 9.30 am to 4.30 pm and entry is $16 for adults and $7 for kids.
12. Queensland Museum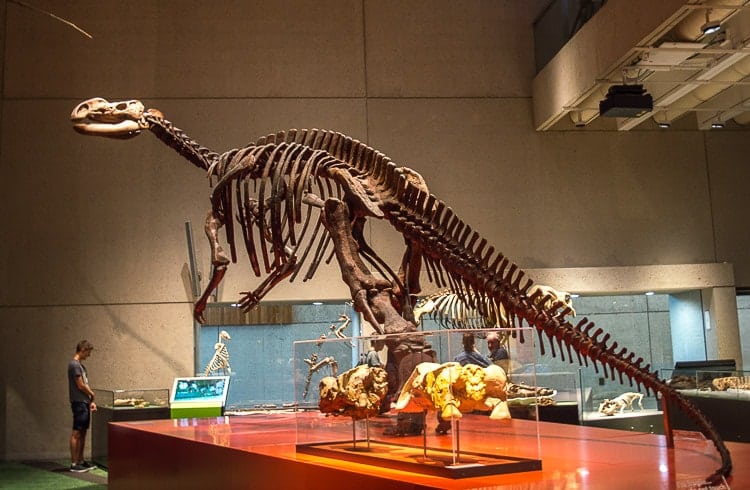 The Qld museum features various interactive displays including dinosaurs, marine life, Australian animals as well as a range of weird and unusual collections.  The Museum also has different exhibitions that change throughout the year.
The Museum is open daily from 9.30am to 5pm with free admission (some special exhibitions charge).
13. Sciencentre
Currently closed by due to open mid 2018, the Science Centre is a real hit with kids and adults alike.  The new Sciencentre features interactive STEM experiences and various spaces where you can be a scientist.
14. Queensland Art Gallery and Queensland Gallery of Modern Art (GOMA)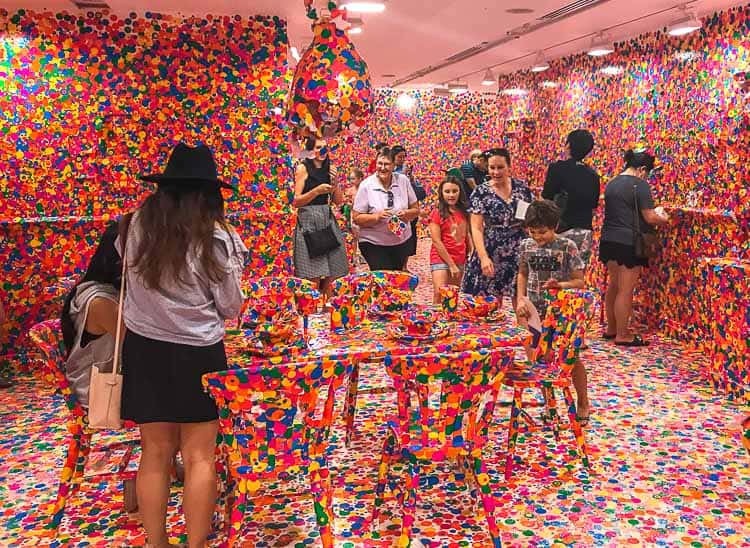 The Queensland Gallery of Modern Art Brisbane GOMA is fantastic for kids and has a range of interactive exhibitions and activities for kids throughout the year.  Exhibitions change throughout the year, so check out whats on during your visit.  If you visit during school holidays there is bound to be a stack of great activities for the kids.
Both GOMA and the Queensland Art Gallery are open daily from 10 am to 5 pm and entry is free, although some exhibitions do require an admission fee.
15. State Library of Queensland
The State Library of Queensland is a fantastic place for families to visit all year round.  The Kids will love visiting "the Corner" where kids can read books, build structures out of large building blocks, participate in various arts and crafts and various other activities.  During school holidays the Qld State Library has a host of various other free activities, check online to see what is on.
The library is open daily from 10 am and closes at 8 pm Monday to Thursday and 5 pm Friday to Sunday.
16. Queensland Performing Arts Centre (QPAC)
The Queensland Performing Arts holds some fantastic family friendly performances year round.  From world famous family friendly musicals to children specific performances, you are bound to find something on that the entire family will love.
Given its great location in South Bank you can easily grab a bite to eat at one of the South Bank restaurants either before or after the show as well.
17. Take one of the Brisbane River Cruises
A great way to see Brisbane is via the Brisbane River.  There are various Brisbane river cruises on offer as well as the free City Hopper ferry and the City Cats which will all take you up and down the river where you can see the Brisbane sights such as South Bank, Botanic Gardens, Kangaroo Cliffs, River Walk, the Story Bridge and the Brisbane skyline.
We recently took the 90 minute river cruise with River City Cruises.  Cruises depart daily at 10.30 am and 12.30 pm from Jetty A at the South Bank Parklands (right in front of the Wheel of Brisbane).
Throughout the cruise the Captain points out various places of interest in Brisbane as well providing historical information about the settlement of Brisbane.
On the morning cruise, morning tea is provided as well as the option to hop off at Newstead House at 11.15am and re board at 1.15pm.  If you decide to do this you may like to go and explore historical Newstead House (only open Fridays, Saturdays and Sundays) and / or have lunch at the iconic Breakfast Creek Hotel.
When you board everyone seems to want to sit on the sun deck, however I recommend going inside in the air conditioning.  Get yourself a nice spot and then once the cruise is under way there is a lovely small area out the front or back of the boat (sort of between the 2 main decks) which you will most likely have all to yourself – you can get some great photos of various Brisbane attractions from here.
River City Cruises cost $29 per adult and $15 per child, family passes are $65.  Click here to make a booking.
Here is some information about the other Brisbane river tours and ferries in the Brisbane River you can take from South Bank:
Mirimar Cruises: Combine a Brisbane River cruise with a trip to Lone Pine Koala Sanctuary located in Brisbane's western suburbs.  Along the way you will receive informative commentary about Brisbane and then spend 3 hours at Lone Pine where you can feed kangaroos and emus, cuddle a koala, see Australian sheep dogs in action as well as various other Australian animals.  Cruises are daily and depart from the Cultural Centre Pontoon in the South Bank Parklands.  Click here for ticket prices and to make a booking.
CityCat: Another great way to explore the Brisbane River is to simply board one of the city's iconic CityCats.  CityCats are Brisbane's public transport on the river.  The CityCats go as far as The University of Queensland at St Lucia all the way down to Hamilton and operate every day with regular services every 15 minutes for most of the day, and express routes and more frequent services during peak times.  Click here for more information with regards to the CityCat timetable and fares.
CityHopper:  You can actually explore the Brisbane River for FREE!!!  The City Hopper ferry is a free service with ferries running every 30 minutes between 6am and midnight, seven days a week.  The CityHopper travels along the Brisbane River, stopping at North Quay, South Bank 3, Maritime Museum, Thornton Street, Eagle Street Pier, Holman Street, Dockside and Sydney Street terminals.  Click here for the CityHopper timetable.
Click here for a downloadable South Bank map showing the location of all the above attractions.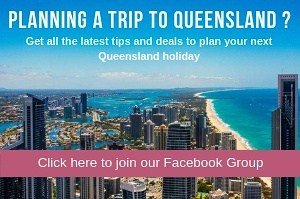 Accommodation South Bank Brisbane
Whilst the majority of Brisbane's accommodation is located within the CBD, there is a good range of family friendly South Bank accommodation available.   There are a various of accommodation options including South Bank hotels as well as some South Brisbane apartments.
If you are traveling to Brisbane with kids, I highly recommend you consider staying close to South Bank as I guarantee you will be spending a lot of time here.
Rydges South Bank Brisbane
Rydges South Bank Brisbane is perhaps the most popular accommodation South Brisbane has.  It is located in South Brisbane, only minutes from South Bank Parklands, cafes and shops and the South Brisbane Train Station.  It is also only a 10 minute walk to the Queen Street Mall
Facilities at Rydges Hotel Brisbane include parking, wifi, swimming pool, 3 restaurants and bar;
Rydges Brisbane has family sized rooms including 2 double beds,  tea and coffee making facilities, mini bar and air conditioning;
Click here to check the prices and / or to make a booking for Rydges South Bank Brisbane.  
Mantra South Bank Brisbane
Mantra South Bank Brisbane is located in South Brisbane, only minutes from South Bank Parklands, cafes and shops and the South Brisbane Train Station.  It is also only a 10 minute walk to the Queen Street Mall
Facilities at Mantra South Brisbane include parking, swimming pool, 1 restaurant and bar;
Mantra has 2 bedroom apartments including 1 double bed in each room, fully equipped kitchen, laundry, balconies, some with city views and air conditioning;
Click here to check the prices and / or to make a booking for Mantra South Bank.  
Morgan Suites
The Morgan Suites is located in South Brisbane and is a 10 minute walk to Brisbane South Bank, a 7 minutes walk to South Brisbane Train Station and close to cafes and shops.  It is also only a 15 minute walk to the Queen Street Mall.
Facilities include a pool, fitness centre, coffee shop, parking and wifi;
Family apartments include 2 bedrooms each with a double bed,  kitchen, air conditioning, balcony with outdoor setting and washing machine;
Click here to check the prices and / or to make a booking for the Morgan Suites.  
Fleet Lane Apartments
Fleet Lane Apartments is located in South Brisbane,  a 10 minute walk to the South Bank Parklands, a 5 minutes walk to South Brisbane Train Station and close to cafes and shops.  It is also only a 12 minute walk to Queen Street Mall
Facilities include a roof top terrace, spa, parking and wifi;
Family apartments include 2 bedrooms each with a double bed,  2 bathrooms, kitchen, air conditioning, balcony with outdoor setting, washing machine and dryer;
Click here to check the prices and / or to make a booking for Fleet Lane Apartments.
Where to Eat – South Bank Food
Hungry?  You are in for a real treat as there is some amazing South Bank food, both within the parklands and the surrounding area.
Whatever South Bank dining experience you are looking for you, you will find it here.  Cheap South Bank eateries, beautiful restaurants and some great family friendly cafes.
South Bank Eateries
For quick food there is a great food court type area just behind the Riverside Green Playground and boat pool.  Here you will find ice cream, pizza, pasta, kebabs, fish and chips, sandwiches, sushi and a variety of other quick eats.
Family Friendly South Bank Cafes
South Bank is full of great family friendly cafes.  You will find the majority of these cafes around the Stanley Street Plaza walk way, just behind the Streets Beach.  There are also a few more fancier restaurants by the river, just by the Goodwill Bridge.
You will also find an array of bars, cafes and restaurants along Little Stanley Street and Grey Street.
Junk
If you are like us and just LOVE Asian food, then dinner at Junk South Bank is a must!  Junk is a funky Asian restaurant located on Little Stanley Street, among the various South Bank cafes and restaurants.
You can choose to sit out on the side walk for optimum people watching or inside at the massive round tables with a lazy susan in the middle.  The restaurant is spacious so perfect for little ones in prams, and high chairs are available too.
The menu is perfect for ordering a few things to share.  Smaller sized menu items start at $10 and larger sizes from $15.  The restaurant is also licensed so parents can have a drink.
We had Pork Bao, Korean Fried Chicken Wings, Crispy Pork Belly and Beef Massaman between the 3 of us and we were stuffed!!  If you have a light to medium appetite I would probably recommend having 1 large item with 1-2 smaller items between 2 people.
We just love Junk and highly recommend it.  Junk is open daily from 11 am to late.
Burger Project
If your craving a burger but don't fancy Maccas, then check out Burger Project. This is not your everyday fast food burger joint.  For a starters everything is cooked after your order and your meat is grilled to your liking.
The Burger Project is also fully licensed so Mum and Dad can enjoy a beer or wine with their burgers too.
There are stacks of burgers to choose from on the menu including a vegetarian option.  Burgers are priced between $10 to $16.
Whilst we didn't try any desserts, they looked delicious!  On the menu are various chocolate desserts, pavlova and blueberry pie.  Desserts are all $5.90 with soft serve cones being $4.50.
There are 2 Burger Project locations in the City – one on Edward Street in the Brisbane CBD and one in the Southpoint Food Court where the Woolworths supermarket is in South Brisbane.  Burger Project is open daily from 11 am to 9 pm.
Special Treats
There is no shortage of places to go for special treats for the kids.  Whether you are after ice cream, donuts, chocolate or delicious drinks, you will find it on most corners throughout the Brisbane CBD and South Bank.
Myla just loves Doughnut Time and Mister Fitz for a special treat.  In fact I am a bit partial to Doughnut Time myself!  These are no ordinary cinnamon rolled donuts, these are crazy creations oozing with delicious creams and fillings.  Take a look at some of their amazing donuts here.
Mister Fitz's is a traditional style ice cream parlor with a twist.  You choose your ice cream and then you can choose various toppings and sauces to add to it.  They also serve up some crazy ice cream sandwiches and shakes. 
There are 2 Doughnut Times in the Brisbane CBD and 1 in South Bank.  You will find Mister Fitz right next door to Doughnut Time in South Bank.
Getting to South Bank
South Bank is located in the Brisbane CBD on the east coast of Queensland.  You can fly direct to Brisbane from various international destinations, or alternatively you can fly direct from most Australian capital cities.
To reach the Brisbane CBD from the airport you have various options including train, taxi or shuttle bus.  In most cases for a family I would recommend a taxi.  It will cost around $40 to $60 in a taxi and by the time you purchase various train or shuttle bus tickets for everyone in the family a taxi will be the cheaper option and more convenient.
The Air Train costs $18 one way per adult (kids under 14 are free), click here to book tickets.
Shuttle bus transfers to the city in a shared van usually start at around $20 for the first person and $10 per person thereafter.  Click here to book shuttle transfers.
Getting to South Bank from Brisbane
Getting to and from South Bank is fairly easy.  Here is a quick overview of the various modes of getting to and from South Bank:
Trains: The main train stations are South Brisbane station for the Cultural Precinct and South Bank station for South Bank.
Bus: There are various bus stops across South Brisbane.
Car: Plenty of taxi's and Uber in Brisbane or if you have your own car you can drive.  However South Bank parking is very expensive and for this reason I don't recommend driving yourself around the city.
Ferry: The Brisbane River is fairly large and so is a great way to get around.  The CityHopper is a great free ferry service which operates every 30 minutes between the hours of 6 am and midnight.    Find out more about the free CityHopper here.  There are also the City Cats which go further up and down the river.
Walk: Any place you want to go will be between 5 to 30 minutes walk away – so you can easily walk wherever you like within Brisbane CBD.  Just a word of warning that in the Summer months it can get super hot and pretty unbearable to walk long distances.
Click here for train, bus and ferry timetables and fares.  This website will also help you work out which is the best mode of transport to get you to where you are going.
Thanks so much to River City Cruise, the Wheel of Brisbane, Mister Fitz, Junk, Doughnut Time and Burger Project for hosting us in South Bank.  As always, all opinions expressed in this blog are my own and have not been influenced in anyway.
Please note that this post contains affiliate links, which means that should make any bookings using my links, I may be paid a small commission at no extra cost to you.  This allows me to provide this information free of charge – thank you for supporting our website.
Want to save this information for later? 
Click on one of the images below and save it to Pinterest.