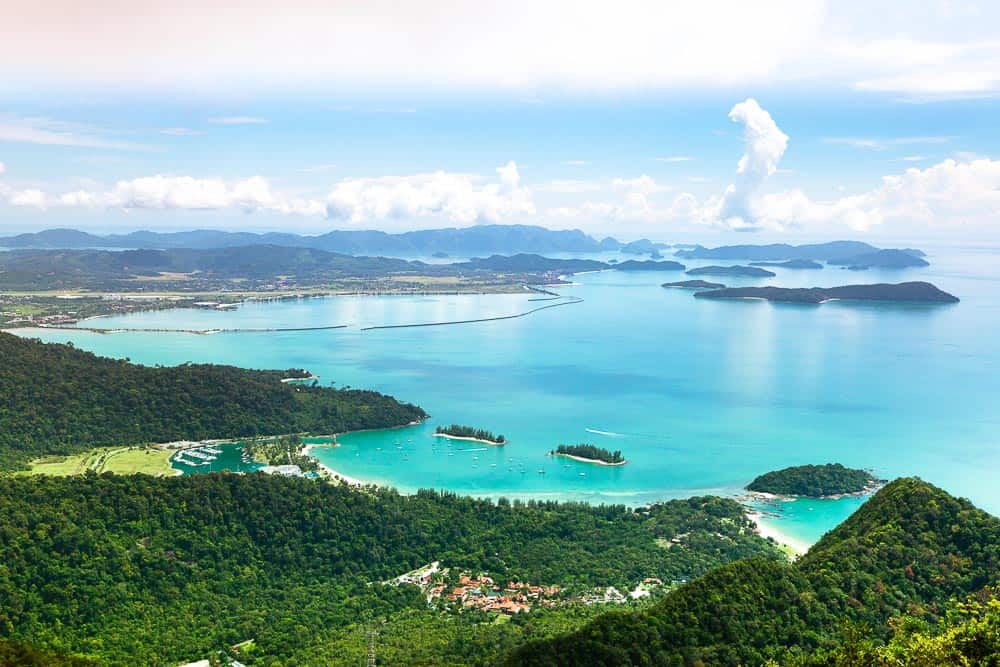 With our Langkawi holidays only a few months away, I thought it was a good idea to ask some of my favourite travel bloggers for their tips on the best Langkawi attractions so I could finalise our Langkawi itinerary. I also asked them to share with us their tips on where to stay in Langkawi.
In this post you will find tips on the best Langkawi activities, including stunning beaches, the best Langkawi places to visit to spot wildlife, tips for day trips and the best place to stay in Langkawi.
Heading to Langkawi? Click here to for our guide on the best resorts with kids club & budget hotels perfect for families.
The Best Langkawi Attractions
1. Pantai Tanjung Rhu (Tanjung Rhu Beach)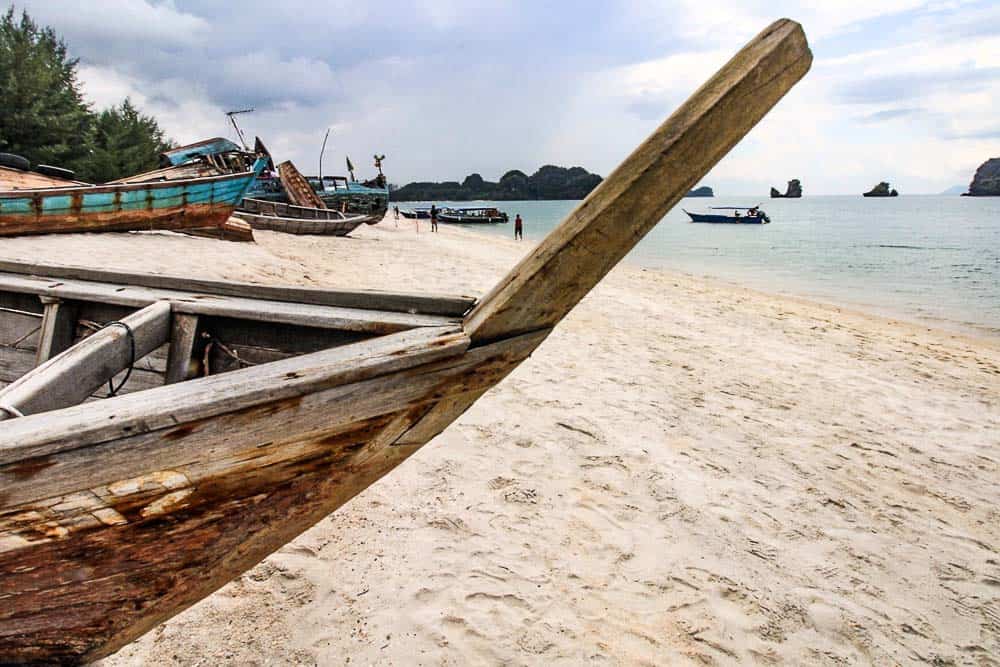 Thanks to Richard from Travel Tramp
In the north of Langkawi one of the island's best kept secrets is hidden away between mangroves and jungle. Pantai Tanjung Rhu is one of the most secluded Langakawi Beach. It's also possibly the best beach in Langkawi, especially for those looking for a bit of peace in a stunning tropical setting.
This long stretch of coast line is fringed with palm trees and faces out across the sea to the nearby Thai islands which rise magnificently in the distance. The white sand is soft underfoot and the water is turquoise, while limestone karsts form a natural bay around the beach. This is one of the most beautiful places in Langkawi.
Pantai Tanjung Rhu is everything you've ever been told a tropical paradise should look like, and aside from a few homestays, one luxury hotel and the ramshackle local restaurants near the beach this whole area is far removed from the main tourist centres of Langkawi. To get here you drive north until you hit the sea and the shoreline becomes dense with mangroves and palms. Follow the road through the jungle, and you'll emerge onto the fine white sands and solitude of Tanjung Rhu. Add this beach to your Langkawi itinerary.
2. Kilim Geoforest Park Mangrove Tour Langkawi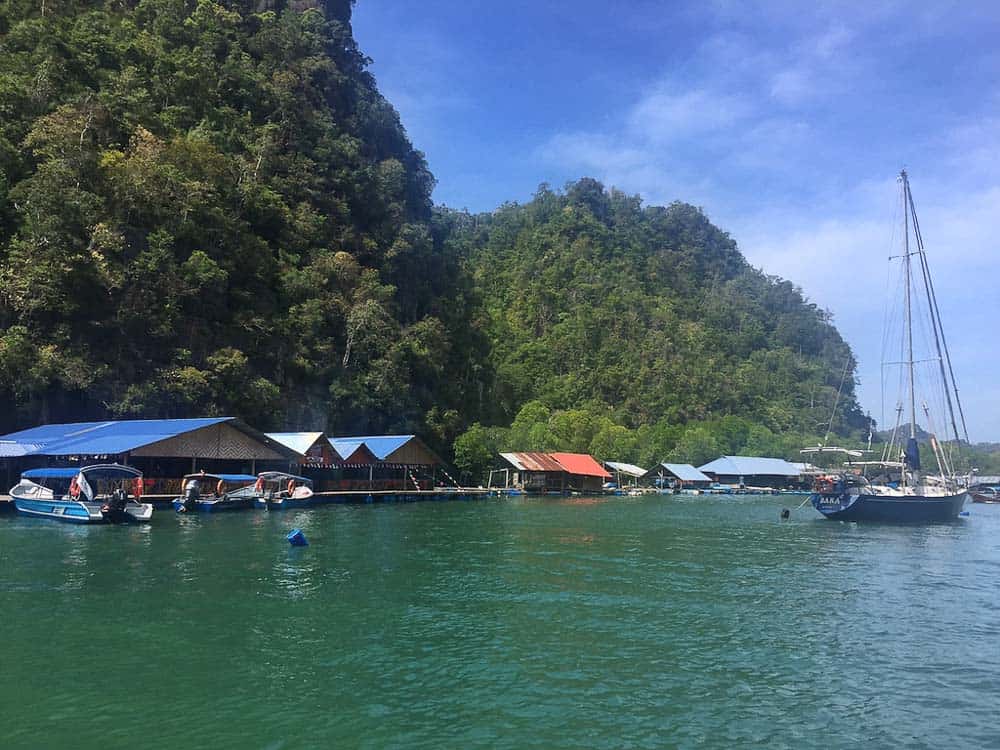 Thanks to Marianne from Mum on the Move
A Langkawi trip is not complete without visiting the Kilim Geoforest Park mangrove forest, one of the unique features of Langkawi. The Kilim Geopark is a 100km nature reserve with some of the most stunning scenery – towering limestone cliffs, hidden sandy white beaches and hidden caves among the mangroves.
There are many Kilim Langkawi mangrove tours to choose from. Taking a kayaking tour is a great way to get off the beaten path and explore the mangroves away from the crowds of other tours, but being on a boat is also an excellent way to get a feel for the mangroves. Keep a look out for mudskippers, monkeys, mangrove vipers, mud crabs and monitor lizards as you go.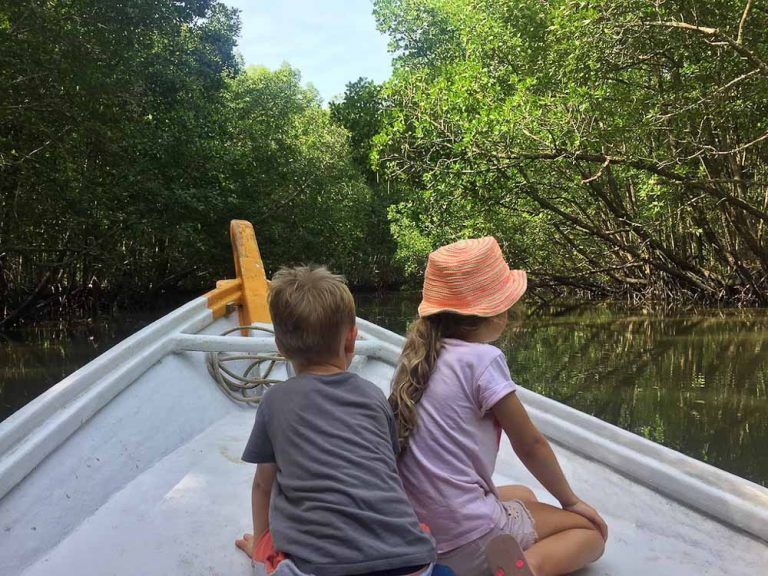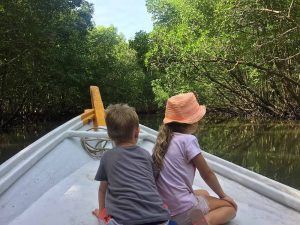 Many tours will take you to visit a bat cave in among the mangroves, and another highlight is watching as Black Kites and White Bellied Sea Eagles swoop into the water to catch fish. You can finish your Langkawi mangrove tour at one of the floating restaurants with their own fish farms.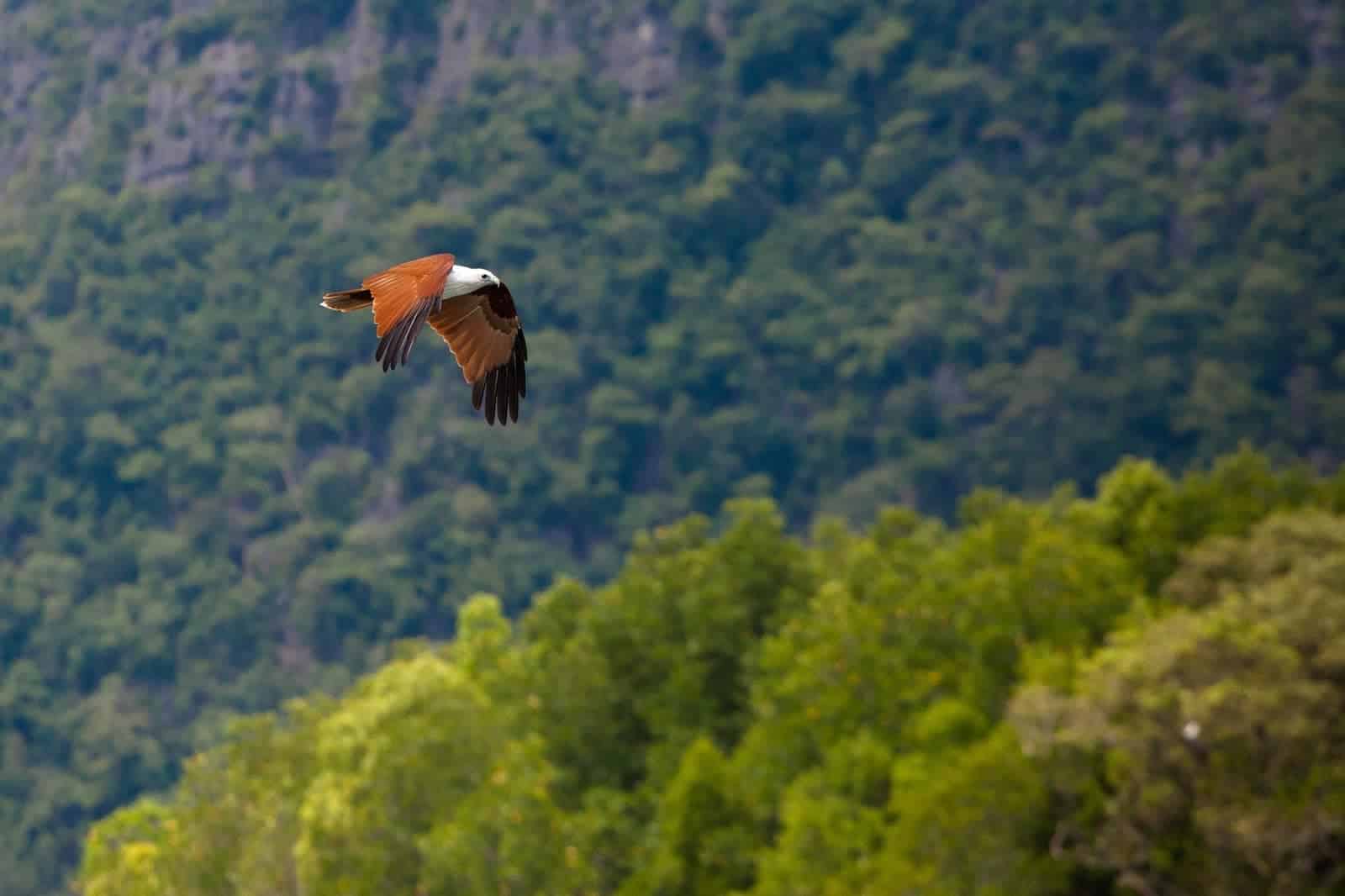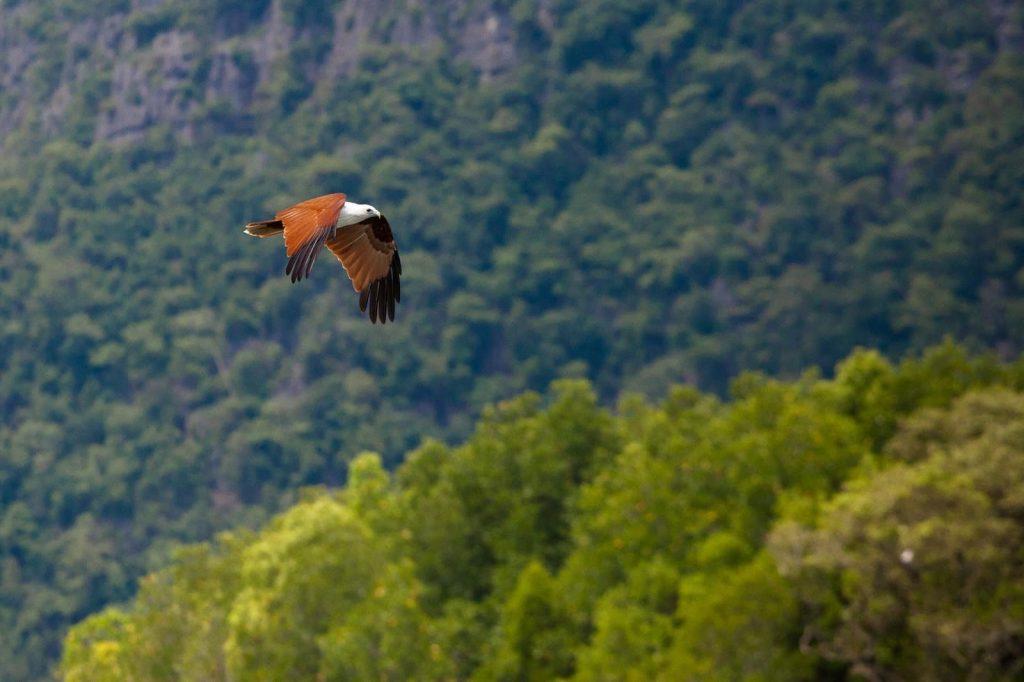 And Thanks to Erica from Mum Travel Diaries
The dense mangroves of Langkawi's Kilim Geoforest Park are teeming with life and one of the most interesting places in Langkawi to visit. Residents include brown eagles, tree crabs, giant water monitor lizards and macaques. A Kilim Geoforest Park Tour to the mangroves is sure to delight visitors of all ages and will be a highlight of your time in Langkawi.
The most spectacular of the wildlife is the brown eagle, native to the islands. In fact, the name Langkawi is derived from the Malay word helang, meaning "eagle" and kawi, for the spectacular red-brown colour of these birds.
The best way to explore the mangroves is via a boat, picked up from Tanjung Rhu beach. There are different boat trips to choose from, varying in length and combining different sights. Many visitors opt for a two hour tour, ranging in price from RM200 to RM300, which includes an exhilarating trip on the open water to access the mangroves, fish feeding, bat caves, viewing macaque monkeys and the brown eagles.
The price of this Langkawi tour is per boat rather than per person, so if you want to save some money, why not buddy up with another group. For the more adventurous visitors, kayaking the mangroves is also an option.
Click here for more information about these tours and / or to make an online booking which include transfers from your hotel.
Alternatively if you prefer the kayaking option, click here for more information.
3. Langkawi Night Markets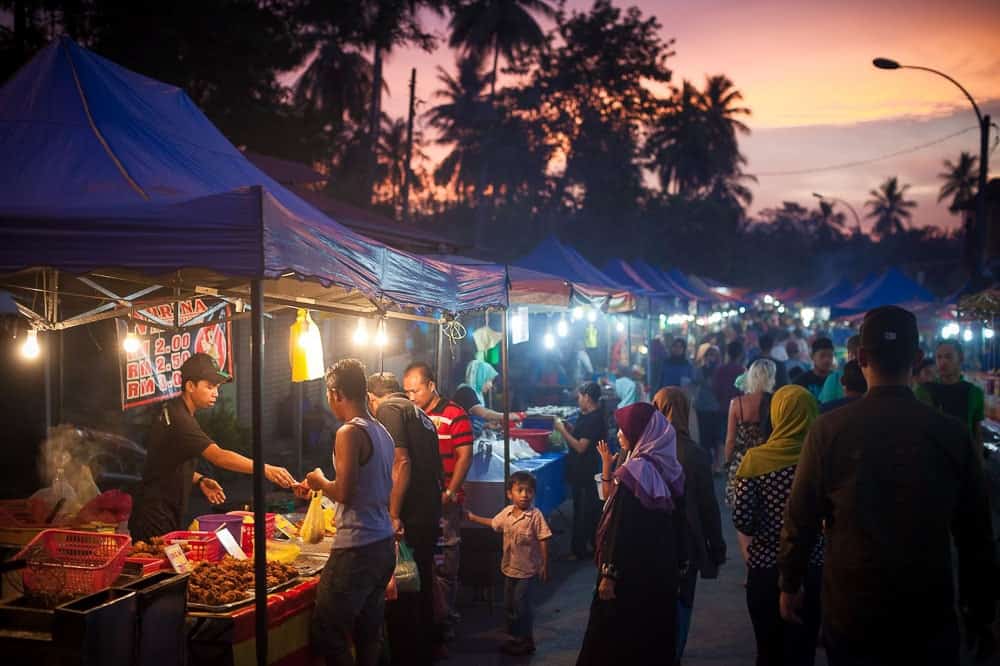 Thanks to Erica from Mum Travel Diaries
If you are looking for places to visit in Langkawi at night, be sure to visit the Langkawi night markets. food on offer is freshly prepared and incredibly cheap, with most dishes priced between RM4 and RM10. There aren't many seating areas in the Langkawi market to eat, so pick up some snacks to eat on the go and or choose a selection of dishes to take back to your accommodation. Be sure to try some nasi lemak (the national dish) and nasi ayam (chicken rice) – Malay staples and totally delicious.
The markets start at about 5:30pm and run until late. In addition to food, other items for sale include local produce, handbags, wallets and household supplies.
The Langkawi night market locations are held in a different location each night. See below for each night's location:
Monday – Ulu Melaka Market
Tuesday – Kedawang Night Market
Wednesday and Saturday – Kuah Night Market
Thursday – Temoyong Night Market
Friday – Air Hangat Night Market
Sunday – Padang Matsirat Night Market
Click here for information on the Best Halong Bay Cruises in Vietnam
4. Island Hopping Langkawi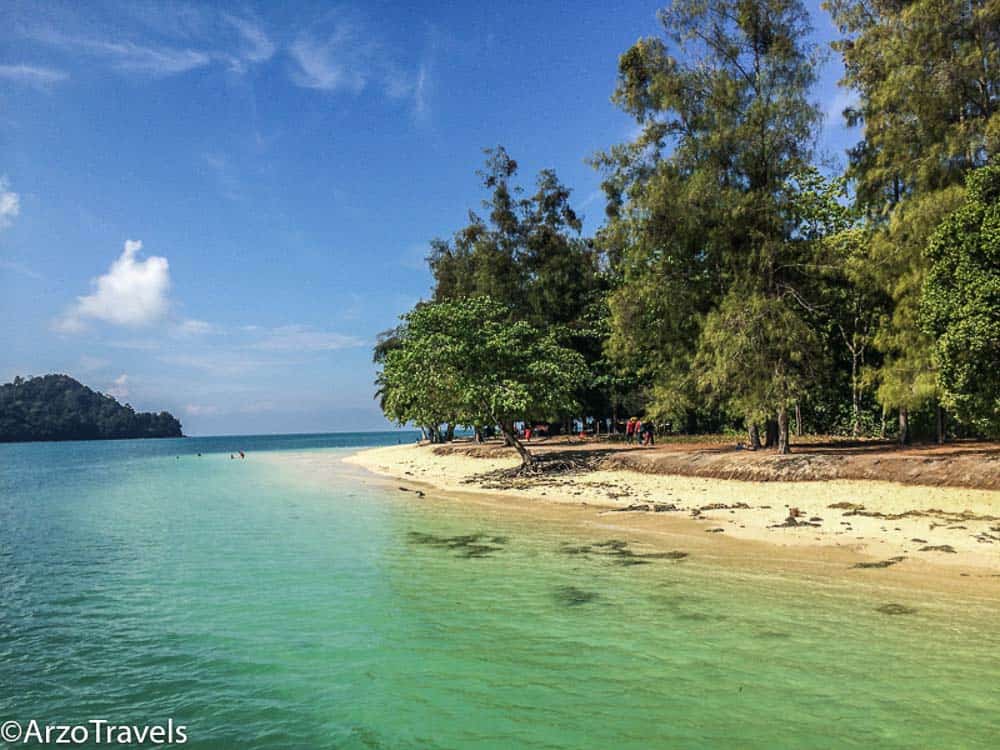 Thanks to Arzo from Arzo Travels
Langkawi has stolen my heart within seconds and if you are looking for a beautiful place to visit in Malaysia than this little paradise could be it. To make the best of your stay and enjoy it as much as I did, I recommend doing an island hopping tour via boat. It is just a lot of fun and this way you will see a lot of beautiful, lesser known places that are part of Langkawi. After all Langkawi is an archipelago of about 100 islands and it would be a pity if you just stayed on the main island.
A Langkawi Island tour is not expensive and will take about half a day- depending on the tour you take you will see islands near Langkawi like Beras Besah or Tanjung Rhu Beach, or stop at the Lilim Karst Geoforest Park!
We also got to see some swimming monkeys while doing the boat tour and of course you´ll get to se eagles- a lot of them (well, Langkawi is famous for eagles).
So, whatever you plan to do when you visit Langkawi, be sure to plan in an island hopping tour to see all of Langkawi´s beauty!
Click here for information about Langkawi Island Hopping Tours and to check prices.
5. SkyCab Langkawi (Langkawi Cable Car)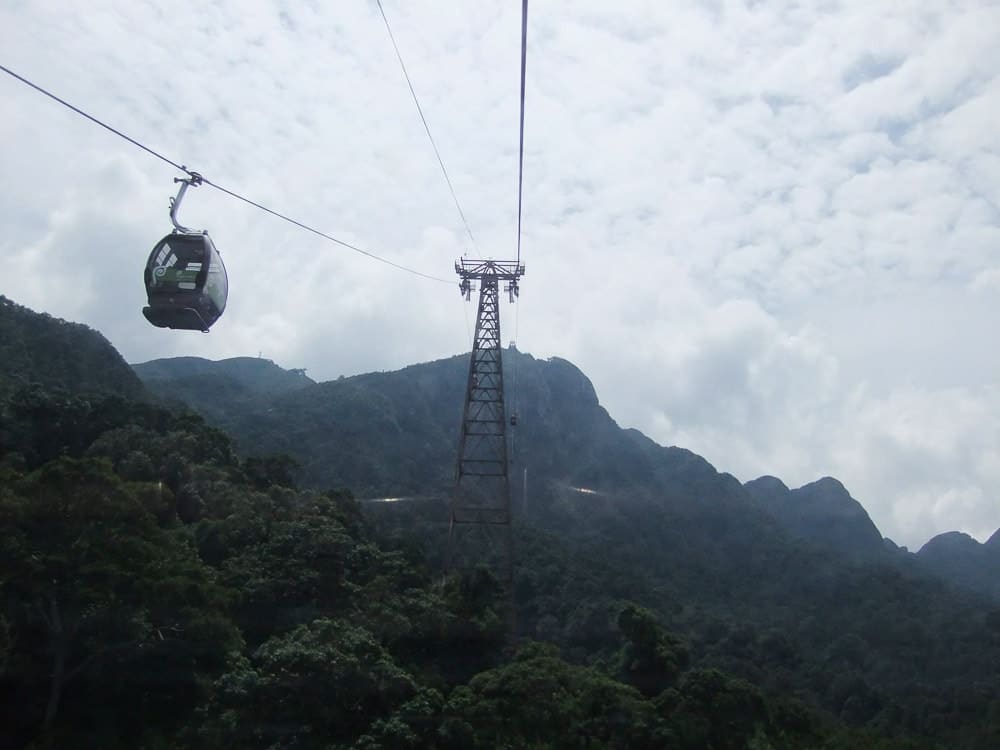 Thanks to Laura from Passport Collective
SkyCab Langkawi is one of the most impressive gondola rides in the world and one of the most popular Langkawi island attractions. Soaring high above the lush tropical forest, you'll travel over 1.5km before you reach the impressive craggy rock face preceding the middle station. The cliff face towers an impressive 650 metres above the sea level and this is where the ride really gets interesting. The pitch of the gondola increases dramatically and for a moment you can be forgiven for closing your eyes for fear of being dashed against the rocks. Just when you think you're done, your car rises, almost vertically to the summit. A shorter secondary ride to the peak and you're amongst the clouds
Once you've reached the top, there are a series of platforms where you can take in the views, and on a clear day, see all of the way to the coast. If you're feeling brave, you can upgrade to a glass bottomed gondola car or if you prefer you feet on the ground take a stroll on the skywalk. One thing's for sure, no matter how you ride, this is one of the must do Langkawi tourist attractions.
Langkawi cable car tickets start at RM 30 per person, although you can purchase combo tickets for the other Langkawi activities in the area. The Langkawi cable car operating hours are 9.30 am to 7 pm daily.
Click here to book online tickets in advance which also include admission into the SkyRex, SkyDome and 3D Interactive Art.
6. 3D Gallery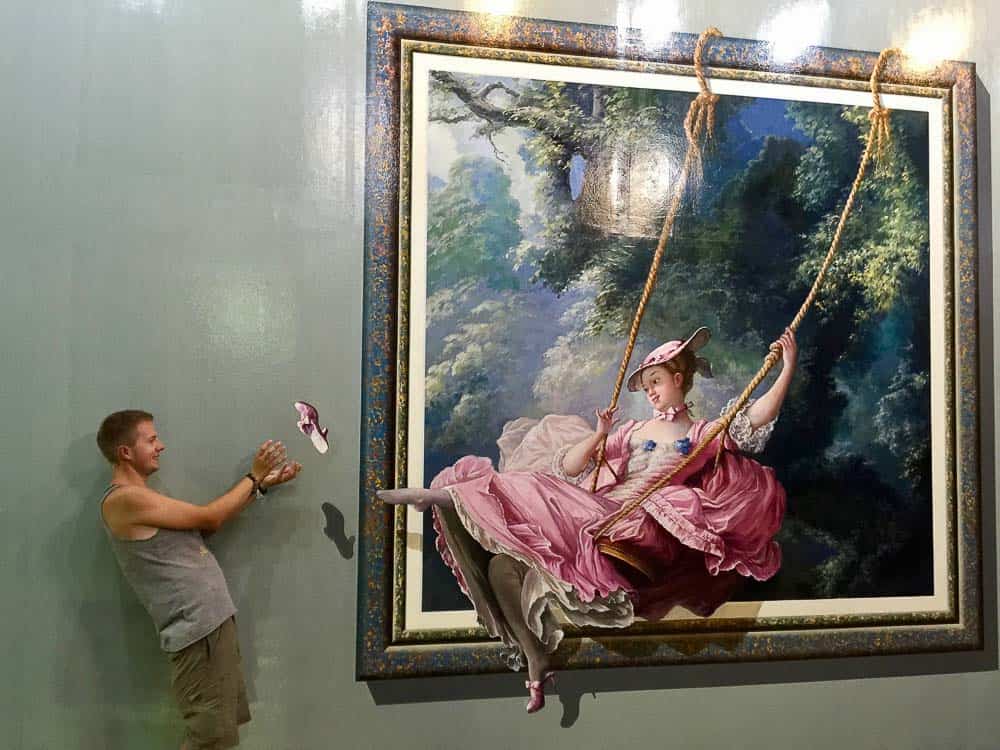 Thanks to Craig from No Real Plan
Langkawi is famous for the Sky Bridge, however, there are many other Langkawi tourist places at the site, such as play zones and a 4D cinema at the bottom just before riding the cable car up. One of the standout attractions there is the Langkawi 3D Art Museum as it is such a fun memorable experience. You can buy a combo ticket which includes the 3D Art Museum, Cable Car and, Sky Bridge at a discounted price if you want to experience all three.
The Langkawi 3D Art Museum is one of the largest in the world, with over 100 3D paintings in various themed sections such as Ancient Egypt, aquatic, jungle etc. Visitors position themselves in front of the paintings so it looks like they are part of the picture or interacting with it. This makes for some great photo opportunities and an excellent way to spend many hours laughing at what pose you will do while pretending to be eaten by a hippopotamus for instance. So make sure you have plenty of room on your phone or camera to take plenty of photos, as trust me, you'll be taking a lot!
Click here to find what we pack in our carry on only baggage on our trips to South East Asia.
7. Langkawi SkyBridge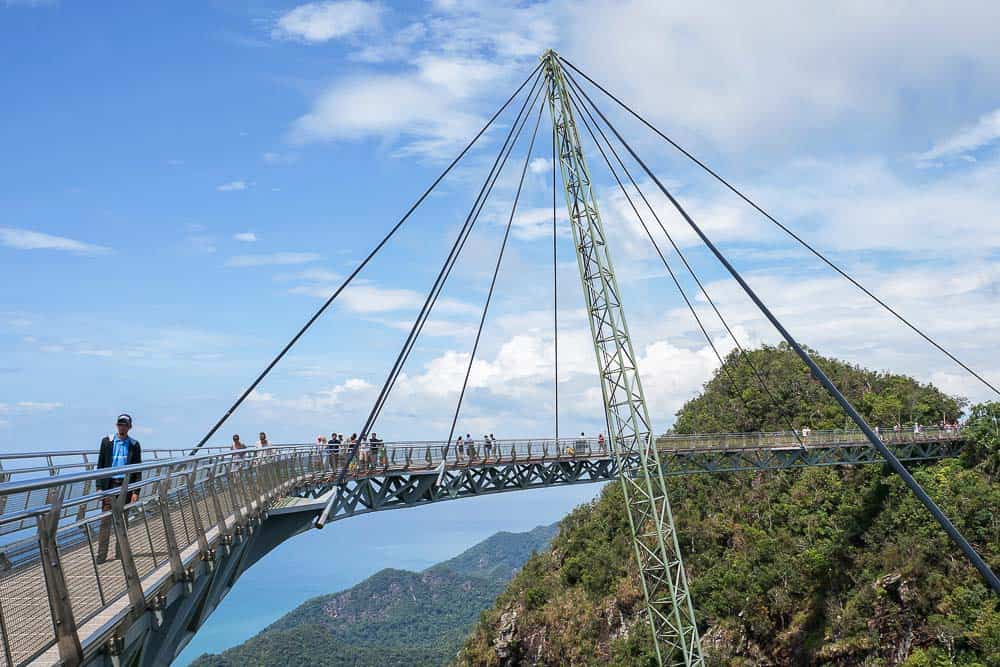 Thanks to Teresa from Brogan Abroad
The Langkawi SkyBridge is one of the most popular Langkawi points of interest and it's a must see in the island. It's the longest free span and curved bridge in the world, and it hangs between two mountains above virgin jungle.
It's suspended over 2,000 feet above sea level by a single massive pylon, which makes it quite a feat of engineering. But what attracts people here are the 360-degree views of the Langkawi islands and the Andaman Sea.
When you first hear about it, you may thing that it is a tourist trap but the views are really worth the visit and fighting the hordes.
It's located about 6 miles from Pantai Cenang and there is no public transport in Langkawi, so I would recommend hiring a scooter to get there and you can then explore the rest of the island.
To get to the Sky Bridge, catch a 15-minute ride in a cable car, which leaves from the Oriental Village complex. While you are going up, make sure you look out for the Telaga Tujuh Waterfalls (Seven Wells Waterfalls) on your right – you can hike to them after your visit.
8. Lagenda Langkawi
Thanks to Erin from Traveling Thru History
When we visited Langkawi, we happened upon this fun little park called Lagenda Langkawi. The official name of the site is Lagenda Langkawi Dalam Taman, which means Legendary Langkawi in a Garden. It is a beautifully landscaped park near the waterfront in Kuah and there is no charge to explore. Little is probably the wrong word because the entire park is about 50 acres (20 hectares) of winding paths that lead to ponds, grottos and gardens that host heroic giants, mythical birds, evil ogres and beautiful princesses. It definitely takes a bit of time to see the entire park, but it's worth it.
The purpose of this park is to tell the story of how Langkawi came to be. There are 17 massive stone sculptures depicting legendary scenes from Langkawi's folklore. To make it easier on visitors, the signs explaining each of the legends is in both Malay and English. Starting with when Pangaea broke up and going all the way through the first few generations of inhabitants on the island. The stories are beautiful and really quite interesting. The statues are showing signs of age, but there is a project to restore and revitalize the park starting soon. Even with the statues not being in the best shape, this park is worth visiting and worth checking out to learn a bit more about Langkawi's history and folklore.
9. Underwater World Langkawi

Thanks to Niels from The Road Trip Guy
When you visit the beautiful island of Langkawi you do not want to miss the island's best-known attraction. It is called Underwater World Langkawi and is one of the largest aquariums in Malaysia.
It houses over 200 different marine species including African- and Rockhopper penguins, harbor seals, rays and of course lots of sharks! The mission of the aquarium is to educate the public about nature and wildlife conservation to make sure that our future generations can also enjoy the beauty of our oceans.
The aquarium is divided in three different areas, which include a tropical rainforest, temperate and sub-Arctic section. In the sub-Arctic section you will find the most popular inhabitants of the aquarium: The penguins!
These popular birds can be viewed underwater as the Penguinarium has a large acrylic underwater panorama. You will see an interesting display of grace, flexibility, speed and agility as they swim passed at high speeds chasing each other and finding their food.
Travelling to South East Asia? Click here to get all our SEA tips and advice.
10. Paradise Island 101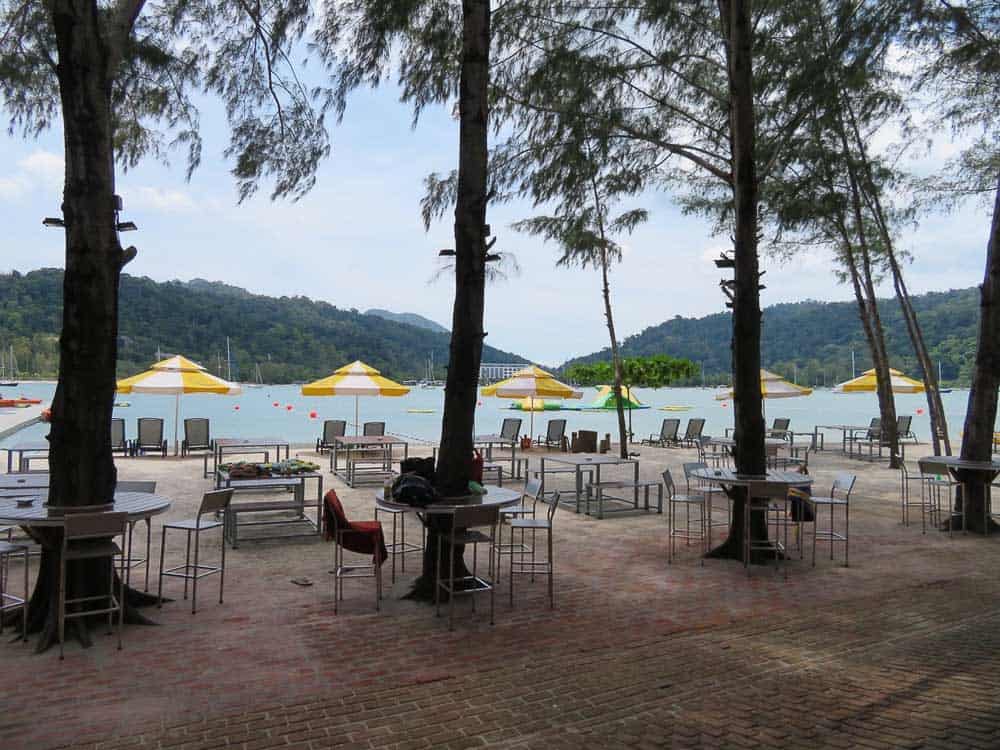 Thanks to Sally from Our 3 Kids v the World
Paradise 101 is a man-made island offering various water sport activities and is a great day out if you are looking for fun things to do in Langkawi with kids. The kids loved the inflatable aqua park, jet skiing with NAAM Team, banana boating and zip lining across the island. You are also able to parasail, snorkel, scuba dive or just enjoy a wonderful buffet lunch or take in the breath taking island sunsets from the Paradise 101 Bar and sunset viewing platform located at the rear of the island.
Paradise 101 has now opened for day visits, there are fully functioning bathroom facilities including showers and change rooms for those that want to get showered before leaving the island. Paradise 101 is 5 min speed ride from Langkawi and is a great way to spend the day enjoying water sports and is completely family friendly.
11. Langkawi Water Sports: Jet Skiing and Parasailing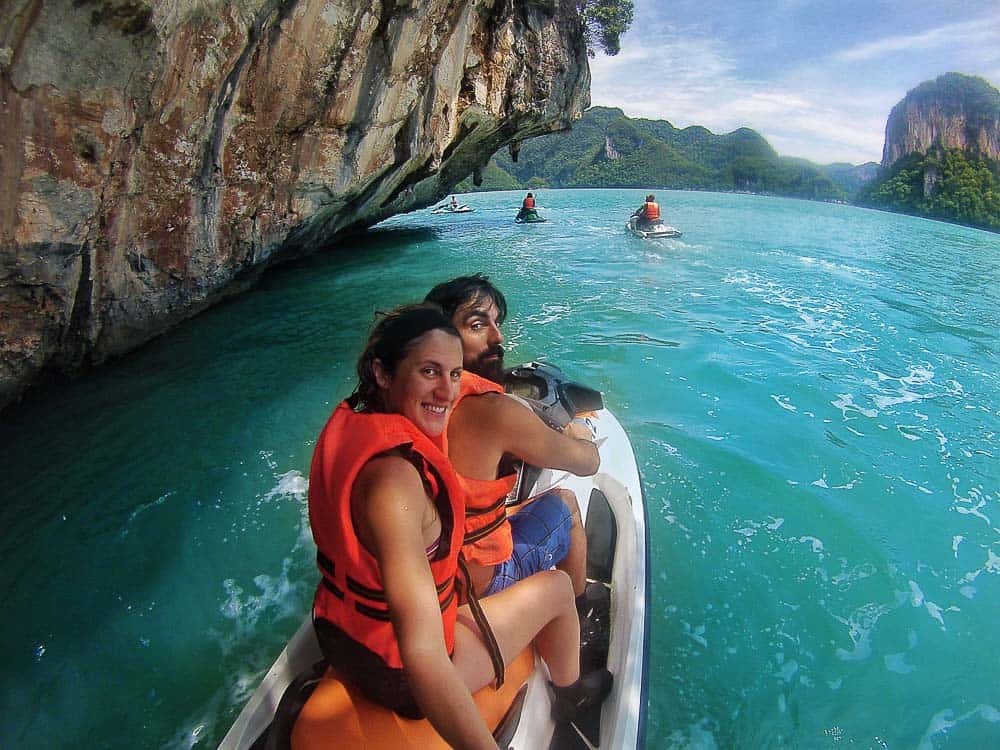 Thanks to Inma from A World to Travel
Indeed, Langkawi is an adventurous archipelago and as such, the perfect destination to get your hands in cool Langkawi water sports such as parasailing and jet skiing. The water is warm, prices are affordable and safety measures in place. Plus, both of them will give you superb views of these stunning islands.
Simply be aware that due to the weather conditions – if you are visiting Langkawi on the rainy season – your water activities in Langkawi could be canceled or postponed and plan accordingly!
We did both jet skiing and parasailing in Langkawi a couple of years back and they suddenly became our favorite things to do in Langkawi, and one of the reasons why we believe Langkawi is pretty much the best of Malaysia.
12. Gunung Raya – the Highest Mountain in Langkawi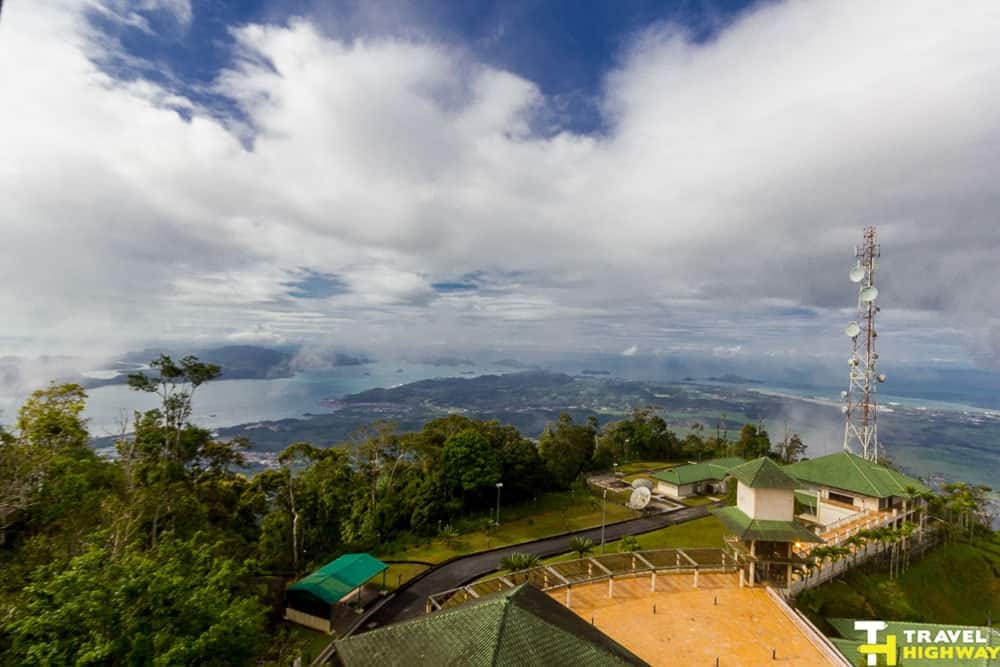 Thanks to Anuradha from Travel Highway
On our visit to Langkawi during the last holiday season, we were itching for some where to go in Langkawi that was less touristy and relaxed. We stumbled upon this view point on top of the highest mountain in Langkawi called Gunung Raya.
With an altitude of about 880 meters and a dense rainforest at the base, the winding drive till the top is refreshing. Once you reach the top, get an entrance ticket for about RM 10 from the D'Coconut Resort which is where the watch tower resides. The tower has viewing decks on all four directions and when we arrived there, hot cinnamon tea was waiting for us. But unfortunately, clouds had blocked out everything for us. Just when we were about to leave, clouds cleared up as though curtains were lifted to being the show. And begin it did. We were able to see hundreds of tiny little islands, vast turquoise sea, the mountains that surround them and like a cherry on the top, rainbow upped up the whole glamor.
So go ahead and take a well-needed break from beaches, island hopping and other activities and head towards this marvel in the Central Langkawi.
13. Langkawi to Koh Lipe – a Day Trip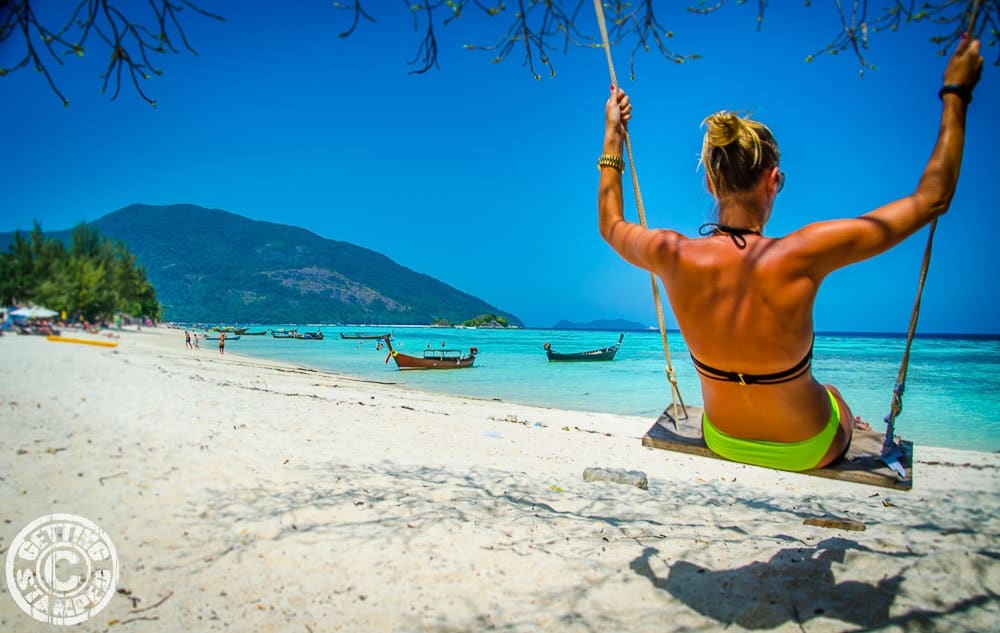 Thanks to Hannah from Getting Stamped
Langkawi is an amazing island but after you ticked off all the things to do in Langkawi and are ready for another adventure consider taking a day trip to the nearby island Koh Lipe Thailand. You'll need to bring your passport but since both countries are visa-free for most nationalities it's no big deal and super easy.
Langkawi to Koh Lipe is only an hour speedboat ride away and day trips can be organized. It's way different than Langkawi, there are gorgeous white sandy beaches and turquoise waters. The first time we visited the island was from Langkawi and ever since that visit it is now our favorite island in the world, we've been back three times since. Our favorite part of the island is Sunrise Beach and we highly suggest having lunch at Sunrise Beach Restaurant for some Penang Curry it's out of this world.
14. Hike to the Summit of Gunung Mat Cincang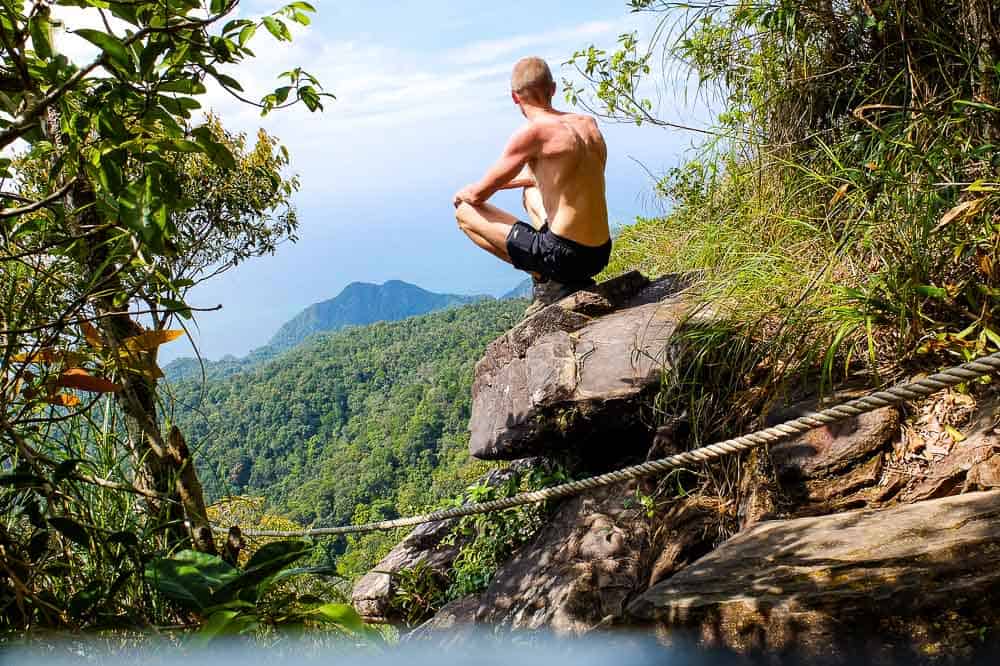 Thanks to Kaspars from We are from Latvia
Thinking of doing something adventurous in Langkawi? What about hiking to the summit of island's second highest mountain, Gunung Mat Cincang?
Chances are you haven't even heard of it. But it's there, almost right next to the famous Langkawi Cable Car. And it's a hike many can do. However note that it's not an easy hike. And if you aren't in a good shape it may take you 6+ hours to get to the top and back (2-3 hours if you are fit). So plan accordingly, and bring some snacks and enough water to keep you going. There aren't any shops along the trail. It's just a rainforest.
Many have been to the top of Gunung Raya, Langkawi's highest peak, because you can get there by car, scooter, bicycle or on foot. But only few hike to Gunung Mat Cincang. Because, well, there is only one way to get to the top. On foot. But that view, oh, it's totally worth the effort!
Trail starts (and finishes) at the top of Seven Wells waterfall. Since there is no public transportation on the island it's recommended to rent a scooter or get a taxi for getting there.
More things to do in Langkawi
Where to Stay in Langkawi
1. Casa Del Mar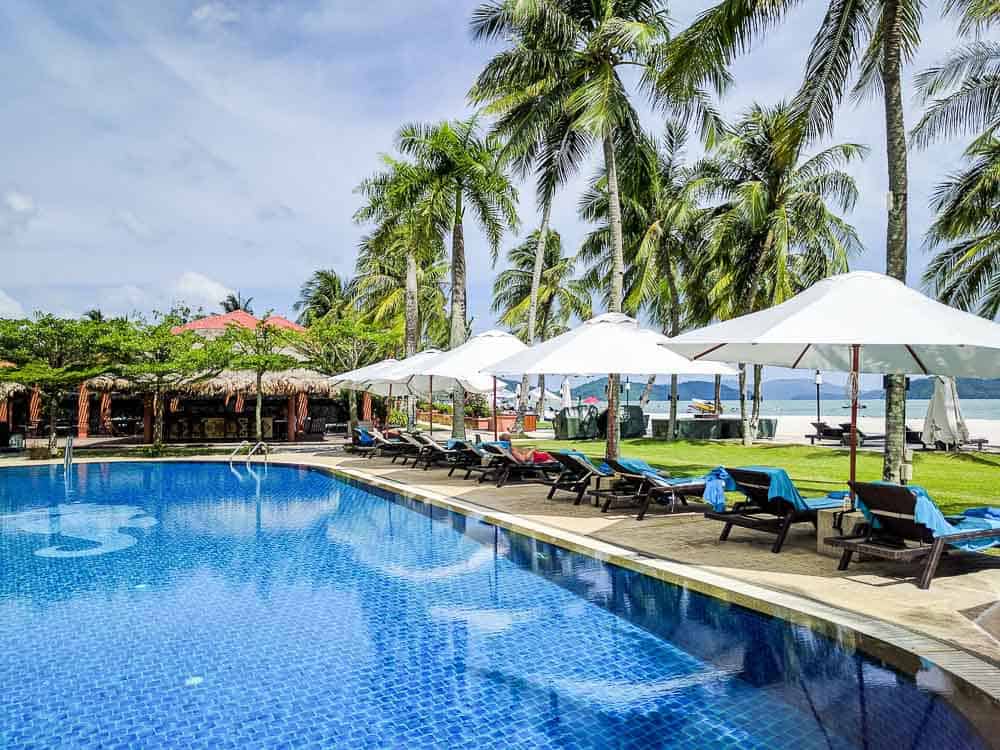 Thanks to Mar from Once in a Life Time Journey
Casa del mar is one of the nicest places I have ever stayed at, not because of the location, the rooms or the food, which are all great, but because it has some of the kindest and most welcoming staff, so much so that they make you feel at home, your home by the sea.
The hotel is themed like a Mexican hacienda and is located right on Langkawi's most popular beach so you don't even need to wear shoes all day or go too far to participate on any of the water activities available or join in the night fun on the island. Stay at one of the beach rooms and your room will lead directly onto the sand.
Click here to check current pricing or to make a booking for Casa Del Mar.
2. Berjaya Lankgawi Resort Hotel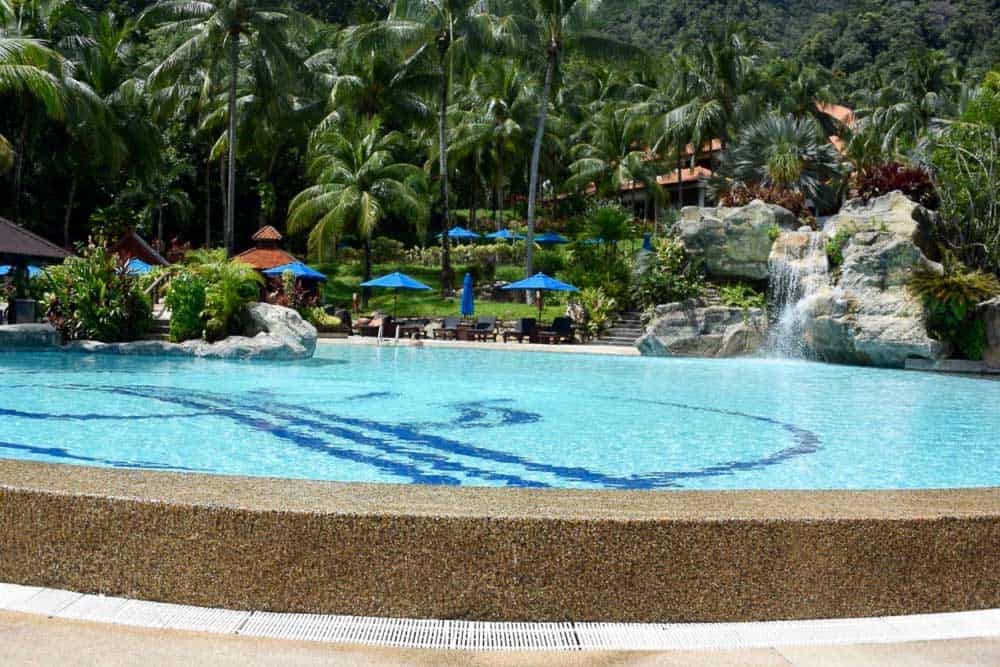 Thanks to Brenda from Dish our Town
Eagles fly over deep blue waters. Rubber plants line the roads. White sand line the shores, and steep green mountains completing the scene. The fruit, sweet; the food filled with soul. Included with this are comfortable rooms, balconies that overlook a forest that also doubles up as a playground for monkeys, excellent service, and a swimming pool with a bar that tempts.
This was the first and lasting impression we had upon checking into the Berjaya Resort in Langkawi, Malaysia. The property was vast. So large in fact that they have a service in which carts pick you up from your room to bring you to wherever you need to travel within the resort. Though it was so beautiful, that it behooves one to walk and enjoy enclosed nature.
Langkawi is a gift that needs to be appreciated, and a stay at the Berjaya Resort wraps it up in one little package made especially for you.
Click here to check current pricing or to make a booking for the Berjaya Resort.
3. Meritus Pelangi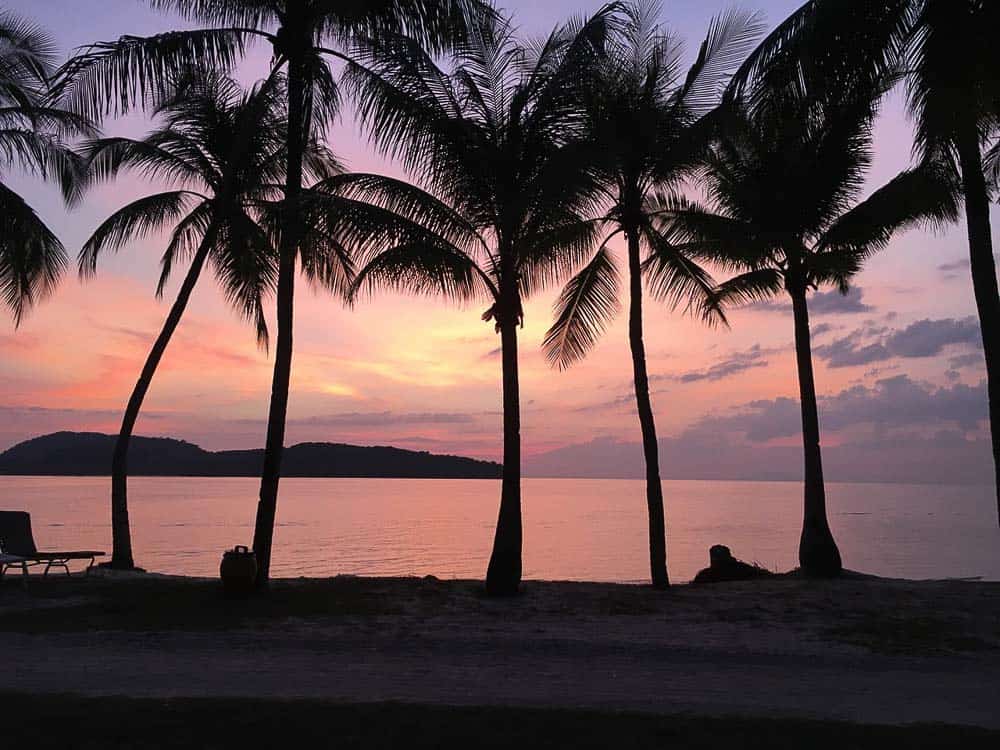 Thanks to Sally from Our 3 Kids v the World
During our stay on Langkawi we stayed at the Meritus Pelangi Resort, I can not speak more highly of this resort and we enjoyed every minute of our stay. We had a garden view family room that was large and very spacious and provided plenty of room for the 5 of us. Not that you spend much time in your room in a location like this.
They have two resort pools and both have waterslides and children's play areas that safe for kids to play. The main Horizon pool has a kids splash zone guaranteed to keep the kids happy. I of course loved the Casade pool as the kids slide was shallow with a rail into the main pool and had a swim up bar for those of us with kids that are old enough to be confident in the water.
This resort in is located 15 minutes from the airport on popular Cenang Beach. Its a short walk into Cenang Beach along the beach and there is also a great shopping strip there to get your shopping fix and great restaurants if you don't want to eat at the resort every night. The island isn't huge so you are able to get around easily and economically by taxi's.
Best of all is the sunsets from Penang Beach, the palm trees create such a tropical calming relaxing atmosphere and if you catch a sunset like we got you'll never want to leave. I sure didn't, I really hope to get back to this resort ones day, it was one of my favourites so far.
Click here to check current pricing or to make a booking for the Meritus Pelangi Resort.
4. Tanjung Rhu Resort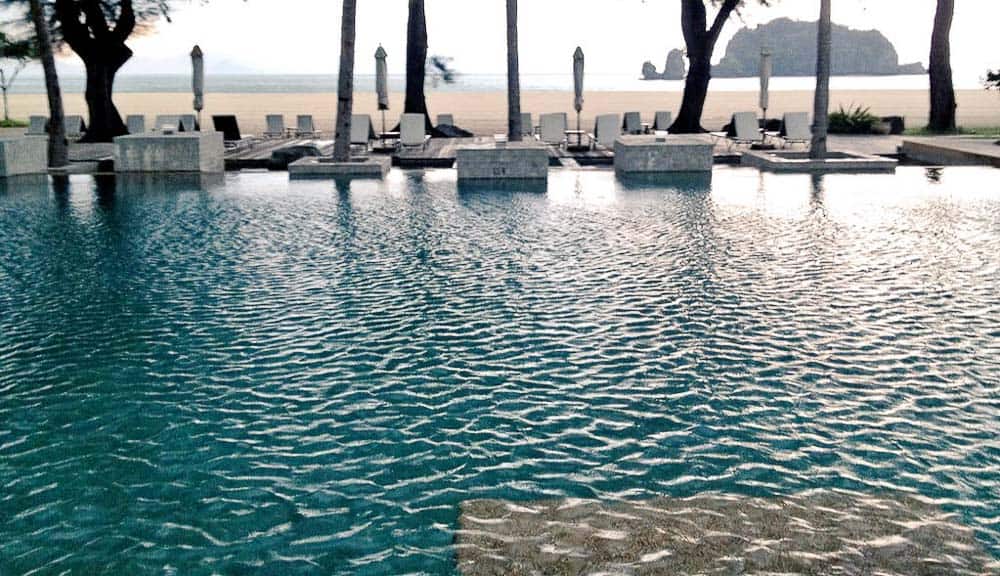 Thanks to Inma from A World to Travel
When we visited the islands of Langkawi, we were lucky of staying two nights at the amazing Tanjung Rhu, a 5-star and 1100 acre resort located in the northern part of the greater island, in which you can certainly consider Langkawi's best beach, the Tanjung Rhu Beach, bathed by the Andaman Sea.
With an unbeatable service, spa, spectacularly tasty cuisine, gorgeous pools and even some surprises along the way (we saw a large reptile swimming placidly in the central pond), we would return without hesitation to this excellent hotel on our next visit to the island.
The only downside could be that bathing on the beach is not always possible. However, the hotel pools are excellent and this should not be an issue. Enjoy Langkawi, one of the best islands of Malaysia!
Click here to check current pricing or to make a booking for the Tanjung Rhu Resort.
Click here for even more accommodation in Langkawi.
Or here if you need any more places to stay in Langkawi.
Please note that this post contains affiliate links, which means that should make any bookings using my links, I may be paid a small commission at no extra cost to you. This allows me to provide this information free of charge – thank you for supporting our website.
Want to save this for later?
Click on one of the images below and save it to Pinterest