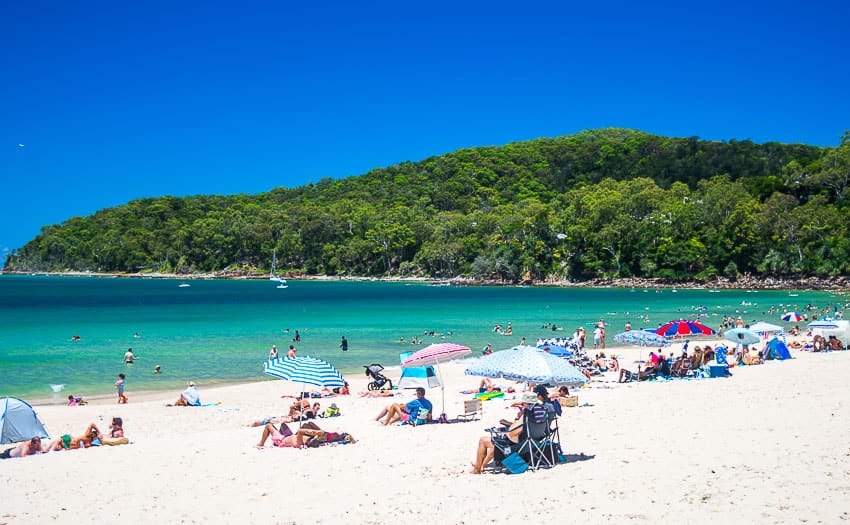 Noosa with kids is a perfect family holiday.  Located 90 minutes' drive north of Brisbane on Queensland's Sunshine Coast, Noosa is home to the best Sunshine Coast beaches and in fact some the of the best beaches in the world.  In 2017 Noosa was rated in the top three beaches in the South Pacific by the TripAdvisor Traveller's Choice Awards.  These postcard perfect beaches are ideal for families with their blue, transparent, calm waters and perfect white soft sand.  With so many gorgeous beaches to choose from, many of the best things to do in Noosa with kids revolve around the water.
In addition to its beaches, Noosa also offers fantastic walking paths through the Noosa National Park and is also an easy drive away from some of the top Sunshine Coast attractions.  Whether you are off for a Noosa long weekend or a week long family holiday, you will have plenty to do in Noosa.
This post covers everything you need for your Noosa holidays.  The post includes the best things to do in Noosa (including the best place for Noosa boat hire), the best Noosa beach, where to stay in Noosa (including the perfect family friendly Noosa and Noosaville accommodation), family friendly Noosa and Noosaville restaurants and how best to get around Noosa.
Click here for the top 20 Noosa holiday apartments for families.
This post may contain compensated links.  Please refer to my disclaimer here for more information.
Planning a trip to Queensland? Have any questions?
Join our Queensland Travel Planning Facebook group here now!
It's the perfect place to ask any questions and to be inspired!
Best Things to do in Noosa with Kids
1. Hire a Boat and explore the Noosa River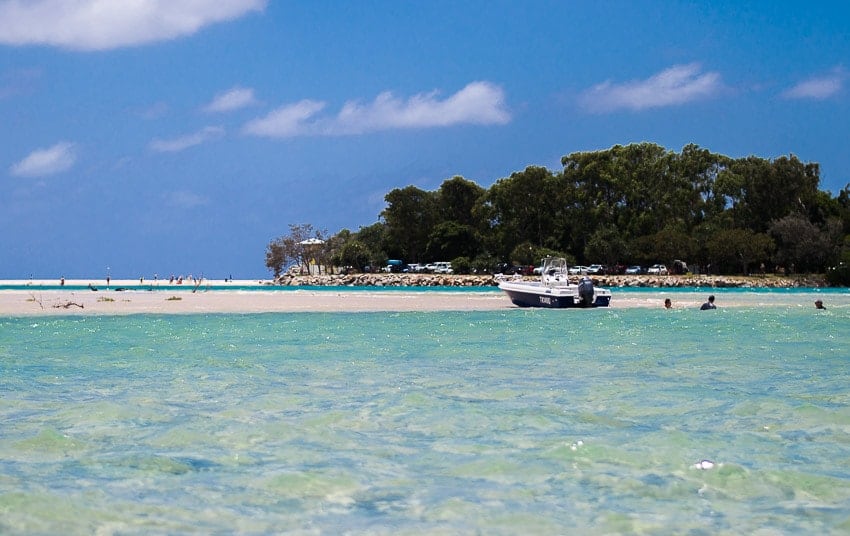 With so much to explore around the Noosa River, the best way to do it is by boat. This would have to be one of my all-time favourite Noosa activities. It's great fun taking the family cruising the Noosa River and down the various canals around Hastings Street. Anchor the boat wherever you find a great swimming spot, maybe even your own deserted beach.
Why not pack a BBQ lunch and cook up a feast on your boat. There are various sand banks in the mouth of the Noosa River, so find one that looks good and anchor up.
As you can see from the photo above, the mouth of the Noosa River is crystal clear. It is also fairly shallow in parts making it superb for the kids to go swimming. Make sure you bring the kids snorkelling gear too so they can check out the various fish.
Don't have a boat? Don't worry you can hire one, you don't even need a boat license– the guys at Jetty 17 will show you exactly how to operate the boat. The guys at Jetty 17 have 2 sorts of boats you can hire – the little polycraft boats or the BBQ pontoon boats. The polycraft boats are great for small families and are perfect little fishing boats. These boats fit up to 5 people and come with a dry compartment for you to put your food and drinks in. They will even provide fishing rods and tackle at no extra charge! They also sell bait and ice. Prices for the polycraft boats start at $60 per hour and $30 each hour after that. There are discounted rates for half or full day hire.
The BBQ pontoon boats are great for larger groups or for those wanting access to a BBQ on board. These boats seat 12, have heaps of comfy seating, an esky (bring your own ice) and even a speaker so you can listen to your favourite tunes. You can even take SUP boards out with you, like we did. Everything is provided to use the BBQ too including tongs, oil and a light. Prices for the Noosa BBQ boat start at $90 per hour, $130 for 2 hours and $45 each our after that. There are discounted rates for half or full day hire.  There are also some special discounted prices outside of school holidays, public holidays and weekends.
If you are after a more relaxing way to enjoy the Noosa River – hire one of the Fun Cat's pictured above. These Fun Cat's are basically giant sun loungers with a motor and you slowly putter around the river. Grab yourself a coffee (check out Old Salt Coffee just out the front of Jetty 17) or a bottle of wine for an hour or so for the ultimate relaxation on the river. The Fun Cat's are $50 for 1 hour, $80 for 2 hours or $110 for 3 hours.  Make sure you say hi for us to our friends Matt and Bartira at Jetty 17 Noosa boat hire.
These guys are located along Gympie Terrace in Noosaville and you can't miss them – they are in a bright orange building. Generally, there is no need to book in advance – Check out their website for more information.
Exploring the Noosa River by boat is one of the best things to do in Noosa and I highly recommend you give it a go on your Noosa holidays.
2. Go Swimming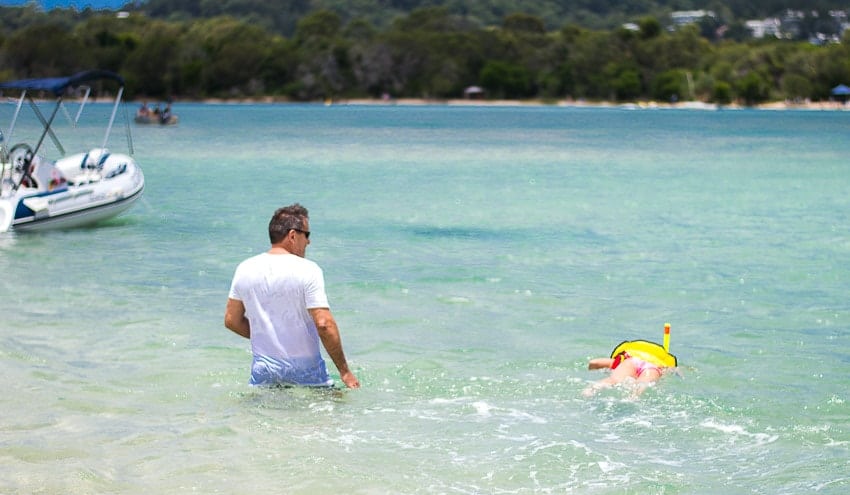 If you visit Noosa with kids, you will no doubt spend a lot of your time swimming. Luckily there is no shortage of gorgeous places to go swimming in Noosa. Here is a quick run down of some of the places to go in Noosa for a swim:
Noosa River: Don't make the same mistake I did when I first came to Noosa and automatically think the Noosa River is a brown and murky river – this river is gorgeous! There are numerous sandy spots to enter the calm waters along the banks of the River and there is plenty of sand for the littlies to build sand castles too. The closer you get to the mouth of the river the more clear the water becomes until it is crystal clear as you can see in the above image. A Perfect spot for snorkelling too.
Noosa Main Beach: The featured image for this article is of Noosa Main Beach. A gorgeous beach with gentle waves, right off the famous Hastings Street strip with the lush green trees of Noosa National Park in the background.
Noosa Spit Recreation Reserve: If you don't have a boat to access the mouth of the Noosa River, then your best bet is to reach the beaches from the shore of the Noosa Spit Recreation Reserve. Here you will also find Noosa Dog Beach which as the name suggests is a dog friendly beach – probably the most stunning dog beach in the world! There is also a surf beach within the reserve, just up from Noosa Main Beach.
Noosa National Park Beaches: The very best beaches in Noosa are found in the Noosa National Park. See below for more information about these stunning beaches.
3. Noosa Surf Lessons
Ever thought about learning to surf? Or perhaps one of the kids is keen? Then how about some Noosa surf lessons whilst you are on holidays. There are a few Noosa surf schools which teach safe surfing on Noosa Heads. Noosa Surf Lessons have qualified surfing coaches and provide everything you need for the lesson. Lessons take place in waist deep water with gentle waves and absolutely no prior experience is necessary.
Location: Noosa Beach
Opening Hours: Daily for 2 hours at 10am and 2pm (private lessons available on request)
Price: Starting at $72 for 2 hours
4. Kayak Noosa River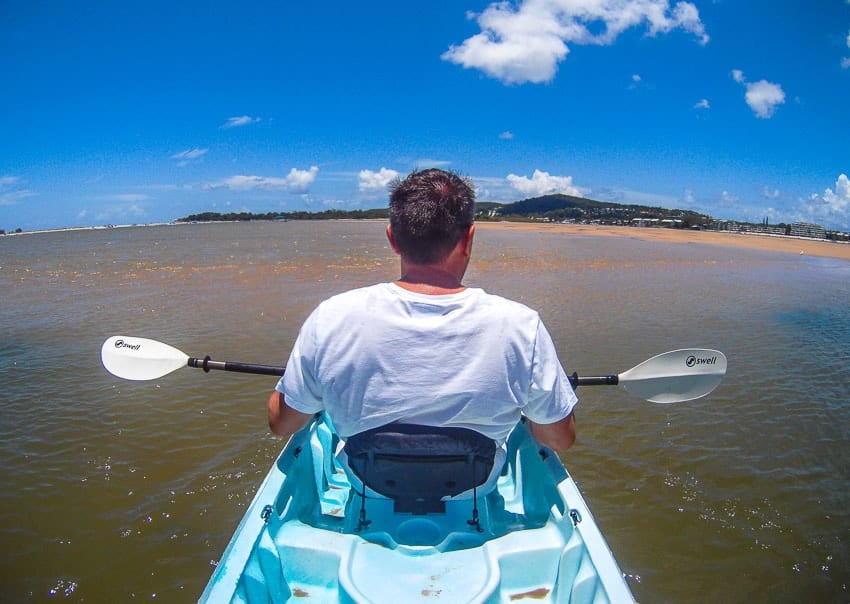 Kayak Noosa River with the family. It's a great way to explore the Noosa River a bit closer. Again, our friends at Jetty 17 hire out single or double kayaks along the Noosa River. We usually hire a double kayak, which Myla can easily squeeze into with us. Take the kayaks out to one of the several sand bar islands located around the Spit and enjoy a swim in the beautiful waters only accessible by boat or kayak. The water is calm and not difficult to navigate at all making this a fantastic family friendly activity.   For something a little different you could also take out a Noosa water bike.
Location: Jetty 17, 248 Gympie Terrace, Noosaville
Opening Hours: Daily 8am to 4pm
Price: Starting from $20 per hour – Check out their website for more information.
If you're interested in a guided tour with a 90% guarantee of getting up close and personal with dolphins, then check out this tour with Epic Ocean Adventures.  I have done this tour and had dolphins swim right under my kayak.  However I only recommend this tour families with older children as you are kayaking out into the ocean and the water can be rough.  A few people (including me) capsized which would be scary for some kids (and adults).
Location: Epic Ocean Adventures – Shop 1/6 Rainbow Beach Rd, Rainbow Beach, QLD 4580
Price: $139 for a 5 to 6 hour tour – Click here to book with Experience Oz
5. Catch a Movie at the Noosa Cinemas
People often ask for things to do in Noosa when it rains? Well, one option is to head to the Noosa Cinemas at Noosa Junction. These cinemas show all the latest blockbusters.  Click here for movie sessions times at the Noosa 5 Cinemas.
Location: 29 Sunshine Beach Road, Noosa Heads
Price: Varies
Opening Hours: Daily from 10 am
6. Try SUP Boarding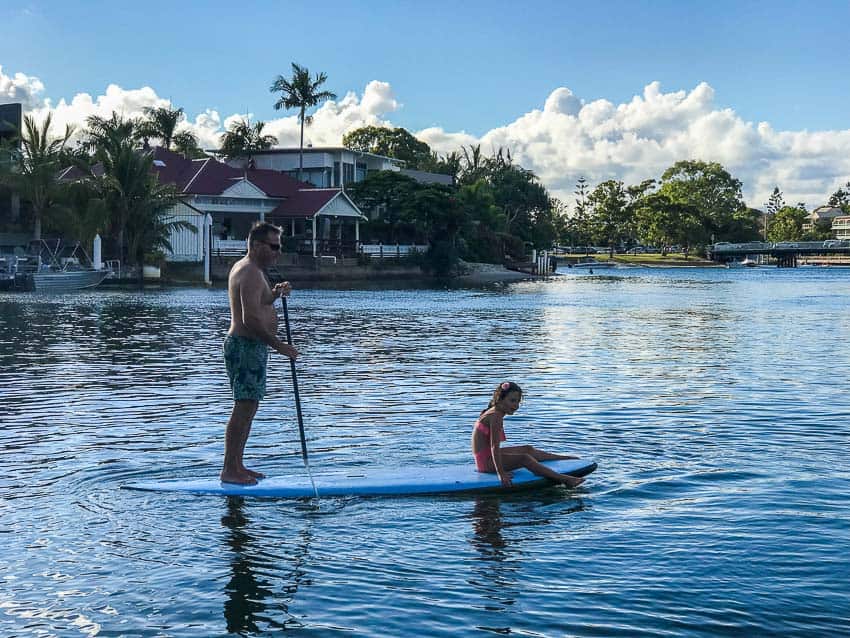 If you have ever wanted to try SUPboarding, I highly recommend you give it a try in Noosa. With so many places with calm water, it is the ideal location to give it a try and take some lessons. Even if you are a bit more of an expert there are great spots with gentle waves right up to surf to paddleboard. We grabbed a board from SUP Noosa. If you want to hire a board for the entire day or week, these guys will even bring it to you completely free of charge!
Location: 17/248 Gympie Terrace, Noosaville
Opening Hours: Daily 8 am to 5 pm
Price: Board rental from $20 per hour or lessons from $60 per hour.
7. Explore Noosa by Bike
With so many great pathways around Noosa, it is the perfect location to go bike riding. If you are from out of town and haven't bought your own bike, don't worry – you can hire a bike. The guys at Bike On have a fleet of various bikes (including kids bikes and baby seats) which you can hire from various places across Noosa. You can even have your bike delivered directly to your Noosa accommodation.
Location: Various locations across Noosa
Opening Hours: Monday to saturday 8.30am to 4.30pm
Price: Adult bikes from $30 per day, kids bikes from $20 per day – Click here for more information.
8. Visit a Noosa Playground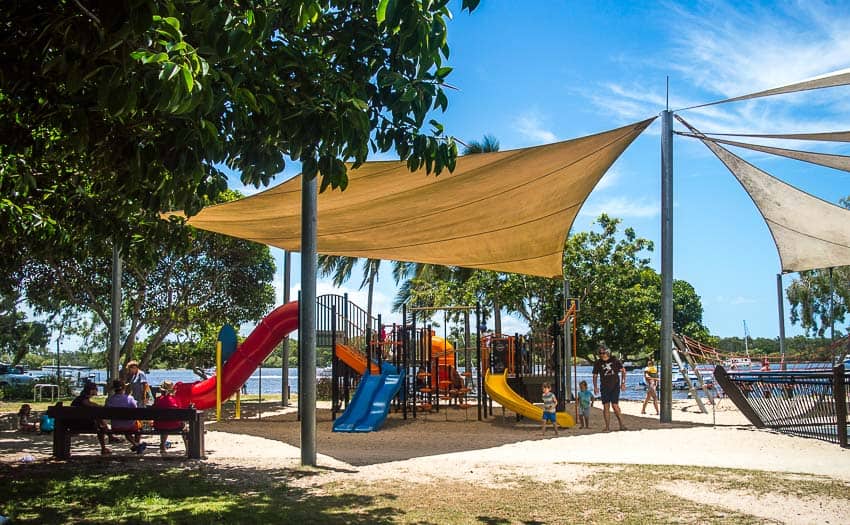 Noosa holidays for families would not be complete without at least one or two visits to one of the playgrounds Noosa has on offer. Unfortunately, there are not many great Noosa playgrounds for the kids – but the Noosa River Pirate Playground is an awesome one. Myla just loves it here and its great because you can combine it with a swim in the river. This playground is located at the far end of Gympie Terrace Noosaville, towards Tewantin.
Location: 139/141 Gympie Terrace, Noosaville
Opening Hours: 24 hours
Price: Free!!
9. Noosa Everglades Boat Cruise
Away from the popular Noosa beaches, take a relaxing Noosa boat cruise through the lakes and wetlands of the Noosa River to the start of the Noosa Everglades with Noosa Everglades Eco Safaris. This is perfect if you are looking for Noosa day trips for the whole family. The Noosa Everglades is part of the Cooloola National Park and home to 44% of Australia's bird species, over 700 native animals and 1365 species of plants.
Location: 204 Lake Flat Rd, Boreen Point
Opening Hours: Daily 9am to 5pm
Price: Tour prices start at $79 per person – Click here to make a booking with Experience Oz
10. See the Views from the Laguna Lookout Noosa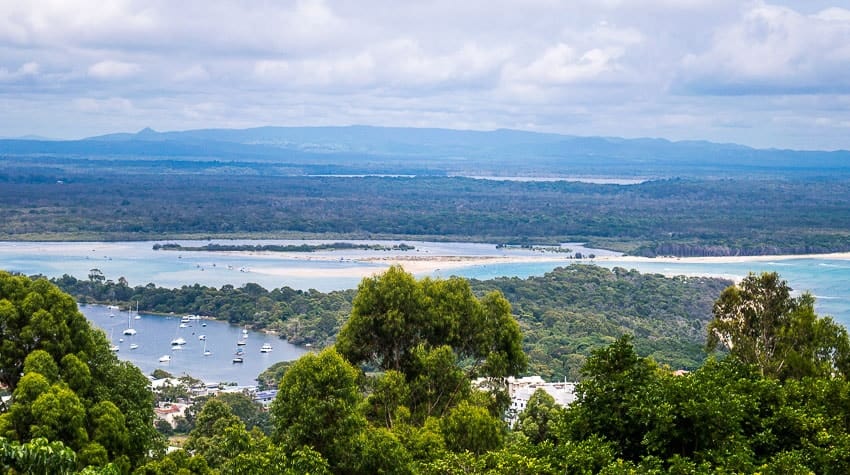 The Laguna Lookout Noosa is located at the very end of Viewland Drive in Noosa Heads, not too far from the main area of Hastings Street Noosa. You can drive right up to the Noosa hill lookout or if you are feeling extra keen you can walk. It's only around a 10 minute walk from the bottom, but it is very steep and remember during the warmer months it can get super hot, so bring lots of water if you are walking. There are spectacular views from the Noosa lookout. You can see across the Noosa River, the Noosa Northshore and right out to the Glasshouse Mountains.
Location: 5 Viewland Dr, Noosa Heads
Opening Hours: 24 hours
Price: Free!
11. Hire a Jet Ski 
As well as hiring out boats and kayaks, there are plenty of places along the Noosa River to hire a Jet Ski. If you want to hire a jet ski you basically have two options, ride it around the circuit in the Noosa River or join an ocean tour where you will get the opportunity to ride a jet ski in the ocean. Ocean tours start at $95 per person for 30 minutes and $80 for 30 minutes on the circuit.
12. Explore the Noosa National Park (Headland Section)
If you love breathtakingly beautiful beaches then a visit to the Noosa National Park is a must do in Noosa. In my view, the best beaches in Noosa (even the best Sunshine Coast beaches) are inside the Park, making it one of the best Noosa attractions and best things to do in Noosa Heads.
The official entry to the Noosa National Park is along Park Road, not too far from Hastings Street. Here, there is a small car park, picnic tables and toilets and there is even a café. However, be warned, this car park is extremely busy and during peak season it will be difficult to get a park.
You can also access the park from the Sunshine Beach Noosa end, there is no car park here, but you can generally easily park along the street. It does not cost anything to enter the park which is fabulous if you are looking for free things to do in Noosa.
Walking Tracks
In the Headland section of the park there are 5 walking tracks with the coastal track being the most popular. Here's a quick overview of the walks around Noosa National Park:
Palm Grove Circuit: 1 km circuit, allow 15-30 minutes – walk through the rainforest.
Tanglewood Track: 3.8 km one way starting at the National Park entry, meandering through the rainforest and woodlands, finishing at the end of the Coastal Track by Hell's Gates. Return via the Coastal Track or continue on past Alexandria Bay to Sunshine Beach. Allow 2-3 hours for a return trip.
Noosa Hill Track: 3.4 km circuit, allow 1-1.5 hours – walk through the woodlands.
Coastal Track: 2.7 km one way starting at the National Park entry, walking along the cliff face past the gorgeous Noosa National Park beaches, the best beaches in the Sunshine Coast; finishing at Hell's gate. The first part of this track is paved and so easily accessible for prams and wheelchairs. This walk is absolutely stunning and if you don't do any other walks in the park, I highly recommend you at least do some of this walk; its easily one of the best things to do around Noosa.
Alexandria Bay: 4.6 km return, starts at Sunshine Beach on Parkedge Road, finishing on the beach at Alexandria Bay Noosa. Allow 1 – 2 hours.
We recently did the Alexandria Bay track from Sunshine Beach followed by the Coastal track, finishing at Hasting Street for lunch. The entire walk took around 4 hours with a few swimming stops. We then took a bus from Hastings Street back to our car in Sunshine Beach. Keep your eyes out during the walk for some native Australian wildlife. I have heard of people seeing koalas and even echindas during their walk and we were lucky enough to see this giant monitor during our recent walk. You could easily have missed it as it really blends in with its environment. One of these walks is definitely one of the top things to do in Noosa.
Noosa National Park Beaches and other Points of Interest
Little Cove Noosa (technically outside the park)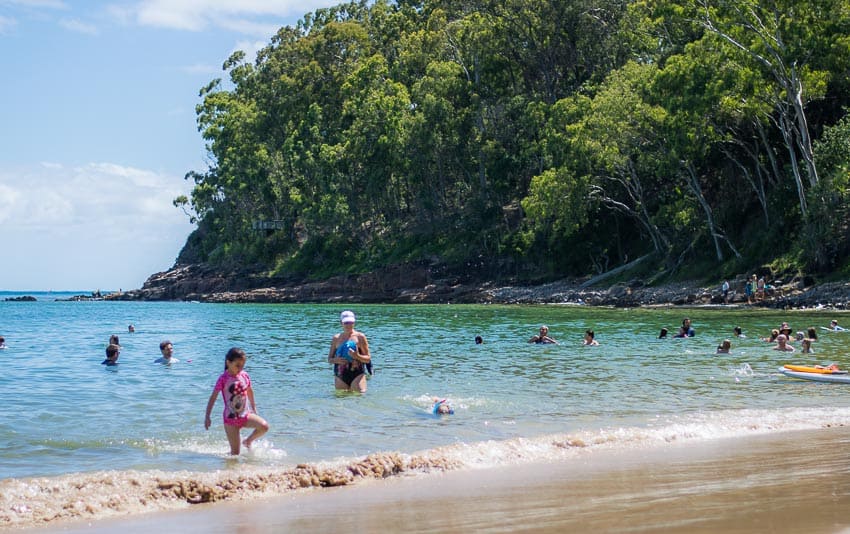 Little Cove Noosa is technically located outside the Noosa National Park, but it is only just outside the park, so I thought I might as well include it here. Little Cove is hands down my favourite Noosa beach. It is a stunning cove with calm crystal-clear water, lined with gorgeous lush trees, making it easily one of the most picturesque beaches in all of Noosa.
In my view, the best time to visit Little Cove is at high tide.  Unfortunately, at high tide there isn't any beach here just small rocks, but the cove fills with water and the ocean is completely flat making it like a big swimming pool. This makes it perfect for families as the children can easily swim around without concern for waves. If you are after some good Noosa snorkelling spots for the kids, this is a great spot as there are plenty of fish to check out. It's still a lovely beach at low tide, with a decent beach and gentle waves.
There is no car parking at Little Cove so you will either have to park around Hastings Street, the National Park or in the residential area of Little Cove and walk. I just love it here at Little Cove, it's definitely one of my top things to do in Noosa with kids.  Pack some snacks, your boogie boards, snorkels and sand toys (if its low tide) and you can easily spend most of the day here.
Tea Tree Bay Noosa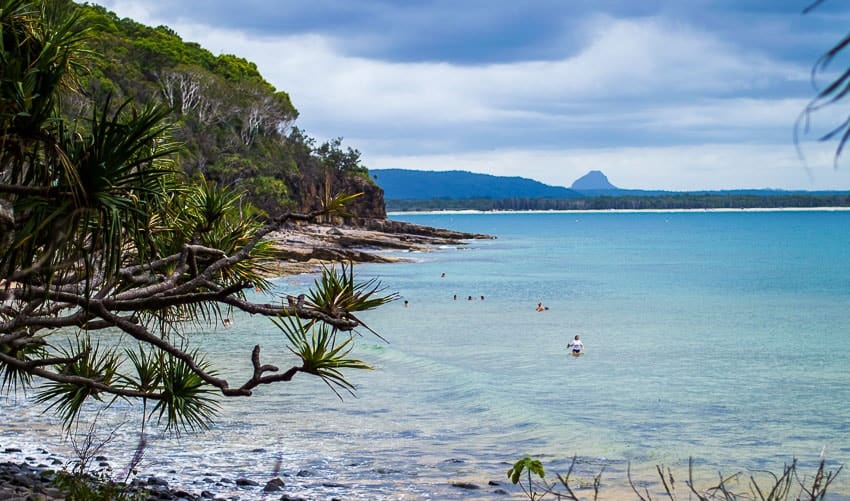 Tea Tree Bay Noosa is also a stunning beach located in the National Park and is a very close runner up in being the best beach in Noosa. Like most beaches in Noosa, the water here is crystal clear with soft gentle waves. Unlike Little Cove, there is a large beach here, perfect for sand play.
Tea Tree Bay is around a 10 -15-minute walk from the National Park car park. It is any easy walk as the path is completely paved so easy to bring a pram if necessary. The walk is not steep or anything, but little people may complain about the walk. I saw a few people dragging their kids along in one of those wagons, which is a good idea for the smaller kids. I also like that there is no real steep walk down to access the beach.
There are a few different access points, some where you have a short climb over small rocks, but keep walking around until you see the stairs straight to the beach. A day out at Tea Tree Bay is another one of the fantastic things to do in Noosa with kids.
Granite Bay Noosa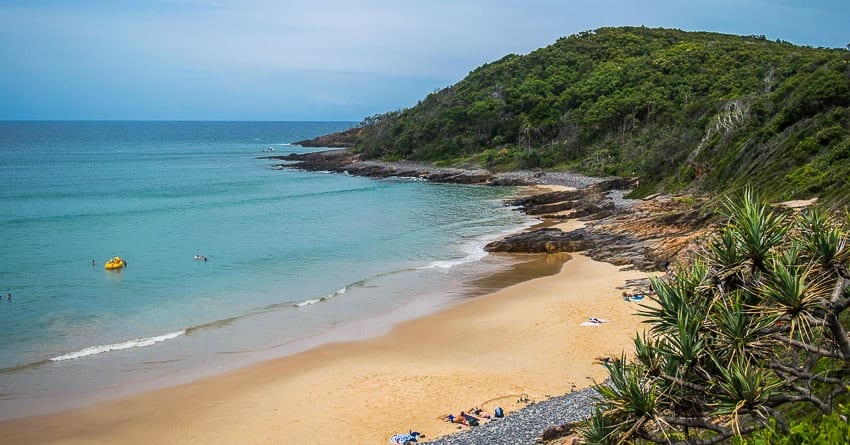 Another 15 minute walk from Tea Tree Bay is  Granite Bay Noosa – yep another stunning Noosa beach! It will take you around 30 minutes to reach this beach from the Noosa National Park car park.
I haven't personally swam at this beach but I have walked past it and it appears similar to Tea Tree Bay. I have swum at nearby Winch Cove though – see below.
Winch Cove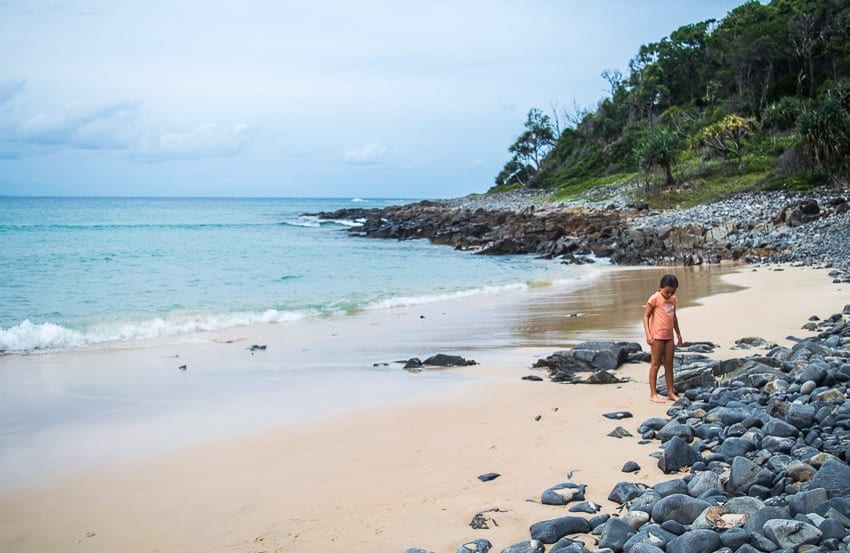 If you want the chance of having a beach all to yourself then take a dip in Winch Cove. The beach is not much bigger than what you can see in the photo above, as to the right is large rock formations with Granite Bay on the other side.
Winch Cove is a little tricky to access with a fairly steep climb down and over rocks and I wouldn't recommend it for very small children. The beach itself is absolutely stunning.
The waves are a little stronger here then the other beaches I mentioned but they are still perfect for children. This is also a great spot for snorkelling as we saw a variety of fish in the crystal clear water.
Fairy Pools
The Fairy Pools are not officially marked on the track, not sure if this is because it is viewed as too dangerous – it certainly looks that way to me, however the pools are very popular for snorkeling during low tide.
As it is not an official stop in the park, there is no official track down, you will just have to navigate your way down over the rocks. It is around a 35 minute walk from the Noosa National car park, just a little past Winch Cove.
Hells Gate
Located about a 40 minute walk from the Noosa National Park car park is Hell's Gate. This is also the end of the coastal track and usualy where people stop and turn around.  You can of course keep going to Alexandria Bay and all the way to Sunshine Beach. From Hell's Gate there are fantastic views out to Alexandria Bay (see below) and a good place to spot some marine life. With any luck you will see whales (during migrating season), dolphins and turtles.
Alexandria Bay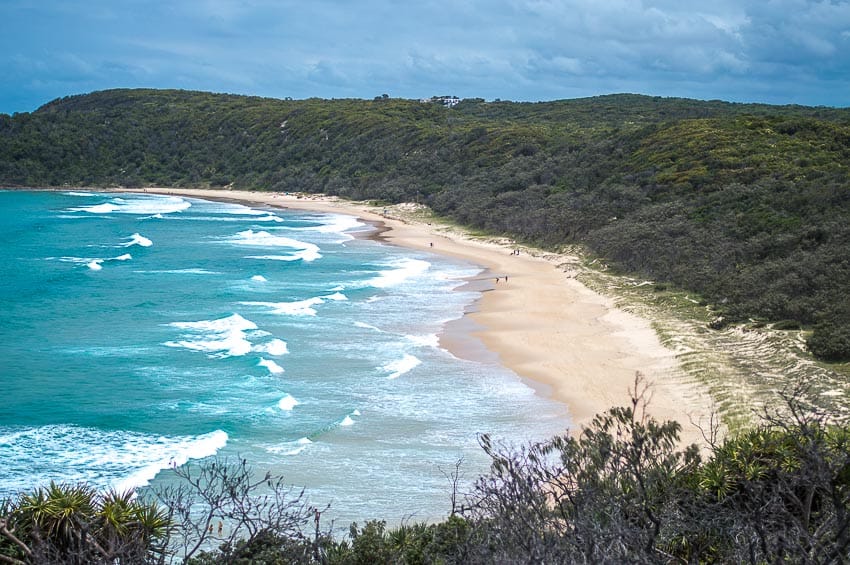 Alexandria Bay is a stunning Noosa surf beach and apparently an unofficial nudist beach (although in my time of visiting Noosa I have only ever seen one person in the nudy!) If you are just interested in visiting Alexandria Bay, it is probably best to access it from Sunshine Beach – its only a 15-20 minute walk from here.
13. Go Shopping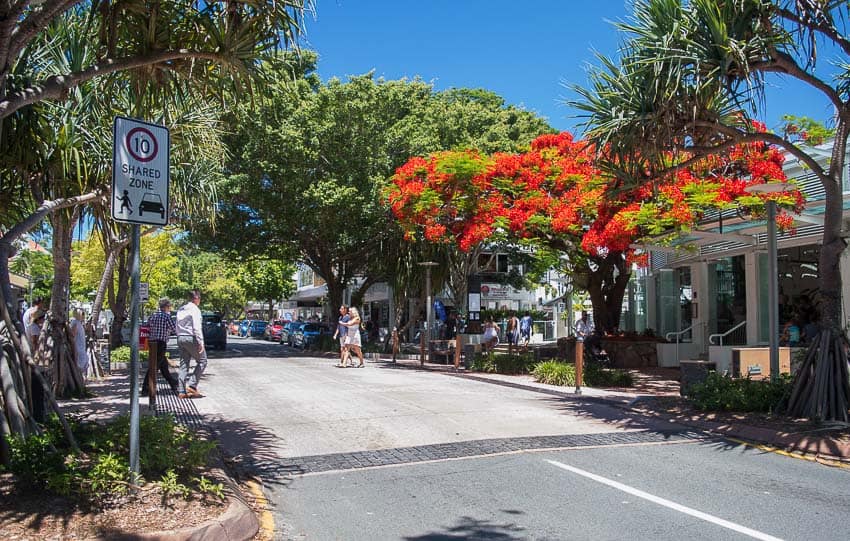 For Noosa shopping, head to Hastings Street Noosa. Hastings Street is right behind Noosa Main Beach and is a high end fashion strip, home to international fashion designers as well as local labels. Shoppers will love shopping here or maybe just window shopping if the wallet doesn't stretch that far. Along here you will also find some of the best places to eat in Noosa including ice cream parlours, a range of great family friendly cafes and top notch Noosa restaurants too.
My other pick for shopping is along the streets of Noosa Junction.  They have some funky little dress shops and great cafes too.
14. Visit the Noosa Sunday Markets
If you enjoy fresh local produce, check out the Noosa Farmers Markets. Here you will find a variety of products including fresh organic produce, freshly squeezed juices, skin care, nuts, freshly caught seafood, cheeses, freshly baked breads and much more. There is also plenty of food to eat, live music and activities for the kids.
Location: Noosa Australian Football Club, 155 Weyba Rd, Noosaville
Opening Hours: Sunday 7 am to 12 pm
There are also Sunday markets located at the Noosa Marina. These markets are on between 8 am and 2 pm and are set on a lovely deck overlooking the Noosa River. Stalls include locally made arts and crafts as well as fresh produce. There is also live music and entertainment.
15.  Visit the World Famous Australia Zoo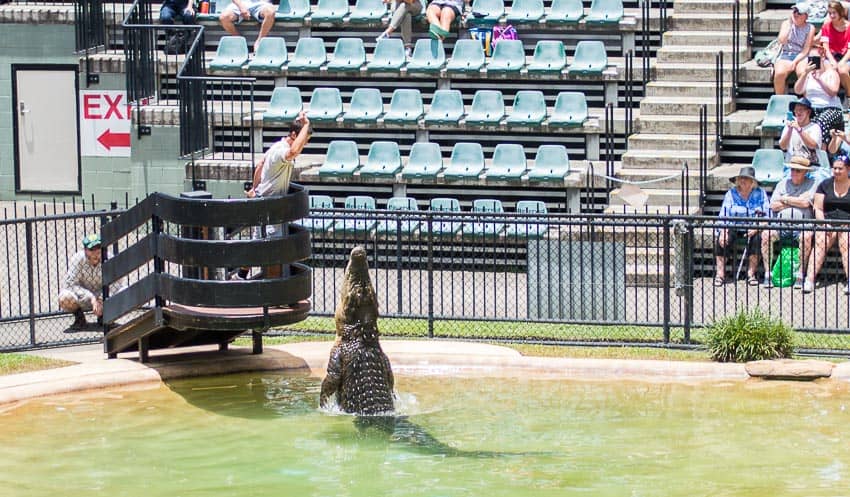 If you are looking for great day trips from Noosa, I highly recommend a visit to the world famous Australia Zoo. Australia Zoo is one of Australia's most well-known zoos thanks to the late Steve Irwin, who is also known as the Crocodile Hunter. The zoo is now run by his wife and children Bindi and Bob.
Some of the animals on display include Australian Lizards, Freshwater and Saltwater Crocodiles, Koalas, Birds of Prey, Kangaroos, Red Pandas and tigers. There are a variety of animal presentations on during the day including tortoises, otters, koalas, tigers, birds of prey and crocodiles. The main show during the day is the Australia Zoo Wildlife Warriors. This show is held only a once a day in the Crocosuem and is not to be missed. You will see and learn about giant snakes, birds and saltwater crocodiles. I have seen this show multiple times and I still love it every single time! Check the presentation times on arrival.
For an additional charge, there are a range of Australia Zoo animal encounters you can experience. These experiences include getting up close with either meerkats, lemurs, red pandas, rhinos, komodo dragons, giraffe, cheetahs, dingoes, kolas, tortoise, wombats, echidnas, possums or farm animals; have your photo with a cheetah or an eagle; tour the wildlife hospital; walk with tigers or wombats and ride a camel.
Myla just loves visiting Australia Zoo and seeing the various animals. She particularly loves watching the shows to learn more about the animals and funnily enough one of her favourite things to do is pat a snake!
Location: 1638 Steve Irwin Way, Beerwah
Opening Hours: Daily 9am to 5pm (Except Christmas Day)
Price: Adults $59, children $35 and under 3s go free – Click here to purchase tickets online.
If you also plan on visiting Sea Life during your trip to Noosa – purchase your tickets here to save up to $10 per person
16. Noosa Jetboating
If your a thrill seeker wanting to explore the Noosa coastal scenery then this one hour Noosa jet boat ride is a must. You will love it as you fly airborne through the ocean and over the waves, and with any luck you might even spot some dolphins. The minimum age for this experience is 10 years old.
Location: Noosa Oceanrider – Noosa Marina, 2 Parkyn Court, Tewantin, QLD 4565
Opening Hours: Daily 6am to 10pm
Price: $75 per person – Click here to purchase tickets with Experience Oz
17. Aussie World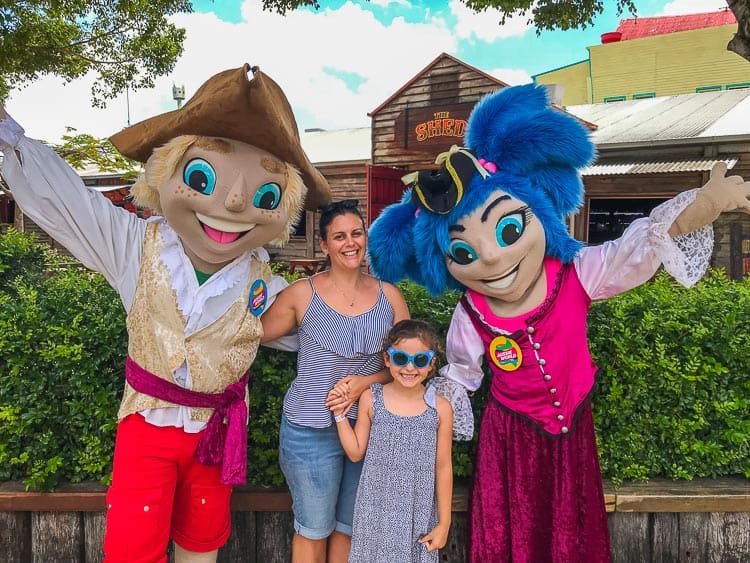 Whilst much smaller than the Gold Coast theme parks, Aussie World – Sunshine Coast certainly makes up for this in the fun to be had, no queue lines and ticket prices are much cheaper! Definitely add this to your list for things to do near Noosa with the kids.
Located 50 minutes from Noosa on the Bruce Highway at Palmview, families are guaranteed to have a fantastic day at Aussie World. As they say "fun is our thing", and they are not lying! There are over 18 Aussie World rides and attractions spread out over 15 acres. All your family favourite rides are here including chair plane, Ferris wheel, dodgems, giant slides, swimming ship, carousel and tea cups. There are also a few thrill rides for the older rides and gentle rides for the tiny tots.
As well as rides there is roving entertainers, Professor Bogglesworth's Illusionarium, horror house ( must be over 12 yo), water play area (bring swimmers and towels), mini golf, sideshow alley, crazy mirrors and arcade games. The side show alley games are $5 a go or on entry buy a pass for 3 games for $12. I am not sure if every game wins a prize, but every game Myla had a go at she got a small prize as did other children I saw playing.
Myla absolutely loved Aussie World, and I loved it being that it was so much smaller than the Gold Coast parks. It was easy for us to walk around the park multiple times without being exhausted and having no queue lines Myla could go on rides multiple times. Some rides she went on 3-5 times each. There are heaps of benches and tables under shady trees for parents to relax whilst the kids go on all the rides.
On a hot day, be sure to bring the kids swimmers and towels as there is a small water play area. It's nothing too flash but the kids in there were having a blast – Myla easily spent close to an hour in there cooling off.
There is a large cafe there and like most theme parks the food is a little overpriced, however there are ways to reduce your food bill. The portion sizes are fairly large so small children could easily share a meal.
Location: 1 Downunder Drive, Palmview QLD 4553
Opening Hours: Daily 10am to 3pm (except Christmas Day and Anzac Day)
Price: $40 per person, under 3s are free –Book online with Klook to save over $5 per person
18. The Ginger Factory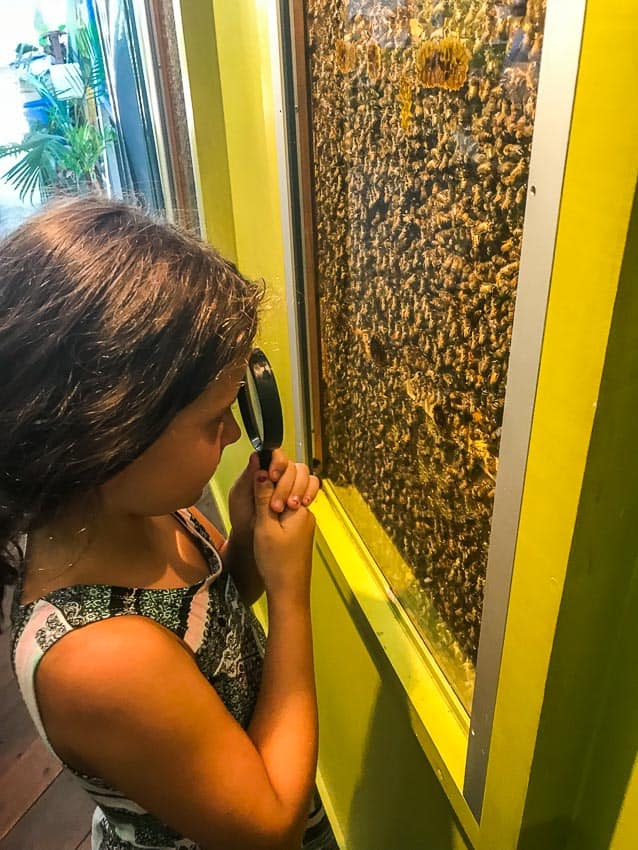 The Ginger Factory is a great way to spend a few hours with the kids. There are a variety of attractions here:
Ginger Train: take a tour through 9 hectares of lush tropical gardens on the 116 year old historic sugar cane train. Ticket prices are $8 per adult or $7 per child.
Ginger factory tour: take a guided tour through the Buderim Ginger Factory – see how ginger is grown, harvest and made into a range of products as well has a taste some products. When you first enter the Ginger Factory they guys at the front counter will book you into the next available tour. At the end of the tour you are given a lovely big tasting plate of ginger flavoured products – I was surprised at how delicious these ginger flavoured products were! Ticket prices are $18 per adult or $18 per child;
Overboard Boat: follow the gingerbread man on an adventure. The ride features over 200 handmade moving puppets.  This is a great ride for the younger children – Myla just loved it and insisted we go on it twice.  Ticket prices are $12.50 per adult or $11.50 per child;
Live Bee Show: learn about the workings of a beehive and taste a variety of honey. I think this was our favourite attraction at the Ginger Factory. Learning about the bees was really interesting and of course tasting all the various honey was good too. When you first enter the Ginger Factory they guys at the front counter will book you into the next available tour. Ticket prices are $15 per adult or $11 per child; and
Playground: there is a basic, small playground here which is only really suitable for small children.  It is free to use the playground.
Location: 50 Pioneer Road, Yandina
Opening Hours: Daily 9am to 5pm
Price: A pass for all of the attractions saves you a heap with adults just $44 and kids $37 – Click here to book a family pass and save even more
19. Eumundi Markets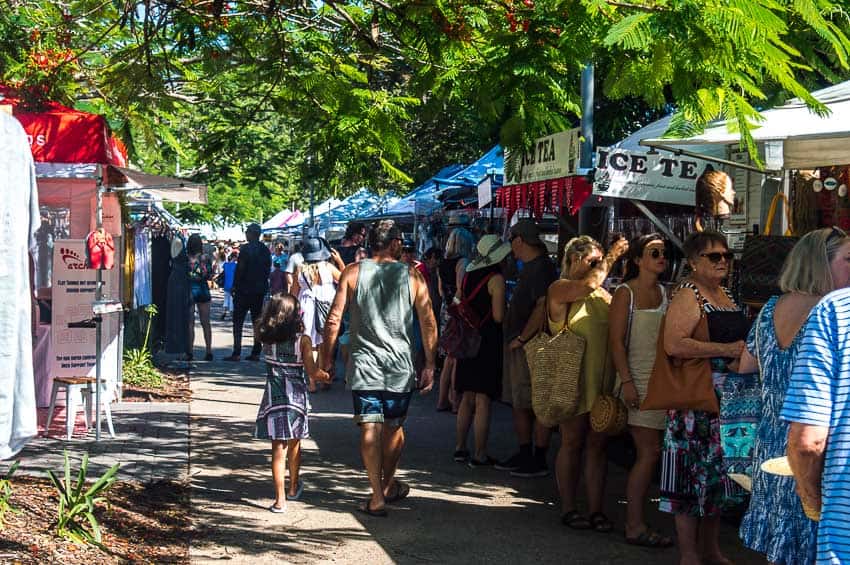 With over 600 stalls, the Eumundi markets Sunshine Coast is said to be Australia's biggest art and craft market, selling a range of handmade crafts and delicious local produce. You will find everything here including jewellery, clothes, toys, coffee, cakes, fruit and vegetables and stacks more. I absolutely love these markets and at my recent visit I bought up big – buying gorgeous jewelry and a new purse. Perfect for your Christmas shopping!
The food here is absolutely amazing as well – so ensure you go with a good appetite – you will want to try it all. Before you head back to Noosa stop at the playground at nearby Dick Caplick Park, just beside the markets.
Location: 80 Memorial Dr, Eumundi – if you don't have your own transport, click here to book a bus transfer
Opening Hours: Wednesdays – 8am to 1.30pm and Saturday – 7am to 2 pm
Price: Free!
20. Sea Life
For families who want to see marine life up close, then a visit to Sea Life, Mooloolaba is a must (previously known as Underwater World Mooloolaba). The award winning Sunshine Coast aquarium is located at Mooloolaba which is only 20 minutes from Caloundra.
Sea Life, Sunshine Coast is fantastic for kids with loads of hands on experiences, displays and shows across 11 themed zones. The main attraction at Sea Life is the Ocean Tunnel. The tunnel allows you to see marine life swim by you and above you as you wander through. The tunnel is full of sharks, sting rays, turtles and fish. The kids will love the tidal touch pool, which as the name suggests allows the kids to touch starfish, sea urchins and sea cucumbers.
Other interactive displays include various touch screen devices where the kids can learn more about the various marine life on display, looking through telescopes and climbing through caves and popping your head up in the centre of the tanks. There are a variety of animal presentations on during the day including seals, sting rays, ocean tunnel tour and jellyfish. Check the presentation times on arrival.
For an additional charge, there are a range of animal encounters you can experience. These experiences include either snorkel or dive with sharks, swim with the seals, camp over night at Sea Life, birthday parties and behind the scene tours. There is also a 3 level playground that is suitable for the smaller kids.
Location: Parkyn Parade, Mooloolaba QLD 4557
Opening Hours: Daily 9am to 5pm
Price: $44 per adult and $29 per child.  Click here for discounted tickets through Experience Oz.
If you are heading to Australia Zoo also you can save by purchasing a combined ticket – click here to book online.  
21. Big Pineapple
At the Big Pineapple you can learn about the process of pineapple farming from start all the way to the factory and enjoy the train ride. The Pineapple Heritage Train explores the rainforest, gardens and bamboo forest whilst passing the animals at the Wildlife HQ (see below)
Location: Nambour Connection Road, Woombye
Opening Hours: Daily from 9am to 4pm
Price: Entry to the Big Pineapple is free; however the train is $5 per person
22. Wildlife HQ – Big Pineapple Zoo
If you are visiting the Big Pineapple, stop in at Wildlife HQ, located next door. Wildlife HQ (often referred to as the Big Pineapple Zoo) is home to various animals from around the world including koalas, dingoes, snakes, crocodiles, sun bears, red pandas and meerkats.
Location: Nambour Connection Road, Woombye
Opening Hours: Daily from 9am to 4pm
Price: $29 per adult and $15 for children, with family passes available for $79
23. 4WD Adventure to Fraser Island
Whilst best visited over a few days, it is possible to visit Fraser Island as a full day trip from Noosa. Explore the UNESCO World Heritage site, drive the scenic roads of the Glass House Mountains and cross to Fraser Island by ferry for a full day of exploration.
Click here for tour prices and / or to make a booking.  
Click here for more warm holiday escapes in Australia.
Where to Stay in Noosa with Kids
Click here for our full guide on the best family accommodation Noosa has.
Best Places to Eat in Noosa with Kids
No matter what your dining preferences are – cheap eats, cafes, fine dining, pubs or supermarkets to buy food and cater for yourself, there are plenty of options for places to eat in both Noosa and Noosaville.  
Supermarkets
If you have a self-contained apartment or even if you want to stock up on some cheap snacks and drinks for your hotel room, there are a couple of supermarkets at Noosa Junction and Noosaville. In Noosa Junction there is Coles on Lanyana Way and an IGA on Sunshine Beach Road. In Noosaville you will find a Woolworths on Gibson Road and an Aldi on Weyba Road.
Family Friendly Noosa and Noosaville Restaurants
There is no shortage of casual family friendly Noosa and Noosaville restaurants. Some of our favourite places for casual dining are below:
 Zachary's Gourmet Pizza Bar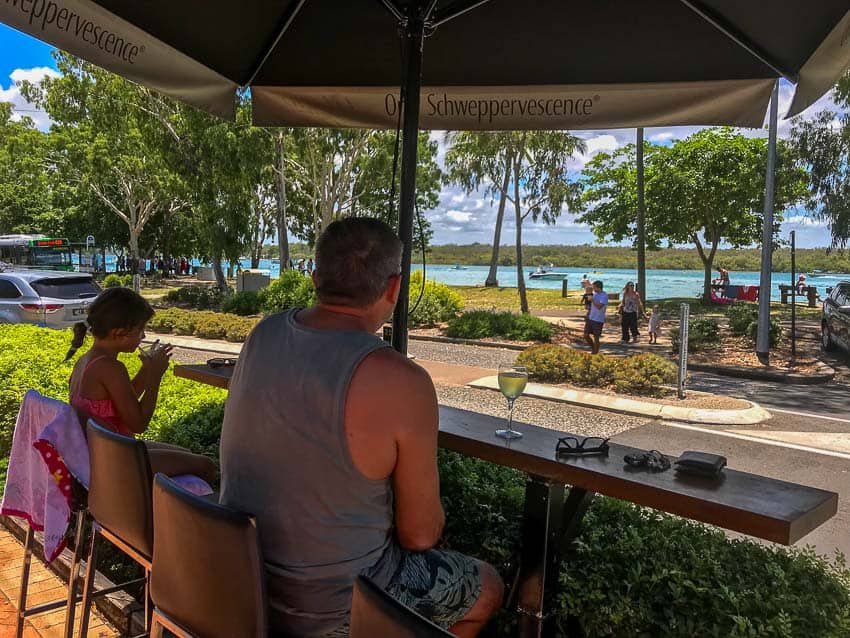 Located both along Hastings Street Noosa and along Gympie Terrace in Noosaville, Zachary's is one of our favourite places to eat in Noosa. These guys claim to make the best pizza on the Sunshine Coast and I must say I agree!  Zachary's have a huge range of traditional gourmet pizzas with over 30 pizzas to choose from.
I have tried a few in my many visits to Zachary's, but I think my favourite so far would have to be the Sicilian, with gorgonzola cheese, olives, chorizo sausage and sun-dried tomatoes. Pizzas start at $16 for a small and $18 for a large. Other menu items include pastas, salads, breads, dip and a simple kids menu. There are only 3 items on the kids menu (fish and chips, pizza and spaghetti bolognaise) but all the kids favourites are there and for $12 it includes a drink too. They provide gluten free and vegetarian options as well.
Every time we have been to Zachary's we have found the staff super friendly and the service is super-efficient as well. My favourite Zachary's is at Noosaville, they have a lovely spot here with seating out on the sidewalk with great views across the Noosa River.
Zachary's is open daily from 12 pm and I highly recommend a visit during your Noosa holidays.  Click here to see their full menu.
Mr Jones & Me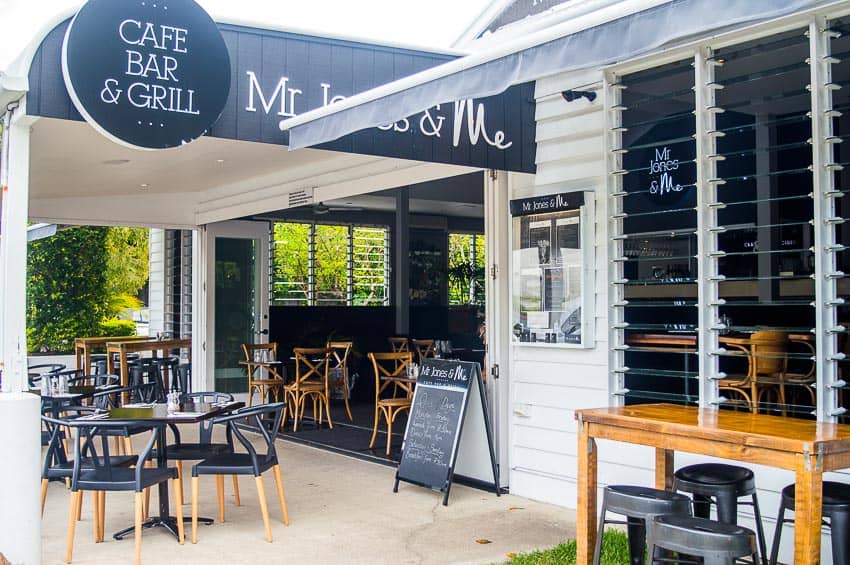 Whilst there are several great Noosaville restaurants along Gympie Terrace, don't forget to look down the side streets for great options. This is how we stumbled across Mr Jones & Me. Mr Jones & Me is located in a quiet part of Weyba Road not far from where it intersects with Gympie Terrace. You can choose to sit inside the stylish café or for more casual seating you can sit outside on the sidewalk.
The food at Mr Jones & Me is absolutely delicious! And if you love burgers you will love their gigantic burgers – which are big enough to satisfy the largest of appetites. Other menu items include salads, steak and much more. Meal prices range from $15 to $45.
The kids will love the menu too with a variety of options on the kids menu. All kids meals are $15 and include a drink and ice cream.
Talking about ice cream, make sure you save some room for dessert. Now I am not a huge dessert person, but last time we visited Andy ordered dessert and let's just say he was forced to share it with both Myla and I. We shared the deconstructed lemon cheesecake and it was so good!!!! Desserts start at $12.50.
Mr Jones & Me is open daily between 11 am and 10 pm Monday to Friday and 7.30 and 11 pm on weekends. Click here to check out their menu.
Getting to Noosa
Noosa is located in Queensland on the east coast of Australia; 2 hours north of Brisbane. It is part of the Queensland Sunshine Coast. Flights to Noosa arrive at either the Brisbane airport or the Sunshine Coast airport.
From the Brisbane Airport
You can fly direct to Brisbane from various international destinations, or alternatively you can fly direct from most Australian capital cities. To reach Noosa from the airport you can either hire a car and drive or take a shuttle bus. Brisbane to Noosa in a shuttle bus is around $52 per adult (one way).  Click here book at a discount price for families. You can also get the shuttle from Noosa to Brisbane. You can take public transport also but it is rather expensive and very time consuming. It will cost around $40 to reach Noosa and take around 4 hours via 2 trains and a bus.
From the Sunshine Coast Airport
The closest airport to Noosa is the Sunshine Coast Airport. As far as I am aware you can only fly into the Sunshine Coast airport from the Australian cities of Melbourne, Sydney and Adelaide as well as from Auckland in New Zealand. If you are coming from another city you will need to fly into Brisbane (see above). If you do manage to fly into the Sunshine Coast airport, the good news its only 35 minutes' drive from Noosa. To reach Noosa from the airport you can either hire a car and drive, take public transport or take a shuttle bus. Prices for a shuttle bus starts at $35 per adult (one way). Click here to book discounted prices for families.  A bus will take around 1 hour and costs around $6.  
Getting Around Noosa
To explore all the wonderful Noosa attractions as well as the other tourist attractions on the Sunshine Coast I highly recommend you hire a car. This is the easiest way to get around when you visit Noosa. Having said that, with Noosa tourism booming, parking can be rather difficult, particularly during peak season. Even when we have our car with us we do often make use of public transport. Here is a quick overview of the various modes of getting around Noosa:
Bus: The buses are pretty good in Noosa, with bus stops at all the main attractions and beaches. Find out more about the buses here.
Noosa Ferry: The Noosa Ferry is a great way of getting anywhere along the Noosa River. There are 7 stops between the Noosa Marina at Tewantin and the Sofitel on Hastings Street. The ferry operates every 30 minutes between the hours of 9.15 am to 5.50 pm Monday to Saturday.  There is a different timetable for Sundays. Find out more about the Noosa Ferry
Walk: Any place you want to go will be between 5 to 40 minutes' walk away – so you can easily walk to most places within Noosa.  Just a word of warning that in the Summer months it can get super hot and pretty unbearable to walk long distances.
____________________________________________________________________
I hope you enjoyed this guide on all the best things to do in Noosa with kids.  Click here for all the fun things to do on the Sunshine Coast with kids or click here for all our different Sunshine Coast guides.  Also don't forget to talk to other families about their tips on visiting the Sunshine Coast join our Queensland Travel Facebook Group. 
Want to save this post for later? 
Click on the image below and save to Pinterest.