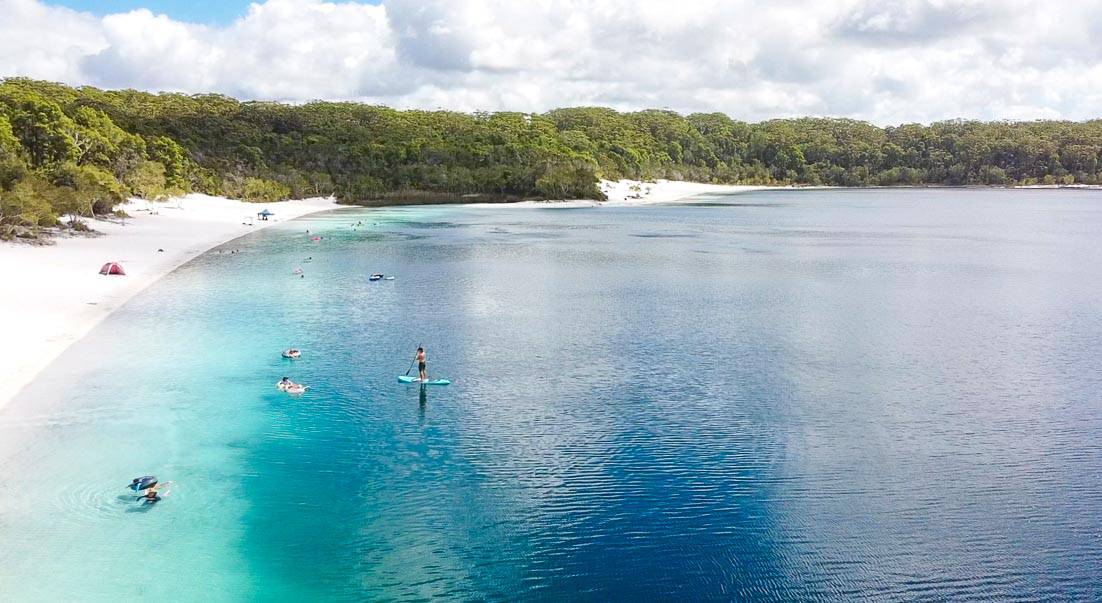 If you're a family that loves the great outdoors – then you're in luck as there is plenty of awesome things to do on Fraser Island with kids! The family will love exploring subtropical rainforests, cooling off in crystal clear freshwater lakes and creeks, relaxing on stunning beaches, climbing towering sand dunes, spotting wildlife and so much more.
Whether you plan on joining a 4WD tour, self-driving or flop and drop at one of the resorts and explore the island on a day tour – there is something for everyone to enjoy on Fraser Island. Whether you have a day or two or a week or more you'll struggle to see all the Fraser Island attractions in just one trip, so you'll need a plan and decide what you'll see in advance.
To help you decide what Fraser Island things to do make it on your shortlist, we've put this guide together which covers all of the most popular things to do at Fraser Island. This Explore Fraser Island guide covers the best things to see, how to get to Fraser Island, information on the various island's villages, island tours, driving on the island and tips on where to stay.
After reading this detailed guide, you'll be well on your way to planning your holidays on Fraser Island.
Are you planning a trip to Queensland? Have any questions? Join our Queensland Travel Planning Facebook group here now! It's the perfect place to ask any questions and to be inspired!
This post may contain compensated links. Please refer to my disclaimer here for more information.
Best Things to do on Fraser Island

with Kids Map
Below is a Fraser Island attractions map so you can see exactly where the places to visit are. This will assist you while planning your itinerary for the things to see on Fraser Island. Zoom in and out for a closer view.
Places to Visit &

Things to do in Fraser Island, Australia
In kind of a rough order of south of the island to the north of the island here is a guide to some of the best things to do Fraser Island offers. It certainly doesn't cover everything there is to do on Fraser Island, but it certainly covers all the major attractions and then some.
I've also included some of the little towns along the way so you can have an idea where you can pick up supplies as you're out and about.
75 Mile Beach, Fraser Island
If you arrive on the east coast of Fraser Island, one of the first places you will see is 75 Mile Beach – Fraser Island's very own highway! 75 Mile Beach runs from the tip to the top and is one epic beach drive. You'll know doubt be spending a bit of time on this beach as you go exploring Fraser Island.
75 Mile Beach is just stunning, with sand dunes on one side and the ocean on the other. While it is a gazetted national highway with a speed limit of 80km /h it is also one of Fraser Islands must see attractions. 75 Mile Beach is also a landing strip for light aircraft.
Along the 120km stretch of beach, you'll find many Fraser Island major tourist attractions, including the gorgeous coloured sands. The coloured sands result from thousands of years of erosion and include colours such as yellow, red, orange and brown. Other attractions along here include the Maheno shipwreck, Pinnacles and the Champagne Pools (see more about these places below).
You're also likely to see a range of wildlife along 75 Mile Beach, including the local dingos. But keep your eyes peeled, turtles are often seen here as well as whales during the migration session.
Unfortunately, the ocean here is also known for sharks, so it is not recommended to swim at the beaches on Fraser Island along 75 Mile beach. The ocean also has dangerous surf and strong riptides – so please stay away.
Before you set out on 75 Mile Beach, be sure to check the tide times for Fraser Island and only drive on the beach outside 2 hours of either side of high tide.
Lake Boomanjin, Fraser Island
The first of many lakes on Fraser Island to explore, Lake Boomanjin is the southernmost lake on the island. While not the most popular lake on Fraser, at 200 hectares, Lake Boomanjin is actually the world's largest perched lake and is one of the Fraser Island hidden gems.
First up, what's a perched lake? Well, it's a large depression in a sand dune, which thanks to the cemented decomposed organic matter, has over time collected so much rainwater, that a large body of water is formed. There are actually 40 perched lakes across Fraser Island – and for the swimming Fraser Island offers, they are the perfect place.
You'll note that Lake Boomanjin has a Tea Tree red stain as well as ripples of red from the small surrounding creeks which are bringing in fresh heavily stained Tea Tree water. This lake Fraser Island offers, has soft white sand and it's a lovely place for a dip. The water is relatively shallow by the banks, making it particularly good for families with little ones. For families with older kids and short on time, I'd probably skip this lake for either Lake McKenzie or Lake Birrabeen.
There is a fenced picnic area just by the car park – unfortunately due to the dingos, you can't bring any food or drink down to the banks of the lake. There are also toilets here too. It's just a short walk from the car park down to the lake.
Lake Birrabeen, Fraser Island
A further 25 minutes inland from Lake Boomanjin and you'll find Lake Birrabeen another gorgeous lake Fraser Island has, which again is not as popular as Lake McKenize making it a great choice for those wanting to escape the crowds.
Lake Birrabeen is just stunning and some even say it is more beautiful than Lake McKenzie – I'm inclined to agree!. It has crystal clear water surrounded by a pure white sandy shore. This is a great place for swimming on Fraser Island or even a kayak. Honestly, I couldn't get over how clear the water is here! It is just stunning and barely anyone there unlike Lake McKenzie.
Pack a picnic when coming to Lake Birrabeen as here you'll find toilets and picnic tables. Although there are two car parks and entrances down to the lake – so if you get to one and don't see the picnic area – keep driving until you reach the other one.
Lake Birrabeen is definitely a Fraser Island must do – it's our favourite lake on Fraser Island!
Eurong, Fraser Island
The first little town on 75 Mile Beach as you come up from Hook Point on the east coast is Eurong (about 30-40 minutes drive from Hook Point). At Eurong, you will find a few different accommodation options, places to eat and a general store.
Accommodation: Eurong Beach Resort, Beachcamp Eco Retreat, Fraser Island Holiday Lodges, Fraser Island Beach Cottage, Bringabeeralong House, Apurla island Retreat and Fraser Island Beach Houses (read our full review here).

Places to Eat: McKenzie's on 75 (meals from $20 to $30) and Eurong Bakery.

Shops: The Eurong shop has fresh produce, meats, fishing gear, camping supplies, beer, wine and spirits. It also has souvenirs, shirts, hats and extra supplies such as sunscreen. Some prices – bag of ice $5.50, 1.25l coke $6.50, 2l milk $5.50, a bottle of wine $22 and a carton of beer $85.00.
Central Station, Fraser Island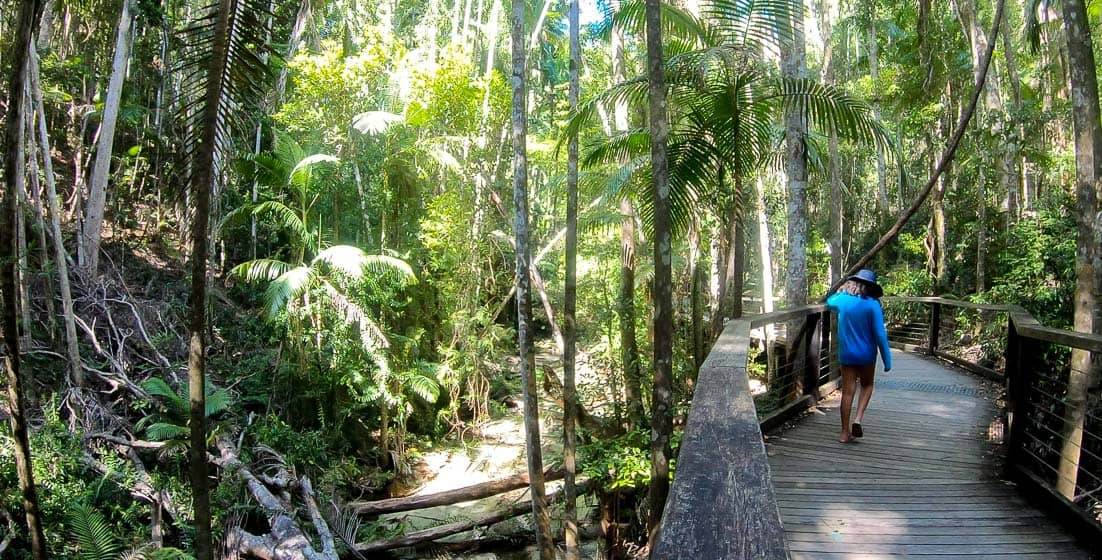 About 25 minutes inland from Eurong you will find Central Station. Central Station, Fraser Island was once an old forestry camp and is a great little area on Fraser which has a few attractions to check out as well as being a popular campsite.
If you're looking for hiking Fraser Island has, Central Station is the starting point for a few different hikes. The most popular walking track and the best one for families is the short 0.7 km Wanggoolba Creek track. This track has you wander over the boardwalk through the subtropical rainforest, passing towering trees, massive ferns and if you're lucky, you'll spot some epic wildlife. Also don't forget to look down, as you pass over the Wanggoolba Creek which has water so clear, you can barely see it.
If you're keen for some longer walks, there is also the Pile Valley Circuit which is 4.6km return (around 1.5 to 2.5 hours), Basin Lake which is 2.8km one way (around 1-1.5 hours) and Lake McKenzie via Basin Lake which is 6.6km one way (around 2.5-3 hours).
Around Central Station, there are a few different buildings and items on display from when the area was a busy forestry camp. There are various information boards around where you can learn more, including information about the school which was once here in 1917 to provide education for the children of the men who worked in the forestry camps. It's quite surreal to think that a school was once here which had some 40 students.
There is also a small information centre where you can learn more about the island's flora and fauna. This is a great spot for the kids to learn more about the island's dingos.
Lake McKenzie (Boorangoora), Fraser Island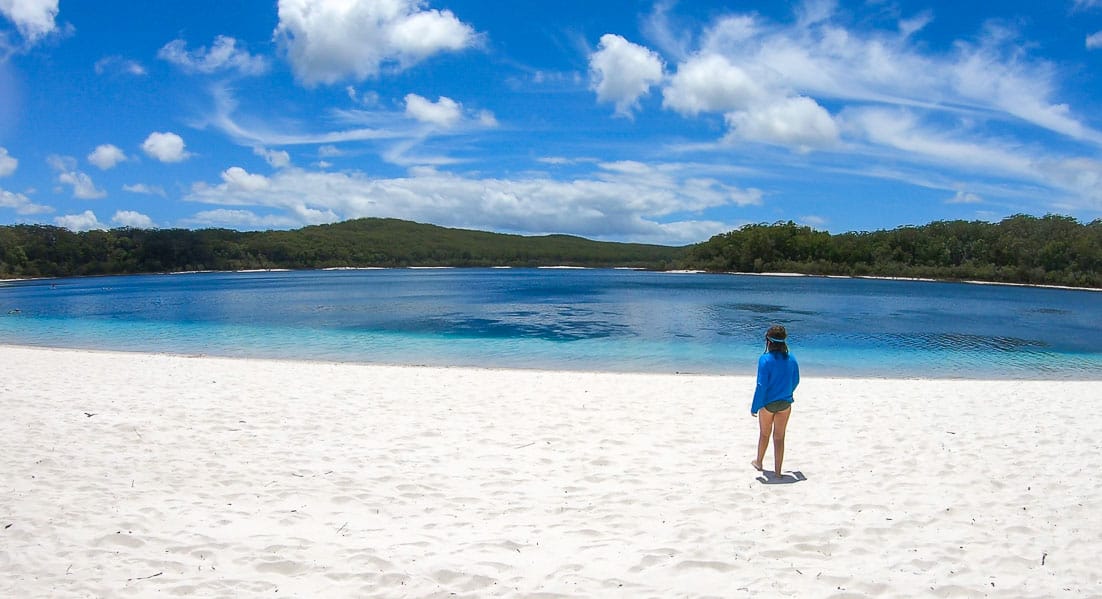 A 20 minute drive from Central Station is probably one of the most famous and popular attractions on Fraser Island – Lake McKenzie. Lake McKenzie on Fraser Island is an absolutely breathtaking perched lake with stunning white sand and incredibly crystal clear water. It is the sort of place that the kids will be just busting to get into for a swim.
The sand surrounding Lake McKenzie is 98% pure silica which is why it is so incredibly white. The sand is also super fine, so it actually filters the rainwater giving it that incredible iridescent blue colour.
It is recommended to get to Lake McKenzie early or late in the day to avoid the crowds – although given it is the most popular lake in Fraser Island; there are likely to be crowds at any time of the day. However, there is plenty of space along the banks of the lake. Most people tend to set up base quite close to the entrance to the lake, so if you just move around either side, you'll most likely find a less crowded place.
Make sure you bring a few floaties here as no doubt the kids will want to spend hours in the water. Kayaks and SUPs are also perfect at Lake McKenzie.
Note that you can't bring any food or drinks (other than water) down to the lake due to dingos. However, there are plenty of enclosed picnic areas by the car park as well as toilets here. It's only a short walk from here down to the lake.
Lake Wabby and

Hammerstone Sandblow, Fraser Island
Another place not to be missed from your Fraser Island sightseeing is Hammerstone Sandblow and Lake Wabby. Located a 45 minute drive from Lake McKenzie or 18 minutes from 75 Mile Beach near Cromwell Campground.
To reach Lake Wabby, you will need to walk across the Hammerstone Sandblow, one of the gigantic sand dunes Fraser Island has. It isn't the easiest of walks and it does take around 45 minutes to reach the lake – so come with good shoes, a hat and lots of water. We did see quite a few little ones being carried by parents on the way up.
Most of the walk is through bushland and there is a slight incline most of the way – finishing off with some stairs. Once you reach the sand blow, it is a bit tricky walking across – but the landscape is just brilliant and so worth it! Hammerstone Sandblow, Fraser Island is the most incredible dune on Fraser Island – as you walk across this towering sand dune, you'll swear you are walking across the desert. Definitely one of the top 5 things to do on Fraser Island.
Lake Wabby isn't as picturesque as the other lakes in Fraser Island and there are a few fish here unlike the other lakes, but nevertheless, it is still a stunning emerald green and is a great spot for a swim – you'll need it after the walk here anyway. An interesting fact is it is the deepest of all the lakes on Fraser Island.
The other interesting thing about Lake Wabby and the reason it's one of the recommended places to visit in Fraser Island is that it won't be here forever. The Hammerstone Sandblow is actually moving westward across the island and filling in the lake at the rate of a metre per year. So at some stage, the lake will be gone forever.
The walk up the sandblow is a real challenge – I'm not going to lie! However once you've done this, the rest of the track is relatively easy as its all downhill. If your kids are keen, bring their boogie board, as this is a great spot for tobogganing down the dunes.
The walk back up the sand dune is the most challenging part of the entire walk – I'm not going to lie! But it doesn't take too long, and once you're back to the bush track the walk back to the car park is all downhill.
For those who with little ones who can't do the walk, there is also a nearby lookout with brilliant views across Hammerstone Sandblow and Lake Wabby. The lookout is located off Cornwells Break Road and from the lookout car park, it's about 450 metres to the viewing point.
The start of the Lake Wabby track is well signposted on 75 Mile Beach. There is a small car park area on the beach where you can park – which is well back from the ocean, so no need to be concerned about high tides.
Kingfisher Bay, Fraser Island
Over on the other side of the island from Lake Wabby is Kingfisher Bay, which is probably best known for the Kingfisher Bay Resort. For those families without a 4WD, this is a great place to stay while on Fraser Island.
However, even if you're not staying at the resort, it is still worth bringing the kids over for a look. As well as being a resort, Kingfisher is the only settlement on the western side of the island – so it's a great place to come if you need to stock up on supplies. Here you will find restaurants, bars, and a general store which sells groceries, alcohol and souvenirs.
I'd recommend planning your visit to coincide with lunchtime, have a meal at the Sand Bar and let the kids have a swim in the resort pool. Meals aren't too badly priced, starting from around $20. There is also a kids menu with meals costing $12.
Find out more about staying at the resort here.
Lake Garawongera, Fraser Island
Not too far from Happy Valley, is yet another gorgeous lake on Fraser Island, Lake Garawongera. This lake is surrounded by large trees providing plenty of shady spots from the sun. On the large sandy bank is a single large paperbark tree, a great shady spot for a picnic.
There is a picnic area at Lake Garawongera with toilets and picnic tables, making it an ideal place for lunch.
Happy Valley, Fraser Island
Located approximately halfway along the east coast, Happy Valley is another of the island's small towns. There is a range of accommodation options at Happy Valley Fraser Island and a general store that is also a bar and bistro and sells groceries, petrol and alcohol.
They serve up some good food at Happy Valley – while some of the more expensive meals on the island, they are also some of the most generous serves. Meals start at $20 and kids meals are $14.
Accommodation at Happy Valley includes Fraser Island Retreat, Fraser Island Houses, Sailfish on Fraser, Kristie's On Fraser, Fraser View, Fins on Fraser and Sandjunes. There are also a few options on Airbnb too.
Happy Valley is a central spot to stay for exploring pretty much all the island attractions.
Eli Creek, Fraser Island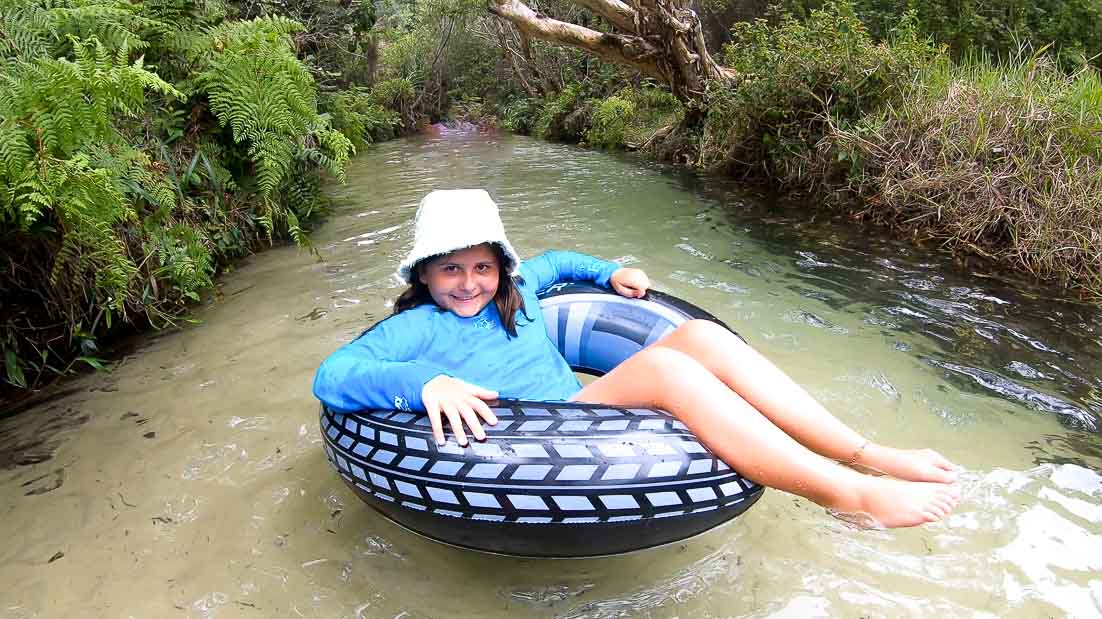 A popular place for every family's Fraser Island to do list is Eli Creek. Located about halfway along 75 Mile Beach, Eli Creek, Fraser Island is a stunning little creek and is the perfect place to take the kids for a swim – just be warned that it really is a super popular place, so be prepared to share!
Eli Creek on Fraser Island pours over 80 million litres of water into the ocean every single day. It is thought that the water coming from the creek is rainwater which has made its way from the island's sand dunes over the past 200 years! The water is so clear here because it's been filtered from the sand over all those years.
There is a pandanus fringed boardwalk which runs alongside the creek. Walk until the very end and then get into the creek with some inflatables and float along the creek's fast moving waters until you reach the ocean. Then do it all over again!
Do make sure you bring some inflatables to enjoy the creek and allow a few hours here as the whole family will absolutely love it! Absolutely one of the top 10 things to do on Fraser Island.
My tip is to get here early – before 9 am if you can to get a prime position. Also do take into consideration that Eli Creek is not generally passable around high tide.
There are toilets here too, which are located on the other side of the little footbridge.
S.S. Maheno

Shipwreck, Fraser Island
Just a short drive north of Eli Creek, about 10 minutes or so you'll find the SS Maheno Shipwreck on Fraser Island. Originally an ocean liner which had travelled between Australia and New Zealand, in WWI it was amazingly converted into a hospital and used in Europe.
It was later returned to Australia and then sold to a company in Osaka. As it was making its way to Osaka in 1935, it was caught in a cyclone and ended up shipwrecked along the shores of Fraser Island where it remains today.
Today the Maheno Shipwreck, Fraser Island is only partially visible with much of it engulfed by sand. Still, the kids will no doubt find it is interesting to look at and makes for a good photo while you're travelling along 75 Mile Beach.
Knifeblade Sandblow, Fraser Island
The sand blows on Fraser Island will blow your mind! Another awesome one to check out is Knifeblade, the largest sand blow on Fraser Island. It has a height of just over 115m above sea level and stretches more than 3.5km inland. It is even getting around 1m bigger every year.
To see the Knifeblade Sandblow – you'll find a lookout which is located inland along Woralie Road. There is a small car park here and it is 500 m to the lookout. The walk there is mostly uphill – but nothing too strenuous – but the good news is this makes for an easy downhill walk on the return trip.
Lake Allom, Fraser Island
Not too far from the Knifeblade Sand Blow lookout is Lake Allom. Lake Allom, Fraser Island is said to be one of the best places on the island to spot turtles – there is even a small viewing deck where you watch them pop up for air now and again. Just make sure you don't feed the turtles or any other animals you see.
It's just a short 200m return walk to the viewing area. As well as turtles, you can spot a range of other wildlife including birds and goannas. It's also a great spot to launch a kayak if you're keen. Swimming is not allowed here. So if swimming is your main priority – skip this one for one of the previously mentioned lakes.
There is also a short 1.4km circuit you can do which takes you around the lake.
Around the car park, you'll also find a picnic area with tables and toilets.
Cathedrals on Fraser
Just a short drive north of SS Maheno Shipwreck you'll find Cathedrals on Fraser – a private campground which is a great place to stock up on supplies, fuel or to have lunch. Cathedrals on Fraser has a great little general store that sells fuel, gas bottles, ice, groceries, alcohol, and a cafe.
Read this full guide on staying at Cathedrals on Fraser here.
Indian Head
Continuing north up 75 Mile Beach and about 20kms from Cathedrals you'll reach Indian Head – the highest point on the island and the most easterly point. From the top of the headland, there are fantastic views across the beach and ocean.
It takes about 20 minutes to reach the top of Indian Head and the walk is a little steep in parts. Some sections can be a little slippery too – so good walking shoes are an absolute must! However, the walk to the top is so worth it for the spectacular views.
If you're lucky, you may even be able to see turtles, manta rays, fish and even sharks and dolphins. During whale season you'll no doubt be able to spot whales too.
The vehicle track around Indian Heads can be particularly soft, so take care of driving through this area.
Champagne Pools, Fraser Island
Another hit with the kids will definitely be Champagne Pools. Located at Middle Rocks, just a few kms north of Indian Head Champagne Pools gets its name from the sea bubbles that pour in over the numerous rock pools, creating various little shallow spa baths.
To reach the pools you'll need to walk across a short boardwalk and down several stairs (it can be a bit steep on the way up). The view on the way down is awesome, so do take a camera! There are plenty of rocks and sandy bits away from the pools where you can leave your towels and a small bag.
To enjoy the Champagne Pools, it's best to sit or stand in the rock pools and let the waves come over you. Do not stand up on the rocks as you may be pushed over as the waves come.
It is recommended to visit around half tide to make the most of the Champagne Pools. If you go on the low tide, there won't be much water in the pools, and if you go at high tide, it will be too rough.
There are two car parks and entrances to Champagne Pools – usually, the southern car park is packed – so if this is the case keep driving until you reach the second one. However, toilets are only located in the southern car park.
Waddy Point, Fraser Island
As you continue driving north, the next main attraction you're going to want to spend some time with the kids is at Waddy Point. This is an absolutely stunning area made up of miles of wide stretches of beach, massive sand dunes, turquoise coloured ocean and a series of crystal clear tidal lagoons. Most people set up camp somewhere along the largest of the lagoons, which is awesome for swimming, kayaking or SUPs.
Waddy Point is also a super popular spot for fishing.
I'd recommend allowing a good part of the day to spend here. Set up some shelter and pack some lunch. Be sure the kids have some floaties and even a kayak or SUP. We absolutely love it here – one of our favourite spots on the island.
Orchid Beach, Fraser Island
Orchid Beach, Fraser Island is the last little village area as you make your way north up 75 Mile Beach, so it is another good place to stop for any needed supplies. The General Store sells a range of grocery items, petrol, alcohol, and a bar that sells meals.
Orchid Beach is actually one of the largest residential areas on the island and so you'll find plenty of holiday accommodation such as Eliza Fraser Eco Lodge, Orchid Beach Apartments, Waddy Lodge, Hakuna Matata, Fraser Forever, Orchid Beach Retreat and White Wave. There are also quite a few options on Airbnb.
The roads around Orchid Beach are super soft and sandy – so be extra careful while driving around here.
Ocean Lake, Fraser Island
There is certainly no shortage of gorgeous lakes around Fraser Island, Ocean Lake being yet another. While not as gorgeous as some of the southern lakes – Ocean Lake is still well worth visiting, particularly while up the north end of the island.
Ocean Lake, Fraser Island has a dark colour due to the surrounding tea trees, although the water is still pretty much crystal clear! This is a great spot for a paddle, or better yet kayaking or SUPing.
Ngkala Rocks, Fraser Island
Ok so certainly not a tourist attraction on Fraser Island, but for anyone driving around the island, I couldn't leave off Ngkala Rocks. No doubt if you've done any research about driving on Fraser Island – you've heard of Ngkala Rocks – said to be one of the most challenging areas to drive on the island.
The best advice we received for Ngkala Rocks, Fraser Island is to aim to pass this area as close to low tide as possible.
Ngkaka Rocks is currently closed to vehicles indefinitely. Nevertheless, it is still worth the drive up – the colour of the ocean changes up this way – it's just stunning!
Sandy Cape, Fraser Island
If you do manage to pass Ngkala Rocks, good for you!! No, seriously that's great, now keep going until you reach the island's very northern tip – and welcome to Sandy Cape! Not too many people make it this far, so you are in for a real treat.
At Sandy Cape, Fraser Island, you will find a huge beach with pure white sand and calm, gorgeous turquoise waters. The area has huge sand dunes, sparse vegetation – it's a peaceful little spot – your own slice of heaven.
While you are there, drive an additional 7.5km to the heritage listed Sandy Cape Lighthouse. Built in 1870 on top of Flinders Sand Blow, it is a steep walk to the top. At 128m above sea level and 26m high, this is the tallest lighthouse in Queensland.
Fraser Island's Western Creeks
It seems somehow wrong of me to lump all of the stunning creeks from the western side of the island into one section – but the sad reality is, not too many people make it over this side of the island. It's a shame really because the island's western side is absolutely stunning – like seriously heaven on earth.
It is harder to drive on the western side of the island due to much softer and bogger sand and unfortunately many 4WD hire companies simply ban people from driving on that side of the island.
However, if you do get the opportunity to go on the western side of the island, some absolutely unmissable creeks to explore include Awinya Creek, Bowarrady Creek, Woralie Creek (pictured above) and Coongul Creek, these creeks are awesome for swimming, kayaking and SUPing.
I'd recommend planning to be here around lunchtime – so bring some shelter, perhaps even the BBQ. Unfortunately, it is not recommended to swim in the beach here – as enticing as it is. The beaches on the west side are known for stingers. So if you're little ones simply can't stay out of the water, be sure to bring long pants and long tops for them. However, the little creeks around the place are also awesome spots for the kids to swim in.
Other Things to do on Fraser Island
Well, that covers most of the main attractions to visit at Fraser Island and some the little villages to visit – but here are a few other activities on Fraser Island.
Spot Wildlife
Of course, everywhere you go on Fraser Island, you're going to have the opportunity to see wildlife – both on land and in the water.
On land you'll no doubt see dingos, but also look out for goannas, sugar gliders, possums, snakes and birds. There are stacks of bird species such as white-bellied sea-eagles, brahminy kites, yellow-tailed black cockatoos, and king-parrots.
When it comes to marine life – you'll have to be satisfied with what you can see from the land, as it is not safe to swim in the ocean surrounding Fraser Island. But even from the water's edge if you're lucky you'll see dolphins, dugongs, stingrays, turtles, sharks (particularly tiger sharks) and even humpback whales during the migration season which is August through October.
Fishing – Fraser Island
If you're a fishing loving family, you're in for a real treat as there is plenty of great fishing on Fraser Island. Some top fishing spots include beach fishing from 75 Mile Beach, Waddy Point, Sandy Cape, Indian Head and around Middle Rocks.
On Fraser Island, fish you're likely to catch include whiting, dart, bream, mackerel, tailor, trevally, tuna and flathead. There is even no need to buy bait as you can easily harvest it yourself. The island has plenty of fresh bait, including worms, pipis, and yabbies.
It is important to note that you cannot fish in any of the island's freshwater lakes or streams. It's just beach fishing at Fraser Island.
Take a Scenic Flight
If you're feeling like a bit of splurge, then why not treat the family to a scenic flight over Fraser Island! You'll even get to take off from the beach highway – how cool is that!!
Air Fraser operates light aircraft on Fraser Island and will take you on a 20 minute scenic flight where you will see the island's massive sand dunes, rainforest, lakes and maybe if you're lucky some marine life too.
How to be Dingo Safe
No doubt you're aware that there are plenty of wild dingoes on Fraser Island and while they are super cute – they can be quite aggressive and pose a risk to travellers on the island – particularly for families with small children. Unfortunately, there are dingo attacks each year and from time to time they have been fatal – so you must take dingo safety seriously.
However, with a few precautions taken, your family can have a safe trip to Fraser Island.
Never let your children out of your sight for a second – in fact, don't let them leave your side – they should always be within an arm's reach.

Be sure to talk to your children about dingo safety.

Never ever feed a dingo.

Ensure all food and rubbish is kept properly sealed away.

Consider staying in fenced campsites or a resort or township which is protected by an electric grid.

Never walk alone, particularly at night.

If you come face to face with a dingo, stand tall and slowly back away – do not panic, run or wave arms around.

Don't attempt to take a selfie with a dingo – take your photos from a safe distance.
You can read more about dingo safety here which is issued by the Queensland Parks and Wildlife Service.
Getting to Fraser Island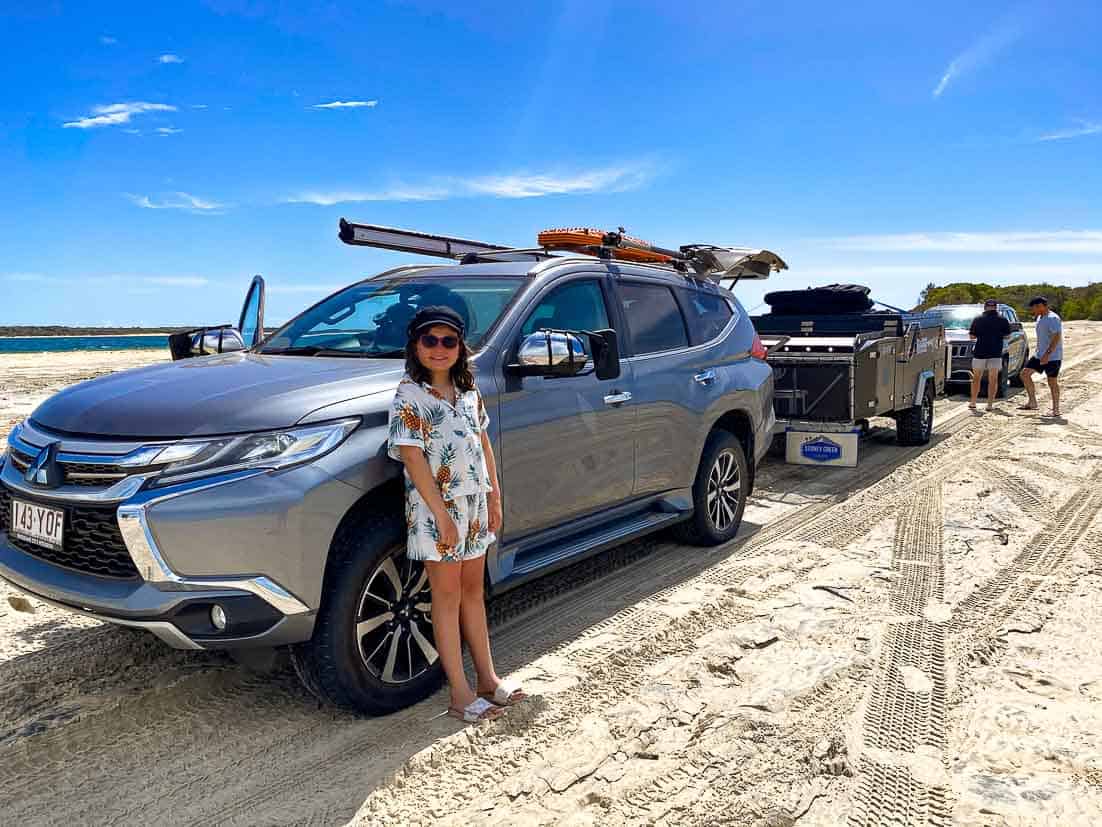 It's relatively straight forward to get to Fraser Island via one of the barges. You can choose to take either the Inskip -Fraser Island ferry or one of the two ferries that operate from River Heads.
The most popular barge to take across to Fraser Island is the Manta Ray Barge, often called the Inskip or Rainbow Beach ferry to Fraser Island. From here it is just a 10 minute journey across to the southern tip of Fraser Island at Hook Point.
This boat to Fraser Island operates daily from 6 am to 5.30 pm. There is no need to book this car ferry to Fraser Island and there is no set timetable, the barges just cross the strait continually during this time. During peak times, 2-3 barges operate. Prices start at $130 return.
If you're getting to Fraser Island from Hervey Bay, it will most likely be easiest to take one of River Heads ferries. River Heads is just a short 20 minute drive south of Hervey Bay.
From River Heads, there are two different ferry operators either the Kingfisher Bay Ferry which arrives at the Kingfisher Bay Resort Jetty or the Fraser Venture which arrives at Wanggolba Creek – both on the western side of Fraser Island. Prices for either ferry start at $180 return.
The Kingfisher Bay Ferry barge times to Fraser Island are 6.45 am, 9 am, 1 pm and 3.30 pm daily. For the return journey, the barges leave daily at 7.50 am, 10.30 am, 2.30 pm and 5 pm. The trip takes 45 minutes.
The Fraser Venture ferry times to Fraser Island are either 8.30 am and 3 pm daily. For the return journey, the ferry leaves daily at 10 am and 4.30 pm. However please note that this trip is affected by tides and in some cases will arrive and leave from Kingfisher Bay Resort instead of Wanggoolba Creek – so please keep this in mind when booking. This trip takes 30 minutes.
Once you arrive on the mainland, from Hook Point, it's just a 30-40 minute drive up the beach. From the western side, it's around a 1 hour drive via the inland tracks.
For more detailed information on how to get to Fraser Island, read this guide here.
Self Driving on Fraser Island
If you're planning on self driving while on Fraser Island you will need to purchase a vehicle permit. A 1 month or less permit costs $53.65 or a yearly permit is $270.00. Pre book your vehicle permits here.
Driving on Fraser Island is not overly difficult, provided you have some 4WD knowledge. Tyres should be deflated to around 16 psi and you should ensure you have a basic recovery kit with you at all times.
While driving along the beach, it is important to be aware of high tide times. It is best to drive as close to low tide as you can – this will ensure you have plenty of hard sand to drive along. Although the beach is for the most part wide on Fraser Island – which means you can generally drive at all times. The closer you are to high tide – the more soft sand you will need to drive on which makes for a bumpy ride. Some creeks cross the beach too – so you will need to consider these too. Wait out the tide if you're ever unsure.
All the major attractions and roads on Fraser Island are well signposted. While having a paper map with you is ideal (as the internet is not available in many areas) its not necessary as you'll find signs everywhere.
Lastly, never ever drive on the sand dunes!
Where to Stay on Fraser Island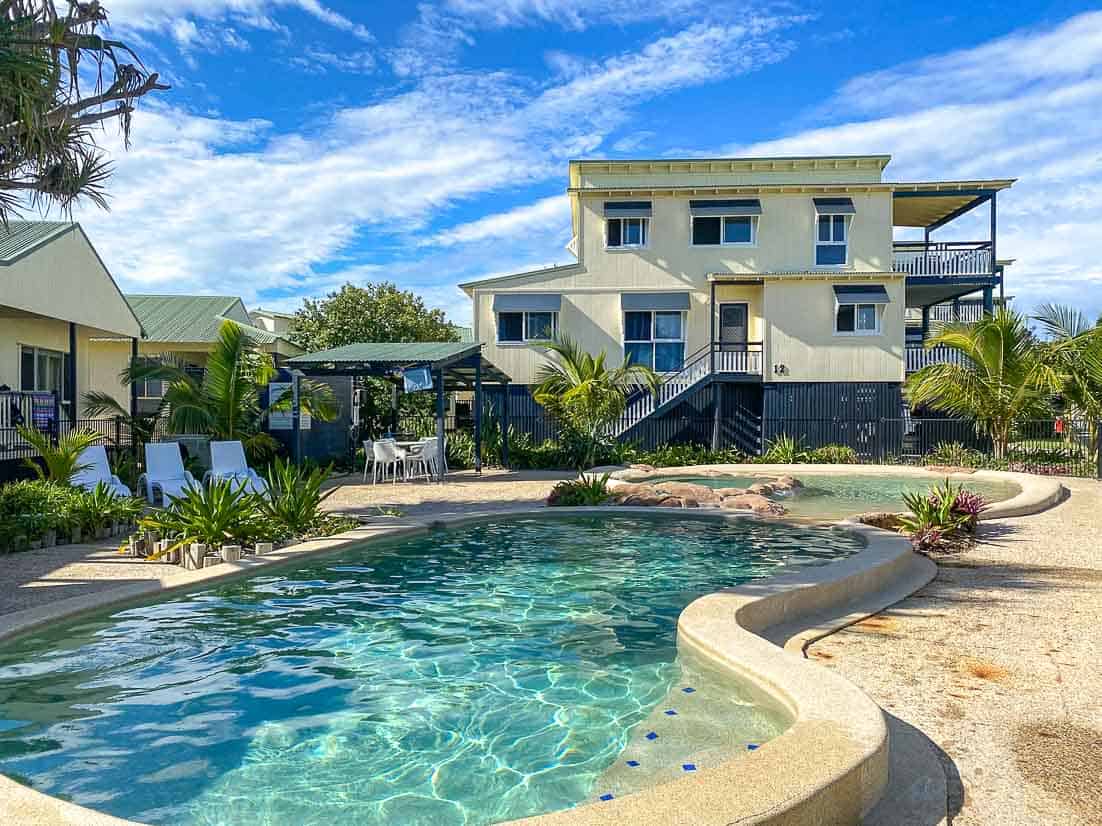 There are no shortages of places to stay on Fraser Island. Camping is what most people tend to do when coming to Fraser, but there are also a few gorgeous resorts, low key accommodation, and plenty of private holiday homes.
You can read our full guide to camping on Fraser Island here on our Queensland Camping site or read our full guide to Fraser Island accommodation here. Otherwise keep reading below for our top three places to stay with kids on Fraser Island.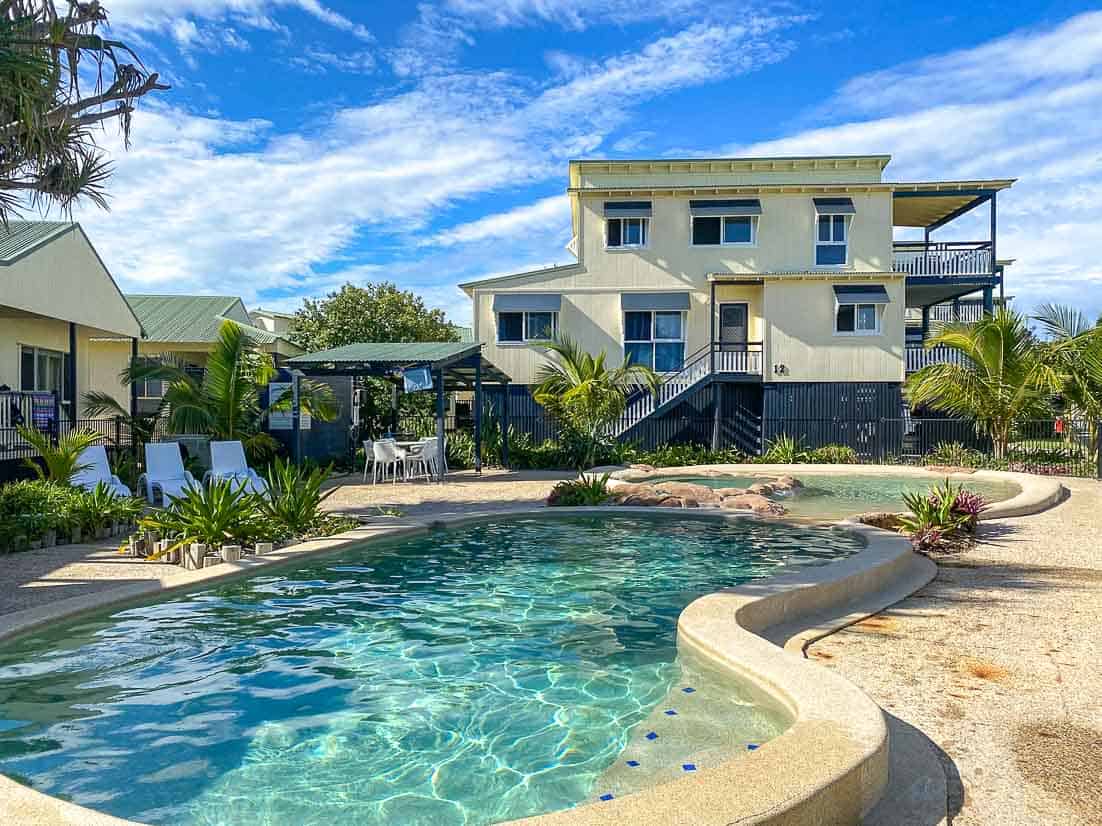 If you're a huge family, or just wanting plenty of space then I highly recommend the Beach Houses. These three bedroom houses are your home away from home – coming with absolutely everything you could possibly need for your holiday on Fraser Island.
The Beach Houses are located just a short walk away from the Eurong Resort and general store – so perfect for stocking up on groceries or getting fuel. Plus being at Eurong, it's only a 30 minute drive here after you disembark from the ferry. It's also an easy drive from some of the island's top attractions such as Lake McKenzie.
All of these holiday houses Fraser Island offers are three bedrooms and can sleep up to 6 people. You can however also book them as two bedroom houses. Each has a fully equipped kitchen, laundry, spacious living area and huge verandahs with either ocean or pool views. They even have carports with a lockable outside area for things you don't want to bring in the house such as fishing gear.
There is a great swimming pool area at the Beach Houses. There is one large lagoon style swimming pool and a smaller wading pool and heated spa. Around the pools are plenty of undercover tables and chairs as well as BBQs. For the little kids, there is also a small playground.
The Beach Houses are also fully fenced so you are well protected from dingos.
Click here to read our full review on staying at Beach House on Fraser Island.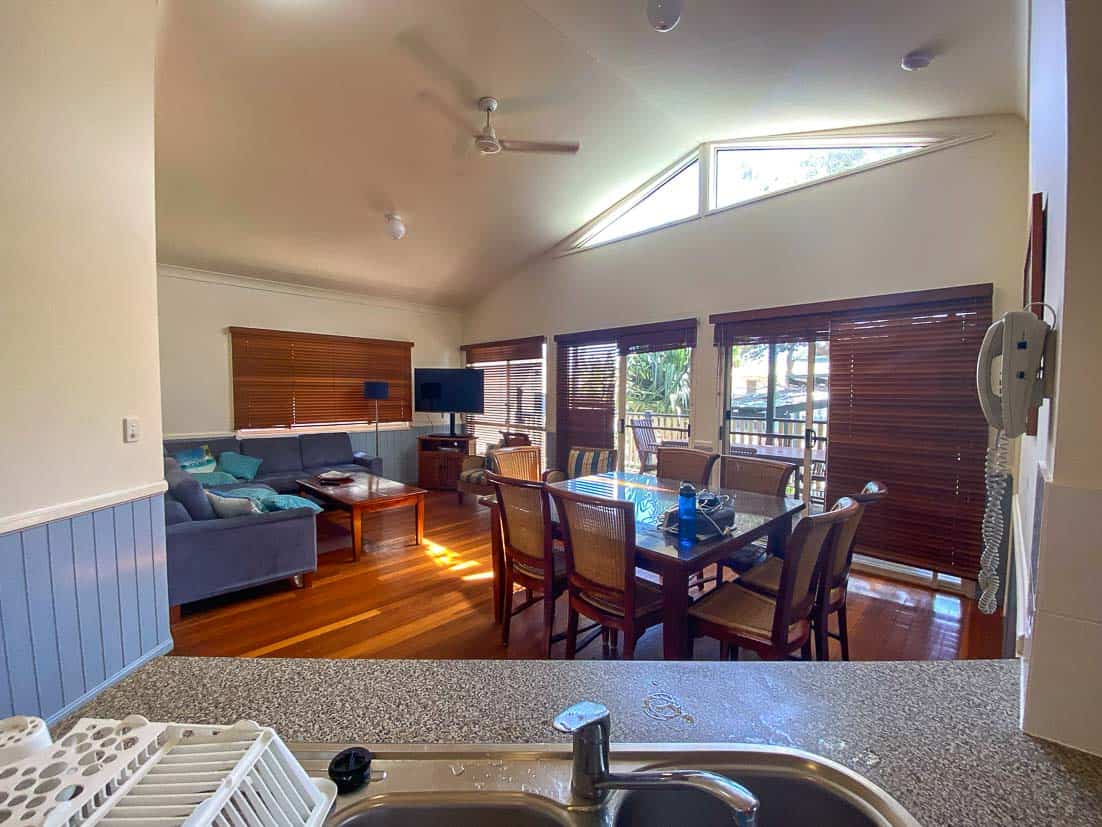 What's to love?
Huge spacious home away from home. We just loved how much space there was at the Beach Houses. Plus the verandah overlooking the pool was pretty great too.
What's not to love?
For small families, the Beach Houses can work out to be a little expensive. Although for those wanting the extra space and the benefit of a full kitchen and laundry it's well worth it.
Summary
For families, after spacious and self contained accommodation in Eurong, the Beach Houses is a perfect choice. These three bedroom houses for rent on Fraser Island are huge and give families plenty of space. You're also a short walk away from the general store and an easy drive from some of the island's top attractions.
Click here to check availability and current pricing.
There are also quite a few private listings for Beach Houses on Airbnb. Click the link below which best suits your family: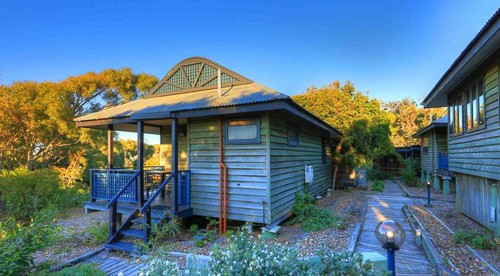 If you're planning on seeing as much of the island as possible and so looking for a super central place to stay – you can't do much better then Fraser Island Retreat. Located in Happy Valley which is around halfway up on the east coast, from here you can easily drive to all of the different island attractions.
Not only is Fraser Island Retreat central – it's cheap too – so perfect for families on a budget. But don't let the low price fool you – this place has some great facilities too. There is a small swimming pool, laundry and even a camp kitchen which has a BBQ, gas cooktop, microwave, fridge, toaster, utensils, crockery and cutlery – so you can easily prepare all the family meals.
The property has 9 cabins which can accommodate either 4 people in the 1 bedroom cabins or 6 people in the 2 bedroom cabins. Each cabin has a private bathroom, ceiling fans, fridge / freezer and tea and coffee making facilities.
From Fraser Island Retreat it is a short walk to the Happy Valley General Store which is also home to the Satinay Bar and Bistro.
Parents will also have peace of mind knowing that the property is located within the township's dingo fence, so everyone can safely walk around without concern.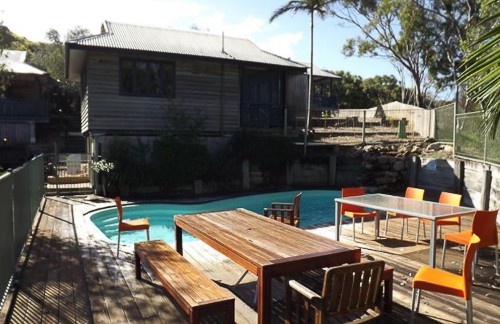 What's to love?
The central location – from Happy Valley it is so easy to get to all the different attractions on Fraser Island.
What's not to love?
The pool is pretty small – but hey for the price it's pretty awesome you get a pool at all! Plus there are only 9 cabins on site so you won't be sharing it with too many people.
Summary
Click here to check availability and current pricing.
If you're planning on spending most of your time exploring the island's north attractions, then Orchid Beach is the ideal base. There are quite a few different options in this area, such as The Orchid Beach Apartments.
The Orchid Beach Apartments have three different apartments to choose from, two coming with three bedrooms and one featuring four bedrooms. These apartments are huge and can accommodate up to 8 people. Perfect for those larger families.
Each of the apartments features a living room, dining room, fully equipped kitchen, bathroom and an outdoor dining area with a BBQ. Some apartments even have ocean views.
On site, guests have access to a laundry, boat parking and plenty of space for cleaning and washing.
What's to love?
Huge, spacious self contained accommodation perfect for large families, or those just after plenty of space.
What's not to love?
There is no swimming pool here.
Summary
The Orchid Beach Apartments are ideal for large families wanting a fully self contained place to stay while exploring the northern end of Fraser Island. From here you're just a short drive down to the beach from which you can easily explore attractions such as Champagne Pools, Waddy Point and more.
Click here to check availability and current pricing.
______________________________________________________________________________
Hopefully you found this guide on things to do on Fraser Island helpful. If you're short on time see our guide on the best Fraser Island tours here.
See all our photos of Fraser Island here in our Qld Camping Facebook Group.
CLICK ON ONE OF THE IMAGES BELOW TO SAVE FOR LATER