With so many fun things to do in San Diego with kids, it's no wonder why it's often on a family's USA bucket list. Known for its endless sunshine and year-round pleasant temperatures, there are plenty of things to do to keep everyone busy on a family trip to San Diego.
Whether you're interested in beautiful beaches, theme parks, museums, hiking, or fabulous dining, San Diego truly has it all! You certainly won't be wondering what to do in San Diego with kids!
If you're planning a San Diego vacation with kids and wanting suggestions for the best family things to do in San Diego, this article is for you. This guide covers everything you need for your San Diego trip with kids, including all the popular San Diego attractions for kids, how best to get around and suggestions on the best place to stay in San Diego with kids.
Thanks to Jen from Travel with a Plan for this guest post on the best things to do in San Diego with kids.
10 Fun Things to do in San Diego with Kids
1. San Diego Zoo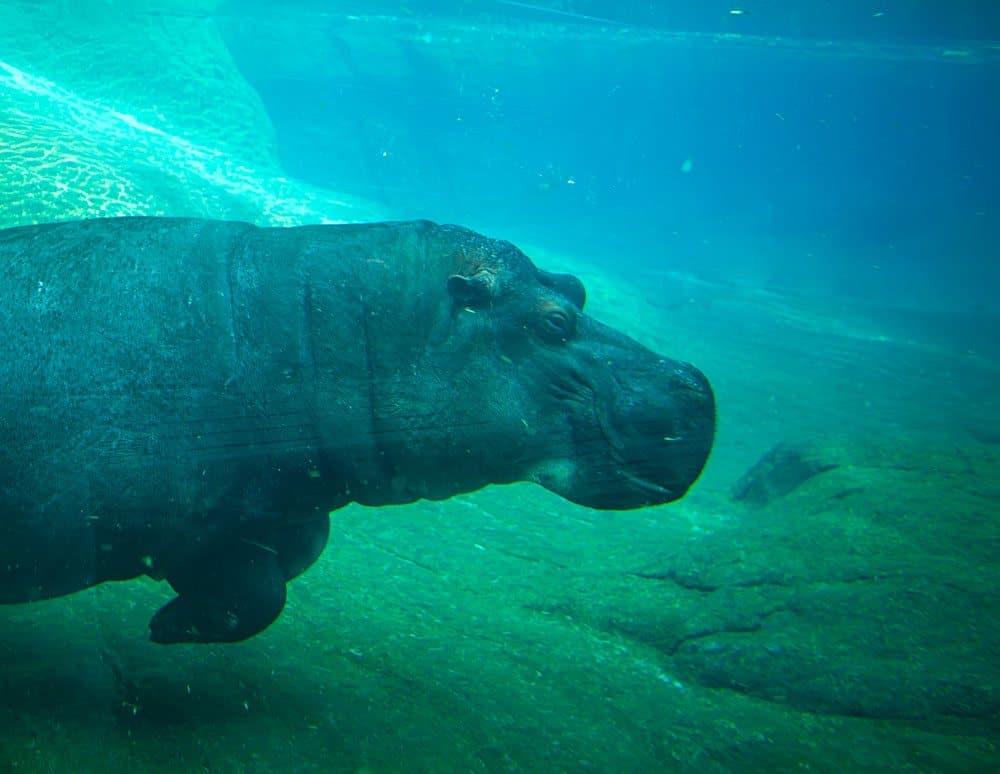 When it comes to family activities in San Diego, a trip to the San Diego Zoo must be on your list. Voted the #1 zoo in the world, San Diego Zoo tops the list of San Diego family attractions. It is home to over 3,700 rare and endangered animals and an amazing display of 700,000 exotic plants.
Spend an entire day here as highlights include the Australian Outback, Elephant Odyssey, Polar Bear Plunge, panoramic views from the Skyfari aerial tram, and so much more.
A leader in animal care and conservation, the San Diego Zoo is at the heart of the San Diego experience.
Tickets at the gate are $56 USD per adult and $46 USD per child, with under 3s free. However you can purchase discounted ticket from Get Your Guide for $50.96 USD per adult and $41.86 USD per child. Click here to purchase your discounted tickets.
2. Legoland California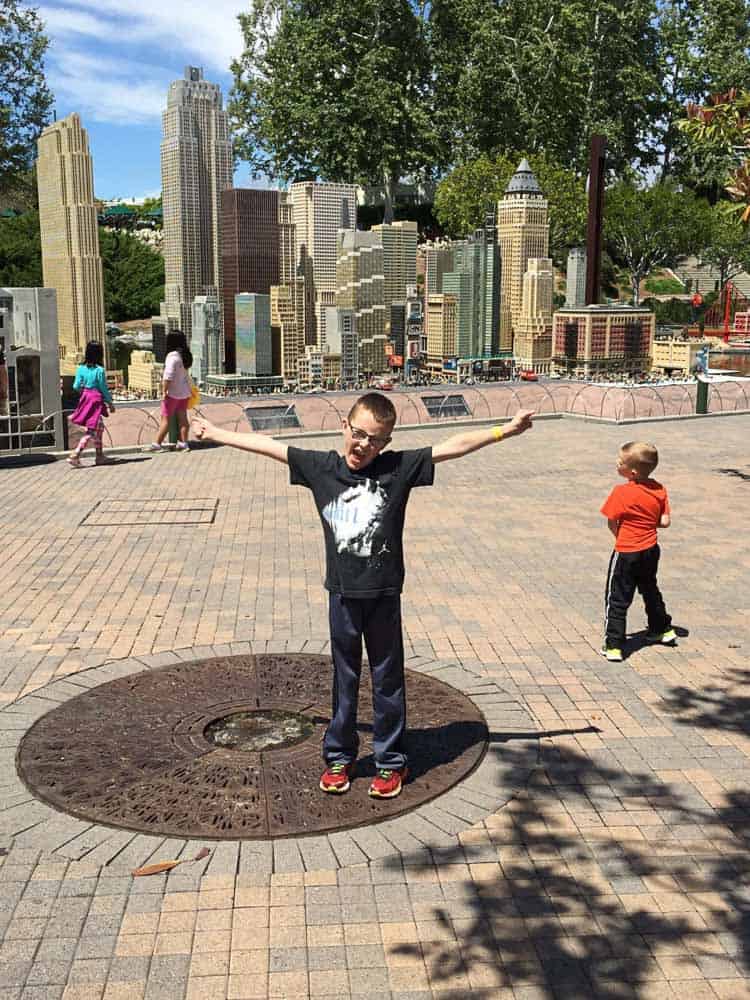 Legoland California Resort has more than 60 rides, shows and attractions that are all Lego themed and geared towards children 12 and under. So this is such as great place if you have young children, particularly if you're looking for things to do in San Diego with toddlers, or pre-teen children.
Many rides are made to appear as if they are built out of Lego bricks and include thematics from the Star Wars, Ninjago, Pirate, Knights Kingdom, and Duplo product lines.
At the heart of Legoland is MiniLand U.S.A., our personal park favourite. Imagine the landmarks of Washington D.C., New York City, Las Vegas, San Francisco, and New Orleans all made of Lego bricks. So totally awesome!
A family favourite for many, Legoland resort consists of Legoland theme park, Sea Life Aquarium, Legoland Water Park, and Legoland Hotel.
You can buy discounted combined tickets for Legoland, Sea Life and the Legoland water park which are valid for 2 days. Click here to purchase tickets.
3. Beach Day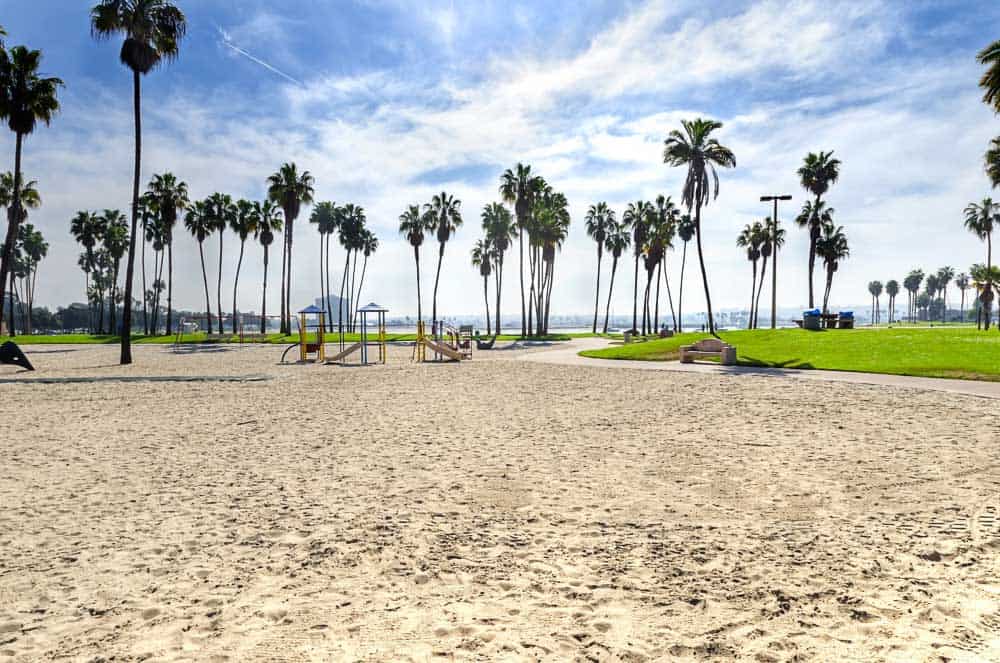 For cheap things to do with kids in San Diego, nothing beats a day at the beach. Scenic coastline views and fun things to do are abundant on the 70 miles of San Diego's pristine beaches. With so many options to choose from, the decision on where to plant your beach chairs for the day may come down to a coin toss.
Mission Beach is San Diego's take on a classic boardwalk town. Its two-mile sand beach, oceanfront boardwalk, numerous rental shops, and boardwalk amusement park, draws visitors from all over the world.
We chose to spend our beach day on Moonlight Beach. Moonlight Beach is a large family-friendly beach with 3 sand volleyball courts and a large grassy park with kids' playground. The slope of the beach is gradual which makes playing in the surf more fun and extremely safe.
Lifeguards and plenty of morning surfers have a significant presence here.
4. Sea Lions in La Jolla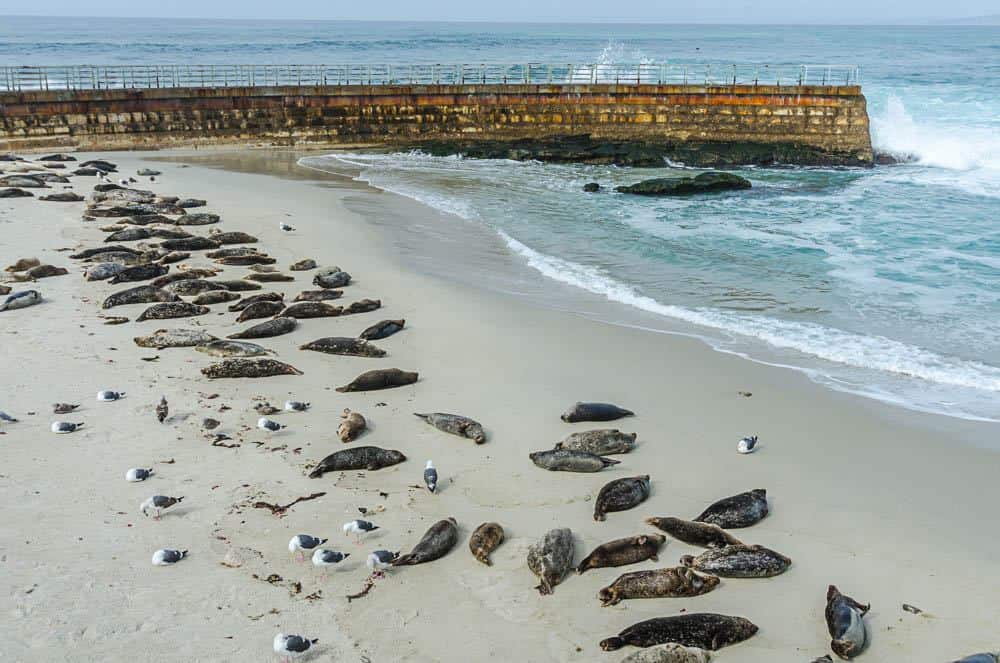 When visiting San Diego with kids, another great place for some family fun in San Diego is La Jolla – home to one of the most famous resident populations of wild seals and sea lions. Both wild seals and sea lions are readily found along the La Jolla coastline.
We spent most of our time admiring the seals in the Children's Pool area of Casa Beach. It is here that a large sea wall protects a small sand beach that dozens of seals and sea lions use for lounging and showing off to human onlookers.
As one of the best free places for kids in San Diego, be sure to pay a visit to the cute, noisy, kid–pleasing seals and sea lions.
5. Hiking at Torrey Pines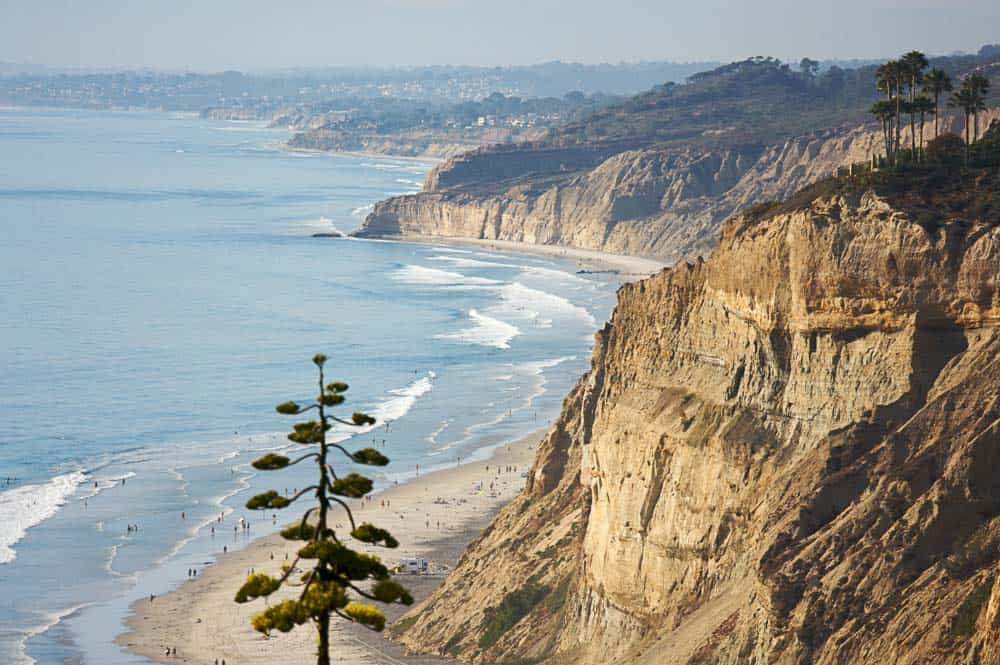 Also located in La Jolla is the scenic Torrey Pines State Reserve. Torrey Pines State Reserve is located on the cliffs above Torrey Pines State Beach and provides panoramic view of the Pacific Ocean. The reserve is dedicated to preserving its namesake, the Torrey Pine tree and other indigenous wildlife in its native environment.
The park has a series of well-kept trails that wind along the cliffs offering breathtaking views of the coastline. With both easy, family-friendly paths, and more advanced trails, the park provides a great hiking and outdoor experience for all ages.
6. Sea World San Diego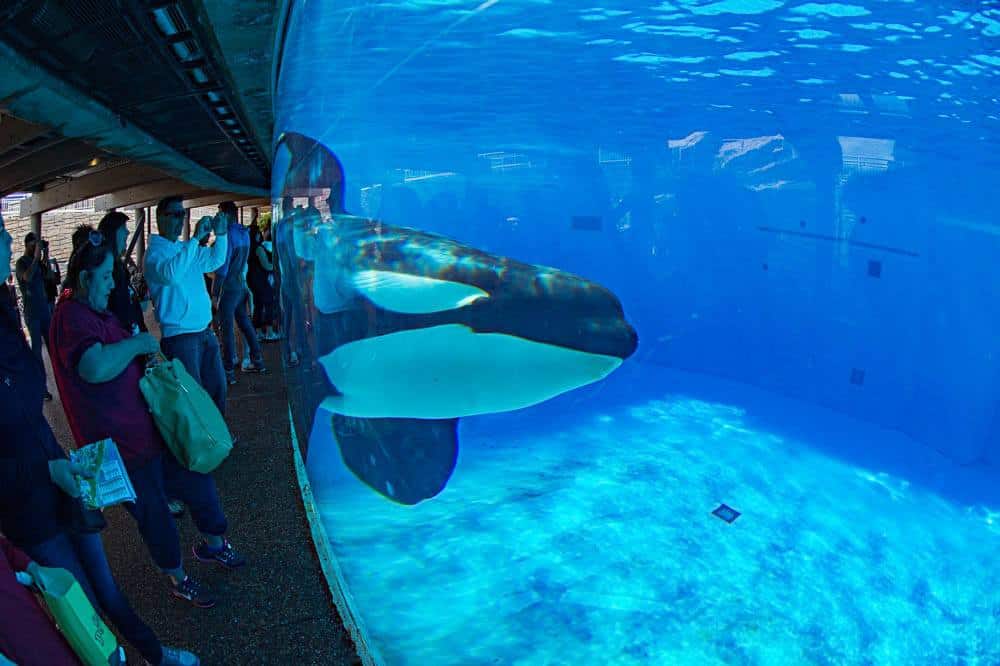 Sea World San Diego provides the perfect combination of entertaining shows, thrill rides, and marine life encounters. The park is a beautifully landscape oasis and does not have the typical hectic theme park atmosphere.
There's something so special about being up close and personal to the beautiful sea animals, most who have been rescued and rehabilitated. In addition, the dolphin and sea lion shows are thoroughly enjoyable and keep the whole audience engaged.
Most guests spend an entire day here at Sea World, as the park also includes dozens of amusement and thrill rides that are included with standard admission. Sea World is certainly one of the fun places for kids in San Diego.
Tickets at the gate are $91.99 USD per adult and $76.99 USD per child, with under 3s free. However you can purchase discounted ticket from Klook for $71.20 USD per person. Click here to purchase your discounted tickets.
7. Hop-on-Hop-off Trolley Tour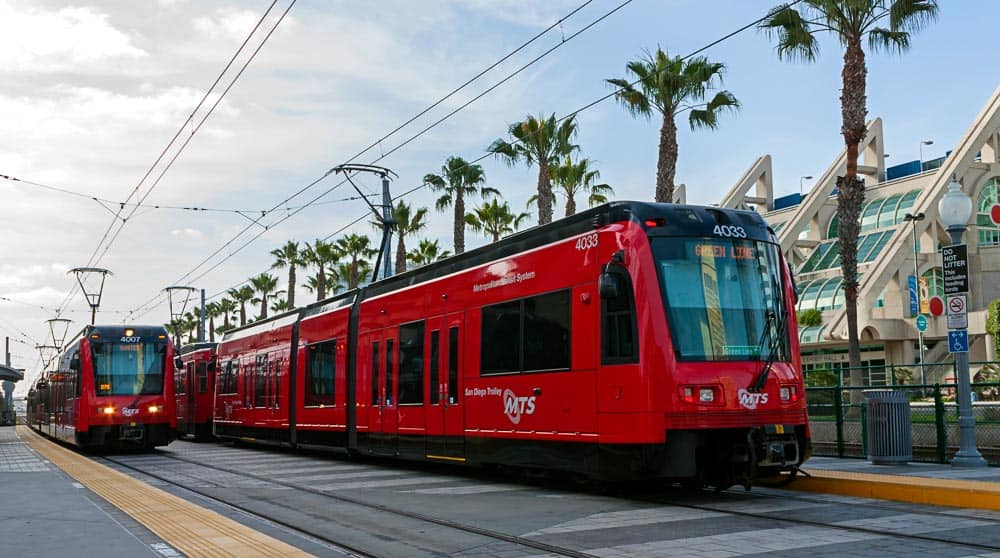 If you want to experience a little bit of everything that the city of San Diego has to offer, the best way to do so is via the Hop-on-Hop-off Trolley Tour.
Voted "The Best Way to See the City," the trolley(s) have a continuous 25-mile loop with 10 designated stops. Guests can choose to get off at a designated stop and spend as much time as they want exploring that particular area.
Once done exploring, simply make your way back to the trolley stop and board an oncoming trolley. While traveling between stops, the tour is fully narrated by expert tour conductors.
This family-friendly tour allowed us to experience Old Town San Diego, the Gaslamp Quarter, Seaside Village, and Little Italy, all without having to ever drive or find a parking spot on our own.
8. USS Midway
If you're looking for some of the kids museum San Diego has, that the whole family will love, head to the USS Midway. As one of America's longest-serving aircraft carriers, The USS Midway is now a popular maritime museum. Home to 60 exhibits and 29 restored aircraft, kids love getting up close and personal with this gigantic naval ship.
There are many different paths you can take around the ship to explore areas like the engine room, the on board surgical suite, the mess hall, and the different classes of cabins.
Admission onto the USS Midway includes a self-guided audio tour.
Tickets at the gate are $23 USD per adult and $10 USD per child, with under 5s free. However you can purchase discounted ticket from Klook for $17.20 USD per adult and $9 USD per child. Click here to purchase your discounted tickets.
9. Coronado Island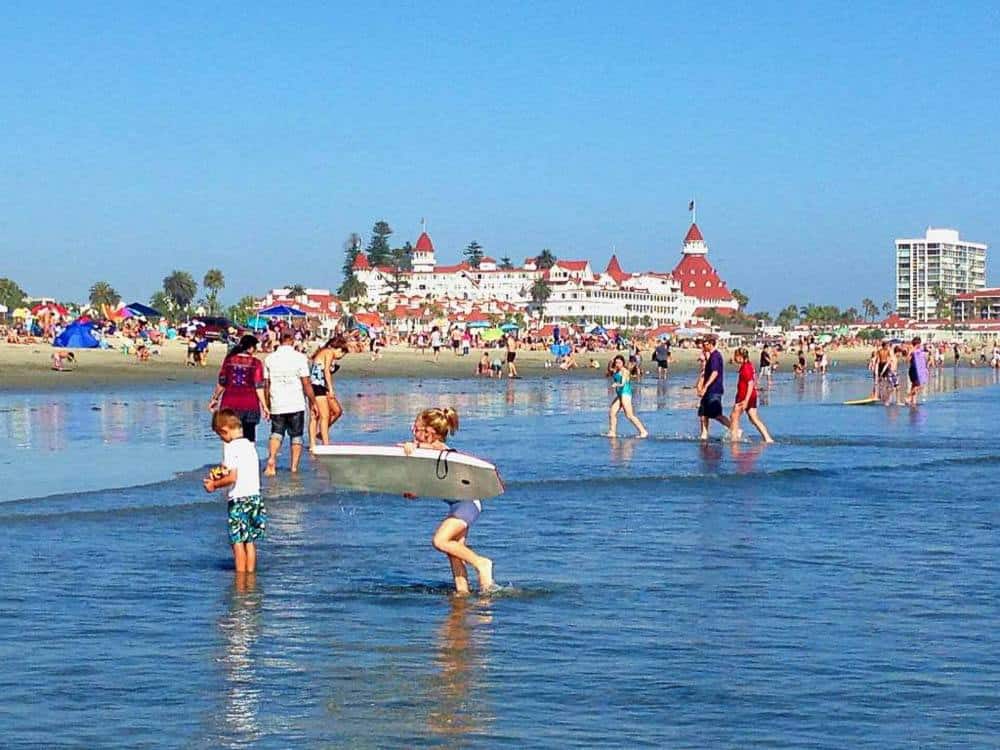 No family vacation to San Diego is complete without a trip to Coronado Island. There is something magical about crossing the bridge from downtown San Diego and driving into this laid back beach town.
Known for its gorgeous beaches, Coronado Island is also home to the historic Hotel Del Coronado. This majestic hotel with an iconic red roof has been luring guests to its beachfront location since 1888.
Rent a bike or walk around Coronado Island and experience its nostalgia and mouth-watering ocean side eateries.
10. Balboa Park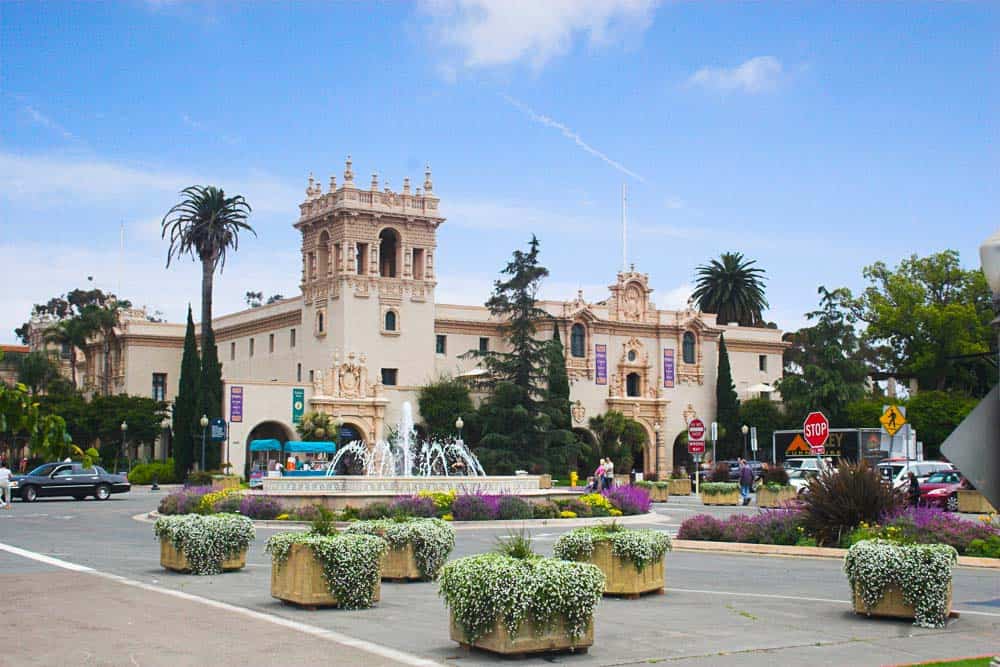 As the nation's largest urban cultural park, Balboa Park is home to 17 museums, gorgeous gardens, the San Diego Zoo (mentioned above), restaurants, and multiple performing arts venues.
Most appealing to kids are the Fleet Science Center, San Diego Natural History Museum, San Diego Model Railroad Museum, and San Diego Air and Space Museum.
Balboa Park is free to enter though the museums have individual ticket fees. The museums are best visited using a Balboa Park Explorer pass or the Go San Diego Card.
Getting Around San Diego
Conveniently located just ten minutes from downtown, San Diego International Airport is serviced by 22 major and commuter airlines. There are non-stop flights from Mexico, Canada, Japan, and the UK.
Exploring San Diego by (rental) car is the most convenient way of getting around to the many sites and surrounding communities. The freeway system is easy to navigate and the traffic is manageable (other than typical work-day morning and evening rush hours).
If you opt to stay in the city center, there is a lot to do within walking distance. Likewise, public transportation is available via trolleys, buses, trains, and shuttles.
Best Place to Stay in San Diego with Kids
As you can see, all the places to take kids in San Diego are spread out. No place you choose to stay will be close to all that there is to see and do. So when it comes to picking where to stay in San Diego largely comes down to personal preference.
In general, the further you get away from downtown, the cheaper your accommodations will be. Options include family resorts, hotels, vacation rentals, beach houses, apartments, and more. Staying in cities such as Carlsbad, Del Mar, Encinatas, LaJolla, and San Diego itself will all give you quick and each access to the best that the area has to offer.
Whether you choose to stay downtown, on the water (yes, please!), or close to your favorite major attractions, you are guaranteed to have a wonderful time!
Thanks again to Jen from Travel with a Plan. Jen is an American wife, and mom to three boys. A planner by nature, Jen has spent the last 12 years planning fun, and hassle-free family vacations for her family of 5. She considers travel to be an essential part of their family's health and wellbeing. Travel With A Plan is a compilation of the planning and execution that has gone into making family vacations efficient, enjoyable, and memorable. She is dedicated and passionate about sharing travel ideas, products, and experiences that are practical, and that work for families. Follow her on Facebook and Pinterest.
Please note that this post contains affiliate links, which means that should make any bookings using my links, I may be paid a small commission at no extra cost to you. This allows me to provide this information free of charge – thank you for supporting our website.
Want to save this information for later?
Click on one of the images below and save it to Pinterest