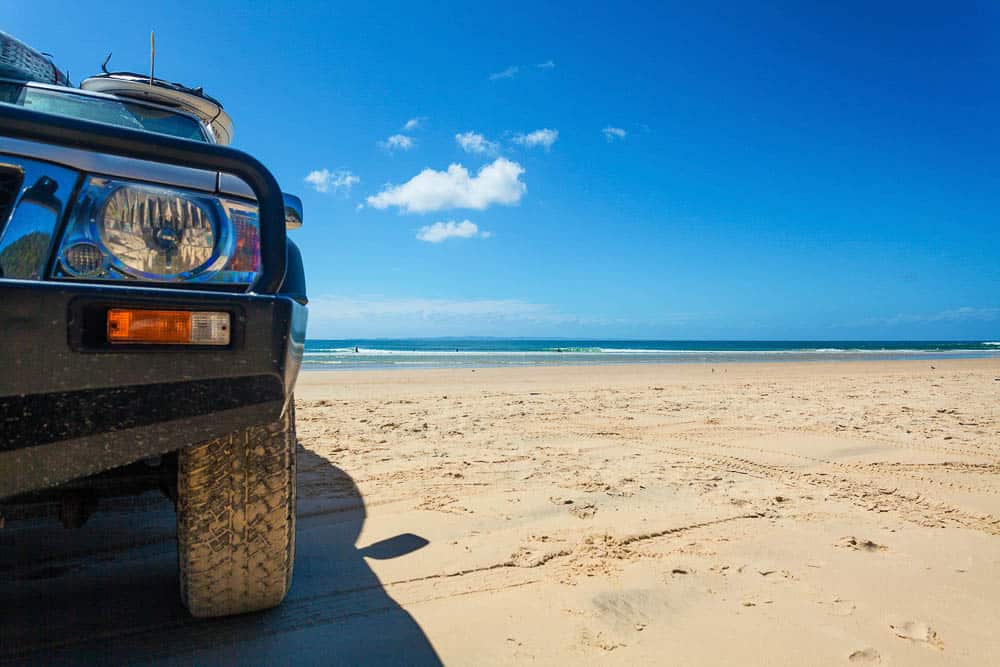 Are you after suggestions for some great family weekend getaways Brisbane offers? If you're a Brissie local, then you're in luck as there are some pretty awesome Brisbane weekend destinations; in fact so many you may find it hard deciding where to go! I've actually been doing my own research lately, trying to come up with some new ideas for our family weekend trips from Brisbane and I thought I might as well turn it into a blog post and share it with you all.
There are so many excellent destinations in this guide. Whether you're looking for somewhere to take the kids for a few days, a much needed mums getaway or even one of the many romantic getaways Brisbane offers, this Weekend Getaway Brisbane guide has well and truly got you covered. Included are some gorgeous beaches, lovely country towns, hinterland destinations and more.
So without further ado, here is my absolutely awesome Weekend Away Brisbane guide. Where will you go?
Planning a trip to Queensland? Have any questions? Join our Queensland Travel Planning Facebook group here now! It's the perfect place to ask any questions and to be inspired!
Or if you're more of a visual person, get inspired on our Thrifty Family Travel Instagram Feed.
This post may contain compensated links. Please refer to my disclaimer here for more information.
35 of the Best Weekend Getaways Brisbane Offers!
Unlike my usually super organised and ordered lists… I'm assuming whoever is reading this is mostly a local, so these weekend getaways near Brisbane are absolutely in no particular order – well they are – just the order that they popped into my head!
So scroll through until you find one of the short breaks from Brisbane, which is just perfect for you!
Mt Tambourine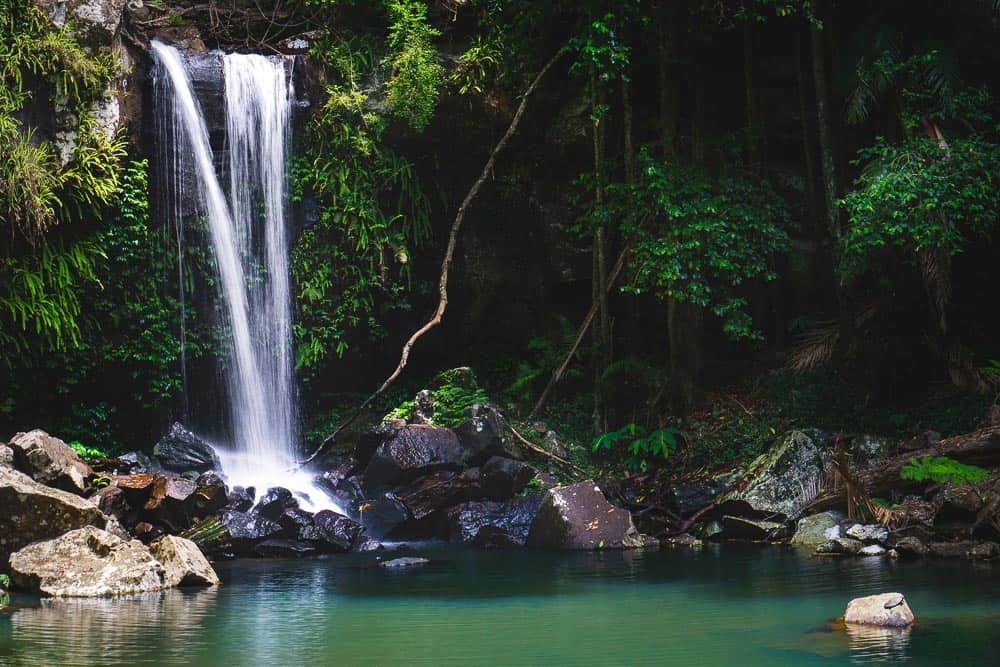 When it comes to a long weekend Brisbane trip, Mt Tambourine is a great choice. Located in the Gold Coast Hinterland, just an hours drive from Brisbane; Mt Tambourine is perfect whether you're after something for the family or looking for Brisbane romantic getaway packages.
Amongst the gorgeous rainforest, valleys and waterfalls, there is so much to do in Mt Tambourine. You can spend your days exploring one of many walking tracks, take a dip in rock pools, visit local wineries and try delicious produce. While in the evening, you can snuggle with your loved ones in lovely little cabins around the fireplace.
A weekend down at Mt Tamborine is one of the great weekends away from Brisbane that will have your rested and rejuvenated as you embrace nature.
If Mt Tambourine sounds like one of the relaxing holiday destinations you want to experience, you can find out more about things to do in Mt Tambourine here and where to stay in Mt Tambourine here.
Coolangatta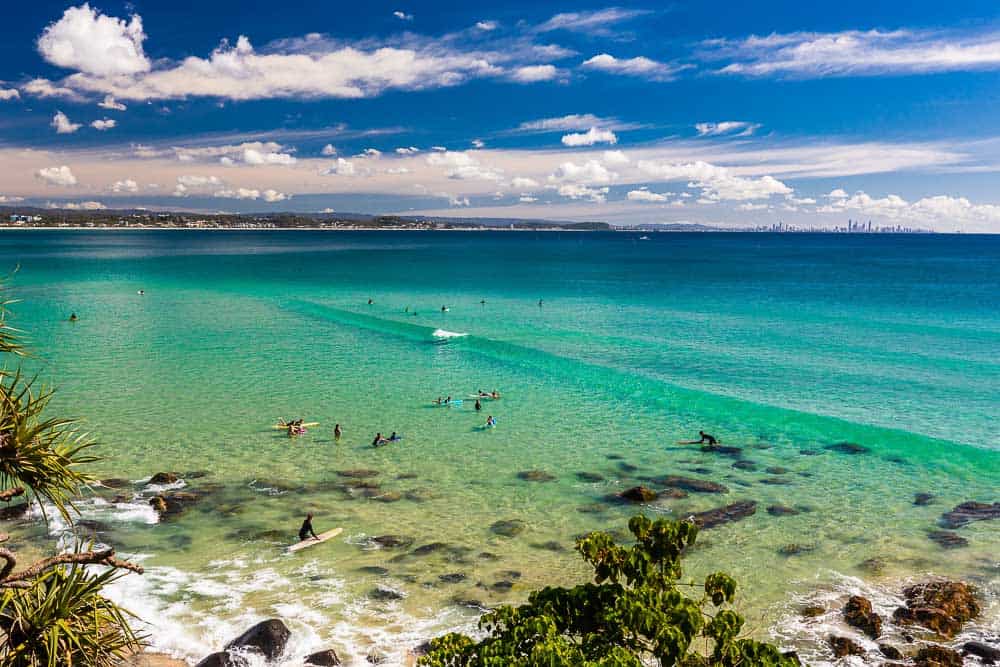 If the beach is more your cuppa tea, then one of the best weekend getaways from Brisbane is down at Coolangatta. Around Coolangatta are some of my all time favourite Gold Coast beaches, including the beautiful little Rainbow Bay.
Located right on the Qld / NSW border, Coolangatta has a great range of laid back hotels and luxurious accommodation options. There is a super chilled out vibe around the streets of Coolangatta, with plenty of different restaurants, cafes and shops along the waterfront and large open grassy areas with playgrounds for the kids.
Coolangatta is a great place to come for those who love to surf, although it is equally great for those who want to swim and relax on the beach. It's one of the perfect beach weekend trips Brisbane offers.
Click here to check out where to stay in Coolangatta.
North Stradbroke Island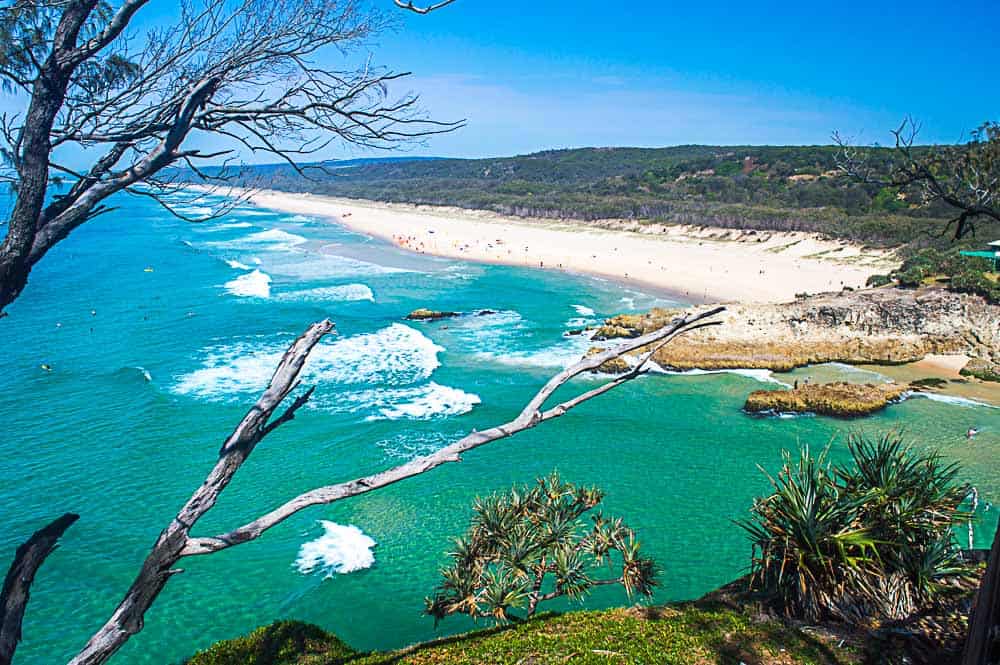 North Stradbroke Island would have to be one of the ideal weekend escapes from Brisbane! Whether you take your car over on the barge or opt for the faster passenger ferry. We usually enjoy camping over at Amity Point, but there is also a range of excellent North Stradbroke Island accommodation options to choose from.
The beauty of North Stradbroke Island is you can do as little or as much as you like. Go swimming of course, sandboarding, explore the gorgeous Blue and Brown Lake, take the Gorge walk at Point Lookout and spot native wildlife, including koalas and kangaroos, as well as plenty of marine life such as dolphins, pelicans and even whales.
Whilst you could fit all of this into one of your Queensland weekend getaways, if you do want to take advantage of all that North Stradbroke Island has to offer, you may want to extend to 3 day trips from Brisbane.
While the cost of the barge over doesn't make Straddie one of the cheap getaways Brisbane offers, it's still one of our favourite nature getaways Brisbane has.
Get a full list of things to do at North Stradbroke Island here.
Montville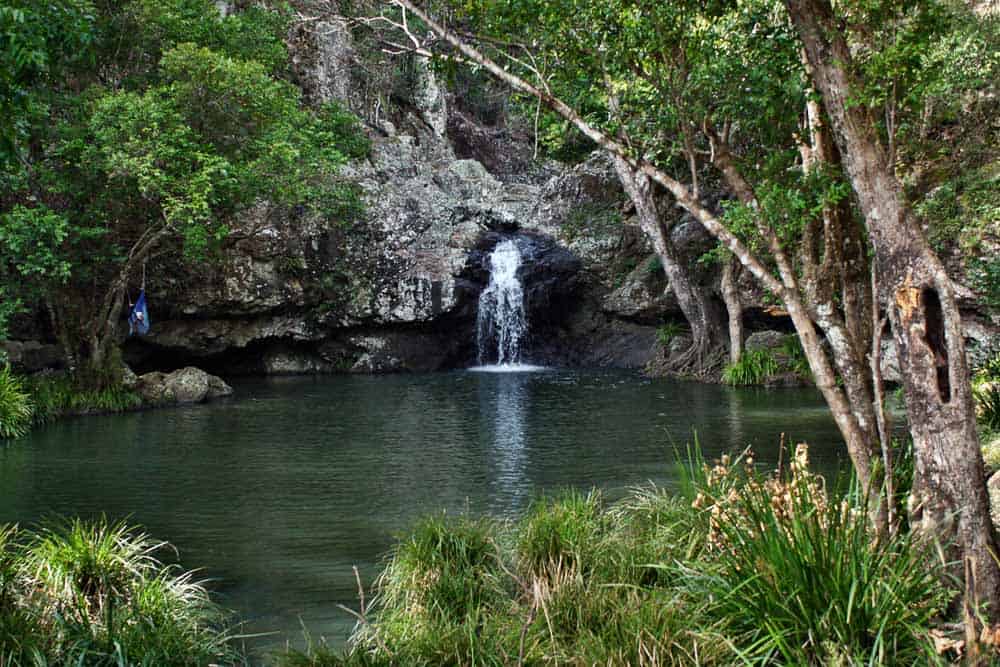 If the Sunshine Coast is calling your name, why not head to Montville in the hinterland. Montville makes for a great weekend away near Brisbane. Many people looking for romantic getaways near Brisbane go here, but it is also perfect for a family weekend or a group of friends wanting to get away.
Montville is a picture perfect town located on the edge of the Blackall Range. The area is home to some gorgeous European inspired architecture as well as stunning valley views. You can spend your days strolling around town exploring the art galleries, boutiques and cafes, waterfalls and rock pools in Kondalilla National Park, or heading down to Baroon Pocket Dam for some kayaking.
There is a range of accommodation options from basic cabins to glorious, luxurious resorts just perfect for those after one of the romantic weekend getaways Brisbane offer. You can check out some accommodation options here.
So if you're after some cozy Brisbane short breaks, certainly consider a few days in Montville for your next weekend away QLD.
Maleny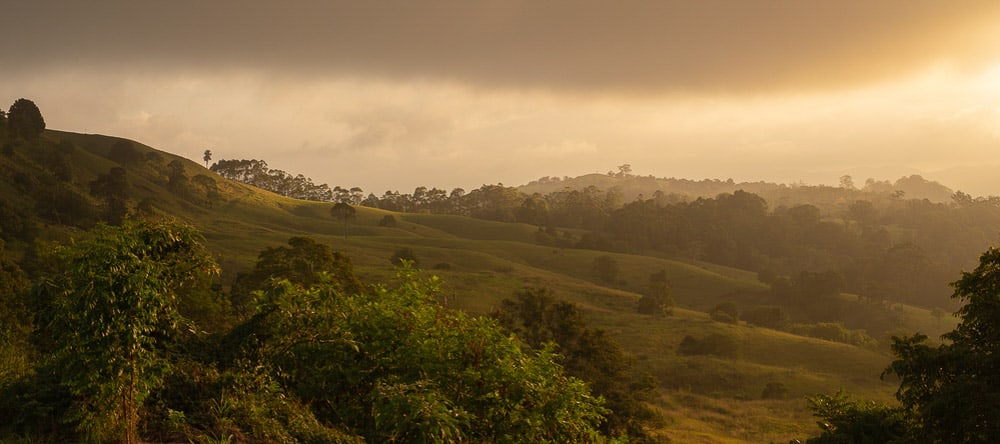 Just down the road from Montville is Maleny, which makes for a great weekend away from Brisbane. This gorgeous hinterland town sits on the mountain's edge with dramatic views across the Sunshine Coast region. The drive here alone is worth the trip, as you drive up the mountain you'll be rewarded with gorgeous countryside views.
While you're in Maleny, you can spend your days visiting all the local cheese factories, wineries and breweries, browsing the local boutiques, enjoying long lunches at cafes and exploring the gorgeous nearby National Parks such as Mapleton and Kondalilla.
Like Montville, there is an excellent range of Maleny accommodation options on offer. However, if you can, I highly recommend having a splurge and getting a great place with a view, whilst it won't be one of your cheap weekend getaways QLD – you'll be so pleased you did!
Stanthorpe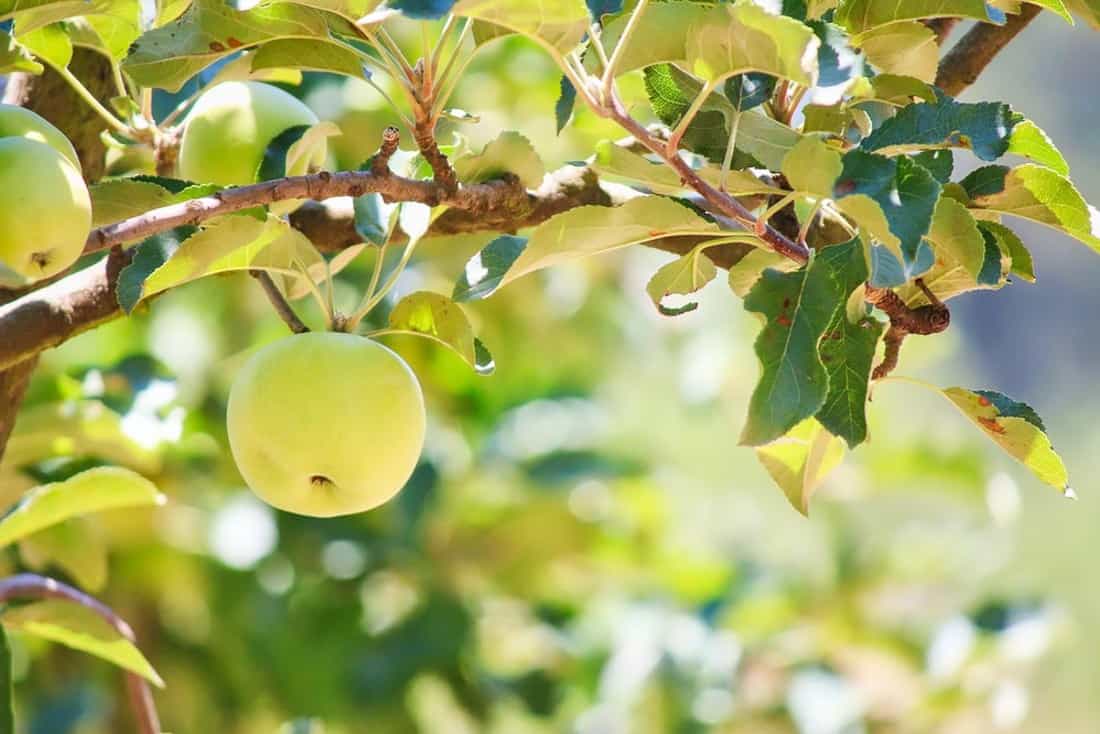 In terms of Brisbane weekend getaways, Stanthorpe is also a lovely choice, particularly in the colder winter months. Stanthorpe is a rural town a few hours away from Brisbane, close to the NSW border and is the ultimate destination for wine lovers – but don't worry, it is super family friendly too!
The most popular thing to do in Stanthorpe is to visit all the wonderful wineries in the area. The area is also well known for its delicious local produce such as apples, cheese, truffles and olives. The area is close to some beautiful national parks like Girraween and Bald Rock, which have great walking tracks.
There are some great cabins available for families or for couples; there are some pretty unique luxurious accommodation options. We personally recommend the Granite Brewery Retreat as they have some lovely cabins for families.
Whether you're taking the kids, your partner or a group of friends, Stanthorpe is one of the best short trips from Brisbane, making it a great QLD getaway!
Get a full list of things to do in Stanthorpe here and where to stay here.
Noosa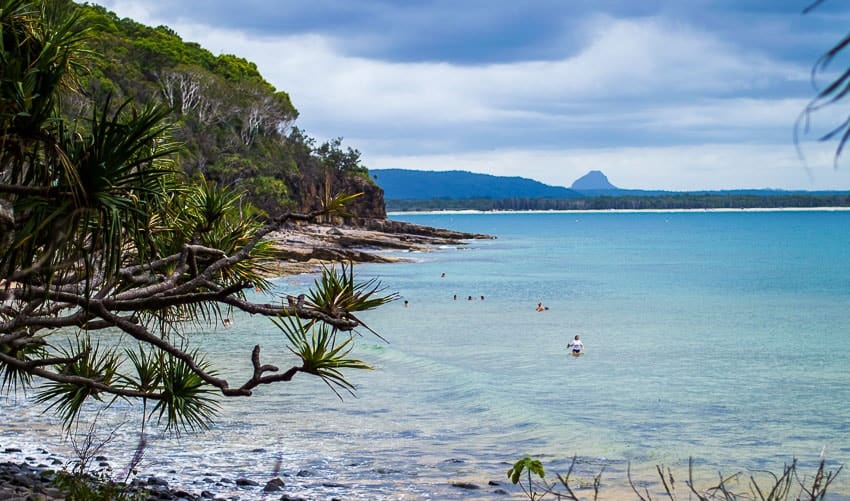 One of my all time favourite short getaways from Brisbane is Noosa. It has a great laid back vibe, and there is just so much to do in Noosa as well as the perfect place to do very little too!
Spend your days exploring the gorgeous beaches and views in the Noosa National Park, as well as the Noosa Main Beach. I also recommend you hire a boat or a kayak and go out into the Noosa Spit – here; you can find your own private sand island to chillax on.
There is also plenty of shops to explore along Hastings Street as well as cafes and restaurants. Noosa is also in the perfect location to explore nearby regions around the Sunshine Coast and take a day trip to the world famous K'gari.
We just love Noosa; it's one of our personal favourite weekends away Brisbane offers.
If Noosa is on your list of Brisbane escapes, you can get a full list of things to do in Noosa here and where to stay here.
Lamington National Park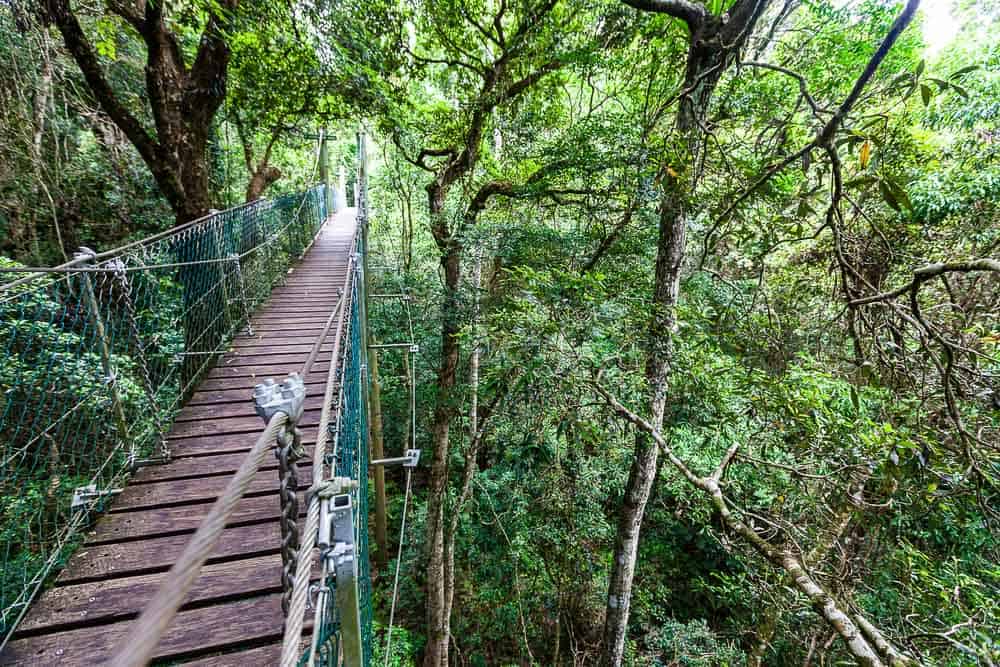 Some of the best weekend trips from Brisbane are found in many nearby national parks, such as the World Heritage Lamington National Park. This area has some of the world's most extensive subtropical rainforests and has excellent views across the Scenic Rim.
Of course, while visiting the Lamington National Park, you can spend your days venturing into the rainforest, exploring a range of walking tracks that will take you past gorgeous waterfalls and rockpools. There is also some great wineries and restaurants in the area too.
Many people choose to stay at O'Reilly's Rainforest Retreat, where you can enjoy guided wildlife walks, segway tours and the popular Tree Top Walk. However, for the ultimate rainforest experience, why not stay at Nightfall, where you stay in the most luxurious tents #glamping, surrounded by the rainforest.
Whether you're after romantic getaways from Brisbane or short holidays from Brisbane with kids, the Lamington National Park is a great choice all year round for weekend getaways QLD.
Caloundra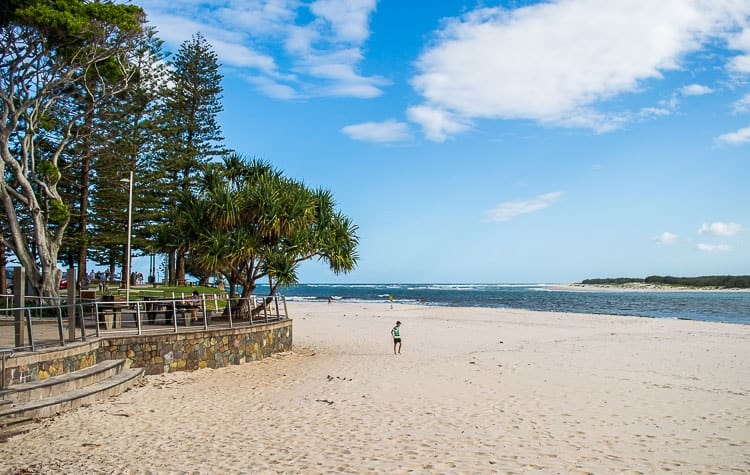 If you're looking for one of the sunny beach weekend escapes Brisbane offers, Caloundra is the perfect location. Caloundra is a casual coastal town on the Sunshine Coast and is a super popular destination, particularly amongst families.
There are many gorgeous beaches to choose from, including Kings Beach, a popular surf beach or the calmer waters of Bulcock and Golden Beaches, along the Pumicestone Passage. Other things to do in Caloundra include boat cruises, kayaking, exploring the local street art, and having long lunches in one of the many waterfront cafes and restaurants.
Caloundra offers a range of great accommodation options, from basic self contained accommodation to some gorgeous resorts. For families, I personally recommend the Oaks Resort as they have some fantastic facilities for the kids.
Caloundra is also well positioned for exploring the various Sunshine Hinterland towns and attractions.
If Caloundra ticks all your boxes for short holidays QLD, you can find out more by clicking here for a full list of things to do in Caloundra and for all the best accommodation click here.
Cotton Tree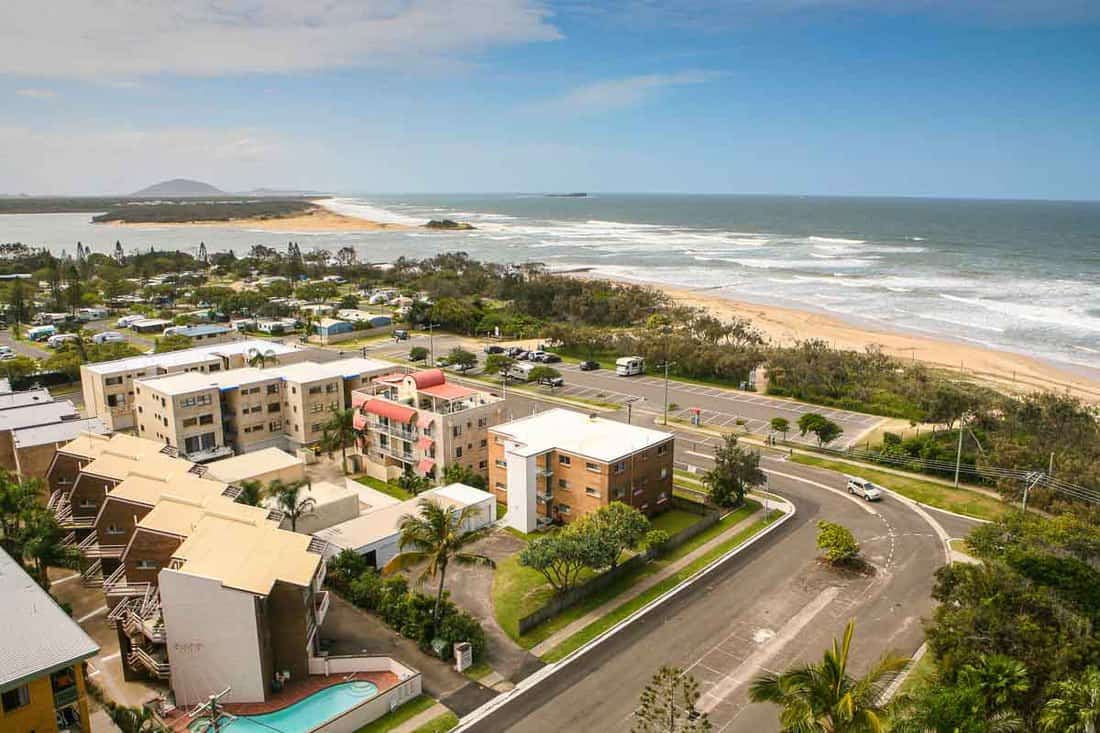 Another popular weekend getaway from Brisbane is Cotton Tree. Located along the banks of the Maroochy River and just a few minutes' walk from the Maroochydore Beach, this is the ideal spot for those after a super chilled and relaxed weekend away.
The best thing about Cotton Tree is having the choice between the calm waters of the River mouth as well as the surf of Maroochydore Beach – so you have the best of both worlds! Plus, along the Riverbank are lots of grassy areas with playgrounds, and walking and bike tracks.
The little dining and shopping precinct of Cotton Tree is super chilled and great for long lunches. The area also has some great markets each Sunday. If you want to go further afield, there is the Sunshine Plaza Shopping Centre and, of course all the great attractions of the Sunshine Coast such as Australia Zoo, Sea Life, the Sunshine Coast hinterland, and stacks more.
When it comes to where to stay at Cotton Tree, I recommend the Cotton Tree Holiday Park which has a range of accommodation options, including beach houses, cabins and tent sites. Check out our full review on the Cotton Tree Holiday Park here.
So if you're looking for overnight stays near Brisbane, do yourself a favour and head off to Cotton Tree.
Couran Cove Resort– South Stradbroke Island
We talked about North Stradbroke Island above, but Couran Cove Resort on South Stradbroke is also one of the best weekend getaways Brisbane offers. Couran Cove is a short ferry ride from the Gold Coast, perfect for overnight trips from Brisbane or even a day trip.
There is a range of great activities to keep the entire family entertained at Couran Cove. For those that love the water, you can spend your days swimming, fishing, surfing, kayaking and SUPing. Out of the water, there are some beautiful walking and bike tracks to explore. There is also plenty of opportunities to spot local wildlife too.
There is a range of different accommodation options at Couran Cove, from fully self contained rooms to small studios. In addition, several different dining options include fine dining to casual dining by the pool or beach club.
Whether you're after a peaceful weekend retreat Brisbane offers or a weekend full of adventure, Couran Cove Resort has something for everyone. It's one of the lovely holiday destinations near Brisbane for your next Queensland getaway. Click here to check out their accommodation options.
Lake Moogerah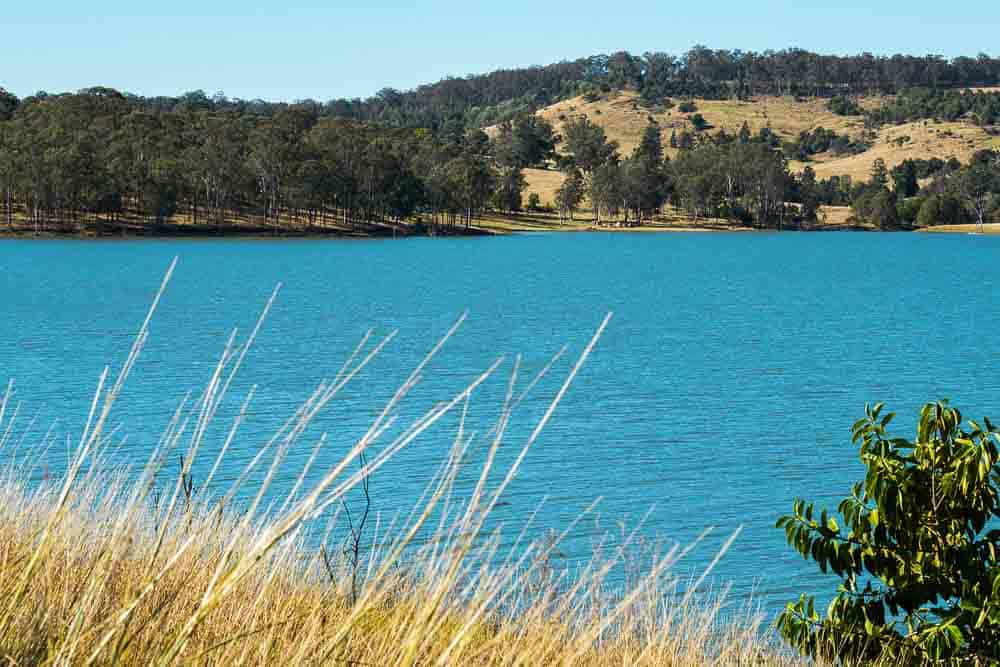 A lovely place to go for a relaxing weekend surrounded by a gorgeous landscape is Lake Moogerah. Located around an hour and a half drive from the city, this is perfect for a Brisbane weekend getaway, Queensland.
Lake Moogerah is a dam and so has plenty of water surface for a range of water activities. Here you can spend your days fishing, kayaking, SUPing, water skiing or swimming. The area is also great for bushwalking with the Mount Edwards track just across the dam wall and lots of other walking trails in the area.
This is the perfect place for those who just want to relax, with the gorgeous lake and mountains as a backdrop. The sunrises and sunsets are amazing and with no light pollution, the night sky here is perfect for stargazing.
There are a few different camping spots around Lake Moogerah, or you can stay in cabins or a house at the Lake Moogerah Caravan Park, as well as some other houses near Haigh Park.
So for country escapes near Brisbane, consider a weekend at Lake Moogerah. For those short on time, it also makes one of the best weekend drives from Brisbane.
Surfers Paradise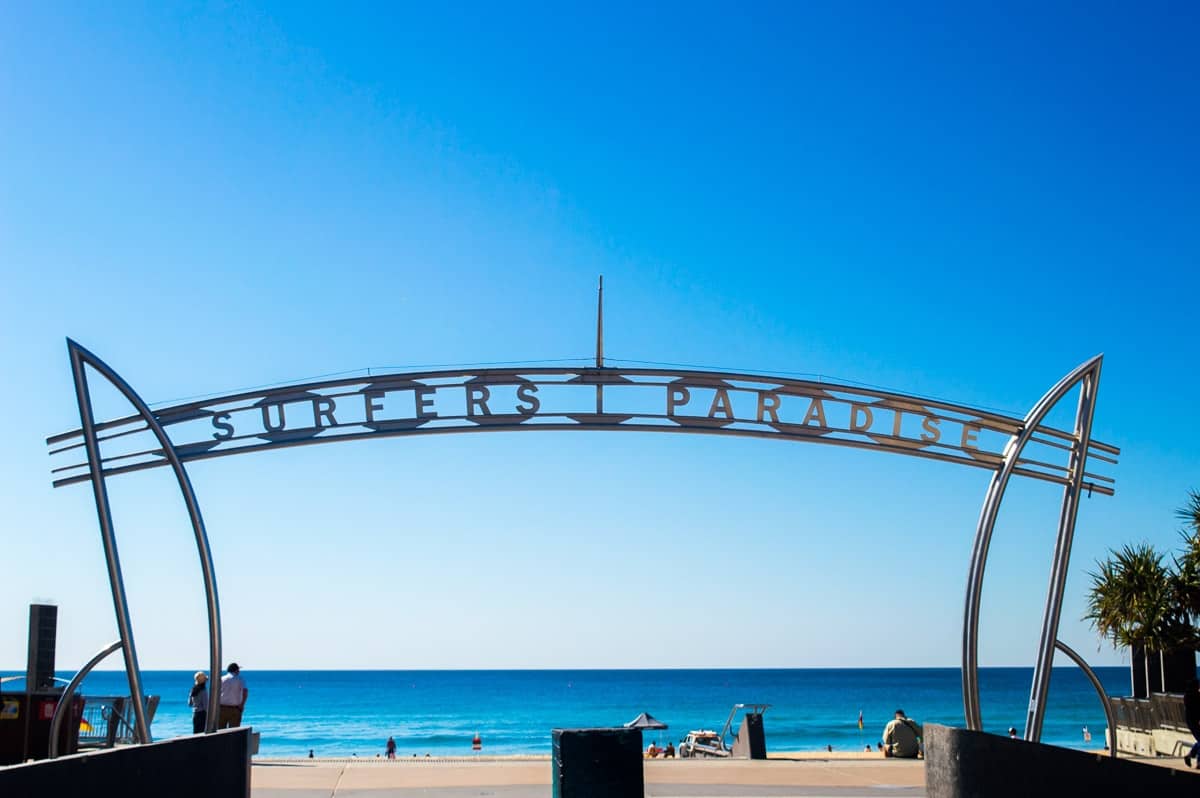 Surfers Paradise is one of those places that's perfect whether you're looking for family weekend road trips from Brisbane or even a girls weekend Brisbane getaway. It's ideal for those that like to be in the centre of it all, because in Surfers Paradise you've got it all – a great beach, loads of fun attractions and great restaurants and cafes.
During the warmer months, you can spend your days swimming at the beach or visiting tourist attractions such as Ripley's Believe it or not, climb the Q1 SkyPoint, play putt putt golf, go to Time Zone, take a ride on the Aquaduck or cruise around the Gold Coast canals.
There are also heaps of different options in terms of accommodation in Surfers Paradise. There is some great family self contained accommodation options as well as fancy hotel suites. We like staying at the Novotel or the Paradise Resort is also a firm favourite for families thanks to its impressive facilities for kids.
So if you're after quick getaways from Brisbane with plenty to do, then Surfers Paradise might be the perfect destination for you.
Click here for a full guide of things to do in Surfers Paradise and where to stay here for one of your next QLD weekend getaways.
Springbrook National Park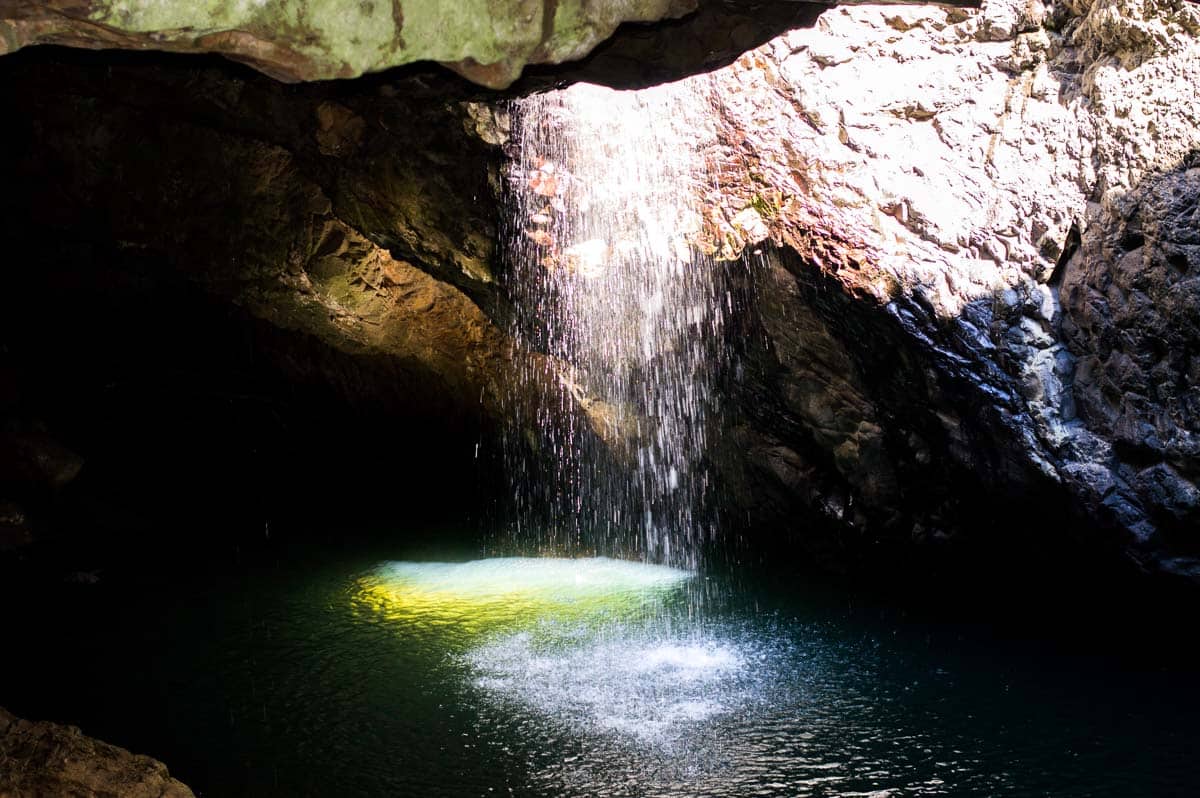 Not that far from the glitz and glamour of the Gold Coast is Springbrook National Park in the Gold Coast Hinterland. Just 90 minutes from Brisbane, this is the ideal spot for the gorgeous mountain getaways Brisbane offers.
Of course the main attraction here is the Springbrook National Park itself. There are different walking tracks to explore and gorgeous waterfalls, including the 109m Purling Brook Falls, Natural Bridge and the Twin Falls. There is also some great lookouts and beautiful spots for a picnic.
Springbrook is also well known for its dreamy little cabins tucked away in the rainforest. It's so peaceful, and you'll love the sounds of the birds as well as enjoying a log fire during the colder months. In fact, the cabins are so beautiful you could be forgiven for never leaving them over the weekend. For mountain getaways near Brisbane, add Springbook National Park to the bucketlist!
Click here for a full list of accommodation around the Springbrook National Park, perfect for romantic getaways, QLD.
Kenilworth
With just 300 people, Kenilworth is a small charming town in the Mary Valley in the Sunshine Coast Hinterland. It is a rustic and rural area, around 50km from the coast and is home to dairy farms, olive groves and vineyards.
The nice thing about visiting the little town of Kenilworth is that it has maintained much of its original 1920s charm. While you're here, visit the Living History Museum and explore the local art galleries, shops and various eateries selling cheese, yoghurts and ice cream.
The area is surrounded by some lovely National Parks and forests, including the Conondale State Forest, perfect for horse riding, fishing and exploring the various walking tracks.
Kenilworth provides several accommodation options, including gorgeous little cabins and several camping grounds. Kenilworth Homestead is particularly popular among families on Queensland getaways.
Broadbeach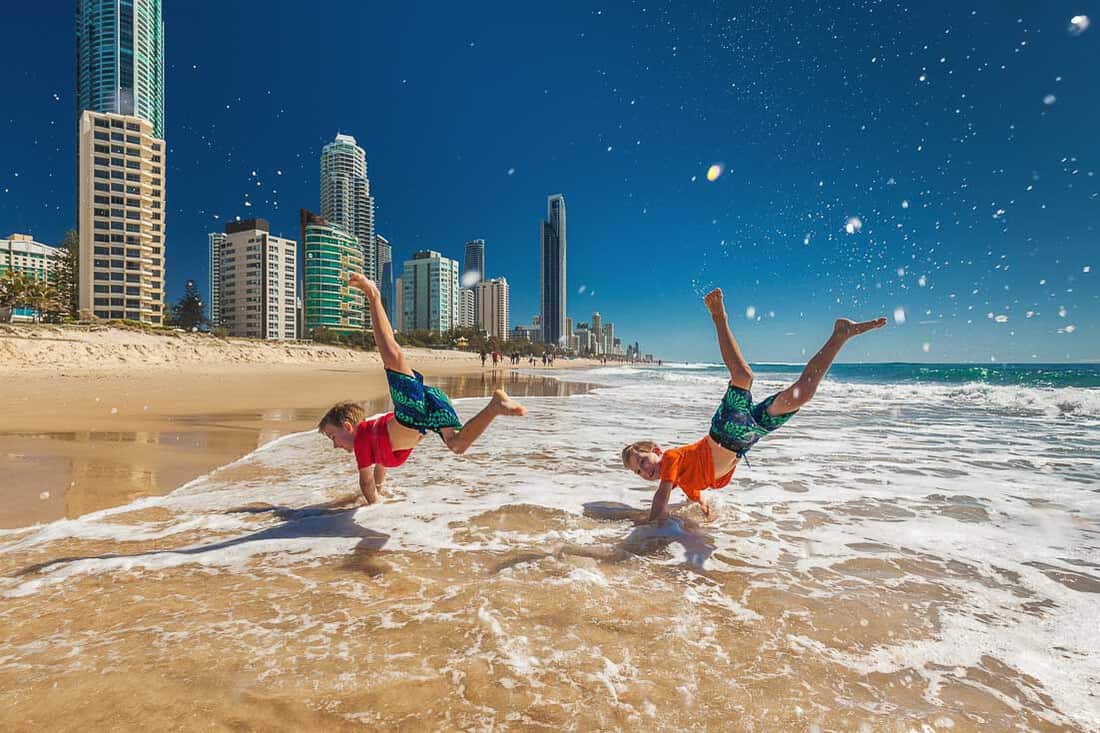 Back down on the Gold Coast, Broadbeach is like the slightly quieter and more sophisticated neighbour to Surfers Paradise. With gorgeous beaches, a great playground and loads of shops and restaurants, Broadbeach is another one of the brilliant weekend retreats Brisbane offers.
Of course, if you're headed there during the Summer months, you'll no doubt spend most of your time on the stunning beach. On the foreshore, there is also an excellent playground which the kids will just love.
When you're ready to escape the heat, there is the massive Pacific Fair Shopping Centre across the road, which has a zillion shops, cinemas and places to eat. You also have the local Broadbeach Mall, which has a range of great shops, and you can catch the monorail over to the Star Casino, which has some family friendly places to eat.
Talking about places to eat – there are many great family restaurants and cafes in Broadbeach. Plus, it's a great base to explore nearby beaches, which are easy to reach with the tram right there.
Broadbeach has a great stack of accommodation to suit all types of travellers and budgets. There are modest self contained apartments to super fancy suites and everything in between. If Broadbeach sounds like one of your next short stays Queensland has on offer – Click here for a full list of accommodation options.
Boreen Point
Another one of the best weekend road trips from Brisbane is Boreen Point. Located in the Shire of Noosa, Boreen Point is a peaceful spot on the white sandy shores of Lake Cootharaba, which is the largest saltwater lake in Queensland. If you're looking for relaxing weekend getaways, Boreen Point gets you back amongst nature, so you can disconnect to reconnect – with loved ones.
With its bush and lake setting, Boreen Point is a gorgeous spot and ideal for a range of water sports such as swimming, fishing, kayaking and SUPing. The area also has several walking tracks and is the perfect place for wildlife spotting. Plus, if you've got your own boat, you can head up into the Noosa Everglades – just gorgeous!
In terms of where to stay, campers have the option of either Boreen Point Campground or Habitat Noosa. Habitat Noosa is also perfect for non campers with a range of cabins and some gorgeous glamping options.
Habitat has its own restaurant and café on site, or there is an excellent family friendly pub nearby (try the chicken parmi – my favourite!), and of course you're not too far away from downtown Noosa here either.
If you're looking for peaceful weekend breaks from Brisbane where you can get back to nature, add Boreen Point to your list.
Mooloolaba

Mooloolaba is a popular beach destination on the Sunshine Coast and is one of the best getaways near Brisbane. This laid back coastal town has a range of attractions, making it ideal for a short break.
During the summer months, no doubt you'll spend your days on the beach, swimming, SUPing or even surfing. Mooloolaba is also home to one of Australia's top dive spots, Ex-HMAS Brisbane. Other things to do include visiting the popular SeaLife aquarium, enjoy a sunset cruise, or adventure rafting for the adrenaline junkies.
Along the esplanade, there are several shops to browse through and some great restaurants, cafés and bars. Here you will also find accommodation galore, including some great family friendly self contained apartments as well as swanky hotel rooms.
Mooloolaba is also well positioned for exploring all the other local attractions around the Sunshine Coast.
Click here for a full list of where to stay in Mooloolaba for one of your next short getaways, QLD.
Girraween National Park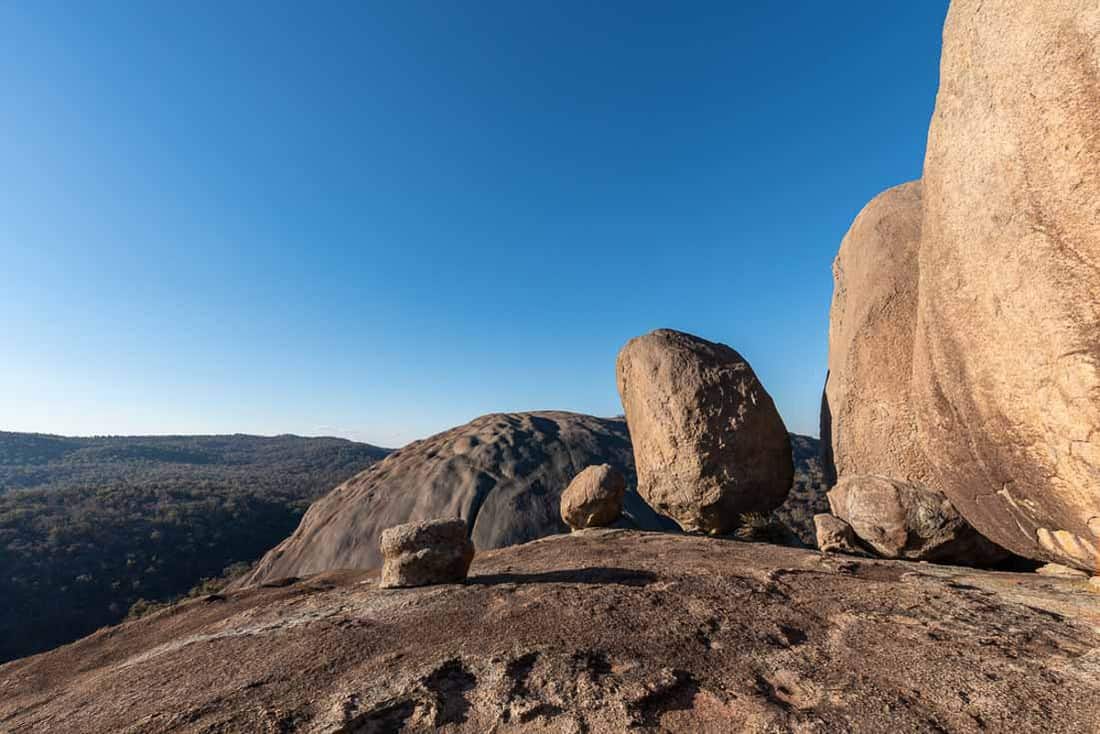 Just past Stanthorpe, Girraween National Park is a great destination for those who love the great outdoors. Girraween National Park has over 117 square km of natural rock formations, including amazing granite boulders that balance on top of each other and gorgeous little rock pools.
There are several different walking tracks to explore here, all in varying lengths. Choose the short 280m stroll to Bald Rock Creek or take the longer 11km return walk to Mount Norman. One of the more popular hikes is the 4km return walk to the "Pyramids". While this walking track involves a steep climb up a granite rock face, the 360 degree views at the top make it well worthwhile.
In terms of accommodation, there are several campgrounds in the area, although I don't recommend these during the colder months. During the cooler months, book into one of the gorgeous little cabins complete with roaring log fires – making this the perfect Queensland getaway for couples. The Girraween Country Inn has cosy charm or the Girraween Environment Lodge is also great for the non-campers.
Although it is a 3 hour drive from Brisbane, Girraween National Park makes for one of the great long weekend getaways from Brisbane for the adventurous outdoor types.
Camping or Glamping on Moreton Island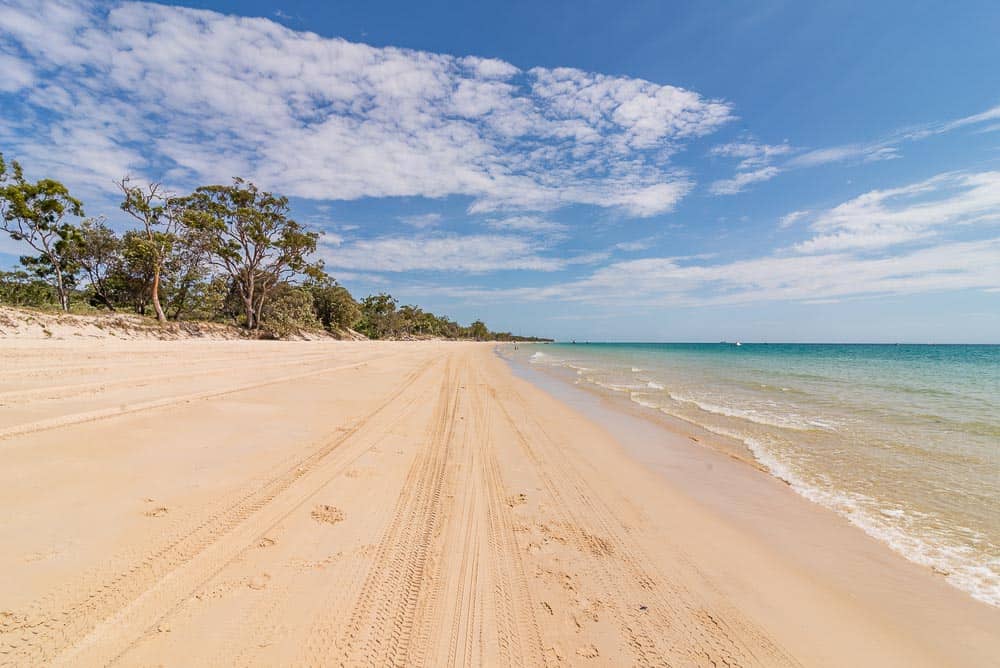 Camping or glamping on Moreton Island should be one getaway Brisbane offers that should be on everyone's bucket list! Either take one of the weekend packages Brisbane offers with a tour group or arrange your own trip.
Whatever you choose, you're in for a real treat at Moreton Island. Spend your days snorkelling at Moreton Islands Wrecks and spot amazing marine life. Go on a 4WD adventure around the island, go swimming, kayaking, or fishing. In the evening, roast marshmallows on an open campfire or go kayaking with underwater LED lights.
If you arrange your own trip to Moreton Island, you can opt to take your 4WD across so you can camp on one of several different beaches. But even those without a 4WD can still bring across their camping gear and set up camp where the ferry lets you off or stay in one of Castaways gorgeous glamping tents. There are a few other accommodation options too – click here for full details.
While the journey across to Moreton Island is just 75 minutes by ferry, here you'll feel like you're a million miles away. Easily one of the best Brisbane getaways!
Tangalooma Island Resort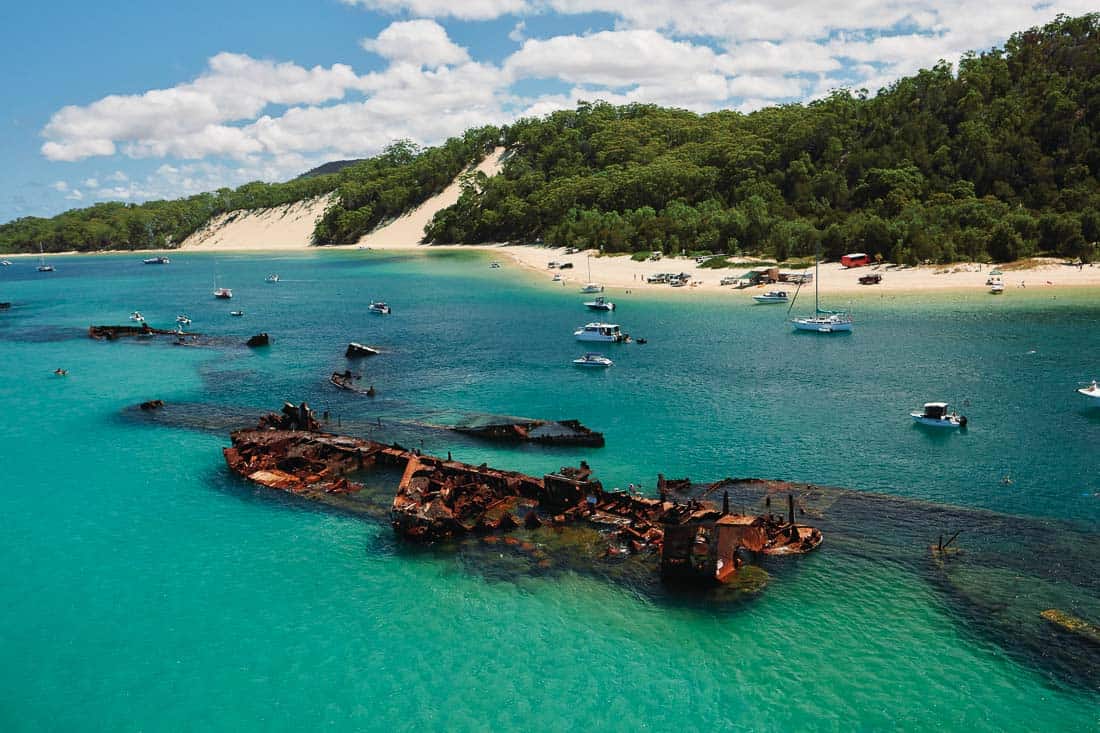 Another option for those wanting to visit Moreton Island is to stay at Tangalooma Island Resort. This island resort is stunning, and although it's just an hour ferry ride away from Brisbane, you'll feel like you've travelled to a tropical island a million miles away.
Like we mentioned above, while staying at Tangalooma Island Resort, you can join in all the wonderful activities available on Moreton Island, including snorkelling the Wrecks, 4WDing, swimming, kayaking and fishing. However, you can also use the resort facilities, including swimming pools, wildlife feeding, and the very popular dolphin feeding, which happens each night.
Tangalooma Island Resort has a range of accommodation options, including basic studio rooms, self contained apartments and spacious holiday homes. There is also a range of restaurants and cafes on site.
For tropical Brisbane weekend trips, they don't get much better than a few days at Tangalooma Island Resort. Click here for our full Tangalooma Island Resort Review – one of the great holidays near Brisbane.
Somerset Dam
Somerset Dam is another excellent option if you're after weekend getaways, Brisbane offers. Just a short drive from Brisbane, this is a beautiful destination on the waters edge and a great place for a weekend getaway.
Somerset Dam is super popular for the water sports enthusiast. The calm flat waters of Somerset are ideal for boating, kayaking, SUPing, water skiing, wakeboarding, or jet skiing. There are designated swimming areas at Kirkleigh and the Spit, while the dam is perfect for fishing.
Somerset Dam is popular among campers, or some great cabins are available on the northern shores at the NRMA Lake Somerset Holiday Park.
If you want to holiday near Brisbane where you can forget all your worries, and retreat back to nature, Somerset Dam is the place for you.
Tallebudgera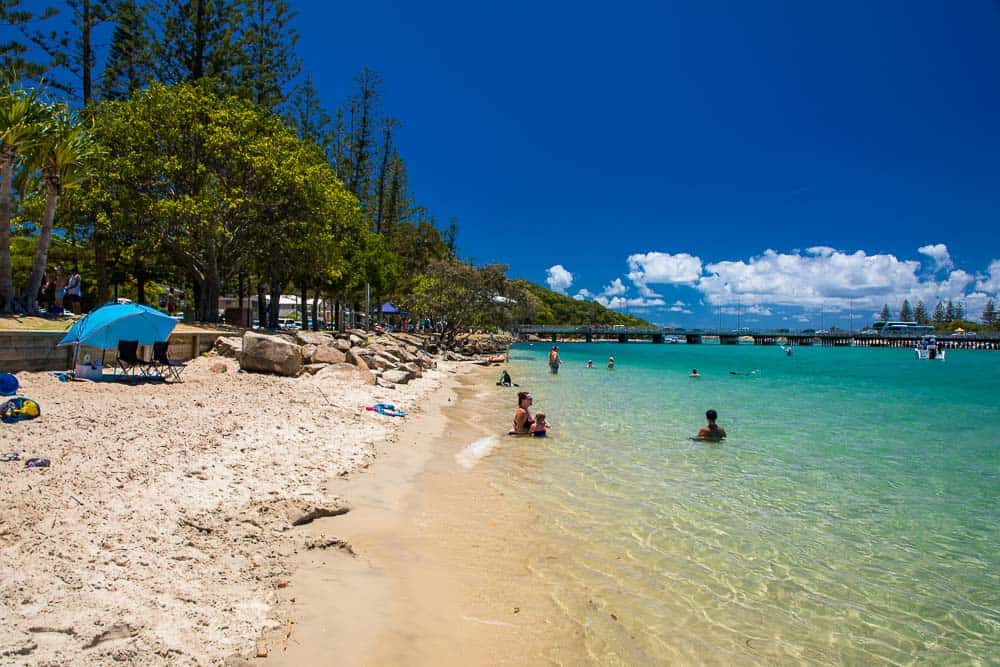 Best known for its pristine sparkling clear creek, with the Burleigh Heads National Park on one side and Palm Beach on the area, Tallebudgera is in my view, one of the most picturesque areas on the Gold Coast. This is one of the best beach getaways near Brisbane!
This is a pretty chilled area of the Gold Coast, where you'll be spending your days mostly in the water. The creek is super calm, making it ideal for swimming, kayaking and SUPing. There is a sandy beach for the kids to play and along the banks of the creek is a range of bike and walking tracks and lots of picnic areas.
The best place to stay here is at the Tallebudgera Creek Tourist Park – but be warned, this place is always booked out and you will need to book well in advance. But don't worry, this tourist park isn't just about camping and cabins; they have some pretty stunning luxurious waterfront villas too. There are a couple of other accommodation options available if Tallebudgera is on your list of short breaks Queensland – you can check them out here.
For families looking for weekend holidays from Brisbane, where everything revolves around the water, Tallebudgera would certainly be my recommendation.
Toowoomba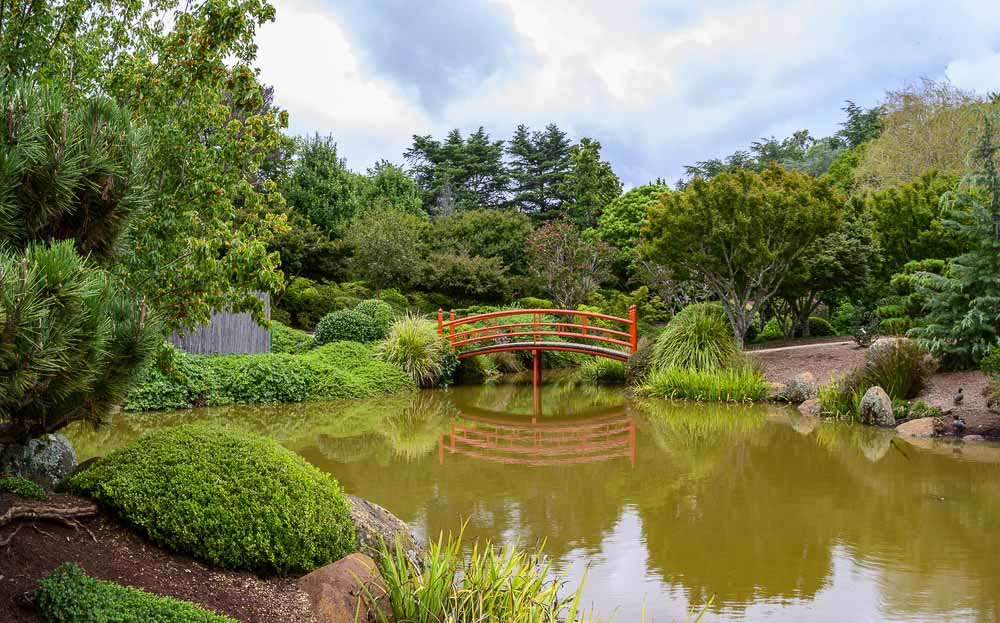 Toowoomba is certainly not the destination that usually comes to mind when people think of weekend retreats near Brisbane. Still, with its quaint country charm, beautiful parks and historical gems, this Garden City can be a great place to visit.
Thanks to its 150+ parks and gardens, Toowoomba has earned the name of the Garden City. Some of the more popular parks to visit include Queens Park, Laurel Bank Park, the State Rose Garden in Newtown Park, and the Japanese Garden are top picks.
Things to do in Toowoomba include a visit to the Cobb + Co Museum, checking out the city's street art and a picnic at Picnic point. If you're reasonably fit, then you'll also enjoy the climb up Table Top Mountain which has spectacular views once you reach the top.
Toowoomba has a range of lovely accommodation options. Stay in an old Qld'er complete with roaring log fire and snuggle up with your loved ones – one of the best retreats near Brisbane.
So next time you're looking for weekend trips around Brisbane – why not consider Toowoomba.
Bunya Mountains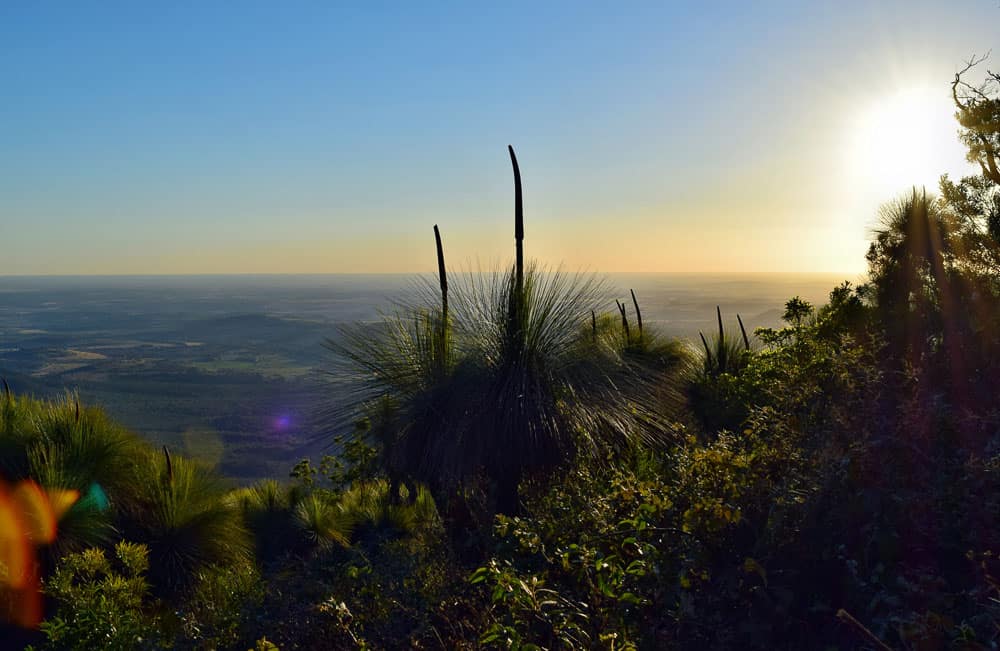 The Bunya Mountains are a 2 hour drive from Brisbane and is a great option for those after a peaceful mountain escape. The area is home to the world's largest forest of bunya pines – hence its name.
Bushing walking is the main activity here, with several different trails to choose from. It's also the perfect place for spotting wildlife, including several species of birds, wallabies and more. Also, with pretty much zero light pollution, the Bunya Mountains is the ideal place for enjoying the stars.
In terms of accommodation, your only option is to camp or book a home in the area. Unless you are visiting in the warmer months, one of the beautiful homes would be my recommendation because it can be particularly cold here. Plus, the homes are lovely and most have gorgeous fireplaces, great for snuggling in front of and they offer great value for money – perfect for those after cheap getaways from Brisbane. Check out all the homes available to rent here.
The Bunya Mountains is a great destination any time of the year. Still, being one of the only places in QLD where you can experience a real winter, it's perfect if you're after one of the winter weekend getaways Brisbane offers.
Click here for our full guide on a weekend away in the Bunya Mountains.
Hervey Bay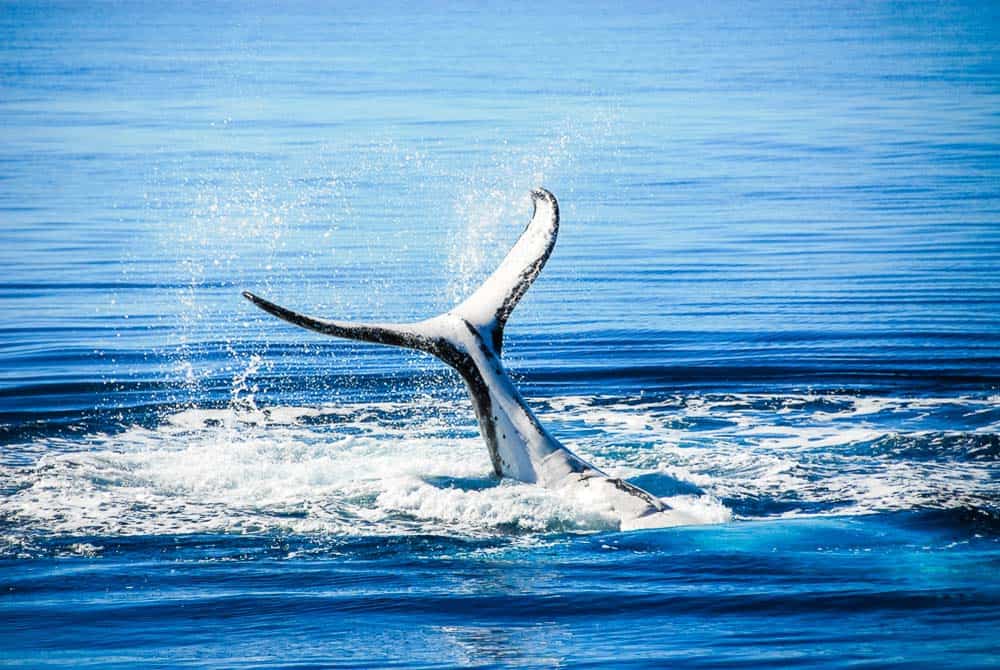 3.5 hours north of Brisbane, Hervey Bay is wedged between the mainland and the world heritage listed K'gari and is considered the whale watching capital of Australia. During the months of mid July to October, this is the place to be to see humpback whales. The water surrounding Hervey Bay is calm and perfect for whales to nurture their young calves – hence why it's known as a whale nursery.
While whale watching is the most popular activity in Hervey Bay, the area does have around 14km of golden beaches to enjoy as well. The calm waters are perfect for swimming and other watersports. There are also walking tracks along the Esplanade and don't miss a sunset and drinks at Enzo's on the Beach.
There are some lovely places to stay along the Esplanade, from good budget self contained accommodation to luxurious hotel suites and everything in between. If Hervey Bay is one of the holiday spots near Brisbane you want to check out, then – Click here for a full list of accommodation options.
Burleigh Heads

Burleigh Heads is a popular and laid back coastal town on the Gold Coast, perfect for those wanting to be away from all the glitz and glamour of Surfers Paradise, yet still within easy reach to all the Gold Coast attractions.
The beach at Burleigh is perfect for both swimming and surfing and along the foreshore, you'll find Burleigh's famous towering pine trees. The foreshore has spacious grassy areas dotted with playgrounds making the perfect spot for a family picnic. The area is also home to regular craft markets.
The Burleigh Heads National Park is a great spot to walk and from here, you'll enjoy some fantastic ocean views. You can even walk all the way around to beautiful Tallebudgera Creek.
Burleigh has a range of great places to eat as well as places to stay. You'll find everything here, from super cheap old school units to modern fancy apartments. Click here for a full list of accommodation options.
Glass House Mountains

Located in the hinterland in the Sunshine Coast, the Glass House Mountains makes for a great weekend escape from Brisbane.
For the adventurous types, you can spend your days exploring the Glass House Mountains National Park. There are numerous lookouts and walking tracks at Mount Tibrogargan and Mount Ngungun for all different fitness levels. Also, be sure to check out the Glass House Mountains Visitor and Interpretive Centre, where you can learn about local history and attractions.
The Glass House Mountains is also an excellent base for exploring nearby hinterland towns like Maleny and Montville and Steve Irwin's world famous Australia Zoo.
There are several different accommodation options in the area, including caravan parks, motels and lovely cabins. Click here for a few suggestions.
A few days at the Glass House Mountains is a great outdoor getaway near Brisbane.
Coolum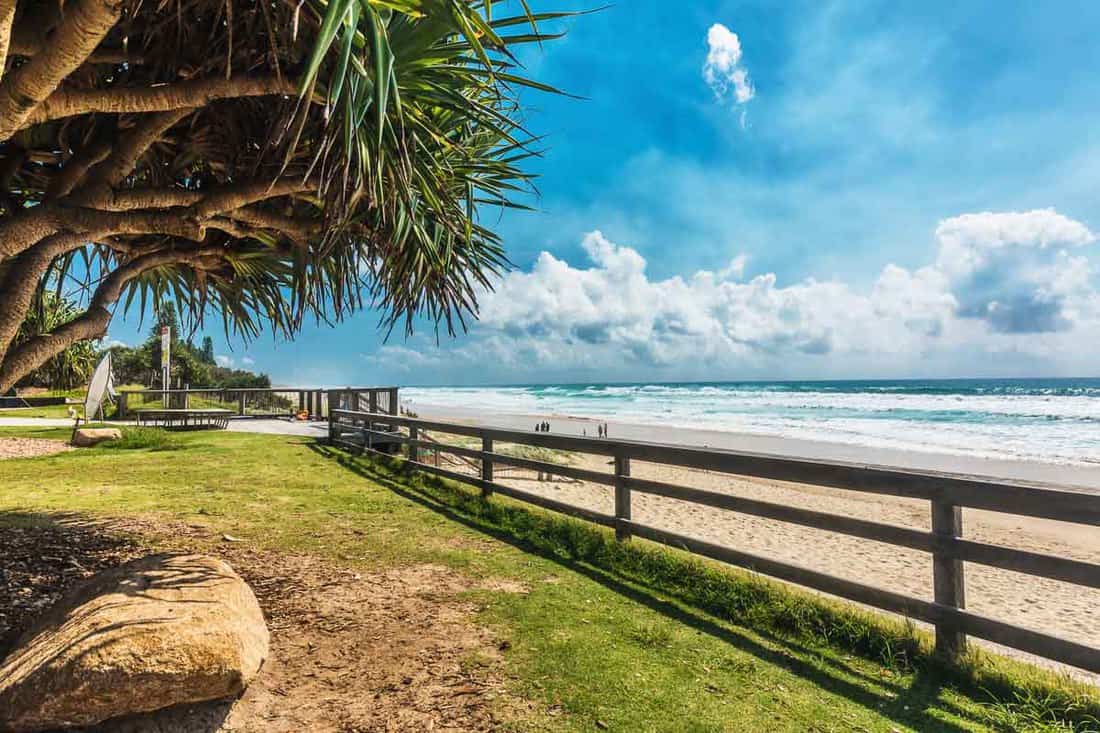 Coolum is another gorgeous Sunshine Coast beach, just under a 2 hour drive from Brisbane, making it a great weekend getaway. The coastal town is relatively quiet compared to some of the other Sunny Coast beaches, making it a beautiful place to come and relax for a few days.
Of course, the main attraction here is the gorgeous Coolum Beach, thanks to its pristine sandy beach and beautiful ocean, perfect for swimming and surfing. However, another drawcard here is Mount Coolum, with visitors coming from all over to climb this rock and enjoy the spectacular views from the top.
Other fun things to do in Mount Coolum include visiting the Aqua Park, shopping along the esplanade and dining in the various beachfront restaurants and cafés. Plus, Coolum Beach has an off leash dog friendly beach, so if you can find yourself some dog friendly accommodation, there is no need to leave your fur baby at home.
For cheap beachfront accommodation, you can't go past the Coolum Beach Holiday Park, but there is also a wide range of accommodation options to choose from. Click here for our guide on where to stay in Coolum.
Ravensbourne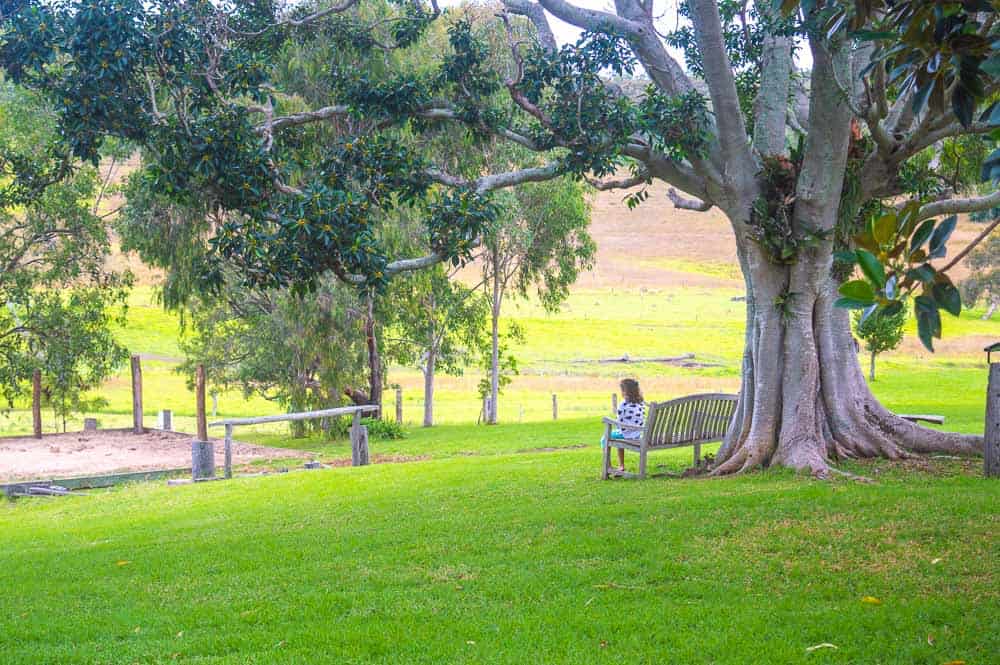 Ravensbourne is a gorgeous area located on the edge of the Great Dividing Range, just under 2 hours from the Brisbane CBD. The area is full of gorgeous rolling hills, exceptional food and beautiful landscapes, making it just perfect for a weekend away.
The drive to Ravensbourne is just gorgeous! Be sure to take the winding Esk-Hampton Road, which is said to be the region's most beautiful drive. You'll pass Lake Wivenhoe, the Deongwar State Forest and drive through rolling green hills featuring livestock.
Spend your days in Ravensbourne exploring the various walking trails of the Ravensbourne National Park. Check out Gus Beutel lookout for amazing views across the Lockyer Valley, which is also a lovely spot for a picnic. Or for something a little different stop by Bunnyconnellen (pictured above) to check out their range of artisanal products and wine. It is just stunning here!
In terms of where to stay, there are a range of properties you can check out here, or Tweeters Country Getaway Farm Stay, which is about 30 minutes away but perfect for families.
Bribie Island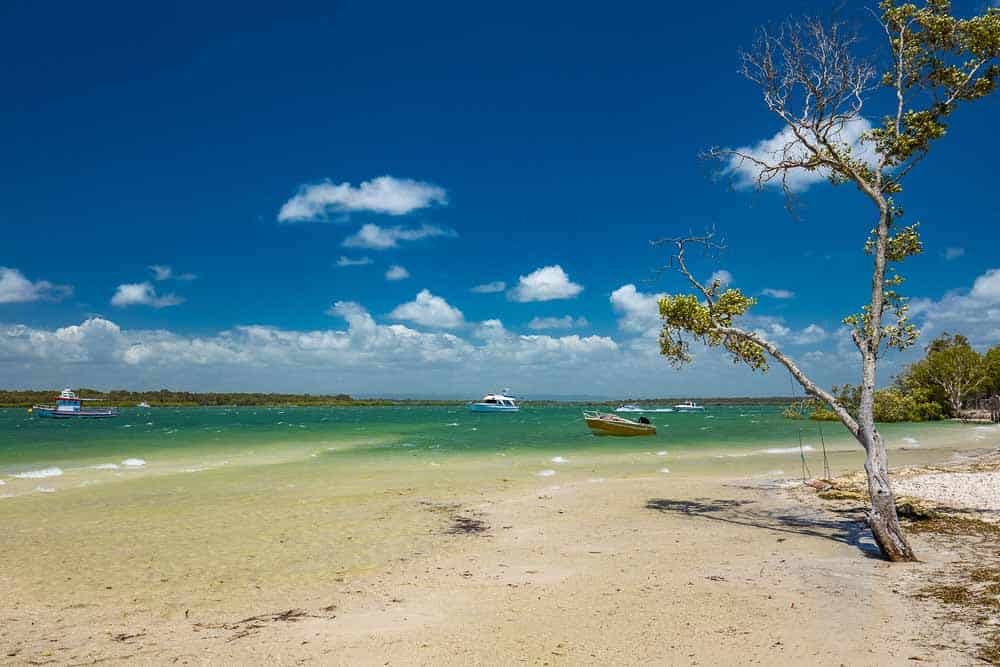 Just minutes from the Brisbane CBD, Bribie Island is a beautiful island and perfect for a weekend getaway. On Bribie Island, you have the choice of calm waters or surf beaches as well as a casual, welcoming community vibe.
Along with Moreton and North Stradbroke Island, Bribie Island is one of the three sand islands in Moreton Bay. Bribie Island is the smallest of the three and one of the easiest to reach, thanks to connecting to the mainland by a bridge.
For those who prefer calm waters, the Pumicestone Passage is the perfect place. This protected marine park is ideal for water sports and swimming and is an awesome spot to watch the sunset with the Glass Mountains in the background.
If you're more into the surf, Bribie Island has a range of great surf beaches as well as wide sandy beaches and the Bribie National Park for 4WD enthusiasts. There are also some great bushwalks where you can spot wildlife, including kangaroos, wallabies, dingoes and more.
Bribie Island is perfect for those who love to camp, but there is also plenty of apartment style accommodation too – click here for a full list of accommodation options. For families, head on over to the mainland's Big4 Sandstone Point Holiday Resort, which is jam packed full of great family friendly facilities!
Killarney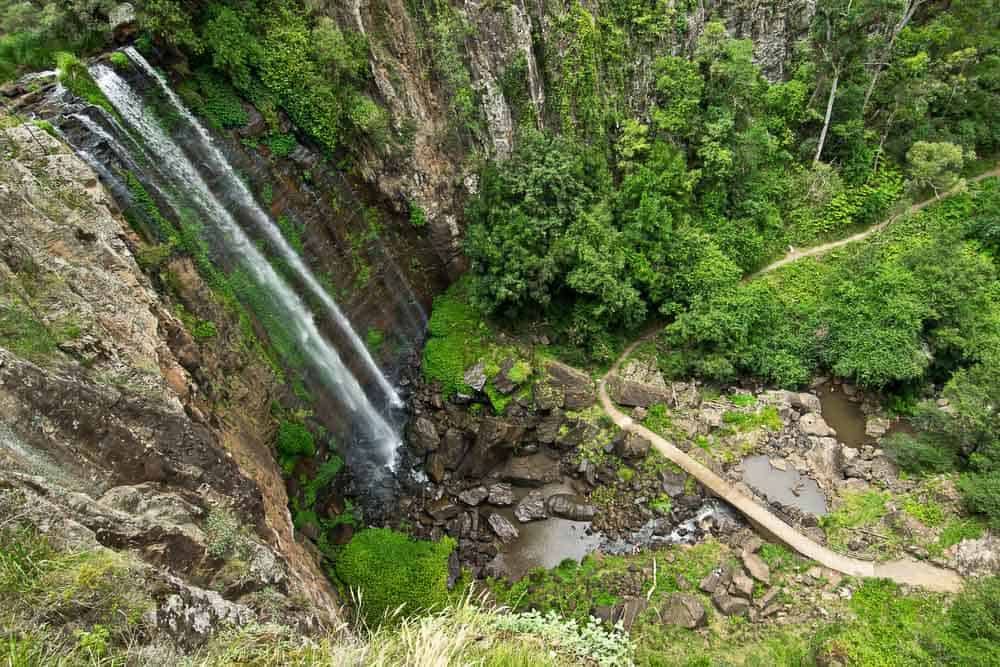 Killarney is 2.5 hours from the Brisbane CBD, a rural town in the Southern Downs, just 6kms from the New South Wales Border. This small country town is the perfect place to escape the city and be surrounded by rolling hills and mountain vistas and where visitors can spend their days exploring the various natural attractions.
The main reason people come to Killarney is for the gorgeous waterfalls along the Falls Drive. You can see five different waterfalls within a short area, including Queen Mary Falls, Daggs Falls, Brown's Falls, Upper Brown's Falls, and Teviot Falls. There are several walking tracks where you can get a closer look at these falls and also have the opportunity to spot wildlife such as echidnas, possum and more. Also, don't miss Carr's Lockout for amazing views.
There is a caravan park close to the Queen Mary Falls or stay at gorgeous B&Bs. Check here for accommodation in the area.
Wivenhoe Dam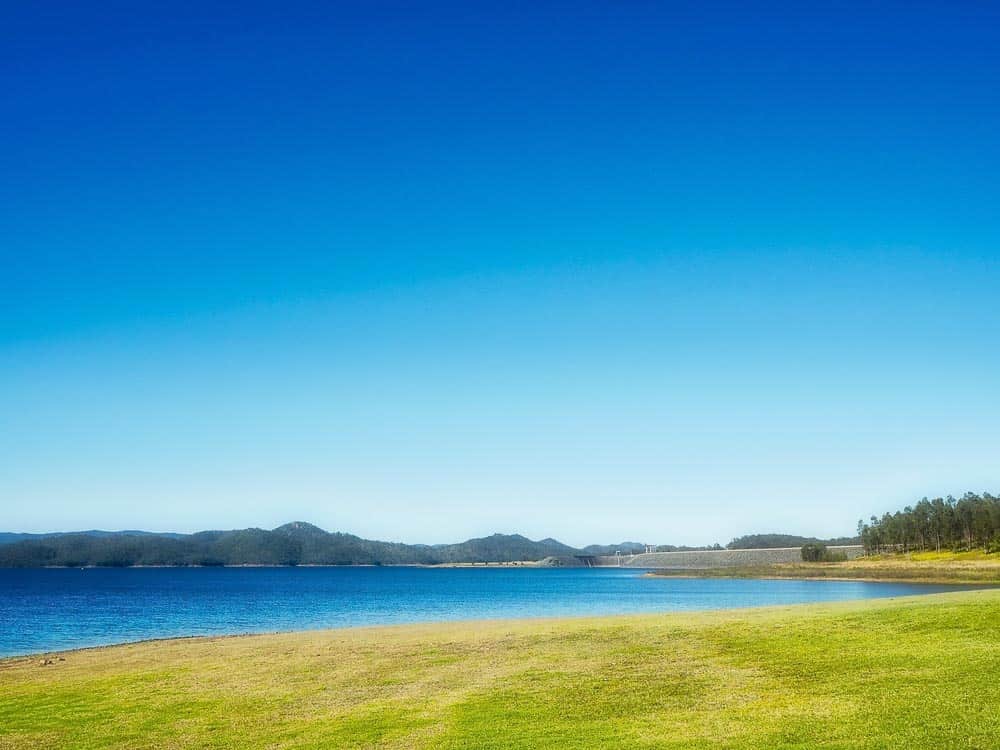 Located just 1 hour from Brisbane in the Somerset Region, Wivenhoe Dam covers 33,000 hectares and is an ideal spot for those after a relaxing getaway in the great outdoors. Unlike Somerset Dam, you're unable to use watercraft with motors at Wivenhoe, so it is an excellent spot for those seeking a peaceful escape.
Here visitors can spend their day's kayaking, swimming, sailing, fishing and exploring the various walking tracks. There are two playgrounds in the area and large grassy areas perfect for kicking a ball around for families with young children. And for any keen anglers out there, this is one of the best places in Australia for bass fishing.
If you want to stay at Wivenhoe Dam, you can camp at either Captain Logan Campgrounds or the Lumley Hill Campgrounds.
Kingaroy
Just under three hours' drive from Brisbane is Kingaroy, home to the largest peanut-processing plant in Australia. With its stunning rolling countryside, fresh farm produce and great places to eat, Kingaroy is the perfect short escape for foodies as well as those just after a peaceful countryside getaway.
During the day, visit the Pottique Lavender Farm, a few wineries, and stop to taste local delights such as olives and cheese. For the peanut lovers, you can't skip a visit to the Kingaroy Heritage Museum as well as making a stop at the Peanut Van to taste Kingaroy's most famous export. While at night, it's recommended you visit the Kingaroy Observatory to see the night sky in all its glory.
If you can, plan your visit to Kingaroy to line up with one of the festivals they have in town. There are fabulous race days as well as festivals celebrating pumpkin and even bacon!
There is a range of gorgeous B&B style accommodation like the Hillview Cottages as well as Holiday Parks. Click here for a full guide on where to stay.
Brisbane City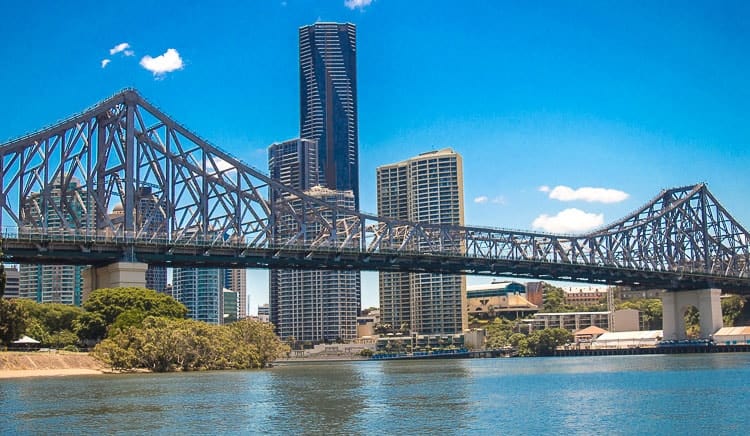 Lastly, why even leave Brisbane for a weekend away when you can enjoy a fabulous weekend in Brisbane. This might sound a little weird if you live in Brisbane, but when was the last time you had a staycation in your own city – it's actually quite fun.
One of the great things about a weekend in Brisbane is that many of the top attractions are free! You can visit museums, art galleries, cruise the river, swim, take guided tours, and get around the city completely free of charge.
If you plan your staycation during the warmer months, spend a few hours swimming at Southbank, followed by a meal at one of the Southbank restaurants and cafes. Plus, of course there are the Southbank markets too and nearby you can easily spend an entire day checking out the Museum, Science Centre and Art Gallery. Click here for more to do at Southbank.
In the centre of the CBD, don't miss the Brisbane Museum, which even includes a free guided tour up the tower of City Hall. If you're a shopper, you can spend hours in the Queen Street Mall or for families, take the kids to Roma Street Parklands and the Botanical Gardens. Then, at night, don't miss the chance to see the Story Bridge lit up while having dinner at the Howard Smith Wharves. Click here for more to do in Brisbane CBD.
There is, of course a stack of great accommodation options in Brisbane for families, but I really love Evolution Apartments, where you can get a well priced self contained apartment with fantastic river views. For loads more places to stay in Brisbane – Click here for a full guide on where to stay in Brisbane.
____________________________________________________________________________________
Hopefully, you've found this list of awesome weekend trips from Brisbane helpful and now have some great ideas. If you don't have time for a weekend away, you can find our list of the best Brisbane day trips here and all our other Brisbane content here.