The Gold Coast is a vast region made up of many different beaches. So if this is your first time visiting the Gold Coast, it can be difficult trying to decide which beach you should base yourself at.
To help you determine which is the best location on the Gold Coast for your family holiday, in this post I have provided an overview of the various Gold Coast beaches. This is not an extensive list of all the Gold Coast beaches, but it does cover the more popular beaches where people usually like to base themselves for their Gold Coast family holidays.
Where to Stay on the Gold Coast with Kids
Broadwater
This area is a fantastic area for families with young children given the large lagoon like body of water here is calm. This Broadwater Parklands are located here, which include the most innovative and imaginative kid's playground that you have ever seen and the Rockpools which is a great water park for small children. The parklands are completely free. There is a great range of hotels and apartments perfect for families as well as a shopping centre (with shops, supermarkets and cinemas) and Sea World is also just across the Broadwater.
I'd highly recommend this area of the Gold Coast for toddlers or young children.
Click here for a full range of family friendly accommodation in Southport.
Main Beach
Located on the other side of the Broadwater, Main Beach stretches 2km long from Surfers Paradise to the Spit. Main Beach is a perfect spot for swimming, surfing, fishing and general beach activities. This is also where Sea World and Marina Mirage is located.
Click here for a full range of family friendly accommodation in Main Beach.
Surfers Paradise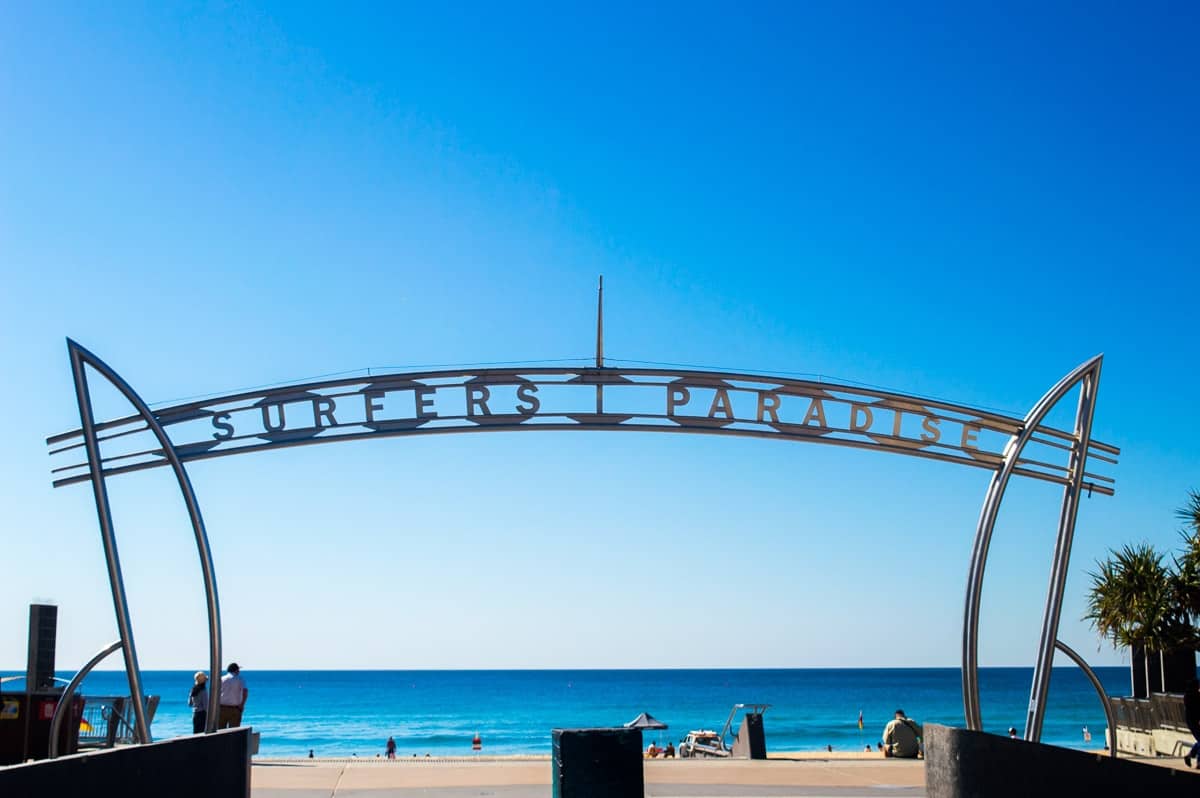 The most touristy spot overall on the Gold Coast, there is a stack of family-friendly things to see in Surfers Paradise, so this is the ideal location if you want to be in the heart of it all. There are a stack of fantastic family-friendly restaurants and shops and a gorgeous stretch of beach for swimming. There is also some fantastic family accommodation Surfers Paradise. If staying here, we highly recommend the Novotel Surfers Paradise for families (click here for our full review on staying at the Novotel).
There are so many things to do around Surfers Paradise for families that I have written a completely separate post on everything you need to know about a family trip to Surfers Paradise. Click here to read our full guide on Surfers Paradise with kids.
Click here for a full range of family-friendly accommodation in Surfers Paradise.
Broadbeach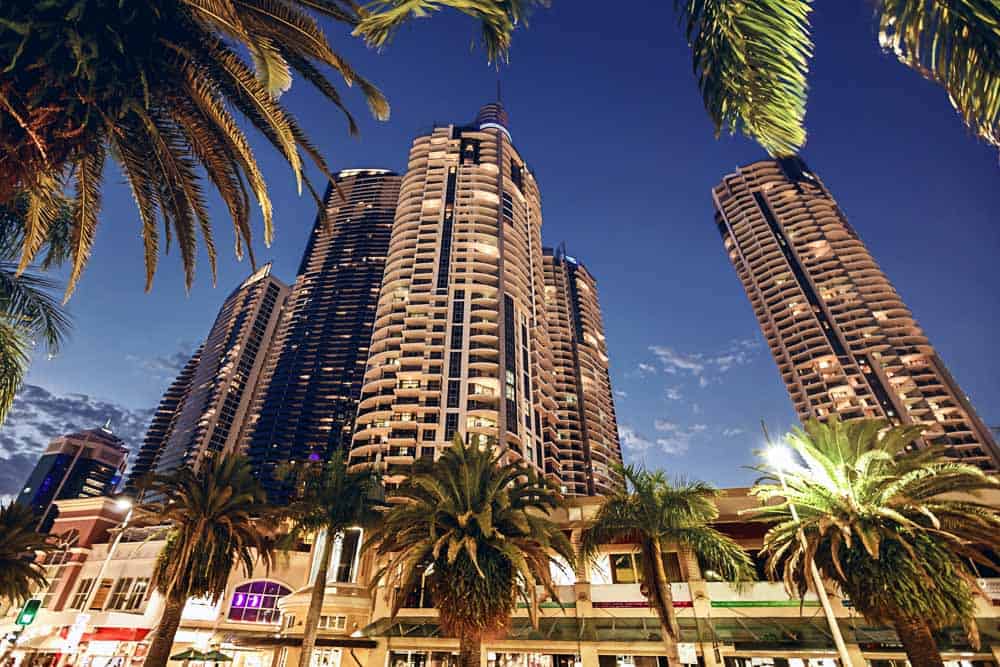 Similar to Surfers Paradise, Broadbeach is a very popular area for tourists. Home to the Broadbeach Mall full of shops, restaurants and family friendly hotels as well as Jupiter's Casino, the Gold Coast Convention and Exhibition Centre and Pacific Fair Shopping Centre, the largest shopping precinct on the Gold Coast. There is also an excellent swimming and surf beach at Broadbeach with a fantastic playground, one of the best kids playground, Gold Coast has.
Click here for a full range of family friendly accommodation in Broadbeach.
Burleigh Heads
The area of Burleigh Heads is a very popular spot for families. Here you will find a gorgeous beach for swimming and surfing, plenty of restaurants, shops, playgrounds and family friendly hotels and apartments.
There is also the Burleigh Heads National Park which has a range of walking tracks including the 2.5km coastal walk around the headland to Tallebudgera Creek. You can catch views of Palm Beach about half way through the track at Tumgun Lookout.
Click here for a full range of family friendly accommodation in Burleigh.
Tallebudgera Creek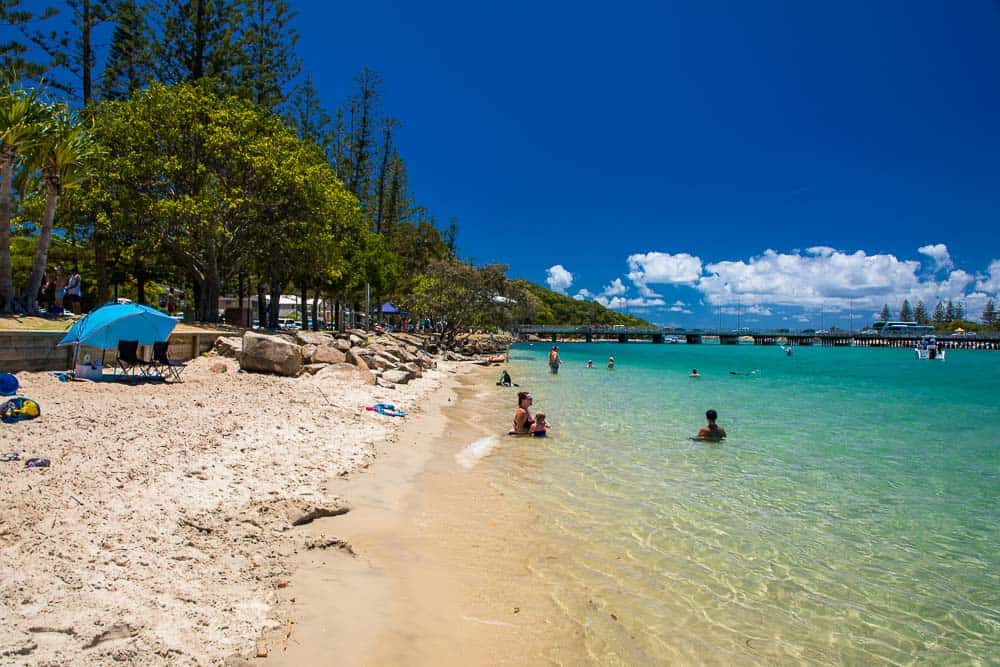 In my view one of the best kid friendly beaches, Gold Coast to offer and one of my all-time favourite places to swim on the Gold Coast. In fact, not technically a beach but a creak, although don't let the word "creek" put you off, this creek is absolutely stunning with bright turquoise coloured calm water, perfect for little ones. This is a popular spot for SUP and kayaking.
There isn't a great deal of accommodation here except the Tallebudgera Creek Tourist Park and it may well be best for a day trip, unless you plan on spending the majority of your time in the water.
Palm Beach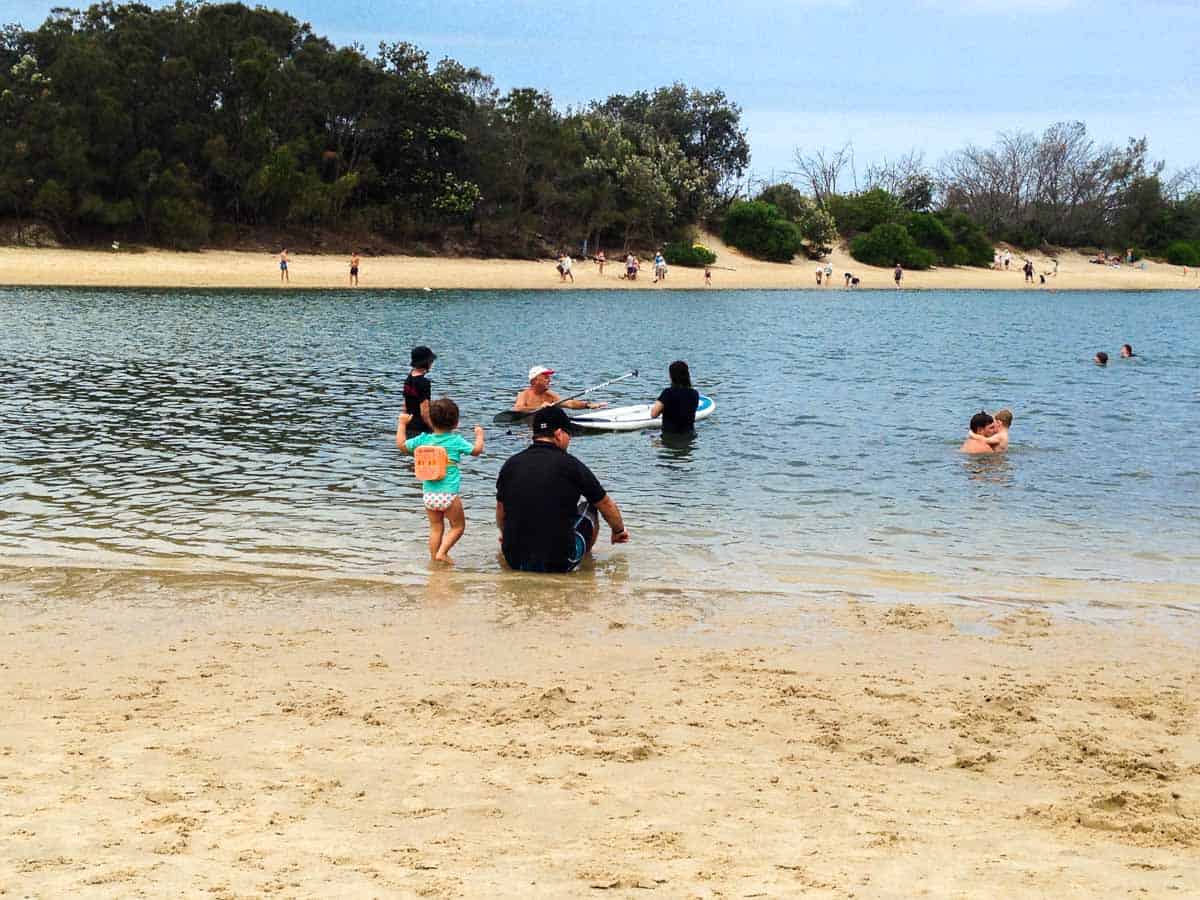 Another great choice if you're looking for the best beach for kids Gold Coast has is Palm Beach, also another personal favourite. Palm Beach has the benefit of having both a surf beach as well as being situated on one side of the Currumbin Creek. Currumbin Creek is perfect for the kids as the water is calm. Whilst a fairly quiet area in terms of shops and restaurants, there are plenty of great family apartments available as well as an excellent playground, another one of our favourite kids parks, Gold Coast has on offer.
Click here for a full range of family friendly accommodation in Palm Beach.
Currumbin
Similar to Palm Beach, Currumbin has the advantage of having both a surf beach and the stunning Currumbin Creek, yep you guessed it another one of my favourites! This is a popular spot for families to enjoy a variety of water sports such as surfing, stand-up paddle boarding and kayaking.
There's not a great deal of accommodation here, but what is here is certainly family friendly and there are a few cafes sprinkled throughout the area.
Also a 15 minute drive inland you will find the gorgeous Currumbin Rock Pools. There are varying pool depths, rope swings, rock slides and ledges to jump off providing plenty of fun for the whole family.
Click here for a full range of family friendly accommodation in Currumbin.
Coolangatta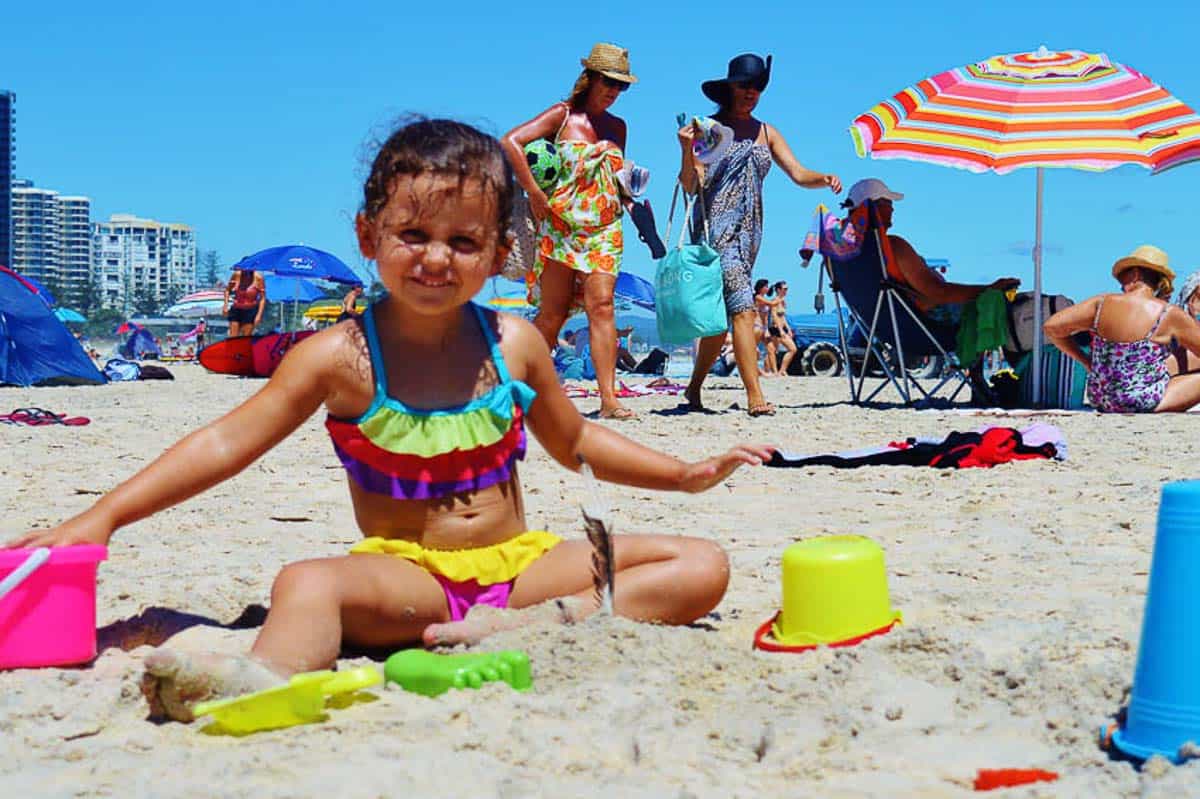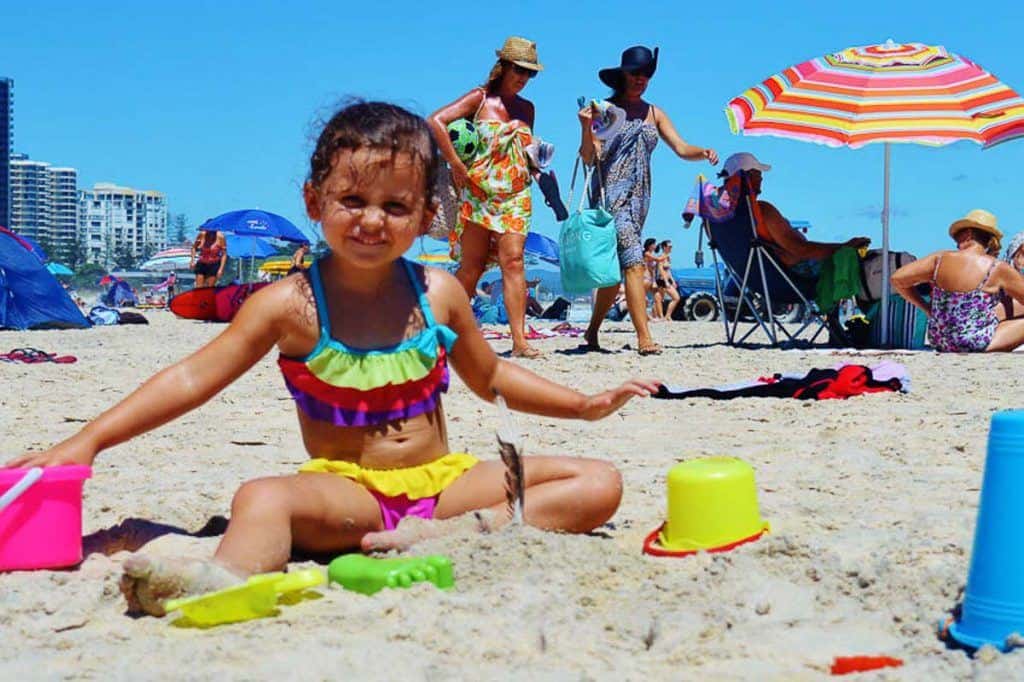 Another fantastic spot for families that want to be in a central location to shops, restaurants, gorgeous beach and playgrounds is Coolangatta. This stretch of beach is 800 metres long, north facing and also protected by the headland. This beach is generally safe and has low waves making it fun for the whole family to enjoy.
Included in Coolangatta are the two smaller beaches of Greenmount and Rainbow Bay – both absolutely stunning beaches and my favourite stretch of beach on the entire Gold Coast, Rainbow Bay. As well as plenty of family friendly accommodation and a shopping centre there is also a lovely walking trail that wraps around Greenmount Hill. You can walk right up to the New South Wales border here.
Click here for a full range of family friendly accommodation in Coolangatta.
Don't forget to go and check out all our other posts on the Gold Coast here.