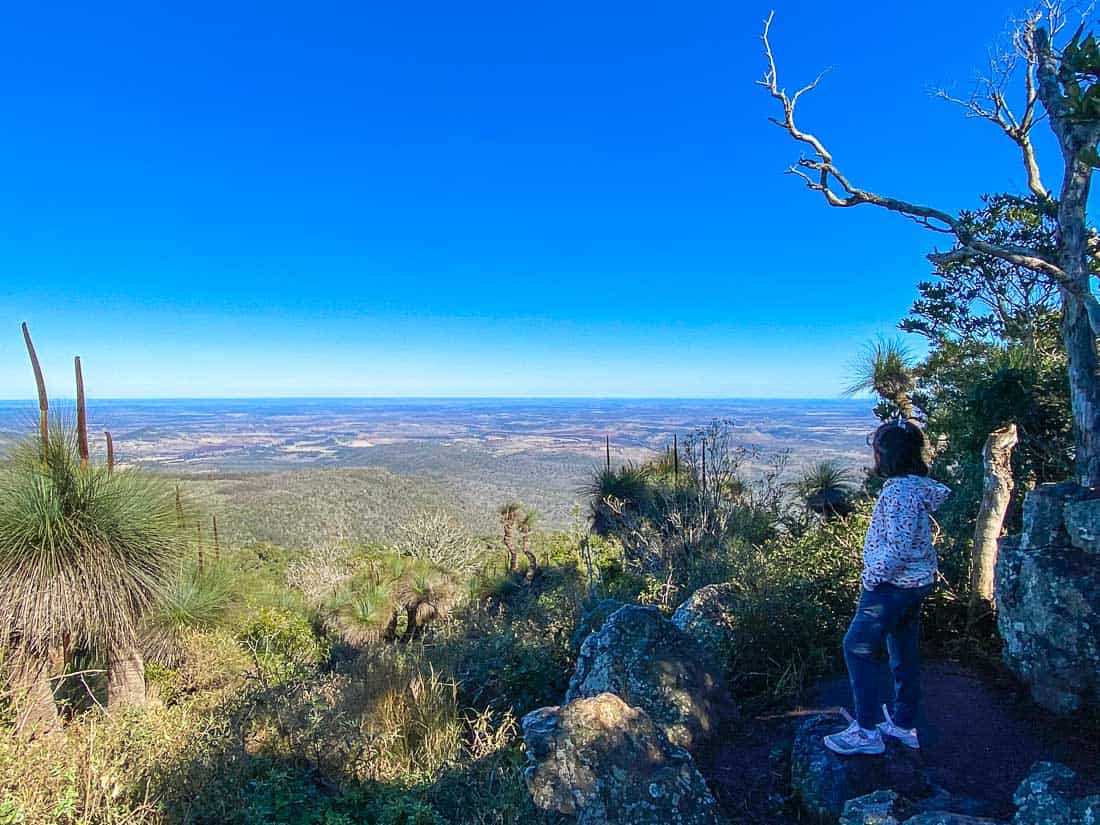 The Bunya Mountains is located in South Burnett around 2.5 hours drive north west of Brisbane. The village is tiny and peaceful – which is what makes it such a great place for a relaxing few days with the family. The entire area is jammed packed with wallabies and colourful birds – all of who are super friendly and not afraid of humans in the slightest. Bunya Mountains getaways are all about exploring the Bunya Mountains National Park walking tracks and then at night get all cozy by the fire and spending quality time with the family.
If you're thinking about taking the kids on a Bunya Mountains holiday, then this guide is going to be super helpful. In this guide, I'll cover everything you need to know in terms of things to do at Bunya Mountains, including all the essential information such as location, opening hours, and where applicable pricing. I'll also include some tips on family friendly Bunya Mountains accommodation.
Are you planning a trip to Queensland? Have any questions? Join our Queensland Travel Planning Facebook group here now! It's the perfect place to ask any questions and to be inspired!
This post may contain compensated links. Please refer to my disclaimer here for more information.
Best Things to do at Bunya Mountains
In this section, I include all the best Bunya Mountains things to do. As to which of these things you should do depends on how long you have in town and what your family's interests are. Whatever you decide to do, to help plan your trip, I've included the below map which shows where all the things to do in Bunya Mountains are. Zoom in and out for a closer look.
We spent three glorious days and nights here and felt it was the perfect amount of time to not only experience all the wonderful things to do Bunya Mountains but to also get in some good relaxing family time.
Please note that the opening hours and prices quoted below were correct at the time of publishing.
If you want even more information about the Bunya Mountains – check out our Facebook Album here and check out our YouTube video here showing the highlights from our trip.
Bunya Mountains National Park Walking Tracks
One of the main Bunya Mountains activities is to explore some of the Bunya Mountain walks. The national park has 10 different Bunya Mountains walking tracks (although many of these tracks are just combination of walks) – all of which could easily be done over a weekend for a super active family – or you could do as we did and do one each day over the three days we were in town.
The Bunya Mountains bush walks are split between the east side and the west side of the mountain. Both sides offer quite different landscapes, with the eastern walking tracks being surrounded by a more traditional rainforest landscape, and the western walking tracks offering a more open grassland landscape with some spectacular views.
All of the Bunya Mountains hiking tracks commence from gorgeous picnic areas (except for Paradise) and some areas also having coin operated BBQ facilities. So a great idea is to pack a picnic lunch to enjoy after your walk.
Check out this map of the walks here, or read my brief overview of the various walks below:
Bunya Bunya Track
For those super short on time, the Bunya Bunya Track is just 500m return and takes around 10 minutes to complete. This track will give you a glimpse into the forest.
Scenic Circuit
The Scenic Circuit is considered the most popular walk on the east side of the mountains. This walk is 4km and takes around 1.25 hours. As the name would suggest, this is a very scenic walk past small waterfalls (more like trickles really!), rock pools and you can even walk through a giant strangler fig. It is a lovely walk and if you only have time for one, I'd recommend this one.
Barker Creek Circuit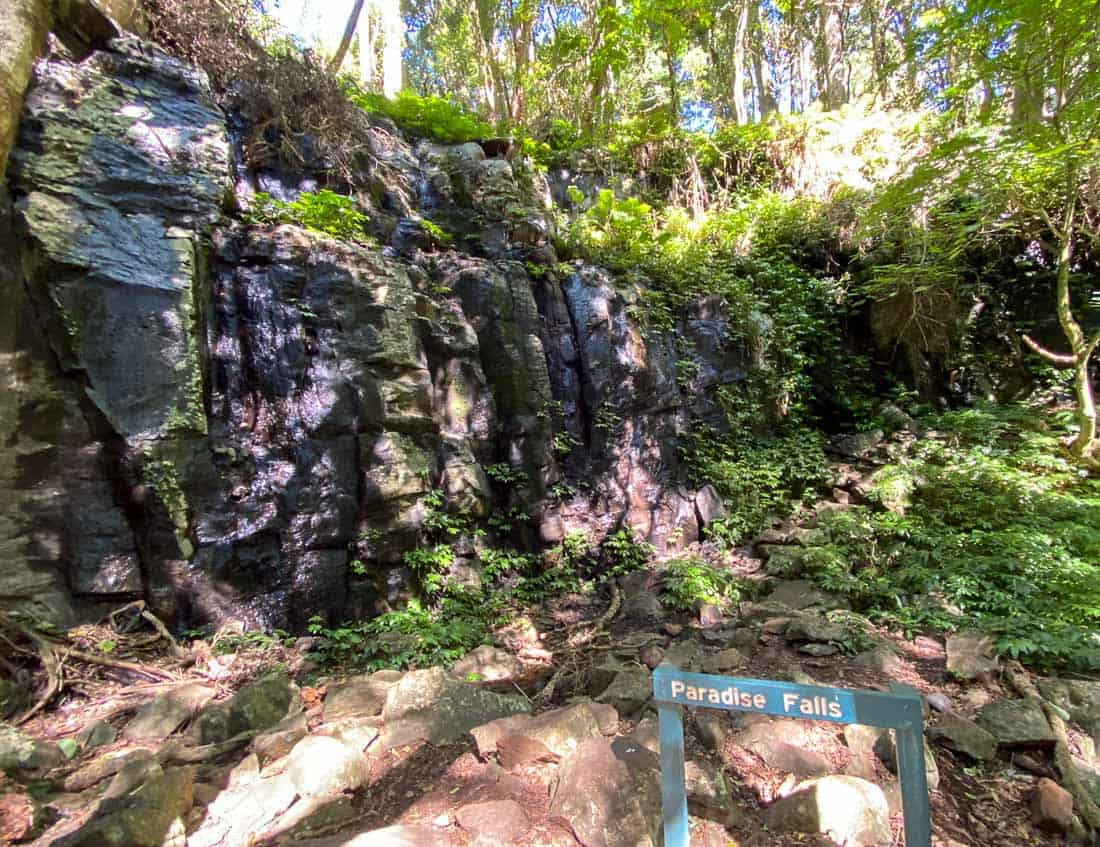 If you're feeling energetic, then I'd recommend the Barker Creek Circuit, which is a 10km return track on the east side of the mountain. This track includes the above Bunya Bunya Track as well as the Scenic Circuit and we did the entire circuit in around 3 hours.
Along the track you'll see a range of waterfalls – Paradise Falls, Little Falls and Big Falls, just don't get excited – these are very small trickles over rocks – nevertheless, they are still very pretty to look at. This walk includes the Barker Creek Lookout – however we found it to have a limited view due to trees – the best lookouts can be found on the western tracks.
Paradise to Westcott
The first of the western walking tracks, this walk is 3.2km one way and takes around 1.25 hours. This is a one way track so you will need to walk back the same way or walk back on the road, which is the shorter route (the walk on the road is also very pretty!).
We didn't do this walk so can't provide too much additional information. Also here you will find Westcliffe Lookout which I hear is a beautiful spot to come and watch the sunset from.
Westcott to Cherry Plain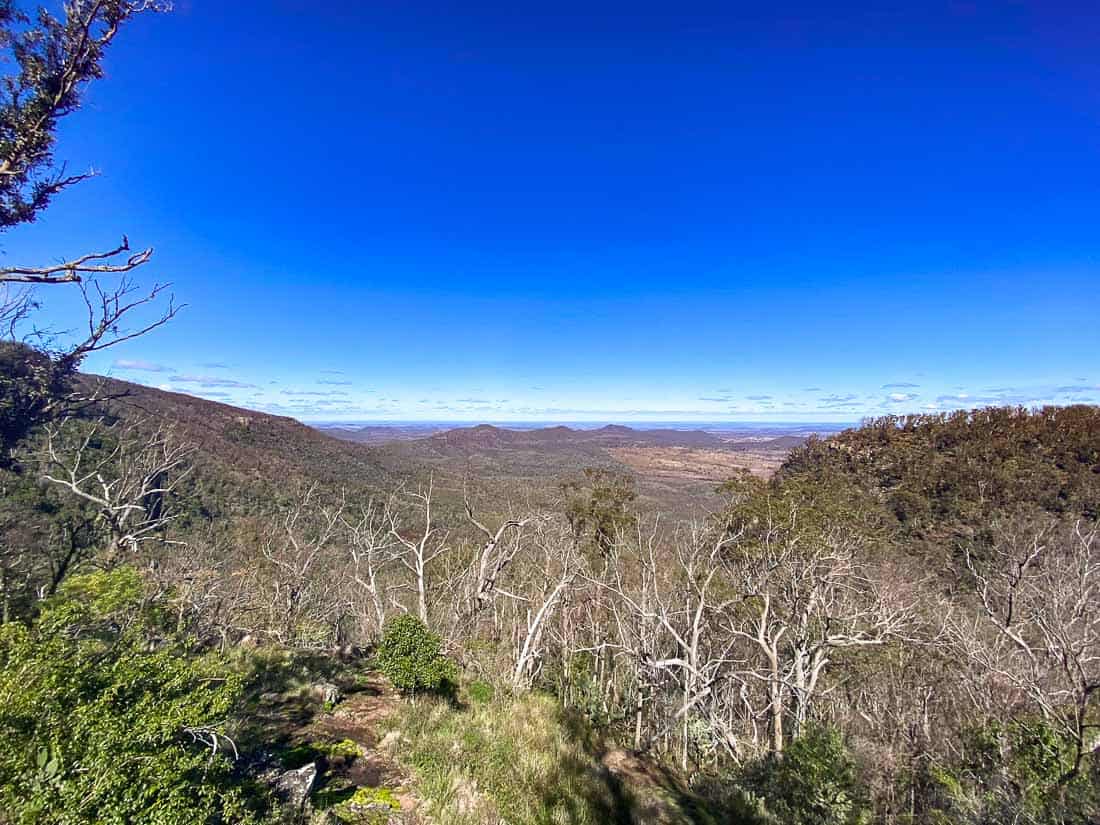 From Westcott, you can continue to Cherry Plain. This walk is 4.8km one way and takes around 1.5 hours. As above, this walk is one way and you will need to return the same way or via the road. We did this walk and returned via the road and all up the walk wouldn't have taken us any more than 2 hours.
This is a lovely walk which takes you along the edge of the west side of the mountain. While there are patches of rainforest, for the most part, this walk is mostly surrounded by eucalyptus forest with excellent views across the valley. Don't miss the Koondaii Lookout for some of the best views from the mountains.
Cherry Plain to Burtons Well
From Cherry Plain, you can continue to Burtons Well on the 6km one way track – allow around 2 hours to complete. This is another track we didn't have time to complete, although I hear this track has numerous great lookouts.
Mt Kiangarow Circuit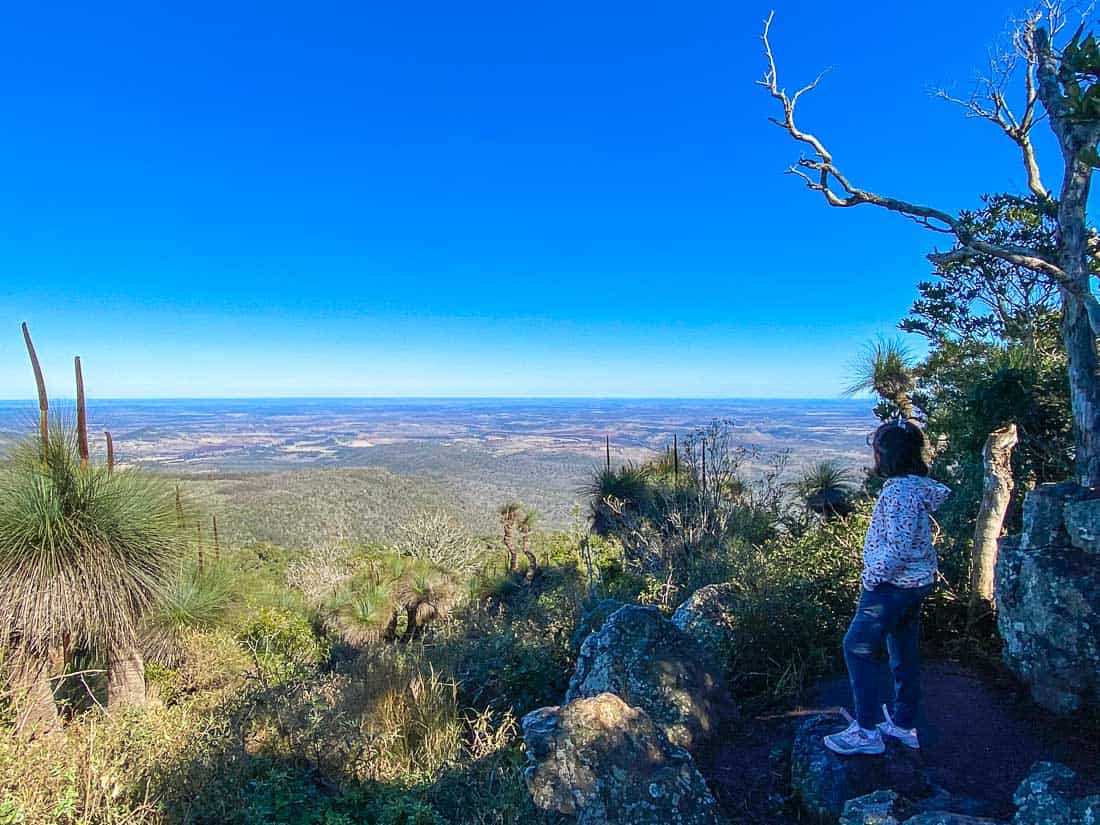 For the highest peak on top of the mountains, do the 2.3km circuit on Mt Kiamgarow. The peak is 1100m and provides lovely views across the valley. We completed this walk in around 45 minutes – so it's rather short. It is a little steep going up, but nothing overly difficult.
This walk is also recommended as a good one to do for sunrise or sunset.
Russell Park Walking Tracks
As well as the walking tracks in the national park, there is also a range of tracks in Russell Park which is managed by the Western Downs Regional Council. We didn't have time to complete any of these walks during our visit, but from what I've read and heard these tracks are also well worth checking out.
My understanding is that there are 4 different walks here, ranging from around 1-2 hours to complete.
See the Wallabies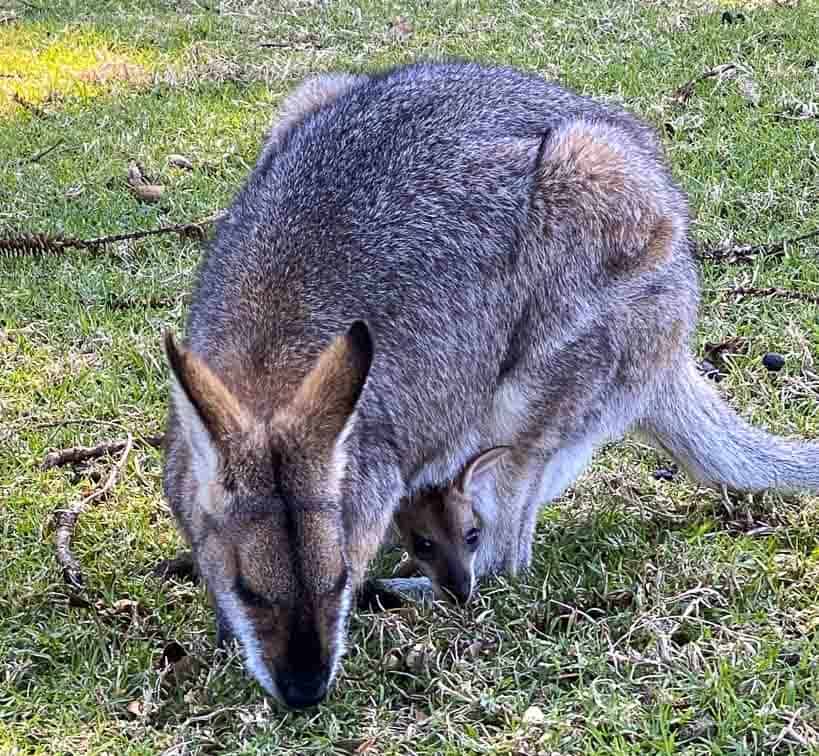 You'll know you're almost at the top on the Bunya Mountains when you start seeing wallabies everywhere on the side of the road. These cute little guys are absolutely everywhere across the village and oh so gorgeous! You'll even have them lounging around your front and back gardens from your accommodation and one or two will probably hop past you as you stroll into the village.
I'm not sure if this always the case – but when we visited pretty much every second wallaby had a super adorable little joey. It was so lovely just sitting out on our deck and watching these beautiful little animals go about their day.
Sunset and Star Gazing at Fishers Lookout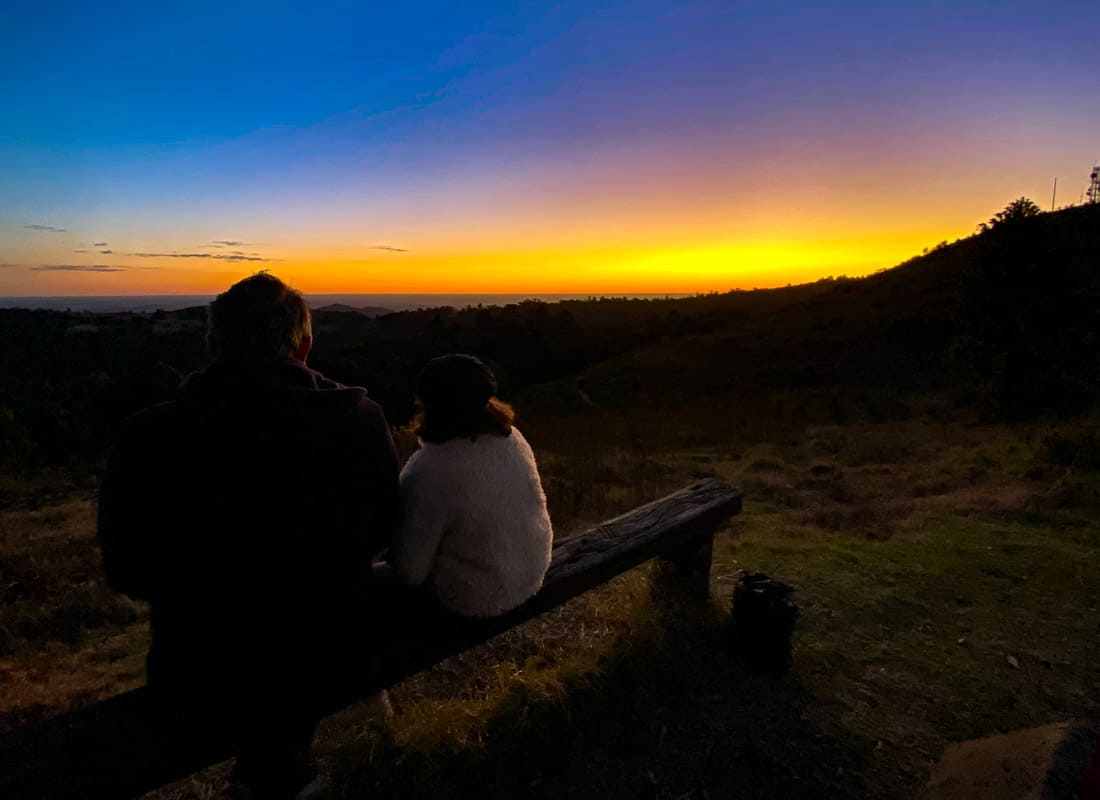 Wondering what to do at Bunya Mountains at night? Why not pack a picnic basket and head on up to Fishers Lookout for the sunset. It's a popular activity though and be warned – you won't be alone! Nevertheless, the sunset is just stunning from here.
Once the sun has set, hang around a little for some stargazing. Most people leave as soon as the sun has set, and we had the place to ourselves. It's the perfect place to check out the Milky Way, the stars and all the lights of the nearby towns.
If you don't have time at night, or your kids are too little – then be sure to go to Fishers Lookout during daylight for fantastic views across the valley.
Bird Feeding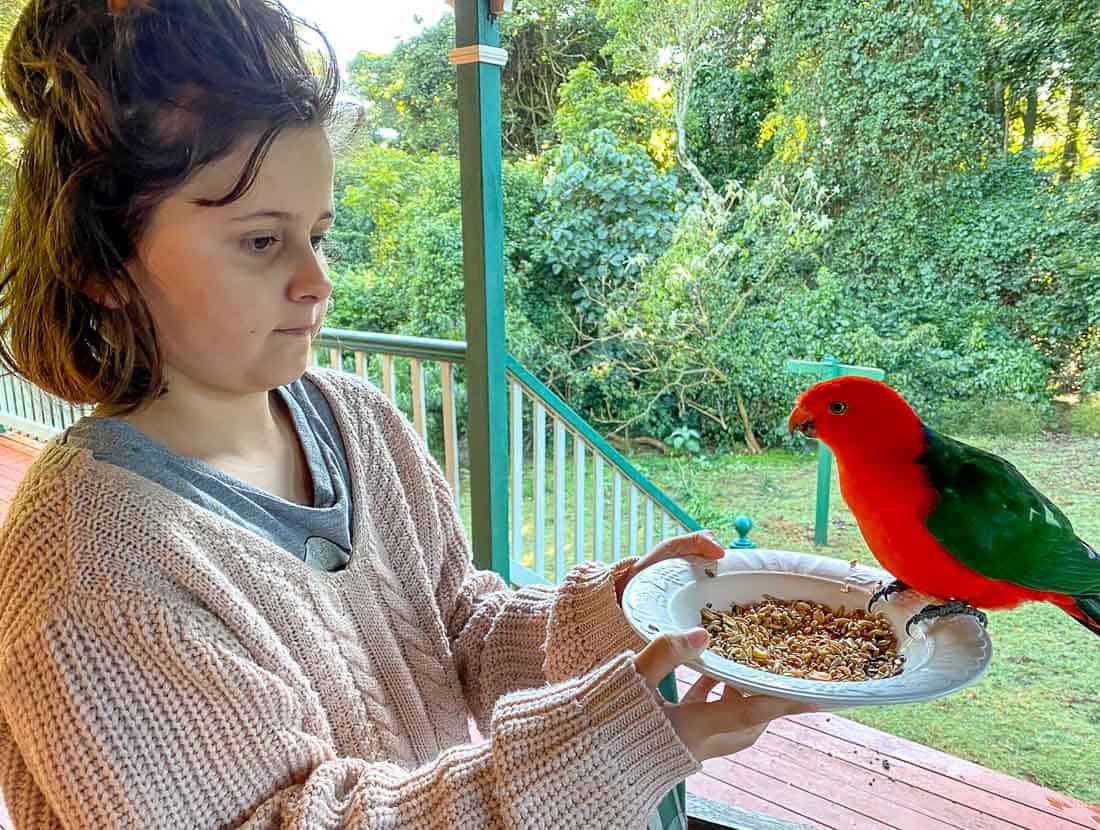 Along with the huge number of wallabies all over the mountains, the next thing you'll notice is the vast number of birds! In fact, there are more than 200 species of birds in the Bunyas including king parrots, rosellas, kookaburras, brush turkeys and satin bowerbirds.
You don't have to go far to see these stunning birds. We just opened the door to our chalet and had plenty of birds come fly right up to our verandah. As you can see from the above picture, the birds are super friendly – particularly the king parrots and rosellas. We even had them eating from our hands!
Our chalet had some bird food for us that we used to feed the birds each morning. Early each morning seems to be best – before 8.30 am. One morning we went outside a bit late – after 9 am – and no birds visited us that day.
Another popular place to feed the birds on the Bunya Mountains is at the General Store in the village. Bird feeding times here are daily from 9.15 am to 10.15 am and 3.30 pm to 4.30 pm. The General Store also sells birdseed if you want to have your own to take to your accommodation.
Cedarvale History Cottage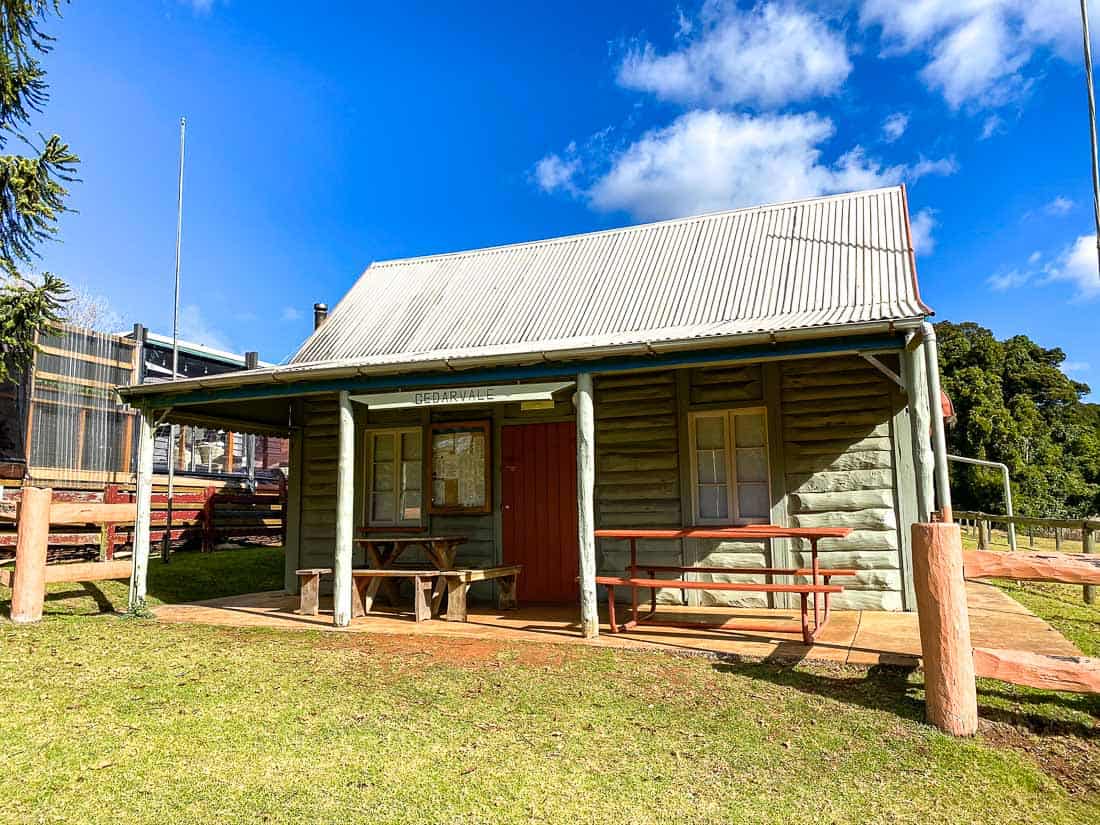 Another one of the small tourist attractions, Bunya Mountains offers is the Cedarvale History Cottage. Cedarvale is a small slab hut which was built in the 1880s and is now used as a small museum. Inside you'll find a collection of items on display, where you can learn about the settler history of the Bunya Mountains area which was formerly a major timber getting area.
Open hours seem to vary depending on the availability of local volunteers. It was closed each day we were in town so we couldn't check it out.
See the Bats at the Old School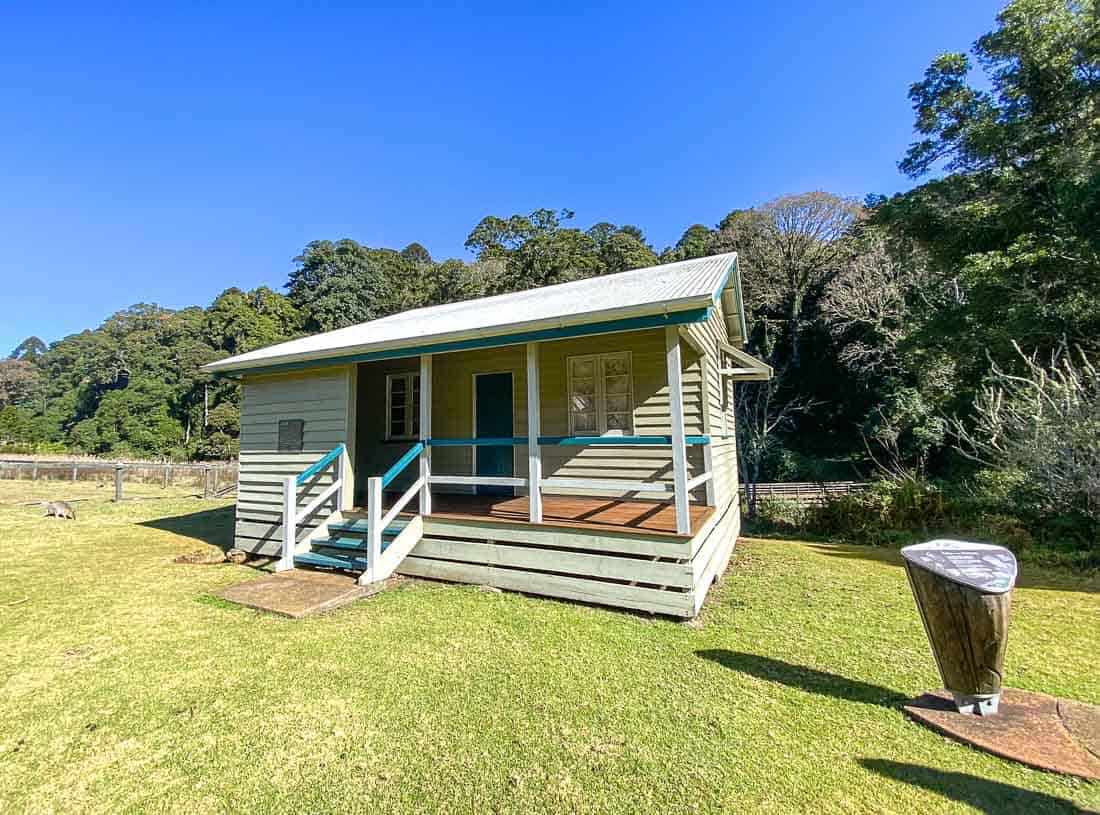 If you happen to be in town from October to February, at dusk head on down to the Old School to see the bats. During these warmer months, around 3000 chocolate wattled bats make the building their home – getting through the crevices under the eaves. The females live in the roof, while the males live in the walls. Each day around dusk, the bats then leave the building in search of insects to eat.
We visited during the winter months, which has the bats living in warmer parts of the mountains – so we didn't see them, but certainly sound like something not to miss during those warm months.
See the Fireflies
Another amazing sight while visiting the region in the warmer months is seeing the fireflies at dusk. Apparently, during October and November, around dusk, you can see the fireflies around the forest entry.
Bunya Mountains Horse Drawn Tours
Unfortuantely the horse drawn tours weren't running while we were town, but this sounds like such a lovely way to experience the mountain – especially for families!
There are five different Bunya Mountains horse drawn tours to choose from, with tours starting from a short 10 minute ride, to a two hour ride through the rainforest including damper and billy tea. On each tour, your guide will also share with you old stories about the Bunya Mountains region.
The tours operate over weekends and school holidays and leave from in front of the General Store in Bunya Avenue.
Bunya Mountain Markets
If you can, plan your trip to the mountains on the last Sunday of the month so you can visit the Bunya Mountain Markets. Here you'll find around 30 stalls offering a range of items including handmade items, and local yummy food.
The Bunya Mountain Markets are on the last Sunday of every month. They operate from 9.00 am to 2.00 pm.
Eat a Bunya Nut
Of course you can't leave the mountains without eating a bunya nut – or at least one of the local dishes made with the bunya nut. From December to March, Bunya pines drop large soccer ball sized cones which contain around 50 to 100 nuts. The nuts feature in many dishes at local cafes and restaurant.
While in town we visited Poppies Cafe (see below) and we tried a Bunya Nut Burger and Bunya Nut Pie and if I was completely honest with you – I couldn't even taste the difference??
Where to Eat: Bunya Mountains Restaurants and Cafes
This is a tiny little village, so don't expect numerous cafes and restaurants, however there are a few good places to eat in town as listed below.
Poppies Café – Bunya Mountains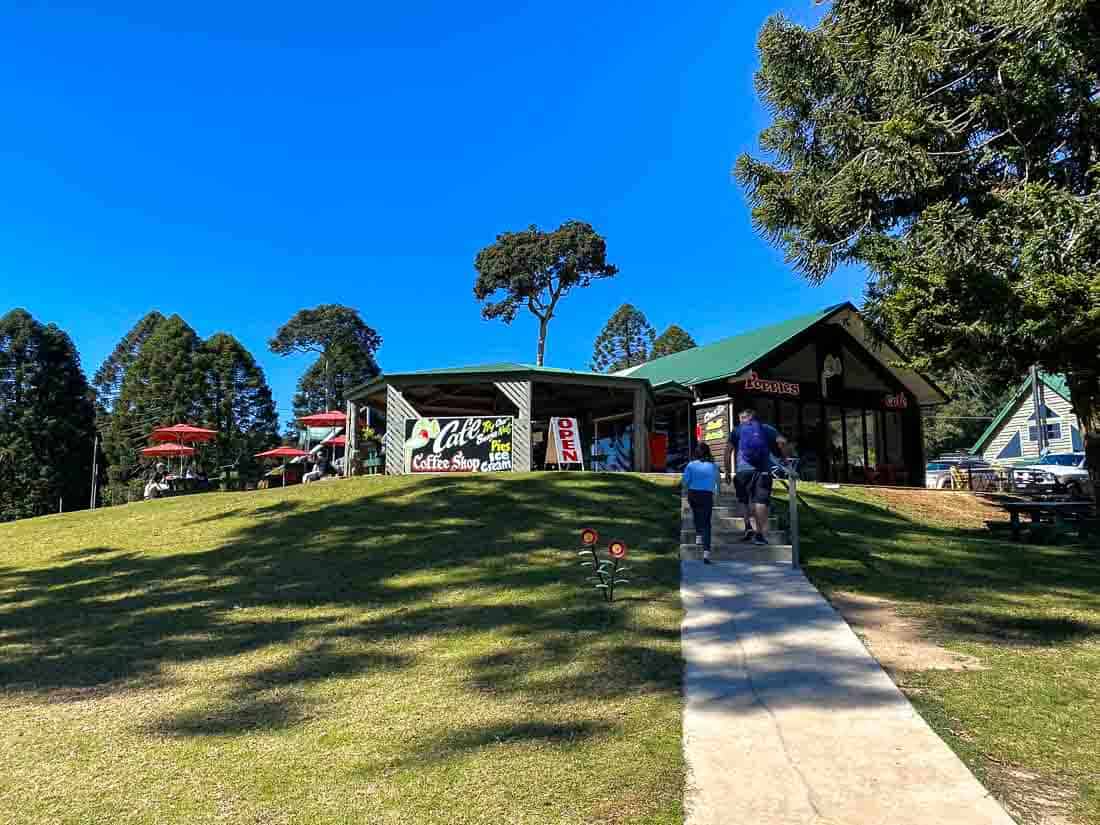 The Poppies Cafe is a great family friendly place to eat. There is a huge outdoor area where you can eat, which is great for kids to run around while waiting for their food to arrive. Plus the area is full of adorable wallabies and gorgeous colourful birds.
Poppies offer great value meals, with meals ranging from around $10 to $15. They also have a good range of kids meals priced at $7.50. We ate here during our time in town and can highly recommend it.
Poppies are open daily from 8.30 am until 4.30 pm.
The Bunyas: Coffee Shop, Bar and Bistro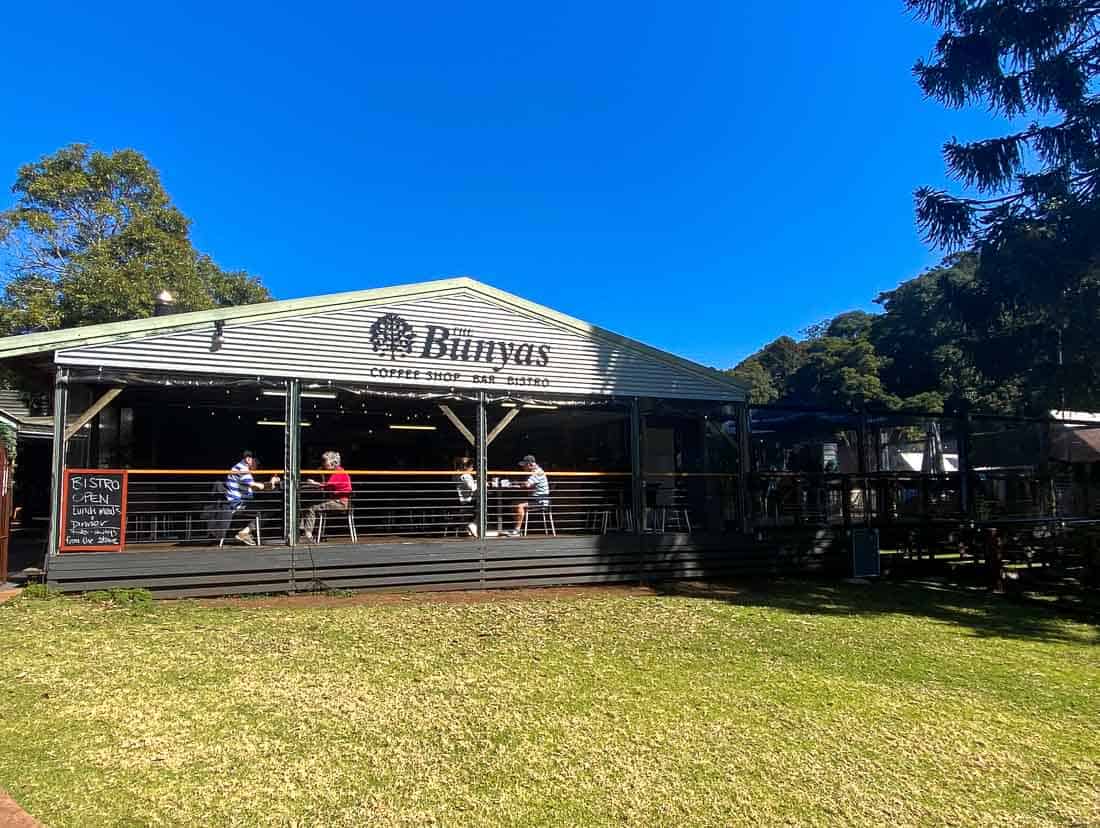 The other place to eat in town is at the Bunyas. The Bunyas has a range of different places to eat including a cafe, bistro and bar.
There are three different areas to eat including Lyrics, Elz and The Deck – although there is just the one menu to choose from Meals start from around $20 and the kid's meals are $10.
The Bunyas is open 7 days a week from 9.00 am.
The General Store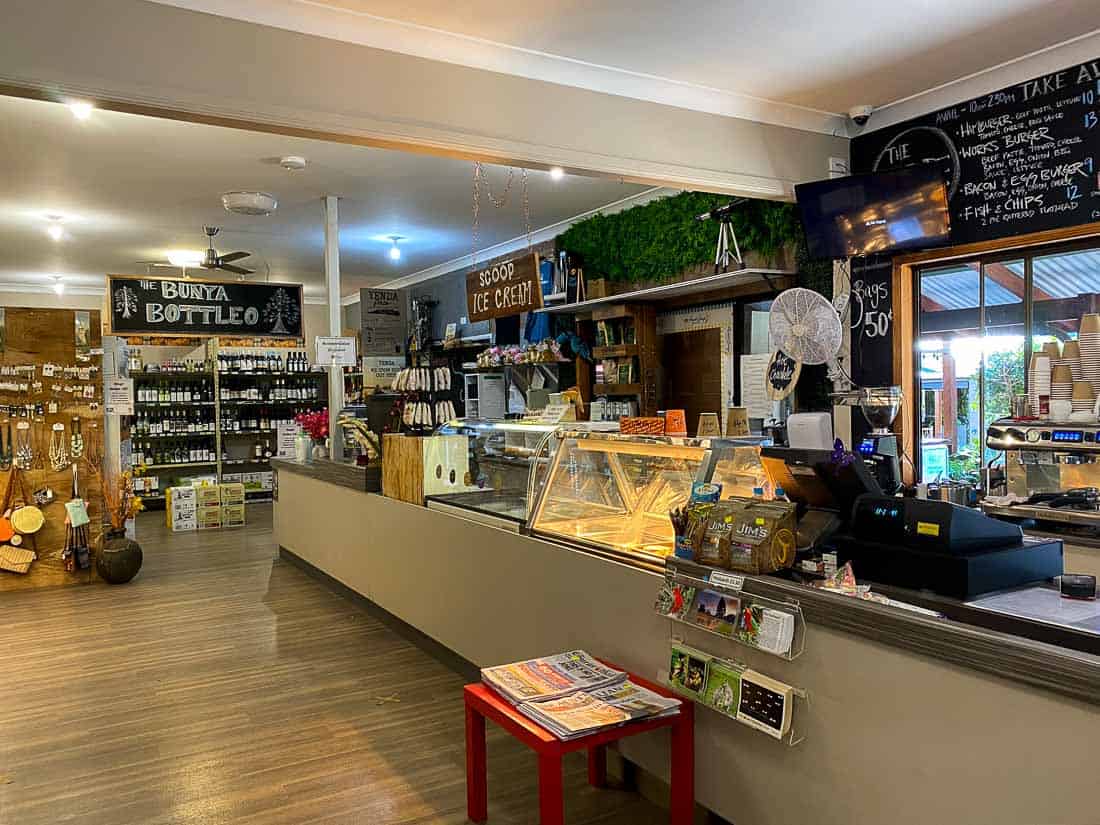 There is no supermarket in the Bunya Mountains, so do be prepared and bring everything you need with you. However if you do get stuck, you may find what you're after at the General Store. The General Store has a small range of basic grocery items, snacks and drinks. They also have a good takeaway menu too.
Bunya Mountains Accommodation
When it comes to Bunya Mountain accommodation, your main options are to either stay in a gorgeous self contained cabin, or camp at one of the three campgrounds. I'll discuss each option further below.
Bunya Mountains Accommodation Centre Chalets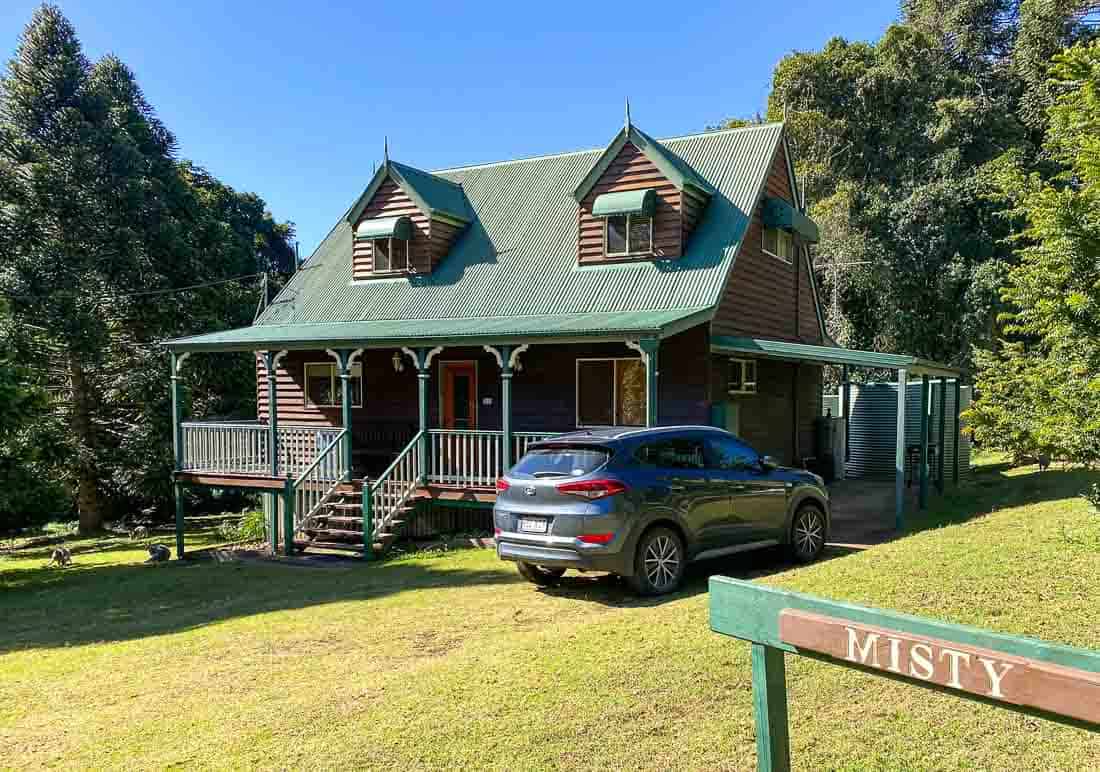 Most people tend to book their accommodation through the Bunya Mountains Accommodation Centre. These guys are the booking centre for all the gorgeous little holiday chalets that are dotted around the mountains. There are so many homes to choose from, including basic small cabins for two, to great big places suitable for multiple families and all kinds in between. The chalets start from just $110 per night, which is such excellent value for a self contained property tucked away in the mountains.
During our stay at the Bunya Mountains, we stayed in a lovely 3 bedroom cottage which is called "Misty". Misty is inside a gated community and just a short 5 minute walk to the main village area and the entrance to the National Park walks.
Misty is a fully self contained cottage which has three bedrooms. The main bedroom is upstairs and also features two single beds in an open loft area. Downstairs just by the living area was another bedroom which has a queen bed. Not all cottages come with linen – so check this when you book, as you may be required to bring your own.
The cottage has a huge kitchen area which is well equipped. It had everything we needed for preparing all our meals over the weekend, including all crockery, cups and pots and pans. We were advised that we'd need to bring basic grocery items like oil, tea and coffee etc – however this was actually provided in the kitchen.
The kitchen looks out over the open plan lounge and dining area. The lounge area had a comfortable couch, TV (including Foxtel) and a fireplace. Outside there was plenty of wood to keep our fire going the entire three days we were there, as well as the gorgeous verandah, which had outdoor furniture and a BBQ.
Downstairs, there is a huge bathroom (check out the size of that bath!) as well as a separate toilet and a laundry too.
We absolutely loved staying at "Misty" – we all felt quite at home and could have easily stayed a week! It was such a beautiful place to relax around the fire, as well as sit out on the deck watching the birds and wallabies.
Bunya Mountains Camping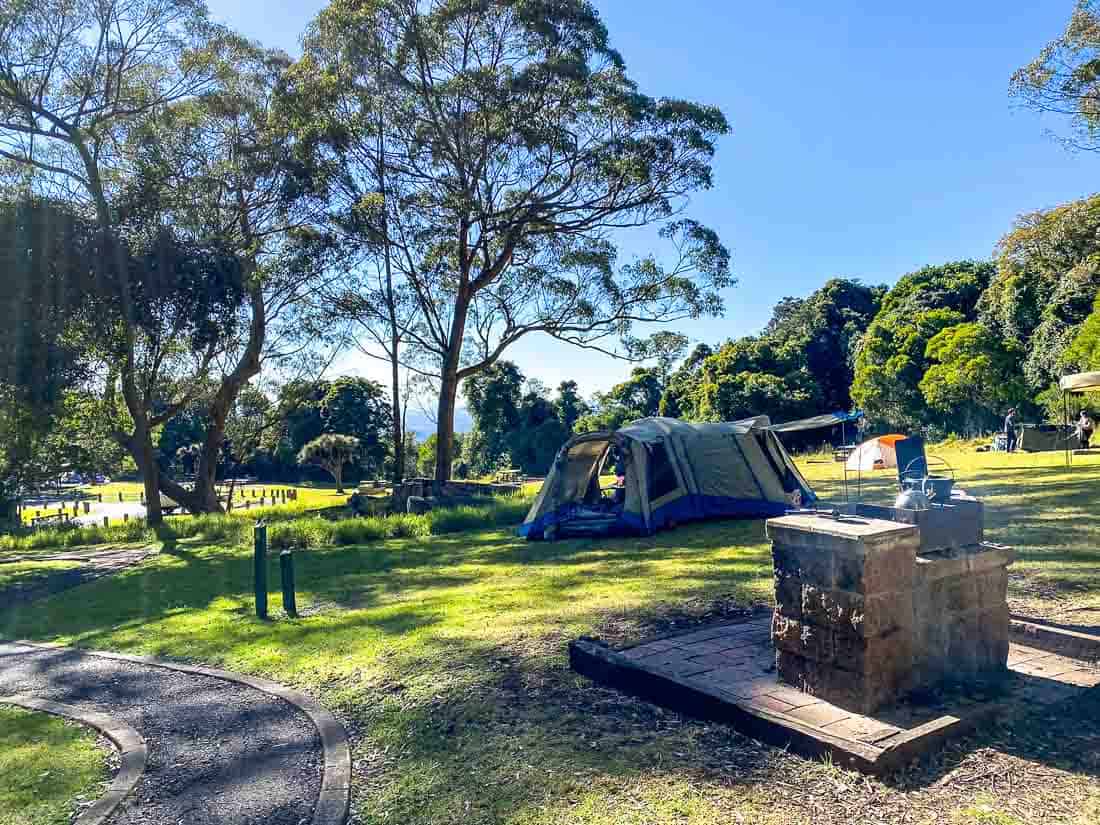 The Bunya Mountains also has three lovely campgrounds – Dandabah, Westcott and Burtons Well (pictured above). Dandabah is the most popular campground as it's located right in the centre of the village. Westcott and Burtons Well are more secluded, although keep in mind that there are no showers at Westcott.
Click here for more information about these camping grounds.
Bunya Mountains– Our Verdict
We absolutely loved the Bunya Mountains! It is somewhere that has been on my radar for a while now but just never got around to visiting. Honestly, I'm so disappointed now that it has taken us so long – this place is just gorgeous.
One of the things I quite like about the area is that there is not a lot to do – so it really forces you to slow down and relax. Having said that, you can also be quite active by doing bush walks each day. Plus we all just loved feeding the birds – it was such a great experience being able to have them eat out of our hands and have a bit of a chat with us. And the wallabies and their babies – sooooo cute!!!
This may have been our first trip to the Bunya Mountains, but I can assure you it won't be our last. If you're looking for a great place to really unwind and relax with your family and somewhere that won't blow your budget – then certainly consider visiting Bunya Mountains – you won't regret it.
___________________________________________________________________
Hopefully you found this guide to Bunya Mountains helpful and it has inspired you to take your kids for a visit. If you like getting away from it all, how about considering a trip to Mt Tamborine or even Stanthorpe or find other Brisbane weekend away ideas here. You can check out all Queensland content here.