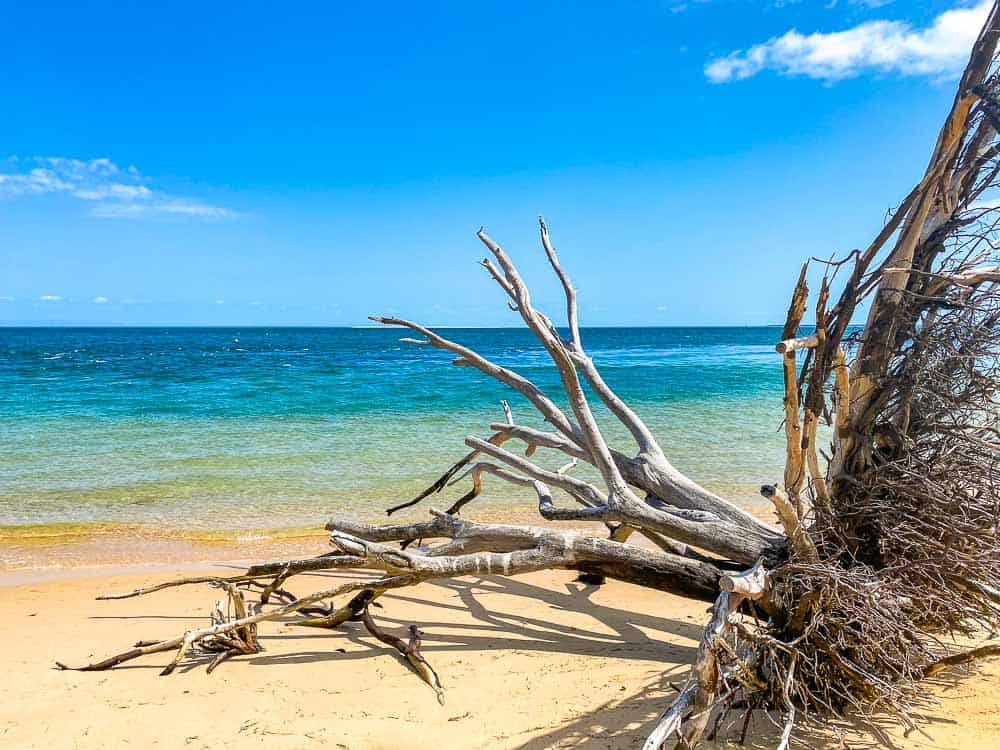 Amity Point is a lovely little seaside village, located on the gorgeous North Stradbroke Island and the Amity Point camping ground is a fantastic place to come for a few days with family and friends. With its bright, calm turquoise water and quiet leafy green streets full of wildlife, it's the perfect place to unwind and relax from life's everyday routine.
If you're considering a holiday with the family at Amity Point – Stradbroke Island, you'll love this guide. In this guide, we cover everything you're going to want to know to ensure you have the perfect break. This Amity camping guide includes how to get there, tips on alternative Amity Point accommodation and everything you and the kids can do while at Amity Point.
This post may contain compensated links. Please refer to my disclaimer here for more information.
Planning a trip to Queensland? Have any questions? Join our Queensland Travel Planning Facebook group here now! It's the perfect place to ask any questions and to be inspired!
Where is Amity Point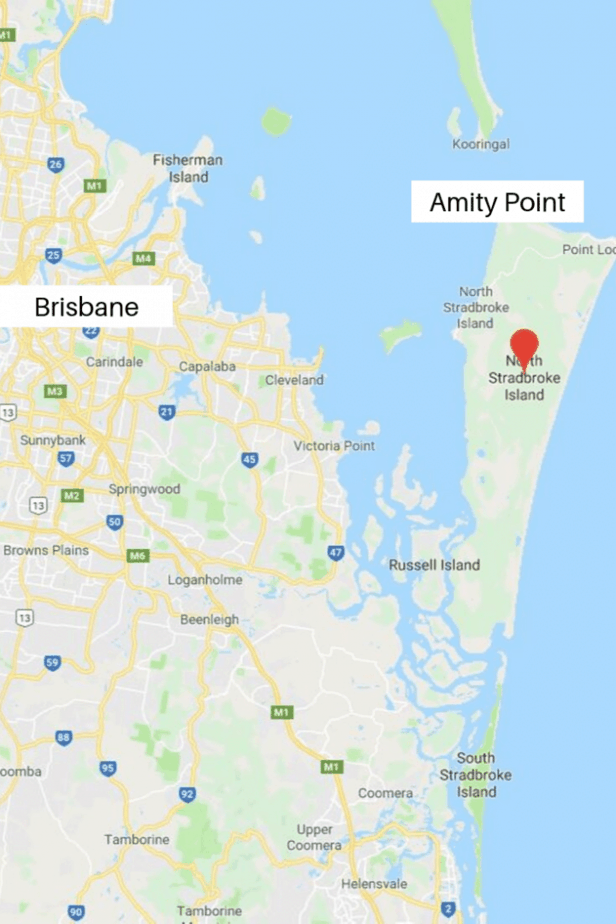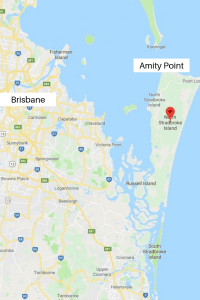 Amity Point Qld is located on the Northern tip of North Stradbroke Island. Stradbroke Island is the world's second-largest sand island, being 38 kilometres long and 11 kilometres wide and is located only 30 kilometres southeast of Brisbane.
20 Things to do at Amity Point
There is so much for you and the kids to do at Amity Point you will never get bored. Check out my top 20 recommendations on things to do while at the Amity campground.
1. Go Kayaking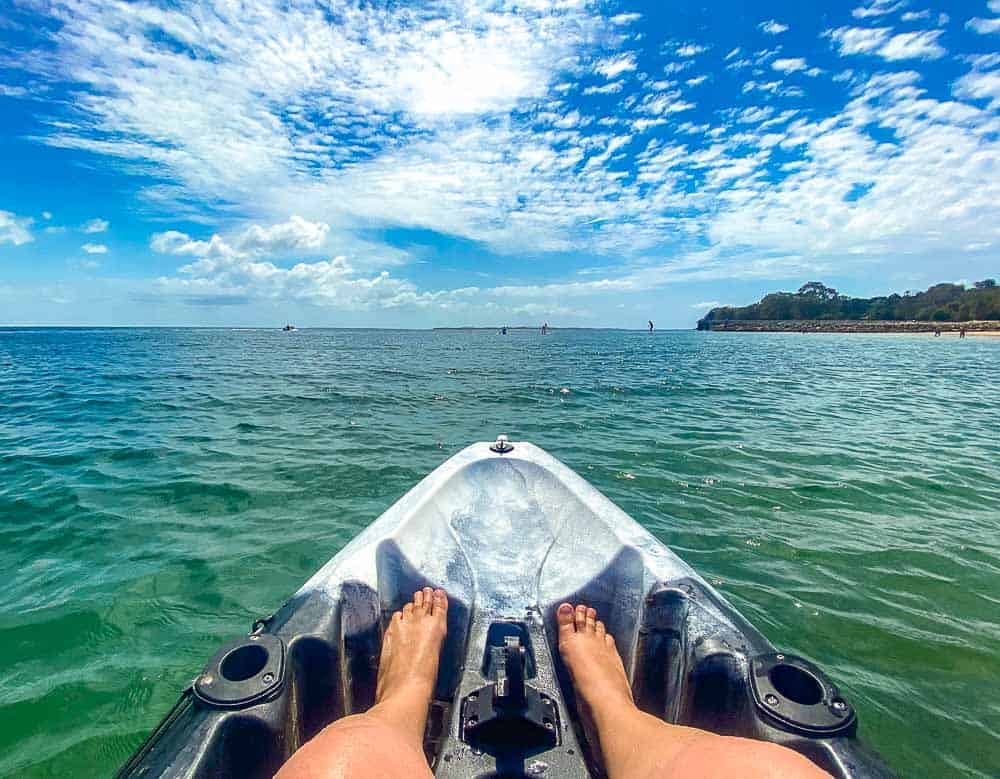 The beautiful calm and clear waters around Amity Point are the perfect spot to take out a kayak. You might even be lucky enough to spot a dolphin or two while you're out.
There are no kayaks for hire at Amity Point, so make sure you bring your own.
2. Spot one of the Amity Point Dolphins
No need to pay an entry fee to see the Amity Point dolphins, although you have to be quick to spot these fast marine beauties. While you can spot a dolphin in the waters along Amity Point at any time, we found the dolphins were frequently seen in the later afternoon just before sunset. It's also common to see the dolphins at sunset around the Amity Point Jetty.
3. Go Boogie Boarding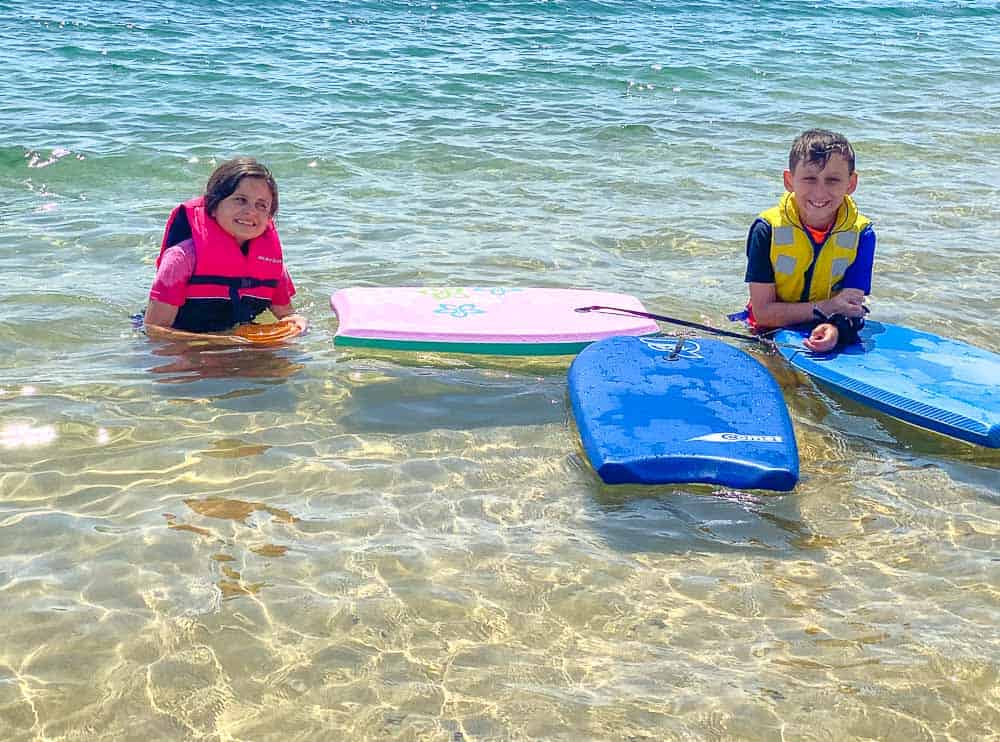 If you don't have a kayak, take out your boogie board. While for the most part, the water is pretty flat at Amity Point, from time to time you will get a small swell creating some gentle waves which are just perfect for the kids to take out their boogie boards.
4. Go Fishing
If you love to fish, then the shores of Amity Point are for you. Whether you're into beach fishing, fishing from a boat, spearfishing, fishing from the jetty or even your kayak, there is plenty of options at Amity Point.
5. Meet the Resident Koalas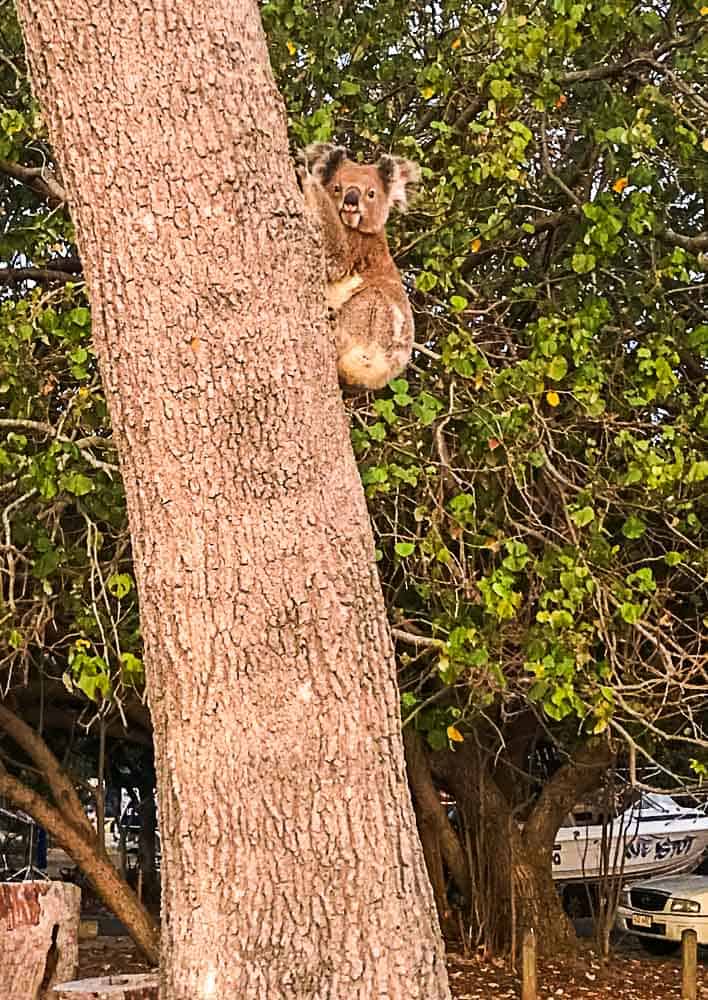 Amity Point caravan park is home to a few resident koalas. These are not your shy type of koalas that are difficult to spot either – in fact, we've even had one of them run around on the grass near our campsite.
If you want to see one of the Amity Point koalas, just walk around the campsite, and if you see a few people surrounded by a tree, chances are they are looking at a koala.
6. Go Swimming
While camping on North Straddie you're never short on a swimming post and on a hot day, there is nothing better than cooling off in the waters around Amity Point. The water is, for the most part, calm and clear so perfect for swimming. There is also a netted area so you can rest assured of no visits from unwelcomed sea creatures.
7. Watch the Family of Ducks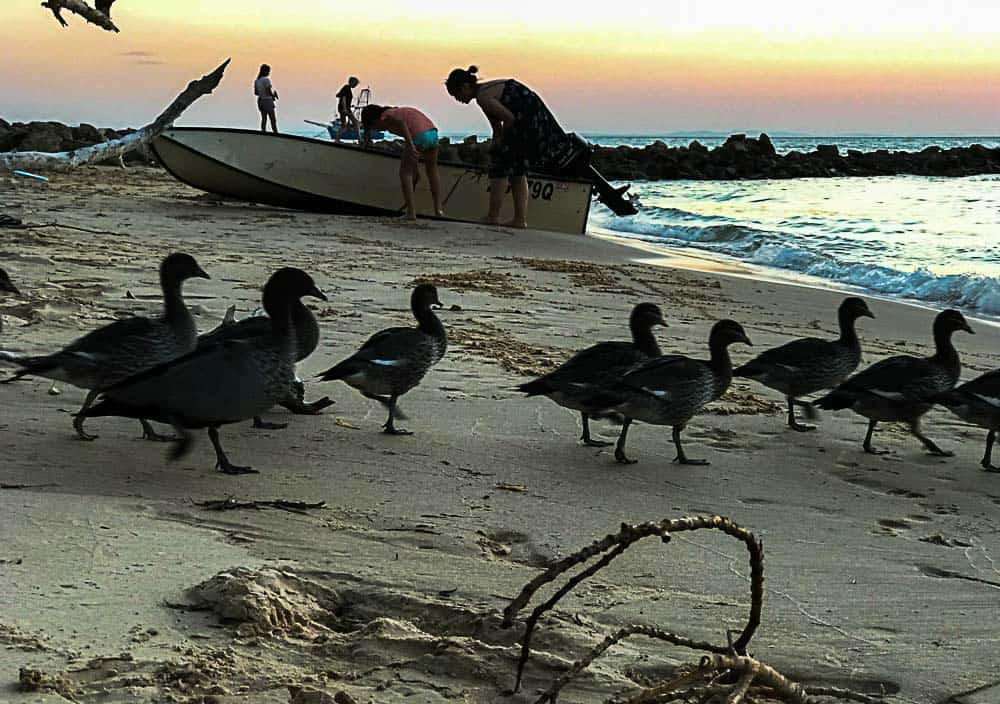 As well as a few koalas, Amity Point is also home to an adorable family of ducks. You will find this lovely family wandering around the campgrounds together, swimming, eating and just generally hanging out. Again this family of ducks isn't shy and they will do doubt just walk right by you.
8. Have a Picnic on the Beach
Throw together a picnic and head on down to the Amity Point beach. Or for a splurge head on over to Rufus Kings Seafoods and grab some fresh seafood to eat on the beach. The adults can sit back and relax and the kids will be happy playing on the beach.
9. Search for Marine Life at Low Tide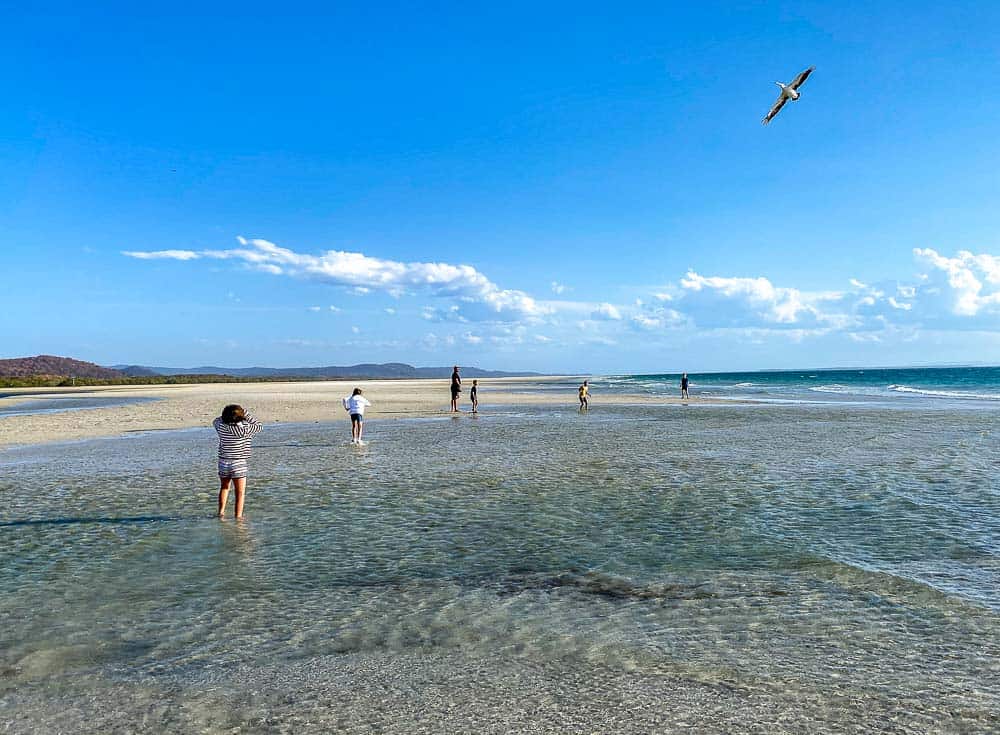 At low tide, there is a number of tide pools exposed to the south of the Amity Point campgrounds. These tide pools are home to various marine life such as crabs, small fish, starfish, sea cucumbers, sea worms, clams, and more. This is definitely an activity the kids won't want to miss.
10. See the Pelicans
If koalas, dolphins, marine life and ducks weren't enough, you will also regularly see pelicans in the water at Amity Point too!
11. Watch the Sunset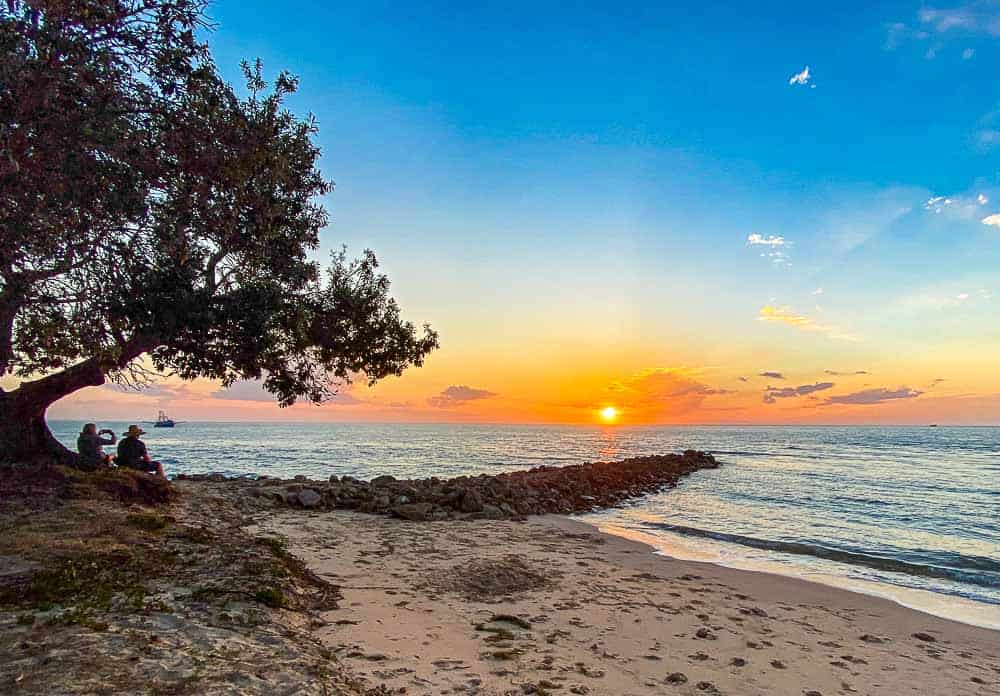 You get the best sunsets right off the shores of Amity Point. So pull up a chair, get a glass of whatever you're drinking and grab your best friend and enjoy this awesome free show put on nightly by mother nature. Hands down my favourite activity to do at Amity Point.
12. Eat Ice Cream
If you're camping at Amity Point, each afternoon why not spoil yourself with ice cream from Hey Gelati Man. He comes around each afternoon and don't worry about listening out for him; the kids can hear him from a mile away!
13. Build Sandcastles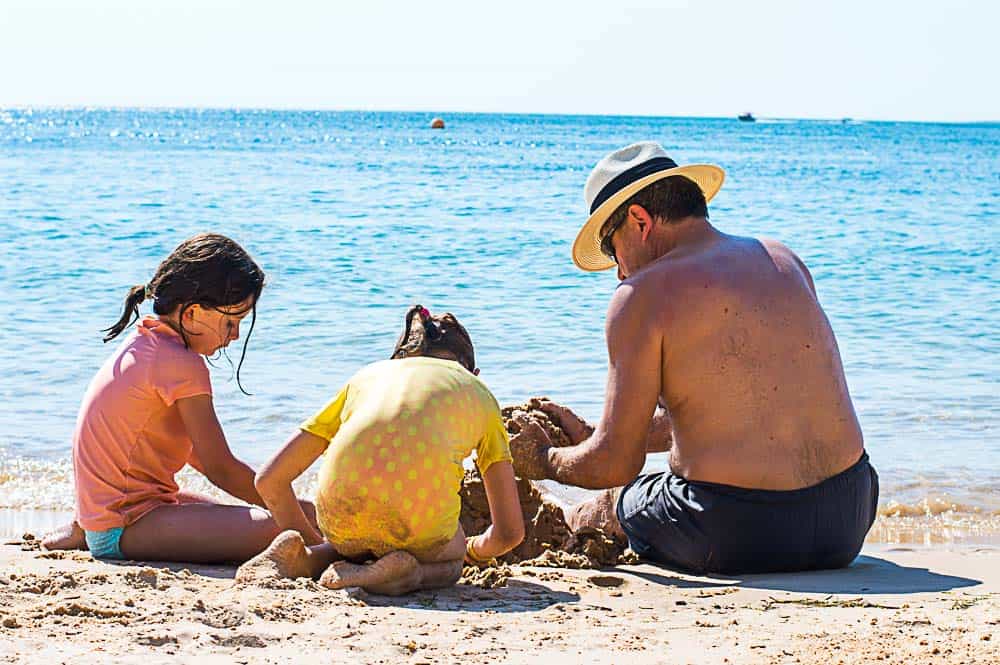 When coming to Amity Point with kids, be sure to bring along your bucket and spade so you can build the very best village of sandcastles. In fact in my experience, I'm not really sure who enjoys building sandcastles more – the kids or the dads!
14. Ride your Bike
The campground at Amity Point is the ideal spot for riding your bike. There is a good size flat path that goes around the entire campground, and it's the perfect way to burn off the ice cream. Plus if you bring your bike, you can easily ride up to the local store when you need to grab some bread or milk.
15. Relax with Friends and Family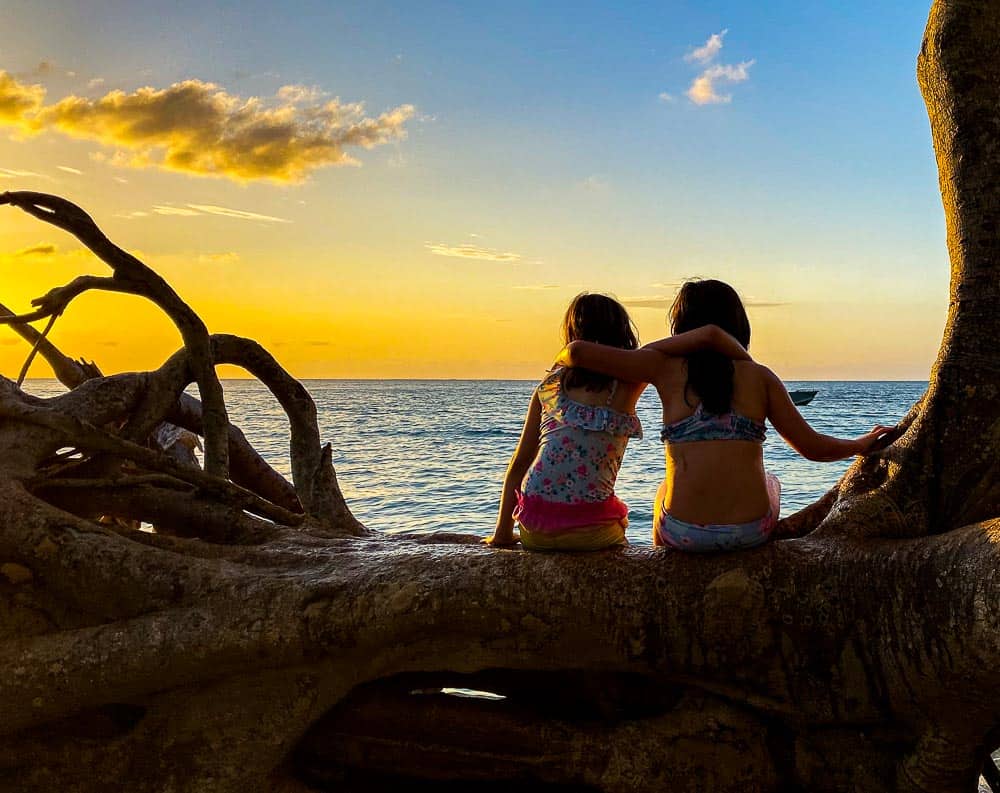 Perhaps one of the best things to do at Amity Point is to simply relax and hang out with friends and family. The setting couldn't be more perfect for catching up with your loved ones. Pull up a chair, roll out a towel on the beach or climb a tree, and simply enjoy each other's company. Is there anything better in the world?
16. Make New Friends
If you're staying at the Amity Point Camping Grounds, this is the perfect place to make new friends both for adults and the kids. Whether you find some new friends down on the beach, at the playground or perhaps at a campsite close by, Amity Point is the ideal place to make some new life long mates.
17. Climb the Old Trees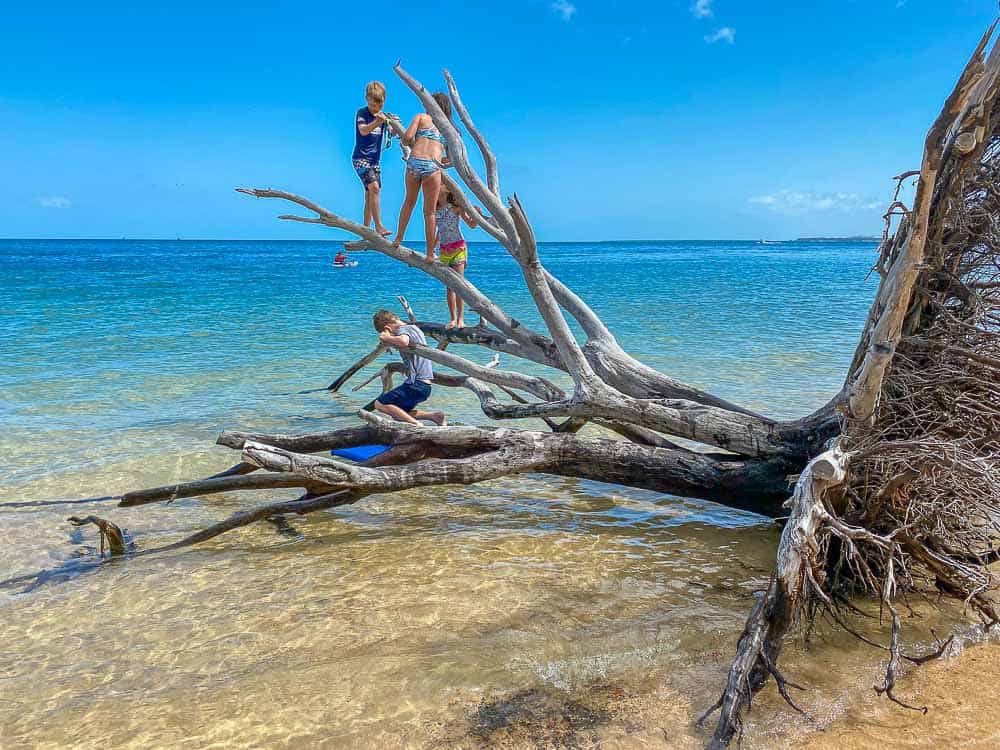 No need for a playground, when you have these magnificent old trees which lay on the shores of Amity Point. The kids will love climbing up these natural climbing gyms, using their imaginations to make up a range of games to play, or simply to sit and share secrets with their besties.
18. Get a Feed at the Amity Point Community Club
If you feel like a bit of a splurge, why not pack up the family and take them to the Amity Point Community Club which is just a short walk from the campgrounds. These guys serve a range of meals and drinks and are also licensed for Keno, TAB and Poker Machines. They also have bingo on certain nights too.
19. Play at the Playground
If the kids need a break from the beach, there are also three playgrounds within the campgrounds too.
20. Visit the Local Sites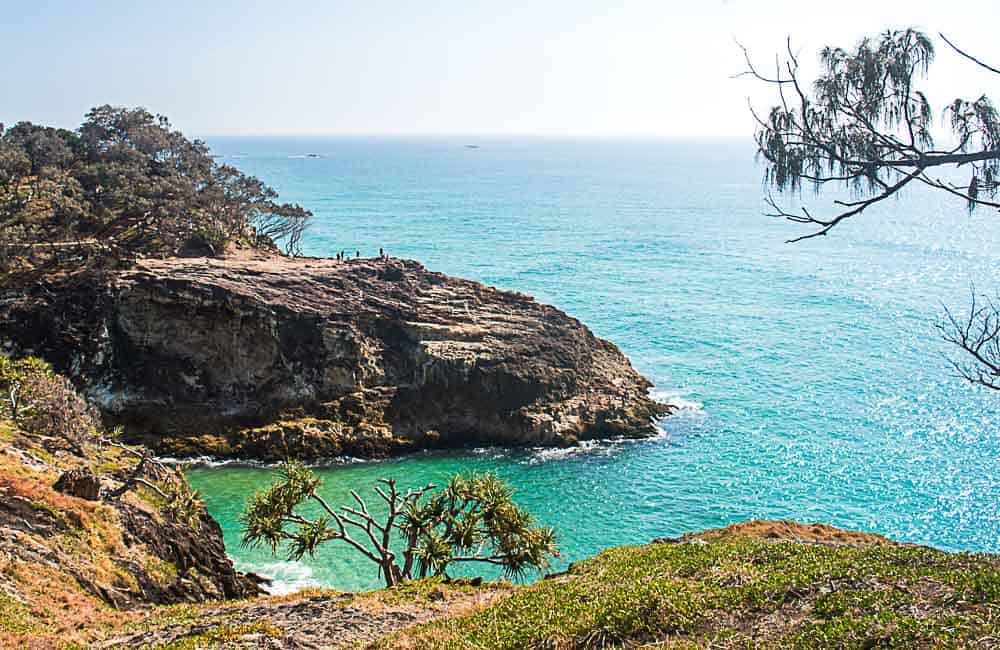 Of course while you're visiting North Stradbroke Island, there is a tonne of other great activities around the island to enjoy. While I know it's hard to leave Amity Point, do try and explore a few of North Stradbroke Islands' gorgeous natural attractions such as Brown Lake, Blue Lake, the North Gorge, and Point Lookout. You can see a full list of things to do on North Stradbroke Island here.
Heading to Brisbane? Get our full Brisbane Guide here.
Amity Point Accommodation – Where to Stay
As you can see we just love camping at Amity Point, but I've also listed a few other options for Amity accommodation if camping isn't your thing.
Amity Point Camping Ground
Amity Point campgrounds are located right on the shores of Moreton Bay which is a spectacular location.
The grounds offer a range of accommodation options including powered and unpowered tent and van sites as well as Amity Point cabins. Sites start at $52 per night for two people, and it is an additional $14 per child or $18 per adult per night. One thing I love about Amity Point is can book exactly the site you want, providing its available at the time of booking of course.
My tip is to grab one of the premium unpowered tent or van sites for stunning views across the bay. If a few groups are going together, just get one or two sites next to each other in this area and have the others book sites in Dolphin Vista, Dugong Rest or Koala Haven behind you (see map below).
If you're not much of a camper book the Amity Point waterfront cabins – these are in a brilliant location.
The Amity Point campgrounds provide all the necessary facilities you need while camping including BBQ facilities, a few places to plug-in appliances (even if you've booked an unpowered site) washing up facilities, toilets, showers, picnic tables, and a laundry.
The campgrounds are also just a short walk away from the general store, café, seafood store, and community club. Plus each day Bob comes around in his trucking selling ice, milk and bread, which is very handy indeed.
Click here for more information about camping at Amity Point or to make a booking.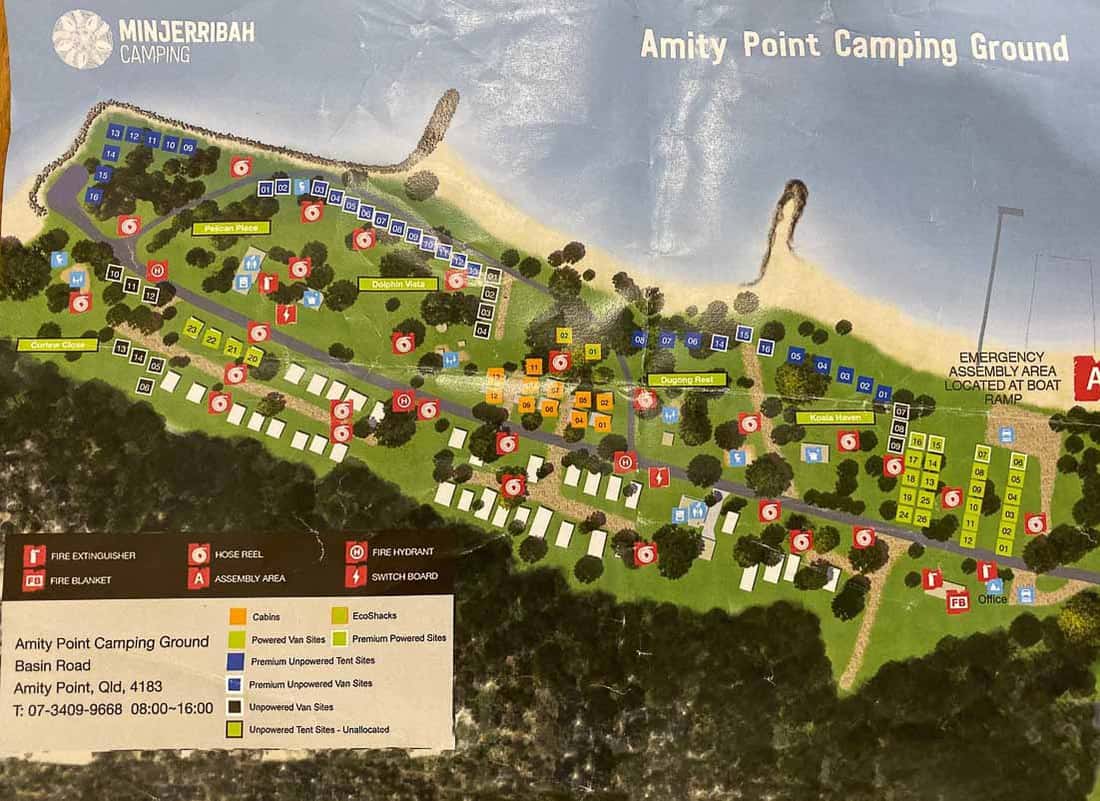 Other Accommodation
Here are some other options for Stradbroke Island accommodation Amity Point offers:
Sea Shanties

These Amity Point holiday rentals include a sea or garden view, patio, a kitchenette, fridge, microwave, two single beds, and one double bed;
Book one of the sea view cabins if you're after an Amity Point accommodation – waterfront;
There are only 7 newly renovated self-contained cabins on-site, and there is a shared external kitchen which you can use, and pets are welcome;
Within walking distance from the cabins are a general store, newsagent, café, seafood store, playground, and sports club;
Amity Point Holiday House
There is also a range of Amity Point holiday house options too which are great for families or groups of friends not too keen on camping. Some options include:
Cooks Hideaway – a 5 bedroom home right on the water which can accommodate up to 9 people.
Amity Beach House – a 3 bedroom home just a short stroll from the waterfront which can accommodate up to 8 people.
Wyndham Lodge – a 3 bedroom home a short walk from the centre of the town which can accommodate up to 8 people.
Another option is to check out Airbnb Stradbroke Island for private holiday rentals. If you are new to Airbnb, click here to receive a $50 AUD off your first booking.
Shops in Amity Point
The township of Amity Point has one general store "Amity Point General Dealers," which sells pretty much everything you might need during your stay at Amity Point. This Amity Point shop sells petrol, coffee, groceries, bait, tackle, newspapers, camping gear, and more. The store is open daily from 630 am to 6 pm.
Not too far from Amity Point General Dealers, there is also Bo Beans Coffee shop, Seashells at Amity restaurant, and Rufus King Seafoods for delicious fresh seafood. Also just next door to the Amity Point campgrounds there is the Amity Point Community Club which serves a range of meals and drinks as well as being licensed for Keno, TAB and Poker Machines.
How to Get to Amity Point?
From Brisbane to Stradbroke Island, you will need to go via the vehicle ferry or water taxi which are both located in Cleveland, as there is no road from the mainland to North Stradbroke Island.
Stradbroke Island Barge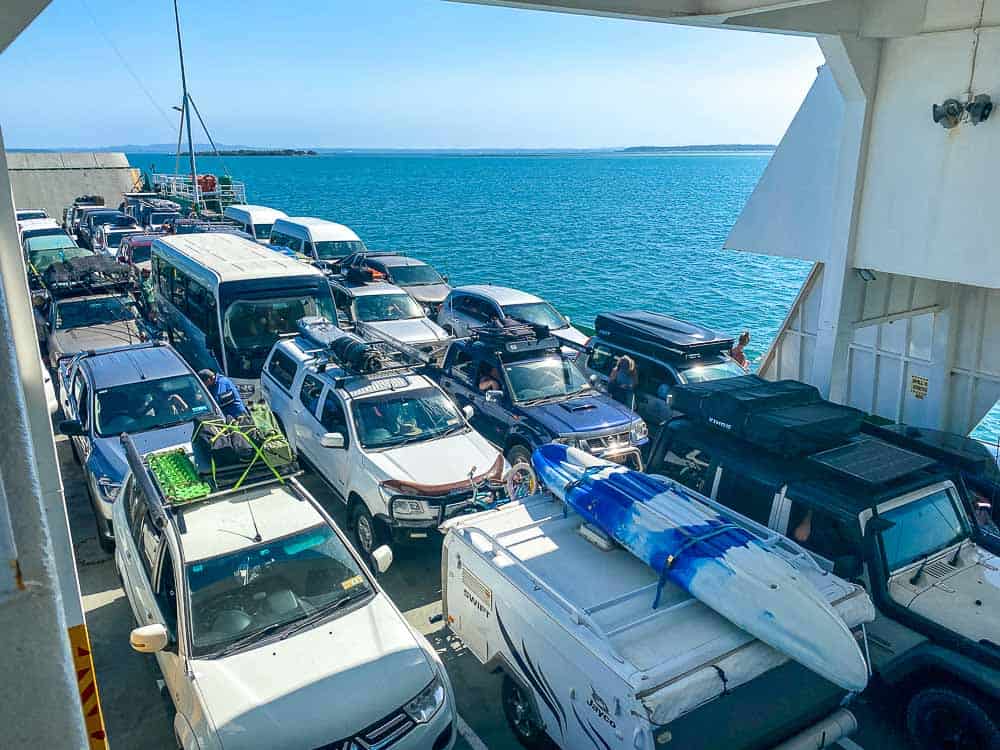 The Stradbroke Island car ferry departs from Toondah Harbour which is located in Middle Street, Cleveland. Prices for the North Stradbroke Island ferry ranges between $60 per vehicle one way. Vehicles over 6 metres long and trailers cost extra.
You are required to arrive at least 20 minutes before your departure time for check-in. Once you are on the Straddie barge and on your way, you are free to move around the barge. There is a café onboard selling drinks and snacks. The trip takes around 45 minutes each way.
There are 12 North Stradbroke ferry departure times from both Cleveland and Dunwich each day with additional services on Fridays and Sundays.
Departures on the Straddie Ferry book out fast, and so it is highly recommended that you book your ferry as soon as you make your accommodation booking. Check the Stradbroke Island ferry timetable and make your booking here.
It is also possible to go on the vehicle ferry without a car. A return ticket is $16 per adult or $10 per child.
Stradbroke Island Water Taxi
There are two water taxis – Stradbroke Ferries or Stradbroke Flyer.
The Stradbroke Ferries operate from 3 Emmett Drive Cleveland and arrives on the island at the Harold Walker Jetty in Dunwich. There are around 14 services daily with the trip time taking 25 minutes – see the timetable here. One way tickets are $10 per adult and $5 per child. There is no need to make advance bookings.
The Stradbroke Flyer departs from the end of Middle Street, Cleveland and travels to One Mile Jetty at Dunwich. There is a free shuttle from the Cleveland train Station and the Cleveland's Central Shopping District to each departure. There are around 14 services daily with the trip time taking 25 minutes – see the timetable here. One way tickets are $10 per adult and $5 per child. There is no need to make advance bookings.
Once you reach the island, you may use the local bus to reach Amity Point. Buses go to and from Amity Point 5 times per day (see the current timetable here), and the rate is $4.80 per adult and $2.40 per child each way. The buses only take cash when boarding and GO Cards are not accepted. You may choose to bring your bike on board at an additional cost of $5.
Are you visiting Queensland and looking for tips on where to go? Click here for more tips on where to go with the kids in Queensland.
Want to save this information for later?
Click on one of the images below and save it to Pinterest.