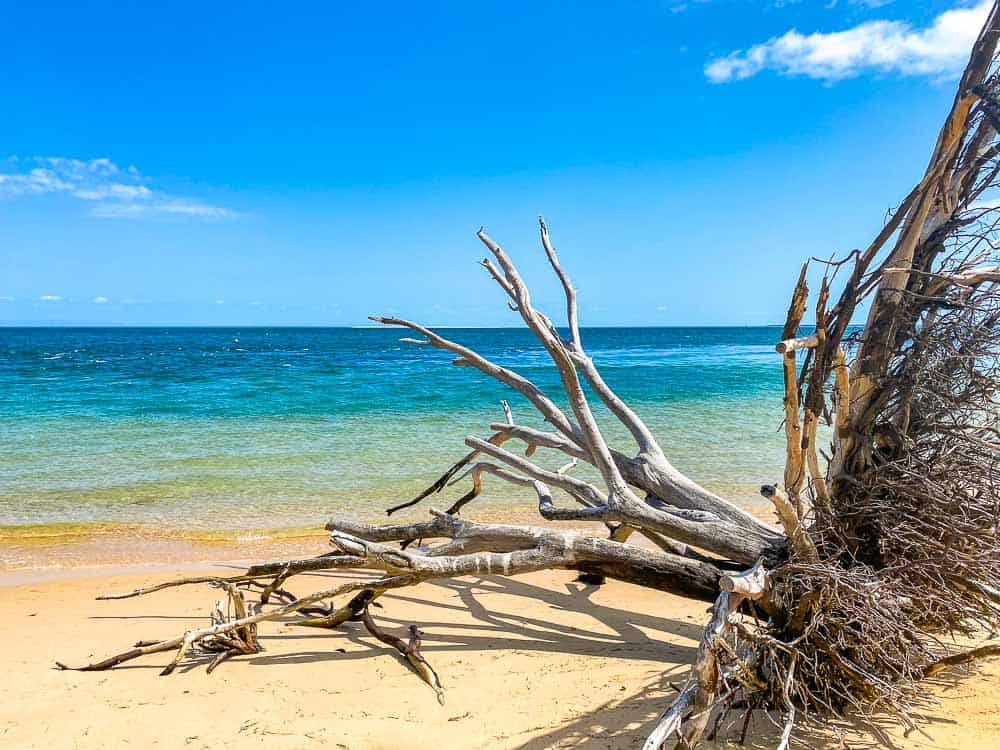 Are you planning your Queensland holiday but not sure where to go? Geographically, Queensland is a massive place and with so many awesome things to do in Queensland, it sure can be tough putting together all your itinerary – particularly if you are short on time.
Which is where this guide comes in handy, as with the help of some of the top travel bloggers, I've compiled this guide on 23 of the very best places to visit in Queensland. From the stunning beaches on the Gold Coast in South East Queensland to the lush rainforests of Far North Queensland and all areas in between, this guide covers the very best of Queensland.
This post may contain compensated links. Please refer to my disclaimer here for more information.
Planning a trip to Queensland? Have any questions? Join our Queensland Travel Planning Facebook group here now! It's the perfect place to ask any questions and to be inspired!
Best Places to Visit in Queensland
The Gold Coast Beaches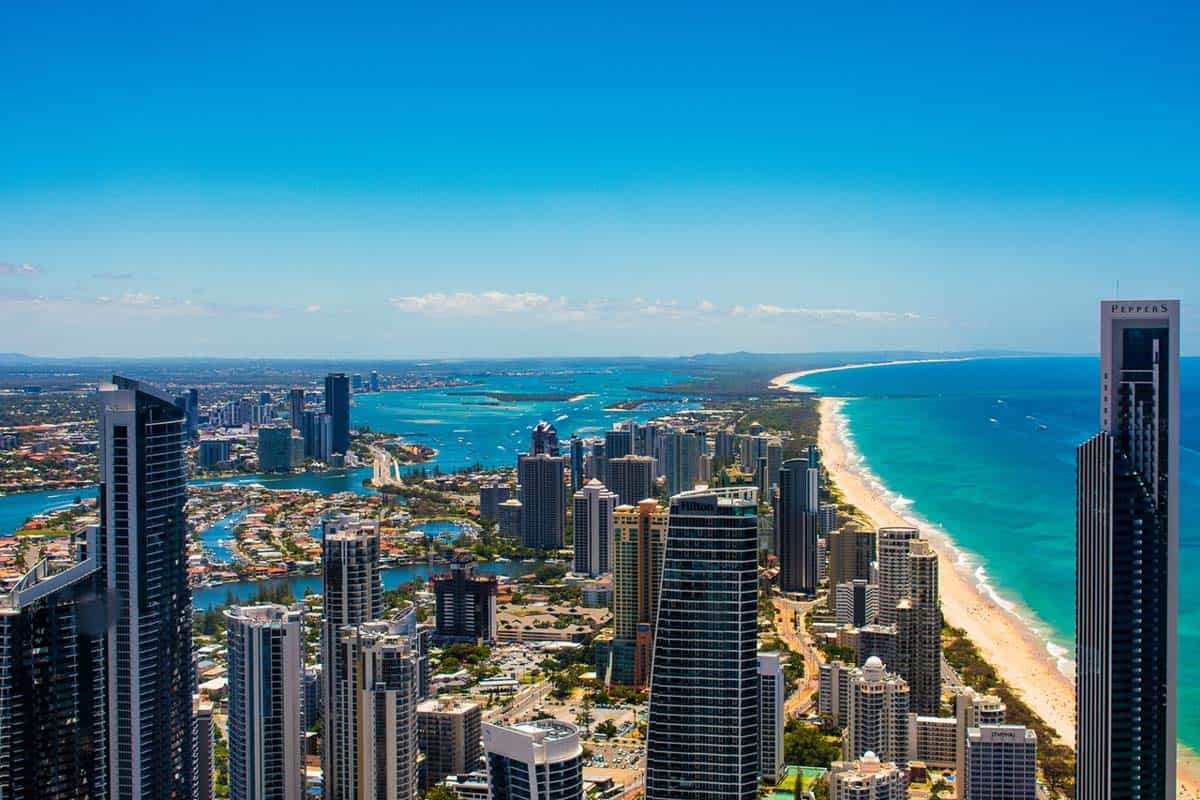 The beaches are among the most popular places to go in Queensland and some of the best beaches in Queensland can be found on the Gold Coast. Some of the more popular Gold Coast beaches include Surfers Paradise, Broadbeach, Burleigh (see more below) and Currumbin. The beaches are stunning with warm, clear water and long sandy beautiful beaches. With both surf and calm waters, whether you want to swim, surf, boogie board or SUP, there is the perfect beach for you.
And if you have had enough of the beaches, there is plenty to do in the region including theme parks, hiking trails and national parks. Not to mention shopping centres, boutique shops, cafes, restaurants, and sporting events.
If stunning beaches weren't enough, the good news about visiting the Gold Coast is given the year-round warm weather you can visit at any time of the year. However it's probably worth mentioning that our summers can get super-hot and are long! Summer is officially between December and February – but more typically is between October and March. The cold weather is really only across June, July and August which are our winter months.
Click here for our full guide on all there is to do on the Gold Coast.
Currumbin Wildlife Sanctuary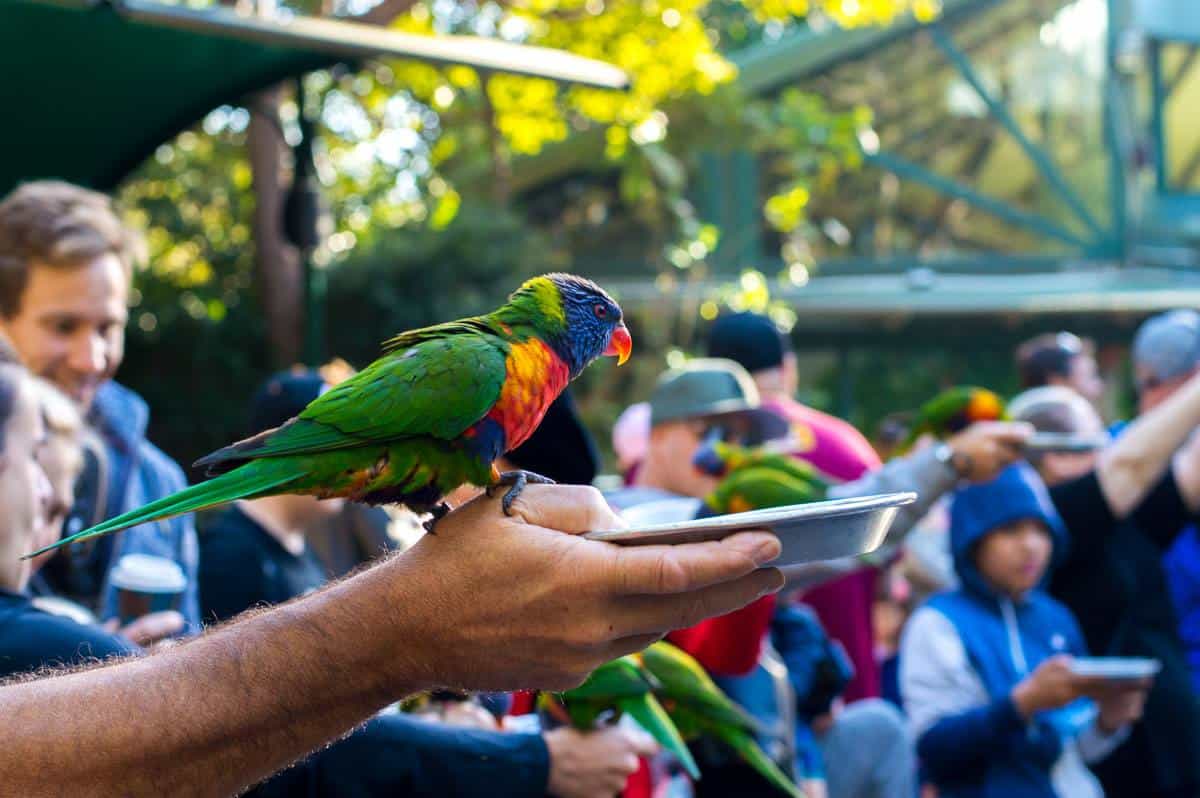 Thanks to Maureen from So Many Places! So Little Time!
When it comes to Queensland places to visit to see Australian native animals, the Currumbin Wildlife Sanctuary should be on the top of your list. It's got 27 hectares of wildlife park in a tropical rain forest with all the iconic Australian wildlife, flora and fauna all together, in one easy to get to location and suitable for both family groups and solo travelers.
The park opens at 8 am with free entry to the very noisy and colorful lorikeet feeding and the cafe. It is worthwhile doing a bit of homework before you come to prioritize the things you want to see. Go to the website and take note of shows with their times and location so you don't miss anything. Entry is $49.95 for adults and $39.95 for 4-14 year olds but you can often get discounted tickets online.
Once inside the park, you can wander around the open animal enclosures, cuddling a koala or feeding the kangaroos, or hop on the mini train when you want a break from walking. Catch some of the shows if you can. There's the Free Flight Bird Show, the Crocodile Show, the snakes and reptiles in the Big Fang Theory Show, the Aboriginal Dance Show or Blinky Bills Studio Adventure.
There's also a range of extra activities at a surcharge that includes a very interesting tour of the Wildlife Hospital or if you like your adventure sport, there's the Treetop challenge with its zip line rides and challenges.
If you're traveling by car, put "28 Tomewin Street, Currumbin" in your GPS. Tomewin Street is just off the Gold Coast Highway. There is both paid parking and free street parking available.
If you're using public transport and coming from Surfers Paradise, take the tram to Broadbeach South Station and then the 700 bus to Currumbin Wildlife Sanctuary. The cost will be $8 to $12 and will take about 45 minutes. From Coolangatta take the 700 or 760 bus towards Broadbeach.
Burleigh Heads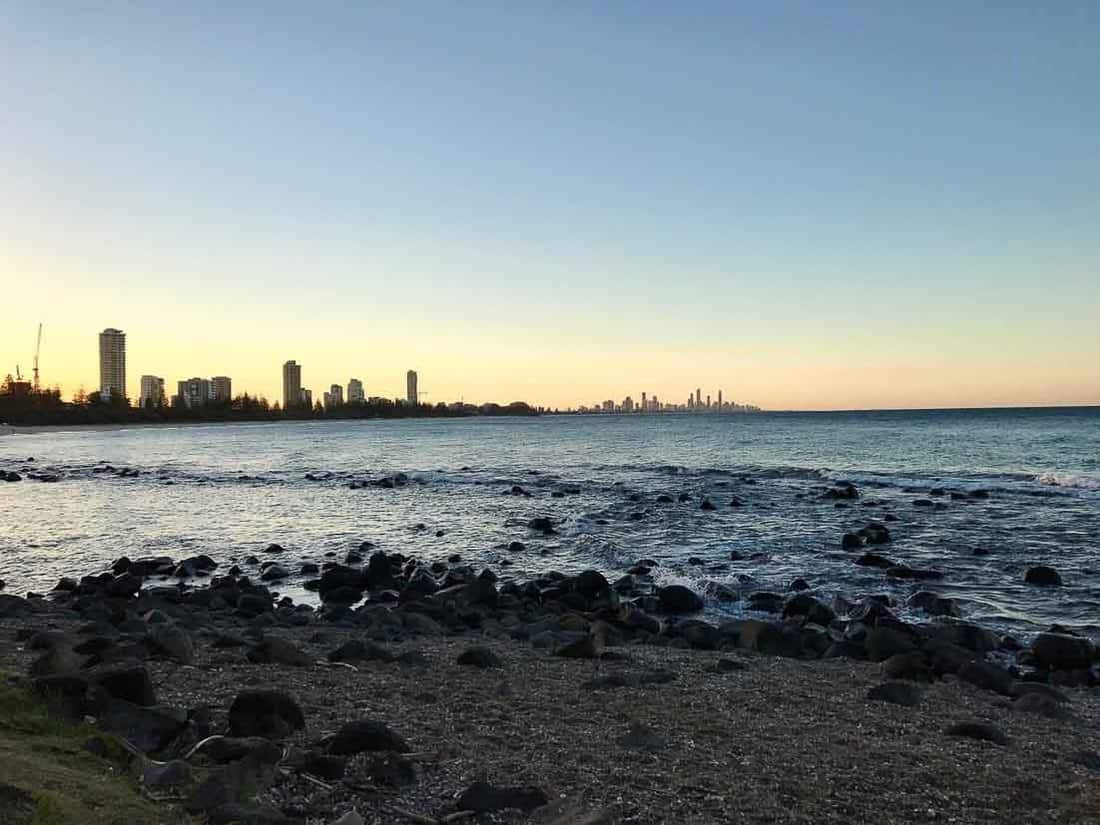 Thanks to Carolin from Breathing Travel
When thinking of where to go in Queensland, you cannot go past Burleigh Heads! Pumping surf, cute cafes, unique boutique stores and friendly locals. Burleigh is a great place to visit for the whole family, there is plenty to do, see and eat. Or simply relax on the beach and don't do anything.
A good day in Burleigh starts with a fresh juice from The Fruit Shop on James Street or head to Commune Cafe for a hearty breakfast! Wander along the famous main street and check into the beautiful homeware and clothing boutiques. Then, stroll over to the beach, hit the surf or take a walk in Burleigh National Park. The afternoon is a great time to chill or have a picnic on Burleigh Hill watching the Surfers Paradise and Broadbeach skyline in the distance while the sun glows and slowly goes down behind the mountains.
If you happen to be in Burleigh on the weekend, don't miss The Village Markets, a lively market with local food stalls, boutique fashion and live music. Come night time, Burleigh also has some great bars. Check out Burleigh Pavilion, Justin Lane Rooftop Bar and Mister Hizolas or Rick Shores for the best places to eat in Burleigh.
Click here to find some great accommodation in Burleigh Heads.
Springbrook National Park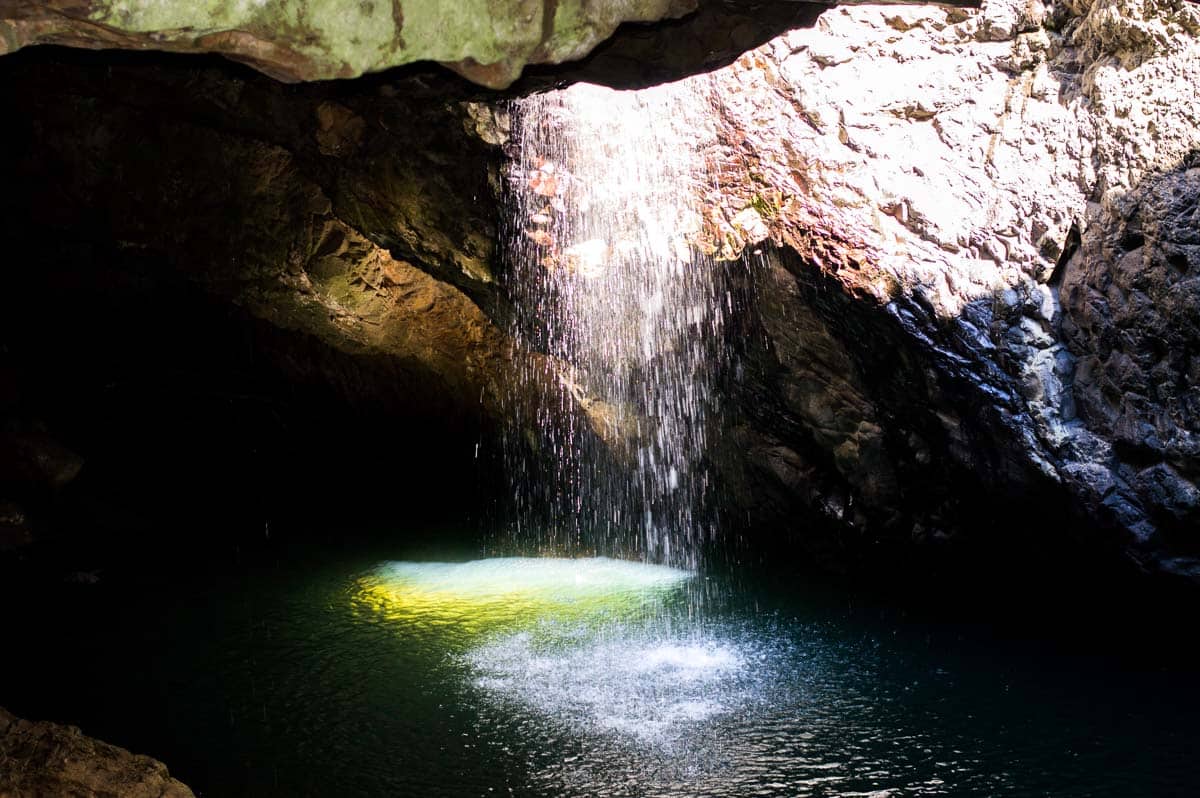 Thanks to Eloise from My Favourite Escapes
Springbrook National Park is on the UNESCO World Heritage List and is a Queensland must see. Located in the Gold Coast Hinterland, it offers fantastic opportunities for hiking in the rainforest. There's no public transport, so the best way to get there is by driving or joining a tour. It's 40 minutes away from Surfers Paradise and 1.5 hrs from Brisbane.
Natural Bridge is one of the most famous walks there. The 1.5km circuit is accessible for all ages and fitness levels. It leads to a beautiful cave where you can see a rare colony of glow worms at night. Many stunning lookouts are accessible by car, as well as short and long hikes to please all kinds of adventurers.
Springbrook National Park is excellent all year round. If you wish to see the waterfalls full, it's better to visit in summer or autumn, during or after the wet season. It does get hot in summer, which can be uncomfortable for hiking. But as you are mostly in the shade of the rainforest, so it's not as bad as most places in Queensland.
If you want to stay in the region for a few days, the Mouses House Retreat has beautiful chalets nestled in the rainforest that can host the entire family or click here for alternative accommodation in the region.
Brisbane

Being Queensland's capital city, Brisbane is usually the starting point for most when they visit Queensland. It is an excellent gateway to popular Queensland holiday destinations such as gorgeous beaches of the Sunshine Coast and the Gold Coast and of course, the famous Gold Coast theme parks and attractions.
While Brisbane City is an excellent base for day trips, the city itself is also worth exploring for a few days and the best news is that many of the main tourist attractions are free!! You can visit museums, art galleries, cruise the river, swim at South Bank (see below), take guided tours as well as get around the city completely free of charge. And of course, as with all cities, there are plenty of shops to quench your shopping urges in the CBD, and you never know you may win a small fortune at the Treasury Casino, to finance your shopping spree.
My top tips on things to do in the Brisbane CBD are to take a cruise up the river, have a drink or two at a rooftop bar and have dinner at one of the restaurants at Howard Wharf.
Click here for our full guide on visiting Brisbane.
South Bank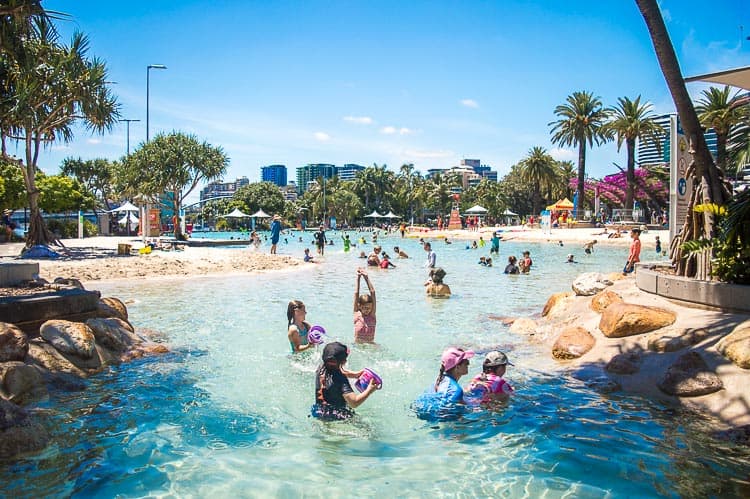 Thanks to Stephanie from Navigating Adventure
Queensland is known for its spectacular beaches, and arguably one of its most iconic beach is located at South Bank – right on the edge of the Brisbane River and just a short stroll from the CBD.
South Bank parklands were created for Expo '88 and they have been a popular family destination ever since. Children love cooling off at Streets Beach or paddling in the surrounding lagoons during the warmer months and playing on the numerous playgrounds year-round.
The beautifully landscaped gardens are perfect for enjoying a picnic lunch, or families can eat at one of the many cafes. For a unique experience, you can treat yourself to refreshments high in the sky on the Wheel of Brisbane!
South Bank is home to Brisbane's cultural precinct, which includes several child-friendly educational attractions. We recommend the Queensland Art Gallery and Gallery of Modern Art (QAGOMA) and the Queensland Museum, which features Sparklab, an interactive science, technology, engineering and maths (STEM) space designed for young, curious minds.
Perfect for a whole day out, South Bank is a ten-minute walk from the Queen Street Mall and accessible by train, bus, the City Cat ferry or paid parking. For nearby accommodation, search for apartments at South Brisbane, West End or central Brisbane.
Click here for our full guide on things to do in South Bank.
Explore the Brisbane Islands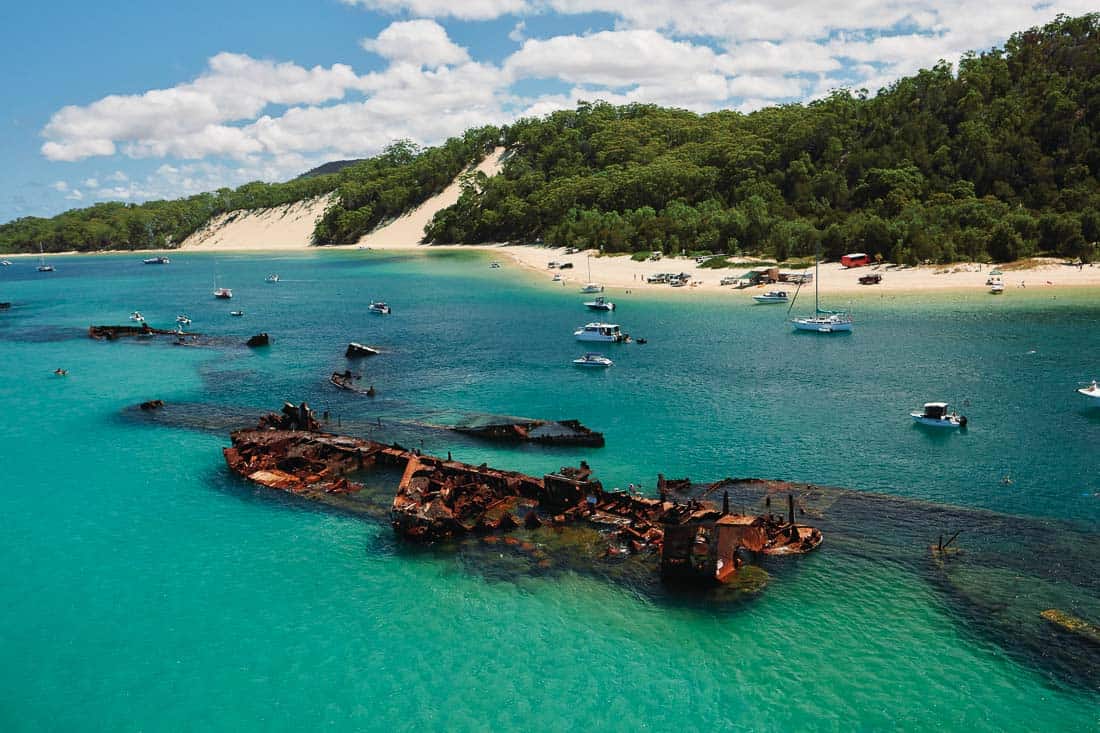 If you're not from Brisbane, you may be surprised to learn that there are some stunning islands off Brisbane including North Stradbroke Island, Peel Island, Bribie Island and Moreton Island to name a few. These Brisbane islands are some of the best places to visit in South East Queensland and all easily accessible by a short ferry ride. In fact Bribie Island, you can drive right there.
All of these islands are just stunning and the perfect spot for swimming, as well as other water activities such as kayaking, stand up paddleboarding and snorkelling. If you can, it's best to spend a few days at each island exploring all that's on offer, but if you have only have a day, it's best to join a tour.
For more information, check out our guide on visiting North Stradbroke Island and our guide on visiting Tangalooma on Moreton Island.
Glass House Mountains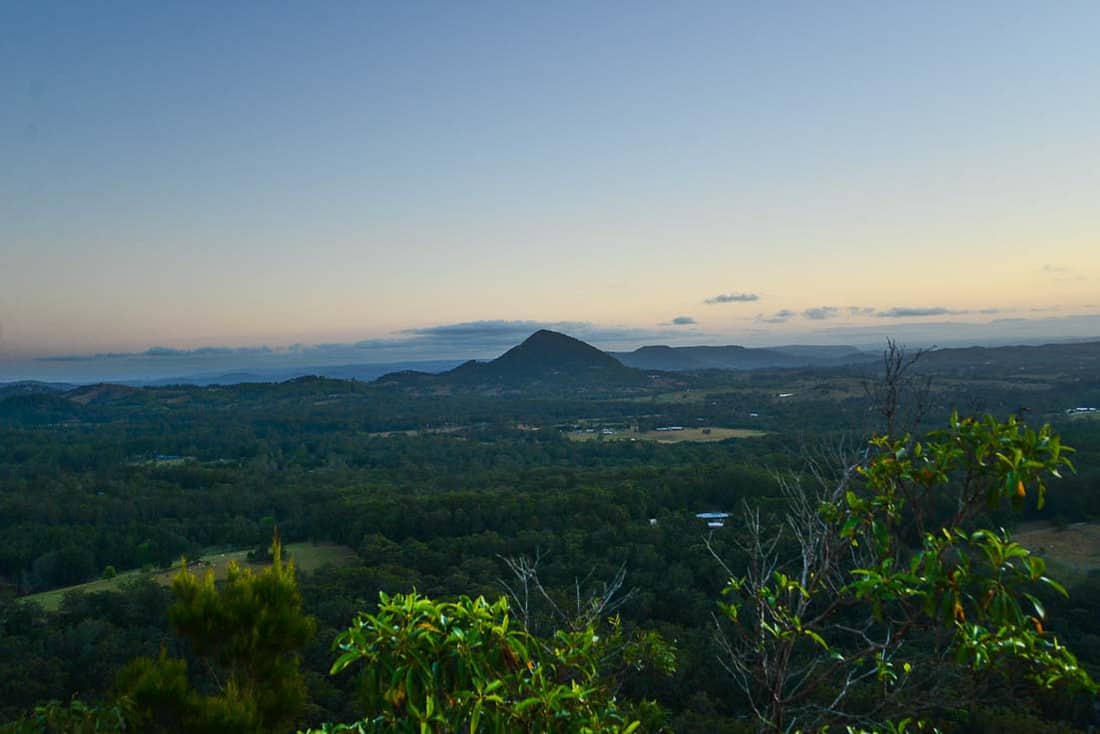 Thanks to Laura from Passport Collective
The Glasshouse Mountains are a group of 13 mountains located in Queensland's Sunshine Coast, around an hour north of Brisbane. The mountains were formed by ancient volcanic activity in the region and as such offer a beautiful and spectacular display of rock formations in the area. Mt Ngungun is popular with families for hiking. It's well laid track takes around 45 minutes to hike and there are plenty of scenic rest stops along the way. The peak offers the opportunity to scramble over rocks and enjoy a 360-degree panorama of the mountain range.
Mt Tinbeerwah is fantastic for families with younger children. The peak is a 15-minute climb from the car park on a well-made track. Once you reach the summit, you can make the final climb up to the observation deck which gives you a great vantage point for the rest of the range. Mt Tinbeerwah is particularly pretty during sunset. A gorgeous misty glow envelops the surrounding mountain range and the sound of kookaburras can be heard from the trees. The path is not lit, so if you're planning to stay until dark, make sure to pack a torch.
The range is steeped in Aboriginal history, so make sure to stop and read the trail markers and park signs as you explore.
Noosa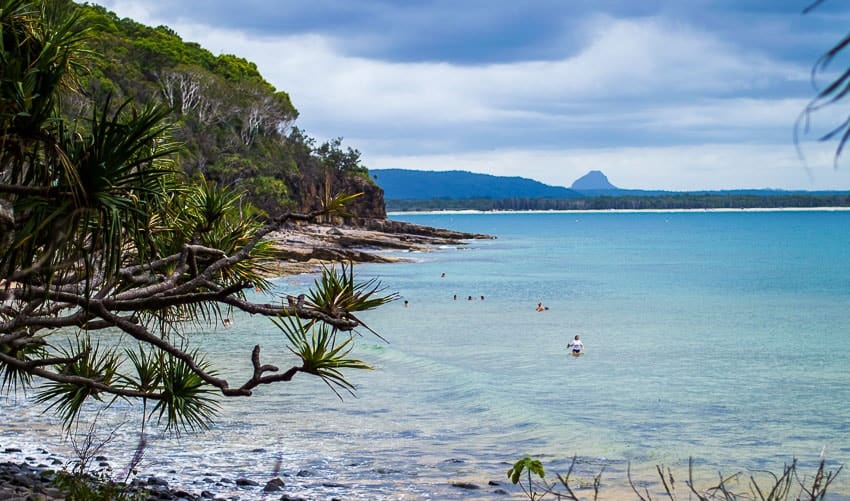 When it comes to Queensland destinations, they don't come much more lovely than Noosa. Noosa is not only a beautiful part of the Sunshine Coast, but with the Noosa National Park, Main Beach and Noosa River, it is a great place to get out and about in the great outdoors.
The Noosa National Park offers both picturesque coastlines as well as a variety of walking tracks from easy to moderate, through the rainforest and along the gorgeous coastline. Walking tracks start from a few hundred metres to 5.4 kilometers. Some of the best Noosa beaches can be found in the Noosa National Park, such as Tea Tree Bay, Winch Cove and Granite Bay. Just outside the park you will find my favourite Noosa beach – Little Cove. With the back drop of the lush Noosa National Park and the calm crystal clear water, these beaches are without a doubt some of the most stunning in Australia.
These beaches are perfect for swimming, snorkelling, kayaking, or stand up paddleboarding. When the tide is out, the waves pick up just enough for some gentle boogie boarding too. You'll find the entrance to the Noosa National Park just a short stroll or drive from the famous tourist strip of Hastings Street.
The calm crystal-clear waters of the Noosa River are ideal for getting out and exploring in a kayak or SUP. You can bring your own or hire your own or join a tour group. If you paddle right out to the mouth of the Noosa River, you will find many sand islands where you can hang out on your own deserted island for as long as you like. There are also several pathways around the area perfect for biking, walking and running.
Noosa is also a great place to base yourself for some of the other Queensland attractions located on the Sunshine Coast.
Click here for our full guide on visiting Noosa.
Australia Zoo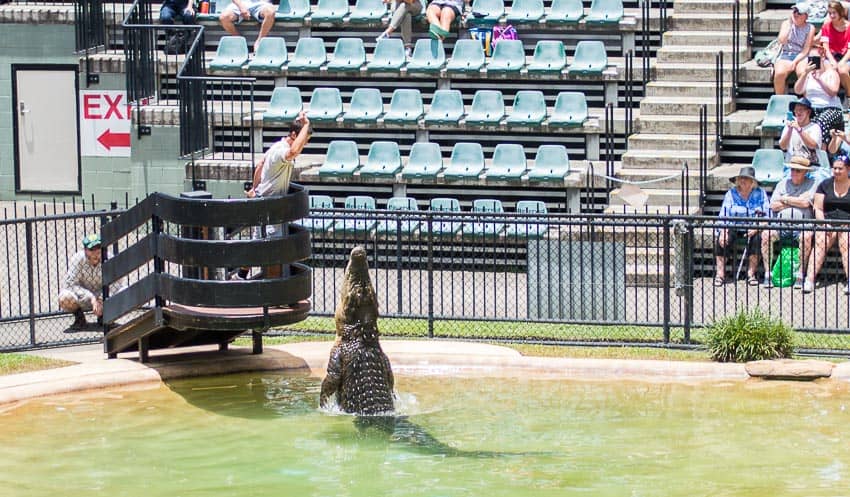 Thanks to Sinead from Map Made Memories
One of the most popular Queensland tourist attractions is Australia Zoo. Located in the small town of Beerwah on Queensland's Sunshine Coast, the 1,000-acre zoo was founded by the late Steve Irwin, and the Irwin family still owns and operate the zoo today.
Our family has mixed feelings about zoos so we choose carefully which zoos we visit and support. But each of us loved our packed day at Australia Zoo. The zoo contains large enclosures as close to the animal's natural habitat as is possible. You can see animals from all over the world such as tigers, cheetahs and red pandas as well as Australian animals such as wombats, echidnas and the park's most famous residents, crocodiles.
Our children's favourite part of the park was hand feeding the kangaroos in their gigantic enclosure. For me, it was tickling a giant tortoise under its chin during an Animal Encounter experience. Education and conservation is a key focus of the zoo and we were impressed with the passion and knowledge of the zoo rangers, many of whom were volunteers. The zoo also has an attached medical centre where sick and injured animals are treated, rehabilitated and wherever possible re-released.
Fraser Island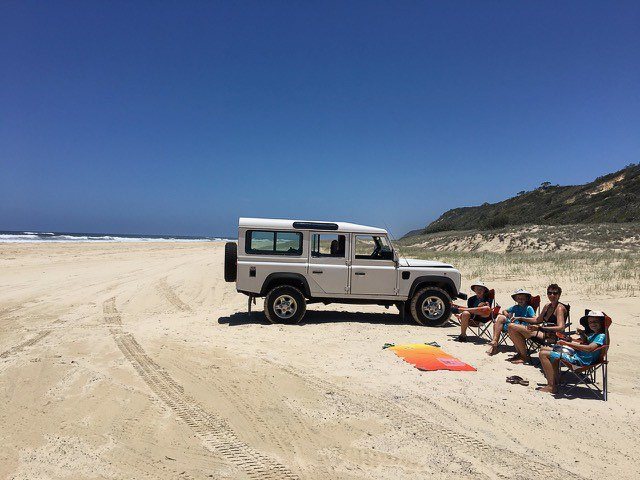 Thanks to Nicky from Go Live Young.
Fraser Island is the world's largest sand island, located off the Queensland coast. Stretching for more than 120 kilometres, it became a UNESCO World Heritage Site in 1992, alongside other Australian highlights, including the Great Barrier Reef, Uluru and Kakadu. This giant sand island can only be explored by 4WD, either independently or as part of a tour. The island consists of long sandy beaches backed by coloured sand cliffs, huge sand dunes, freshwater inland lakes and ancient rainforest.
We opted to visit Fraser Island independently, hiring a 4WD vehicle from the mainland, complete with camping gear, for a two night/three day trip. Hiring a 4WD gives you complete freedom to roam the island, giving you complete flexibility when travelling as a family. Campsites and ferry crossing are also organised as part of the rental. Other options include organised tours on large 4WD buses and tag-along tours, popular with backpackers, where groups of travellers pile into a 4WD convoy and follow a lead vehicle with a guide.
The island is known for its natural beauty and the highlights include: the freshwater inland Lake McKenzie surrounded by perfect white sand; the Champagne Pools, natural rock seawater pools; causing along Seventy Five Mile Beach in your 4WD; Eli Creek which you can float down if you bring rubber rings; and Lake Wabby with its huge sand dune. There are no roads on the island, just sand tracks and miles of beach along the east coast of the island.
Fraser Island is a unique and special place and one of the best places in Queensland for adventure-loving families.
Whale Watching in Hervey Bay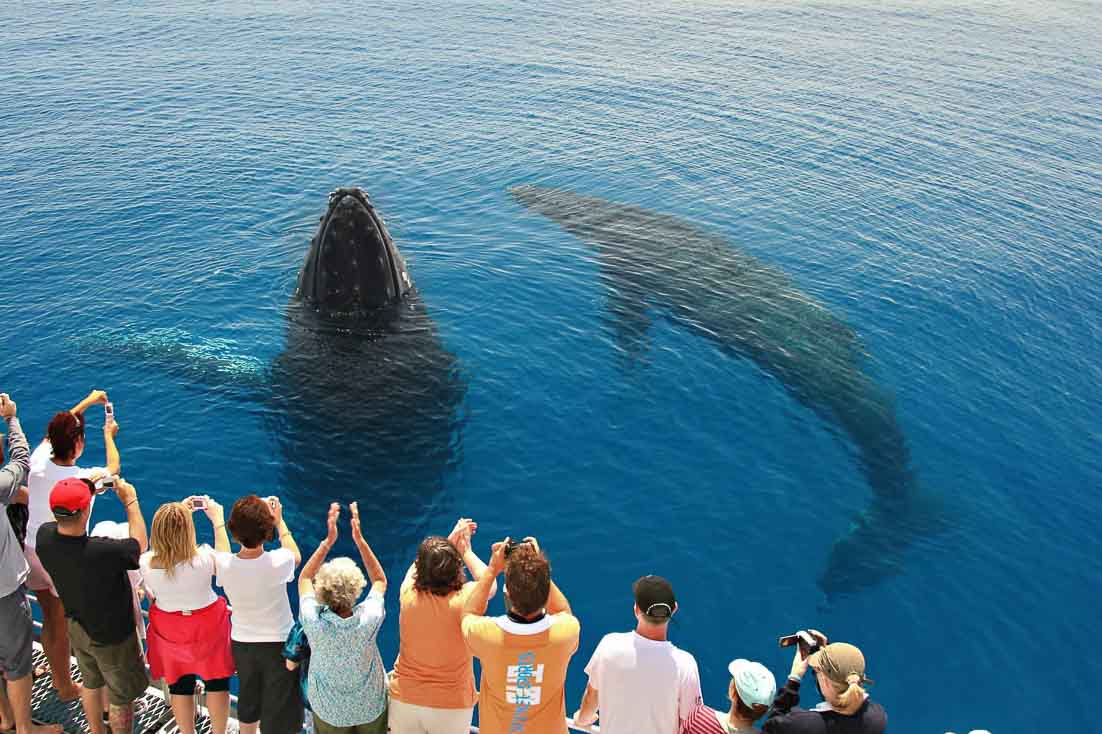 Thanks to Christina from Travel2next.com
One of the best things to see in Queensland is the humpback whales in Hervey Bay. While whale watching in Hervey Bay it's possible to see humpback whales on their annual migration in many coastal towns in Queensland. But there's only one place where you're guaranteed to have a fantastic experience. The reason why Hervey Bay is known as the Whale Watching Capital of the World is that lots of humpback whales hang around in the calm and sheltered waters between July and November.
Hervey Bay is a natural resting point for the humpback whales during their long swim back to the Antarctic. Here, the whales are curious and unafraid of the whale-watching boats. It's common to see whales breaching, blowing, spy hopping and tail slapping in Hervey Bay. There is a range of different whale watching cruises you can join from half days to full day cruises.
There are direct flights to Hervey Bay from Sydney and Brisbane, or you can hire a car and drive from Brisbane (about 3.5 hours). It's worth the drive as there are other family-friendly attractions on the Fraser Coast, such as exploring Fraser Island and the historic town of Maryborough.
While in Hervey Bay, stay at one of the hotels (such as Mantra Hervey Bay) on the Urangan Marina for easy access to the whale watching boats.
Sunrise with the Kangaroos at Cape Hillsborough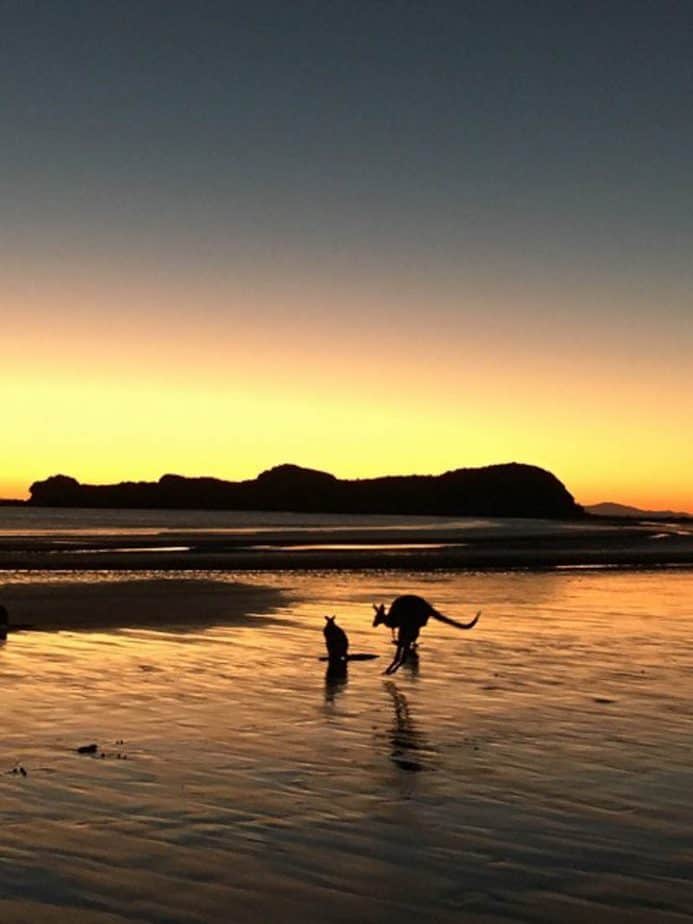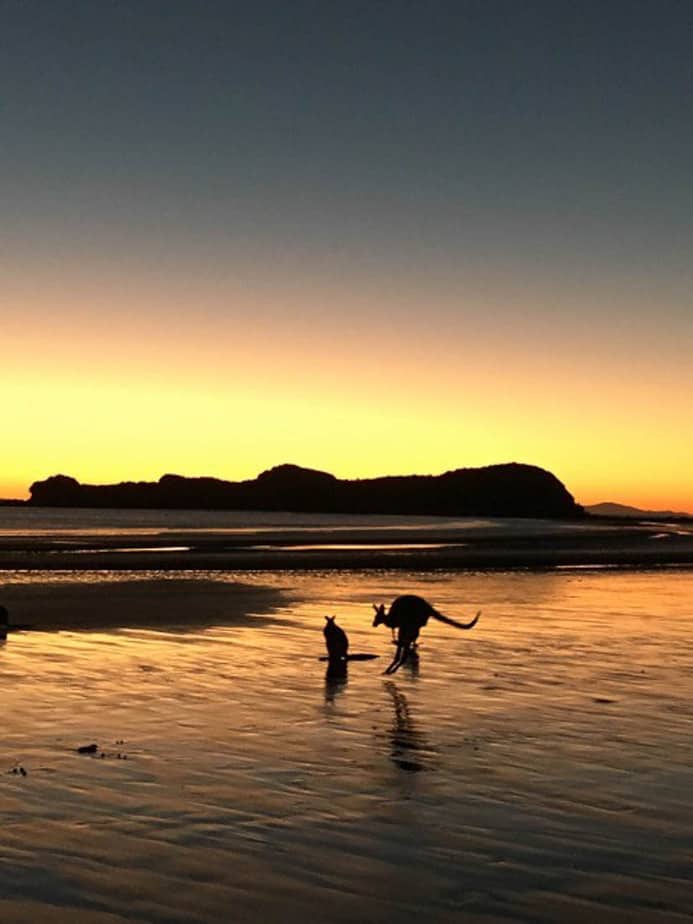 Thanks to Tracy from Tracys Travels in Time
One of the absolute best Queensland things to do is to visit Cape Hillsborough to see the kangaroos and wallabies on the beach at sunrise. Located a 30-minute drive from Mackay, this experience really should be on everyone's must-do Queensland list.
To ensure you actually see the kangaroos at Cape Hillsborough beach, it is essential to be on the beach at sunrise as this is when they come down to feed on seedpods that have been washed ashore. If possible, book nearby accommodation at Cape Hillsborough (there are a few options including Airbnb) as it makes it easier (and safer) to get to the beach.
Remember that the animals are wild – don't try to feed them or touch them. And don't stand between them and the back of the bach – they need to know they can leave when they want to.
Also don't forget your camera – I have literally hundreds of photographs and videos as it is such a stunning sight. The beach turns orange and golden as the sun rays seep over the horizon and is really beautiful, especially with the kangaroos silhouetted.
Another tip If you are visiting in winter is to wrap up warmly as it can be bitterly cold on the beach.
Airlie Beach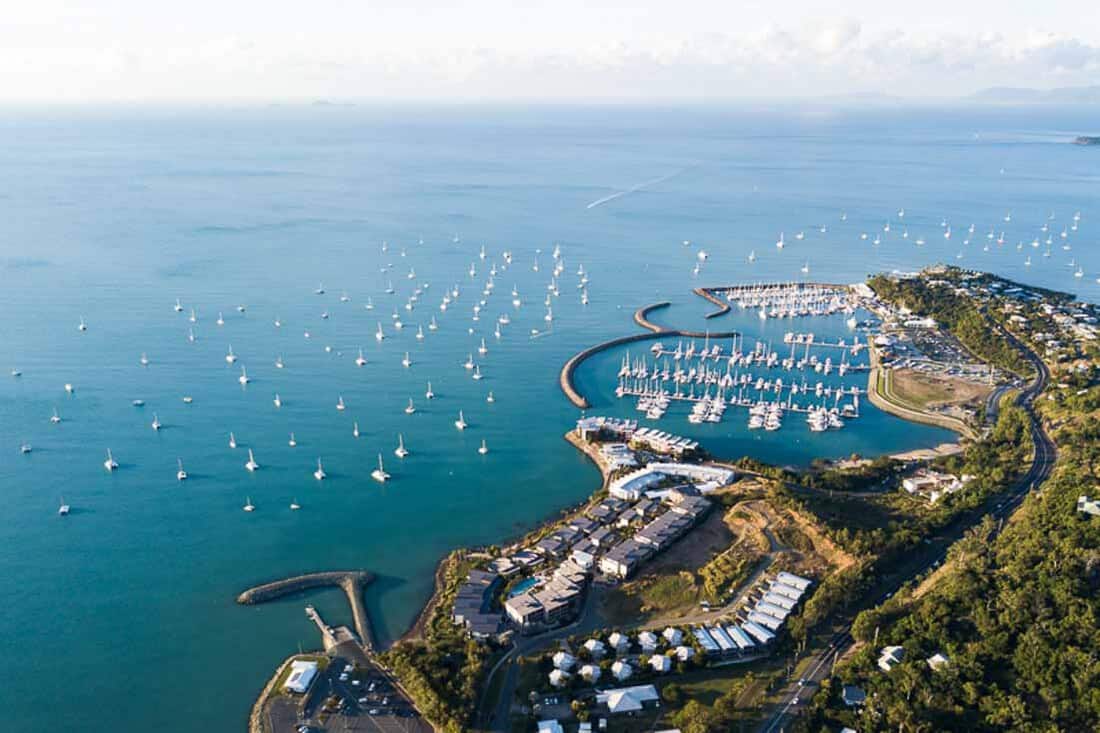 Thanks to Tina from Hangry by Nature
Laid-back, hip and perfect for those who love the slow life – Airlie Beach is the ideal base to jumpstart your Whitsundays adventures. If you're planning to tick off Queensland activities such as the Great Barrier Reef and Whitehaven Beach from your bucket list, then you'll no doubt be passing through this picturesque coastal town.
We found the best time to visit Airlie Beach is from June to September, outside of stinger and wet season so that you can enjoy the water, sunshine, and possibly even spot a few migrating whales.
If you don't fancy a dip in the ocean (especially during stinger season), then head to Airlie Beach Lagoon. Situated in the town centre, lagoon features shallow wading pools for kids and deeper swimming areas for adults.
Be sure to take a sunset stroll along the scenic Bicentennial Walk, dotted with public BBQ facilities and playgrounds; it's a perfect leisurely walk for families. Admire the sunset over Coral Sea Marina and admire luxury yachts in all their million-dollar glory.
Don't forget to explore the bustling town centre where you'll stumble upon boutique shops, restaurants with killer views, trendy cafes and cool bars. While you're there, stroll over to the revitalised foreshore and let the kids exert their energy at the brand new adventure playground.
Click here for our guide on cheap family accommodation in Airlie Beach.
Whitehaven Beach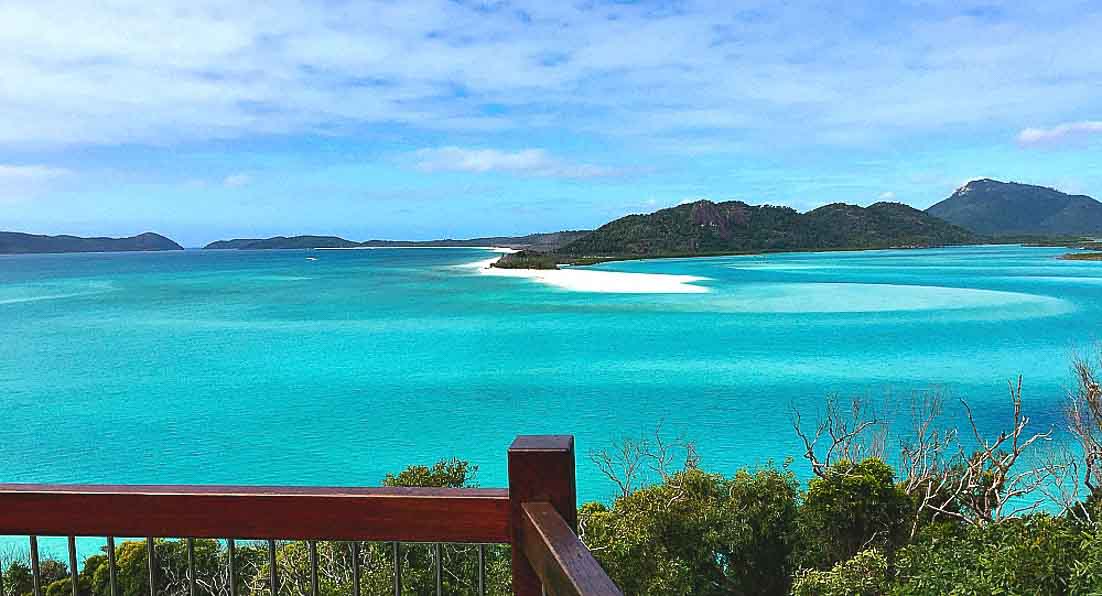 Thanks to Jan from Budget Travel Talk
There are 74 islands in North Queensland's Whitsunday Group of Islands, with only a handful of islands visited commercially. Although each have individually charming beaches, there is one beach that stands out in the crowd.
Whitsunday Island, the largest of all the Whitsunday Islands, is where you will find Whitehaven Beach, known the world over for it's shining white sand. An even bigger Whitsunday draw-card is the view over Whitehaven's Hill Inlet, where the white sand and clear blue-green water challenge each other in an ever-changing display. I liken it to Nature's lava lamp.
Even with megastar status Whitehaven Beach retains a natural beauty, no doubt due to day visitor numbers being strictly controlled within the Great Barrier Reef Marine Park.
Abell Point Marina at Airlie Beach is one mainland departure point for Whitehaven Beach day trips, as is Port of Airlie. Nearby Shute Harbour caters for bare-boating, sailing charters and a barge service delivering campers to the islands.
Whitehaven Beach can be accessed from the other Whitsunday islands including Hamilton Island. If pressed for time, get a bird's eye view of Whitehaven Beach from a Seaplane or Helicopter.
September is billed as the ultimate month to visit Whitehaven Beach, followed by the winter months of June, July, August. Winter temperatures can be cold, but we wore full wet suits when snorkelling, which can be hired from your boat trip provider.
The best way to arrive in the Whitsundays is by road from Brisbane or Cairns and by plane from Brisbane, Sydney and Melbourne to Whitsunday Coast Airport near Proserpine.
Sail the Whitsundays
Thanks to Emily from Websites From A Van
Sailing a yacht around The Whitsunday Islands is one of the best things to do in Queensland with kids and something the whole family will remember in years to come.
The Whitsundays are renowned for calm seas, turquoise waters, tropical weather and of course access to pristine islands and beaches with National Park status. The islands are also the gateway to the Great Barrier Reef, one of the seven wonders of the natural world.
When you hire a bareboat charter yacht, you're taught how to manage the craft and then given complete control over where you go and what you see. Don't let a lack of sailing skills put you off; you can always "sail" with the motor on.
Kids will enjoy snorkelling off the boat, exploring secluded beaches, rainforest walks and learning how to sail. You must visit the world-famous Whitehaven Beach and stop in at Hamilton Island for amazing views and restaurants.
It is possible to sail the Whitsundays all year round with some great deals in the offseason, however the best conditions are expected between June to October.
Hire a yacht through Whitsunday Rent a Yacht; located in Shute Harbour and you will have the closest access to the islands and they have the most competitive prices.
Proserpine Airport is less than an hour away, and Airlie Beach is the closest town offering the perfect base to prepare for your tropical adventure.
Magnetic Island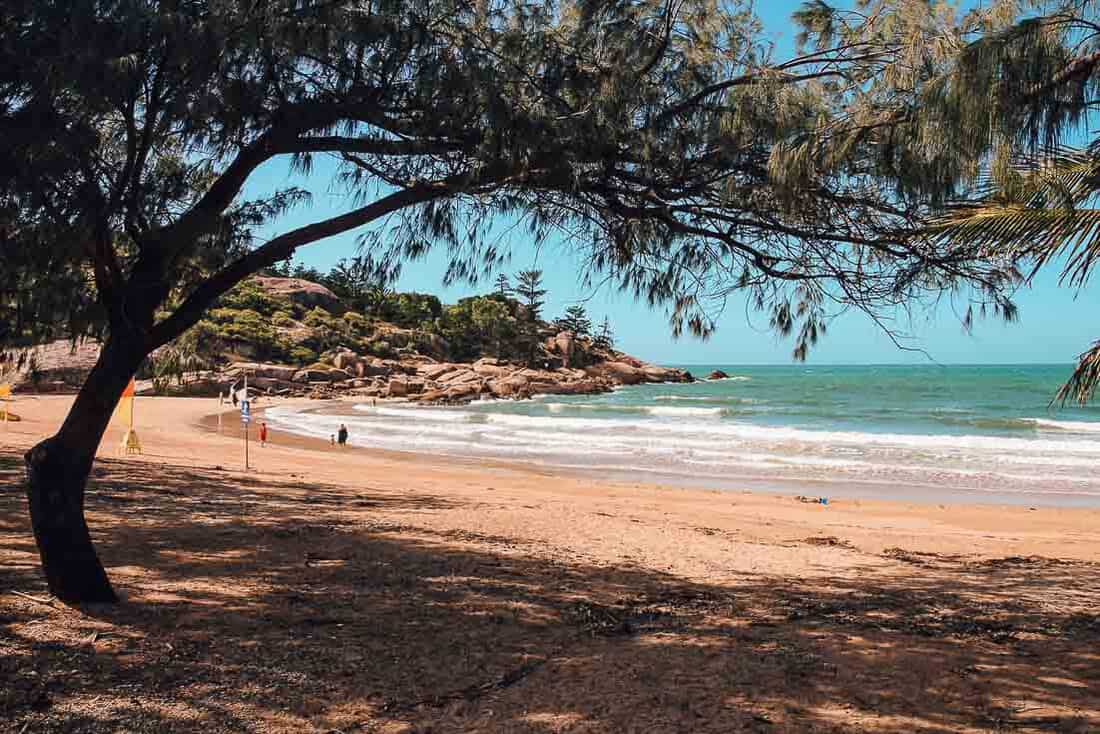 Thanks to Annie from Off Goes Annie
Magnetic Island is one of the best Queensland tourist destination for any family trip around Queensland. Easily accessible by ferry from Townsville, the 52 square kilometre Magnetic Island boasts a huge 320 days a year of sunshine and is guaranteed to be fun for the whole family.
The most popular attraction on this small paradise island is to hire a car and drive around the numerous secluded bays. In the Northern part of the island, you'll find an old WWII fort, as part of a brilliant one hour and a half long Forts Walk. Many families choose to hire one of the infamous 'Barbie cars' to zoom around the island but note that you must have a 4WD to access the West side's beaches.
Alternatively, it's possible to get a $7 per day unlimited bus pass to explore the island, helping to keep costs down. What's more, take the kids to Bungalow Bay Koala Village to check out the adorable koala sanctuary.
Click here for accommodation on Magnetic Island.
Great Barrier Reef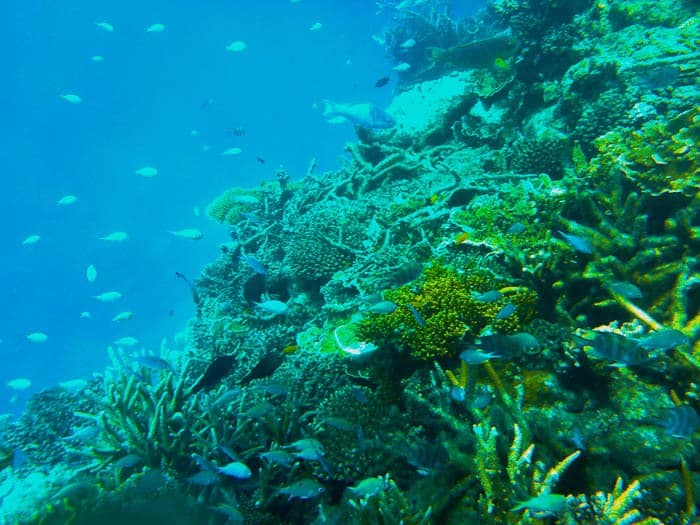 Thanks to Nicci from Trip Chiefs
A visit to the Great Barrier Reef would have to be my number one must-do for families visiting Queensland. And I'm a Queenslander, so I've seen a lot!
Swim amongst stunning coral reefs full of colourful fish, turtles, giant clams, sea cucumbers, and more. There are options to suit all ages, but for me, the ultimate way to see the reef is to take a guided tour to the outer reef from Port Douglas or Cairns where you can snorkel or scuba dive from a pontoon.
For those with younger kids who aren't strong swimmers, then sticking closer to land would be my recommendation.
Visiting the reef doesn't come cheap, but it's absolutely worth seeing, exploring and learning about this incredible slice of nature up close. As the world's largest coral reef, it needs to be seen in person to be believed.
The best time to visit is late autumn and winter. You can choose to see the Great Barrier Reef anywhere between Bundaberg and Port Douglas.
Click here to view a range of tour options to the Great Barrier Reef from Cairns.
Port Douglas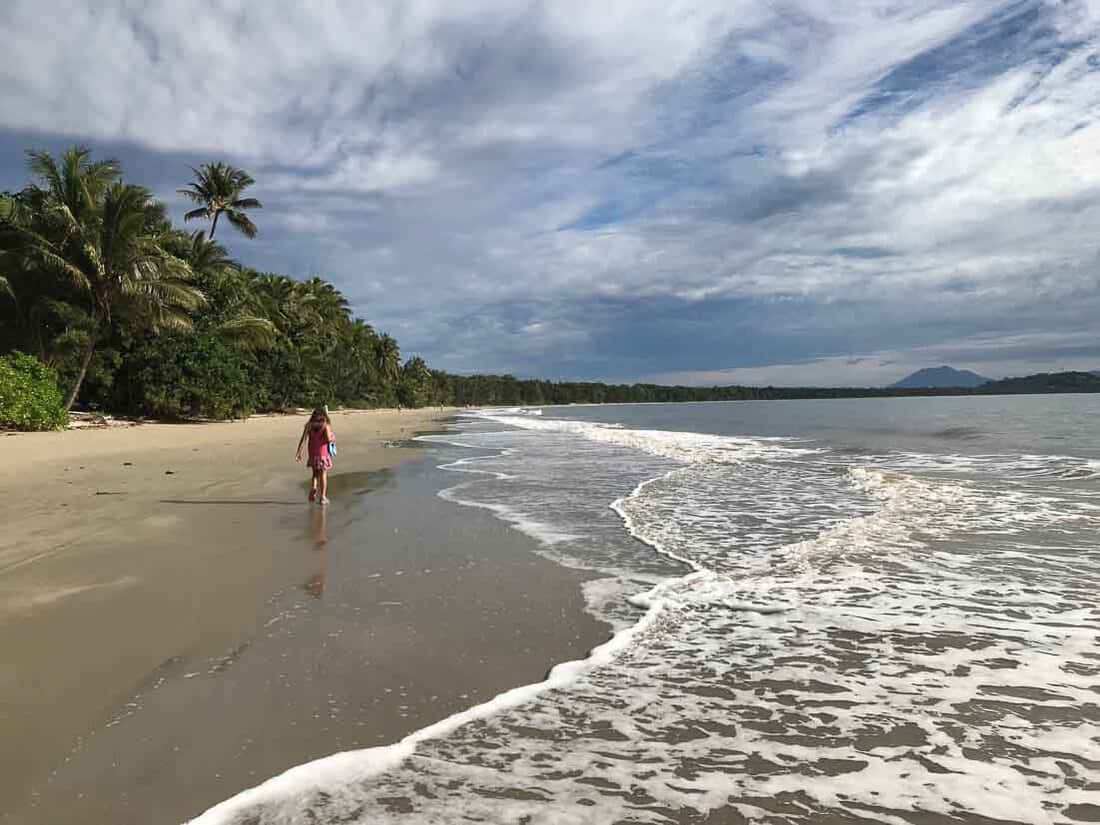 Thanks to Arian from World of Travels with Kids
Port Douglas is one of the best destinations in Queensland for family travellers. It's small, charming, and has a beautiful ambiance. Nestled on the edge of the Great Barrier Reef, and close to the World Heritage Daintree Rainforest, Port Douglas makes a wonderful base for day trips. Alternatively, if poolside relaxation and beach time is your idea of a holiday, there are some stunning resorts that will most definitely tick this box. Small kids will enjoy the Bally Hooley Train, a restored cane train that puffs around the town, while big kids will enjoy the adventure possibilities.
Port Douglas is best visited in the winter (June to October) a period when it is warm and there is not too much rain. This is also the season when it is safe to swim in the ocean, as there are no stingers. The Summer is from November through May and the weather is typical for the tropical wet season: hot with downpours.
To get to Port Douglas, we flew into Cairns via Brisbane. From there, we hired a car and drove the 110 kilometres along a stunning highway, with tantalising glimpses of the stunning ocean, palm trees and rainforest vegetation.
Kuranda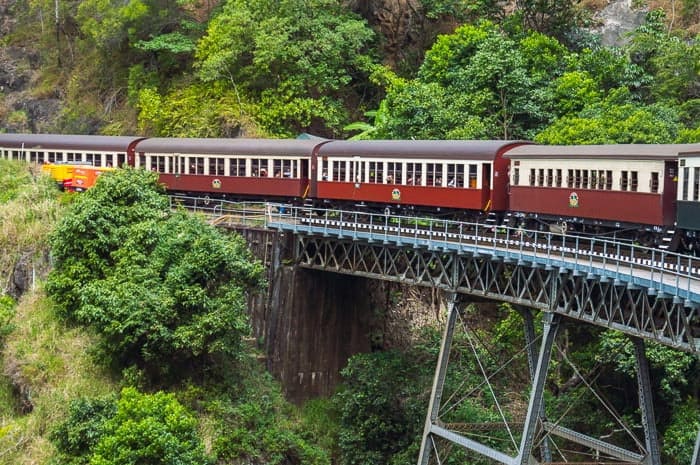 Thanks to Keri from Our Globetrotters
For an absolute quintessential Queensland experience, head to the village in the mountains, Kuranda, between Cairns and Port Douglas in the Tropical North. Half the fun of visiting Kuranda is getting there and back with the choice of the historic Kuranda Scenic Railway or the Kuranda Skyrail – a cable car. Both are amazing experiences offering stunning views over the Barron Falls and McAlister Range, so definitely opt for a different mode of transport in each direction!
Once in Kuranda, there's a variety of Australian shopping, food and wildlife experiences to choose from, most within walking distance of the adjacent stations. Some favourites with the kids include the Butterfly Sanctuary, Birdworld and Kuranda Koala Gardens, or simply enjoy the plentiful markets packed with handy crafts and wonderful food – and, of course, the Kuranda Kandy Kitchen!
Slightly further away but a must to truly experience the beauty in among the mountains are the Kuranda River Cruises on the Barron River and Rainforestation Nature Park. Pick your attractions carefully though, as you don't want to miss your ticket back down the mountains, definitely book early so you have the choice of optimal timings on the train and Skyrail.
The weather is best in the dry season, however a wet season visit will allow you to see the dramatic Barron Falls in full flow.
Click here to read our full guide to visiting Kuranda.
Stay in a Rainforest Tree House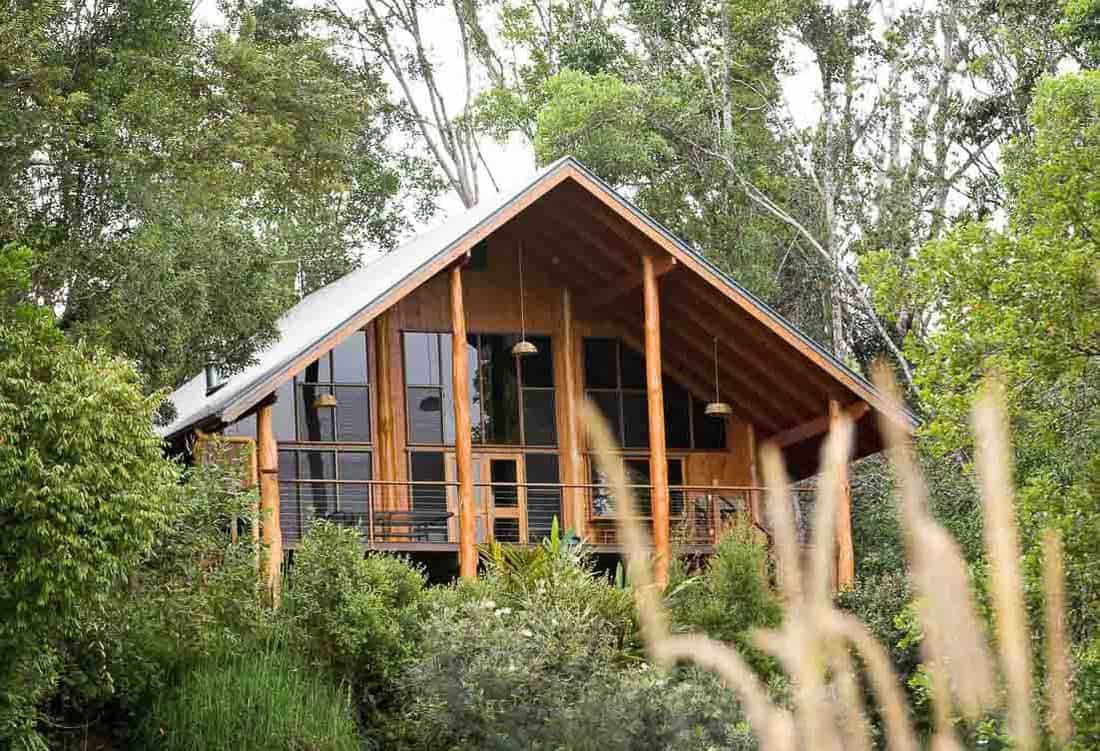 Thanks to Katy from Untold Morsels
Imagine waking up to the sound of native birds and the gentle babble of a creek in the middle of pristine nature. You can't get closer to nature than this, and the best way to experience it is to stay at a rainforest treehouse. Queensland's tropical forests are some of the oldest and most complex ecosystems in the world. When you stay right in the heart of this special environment, you can discover unique and ancient species of wildlife that have roamed this area for thousands of years. Try to spot a cassowary making its way through the bush or a pademelon wallaby foraging for food from your balcony.
You can stay in a rainforest treehouse in locations throughout Queensland's tropical north. Our favourite places are in the Daintree Rainforest and Atherton Tablelands close to Cairns. In particular, the award-winning Canopy Treehouses close to Millaa Millaa Falls are a haven for tree kangaroos, endangered possums and cassowaries.
The Daintree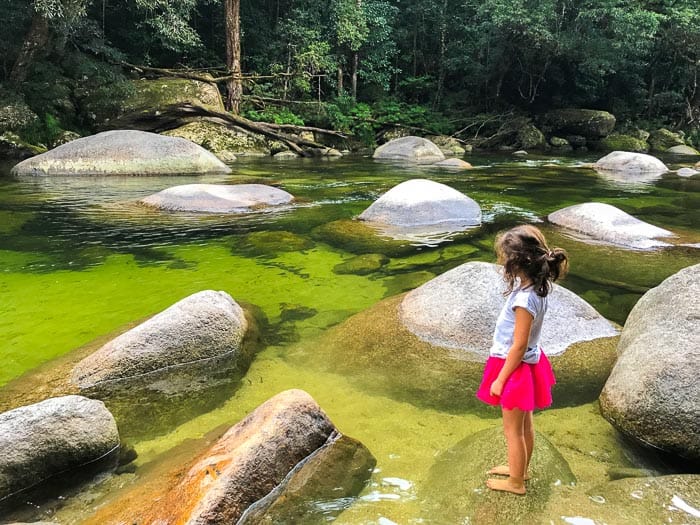 The Daintree region covers almost 900,000 hectares of tropical north Queensland and is home to the World Heritage listed Daintree National Park. The Daintree area covers the Mossman Gorge at the southern point, the Daintree River at its centre and then all the way up to the dense rainforests of Cape Tribulation. The region has numerous tourist attractions including the lush dense rainforest, crocodile infested rivers, cool fresh water streams, pristine beaches and the Great Barrier Reef.
This is the only place in the world where 2 World Heritage listed sites exist side by side – Daintree National Park and the Great Barrier Reef.
While you can visit the Daintree in a day trip from Cairns, or better still spend a few days exploring this magnificent area. Whilst visiting the Daintree you must visit the Mossman Gorge (pictured above), take a Daintree River Cruise to see crocodiles and other wildlife, the Daintree Discovery Centre and one of the gorgeous Daintree Rainforest Beaches – where the rainforest meets the Great Barrier Reef.
One of the best things to do in the Daintree is to see the crocs in the wild! Join one of the various boat tours and get ready to see these massive beasts as they bask in the glorious Queensland sun. My tip is to go during low tide, this way you will get to see the full views of crocodiles rather then just their tips as they zig zag down the river.
Click here for a our full guide on visiting the Daintree.
Cooktown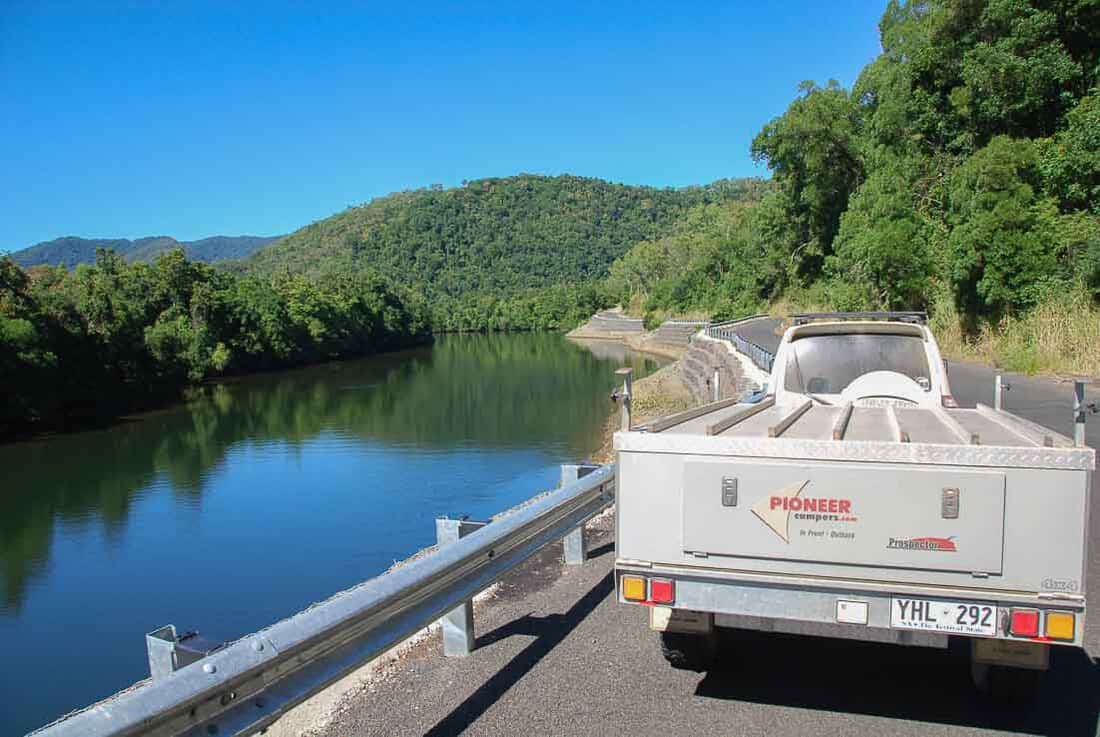 Thanks to Natalie and Steve from Curious Campers Australia
Cooktown is 4.5 hours from Cairns. For the more adventurous, take the Bloomfield track, but note that it's only accessible by 4WD and not suitable for caravans. The track has steep hills and potentially deep water crossings, so be sure to check the conditions before you go.
One of the highlights in Cooktown was the James Cook Museum. Besides Captain Cook history, the museum also honours the local indigenous people and the early Chinese population. Not every museum is a winner with kids, but ours enjoyed this one. The Endeavour's canon and anchor really caught their imagination.
We also had great fun fishing at the local wharf. Even if we didn't catch much, the kids had a ball watching the locals reel in some enormous fish. The water park on the esplanade was also a big hit.
Cooktown Holiday Park is a great place to stay for families. Here you find fantastic amenities such as a camp kitchen and pool. For free camping, try Archer Point 20km south of Cooktown.
Cooktown has a wet season and a dry season. If you want to avoid rain, humidity, cyclones and stinger season, May to October is the best time to visit.
___________________________________________________________