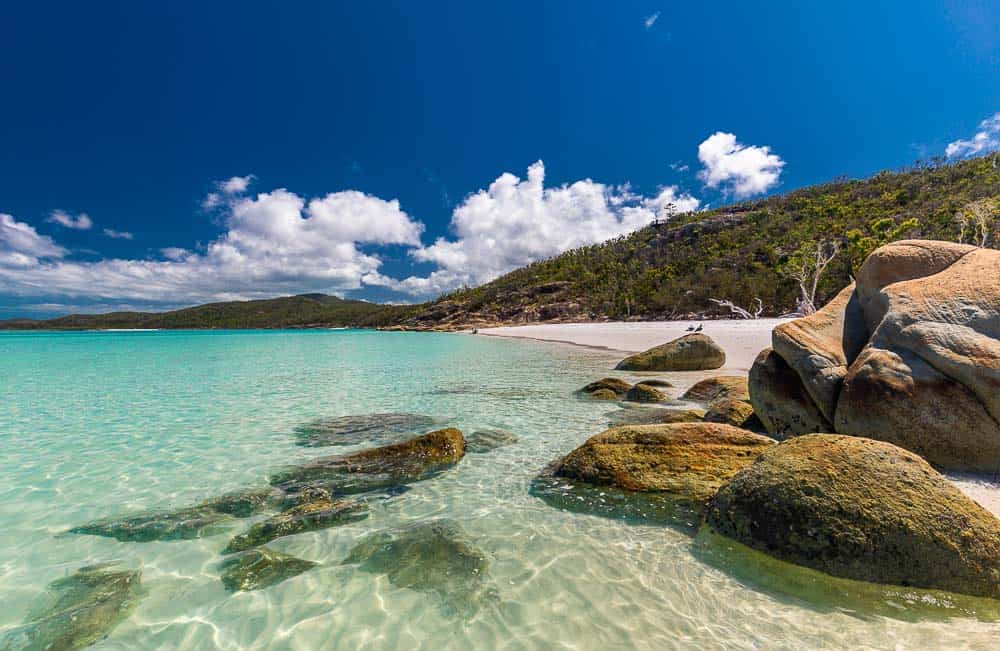 With over 7400 km of coastline, in Queensland, we are blessed with some of Australia best beaches! In fact, some of the best beaches in Queensland are considered some of the world's finest. From beaches with unbeatable surf conditions to calm and shallow water perfect for families, Queensland has a range of awesome beaches. Plus we have year-round sunny conditions to enjoy them all.
If you're in need of some inspiration for your Queensland beach holidays – then this is for you!! In this best beaches Queensland guide, with the help of fellow travel bloggers, I've compiled a list some of the best Queensland beaches. This list includes the southern beaches of the Gold Coast, to the Far North Queensland beaches and many gorgeous beaches in between.
This post may contain compensated links. Please refer to my disclaimer here for more information.
Planning a trip to Queensland? Have any questions?
Join our Queensland Travel Planning Facebook group here now!
It's the perfect place to ask any questions and to be inspired!
Queensland Beach Safety
Before we get into the Queensland best beaches, let me spend a moment covering some tips to ensure you and your family remain safe while enjoying the beautiful beaches in Queensland.
Only swim where there is a lifeguard on duty.
Never swim at a beach which is signposted as closed.
Always swim between the red and yellow flags – click here for a full guide on beach flags and what they mean.
If you find yourself in danger while swimming, raise your hand and do not swim against the water, a lifeguard will come for you as soon as possible.
Never swim alone.
Never swim at night.
Never swim under the influence of alcohol or drugs.
During November to May from the area of Gladstone and to the tip of Queensland, marine stingers can be found in the water. These jellyfish are lethal and can kill a person within minutes after a sting. For this reason, if you wish to go swimming during this time you will need to wear a full wet suit and also to swim where there are stinger nets installed. You can find stinger nets at the following North Queensland beaches – Palm Cove, Clifton Beach, Kewarra Beach, Trinity Beach, Yorkeys Knob, Holloways Beach, Port Douglas, Ellis Beach, Bramston Beach, Etty Bay, and North and South Mission Beach.
For more Qld beach safety tips visit the Surf Life Saving Queensland website.
The Best Beaches in Queensland – Australia
With over 7400 km of coastline in Queensland, there is a stack of gorgeous beaches. In fact, there are so many top beaches in Queensland that it's impossible to list them all. In this best beaches Queensland guide, I've listed some of the best.
Best Beaches – Gold Coast
When people think of Queensland beaches – the Gold Coast is one of the first places that come to mind. Starting at Rainbow Bay on the Queensland / New South Wales border and stretching- the Gold Coast has over 70 km of coastline and some of the state's best surf beaches.
Gold Coast Beaches include South Stradbroke Island, The Spit, Main Beach, Surfers Paradise, Broadbeach, Mermaid Beach, Nobby Beach, Miami, Burleigh Beach, Burleigh Heads, Tallebudgera Beach, Palm Beach, Currumbin Beach, Tugun, Bilinga, Kirra, Coolangatta, Greenmount, Rainbow Bay, Snapper Rocks and Froggies Beach.
As well as the coastal beaches, the Gold Coast has several km of gorgeous tidal waterways which are perfect for swimming and water activities such as stand up paddleboarding and kayaking. Some of these waterways include Southport, Budds Beach, Marine Stadium, Currumbin Alley, Tallebudgera Estuary, Jacobs Well, Jabiru Island, Paradise Point, Harley Park Labrador, Santa Barbara, Boykambil and Evandale Lake.
Below I have listed some of the best beaches the Gold Coast has on offer.
1. Rainbow Bay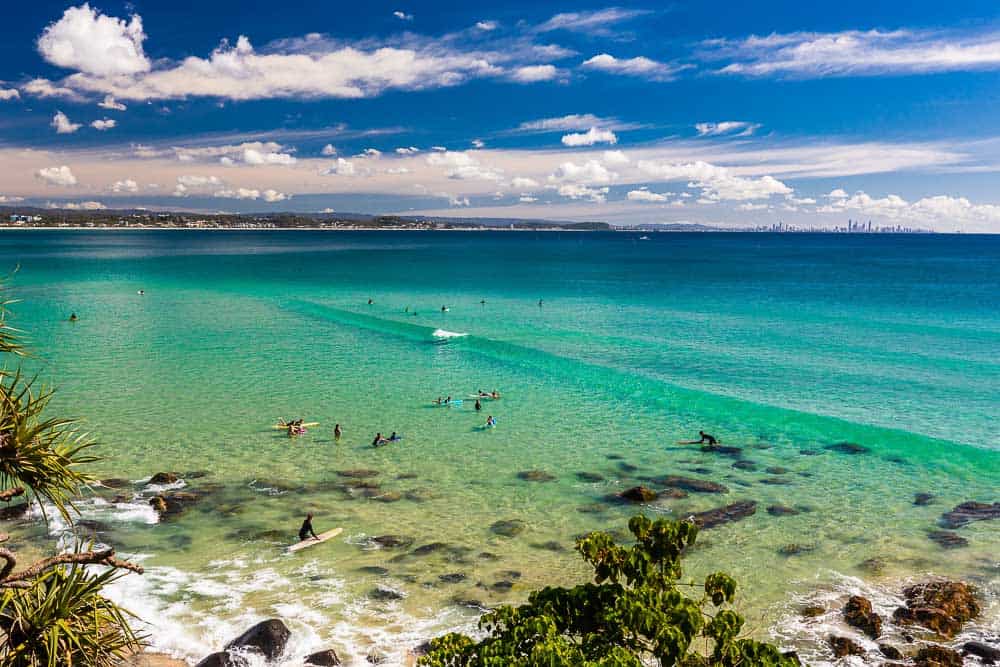 At just 300m long, Rainbow Bay is a relatively small beach, which is located just over from the New South Wales border. Rainbow Bay is a beautiful north-facing beach and is a great swimming beach as well as being a popular spot for surfing.
Around Rainbow Bay, you will find mostly a few old school style accommodation, which also means accommodation here is relatively inexpensive compared to other parts of the Gold Coast.
In terms of shops and places to eat – you won't find much on offer in Rainbow Bay – however, just a short walk away is Coolangatta where you will find plenty of shops, restaurants and even a cinema. Rainbow Bay does however have its own Surf Life Saving Club which has a great deck overlooking the bay. The club serves lunch and dinner daily and breakfasts on the weekends.
In my view – Rainbow Bay is among the best Gold Coast beaches for families.
Click here for accommodation in Rainbow Bay.
2. Tallebudgera Creek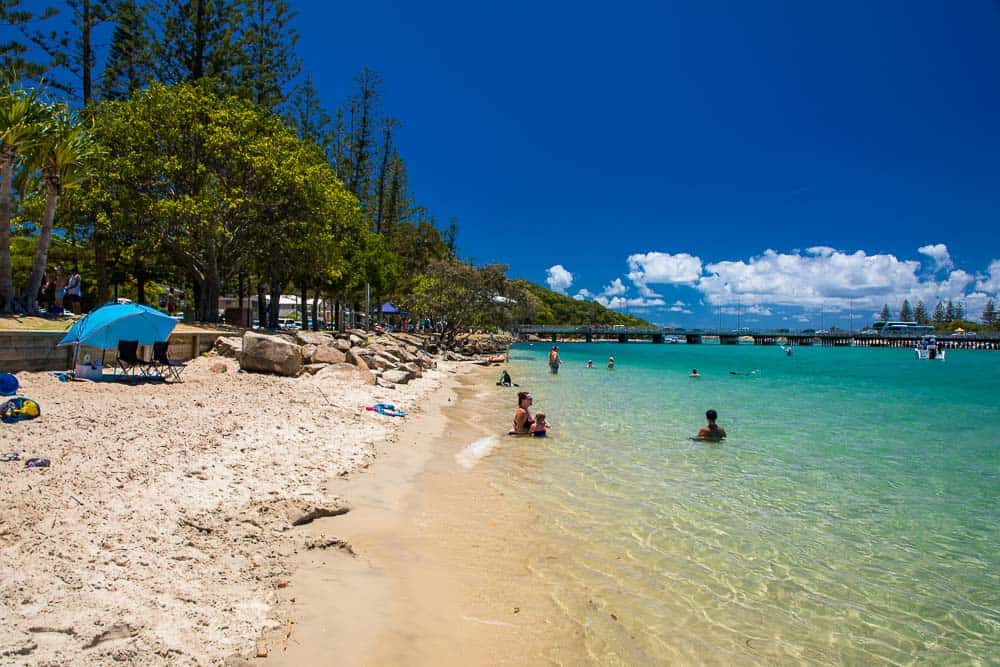 While not technically a beach, given how picturesque Tallebudgera Creek is, it seemed wrong not to include it in this Queensland best beaches guide. Tallebudgera is a gorgeous spot, with powdery white sand and piercing blue calm water, just perfect for swimming. It's also an excellent spot for water activities such as stand up paddleboarding and kayaking.
Given it is a creek, you can enter Tallebudgera either via the southern entrance of Burleigh Head National Park or on the palm beachside which is where you will find the area patrolled by lifesavers. The Palm Beachside is also where you will find parking (but not a lot).
Click here for accommodation in Tallebudgera.
3. Burleigh Beach

Contributed by Maureen from "So Many Places! So Little Time!"- Online travel magazine & blog
Burleigh Beach on the Gold Coast is yet another one of the best Queensland beaches Australia offers for families. Burleigh Beach is a two kilometre-long stretch of squeaky white sand and surf, and the beach is patrolled.
The beachfront features a treelined path the entire length, which is perfect for walking or bike riding. The area also has plenty of picnic and barbeque facilities as well as clean toilets and showers along the way. Take a picnic or a barbeque on Sunday nights to the beachfront Justin's Park and be entertained by the fire twirlers, dancers and bongo drummers.
There is a surf club at both ends of the beach which is ideal for taking part in that so popular pastime of the local Queenslanders, of sitting out on the decks overlooking the beach and enjoying breakfast, lunch or dinner. There are also plenty of cafes, restaurants, and fast food outlets to satisfy whatever food cravings you and your family have in Burleigh, and you will find some interesting boutiques and specialty shops in James Street.
Burleigh Heads National Park is at the southern end of the beach and leads over the hill to Tallebudgera Creek (see above), which has a great safe swimming spot for younger children. Burleigh Beach is also close to the great Currumbin Wildlife Park, and you can also easily do day trips to the other theme parks from Burleigh if that is in your plans.
Click here for accommodation in Burleigh Heads.
4. Surfers Paradise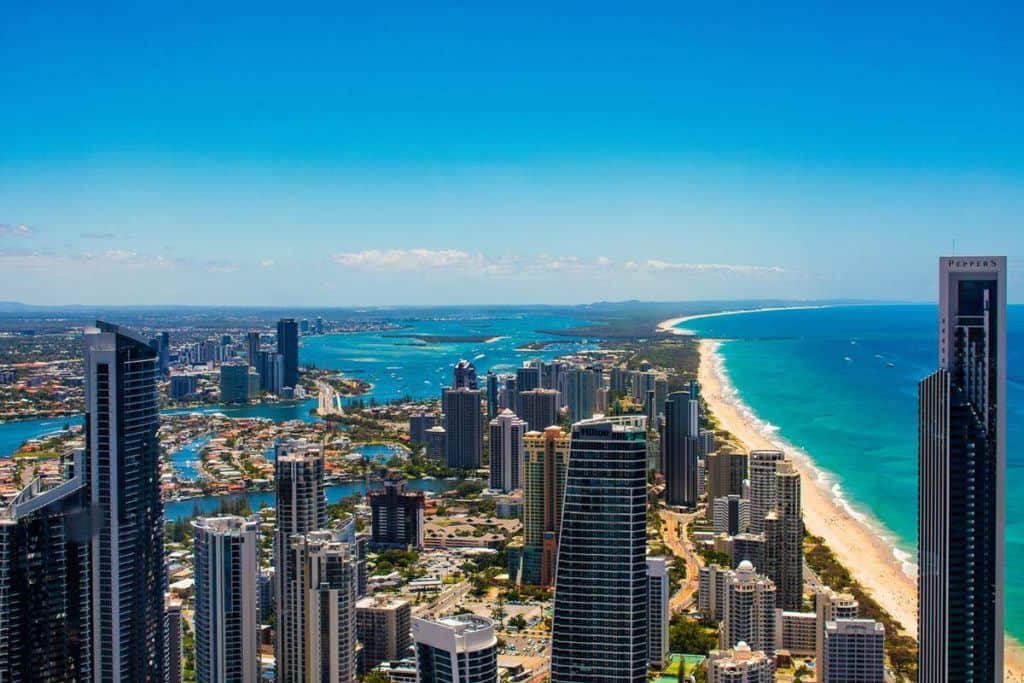 The most touristy spot overall on the Gold Coast, there is a stack of things to see in Surfers Paradise, so this is the ideal location if you want to be in the heart of it all. There is also a stack of fantastic restaurants and shops and a gorgeous stretch of beach for swimming. Click here to read our full guide on Surfers Paradise with kids.
Like all Gold Coast beaches, the Surfers Paradise beach is stunning. The beach is a 3 km long golden stretch of sand which is regularly voted as one of the best not only in Australia but in the world. Plus it's accessible for everyone! The Surfers Paradise Surf Life Saving Club provides beach wheelchairs, accessible beach access at, a mobile hoist and volunteers to assist in ensuring everyone can enjoy this gorgeous Qld beach.
Aside from the beach – there is a stack of things to do around Surfers Paradise for families. Attractions include the Aquaduck, Ripley's Beleive it or Not, Time Zone, Putt-Putt, Jet Boats, Infinity, SkyPoint Observation Deck, and loads more!
Surfers Paradise is very popular though – so if you aren't into crowds, might be best to stay at one of the other stunning Gold Coast beaches.
Click here for accommodation in Surfers Paradise.
Best Beaches Near Brisbane
While Brisbane is located inland and not on the coast, if you're after some of the best beaches near Brisbane I'd recommend you head to the nearby islands of North Stradbroke or Moreton. On these islands, you will not only the best beaches around Brisbane but also some of the very best beaches in Qld.
5. Main Beach – North Stradbroke Island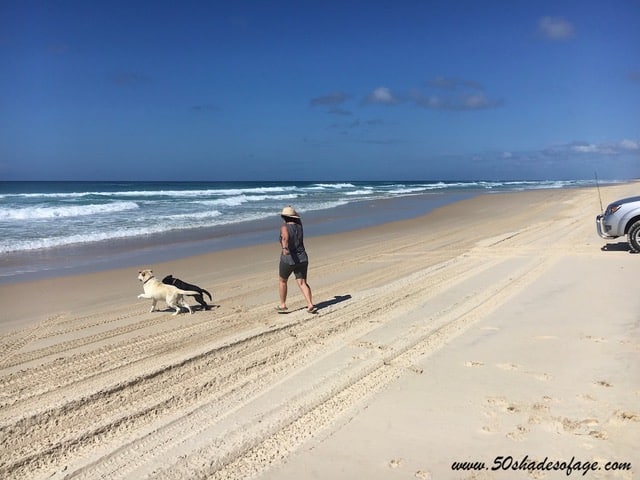 Contributed by Kathy from 50 Shades of Age
North Stradbroke Island is a large sand island, located in Moreton Bay east of Brisbane. To reach the island it is an enjoyable 45-minute ferry ride across Moreton Bay.
Once you head across to the ocean side of the island and the town of Point Lookout where you can access the pristine Main Beach. Main Beach is perfect for swimming, surfing, beach walking and fishing. Main Beach is also a haven for four-wheel drive enthusiasts with it's 32 Km long stretch of beach accessible just south of the Point Lookout Surf Club. Drive along the wide sandy beach with the surf rolling in along the shoreline all the way to Jumpinpin Bar.
Main Beach is best enjoyed by spending a few days and camping. Set up camp amongst the sand dunes in one of the designated campgrounds and enjoy your own private beach. Beach fishing is extremely popular along this stretch of beach with naturally forming gutters on the shores.
Other things to do on North Stradbroke Island include exploring some of the other pristine beaches on the island; visiting the freshwater lakes including Blue Lake, Brown Lake, the Keyholes, Eighteen Mile Swamp and Myora Springs; launching your boat from Amity Point for a day's fishing; hiking on some of the scenic walks; or taking a tour along the Goompi trail with a local Aboriginal guide and learn about the Quandamooka people, artefacts, traditional hunting methods, bush tucker and bush medicines.
Click here for accommodation on North Stradbroke Island.
6. Amity Point – North Stradbroke Island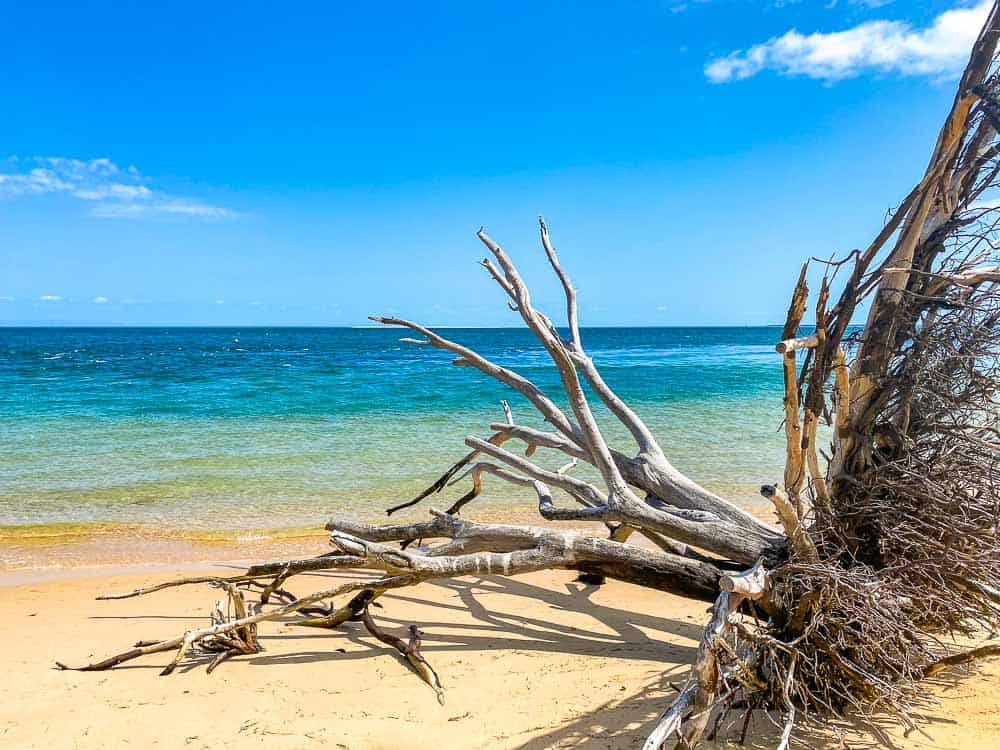 Amity Point is a lovely little seaside village, located on the gorgeous North Stradbroke Island and the Amity Point camping ground is a fantastic place to come for a few days with family and friends. With its bright, calm turquoise water and quiet leafy green streets full of wildlife, it's the perfect place to unwind and relax from life's everyday routine. Click here for our complete guide on things to do at Amity Point.
As you can see from above the water here is calm and crystal clear. It is the perfect spot for swimming, snorkelling or water activities such as stand up paddleboarding and kayaking. It is also a great spot for spotting wildlife. From the shores of Amity Point, you can see dolphins on a daily basis as well as pelicans. At the campground here you can also see the resident koalas.
If you plan on spending a few days at Amity Point, your best bet is to stay at the campsite. However if camping isn't your thing there are also a few private houses in the area that you can hire too.
Amity Point is easily accessed by ferry.
Click here for accommodation in Amity Point.
7. Tangalooma Wrecks Beach – Moreton Island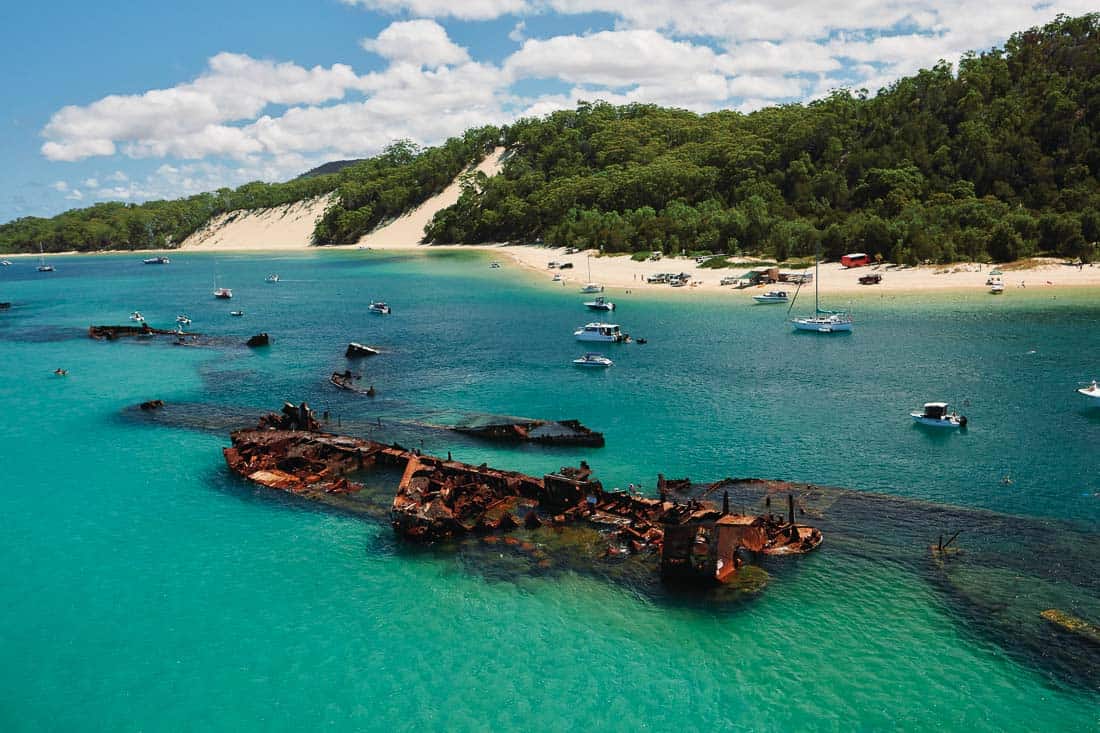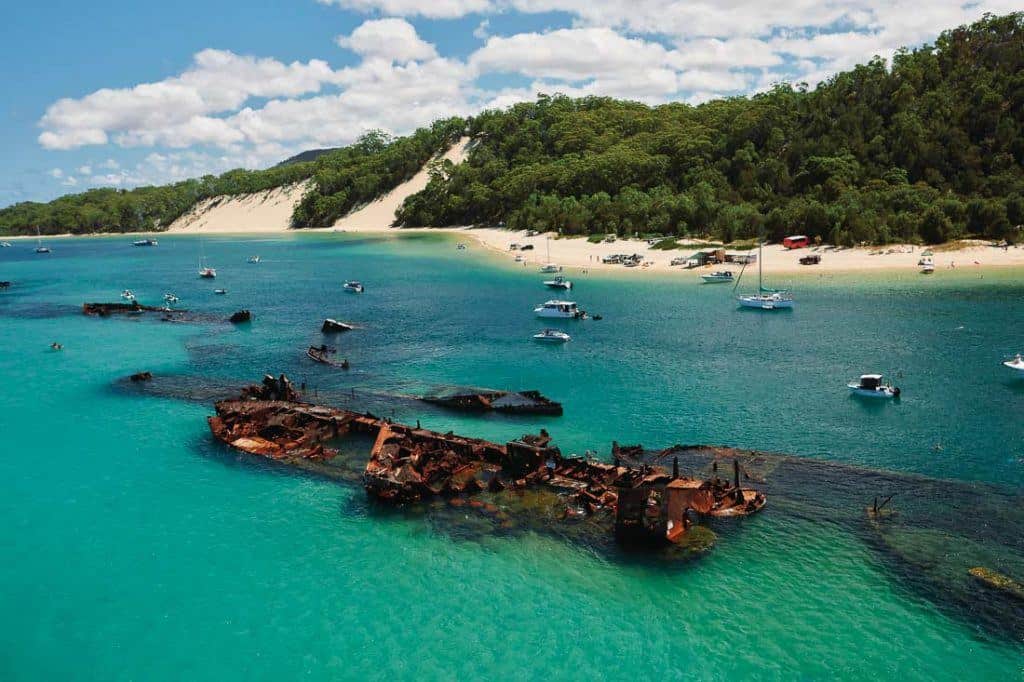 Contributed by Amanda from Bucket List Seekers
What makes Tangalooma Wrecks Beach one of the best beaches in Queensland, Australia? Well, for one, nowhere else in Australia (and quite possibly the rest of the world) can you snorkel among 15 shipwrecks, literally metres from the sand.
Located on Moreton Island, just off the coast of Brisbane, 'The Wrecks' beach is a relatively undiscovered hotspot in Queensland. But this man-made marine wonderland is becoming more and more popular by the day, as tourists flock to the island to experience snorkelling, diving, SUP or kayaking in clear bottom boats!
Tangalooma Wrecks Beach is easily accessible from Brisbane via the Tangalooma Passenger Ferry or Micat Vehicle and Passenger Ferry. Many people visit Moreton Island on a day trip. But if you spend a night (or two) at Tangalooma Resort or The Wrecks Campsite, you'll be able to experience a few of the other activities on offer at Moreton Island, including sandboarding, ATV experiences and sunset dolphin feeding. Moreton Island is a great day out for the family!
Click here for our full guide on visiting Tangalooma.
8. Streets Beach – Southbank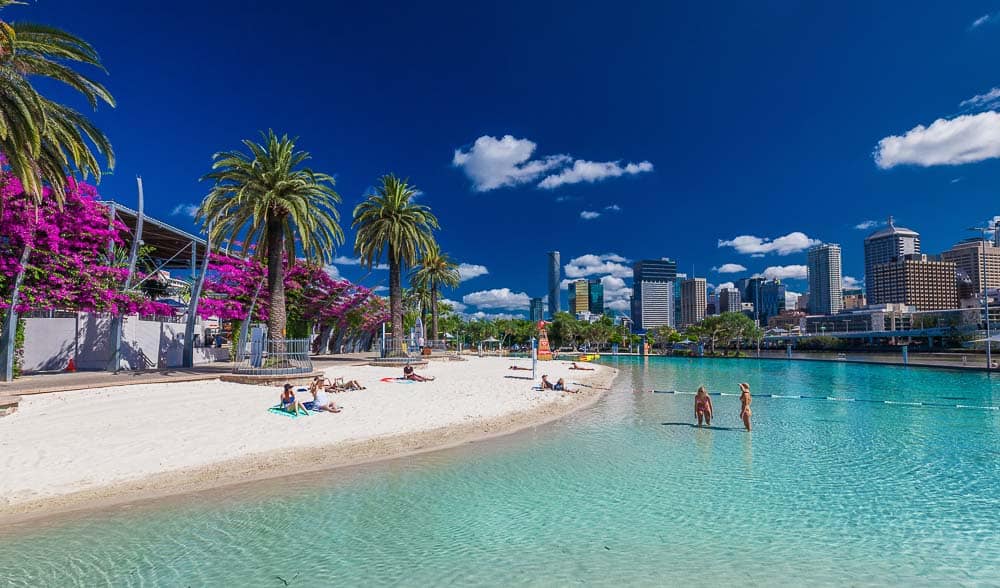 If you're after a Brisbane Beach – then head to the gorgeous man-made Streets Beach in the Southbank Parklands. This Brisbane artificial beach is Australia's only inner-city beach which has a massive blue lagoon and provides fantastic views across the city's skyline.
As well as the sparkling blue lagoon, there is also a giant swimming pool called the Boat Pool as well as Aquativity, which is an interactive splash park for the kids. Between the various water attractions, there are also man-made rock pools and streams which are perfect for the little ones to cool off in.
One of the best things about this Southbank beach Brisbane offers – it's completely free to enjoy! It is also patrolled year-round by qualified lifeguards too. As well as the beach, South Bank has various playgrounds, restaurants and cafes and makes a great day out for everyone. Click here for our full guide on things to do in Southbank.
Click here for accommodation around the South Bank Parklands.
Best Beaches – Sunshine Coast
The Sunshine Coast has over 100km of pristine coastline and is one of my favourite places to holiday in Queensland. The Sunshine Coast beaches are just stunning with wide sandy beaches and a great range of both surf beaches and calm waters.
The Sunshine Coast beaches start in the south at Caloundra and stretch all the way to Noosa in the north. Beaches in this region include Noosa Main Beach, Sunshine Beach, Sunrise Beach, Castaways Beach, Marcus Beach, Peregian Beach, Coolum Beach, Marcoola, Mudjimba, Alexandra Headland, Mooloolaba, Kawana Waters, Dicky Beach, Moffat Beach, Shelly Beach, Kings Beach and Golden Beach.
Below I have listed some of the best beaches the Sunshine Coast has on offer.
9. Bulcock Beach – Caloundra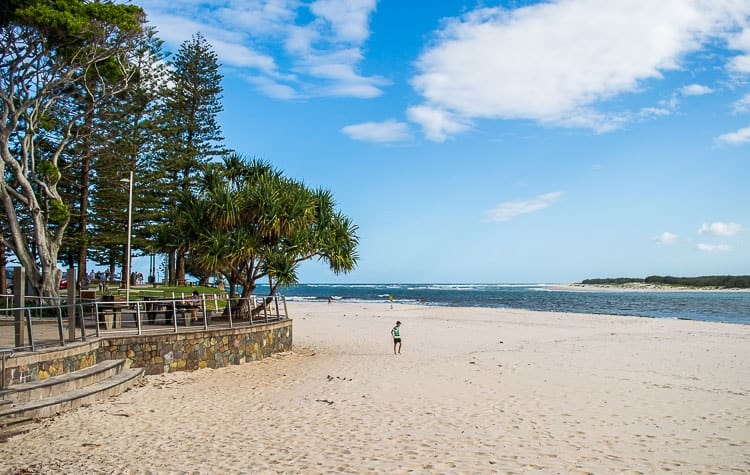 Bulcock Beach is a popular Caloundra Beach with families, particularly ones with small children due to the combination of both soft waves and calm waters. This is one of my favourite beaches in Caloundra. Click here for our full guide on Caloundra beaches.
This is also the place to be if you need to be close to shops as all the main shops and cafes of Caloundra are 5 minutes' walk away, including cinemas.
There is also a gorgeous park at Happy Valley, with large trees providing lots of shade and plenty of green lawn for picnics. The kids will love the playground area, there is a large fort and pirate ship both with various climbing equipment and slides. There is also swings here.
There is an excellent range of Caloundra restaurants and cafes along the Esplanade like Hello Harry, Drift Bar, Tides Waterfront, The Coffee Club, Sand Bar (for fish and chips), Drift and Hog's Breath Caloundra as well as ice cream at Gelato Rumba.
Bulcock Beach accommodation includes Rumba Beach Resort, Cerulean Apartments, Monaco Resorts, Waterview Resort, Breakfree Grand Pacific, the Waterford Prestige Apartments, Joanne Apartments, Centrepoint Apartments and Tranquil Shores.
Click here for accommodation around Bulcock Beach.
10. Mooloolaba Beach

Contributed by Christina from Travel2Next
Located between Noosa and Caloundra, Mooloolaba Beach has earned a reputation for being one of the Qld best beaches and a fantastic strip of sand for a family vacation.
There are many reasons why Mooloolaba Beach is one of the best Sunshine Coast beaches for families. One of the reasons is that this beach is conveniently located right across the road from shops, boutiques, galleries, cafes and restaurants along Mooloolaba Esplanade. Another good reason why this is one of the best beaches in Queensland for families is there are lots of picnic tables, barbecues and playgrounds.
Within walking distance of the beach is Mooloolaba Wharf, which is packed with new eateries. This is also where you'll find Sea Life Sunshine Coast where the kids will love being up close to seals, sea lions, penguins, sharks and other marine life.
Mooloolaba Beach is a year-round destination but if you're planning to visit during school holidays, make sure you book early as it's an extremely popular place to visit for a family beach holiday.
There's a huge range of apartment-style accommodation to suit all budgets. Most are within a few minutes' walk from the surf, which makes it easy for families to spend time on the beach.
Click here for accommodation in Mooloolaba.
11. Coolum Beach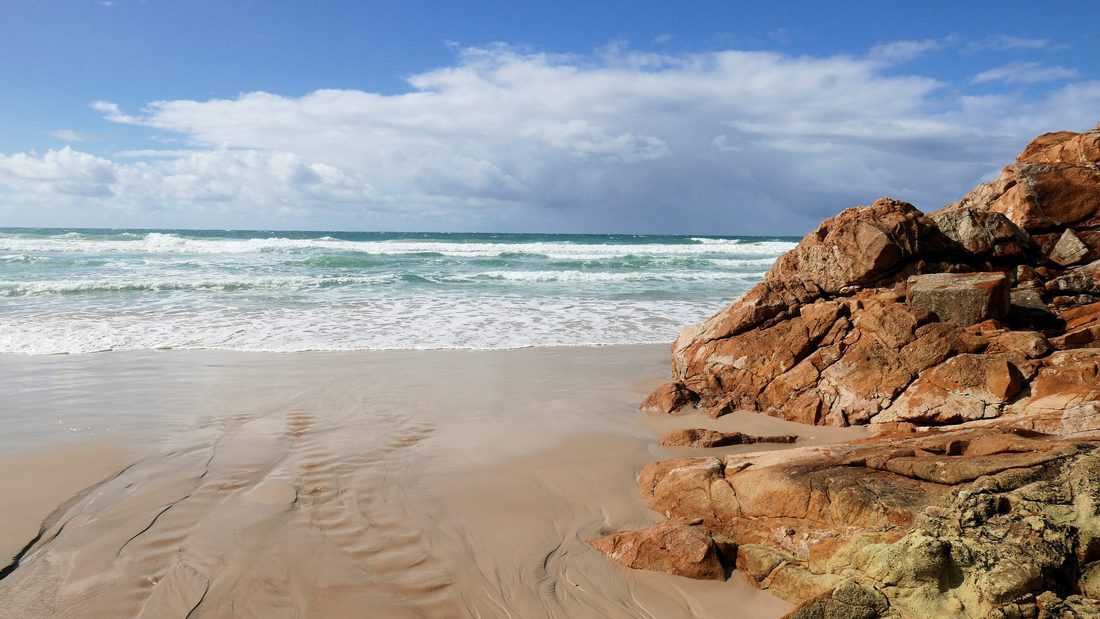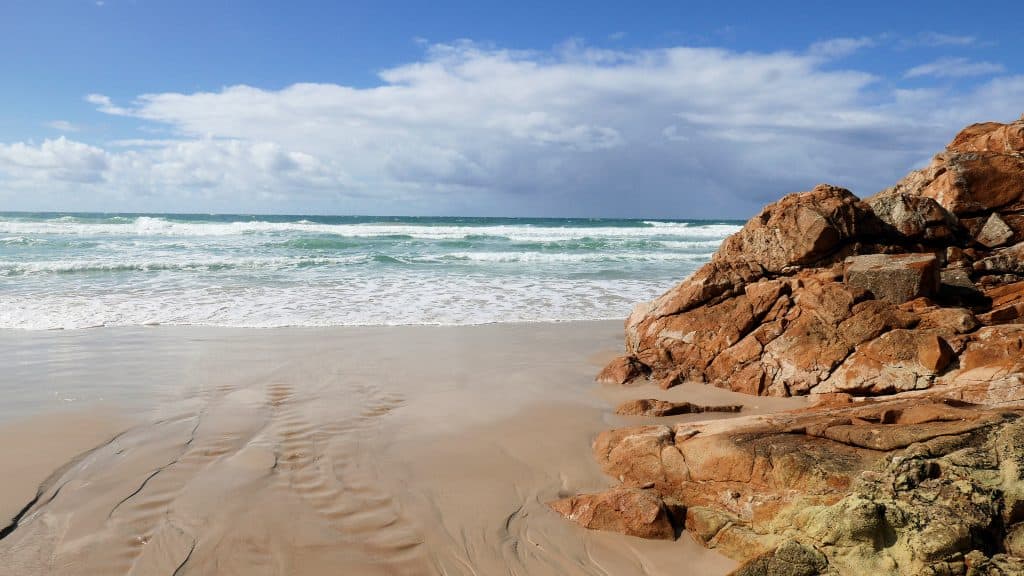 Contributed by Sinead from Map Made Memories
Coolum Beach is a small coastal town stretching along the Sunshine Coast approximately a 1 ½ hour drive north of Brisbane. The beautiful beach is long, clean and unspoilt. It is popular with dog walkers, joggers, people fishing and families playing games on its enormous expanse of sand. The beach never feels busy or crowded and has a friendly, relaxed communal vibe. Coolum is much quieter than neighbouring beach towns.
Coolum makes a great base to visit nearby attractions such as Noosa, Eumundi Markets or the fantastic Australia Zoo in Beerwah. Alternatively, enjoy a scenic hike in the local Mount Coolum National Park which offers breathtaking 360 degree views of the coast.
The highlight of our stay at Coolum Beach was having family surfing lessons from the local surf shop. The excellent instructor had our three children standing on their boards and surfing the waves by the end of their first lesson!
12. Sunshine Beach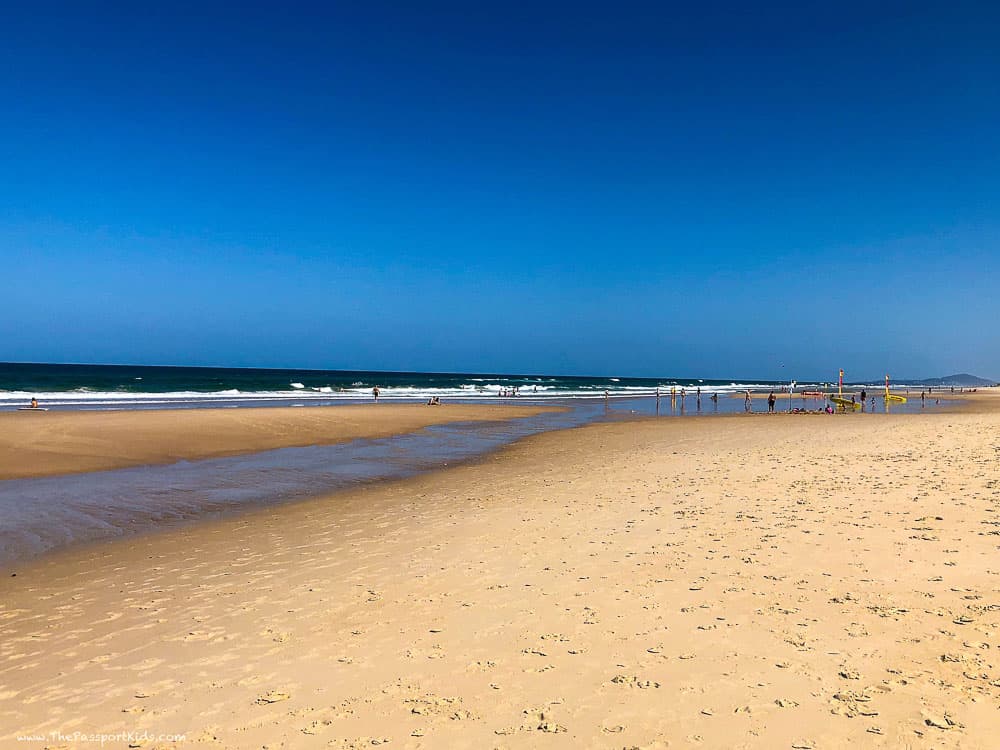 Contributed by Nicole from The Passport Kids
Sunshine Beach is located in Noosa, Queensland and offers a quieter beach for families to go to in this holiday area. It is a fantastic beach that locals go to for their beach days for swimming, surfing and beach fun in the golden silky smooth sand.
There is also a great 5km family hike called the Noosa Heads Coastal Walk which goes from Sunshine Beach to Noosa main beach. This is a great way to spend part of a day walking on this path to get a great bird's eye view of the beaches below, and if you are lucky you may see some koala's that are in the area too!
Like all beaches, it is recommended that families swim in the designated areas that are patrolled on the beach. The beach has washroom facilities, showers, picnic areas, food services and other amenities for an easy family day at the beach.
Click here for accommodation in Sunshine Beach.
13. Little Cove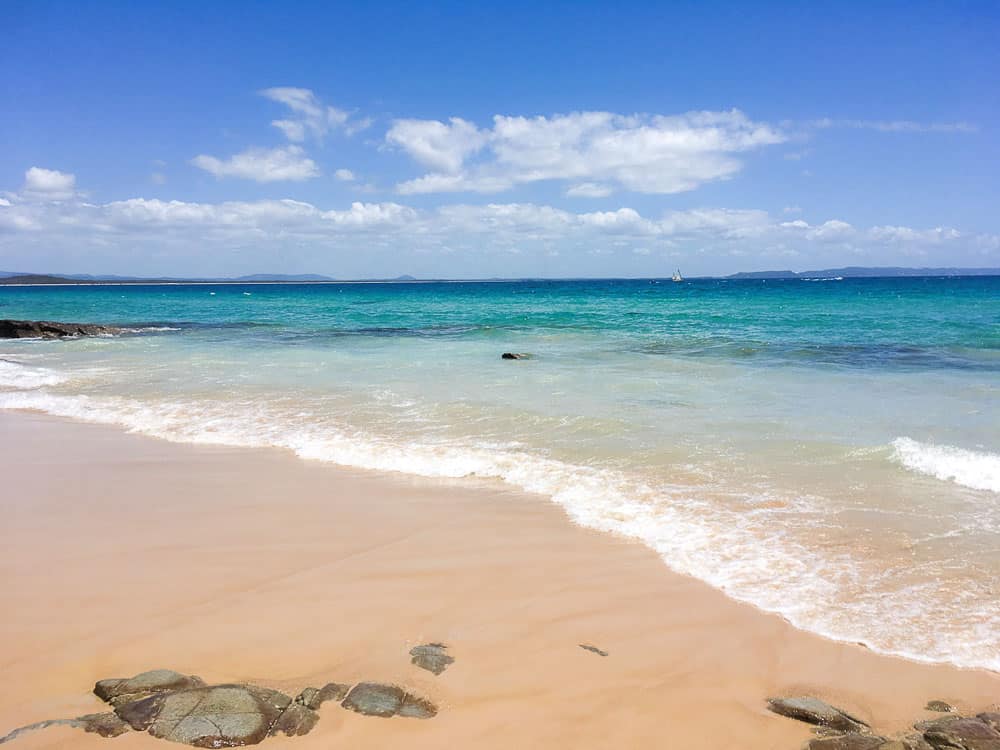 Contributed by Gigi from Beach Addicted
If you are heading to the Sunshine Coast in Queensland, make sure to stop in Noosa Heads. Noosa Heads is a little beach town with many cute shops, cafes and of course many beautiful beaches. One of the best beaches in Noosa and my personal favourite is Little Cove. Compared to the main beach in Noosa, Little Cove is smaller and an ultimate paradise for every beach lover.
Little Cove is a popular hot spot for surfers, paddle boarders and of course the ones who just want to enjoy swimming and seek a calm atmosphere. In the summer months Little Cove is busier than in winter months but the water is warmer. If you want to explore other beaches, then a couple of minutes walk, there is a beautiful National Park where you can choose from 8 amazing walks. Don't forget to look up, and if you are lucky, you might spot a koala hanging in a eucalyptus tree. The coastal walk is breathtaking, with many beaches to stop by and the possibility to visit the magical Fairy Pools.
There is also awesome resorts just 2 mins walking such as Noosa Cove and Little Cove, which provide beautiful apartments perfect for families. They are fully contained and have a beautiful sea view overlooking Little Cove Beach. However, if you want to beat the crowds and have more affordable hotels, then winter months are the best.
Click here for accommodation in Little Cove.
14. Noosa Main Beach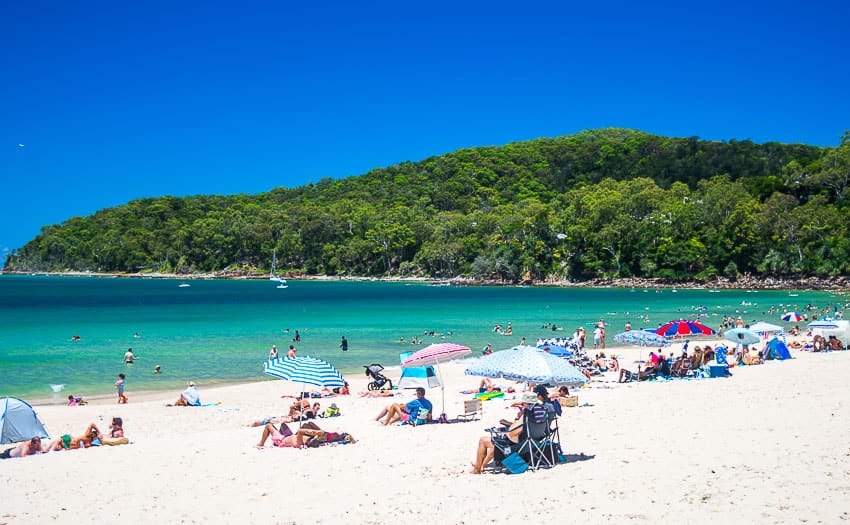 Contributed by Sharee from Inspire Family Travel
When I hear someone asking for advice on the best beach Queensland has, one that always springs to mind is Noosa Main Beach. An easy two-hour drive north of Brisbane, Noosa is one of the Sunshine Coast's most popular coastal towns home to trendy cafes, family-friendly accommodation, crystal-clear rock pools, coloured dunes, lush National Parks, and of course superb beaches.
What's most appealing about Noosa Main Beach is it's one of the most family-friendly options along the east coast as the beaches north-facing outlook provides natural shelter. Patrolled year-round, the calm waters are ideal for families who are less confident in the ocean or would prefer gentle waves.
The soft sand and blue waters are also within walking distance of the famous Hastings Street. The beating heart of Noosa is always a hive of activity, with many options for beachfront accommodation, and local cafes suited to all appetites found along the strip. With everything in one central location, a day trip to the beach is an easy family activity.
Click here for accommodation around Noosa Main Beach.
Best Beaches – Wide Bay – Burnett Region
Located between 170 and 400 km north of the Brisbane CBD, the area of Wide Bay – Burnett is a quieter area than those coastal regions mentioned above – but nevertheless the region still has some of the state's most stunning beaches. The region includes popular beach areas such as Fraser Island, Tin Can Bay and Rainbow Beach.
15. 75 Mile Beach – Fraser Island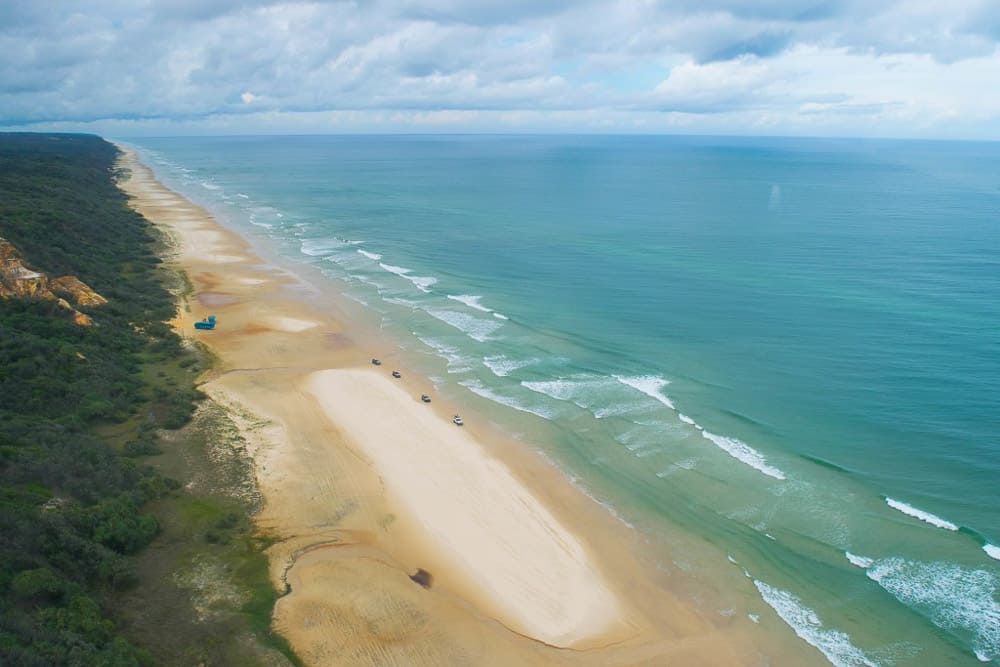 Contributed by Kimmie from Adventures & Sunsets
Fraser Island is one of the most unique places to visit in Australia – as the largest sand island in the world, it's home to its own class of ecosystems, vegetation, wildlife, and beautiful scenes, too. Fraser Island comprises the Great Sandy National Park, which is an incredible national park to visit in Australia.
One of the most incredible places to visit on Fraser is the famous 75-mile beach. It's not just a name, either – it really is a beach that is 75 miles long! This 75-mile beach doubles as both a highway AND a plane runway. As the smoothest part of the island, you'll find 4WD trucks and monster buses zooming along this smooth beach at 80km/h.
The 75-mile beach is fantastic for the whole family. You can relax in the sun (off the main highway of course), float in Eli Creek (a freshwater creek you can float down), or get a close look at the Maheno Shipwreck from 1935. Perhaps the most spectacular thing to do on 75-mile beach is to take a scenic flight straight from the sand, to give you sweeping views of the whole island!
The best time to visit 75 Mile Beach is in the summer, although Queensland beaches have solid weather all year-round. It's best to take a multi-day tour there, or at least spend a few days to make the most of the sights.
Click here for accommodation on Fraser Island.
16. Elliott Heads Beach – Bundaberg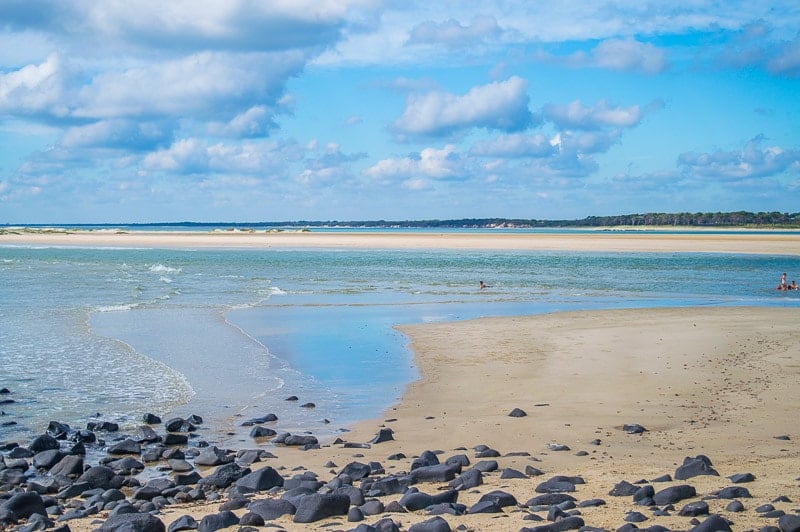 Bundaberg is not all about Bundaberg Run – you might be surprised to know that it also has some stunning beaches. Perhaps the most picturesque in the region is the gorgeous Elliott Heads Beach. Elliott Heads Beach is located in a rural setting, surrounded by sugar cane and small crops, just a 15-minute drive from the Bundaberg CBD.
Situated at the river mouth, Elliott Heads has both calm water and surf swimming available. The beaches are patrolled, the sand is white, and there are rock pools for exploring. The beach is a popular spot for water sports such as kayaking, stand up paddleboards, kite surfing, sailboarding and jet skiing as well as fishing.
There are also several picnic spots with BBQ and toilet facilities. Not too far away you will find Driftwood Cafe, which I hear serves great fish, chips, burgers, coffee and ice creams. There is a small playground here too.
The Elliott Heads Holiday Park is the only available accommodation and caters for campers, caravans, and has beachfront cabins.
Click here for accommodation around Elliott Heads Beach.
Best Beaches – The Whitsundays
When people think of the most beautiful beaches Queensland offers, no doubt the Whitsunday Island will be one of the first places that come to mind. With 74 different islands to choose from, the region is abundant with stunning beaches and of course, is surrounded by the marine beauties of the Great Barrier Reef.
However the Whitsunday region is so much more than the Whitsunday Islands. The region also includes the coastline which stretches from around Airlie Beach in the south to Bowen in the north. Here you will also find some of the most beautiful Queensland beach destinations.
17. Whitehaven Beach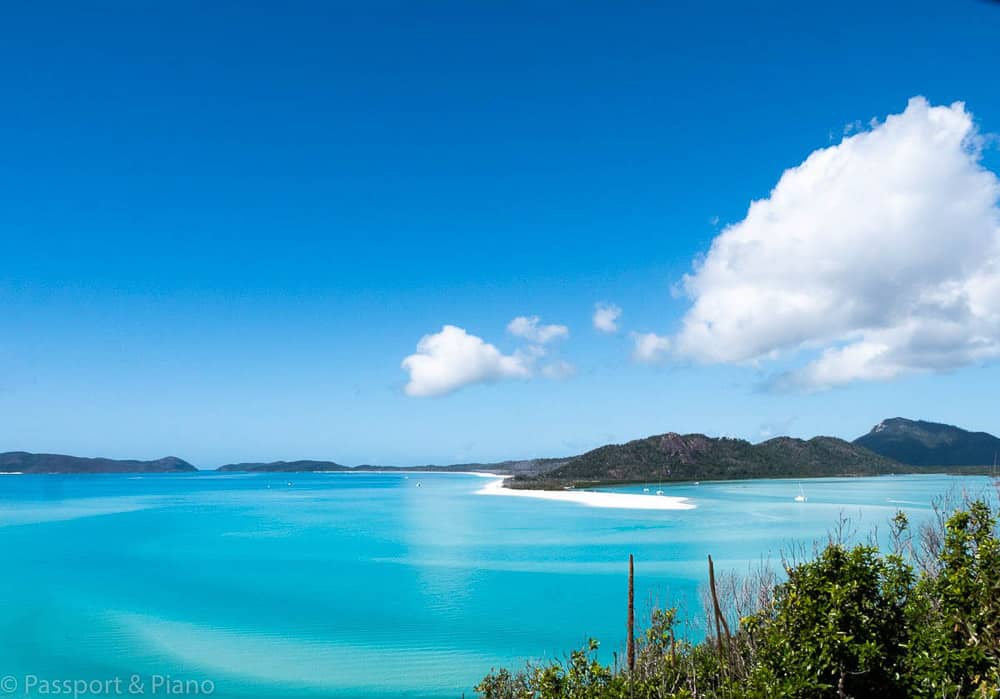 Contribute by Fiona from Passport and Piano
Whitehaven Beach is famous for its white silica sand and crystal clear turquoise water that forms beautiful swirling patterns on the beach. It's a tropical paradise that's not cheap to visit, but it's worth every penny, which makes it one of Australia's best landmarks.
To get there, you have to take a day trip to Whitsunday Island or hire a boat from Airlie Beach or Hamilton Island as there's no accommodation on the island. Access to the beach is via a wet landing as no boats are allowed to moor there, but tour companies will get you as close as they can on a small dingy.
Once on the beach, there are no facilities, so make sure you bring plenty of water and remember to take any plastic away with you. For exquisite vistas of this idyllic beach (which frequently makes the list of the ten best beaches in the world) take a walk up to the Hill inlet outlook. The view is breathtaking, and the water is so clear you'll be able to see the rays swimming even from this distance.
The beach is 7 km long so take a walk on the fine delicate white sand and find your own isolated spot of paradise. The clear water makes for excellent snorkelling opportunities and as there's a good chance of spotting turtles, rays and dolphins.
The best time to visit this pristine beach is between September and December although Queensland tropical climate means that even in Australias winter months it won't be cold.
Click here for accommodation near Whitehaven Beach.
18. Horseshoe Bay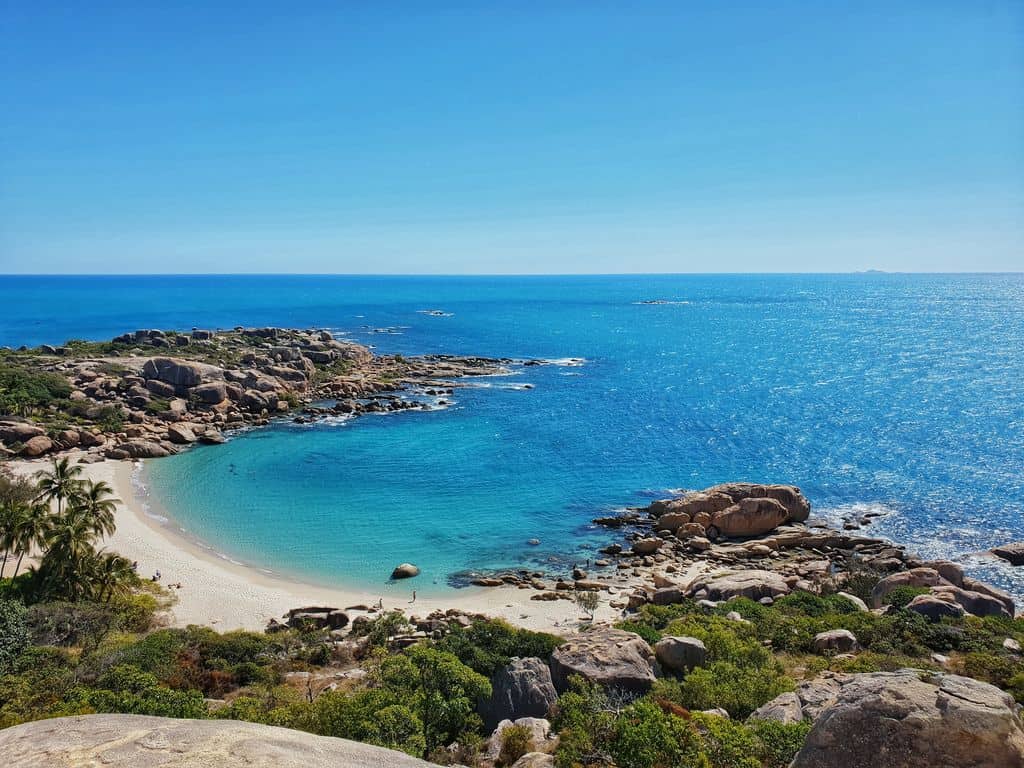 Contributed by Erin from Explore with Erin
Approximately an hour's drive north of Prosperine airport is Bowen, the perfect town for a family vacation in the Whitsundays. It's a town steeped in history right on the water's edge. In fact, it's the oldest town in North Queensland, first established in 1861. Its beaches are some of the best in the world, and you'll want to take in a sunset on any one of them.
My favourite Bowen beach has to be Horseshoe Bay. It was an excellent spot for a hike to take in outstanding views along the entire coastline. The pier is also a wonderful walk to spot turtles, rays, and dolphins. And the sunsets are magical.
We stayed at the Sky View Units while in Bowen. A quiet and lack back family unit within walking distance to the beach. The front of this motel is quite unassuming, and I was pleasantly surprised to open the door to find a spacious two bedroom unit. We had a lounge room, full kitchen, dining and two bedrooms with robes.
While visiting Horsehoe Bay in Bowen, don't forget to take pictures at the Big Mango or eat the freshest seafood in Queensland at Birds Fish Bar.
Click here for accommodation near Horesebay.
Best Beaches – North Queensland
The region considered North Queensland stretches from the area just north of the Whitsunday region to the area just south of Cairns. The area is often also considered as Far North Queensland, but for this guide, I've split the two regions. Popular beaches in this region include Mission Beach as well as islands such as Dunk Island and Magnetic Island.
Below I've listed some of the best beaches North Queensland has to offer.
19. The Strand – Townsville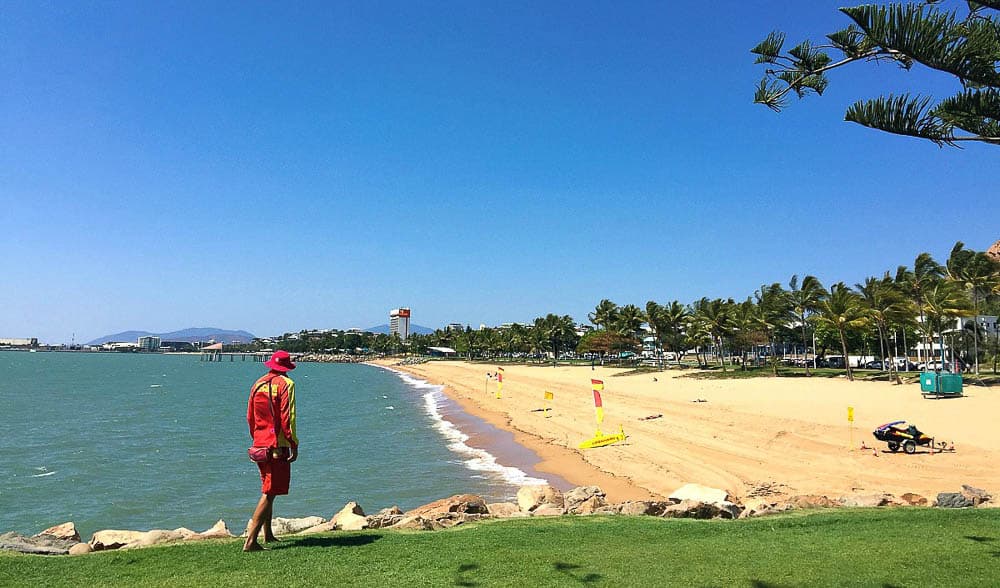 Contributed by Jan from Budget Travel Talk
Situated 1334 km north of Brisbane and 347 km south of Cairns, the Strand Beach Townsville is one of my favourite Northern Queensland Beaches. It is a spotlessly clean 2 km long beach fringed by palm trees and divided into three sections by headlands. What makes this beach so special is The Strand is a 2.2 km multi-use promenade with landscaped gardens and a walkway that hugs the shoreline.
The Strand Rock Pool at the northern end is a large man-made pool surrounded with a solid rock wall. Filled by continually filtered sea-water, it has a concrete floor, is Surf Life Saving patrolled and is wheelchair friendly. Add to this an enclosed sand beach, playgrounds, BBQ's and a Seafood Restaurant and it is not hard to see why the Rock Pool is so popular with families. The Strand Water Park is a huge attraction for families with kids. It has one of those big overhead buckets that tips over when full, sending a cascade of water below.
An easy walk south along the promenade leads to the first of three ice-cream parlours on The Strand. Fronted by white deck chairs, Juliette's is a lovely place to relax with ice-creams and a cool ocean breeze.
At the Ross Creek end of the Strand is Reef HQ aquarium where kids will love seeing the creatures of the Great Barrier Reef and in the same complex, the Museum of Tropical Queensland hosts family-friendly events and exhibitions.
Townsville is hot regardless of the season – so the best time to visit Strand Beach is during winter.
Click here for accommodation near the Strand.
20. Kurrimine Beach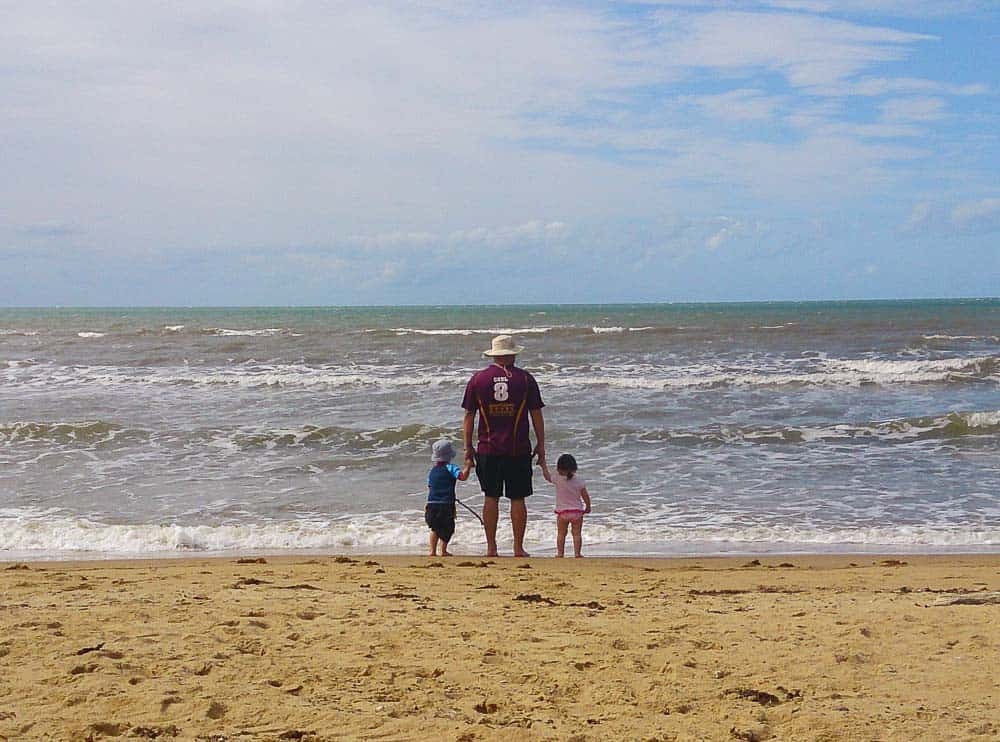 Contributed by Stacey from Adventure By 3
Located on the Cassowary Coast in North Queensland, the sleepy little town of Kurrimine Beach is home to a long stretch of beach by the same name. This quiet and pristine beach is perfect for families to relax and unwind. Kurrimine Beach runs alongside King Reef, where you can often spot manta rays and turtles swimming in the shallows. The beach has a stinger net to safely swim year-round, plus a playground and BBQ facilities at Taifalos Park.
Once the kids have had their fill of swimming and building sandcastles, be sure to check out some of the local attractions and activities. Fish from the beach or boat for the night's dinner, snorkel straight from the beach on one of the seven islands in the nearby Barnard Island Group National Park, or for the adults, Murdering Point Winery is home to delicious tropical fruit wines and liqueurs.
Kurrimine Beach has a range of family-friendly accommodation, from beachfront camping and caravan parks, resort and motel rooms, and private holiday rentals to suit every budget.
Click here for accommodation near Kurrimine Beach.
21. Etty Bay Beach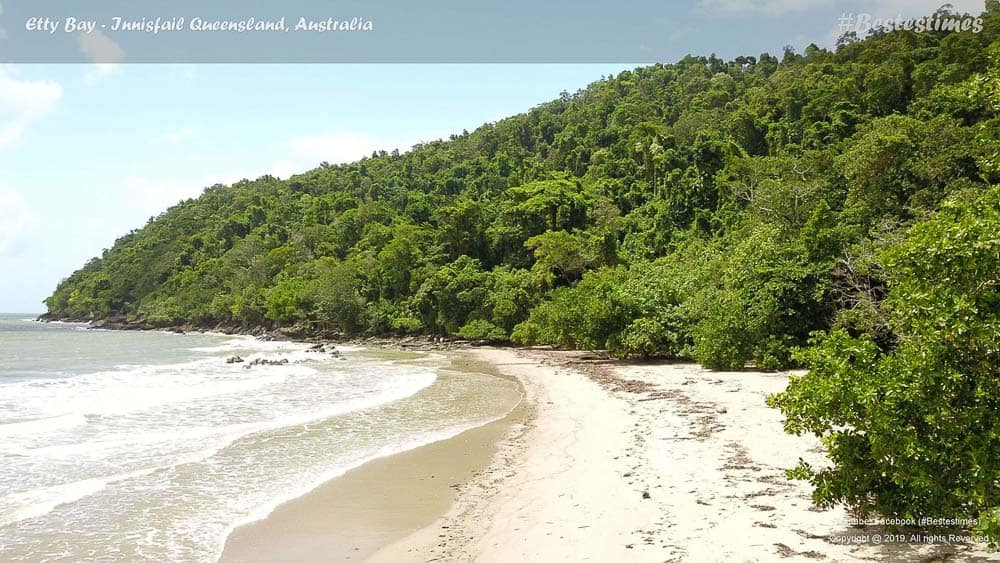 Contributed by Lean from Officer Travels
Etty Bay is our favourite beach in North Queensland not only because of how beautiful it is having the beach right next to the lush green rainforest, but because it's a great opportunity for spotting wild cassowary on the beach too. Etty Bay is perfectly located on the scenic Cassowary Coast just 1.5hours south of Cairns. If you don't manage to spot any wild cassowary on the drive into the Bay, you're almost guaranteed to see one on its daily patrol of the beach.
For the best chance to see one of the local Cassowary at Etty Bay, we highly recommend a stay at The Etty Bay Caravan Park. While this isn't essential to visit the area, trying their fish and chips really is a must!
This beach is beautiful all year round but of course, being in North Queensland means there's a lot more rain between December and February, so the cooler winter months are definitely prime time.
Click here for accommodation in Etty Bay.
Best Beaches – Far North Queensland
The Far North Queensland includes the beaches from the area of Cairns to the very tip of the state. Here you will find some stunning beaches both on the islands off the mainland as well as beaches on the coast that are surrounded by both the World Heritage Listed Daintree Rainforest and Great Barrier Reef. Some of the more popular Far North Queensland beaches include Nudey Beach on Fitzroy Island, Ellis Beach, Resort Beach on Lizard Island,
22. Palm Cove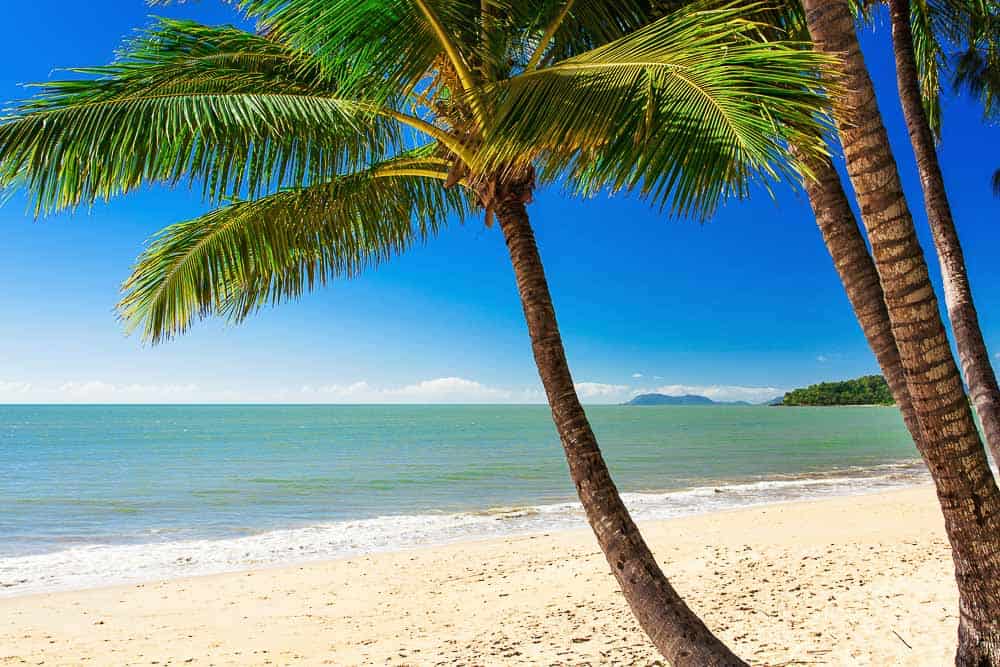 For the best beaches in Cairns – take a 20-minute drive north where you will find the tropical paradise of Palm Cove. This is a pristine beach, which is lined with gorgeous tall palm trees and the calm sparkling blue waters of the Coral Sea are perfect for swimming. During the stinger season, it also has a stinger net to ensure safe swimming as well as being patrolled by lifeguards.
There is also the Palm Cove Watersports for those that want to hire a kayak or go standup paddleboarding. You could even go all the way out to Double Island. Along the beach, you will find plenty of BBQs and picnic tables and the Esplanade has a range of great restaurants and cafes too.
In terms of Palm Cove accommodation – the area covers all budgets from backpackers to 5-star resorts.
Click here for accommodation in Palm Cove.
23. Four Mile Beach – Port Douglas

Just 45 minutes north of Cairns you will find Port Douglas which has a range of stunning beaches. One of the best beaches near Port Douglas is Four Mile Beach which offers an endless white sandy beach that is bordered by bush almond trees and has stunning turquoise waters perfect for swimming. Despite being just a short walk from the main tourist hub of Port Douglas, Four Mile beach is relatively underdeveloped – which just adds to the beauty of it.
Like nearby Palm Cove, Four Mile Beach is also patrolled by lifeguards and also has a stinger net for safe swimming. The beach also has some gentle waves which are ideal for a boogie board, and the light winds are great for kite and windsurfing.
Along the beach, you will find a few picnic tables and BBQs which are perfect for lunch or better still an early dinner while you watch the sunset. There are also several cafes nearby too.
Nearby head to Flagstaff Hill for fantastic views across the Coral Sea as well as views to the Low Isles (see below) and all the way to Snapper Island. At the southern end of the beach, you will find the mangroves of the Mowbray River mouth while the northern end has various rock pools perfect for exploring.
An interesting fact about Four Miles Beach is it isn't actually Four Miles long – rather its Four km long.
Click here for accommodation in Port Douglas.
24. Low Isles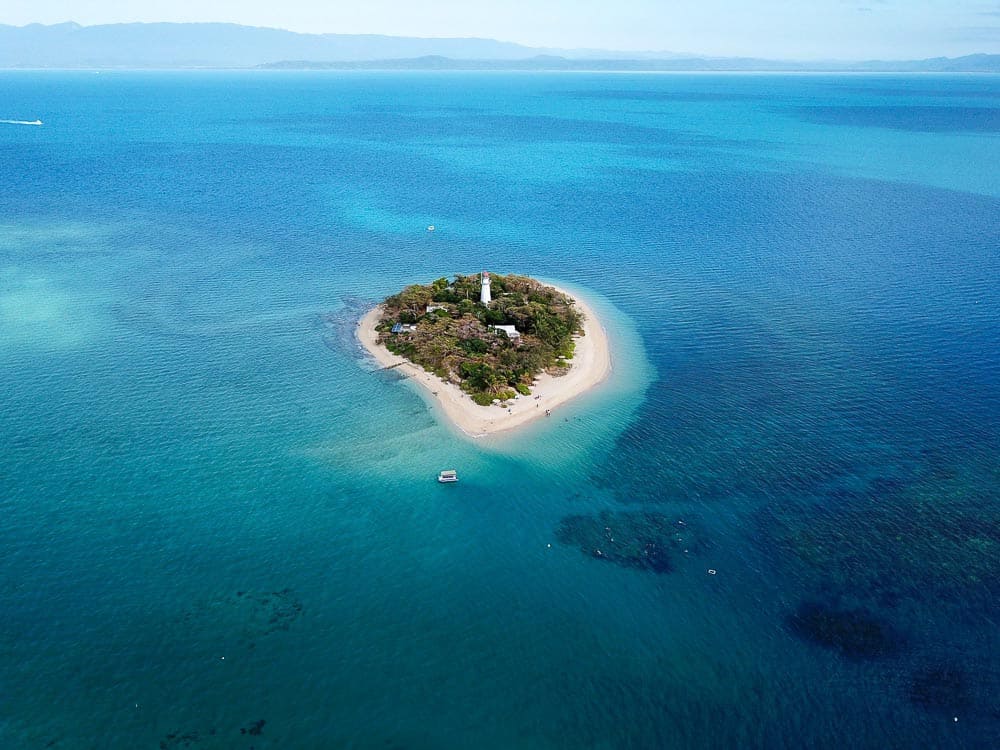 Contributed by Sophie from Travels of Sophie
The Low Isles are located 15km north-east off the coast of Port Douglas at the edge of the Great Barrier Reef. Woody Island, the larger of the two islands, is covered in mangrove and uninhabited except for its large bird population. The smaller island, Low Isle, is home to white-sand beaches and a lighthouse which has operated since 1878.
These two small coral cay islands are surrounded by 55 acres of reef, making them perfect for an easy snorkel. Green turtles are commonly spotted in the waters just off the beach, as well as a myriad of colourful fish. Whether you're looking to explore the reef or just relax on the beach, Low Isles is the perfect place.
There are several tour operators offering day trips and half-day trips from Port Douglas to this tropical paradise, each offering something slightly different. A few of the companies also offer glass-bottom boat rides, a perfect way for the whole family to enjoy the beauty of life under the sea.
Click here for accommodation near the Low Isles.
Please note that this post contains affiliate links, which means that if you make any bookings using the links I may receive a small commission at no extra charge to you. This helps me provide this helpful information to you at no charge.
Want to keep this handy?
Click on one of the images below and pin it to Pinterest.