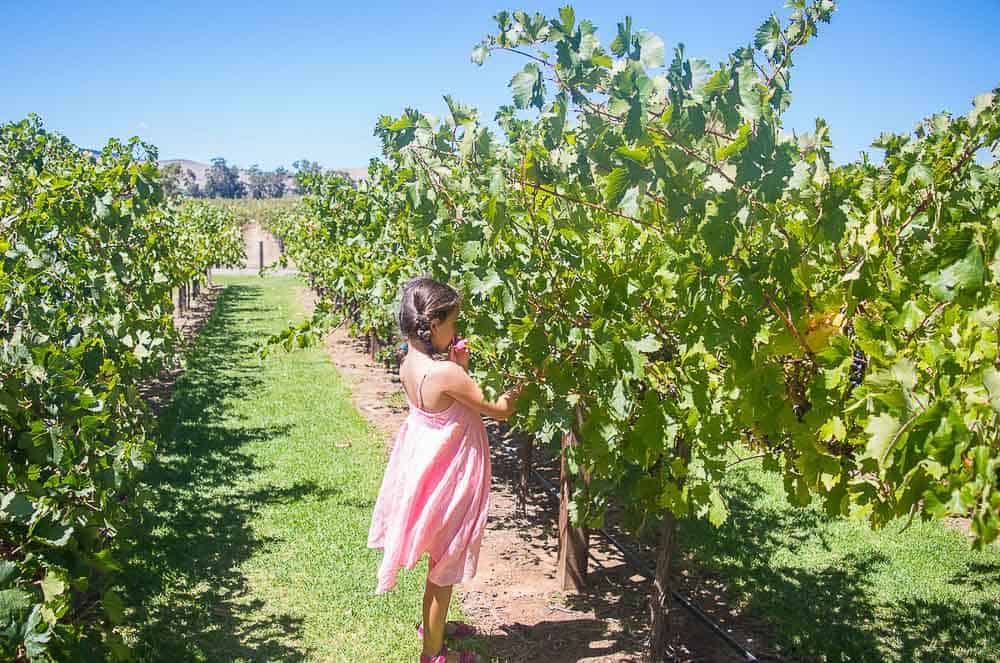 The Barossa Valley is only a short 1-hour drive north of the Adelaide CBD and is one of the best wine-producing regions in Australia. Most people visit the region to spend time visiting the many Barossa Valley wineries. Families might think that the kids won't enjoy visiting the wineries, but there is no need for families to leave the Barossa Valley off their itinerary when visiting Adelaide as there are some fantastic family friendly wineries where both you and your kids well be more than welcome. As well as various Barossa Valley wine tours, there are a range of other family friendly things to do in Barossa Valley.
In this post I will share with you some of the more family friendly Barossa wineries as well as other Barossa Valley attractions. I will also share with you my tips for Barossa accommodation for families as well as how to get from Adelaide to Barossa Valley.
This post may contain compensated links. Please refer to my disclaimer here for more information.
The Best Barossa Wineries to Visit with Kids
Whilst there are a multitude of fantastic wineries in the Barossa Valley, some are more family friendly than others. During our recent visit to the Barossa Valley we were pleasantly surprised that more often than not, wineries are more than happy to welcome families. Below is a list of the best Barossa wineries to take the kids.
1. Seppeltsfield Winery

Seppeltsfield winery is not only one of the oldest wineries in the Barossa but also one of the oldest in Australia. It has a reputation as being one of the best wineries Barossa Valley has to offer as well offering families a variety of things to check out at the one location.
The Seppeltsfield ground are absolutely stunning, with manicured gardens, grand old buildings and lovely foundations. With a setting so grand, as we entered the grounds I was concerned that they would not appreciate kids being here, but I was completely wrong about that.
As soon as we entered the cellar door we were both warmly welcomed and invited to try their wines. Whilst I was trying some of the beautiful Seppeltsfield wines, Myla was offered her own tasting of Seppetlsfield finest red cordial in a wine glass, with the option of sparkling or still water. I love how they included her, and in fact this was the only winery that we visited that offered Myla a taste test.
At the back of the Seppeltsfield grounds, there is a kiosk and lovely parklands where families can enjoy lunch in the Barossa with a glass of wine in a casual setting. You can buy lunch platters for $35, cheese platters for $15, paninis for $10 as well as ice creams and various other snacks. There is also a first class restaurant on site and historical tours run daily at 12:00 pm and 3:00 pm costing $15 per person with kids 13 and under being free.
Location: 730 Seppeltsfield Rd, Seppeltsfield SA 5355
Opening Hours: Daily 10.30am to 5pm
2.
Hentley Farm Wines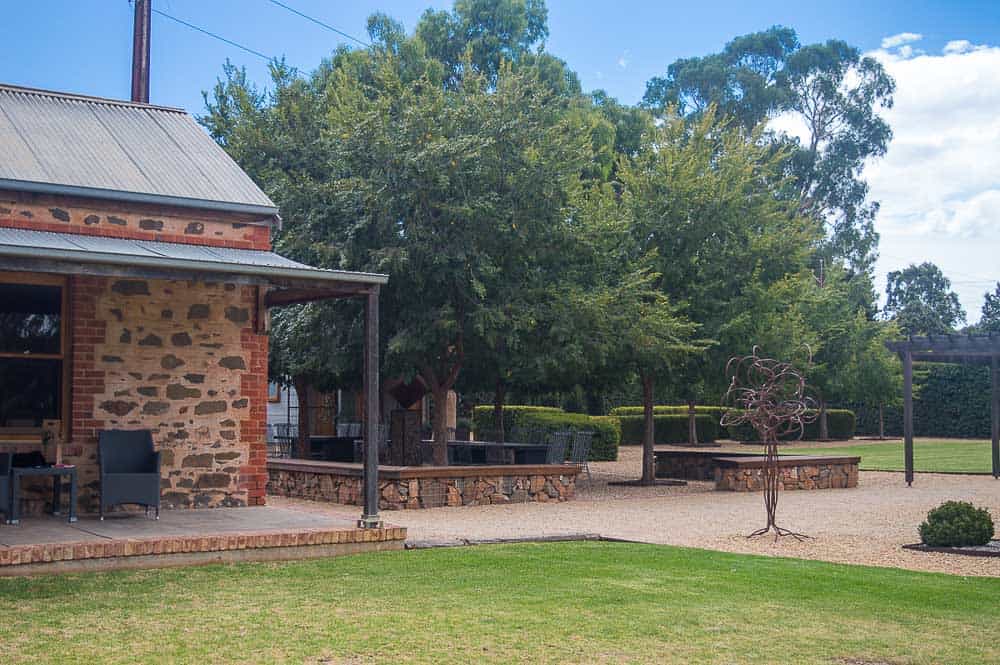 Hentley Farm Wines is located in a stunning old stone cottage with a gorgeous courtyard outside with manicured gardens. The wine tasting is held in various rooms in the property's original 1840s homestead.
Like Seppeltsfield, as soon we entered the Hentley Farm Wine cellar door we were warmly welcomed and invited for wine tasting. Wine tasting is $10 per person (redeemable on any wine purchase) where you can try 8 of their finest wines. There are various rooms where you can try the wines in private, which is particularly good for families, so kids can have their own space without annoying other visitors.
There is a restaurant onsite which offers a set menu which uses the local produce grown both onsite as well as from the Barossa region.
Hentley Farm Wines is located at Gerald Roberts and Jenke Roads, Seppeltsfield and is open 7 days from 11 am.
Location: Gerald Roberts Rd, Jenke Rd, Seppeltsfield SA 5355
Opening Hours: Daily 11am to 5pm
3. Whistler Wines

Hands down one of the best wineries to visit in the Barossa with the kids is Whistler Wines. Highly recommended by several family travel bloggers and also various people we met around the Barossa kept saying to us "have you visited Whistler Wines yet".
What I loved about Whistler Wines is the casual feel to the place. It feels like you are having a drink in your friend's backyard. There is a beautiful grass area with tables and chairs scattered among the place and cool modern tunes play. We didn't even make it inside before Myla ran over to the kids area which had various swings, ride ons and cubby house. There is also a cricket pitch, treasure hunt and rescue kangaroos.
Inside the cellar door is another play area with toys better suited to younger children and of course the wine tasting area.
If you are after a delicious Barossa Valley lunch, the guys at Whistler Wines will whip you up a scrumptious platter full of local produce.
Seriously don't leave the Barossa without visiting Whistler Wines with the family.
Location: 241 Seppeltsfield Rd, Stone Well SA 5352
Opening Hours: Daily 10.30am to 5pm
4. Pindarie Wines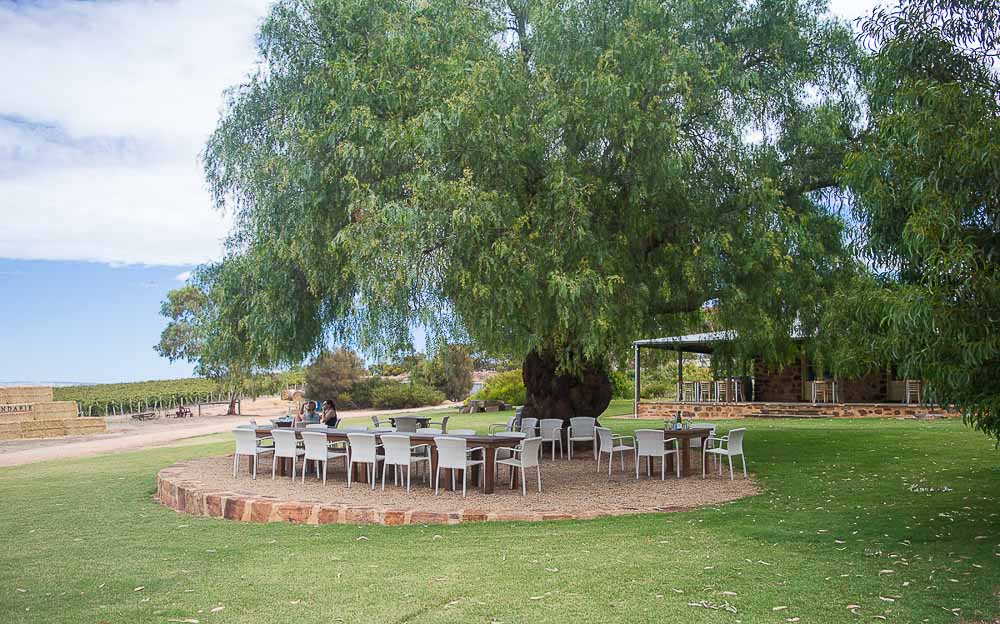 Pindarie Wines is probably one of the most picturesque wineries in the Barossa region and one of the best wineries in the Barossa to visit with the kids. The cellar door is located in gorgeous restored 1860s stables and is set high on a top of a hill providing 180 degree views across the Pindarie vineyards.
Outside the cellar door there is a lovely seated area on the verandah as well as areas to sit under a massive stunning shady tree with views of rolling hills as far as the eyes can see. This is a perfect spot to enjoy some lunch over a bottle (or two) of Pindarie wine. Pindarie offers delcious platters, homemade pies, cheeses and paninis for the kids.
The kids will love the wide lawn space as well as the small outdoor play area complete with cubby house, sand pit and hay bale stack to climb. Families could easily spend an entire afternoon here.
Location: Rosedale Rd, 150m from the intersection with Gomersal Rd, Gomersal SA 5352
Opening Hours: Daily 11am to 4pm
5. Turkey Flat

Surrounded by rows of historic vineyards as far as the eyes can see, is the wine cellar door of Turkey Flat. This lovely cosy little cellar is located in a gorgeous old bluestone building which use to be the old Schulz family butchers shop.
I love Turkey Flat as one of the best Barossa cellar doors for families as the guys at Turkey Flat, actively encourage families to visit and are even happy to do tastings outside so parents can feel relaxed whilst the kids round around the lawn. To keep the kids occupied are a few games like skittles, quoits and even a football to toss around.
I found the guys at Turkey Flat super welcoming and another place I could have easily spent an entire afternoon drinking wine and eating one of their platters which you can build yourself from various produce within the Barossa region.
Location: 67 Bethany Rd, Tanunda SA 5352
Opening Hours: Daily 11am to 5pm
6. Artisans of Barossa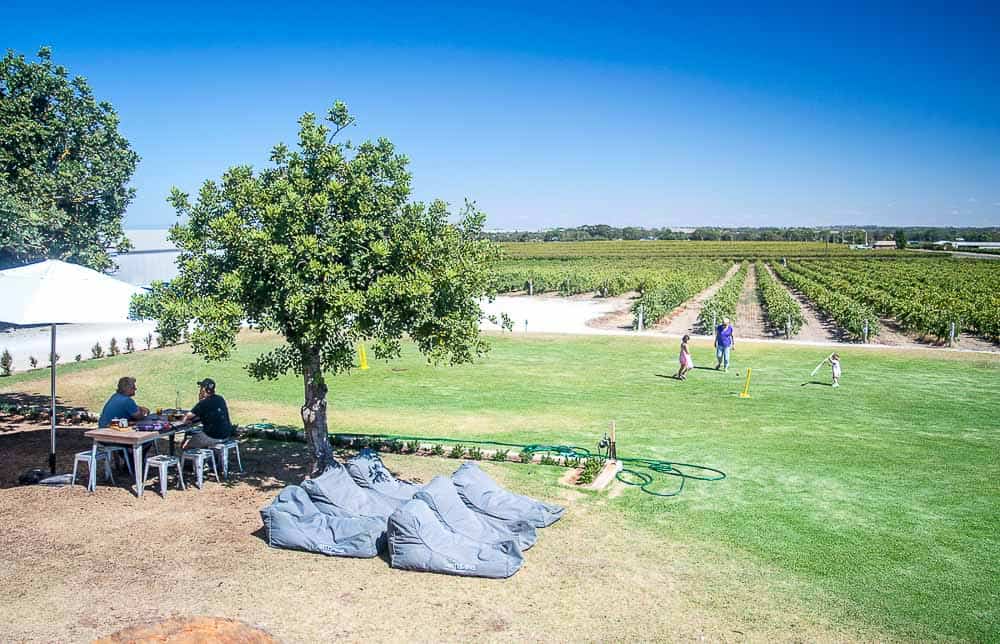 Artisans of Barossa is well recommended from various family travel bloggers and as soon as we stepped into the cellar door I could see why. No sooner had we arrived, we were warmly welcomed and Myla was shown an area with kids toys and books while I was taken care of with some wine tasting.
Artisans of Barossa is in fact a collaboration of 6 different wine makers in the region selling their wine in the one cellar door. As well as wine there is the Harvest Kitchen (one of the best restaurants Barossa Valley has to offer) which has both inside seating and outside seating on the stunning veranda which over looks the spacious lawn (complete with cricket pitch) and vineyards.
After tasting some delicious wine I took a glass of Riesling outside and watched Myla have a game of cricket with a little girl she quickly made friends with. I soon got talking with the girl's family and we all had a lovely time.
Location: 64 Murray St, Tanunda SA 5352
Opening Hours: Daily 12am to 6pm
7. Yalumba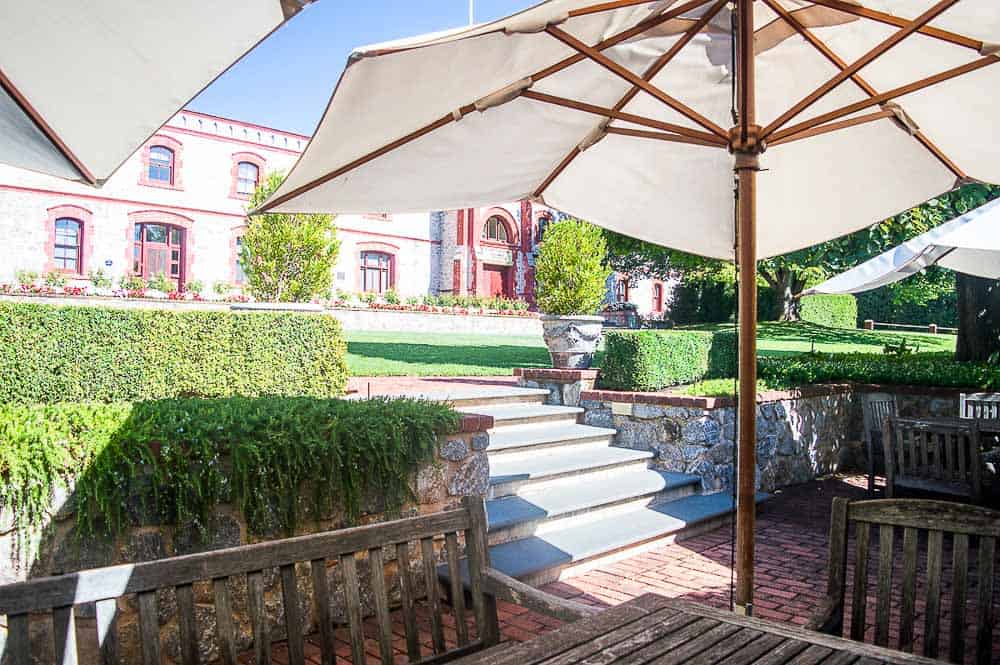 Out of all the wineries we visited we found Yalumba the least family friendly. However this had less to to do with the facilities rather than the welcome (or perhaps lack of welcome) we received.
Yalumba is a gorgeous old winery. The grounds are stunning, with a large outdoor courtyard area, with outdoor seating where parents can watch the kids run around. I have heard other family bloggers rave about Yalumba, so don't let our experience put you off. I have heard there is also some toys for the kids, but we weren't shown this during our visit and I could not see it myself.
Location: 40 Eden Valley Rd, Angaston SA 5353
Opening Hours: Daily 10am to 5pm
8. Jacobs Creek Visitor Centre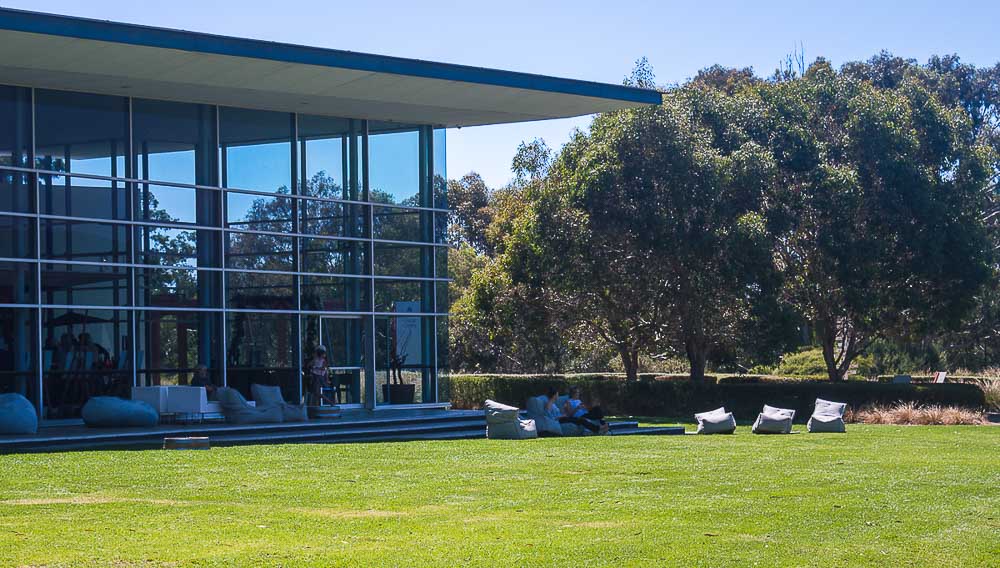 Like most of the high-profile wineries, the Jacobs Creek Visitor Centre is massive with a café, restaurant (one of the award winning Barossa Valley winery restaurants), vineyards, outdoor area, shop, wine tasting area and even a tennis court! Despite being so big, we were still warmly welcomed as soon as we entered.
I love how the wine tasting area has floor to ceiling glass which allows you to look out over the expansive lawn area. This is perfect for parents who can enjoy wine tasting whilst supervising older children playing outside or relaxing on the comfy bean bags.
Wine tasting is free for up to 4 wines, or for $10 per person you can try 12 wines. Guests are also encouraged to get out among the vineyards and taste the various grapes that make the well-known Jacobs Creek wines.
Location: 2129 Barossa Valley Way, Rowland Flat SA 5352
Opening Hours: Daily 10am to 5pm
9. Peter Leheman Wines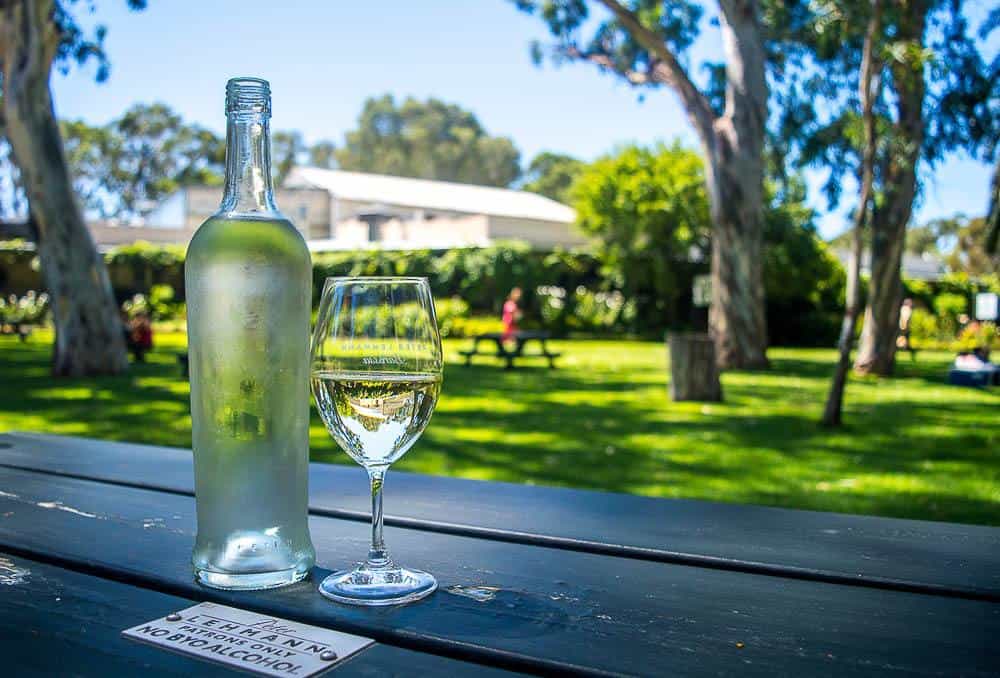 Another one of my favourite Barossa wineries for families is Peter Lehmann wines. This winery is set among sprawling green lawns on the banks of the Para River (although the river was dry during our visit). The grounds are perfect for the kids to run around, whilst parents enjoy a glass of wine or families can make use of the picnic benches and enjoy some lunch.
The wine tasting is held in a gorgeous old stone building dating back to the 1880s with wide verandas. Once again Myla and I were warmly welcomed when we entered and Myla was even offered some toys to play with.
We decided to make the most of the gorgeous setting and ordered a delicious bruschetta to eat outside. Other items on the menu included platters and sandwiches or you could enjoy lunch in their onsite restaurant.
A few times a year, the guys at Peter Lehmann put on some great family friendly nights. Families are encouraged to bring along picnic rugs and wine glasses and enjoy wine and food such as sushi, noodles, dumplings and ice cream whilst enjoying the live music.
Location: Para Rd, Tanunda SA 5352
Opening Hours: Daily 9.30am to 5pm
Other Wineries
We of course couldn't visit all the wineries in the area during our short stay, so here are some other wineries recommended by other family travel bloggers (which we did not have time to visit):
Langmeil Winery: Located in a lovely old stone cottage with a beautiful courtyard outside.
Z Wine: Located in the centre of Tanunda, these guys are known for their kids tasting platter.
Charles Melton: picturesque cellar door with a seating area on the veranrah and lawn where the kids can play with the bat and balls.
Kellermeister: Great family friendly vibe, toy box available and free kids packs as well as great lawn area with ball games. Great platters also available.
Yelland & Paps: Great outdoor area with lawn games, tyre swing and sheep.
Lambert Estate Wines: Good indoor play area for the kids complete with colouring in, books and the restaurant has a kids menu and high chairs.
Liebichwein Winery: offers kids tastings in the form of soft drinks.
Two Hands Wines: A lovely stone cottage complete with cozy lounge and fireplace. Outside is a lovely deck and picnic benches overlooking lovely lawns where the kids can play with cricket bats and soccer balls.
Henschke Cellars: A well-established yet small family own winery where families are warmly welcomed. \A small toy box keeps the kids busy whilst mum and dad can enjoy some wine tasting.
Barossa Valley Wine Tours
Personally I think it is easier to self drive when checking out the wineries with kids, if you don't think you can limit your wine intake – and who would blame you – the wine here is seriously amazing – then perhaps you should consider one of the many Barossa Valley wine tours on offer.
There are plenty of Barossa wine tours available from both half and full day group Barossa Valley tours, to your more intimate Barossa Valley private wine tours. There are also Barossa Valley tours from Adelaide as well as local pick up Barossa Valley wine tasting tours .
Click here for more information about Barossa Valley tours.
Things to do in the Barossa Valley other than Visit Wineries
The kids are probably going to be wondering what to do in Barossa Valley other than just visiting wineries. Lucky for them there are plenty of other things to do in the Barossa Valley.
1. Murray Street, Angaston
Stroll down Murray Street an old historical street in Angaston. Angaston is one of the oldest towns in the Barossa Valley and Murray Street is very picturesque with lovely old buildings, old churches, stone cottages as well as various boutiques selling a range of trinkets as well as some great cafes . There is a great toy shop here, where Myla spent ages admiring the various toys on display. The Barossa Cheese Company is also here which is well worth checking out.
2. Maggie's Farm Shop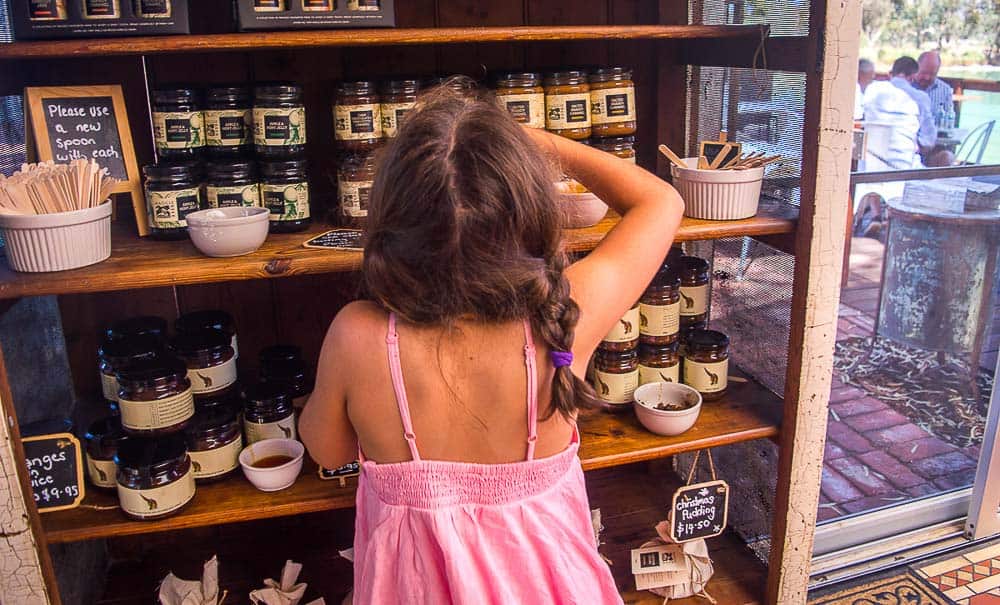 If you need a break from wine tasting, how about some food tasting? Maggie Beer's (well known Australian Chef) Farm Shop has plenty of food to try including pates, jams, chutneys, sauces, dukkahs, vinaigrettes and loads more. At 2 pm each day you can even watch the onsite cooking demonstrations.
The Farm Shop is in a gorgeous location right on a lake, where turtles are easily spotted swimming around. This is a perfect spot to enjoy some lunch from Maggie's Farm Shop.
Location: 50 Pheasant Farm Road, Nuriootpa
Opening Hours: Daily 10.30am to 5pm
3. Barossa Valley Cheese Company

Of course the best thing to eat with wine is cheese, which makes a visit to the Barossa Valley Cheese Company kind of a necessity when visiting the Barossa.
The Barossa Valley Cheese Company is located on Murray Street in Angaston. Inside the store you will find 4 different cheeses set out ready for you to try. There are also a few ipads which the kids can use to learn a little more about the cheese making process.
The Barossa Valley Cheese Company is open 7 days and sells a full range of delicious cheeses as well as condiments and other local products.
Location: 67B Murray St, Angaston SA 5353
Opening Hours: Daily 10am to 4pm
4. Mengler Hill Lookout & Barossa Sculpture Park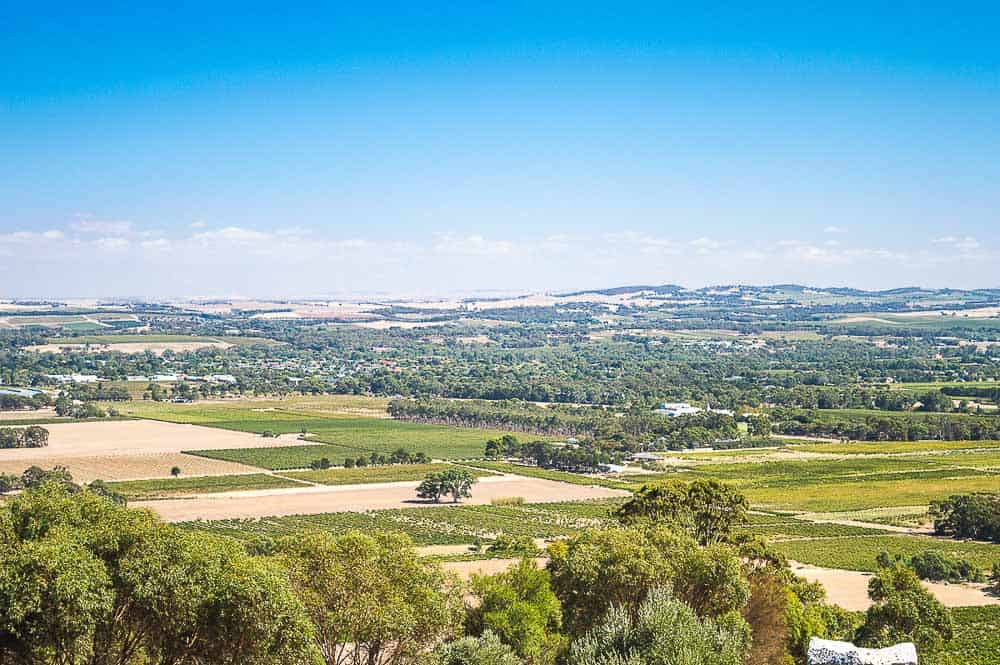 Located between Tanunda and Angaston is Mengler Hill Lookout where you will get great sweeping, 180-degree panoramic views of the various wineries the Barossa Valley.
Here you will also find the Barossa Sculpture Park which is a series of marble sculptures carved by artists in the 1988 and 2008 symposiums, created to serve as an artistic interpretation of the nature of this part of South Australia. I didn't find it that interesting really, but Myla enjoyed looking at them and guessing what each of the sculptures were.
Location: Menglers Hill Rd, Bethany SA 5232
Opening Hours: 24 hours
5. Eden Valley Scenic Lookout
Eden Valley is great spot for stunning view across the Eden Valley. Families can enjoy a picnic here as well as kick a ball around.
6. Whispering Wall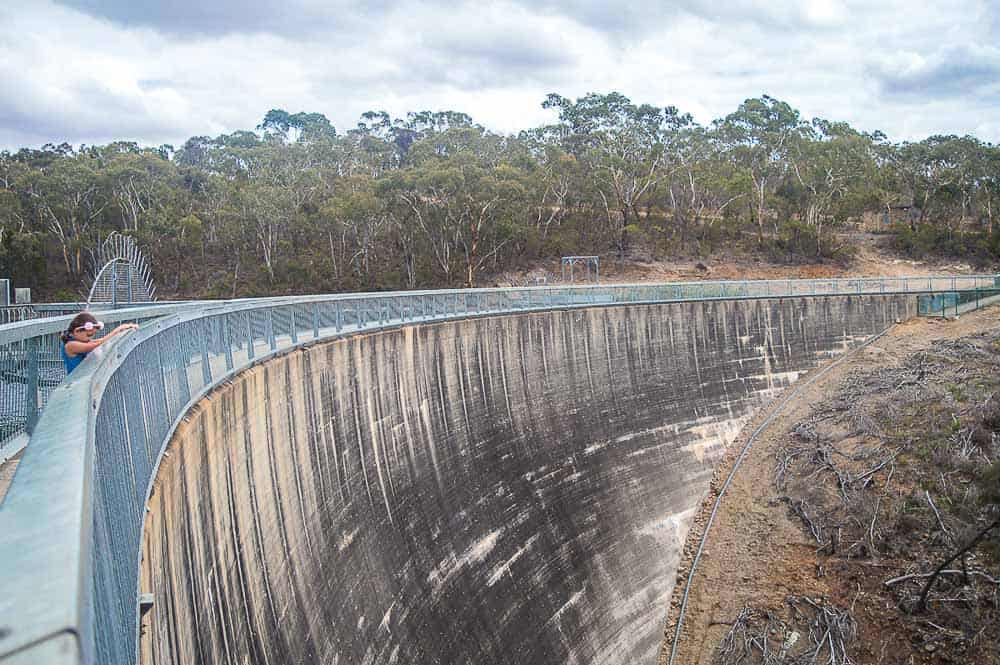 Whilst nothing special to look at, its simply a dam, the kids will love visiting the Whispering Wall where they can "throw" their voices over 100 metres away. The natural phenomena is created by the way the dam wall of the Barossa Reservoir curves. Have one family member go and stand on the other side of the dam wall, and you will be amazed at how you have a conversation with each other.
It also makes for a lovely picnic spot for the family with the lovely water and bush environment. Facilities include toilets, picnic area, shade and plenty of parking.
Location: Williamstown SA 5351
7. Herbig Family Tree
A great eye opener for the kids is a visit to Herbig Family Tree. This tree use to be the home to the Herbig family who resided here with 2 of their children. When the remainder of their 16 children came along they moved into a small hut on the same property. Inside the tree is various information and photographs on display boards detailing the families life.
Myla and I found this super interesting, reading the various information and learning what life was like for the Herbig family living in a tree.
Location: Eden Valley Rd, Springton SA 5235
Opening Hours: 24 hours
8. Barossa Markets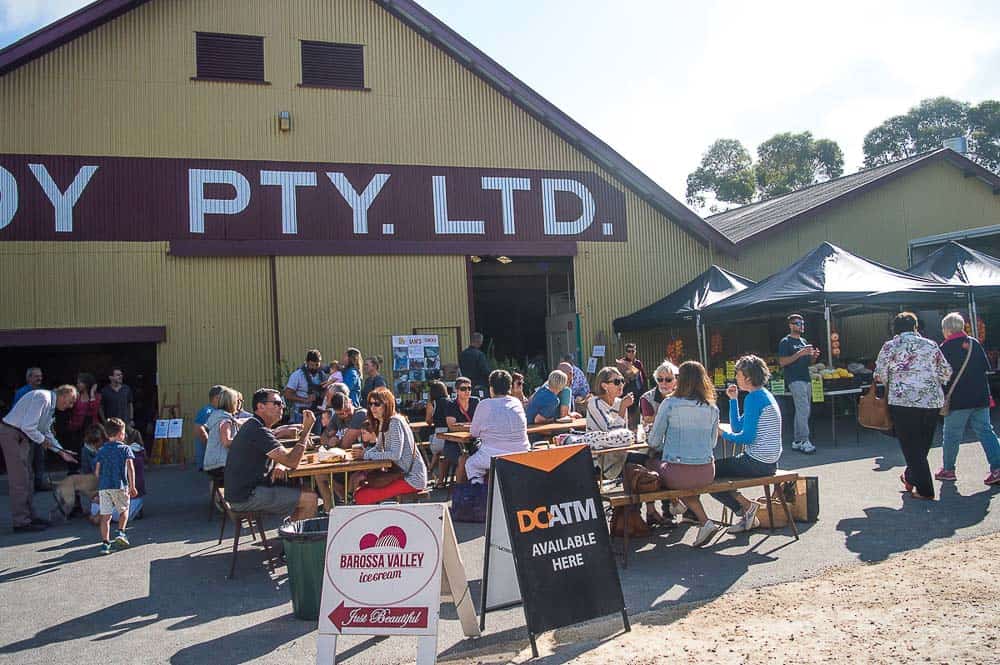 Held every Saturday, the Barossa markets are a perfect place to spend an hour or so before hitting the wineries.
The Barossa Valley markets have a variety of stalls showcasing local produce from flowers, plants, fruit and veg, meat and seafood as well as delicious food and coffee for your Saturday morning breakfast.
The Barossa Valley farmers market are held every Saturday and the majority of the stalls are undercover, so perfect for a rainy morning too.
Location: Angaston Rd & Stockwell Rd, Angaston SA 5353
Opening Hours: Saturday from 7:30 am to 11.30
9. Lyndoch Lavender Farm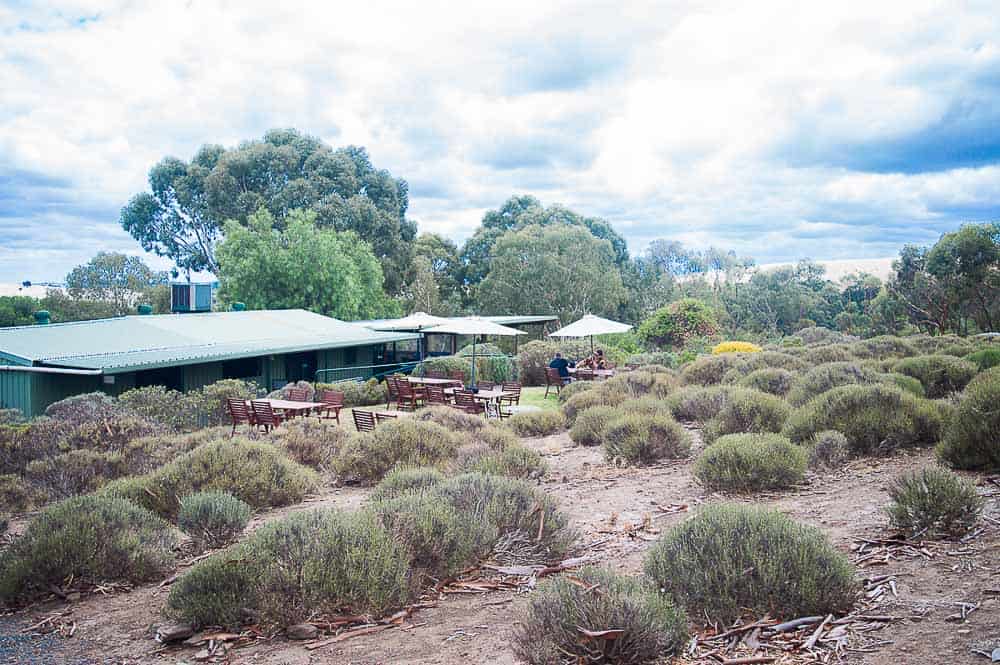 Visit the Lyndoch Lavender Farm set amongst the vineyards of the lower Barossa Ranges. There are plenty of lavender products in the shop to check out and I highly recommend having a bite to eat as you sit among the lavender fields and enjoy stunning views across the Barossa Ranges.
The lavender farm is open daily from September to December and then weekends only between January and August. The farm is located on the corner of Hoffnungsthal and Tweedies Gully Roads, Lyndoch.
Location: Hoffnungsthal Rd &, Tweedies Gully Rd, Lyndoch SA 5351
Opening Hours: Daily 10am to 4.30pm
10. Hot Air Balloon Barossa
If you are visiting the Barossa for a special event and wondering what to do in the Barossa to mark the occasion, why not take a hot air balloon Barossa experience. Experience amazing panoramic views of the Barossa from high above.
Family Friendly Barossa Accommodation
The Barossa Valley encompasses various small towns including Tanunda, Angaston, Rowland Flat and Lyndoch. Throughout these towns, there are a range of great family friendly places to stay in the Barossa. It really doesn't matter which location you choose as all the Barossa wineries and attractions will require you to drive to them.
Whether you prefer flashy Barossa Valley hotels or cosy family cabins, you are bound to find somewhere to stay in Barossa Valley that meets your family's requirements.
Seppelts View Cabins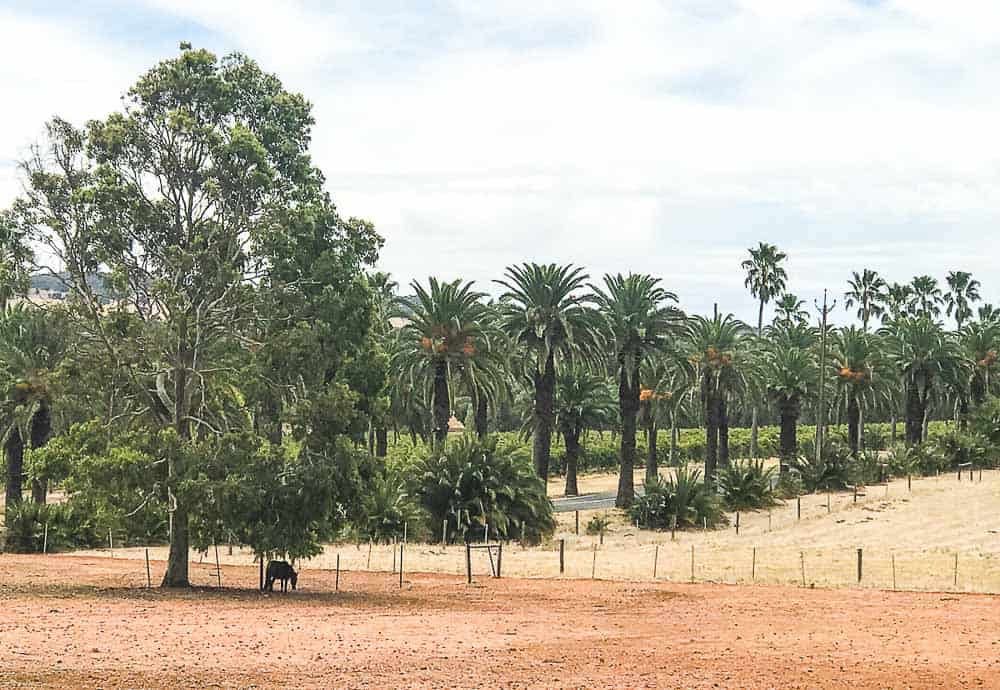 During our recent stay in the Barossa Valley we stayed at the perfect family friendly Seppelts View Cabins. Everything about our stay here was perfect and I can't recommend this place enough for families (or anyone for that matter) looking for places to stay in Barossa Valley.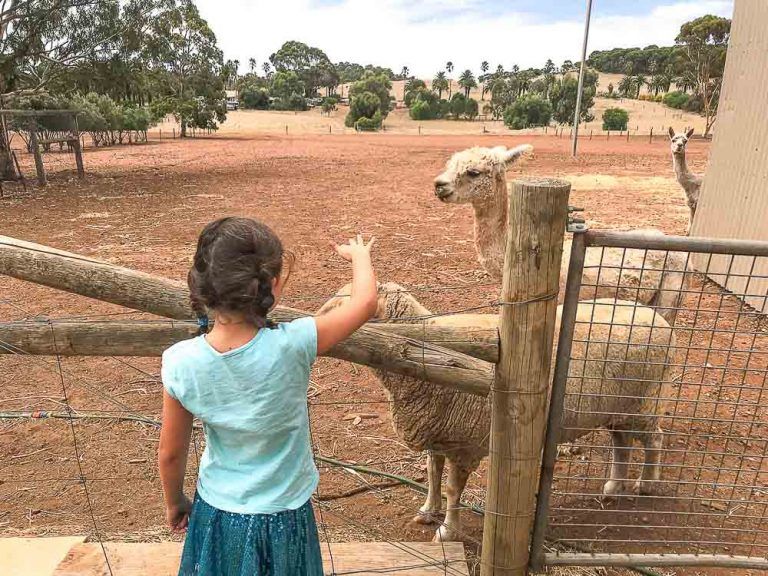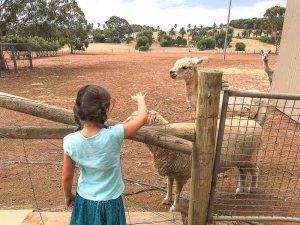 The Property & Facilities
Situated in the heart of the Barossa Valley, from the moment you pull off the gorgeous palm tree lined Seppeltsfield Road you'll know the kids are going to love it at Seppelts View Cabins. The property is set on 8 acres and as you drive up to your cabin – there are 8 cabins in total on site – your kids will no doubt spot the various playground equipment including a toddler climbing frame, swings, trampoline, cubby house, slide, rope climbing frame and rock climbing wall. Also on site is a range of farm animals including two alpacas, a pony, sheep, chickens and ducks.
The Cabins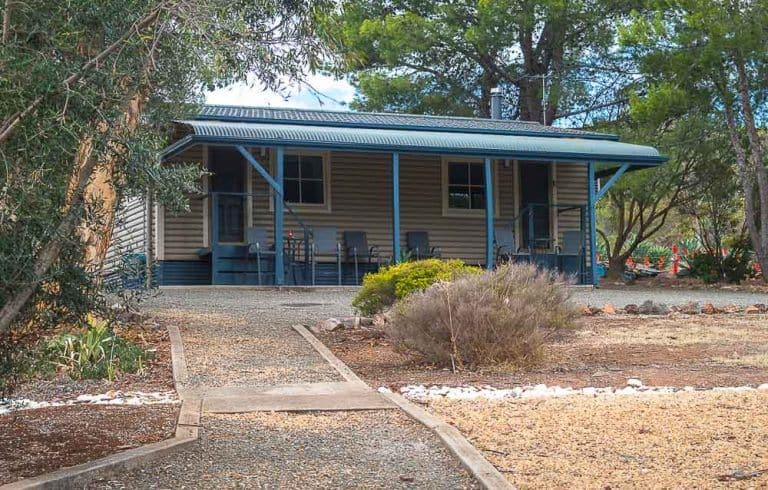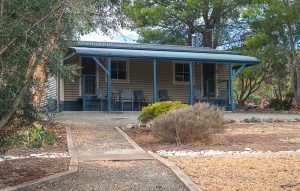 The family cabins are small, but contain every you need for a fantastic few days in the Barossa. The cabins are suitable for families of 5, with a queen bed, 1 set of bunks and a stretcher bed for a 5th child. Cots are also available for smaller children.
Families will love being able to self cater, with the cabins including a small fridge, microwave, electric fry pan and electric cooktop. All crockery, bed linen and towels are provided. There is also a communal BBQ area onsite. There is a small dining table inside the cabins or you can eat outside your cabin at your own private outdoor setting.
Parents and kids alike will love that every single cabin comes with its own spa, perfect for unwinding at the end of the day with a glass of Barossa wine. Myla and I enjoyed a soak in the spa each night during our stay!
The cabins also include coffee, tea, sugar and milk, TV, DVD player, reserve cycle air conditioner, cozy wood fire with wood (only available in the winter months) and limited wifi.
There are also couple cabins available, which are very similar to the family cabins but don't include the second bedroom.
We just loved everything about our stay at Seppelts View Cabins. Myla loved coming home at the end of each day and getting out to explore the property – whether to play on the playground equipment or to say hi to the resident farm animals.
Hosts Sharon and Ray are absolutely lovely and only to happy to answer any of your questions or take the kids to see the animals.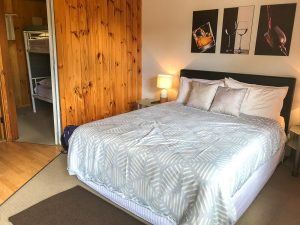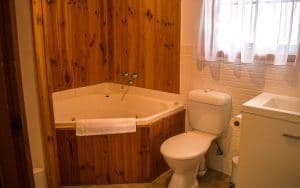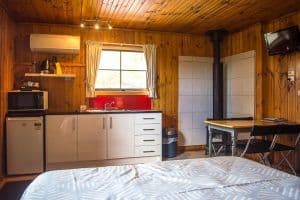 Reviews / Bookings
We thoroughly enjoyed our stay at Seppelts View Cabins and would highly recommend it for families who want an affordable self-contained cabin whilst visiting the Barossa.
Seppelts View Cabins are well recommended on TripAdvisor with 86% of people rating it as excellent of very good.
Cabins start at $190 per night for a family of 4. Click here for the latest prices or to make a booking for Seppelts View Cabins.
Other Barossa Valley Accommodation
Discovery Parks – Tanunda Caravan Park
The Discovery Park – Tanunda Caravan Park is located in Tanunda, only a 1 minute drive to the Tanunda town centre (or a 15 minute walk) , with a variety of top Barossa wineries within 5-10 minutes drive away;
Facilities at this Tanunda accommodation include parking, internet, playground, games room, BBQ facilities, swimming pool and inflatable trampoline;
Family economy cabins include a kitchenette, TV, air conditioning, 1 double bed and bunk beds, there is no private bathroom though, guests are required to use the shared bathroom facilities on site; standard cabins however have private bathrooms;
At the time of publishing the best rate for an economy cabin was $141 per night for 2 adults and 2 children on Booking.com.
Click here to check the prices and / or to make a booking for Discovery Parks – Tanunda.
Barossa Valley Tourist Park
The Barossa Valley Tourist Park is located in Nuriootpa, only a 2 minute drive to the Nuriootpa town centre (or a 10 minute walk) , with a variety of top Barossa wineries within 5-10 minutes drive away;
Facilities include parking, internet, 2 playgrounds, tennis court, games room, BBQ facilities and swimming pool;
Family cabins include a kitchenette, TV, air conditioning, 2 bedrooms with 1 room containing a double bed and the other room containing bunk beds and private bathroom – larger cabins are available;
At the time of publishing the best rate was $155 per night for 2 adults and 2 children in a 2 bedroom cabin on Booking.com.
Click here to check the prices and / or to make a booking for Barossa Valley Tourist Park .
Barossa Weintal Hotel Complex
The Barossa Weintal Hotel is located close to the Barossa Motor Lodge in Tanunda and is lucky enough to be within walking distance to a few wineries;
Facilities include parking, internet and swimming pool;
Family rooms include a TV, air conditioning, 2 single beds and 1 double bed;
At the time of publishing the best rate was $189 per night for 2 adults and 1 children in a family room on Booking.com.
Click here to check the prices and / or to make a booking for Barossa Weintal Hotel Complex.
Novotel Barossa Valley
The Novotel Barossa Valley is one of the most luxurious Barossa hotels and is located in a stunning setting with panoramic views across the Barossa and the Jacobs Creek Vineyard. It is a 10 minute drive the Tanunda town centre.
Facilities include parking, internet , restaurant, giant outdoor chess walking trails, heated swimming pool, fitness centre, Spa Centre, tennis courts;
Family apartments include a TV, balcony, kitchenette, air conditioning, 1 bedroom with 2 single beds and 1 bedroom with a double bed;
At the time of publishing the best rate was $399 per night for 2 adults and 1 children in a 2 bedroom apartment on Booking.com.
Click here to check the prices and / or to make a booking for the Novotel Barossa Valley .
Airbnb Barossa Valley
Another good option for accommodation is in the Barossa is to book your accommodation via Airbnb. There is a range of accommodation available from private rooms, entire houses and gorgeous little cottages.
If you are brand new to Airbnb, use this link and you will get $76 AUD in travel credit – woot woot!!
Where to Eat in the Barossa
No matter what your dining preferences are – cheap eats, cafes, fine dining, pubs or supermarkets to buy food and cater for yourself, there are plenty of options for places to eat in Barossa. Also, many of the wineries offer a range of delicious food and some have dedicated restaurants as well.
Supermarkets
If you have a self contained cabin or even if you want to just stock up on some cheap snacks and drinks for your hotel room, there are a variety of convenience stores around as well as large supermarkets. Here is a list of some of the supermarkets and their location around the Barossa:
Foodland – 119 Murray Street Tanunda
Foodland – 57 Murray Street Angaston
Co-op Fresh Foodland – 1 Murray Street Nurioopta
Aldi – 1 Murray Street Nuripoota
Kid Friendly Cafes and Bakeries
Linke's Bakery and Tea Rooms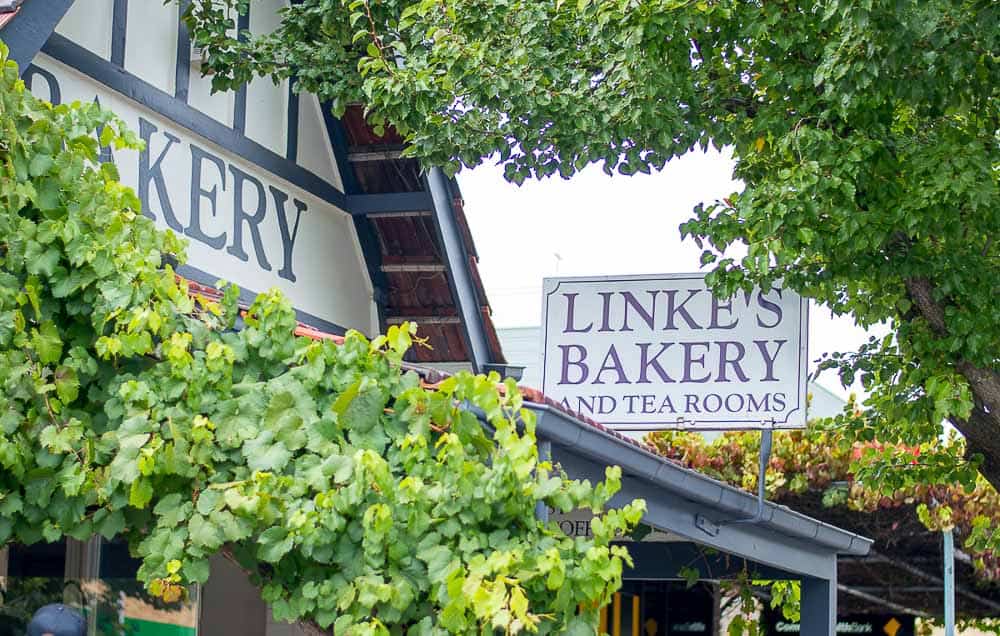 There are some gorgeous little bakeries and cafes to eat at in the Barossa Valley. One morning we had the pleasure of having breakfast at the Linke's Bakery and Tea Rooms.
The Linke's Bakery is located in a gorgeous building in the centre of the town of Nurioopta. The building dates back to 1938 when the Linke family first opened the bakery and their family home has since been converted into the tea rooms. The bakery is still run by the Linke family today.
Families can pop in and purchase traditional bakery items like pies, pastries and delicious baked goods, or take a seat and order from the extensive family friendly menu. There is a range of lovely spots to sit and enjoy a cuppa. Sit by the large bi fold windows that open up to the patio where there is plenty of seating to watch the world go by. The entire outdoor area is surrounded by gorgeous lush green foliage and brightly coloured blooms creating a lovely relaxing atmosphere as you contemplate which wineries you will visit during the day.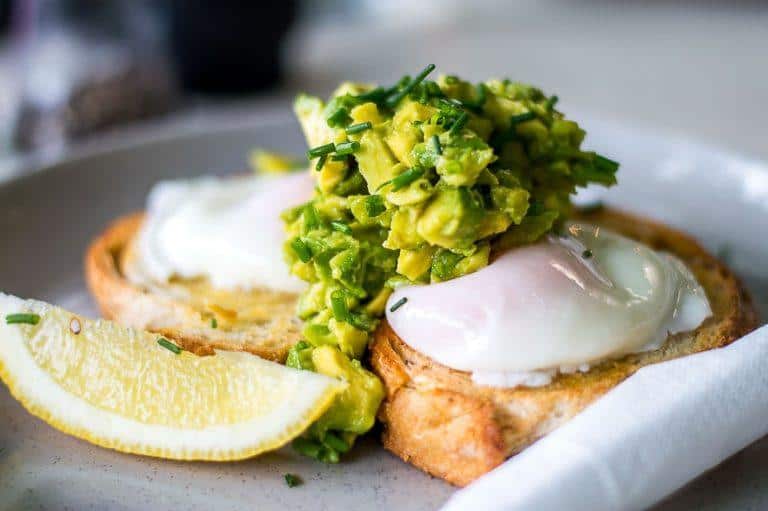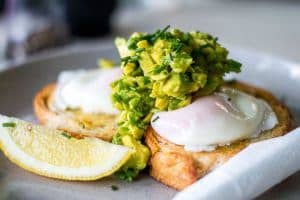 There are various breakfast items including eggs, bacon, vegetarian options as well as plenty of basic food items for the kids. I can highly recommend the smashed avocado with poached eggs on toast! Breakfast items start at $6 for basic items up to $19 for the big breakfast.
For lunch there are a variety of baguettes, focaccias, sandwiches and quiches available as well as the Barossa Ploughmans Platter which is filled with delicious local produce including linke's mettwurst, zimmy's dill cumber, mature cheese, relishes, crusty bread and more! Lunch items start at $5.50 up to $21 for the platter.
The Linke Bakery is located at 40 Murray Street Nurioopta open Monday to Friday from 7 am to 5 pm and on Saturdays from 7 to 12.30.
Location: 40 Murray Street Nurioopta
Opening Hours: Monday to Friday 7am to 5pm and Saturdays 7am to 12.30pm
Other Places to Eat
Myla and I mostly catered for ourselves in our Seppelt's View Cabin, however here are a few other places other travel bloggers recommended to us:
Roaring 40's Café: Family friendly pizza restaurant in Angaston.

The Clubhouse:

Relaxed pub in the centre of Tanunda.

Apex Bakery: Located in Tanunda making traditional German breads and pastries including pies, sausage rolls and quiches.

Sunrise Bakery: Traditional style German bakery in Angaston.

Die Barossa Wurst Haus and Bakery: Tradition style German bakery in Tanunda.
Getting from Adelaide to Barossa Valley
The easiest way to get from Adelaide to Barossa Valley is by car. It is best to have a car once you are in the Barossa, so I highly recommend that this is what you do. The other option is to join one of the tours from Adelaide which is mentioned above.
Getting around the Barossa Valley
It is best to have your own car to get around the Barossa Valley, but if you don't another option is to jump on the Hop On Hop Off Bus. The bus follows a specific route throughout the day, stopping at various wineries where you can get off and on the bus as you please. You will of course still need to get to one of the stops at the start and end of the day. Bus tickets start at $59.95 per person – click to book tickets online.
More Tips for Visiting the Barossa with Kids
Whilst many of the wineries listed above provide toys for children, some do not. I recommend you prepare your kids for the day by packing them a small bag with their favourite toys, coloring books and books to read so they are occupied while mum and dad check out the wines.


Be sure to spend some quality time with your kids during the day by joining in with some ball games provided at some of the wineries.


I also recommend you break up the day by popping into places that are not wineries such as the Barossa Cheese Company or Maggie's Farm Shop.


Remember happy kids, happy parents.
Headed to South Australia with the family? Then perhaps your interested in our following articles:
Please note that this post contains affiliate links, which means that should make any bookings using my links, I may be paid a small commission at no extra cost to you.  This allows me to provide this information free of charge – thank you for supporting our website.
Want to save this information for later? 
Click on one of the images below and save it to Pinterest.