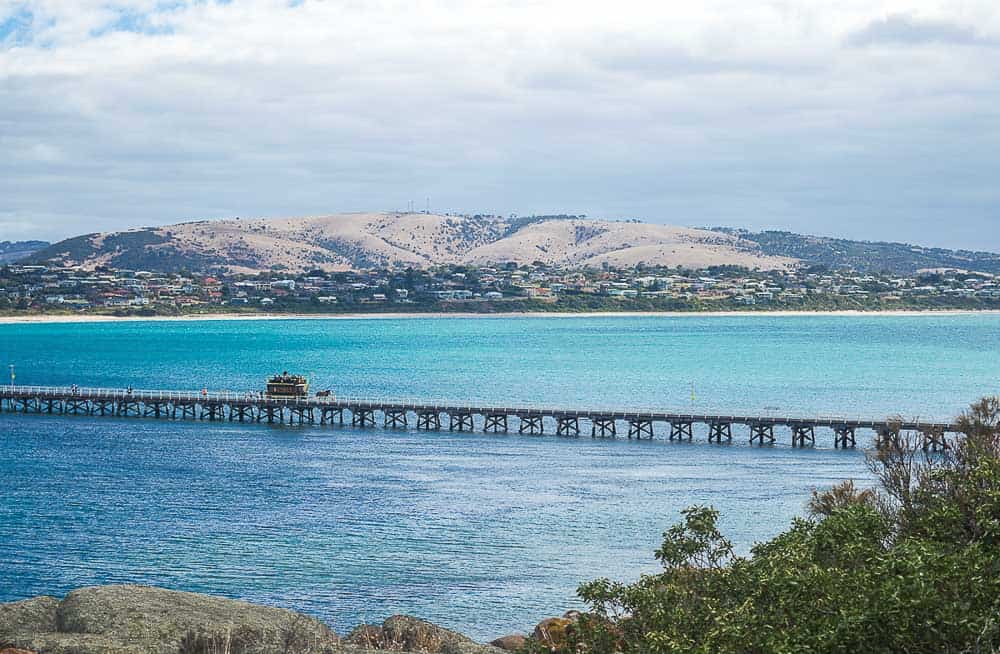 Located in the heart of the Fleurie Peninsula, is the popular seaside tourist town of Victor Harbor. Only 70-minute drive south of Adelaide, Victor Harbor is a perfect family destination to relax, enjoy the great outdoors and ideal for spotting marine life. There are plenty of things to do in Victor Harbor, with some of the more popular Victor Harbor attractions being the Cockle Train, the horse drawn tram to Granite Island and the South Australian Whale Centre. It is also a perfect base for exploring stunning nearby beaches as well as the Coorong National Park.
In this post I will share with you some of the best things to do in Victor Harbor with kids, as well the best family friendly Victor Harbor accommodation (including Encounter Bay accommodation).
Things to do in Victor Harbor with Kids
1. Take the Cockle Train to Goolwa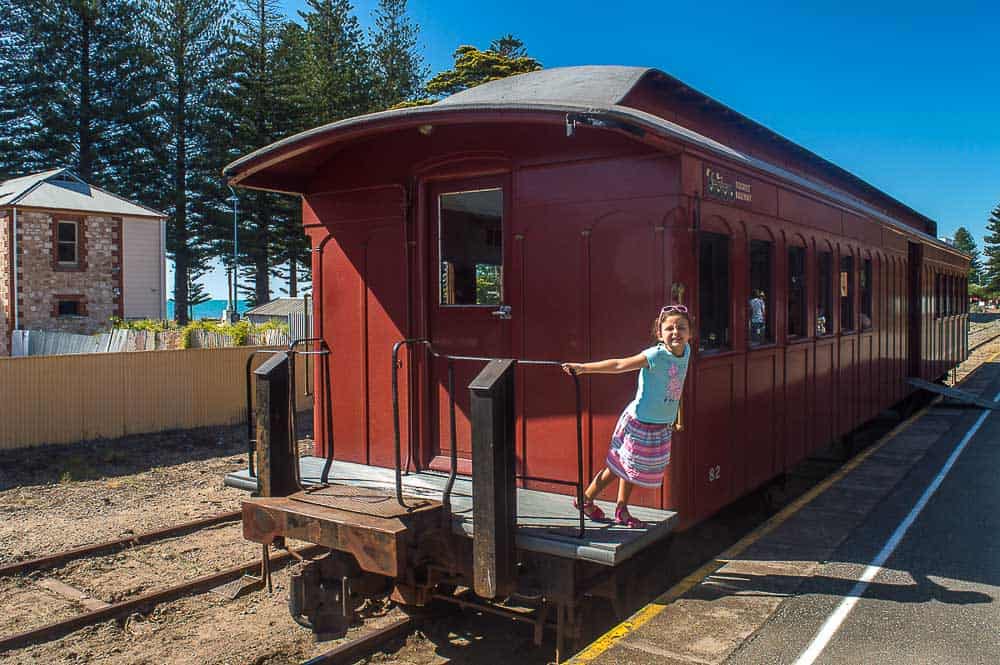 The Goolwa Cockle Train was Australia's first railway line, built in 1887 to provide a link between the River Murray and the ocean at Port Elliot and later Victor Harbor. The old steam train still runs today along the South Australia coast from Goolwa to Victor Harbor with the journey taking around 30 minutes with a stop in Middleton and Port Elliot.
The train departs from Goolwa Station with the traditional horn and heads south through the farmlands towards Middleton. The train continues past Basham's Beach before reaching Port Elliot station. As the Goolwa train leaves from Port Elliott station it climbs to the top of the coastal cliffs before passing some of the most spectacular ocean views across the coastline of the Fleurieu Peninsula before reaching Victor Harbor. Be sure to sit on the left side of the train for the best views.
Whilst the train commences from Goolwa, passengers can board from either Goolwa or Victor Harbor, as the train makes three return trips per day.
If coming from Victor Harbor, you will have a short stop in Goolwa before the return train, or why not explore the town of Goolwa. Things to do in Goolwa include swimming at Goolwa Beach, take a 1 hour cruise along the waters of the Lower Murray River on board the MV Maranui, visit the Goolwa Motor Museum to see 45 classic cars from all over the world, take the historic walk around town, dine at Hectors on the Wharf or visit the Sunday markets.
Train tickets can be purchased at any of the stations or online (see link below). Return cockle train prices are $14.50 per adult and $8 per child. One-way tickets are available. Click here to view the Cockle train timetable.
2. Take a Wildlife Cruise with Big Duck Tours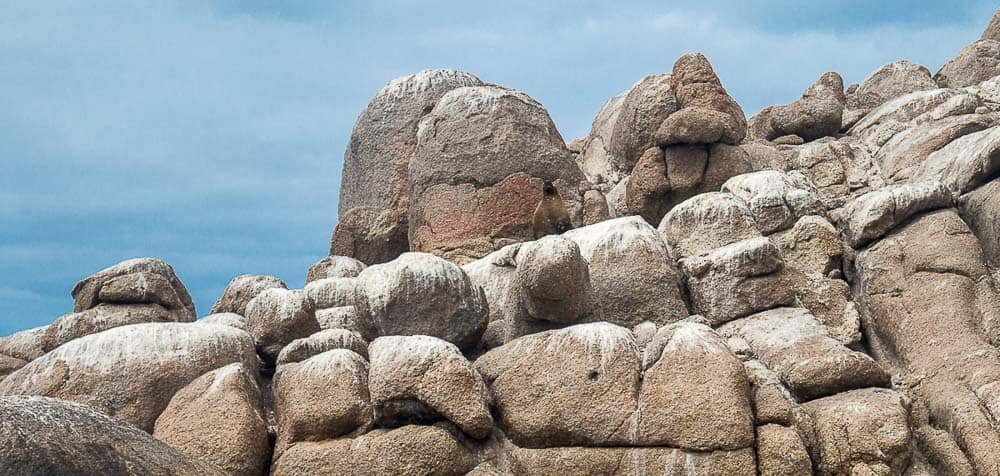 The waters around Victor Harbor are home to various marine life, so why not take a cruise with Big Buck Boat Tours for a closer look.
All year round guests can join the 45 minute Seal Island tour. This short tour takes visitors to Seal Rock, just past Granite Island, to see New Zealand Fur Seals and Australian Sea Lions. You will also see a variety of bird life including petrels, shearwaters and cormorants. You will then have the opportunity to see Bottlenose Dolphins around the waters of Wright Island and the Granite Island Causeway. During our boat trip we were lucky enough to see a couple of Fur Seals and Sea Lions (look closely in the image above and see if you can spot the seal) as well as seeing numerous dolphins. The dolphins are super friendly coming right up by the boat. I have never seen so many dolphins in the wild and so close!
During the months of October to May, 90 minute cruises are available to see wildlife and during the months of June to September Victor Harbor whale watching tours are available.
All tours depart from the Granite Island Causeway on Saturdays, Sundays, Mondays and Wednesdays at 2 pm, with the Seal Island Tour departing at 1 pm. Tickets start at $40 per adult and $25 per child with family passes available.
Click here to check prices and / or to make a booking.
3. Explore the Coorong National Park
Join one of the many Coorong cruises and explore the Coorong National Park and the Murray River mouth.
There are a range of tours to join with trips varying from day trips to a few hour cruises. Options include visiting Lake Alexandrina, the Murray Mouth and Hindmarsh Land, with most tours including guided walks into the Coorong National Park, the opportunity to see Coorong Seal Colony and Migratory Waders as well as sample native bush tucker food. Morning tea, afternoon tea, lunch and drinks are usually included.

Click here to find out more details about the range of tours available, to check prices and / or to make a booking.
4. Take the Victor Harbor Horse Drawn Tram to Granite Island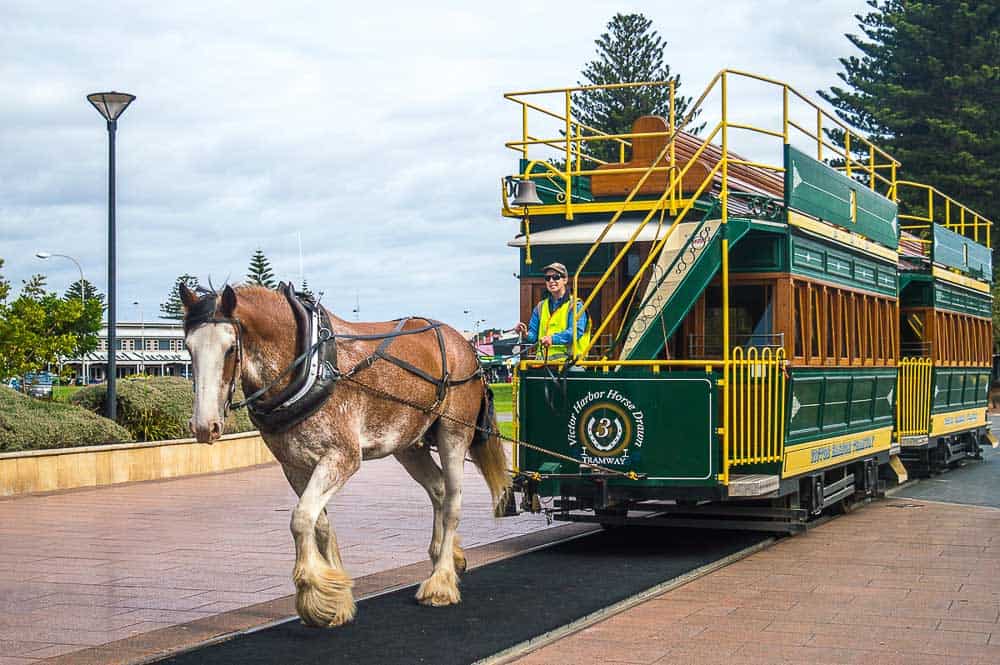 Whilst you can easily walk across to Granite Island, I highly recommend you take the Victor Harbor horse drawn tram. The Granite Island tram is a South Australian icon and one of the most popular things to do in Victor Harbor.
A Clydesdale horse pulls the double decker tram across the 630-metre-long causeway to Granite Island, South Australia. Horse lovers will be pleased to know that there are 7 horses who work on a roster, with each horse working 2 shifts per week.
The Granite Island tram is situated at the causeway next to the Victor Harbor Visitor Information Centre. Tickets can be purchased at the Visitor Information Centre or they can be purchased on board the tram. Return tickets are $10 per adult, $7 per child or family passes are $25.
The tram operates 7 days per week and leave every 20 minutes between the hours of 10 am and 3.20 week days and until 4 pm on weekends.
Tip: if you are planning on visiting the South Australian Whale Centre as well as take the horse drawn tram, purchase a combined ticket to save money.
5. Things to do on Granite Island, South Australia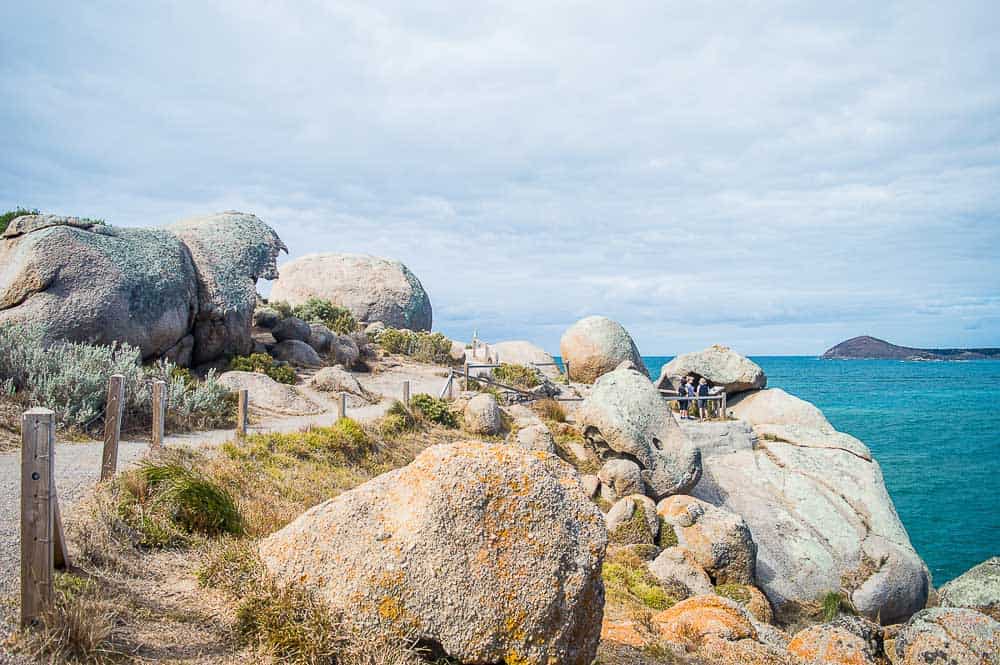 Instead of immediately taking the return trip on the tram, why not spend a few hours exploring Granite Island.
Granite Island is around 62 acres and is one of the best ecological attractions in Victor Harbor due to its unusual granite formations and stunning panoramic views. To fully experience the islands beauty, it is recommended to take the 1.5 kilometre Kaiki Walk which takes around 45 minutes. Along the walk there are various interpretive signs giving you insight into the history of the island and the importance of the island to the aboriginal people.
The walk commences to the right of the short boardwalk, where you can get some great views across the causeway, Victor Harbor, Encounter Bay and the Bluff.
Along the southern end of the island are a large number of exposed pieces of granite, offering some excellent photo opportunities.
Back at the start of the walk there is a Kiosk and Café selling various snacks and drinks.
There used to be a Penguin Centre on Granite Island, but unfortunately due to declining penguin numbers, the centre closed down in 2016. However you can still see penguins during the Granite Island Nature Tours – see below for details.
6.Granite Island Nature Tours – see the Victor Harbor Penguins
Granite Island is home to a small colony of Little Penguins. You can see the penguins return home at the end of each day around dusk with Granite Island Nature Tours.
Tours are for approximately 1 to 1.5 hours and commence at dusk (time varies throughout the year). Tours are $25 per adult and $15 per child, with family passes available. Tours must be booked in advance by phoning the Oceanic Victor Marine Centre on (08) 8552 7137 or the Victor Harbor Visitor Information Centre on (08) 8551 0777.
Granite Island is not accessible to the general public after day, so the only way to see the penguins is via a guided tour.
7. Visit the SA Whale Centre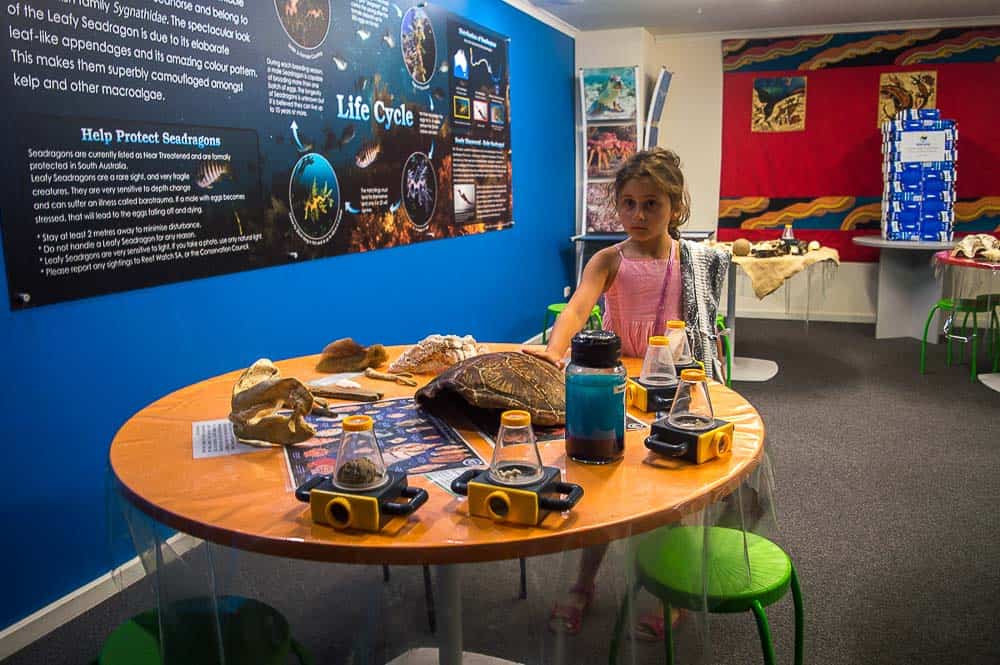 Over 3 different floors the South Australian Whale Centre provides various interactive and informative exhibits about South Australian marine life.
The SA Whale Centre includes information regarding whale sightings as well as educating visitors about the local marine life through a range of mediums such as a 3D theatrette, kids can dig for marine fossils as well as touch various pieces of coral, marine animal fur, shells and crabs in the kids zone. There is also an area for very young children which includes soft toys and colouring in.
The Victor Harbor Whale Centre is open daily between 10.30 am and 5 pm. Ticket prices are $9 per adult and $4.50 per child with a family pass available for $24.
8. Swim with Tuna
Ever wanted to swim with tuna? No – well here is your chance! Take this 2 hour tour with Ocean Victor, where you will visit the Oceanic Victor aquarium near Granite Island. Put on your wet suit and join a guided snorkel with Southern Bluefin Tuna.
Other activities include hand feeding the tuna from the surface or go below the surface to see the fish through a special underwater viewing chamber.
There are two different tour times each day, with prices starting at $85 per adults and $65 per child, with family passes available.
9. Go to the Beach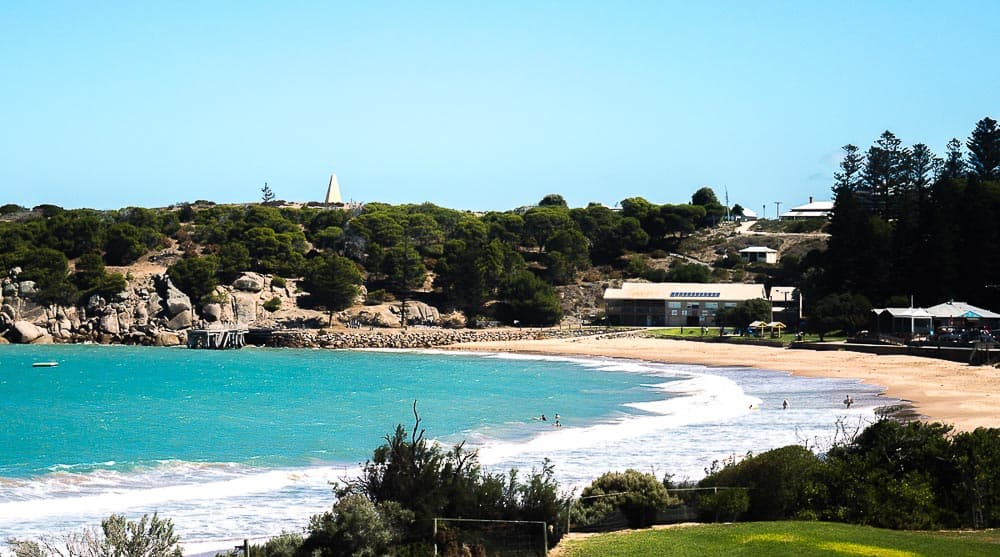 The beaches in the centre of town are not really idea for swimming as they are filled with sea grass. However the sheltered shallow waters are perfect year round for fishing and stand up paddle boarding. There are some great nearby swimming beaches though at Chiton Rocks (closest beach to the centre of town) and Horseshoe Bay (pictured above).
9. Walk to the top of the Bluff, Victor Harbor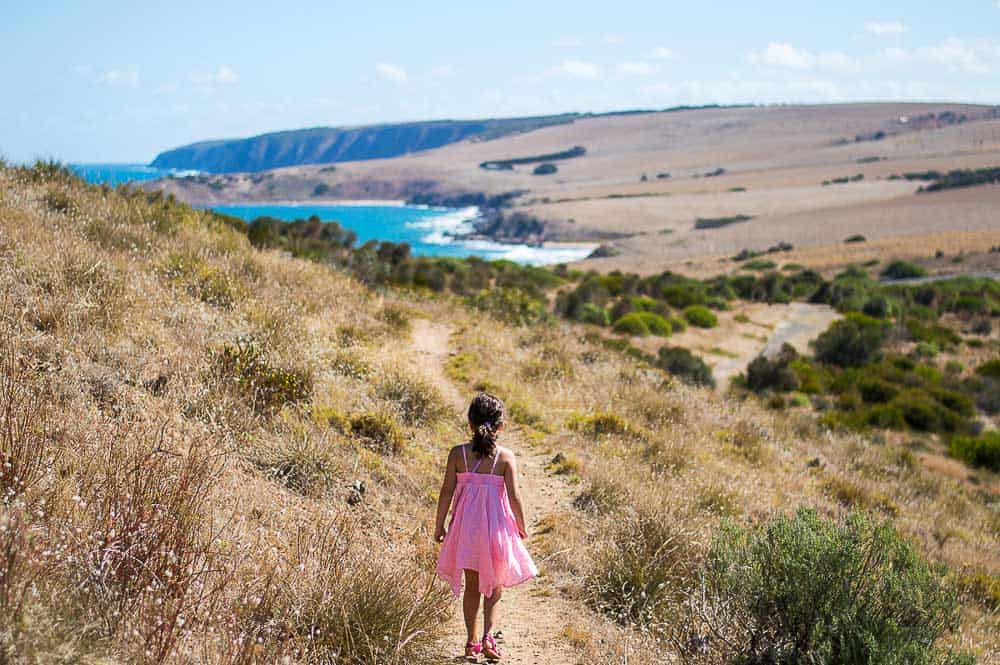 The Bluff is the name of the headland that juts out into the Rosetta Harbor. It's impossible to miss the Bluff as it can be seen from all over the area of Victor Harbor.
To fully experience the Bluff, it is recommend that you take the 850 metre return walking trail to the top. The trail, known as the Rosetta trails, starts and finishes from the carpark and takes around 1 hour. The track is doable for all fitness levels, however good walking shoes are highly recommended.
The views from the top are amazing with 360-degree views of the stunning Victor Harbor coastline. During May to October this is a perfect spot for spotting the Southern Right Whales.
If you want to extend the walk, start in central Victor Harbor, or Kent Reserve near central Victor Harbor and walk the Heysen Trail to Waitpinga Cliffs. This is an easy walk along a 2-metre-wide bitumen path. The walk is 3 kms one way. Click here for details of other walks in the area.
10. Visit Urimbirra Wildlife Park
Located 5 kms from the centre of town is the Urimbirra Wildlife Park. The Victor Harbor Wildlife Park features over 400 animals including dingoes, crocodiles, wallabies, crocodiles, wombats, kangaroos and koalas. Visitors to the park can feed kangaroos, cuddle a koala, feed lorikeets or pat a snake.
Urimbirra Wildlife Park is open 7 days a week between the hours or 10 am and 5 pm. Entry prices are $14 per adult, $10 for students and seniors, $7 for children between the ages of 4 to 14.
12. Explore the Victor Harbor Markets
There are in fact three different Victor Harbor Markets to explore in the region – the Victor Harbor Farmers Markets, the Victor Harbor Craft Market and the Victor Harbor Country Market.
The Victor Harbor Farmers Markets are on every Saturday from 8 am to 12.30 pm and is located in the Grosvenor Gardens. Here you will find over 30 stalls full of locally grown produce, seafood, homemade goodies, flowers, live music and delicious food.
The Victor Harbor Country Market is located along the Victor Harbor Esplanade every second and fourth Sunday of the month. Here you will find a great range of products including plants, jewelry, secondhand goods, local food and heaps more. What's more is there a kid's playground right next door.
The Victor Harbor Craft Market is on the first Saturday of each month between the hours of 9.30 am and 3 pm. There are a variety of stalls selling locally made crafts including cards, jewelry, clothes, plants and local produce.
13. Victor Harbor Mini Golf
In the centre of town, along the Esplanade you will find Dunes Mini Golf, open daily from 9.30 am. This Victor Harbor mini golf is said to be among the best 18-hole mini golf courses in Australia!
Prices are $9.50 per adult, $9 per student and under 12's are $8.50. You can play a second round for $5 per person.
14. Victor Harbor Cinema
There are so many great activities in Victor Harbor, but if you are searching for even more activities or need something to do on a rainy day, why not take in a movie at the Victor Harbor Cinema. The cinema shows all the latest blockbusters – Check session times here.
15. Visit Victor Harbor for the day from Adelaide CBD
If you don't have the time to stay in Victor Harbor, there are options to take a day trip from the centre of Adelaide to Victor Harbor. Tours usually combine Victor Harbor attractions with other tourist spots in the area including the Mount Lofty Ranges, Strathalbyn and the McLaren Vale wine region.
Click here for more information about available tours, prices and / or to make a booking.

Where to Eat – Victor Harbor Restaurants and Cafes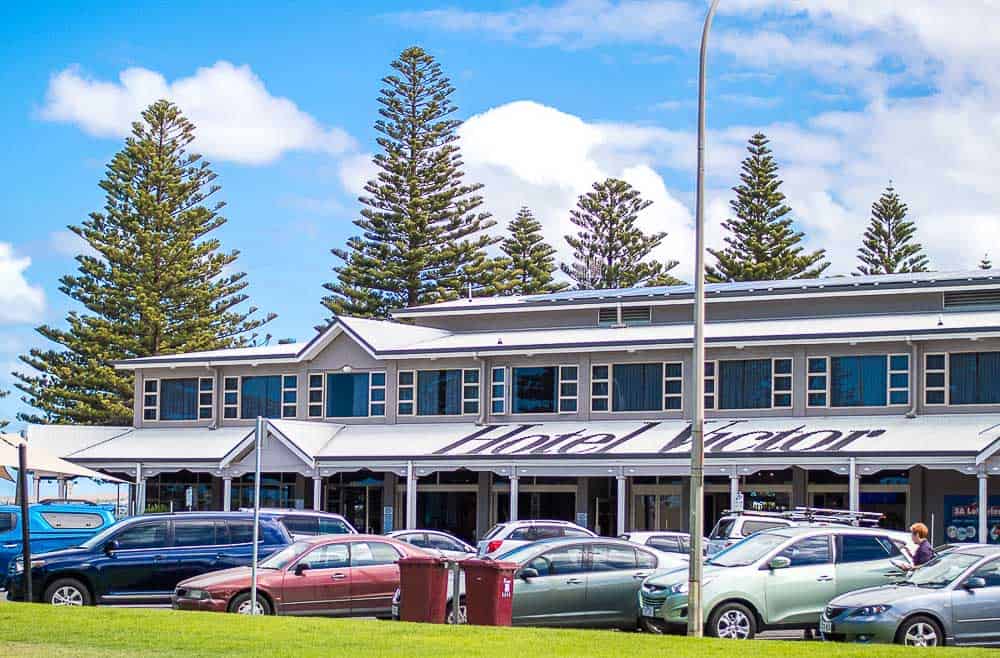 For a small seaside town there is a great range of Victor Harbor restaurants and cafes to suit all tastes and budgets.
1. Hotel Victor
Hotel Victor is located in the heart of Victor Harbor on the Esplanade and has great views across the sea to Granite Island as well as the Norfolk pines that dot the waters edge.
There are a range of dining options at Hotel Victor including:
V Bar: Located in the bar area with casual seating by large windows providing fantastic views across Victor Harbor. Open daily serving a range of beverages (including coffee), cakes and other snacks with live entertainment on Friday and Saturday nights. The Norfolk Cafe menu is also available in the V Bar.
Norfolk Cafe: Choose to sit inside the cafe or sit outside in the sheltered Alfresco area with great views across Victor Harbor. The menu is fairly extensive with your usual pub meals including steak, chicken, salads (I can vouch for the Chicken Caesar Salad) seafood, pasta, burgers and pizza, with most meals around the $20 to $30 mark. The kids menu is also fairly extensive with a great choice between pasta, calamari, chicken nuggets, chicken salad, burger or pizza with prices between $8 to $10. They have a great breakfast menu too. Open daily for breakfast between 7.30 am to 11 am and lunch and dinner between 11.30 to 8.30 pm.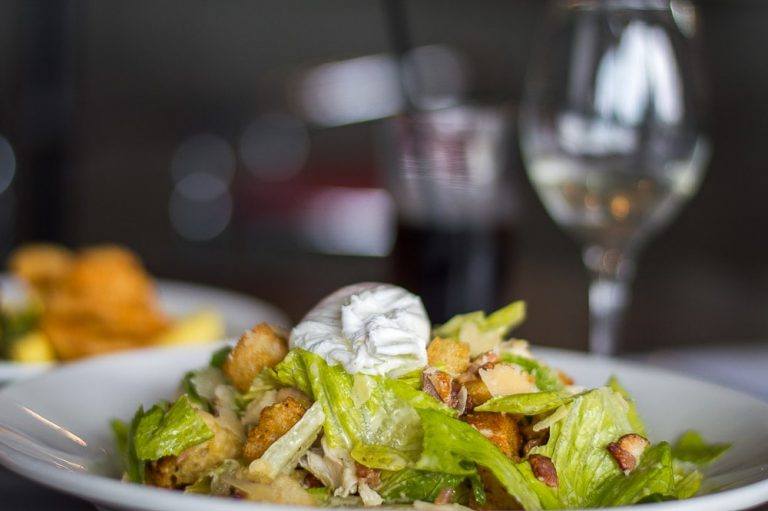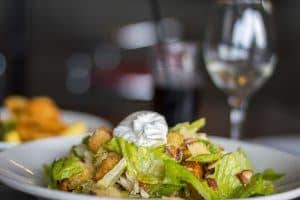 Encounter Restaurant: Serving both an a la cart menu as well as a buffet breakfast, lunch and dinner daily at $29 per head. Kids order of the same kids menu as the Norfolk Cafe. Open daily for lunch from 12 pm to 2 pm and dinner from 6 pm to 8.30 pm.
The service at Hotel Victor is super friendly and efficient and they have an excellent variety of Adelaide wines too! Did I mention I am obsessed with Adelaide wine?
Hotel Victor is extremely family friendly and somewhere I highly recommend families go to have a great quality pub meal in a stylish yet casual environment. There a high chairs available for young children as well as an excellent kids activity set with the purchase of a kids menu. This activity book is such an improvement from your usual colouring in sheet and broken crayons you usually get from a pub – it came with a colouring book, activities, crayons and stickers. This activity set had Myla busy for days! If you don't purchase a kids meal you can purchase the activity set for $3.50.
Hotel Victor is open 7 days from 7.30 am for breakfast, lunch and dinner and is located at 1 Albert Place in the centre of town.
2. The Anchorage – Victor Harbor
The Anchorage Hotel, Victor Harbor serves great bistro style food with a focus on showcasing local produce and wine. Menu item includes seafood, steak, chicken and pasta as well as a good kids menu.
The Anchorage – Victor Harbor is open 7 days for breakfast, lunch and dinner and is located at 21 Flinders Parade.
3. Crown Hotel Victor Harbor
The Crown Hotel serves traditional pub food including seafood, various schnitzels, steak and burgers with most meals around $20 to $25. They also have a standard kids menu.
Located at 2 Ocean Street in the heart of the city, the Crown Hotel, Victor Harbor is open daily for lunch and dinner.
4. Grosvenor Hotel Victor Harbor
This is a lovely old hotel dating back to 1897. Families can have a meal in the relaxing beer garden, formal dining room or the front bar. The menu includes seafood, pizzas and other tradition pub meals with meals starting from around $15. Kids meals a re great value at $7.90 and also include an ice cream.
The Grosvenor Hotel Victor Harbor is open 7 days from 8.30 am and is located on the corner of Coral and Ocean Streets.
5. Eat at Whalers Inn Victor Harbor
For a meal with a view, get down to Eat at Whalers Inn. The Whalers Inn Victor Harbor is located at 121 Franklin Parade, Encounter Bay for breakfast, lunch and dinner. Opening hours vary throughout the year so check their website or give them a call before going down.
6. Fish and Chips Victor Harbor
A visit to a seaside town would not be complete with at least one fish and chips meal and luckily there are a few options for fish and chips in Victor Harbor. The following fish and chip shops all have fantastic reviews:
JF&C (Just Fish and Chips) – 21 Albert Place, Victor Harbor
Pa's Fish Cafe – 61 Franklin Parade, Encounter Bay
Original Victor Harbor Fish Shop – 20 Ocean Street, Victor Harbor
7. Supermarkets
If you have self contained accommodation or even if you want to just stock up on some cheap snacks and drinks for your hotel room, there are a variety of convenience stores around as well as large supermarkets. Here is a list of some of the supermarkets and their location around Victor Harbor:
Woolworths– 27 Torrens Street
Coles– Seaview Road
IGA – 10/68 – 78 Victoria Street
Where to Stay – Victor Harbor Accommodation
There is a range of good family Victor Harbor accommodation from the self-contained apartments, beachfront holiday parks and Victor Harbor motels.
For families I generally recommend a self-contained apartment over a Victor Harbor hotel as this gives you more room and the ability to prepare your own meals, cutting down on expenses.
Keep reading below for my tips on where to stay in Victor Harbor.
Victor Harbor Holiday Rentals: The Bluff Resort Apartments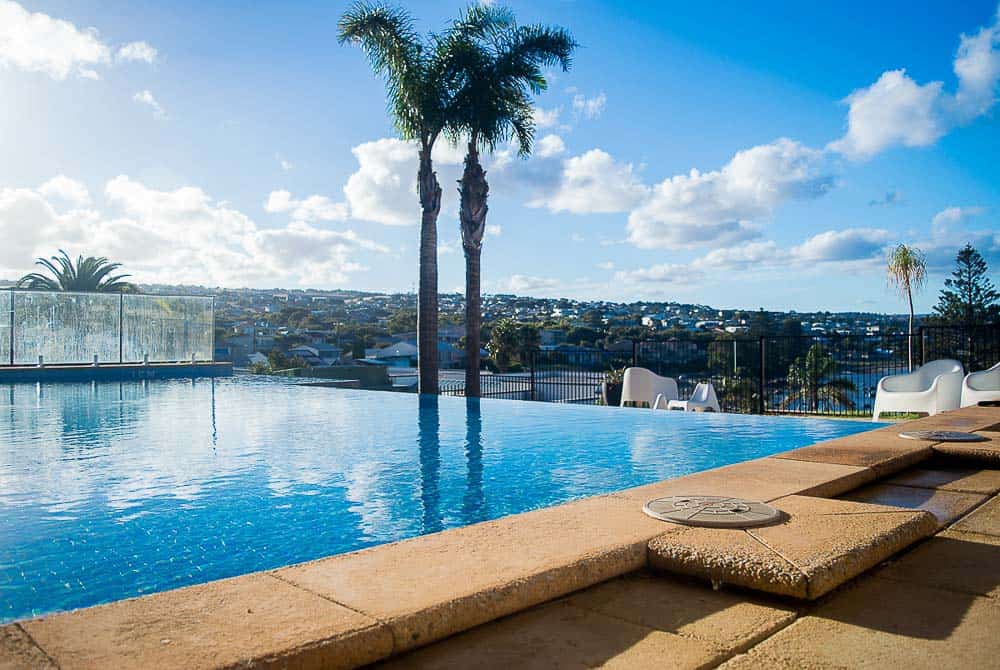 During our stay in Victor Harbor we stayed at the Bluff Resort Apartments. There are a range of accommodation options here from spacious motel suites to large fully self contained apartments with fantastic view.
Location
The Bluff Resort Apartments are located along the Esplanade in Victor Harbor overlooking Encounter Bay. Whilst it is a little out of the heart of the Victor Harbor centre, the area is extremely picturesque and peaceful and is the perfect spot for relaxing after a day of exploring the region.
It is possible to walk into the centre of Victor Harbor via the walkway along the Esplanade. This is around 5 kilometres though, but is a stunning walk. Alternatively it is only a 10 minute drive.
Around 1.5 kilometres from the Bluff Resort Apartments there are a few cafes and restaurants as well as Eat at the Whalers being right next door.
Of course the main attraction down this end of Encounter Bay is the Bluff. The start of the walking trail to the top of the Bluff is only a 10 minute walk from the resort.
The Room
The resort offers 3 different room types including fully self contained apartments (1, 2 or 3 bedrooms) with pool and ocean views, studios with kitchenettes and motel room style suites.
We stayed in one of the motel room suites during our stay. As soon as I entered the room, what struck me was how spacious it was. For a motel style room, there was plenty of space and it easily be comfortable for a family of 4.
The room contains a queen bed as well as a sofa bed – even with the sofa bed made up, there was stacks of room. Other great features included the shower, bathroom sink and toilet all being separate – perfect for families all wanting to use various parts of the bathroom at the same time. I also loved how there was a small fridge, microwave, kettle, toaster, crockery and cutlery so we were able to prepare basic meals for ourselves despite being in a motel room.
Rooms also include air conditioning, TV with foxtel and free WiFi.
Probably the only down side of the room was having no view. There is a stunning view from the Bluff Resort and it would have been nice to be able to see it. So if this important to you, book a room with a view. However if cheap but spacious accommodation is the priority, this room is perfect!
Facilities
The resort has a stunning swimming pool with fantastic views across Encounter Bay. Around the pool there is a BBQ and outside dining facilities.
Families will love the laundry which is completely free to use and also includes a dryer. You will just need to supply your own detergent or purchase it from the reception area.
Reviews / Bookings
We thoroughly enjoyed our stay at the Bluff Resort Apartments and would highly recommend it for families who want a self-contained apartment or a spacious motel room.
The Bluff Resort Apartments is well recommended on TripAdvisor with 75% of people rating it as excellent of very good.
Motel rooms for a family of 2 adults and 2 children are $219. Click here for the latest prices or to make a booking for the Bluff Resort Apartments.
Victor Harbor Caravan Park
Another good option for families are to stay at one of the two Victor Harbor caravan parks:
NRMA Victor Harbor Beachfront Holiday Park
NRMA Victor Harbor Beachfront Holiday Park is set on absolute beachfront in Victor Harbor and is only a 10-15 minute walk to the centre of town.
Facilities include water park, pump track, playground, BBQ facilities, heated swimming pool, jumping pillow, TV/Games room, camp kitchens, laundry and WiFi;
1 Bedroom cabins include 1 large bed and 2 singles, TV, air conditioning, kitchenette, seating area, bathroom and outdoor area;
Click here to check the prices and / or to make a booking for NRMA Victor Harbor Beachfront Holiday Park.
Victor Harbor Holiday Park
Located only an 8 minute walk from the beach and 2 kilometres from the heart of Victor Harbor.
Facilities include parking, WiFi, swimming pool, jumping pillow, playground, go-karts, games room, BBQ facilities, laundry and more;
Family rooms include 1 double bed and 2 sets of bunk beds, with ability to sleep up to 6 people. The room also includes air conditioning, kitchenette, private bathroom, TV and an outdoor area with table and chairs;
Click here to check the prices and / or to make a booking for Victor Harbor Holiday and Cabin Park
Getting to Victor Harbor
Victor Harbor is around 1 hour from the centre of Adelaide and the best way to get from Adelaide to Victor Harbor is to hire a car and drive. It is possible to get public transport, but even whilst in Victor Harbor you really will need a car to get around to see the sights.
If you have to get public transport, buses leave Adelaide Central Bus Station for Victor Harbor, takes around 2 hours and costs approximately $26 per adult.
Thanks so much to the Bluff Resort Apartments, Victor Harbor Horse Drawn Tram, The Big Duck Boat Tours and Victor Hotel for hosting us during our stay in Victor Harbor. As always, all opinions expressed in this blog are my own and have not been influenced in anyway.
Please note that this post contains affiliate links, which means that should make any bookings using my links, I may be paid a small commission at no extra cost to you. This allows me to provide this information free of charge – thank you for supporting our website.
Want to save this information for later?
Click on one of the images below and save it to Pinterest.