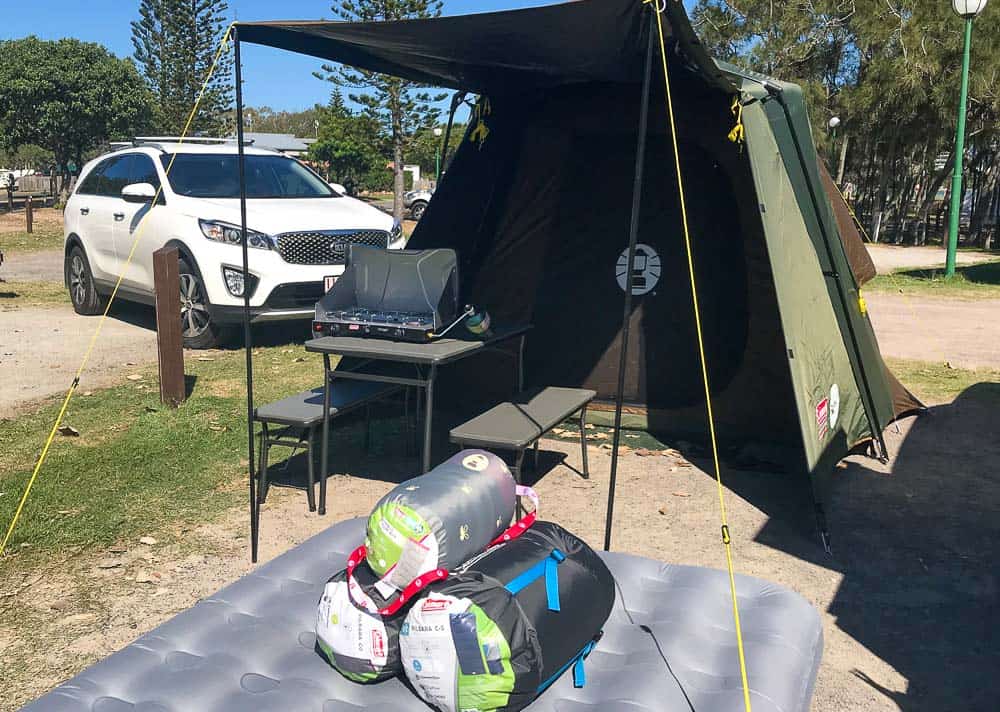 This post may contain compensated links. Please refer to my disclaimer here for more information.
When we are not travelling around the world or across Australia we love to get out and camp for a few days close to home. Whilst we are budget travellers we have learned over the years that it is important to have the best camping gear for a stress free trip.
Over the years we have become quite good at knowing exactly what we need for camping, and like our overseas travel packing, we tend to just pack the essentials, so our camping trips are not only quick and easy to prepare for, but also to set up and pack up camp. This ensures we are likely to go camping more often and have a stress-free camping trip – I mean that's what camping is supposed to be out isn't it!
We were super delighted when Coleman Australia recently asked us to road test some of the Coleman camping gear on one of our camping trips. Coleman sells some of the best camping equipment and the best camping accessories from Coleman Tents (including some of the best instant tents) to outdoor showers to Coleman camping table and chairs and much more. Today Coleman camping equipment is internationally known due it's high-quality and easy to use products.
We had already recently converted to a Coleman 6-Person Instant Cabin, so we were already familiar with the excellent quality camping products they make.
Click here for our guide on the best family camping tents.
Coleman Camping Essentials
We don't tend to camp for too long, the most we tend to go camping for is 2 to 3 nights. So, we have a pretty basic set up including all the best camping essentials. We took the essential Coleman camping supplies to our weekend camping trip at Cotton Tree on the Queensland's gorgeous Sunshine Coast.
Coleman sent us all the essential camping equipment, shelter (one of the instant Coleman camping tents), something to sleep on (a Coleman camping mattress), something to sleep in (Coleman sleeping bags), something to cook food on (a Coleman stove) and somewhere to sit (Coleman camping table and chairs). All the best camping gear for families going on a weekend away.
Let's take a closer at the Coleman gear and what we thought of it.
Click here for 40 camping hacks you'll actually use!
Coleman Tents: The Instant Up Gold Series 4 Person
Watch the above video for a quick look at the tent!
This 4-person instant up tent is designed for campers that not only want a quick set up but also a high quality tent. Coleman advertise that it takes 2 minutes to set up this tent. Well it took us around 30 seconds to set up the main frame and around another 20 minutes or so to put on the fly and various ropes and pegs. I couldn't believe how quickly the main frame went up – its just like a pop beach tent where all the poles etc are integrated with the tent.
This tent weighs only a mere 15.9 kg and there is plenty of room to stand up easily inside the tent which I love – I am not a fan of the tents where you have to bend over in. The centre height is 1.9 metres.
As with most tents, despite being a 4 person, I would say it is better suited to 2 people or a small family like ours. We easily fitted the double air bed and Myla's kids inflatable bed in the tent with a little bit of space for our personal items in front. However I think once Myla grows a bit more, the 3 of us won't be able to fit and will need to upgrade to a 6 person tent.
This tent is waterproof and we can even vouch for that!! There was a massive down pour one of the nights we camped and I did not notice any moisture whatsoever inside of the tent.
We also found the tent really easy to put away, maybe around 10 minutes to take down and to put in the carry bag. I was also pleasantly surprised with how well it fit back in the bag – seriously how many times is it like impossible to get the tent back into the bag it comes in!
Some of this tent's features include:
a front awning and detachable awning allowing you to have shade outside the tent;
3 internal windows which can be closed either from the inside of the tent or the outside;
a front door with a separate fly screen;
dark room with special coating which is said to block out 95% of the sunlight – we did it find it to be reasonably dark inside the tent;
adjustable toggles to hold windows and doors tightly in place;
bright yellow toggles and ropes so you can easily see them;
a welcome mat ensuring the floor of your tent stays clean and tidy;
a hammock style hanging internal storage organiser;
a small window for powers; and
floor level vents and windows throughout, which aid in the circular ventilation system providing temperature comfort within.
As with our original Coleman pop up tent – we love this tent and in fact love it more than our existing tent as it was even quicker to set up! I wish it had a more storage pockets inside though so we could keep most of our personal items off the floor.
If you are a couple or a small family like ours and want a good quality and quick set up tent, then get yourself a Coleman Instant Up tent – they really are the way to go!
Click here if you are in Australia and want to buy this from the new Amazon.
Coleman Stove: Triton 2 Burner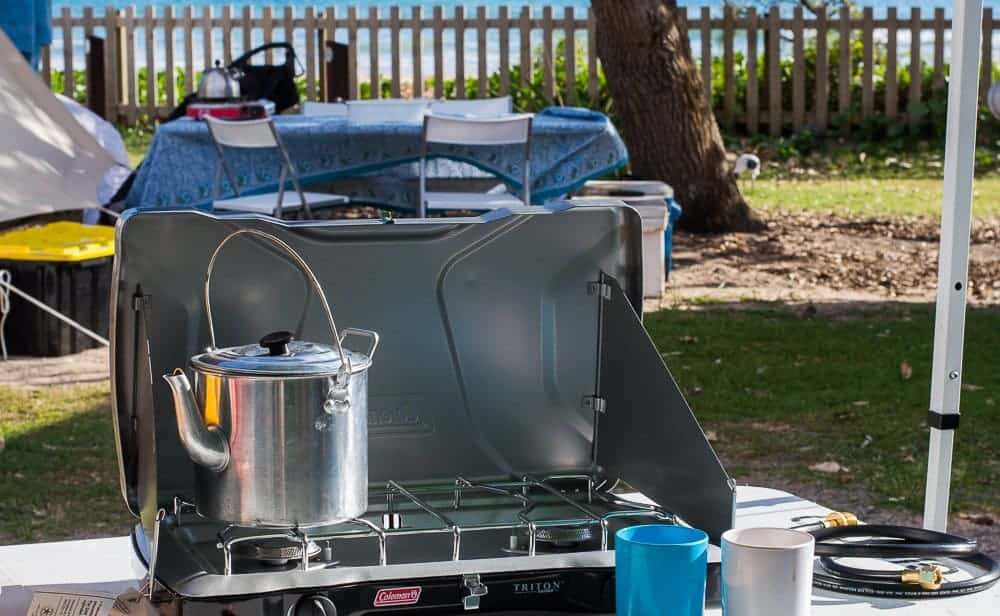 This Coleman camp stove is a 2 burner that has a slim, sturdy, portable design and powerful burners for great camp cooking.
With its instant start ignition, fully adjustable burners, the inclusion of the 3/8 hose, and wind block system it is very easy to use. Its removable grate and cooktop, and stainless-steel rust-resistant burners, makes it very easy to clean and maintain.
It weighs just over 11 kg and barely takes up any room, so perfect for light campers or those who have a small car and need to minimize their camping supplies.
As you all know Andy is the chef in our family and he really rated this cooker. He liked how you have the option of hooking it up to a BBQ gas cylinder or you can buy the smaller Coleman canisters. The stove got hot pretty fast – so fast in fact that we burned the first thing we cooked in it expecting it to take a while to heat up! Andy said he also loved the instant ignition.
Click here for more information about the Coleman stove.
Coleman Folding Table and Bench 3 Piece Set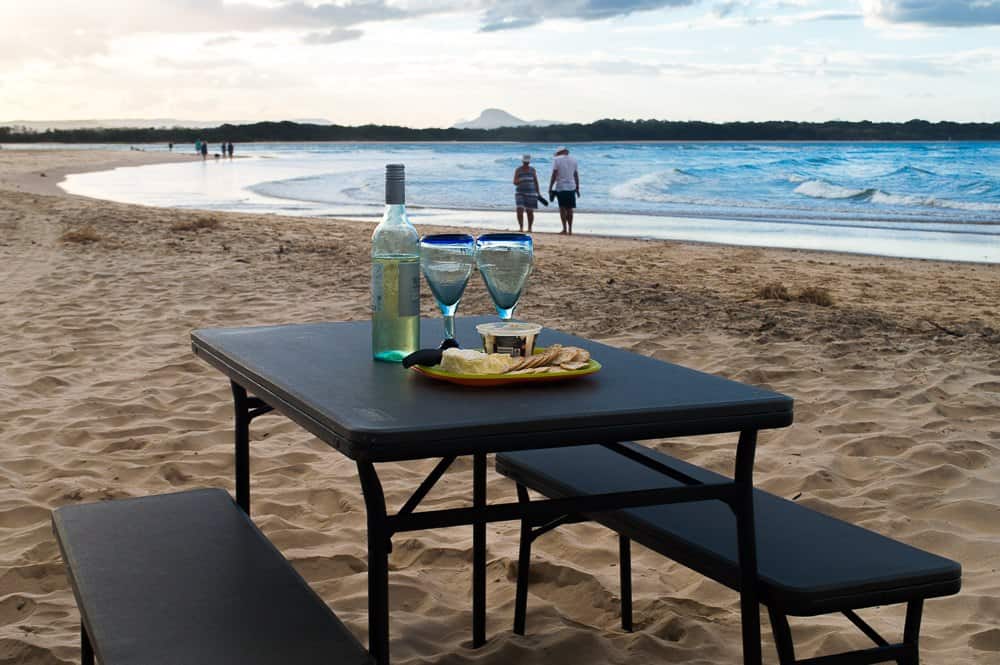 Another winner this weekend for us was the Coleman folding table and bench set! This set is so light and compact, takes up barely any room in the car and can easily be moved around the camping site – even down to the beach for the sunset like pictured above!
This folding table and bench set has three pieces – one table and two bench seats. I usually struggle with taking down these folding contraptions and leave it to Andy to deal with, but I loved how this bench set had a red button that you press and the chairs or table just collapse!
With a 200 kg weight capacity it is very strong, yet only weighs a combined 13.4 kg. It is so light in fact that we even had the kids carry it back from the beach for us!
Coleman clam that the 2 benches easily sit 4 adults and it does! We had 4 adults on it down at the beach enjoying drinks and nibbles and it was super comfortable. You could easily leave all other chairs and tables at home for a super compact yet practical camp set up.
Next to the instant tent – this Coleman product was one of my favourites! I highly recommend it, not only for camping but you can easily throw it in the back of the car for a picnic or kids sporting events.
Click here for more information about the Coleman folding table and bench set.
Coleman Camping Mattress: All Terrain Airbed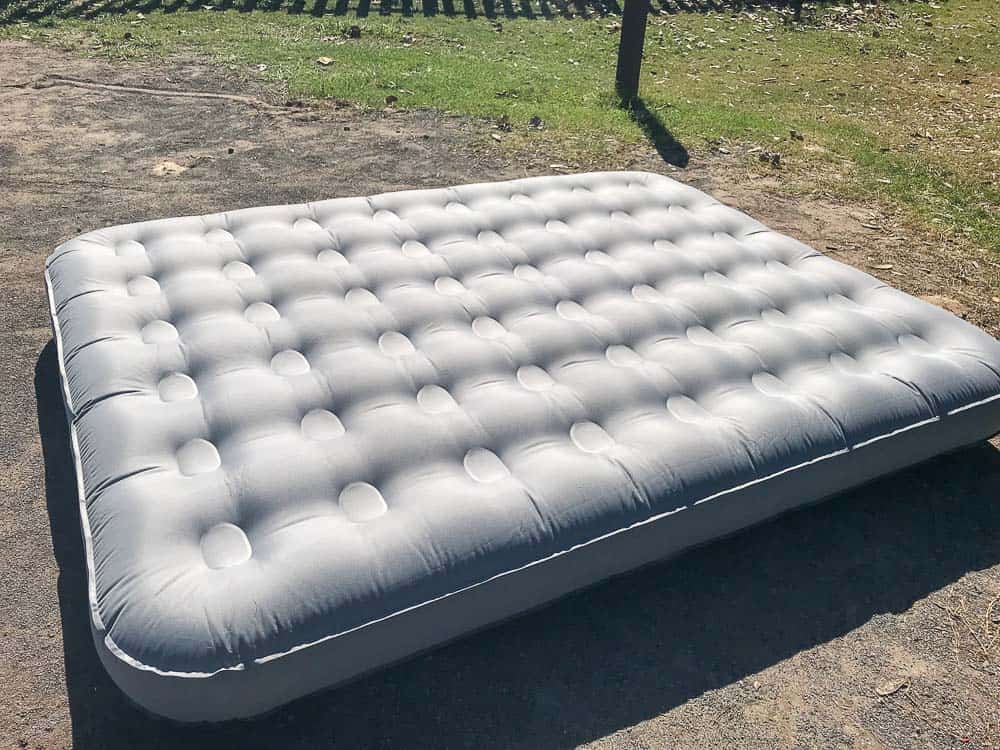 Ok I am not going to lie I usually hate inflatable mattresses and had been considering trading our existing inflatable in for an inflatable camping mat, but this Coleman camping bed may have had me change my mind.
The main reason I hate inflatable beds is that you wobble around all night long like you are on a water bed. Every time you or anyone you may be sleeping with moves, the entire bed moves too! I thought this was just how inflatable mattresses were, so I was really surprised when the Coleman mattress did not wobble around like every other inflatable mattress I had slept on did!
The mattress is quite firm and holds the air in really well. Usually we have to top up the air in our mattress each night, but not the Coleman mattress – we did not top it up over the entire weekend. I also really liked the double lock valve system which helps avoid any air leaking when you are inflating it – this also helps the air escape quicker when you are deflating the mattress.
I also loved how the carry bag remains attached to the mattress – so avoids you loosing or misplacing the bag.
Coleman claim that this mattress is 47% more puncture-resistant, 25% more stretch-resistant and 30% lighter than a standard Coleman airbed of the same size.
Now like any camping mattress I am not going to say I had the best sleep ever on the mattress, but I do feel like I slept better than I did on our existing inflatable mattress – mainly due to not wobbling around all night!
Click here for more information about the Coleman camping bed mattress.
Coleman Sleeping Bags: Kids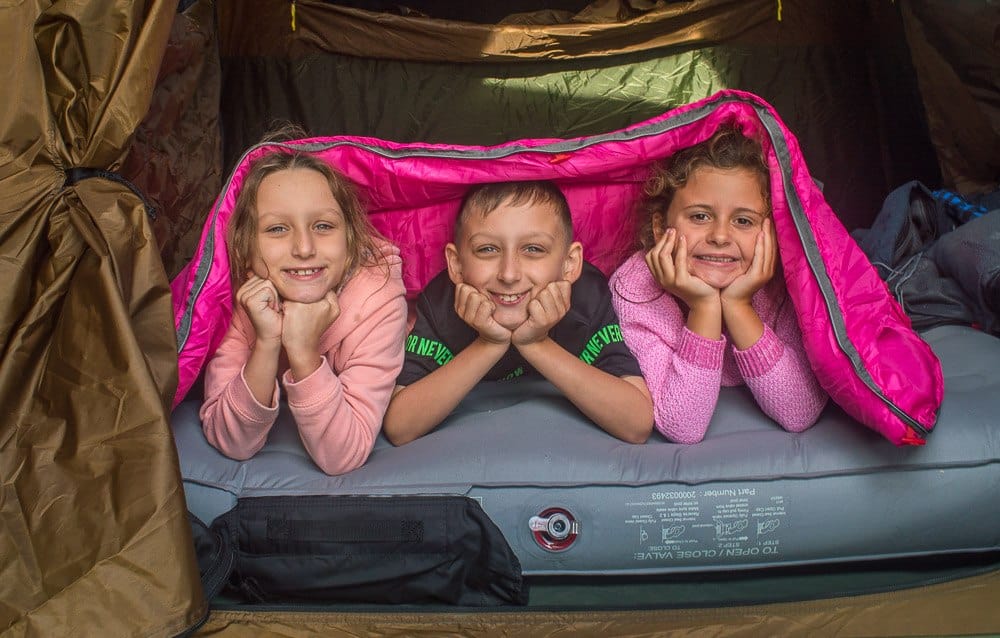 Kids will love the Coleman glow in the dark sleeping bag which comes in two colours – green or pink.
Myla loved the bright pink colour and was happy to trade it for her old Disney princess one! She also loved the little pocket that she could keep her head lamp in at night.
Features of this sleeping bag include:
• Designed to keep you warm even when its 7 degrees C outside;
• Designed for little ones up to 165 cm tall;
• Interior tuck pocket to store small items;
• Machine washable;
• Roll Control System keeps your bag straights while rolling it up;
• Quick Cord System for easy packing without tying;
• Comfort Cuff design surrounds your face in softness;
• ZipPlow zipper for snag free opening and closing; and
• ThermoTech insulation keeps your warm and comfortable.
Click here for more information about the Coleman kids sleeping bag
Coleman Sleeping Bags: Adults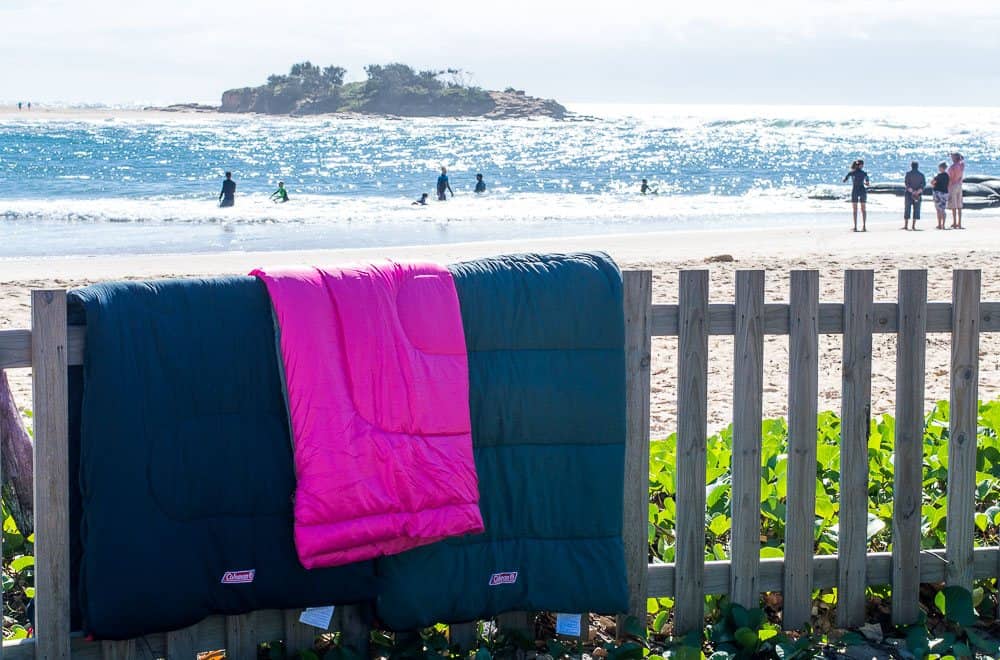 These adults sleeping bags are designed to accommodate varying temperatures to suit everyone's body temperatures as well as a range of climates. The three options in the range are -3⁰C, 0⁰C and 5⁰C.
These multi-season cotton sleeping bags are over sized at 200 x 100 CM, and have a separate foot zip for better temperature control in addition to a foot fleece in the base for extra warmth. There is also an internal pocket for storing small items such as your mobile phone and at only 2.2 kg with a 4-way compression stuff sack they are easy to pack away and portable.
We found these sleeping bags kept us nice and warm throughout the night. We usually just use the one, open it right out and throw it over both Andy and I. This kept us warm enough the first night we were camping but the second night we had to use them both and it worked a treat.
You can buy these sleeping bags here.
For more tips on sleeping bags, click here for our guide on the best sleeping bags for cold weather camping, or here for the best lightweight sleeping bags for backpacking.
Thanks so much for Coleman in letting us trial some of their products. Whilst we were given the products, as always all opinions expressed in this review are our own and have not been influenced in any way.
Click here for a guide to the best caravanning accessories
Disclaimer: Thrifty Family Travels is a participant in the Amazon Services LLC Associates Program, an affiliate advertising program designed to provide a means for sites to earn advertising fees by advertising and linking to amazon.com and its partners. Amazon and the Amazon logo are trademarks of Amazon.com, Inc. or its affiliates.
Affiliate advertising is used throughout this site. These affiliate ads allow me to earn a small commission on any bookings you may make but they do not incur any extra cost to you.