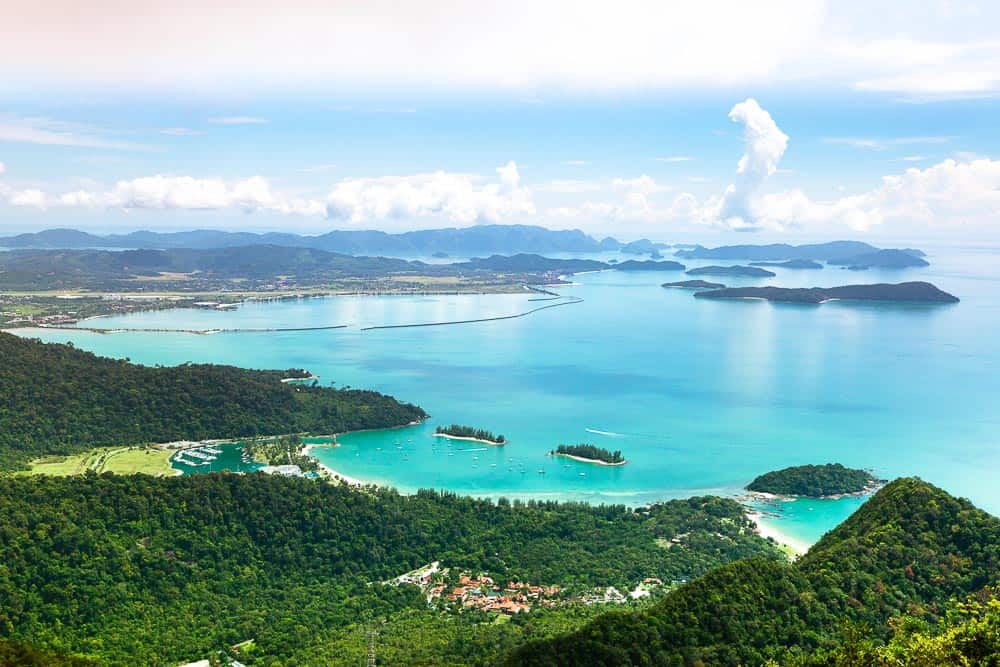 With so many fantastic places to visit in Langkawi and all the great Langkawi attractions it is no wonder it is a major Malaysian tourist destination. Malaysians come here seeking short breaks from the bustle of Kuala Lumpur and western tourists come to these gorgeous islands for their Langkawi holidays. In recent years cruise ships have started delivering significant numbers of day trippers adding a Langkawi tour onto their route.
Located just 30 km off mainland Malaysia, Langkawi mostly consists of lush mountains and beautiful beaches. Perhaps the best time to visit Langkawi is during the driest months of December to March, as this time of year is best for beach and outdoor activities which is one of the most popular activities for the perfect Langkawi itinerary.
Keep reading below to find all our top tips for things to do in Langkawi, the best Langkawi beach to base yourself, where to eat in Langkawi, where to stay and how best to get around.
Heading to Langkawi? Click here to for our guide on the best resorts with kids club & budget hotels perfect for families.
Langkawi Attractions
1. Kilim Geoforest Park – Mangrove Tour Langkawi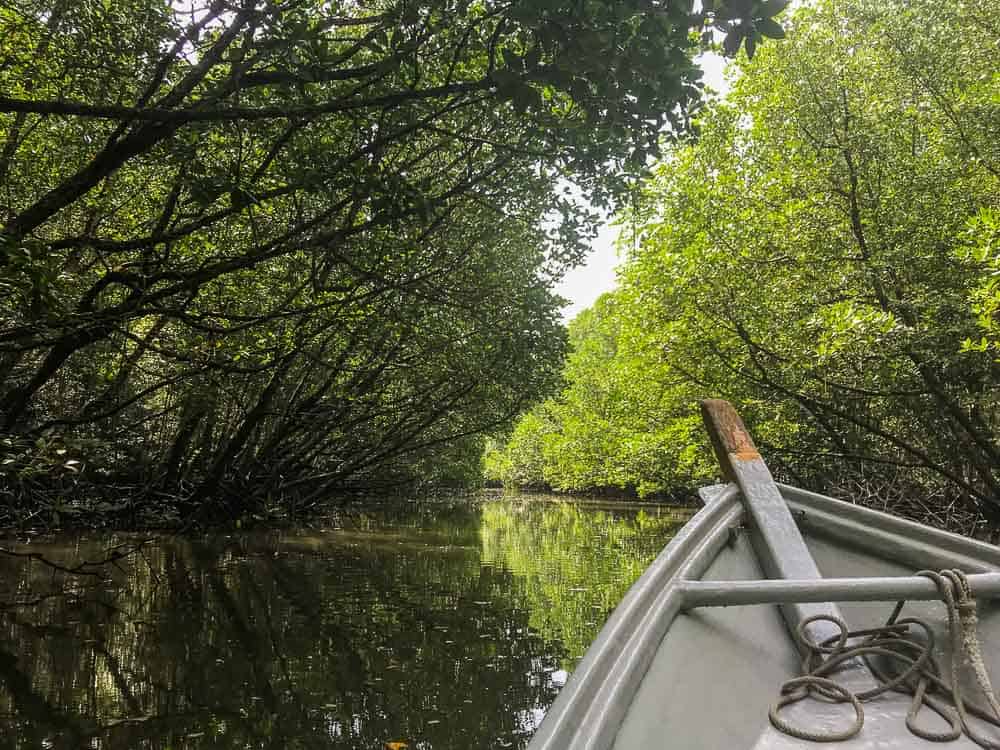 One of the top things to do in Langkawi is to visit the Kilim Geoforest park which is a 100km of nature reserve, with the most jaw dropping scenery – towering limestone cliffs, hidden sandy white beaches and hidden caves among the mangroves.
A trip to Langkawi is not complete without experiencing the Langkawi mangrove tour. The dense mangroves of Kilim Geoforest Park, Langkawi are teeming with wildlife such as giant water monitor lizards, monkeys, mangrove vipers, macaques, monitor lizards, brown eagles, mud crabs and tree crabs. Many tours will take you to visit a bat cave in among the mangroves.
There are various Kilim Geopark, Langkawi mangrove tours to choose from. Taking a kayaking tour is a great way to get off the beaten path and explore the mangroves away from the crowds but a boat tour is also an excellent way to get a feel for the mangroves.
We did our Kilim Geopark tour with Dev's Adventure Tours. We were picked up right on time at 9 am and via a mini van we were transported to the Kilim Geopark. Here we met our awesome guide Cherrios (sorry if I have spelt it wrong!!) and the rest of our group. In our group were two other families and in total there were 6 kids all of similar ages. I thought this was great that they put all the families together.
There were hundreds of tourists all ready to board their boat at the Kilim Geopark – but don't be alarmed, once you get out on the water, you will most likely have the place all to yourself and only see a few other boats throughout the tour.
The first stop on the tour is to visit the bat caves. As you jump off the boat you will greeted by a bunch of super cheeky monkeys. It's highly recommended not to bring food with you off the boat. One of the little boys on our tour had an ice cream, which a cheeky monkey stole within seconds of the boy getting off the boat. We all thought this was super funny, except for the little boy who got a fright and cried. It's fascinating watching these cheeky animals and learning all about them.
Inside the bat caves, its dark and you would swear there is nothing there. That is until your guide shines his torch in various directions on the roof of the caves to reveal hundreds and hundreds of tiny little bats taking a nap.
After the bat caves we took a slow and relaxing cruise through the mangroves, with your guide teaching us all about the region as well as being on the look out for wildlife. During our trip we saw a lovely little King Fisher bird and a snake.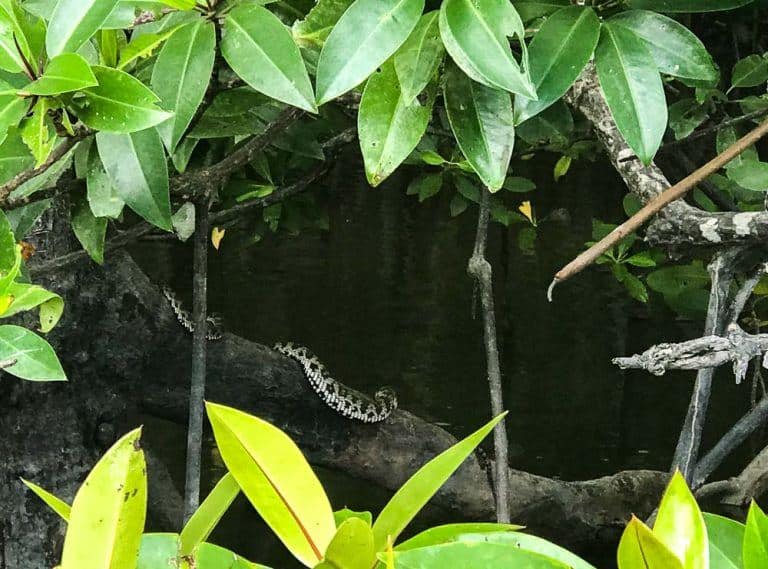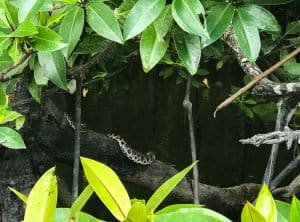 As the waterways open up, we soon found ourselves cruising the Andaman Sea, surrounded by stunning Limestone Cliffs in the gorgeous turquoise sea. We made a stop at a private little beach and had a quick splash in the warm water.
Next stop was to see the famous Langkawi Eagles. These are massive birds, with a large flight span and are just fascinating to watch. Unfortunately other boat tours feed the birds, which do give you the advantage of seeing the bids up close, however as we learnt from our guide, feeding the birds has taught them to be lazy and they no longer hunt for themselves which has seen their numbers in the wild dramatically reduce. I am pleased to stay Dev's Adventure Tours do not feed the birds.
The last stop of the day is for lunch which is in a stunning location, by the limestone cliffs in a floating restaurant, basically in the middle of no where called "A Hole in the Wall". Here we were served Malaysian soup and rice.
We arrived back at our accommodation around 3 pm – which is a great amount of time for a day trip – particularly when travelling with small children. We all really loved our tour of the Kilim Geopark with Dev's Adventure Tours and highly recommend them. Unfortunately with all of the other tours we went on in Langkawi we were mucked around with last minute cancelations etc – but we found the guys at Dev's Adventure Tours extremely professional and highly recommend them for your family tour of the Kilim Geopark.
Most mangrove forest, Langkawi tours last between 4-6 hours and include hotel transfers, boat tour, nature guide, and lunch at a floating restaurant. Prices range from 170RM (around $52) for adults and 110RM (around $40) for children between 5-10 years of age, with infants between 0-4 being free. It's also recommended that you bring good sun protection and towel if you decide to swim. Also wear comfortable clothes, such as T-shirts, shorts, sandals, or sports shoes on your Kilim Geoforest park tour.
You can explore the region via boat or kayak.
Click here for more information or to make a booking for kayaking mangrove tours or here for information about boat tours of the mangroves.
2. Island Hopping Langkawi
Experiencing an island hopping Langkawi tour is a must, to see the beautiful lessor known islands that make up Langkawi, after all there are 100 of them. Taking a Langkawi island tour is heaps of fun and a great way to do some Langkawi sightseeing.
These tours, whether you choose by boat or jet ski will take about half a day. Depending on the tour you take you will see islands near Langkawi like Tanjung Rhu or Beras Besah Beach or stop at the Kilim Karst Geoforest Park! Island hopping has to be one of the best things to do in Langkawi.
We were supposed to go island hopping with Naam Adventures from Paradise Island 101. I say supposed to as no sooner had we jumped on board our jet skis and taken off we had to turn around as Myla was freaking out. It's unfortunate that recently she was involved in a rather traumatic experience in the ocean (which I will leave to explain for another day) which seems to be fresh in her mind. So we turned around, but we were super impressed when the guys from Naam agreed to take Andy and I out one at a time to have a go on the jet ski's.
Our guide took us out past Cenang Beach and around a few islands back to Paradise Island 101 – the whole journey took around 30 minutes. It was so awesome – absolutely exhilarating riding the jet ski as fast as it could go across the perfectly still water, past stunning beaches and gorgeous islands. Langkawi really is the place for jet skiing – the water is so still it resembles glass! No worries if you have never rode a jet ski before, the guys at Naam will show you everything you need to know – its really not that difficult and you will feel super cool doing it!
Click here to check prices and book a jet ski tour or here you want to check prices on a boat tour.
3. SkyCab: Langkawi Cable Car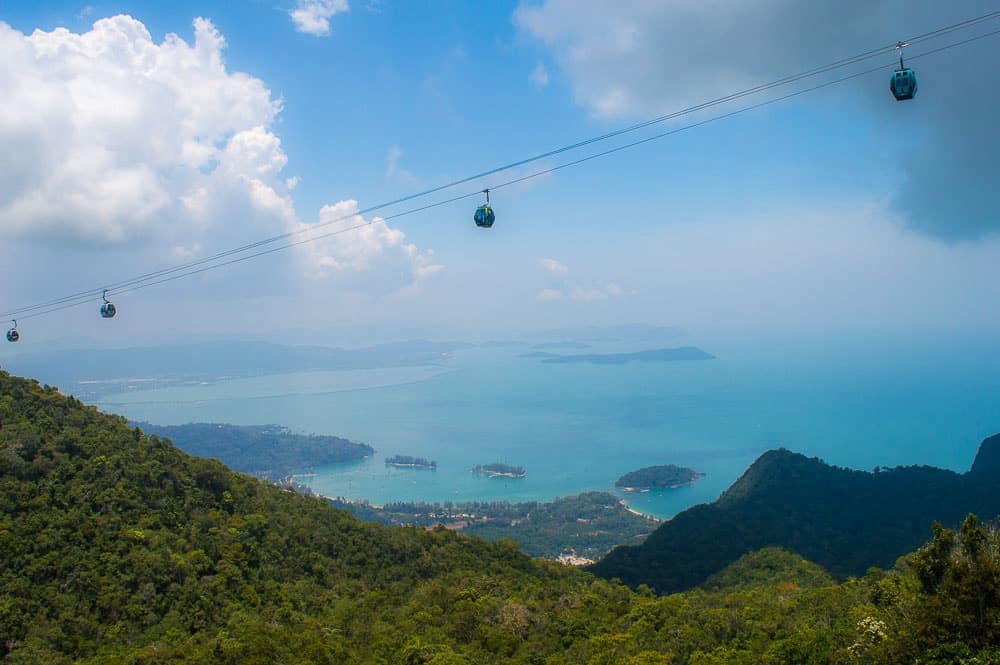 To the West of the Island near Pantai Kok, is the SkyCab Langkawi cable car. The Cable Car goes up the second highest mountain called Gunung Machinchang and so it has incredible views. Langkawi SkyCab is one of the most popular island attractions and is a popular Langkawi tourist spot.
Rising high above the forest, you'll travel over 1.5km before you reach the middle station. The cliff face is an imposing 650 metres above the sea level and yet your skycab is still climbing getting dramatically close to the rocks. Further still you climb almost vertically into the clouds almost- even though terrifyingly awe inspiring. It's no wonder this attraction is one of the top 10 things to do in Langkawi.
Once you've reached the top, there are a series of platforms where you can take in the views, and on a clear day, see all the way to the coast.
The Langkawi cable car operating hours are 9.30 am to 7 pm daily, and a Langkawi cable car ticket price can start at RM 30 per person, although you can purchase combo tickets for the other Langkawi activities in the area.
Click here to book your tickets for both the SkyCar and SkyBridge (see more information below) online.
4. Langkawi SkyBridge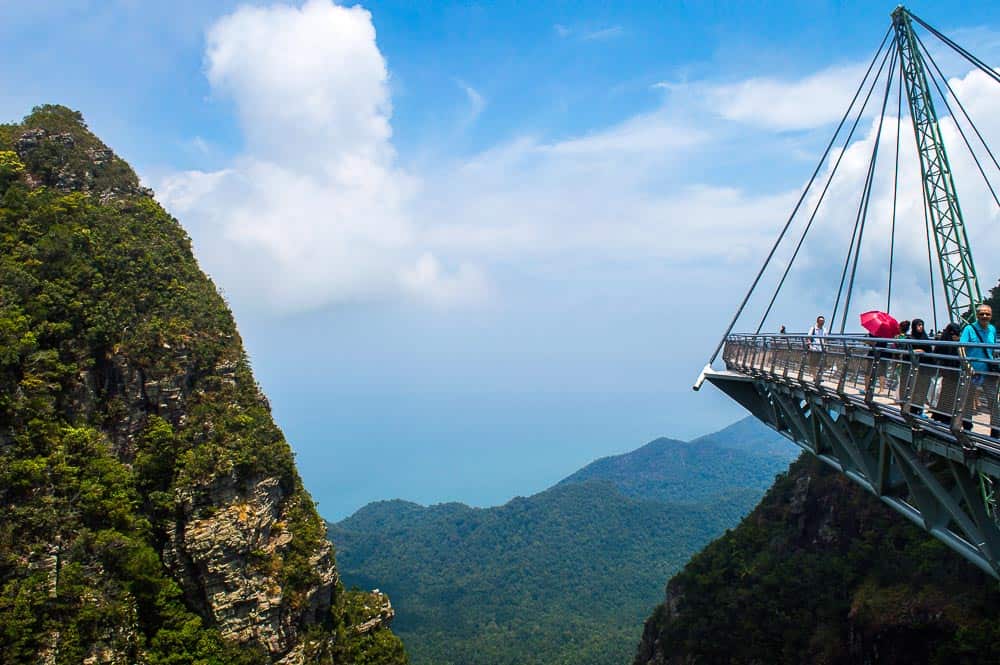 After your Skycab ride, once up top you should head for the Langkawi SkyBridge which is another one of the Langkawi highlights. The Langkawi skybridge is the longest free span and curved bridge in the world. It is 2,000 feet above ground and is 400 feet long and it hangs between two mountains above the jungle and there is a small section that has a glass walkway beneath your feet. The views from here are absolutely spectacular and given it is a suspended bridge you will feel the slight movement from side to side.
Langkawi sky bridge price per ticket is RM5.00 for adults and RM3.00 for children. Tickets can be purchased at SkyBridge ticketing counter at the top Station. Alternatively click here for a Skywalk Langkawi guided tour which includes the price of the Skywalk Langkawi ticket.
5. 3D Art Museum
One of the more playful and imaginative Langkawi tourist attractions is the Interactive 3D Art museum, which is one of the largest in the world, featuring many elaborate paintings & murals offering optical illusions in various themes. Visiting this museum is such a fun memorable experience and a must to do in Langkawi with kids. Be sure to have a camera handy as you will no doubt want to take fun, posing photos with these illusions, providing many hours of laughter. As a bonus you can also buy multi passes combining the Skycab, Skybridge and museum which works out slightly cheaper than buying each ticket individually.
We really wanted to go here and heard great things from others, but unfortunately we just ran out of time.
6. Paradise Island 101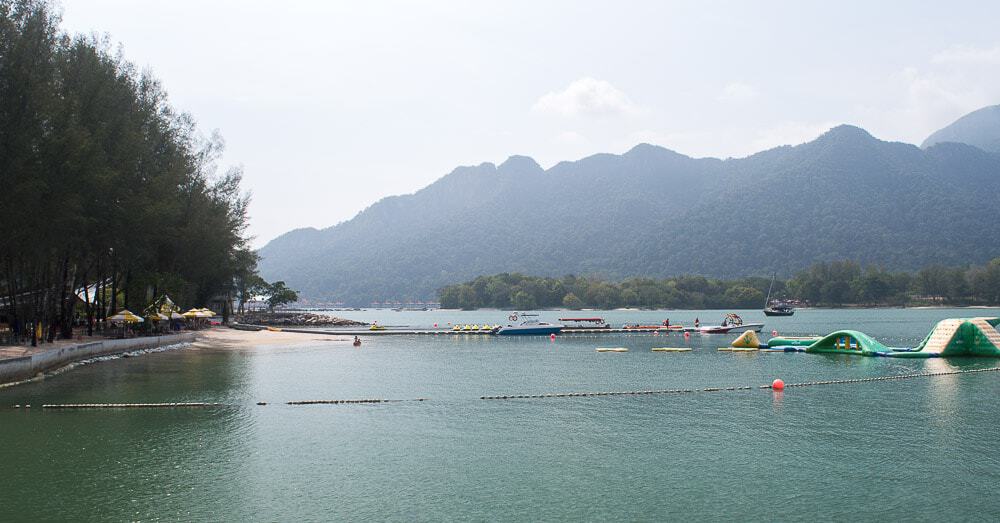 As mentioned earlier there are 100 natural islands to visit amongst the places in Langkawi, however there is also a manmade island known as Paradise Island 101 created by the Naam group. This Island offers Langkawi beach activities as well as water activities in Langkawi such as water sports, a beach bar and even a floating water theme park, offering so many fun Langkawi activities.
Set near Pantai Kok, this family-friendly attraction is a great day out if you are looking for things to do with kids or if you yourself are a big kid at heart. There are many activities to choose from including jet skiing (180 MR for 20 minutes) , kayaking (20 MR), zip lining across the island (20 MR), banana boat rides (20 MR) and a huge inflatable water park (included in entrance fee). Once you have had enough of the activities you can relax and enjoy some lunch or watch the sunset from the Paradise 101 bar and sunset viewing platform.
We actually visited Paradise Island 101 twice – once for the jet ski tour and as well as the sunset cruise (see below). Whilst we had a great time on the island, you really can do everything that you can do here on the beaches. However what I did like was that the island is fairly quiet so it is nice to have your own space to relax.
If you book through the Naam group website it will cost you 240RM per adult and 120RM per child, this price will include, a shared round trip shuttle bus, boat transfers, a welcome drink, unlimited use of Aqua Park, use of kayaks and volleyball activities.
This island has bathroom facilities including showers and changing rooms. Getting to the island is only a 5 min speed ride from Langkawi mainland and is one of the fun family friendly places to visit in Langkawi.
7. Sunset Langkawi Cruise
There are a few different sunset cruises to choose, but for the best sunset cruise Langkawi experience, choose one that includes dinner.
Unfortunately we weren't able to book a sunset cruise with dinner but we did get to go on the hour cruise with Naam Adventures from Paradise Island 101. The sunsets really are beautiful here and with the backdrop of the mountains and lush greenery its just stunning. The cruise we went on was supposed to be an unlimited drinks tour, but unfortunately after 1 glass of wine they had run out! Never mind the sunset was totally worth it!
I would recommend taking a sunset dinner cruise. These Langkawi cruises include round trip transfers, BBQ dinner, alcoholic and non-alcoholic drinks on board a luxurious yacht. Adults are around $90 each and children around $40, infants under 3 are free. If this sounds just wonderful to you, click here to double check current pricing or to make a booking.
8. Hang out on the Beach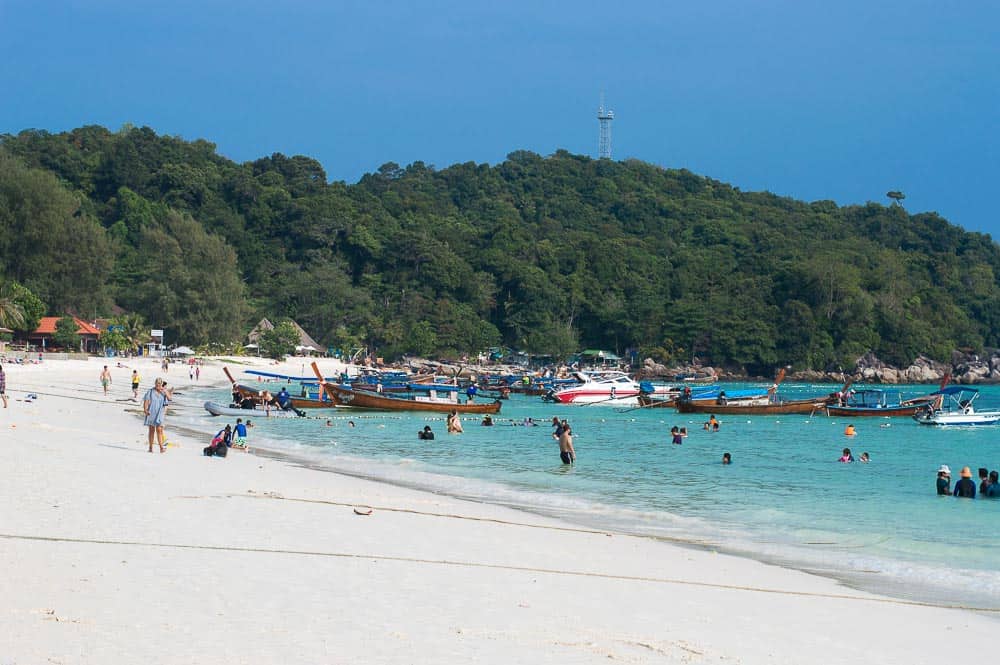 Whilst there is so much to do around Langkawi Island, you could easily spend your entire holiday on the beach. The beaches are stunning here and with a variety of water sports on offer, various beach bars and sun loungers there really is no need to go anywhere else!
The ocean is just awesome for swimming. The water is calm, warm and clean perfect for swimming. If the resort you are staying at has them, grab a sun lounger, if they don't, no worries as there are plenty you can hire along the beach.
As the sun goes down, move onto one of the beach bars and into position for a speculator sunset! Once the sun goes down hang around as there are usually some excellent fire dancers ready to entertain you will with their skills.
9. Visit Pulau Payar Marine Park
Spend the day exploring the stunning Pulau Payar Marine Park, said to be one of the most beautiful marine parks in all of Malaysia.
Located only 1 hour by speed boat from the main Langkawi Island, the marine park is surrounded by coral gardens and is home to a diverse range of corals and tropical marine life making it perfect for snorkelling or scuba diving. Other activities on a day trip to the marine park include swimming with baby sharks, visit the reef platform in the middle of the ocean.
Day trips start at $56.90 per person and include transfers, ferry, lunch, snorkelling gear and marine park fees. Click here to explore the various options available, to check prices and to make a booking.
10. Langkawi Night Markets
Looking for things to do In Langkawi at night. There are great Langkawi night markets to visit every night of the week, all starting around 5.30 pm and run late into the night. Visiting all or one of these markets are amongst the cheapest Langkawi night activities – well depending on how much you wish to buy or eat of course!
The places to visit in Langkawi at night, for each market are listed below:
Monday – Ulu Melaka Market
Tuesday – Kedawang Night Market
Wednesday and Saturday – Kuah Langkawi Night Market
Thursday – Temoyong Night Market
Friday – Air Hangat Night Market
Sunday – Padang Matsirat Night Market
If you are up for some Langkawi shopping, items for sale at the markets include local produce, handbags, wallets and household supplies; and you will be sure to pick up a bargain or two.
The food available is freshly prepared and incredibly cheap, and whatever dish or snack you choose, you will not be disappointed with the quality and price, with most dishes priced between RM4 and RM10. There aren't many seating areas in the Langkawi night market to sit down and eat, so I would suggest either buying little snacks to eat as you wonder around or buy a selection of food to take back to your accommodation after your shopping and browsing.
A visit to a Langkawi market is a must do past time to add to your holiday itinerary, to meet the locals and experience some local culture.
11. Langkawi Water Sports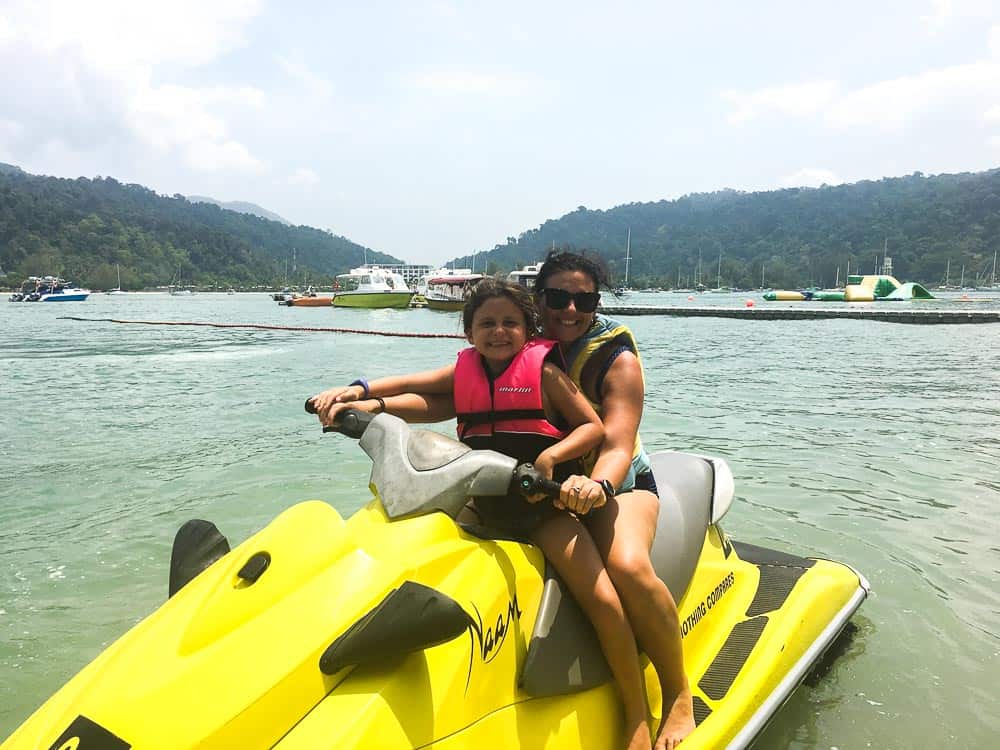 Langkawi is the perfect destination to get involved in Langkawi water sports whilst taking in the beauty and views of the islands. Popular water sports include parasailing, jet skiing, and diving. You can understand why water sports are so popular among tourists in Langkawi as the water is warm, super calm and prices are affordable, making it one of the best things to do in Langkawi for family fun.
Whether you decide to take part in parasailing in Langkawi, jet skiing or experiencing the beautiful unforgettable wonders Langkawi diving has to offer, you will not be disappointed. However please note that if you visit Langkawi during wet season- many water activities could be cancelled or postponed, so make sure you take the season into consideration when planning your trip.
Prices are fairly similar across the various beach vendors with prices around the following:
Jet Skiing: 120 MR for 15 minutes and 180 MR for 30 minutes;
Banaba Boat Rides: 25 MR per person;
Donut Boat Rides: 180 MR; and
Parasailing: 120 MR per person from beach or 300 MR per person from boat.
12. Ziplining
For one of the fun things to do in Langkawi and you are keen for an adrenaline rush, then ziplining through the rainforest on a Langkawi family trip should be added to your list of activities.
Click here to check out prices and Zip lining options.
13. Rainforest Trek
As the Langkawi islands are made up of lush rainforests dating back 500 million years, the best place in Langkawi to visit and experience the wildlife is by participating in a rainforest trek. On a trek you might see Malaysian wildlife such as a vast array of different species of birds and hopefully flying lemurs, mouse deer, wild boar, and civets, as well as the beautiful and interesting exotic plants.
There a few different treks to choose from ranging in price. Most treks do not include food, so you will need to take snacks/packed lunch and take some insect repellent too. All the treks will provide some water and a tour guide. The rainforest is one of the popular Langkawi places to visit.
There are a range of tour options available from a 2 hour morning trek, an evening trek, as well as a 3 hour – 6 kilometre trek. Click on each tour to learn more, see pricing or to make a booking.
14. Bird Watching
There are over 260 species of birds that live amongst the Langkawi rainforest and over the islands. So, if you are interested in these beautiful creatures then adding bird watching to your list of activities is recommended. Most bird watching tours last 4 hours and are inclusive of transfers, water, guided tour guide and the use of binoculars.
Click here to find out more about tours, check pricing or to make a booking.
15. Lagenda Langkawi
One of the more interesting places in Langkawi to visit is this well-manicured and kept park, called Lagenda Langkawi or its official name is Lagenda Langkawi Dalam Taman.
Located beside the Kuah jetty, near the waterfront. This beautifully landscaped folklore themed park is full of colorful statues, with signboards in English detailing the myths associated with specific sculptures throughout the park. The entire park covers a 50-hectare compound and has a total of 17 colorful sculptures depicting Langkawi legends and myths of heroic giants, mythical birds, evil ogres and beautiful princesses. To see the entire park takes up a good chunk of a day and certainly one of the more interesting places to see in Langkawi.
16. Underwater World
This is one of the popular Langkawi tourist places to visit, being one of the largest aquariums in Malaysia. Housing around 4,000 different aquatic species inside the six-acre facility. This attraction is divided into different sections: Tropical Rainforest, Temperate, and Sub-Antarctic, and you will learn about the different species in each as you navigate your way through. The gigantic, 15 meter-long glass tunnel that you walk through is certainly a highlight being able to see sharks, giant stingrays, groupers, and green turtles from all different angles.
Click here if you wish to purchase tickets online for $12 AUD per person.
Best Time to Visit Langkawi
High Season: The best time to visit Langkawi for an awesome Langkawi trip is during the driest months of December to March, as this time of year is best for beach and outdoor activities and water sports. The temperatures would be at the highest during this time of year so to be sure to constantly slip, slap, slop on the sunscreen.
Mid-season: Mid season is neither a dry nor rainy time to visit Langkawi, it spans from mid-April until August. The mornings are sunny, but the afternoons can be overcast, and may have some short spurts of rain in the afternoons and evenings. Many still visit at this time of year as there are not as many tourists as high season making everything easily accessible and shorter ques on attractions and less wait times in restaurants.
The Low (wet) season: September to October is a period most tourists tend to avoid when booking a holiday in Langkawi, as the normally calm seas can become rough thus limiting boat tours and water-based activities. However even during the rainy season, it rains only for about 2 hours a day but usually in the late afternoon and at night. September is also one the coolest months with average temperature around 27°C. So, if you don't mind a bit of rain and want less tourists around, want cheaper accommodation and would love to see the rainforests in full bloom & greenery, as well as wanting to avoid the scorching sun, then this is the best time to visit Langkawi.
Lankgawi Beaches – Where to Stay
Pantai Cenang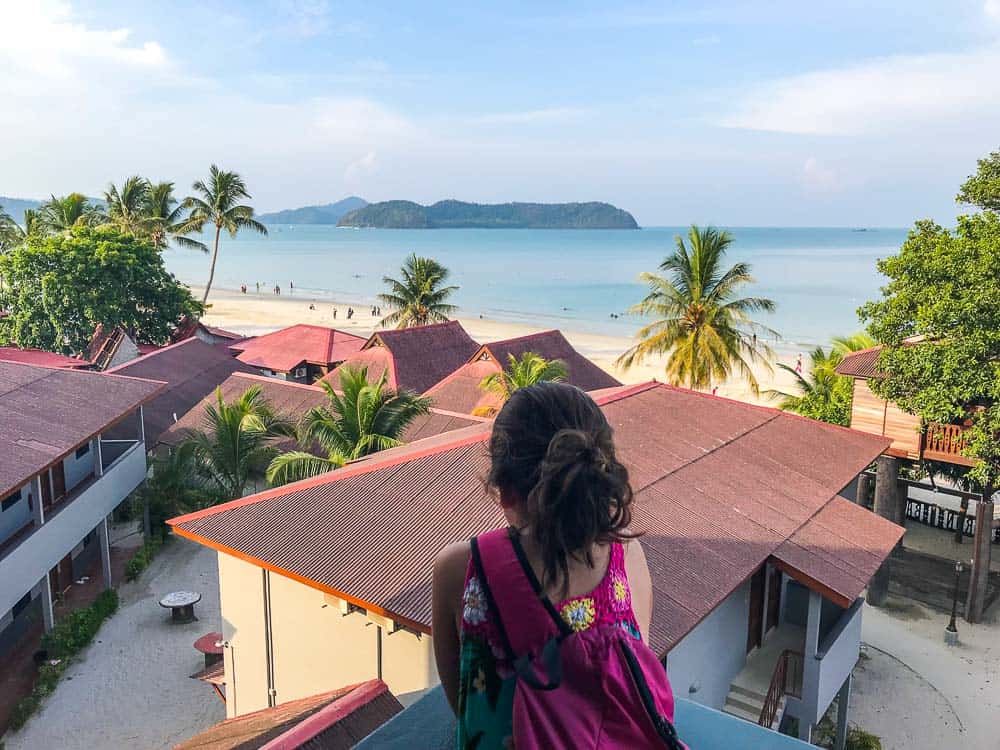 Located on the western coast of Langkawi, with its long, curved stretch of white sands, its picturesque setting of emerald blue waters, overlooking several islands and reefs it's no wonder why it is considered the most popular and best location to stay in Langkawi. Hence, this area has a vast amount of beach lined hotels & resorts to choose from, as well as beach bars and restaurants.
We stayed at Cenang Bach and highly recommend it for families (see below details on where we stayed). The beach here is just stunning and the ocean is calm and warm perfect for families. Despite being the most popular beach in Langkawi, we still found it to be relatively quite compared to other popular South East Asian beaches.
Everything you need is on Cenang – beach bars, restaurants, resorts, budget hotels, shops, massage parlors and convenience stores.
Where We Stayed – Malibest Beach Resort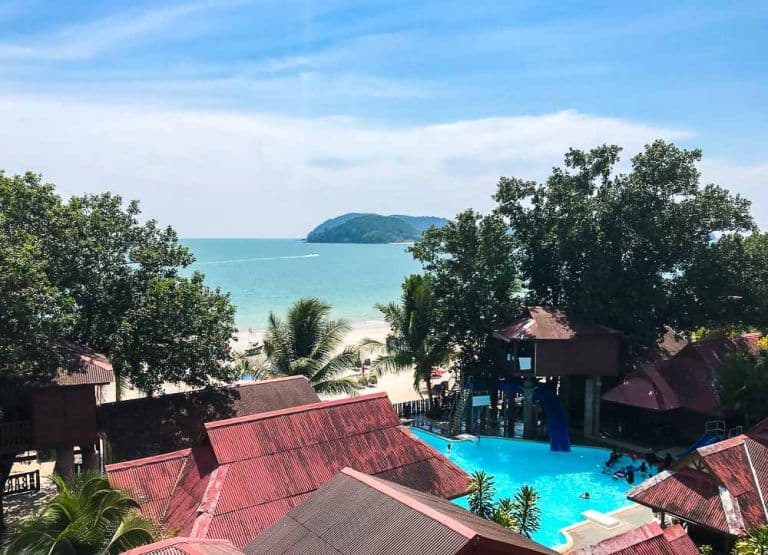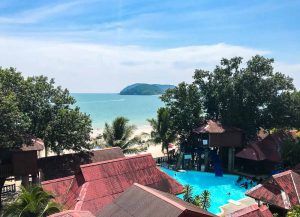 We stayed at the Malibest Beach Resort a great budget hotel located on a great part of Cenang Beach.
The resort itself is nothing flash, but at around $50 AUD per night for a room with two double beds and a stunning view, it was well worth it.
The resort has a nice swimming pool right on the beach and 3 water slides which the kids just loved! Myla would beg us from the moment she woke up to go there!
There is no restaurant at the resort, but the resort is surrounded by plenty of places to eat. See below for our tips on where to eat. There is also a great massage parlour just downstairs.
The rooms are nothing fancy, but our room had two comfortable double beds, good size bathroom, and plenty of space in the room for our things and to move about. There was also a fridge and a stunning view!
One thing I should mention is the staff at the reception were terribly unfriendly and bordering quite rude actually! But apart from checking in we really didn't need to deal with them.
If you are looking for a great budget resort with a swimming pool in a perfect location, then I can't recommend Malibest enough.
We booked out our accommodation through Booking.com, at the time of publishing the rates were $43 AUD for 2 adults and 2 children in a room like ours, which had 2 double beds.
Click here if you want to check pricing or to make a booking.
Pantai Tengah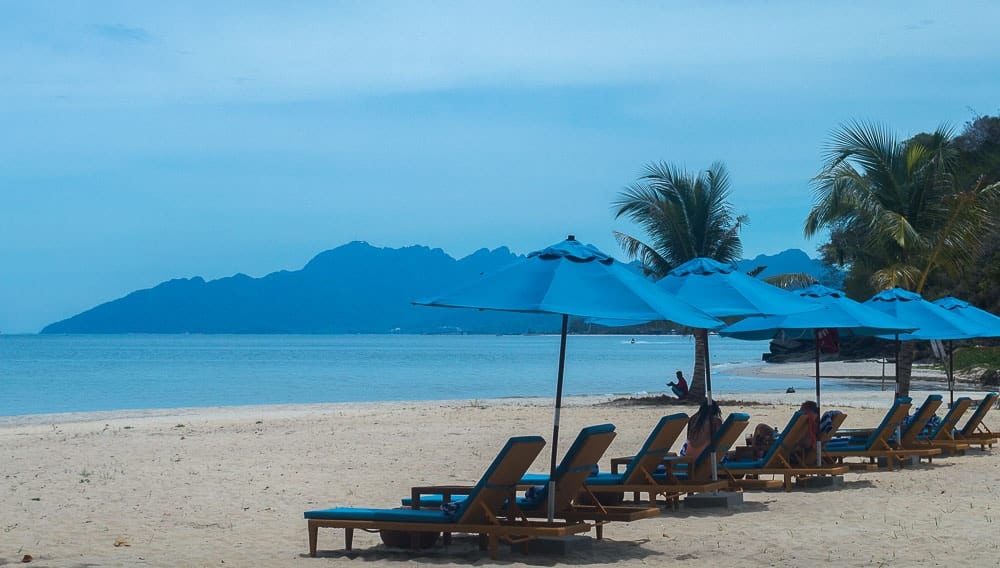 This Langkawi beach is also on western coast line, just south of Pantai Cenang, it is not as crowded but just as beautiful. There are several good hotels and resorts, as well, nice restaurants, and some shops in this area. However, if you want a larger choice Cenang is mostly in walking distance from here.
Where We Stayed – Holiday Villa Resort
We stayed at Tengah Beach at the Holiday Villa Resort for a few nights before heading home. It certainly is much quieter down here, with only a few resorts and budget accommodation. There aren't really any beach bars here, apart from what the resorts offer, however there are still a few good restaurants on the street side as well as a few massage parlours.
The Holiday Villa Resorts is far more luxurious than Malibest, however it is still a fairly good value resort if you want first class facilities.
The Rooms are extremely spacious, with lovely bathrooms and nice balconies. We stayed in a room with a massive bed and a sofa bed where Myla slept.
Facilities include a huge pool as you can see above, with a swim u Click here to our complete guide on visiting Koh Lipe
Telaga Harbor
From Telaga Harbor, the ferry schedule from Langkawi to Koh Lipe operates between the months of October to May. Getting the ferry from Langkawi to Koh Lipe takes 90 minutes and operates as follows:
Langkawi (Malay Time) Koh Lipe (Thai Time)
9.30 AM 10.00 AM
12.30 PM 13.00 PM
Koh Lipe (Thai Time) Langkawi (Malay Time)
10.30 AM 1.00 PM
4.30 PM 7.00 PM
The Langkawi to Koh Lipe ferry price was between 110.00 to 128.00 RM.
The boat from Langkawi to Koh Lipe (from Telaga Harbor) is pictured above. This is the ferry we took over to Koh Lipe and found the ride very comfortable. You are required to hand over your passports before boarding, which is a bit scary, you then obtain them at the immigration centre once getting to Koh Lipe. The whole process is fairly straight forward and very well organised.
We booked out tickets from one of the travel agencies in Cenang during our time in Langkawi. Ticket prices include pick up from our hotel to the harbour. For our journey from Koh Lipe to Langkawi we booked our tickets at a travel agency in Walking Street once we were in Koh Lipe.
Kuah Jetty
For those wondering how to get to Koh Lipe from Langkawi when the ferry is not operating from Telaga Harbour, you will need to take the ferry from Kuah Jetty. The current time table is as follows:
Langkawi (Malay Time) Koh Lipe (Thai Time)
9.45 AM 10.15 AM
2.30 PM 3.00 PM
Koh Lipe (Thai Time) Langkawi (Malay Time)
11.00 AM 1.30 PM
3.45 PM 6.15 PM
At the time of publishing the Langkawi to Koh Lipe ferry price was 118.00 RM per adult and 100 RM per child.

Getting Around Langkawi
There's no public transport as such in Langkawi, therefore, your options for getting around Langkawi are limited to hiring a car, motorbike, bicycle or using taxis/Uber.
Taxis are fairly cheap and easy way to get around. We took a taxi from the airport to Cenang which cost 25 MR (if you prefer to arrange transfers in advance click here to book private airport transfers from $16.70 AUD), we also took a taxi to the cable car which cost 35 MR each way. There is no need to negotiate a price for a taxi nor are they metred – but the prices are set and are consistent, so there is no need to be concerned about being ripped off. Uber and Grab is also widely used in Langkawi and a really simple and cheap way to get around and even cheaper than taxi's.
If you would like your own transport to get around you can hire a car or motor bike. Car rental is around 50.00 RM a day, whilst motor bikes are around 35 RM a day.
Other options include hiring a car and driver for the day, prices start at just $52.90 for 4 hours – click here to make a booking.
Thanks to Dev's Adventures and Naam Adventures for hosting us during our time in Langkawi. Of course as always, all opinions and views expressed remain my own and have not been influenced in any way.
Please note that this post contains affiliate links, which means that should make any bookings using my links, I may be paid a small commission at no extra cost to you. This allows me to provide this information free of charge – thank you for supporting our website.
Want to save this information for later?
Click on one of the images below and save it to Pinterest.