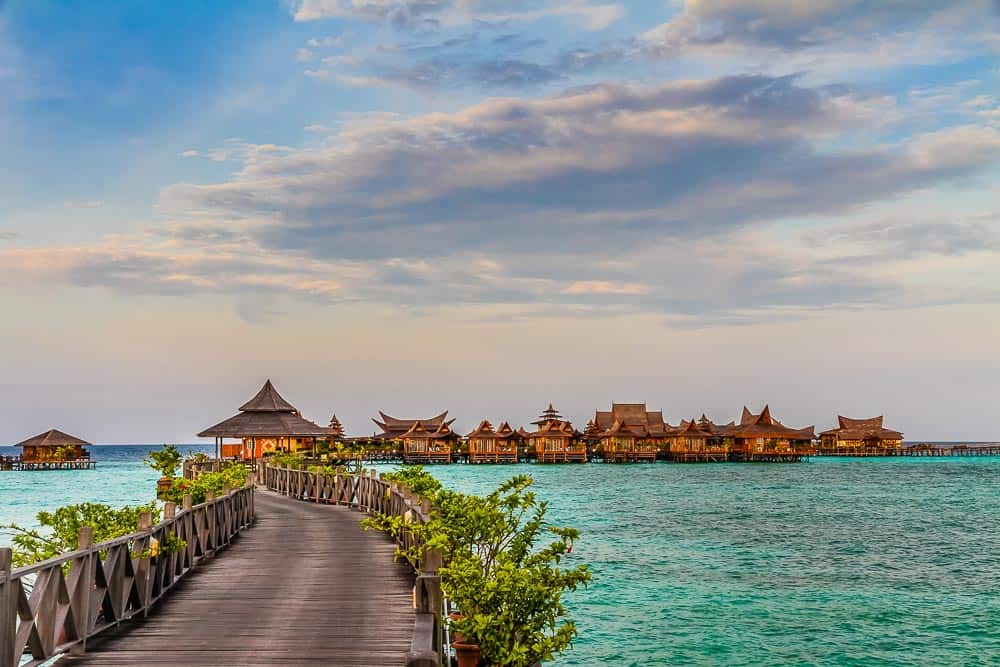 There are so many wonderful places to visit and things to do in Malaysia with kids. The landscape is diverse with bustling cities, stunning countryside, jungles full of wildlife and gorgeous tropical islands. Whether you have 1 week or 1 month you will find plenty of things to do in Malaysia with family.
To showcase just how wonderful Malaysia is as a family destination – I asked a few travel blogger friends to help me out and share some of their favourite things to do and places to visit in Malaysia with family. In this post, we cover 22 very different but equally wonderful destinations in Malaysia to provide you with some inspiration of where to go in Malaysia with kids.
This post may contain compensated links. Please refer to my disclaimer here for more information.
Things to do in Malaysia with Kids
There are two sections to the country of Malaysia – Peninsular Malaysia, which is south of Thailand and then there is East Malaysia which is located on the northern part of Borneo Island. To help understand where all these places to visit in Malaysia with kids are – I've split the locations between the Peninsular and Borneo. I've further split the locations on Peninsular Malaysia to Kula Lumpur (the capital of Malaysia), north of Kuala Lumpur, South of Kuala Lumpur, and the Peninsular East Coast. This should help with your itinerary when your planning what to do in Malaysia with kids.
Kuala Lumpur
1. Petronas Twin Towers
Contributed by Nicolette from Semi-Budget Travel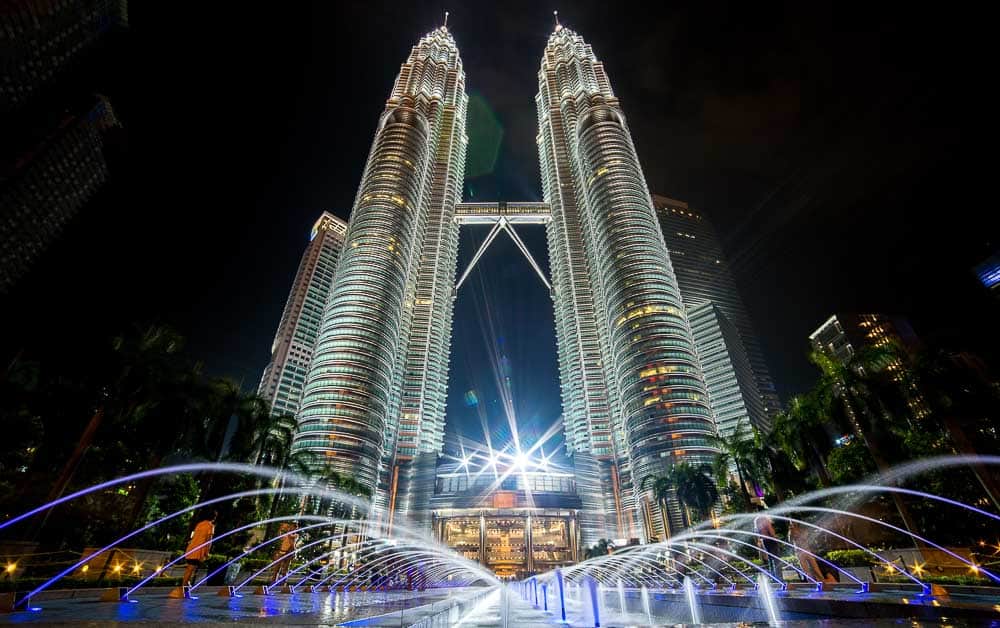 When it comes to places to visit in Kuala Lumpur with kids, a visit to the iconic Petronas Twin Towers must be on the list. The two 452-meter high towers are shaped like 8-pointed stars, and they are magnificently connected by a Skybridge at 170 meters up. Tickets can be reserved ahead of time for a trip to the Skybridge and the observation deck on the 86th floor. The duration of the tour, between 45 minutes and one hour, is perfect for families. Kids will love zipping up the elevators and taking in the sky-high views of KL.
We recommend staying at the Ascott Kuala Lumpur. It is located right at KLCC, for easy access to all the area offers. Two-bedroom, two-bath well-appointed rooms are great for families who want a little extra space. But, no matter where you are staying in Kuala Lumpur, the train system will get you to the twin towers. Just make your way to the KLCC Station. Nearby KLCC Park is also one of the great places for kids in Kuala Lumpur, with its 2-acre playground, expansive wading pool, and nighttime illuminated water fountains set to music.
Click here for family-friendly accommodation in Kuala Lumpur.
2. Kuala Lumpur City Centre
Contributed by Sharon from Dive into Malaysia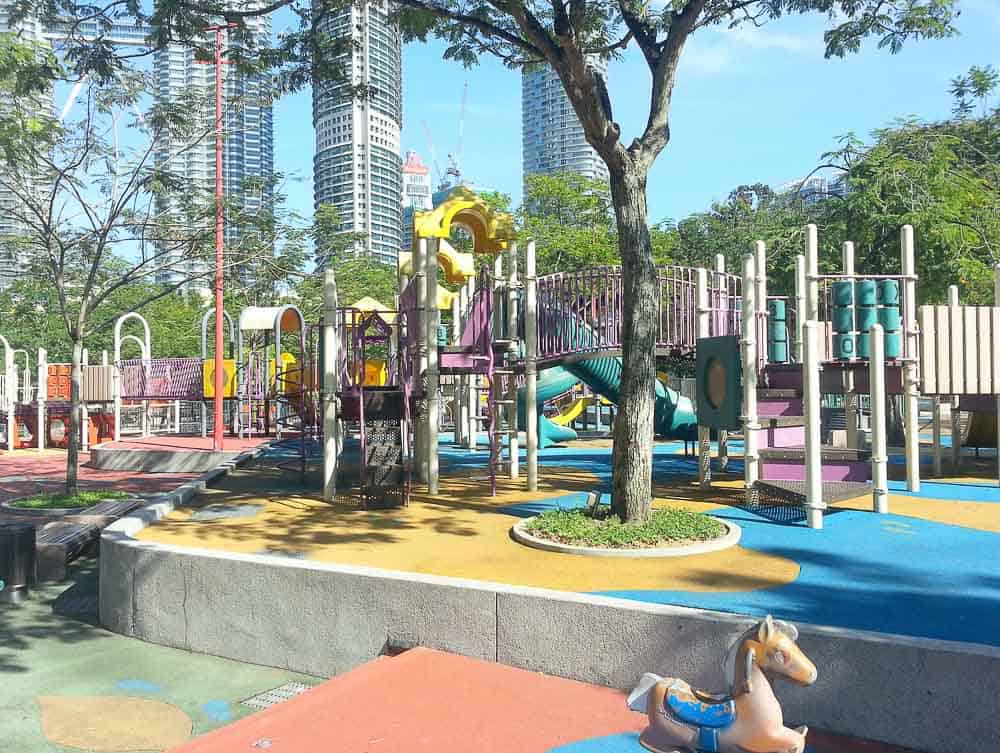 If you're wondering what to do in KL with kids – heads straight to KLCC (Kuala Lumpur City Centre) which is right in the middle of Kuala Lumpur and right in the middle of KLCC is the large KLCC Park which is one of the great places to visit in Malaysia with kids.
This park is big with great views of the iconic Petronas Twin Towers. However, the best bit is the huge playground. It seems to go on and on and on with tons of play equipment. There is also a water playground pool area perfect for cooling down in the hot temperatures.
Surrounding the park are lots of fun family activities with KL Aquaria (big aquarium) and Petrosains Discovery Centre (science museum). There is also the big Suria shopping centre under the Twin Towers which is the perfect place to find lots of food options. You could easily spend a whole day in this area.
Kuala Lumpur is great to visit at any time of year and I recommend you visit KLCC Park in the late afternoon which is when it's a bit cooler and many local families will be here giving it a great vibe. It's easy to get here from anywhere in Kuala Lumpur and there is a train station under the Towers.
3. Batu Caves
Contributed by Dani from Diapers in Paradise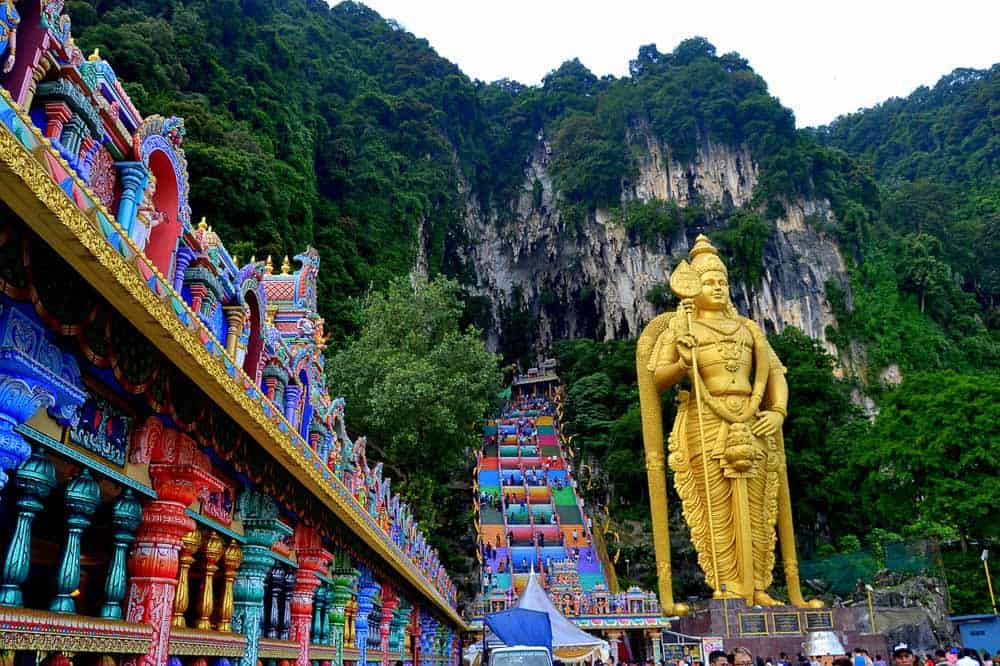 The Batu Caves, located about half an hour north of Kuala Lumpur is another one of the great places to visit in Kuala Lumpur for family. This cave complex sits at the top of 272 stairs, and houses several ornate Hindu shrines. But the most impressive feature is the 140 ft. statue of Lord Murugan that stands next to the steps, visible from far outside of the temple complex.
272 stairs might seem like a lot for kids to climb, but there is plenty of room to take breaks – and indeed, plenty of people stopping to rest along the way.
Children will be delighted when they reach the top to find several chickens and monkeys roaming around, looking for hand-outs. Do be aware that the monkeys can bite, so keep an eye on young kids.
To get to the complex, you'll wade through a massive souvenir and cheap goods market, but the view once you make it to the top of the stairs is worth all of it! The caves themselves are very interesting, full of shrines and fruit bats, with stunning scenes of sunshine pouring in from above.
We found this to be our favourite thing to do on a day in Kuala Lumpur with a baby!
4. KL Forest Eco Park
Contributed by Lee from The Travel Scribes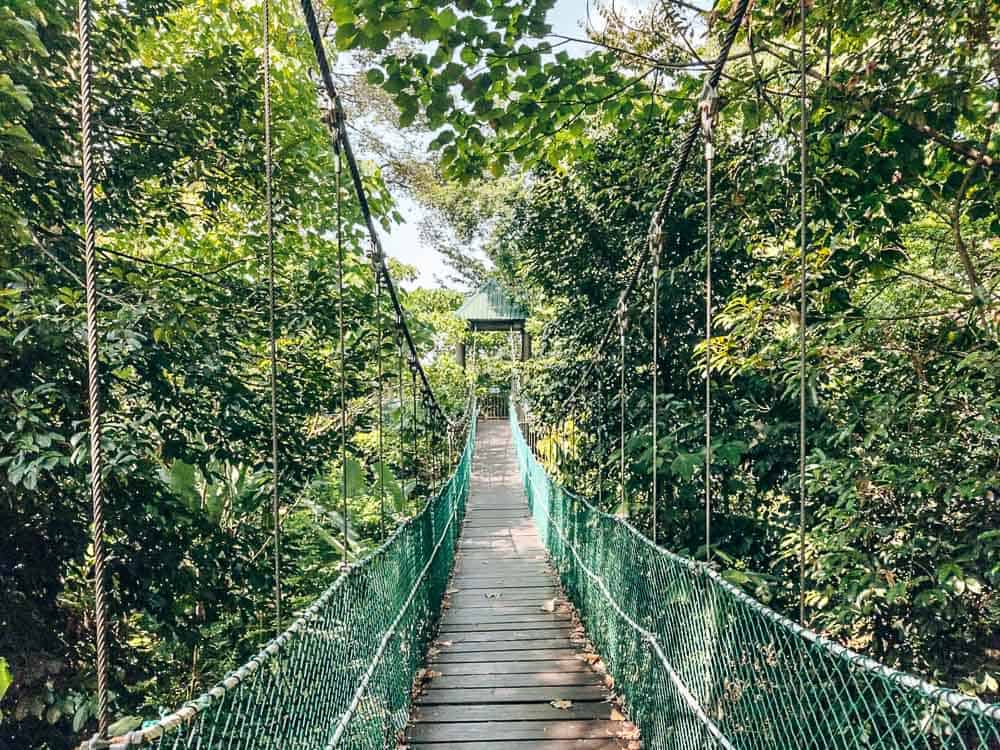 Looking for places for kids in KL to take a respite from the many modern shopping malls and bustle of Kuala Lumpur's busy streets? Head to the KL Forest Eco Park, an oasis of green in Malaysia's concrete capital.
The park, formerly known as the Bukit Nanas Forest Reserve actually dates back to 1906, where an area of about 11, 000 square metres was set aside for a tropical rainforest. It's now one of the only large green spaces in the city and the only remaining rainforest in the town itself.
The park is fantastic for kids: saunter around the paths to see a plethora of trees, herbs and different creepers, all well signposted. It's a relatively easy walk with good paths as long as you stick to the well-worn trails!
The highlight of the park though is definitely the Canopy Walk, a large steel and wood aerial suspension bridge which snakes through the forest itself. The children will love traipsing along the walkway, with amazing views down to the ground and of the nearby Menara KL Tower. It's also totally safe, as it has steel guards on the sides and sturdy staircases for little feet.
Make sure you enter the park from the Lower Hill main entrance and not the back entrance, next to the Bukit Nanas MRT station. This back entrance is not well-kept and so the paths can get a little muddy in places.
North of Kuala Lumpur
5. Fraser's Hill Pahang
Contributed by Kirsty from World for a Girl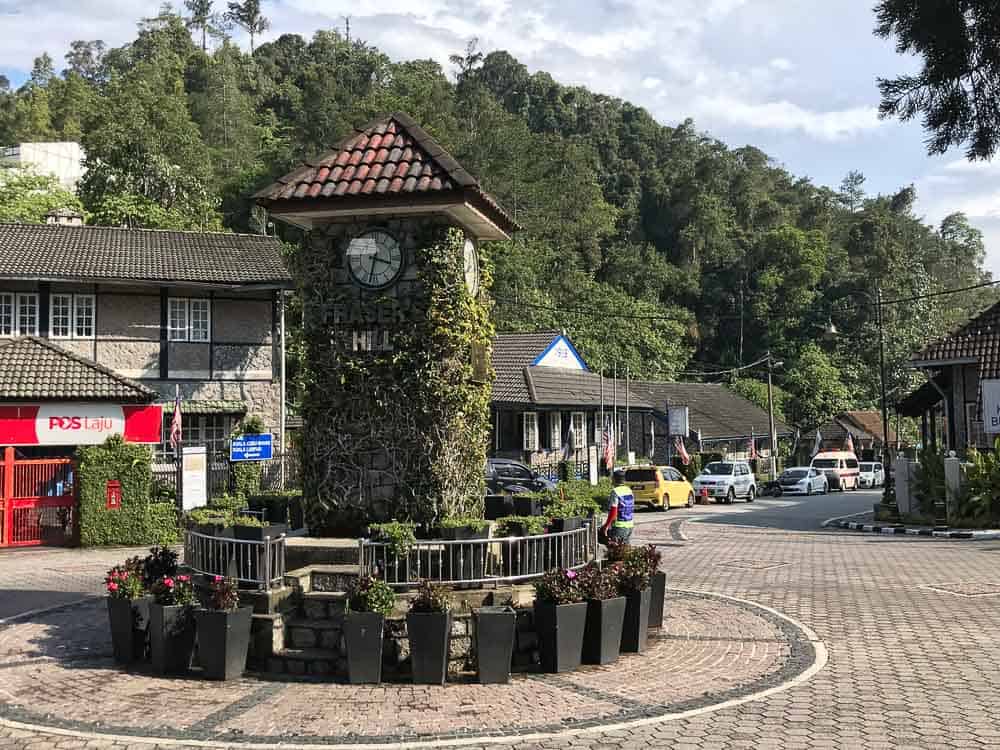 Just 2 hours drive from Kuala Lumpur is the historic hill station of Fraser's Hill. Set among jungle-clad mountaintops, Fraser's Hill (also known as Bukit Fraser) is the perfect weekend getaway from KL. Fraser's Hill is definitely a very unique and captivating family-friendly destination in Malaysia.
Designed as a retreat in the 1920s, the fresh mountain air and cool temperatures appealed to British residents of the Klang Valley. Today, what remains is a slice of 'Old England' nestled deep in the Malaysian jungle. The village centres around a very British-looking scene of a clock tower, post office and attractive stone bungalows. Fraser's Hill is famous for birdwatching and hiking. The cooler weather makes many of the hikes less challenging for little legs!
For families, there are so many great things to do in Fraser's Hill from riding a pedalo on the reservoir at Allan's Water, horse riding at The Paddock or a round of mini-golf in the town's park. Jeriau Waterfall just out of town is beautiful and worth the drive. Finally, you can't visit Fraser's Hill without popping to The Smokehouse for a cream tea (scones, jam and tea) served English-style on the pretty terrace overlooking the dense Malaysian jungle, Kids and adults alike will adore this quirky taste of 20th century Britain in the heart of Malaysia.
Click here for family-friendly accommodation in Frasers Hill.
6. Penang Hill
Contributed by Ming from Flyerism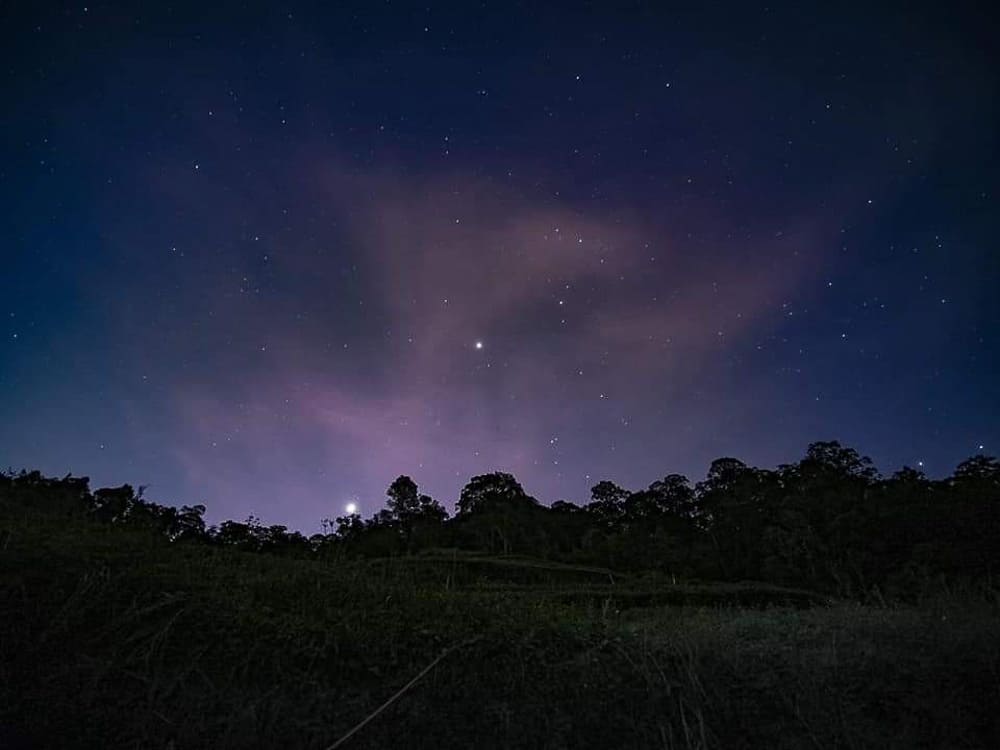 Penang Hill, the landmark of Penang is a fantastic kids-friendly holiday destination. It's located at Ayer Itam, about 9km from the centre of George Town. The peak stands at 833 meters above sea level, and it can be reached by cable car. If you've got an active family, you can hike your way to the hilltop via Heritage trail from Penang Hill Lower Station. The distance is about 5km, and it takes roughly 3 hours to reach the top, passing through spectacular jungle scenery with exotic flora and fauna.
When you are top of the hill, there's no better place to get a panoramic view of Penang Hill than Curtis Crest Treetop Walk at The Habitat. You can also stroll along the Langur Canopy walkway to experience the beauty of the rainforest and observe monkey behaviour.
To relax and unwind, Kopi Hutan at the Monkey Cup Garden is highly recommended. It's just 10 minutes walk from the Habitat. In this nice little cafe surrounded by trees and creepers, you will want to sample delicious yet reasonably priced cakes. Their staff are very friendly and knowledgeable about the area. Upon request, they will be happy to show you pitcher plants and animals (eg. frogs and scorpions).
Click here for family-friendly accommodation in George Town – Penang.
7. Eating Cendol in Penang
Contributed by Wendy from The Nomadic Vegan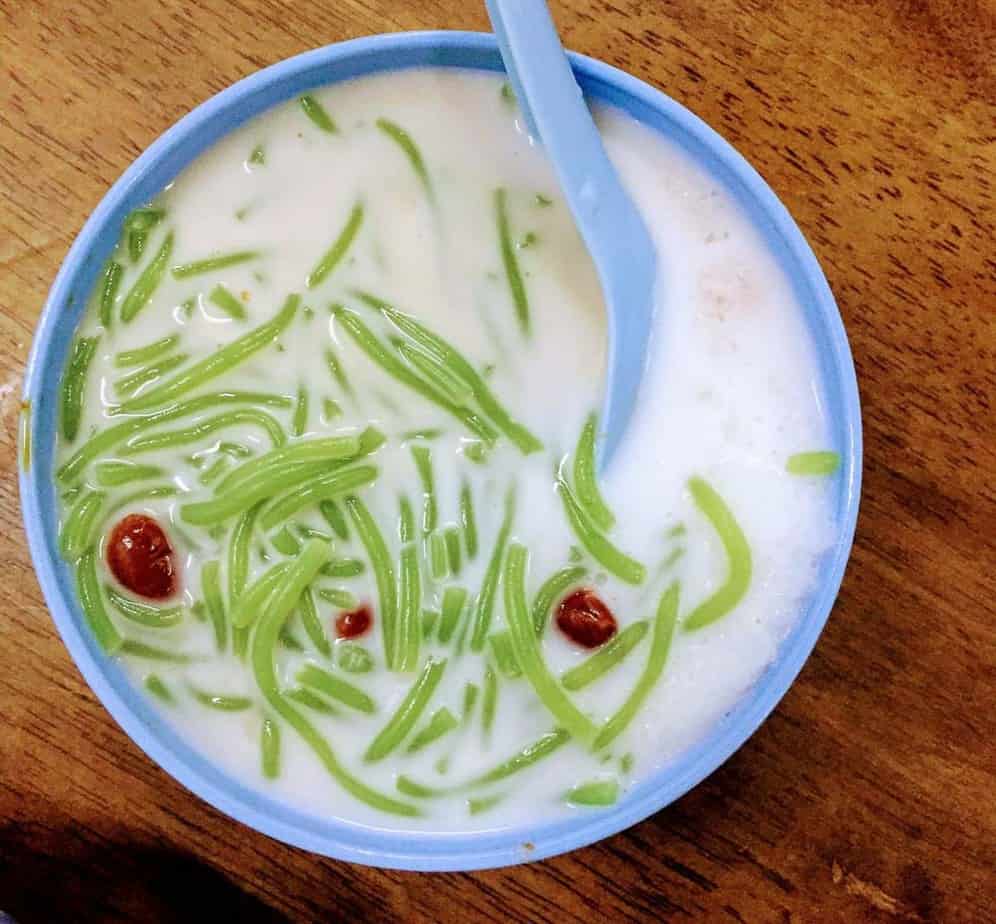 Cendol is a sweet and refreshingly cold dessert that's popular throughout Malaysia. Its main ingredients are shaved ice, coconut milk, palm sugar syrup and jelly-like noodles made from rice flour. The noodles are flavoured with pandan, which gives them a bright green colour, making this a fun treat for kids. In addition to these core ingredients, possible add-ons include sweet red adzuki beans, durian, or jackfruit. All of these ingredients are fully plant-based, making cendol one of many vegan dishes in Malaysian cuisine.
The Malaysian Department of National Heritage has even declared cendol to be a Malaysian heritage food, so it's something every visitor should taste to experience the local cuisine. While you can find cendol at basic restaurants and roadside food stalls all over the country, one especially famous place to try it is Penang Road Famous Teochew Chendul on Jalan Penang. A bowl of cendol is the perfect way to combat the heat and humidity in Malaysia.
8. Penang Youth Park
Contributed by Alex from Get Out with Kids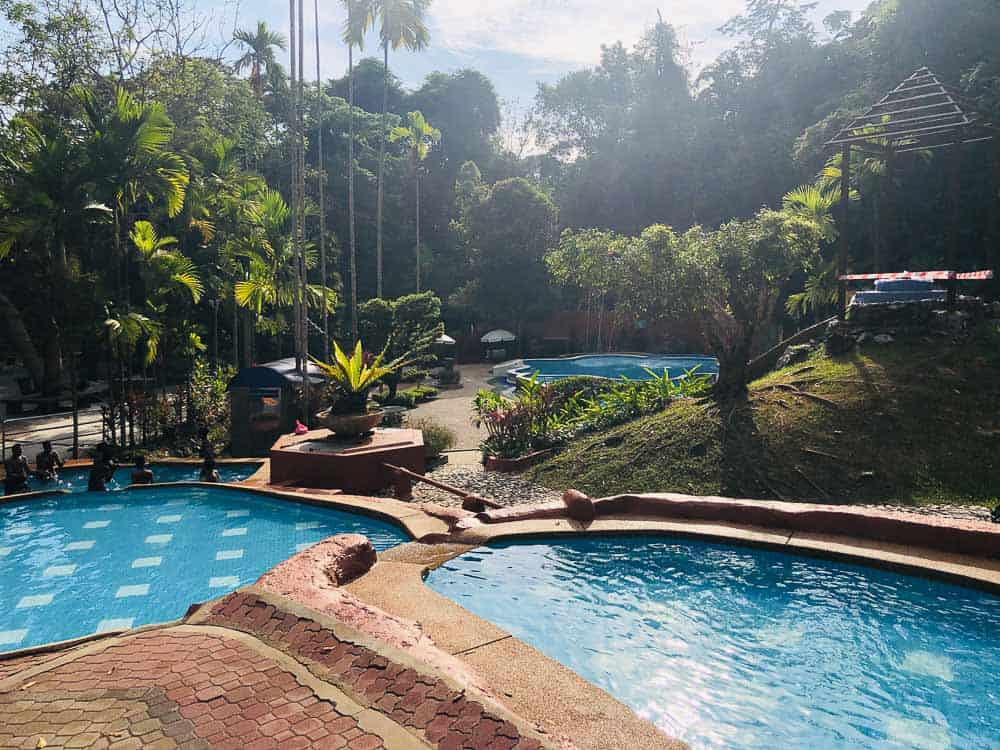 One of our favourite places to visit in Malaysia is Penang Youth Park. Also called Penang Municipal Park, it is located in George Town. It is just a few minutes from the town centre by car (or Grab) and it is well worth the visit, especially if you are travelling with kids!
The parkland features a collection of activities that both parents and children can enjoy, including
a skating rink/bowl,
swimming/splash pools,
colourful jungle walking trails,
giant chess boards,
unique street art
multiple playgrounds for all ages and abilities
With the weather in Penang being almost always hot and humid, we particularly enjoyed the swimming/splash pools after a walk through the jungle trails and a play in the playground. The pools provide a great place to cool down and, let's face it, most kids love a splash in the water on a hot day! (Tip: If you are going on the weekend, go early in the morning to avoid the crowds in peak times!)
Afterwards, we went to the café for a cold drink and a snack. Make sure you take cash though as they do not accept credit cards.
Whether you're seeking a relaxing experience or a journey packed with exciting activities, the Penang Municipal Park can accommodate for everyone, proving that it deserves a spot high up on your George Town bucket list.
9. Ipoh
Contributed by Emily from Wander-Lush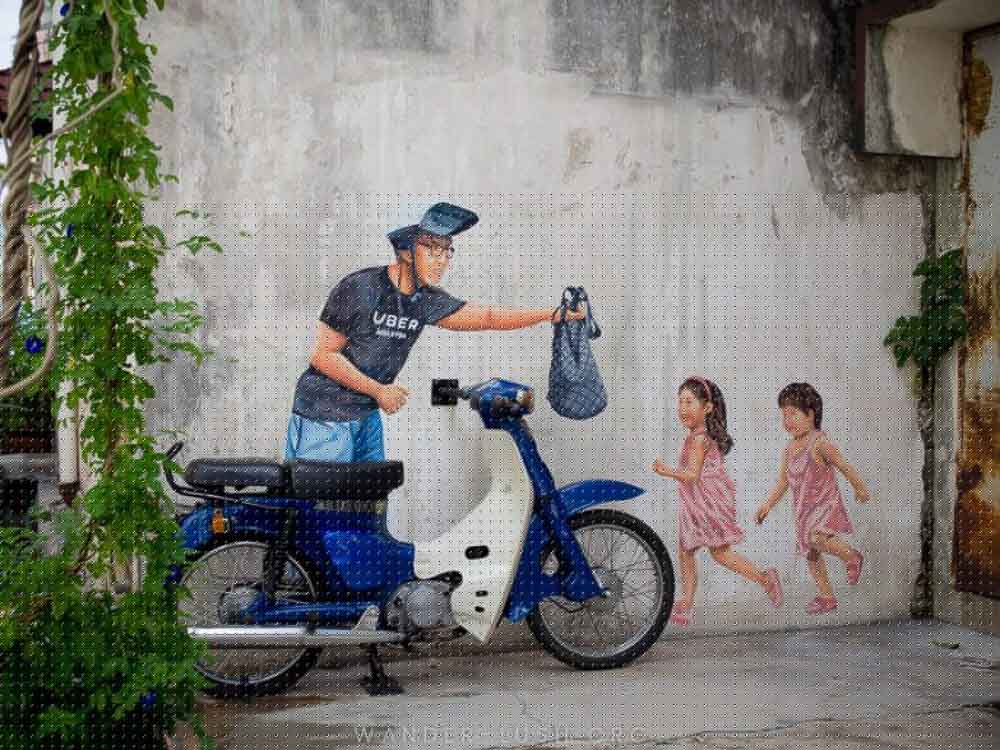 Ipoh in the central Malaysian state of Perak is one of the best places to visit in Malaysia with kids. With a street art scene to rival Penang's, hunting down murals and taking creative photos is an Ipoh activity beloved by adults and kids alike.
Lithuanian artist Ernest Zacharevic – the same man behind many of George Town's most famous murals – was invited to create a series of works in Ipoh a couple of years back. His moody, large-scale paintings reference the town's heritage and inspired a local street art movement to blossom. As well as Zacharevic's murals, you can find literally hundreds of colourful street artworks by local artists dotted all around the city.
Mural Art's Lane in Ipoh's New Town is a great place to start. Some paintings were created by school children or community groups. Many portray local festivals and traditions, so you can learn a bit about Perak culture as you go. In the old part of Ipoh, Wife Lane, Concubine Lane and Market Lane all boast colourful murals between their cafes and boutique shops. A lot of the paintings are interactive, making it a lot of fun to pose for photos.
Street art is just a small part of Ipoh's draw. The city is known for its food scene and natural beauty, including limestone karsts and cave temples right on the fringe of the city. It's a year-round destination, but it's best to visit outside of the hot summer months.
From Kuala Lumpur, you can get to Ipoh by train (around 3 hours' journey time). Since it's almost smack bang in the middle of the peninsular between KL and Penang, Ipoh is a great place to break up the overland journey.
Click here for family-friendly accommodation in Ipoh.
10. Cameron Highlands
Contributed by Colin from Parenting, Passports and Profits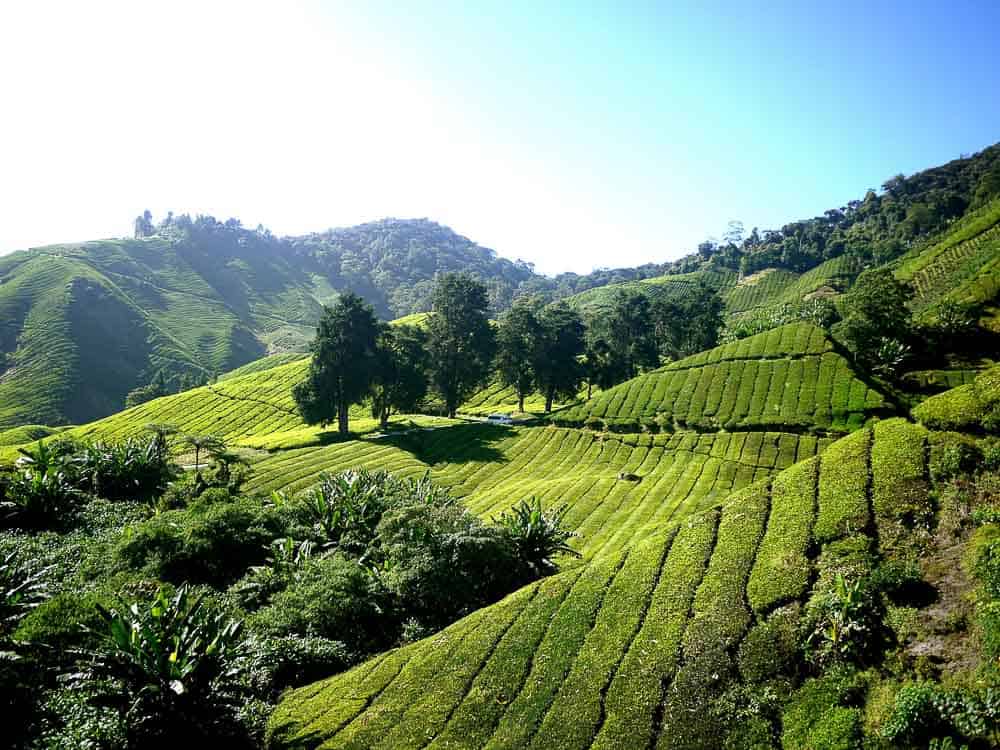 The Cameron Highlands is a popular short break for many Malaysian residents and travelling families.
We wanted to try some hiking and were keen to experience the cooler temperatures that allow a variety of plants to happily grow there. The Cameron Highlands produces many of the vegetables that cannot grow in other, much hotter, areas of the country.
There are several trails to choose from including a small peak or two. 'Mossy Forest' is maybe the most famous trail in the area, however, it's only really accessible by car and a good hour or so round trip. The ones we tried are accessible/walking distance from the Tanah Rata village.
Two of the big crops in the area are tea and strawberries. So we prioritized visits to the historic Boh tea plantation and a strawberry farm where you could pick your own. We also visited a butterfly and insect park.
The Cameron Highlands are a few hours' drive from Kuala Lumpur or Penang. From KL, you head north with the choice of two routes. One is modern and straightforward. The other is the old scenic, winding road up into the mountains. You will need transport while you are there.
Click here for family-friendly accommodation in the Cameron Highlands.
South of Kuala Lumpur
11. Melaka
Contributed by Karolina from Lazy Travel Blog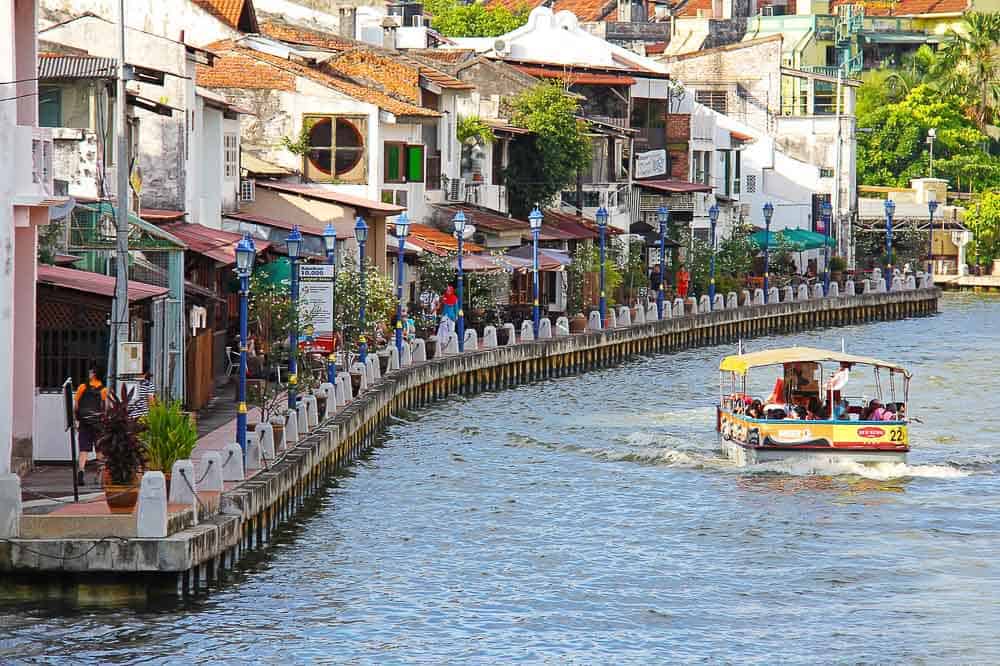 Melaka City, also spelled Malacca, in southwestern Malaysia, is probably one of the best places to visit for a family holiday with kids. Just 2 hours away from Malaysia's capital, Kuala Lumpur, it can easily fit into your travel plans as a day trip, but once you are there you might consider staying a few more nights with all the kid-friendly adventures you can have in this UNESCO Heritage city.
The heart of Melaka City is Jonker Street, which is filled with beautiful colonial buildings. As you take a walk through the street, you can break up the historical walk by taking a stopover at Mamee Jonker House, which houses a museum and cafe that offers exciting activities and hands-on workshops for kids.
The best time to travel to Melaka is during the dry season which is in the months of April, May, and October. Among all the hotels there, the most family-friendly accommodation would be The Double Tree Hotel. Instead of welcome drinks, the whole family gets warm cookies upon arrival, making the check-in process a lot sweeter. Instead of getting a cramped room with 4 beds, you get 2 adjoining rooms that will give you a bit of privacy while your young ones are sleeping safe and sound next door. The hotel is also equipped with a pool and a Kids' Club.
Click here for family friendly accommodation in Melaka.
12. Legoland
Contributed by Sally from Our 3 Kids V the World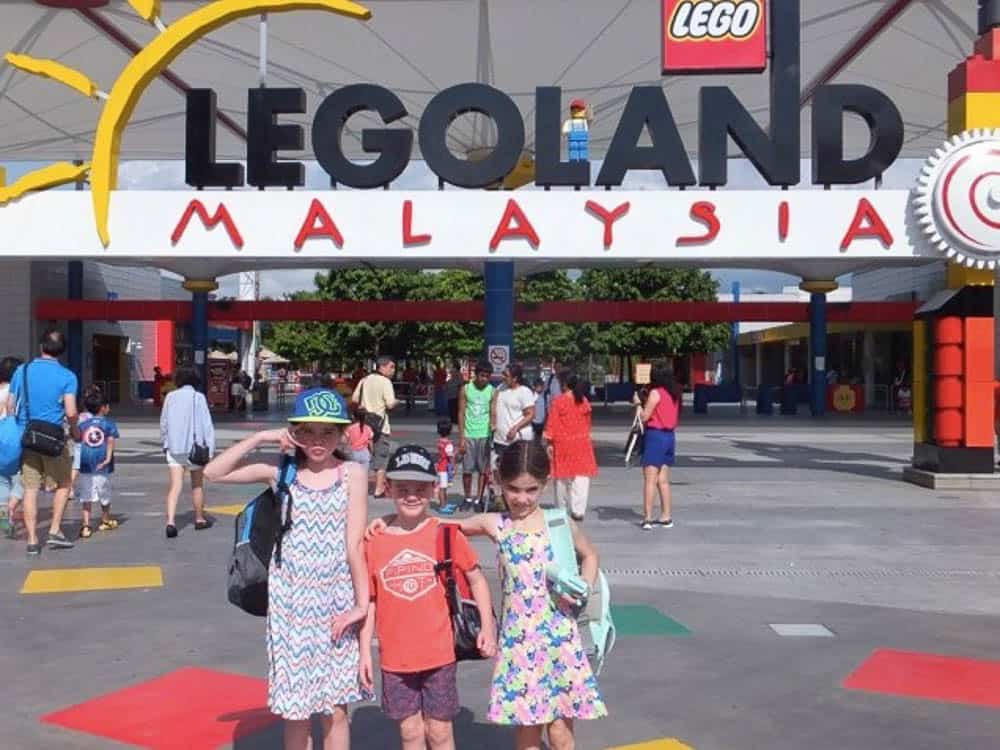 Legoland Malaysia Resort opened in 2012 and includes Legoland Malaysia and Legoland Water Park (see below), both are in the same complex and you can easily walk between them provided you have purchased entry tickets to both.
The great thing about Legoland Malaysia is it's accessible from Kuala Lumpur and Singapore as it is located in Johor Bahru. However it's a little further from Kuala Lumpur, you'd be unable to do it in a day trip like we did from Singapore. Legoland has you covered though with their very own Legoland themed hotel onsite and being in Malaysia its very reasonably priced.
The temperatures at Legoland Malaysia are generally warm and humid like most of Malaysia, its rarely cool so purchasing tickets for both is the best option as when the kids get hot and bothered you can cool down in the Legoland Water Park. If you are only visiting Legoland you could easily make it a day trip but if you visiting Legoland, Legoland Water Park, Hello Kitty World and Thomas Town, which are also in Johor Bahru you might consider staying a few days.
We hadn't visited a Legoland before and the kids were starting to get a bit older so I was happy to visit the Malaysian Legoland as it is much easier on the budget and it was very quiet when we were there. If you go mid-week you'll likely have low crowds. I think Legoland is perfect for younger kids aged between 3-11 yrs old.
Click here to book your Legoland tickets online.
13. Legoland Water Park
Contributed by Noel from Ten Thousand Strangers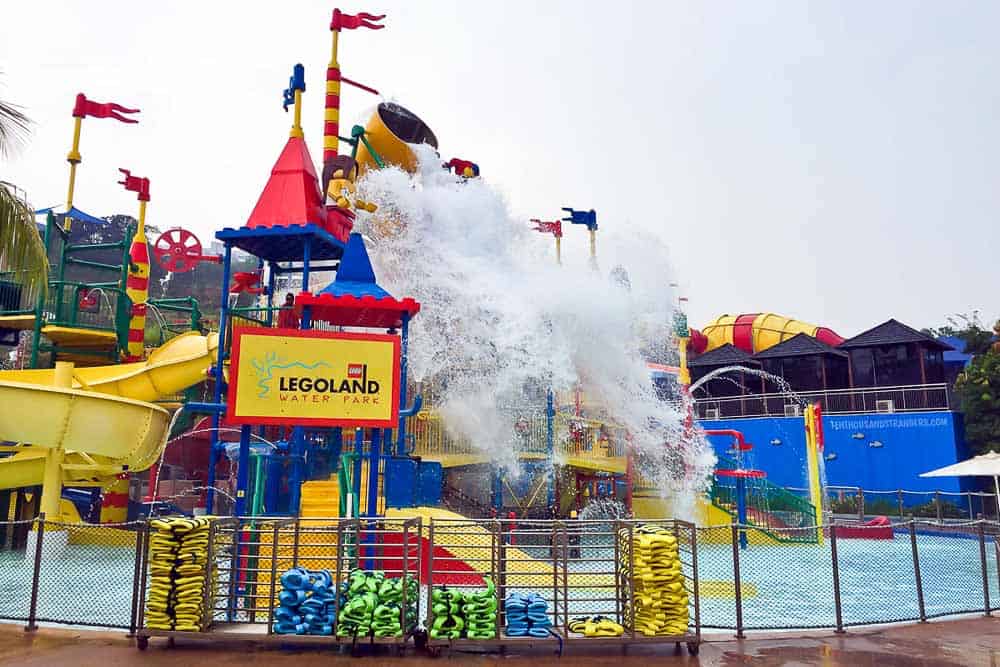 The LEGOLAND Malaysia Resort is a popular destination in Johor Bahru for travellers crossing the border from Singapore to Malaysia. Especially for those travelling with kids, no one must proceed to their intended destination in Malaysia without passing through Legoland.
However, much to the popularity of the main resort, the LEGOLAND Water Park situation right next to it remains a little less known attraction. Most people think more about the roller coaster rides and other known adrenaline-pumping rides. Not many think about water slides and sprinklers.
Malaysia is known for its ridiculous humidity and unpredictable rain pattern. No one knows when it's going to rain and if it didn't, the humidity makes you sweat all day. Which is what makes the LEGOLAND Water Park a better choice to its more popular counterpart.
Fans of extreme park rides will have their chunk of adrenaline rush while enjoying the cool water splashes at the Tidal Tube — a 240-foot high enclosed tunnel with heart-thumping twists and turns. The Red Rush will have the whole family enjoying a thrilling ride down a 312-foot long water path. Kids will have their time building a watercraft they can ride along a river-like track.
But what most kids will enjoy the most is the Joker Soaker. It's an ordinary-looking water playground but the thrill and fun increases a hundred times over whenever the giant water bucket gets filled and pours 300 gallons of water down every four minutes.
East Coast of Peninsular Malaysia
14. Islamic Civilisation Park
Contributed by Jub from Tiki Touring Kiwi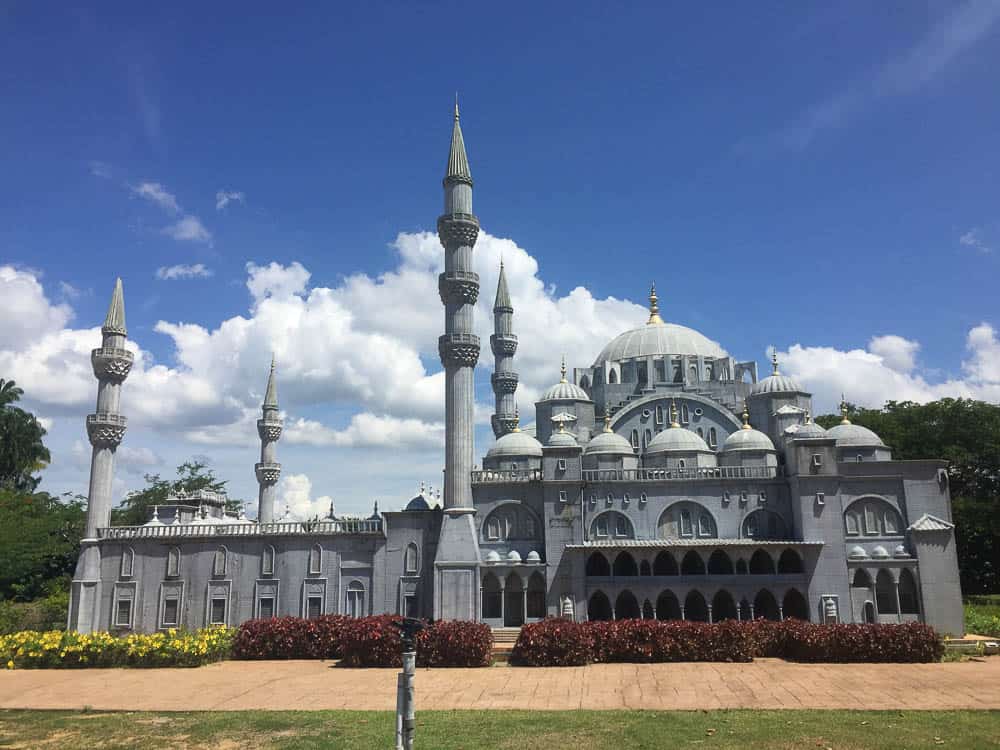 Located near Kuala Terengganu (KT), the Islamic Civilisation Park is one of the main attractions of the Islamic Heritage Park alongside the Crystal Mosque. The best way to visit with kids is via Grab for about 10 RM from downtown KT (best place to stay), or you can catch the public bus if you're up for it.
Inside the park, you'll find 23 replicas of the most recognised mosques from around the world. They're all built to different scales (1:1.7 to 1:22) which is impressive and with information boards in English in front of each mosque, you get to learn a lot about the Islamic culture not only in Malaysia but around the world. The replicas aren't all cramped up, so you'll be walking a lot unless you take the small train or a golf buggy (extra cost).
Your ticket also gets you a small passport with a photo of all the mosques inside so you can tick them off as you learn about each one.
Visit early, as there's little shelter when you're exploring the park and it will get hot (there's a small train you can catch around the park). When you buy your ticket, you get a free meal (basic) so don't worry about filling up before you visit. If you're up for a long day, the Terengganu State Museum is nearby and is one of the biggest museums in Southeast Asia.
Click here for family-friendly accommodation in Kuala Terengganu
15. Perhentian Islands
Contributed by Carrie from Trains, Planes and Tuk Tuks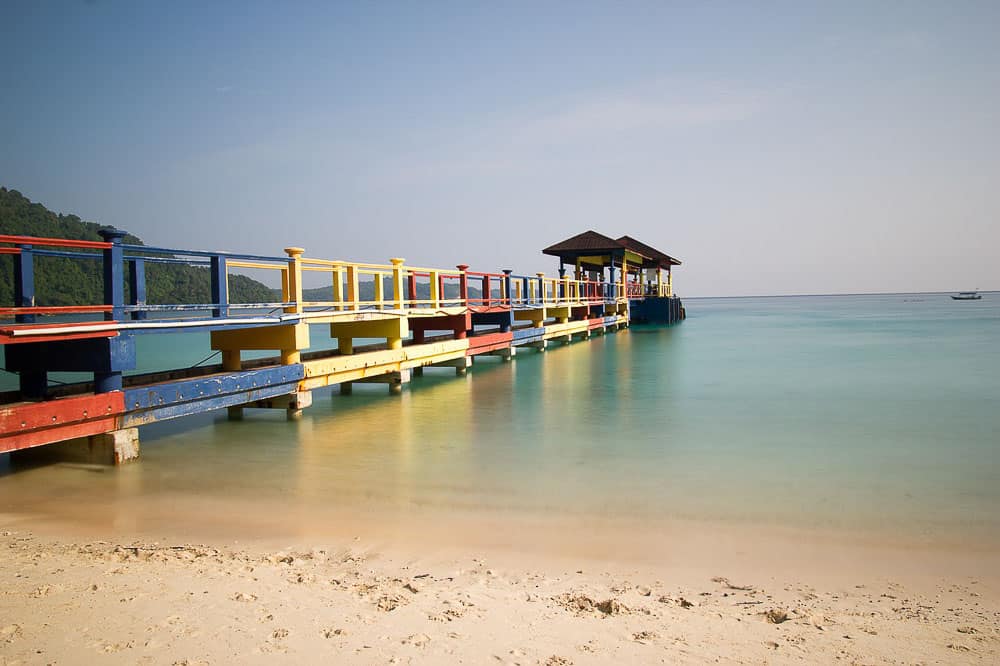 I can't think of a better beach destination in Malaysia to explore with kids than the Perhentian Islands. These two islands off the east coast of mainland Malaysia are the ultimate low-key tropical paradise. Families looking for 5-star amenities will appreciate the resorts of Big Perhentian. But you can't beat Little Perhentian for beautiful beaches and peace and quiet.
You and your family can spend your days playing in the sand on Long Beach, or hop in a longtail boat to one of the quieter bays. Almost all of the beaches are kid-friendly — no waves or riptides.
You can reach the Perhentians on a one-hour speedboat from Kuala Besut, near Kota Bharu. It costs 70 ringgits per person round-trip. You can also book shuttle/boat combo tickets from any destination in peninsular Malaysia.
The best time to visit the Perhentians is April through August. They're inaccessible during the monsoons between September and February, and in March the boat trip is too rough for families with young kids.
If you have extra time, stop for a night in Kota Bharu before visiting the islands. The staff at Zak's Homestay organize cultural activities led by local students — your kids will get a kick out of the participatory traditional dancing shows.
Click here for family-friendly accommodation on the Perhentian Islands
16. Tiomon Island
Contributed by Michael from Time Travel Turtle
Tioman Island is about two hours off the east coast of mainland Malaysia and, while it's not quite as isolated as the Perhentian Islands, it's a relaxing option if you're looking for a tropical escape away from the tourist crowds.
Along the part of the coastline that's developed, you'll find larger hotels that can easily accommodate a family or bungalow-style guesthouses that could be a better option. Some of them open up straight onto the beach, where the calm warm water is irresistible.
The shops will offer snorkelling and diving tours and there are boats that will take you to other parts of the island to explore. There is also a footpath along some of the coast and more adventurous hiking trails that lead into the jungle.
I think the best range of accommodation and laidback restaurants is around ABC beach, but there are more exclusive resorts on other parts of the coast. Either way, it's going to be laidback and stress-free.
The best way to get to Tioman Island is by ferry from Mersing and costs 75 RM. There are a few ferries each day and the journey takes about two hours. But the schedule changes constantly, so it's worth making sure of the departure times before you arrive.
Click here for family friendly accommodation in Tioman Island.
17. Juara Turtle Project
Contributed by Emma from Small Footprints, Big Adventures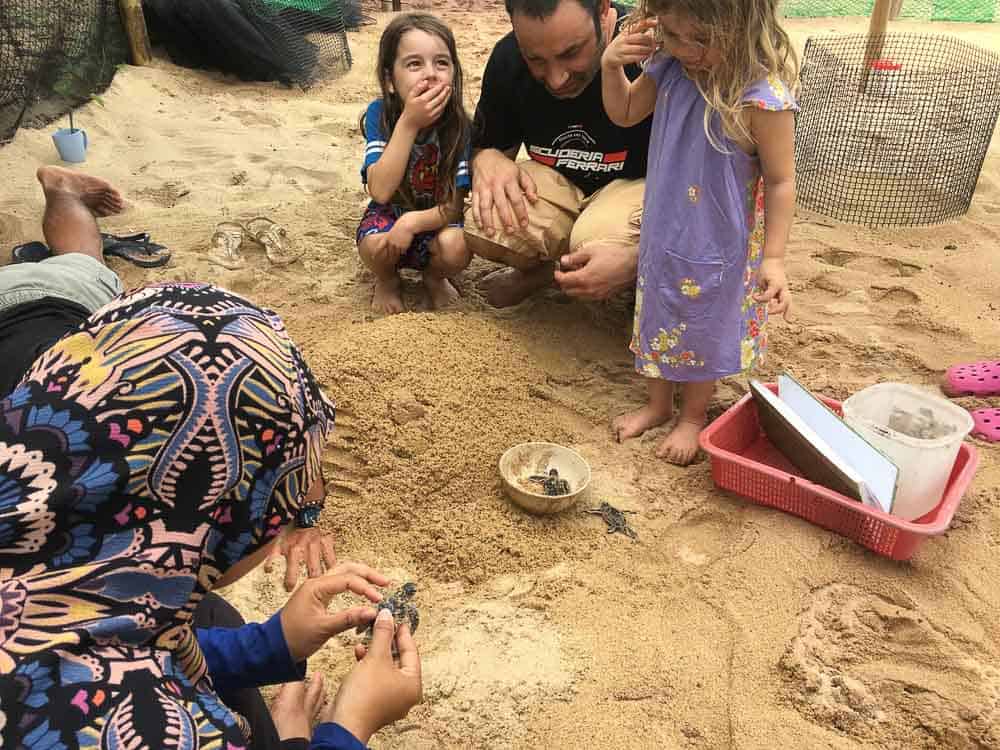 My family and I volunteered at the Juara Turtle Project on Tioman Island for a week together, and we loved it! Juara Bay is a beautiful part of the island that's very safe for swimming and snorkelling, and the Turtle Project is a professionally-run volunteer program that accepts unskilled helpers and children. We helped with many tasks including patrols looking for new turtle nests, cleaning the hatchery and headquarters, excavating a nest that had hatched, and seeing a full nest of hatchlings scurry to the water!
We also cleaned up the beach one day, collated recycling for the whole bay, made souvenirs and took guests for tours through the visitor centre. There was never a dull moment but we also had some downtime to enjoy the beach and the rest of the Bay. Volunteers receive a delicious cooked breakfast and lunch each day, and we also got to use the Project's recreational equipment during breaks. This means two meals a day, snorkelling and kayaking down the nearby mangroves is all accounted for in the volunteer fee. Best of all, we also made friends from all over the world, many of whom we're still in touch with today.
Borneo
18. Kuching
Contributed by Ania from The Travelling Twins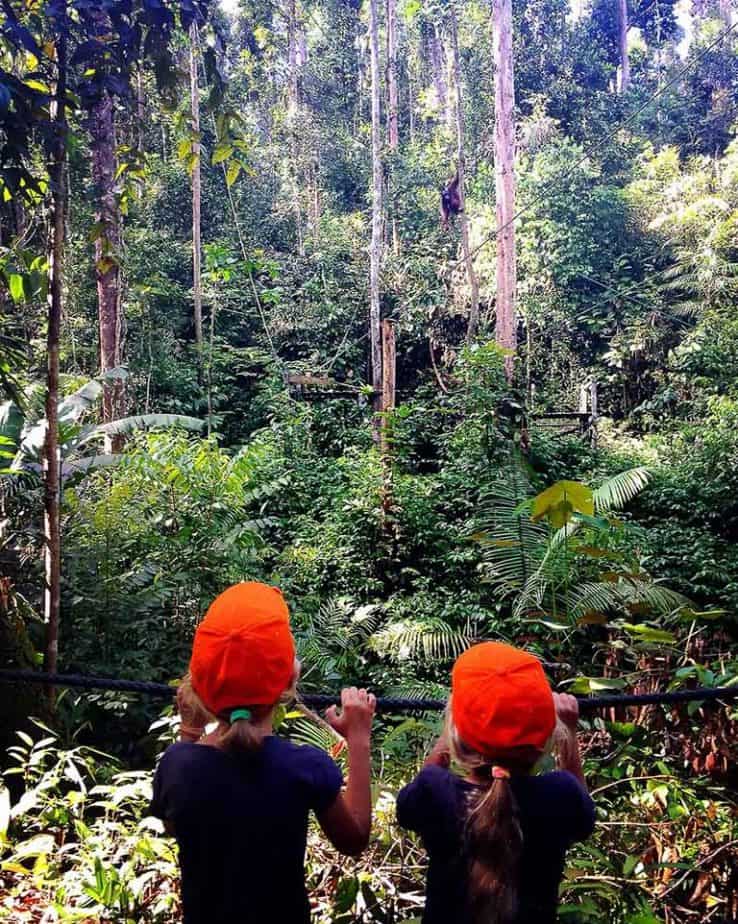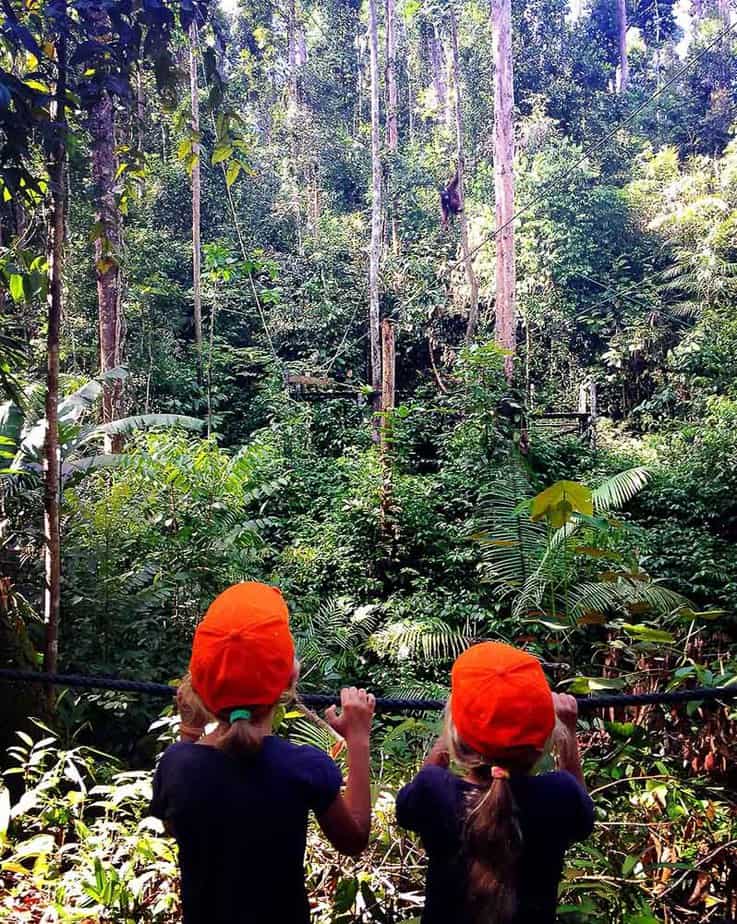 If you are thinking of visiting Malaysia, a trip to Borneo is a must, and the city of Kuching is an interesting place to explore with the kids. The word Kuching in Malay is very similar to the word for cat, so Kuching has become the Cat City. In the town, you can find cat statues, cat murals and even a Cat Museum. But that's not the main reason why you should visit Kuching and Borneo with kids. The main reason is orangutans!
Borneo is one of only two places in the world (the second one is Sumatra) where orangutans live in the wild. In both places, the populations are declining as their rain forest habitat is being cut and replaced with palm oil plantations.
Just 20 minutes from Kuching is the Semmangoh Rehabilitation Centre (see more info below) where you can see orangutans in the wild. The animals here have been saved from poachers and are re-trained to live on their own. But still, they come for fruit left for them by the carers. It's very touching to see orangutans in the wild and even better to have them swinging above your heads.
If you fancy seeing different kinds of monkeys – especially the much less pretty proboscis monkey, you should visit Bako National Park, where they live in an untouched habitat.
There is so much to do in and around Kuching with kids, that we were there for over a week and didn't get bored.
Click here for family-friendly accommodation in Kuching.
19. Semenggoh Wildlife Centre
Contributed by Taylor from Travel Outlandish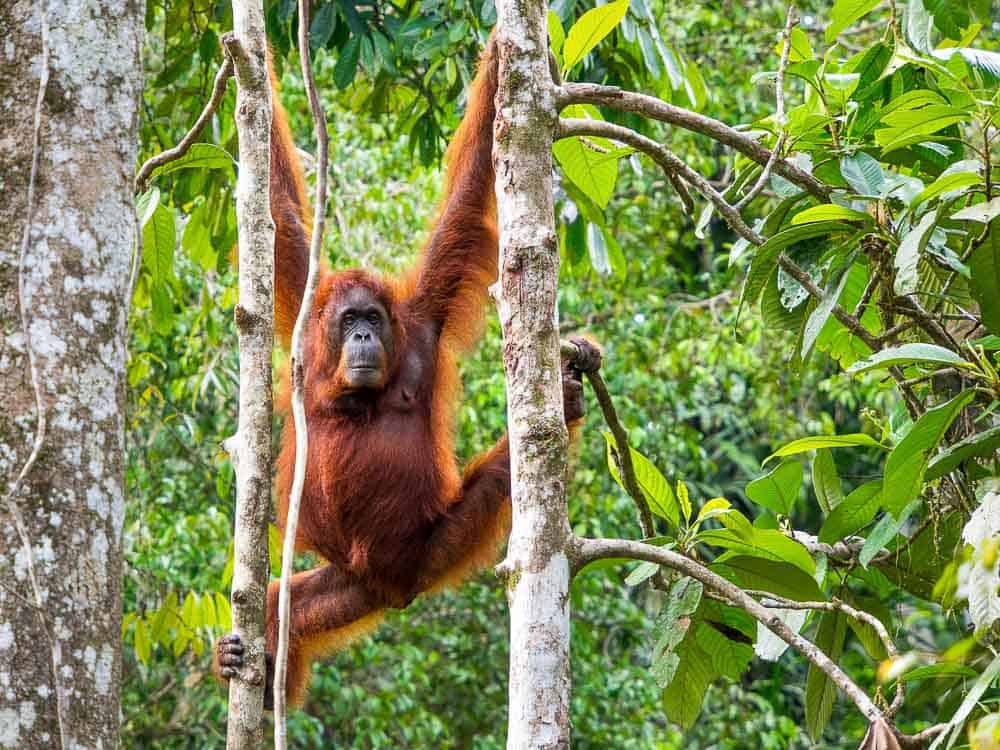 There are just two places on earth where you can see orangutans living in the wild – Borneo and Sumatra. And as ape populations dwindle worldwide as a result of deforestation and poaching, conservation efforts for these fleeting species have never been more important.
The Semenggoh Wildlife Centre is just outside of Kuching, the capital city of Sarawak in Malaysian Borneo. Just 40 minutes from the city, the rehabilitation centre is home to 31 wild and semi-wild orangutans. The Semenggoh Wildlife Centre aims to reintegrate injured or orphaned orangutans into forest life. In support of that effort, they coordinate twice daily feedings at 9am and 3pm where visitors can come to see orangutans swinging through the trees to collect a feast of bananas, papaya, jackfruit, sweet potatoes, coconuts, pineapples, oranges, and hard-boiled eggs. They're a population of orangutans who otherwise couldn't be self-sufficient in finding food, but the wild setting sprawling 1,613 acres makes this wildlife encounter feel far more wild than zoo-like.
Unlike gorilla treks, it's just $3 to visit these orangutans, and you're almost guaranteed to see them if you visit Borneo between April to November (outside of the fruiting season). But even if you're not lucky, it's an important and interactive way for families to explore the impacts that humanity is having on fragile ecosystems around the world.
20. Niah Caves
Contributed by Penny from Globe Trove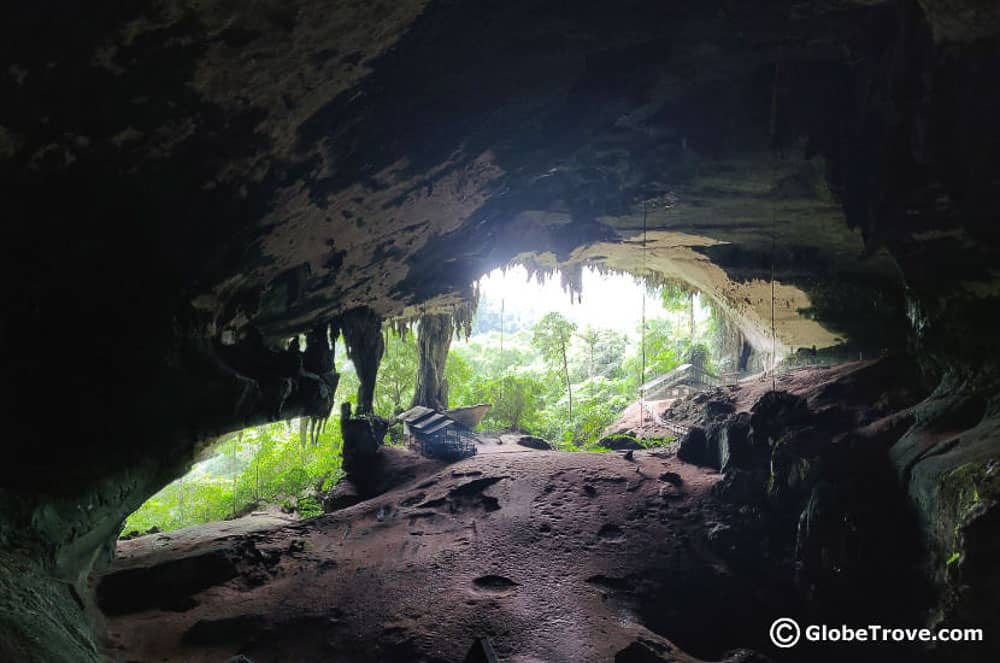 Few people talk about the Niah cave network that lies in the Sarawak district of Malaysian Borneo. Located about an hour's drive away from Miri, I find that this is one of those locations that you should take children to in South East Asia because there is so much that they can learn from their surroundings. Plus it is a lot of fun!
The cave network is intense and the trek is simple since it is paved by wooden planks. I managed to do the trek in my second trimester so it is definitely doable. It is however better suitable for children who can walk longer distances. A word of advice is to turn back when you get tired because it is a long walk. Oh and carry a torch for the dark cave as you walk in pitch darkness. The limestone caves are also home to an archeological dig site where the oldest human remains were ever found. Did I mention that you can also catch a glimpse of some cave paintings if you make it to the end of the trek?
21. Kota Kinabalu
Contributed by Evie from Mumpack Travel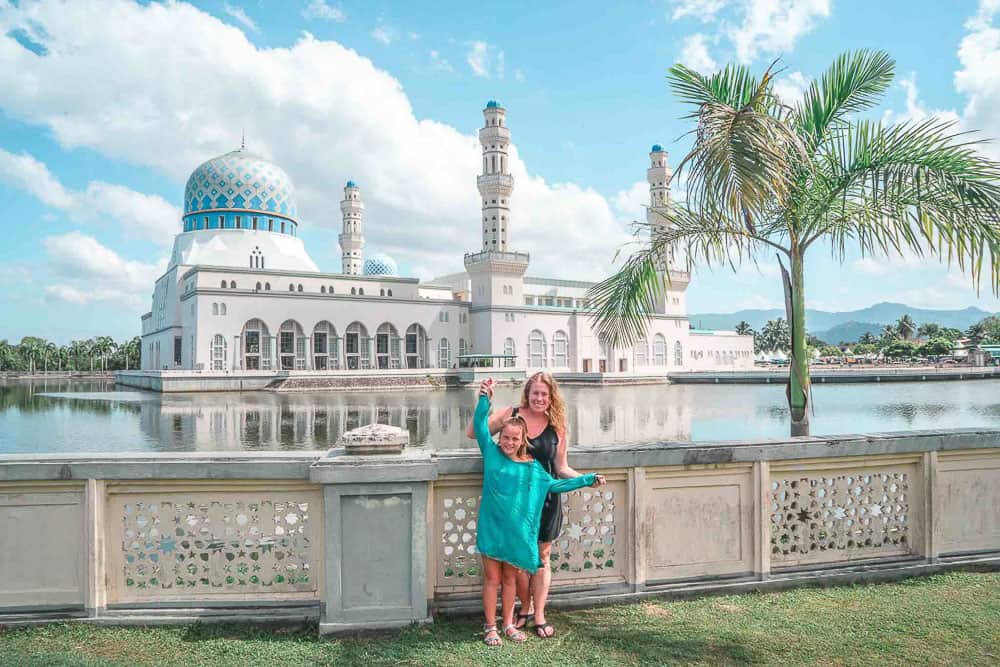 The capital of Sabah on the island of Borneo, Kota Kinabalu is full of awesome family activities.
Some of the things you can do in Kota Kinabalu including taking a 20-minute ferry to the islands and beaches of Abdul Rahman Marine Park for snorkelling and swimming or an overwater zipline between Gaya and Sapi Islands. Families will also enjoy eating fresh seafood at the nightly harbourside hawker markets, exploring the Sunday Markets in Gaya Street, enjoying the city views from the Signall Hill or wandering the streets to see the street art. I'd also recommend a visit to the Masjid Bandaraya Kota Kinabalu mosque which is just stunning. If you don't have appropriate dress don't panic as you can hire it at the on-site kiosk. Also be sure to visit the Mari Mari Culture Centre which is just a short drive from the city and has a fabulous display of local tribal culture and history.
Kota Kinabalu is easy to reach from Kuala Lumpur and other Asian hubs. There are also frequent flights to domestic destinations like Kuching and Sandakan. The city centre is an easy 15 minute drive from the airport.
Family accommodation in Kota Kinabalu varies from fabulous family-friendly five star resorts to basic hostels.
Click here for family-friendly accommodation in Kota Kinabalu.
22. Kinabatangan River Cruise
Contributed by Jodie from Ala Jode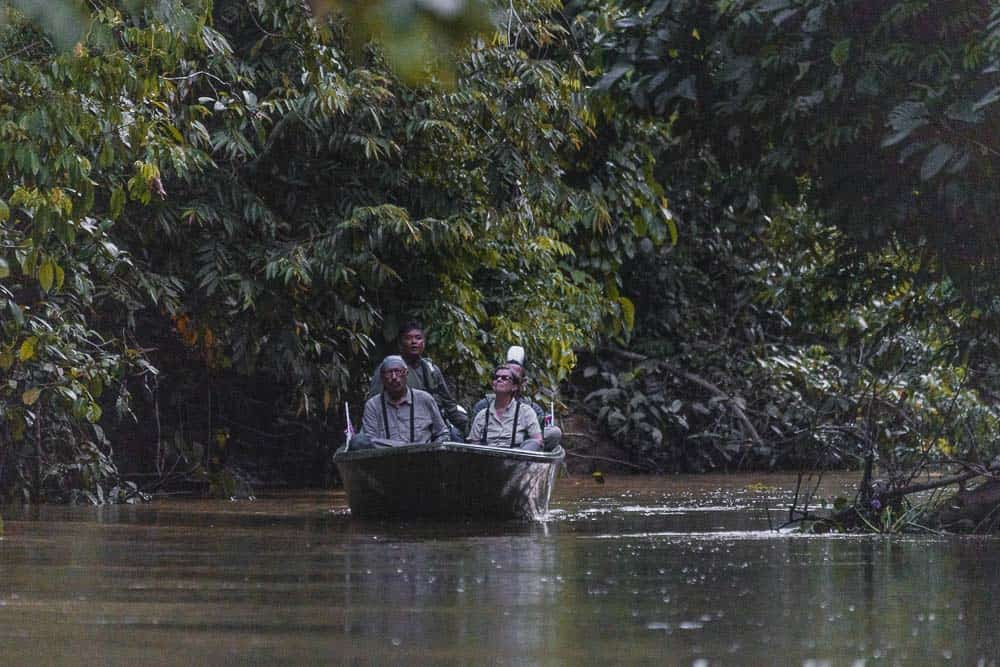 For families who love nature, the Sabah region is the place for family trip in Malaysia. Without a doubt, the best experience of all has to be a safari cruise down the Kinabatangan River. Surrounded by Borneo's lush rainforests, the Kinabatangan River is largely untouched. It's far enough into nature that you could enjoy it yourself, but close enough to the main roads and Sandakan airport that you don't need to endure a painful journey to get there. When you're there, you might spot an orangutan in a tree, an elephant drinking from the river or a rhinoceros hornbill taking flight from a tree. Many of the animals around this area are endemic to Borneo, making it a true once in a lifetime experience to enjoy together.
If you can, spend a night on the Kinabatangan River to truly immerse yourself. Sukau Rainforest Lodge is one of Nat Geo's Unique Lodges of the World. An eco-focused hotel, the staff are attentive and activities are organised to be fun for the whole family. When you're not on safari, the little ones can attend talks about the wildlife, swim in the family pools or relax in the communal room. You can also take the family out onto Sukau's rainforest walkway, which stretches far into the trees, and see what wildlife you can spot.
Please note that this post contains affiliate links, which means that if you make any bookings using the links I may receive a small commission at no extra charge to you. This helps me provide this helpful information to you at no charge.
Want to keep this handy?
Click on one of the images below and pin it to Pinterest.