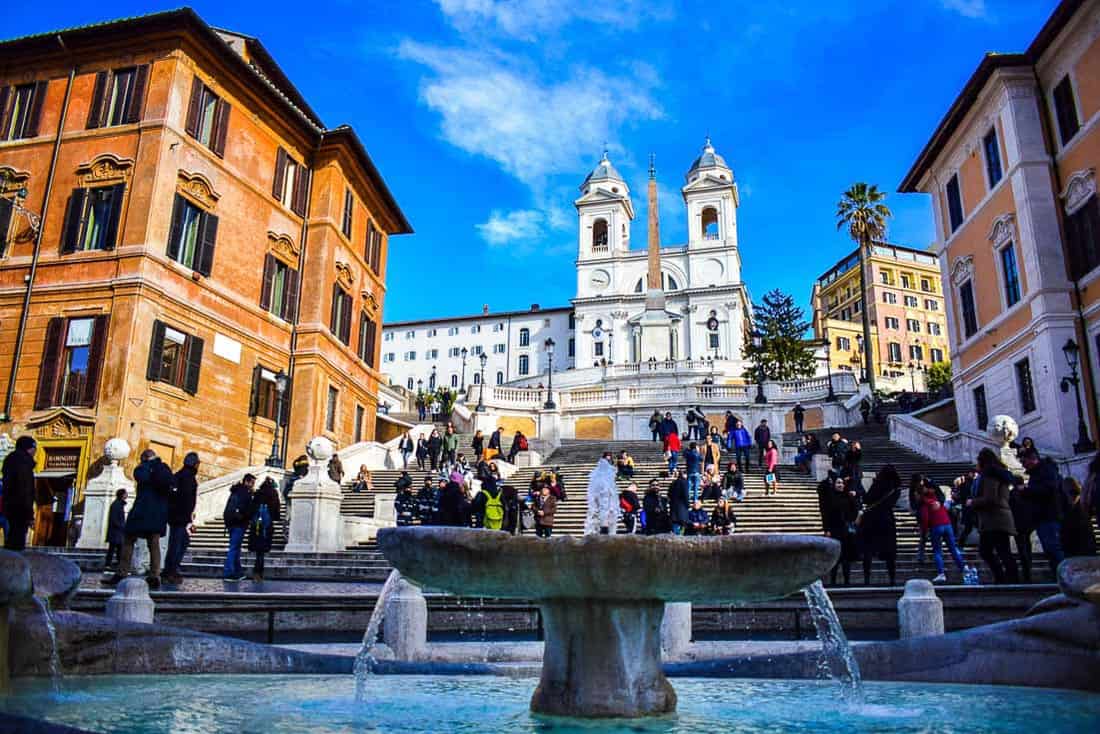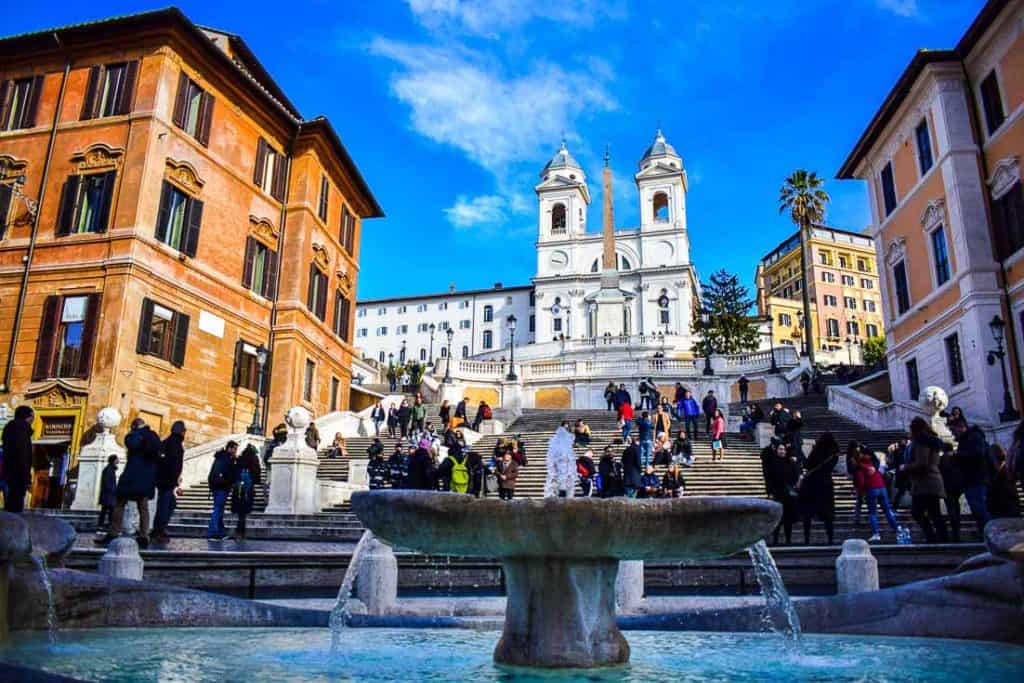 Are you in the early stages of planning your family trip to Rome? Need some inspiration as to what to do in Rome with kids? If so, you will love this guest post from Jeremiah from Smiles on Arrival on the best things to do in Rome with Kids. In this post, Jeremiah shares with us some of the very best Rome attractions for families, including ancient Rome monuments such as the Colosseum and the Pantheon, vibrant piazza's, stunning gardens and more.
This post may contain compensated links. Please refer to my disclaimer here for more information.
The Best Things to do in Rome with Kids
Along with Florence and Venice, Rome is one of the best places to visit in Italy. Whether you have a week or just 36 hours to spend in Rome, below we've listed some of the best things to do in Rome with kids.
1. The Roman Colosseum for Kids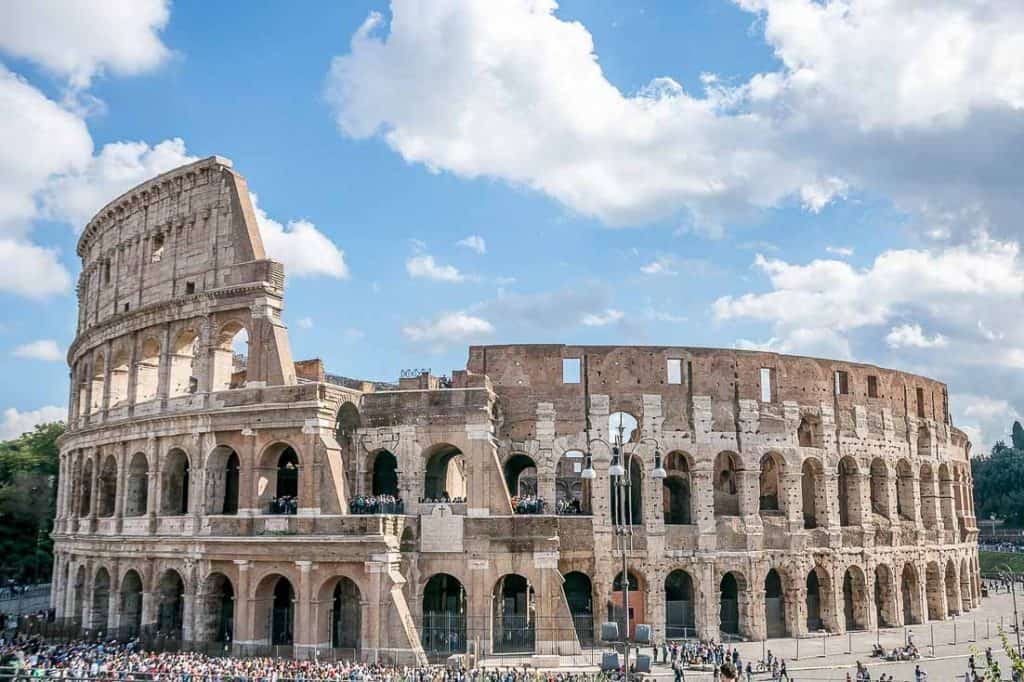 When traveling to Rome with kids, no doubt a visit to the Colosseum is at the top of your list. Adults and kids alike will appreciate the grandeur and overall awesomeness that is the Colosseum. Merely walking through its massive arched corridors, walkways and up its staircases is an incredible experience.
The scale of the Colosseum is almost overwhelming, especially for how old the structure is. All it takes is a little information ahead of time and some imagination and your kids will be right there with the ancient Romans thrilled at the spectacle of it all.
Even if you have just two days in Rome – make sure to visit the Colosseum.
Location: Piazza del Colosseo, 1, 00184 Rome
Opening Hours: Varies depending on the season but generally from 8.30 am to 4.30 pm to 7 pm
Price: 16 Euro per adult, children are free. Tickets also include entry to the Roman Forum and the Palatine Hill. It's also important to note that tickets are for a set time and there is generally a massive line, so it's recommended to purchased tickets online here – even though it will cost an extra 2 euro per ticket (including children even though their actual ticket is free).
3. Piazza di San Cosimato
When you imagine Rome, you probably don't envision parks and playgrounds, but when you have kids, parks and playgrounds can be your best friend when planning your family vacation. A great playground to visit when traveling to Rome with children is the one at Piazza di San Cosimato. This playground is perfect for kids aged about 8 and under.
The slides, jungle gym and various activities will keep the kids busy for a good long while and burn off whatever energy they have left. As an added safety feature, the playground is enclosed, which helps keeps the young ones where they're supposed to be and provides a bit of peace of mind for parents.
If you're visiting Rome with children during the Summer months, you'll have to worry about the hot sun, but a good thing about the playground in Piazza di San Cosimato is that it's completely shaded by trees, so the sun won't be too oppressive on the little ones. For parents, there is ample seating around the perimeter of the playground as well as shade.
The piazza is in the Trastevere neighborhood, which is worth a visit in its own right. It's also just a few steps from Piazza di Santa Maria and also hosts a market, so it's a great spot for the entire family.
Location: Piazza di San Cosimato, Trastevere
Opening Hours: 24 hours
Price: Free
4. Villa Borghese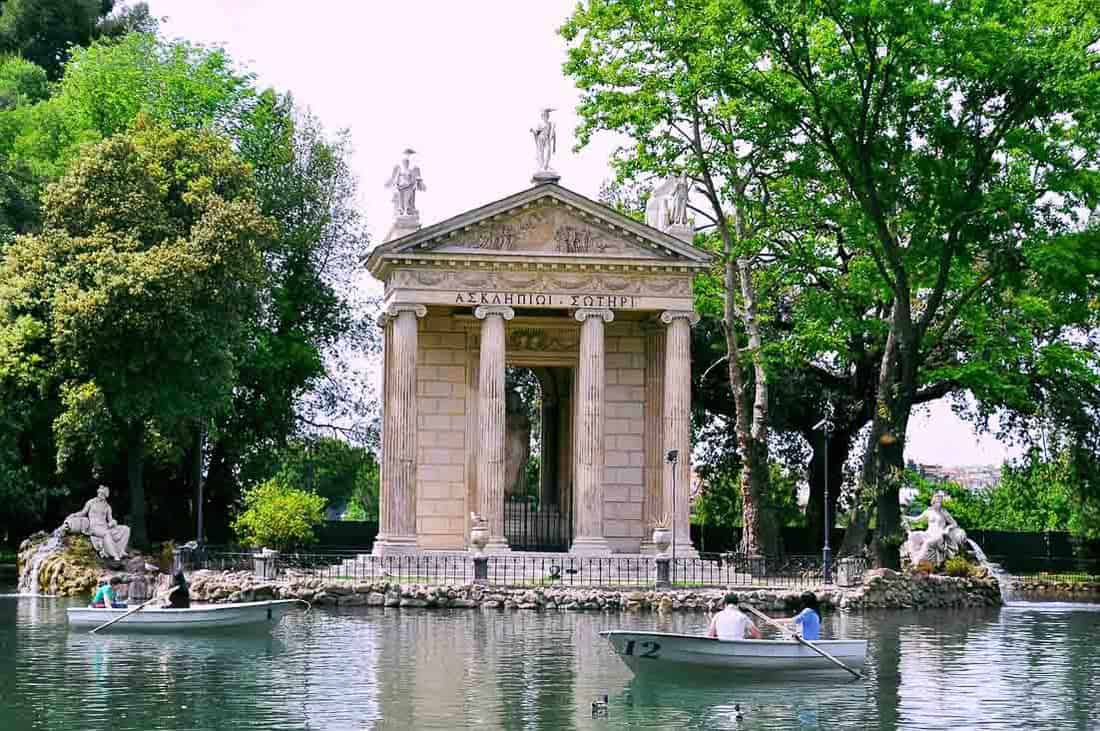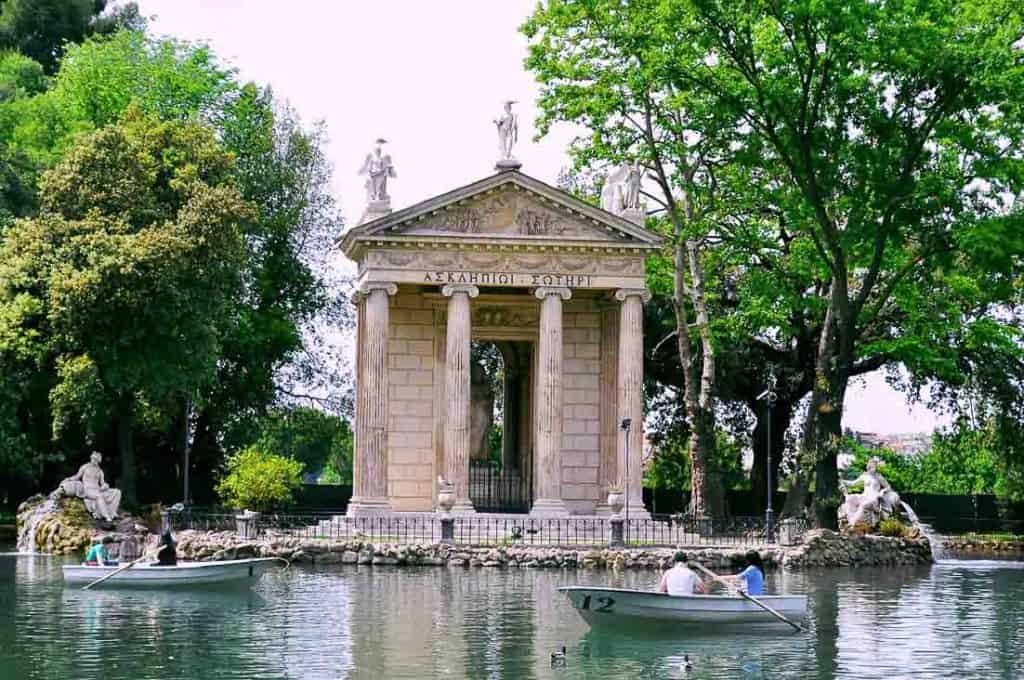 Villa Borghese is the third largest public park in Rome and is one of the great places to visit in Rome with kids. The park features landscaped gardens that contain several buildings, museums and attractions. The gardens are a beautiful green oasis near the historic center of Rome. There are plenty of walkways and paths to follow through the picturesque settings.
If you're after some fun kids activities in Rome, you can rent some bikes to explore the park. There are four seat bikes available which work well for families or of course the good old fashioned bicycles as well.
The kids will also love a little boat ride, which is available on the pond. It's another fun activity that's especially family-friendly. There is also a zoo with a nice variety of animals as well.
Throughout the park, there are several stands for food, snacks and of course gelato!
Location: Piazzale Napoleone I, 00197 Rome
Opening Hours: 24 hours
Price: Entry to the gardens is free, prices for attractions vary
5. Kids Cooking Classes
There is some amazing food in Italy and Rome is home to some of the best food in the world and one of the benefits of visiting Rome with kids is that you get to try it out for yourself. But what could be better than eating fresh Italian food? How about learning to make it yourself. Even better than that, how about teaching your children how to make it?
Kids cooking classes without a doubt, provide some great fun for kids in Rome. Kids can learn to make several pasta dishes, pizza and even gelato. It will surely be something that will capture their imagination and give them a unique perspective on Rome that they'll never forget. There are several locations to choose from as well as classes for kids of all ages.
Location: Varies depending on the class.
Opening Hours: Most classes go for around 4 hours and starting times vary.
Price: The costs for classes can range from 49 to 80 euros, depending on what you're interested in.
6. Castel Sant'Angelo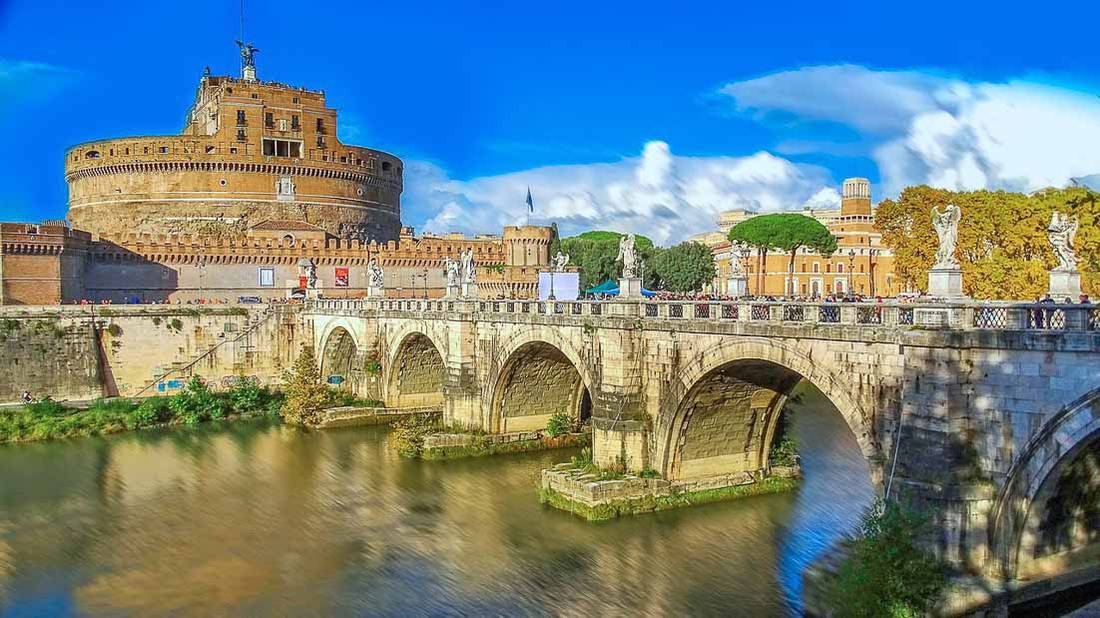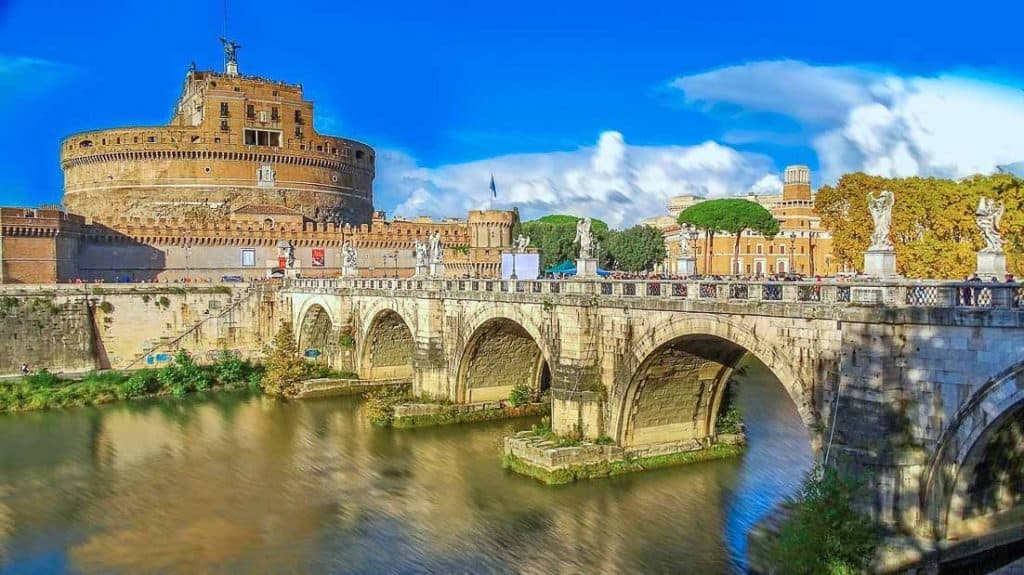 Another one of the things to do in Rome with family is to take a visit to Castel Sant' Angelo. This remarkable building, which was built in year 135, is a castle perched on the banks of the Tiber River and can be accessed by one of the most striking bridges in Rome, the Ponte Sant' Angelo.
The castle has served many functions over the years and it's fascinating to wander through and discover all that has gone on in the castle. It's fun to roam around and explore the many passages and walkways. They go from deep in the interior, underground all the way up to the very roof, which provides one of the best views of the city. There is so much to see and so many rooms to explore that this the perfect spot for kids when visiting Rome.
The castle is a hidden gem in Rome, so you don't have to pre-book tickets to enjoy this attraction.
Location: Lungotevere Castello, 50, 00193 Rome
Opening Hours: Tuesday to Sunday from 9 am to 7.30 pm.
Price: 15 euros for adults and free for children.
7. Hop on Hop off Bus
There's a lot to see in Rome, so there is a lot of ground to cover and a lot of walking involved. So when it comes to what to do in Rome with children who don't want to walk anymore, a Hop on Hop off Bus is a great alternative to walking.
You can use the bus to see the main attractions including getting a glimpse of some of the things that you know that you just won't have the time to see. It's a great idea to do a full lap on the bus (which takes around 90 minutes) first to get a general overview of the city and get oriented before really setting out and exploring.
There is a range of different Hop on Hop off tour operators to choose from such as Big Bus Tours, I Love Rome, and Citysightseeing, with some of these buses, also including free walking tours with the bus pass.
Location: Bus Stops vary depending on the tour operator.
Opening Hours: Buses tend to run between 8.30 am and 8.45 pm – but do check with the bus tour you book with.
Price: Depending on bus operator one-day bus passes range from 23 euro to 32 euro per adult and 14 euro to 21 euro per child with under 6s usually free.
7. The Market of Campo de Fiori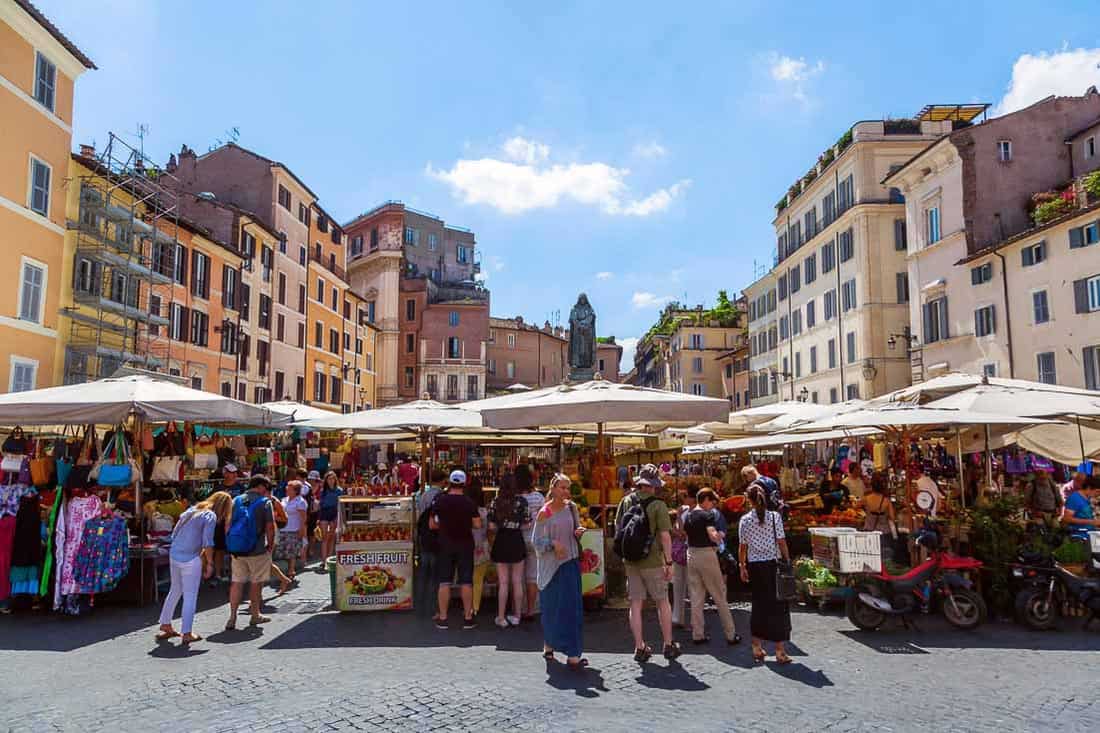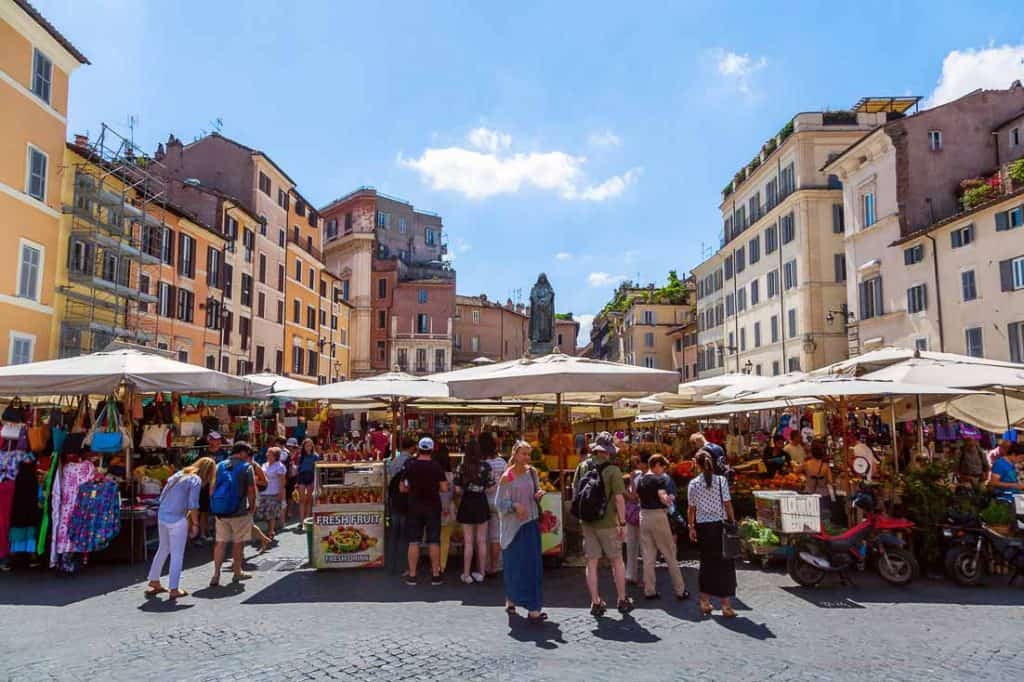 A good Roman market is sure to catch the little ones' attention, and the daily market at Campo di Fiori is just the market to do that. This is the oldest market in Rome, and every day since 1869 (except Sundays), this market comes alive selling a wide variety of things such as food, treats, jewelry and a bit of everything else.
Bring a couple of euros and prepare to do some shopping. It's a great place to purchase some souvenirs other than the typical things that you'll find in the traditional souvenir shops. Other than buying goods, it's also just a great place to be, walking up and down the walkways and taking in the atmosphere.
Location: Piazza Campo de' Fiori, 33, 00186 Rome
Opening Hours: Daily (except Sundays) from 8 am to 2 pm
Price: Entry to the markets is free
8. Eat Gelato
When it comes to the best things to do in Rome with children, it doesn't get much better than eating gelato. In fact gelato alone is an excellent reason to visit Rome. For your kids, this could easily outrank the Colosseum, the Pantheon, the Vatican, or any other site that you visit. What's even better is that you can find gelato on seemingly every street corner and alley of the center of the city.
Italians have seemingly perfected the art of gelato making and you'll quickly find that it's almost always good. With such a wide variety of flavors to choose from, why not try as many as you can and then decide which is the best!
Location: Every street corner!
Opening Hours: Varies
Price: Varies but expect to pay 2.50 euro plus.
9. Wander the Alley Ways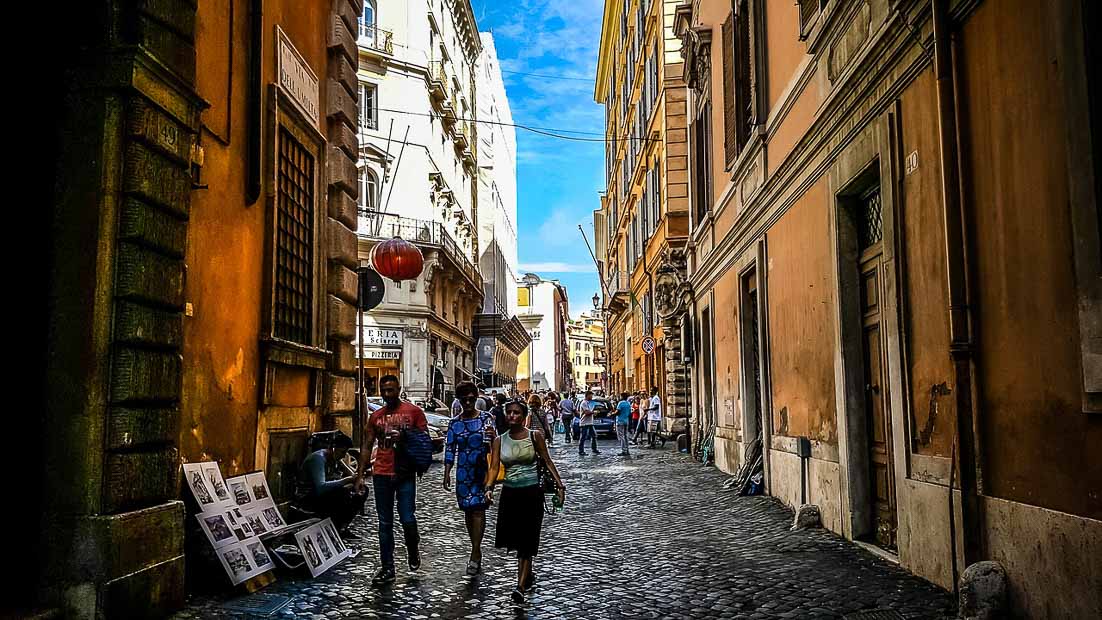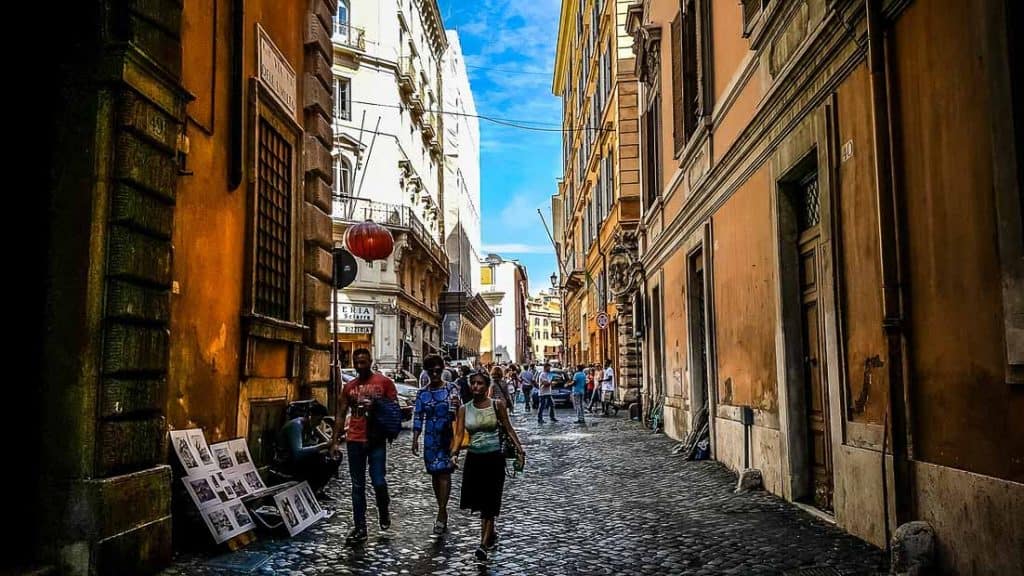 One of the top things to do in Rome with kids is to simply follow those famous Roman roads and see where they might lead you. With so much to see, the temptation is often to overbook and try to see as many things as humanly possible. Why not take the opposite approach for at least part of the trip and wander the famous Roman back streets letting the kids lead the way.
Don't worry; no matter where you go, you're sure to discover something amazing and cool. After all, Rome is often called an open-air museum, and that title is well earned.
Location: Everywhere
Opening Hours: 24 hours
Price: Free
10. Pantheon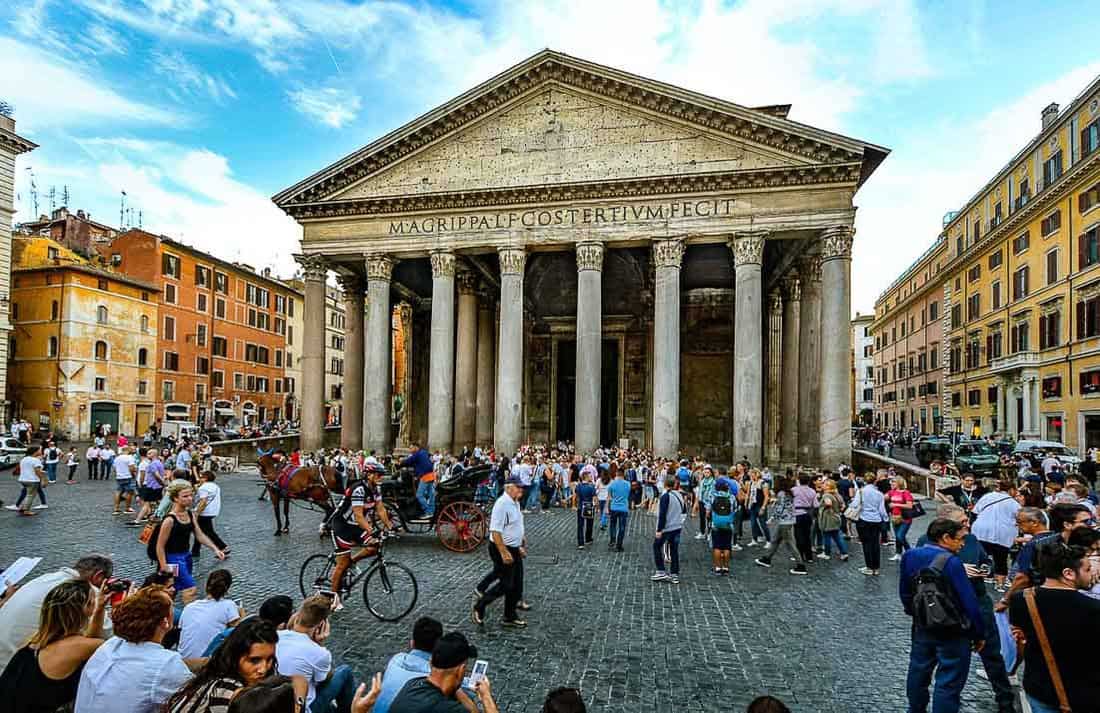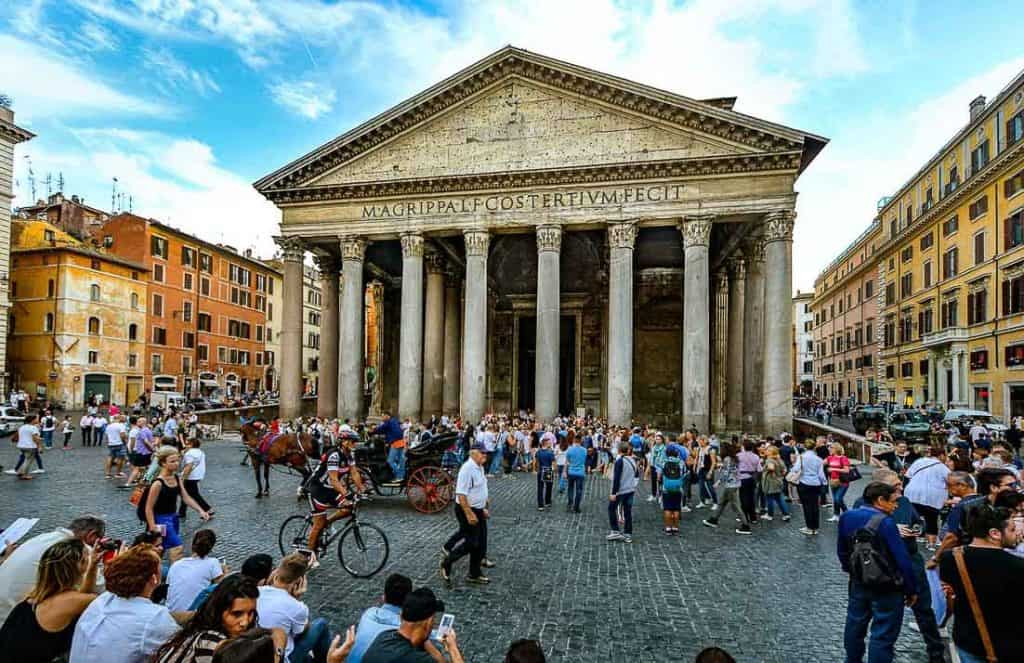 When it comes to the top 10 things to do in Rome with kids, the Pantheon has to be at the top. The Pantheon is an absolute marvel to see in person. From the outside, the massive columns rise and frame the building perfectly. Inside, the world-famous dome with its oculus is quite the sight. Kids will always think that the building is cool simply because there's a hole in the roof (what happens when it rains?). This is another structure that captures the attention of old and young alike; it's such an excellent place to visit.
For all of the glory that the Pantheon rightfully receives, very little attention is given to the piazza that the Pantheon calls home, the Piazza della Rotonda. It is one of the most remarkable piazzas in a city full to the brim with them. This isn't simply because of the Pantheon. At the center of the piazza is a fabulous fountain with an obelisk rising right out of the center of it.
The surrounding area includes steps that are the perfect spot to sit and rest your feet and take in the amazing atmosphere and surrounding areas. It's a great place to people watch and relax and marvel at the Pantheon the beautiful piazza that it sits in.
Location: Piazza della Rotonda, 00186 Rome
Opening Hours: Monday through to Saturday from 8.30 am to 7.30 pm and Sundays 9 am to 6 pm
Price: Free
Getting Around Rome with Kids
The best way to get around Rome is on foot. You'll likely spend most of your time in the historic center. This area is pretty compact, so you can get to most locations within 20 minutes or so, especially if you plan out your day to stay in a specific area. If you're going to give your feet a rest, you can use the bus to help get you around.
The bus system is nothing like the finely tuned machine that you'll experience in London or Paris. The schedule can change or buses can come late or not at all. There's also a metro system that serves the city. The thing is, there are only three lines total, so the chances are that you're going to be using either the bus or walking to get around.
From the airport, you can take the Leonardo Express to Termini Station. From there you can either take a bus, the metro or taxi to your hotel. If you're taking a taxi, make sure you're taking the official white city taxi.
Where to Stay in Rome with Children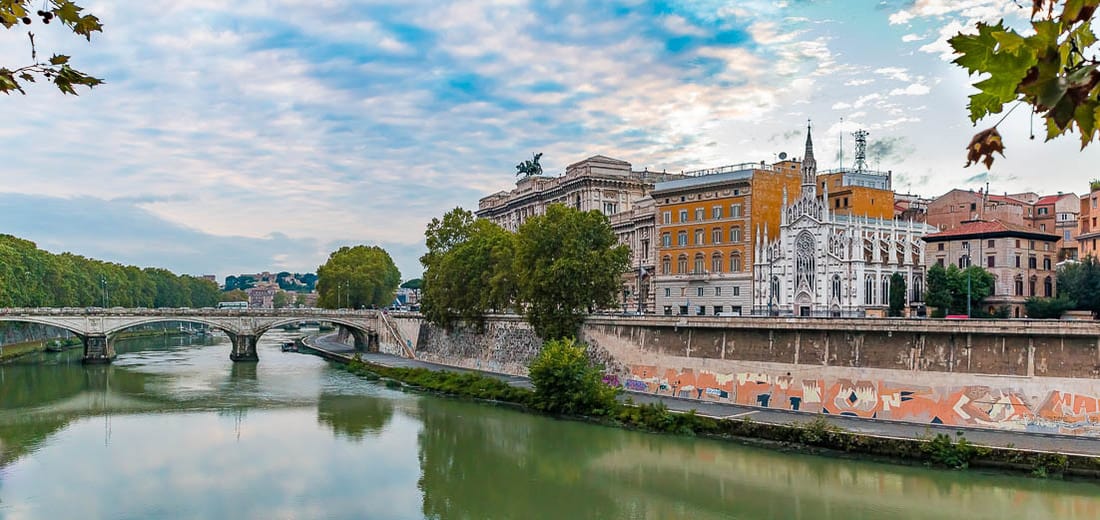 When it comes to where to stay in Rome with children, its recommended to stay close to all the action, but not too close if you're trying to save money.
The Prati neighborhood is possible the best place to stay in Rome with kids. Even though it is across the Tiber River from the main historic center, it's a short bus ride or walk away. The location itself is still near some very popular sights. Prati has Vatican City as its neighbor as well as Castel Sant' Angelo. It also has plenty of restaurants as well. Click here for a list of places to stay in Prati.
---
Jeremiah is an accountant by day, travel blogger by night (kind of like the Batman of travel). I'm married with two little travelers who are always looking forward to our next adventure. I love to travel, planning travel, and writing about travel. Our blog Smiles on Arrival is a passion project borne of the desire to share our travel experiences and provide tips and advice that we've found useful. We hope to encourage and inspire young families to travel and embrace the adventure that it brings. Follow Jeremiah: Pinterest | Facebook | Instagram | Twitter
Want to save this information for later?
Click on one of the images below and save it to Pinterest.