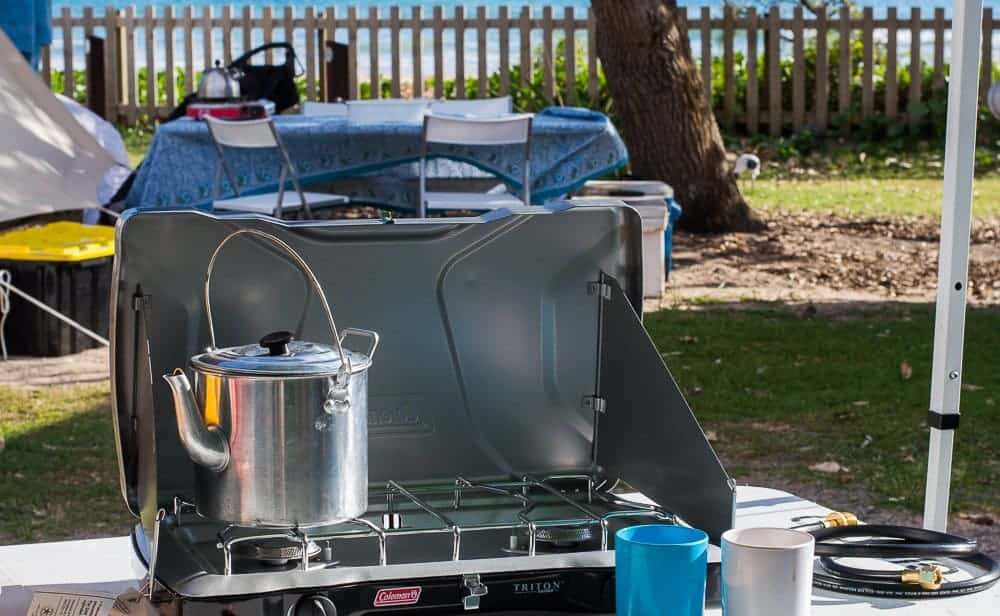 Camping can be totally overwhelming for families who have never been before and don't know the first thing about camping. Where do you even start? Where should you go? What equipment do you need?
Check out these 5 quick tips to get you well on your way for your first camping trip.
1. Go with Experienced Campers
If you have never camping before, stake out some friends that are experienced campers and see if you can tag along with them. Chances are they will be thrilled to have you along as camping is always more fun with other families.
Your experienced camping friends will have all the camping gadgets and will be able to show you the ropes. They will know all the ins and outs of exactly what to pack, hidden costs you may not have been aware of, where to go and more importantly, where not to go.
We did this quite a few times before we ventured out on our own. We bought just the essential camping gear like a tent and sleeping bags and our friends were happy to share their other camping equipment with us.
2. Purchase an Instant Tent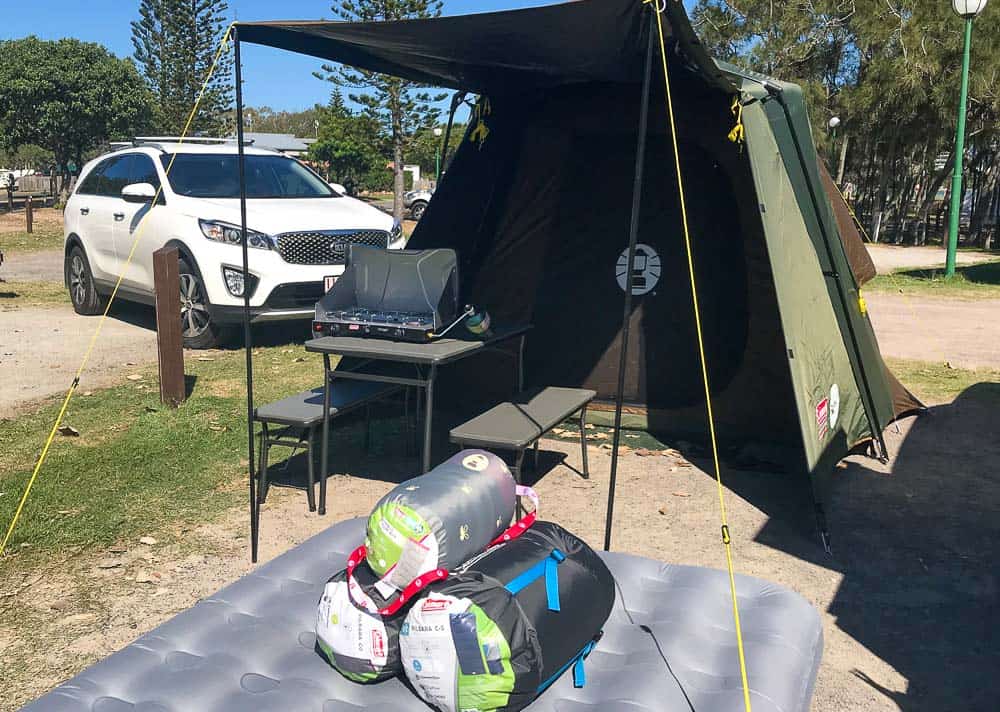 If you have never pitched a tent before well, you strap yourself in! Ever put a flat pack together with your spouse? Putting a conventional tent up can be just like this, but worse! I can't tell you how many spats Andy and I have had over putting a stupid tent up!
We are now fully converted instant tent campers (check out our recent review on the Coleman instant tent). Whilst more expensive than conventional tents, instants basically pop up somewhat like a beach tent. You can literally have your entire tent up in minutes! Packing up is just as easy too.
The other benefit with instant tents is that you don't waste half of your first day camping setting up. Whilst they may be more expensive than a conventional tent, they are honestly worth every cent and you can easily pick one up second hand. In fact, I recommend all families new to camping getting their gear second hand, there are some great bargains to be had.
You can see the full Coleman range of instant tents here.
Considering taking a kayak camping? Click here for a review on the best kayaks for kids.
3. Consider a Caravan
If you really can't stand the thought of sleeping in a tent, there is always the option to purchase a second-hand caravan. You can easily purchase a second hand one online from sites such as Gumtree.
There are all sorts of caravans available catering to a range of needs and sizes, it's just a matter of finding the one most suited to you and your family.
Caravans usually have everything you need already installed for cooking etc, so you don't have to buy all the camping equipment separately and you can add your own touch to the interior to make it feel like home.
You still get the experience of camping away from every day life but get the luxury of having a small house on wheels to take with you.
If you are not up for purchasing a caravan out right there are also various share arrangements where you can hire a caravan privately for your trip.
4. Stay at Camp Site with Great Facilities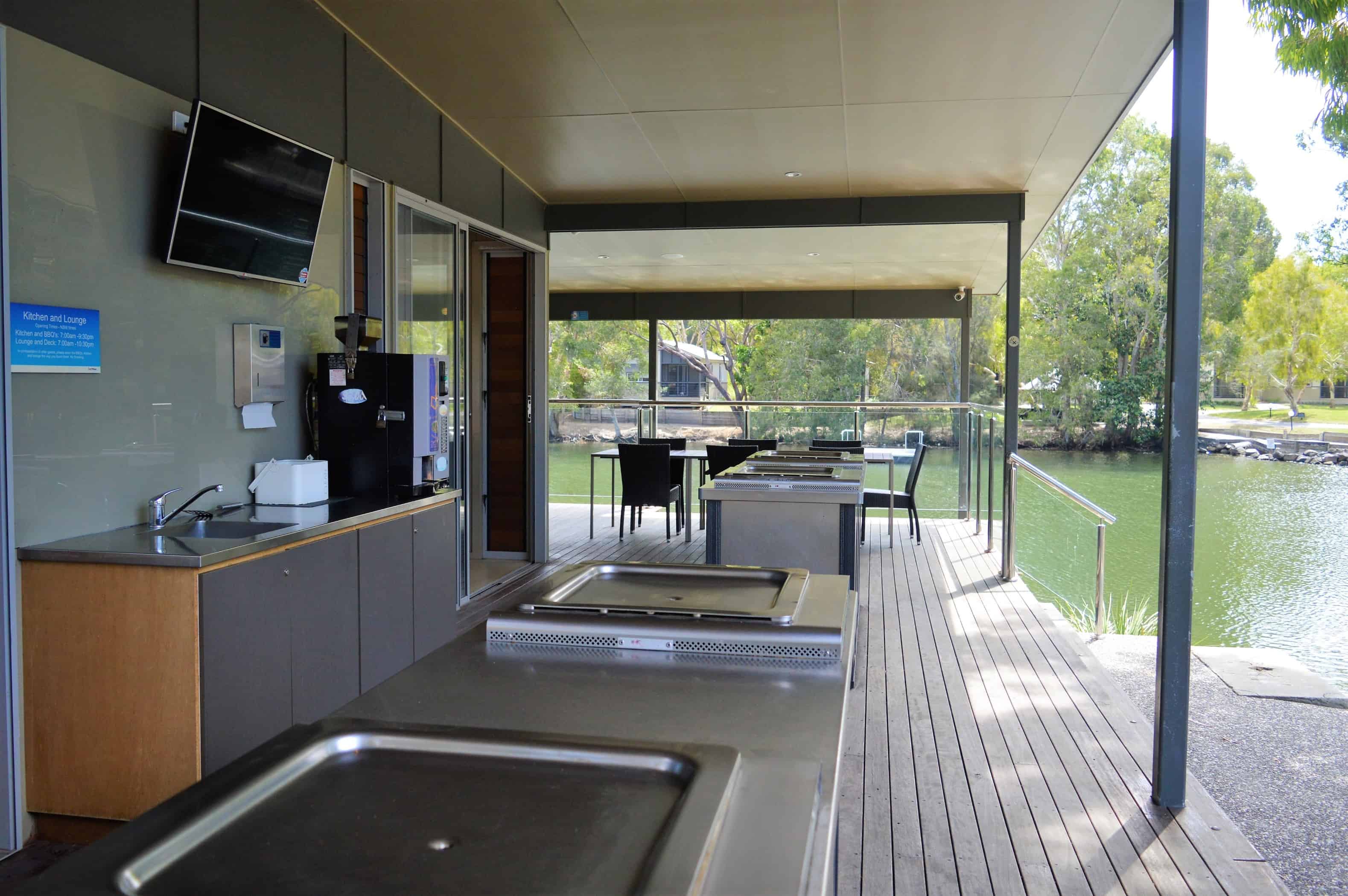 For your first camping trip, I do not recommend you go completely off the grid where there are no toilets or shower facilities! Book yourself into a fancy camp site with first class facilities.
Some of these camp sites resemble 5 star resorts the facilities are so awesome! Facilities usually include shower blocks, laundry facilities, playgrounds, swimming pools, camp kitchens, even dining and TV rooms. Having access to all of these things will definitely make your camping experience more comfortable and enjoyable for everyone. Check out Big4 or Discovery Holiday Parks as they usually have fantastic family friendly facilities and are located all over Australia.
Click here to read our review on all the fantastic facilities at the Tweed Heads Big 4.
5. Keep a List of Camping Essentials
One of the most important lessons we have learned over the years when it comes to camping is keeping lists and a fully stocked camping kit.
If during our camping trip we get low on something – we add it to the list, see a cool idea from another camp site – we add it to the list, think of something that will make our set up better – we add it to the list. When we return from our trip we check the list and get the various items and immediately add it to our camp kit. This means next time we go camping we will have a better set up.
Having a camp kit also saves you the hassle of having to pack up the entire house when you go on your camping trip. We keep our camp kit in a couple of plastic crates in the garage and whenever it is camping time we simply put them in the back of the car and we are away.
It may take several camping trips to have a great set up, but I can assure you if you don't write it down there and then in the moment you will never improve your camp set up as you will most likely forget.
Click here for a comprehensive camping list.
Want to keep these tips handy for later?
Click on the image below and save it to Pinterest.