In anticipation for our trip to Frankfurt later in the year, we asked a few fellow travel bloggers for their tips with regards to the best things to do in Frankfurt with kids.  We fly into Frankfurt and only have a short time there before moving on to Berlin, so we are really looking for the best things to do in Frankfurt for a day or two as well as a few recommendations for the best day trips from Frankfurt.
If you are wondering what to do in Frankfurt with kids, keep reading below for some recommendation.
Need tips for Munich or Berlin?  How about the best European destinations to visit in Winter?  Click on the links to see top tips from fellow travel bloggers.
Best Things to do in Frankfurt with Kids
The Senckenberg Natural History Museum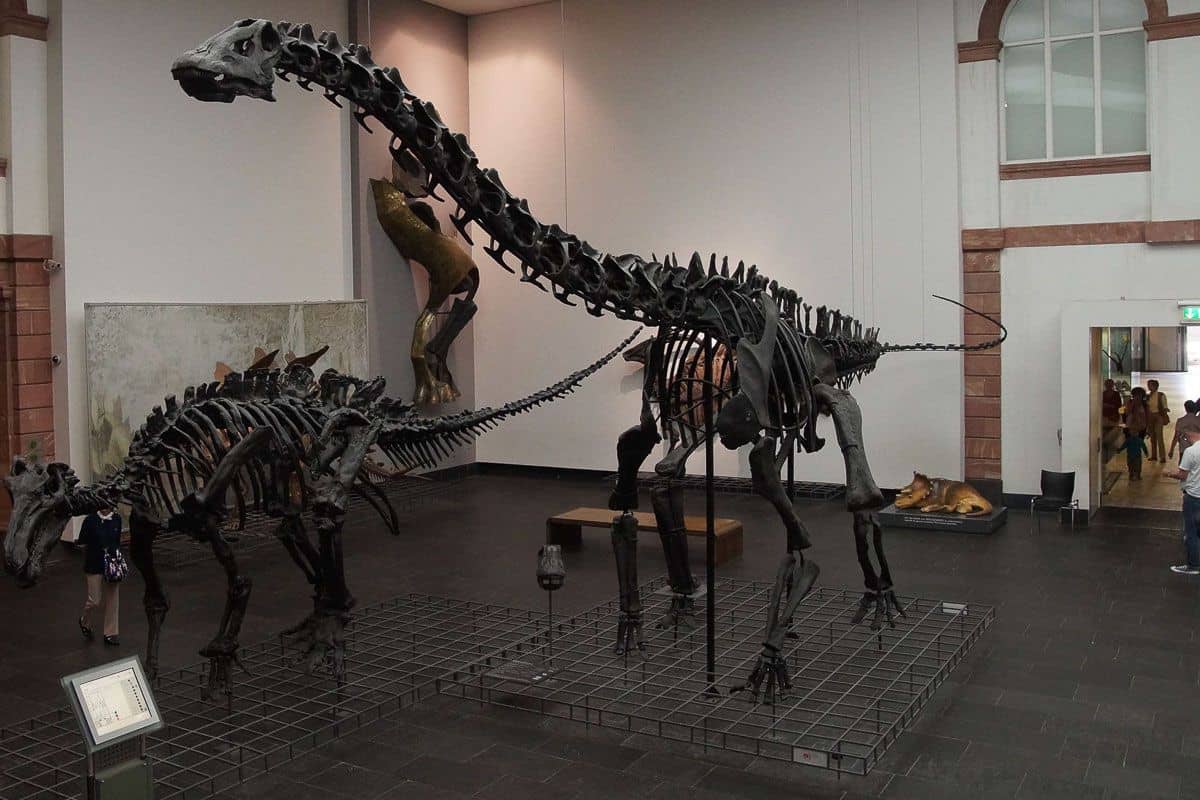 Thanks to Tikva from Gezin Op Reis. 
Visiting a natural history museum is always a safe choice during a city trip with kids and the Senckenberg Natural History museum will not disappoint as it is one of the best museums in Frankfurt.
This museum is one of the largest of its kind in Germany and has a wide collection of dinosaurs, mammoths and other animals. For children it doesn't matter that most of the huge dinosaurs skeletons are replicas, they will just be impressed by how big these animals were.
The museum is very large, so during a rainy day you can enjoy yourself here for a couple of hours. It is really a traditional natural history museum focused more on seeing than doing. However, they often have special exhibits that are more modern and interactive.If you have limited time I would suggest starting with the special exhibits as our daughter liked them the most.
The Senckenberg Natural History Museum is open every day of the week from 9:00am until 5:00pm. On weekends you can visit until 6:00pm and on Wednesday it is open until 8:00pm. The museum is located outside of the Frankfurt Innerstad but less than 2km from the train station and regular buses stop in front of the building.
Children from 6 year and up pay 4,50 Euro; adults pay 10 Euro. There are several discount options like family tickets and a discount for Frankfurt-pass holders that are worth looking into.
Ebbelwei-Express
Thanks to Mike from 197 Travel Stamps. 
There is no better way to explore a city than with a drink in your hand. The Ebbelwei-Express is a special sightseeing tram that rides to the main tourist spots of Frankfurt.
Ebbelwei, or Apfelwein, is a type of apple cider and the drink of choice for locals. Yes, that's right, not all Germans drink only beer. In addition to the ride, the ticket price of €8 includes a bottle of Ebbelwei as well as a bag of pretzels (kids can opt for apple juice instead of the alcoholic version).
The Ebbelwei-Express runs every Saturday, Sunday and on public holiday starting at 1:30 pm. It stops at all major tram stops of Frankfurt's sights and you can jump off to explore the sights and get back on afterwards – maybe for another delicious Ebbelwei. Make sure to include a stop at the Lokalbahnhof/Textorstrasse in the Sachsenhausen neighborhood south of the Main River. This is Frankfurt's bar and party district. If you are still thirsty, check out some of the cute little bars and pubs – if not, enjoy your time just wandering through the narrow alleys.
The Hauptwache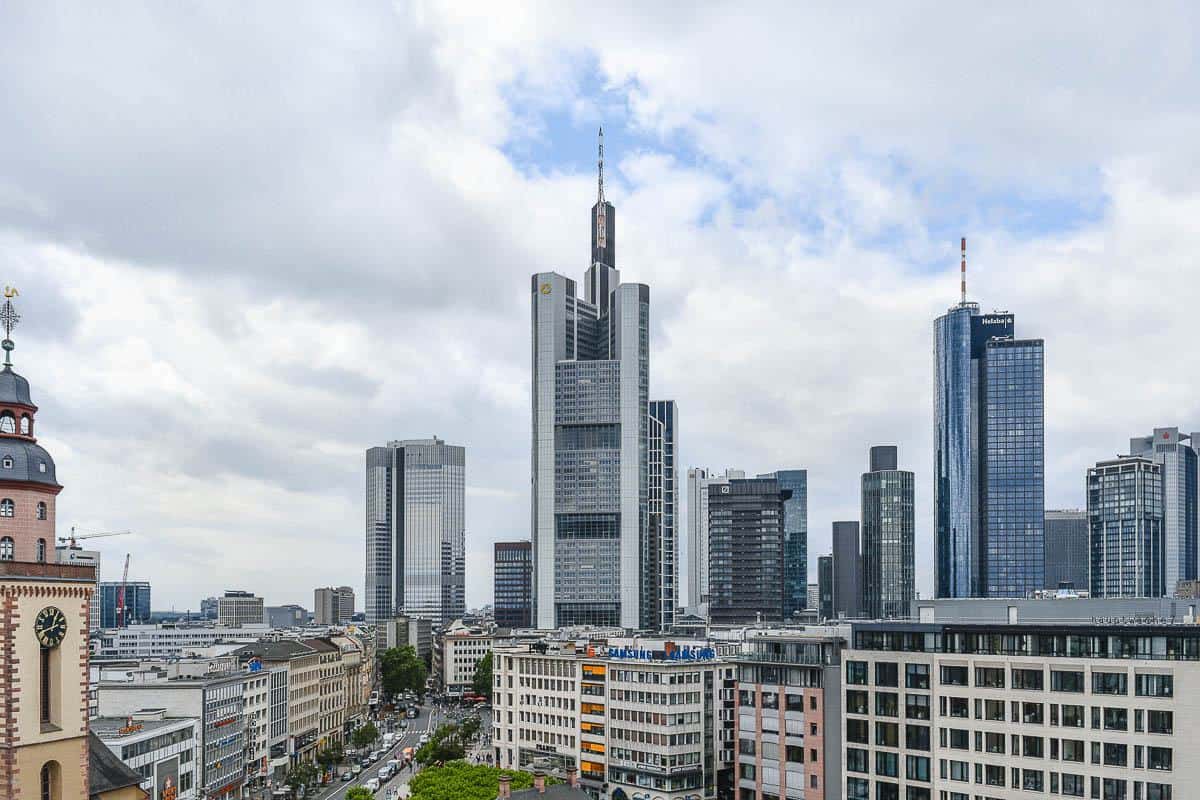 Thanks to Maria & Rui  from Two Find a Way. 
Whenever visiting a city for the first time, we make it a point to start with a view of it! Finding a viewpoint is as an amazing way to start a trip not only because views are beautiful, but also to get a sense of the city you are visiting. Seeing a city from a higher perspective allows you to understand it a bit better, as well as to locate the main attractions and spots you want to visit.
There are a few places from which to get great views of Frankfurt. We went with the rooftop garden of Galeria Kaufhof because it's free and right in the center of the city. It is walking distance to the historical center, Der Römerberg, and located in the main shopping street, The Zeil.
The main view is to An der Hauptwache, Frankfurt's main plaza. You can also glance at the Hauptwache itself, the baroque landmark that gives name to the square was actually once a prison and is now a famous café! This rooftop is also a great option if you are looking for some delicious food and a way to combine it with sightseeing in the city.  Definitely check it out if you are looking for things to do in Frankfurt in one day.
The Main Tower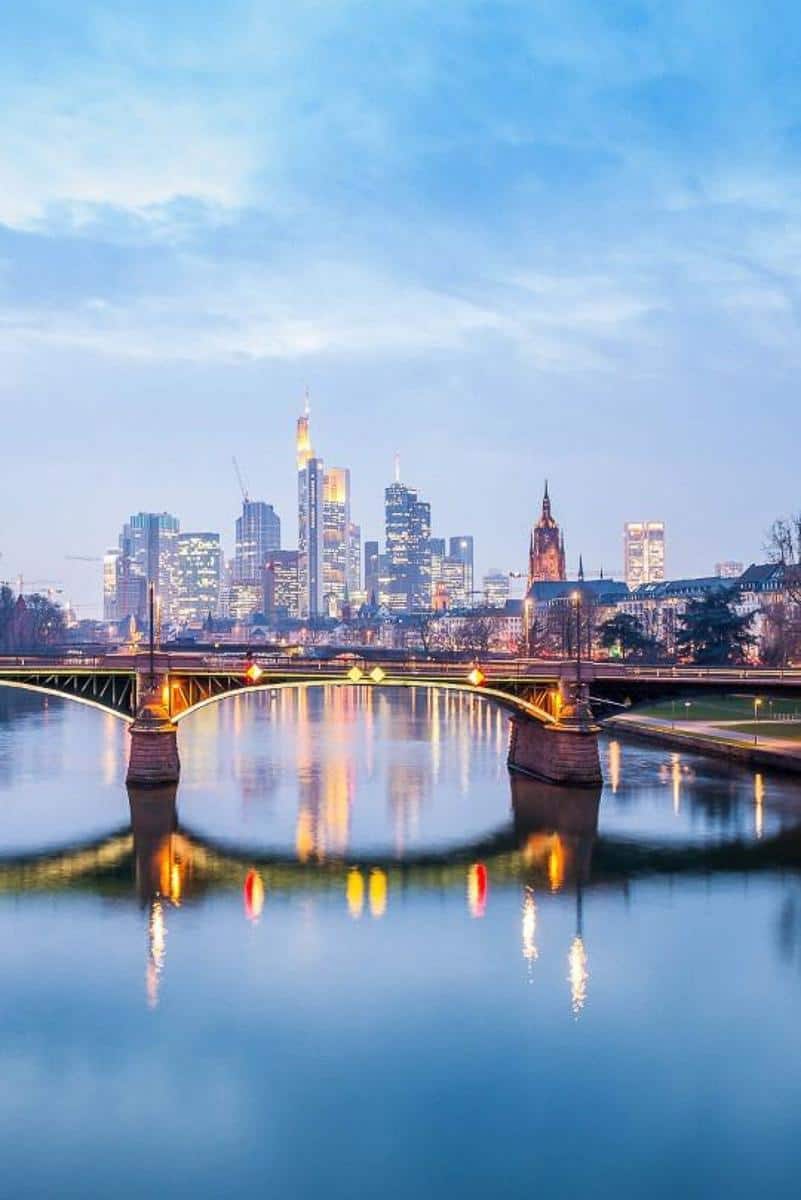 Thanks to Marie from Our City Travels
Frankfurt is Germany's business hub, the city landscape boasts of high-rise buildings and a more modern architectural aura than most of Germany's historical surrounding.
Walking about the busy hub, you could still find quaint spaces, cobblestone-covered streets and charming places that Germany hides from the usual hustle and bustle. In winter, when the city is covered with snow, the landscape is best seen from the observation deck of the Main Tower,  a 56-storey, 200 m (656 ft) skyscraper near the Main river from which the tower's name has been derived from.
The Main Tower is an attraction itself, being the first fully glazed tower in Europe. It houses a special restaurant 187 meters up, it's a wonderful dining experience with a view of the city to boot. The tower also holds numerous art exhibits featuring works of several artists, I find this the best feature aside from having a selfie at the deck with the Frankfurt skyline as a background.
Tickets sell at 7.50€ but gets lower if you are in a group/family tour. Opening hours vary between season, so check their website before going.
Frankfurt Day Trips
It appears some of the best things to do in Frankfurt with kids is to escape the city centre and take a day trip to the surrounding areas.  Below fellow bloggers recommend the best places to visit near Frankfurt.
Burg Eltz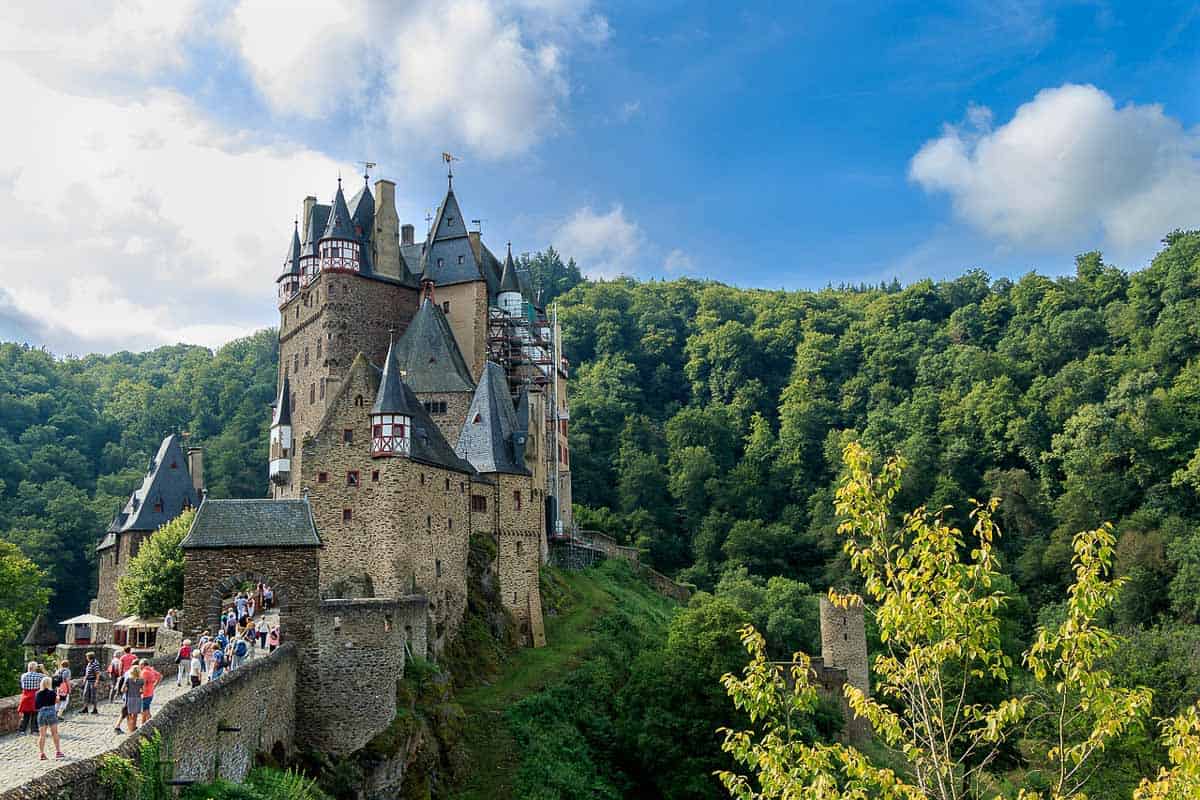 Thanks to Alex from Swedish Nomad. 
Burg Eltz is a nice day trip from Frankfurt, approximately 1 hour and 40 minutes away by car. It's a true Fairytale Castle, and if you go there early you'll probably have it all to yourself to admire. The Castle is privately owned, but is open daily from 09:30 am to 5:30 pm until 1st of November 2018.
The Castle has most visitors from lunch to 3:00 pm, so if you want less visitors, come before or after 3:00 pm. If you want, it's possible to join a castle tour to see the interior and rooms. The price for 1 adult is currently 10 Euro and includes the castle tour.
All text is in German, but foreign visitors get an English brochure with translations. If you don't have a car, you can also join a day trip from Frankfurt, or take a train to Treis-Karden and from there hop on the Burgenbus.
Click here if you want to learn more about the day trip to Burg Eltz or to make a booking.
Kreuzberg Rhoen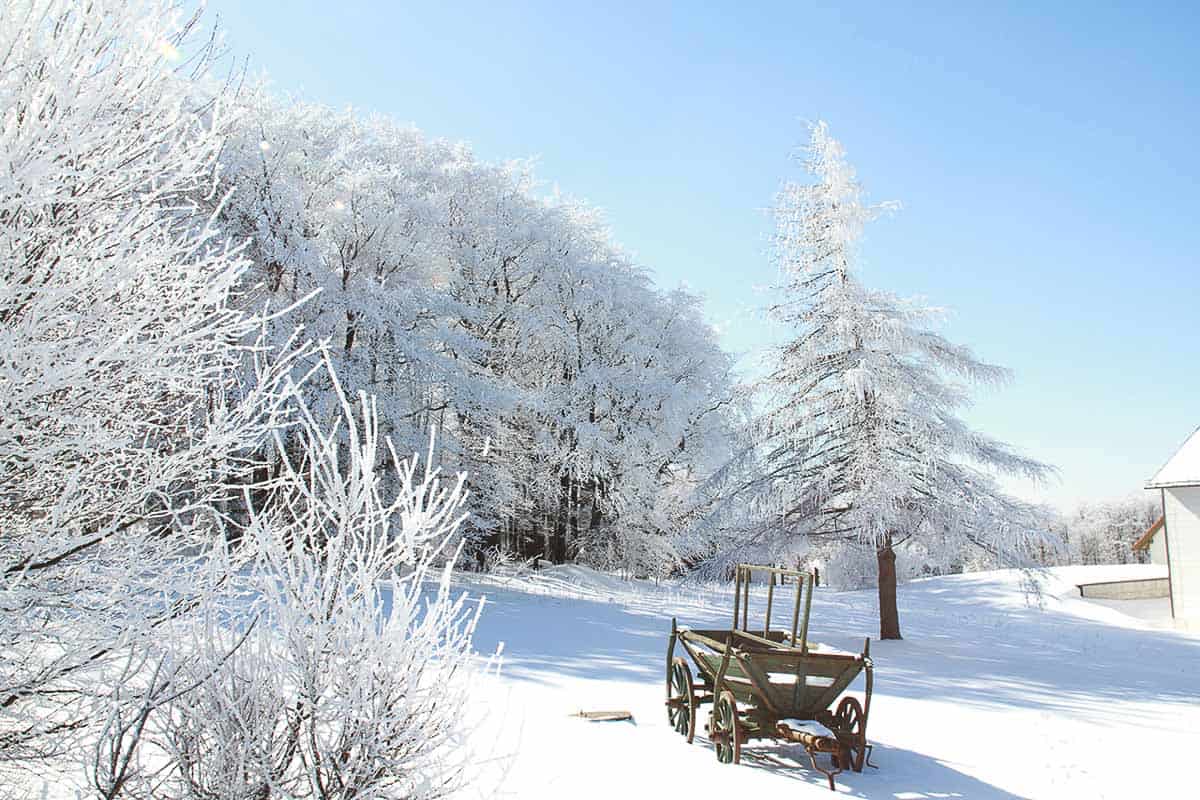 Thanks to Corinne from ReflectionsEnroute. 
If you are looking for things to do in Frankfurt in winter, you will certainly want to make the 1.5 hour drive to check out the winter wonderland that is the Kreuzberg Rhoen National Park.
A holy mountain, it is well-known for its monastery that still makes fantastic beer. We stopped in there for a cheap, delicious lunch and one of their famous beers before heading out into the sparkling snowy paths for a good winter hike. The weather was temperate allowing us to stay outside and enjoy it for a few hours. We should have wandered over to the sledding hill and small ski lift, but we didn't take the time on this day trip. There is also a ski jump that is a bit kitschy, but looked like fun as well. Quite the secret, you will love Kreuzberg Rhoen National Park.
Other Recommendations for Frankfurt
I have been doing my own research for things for us to do in Frankfurt and a couple of things that are on my short list include:
1. 1 hour boat cruise through Frankfurt: Take a 1 hour guided boat cruise on the River Main where you will learn about Germany's financial capital.  Tours are in both English and German and run at least 6 times per day from KD Pier, Eiserner Steg, 65094 Frankfurt.
Click here for more information or to make a booking
2. Hop-on Hop-off Double Decker Bus Tour: I love these sorts of tours as a quick and easy way to not only get around the city but also to learn a bit about it as you go.  There are 16 stops along the way including Paulskirche, Römer, Goethe-Haus, Main Tower, Alte Oper, Palmengarten, Senkenbergmuseum, Messe, Hauptbahnhof, Museumsufer, Eisener Steg, Alt Sachsenhausen, Untermainkai, Mainkai, Zoo Frankfurt and Hauptwache.  Commentry is in spanish, Enlighs, French, German, Italian and Russian.
Click here for more information or to make a booking
3. Heidelberg Day Trip:  This day trip takes you to the gorgeous city of Heidelberg located on the River Neckar, said to be one of the most beauitful cities in Germany. Tour prices includes entry to the world famous Heidelberg Castle as well as lunch.
Click here for more information or to make a booking
4. Day Trip to the Rhine Valley: Visit the UNESCO world heritage site of the Rhine Valley and admire its gorgeous little towns, enjoy wine tasting and see medieval castles.  Tour price includes a boat trip on the Rhine, lunch and wine tasting.
Click here for more information or to make a booking
5. Day Trip to Rothenburg: This day trip takes you along the Romantic Road to the German medieval town of Rothenburg ob der Tauber.  Visit the Jakobskirche as well as the gorgeous half-timbered houses.  The tour price includes lunch.
Click here for more information or to make a booking
Frankfurt Accommodation
Looking for accommodation in Frankfurt, click here to see what is available.  We have booked the Ambassador Hotel for our short stay in Frankfurt.
If you are heading to Frankfurt here are some more articles that may be helpful:
The above posts contain affiliate links which means that if you book through any of the links I will receive a small commission.  This enables me to continue to bring this information completely free to you.  Thanks for supporting our website.
Want to keep this handy for later?  
Click on one of the images below and save to Pinterest.