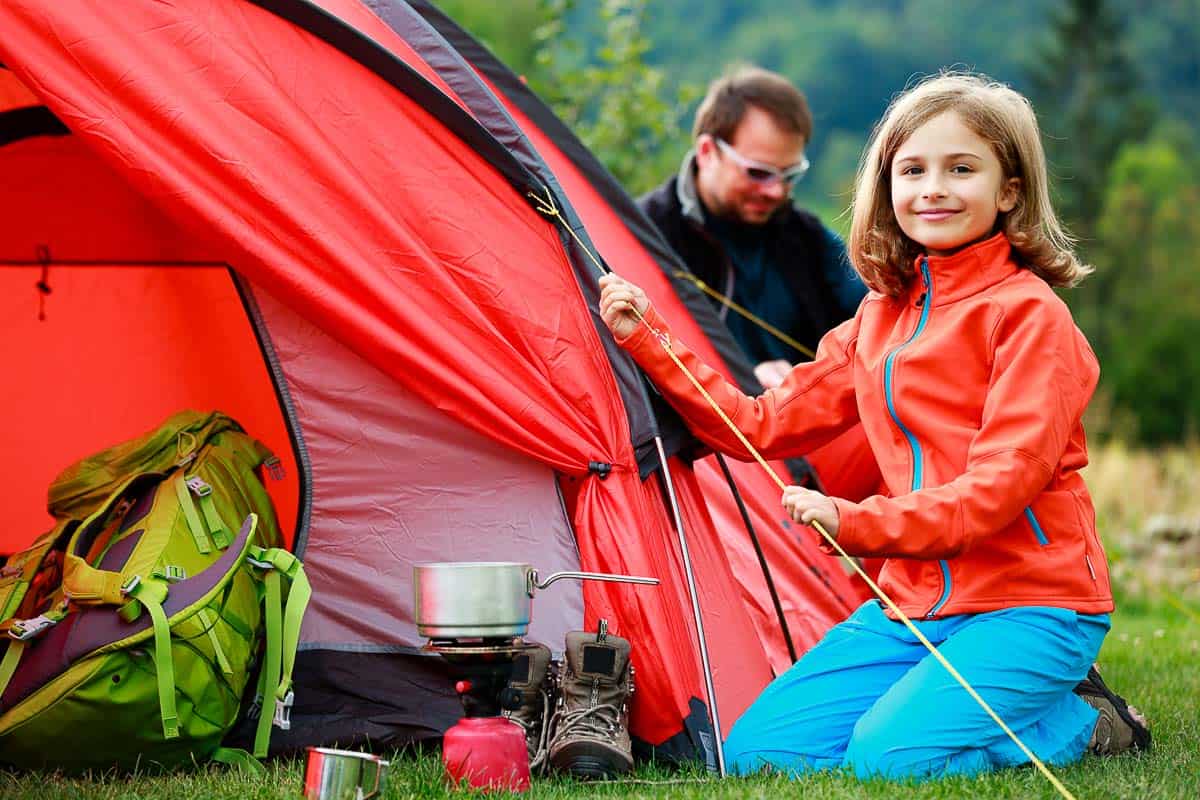 Are you looking for the best family tent Australia currently has on offer but don't know where to begin? Perhaps this is your first time buying a tent, so you don't even know what features make the best family camping tents.
If this is your first time buying a tent, or even if you're upgrading, it can be somewhat overwhelming looking at all the family tents for sale. I know I was you once a upon a time! I read all the best family tent reviews and spoke to numerous sales assistants, yet was still none the wiser and after buying three different family size tents, I finally feel qualified in what makes the ultimate family tent.
Over the years, we have purchased numerous so-called top-rated family tents only to find that they didn't meet our family's needs in one way or another. Like most families, we started with what we thought was the best budget family tent only to find the quality wasn't up to standard.
We then went to what the guy at the local camping store recommended as the best large family tent only to discover it took far too long to put up and was just too big for what we needed. We are now onto our third tent and finally feel this is the best 3 person tent for us (we are only a family of 3!)
If you are at the beginning of your journey to find the best family camping tent, then this article is going to be super helpful to you. In this guide, I am going to take you through everything you need to know to purchase the best family tent on the market to meet your family's needs, to ensure you have stress free family camping trips for years to come.
The guide will talk about all that tent terminology, what size tent you need, what type of tent you need, and how much money you need to spend. I will also take a closer look at some of the highest-rated family tents currently on the Australian market.
So whether you're after the best quality family tent, the best large family tents, the best small family tent or even just the best family tent for the money, you will no doubt find what you are looking for in these family camping tent reviews.
This post may contain compensated links. Please refer to my disclaimer here for more information.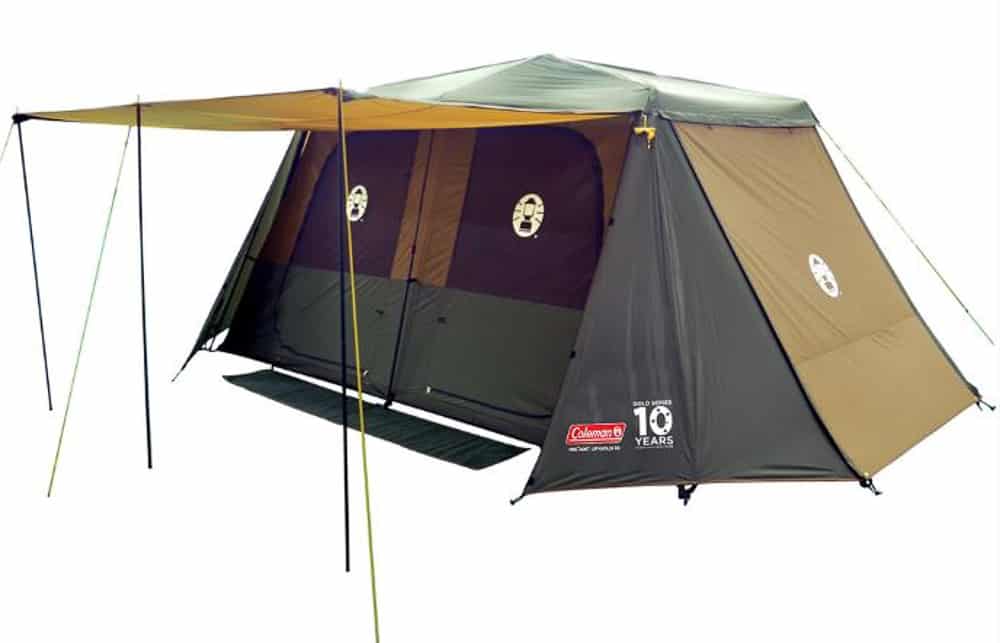 Don't have time to read the complete guide to the top 10 family tents and want our recommendation for the best family size tent? When it comes to the family camping tents for sale, in our view you can't beat Coleman Tents. We believe Coleman is one of the best quality tent brands and our favourite Coleman tent is the Instant Up Gold Vestibule Tent.
This Coleman tent comes in a range of sizes, but given we are just a family of 3; we have the Coleman instant 4 family tent. If you are looking for the best 4 person family tent or best 5 person tent, go with the 6 man version.
We think this is one of the best-rated family tents because not only is it one of the best pop up tent options, given it goes up in minutes, but it is a high-quality, durable tent that will protect you in a range of weather conditions.
This is the tent we go camping with and love it! Click here to check it out.
See below for our full Coleman tent review as well as our video showing you around our very own Coleman instant family tent further below in the best family camping tents reviews.
Best Family Camping Tents 2021 Comparison Chart
Check below for a quick overview of the top ten family tents we recommend as well as their various features.
Types of Tent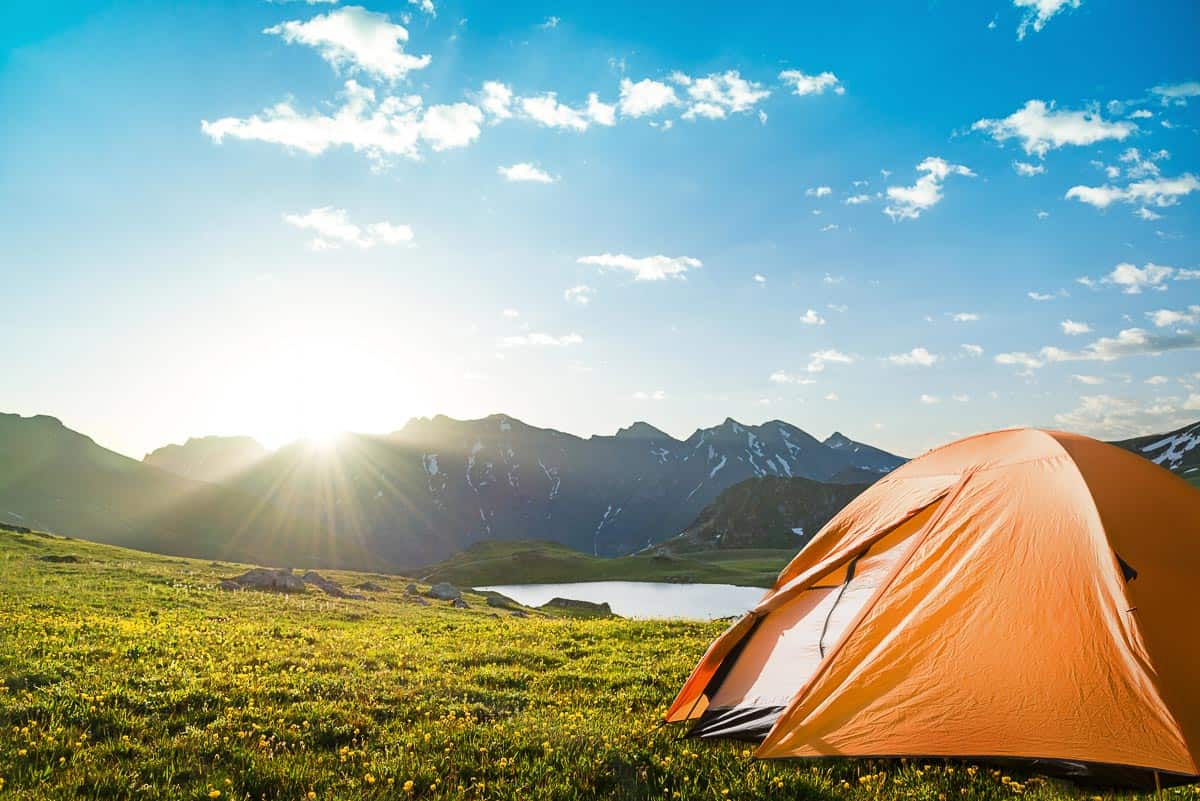 There are a huge variety of family size tents for sale, but for this article, we're going to focus on pop up, dome, and cabin tents given they tend to be the most popular family tents.
Pop Up Tent
Pop Up Tents are one of the latest styles of tent to hit the market and are also often called instant tents. These tents are super easy to set up with the poles all attached already making it quick and easy to assemble when you arrive at your campsite.
These tents can cost more than standard tents, but if you don't want to waste any time on the setup and want to get straight into enjoying your camping trip with friends or family, then they are an excellent option.
Pros
Only takes a few minutes to set up;
Can't lose any pieces as all parts are connected;
Lightweight and compact which is great for storage and transporting; and
Still as weatherproof as a standard tent.
Cons
More expensive than standard tents; and
If it does break while on a trip it is tough to repair.
Click here for our full guide on pop up tents.
Dome Tent
Dome tents can be much cheaper to buy but take way longer to set up compared to pop up tents. Dome tents come with multiple pieces so it can be hard work, and indeed more frustrating, especially if you're camping with small children that might need entertaining while you are trying to set the tent up.
Pros
You can get excellent quality dome tents, at a reasonably low price;
You get a lot more space for your money; and
Reasonably durable tent so can withstand most weather conditions.
Cons
Can take a long time to set up;
So many pieces can be frustrating and easy to lose.
Cabin Tent
Cabin tents are generally much larger and provide a real home away from home feel while camping. These tents are much better suited to large groups or families that will be camping for a while instead of just an overnight stop.
The setup time is much greater than instant or dome tents so you would want to be staying a few nights at least to make it worth it. These tents are also much heavier and bulkier to transport and store away and can be a lot more expensive in comparison to other options on the market.
Pros
Very spacious and comfortable to stay in;
Separate areas for sleeping and living; and
Can comfortably accommodate large families.
Cons
Much heavier compared to other styles;
Requires much more set up time; and
Can be quite expensive.
Understanding the Tent Make-Up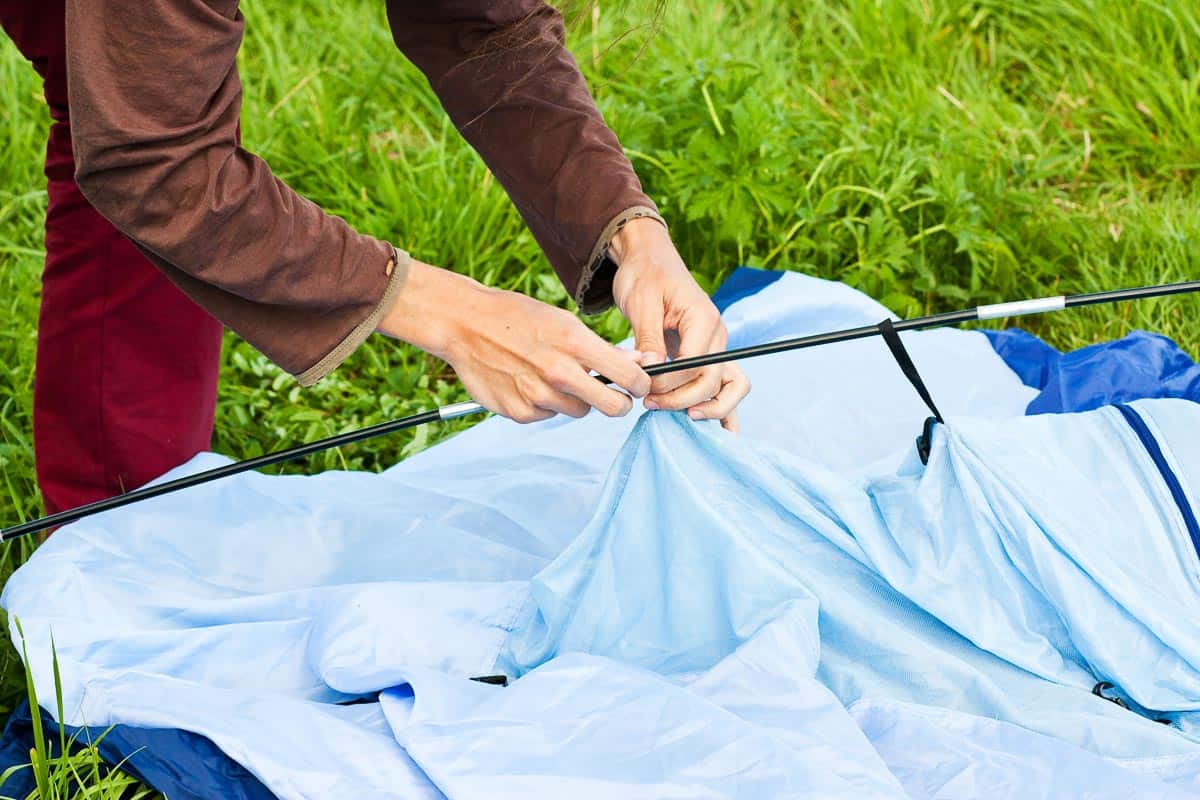 If you're new to camping, you may not quite understand some of the different components that make up a tent or their purpose. Understanding these components of a tent are essential to ensuring you purchase a durable family tent. So let's look at a few of the crucial elements below:
Rainfly: A tent usually comes in two pieces, the main part of the tent which is referred to as the tent body and then the rainfly. The rainfly is the floorless, waterproof outer layer that goes over the tent body. The purpose of a rainfly is to prevent rain from getting inside the tent. Rainfly's come in either full coverage (essential for high winds and heavy downpours) or partial coverage (ok for light showers).
Vestibule: Vestibules are the little front entrances or small rooms at the front of the tent, like a porch. Vestibules provide some extra space for you to leave items that you don't want inside making a mess of your tent, like shoes.
Weather: Tents come as 3 season or 4 season (also referred to as all-weather) tents. For the Australian climate, for the most part, a 3-season tent will do the trick as these tents are suited to camping in all kinds of weather except for heavy snow or extremely windy conditions. If you intend on camping in the snow, then you will need a 4-season tent.
Material & Ventilation: Tents tend to come in canvas or a nylon/polyester, with the latter being most common in Australia. Tents made from nylon or polyester are lightweight with lightweight poles, great at keeping you dry, but do tend to heat up rather fast in the sun. Canvas tents, on the other hand, tend to be much more durable but are also heavier and bulkier, which means they also require large and sturdy poles for setting up. A canvas tent is excellent for ventilation and keeping you warm in colder weather but becomes even heavier in a downpour.
Factors to Consider When Looking for the Best Family Camping Tent
The best family tent to buy is not necessarily the same tent that your best mate bought. Different families have different needs when it comes to sound quality family tents. Perhaps you want to go camping once a month, or once a year, or camp as you travel through the outback, or just camp at a family park during the school holidays.
To ensure you buy a good family tent which meets your needs, consider the following factors.
How Many People
First things first, just because a tent says it is a 4 man family tent, doesn't mean it will be the best tent for family of 4. The number specified on the tent describes how many people can sleep side by side in sleeping bags, without any room left over for any personal belongings. So a 4 person tent, means side by side 4 people can sleep there – but it's probably better suited to 2 or 3 people. For example, we have a 4 person tent, and we are two adults and one child – I think even as Myla gets bigger, we may need to move up to a 6 person tent.
In terms of the best tents for family camping, in my view, you should look for a tent that states it will fit at least an additional two people than you require it to. For example, a good tent for a family of 4 would be a 6 man tent. The best 6 person family tent will give you room for bedding as well as some space for your personal belongings.
Unfortunately, there is no standard sizing between any of the top family tents, as they come in all shapes, sizes and designs. Use the following information as a basic guide:
2 Person Tent: Suitable for 1 or 2 people with limited space for belongings. Average sizing is between 2-3 m in length, 1-1.5 m in width and 1-1.5 m in height.
4 Person Tent: Suitable for 2-3 people with a small area for belongings and to move around. Average sizing is between 2.4-3.5 m in length, 2-2.4 m in width and 1.2-1.9 m in height.
6 Person Tent: Suitable for 3-4 people with a small area for belongings and to move around. Average sizing is between 3-3.5 m in length, 2.5-3 m in width and 1.7-1.9 m in height.
8 Person Tent: Suitable for 5-6 people with a small area for belongings and to move around. Average sizing is between 4.2-4.7 m in length, 2.4-3 m in width and 1.8-2.1 m in height.
10 Person Tent: Suitable for 7-8 people with a small area for belongings and to move around. Average sizing is between 4.2- 6 m in length, 2.7-3.5 m in width and 1.9-2.1 m in height.
Type of Camping
The type of camping you're likely to be doing with your tent is critical when considering what kind of tent is best suitable for your family.
If you need to walk a long distance, perhaps to a secluded or secret camping spot with your tent and all your camping gear, or if you need a tent for overnight hiking excursions, then having a compact, lightweight tent is essential.
If you want a tent that you can quickly pop up at the end of the day at a music festival, or on a road trip around the Australian outback, then a small, quick set up tent is all you need.
If you plan on staying put for a week or so, then you probably want a comfortable homely setup, in which case a bigger size tent which may require longer to set up would be a better fit.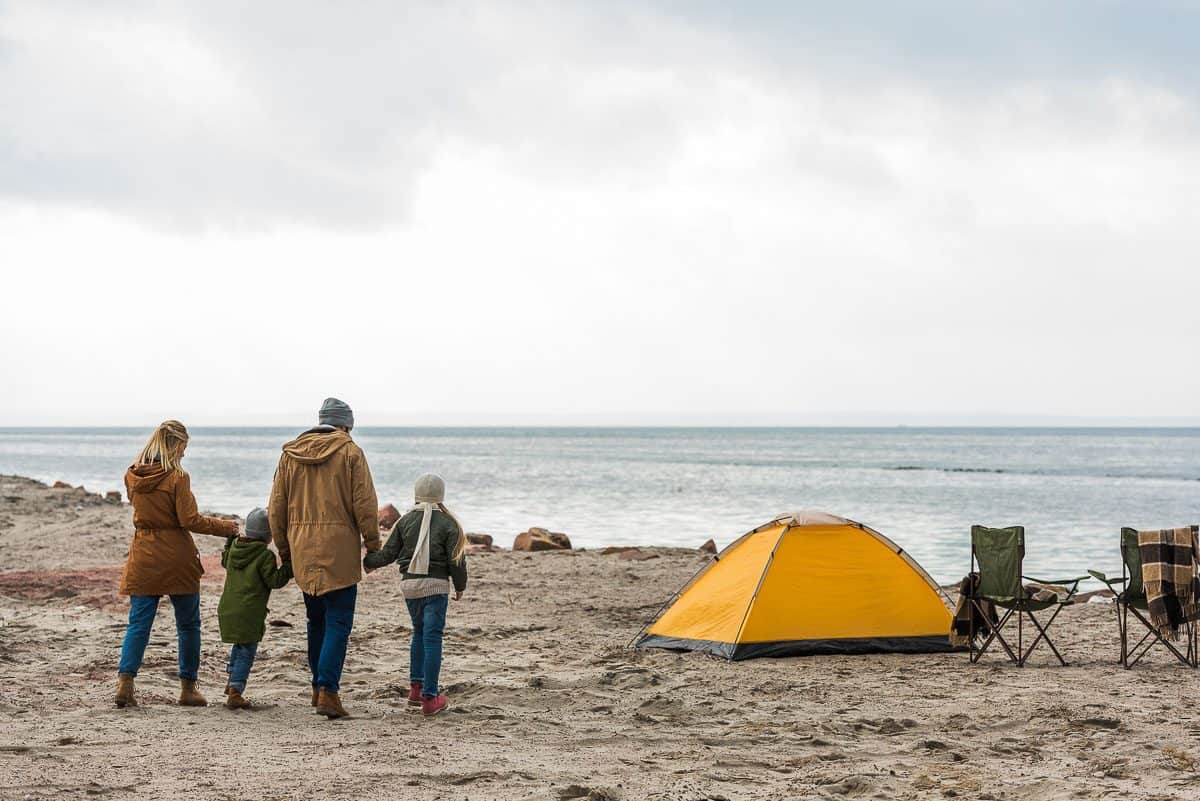 How many days will you go camping?
Something fundamental to consider is how many days you will be away camping for each time you go away. If you are going hiking or road tripping and will be setting up the tent every day just for somewhere to sleep, then it makes sense to look for something straightforward to set up and pack away again in minutes.
If you are going camping for say a week or maybe even the entire school holidays, then it is worth buying a much bigger tent despite the set up taking much longer.
How often will you go camping?
How often you go camping is also another essential factor to consider when deciding which is the best tent for your family to purchase.
If you think you might join family once a year on an annual camping trip, then you can probably get away with a cheaper tent that still does the job but doesn't need all the extras that will increase the price of your purchase.
If you love camping and plan to go regularly then it would be worth investing in a decent tent – in fact, I would recommend a suitable size pop up tent so you can make the most of each camping trip. Having a large tent that takes hours to erect would get tiring very quickly if you had to do it every second weekend!
Time to Erect
Whether your family camps once a year or multiple times a year, I can guarantee you that camping will be more enjoyable the easier it is to not only set up your tent but also to pack it up as well. Generally, the smaller the tent, the easier and quicker it is to set up. Some of the big family tent options could take you a few hours to both setup and takedown.
If you are like me and want a tent that goes up as quick as possible, then I highly recommend you consider one of the best instant tents (or pop up camping tent as they are also referred to). As mentioned above, we have an instant tent (I honestly don't think I would ever camp with anything else). Our pop up family tent goes up in minutes, and while they do cost a little more than the traditional style tents, for me they are worth every penny.
If you don't plan on going camping often, you might not be able to justify the price for a pop-up tent, however just be prepared for a longer set up time.
Best Family Tent Reviews Australia 2021
Now that you have a better understanding of which family tent you want to buy, keep reading below for a look at some great family tents currently available in Australia.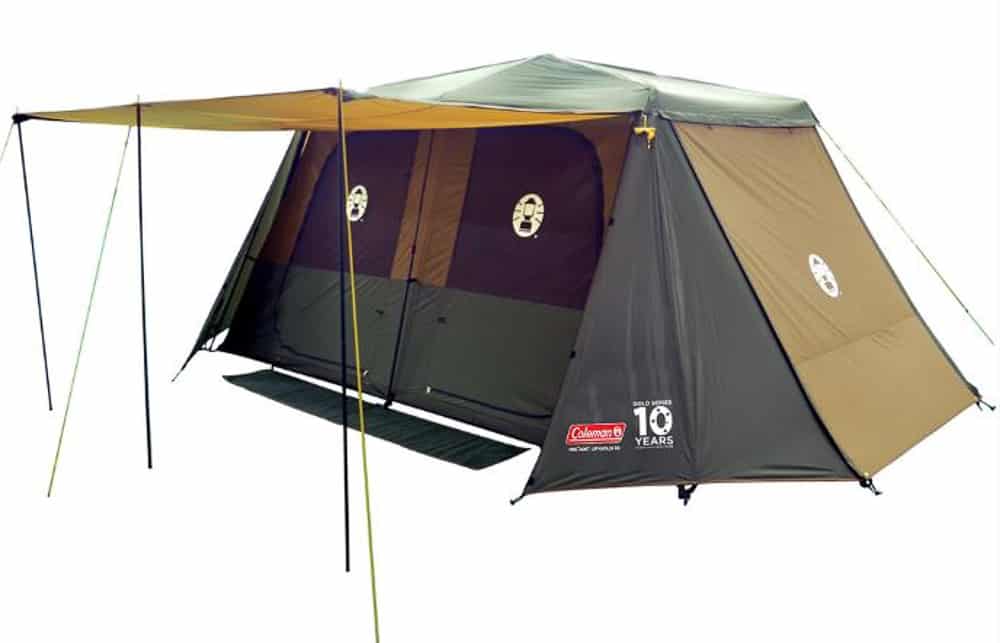 If you are looking for the best instant tent for a family, with a single room that you will have set up in minutes, the Coleman Instant Tent is for you. We have this tent and love it!! Honestly, for me, easy setup tents are the best, and no one does it better than Coleman, one of the best-camping tent brands around. This particular model comes in a 4 person, 6 person, 8 person and 10 person option.
This easy tent has pre-attached poles that make setting up camp as simple as unfolding, extending, and securing by clicking and locking the poles into place. You will have this tent up in 1-2 minutes, so you can get on with enjoying your camping experience. This one-piece quick pitch family tent also has an integrated vented rainfly which provides extra protection from the rain and improves airflow.
We have the 4 person pop up tent which is slightly larger, and at 6.9 kgs heavier than many instant 4 person tents on the market, it's not recommended for avid backpackers but certainly is the best 4 person tent for family campers who will have their vehicle close by. The 4 man pop up tent has a floor area of 2.4m x 2.1m, and we easily fit a double and single mattress with enough room left over for our items.
Other features of this family pop up tent include single entrance, the height of 1.5 metres, reflective lines for greater visibility at night, two storage flaps inside to store your belongings and welded floors and inverted seams to help keep water out.
This Coleman family tent is hands down nothing short of remarkable. If you are a small family of three (like us) and want to spend more time in the great outdoors then putting up your tent, the Coleman 4 man pop up tent is an excellent choice for you. If you're a larger family consider the 6, 8 or 10 man option.
Check out our video below showing you around our tent and click here to check the current price of the Coleman Instant tent.
If the Coleman Pop Up Gold Series sound great, but you want to save a few dollars, then another great choice is the Coleman Instant Up Silver Series. This is an excellent choice if you're looking for the best camping tent for 4 people – that is a tent that can comfortably accommodate 4 people, rather than being a 4 man tent.
This is one of the best 4 man tent choices for a quick set up with the setup time being under two minutes! A lot of the features of this tent are similar to the gold series above such as the WeatherTec system, welded floors and inverted seams to help keep water out, rainfly and easy to use Velcro frame attachments.
The internal dimensions are 3.2 metres long by 2.6 metres wide, and the height is 1.9 metres. This version is much more lightweight at 13.5kgs so would be more appropriate for backpackers or if you need to walk a long distance to your campsite.
There are a few differences between the gold series and the silver series, but overall, the silver series is still a fantastic instant family tent. The fabric on the gold series is denser and softer, which helps to maintain strength and durability and also does pack away easier than the silver series. The gold series is also said to be more waterproof for more torrential rain, but you will still be kept dry in the silver series.
Some other differences between the tents include the gold series having better ventilation, finer mesh, nicer floor material, more storage and a bonus awning but if you are looking to save some money while still buying a great easy erect family tent, then this is an excellent option to consider.
The Silver Series also comes in a 4 man or 8 man tent option.
Click here to check the current price and find out more about the Coleman Instant Up 6 Silver Series Tent.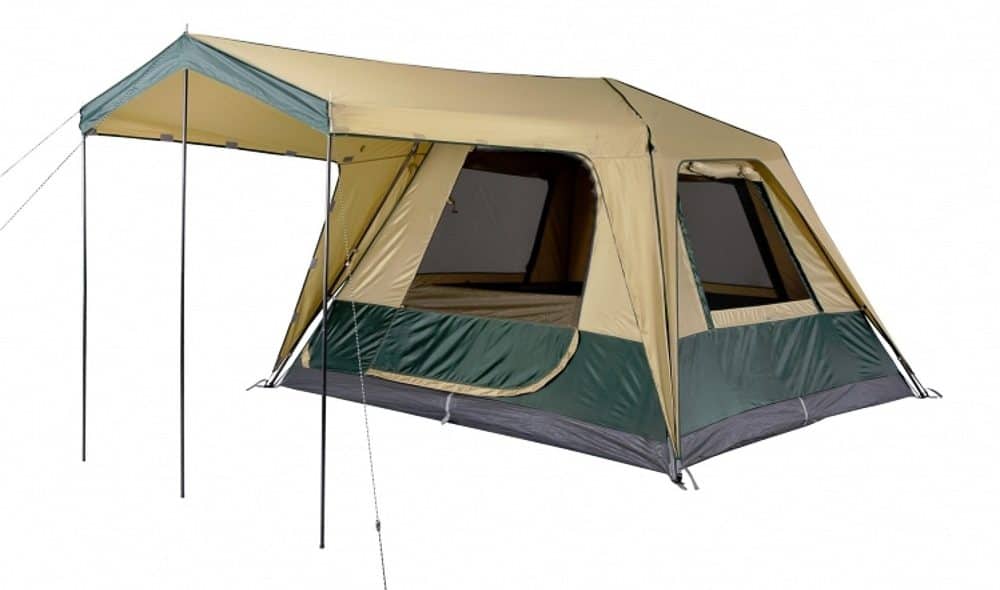 If you're looking for the best tent for family of 5, you should check out the OZtrail Cruiser 300 Fast frame tent.
This tent is so easy to put up, you peg out the four corners, extend the poles, and the tent will stand right up for you! Then all you have to do is spread the fly over the inner tent and extend the awning, and you are good to go! Easy set up of a tent is such a useful feature as you don't waste hours of precious holiday time with friends and family.
The fly on this tent is made from ripstop polyester material, and Silver Coated UVTex 2000 Sun Tough Fly Fabric which makes it super durable, protected from the harsh UV rays and is also 100% waterproof. The factory heat-taped seams also help to keep the water out, and the Position Brace securely holds the fly in place with the Velcro attachment points.
Other great features of this tent include the oversized front D door, large windows with protective window flaps, roof vent, front awning and poles for added shade, wall organiser pockets, spreader bar, lamp loop, power cord access flap and the expandable compact carry bag.
The floor area is 3 metres by 3 metres, and the height is 1.95 metres. Colour options are green and beige, and if that all sounds good to you, then this could easily be the best 5 man family tent for your family's next camping trip.
The OZtrail Cruiser also comes in a 4 man tent option.
Click here to check the current price and find out more about the Oztrail Cruiser 300 Fast Frame Tent.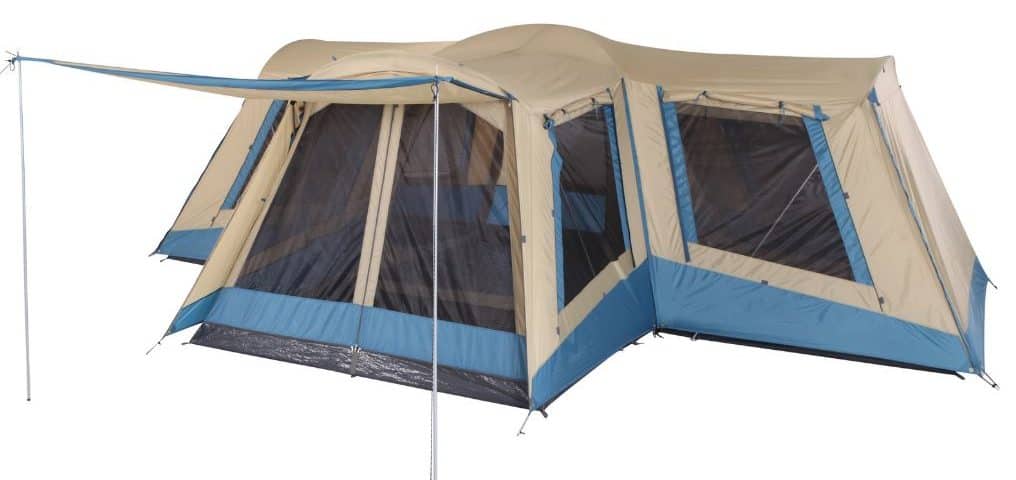 If you are looking for a family dome tent with a little more space or perhaps a family tent for 6-8 people, then the OZtrail Family 12 Dome is a great option to consider.
One of the great things about family dome tents for camping is the added space you get if you buy the right size tent. This tent is technically a 12-man tent but would be super comfortable and the best tent for a family of 6-8. The room layouts and sleeping configurations can be changed to suit what you need, but there are 4 spacious rooms, three of which would generally be used as bedrooms and the middle or forth being used as a living area or place to keep all your camping gear.
This is a great size tent with the dimensions being 6 metres long by 4.2 metres wide. It is also 2 metres in height, so it gives you plenty of room to move around comfortably. It weighs only 22kgs which is super lightweight considering all the space you get!
Other great features of this tent are the combination of T and D front and rear doors, the large windows for excellent ventilation, all-season inner which makes it suitable all year round in any weather conditions, 4 awnings in total, power-port access, storage pocket and loft storage, light attachment hook, pocket organisers and easy to handle carry bag.
Click here to check the current price find out more about the Oztrail Family 12 Dome Tent.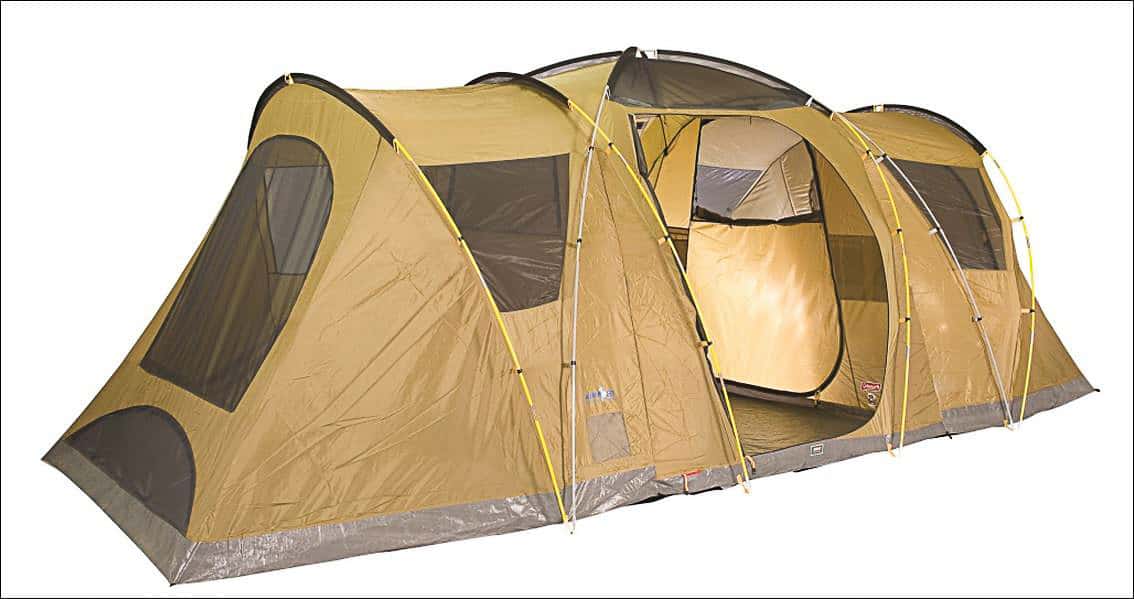 When looking for the best dome tents for camping, it is essential to consider the features of each tent and make sure it is the right fit for your family. This Coleman family dome tent has heaps of great features that will make your camping trip so much more relaxing so you can enjoy your holiday.
This tent is an excellent option if you're camping in a warmer climate as the large windows and mesh roof panels help with ventilation. The central seam-sealed skylight not only helps with ventilation but also helps to let natural light in. The Circle-Ventilation system for reduced condensation and improved airflow is also a useful feature of this tent.
Another feature which makes this one of the best dome tent options is the pre-tied guy ropes and colour-coded poles to make it a hassle-free set up. There is nothing worse than having to spend hours figuring out which pole goes where when all you want to do is enjoy your camping trip!
Other great features of this three-room tent are the large front and rear D doors, waterproof flaps on the windows, improved Geo design frame for added strength and generously sized carry bag. It is 6 metres in length, 2.8 metres in width and 1.8 metres high and weighs 26.1kgs.
This would be a perfect option for a medium-size family looking for a spacious dome tent with excellent ventilation and uncomplicated setup.
Click here to check the current price and to find out more about the Coleman Chalet Dome Tent.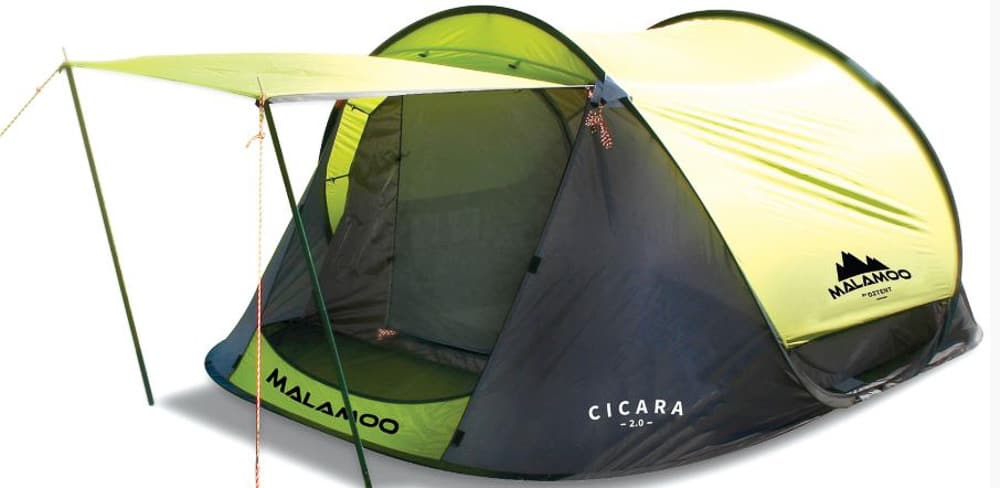 The Malamoo Cicara 3.0 is one of the best family tents for car camping options and is perfect for a last-minute getaway, summer festival or even as a shelter for a day at the beach or in the bush.
While this tent is waterproof and can be used in any weather conditions, it is much suited to warmer or humid weather conditions. The dual tent skin design fly makes for excellent ventilation, and the inner tent is breathable making it perfect all year round.
Another thing that makes this one of the best family car camping tent options is how compact and easy it is to carry around. If you have a fair way to walk to your desired camp spot you don't have to worry about how you are going to get the tent there as at just 7kgs, it can easily be carried.
This tent can sleep four people with a length of 3.65 metres and a width of 2.5 metres. It also has room to stand up and move around in with a height of 1.5 metres.
The Malamoo Cicara also comes in a 2 man or 3 man tent option.
Click here to check the current price and to find out more about the Malamoo Cicara Tent.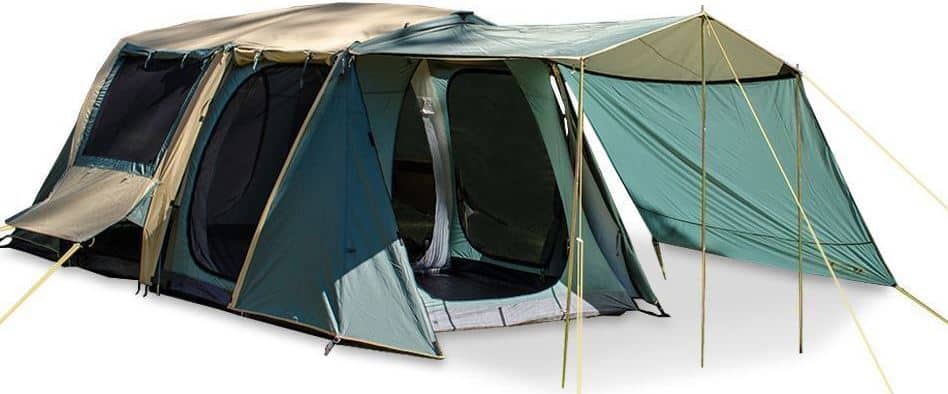 If you're looking for the best 2 room family tent, then you can't look past the Outdoor Connection Bedarra Dome Tent.
Large family camping tents with rooms for sleeping and living areas are ideal, especially for families with smaller children that might need to have a sleep during the day or go to bed earlier at night. Having the luxury to close the door to the bedroom off while others still utilise the tent is a great feature to have.
Like any tent, when looking for the best two-room tent, you want to ensure the quality of the tent will last and hold up to weather conditions. The 100 Denier HiCount fabric on the fly of this tent makes it robust, durable and waterproof so you can take it camping all year round.
Other great features of this tent are the strong, spacious and easy to erect Hornet Pole System, door locks, power cord access, Ventraflow panels and large windows for ventilation and UV-PROTEK treatment to protect against the effects of UV light.
This tent is 5 metres long, 2.1 metres wide and 2.1 metres high, leaving plenty of space to move around in comfortably. It weighs 24.8kgs so would not be ideal if you had to carry it for a long distance to your camping spot. Make sure you check this one out when looking at large family tents for sale!
Click here to check the price and find out more about the Outdoor Connection Bedarra Dome Tent.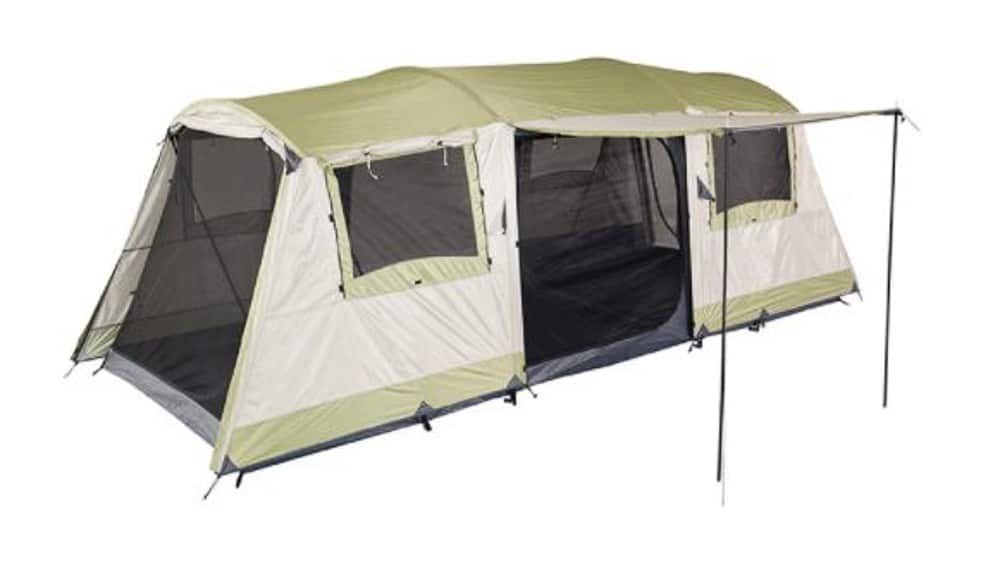 If you are looking for the best 3 room family tent, then you have to check out the OZtrail Bungalow Dome Tent.
3 room tent options are popular among large families or families that like to camp for long periods, because of the divided bedroom and living areas. This tent is exceptionally comfortable on the inside with its near-vertical walls, making it much easier to position stretcher beds and other equipment. Large family camping tents have plenty of space to layout camping gear, and this is no exception. The large side, rear and front awnings also add to how much extra space you'll have as well as having excellent ventilation.
This tent can be used all year round with the Portico Pole system giving it extra strength in strong winds, the silver-coated sun tough fly not only helps protect against harsh UV rays but also works to make it 100% waterproof and the heavy-duty PE flooring also stops any water getting in. The polyester tent inner lets a nice airflow in but keeps all the insects and bugs out.
Other great features of this tent are the oversize D doors at both ends as well as the middle of the tent for convenient access, two organiser pockets, lantern hook and lantern loop and 12 volts, ready with power cord access and power cord holders built-in.
For how large this tent is, it is very light weighing only 16kgs! It is 5.4 metres long, 1.8 metres wide and 2 metres high leaving plenty of room to move around in. When looking for family tents with rooms, you should check this one out!
Click here to check the price and to find out more about the Oztrail Bungalow Dome Tent.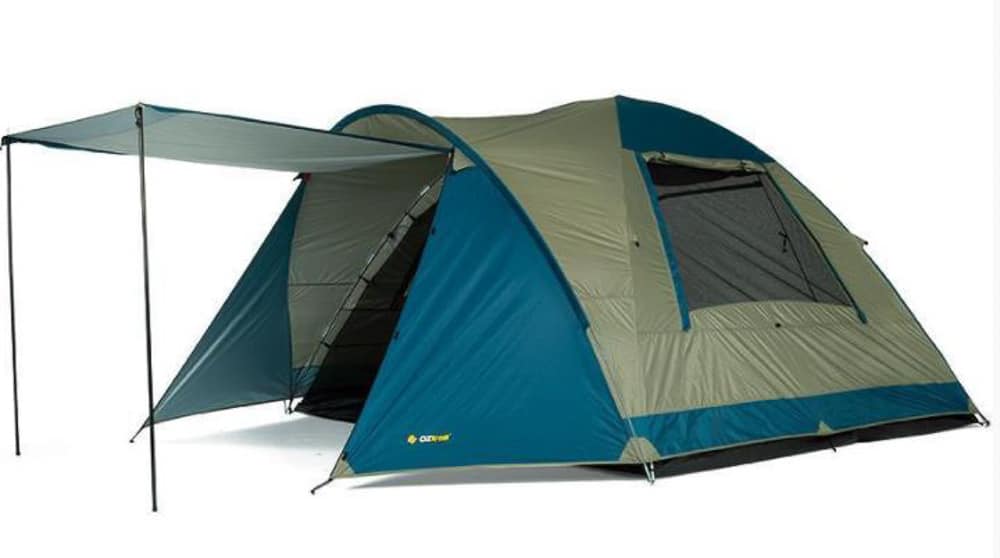 If you are after a small family tent that is super easy to set up, lightweight and doesn't take up much space then have a look at the Oztrail Tasman 6V Dome.
This tent is one of the best small tent options on the market because of how fast it is to set up and pack down and how lightweight it is to get to your camping spot making it perfect for quick weekend getaways or family road trips. It only weighs 8kgs so can easily be carried quite a distance without hassle.
With the front and rear D doors, the front vestibule for extra storage, silver-coated UV Tex polyester fly for long term sun protection, large side windows and mesh inner, this tent ticks all the boxes for ventilation and comfortable design. It also has maximum insect protection to keep those unwanted visitors out with the Ultra-fine No-See-Um mesh.
Other great features of this tent are the dry seam-taped fly seams for extra waterproofing, shock-corded black fibreglass poles, heavy-duty PE floor and carry bag. This tent is 3 metres wide and 2.8 metres long so plenty of room to sleep a small family.
Click here to find out more about the Oztrail Tasman 6 VTent
If you are looking for more affordable family tents, then have a look at this basic Coleman Pop Up Tent. This tent provides you with all the basics at a great low price.
You know we love Coleman instant up tents but are just a basic lightweight version without all the bells and whistles. The tent features a water resistant polyester fly, with taped floor seams and mesh for added ventilation.
The pre assembled poles make putting up this tent easy as well pack down. It also comes with two internal storage pockets.
These quality, no fuss tents are awesome for people who want to spend more time relaxing their trip. The tents come in a 2 person or 4 person so good for small families or those happy to get two tents.
Click here to find out more about the Coleman Camping Tents
Do you want to keep this handy for later?
Click on one of the images below to and save it to Pinterest.