This post may contain compensated links.  Please refer to my disclaimer here for more information.
With the best carry on backpack, there is no need to check in any additional luggage.  Not only will you be able to take advantage of airline deals by travelling with just the best carry on backpacks, but if you read any of the best carry on luggage reviews, you will also find it a super convenient way of travelling too.
After years of travelling with way too much stuff, we have recently converted each to a carry on luggage backpack, and absolutely love it!  Before purchasing my hand luggage backpack or Andy's, I did a fair bit of research as to what was the best carry on travel backpack for us.  I read various travel backpack carry on reviews to see what others considered as good backpacks for travelling overseas as well as read up on the best travel backpack brands.  Keep reading to find out which packs we ended up purchasing.
To help you choose the best carry on backpacks for your family, I have created this guide on how to choose a cabin luggage backpack.  This guide will go through the various features you should consider to ensure you purchase the best travel carry on backpack for your needs as well as compare some of the best travel backpack carry on options currently on the market.
Whether you are looking for the best carry on bag for women, the best front loading backpack for travel or even the best cheap carry on backpack, you will no doubt find the perfect carry on bag for you in this guide.
>> Looking for something else?  We have guides on a range of luggage including:
1. Kid's Ride On Luggage
2. Wheeled Backpacks
3. Kids Backpacks
4. Kids Suitcases
5. Cross Body Bags
Why you should consider travelling with hand luggage only?
There are so many reasons you should consider travel with just carry on backpack size luggage, let's look at some of these reasons below:
You will get through airports quicker, no need to line up to drop off your bags, nor do you have to wait for your bags to come off the plane. Simply jump off the plane and you are on your way!  You will miss those long custom and taxi lines too.
No chance of the airline losing your luggage. You will have your carry on backpack luggage with you the entire time.  The other thing I love about this is you don't have to spend time wondering what to pack in your checked baggage and what to pack in your cabin backpack as you only have the one bag.
You have less luggage to carry around with you. It's such a hassle carrying multiple bags when you are in transit, with just a cabin size backpack you have so much more freedom.  You are less likely to leave a bag behind or have it stolen too.
Travelling only with a carry on backpack size means you are travelling with less stuff. This means it is easier to pack up when you check out of your hotel as well as unpacking when you get home.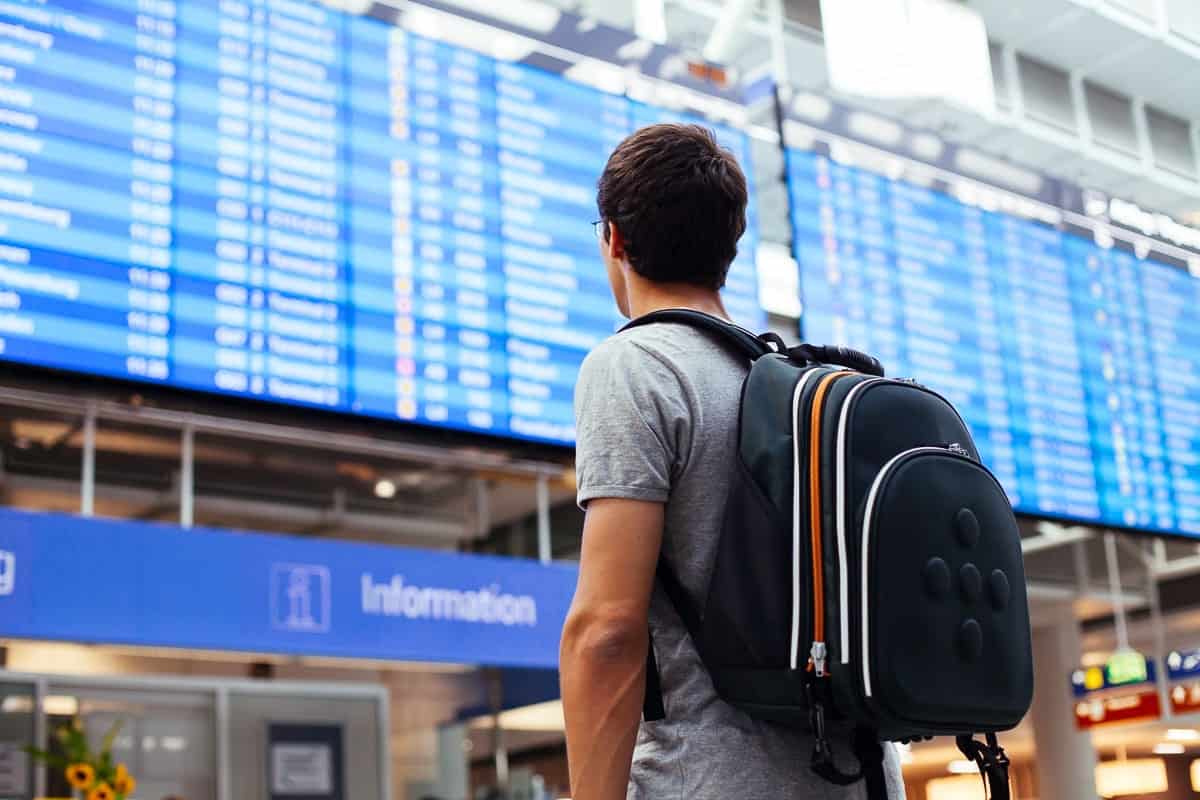 Why you should consider travelling with a hand luggage backpack?
Ok so hopefully now I have convinced you to travel with carry on only luggage, but next, let me convince as to why backpack makes the best carry on bag for travel.
First of all, backpacks are not just for young backpackers sleeping in dorms and eating baked beans, the best carry on backpacks for international travel (in fact for any type of travel) are for smart travelers who don't want to be weighed down of suitcases.
Let's look at the reasons why backpacks make the best cabin bags for travel over suitcases:
Backpacks are lighter, so you are not wasting precious baggage allowance on luggage;
Backpacks are easier to move through busy crowds;
In some destinations, it is not common for hotels to have elevators, backpacks are far easier to get upstairs than a suitcase;
Backpacks are easier for families as your hands are free to hold little people's hands; and
Backpacks are easier when using public transport to get to hotels.
Now that I have convinced you that you need a backpack is the best cabin bag for your next trip, what is the best hand luggage backpack?  Keep reading for my tips!
Our Pick for the Best Carry On Backpack 2019 Overall: Osprey Porter 46 
Don't have time to read the entire carry on backpack review?  If you want the best carry on travel bag I highly recommend you consider the Osprey Porter 46.  This is the Osprey carry on backpack I decided on and I absolutely love it.  I can easily fit in everything I need in this pack whether I am travelling for a few days to a few weeks.  This includes my laptop and DSLR camera as well.  For short trips, I can even fit in everything both Myla and I need.
Click here to check prices for the Osprey Port 46 or to buy yours now!
Check out below for my full review on the Osprey Porter 46.
Comparison Chart for Best Carry On Travel Backpack 2019
What to Consider when Buying the Best Hand Luggage Backpack?
The best travel carry on bag for you is not necessarily the perfect carry on bag for me, so it is important that you take the to consider what it is you need out of your backpack.
Consider the following features before purchasing your carry on bag backpack.
1. Size
Unfortunately, there is no standard maximum carry on backpack size limit, so I highly recommend you double check with your airline before you travel.  However all the luggage I recommend in this guide is generally accepted on most airlines as suitable cabin baggage.
For me I think the ultimate carry on bag has a capacity of between 40-45 litres.  You can easily fit in everything you need in a pack this size regardless of whether your trip is for a few days, a week or even a month.  The only time you may find this size pack too small is if you are visiting cold climates.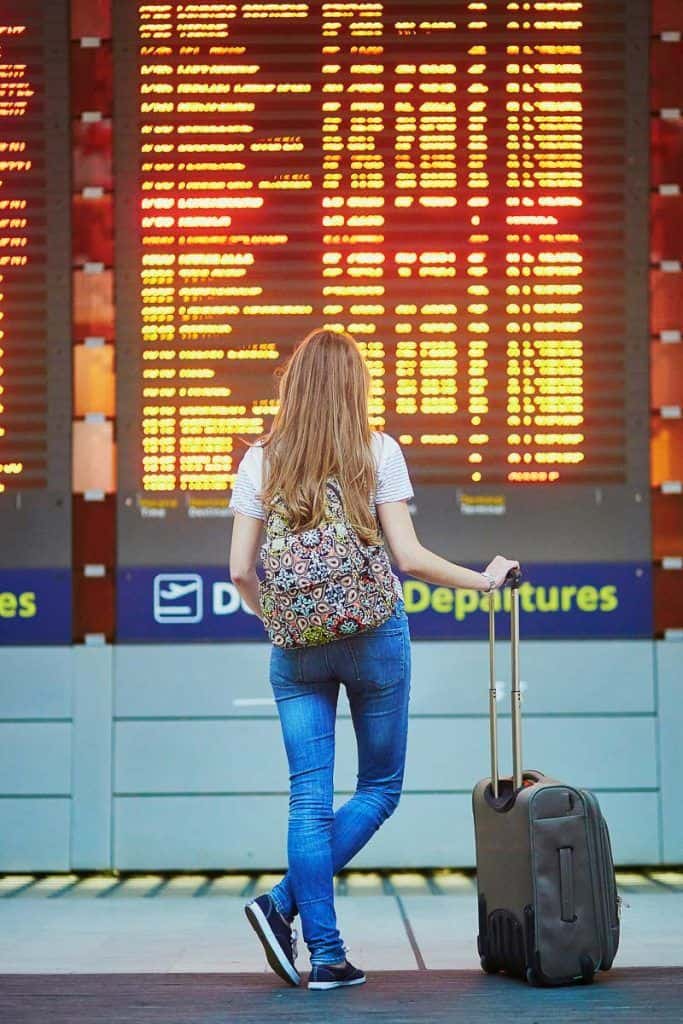 Any smaller than this and it is unlikely you will fit in everything you need.  Any bigger and it won't fit within the airlines restrictions.
In the best cabin luggage reviews below are a variety of backpacks between 40 – 46 litres.
2. Weight
With airlines being super strict on the weight of carry on baggage it is super important to choose the best lightweight travel backpack which meets your requirements.  Some carry on luggage bags can be heavy eating into your precious baggage allowance.  If your bag is over the limit you may be asked to check your luggage in which can add an unexpected expense.
In the below carry on backpack reviews I have included various options for the best lightweight carry on backpack bags and the table above includes the weight of all luggage reviewed below.
3. Type
Backpacks can either be top loading or front loading.  Basically, this difference is either accessing your things via the top of the bag or the front.  In my view front loading packs are far easier, they are like a suitcase and usually have various compartments making it easy to locate your items.  I personally recommend front loading (sometimes called panel loading backpacks) as the best backpack for carry on luggage.
We use packing cubes in our backpacks – click here for our tips on the best packing cubes for backpacks and how best to use them.
4. Compartments 
I am not overly concerned with compartments as I like to use packing cubes and find this a far easier way to organise my things rather than having multiple compartments.  Click here for information on packing cubes.
Even for people carrying a laptop, I personally don't think its necessary to have separate compartment for a laptop as usually your laptop comes in its own protective case.  Neither Andy's or my backpack have laptop compartments and we always travel with our laptops. However many of the best cabin backpacks do in fact come with laptop compartments.
I prefer to keep items such as passport, tickets, purse, phone etc in a smaller bag across my body so I am not concerned about having compartments for these items either.
5. Straps 
All of the best backpacks for carry on luggage come with a good strap system to spread the load of the backpack across your back, with most of the weight resting on your hips via the hip belt, some backpacks come with pockets in the hip belt for snacks or small phones.
Things to consider when looking at straps include padding, breathable fabric, are they removable, adjustable, do they stow away for plane travel and do they have any pockets.
Backpack straps are adjustable around the hips, the shoulders, and even across the chest to keep the shoulder straps in place regardless of body shape.  You will find these days even the best budget travel backpack will come with adjustable straps.
6. Carry Handles 
The best hand luggage bag will have additional carry handles. Top and side carry handles are vital to help load your bag in and out of overhead plane lockers as well as on buses, trains and taxis.
7. Water Resistant
A water-resistant bag gives you extra protection when travelling in wet weather.  Whilst water resistant bags aren't designed to be water proof, they do give you that extra bit of time to seek shelter or pull out a rain cover without have your personal belongings getting wet.
The Best Hand Carry Backpack Reviews
1. Best Carry On Luggage Backpack Overall: Osprey Porter 46
After much research I decided to purchase the Osprey Packs Porter 46 Travel Backpack and after a few years of use I can easily say this is the best carry luggage backpack.
Osprey are easily one of the best carry on luggage brands in the business and so it is no surprise that I feature 3 different Osprey packs in these carry on luggage backpack reviews.  However for me the Porter is the best Osprey backpack for travel.
If you fill this backpack to capacity it is unlikely to meet carry on requirements, but with the use of the straightjacket compression straps and provided it's not jam packed this is one of the biggest packs accepted as carry on luggage.
This bag is not overflowing with various compartments, but it has all the essentials and all the space I need whether I am travelling for a few weeks to a few months.  The main compartment is large and easily fits a few large storage cubes.  The reinforced cord loops allow you to attach a day pack and the latest Porter bags have the added edition of a rear padded laptop compartment.
Other features of this best hand carry backpack include stowaway shoulder straps and hip belt, front panel organisation pocket for easy access to small travel items and the padded top and side handles make it easy to carry when necessary.
This pack comes in a variety of colours including black, grey, teal and red as well as the option of a 30 or 65 litre.
I just love my Porter and highly recommend it to anyone in the market for the best travel backpack.  I bought mine from Wild Earth as I found them to be the cheapest – they even have free shipping too – click here to see the current Wild Earth price.
Click here to check prices and to read more reviews.
The Osprey Farpoint is considered one of the best 40L travel backpack options on the market, perfect for those after the best small carry on backpack.
Like all Osprey backpacks, this Osprey travel backpack is backed by the Osprey "All Mighty Guarantee", Osprey state that they will repair any damage or defect for any reason free of charge – whether it was purchased in 1974 or yesterday. If they are unable to perform a functional repair on your pack, they will happily replace it.
This best small travel backpack is a good size for travelers that are good at packing the essentials.  If you want something a bit bigger than check out the Osprey Porter above. The features of this panel backpack include a laptop and tablet sleeve, external compression straps, stowaway straps for travelling and carry handles.  The suspension system is a light wire frame with a mesh back panel to keep you cool while wearing the backpack.
This is a good travel backpack carry on size, not too big, with solid features. The Osprey backpack 40L is a good choice for those looking for the best carry on bag for international travel.
Click here to check price and to read more reviews.
3. Best Lightweight Carry On Backpack: Kelty Redwing 44 
The Kelty Redwing 44 Backpack is a great choice for travelers after a light carry on backpack and one of two Kelty packs that feature in this best carry on bag review.
This Kelty backpack has upper side pockets and front pocket with organisation panel for small items you want to access regularly.  Stretchy lower side pockets are great for water bottles, and a stash pocket at the front of the backpack is secured with a hook only for storing and grabbing a jacket or jumper quickly.
The main compartment of this Kelty 44 backpack can be accessed from the top of the pack via a small zippered panel, or similar to a suitcase opening, when the backpack is laid on its back, almost the entire front panel can be zipped open.
A simple design to spread the load across the back and onto the padded hip belt, this Kelty Redwing pack is as comfortable outdoors as it is on a flight.
Kelty is one of the best carry on luggage brand around and with this Kelty Redwing backpack you won't go wrong, particularly if you are after the best light travel backpack.
Click here for latest price and to read more reviews.  
Australian readers, click here for the current AUD price.
If you are looking for a super cheap, yet still great size and lightweight pack, then the AmazonBascis Carry On is for you.  This is one of the best affordable travel backpack options currently available and certainly the cheapest in these reviews.
For a budget bag, this pack is packed with features.  The main compartment is large and resembles a standard suitcase. Like a suitcase it has a zippered mesh space as well as two internal compression straps to keep your belongings in place.  The front compartment contains various internal pockets for your smaller items and at the back of the pack is a laptop sleeve.
Other features include stowaway padded shoulder straps as well as removable sternum strap, waist belt and well three placed exterior handles.
I think this is great budget pack and especially love how it is opens like a suitcase, making use of every inch of space.  Certainly a great choice for those after not just a budget case but the best backpack for air travel.
Click here to check prices and read more reviews.
5. Best Backpacks for Europe Carry On: Osprey Ozone 46 
If you are looking for one of the largest carry on backpack, but still want it to be lightweight, the Osprey Ozone 46L Ultralight is the perfect choice and my pick for the best backpack for Europe carry on.
Despite being a big carry on backpack at 46l, this bag is one of the lightest in these carry on travel backpack reviews at 2.4 lbs.
This Osprey lightweight backpack for travel is made up of three main compartments, the front organisation compartment, main compartment and lower compartment.  The front organiser pocket has a zippered pocket hidden inside, the main compartment includes a padded laptop sleeve and the lower compartment has been designed for shoes or camera gear.
Upper and lower compression straps help to keep items secure inside the pack, while ventilated harness and hip belt aide in keeping you cool and can be stowed away.  The stretch mesh pockets on either side of this Osprey light backpack are for bottles or sunscreen.
This pack has standard features presented well, if you are looking for a backpack that is a little bit bigger yet lightweight, this Osprey travel bag will be the best carry on backpack for travelling for you.
Click here for prices and to read more reviews.
6. Best Travel Backpack for Women: Kelty Redwing 40 
This Kelty Women's backpack has been designed for especially for women, making it our pick for the best travel backpack for women.
This best women's carry on backpack has a women's specific waistband and the shoulder straps are contoured for comfort.  A classic Kelty design, standard features included are the upper and lower side pockets, which can be used to store long items such as poles, or fishing rods. Considered design keep straps tidy while in use and you have the option of removing the hip belt completely.
The suspension system on this Kelty travel backpack is ridged and light, and the straps and back panel are padded and meshed for cooling.  However, this pack is sized, the shoulder straps are nonadjustable, only accommodating torso's 14-18 ½ inches in length.
Versatile enough to take on a plane or into the outdoors, medium sized pack is a great addition to the Kelty range and a great choice for the best carry on bag for a woman.
Click here to check prices and to read more reviews. 
Australian readers, click here for the current AUD price.
The Gregory Mountain is traditional top loading backpack which is lightweight and has stacks of room for your gear.
At only 2.86 lbs this is one of the lightest packs in these reviews.  There are various compartments to stowaway your gear including the main compartment as well as the top lid which features a zippered pocket for smaller items.  There is also a front pocket for items you need quick access, two external side water bottle pockets, hip belt pocket.  A rain cover is also built in.
This pack has plenty of built in comfort features.  The dual density hip belt and shoulder harness aid with heavy load stability, whilst the enhanced lumbar foam layering is designed for increased load bearing comfort.
This pack is well recommended for travelers who enjoy multiple day treks as well as city sightseeing trips.  It comes in a variety of colours too.
Click here to check prices and to read more reviews. 
Australian readers, click here for the current AUD price.
This eBags carry on backpack is another great option for those travelers who like the suitcase style but are looking for the best carry on backpack luggage.
This best bag is somewhat like the AmazonBasics bag recommended above in that the main compartment opens like a suitcase as well as including a zippered mesh section and two internal compression straps to keep your belongings in place.  The bag also includes laptop compartment designed to securely fit a laptop up to 19 inches.
Other features include stowaway padded adjustable shoulder straps, padded top and side carry handles, additional front and top pockets for smaller items, expandable pockets and removable hip and sternum belts.  You can also choose to carry this bag as a messenger bag rather than a backpack.
This is a great carry on back pack, perfect for travelers that like to store their items in a suitcase but prefer the flexibility of a backpack.
Click here to check prices and to read more reviews. 
Australian readers, click here for the current AUD price.
The Hynes Eagle backpack is available in a range of colour options and comes with 3 packing cubes.  This is the perfect choice for the organised traveller also wanting one of the best backpack carry on luggage options.
This carry on bag can transform from a duffel bag into a backpack in seconds and also has multiple side buckle straps giving you the ability to adjust the height based on your needs.
Travellers wanting a carry on laptop backpack will love this bag as the front compact compartment can easily fit a laptop up to the size of 15.6 inches as well as other small items.  The main zipper compartment is a great size to fit your luggage.
Made at a great size from premium quality polyester, this bag will easily fit in the overhead compartment or in the seat in front of you, making it one of the best cabin backpack options.
Click here to check prices and to read more reviews. 
Australian readers, click here for the current AUD price.
Do you struggle with packing lightly?  Click here to read our light travel packing tips and download your very own printable checklist.
Disclaimer: Thrifty Family Travels is a participant in the Amazon Services LLC Associates Program, an affiliate advertising program designed to provide a means for sites to earn advertising fees by advertising and linking to amazon.com and its partners. Amazon and the Amazon logo are trademarks of Amazon.com, Inc. or its affiliates. 
Affiliate advertising is used throughout this site. These affiliate ads allow me to earn a small commission on any bookings you may make but they do not incur any extra cost to you.
Do you want to keep this handy for later? 
Click on one of the images below to and save it to Pinterest.