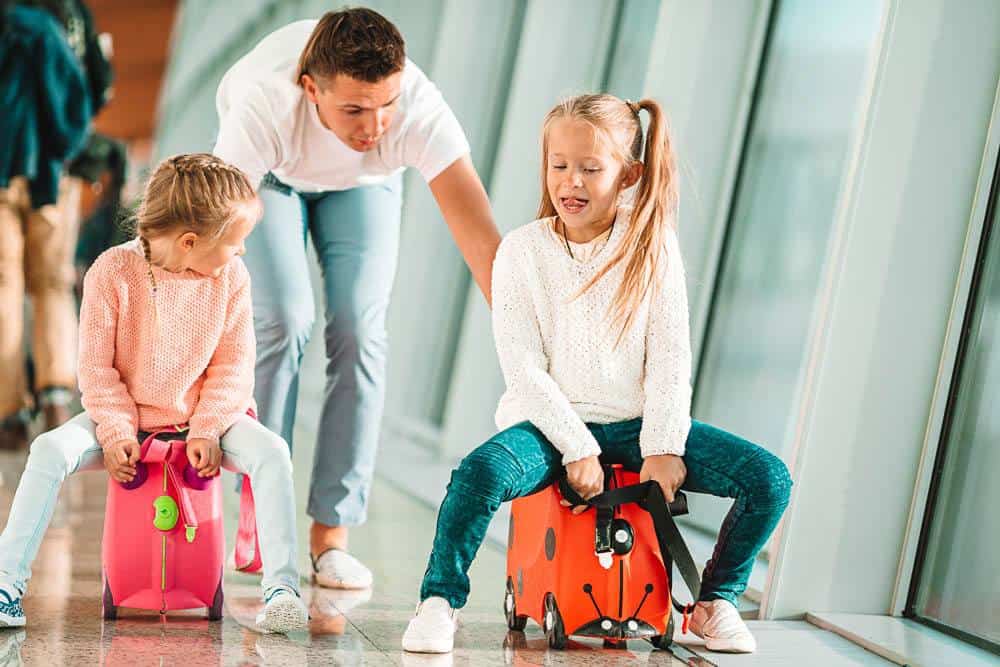 Kids ride on luggage – I'm sure you've all seen them whether it's on TV, the internet or perhaps even at the airport – kids whizzing by as their parents pull them along on rideable luggage.
I'm going to be completely honest with you, I'm not a fan of the rideable suitcase and would rather a backpack any day. However, given the popularity of the kids ride on suitcase, and as many of you have asked for my suggestion for the best children's ride-on suitcase, I thought it was about time I looked at them a little closer.
So I've taken the time to look into all the best rideable suitcase options there are out there for kids, looking at the pros and cons and compiled this guide to help you choose the best children's ride-on luggage.
This post may contain compensated links. Please refer to my disclaimer here for more information.
>> Looking for something else? We have guides on a range of luggage including:
1. Carry on Backpacks
2. Wheeled Backpacks
3. Kids Backpacks
4. Kids Suitcases
5. Cross Body Bags
What is Kids Ride on Luggage Anyway?
Basically, a ride-on suitcase for toddlers (or slightly older children) is a standard suitcase which is made from durable, sturdy material and has a child's seat built into it, so young children can sit on it and be pulled along by a parent.
While I'm not overly sold on the idea – I do get it – kids complain about walking etc etc – but isn't that what a pram is for? Anyway, I decided to look closely at the pros and cons of ride on luggage, and this is what I came up with:
Advantages
Given they are a suitcase you can ride, kids don't have to walk long distances through airports;
With luggage the kids can ride, there is no need to bring a pram for long distances through airports; and
A suitcase you can ride-on, is a lot of fun for kids.
Disadvantages
Luggage you can ride-on doesn't altogether avoid the need to take a pram as you will still need a pram for day trips at your destination;
Ride-on children's luggage tends to be heavier than standard luggage; and
If not appropriately used, a ride-along suitcase can be dangerous.
If the advantages for a ride-on case outweigh the disadvantages for you, keep reading! If however you're like me and want to stick to traditional luggage options, click here to check out our recommendations for a range of children's luggage options.
My Pick for the Best Kids Ride on Suitcase: Trunki
Don't have time to read the complete guide to ride-on luggage for toddlers and older kids? If you want my recommendation for a kids sit-on suitcase then I recommend the Trunki ride-on suitcase.
The Trunki suitcase is a compact and lightweight ride-on suitcase that no doubt your children will just love! There is plenty of space for all your child's belongings, and it comes in 7 different colour and design options. You are sure to find one that your child will love, and they will be more than happy to carry their bag around!
Check out below for my full review on the kids Trunki ride on luggage.
Click here to check prices for the Trunki childrens ride on luggage or
Comparison Chart for Best Children's Ride-on Luggage 2020
Check below for a quick overview of the various kids ride on case options reviewed in this guide.
Things to Consider when Buying Kids Rideable Luggage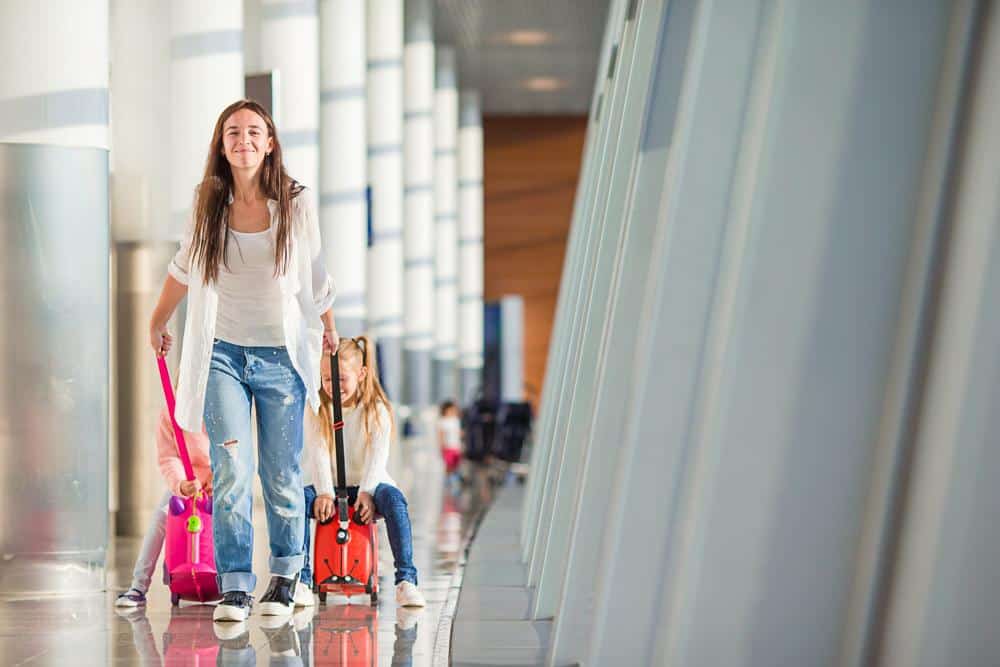 Like any luggage, there is no one best ride-on suitcase for everyone. Before purchasing kids sit on luggage, consider the following factors.
1. Age and Weight Restrictions
Perhaps the first thing you need to consider is how old and how heavy is your child. All of the suitcases that you can ride-on have weight restrictions as well as a suggested age range that is appropriate. Perhaps your child is just a toddler, or maybe you're looking at a ride-on suitcase for 7-year-old?
To ensure your child's safety, always follow the product guidelines in terms of age and weight restrictions and ensure your child is capable of safely riding the luggage.
2. Size and Weight
One of the main reasons I'm not a fan of ride-on travel bags is that in terms of their capacity capabilities, they are much heavier than traditional bags. I mean they have to be, as they need to be firm for the child to ride them safely. Given we travel light, we simply don't have kilograms to give away for this.
However, if you're checking-in luggage and merely looking for a ride-on carry-on, and something you can store all the onboard essentials, then they do make sense as they also provide a fun option for getting your child around the airport.
Although, even if you are looking for ride-on carry on luggage, airlines are strict with their hand luggage requirements, so it's still essential to check the size and weight of your desired rideable carry on luggage before purchasing to ensure it fits your needs.
For your convenience, I've included the size and weight of all the children's sit on suitcase options in this guide in the above comparison table.
3. Carry Handles
Given you are still going to have to carry a ride and roll suitcase at some stage, having a way to carry it easily is essential. Look for children's ride along suitcase options with nice big carry handles that will allow you to put it over your shoulder or even super large carry straps that will enable you to put it across your body messenger bag style.
The Best Children's Ride-On Suitcase 2020 Reviews
The world's most well-known kids ride along suitcase is the Trunki! Coming in loads of different bright and colourful designs there's bound to be the perfect Trunki for your little boy or girl.
With a capacity of 18 litres, it is one of the smaller size ride-on travel suitcases. However, this kids ride-on bag is lightweight weighing in at only 1.4 kg, which means you're not wasting precious kilos to the case itself. The case still has plenty of space for all your child's belongings and is the perfect size for a carry-on.
The Trunki is designed to be ridden by children from 3 years (although in Trunki reviews customers have reported their children were riding them from age 2) and over, up to a generous weight limit of 34 kilograms. No doubt your child's legs will become too long to ride this case well before they hit the 34 kg mark.
The Trunki is designed for the child to ride themselves, by holding onto the horns at the front and push along with their feet. Alternatively, children can use the strap to pull it along themselves. The pull along strap also doubles as a shoulder strap, which is excellent when it comes time for Mum or Dad to carry it. There is also a top carry handle.
If you're looking for top-quality luggage kids can ride on, which has been around for years and subject to many glowing reports, you can't go past the Trunki kid's ride-on suitcase.
Click here to check prices and to read more reviews or
The Wang Bao Chang is a fun looking children's rideable luggage bag available in 6 different colour options and 2 different sizes.
This children's ride along luggage is super sturdy to hold the weight of your child and is made from high quality durable and safe materials. The Wang Bao Chang suitcase is waterproof, light-duty and wear-resistant, so you know everything inside will be kept secure and protected. This luggage you ride also comes with an adjustable seatbelt to keep your child safe while they are riding through busy airports.
Weighing 4kgs, this is the second heaviest option in these reviews so it is not ideal if you are going to have to carry it more than your child will ride it. Keep in mind with a capacity of 35 litres it will get even heavier once full.
So if you are looking for a ride-on cabin bag for your child to make getting through the airport easier, then definitely have a look at this one.
Click here to check prices and to read more reviews or
If you aren't sure about kids ride on hand luggage but want to give it a go without spending too much money, then the Color Tree Kids Ride On Roll Suitcase is an excellent choice for cheap ride-on suitcases, the most inexpensive in our reviews in fact.
This ride-on luggage bag can be used in different ways, whatever works best for your child and what they feel like doing at any given point in time. They can ride on this bag, tow it along with the strap or carry it with the carry strap. It also makes a great seat for when you are waiting in long airport queues.
Available in 3 different colours, and weighing only 2.36kgs, this is a light-travel case that can hold a capacity of up to 19 litres of luggage, so there is plenty of room for all your child's necessities. The weight limit on this one is up to 50kgs so it can hold children from toddler age up until they would far outgrow it and upgrade to something more grown-up.
Other features of this bag are the special latch on the inside to stop everything falling out when it opens and the easy zipper closure that your child will be able to do on their own when they want to put things in or out of the bag.
This would be an excellent kiddie ride-on suitcase to start with to get a feel of if they are going to work for your family and if you need to invest in a strong quality one.
Click here to check prices and to read more reviews.

Scooter luggage bags are also becoming super popular, not only with kids for being a fun luggage option but also with parents as they don't have to carry their kid's bags around.
The ZincFlyte Kids Luggage bag is a super stylish and fun children's scooter suitcase that can carry up to 25 litres of luggage and comes in 6 different designs so you're sure to find a design your child loves. The bag itself weighs 3.48kgs so it isn't too heavy to lift in and out of the car or if Mum or Dad do have to carry it for a while.
The build of this ride on luggage bag is sturdy, but the bag compartment is squishy and has a soft, bouncy surface to help resist impact. The scooter deck folds away and locks in place and then it is compact enough to be stored away in the overhead compartment. Other great features of this scooter suitcase are the stable steering system so your child will be able to manoeuvre it well and be as safe as possible while riding it and the inner pockets and straps to help keep all the luggage in place while it is being ridden.
So if you are looking for a scooter suitcase kids, then definitely check out this one.
Click here to check prices and to read more reviews or
The Coszon 3 in 1 kids ride-on travel case is a super little luggage case that can be used 3 ways.
Not only is this a suitcase kids can ride on, but it also can be used as a standard kick scooter when the case has been removed, or you can remove the handlebar, and it becomes a ride-on tricycle. Being able to change the configurations of this ride on luggage around means it can grow with your child and will get used much more. Once you reach your destination, simply remove the luggage component and your child and scoot around.
Made from a light weighted aluminium frame and featuring an adjustable T-locking handlebar and comfort grip pads on the handles, this ride-on luggage option is safe and sturdy for your little one. The 3-wheel design adds to the stability and safety of the scooter. Another great feature of this ride-on luggage is the size of the underneath storage with plenty of room for all your child's travel necessities. The actual luggage itself weighs 3.2kgs, so it is not very heavy at all.
So, if you are looking at children's ride-on cases suitable for children from 3.5 years old up to 20kgs then be sure to check this one out.
Click here to check prices and to read more reviews.
Kids ride-on travel bags are always more appealing to children if they look cool, and they are more likely to carry their bag if they love it. Check out the PUQU Monster Truck for how fun it looks – your child will surely love this one!
Available in blue or yellow, this 18-litre capacity truck style children's ride-on hand luggage is big enough to hold their toys, clothes and other items that keep them occupied while you are on your travels. The actual luggage itself only weighs 2.6kgs, so it isn't too heavy for you to carry around until your child can ride on it safely.
Your child will no doubt outgrow this case before reaching the weight limit of 20 kgs – but you will get plenty of use out of it. Plus, your child will love playing with it even when you're not travelling. Other great features of this ride on luggage are the hand strap and the shoulder strap to make carrying it more comfortable if your child decides they no longer want to be responsible for getting their own gear around.
When it comes to super cool children's sit and ride suitcases, the PUQU Monster Truck is an awesome choice for younger kids.
Click here to check prices and to read more reviews or
The Nickelodeon Paw Patrol is a popular kids ride on suitcase with wheels that can make your life a lot easier when travelling with kids.
This ride-on pull-along suitcase can be sat on as a ride-on seat, towed along behind your little one, or carried by the double carry handles so your child can wear it however they like and whatever suits them best at that time. The multi-directional front wheels make for easy mobility, and the large fixed rear wheels add to the stability.
This ride-on luggage for children weighs 2.6 kgs and is the perfect size to store in an overhead compartment. Other great features of this luggage are the front hand-holders for the rider, removable, adjustable tether strap and all the different compartments inside the bag for all your child's travel gear. Plus, your child will get plenty of use out of it with its weight maximum of 40 kgs.
This is an excellent choice for ride-on luggage that ticks all the boxes and will be an even bigger hit if your child is a fan of paw patrol!
Click here to check prices and to read more reviews or
No wonder little ones love luggage that you ride when they have super cool designs like the Vrum Ride On Toy Storage Case.
The VRUM ride-on suitcase comes in a super cool Teenage Mutant Ninja Turtle design and provides children with the option of either riding it or pulling it behind them. They can even use it as a place to sit while waiting in busy airport queues. Weighing only 1.66 kgs, this suitcase is super lightweight, yet there is plenty of space inside for your child to pack away everything they need while travelling. Other great features of this ride-on luggage are the lock to make sure nothing falls out, dual-purpose strap that allows you to pull it or carry it and it's compact size which enables you to store it in the overhead compartment if you want to use it as a carry on bag.
The Vrum Ride-On is an excellent ride on luggage option that no doubt your child will just love to use.
Click here to check prices and to read more reviews.
The Mountain Buggy bag rider is a great solution for travelling with tired toddlers when you aren't going to be taking a pram with you.
This ride around suitcase can also be used as a standard suitcase if you take the toddler seat off, but while it is attached, you can have your toddler safely strapped in with the five-point harness and adjustable straps. The cushioned seat liner provides them with maximum comfort, which is especially important if they are going to be tired after walking around airports.
It has been safety tested to hold 15kgs of weight so would be suitable for children from 9 months old right up until three years old but remember, the older and heavier they are, the heavier the weight is going to be for you to have to pull. Given the size of this bag, it is probably not ideal for hand luggage but would be okay to be checked-in luggage instead. The bag itself has a capacity of 35 litres and weighs 5 kgs.
Another great feature of this ride on luggage is the adaptability. It can easily change from normal suitcase mode to travelling seat mode with only the twist of a button and easy-to-attach seat liner. It also has two sets of wheels, but you'll only need to use one set if you are not using the travelling seat.
This is an excellent choice for a family that does a lot of travel on planes, and your child is not quite old enough for their own ride-on suitcase.
Click here to check prices and to read more reviews.
The O-Toys 2 in 1 Kids Luggage Ride-On is a super cute ride on luggage option available in 5 different colour choices.
This ride-on luggage bag comes in two different size options, a 2-4 age-specific and a 2-8 age-specific option with a weight limit of 47kgs so make sure you pick the one that is going to be the best fit for your child.
Built with lightweight and durable plastic, the bag itself only weighs 2.8kgs, so it isn't very heavy if you do end up having to carry it for part of your travels. Other features of this carry-on bag are a security handle, flexible wheels and safety belt to help keep kids safe while using this as a ride-on option on your travels and the large bag that will fit clothes, toys and food.
This is an excellent option for young children who don't need to pack too much of their own luggage but will find it fun to carry or push their own bag around with this ride-on luggage case.
Click here to check prices and to read more reviews.
Disclaimer: Thrifty Family Travels is a participant in the Amazon Services LLC Associates Program, an affiliate advertising program designed to provide a means for sites to earn advertising fees by advertising and linking to amazon.com and its partners. Amazon and the Amazon logo are trademarks of Amazon.com, Inc. or its affiliates.
Affiliate advertising is used throughout this site. These affiliate ads allow me to earn a small commission on any purchases you may make but they do not incur any extra cost to you.
Do you want to keep this handy for later?
Click on one of the images below to and save it to Pinterest.