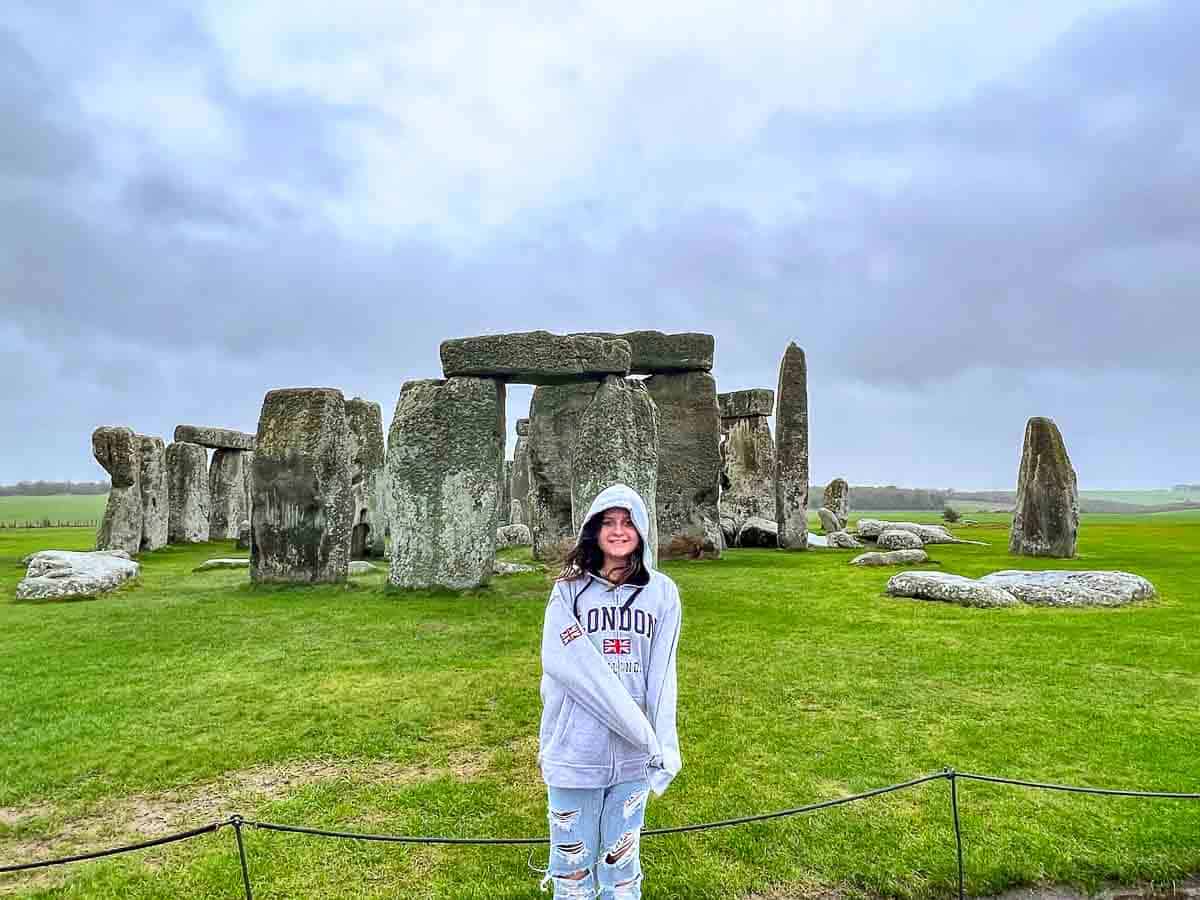 Thinking of visiting Stonehenge on your trip to the UK? Are you wondering whether it is worth visiting Stonehenge with kids?
This guide contains everything you need to know about how to visit Stonehenge, one of the UK's most iconic and recognisable landmarks. It is packed with tips on what to see, how to get to Stonehenge from London, the best tours to Stonehenge from London and what to bring on your trip.
This UNESCO World Heritage Site is a unique structure that, for centuries, has been shrouded in mystery and mystique. Everyone should plan to visit Stonehenge at least once in their lifetime.
This post may contain compensated links. Please refer to my disclaimer here for more information.
Talk to other families about their tips on Cotswolds family holidays and join our Thrifty Family Travel Facebook Group or be inspired on our Instagram.
Facts about Stonehenge
Stonehenge was built in the late Neolithic period, around 5,000 years ago. It is believed that the site was built, altered and added to over 1000 years.
Unusually for a stone structure, it was constructed using joints normally seen in woodworking. It is the only surviving stone circle with lintels in the world.
Stonehenge consists of an outer circle of 30 standing stones (sarsens) plus a smaller inner circle of stones called 'bluestones', all surrounded by a circular ditch. There are also four station stones.
It is believed that Stonehenge was built to help tell the time of the year. On the summer solstice, the sun rises 'through' the Heel Stone; on the winter solstice, the sun sets through the Heel Stone.
The stones are believed to have been transported 240 kilometres from southwest Wales by sledge or boat.
The largest stone stands 8.71 metres tall (though 2.13 metres of it is underground), whilst the Heel Stone is estimated to weigh 30 tonnes.
Even if history is not your favourite subject, there is something special and undoubtedly unique about Stonehenge.
Is
visiting Stonehenge with kids
worth it?
Stonehenge is one of the most famous locations in the UK and is definitely worth seeing. It is more than just a few stones in a field!
The 6,500 acre site is located on Salisbury Plain in Wiltshire (around 2 hours west of London) and has over 700 known archaeological features.
Things to do at Stonehenge include a state of the art visitors centre, countryside walks, a replica Neolithic village, a museum and an exhibition centre.
Plus, Stonehenge can easily be combined with a trip to Windsor, Oxford, Bath or Salisbury, so you can really make the most of your day trip from London or visit while en route to one of these destinations. We visited Stonehenge on our way to Bath.
How to get to Stonehenge from London
The distance from London to Stonehenge is 142 kilometres, so it is easily doable as a day trip from the capital. If you want to visit Stonehenge from London, you can travel by car, train or on a tour.
Whichever option you choose, set off as early as possible to make the most of your day trip and avoid the crowds that start to build up mid-morning.
London to Stonehenge by car
Visiting Stonehenge from London by car is a relatively straightforward 2 hour drive, depending on traffic. We drove from London to Stonehenge on our way to Bath.
If you have a car with you in central London, take the A4 to the M4 motorway. From the M4, join the M3 and follow it until you reach the A303. The A303 will take you all the way to Stonehenge.
We did a slightly different journey. To avoid driving in central London (which also means avoiding the £15 London congestion charge), we took the fast train to Heathrow Airport, hired a car there and got straight onto the M4 motorway from the airport.
The drive time from Heathrow Airport to Stonehenge is around 1 hr 10.
Stonehenge from London by train
Unfortunately, there is not a direct London train to Stonehenge.
The shortest and easiest route is to catch a train from London Waterloo to Salisbury (a 1 hr 23 minute journey). Outside the station, you can catch a public bus to Stonehenge from Salisbury, which takes around 30 minutes.
If you start your day trip to Stonehenge early enough, you can spend a few hours in Salisbury, another great city in the UK to visit.
Don't miss Salisbury Cathedral, home to the UK's tallest spire, a copy of the Magna Carta and the world's oldest working clock!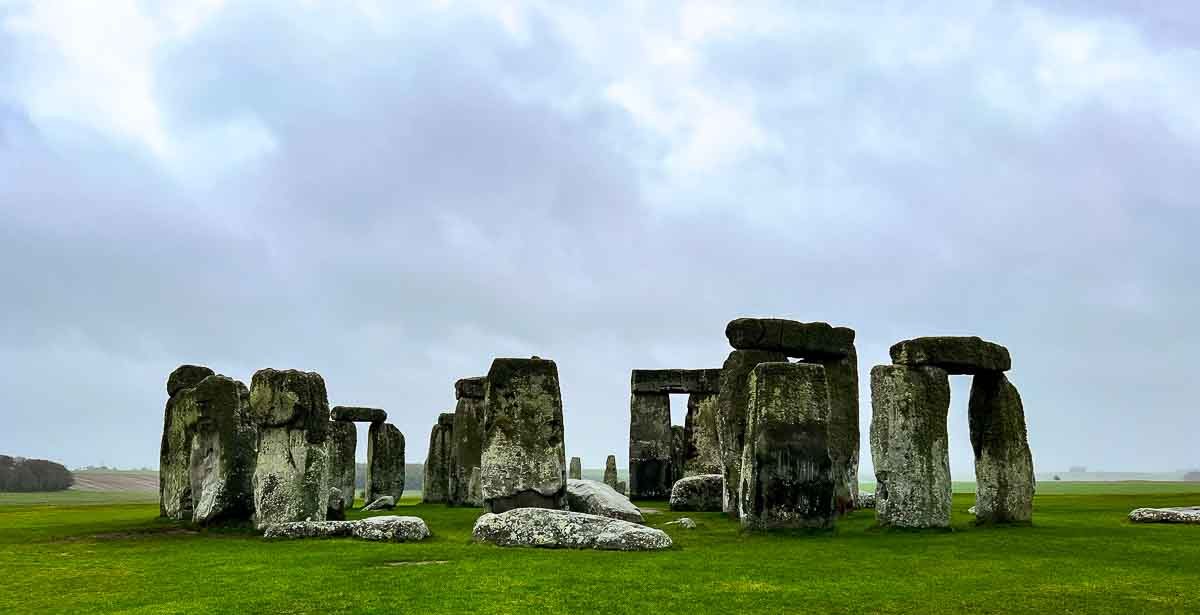 Best Stonehenge tours from London
If you don't want to self drive or take public transport to Stonehenge, there are lots of Stonehenge tours available from London. The tours range from direct half days tours to full day sightseeing tours that incorporate other attractions along the way.
The best Stonehenge tours from London will allow you plenty of time to explore the site and provide some history about what you see.
Half
day trip to Stonehenge from London
If you are short on time, this six hour half day trip to Stonehenge is a good option.
It includes coach travel to and from Stonehenge from London Victoria Station, your entrance ticket to Stonehenge and a downloadable audio guide. There is also the option to add a fish and chip dinner to your tour.
The earliest tour leaves at 8.15 am, so you will still have time for other attractions when you return to London.
The tour includes your transport and entry ticket it is good value for money.
Price – £68 per adult | £58 per child (3 – 16) | children under 3 free – Click here for more information or to book.
London to Windsor and Stonehenge
There are a few attractions along the M4 motorway, which you will use to travel to Stonehenge. The historic town of Windsor is only a few miles off the motorway, so it makes sense to combine a trip to Stonehenge with Windsor.
Unlike other tours that also offer Oxford and Bath in addition to Windsor and Stonehenge, this tour focuses on just Windsor and Stonehenge. This will allow you plenty of time at each location.
The first stop after departure is Windsor, where you will tour the famous castle and see the elaborate state apartments and St George's Chapel before continuing to Stonehenge.
You can expect around 2 hours in Stonehenge with a little longer in Windsor. Entry to both sites is included in the tour price.
The 12 hour tour departs from Victoria coach station.
Price – £124 per adult | £114 per child (3 – 16) | children under 3 free – Click here for more information or to book.
Stonehenge inner circle tours from London
Most visitors to Stonehenge visit the outside of the stones. To get to the restricted inner circle of Stonehenge, you must book an 'inner circle tour.'
Inner circle tours are strictly controlled, so you must book well in advance of your visit. Tours are limited to 30 people and last for one hour. However, the tours only occur before Stonehenge opens to the public or after closing hours.
This Stonehenge Inner Circle and Windsor Tour from London departs very early from London and takes its one hour tour before the site opens to the general public.
It is a fantastic opportunity to visit Stonehenge at a quiet time and see parts of the site that most visitors don't get to visit.
You will then continue to Windsor to enjoy a guided walking tour and some free time to explore independently.
The tour price includes your transport, entry ticket to Stonehenge and the services of a guide.
If you are not a morning person, there is also the option to take a later tour which visits Windsor first, then travels to Stonehenge for an after hours tour before returning to London.
Price – £145 per adult | £118 per child (3 – 16)| children under 3 free – Click here for more information or to book.
Tours from London to Stonehenge and Bath
Bath and Stonehenge tours from London are among the most popular day tours.
This Bath and Stonehenge day tour departs early from London and lasts for 11 hours, so that you will have around 1.5 hours in Stonehenge and 2 hours in Bath.
It includes your transport, entry ticket to Stonehenge, a guide and free time to explore Bath on your own. Alternatively, you can join the Bridgerton Walking Tour provided by your guide.
This trip to Stonehenge and Bath from London is cheaper and longer than other similar tours, plus it offers free cancellation up to 24 hours before departure.
Price – £145 per adult | £118 per child (3 – 16)| children under 3 free – Click here for more information or to book.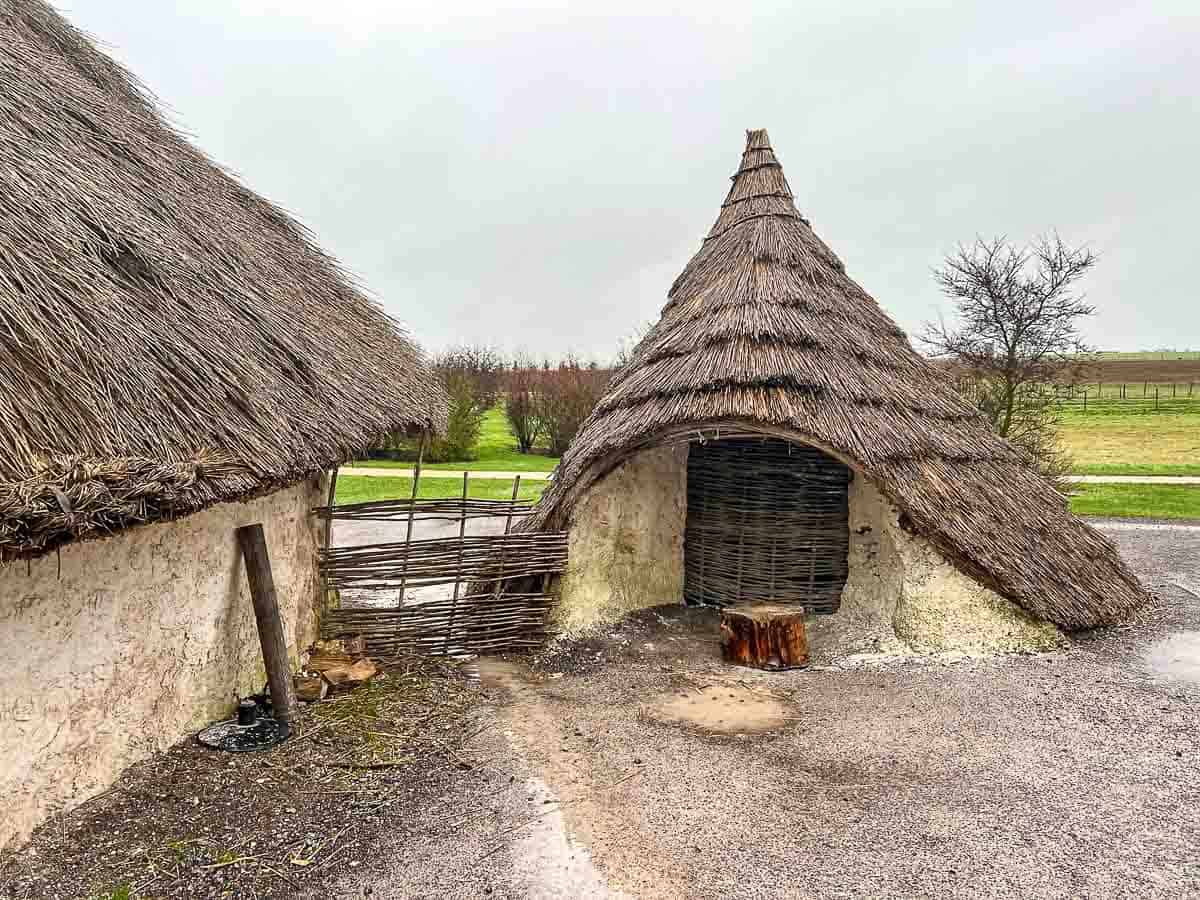 Stonehenge FAQ's
What is there to see at
Stonehenge Visitors Centre
?
I recommend visiting the Visitors Centre before you visit the stones.
Its engaging exhibits will explain the history and theories behind the site. It lets you make more sense of what you will see once you reach the stone circles.
Kids will enjoy the 360 degree movie, which shows how Stonehenge has changed over time.
The onsite museum is also worth visiting. It houses over 300 artefacts found at Stonehenge, such as pottery, tools and jewellery, as well as human and animal remains.
There is the reconstructed head of a Neolithic man, so you can see how the people who lived at Stonehenge thousands of years ago might have looked. Plus, you can try pulling a replica sarsen stone (good luck!).
Outside the visitor's centre are seven replica Neolithic mud houses with thatched roofs. You can go inside the simply furnished homes where volunteers explain and demonstrate how Neolithic people lived and cooked. It will bring history to life for the kids.
How long you spend here will depend on your family's level of interest – we spent around 30 minutes exploring the visitor's centre. Allow much longer if your family wants to read and see all the information on offer.
What is there to see at the stones?
Many people say its nothing more than a pile of rocks – and while that is somewhat true, it is absolutely mind blowing to think that thousands of years ago, with the limited tools available, people were able to get the stones in this formation – and for the most part they remain standing.
You can take a short bus ride from the visitor centre or about a 20 minute walk out to the stones. From here, you can walk around outside the stones, a couple of metres away from the actual stones.
It's probably not overly exciting for children, even for some parents. We spent around 15 minutes walking around the outside and taking a few family photos.
Is Stonehenge free?
The Stonehenge site and the visitor's centre are not free to enter. If you want to visit Stonehenge for free, the best you can do is to view the stones from far away on a nearby road.
You do have quite a good view from the road, but stopping on the road is not allowed, so it will only be a fleeting and far away view.
What is the
entry fee to Stonehenge
?
The Stonehenge entry fee varies according to the time of year you visit. Stonehenge ticket prices are highest in peak season.
The Stonehenge entry fee may seem expensive, but the money is used to maintain and preserve the site, plus it subsides school visits throughout the year.
Price – Off peak Stonehenge entrance fee £20.90 per adult | £12.70 per child (5-17) | Family (2A+3C) £54 | Family (1A+3C) £33.90.
Price – Peak entry fee Stonehenge prices £26.30 Adults | £16.30 per child (5-17) | Family (2A+3C) £68.90 | Family (1A+3C) £42.60.
What is the best way to book Stonehenge tickets?
The best and easiest way to book Stonehenge tickets is online before your visit.
You must arrive within half an hour of your chosen time, but then you can stay as long as you like on site.
Buying tickets at the door when you arrive is possible, but if the site is busy, you may have to wait to get in. The last entry is two hours before closing.
Click here to book your tickets online.
When is the
best time to visit Stonehenge?
Stonehenge receives around 1.5 million visitors a year, so you can expect many other visitors on site all year round (whatever the weather).
The busiest months are the peak summer months from June to September. If you want to experience Stonehenge at quiet times, visit early in the day, preferably during the week and outside school holidays. Spring or Autumn months will also be quieter.
Try to visit before 10 am (when the coach tours start to arrive) or after the coaches leave around 4 pm.
What are
Stonehenge opening times?
Stonehenge is open from 9.30 am to 5 pm, 7 days a week. In peak summer months, Stonehenge remains open till 7 pm.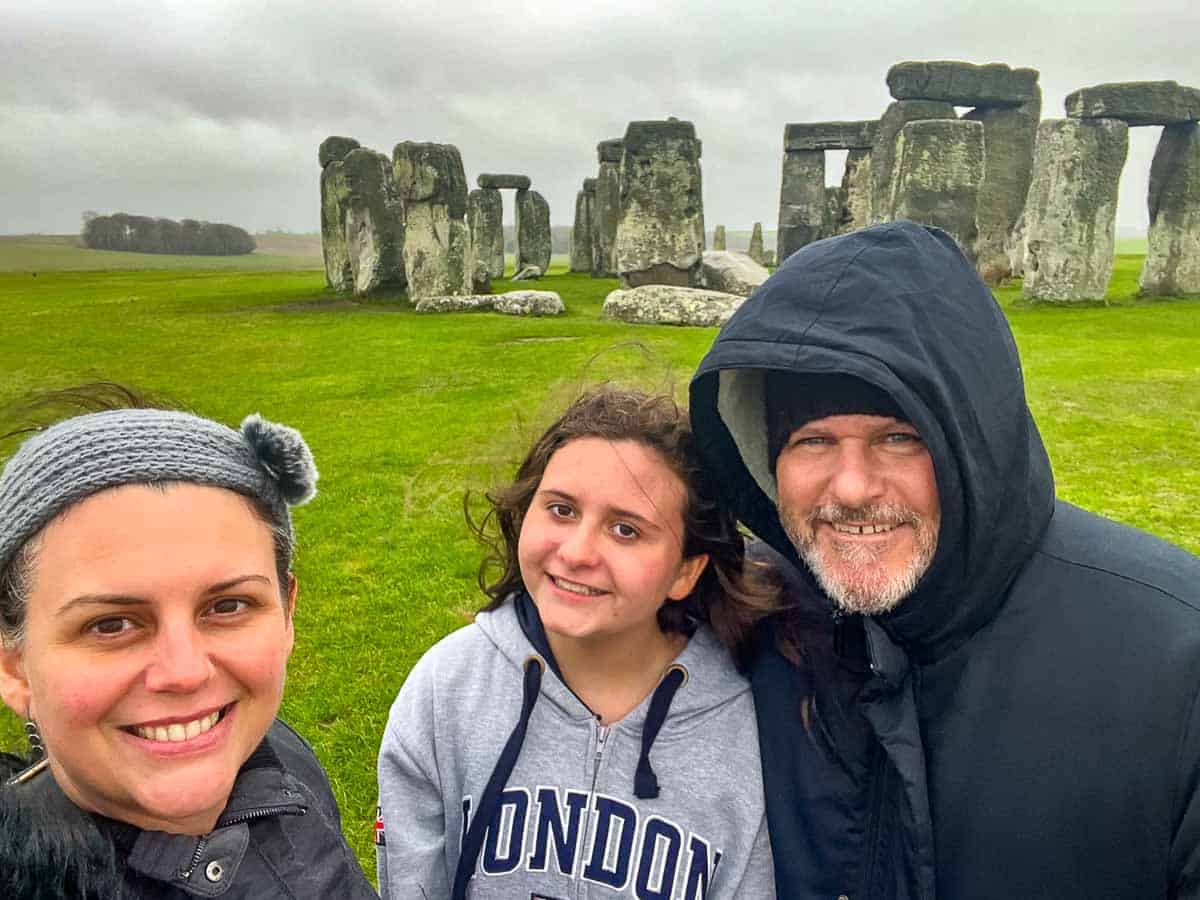 What to wear at Stonehenge?
You will inevitably do a lot of walking at Stonehenge, so comfortable shoes are a must.
Salisbury Plain is an exposed landscape with no shade or shelter from the wind or rain.
Wear sunscreen and a hat on sunny days and a warm jumper or coat to protect yourself from the wind and rain on cooler days.
The day we visited, it was cold, windy and rainy – so thick, waterproof jackets and waterproof shoes were a must.
How long does it take to visit Stonehenge?
This really depends on the level of interest your family has. I'd recommend at a bare minimum of one hour, but really you won't need more than 2 hours for a family to visit the site.
We spent around 2 hours all up, although it was a reasonably quiet day – and this also included having lunch at the on site cafe.
Parking at Stonehenge
A large car park near the Visitors Centre is free to visitors who hold a pre-booked ticket.
If you don't have a pre-booked ticket, you will have to pay for parking when you arrive. However, your ticket will be fully refunded when you purchase an entrance ticket.
What facilities are there in Stonehenge?
There is a cafe, picnic area and a gift shop on site. Car parking and toilets are also available.
______________________________________________________________
Hopefully you found this guide to visiting Stonehenge helpful. Other great guides which you may also find helpful include things to do in Bath with kids, things to do in London with kids or the best London hotels for families.