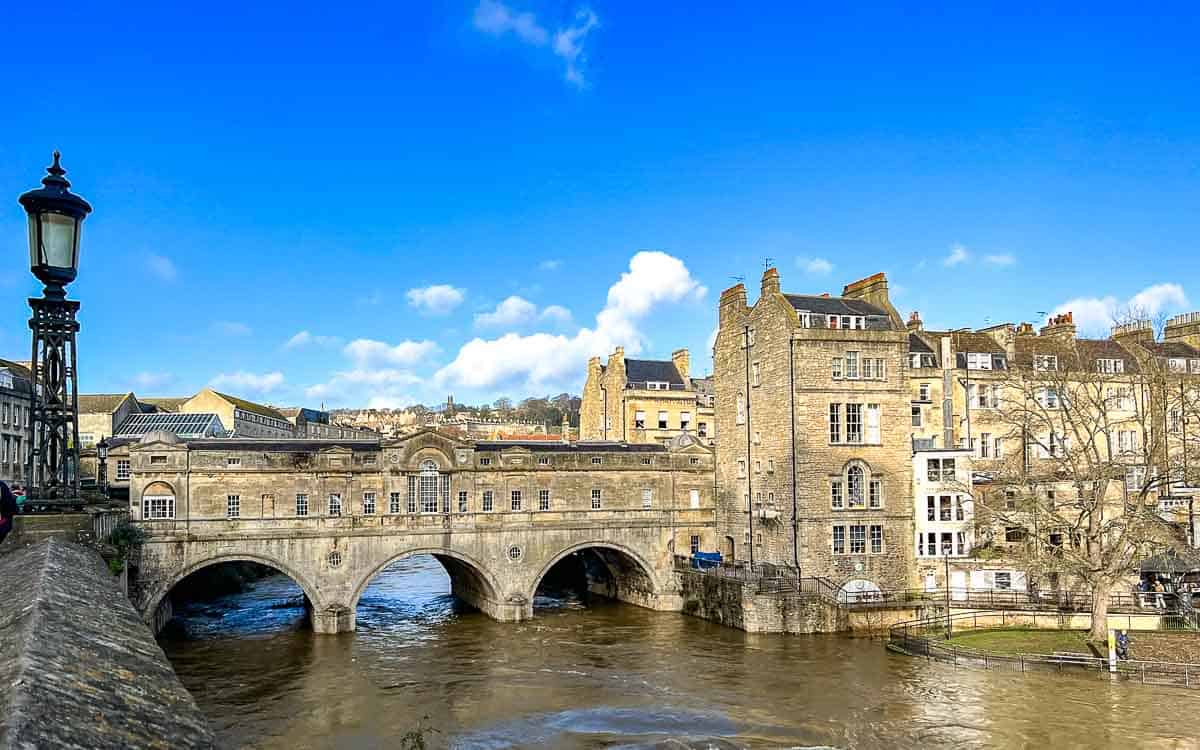 Are you visiting Bath with kids? This guide covers all the very best things to do in Bath with kids.
If you're taking the kids to London, it's well recommended to spend at least a day in Bath. Even a few days if you can as there are plenty of Bath things to do.
Famous of course for its Roman thermal baths, Bath is a gorgeous little town with stunning architecture and home to numerous family friendly museums. And for Bridgerton fans, Bath is one of the main locations for the filming of Netflix's period drama.
While many families come for a day trip from London – with so much stuff to do in Bath – it's well recommended you plan at least an overnight trip. But if you're short on time, then a day trip will suffice.
To help you decide exactly what to do in Bath for kids, this guide provides all the information you need for the best things to do Bath offers families. The guide covers the best things to see in Bath, the best kids' activities in Bath and even the very best free things to do in Bath!
In addition, this guide includes ticket prices, where to save money booking online, opening times, tips on where to stay and also details about how to get to Bath.
So let's jump straight into it and look at all the fun things to do in Bath the entire family will love.
This post may contain compensated links. Please refer to my disclaimer here for more information.
Talk to other families about their tips on visiting London and join our Thrifty Family Travel Facebook Group or be inspired on our Instagram Feed.
Bath Things to do
Map
To help you plan your day trip, check out the map below which shows the location of all the things to do in Bath for kids covered in this guide.
You can zoom in and out for a better view.
Best Things to do in Bath with Kids
In no particular order, below we list all the fun things to do in Bath for families.
Please note that all prices mentioned were correct at the time of writing and are in local currency. To check the rate in your currency, click here.
Roman Baths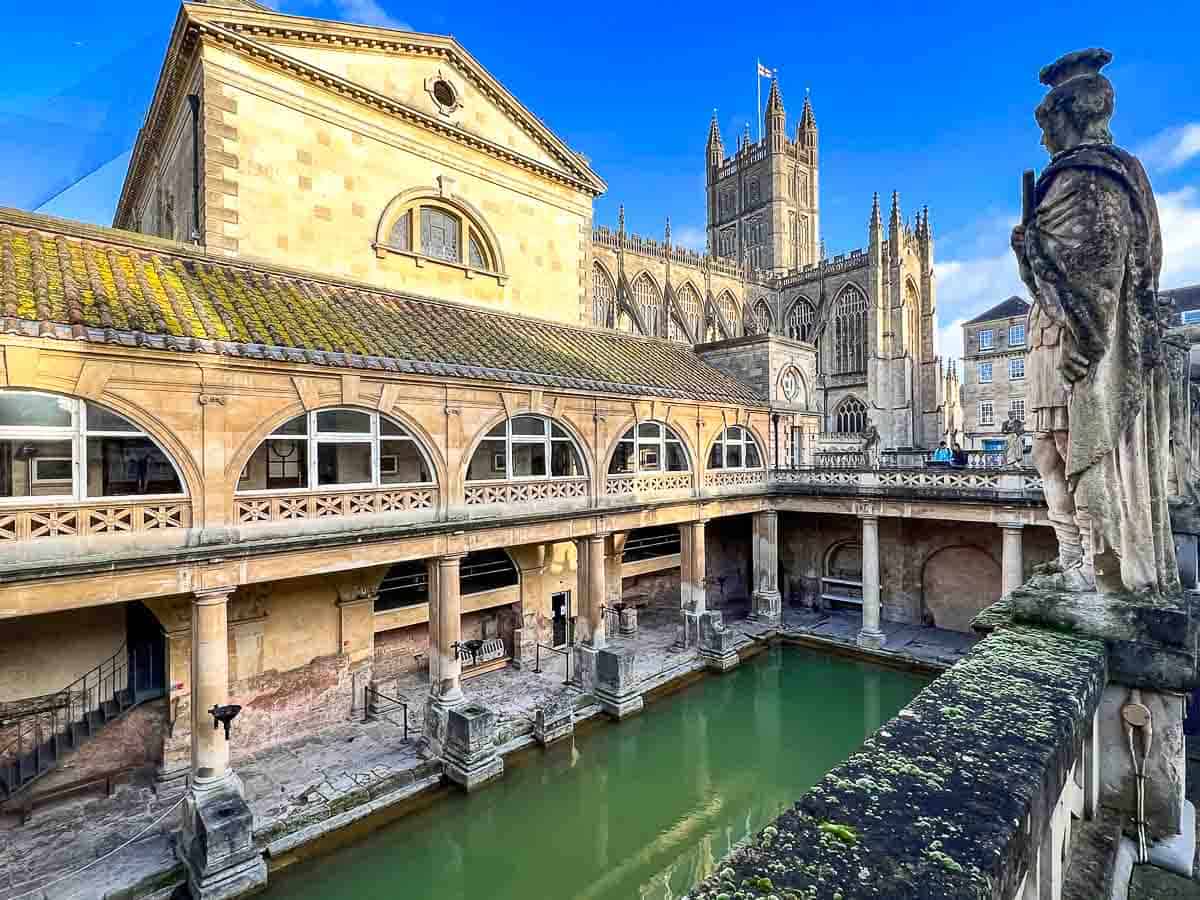 When it comes to Bath things to see, the Roman Baths are high up on the list, they are the remarkably preserved ancient Roman public bath complex built around thermal springs. Dating back to the First century AD, the Roman Baths were once a centre of social and religious activities.
Today families can explore what remains of the bathhouses – there are a few ways to explore that really engage with the kids. There is the option to follow Hoot the Owl on activity trails for younger ones, older kids will love the free audio guide and all ages will love the professionally guided tours.
And when it comes to exploring the site there's loads to discover, of course there are the remains to visit, but there's also an interactive museum that makes history come alive. Another way history is brought to life is through the costumed characters who roam the site and will have a chat with visitors about what life was like back when the Roman Baths were in operation – definitely one of the cool things to do in Bath.
While this is one of the things to do with kids in Bath as the Roman Baths cater to families with baby change facilities and toilets, there are unfortunately no strollers permitted, so younger children will need to be in a baby carrier.
We would say to allow 2 hours to explore the whole site, so ensure you'd be able to carry younger ones for this amount of time if they can't walk.
Location: Abbey Church Yard, Bath, BA1 1LZ
Hours: Weekdays 10 am to 6 pm | Weekends 9 am to 6 pm
Price: £18 Adults | £10.50 Kids (6-18) | £45 Family Pass (2A+2-4C) – pricing changes on Weekends and throughout the year, check the website for up to date pricing for your travel dates
Bath Abbey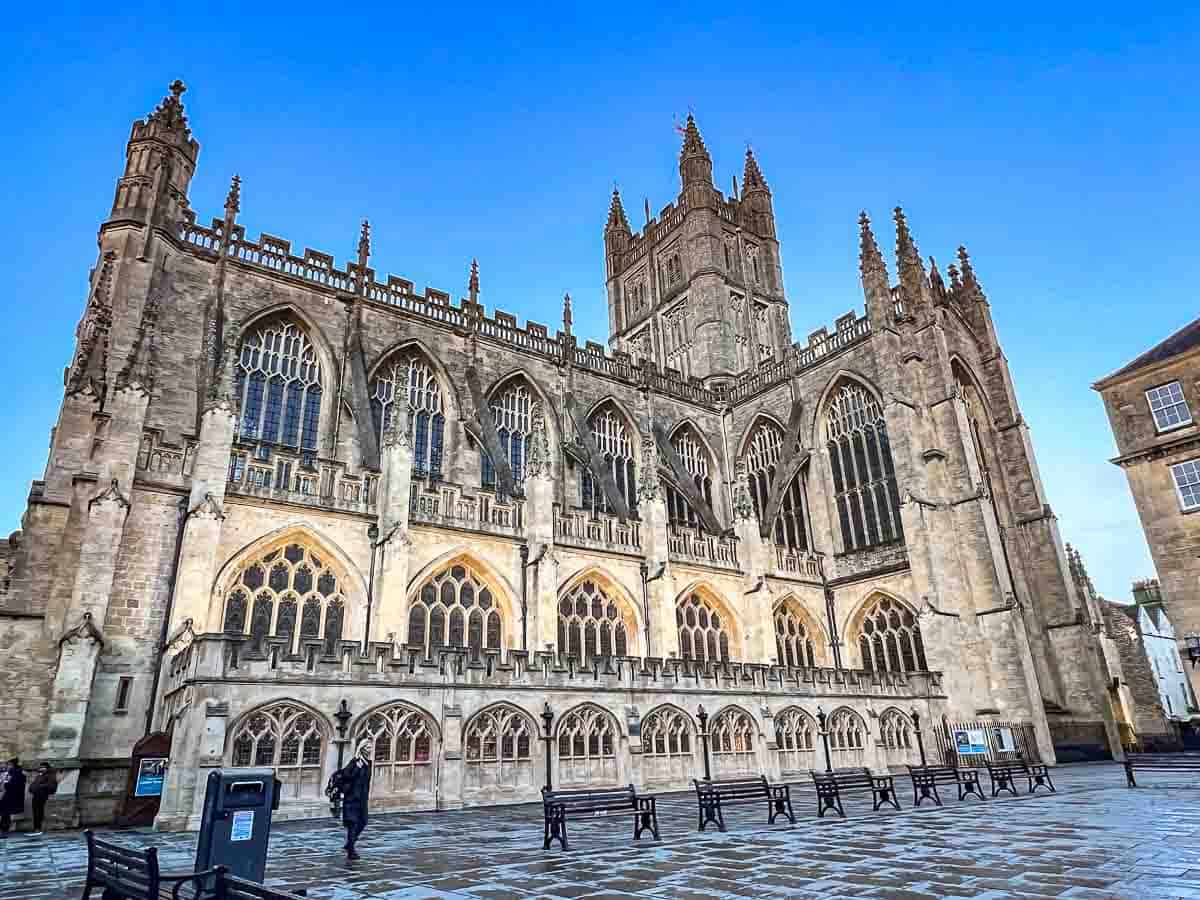 You wouldn't normally think of visiting a church as one of the fun Bath activities for kids… but Bath Abbey is no normal church. The awe-inspiring architecture with magnificent stained-glass windows and intricate fan vaulting will intrigue kids of all ages.
As it is a living church there are services throughout the day, when no services are on, you are permitted to stroll through and take in the art and history, light a candle and enjoy a moment of stillness in the hub of Bath.
There are paid tours you can join for a nominal fee, making this one of the cheap things to do in Bath, however a visit to the church is one of the free things to do in Bath – although they do request a donation to assist in the upkeep of this tremendous building.
Location: Abbey Street, Bath
Hours: Weekdays 10 am to 5.30 pm | Saturday 10 am to 6 pm | Sunday 1.15 pm – 2.30 pm and 4.30 pm to 6.30 pm
Price: Free, suggested donations – £5 Adults | £2.50 Kids | £12 Family
Sally Lunn's Eating House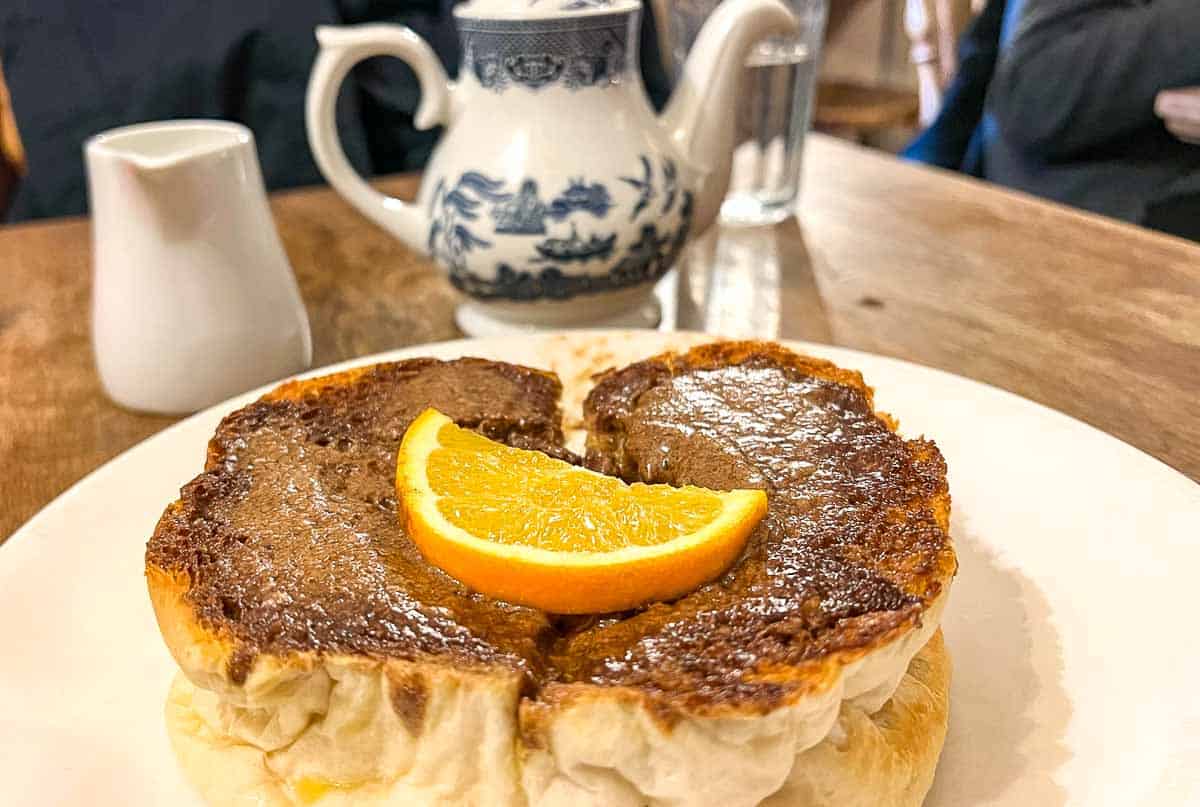 If you need to entice your kids to explore a bit of history by offering them some yummy food as well… then Sally Lunn's Eating House is one of the perfect things to do in Bath with children for your family.
The history is covered in the location and the museum – this is one of the oldest houses in Bath, and the museum tells the story of how Sally Lunn – the creator of the world famous Sally Lunn Bun came to Bath in the 1680s and got the whole town hooked on these brioche-esque buns.
With morning coffee, lunch, afternoon tea and candlelit dinner offered within the historic surroundings at the Eating House – this is one of the kid's Bath activities not to be missed for those who love to eat their way through history.
Location: 4 North Parade Passage, Bath
Hours: Daily 10 am to 4 pm (Kitchen Museum) | Dinner available until 9 pm
Price: Museum entry: 30p Adults (free if you order a refreshment) | Kids are free | Dining menus
Jane Austen Centre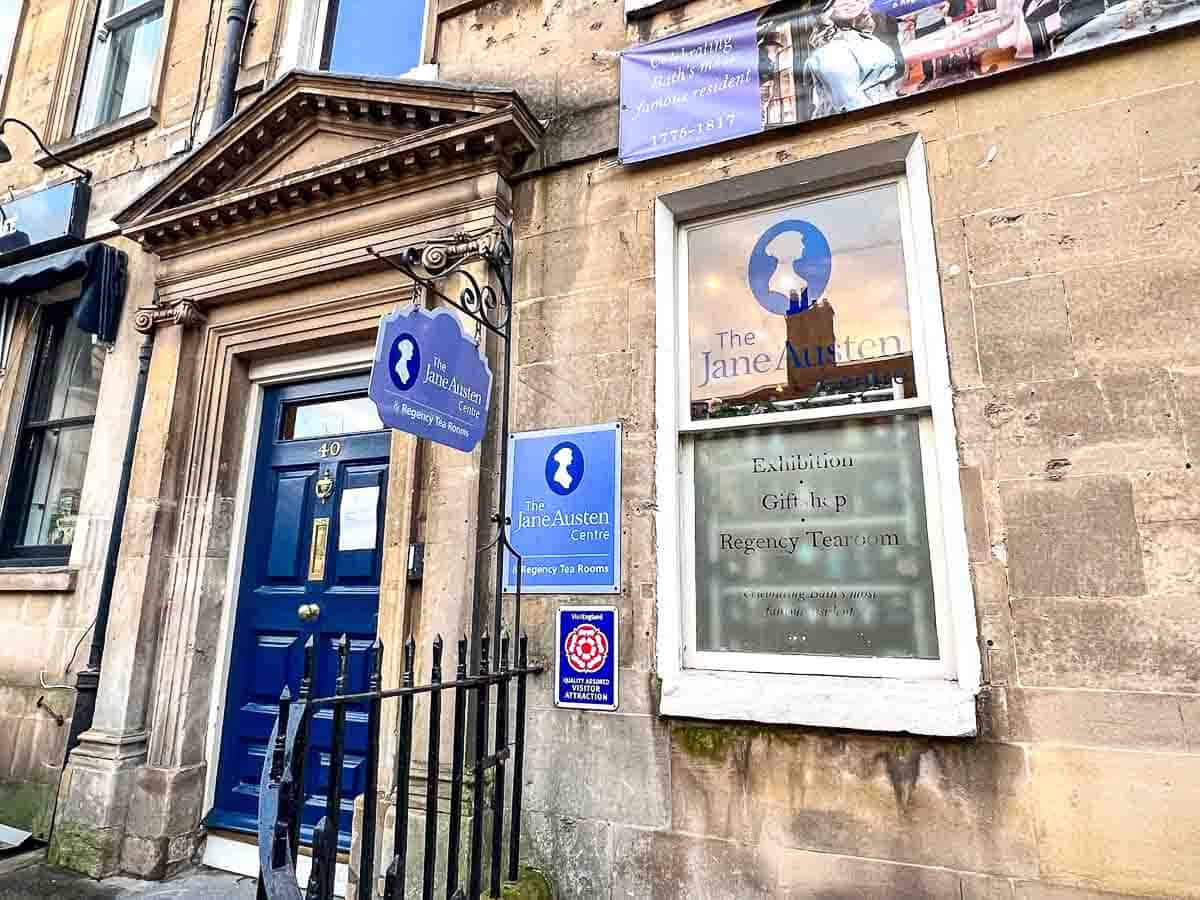 Celebrating Bath's most famous resident' is what the Jane Austen Centre claims, and with the novelist spending several years living and writing in Bath – including setting two of her novels in the city – Northanger Abbey and Persuasion – we think it's a pretty accurate claim.
The Centre offers a glimpse into what life would have looked like in Jane Austen's day. There are costumed guides taking guests on a journey through history, along with dress ups, regency food tastings, penmanship practice with a quill and taking a snap with a waxwork figure of Jane Austen – these are some fun kids activities Bath has on offer, and the kids don't even have to know who Jane Austen is, they'll just enjoy the activities.
And once you're all 'toured out', enjoy a delightful bite to eat at the elegant Regency Tea Room with tea, cakes or a light lunch – one of the lovely family things to do in Bath.
Location: 40 Gay Street, Bath
Hours: Sunday – Friday 10 am to 4.30 pm | Saturday 10 am to 5.30 pm
Price: £13.25 Adults | £6.50 Kids (6-16) | £35 Family Pass (2A+4C) | Under 6s are free – Click here to book your tickets online
Postal Museum
While not one of the must see things in Bath, the Postal Museum is fascinating nonetheless. With artifacts on display including quills and inkwells, stamp boxes, post boxes, model clay coaches and historic letters and postcards – there's a treasure ready for discovery
And if you're short on time, these collections are in the process of being made accessible and searchable online, so you don't have to miss out on one of the great family attractions in Bath.
Location: 27 Northgate Street, Bath
Hours: Monday & Thursday 11am to 4pm | Tuesday, Wednesday & Friday 2pm – 5pm | Closed Weekends
Price: £6 Adults | £3 Kids (6-16) | £12.50 Family Pass (2A+2C) | Under 6s are free
The Circus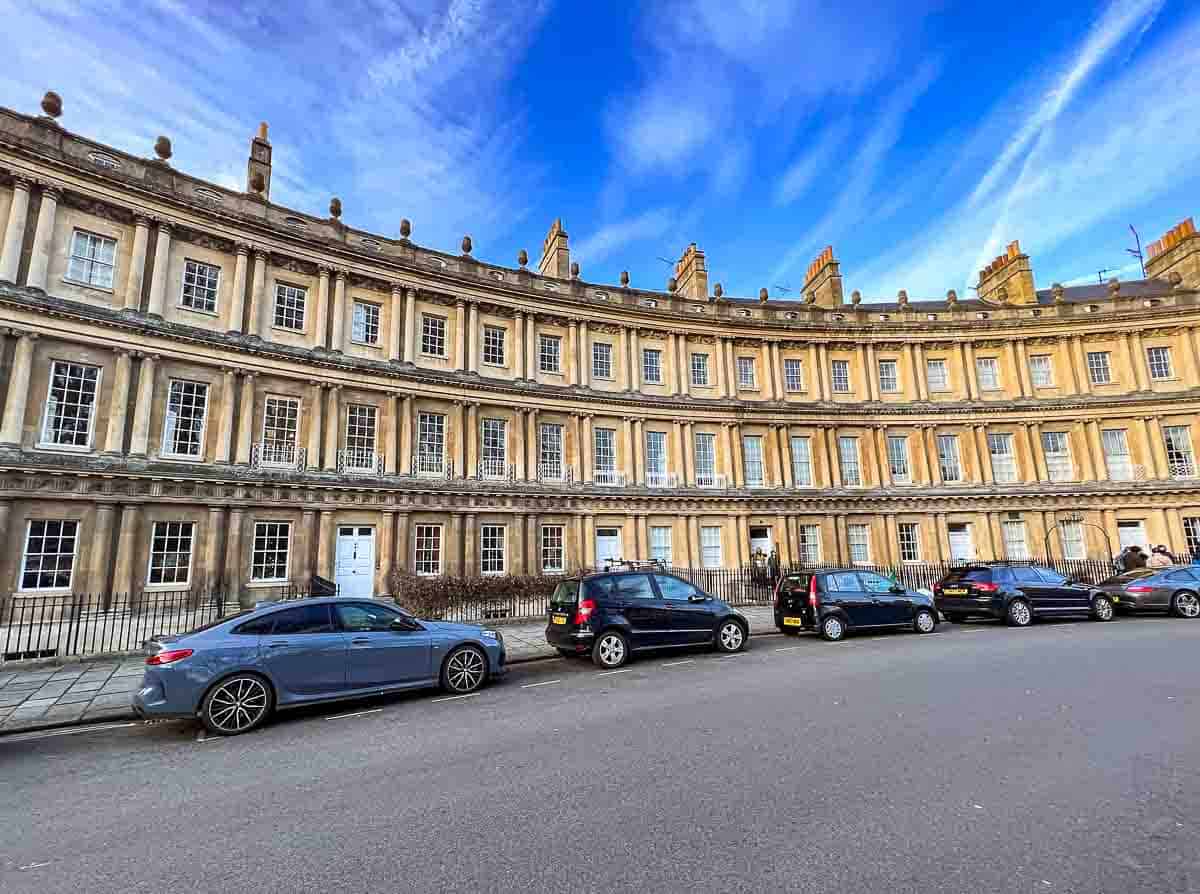 While the name implies there will be clowns and animals, 'The Circus' is actually a historic ring of large townhouses. Not as exciting as an actual circus for kids, it is however a pretty amazing building to see. The history behind it is super interesting with the architect basing measurements from Stonehenge and subsequently passing away before the first stone could be laid.
The building was of course constructed and is now one of the top 10 things to do in Bath. Make a game for the kids to spot the emblems hidden amongst the stonework. There are serpents, acorns and nautical symbols to discover. We're sure they'll be so engrossed in the game, they'll forget they wanted to see an actual circus in the first place!
Location: 1 – 30 The Circus, Bath
Hours: Anytime
Price: Free
Royal Crescent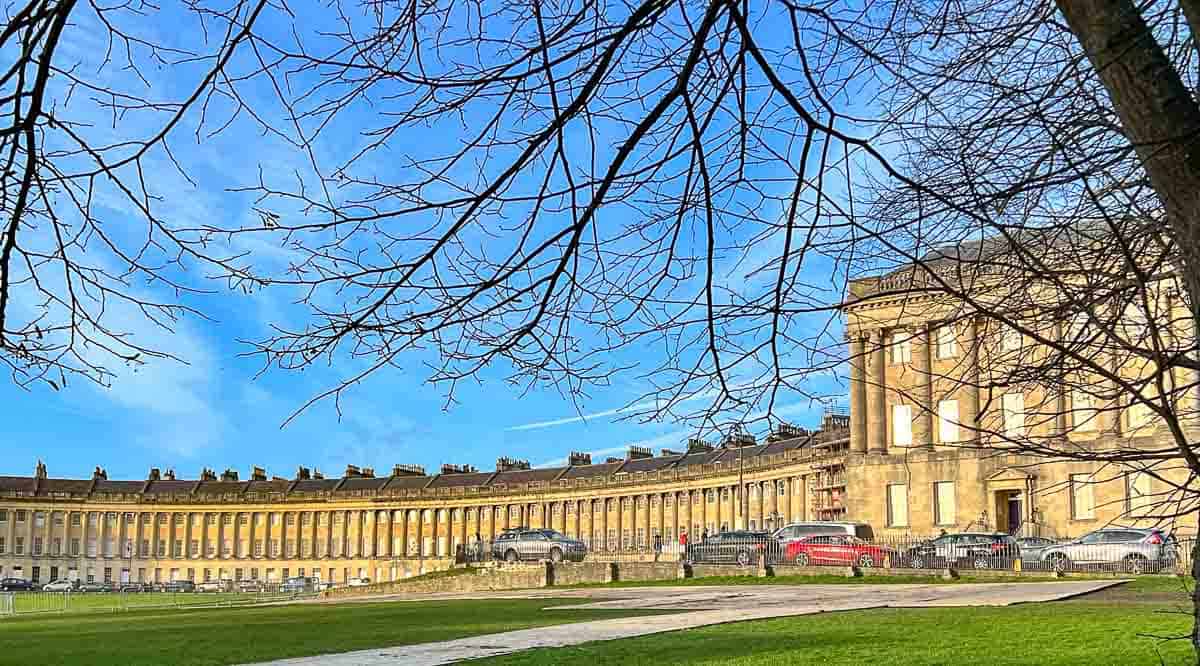 If you're already visiting The Circus (above), why not continue 5 minutes down the road to the Royal Crescent – where you'll see another spectacular piece of architecture in the form of 30 terraced houses in a sweeping crescent.
While built in the 1700's, they may look familiar to you as they have been featured in loads of period movies and of course the number 1 Netflix series, Bridgerton. The exterior of No.1 Royal Crescent is used as the home of the Featherington family. So if you've got a family full of Bridgerton fans, the Royal Crescent is one of the family activities Bath has on offer not to be missed.
No.1 Royal Crescent is also home to a museum. This beautifully restored Georgian townhouse has been decorated and furnished just as it may have been during the period 1776 to 1796.
Location: 1 Royal Crescent, Bath
Hours: Tuesday to Sunday from 10 am to 5.30 pm
Price: £15 per adult | Kids are free
Holburne Museum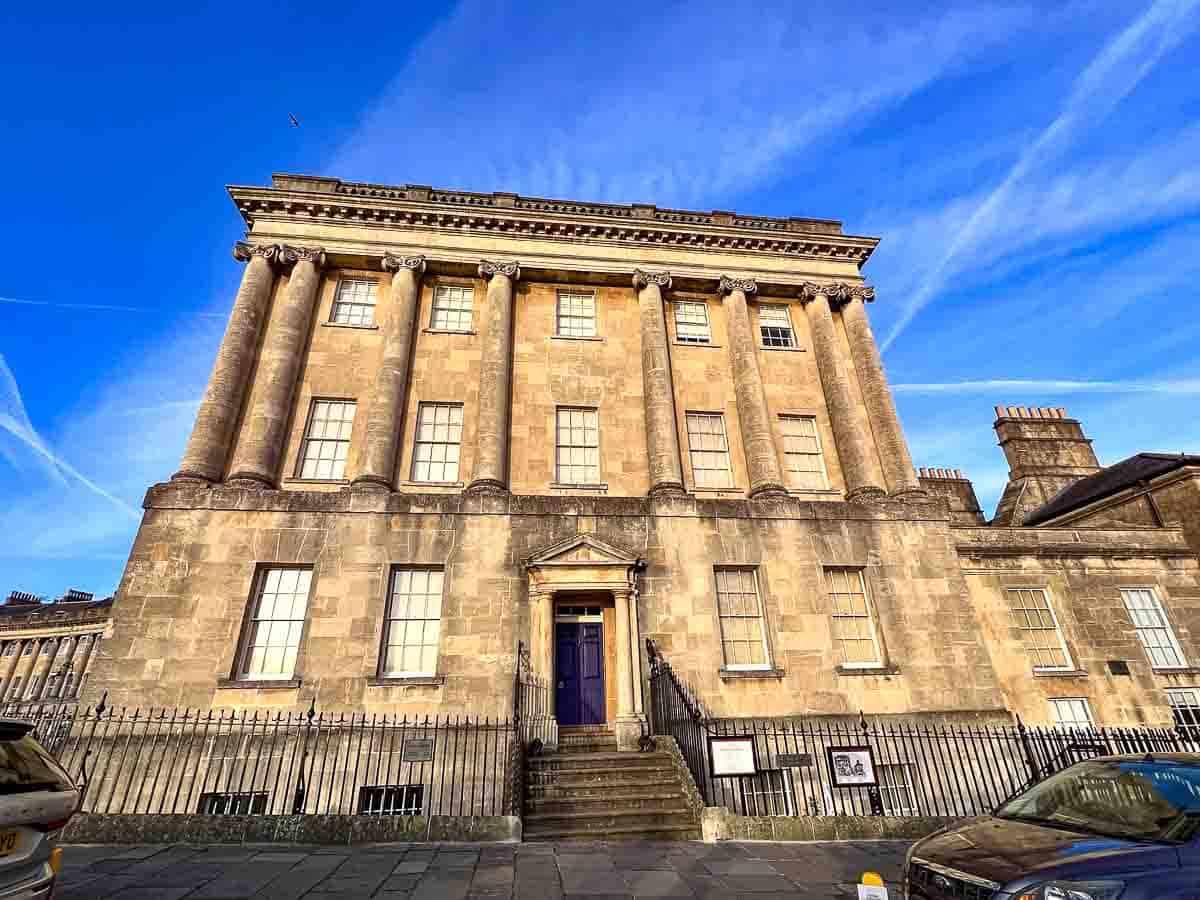 The Holburne Museum started as a private collection of Sir William Holburne, upon his death he left his collection compromising of over 4,000 items to the City of Bath which has since grown by another 2,000 items for all visitors to enjoy.
While some museums will have kids rolling their eyes and dragging their feet, the Holburne Museum is different, this is one of the things for kids in Bath they will love! Kids are well catered for with activity drawers ripe to explore with magnifying glasses, and themed activity bags giving the whole family a bonding experience and there are family museum trails.
So if you're wondering what to do in Bath with kids that they will actually enjoy, the Holburne Museum is the place to go.
And for any Bridgerton fans – this is where Lady Danbury's house was filmed.
Location: Great Pulteney Street, Bath
Hours: Monday – Saturday 10 am to 5 pm | Sunday 11 am to 5 pm
Price: £12.50 Adults (including donation) or £11 (without donation) | Under 18s are free
Pulteney Bridge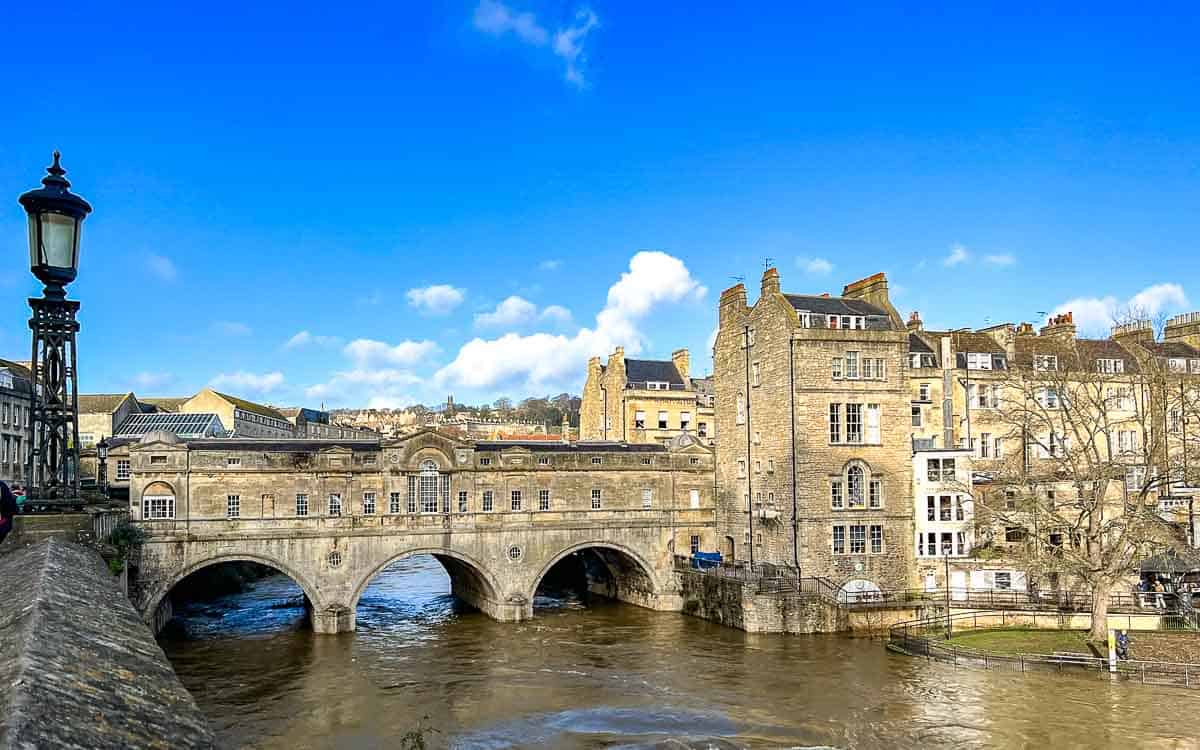 One of the famous Bath things to visit is wandering across the Pulteney Bridge. This stunning piece of Georgian architecture is one of only four bridges in the world to have shops across its full spa on both sides. So not only are you walking across a piece of history, but you can also window-shop along the way.
Built in the 1700's it has stood the test of time despite being damaged by floods, there have been a few alterations to the shops, however it still retains a lot of its original appearance. If you're driving, please note you can't drive across the bridge – it is for taxis and buses only.
Location: Bridge Street, Bath
Hours: Anytime
Price: Free
Parade Gardens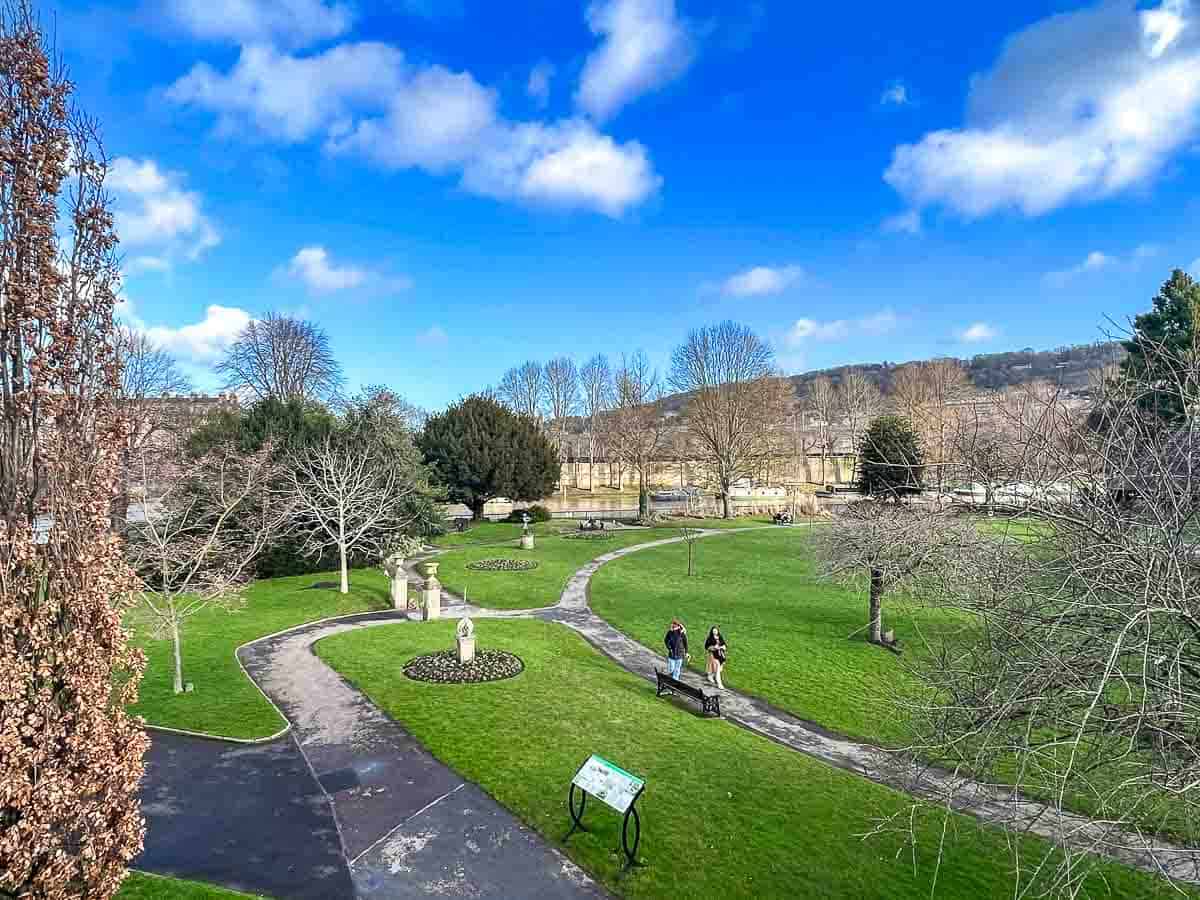 If you're wondering what to do with kids in Bath who need to run off some energy, a trip to the 2.5 acres of Parade Gardens is exactly what you need. Overlooking the River Avon, these grassed popular pleasure grounds are a great place to have a run around, enjoy a picnic or take in the entertainment.
If you're travelling over summer there are concerts in the bandstand, children's entertainment and deck chairs to sit back and take it all in. If you haven't managed to pack a picnic, there is a charming cafe onsite serving up the very UK sandwiches, cakes and tea.
Location: Grand Parade, Bath
Hours: Daily 10 am to 6 pm
Price: £2 Adults | £1 Kids (5-16) | Under 5s are free
Mary Shelley's House of Frankenstein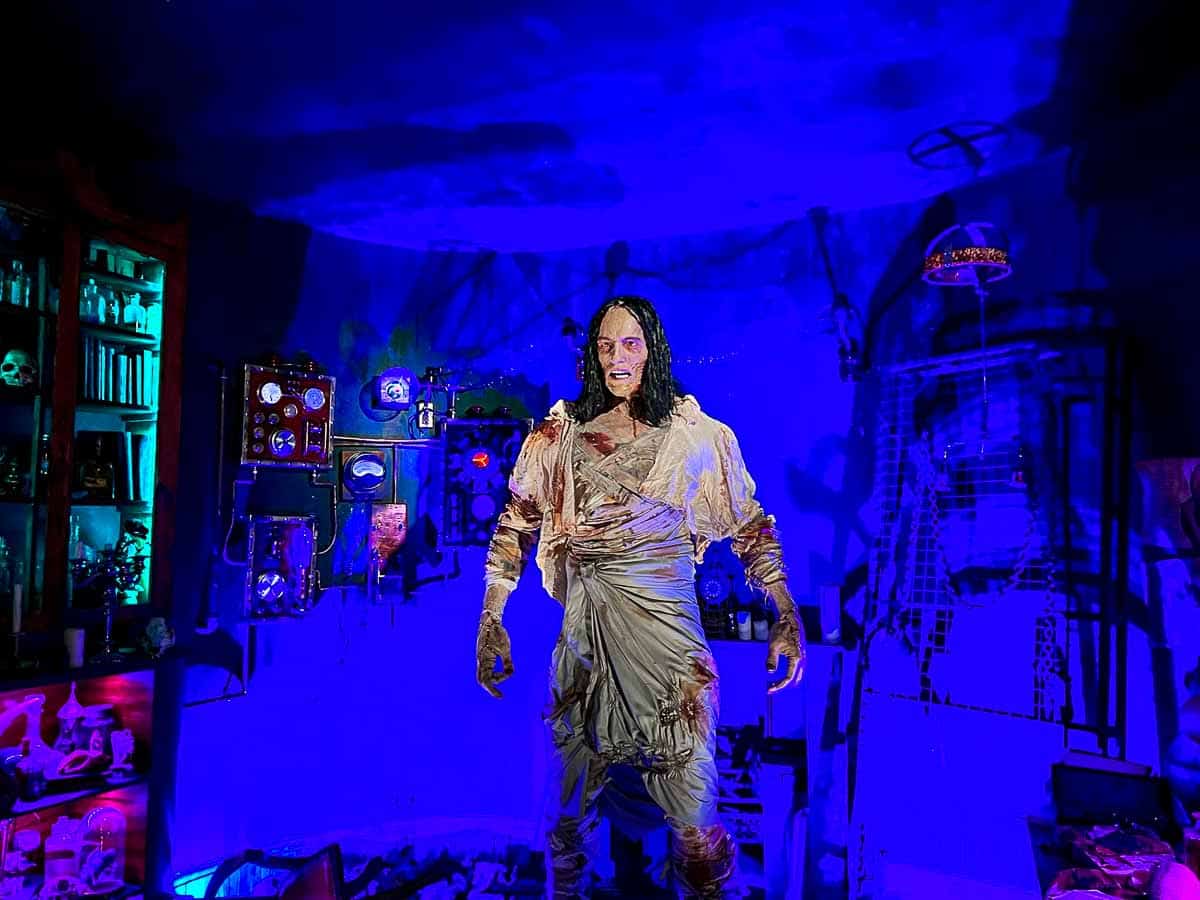 Another famous writer coming out of Bath is Mary Shelley – except she didn't write romantic period fiction, she wrote science fiction, in particular, Frankenstein.
The House of Frankenstein has been created over four multisensory floors where you will be immersed in the lasting legacy of her infamous creation. While this is one of the unique things to do for kids in Bath… if they are a bit on the nervous side it may not be for them as there's quite a bit to be afraid of… even for the adults.
Location: 37 Gay Street, Bath
Hours: Daily 11 am to 5 pm
Price: £15.50 Adults | £12.50 Kids (5-15) | £38.30 Family Pass (1A+2C) | £53 Family Pass (2A+2C) | Under 5s are free – Click here to buy your tickets online
Best Bath Tours
Boat Cruise
If you're looking for things to do in Bath with family that everyone will enjoy… why not hop on a boat and cruise down the Avon River. You'll get a unique perspective as you glide on past some of the city's main sites including Half Penny Bridge, Bath Abbey, Parade Gardens and more.
Once you alight, you'll take your exploration on foot as your guide provides an overview of Bath's rich history and takes you around some of the key sights. Kids will be kept entertained as they complete a kid's quiz on the walking tour.
Location: Avon River + Bath City
Hours: 80 minute duration
Price: £21.50 Adults | £16 Kids (12-15) | £11 Kids (2-11) | Under 2s are free – Click here to book your tickets online
Walking Tour
If you prefer someone to take you around all the main sights and explain their historical significance, this is the walking tour for your family when you visit Bath with kids.
You won't have to worry about maps and guidebooks, as your knowledgeable guide will take care of all of this. They'll lead you around to sights such as the Royal Crescent, The Circus, Queen Square, Bath Abbey and more… and you won't have to worry about getting lost.
Location: Bath City
Hours: 90 minute duration
Price: £16 Adults | £11 Kids 6-18) | Under 5s are free – Click here to book your tickets online
Bridgerton Walking Tour
Did you really visit Bath if you didn't do a Bridgerton Tour? Visiting some of the key filming sites of Bridgerton is one of the must do things in Bath. Explore the series' major locations, see the exteriors of homes and learn just how accurate Bridgertons portrayal of life in Regency England really was.
We've picked our top 3 Bridgerton Walking Tours for you to discover:
Bath Ghost Tour
This is definitely not one of the children's activities Bath has for families who have very young ones, or those that scare easily… even adults. As this tour is quite spooky!
You'll be guided around the city at night discovering loads of haunted locations as you're regaled with tales about the ghosts of medieval monks, tortured witches, hanged criminals and more. There's a paranormal experiment at the end of the tour for a volunteer who is brave enough to raise their hand.
Location: Bath City
Hours: Wednesday – Sunday 8 pm to 10 pm
Price: £16 Adults | £11 Kids (under 16 years) – Click here to book your tickets online
Hop on Hop Off Bus Tour
If you're looking for things to do in Bath with a child who is younger, the Hop on Hop off Bus Tour is always a great option! Why? Because the whole family still gets to sightsee, however, the littlies can rest their legs and take in the sights from the bus. And once they've got their energy up, you can simply hop off… and then hop back on again.
With this ticket you get 2 routes covering both the city sightseeing and the country sightseeing – all from the iconic open-top, double decker tour bus – with audio guide.
Location: Bath City + Country
Hours: 24-hour duration
Price: £21.50 Adults | £13.50 Kids (5-15) | £63.50 Family Pass (2A+3C) | Under 5s are free – Click here to book your tickets online
Bath Day Tours from London
If you're in London but know about all the things for children to do in Bath, and must visit with the family, no worries, we've got you covered. Check out all these day trips that will have you exploring this stunning UNESCO World Heritage Site.
Click here to see a range of Bath day tours from London or read our guide here on the best Bath day tours from London.
Best Hotels in Bath for Families
Looking for the best hotels in Bath for families? Below, we've covered our top three picks for the best family hotels Bath offers families that won't completely blow the budget.
We've chosen these hotels as they offer great value for money and are in excellent locations for sightseeing around Bath.
Click here for our more detailed guide on the Bath family hotels.
You can't go past a Holiday Inn Express when travelling, they're generally well maintained, include free extras and are well priced – with this particular Holiday Inn being one of the cheap hotels Bath has on offer.
Whilst this is one of the Bath cheap hotels, in fact it's the cheapest in this guide, it is one of the furthest from town, around a 15-minute walk – which isn't too far for the adults, yet may just be pushing it if you have kids in tow. If you need to utilise this for day trips into town, there is paid parking on site.
Rooms are contemporary yet compact and can accommodate a family of 4 in a double bed and a sofa bed. You'll receive free Wi-Fi and coffee/tea facilities in the room. Whilst there are not loads of in-room facilities, you get a free breakfast, which is great for the whole family to fill up on before a day of sightseeing.
And if you want to ensure dinner time is easy, you can come back to the Holiday Inn restaurant for some family-friendly meals, including pasta, burgers and pizzas and some adult-friendly beverages from the bar.
Click here for more information and to check the current price
Location is one of the biggest drawcards at the Hiding Space – Trim Street Apartments. Tucked behind the main shopping area in the centre of town, you'll be minutes from the Roman Baths and within walking distance of all the major tourist attractions – which is great as there is no parking at this hotel.
The apartments are super stylish; having been restored in 2019, they are modern yet retain some original features, creating an eclectic place to stay. The one bedroom apartments are a good size for a family of 4 who will sleep in a double bed and sofa bed.
The apartments have the convenience of a fully equipped kitchen, including a fridge, oven, stovetop, microwave, kettle and toaster. There is a dining table, all the kitchenware you need to enjoy a family meal, and a dishwasher to clean up afterwards. Milk, tea, sugar, coffee, and a Nespresso Coffee Machine are also provided.
Even though this family friendly hotel Bath has apartment style accommodation, there is still housekeeping available, luggage storage and a concierge service. Besides this, there are no other facilities on site, but you are in the town centre, so everything is on your doorstep.
Click here for more information and to check the current price
If you like to be centrally located when you travel, the North Parade Apartment is worth checking out. Situated smack bang in the middle of the city, you have all the tourist attractions on your doorstep, including the Roman Baths, which are mere minutes away on foot.
Families of 4 will love this huge 2-bedroom apartment; there is lots of space to spread out, which is great for older kids wanting some alone time and younger kids with an earlier bedtime.
Bedding arrangements include a double bed in one room and 2 singles in the other. There is a fully equipped kitchen which will save you some money with preparing meals in the hotel, as this is not one of the budget hotels Bath has on offer – it is more in the mid-range, so any dollars you can save are worth it.
Rounding out the apartment amenities is a washing machine perfect for those who prefer to travel light and wash on the go, and free Wi-Fi. Like most apartments, there are no on-site facilities such as a restaurant or gym.
Click here for more information and to check the current price
Getting to Bath
It's relatively easy getting from London to Bath with a few different options, depending on your budget and how much time you have.
You can read our more detailed guide on getting to Bath from London here.
How to get from London to Bath by train
The easiest and fastest way to get to Bath is by train. The Bath from London train leaves Paddington Station around every 30 minutes. The train station in Bath is very central and you can basically walk to all the attractions from here. So this is perfect for those wanting to do a DIY Bath day trip.
Trains leave all day, with the first train leaving Paddington at around 4.30 am and the last train leaving at 11.30 pm. The journey takes around 1.5 hours each way.
London to Bath train tickets can be quite expensive – particularly if purchased at the last minute. For the cheapest tickets, purchase your train tickets around 3 months in advance which you should get from around £20. However purchase them on the day, or closer to the day and the price could be closer to £100.
Click here to purchase your train tickets to Bath.
How to get the
bus to Bath from London
The bus is the cheapest way to get to Bath from London, although it also has the longest journey time at almost 3 hours. So not really ideal for a day trip.
The National Express runs buses from Victoria Station in London to Bath around every 1-2 hours or so. The first bus leaves London at around 7 am and the last buses are around 11.30 pm. Return buses from Bath leave at around 4 am and the last bus leaves at around 10.30 pm.
Tickets are cheap, starting at just £5 per passenger each way. Plus, one child aged 0-2 can travel free with each adult.
Click here to purchase your bus tickets to Bath.
Tips for
driving from London to Bath
If you don't have a car in London – but picking up a hire car to drive to Bath and beyond – it's recommended not to pick up the car in Central London. The traffic in London is mental and it's much easier to take the tube out to Heathrow and pick up a hire car there. This is what we did, and found it super easy.
We combined our drive to Bath with a visit to Stonehenge – you can read more about visiting Stonehenge with kids here.
If you do plan on driving from London – expect the journey to take around 2.5 hours – or even more if you're driving during peak hour traffic.
If you're just heading to Bath for the day from London – it's really not worth hiring a car. It's only a little faster than a bus – but much more expensive. Plus, you'll have to factor in parking in Bath as well.
Getting Around Bath
The good thing about Bath is you can pretty much walk everywhere you want to go. We stayed in Bath for a few days and walked to all the attractions.
However, if you're children aren't keen on too much walking, there are buses that run through the city. A single bus trip will cost £2 per adult and £1 for children 5-15. If you know you'll take at least two bus rides in a day you can buy a 2 trip ticket for £3.50 per adult and £1.80 for children 5-15.
Bus tickets can be purchased on the bus or via the First Bus app.
There is also the Hop on Hop off bus mentioned above.
____________________________________________________________________________
Hopefully you found this guide to Bath with kids helpful. Other great guides which you may also find helpful include things to do in London with kids, getting to London from Heathrow (coming soon) and the best London hotels for families.