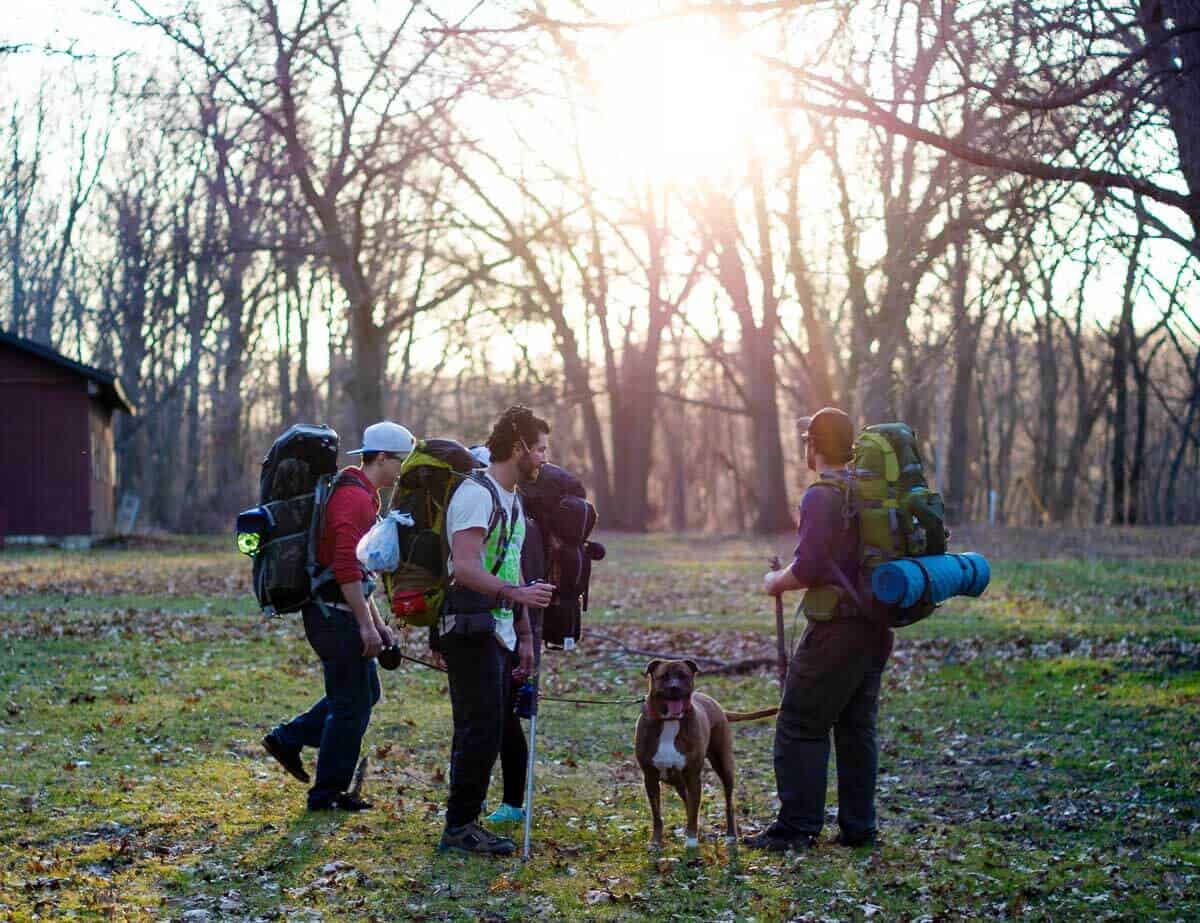 When you're travelling or backpacking, you don't just want the best backpacking sleeping bag; you want one of the best lightweight sleeping bags for backpacking. Along with your backpack (and perhaps a sleeping pad), your sleeping bag is going to be one of the heaviest, bulkiest items you carry and so by having the best lightweight sleeping bag for backpacking; you'll ensure you don't waste precious space or carry unnecessary weight.
You may have read my other guide on the best sleeping bags for cold weather. In this post, I talked about how I randomly bought some sleeping bags for our backpacking trip around the Northern Territory, and while they did the job, I certainly didn't put much thought into whether they were the best lightweight backpacking sleeping bag. The sleeping bags we bought were so heavy and bulky and a real pain to carry around with us.
With the benefit of hindsight, I have put together this guide for others looking to purchase the best sleeping bags for backpacking or any travel. In this guide, I will first take you through the various features to look for when buying a good lightweight sleeping bag so that you can purchase the perfect lightweight backpack sleeping bag for you. Lastly, I will take a closer look at some of the top sleeping bags for backpacking currently on the market.
In these lightweight sleeping bag reviews, I look at a range of sleeping bags from the best lightweight cold weather sleeping bag to the best lightweight summer sleeping bag as well as the best budget ultralight sleeping bag. Whether you are after lightweight backpacking sleeping bags, the best hiking sleeping bag or the best sleeping bags for travelling in general, I have no doubt, that after reading this lightweight sleeping bag review you will be in a better position to make a perfect choice.
This post may contain compensated links. Please refer to my disclaimer here for more information.
Our Pick for the Best Lightweight Backpacking Sleeping Bag 2023: ECOOPRO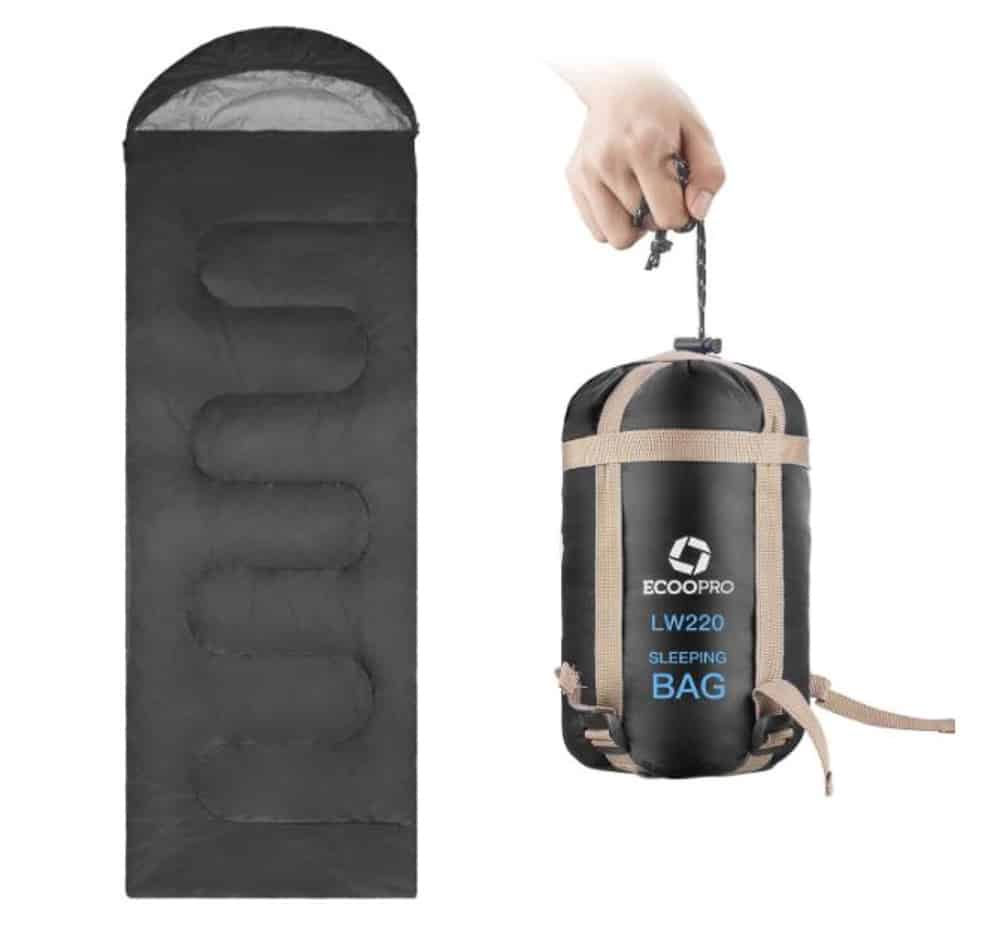 If you don't have time to read my entire backpacking lightweight sleeping bag review, my pick for the best packable sleeping bag is the ECOOPRO sleeping bag at only 750g this is one of the lightest sleeping bags in this review and stores away super compactly so is really easy to put in the bottom of your pack or hang on to it. I also love that it is suitable for a range of camping climates, machine washable, water resistant and all at an awesome price too. It even comes with a one year warranty.
Just keep in mind that if you are camping in colder climates, you may like to consider one of the other sleeping bags in this review. Alternatively, click here for my best sleeping bags for cold weather guide.
Click here to read more about this sleeping bag and to buy now.
Keep reading below for the full review on the ECOOPRO Sleeping Bag.
Comparison Chart for the Best Lightweight Sleeping Bags for Backpacking 2023
Check out the table below for a quick view of the various features of my recommendations for the top lightweight sleeping bags. Keep reading below for my detailed reviews.
How to Choose the Best Sleeping Bag – Lightweight
Ok, so firstly I don't recommend you run out and purchase the most lightweight sleeping bag you can find because it may not be suitable for the environment you will be sleeping in. There are a variety of factors that you will need to consider to ensure you purchase a suitable sleeping bag. Before going out to purchase a super lightweight sleeping bag, consider the following factors:
Insulation
Sleeping bags are insulated to keep you warm. The insulation is usually in the form of either down or synthetic materials which is sandwiched between two layers of fabric – shell fabric on the outside and lining on the inside.
Down Insulation
The best ultralight sleeping bags are insulated with down, because down has the best warmth to weight ratio, meaning a smaller amount of insulation is required for the same amount of warmth as is necessary for synthetic insulation. This results in an ultra-lightweight sleeping bag that takes up less room. Making down the perfect choice for the best ultralight backpacking sleeping bag as a down sleeping bag can easily fit into the bottom of a backpack.
Despite being the best compact sleeping bag, down is unfortunately far more expensive than even the best lightweight synthetic sleeping bag. However, down sleeping bags are incredibly durable, and the best lightweight down sleeping bag will last you for years.
Another negative is that down tends to lose its ability to insulate if it gets wet. To avoid this issue, many manufacturers treat the down with a durable water repellant.
The quality of down is measured by a fill power index from 400 to 900 – the higher the fill power index, the better the weight to warmth ratio of the sleeping bag.
If using lightweight down sleeping bags, it is recommended you purchase one that has been ethically sourced. That means the animals have not been ill-treated to produce the down for the sleeping bag. Look for companies that follow the Responsible Down Standard. You can find a list of companies that follow this standard here. All the down sleeping bags for backpacking in this review are by companies that support the Responsible Down Standard.
Synthetic Insulation
If you are looking for the best cheap lightweight sleeping bag or the best value lightweight sleeping bag, you should opt for one of the lightweight synthetic sleeping bags. Synthetically insulated sleeping bags are so much cheaper than down, as well as being quick-drying, and they insulate even if it gets wet. A synthetic insulated sleeping bag also tends to be better for people suffering allergies.
The negative about synthetically insulated sleeping bags is that it doesn't pack down as small as down, so not ideal when space is a premium.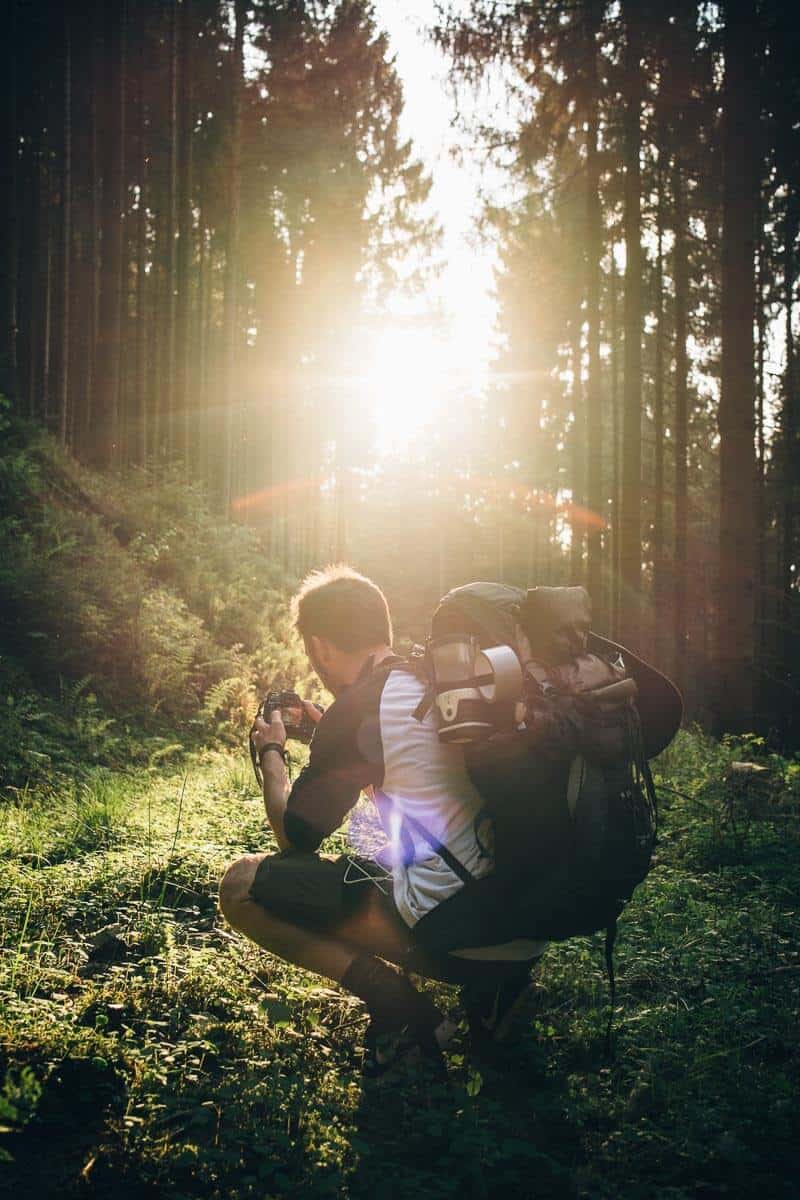 Temperature Rating
While you want the best light sleeping bag, more importantly, you need one that will keep you warm enough. Unfortunately, manufacturers don't use a standard temperature rating system and so choosing an appropriate sleeping bag can be difficult. Basically, the rating is a guess as to the ideal temperature; the average person will keep warm in the sleeping bag.
The one universal rating method that you may see on a sleeping bag is the EN13537 rating – the European standard for labelling sleeping bags. This standard expresses temperature ratings in the following way:
Comfort: This is the warmth level required for a woman to sleep comfortably. It is based on a woman because an average woman needs more insulation to stay warm than men.
Limit of Comfort: This is the lowest temperature that a man would feel comfortable sleeping in.
Extreme: This is basically the coldest temperature you would survive in, not sleep comfortably, but survive without freezing to death.
It is also important to note that everyone's body temperature is different. Various factors will affect your body temperature when you sleep, such as:
Sensitivity to temperature
Conditioning, fitness and level of experience
Gender and age
Sleeping habits
Hunger and nutritional intake
Level of exhaustion; and
Environment
There are other reasons for your level of comfort inside a sleeping bag, such as your sleepwear, sleeping mattress, and prior exposure to wind, rain, snow and humidity.
Many camping experts suggest that when in doubt purchase a sleeping bag rated at least 5-10 degrees below the average temperature you will be using your sleeping bag in.
For easy identification, some manufacturers label their sleeping bags as two seasons or three season sleeping bags:
2 Season Sleeping Bags: also referred to as Summer sleeping bags are recommended for warmer weather or from temperatures 32F / 0C. Lightweight sleeping bags for summer are only recommended if you are always sleeping in warm weather.
3 Season Sleeping Bags: ideal for temperatures around 20 degrees Fahrenheit (-6 degrees Celsius) and above. Features of a 3 season sleeping bag include cinchable hoods, draft collars and zipper draft tubes. A lightweight 3 season sleeping bag is generally perfect for all sorts of climates.
Cold Weather Sleeping Bags: These are the warmest lightweight sleeping bags and are suitable for those camping in extreme climates 20 degrees Fahrenheit (-6 degrees Celsius) and below.
Size / Length
Sleeping bags generally come in one of three lengths that are supposed to fit men and women of varying heights. Usually these lengths are tall (78 inches / 200cm), average (72 inches/ 185 cm) and short (66 inches / 170 cm).
Shape
There are a variety of shapes when it comes to sleeping bags with the main ones being the mummy, tapered rectangular and rectangular. If you are trying to save weight and space, look for a tapered sleeping bag such as the mummy, whereas if comfort is the priority a standard rectangular sleeping bag is your best bet.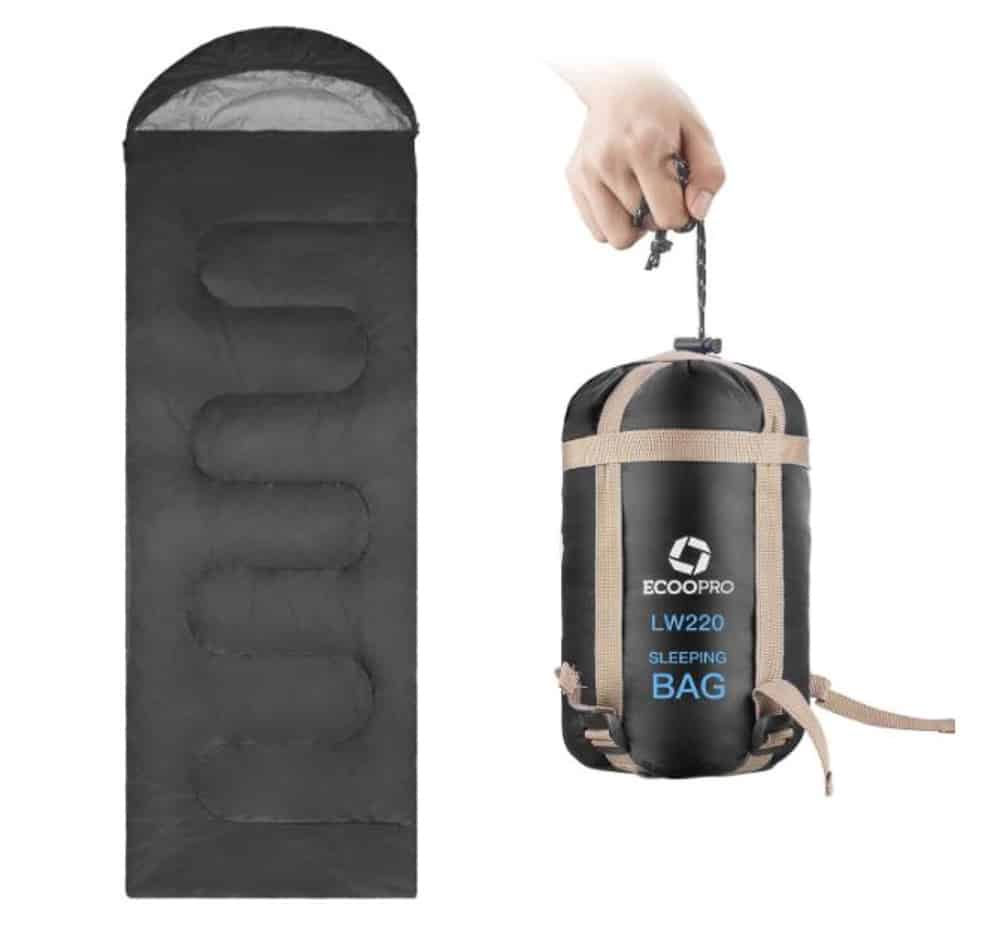 Rectangular
Most camping bags are designed with a rectangular shape for maximum comfort and roominess.
The best lightweight rectangular sleeping bag can even be joined to another sleeping bag if one bag has a "right-hand" zipper and the other a "left-hand" zipper, creating a lightweight double sleeping bag. The zippers also need to be the same size, style and roughly the same length to create lightweight double sleeping bags.
Mummy
If maximum warmth is a priority and you're looking for one of the best lightweight, warm sleeping bag, then a lightweight mummy sleeping bag is the best choice. A mummy-shaped sleeping bag is wide at the shoulders and narrows down towards the feet, creating less air that needs to be heated within the bag.
Some people don't find these warm, lightweight sleeping bags very comfortable as they are more restrictive than rectangular shaped sleeping bags.
Tapered Rectangular
The tapered rectangular is somewhere in between the mummy and the rectangular-shaped sleeping bag. These sleeping bags have a tapered design offering greater warmth and efficiency than rectangular bags, but they're still plenty roomy for a comfortable night's sleep.
Women's Sleeping Bags
Some sleeping bags come in women-specific versions. Basically, a womens lightweight sleeping bag is designed to match a woman's contours. When compared to standard lightweight travel sleeping bag, women-specific bags are shorter and narrower at the shoulders, wider at the hips and add extra insulation in the upper body and footbox.
Weight
Of course when backpacking, travelling or hiking, along with your tent, your sleeping bag is likely to be one of the heaviest and bulkiest items you take camping, so you want the lightest sleeping bag you can find that still meets all your requirements. Sleeping bags come in a range of weights from the ultra-lightweight sleeping bags for backpacking at around 1 pound to 3 + pounds (450 g to 1.5 kg). In the table above, I have listed the weights of all the sleeping bags in this guide.
Just keep in mind that usually, the lighter the sleeping bag, the more it's going to cost. I have provided a range of top-rated lightweight sleeping bags in a variety of price brackets to suit all kinds of budgets.
Other Features
Above we have covered the main features of a good quality sleeping bags, but the best light weight sleeping bag will come with many additional features to increase your comfort.
Sleeping bag shell
The outer shell of a camping bag is typically made of ripstop nylon or polyester for durability.
Many synthetic-fill bags feature a shell fabric treated with a durable water repellent (DWR) finish. DWR allows water to bead up rather than soak through the fabric. Linings, on the other hand, promote the dispersal of body moisture, so DWR is not used here. To tell if a shell has a durable water repellent (DWR) treatment, rub a wet cloth across the surface. If the water beads up, then it has DWR.
The downside to a lightweight, packable sleeping bag treated with DWR is that it tends to be less breathable, trapping perspiration inside the sleeping bag. Trapped sweat reduces the insulations ability to trap heat so you will be colder in a sleeping bag treated with DWR.
Lining
Polyester or nylon breaths and draws away moisture. Cotton (flannelette) increases comfort but won't draw away moisture so you can be left feeling damp.
Zippers
Most sleeping bags have two zippers so you can easily open your bag from the inside and the outside.
Look for sleeping bags with good quality zippers. Zippers that continuously get caught are a pain and make getting in and out of your bag difficult. Also look for zippers that go all the way around rather than just halfway you can easily open the bag if you get too hot.
Neck Collar
Neck collars are perfect for a warm lightweight sleeping bag as they ensure the warmth stays within the bag by ensuring heat doesn't escape from the sleeping bag.
Sleeping bag hood
Camping in colder temperatures you'll lose a lot of heat through your head. The best lightweight sleeping bag for cold weather will be one with a built-in hood. When cinched with a drawcord, the hood prevents heat from radiating away. Some hoods offer a pillow pocket that you can stuff with clothing to create a pillow.
Internal pockets
Some sleeping bags have small pockets on the inside where you can store small items, such as an MP3 player, watch or glasses, close at hand.
Sleeping pad sleeve
On some bags, the underside insulation has been replaced with a sleeve to fit a sleeping pad to help you stay on your sleep pad during the night.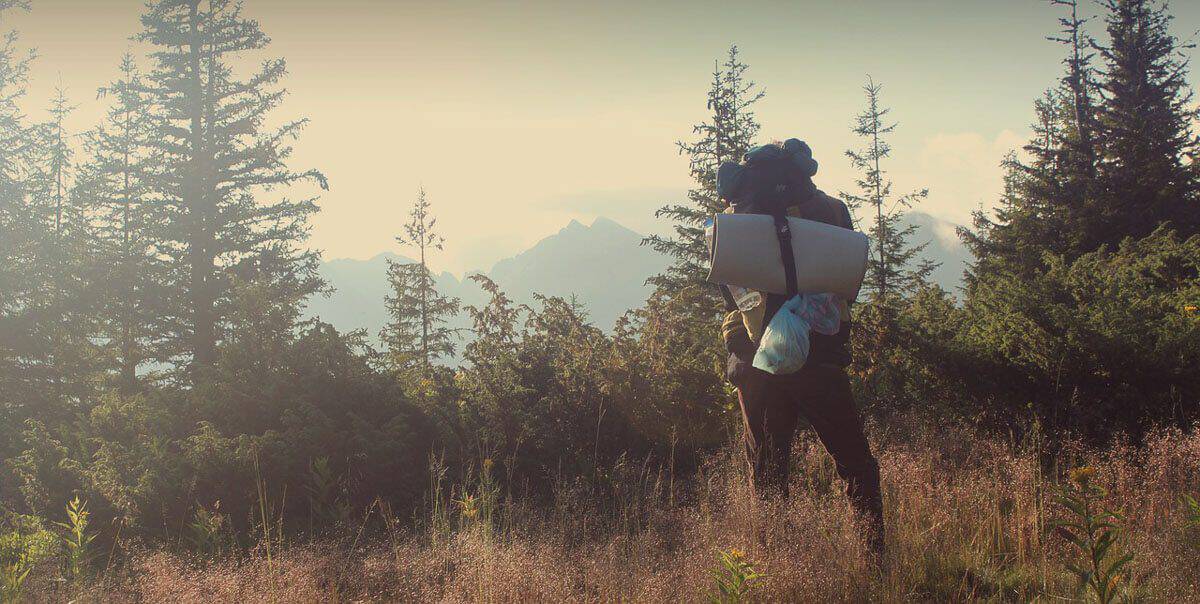 The Best Lightweight Sleeping Bag Reviews
As far as synthetic sleeping bags go the Teton Sports LEEF is one of the best, particularly given it is suitable for temperatures around 0° F (-18°c) making it one of the great synthetic lightweight warm sleeping bags.
This lightweight cold weather sleeping bag is a mummy-style sleeping bag with various features to keep you nice and warm, such as the 3 piece ultra-puff hood which contours to your face and cinches down tightly, adding padding along the zipper to keep drafts out; built-out foot box with extra filling; and a soft micro-polyester double-brushed lining.
The shell is made from 40D ripstop nylon and is water-resistant. Other great features of this lightweight sleeping bag include an interior pocket perfect for keeping your wallet or keys close, anti-snag zippers which can be opened from the inside or outside. This sleeping bag also comes in two lengths – 75 inch or 87 inches (190 cm or 220 cm).
At 4.2 lbs (1.9kgs), this is not the lightest sleeping bag in these reviews. Still, if you are after the best affordable lightweight sleeping bag for cold weather, this is a great choice as it folds up nice and compactly and will fit well in the bottom of your pack making it perfect as a backpacking winter sleeping bag.
Perfect as an affordable, lightweight hiking sleeping bag or for backpackers.
Click here to check the price and to read more reviews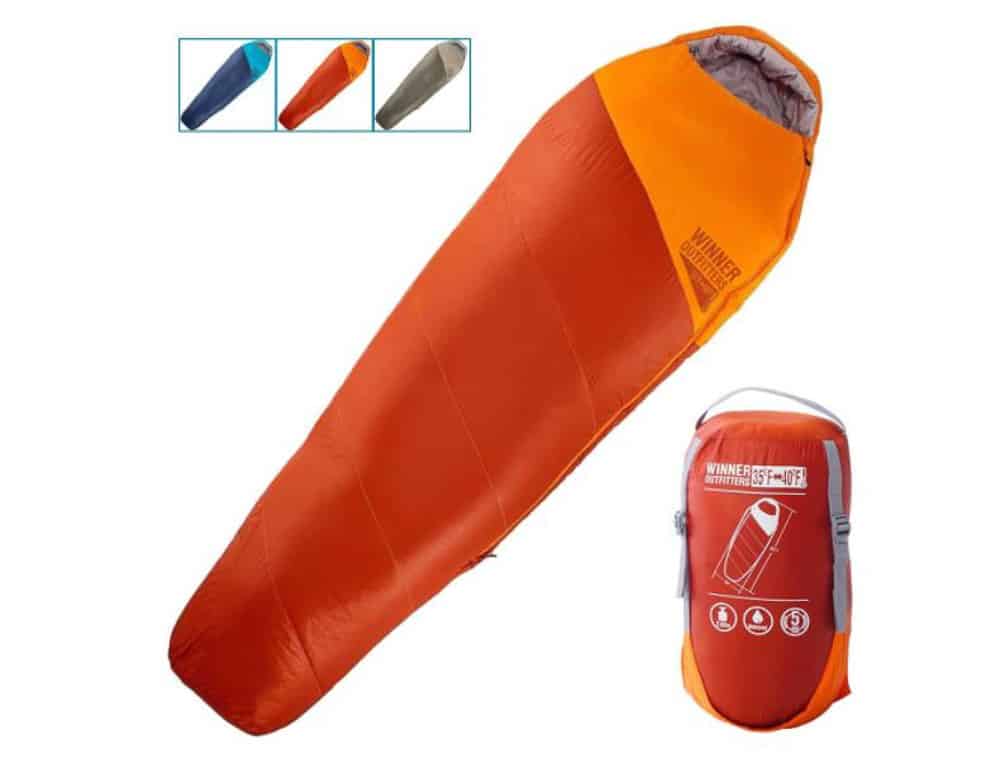 The Winner Outfitters Mummy Sleeping Bag is a popular choice for those after a lightweight inexpensive sleeping bag.
Made from a 350T polyester shell that has been treated with DWR, this sleeping bag is ultra-soft as well as water-resistant. The bag also has a polyester lining and is filled with a non-allergic fibre so perfect for that suffer from allergies, and it will keep you warm in temperatures of around 35F to 40 F. Another thing I love is that it is machine washable, which is perfect for kids.
At 2.8 pounds this is a lightweight sleeping bag, which comes in its own compression sack so it won't take up too much room. When stuffed away in the compression sack, the sleeping bag is only 8 x 14 inch, so can easily be popped in your backpack or attached to the outside while travelling.
Other great features of this lightweight sleeping bag are the double SBS zippers (great for popping your arms or legs out), draft collars for increased warmth, zipper draft tubes.
This is a great lightweight mummy-style down sleeping bag for all year round, plus they come in multiple colours and have a one year warranty too. Not bad for an inexpensive sleeping bag.
Click here to check the price and to read more reviews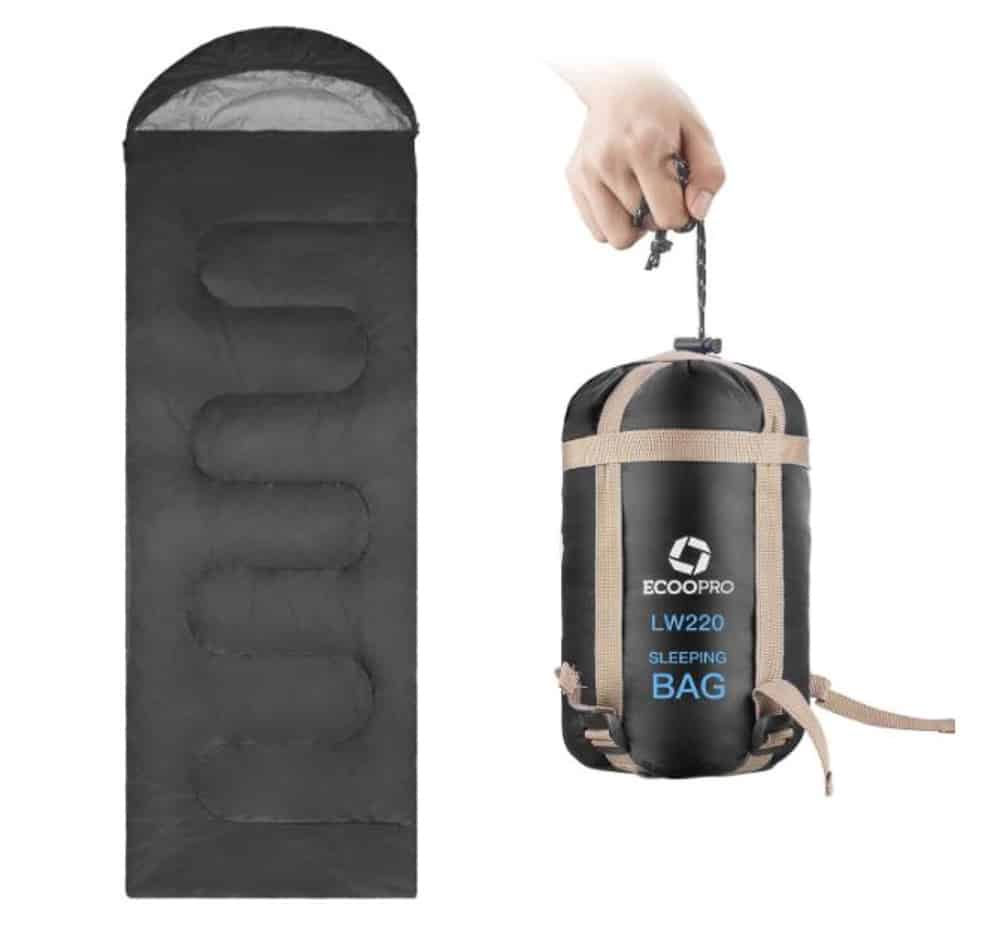 If you are looking for the best budget lightweight sleeping bag, then make sure you check out the ECOOPRO Warm Weather Sleeping Bag.
Made from waterproof and durable Nylon with 100% breathable and skin-friendly polyester, this sleeping bag weighs only 1.65lbs (0.74kgs) and is so comfortable and warm to sleep in. The inside has premium TC that has a rating of 48-59 degrees Fahrenheit (8-15 degrees Celcius) to keep you warm and give you the best possible nights sleep away from home.
This sleeping bag measures 83 inches (210 cm) long and 30 inches (76 cm) wide and other great features include the smooth zipper closure, compression size of 11 inches (28 cm) in height and weight of 1.7 lbs (0.77 kgs), and the one-year warranty included with your purchase. This sleeping bag has a waterproof and weather resistant design, so you know it will withstand all types of harsh weather environments.
If you're looking not only for one of the best lightweight hiking sleeping bags but also one of the best cheap, lightweight backpacking sleeping bags, then the ECCPRO is a great option.
Click here to check the price and to read more reviews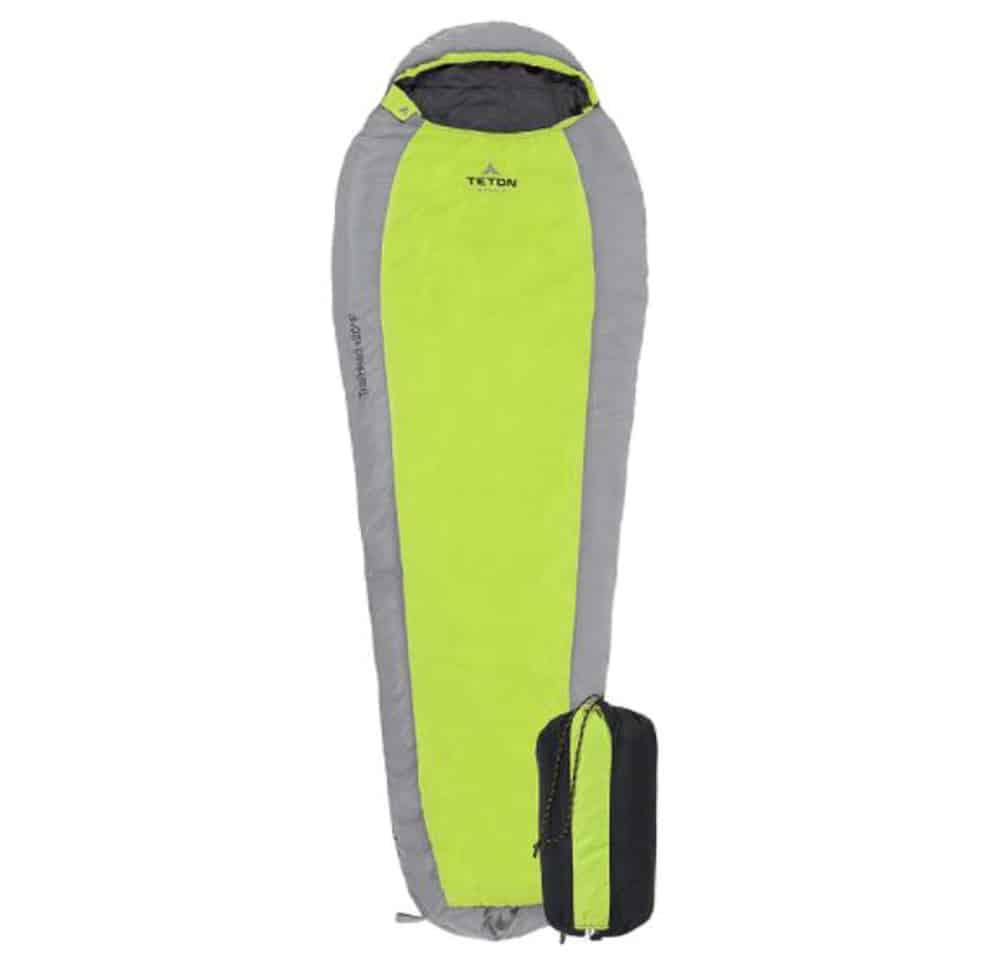 The Teton Sports Trailhead is one of the best ultralight synthetic sleeping bag options in our reviews.
The mummy design of this sleeping bag is perfect for keeping your face and head warm on those colder nights. The zipper draft tube and vaulted foot box provide extra comfort and warmth, while the soft, breathable, double-brushed liner makes for a super comfortable nights sleep while camping.
This is one of the best portable sleeping bag options as it is super lightweight weighing only 2.9lbs (1.3kgs) and made with innovative microfiber insulation which offers more loft and compressibility. Hence, you can store it in the bottom of your hiking bag easily.
Other great features of this best lightweight, packable sleeping bag are the durable compression sack that allows you to stuff your sleeping bag in and tighten with the heavy-duty straps for ultimate compression, and the built-out foot box and anti-snag zipper.
This is a great lightweight sleeping bag that provides maximum warmth and comfort.
Click here to check the price and to read more reviews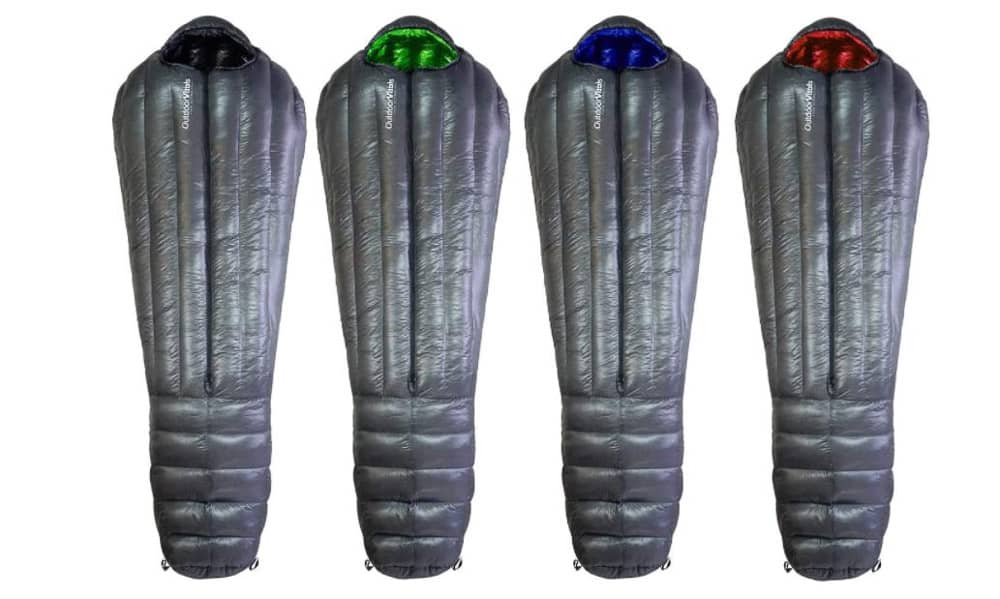 The Outdoor Vitals Summit is another great down lightweight sleeping bag to consider, that won't blow the budget either.
This sleeping bag is made with 800 fill power which will keep you nice and warm, even in damp conditions. The shell is made from 10D Ripstop and has been treated with water-resistant DWR for extra protection in the chance you experience unexpected rain. Even the down itself has been treated with a hydrophobic coating giving the down resistance to both water and moisture.
In terms of the down sleeping bags in this guide, it is one of the heavier ones; however at 3 lbs / 1.3 kgs, it's still pretty lightweight. It's also really compressible too, coming with 4 point compression bag, so you don't need to worry about where you'll keep this bag while on the go.
Other features that make this one of the best lightweight 3 season sleeping bags available on the market are the additional down added at your feet for extra warmth, quality YKK zippers,
This is a great lightweight sleeping bag down option with the choice of either a regular length as well as long and short, depending on your individual needs and comes with a lifetime warranty so you can purchase with the ultimate confidence.
Click here to check the price and to read more reviews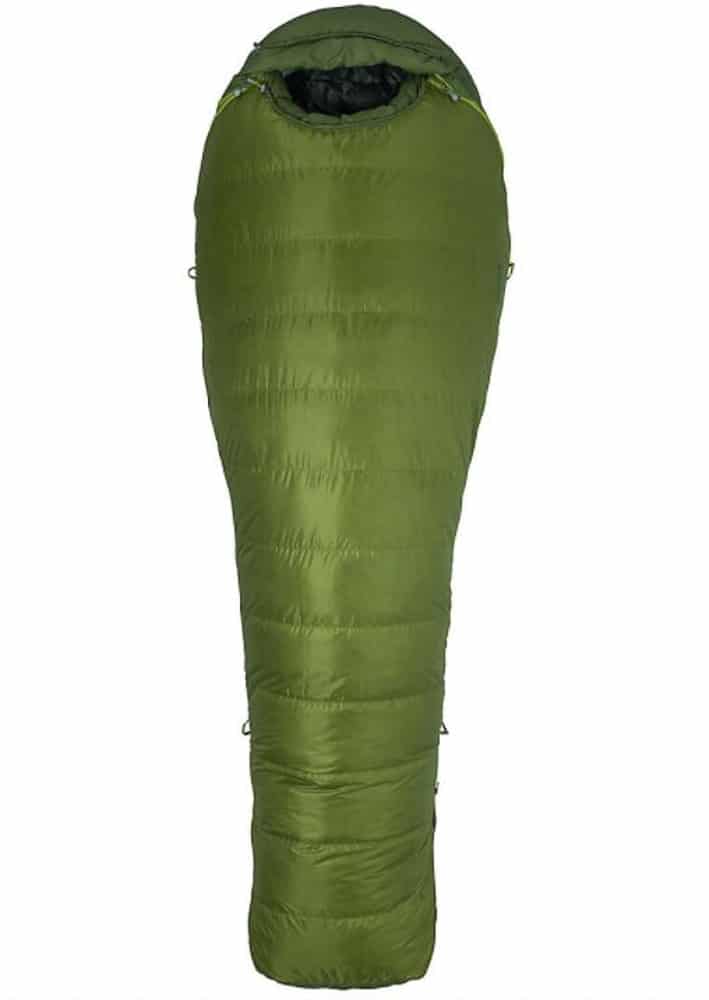 There are many great warm lightweight sleeping bags on offer and the Marmot Never Winter Sleeping Bag is no exception.
Weighing only 850g, this is one of the best lightweight winter sleeping bags on offer that has extra resistance in wet weather conditions. This mummy-style sleeping bag has a fill power rating of 650 which means it will keep you nice and warm without adding too much weight to the sleeping bag. With a rating of 650, you'll stay warm even when the temperatures hit below zero. Plus this sleeping bag has been treated with a down defender, which makes it moisture resistant, so perfect in damp conditions.
The anatomical shaped footbox helps to increase and intensify the insulation but still leaves plenty of room for your feet to wriggle around. Other great features of this lightweight, warm weather sleeping bag are ground-level seams which are more thermally efficient, full length YKK Two Way Zippers, hood to prevent heat loss from your heat and an internal stash pocket to keep your small items.
Marmot is a trusted brand when it comes to outdoor gear, and this Marmot lightweight sleeping bag is another great quality sleeping bag which is highly rated and so well worth considering for those after both a lightweight and warm sleeping bag.
Click here to check the price and to read more reviews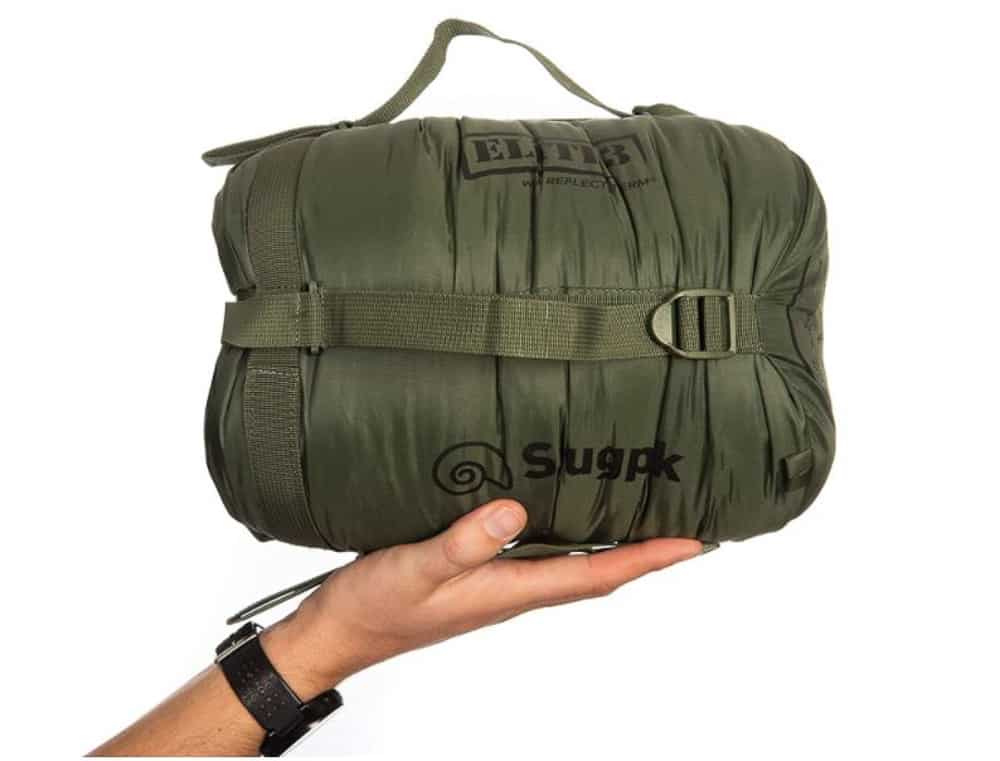 While one of the heaviest sleeping bags in these reviews, at 1.5kg, the Snugpak Softie Elite 3 Sleeping Bag is still reasonably lightweight and another great choice if you are after a good quality lightweight sleeping bag.
One of the best things about this sleeping bag is the ability to expand the sleeping bag by an additional 5-10 inches as needed. When not used, this extra panel provides an extra thick zip baffle for added warmth. The sleeping bag also features a metalised barrier which assists in heat retention by reflecting heat into the sleeping bag rather than away from it. The Snugpak sleeping bag is designed to keep you warm in temperatures of up to 23 F.
This sleeping bag is made with a durable, lightweight fabric which is both windproof and water-resistant. As well as being lightweight it also packs down to a small 10 x 9 inches, so it's perfect for backpacking or hiking.
Despite a little on the heavier side, this is still a great lightweight winter sleeping bag and comes in three colours including olive, tan and black.
Click here to check the price and to read more reviews

The Oztrail Kennedy Camper is one of the cheapest, lightweight sleeping bags in this guide and designed to provide you comfort on those warmer camping trips.
This lightweight sleeping bag is made from a polycotton and features at 170T polyester outer shell. These fabrics are great for allergy sufferers. In addition, the sleeping bag has auto lock zippers to prevent the sleeping bag from opening during the night, a velcro closure at the top to help retain the heat and a zip draft tube to reduce the amount of cold air entering.
This sleeping bag weighs just 1kg and is designed to keep you warm down to temperatures of around 10°C.
If you're looking for a sleeping bag to keep you warm during those Spring or Summer camping trips and need something both lightweight and cheap, then you really can't go wrong with the Oztrail Kennedy Camper Sleeping Bag.
Click here to check the price and to read more reviews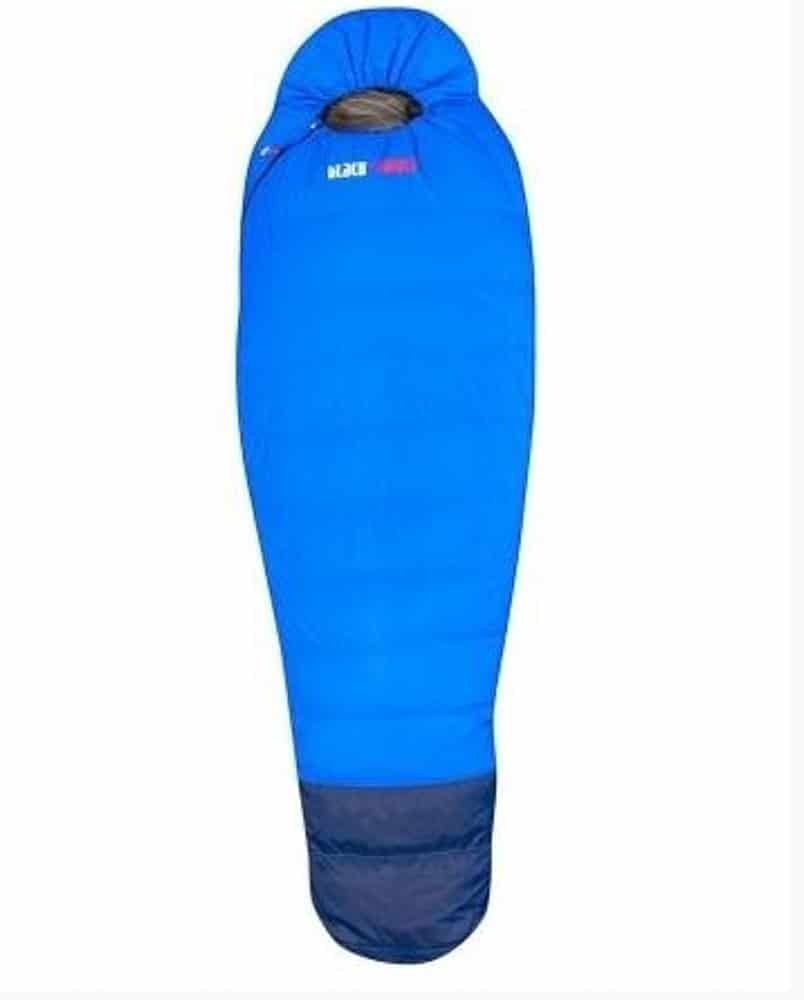 At just 800g, the BlackWolf Hiker Sleeping Bag is a great lightweight sleeping bag, with excellent warmth retention so perfect for those after not just something lightweight but really warm too.
This lightweight sleeping bag is filled with 200g of responsibly sourced 700+loft water repellant down for its insulation which will keep you super warm on those cold nights. Even when the temperatures reach well below zero (around -11°C). The outer shell is made with a 30D ripstop nylon and the foot area is made with an extra durable 70D water resistant fabric.
For added warmth, the sleeping bag has a great contoured hood and a draft flap to keep warm air inside and not escaping through the zipper. Other great features of this sleeping bag include an anti snag zipper design, glow in the dark zipper pullers, internal pocket for small items and a hanging loop for airing your bag after your trip.
These sleeping bags are great quality and ideal for the camper looking for something warm and compact. It also comes with a lifetime guarantee so you can be assured you're purchasing a great quality product.
Click here to check the price and to read more reviews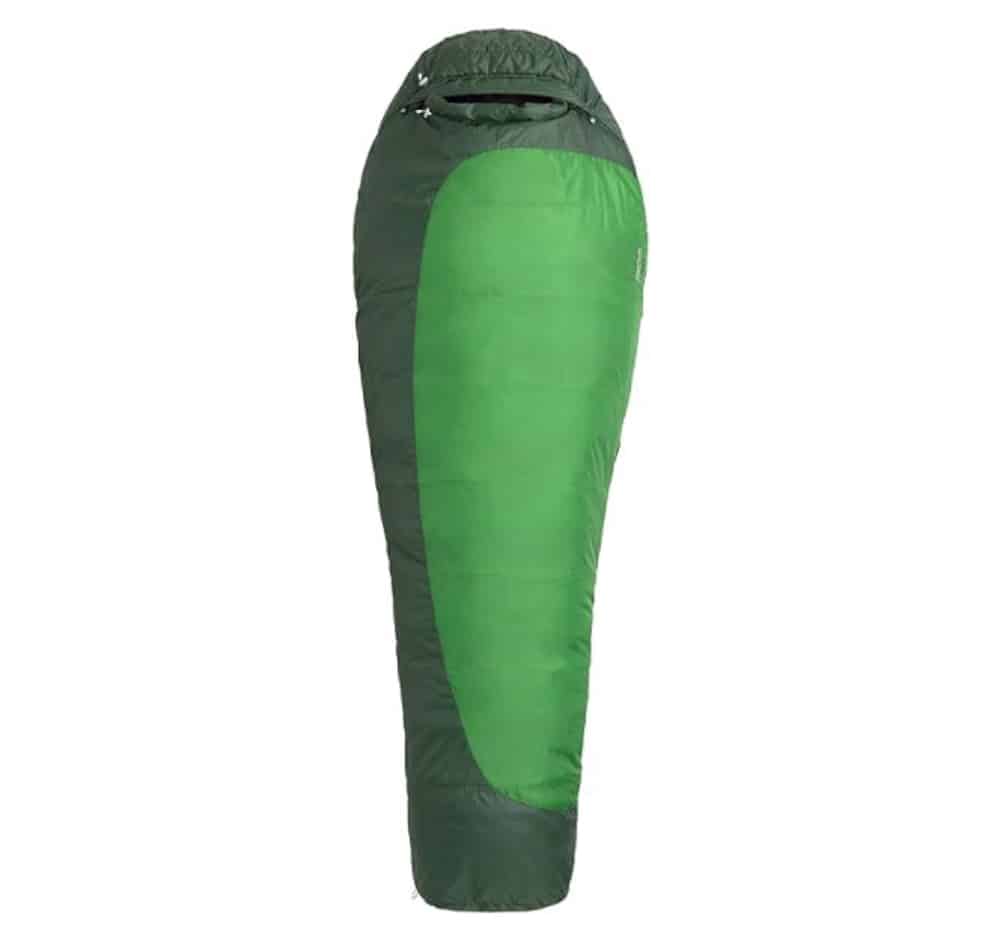 The Marmot Trestles 30 Mummy sleeping bag is another great option for a lightweight sleeping bag for your next hiking or camping trip.
This sleeping bag weighs only 3lbs (1.3kgs) and features SpiraFil high-loft insulation which offers a high level of warmth and durability, so you know you will be warm in this sleeping bag no matter the climate of your destination. It is EN tested to be able to comfortably sleep with temperatures as low as 30 degrees F (-1C).
The anatomically shaped footbox allows for more wriggle room and far less heat buildup near your feet, so you don't end up having an uncomfortable night's sleep, and the fold-down secondary zipper adds extra ventilation and easy access.
Other great features of this sleeping bag are the combination wave construction, interior stash pocket, drawcords, dual hang loops, a stuff sack and locking YKK two-way zipper.
Many reviews state that this is a comfortable and sturdy sleeping bag that is suitable for larger people too.
Click here to check the price and to read more reviews
Disclaimer: Thrifty Family Travels is a participant in the Amazon Services LLC Associates Program, an affiliate advertising program designed to provide a means for sites to earn advertising fees by advertising and linking to amazon.com and its partners. Amazon and the Amazon logo are trademarks of Amazon.com, Inc. or its affiliates.
Affiliate advertising is used throughout this site. These affiliate ads allow me to earn a small commission on any bookings you may make but they do not incur any extra cost to you.
Do you want to keep this handy for later?
Click on one of the images below to save it to Pinterest.