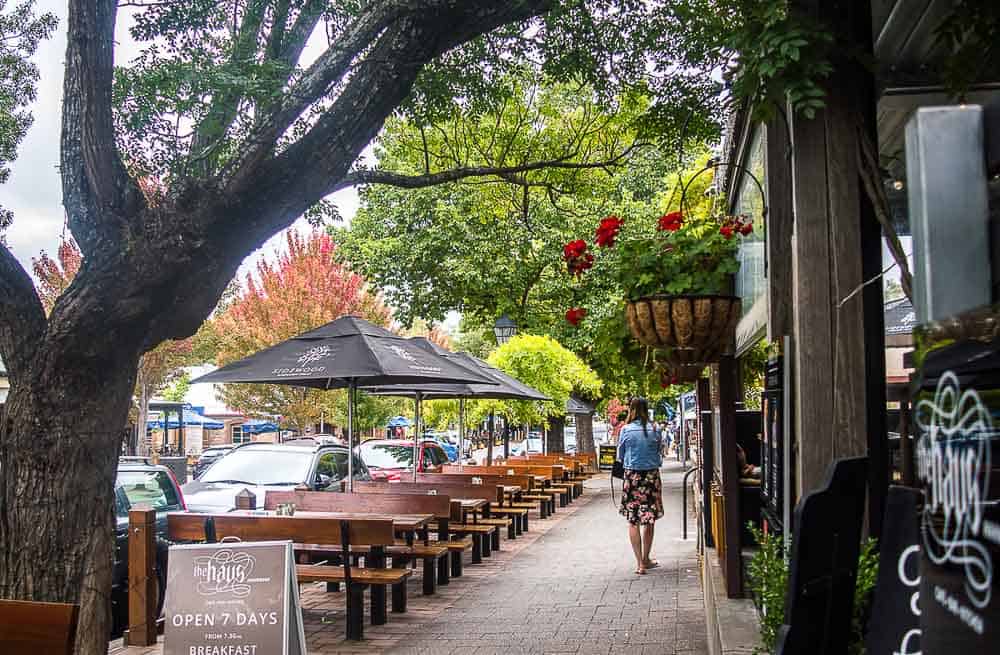 Whether you have a few hours or a few days, a visit to Hahndorf is a must!  There are plenty of things to do in Hahndorf, with enough Hahndorf attractions to warrant spending at least a few days in town.
This gorgeous little German town, Adelaide is so famous for, is only a short 25 minute drive from Adelaide's CBD.  In fact this German village near Adelaide CBD is Australia's most visited and oldest German settlement.
As soon as you drive into the Hahndorf main street, you will be forgiven for thinking you have some how been transported to a small village in Germany.  The streets are filled with characteristic fachwerk (half timbered buildings), stone cottages, traditional German music plays from the Hahndorf shops, brightly coloured flowers spill from flower boxes and there are various traditional German pubs serving delicious German food.
The village of Hahndorf was founded in 1839 when 54 German families emigrated to Australia to escape religious persecution because of their staunch Lutheran beliefs.  The village is now a State Heritage area and with plenty of things to see in Hahndorf, it is a wonderful area for families to visit.
I would highly recommend spending a few days in Hahndorf, you may even like to base yourself here during your stay in Adelaide as you can easily visit the CBD, Barossa and other surrounding areas from here.  If you can't spare a few days, a day trip or even a few hours is still enough time to experience this gorgeous German village, Adelaide is proud of.
If you want more information on what to do in Hahndorf, then this post is for you.  In this post I will share with you the best Hahndorf tourist attractions for families, as well as family friendly Hahndorf accommodation and Hahndorf restaurants as well as how to get from Adelaide to Hahndorf.
Plan on staying a few days in Hahndorf?  Click here to view our complete guide on the best Hahndorf accommodation.
This post may contain compensated links.  Please refer to my disclaimer here for more information.
Things to do in Hahndorf, Adelaide: Hahndorf Attractions
1. Hahndorf Farm Barn
There are some great Hahndorf attractions for kids including the Hahndorf Farm Barn.  Take the kids to this Hahndorf animal farm where they can be country bumpkins for the day.  The kids will learn all about the animals whilst they feed lambs camels, donkeys and calves; cuddle guinea pigs and rabbits; milk a cow; see ducks, peacocks, wallabies and kangaroos; take a ride on a pony or tractor and see the wildlife reptile show.
The Hahndorf Farm Barn is open daily from 10 am to 4 pm and is located at 2282 Mount Barker Road (just past the Beerenberg Strawberry Farm).  Entry for adults is $15 and children are $12, family passes are available from $45.
2. Visit the German Migration Museum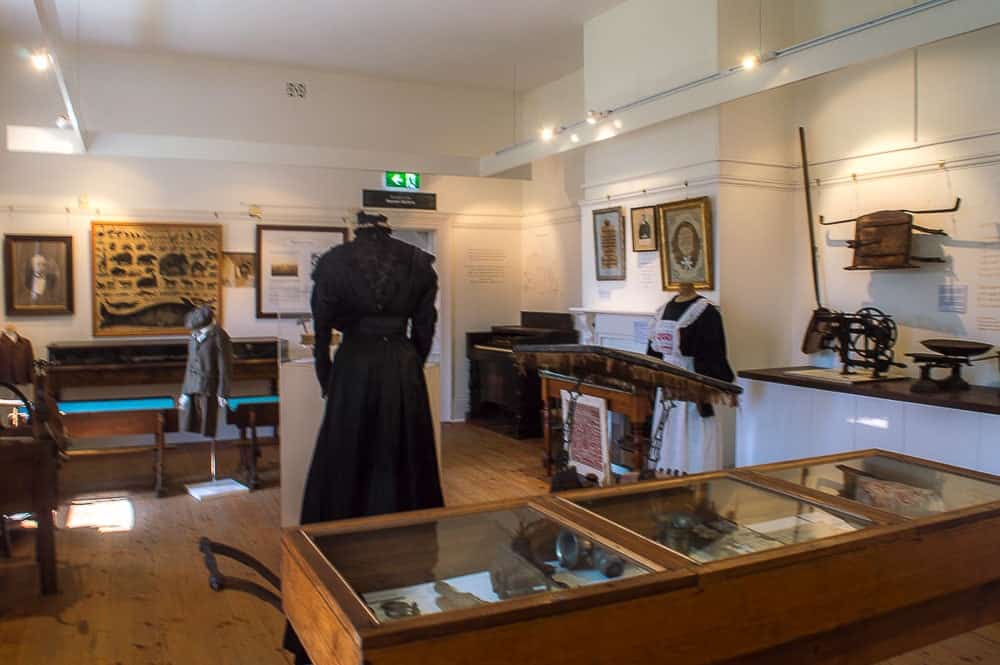 This German town in South Australia was settled in 1839 by immigrants from Prussia who came seeking religious freedom and for a better life.  For a closer look into what life was like during that time stop by the German Migration Museum.  Myla and I really enjoyed looking at the various objects on display which tells stories of the lives of the Hahndorf families and imagining what life must have been like back then.
The museum is located at 68 Main Street, inside the Hahndorf Academy which is also home to an art gallery.  The museum is fairly small, and it won't take more than an hour to go through it.  Entry is free and the museum is open daily between 10 am and 5 pm.
3. Pick Strawberries at Beerenberg Family Farm
Between the months of November and April take the kids to Beerenberg Family Farm to pick thier own strawberries.
As well pick strawberries you can also taste various products, watch the cooks work through the viewing windows and purchase various products to take home.  There is plenty of delicious items to purchase, I found myself with a full basket of goodies to take home!
Entry to the strawberry fields are $4 per person (with under 13 years being free) and strawberries are charged at a per kilo rate.  The Beerenberg Family Farm is located at Mount Barker Road (only 350 metres from the southern end of the Main Street in Hahndorf) and is open 7 days between 9 am and 5 pm.
4. The Fairy Garden
Small children will love visiting the Fairy Garden where they can spot fairies and all things magical in the garden before entering the fairy shop.
The Fairy Garden is located behind 55 Main Street Hahndorf.
5. Take a Walking Tour
Grab yourself a map from the visitor information centre and take a historic walk through Hahndorf's nineteenth century streetscape.  The Heritage walk takes you to over 30 different sites where you will get a glimpse into Hahndorf's history and development.
If you prefer a guided tour, join a Hahndorf Walking Tour.  During the Hahndorf Walking Tour you will learn about the Prussian immigrants who escaped religious persecution as well as explore the Pioneer Women's Walking Trail, fachwerk architecture and more.  The Hahndorf Walking Tours leave at 2 pm on Fridays, Saturdays, Sundays and Public Holidays and go for 90 minutes.
6. Browse the Main Street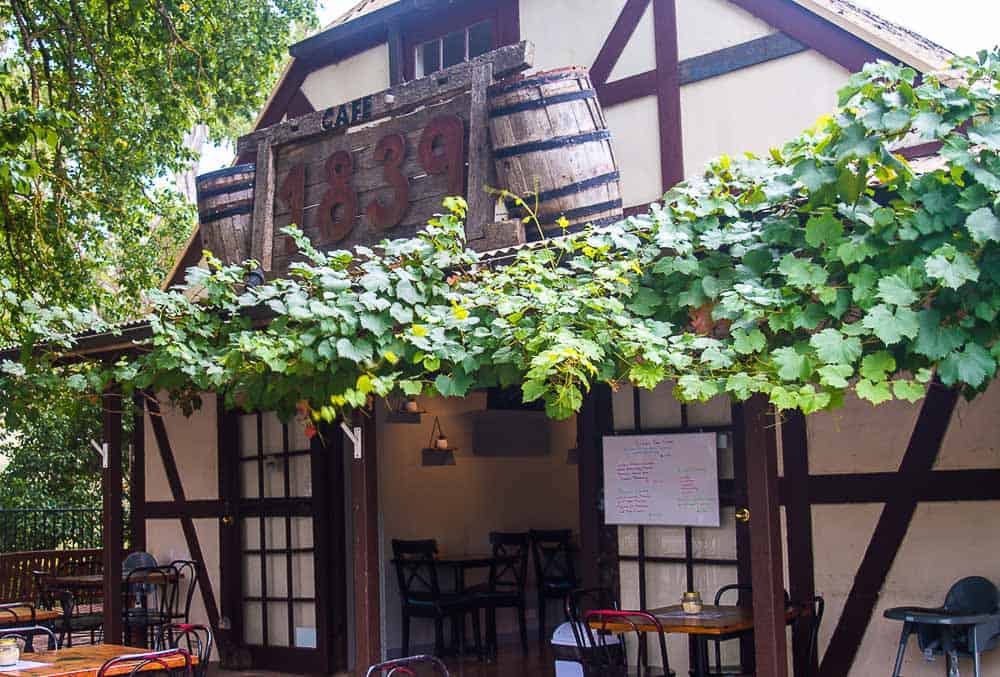 One of the best things to do in Hahndorf is to simply wander Main Street from one end to the other.  As well as admiring the gorgeous old German half timbered houses and stone cottages there is a range stores to browse through as well as a variety of Hahndorf cafes to stop and soak up the vibrant atmosphere.
With over 130 shops to look at, there is sure to be something of interest for every member of the family.  Shops include stores selling German trinkets and souvenirs, chocolate and confectionary stores as well as handmade craft.  There is also a range of art galleries and museums to explore.
7.  Try Free Tastings
There is so much delcious food to try throughout Hahndorf, with several places offering free produce tastings.  Check out the following places:
The German Cake Shop for sweet treats at 2 Pine Avenue;
Humbugs of Hahndorf for fudge at 78a Main Street.
8. Visit the Local Hahndorf Wineries and Ale Houses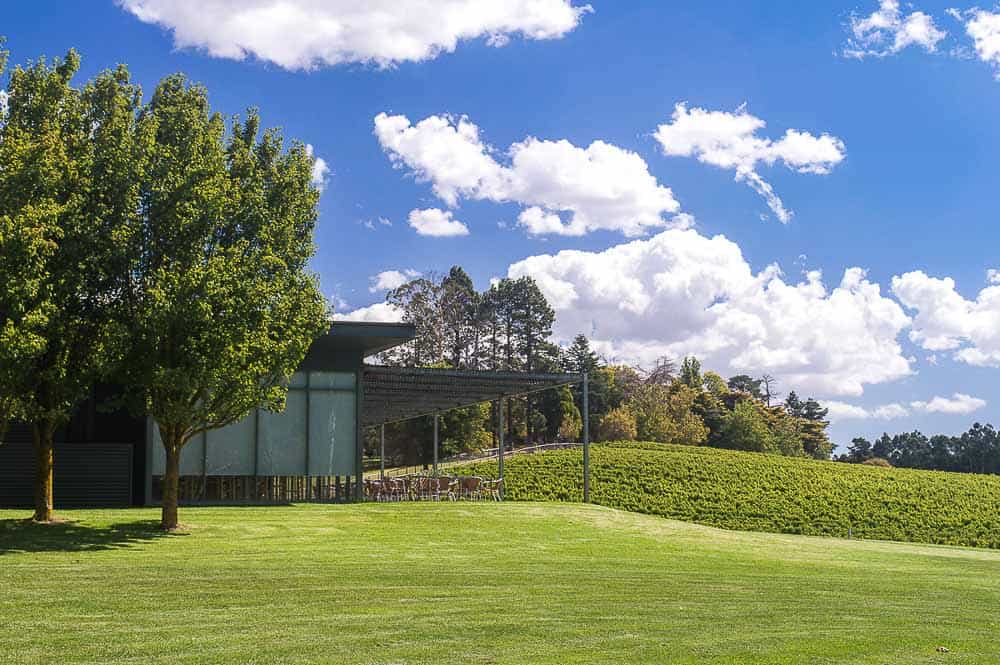 Being in the Adelaide Hills, the wineries near Hahndorf are plentiful as well as a few Ale Houses where you can enjoy some free tastings including my all time favourite winery Shaw and Smith – these guys make the best Sauvignon Blanc ever – feel free to buy me a bottle if you visit!!
Check out these Hahndorf wineries:
The Lane – winery located at Ravenswood Lane – open daily;
Landhaus Wines located at 102 Main Street – open Thursday thru to Monday;
Scott and LA Prova Wines located at 102 Main Street behind Landhaus – open the first weekend of each month;
Somerled – winery located 89 Main Street – open Thursday thru to Monday;
Nepenthe – winery located at Jones Road – open daily;
Hahndorf Hill – winery located at Pains Road – open daily;
Shaw and Smith – winery located at Jones Road – open daily;
Gulf Brewery – beer/ale located at 81 Main Street – open Friday thru to Monday;
Adelaide Hills Wine Centre located at 35 Main Street – open daily;
Bendbrook Wines located at 81 Main Street – open Friday thru to Sunday;
Hersey Vineyard located at 35 Main Street – open Thursday thru to Sunday; and
Ambleside Distillers for Gin tastings at the corner of Ambleside Road – open Friday thru to Sunday and Public Holidays,
You can join a Hahndorf Hop on Hop Off tour of the local wineries – click here for details.
9. Hahndorf Mini Golf
Located at 17 Main Street, families can have a round of mini golf at this 18 hole historic golf course.  A round of mini golf costs $6 for kids and $8 for adults.  No bookings are required and opening hours are during school holidays and weekends between 10 am to 4.30 pm
10. Things to around Hahndorf
If you decide to follow my recommendation of basing yourself in Hahndorf, here are some tips on things to see around Hahndorf:
Melba's Chocolate and Confectionary Factory: 15 minutes by car visit Melba's where you can see the factory in action through the viewing windows as well as taste a range of products.  Located at 22 Henry Street ,Woodside and open daily 9 am to 4.30 pm.
The Toy Factory: 30 minutes by car at The Toy Factory the kids can climb the giant rocking horse and see a wide range of wooden toys.  Located at 452 Torrens Road, Gumeracha and open 7 days from 9 am to 5 pm.
National Motor Museum: 30 minutes by car visit the National Motor Museum and learn how people and vehicles have shaped Australia's motoring history.  Located on Shannon Street, Birdwood and open daily from 10 am to 5 pm.
Mount Lofty Summit and Botanic Gardens: located 20 minutes by car visit the Mount Lofty Summit for spectacular summit to sea panoramic views and lush walking trails.  Close by you can also visit the Cleland Wildlife Park.
Hahndorf Accommodation for Families
I loved visiting Hahndorf and would definitely looking at staying a few days next time.  If you want to stay in Hahndorf here are my picks for family friendly accommodation.
Big 4 Hahndorf Caravan Park
One of the best places to stay in Hahndorf for families is the Hahndorf Caravan Park, otherwise known as Big 4 Hahndorf or the Hahndorf Resort Tourist Park.
This Hahndorf Resort Tourist Park offers great family friendly accommodation on 13 hectares of scenic rolling hills and bushland and within walking distance (13 minutes) to Hahndorf's Main Street;
Fantastic family facilities include jumping pillow, playground, swimming pool, mini golf, BBQ facilities, camp kitchen, laundry and free wifi;
Accommodation options at the Hahndorf tourist park include 2 bedroom units, family cottages, as well as caravan and camp sites.  Units and family cottages include a kitchenette, TV, bathroom and outdoor area with table and chair;
92% of people on TripAdvisor rate this hotel as excellent or very good; and
The Manna Hahndorf
The Manna Hahndorf is one of the most popular places to stay in Hahndorf and is located in the heart of Main Street;
Facilities at the Manna of Hahndorf include all the modern facilities of an Adelaide CBD hotel such as free wifi, swimming pool, BBQ facilities and restaurant facilities;
Family rooms include a king bed and 2 single trundles with a kitchenette ( microwave, toaster and kettle) and TV;
73% of people on TripAdvisor rate this hotel as excellent or very good; and
The Hahndorf Motor Lodge

The Hahndorf Motor Lodge is a lovely 3.5 star Hahndorf motel set back off the Main Street of Hahndorf.
Facilities include free wifi, swimming pool, BBQ facilities and restaurant facilities;
Family rooms (which are in fact connecting rooms) include a queen bed and 2 single with a kitchenette ( microwave, toaster and kettle) and TV;
68% of people on TripAdvisor rate this hotel as excellent or very good; and
Click here for our full guide on family friendly places to stay in Hahndorf.
Family Friendly Hahndorf Restaurants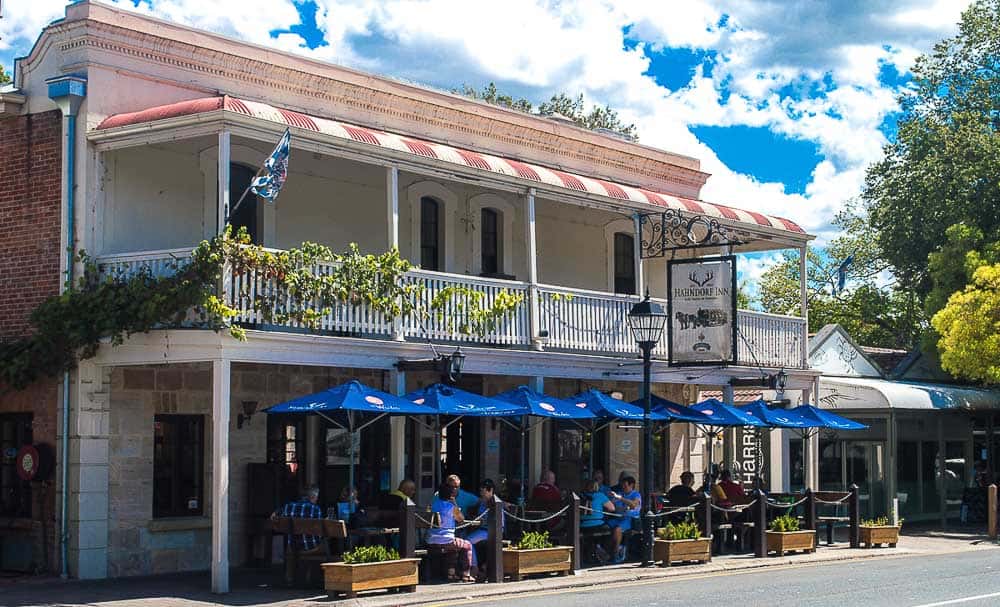 There are a wide variety of family friendly places to eat in Hahndorf.  Whether your preference is for one of the traditional Hahndorf pubs or various Hahndorf cafes, there is sure to be something suit the fussiest of eaters.  My recommendation is to find somewhere you can sit on the sidewalk and soak up the vibrant atmosphere of Hahndorf Main Street.
One of the popular German pubs to eat at is the Hahndorf Inn (pictured above).  This pub is more than 150 years old and serves products both local and imported from Bavaria and Austria.  Click here to see the Hahndorf Inn menu.
Some of my other pub favourites are the Haus Hahndorf, the German Arms or the Hahndorf Old Mill.
There are also plenty of places along the street that serve traditional German sausages in a casual dining setting.
Adelaide to Hahndorf – Getting to Hahndorf
Wondering how to get to Hahndorf from Adelaide?  The best way is to drive yourself via a car rental.  However if that is not possible there are also plenty of bus tours or buses that you can catch to reach Hahndorf.
Hahndorf Tours
I personally don't think you need to take a tour to explore Hahndorf, but if you are staying in the Adelaide CBD and short on time here are a few tours to consider:
Barossa Valley and Hahndorf Day Tour: Be transferred from Adelaide to explore the wineries of the Barossa Valley and explore the quaint village of Hahndorf before being transported back to Adelaide.
Bus
The bus leaves Adelaide to Hahndorf daily.  Catch the bus from bus stop D1 which is located at Currie Street Adelaide and goes to bus stop 55 on Main Street Hahndorf.
To return home leave Hahndorf from the same bus stop you arrived at and jump off at bus stop W3 in Adelaide which is located in Currie Street, near where you got on.
Buses leave regularly throughout the day, takes around 45 minutes and tickets cost approximately $4 per person each way.  Click here for more details regarding the bus time table.
Headed to South Australia with the family?  Then perhaps your interested in our following articles:
Please note that this post contains affiliate links, which means that should make any bookings using my links, I may be paid a small commission at no extra cost to you.  This allows me to provide this information free of charge – thank you for supporting our website.
Want to save this information for later? 
Click on one of the images below and save it to Pinterest.