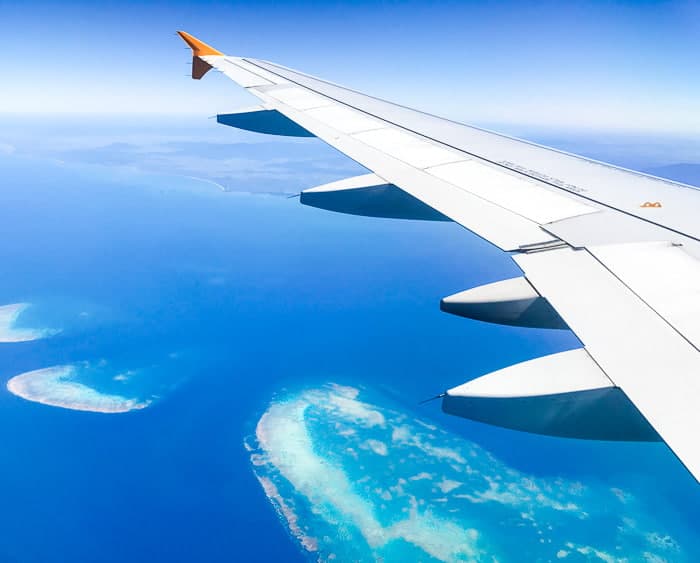 There are some many fantastic things to do in Cairns with kids, with most of the best Cairns attractions for families being based around the World Heritage listed Great Barrier Reef, the wet tropics rainforest, wildlife and the Australian indigenous culture.
Regardless of your children's ages, there are a variety of Cairns tourist attractions for everyone. For the more adventurous families there is rafting, sky diving, quad bike riding, and diving or for the families with younger children there are encounters with wild life, swimming, scenic train rides and boat rides.
Whatever your budget, you will love your Cairns holidays with kids. For families on a tight budget there is heaps of fantastic things to do in Cairns for free. Families can hire a car and go exploring all of the Cairns family activities on their own or take one of the many day trip from Cairns. Others who like to let someone else do all the driving and organizing can join various Cairns day tours.
Planning a trip to Queensland? Have any questions? Join our Queensland Travel Planning Facebook group here now! It's the perfect place to ask any questions and to be inspired!
This post may contain compensated links. Please refer to my disclaimer here for more information.
What to do in Cairns with Kids?
Wondering what to do in Cairns with kids? Keep reading below for our extensive guide on things to do in Cairns for kids.
Cairns Esplanade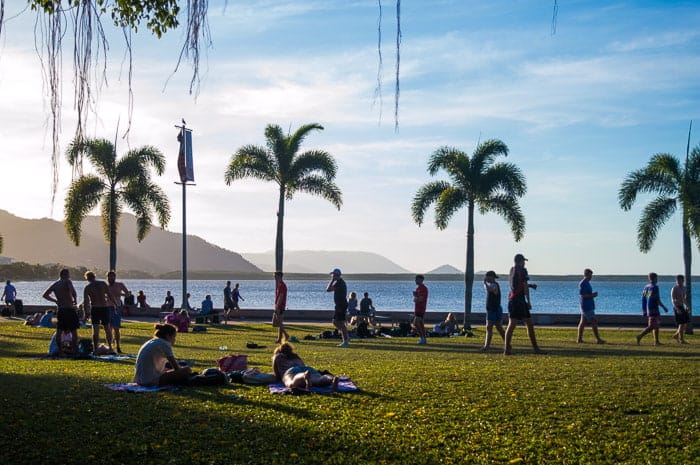 One of the best things to do in Cairns for free is to spend a few hours on the Cairns Esplanade. Along the Esplanade you will find various street performers, see Pelicans and other birds wading in the water and it is also a popular spot to watch the sunset in the afternoons.
The Esplanade is such a popular place, with stacks of people sitting with friends having picnics, listening to music.
There is also a great ice cream shop on the street which has over 100 flavours – grab yourself an ice cream and continue strolling along the Esplanade.
If your super keen you can join in one of the free fitness activities they have on the Esplanade such as Yoga, Boxing, Zumba, Beach Volleyball and Pilates. You can see the class timetables here.
Muddy's Playground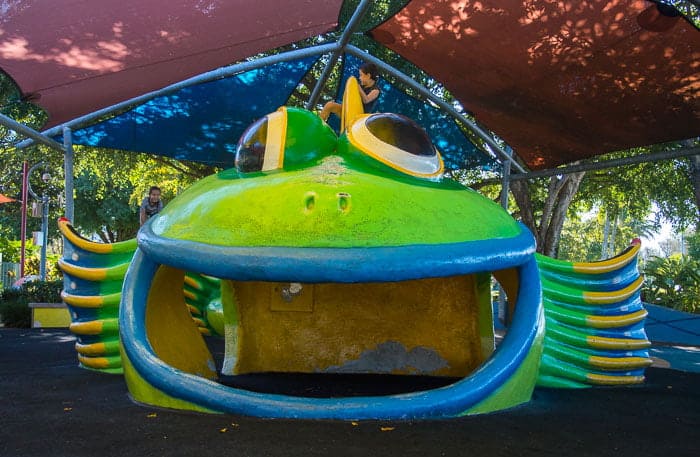 What to do with kids in Cairns who need to burn off some energy? Take them to Muddy's Playground of course! Muddy's Playground is said to be one of the best playgrounds in Australia featuring a kid's water park, rope bridges, flying fox, and slides. The playground also has a large café and BBQ facilities.
Your kids are going to love this one, Myla spent quite a while here and would have stayed even longer if we did not move her along. This is one of the best Cairns activities for kids, particularly if you're looking for free things to do in Cairns.
Cairns Esplanade Lagoon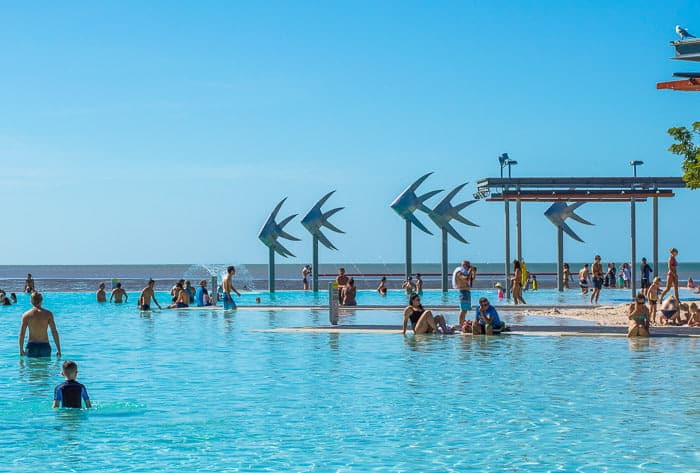 Surprisingly to many tourists there is no beach in Cairns, but there is the man-made Cairns Esplanade Lagoon – which is my pick for one of the best free family things to do in Cairns. The lagoon is a gorgeous artificial, sandy-edged, 4800-sq-metre saltwater pool and is lifeguard patrolled as well as being illuminated at night. The lagoon ranges in depths from 32 inches to 5 feet and is patrolled by Life Guards.
There are fantastic facilities at the lagoon including BBQs, public toilets and showers and lots of covered pavilions. When we visited in July there were plenty of people swimming in the lagoon, but for us it was freezing!!! But we are from Brisbane so usually the weather needs to be a scorcher to be warm enough for us to swim.
A few hours at the Cairns Lagoon is one of the must things to do with kids in Cairns.
Drinks on the Lawn at Salt House
Once the kids have burned off some energy at the Cairns Lagoon and Muddy's Playground be sure to head down to Salt House for some drinks. Salt House is located just by the yacht club and may well be one of my favourite places to visit in Cairns!
What I love about Salt House is it's perfect if you're after family things to do in Cairns, as there is a great lawn area with deck chairs looking out across the sea – so the kids can still run around whilst the parent indulge in some lovely beverages.
Cairns Zoom & Wildlife Dome 
For adventurous kids activities in Cairns, how about the world's first challenge ropes course in a wildlife dome? With 2 levels of difficulty and 65 different challenges including a zip line over a 4.2 metre saltwater crocodile. Participants must be over 120 cm tall and over 20 kgs.
At the Cairns Wildlife Dome, visitors can explore the various animal enclosure where wildlife such as wallabies, reptiles, fish, koalas, birds and crocodiles live in exhibits replicating their natural environments.  Get a close encounter in the Rainforest Aviary where various birds fly freely or learn about Australia's native wildlife at the educational shows.
Location: The Reef Hotel Casino, 35-41 Wharf St, Cairns City QLD 4870
Opening Hours: Daily from 9 am to 5 pm
Price: Zoom tickets start at $21 per adult and $15.50 per child. Wildlife park tickets cost $25 per adult and $12.50 per child. Purchase discounted tickets from Klook.
Cairns Aquarium
Opening in mid 2017, the Cairns Aquarium is Cairns newest attraction. Located in the heart of the Cairns CBD, the attraction showcases a variety of species found in tropical north Queensland via live shows and animal displays. Check out the feeding display at the main tank, stroke blue tongued lizards in the reptile zone and stroke starfish in the touch tank.
Location: 5 Florence St, Cairns City QLD 4870
Opening Hours: Daily from 9 am to 5 pm
Price: Tickets cost $42 per adult and $28 per child. Purchase your tickets online and save up to $4.20 per ticket – Click here to purchase your discounted tickets.
Great Barrier Reef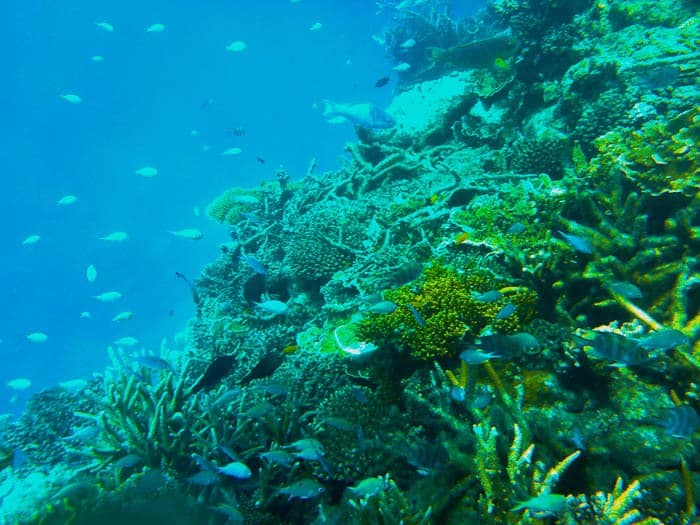 One of the biggest draw cards to far north Queensland and in particular Cairns is the World Heritage listed Great Barrier Reef. The Great Barrier Reef is one of the best places to visit in Queensland.
There are a variety of great barrier reef tours from Cairns for families including outer reef cruises, day trips to various islands (such as Green Island and Fitzroy Island), sailing cruises and even scenic flights.
For families with small children or on a tight budget, the best way to experience the great barrier reef with kids is to take a half or full day trip to a nearby island. Green Island is a popular choice for families as it is close to the mainland and has a variety of activities and facilities for families to enjoy – see day trips to Green Island here. Fitzroy Island is a little further out and has a much higher quality of underwater reef viewing and would be my pick if I had to choose between the two – see day trips to Fitzroy Island here.
The most popular and probably the best way to really experience the reef is with one of the many outer Cairns reef cruises. It takes around 2 hours to reach the outer reef from Cairns and once there you will have the opportunity to experience the reef in a variety of ways including snorkelling, diving, underwater viewing platforms and glass bottom boat. Click here to learn more about scuba diving and snorkelling on the Great Barrier Reef.
During our recent trip to Cairns we visited the outer reef with Sunlover Reef Cruises. The cruise takes you to Sunlover's pontoon at Moore Reef where we spent 4 hours snorkelling, there is even a waterslide and we had a delicious buffet lunch. Other optional activities included scuba diving, guided snorkelling tours and Seawalker Helmet Diving. We found this cruise a great way to experience the great barrier reef for kids. We loved our day out on the reef with Sunlover Reef Cruises and highly recommend the day trip for families.
Click here to see a full range of the different Great Barrier Reef tours on offer.
Visiting the Whitsundays?  Click here to read about visiting the Great Barrier Reef from there.
Beaches around Cairns
Whilst Cairns itself doesn't have a beach, there are some great beaches a short drive away. In fact, if you are planning on staying in the area for more than a few days, I would recommend you stay at one of the beaches instead of Cairns. Popular beaches to stay at are Trinity Beach and Palm Cove.
Cairns beaches include Machans Beach, Holloways Beach, Yorkeys Knob, Trinity Beach, Kewarra Beach, Clifton Beach, Palm Cove, Buchans Point and Ellis Beach.
When swimming in the beaches in far north Queensland ensure that you always swim between the flags and swim within the stinger nets. Please don't swim anywhere that is not sign posted as ok for swimming – this is crocodile country remember!
Aqua Park
Another one of the fun things to do in Cairns for families is to visit Aqua park. Aqua Park is like a giant jumpy castle, with various slides and inflatable climbing frames in the middle of the water. The park is only a short drive from Cairns, right by the Kuranda Skyrail and kids must be at least 6 years old to participate.
Location: Skyrail Dr, Smithfield QLD 4878
Opening Hours: Weekends & school holidays 10 am to 4 pm
Price: $15 for a 50-minute session or you can get 2 sessions for $20
Visit Markets
If you are looking for some great Aussie souvenirs than head on down to the night markets which are located between the Esplanade and Abbott Street. Souvenirs include everything from the tacky shark t-shirts to nice jewellery and everything in between.
The night markets are also a great place to grab some dinner with a busy Asian style food court.
For more local vibrant style markets head to Rusty's Markets which are open on the weekends and located between Grafton and Sheridan Street. Here you will find delicious tropical fruits, vegetables and herbs, flowers, local honey, good coffee and some yummy breakfast.
Hartley's Crocodile Adventure
Located just 40 minutes north of Cairns or 25 minutes south of Port Douglas is Hartley's Crocodile Adventures. The park has over 2100 metres of boardwalks around the park where you can see various animals such as crocodiles, birds, koalas and reptiles. There are a variety of educational presentations as well as a boat cruise around the lagoon to see crocodiles.
Location: Captain Cook Hwy, Wangetti QLD 4871
Opening Hours: Daily 8.30 am to 5 pm
Price: $41 per adult and $20.50 per child. Click here to buy tickets online here.
Swimming Holes
One of the major drawcards to the region of Cairns is the natural landscape including the cool refreshing rock pools surrounded by thick lush rainforest.
One of the most popular swimming holes is Crystal Cascades, which is located a short 20-minute drive from Cairns. Crystal Cascades is a series of lovely waterfalls and croc free swimming holes with water flowing over the rocks and boulders to create an idyllic setting. The cascades are accessed by a short 10-minute walk from the car park.
Other swimming holes close to Cairns CBD include Oasis Waterhole, Ross and Locke, Little Mulgrave Swimhole, Harvey Creek, Babinda Boulders, Josephine Falls, Stoney Creek, Behana Gorge, Davies Creek, Emerald Creek Falls and Mulgrave River. Click here for information about the location of these swimming holes.
Please only ever swim where it is signposted as safe to do so – this is crocodile country!
White Water Rafting 
 Joining a half day white water rafting tour is a great way to experience the rainforest and rivers in Far North Queensland and a great trip in Cairns for families with older children.
Rapids range from grades 1 to 4 and the tours are led by expert rafters who will teach you everything you need to know and help you navigate your way through the rapids in a safe environment. No previous experience is necessary.
Rapid tours take place on either the Barron or Tully River. Generally, the Barron River is better for first timers or for younger kids with up to grade 3 rapids.
Foaming Fury even offers white water rafting on a certain section of the Barron River where the rapids are only grade 1 and 2 so that children from as young as 6 years of age can participate.
Check the minimum age with your tour group but most operators require kids to be 12 – 13 years of age at a minimum.
Price: Rafting tours range in price but usually cost around $135 per person for a half day tour or $210 per person for a full day tour which includes lunch – Click here for discounted tickets to a range of rafting tours.
Canyoning 
If white water rafting isn't adventurous enough for you, how about abseiling and zip lining through the rainforest, past waterfalls and into freshwater rock pools?
Raging Thunder provide canyoning in the Crystal Cascades with the canyoning course including 5 abseils (up to 32 metres), rock slides, swimming, 4 rock jumps (optional) and a 30 metre zip line. Anyone from 8 years of age can join in this activity.
No previous experience is necessary, the guides will teach you everything you need to know.
Location: 59-63 Esplanade, Cairns City QLD 4870
Opening Hours: Daily 9 am to 8.30 pm
Price: Prices start at $149 (extra for transfers). Click here to book discounted tickets including transfers from Cairns.
Quad Bikes 
Another activity for the adrenalin junkies is quad bike riding. This is a unique way to experience the bushland of tropical north Queensland as you zig zag past spectacular scenery, ride through creek beds and through dense forest on your very own 4 wheeled quad bike.
No previous experience is necessary, these tours accommodate all skill levels and are suitable for kids 12 years and over. Tours are anywhere from a few hours to the entire day.
Price: Prices start at $155 AUD.  Click here for a range of options.
Cairns Day Trips
There are several areas in far north Queensland which make fabulous day trips from Cairns including Kuranda, the Atherton Tablelands, the Daintree and Port Douglas. I recommend hiring a car and exploring the area on your own, or you can join one of the many Cairns day tours.
Visit Kuranda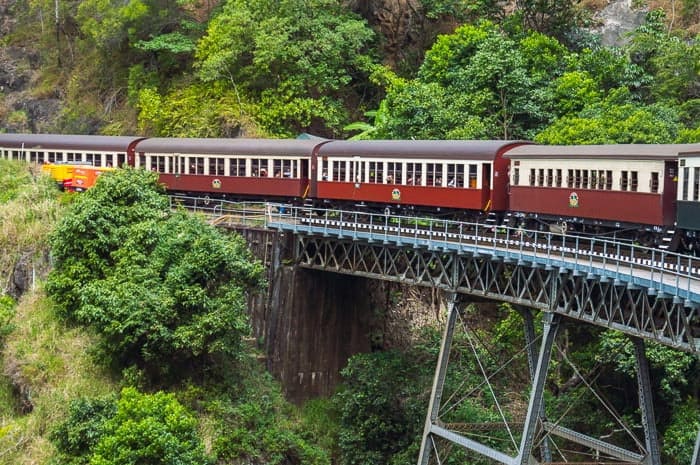 Kuranda is a picturesque mountain village approximately 25 kilometres from Cairns, in Australia's Tropical North Queensland surrounded by World Heritage listed rainforest of the Barron Gorge National Park.
For most tourists coming to Cairns, a day trip to Kuranda is a must do and getting there is half the fun via the famous historic Kuranda Scenic Railway or the modern-day Skyrail Rainforest Cableway.
Once you have arrived in the Kuranda Village there is a variety of things to see and do including seeing Australia wildlife such as koalas, butterflies (visit the Australian Butterfly Sanctuary), birds, kangaroos and reptiles, learn about Aboriginal culture through dance and demonstrations, see the Barron River and stroll through the Kuranda markets looking at local arts and crafts.
The majority of the Kuranda attractions can easily be accessed by foot – most attractions are side by side or only a few minutes' walk away.
For more information on all the Kuranda attractions, ticket prices and getting around read our post on things to do in Kuranda.
Visit the Daintree National Park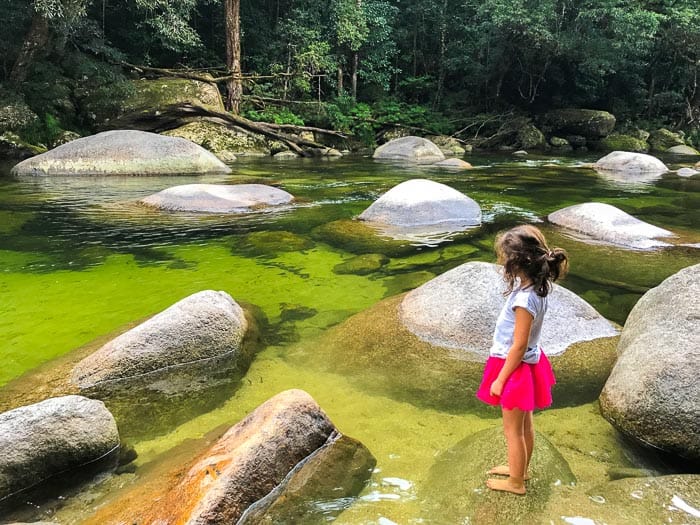 The Daintree region covers almost 900,000 hectares of Tropical North Queensland and is home to the World Heritage listed Daintree National Park. The area includes the Mossman Gorge at the southern point, the Daintree River at its centre and then all the way up to the dense rainforests of Cape Tribulation. The region has numerous tourist attractions including the lush dense rainforest, crocodile infested rivers, cool freshwater streams, pristine beaches and the Great Barrier Reef.
This is the only place in the world where 2 World Heritage listed sites exist side by side – Daintree National Park and the Great Barrier Reef.
You can visit the Daintree in a day trip from Cairns, or better still spend a few days exploring this magnificent area.
Read our post on the 15 things to do in the Daintree as well as some recommendations on where to stay and how best to get around.
Atherton Tablelands 
A visit to the Atherton Tablelands is a great day trip from Cairns with attractions including quaint townships, cascading waterfalls, spectacular lookouts, towering fig trees, volcanic crater lakes and natural pristine pools. The Atherton Tablelands is a highland region, set 1000 metres above sea level located 90 minutes south west of Cairns.
Here are some attractions to check out during your day trip to the Tablelands:
See the waterfall circuit and see Malanda Falls, Millaa Millaa Falls, Zilliee Falls, Ellinjaa Falls, Dinner Falls, Millstream Falls, Mungalli Falls, Nandroya Falls, Tchupala Falls and Wallicher Falls;
Swim in Lake Eacham, a clear blue lake surrounded by lush rainforest. There are various walking tracks around the lake to explore;
See the Cathedral Fig – one of the largest strangler figs in North Queensland. The fig is over 500 years old, 43 metres round and 50 metres high and a canopy spanning over 2 hectares;
Visit various cafes and shops 186 Mount Haren Rd, Kuranda QLD 4881 in the townships where you can purchase coffee, honey, fruit, dairy products and macadamia nuts; and
Stop at the Millaa Millaa Lockout for spectacular views across the Tablelands. The lookout is on McHugh Road between Millaa Millaa and the Kennedy Highway.
Port Douglas 
Port Douglas is a coastal town located an hour's drive north of Cairns, famous for its fancy beach resorts it is a great day trip from Cairns or a central location to base yourself in to explore the nearby Daintree.
Here are some attractions to check out during a day trip or stay in Port Douglas:
Join a boat cruise to see the Great Barrier Reef from Port Douglas;
Explore a local swimming hole such as Spring Creek, Shannonvale Water Hole, Syndicate Road Swim Hole and Finlayvale Road Swim Hole. Click here for more information about these swimming holes and their location;
Check out Wildlife Habitat. Animals include crocodiles, Koalas, Kangaroos, reptiles, birds which are housed in 4 different areas including the wetlands habitat, the rainforest Habitat, Woodland Habitat and the Savannah Habitat.  Entry is $37 AUD per adult and $18.50 AUD per child – get discounted tickets online from Klook.  If you're keen you even have breakfast with the birds at an additional cost;
Go window shopping on Macrossan Street – the main street of Port Douglas is full of boutiques, art galleries and cafes;
Swim at Four Mile Beach, Port Douglas' gorgeous beach which has a stinger net so you can swim without any concerns;
Check out the Port Douglas Markets where you can buy local made craft, jewellery and produce; and
Admire the gorgeous St Mary's by the Sea and beautiful white timber church which was built in 1911 and has spectacular views across the coast.
When to Visit?
Anytime! Being in the tropics, Cairns is warm all year around.
If you are not a fan of the hot and humid weather it may be best to visit during the cooler months in June to August.
The summer months are also when Cairns experiences the most rainfall. This is one of the best times of year to see the rainforests surrounding Cairns as the rivers are full making the waterfalls spectacular viewing.
Click here for a month by month guide on the weather in Cairns.
Best Place to Stay in Cairns
Cairns is a fantastic place to base yourself to visit all the wonderful attractions both in Cairns and the surrounding areas.
During our recent visit to Cairns, we spent a few nights at the Hides Hotel. The Hides Hotel is a fantastic budget family friendly hotel in a central location perfect for seeing everything in Cairns and within walking distance to the Cairns Esplanade, Reef Cruise terminal and plenty of places to eat.
We stayed in a family room which had a queen bed and 2 singles. Often in family rooms, particularly in budget hotels, the space is so cramped, but this was lovely and spacious, as was the bathroom. There is no bath in the bathroom, but there are additional taps down low in the shower for washing small children.
The hotel also has a small pool, whilst nothing fancy its perfect for families.
A light breakfast of toast, cereal, boiled eggs and tea and coffee is included which is served on the hotel's lovely old veranda.
Also across the road from the Hides Hotel is a supermarket, which was great for us as we always purchase snacks to take out and about with us during the day. There is also a range of family friendly cafes and food courts nearby.
At the time of publishing the cheapest place to book accommodation at the Hides Hotel was on TripAdvisor for $139 per night for 2 adults and 2 children. Check here for the latest prices and availability.
There is nothing fancy about the Hides Hotel, but for the price and location, I doubt you will find a better option. If you are wondering where to stay in Cairns, I can highly recommend the Hides Hotel.
Click here for a full range of hotels in Cairns.
Getting Around
If you plan on visiting the surrounding areas of Cairns, I would highly recommend you hire a car. However, you don't necessarily need to hire a car for the entire time, do what we did and just hire a car for the days that you need it. Group your driving days together and hire the car just for those days. For days that you are joining tours or just hanging around Cairns, you will not need a car as tours pick you up and everywhere in Cairns is within easy walking distance from each other.
We hired a small car for 2 days from East Coast Rental in Cairns for $90 AUD. For 2 days of driving around we only spent $20 AUD in fuel.  Check Skyscanner for the cheapest car rental, that's where I booked this one – yes they do car hire not just flights!
Click here for tips if you're also heading to Townsville.
Please note that this post contains affiliates links, which means that if you make a booking using my links above I will receive a small commission at no extra cost to you. This allows me to provide this information free of charge – thanks for supporting our website.
Want to save this for later? 
Click on one of the images below and save it to Pinterest.