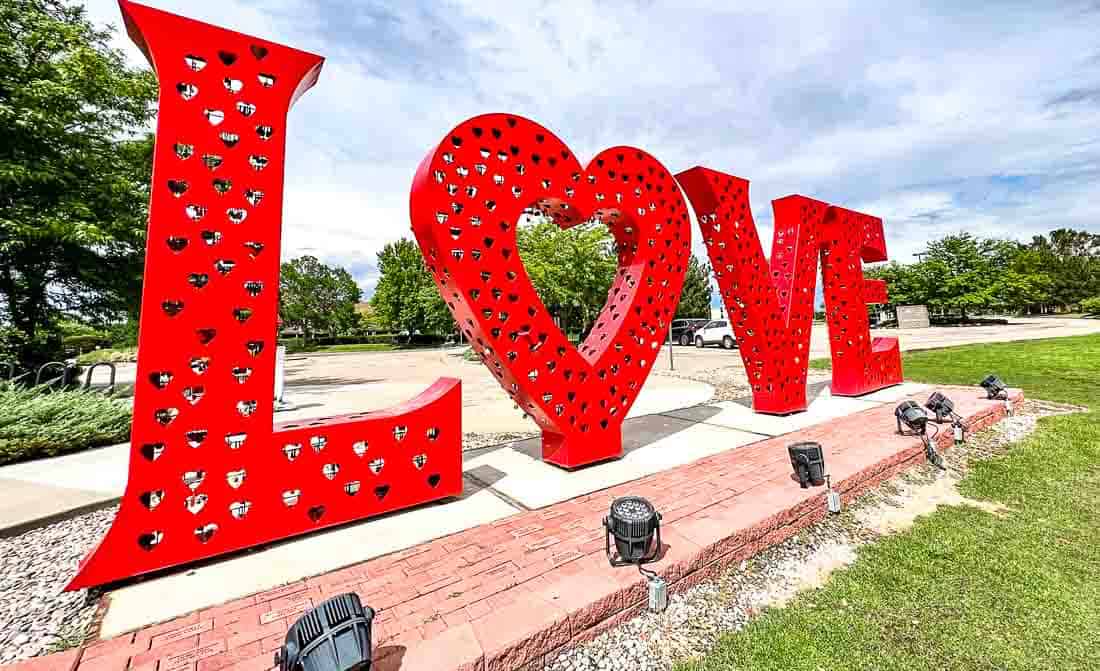 If you're driving north from Denver to Fort Collins, consider stopping in at Loveland for a day or two. Just an hour's drive from Denver and a 25 minute drive from Fort Collins, this small scenic town is a great little place for families.
Some of the top things to do in Loveland, Colorado include getting out in the great outdoors with activities on offer including water sports at the various lakes, hiking and biking on the various trails or taking a day trip to explore the Rocky Mountain National Park.
Loveland is also well known for its arts scene, including multiple sculpture parks, street murals and plenty of free music events. Other fun things to do in Loveland with kids include horseriding, visiting the museum or hanging out at the local games arcade.
As well as tips for fun Loveland things to do, this guide also provides suggestions on Loveland hotels for families.
So let's get started and find you all the incredible things to do near Loveland, Colorado.
Talk to other families about their tips on visiting Loveland and join our Thrifty Family Travel Facebook Group or check out our Thrifty Family Travel Instagram.
This post may contain compensated links. Please refer to my disclaimer here for more information.
Things to do for Loveland Colorado
Map
To help plan the things to do around Loveland, Colorado, I've provided this handy map below, which shows the location of all the different activities in Loveland and Loveland attractions.
Zoom in and out for a better view.
Fun Things to do in Loveland with Kids
In the guide below, I've provided a fairly comprehensive list of what to do in Loveland with kids. In addition, I have provided to make your planning easier, including locations, opening hours and ticket prices.
Please note that all prices mentioned were correct at the time of writing. To check the rate in your local currency, click here.
Loveland Visitor Center
The best place to start your sightseeing is at the Loveland Visitor Center. While here, pick up a few brochures for information on the attractions in Loveland; but the main reason for visiting is to see the town's huge love lock sculpture.
The Loveland Visitor Center Love Lock is just one of two love lock sculptures in Loveland. This one is a 24,000 pound, 10 foot tall, 30 foot wide steel sculpture – the largest of its kind in the entire USA. So either bring your own padlock, or you can buy one for each of the kids at the center, which they can engrave for free and then attach to the giant "Love" love lock sculpture.
The Loveland Visitor Center is at McWhinney Hahn Sculpture Park. So as well as locking a padlock on the giant sculpture, it's a nice spot to wander around the pond, watch the cheeky ducks and admire the various bronze sculptures. This is one of the first of many free things to do in Loveland with the kids.
Allow around 20 minutes to visit the Loveland Visitor Centre, longer if you wish to also stroll around the pond.
Location: 5400 Stone Creek Circle, Loveland
Opening Hours: Monday to Saturday 9.30 am to 4.30 pm | Sunday 11 am to 3 pm
Price: Free
Love Lock at Lake Loveland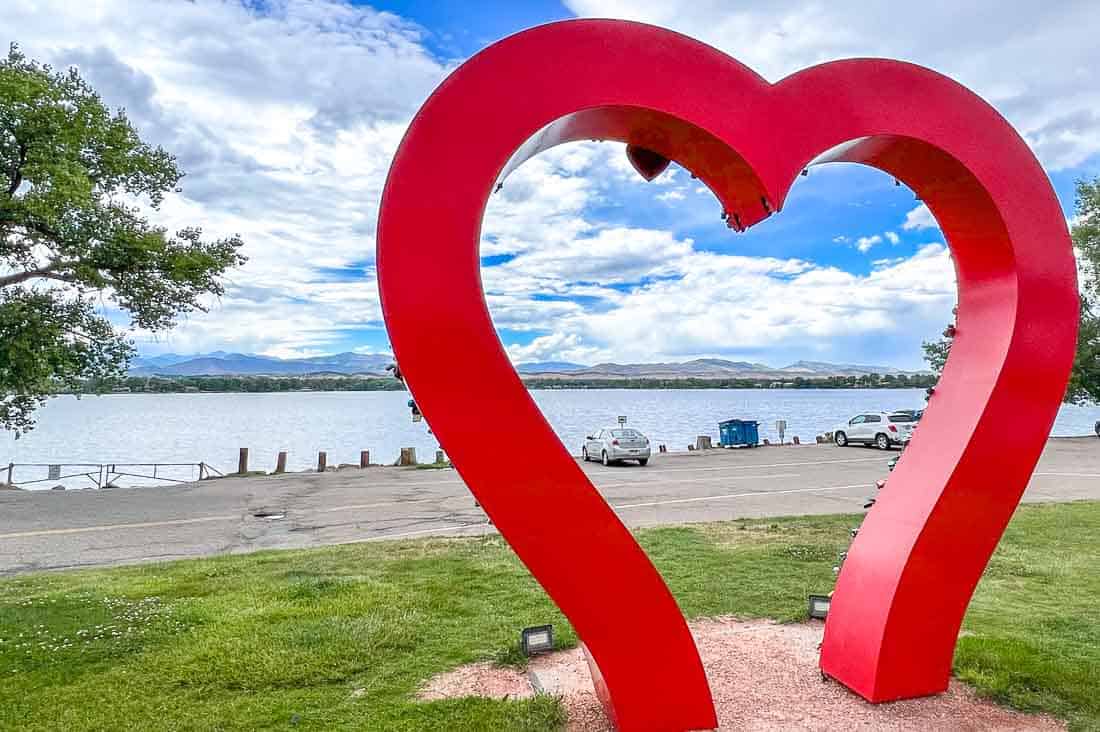 If one love lock is not enough, the town's second love lock is at Lake Loveland. This love lock is a 12 foot tall and 14 foot wide steel heart sculpture.
As well as locking a padlock to the back of the sculpture, it makes for a great place to get a photo of the family with the lake and views of the Rocky Mountains in the background.
Location: Southeast corner of Lake Loveland
Opening Hours: Always
Price: Free
Benson Sculpture Garden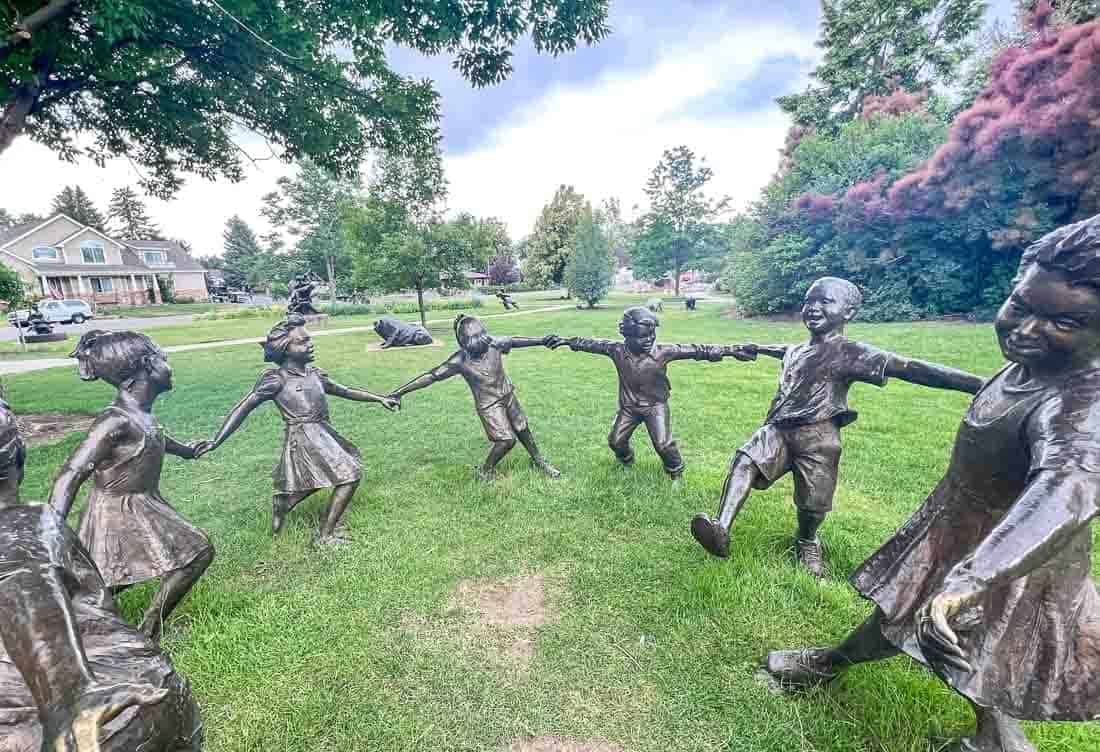 Benson Sculpture Garden is a 10 acre park with 172 permanent sculptures (valued at a huge $5 million!). These gardens are among the more popular Loveland attractions.
While all the sculptures are lovely, the ones in the children's garden will no doubt capture the kid's interest the most. They can join the ring of children playing ring a ring o' rosie, pose on top of a crocodile, pat the dog and take a few selfies with some of the more unusual sculptures, such as the banana on skates. The experiences are only limited by their imagination.
The gardens are the perfect place for some quiet family time, with wheelchair and stroller friendly paths, restrooms, picnic areas and a pond for watching ducks and other wildlife.
Allow around 30 to 45 minutes to visit the Bensons Sculpture Garden.
Location: 1125 W 29th Street, Loveland
Opening Hours: Always
Price: Free
Chapungu Sculpture Park
At Chapungo Sculpture Park, you'll see 82 stone sculptures from Zimbabwe sprawled across 26 acres of natural and landscaped parklands. These permanent outdoor exhibits tell Zimbabwean stories about family, children, elders and village life. These abstract sculptures are perfect for getting the kids to engage their imagination.
As well as the sculptures on display, the stroller and wheelchair friendly path lead you through a beautiful natural landscape, across bridges and along the canal.
Allow around 30 to 45 minutes to visit the Chapungu Sculpture Garden.
Location: East of the Promenade Shops at Centerra, Loveland
Opening Hours: Daily from 6 am until 10 pm
Price: Free
Attend an Event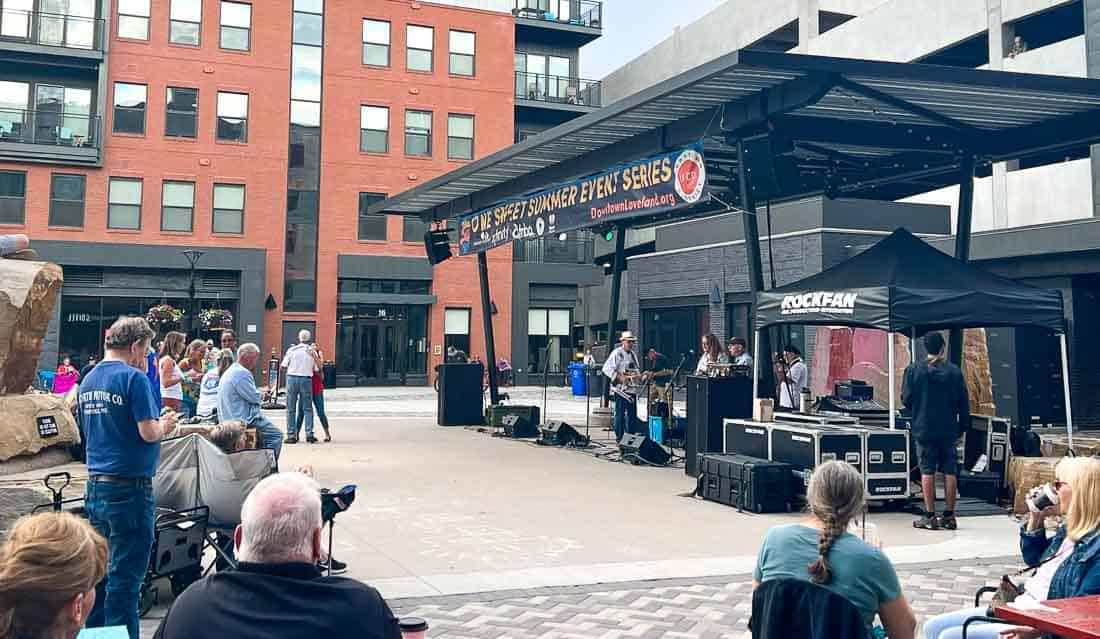 One of the best things to do in Loveland is to attend an event. Even during our short stay, we went to two free events! One night we went to a free concert at the Foundry and the second night, another free concert at the Foote Lagoon Amphitheater.
Other family friendly events across the year include the Loveland Sweetheart Festival in February and the Winter Wonderlights (a free nightly show), which runs from mid November to the end of January.
Be sure to check what events or festivals are on in town during your stay.
Flipside
You'll want to head to Flipside for the ultimate fun in Loveland with the kids. In the centre of Downtown, this family fun attraction includes a range of pinball and arcade games and a bar and lounge area so parents can relax too.
Open late most evenings; Flipside is perfect for families looking for things to do in Loveland at night.
Location:140 E 4th St, Loveland
Opening Hours: Hours vary – closed Wednesdays
Price: Varies per game
Visit a Lake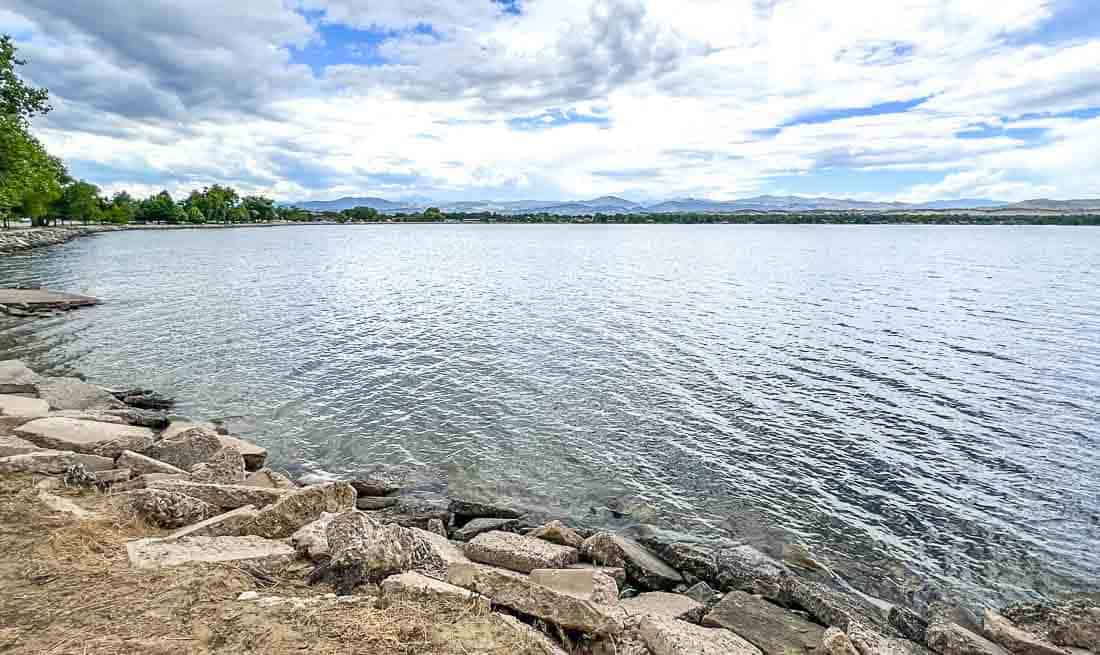 Visiting one of the various lakes or reservoirs in town is perfect for those after outdoorsy family things to do in Loveland.
With three lakes and three reservoirs, there is no shortage of water sports or places to keep cool in Loveland. Activities to enjoy include swimming, fishing, boating, jet skiing and stand up paddle boarding.
Below is a list of the various lakes and reservoirs around Loveland and some of the activities you can enjoy at each of them:
Carter Lake:

walking trails, fishing, sailing, water skiing, swimming and scuba diving.

Boyd Lake

: walking trails, swimming, fishing, boating, jet skiing and kayaking. The marina has rentals and a general store.

Lake Loveland

: swimming.

Boedecker Reservoir:

kayaking and stand up paddle boarding.

Lon Hagler Reservoir:

fishing, kayaking and stand up paddle boarding.

Pinewood Reservoir

: fishing, hiking, biking, kayaking and stand up paddle boarding.
Sylvan Dale Guest Ranch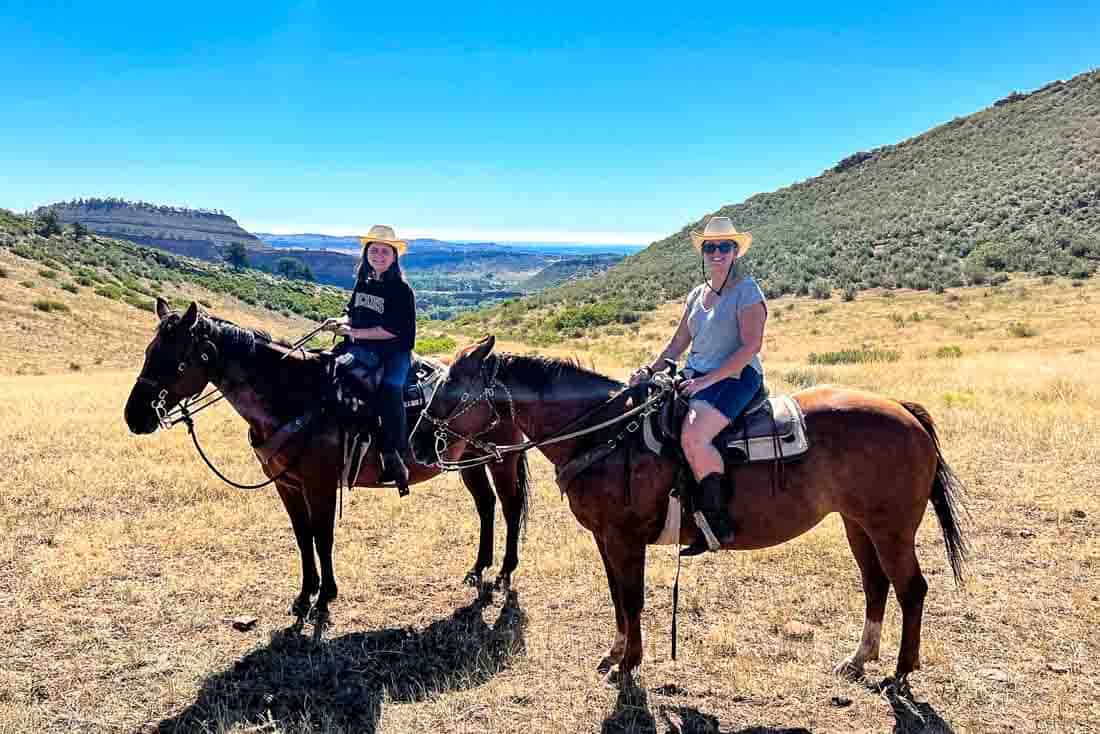 Get the kids into their cowboy boots and saddle up for horse riding at Sylvan Dale Guest Ranch. Sylvan Dale offers kids 7+ a range of different horseriding, perfect for complete beginners to those with a little more experience under their cowboy belts.
Horse rides are available from one hour to two hours, and you can choose from rides across gentle terrain to more challenging rides up to the ridge top, which offers fantastic views across the countryside and out to the Rocky Mountains.
Myla and I had a fabulous horse ride up the rocky slopes of Eagle Ridge – where we enjoyed some incredible views. Myla was afraid, to begin with – never having been horse riding before – but our guide was fabulous and very patient in getting her comfortable.
There are longer 3 hour rides for those 13+ who consider themselves intermediate riders. For the younger kids (3-6), there are also 15 minute horse rides available, where your little one will be seated on the horse as it's led around by a guide.
Location: 2939 N Co Rd 31D, Loveland
Opening Hours: Horse riding tours vary throughout the year – check here for tour availability
Price: From $55 per person
Street Murals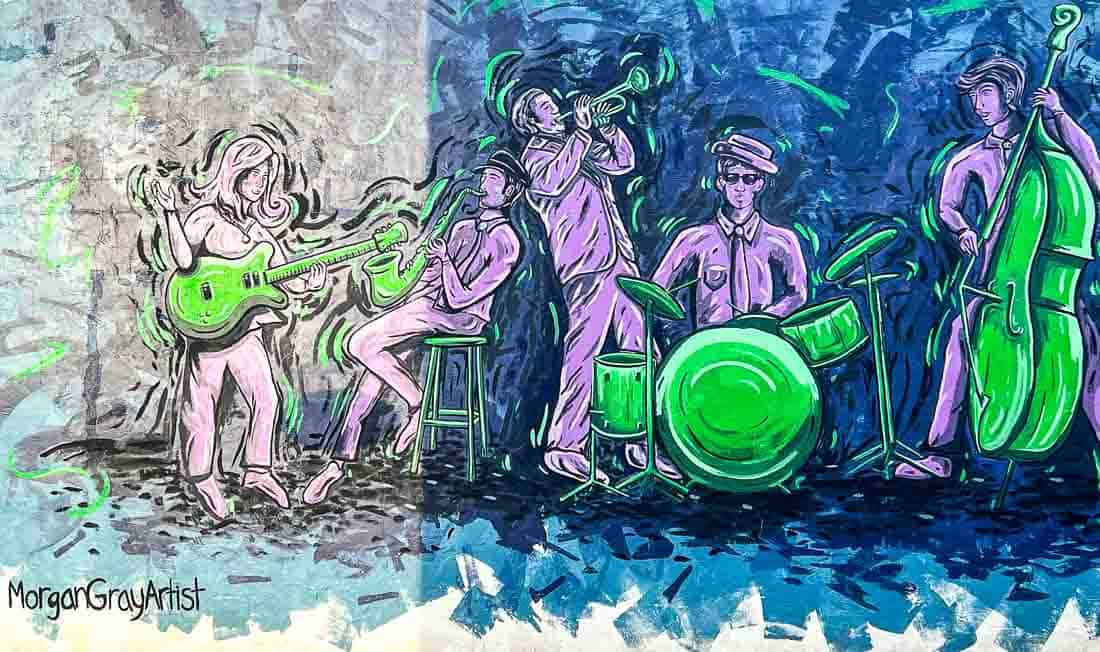 If you're a family that enjoys street art, then you're in luck in Loveland with no less than 17 street murals. Wander up and down 4th and 5th Streets between Jefferson and Railroad Avenues, where you'll see a range of buildings that have been transformed into colourful canvases.
One of the other things to see in Loveland is the 36 individually painted hearts scattered across the city. See how many you can find on your own, or head to the Visitor Centre for a map.
Location: Along 4th and 5th Streets from Jefferson to Railroad Avenues
Opening Hours: Always
Price: Free
Loveland Musuem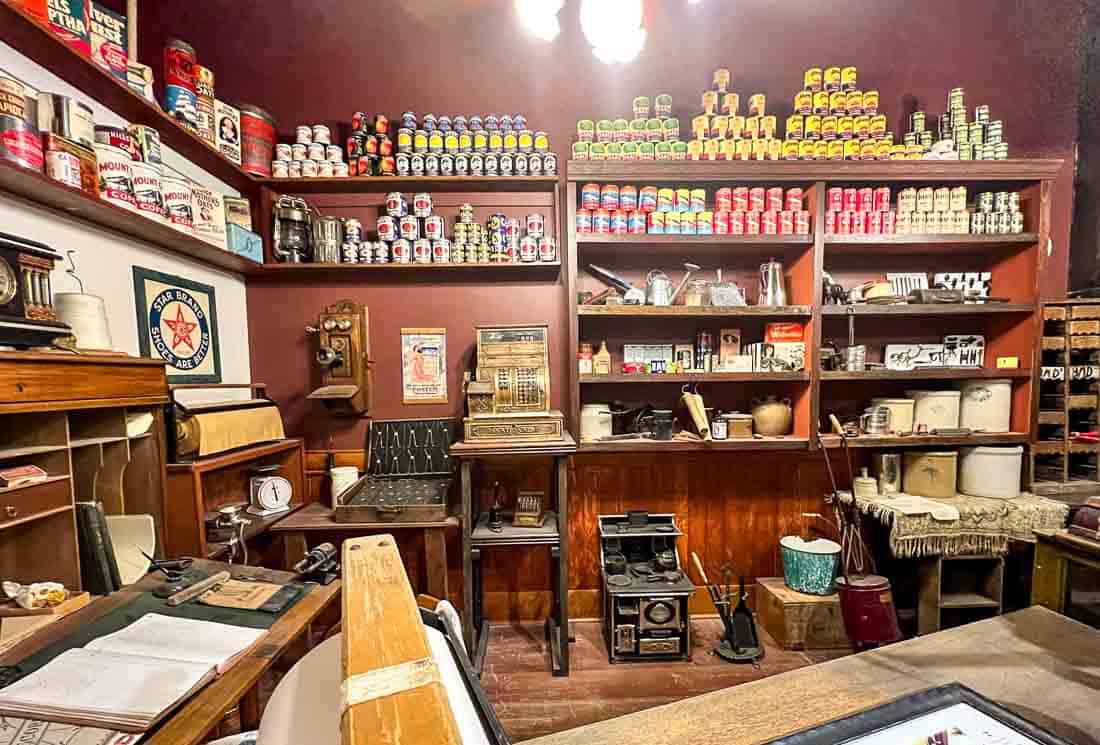 The Loveland Musuem is a small but interesting museum perfect for families with young children. The museum covers the history of Loveland, including the town's largest industries over the years, such as sugar.
There are some great little exhibits where the kids can visit an old general store, a mock-up of Loveland's first jail cell, and Loveland's first hotel.
Allow around 45 minutes to an hour to visit the Loveland Musuem.
Location: 503 N Lincoln Ave, Loveland
Opening Hours: Daily from 10 am, except from 12 pm Sundays and closed Mondays
Price: Free – although the art exhibit is $7 per person for those 13+
Devil's Backbone Open Space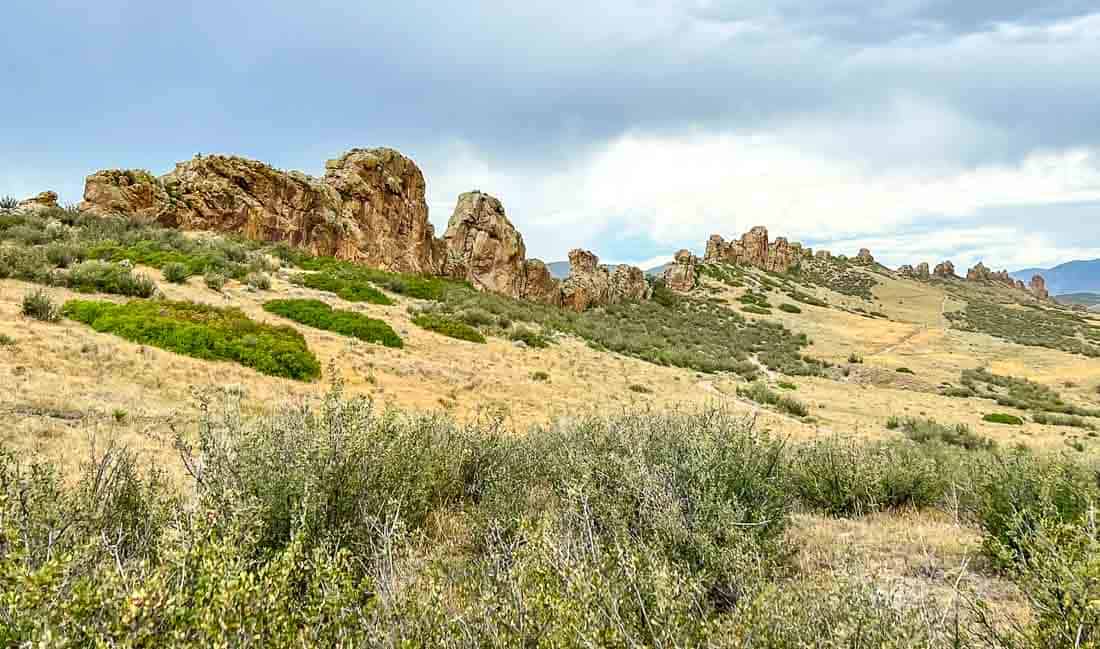 If you're after even more outdoorsy stuff to do in Loveland, a hike or bike ride at Devil's Backbone Open Space is a must. There's a range of short hikes here, or for those with more time, you can link up with some of the longer hiking and biking trails from nearby parks.
At the very least, head up to The Keyhole via the Wild Loop, which took us about 1 hour return. Along the way, you'll get fabulous views of the Devil Backbone and great views across Loveland and the Rocky Mountains.
The Morrison Loop is also an interesting (although steeper) trail.
Location: Eisenhower Blvd, Loveland
Opening Hours: Sunrise to Sunset
Price: $10 per vehicle
Sweet Heart Winery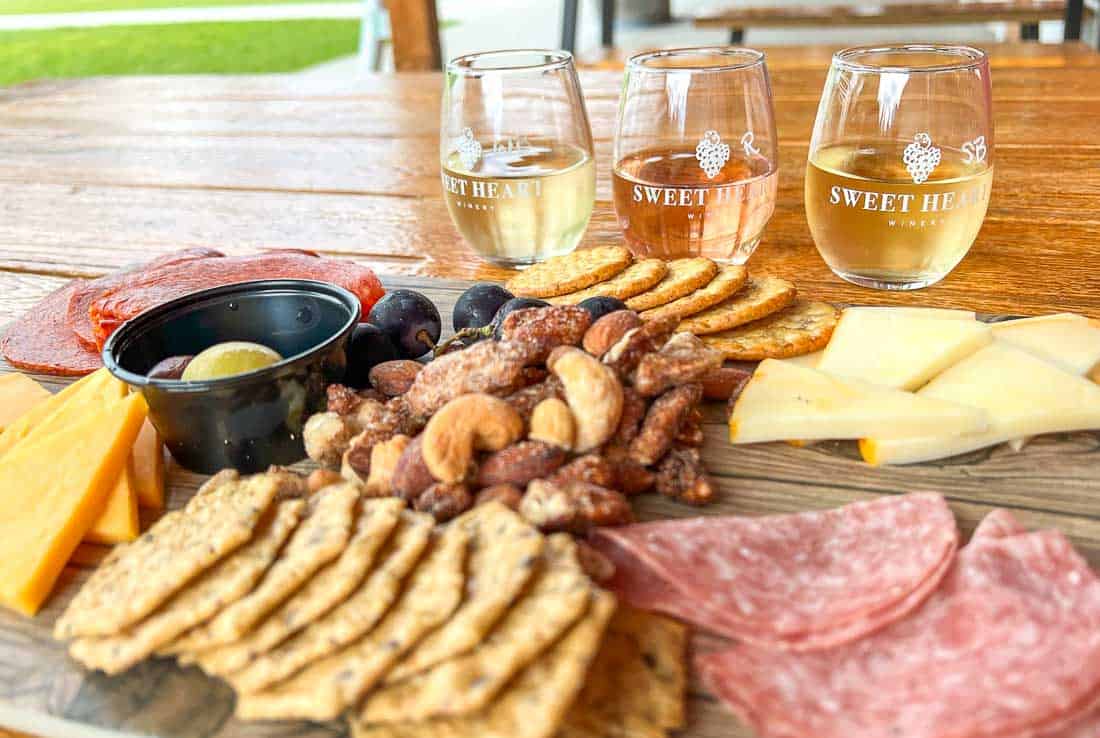 If you love your wine as I do, then some wine tasting at Sweet Heart Winery is a must! This is a fabulous place for the entire family, with a beautiful outdoor area, with wide open spaces for the kids to play.
Situated at the base of the Rocky Mountains, the 8 acre grounds around the Sweet Heart Winery are beautiful. There are picnic tables spread across the lawn and tables and chairs strategically placed along the river for privacy.
Of course, the main reason for your visit is for wine tasting, so you'll be pleased to know a variety of tasting options are available. Order a single glass of your favourite drop, enjoy a flight of wine or even a bottle.
I recommend visiting the winery around lunchtime so you can also share one of their delicious charcuterie boards or a pizza with the family.
Location: 5500 W US-34, Loveland
Opening Hours: Daily from 12 pm, closing at 8 pm Sunday to Thursday, 9 pm Fridays and 4 pm Sundays
Price: Glass of wine starts at $10 and flights start at $12
Rocky Mountains National Park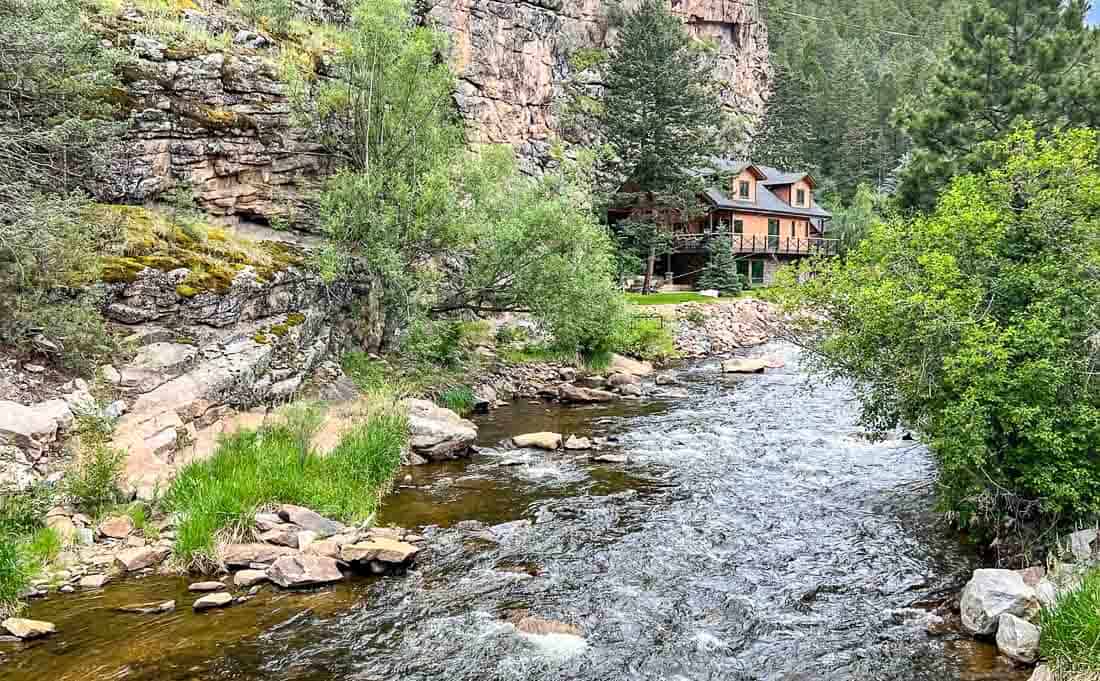 If you can spare an entire day, then you absolutely must take the kids up to the Rocky Mountain National Park. Here you'll find hiking trails, stunning lakes, gorgeous mountain peaks and even the chance to spot elk, bighorn sheep and moose.
The best place to visit the National Park from Loveland is Estes Park. Estes Park is just a 45 minute drive from Loveland and home to a historic village with plenty of shops and places to eat.
From Estes Park, you can either enter the Rocky Mountains National Park via the Beaver Meadows entrance or the Fall River entrance. Either entrance is a 10 minute drive from the centre of Estes Park. There is also the option of the Wild Basin entrance, which is about a 30 minute drive away or the Grand Lake entrance, which is 90 minute drive away.
Please note that if you want to enter the National Park, you will need a park pass plus a day use reservation. These can book out, so do consider this in advance.
Even if you don't have time to do any hiking at the National Park, the drive to Estes Park is worth it in itself. The drive is extremely scenic as you pass canyon rivers, rolling meadows and enjoy fabulous views of snow capped mountains (even in the middle of Summer). If you're anything like me, you'll make multiple stops along the way for photos.
Where to Stay in Loveland
If you're unsure where to stay in Loveland with kids, we've covered our top three hotel recommendations below.
Click here for our full guide on where to stay in Loveland.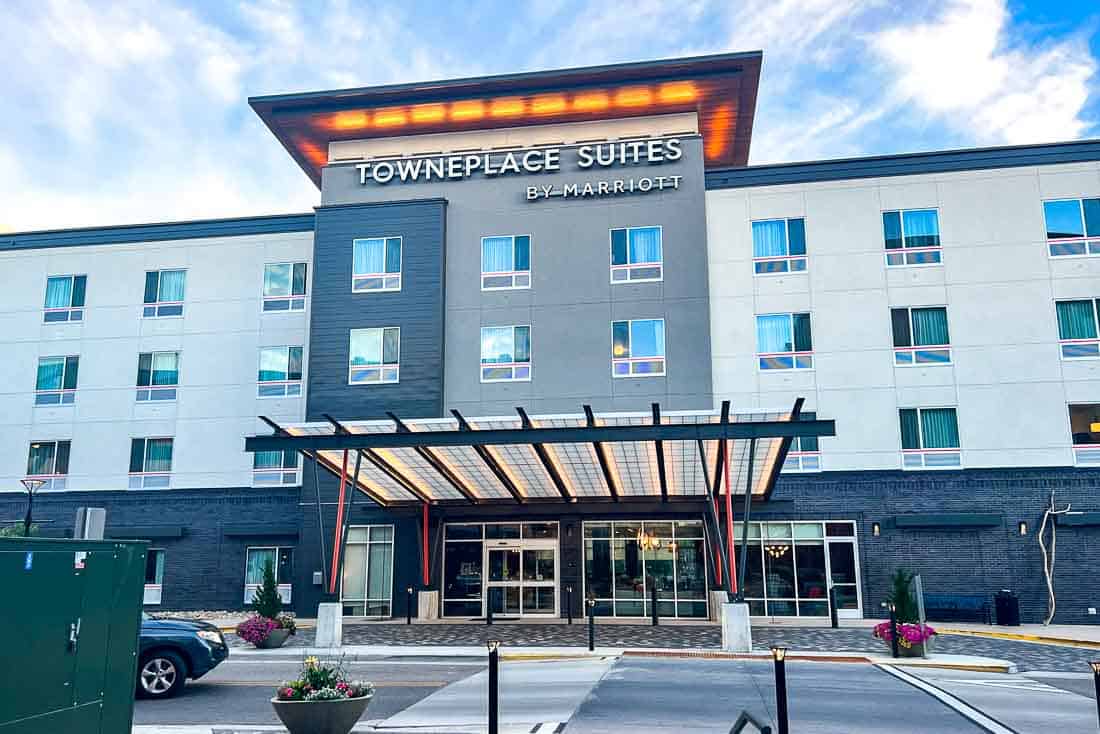 Located just steps from the Foundry, where you will find plenty of restaurants, cafes and bars, the TownePlace Suites is the only hotel for families in the centre of the Downtown District. We stayed here during our visit to Loveland and the location couldn't be better!
From TownePlace Suites, you can easily walk from one end of the Downtown District to the other. You're also a short drive from all the other attractions around Loveland.
The hotel is beautiful and modern – one of the newest hotels in Loveland. Rooms are massive, among the biggest hotel rooms in Loveland. Family rooms have two queen beds, a kitchenette and a dining area. This is perfect for families with younger children where you might want to stay in for meals at night.
Like most hotels around Loveland, a free breakfast is offered each morning. While nothing flash, it includes eggs, waffles, cereals, yogurt and fruit – everything you need to start the day. There is also a small mini market where you can buy drinks, snacks and even frozen meals to heat up in your room.
Other facilities at the hotel include an indoor swimming pool, gym, laundry and a beautiful outdoor area complete with a firepit – the perfect place to relax with a drink after dark.
For families with the budget, you really can't find a better hotel in Loveland than the TownePlace Suites. The location is second to none, not to mention spacious rooms with kitchens and loads of other facilities to ensure you have a comfortable stay.
Click here for more information or to check current pricing.
Staying in a hotel next to a Highway is usually not a drawcard. However with Quality Inn & Suites right next to Highway 34, travellers can easily jump on and off the highway to explore the town and Rocky Mountain National Park. The hotel is also just a short walk away from Boyd Lake and around a 7 minute drive to the Downtown district.
Families of four are accommodated in rooms featuring two queen beds and rooms contain a coffee machine, microwave and mini fridge – all the essentials to prepare and store simple meals.
One meal you won't need to prepare is breakfast, as the Quality Inn & Suites offers free daily breakfast. And it's not just any breakfast; it's a full feast including; eggs, yoghurt, fresh fruit, cereal, waffles and more… fuelling the entire family for the day, or at least until lunch.
Some great facilities to enhance your stay include an indoor pool and hot tub, a gym, an outdoor courtyard with a BBQ and a laundry (at a charge) to freshen up those travel clothes. Other free amenities at this hotel include parking and WiFi.
Quality Inn is a great family friendly hotel in Loveland with fantastic amenities. Location-wise it is still convenient to get downtown when driving, and the highway offers easy access – you just have to weigh up whether you want to stay next to a highway.
Click here for more information or to check current pricing.
The Travelodge by Wyndham Loveland is a block from the Quality Inn & Suites (detailed above), so you're in the same location – next to a Highway. Which, as we mentioned, is not always ideal. However, it offers the convenience of jumping on and off the highway with ease to explore the town and Rocky Mountain National Park.
Families of four are accommodated in rooms with two queen beds. The rooms are compact but have convenient amenities, including tea and coffee facilities, a microwave and a mini fridge. These essentials are just enough to ensure you can prepare a simple meal for the family to help stretch the budget.
The onsite facilities at the Travelodge are minimal; there is free parking, a coin-operated laundry for guests to use and free WiFi. However, while there aren't too many facilities, it is just a 7 minute drive downtown and a short walk to Boyd Lake. So if you're just after somewhere convenient to stay and won't be spending much time at the hotel, the Travelodge could be a contender for your stay in Loveland.
Click here for more information or to check current pricing.
____________________________________________________
I hope you found this guide on where to stay in Loveland helpful. We have plenty more guides to help plan your family vacation in Colorado, including things to do in Denver, where to stay in Denver, things to do in Fort Collins and where to stay in Fort Collins. We also have a 7 day Colorado road trip guide here.