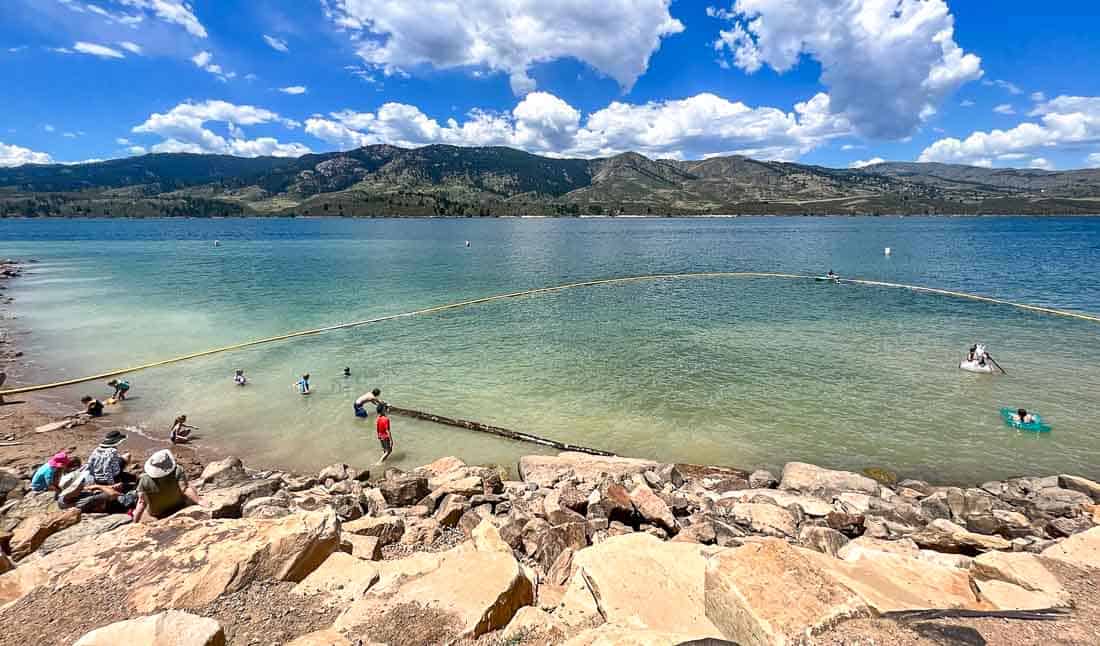 If you're after fun things to do in Fort Collins with kids, you'll be pleased to know that this charming town offers plenty for families. There's the incredibly interactive Fort Collins Musuem of Discovery, the super awesome Fort Fun, lots to explore in Old Town, countless outdoor activities including hiking, biking and water sports and stacks more.
As well as all the fun things to do with kids in Fort Collins – it is the perfect base for day trips in the surrounding area. Fort Collins is just an hour's drive from Denver, so you could make a day trip to the Mile High City or even the Rocky Mountain National Park.
To help you make the most of your time in town, this guide covers Fort Collins activities for kids of all ages. So whether you have young children or teenagers, this Fort Collins things to do guide has something for everyone.
As well as tips for top things to do in Fort Collins, this guide also provides suggestions on the best hotels in Fort Collins for families.
So let's get started and find you all the best things to do in Fort Collins for families.
Talk to other families about their tips on visiting Fort Collins and join our Thrifty Family Travel Facebook Group or get inspired on our Thrifty Family Travel Instagram Feed.
This post may contain compensated links. Please refer to my disclaimer here for more information.
Best Things to do in Fort Collins
with Kids
Map
To help you plan what order to do all the things to do near Fort Collins, I've provided this handy map below, which shows you the location of all the different Fort Collins attractions. Zoom in and out for a better view.
Fun Things to do in Fort Collins with Kids
In the guide below, I've provided a fairly comprehensive list of the tourist attractions in Fort Collins. In addition, I've included information to make your planning easier, including locations, opening hours and ticket prices.
Please note that all prices are in USD and were correct at the time of writing. To check the rate in your local currency, click here.
Fort Collins Musuem of Discovery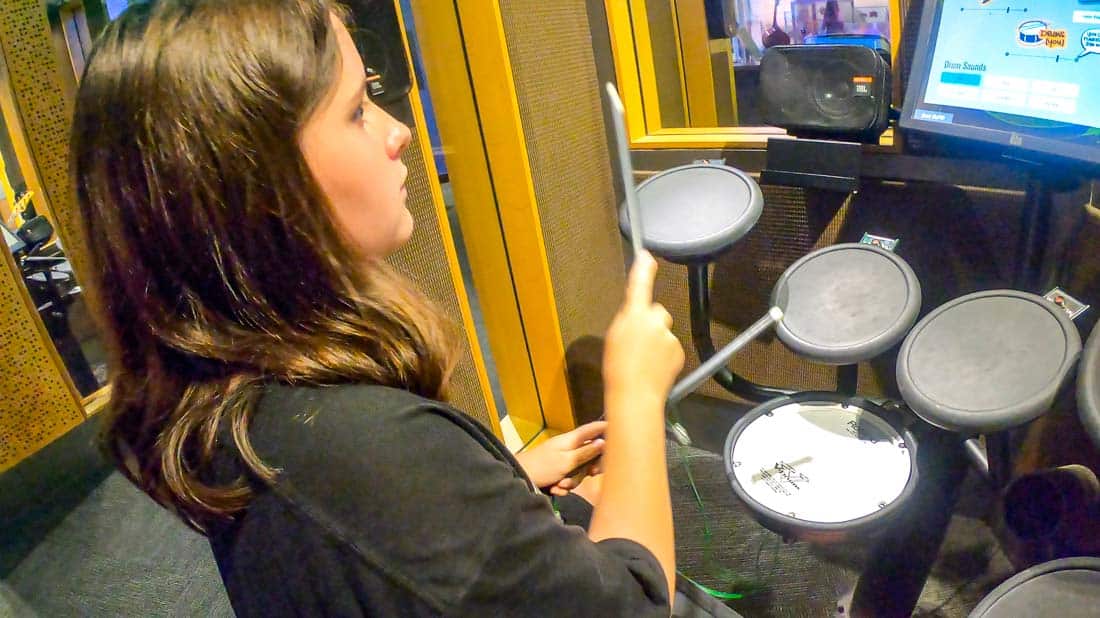 The Musuem of Discovery is hands down one of the best attractions Fort Collins offers families. While some museums can be a little on the boring side – the Fort Collins Musuem of Discovery is one of those places your kids won't want to leave!
While not an overly big museum, with the number of hands on / interactive exhibits here, you'll want to allow plenty of time to explore. The museum focuses on culture, history and science, with more than 30,000 items on display.
One of our favourite sections of the museum is the Music and Sound Lab. Here the kids can play various musical instruments and jam with others. They can try out so many great instruments, including guitars, drums, keyboards, and xylophones – they can even try their hand at DJ scratching!
The Exploration Zone is also great fun where the kids can try out mini science experiments involving light, motion and air. While for toddlers, there is the Tot Spot – which has bite size exhibits especially for them, including water play, a train table, arts and crafts and more.
In addition to the museum, there is also the OtterBox Digital Dome Theater, Colorado's only 360° dome theater. The theater shows a range of educational programs across its 360° gigantic 35 foot dome screen, including programs on space, music, science and more.
So if you're after Fort Collins kid's activities that are both fun and educational, you really can't miss a visit to the Musuem of Discovery. Put aside around 2 hours for this attraction.
Location: 408 Mason Court, Fort Collins
Opening Hours: Tuesday to Sunday, 10 am to 5 pm
Price: Musuem: $12.50 per adult | $9.50 per child (3-18) | children under 3 are free | Theater $4 per person
Old Town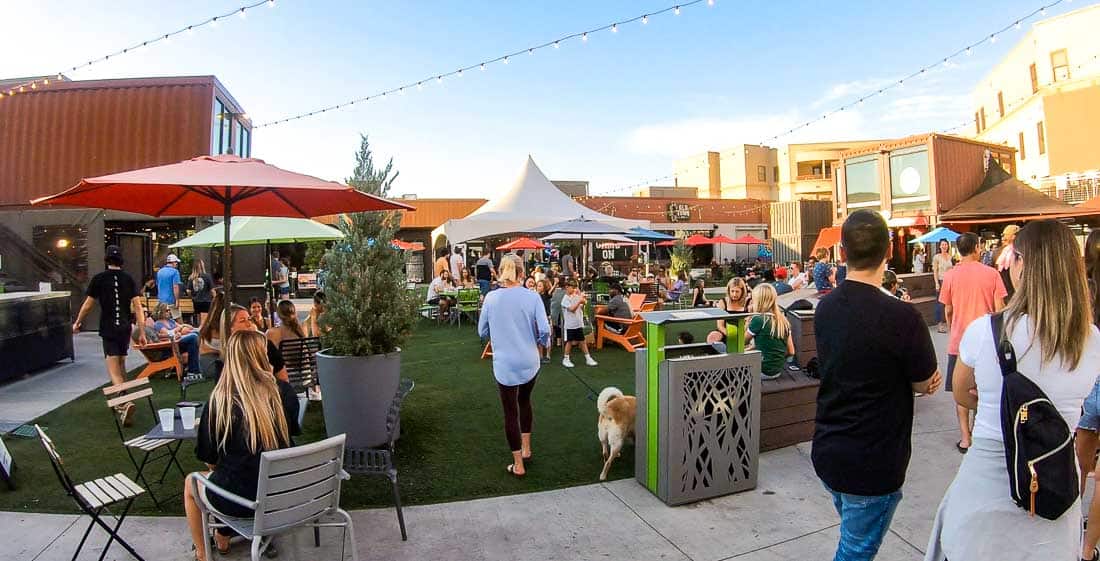 You can spend hours wandering the streets and alleyways of Old Town (the name given by the locals to the Downtown area). Considered one of the prettiest downtown areas in the country, the wide walkways and charming street facades of Old Town Fort Collins were even the inspiration for Disneyland's Main Street.
The area is jam packed with cafes, restaurants and bistros to grab a bite and lovely boutiques for browsing. You'll find colourful street murals and sculptures and even talented buskers on the occasional street corner.
If you're looking for fun things to do in Fort Collins at night, it's the perfect place to come. After dark, the streets sparkle under the fairy light canopies and the atmosphere is electric with music and people dining along tree lined footpaths.
During the summer, a great way to explore Old Town is by trolley. Having been in operation for over 100 years, the historic trolley takes you on a pleasant ride from one end of town to the other and is the perfect way to give those little legs a break while enjoying the sights.
Location: Area between Jefferson Street, Mountain Avenue and College Avenue
Opening Hours: Hours vary depending on the venue
Splash Pad at Old Town Square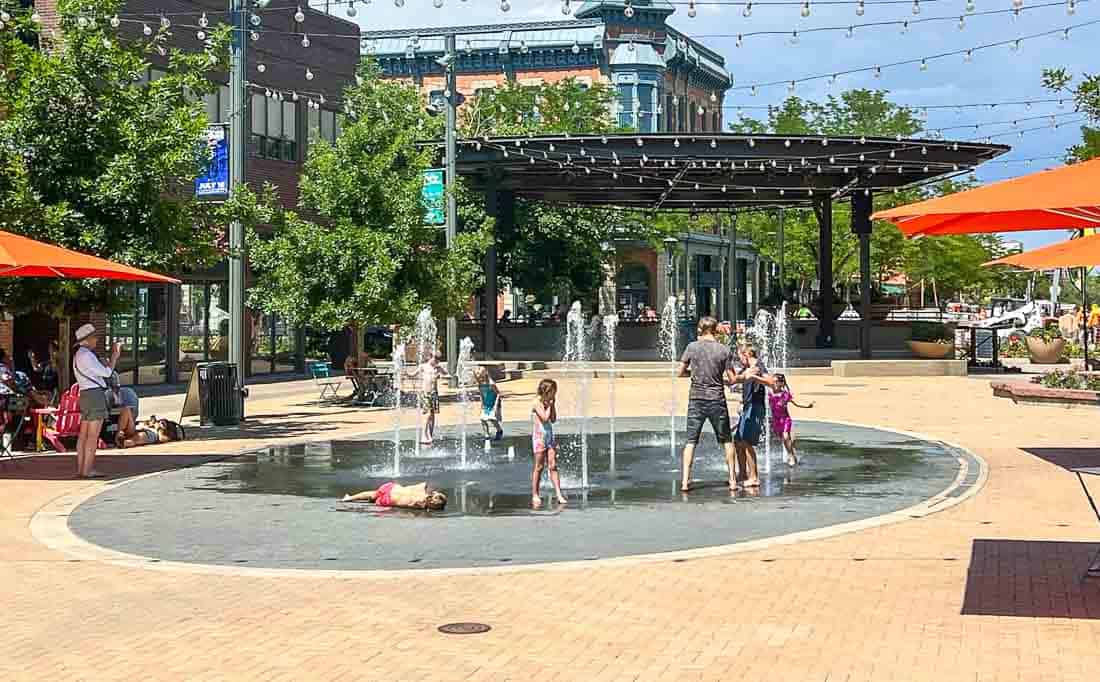 On a hot summer's day, one of the best things to do in Old Town, Fort Collins for families is to hang out at the Splash Pad. The area has several water fountains, ideal for the little ones to run around and cool off under.
The area has plenty of shaded picnic tables and chairs around the outside – and what's more, there's a Ben & Jerry's ice creamy in the area too! One of the perfect Fort Collins things to do in Summer – particularly for those after fun things to do with toddlers in Fort Collins on a hot day.
Location: Old Town Square, Fort Collins
Opening Hours: May to September 8 am to 12 am
Price: Free
Pinball Jones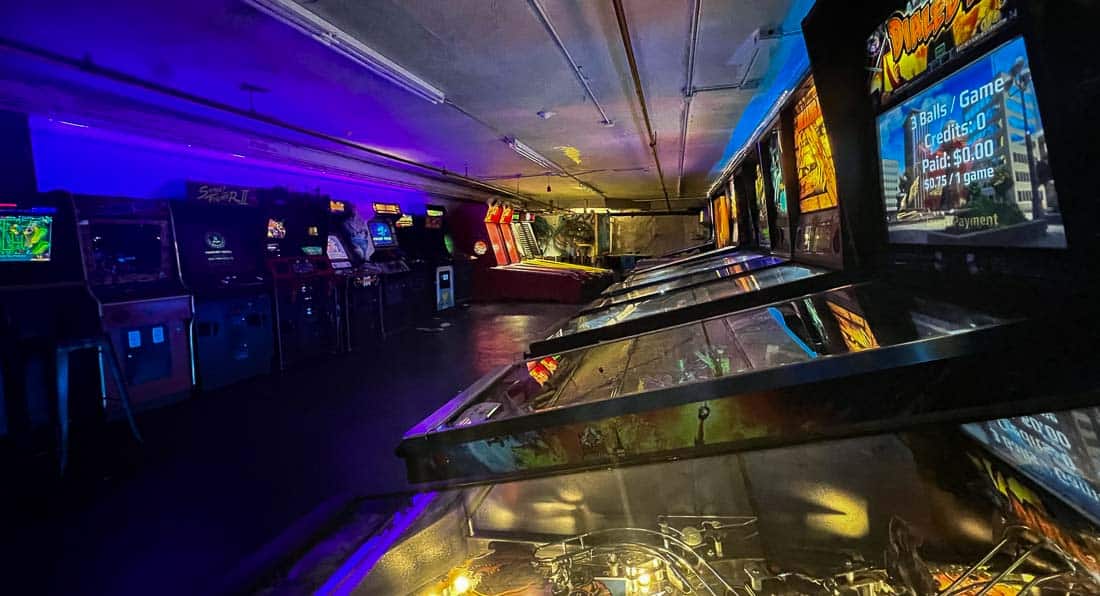 If you're looking for Fort Collins, Colorado things to do for older kids and parents alike – then check out Pinball Jones. Located in Old Town, this underground arcade has a stack of old school pinball machines, vintage style arcade games and a few other family favourites that everyone will love.
No doubt Mum or Dad will find a game or two from their youth here and so can show the kids how it's done. There are pinball machines here dating back to the 1960s, as well as some of the latest games.
While the kids are entertained, parents can sit back and relax at the bar and enjoy one of the craft beers on tap. There are also snacks available too.
A stop in Pinball Jones is one of the fun family things to do in Downtown Fort Collins.
Location: 107 Linden St, Fort Collins
Opening Hours: Friday to Monday from 12 pm to late | Tuesday to Thursday from 5 pm to 11 pm
Price: Varies depending on the games
The Farm at Lee Martinez Park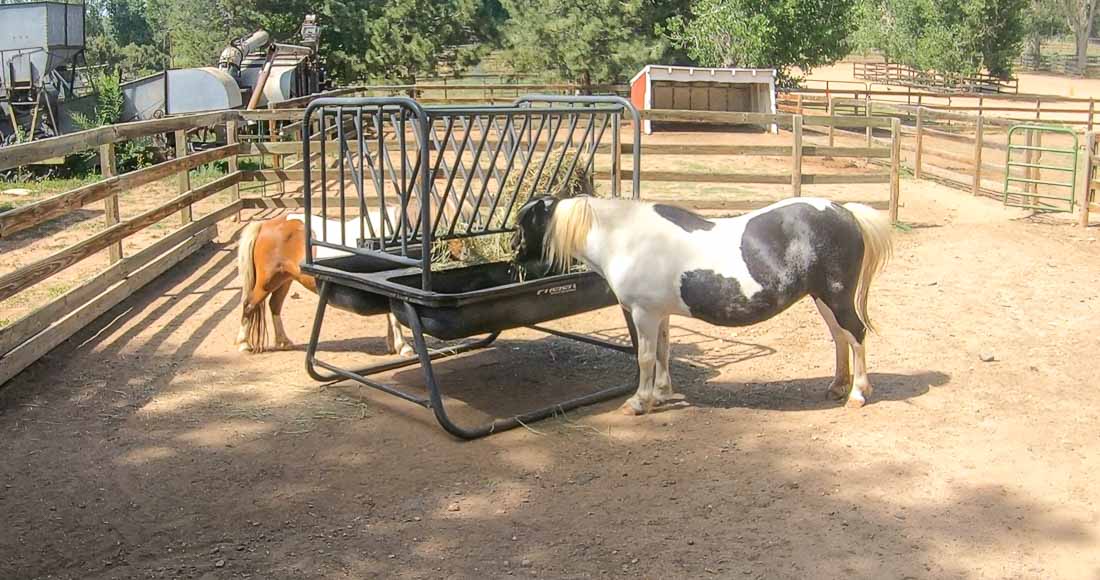 Another one of the things to do near Fort Collins that the entire family will love (particularly the little ones) is a visit to the Farm at Lee Martinez Park.
Back in 1920, this was an old dairy farm, and today all your favourite farm animals are still here. There are chooks, pigs, ponies, horses and more. If you're lucky, these friendly animals will come over for a pat.
A small museum also shows old farm equipment, tools and machinery. Then if you happen to stop by on the weekend during April and October, you can enjoy pony rides.
A few hours at the Farm at Lee Martinez Park is certainly one of the fun things to do in Fort Collins for kids – particularly the younger ones. And at a few dollars each for entry, it's one of the cheaper Fort Collins activities.
Location: 600 N Sherwood St, Fort Collins
Opening Hours: Tuesday to Saturday 10 am to 5 pm | Sunday 12 pm to 5 pm | Closed Monday
Price: $4 per person | $2 per person for a pony ride
Bee Family Centennial Farm Musuem
Another lovely place you can take the kids to is Bee Family Centennial Farm Musuem. The attraction takes you back in time to experience farming conditions in 1894 when the Bee family first started the farm.
As you tour the Bee Family Centennial Farm Musuem, you'll learn all about the farm's history and family heritage. Highlights include the fully furnished historic homesteads, as well as the vintage farm vehicles and equipment. In addition, thousands of items are on display, including letters, diaries, pictures and more.
There are also plenty of animals to meet and a range of activities, especially for the kids, such as milking a wooden cow, collecting eggs and even grinding corn.
Location:4320 East Country Rd 58, Fort Collins
Opening Hours: May to October – Friday and Saturdays 9 am to 4 pm
Price: Adults $8 | Kids (3-12) $4 | under 3s are free
Fort Fun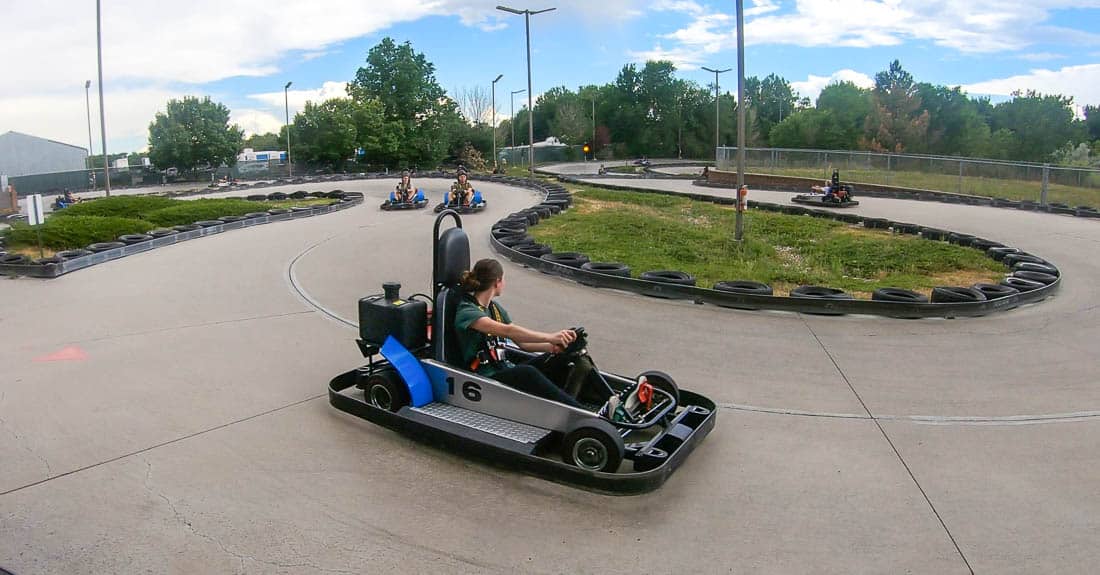 There is plenty of Fort Collins family fun to be had at Fort Fun. No matter how old your kids are, they will absolutely love it here! There is so much to do here, from arcade games, VR rides, laser tag to escape rooms. Outside there is even more fun to be had with mini golf, bumper boats, a giant slide and even go karts.
You'll need a card pre loaded with some cash to play the arcade games. There are games for all ages and levels of experience, so perfect whether you've got tiny tots or teenagers. Don't forget to cash in all your winning tickets before going home for some prizes.
Outside you've got two mini golf courses. You can putt your way through the early pioneer history of North Colorado or play the fantasy course. Mini golf starts at $7 per person.
The whole family will love the wind in their hair as they wiz around the go cart track. If the kids are too little, they don't need to miss out as they can go as a passenger in a double kart. Rides start at $9.75.
For the little ones not too keen on speeding around the track – take them on a fun paddle on the bumper boats or even a leisurely paddle on the lake.
A few hours at Fort Fun is perfect whether you're looking for indoor activities Fort Collins offers or even fun things to do in Fort Collins in the winter when it's just too cold outdoors. Really day or night – Fort Fun is one of the best Fort Collins family activities in town.
Location: 1513 E Mulberry Street, Fort Collins
Opening Hours: Monday to Thursday 12 pm to 9 pm | Friday 12 pm to 12 am | Saturday 10 am to 12 am | Sunday 10 am to 8 pm
Price: Prices range depending upon attraction
Gardens on Spring Creek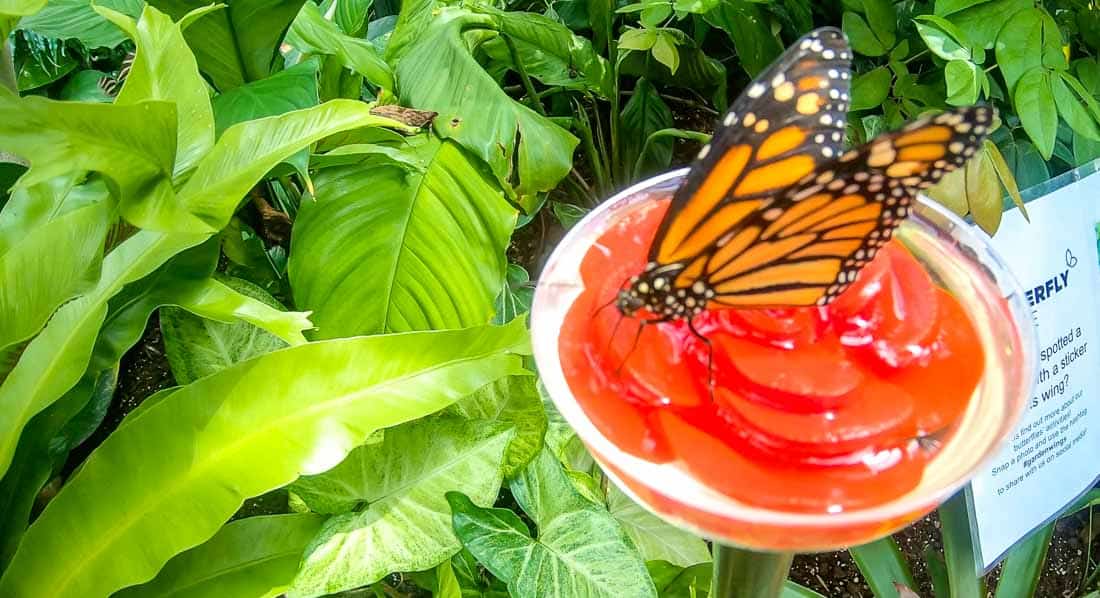 One of the nice family things to do in Fort Collins is to spend an hour or so at the Gardens at Spring Creek. This botanic garden is sprawled across 12 acres and has a range of attractions to keep the little ones entertained.
Probably the highlight for most families will be the tropical butterfly house. This attraction is home to hundreds of butterflies and tropical plants, where you can wander through as the butterflies fly all around – even landing on you if you're lucky.
Another great spot for kids at the gardens is the Children's Gardens, where there are plenty of activities for the kids, including an interactive model train. Depending on what day you visit, you might be there for the Read and Seed Youth program, which includes story time and a nature inspired craft activity (bookings are recommended).
The gardens have wheelchair and stroller friendly pathways throughout, and the entire loop of the gardens takes around an hour to complete. Allow additional time to also see the butterfly house. A cafe is also on site.
The Gardens at Spring Creek is a great attraction for families after outdoor kids' activities in Fort Collins.
Location:2145 Centre Avenue, Fort Collins, Colorado
Opening Hours: Daily from 10 am to 5 pm
Price: $11 per adult | $8 per child (2-17) and under 2s are free
1879 Avery House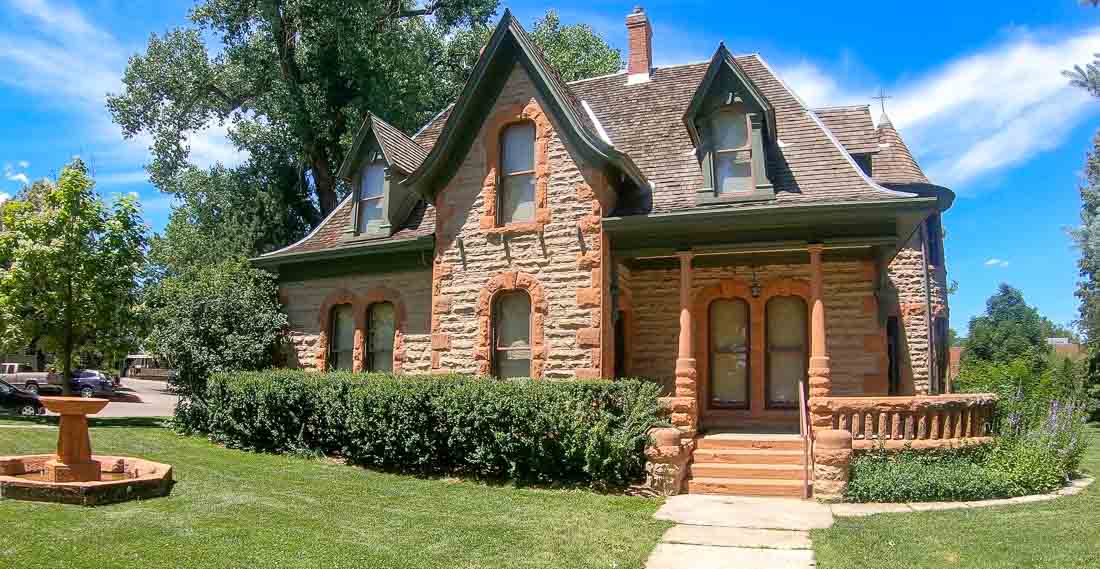 Avery House is one of the Fort Collins tourist attractions which will give you an insight into what life was like in town during the 19th century. Built in 1879 by Franklin and Sara Avery, today visitors can take a guided tour through the home, which is furnished with items typical of the era.
Franklin Avery was a businessman who came to Fort Collins to assist in growing the town. He founded the First National Bank in Fort Collins and it's said he played an important role in assuring the town had wide city streets.
Throughout the time the Averys lived at the home, they added several additions to the two storey sandstone house, making it the grand old home it is today. The house, the fountain, the carriage house, and the Margaret Merrill Memorial Gazebo are listed on the U.S. National Register of Historic Places.
It's a stunning home, but more importantly, the stories told by your guide give you a real glimpse into how life was like during the 19th century.
One hour tours run each hour. Bookings are not necessary.
Avery House is one of the more interesting historical things to see in Fort Collins and a must for families who enjoy their history.
Location: 328 West Mountain Avenue, Fort Collins
Opening Hours: Saturdays 11 am to 2 pm | Sundays 1 pm to 4 pm
Price: $6 per adult | $4 per child
Ghost Tours
One of the more unique things to do in Fort Collins is to take a ghost tour – if the kids are game! On these tours, you visit the most haunted places around Fort Collins and hear some pretty epic stories.
There are a couple of different tour groups available, but one of the more popular ones is the Fort Collins Tours. The main tour takes you to sites both above and underground and your guide shares stories about local legends, ghostly sightings and strange occurrences. These tours are for kids 12 and above.
There is the Fort Collins Ghosts and Goodies Tour for families with younger children, which is a little less spooky. While you'll still visit haunted sites, you'll also stop along the way to sample some yummy treats.
Other tour options include history tours, haunted pub tours and alcohol tours.
A ghost tour is well worth considering for families after something a little different or things to do at night in Fort Collins.
Location: Tours commence in the Old Town Square by the fountain
Opening Hours: Tours times vary – check here for times.
Price: $22 per person
Horsetooth Reservoir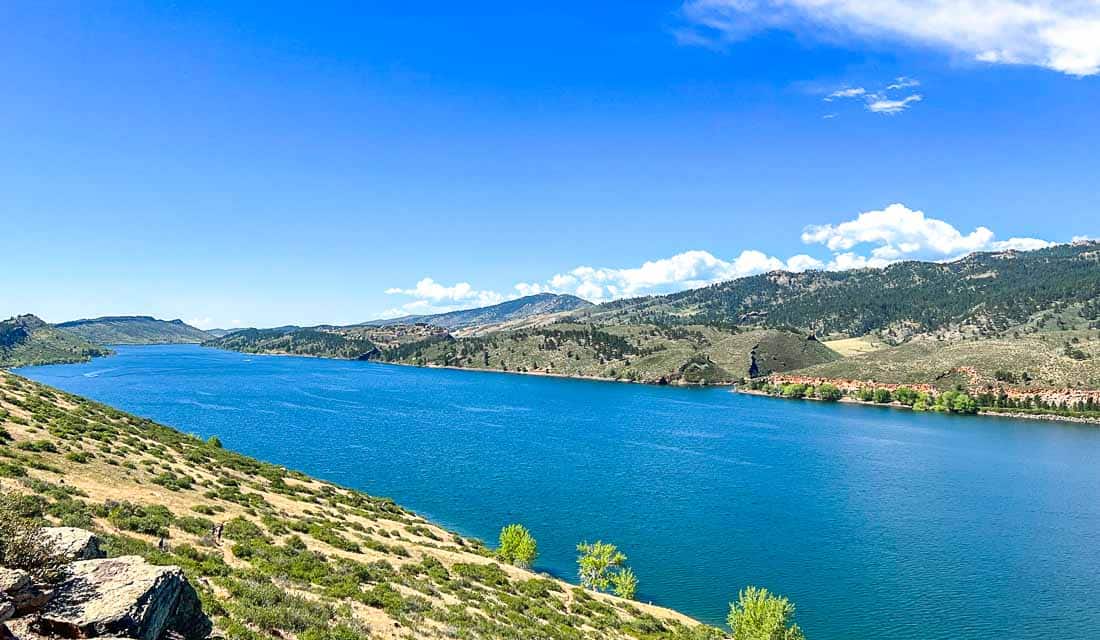 Fort Collins outdoor activities don't get much better than the Horsetooth reservoir. This place is absolutely stunning and a perfect place to spend the day.
Pack a picnic lunch, snacks and water and start your day with one of the walking trails. Then cool off for a swim at the designated beach area. After lunch, you can try stand up paddle boarding or kayaking, with rentals available at the beach.
Other activities around Horsetooth Reservoir include mountain biking, fishing, horse riding, rock climbing and boating.
Location: 4200 W County Road 38 E, Fort Collins
Opening Hours: Always
Price: $9 per vehicle
Horsetooth Mountain Open Space
Just west of Horsetooth Reservoir is the Horsetooth Mountain Open Space. This is a massive 2886 acre park, with the highlight at Horsetooth Mountain Open Space being Horsetooth Rock which can be seen from the plains below.
Across the park, there are 29 miles of biking and hiking tracks, ranging in elevation from 54,430 to 7,255 feet. Hikes range from easy 1-3 hour short walks to full day trips.
Location: 6550 W County Rd 38 E, Fort Collins
Opening Hours: Always
Price: $9 per vehicle
Lory State Park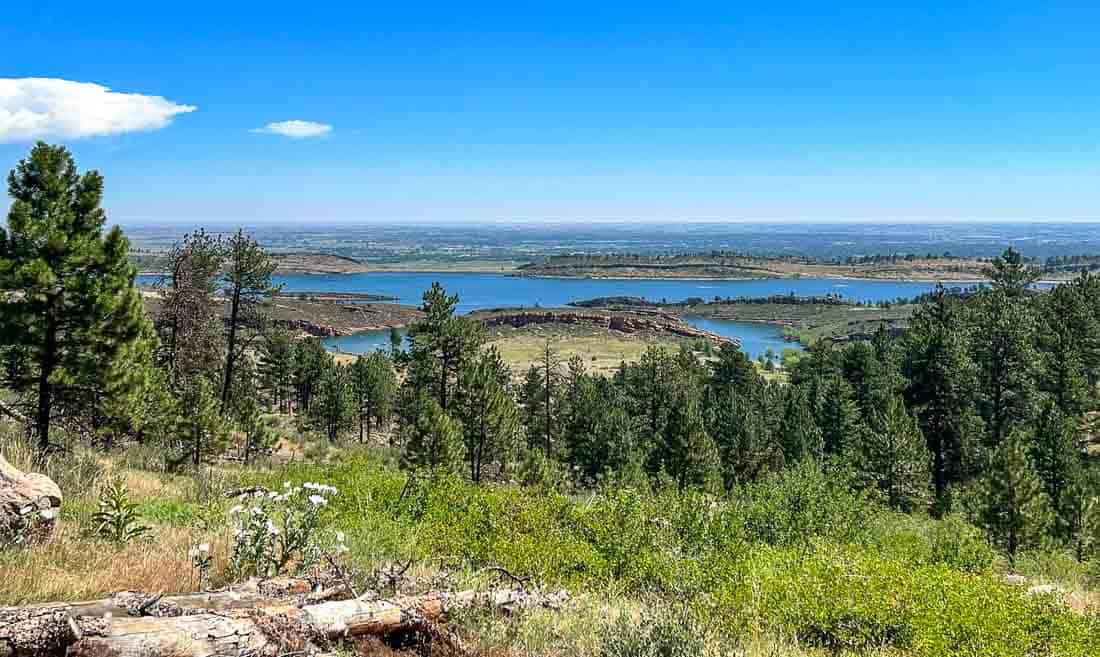 Just by the Horsetooth Reservoir is Lory State Park, another beautiful outdoor space. The park is just a 20 minute drive from Fort Collins and across its 2596 acres is a range of different landscapes, including unique rock outcroppings, sweeping valleys, grassy open meadows, pine forests and more.
Lory State Park is a great spot to take the family for a day trip. Start your visit with a stop at the visitor center, which has a small education center where you can learn more about the park and its wildlife. Make sure you grab a map here and ask the ranger for their suggestions on which walking track to take.
There are 26 miles of tracks at Lory State Park, from short one hour tracks to day long hikes. There are also biking and horseriding tracks.
Be sure to bring a picnic lunch with you; there are five different areas to enjoy your lunch.
Location: 708 Lodgepole Drive, Bellvue
Opening Hours: Always
Price: $9 per vehicle
Annual Flower Trial Garden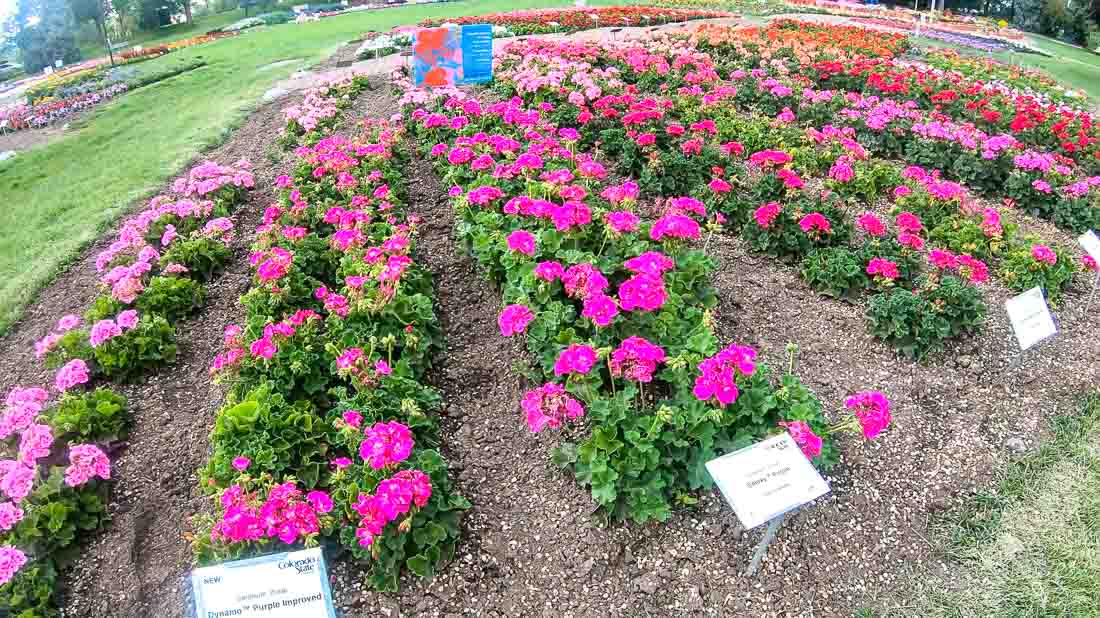 If you're looking for low key free things to do in Fort Collins, visit the Annual Flower Trial Garden. These gorgeous gardens are owned by Colorado State University and were established to review the performance of annual flowers in the region. The results are shared among the community so people can choose the best flowers for Colorado.
Each year over 1000 different varieties of flowers are planted and reviewed and available for the general public to admire.
Location: 1401 Remington Street, Fort Collins, Colorado,
Opening Hours: Always
Price: Free
CSU Environmental Learning Center
The Colorado State University Environmental Learning Center is another lovely outdoor space where families can enjoy four distinct ecosystems – riparian, cottonwood forest, wetland and grassland.
Across its 212 acres, the natural area offers a range of programs to provide educational experiences for school aged kids. However, families are welcome to visit and enjoy one of the two walking trails.
The Wilcon trail is just 1.2 miles long, or there is the shorter Alden trail at just 0.6 miles. Both trails take you through different ecosystems and have interpretive signs along the way. Be sure to keep your eyes peeled as you never know what wildlife you may spot along the way.
This is also the ideal place to bring a picnic lunch as shaded picnic tables are available as well as restrooms.
Location: Natural Resources Building, #223, Fort Collins
Opening Hours: Daily from 5 am to 11 pm
Price: Free
Best Hotels in Fort Collins
for Families
If you're unsure where to stay in Fort Collins with kids, we've covered our top three hotel recommendations below.
Click here for our full guide on where to stay in Fort Collins.
The luxurious Elizabeth Hotel is smack-bang in the heart of Old Town Fort Collins, perfect for exploring all that downtown has to offer. The hotel is an eclectic mix of traditional elements and modern design. It is a drawcard for creative families with an instrument lending library and an impressive display of local artwork.
The elegant rooms are airy with a neutral colour palette and can accommodate families of four in two double beds. Rooms feature a coffee machine and a record player – while not a usual feature of hotel rooms, the record player adds to the vibrancy of this artistic hotel.
Music isn't just confined to the room, there is a rooftop jazz bar with live music, or for a more relaxing experience, the bar hosts a piano performance accompanied by High Tea every Sunday. There is also the Magic Rat, a live music venue featuring big-name artists and local musicians; they offer great food and drinks to accompany the entertainment.
Other places to grab food and drink at the hotel are the Emporium offering hearty yet refined regional produce and the Bowerbird Coffee with beverages and simple meals. Alternatively, you can order room service.
The hotel also has a gym and parking at an additional charge.
The Elizabeth Hotel is one of the unique Fort Collins downtown hotels. Although on the pricier side, it's one of the most convenient options for families wanting to stay in the centre of downtown.
Click here for more information and to check pricing
Located right off I-25, the Quality Inn & Suites ensures you have easy access to Downtown, which is around a 10 minute drive. Also within the vicinity is a bunch of fast food restaurants, making grabbing a quick meal easy – and cheap.
Families of four are accommodated in two double beds, with larger families of up to six people fitting into the room with an additional bed. Rooms feature a coffee machine for your early morning caffeine fix and a microwave to heat easy meals and snacks – perfect if you have younger children.
Breakfast is one meal of the day that is taken care of – with a free hot breakfast offered at the Quality Inn. And if you feel like eating in for dinner, the onsite restaurant has hearty meals and the bar will take care of your beverages.
Kids will love the indoor pool with a hot tub. There is also a simple gym, laundry, free parking and free WiFi.
If keeping an eye on your budget is your main focus, the Quality Inn & Suites is worth checking out. It is well priced, with great inclusions and onsite facilities, helping stretch your travelling dollars.
Click here for more information and to check the current price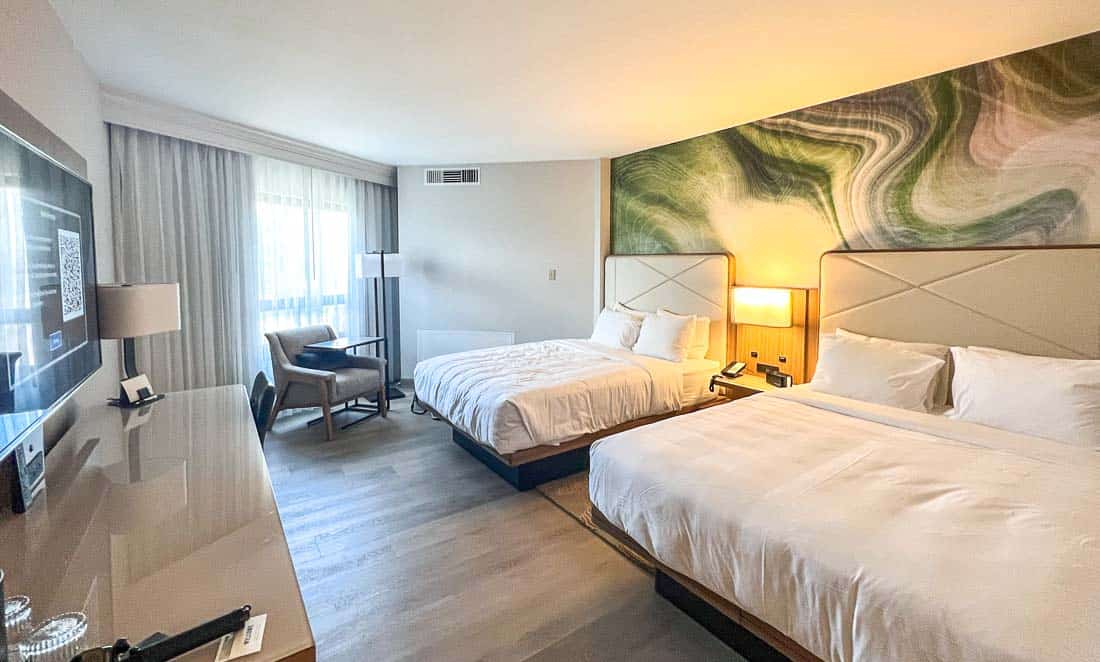 Surrounded by cafes, restaurants, and many department stores and fashion boutiques, the Marriott Hotel is perfect for those who enjoy shopping while on their family getaway. From here, you're also just a 10 minute to downtown.
Families will find the rooms comfortable and contemporary, with fresh decor inspired by nature. Two double beds will fit a family of four with a coffee machine and mini fridge convenient in-room amenities, along with all guests receiving free WiFi.
There are loads of hotel facilities onsite to make your stay comfortable, including an indoor / outdoor pool, gym and free parking.
And if you feel like eating in, Copper Creek Restaurant is at the Marriott and has a wide ranging menu with locally sourced ingredients, and Falls Bar will take care of beverages with handcrafted cocktails and a selection of wine.
We stayed at this hotel during our time in Fort Collins and had a very pleasant stay.
Click here for more information and to check the current price
____________________________________________________
I hope you found this guide on things to do in Fort Collins helpful. We have plenty more guides to help plan your family vacation in Colorado, including things to do in Denver, where to stay in Denver, things to do in Loveland and where to stay in Fort Collins. We also have a 7 day Colorado road trip guide here.