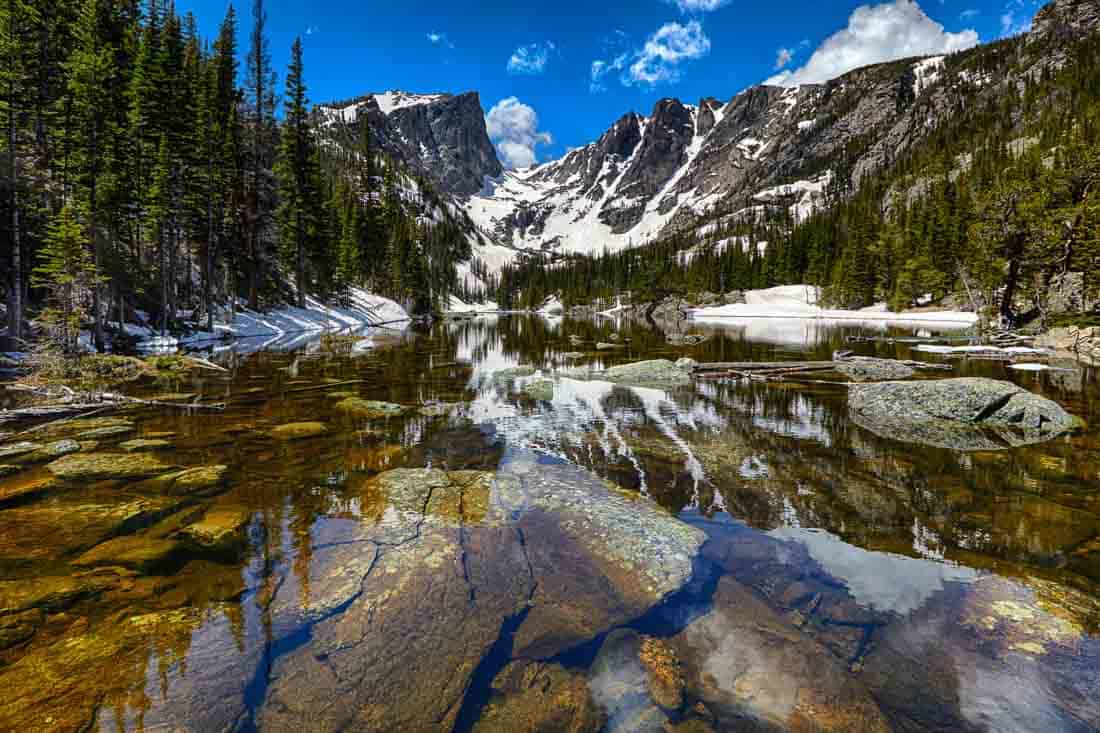 We recently spent one week in Colorado enjoying the highlights of Denver, Loveland and Fort Collins. While it wasn't enough time to do everything, it certainly gave us a good taste of what the Centennial State has to offer. So to help you plan a trip to Colorado, I've put together this guide, where I share all I learned from our own 7 day Colorado itinerary.
This guide is a great place to start if you're planning a family road trip in Colorado. This 7 day Colorado road trip itinerary covers Denver, Loveland and Fort Collins, including the best attractions, tips on where to eat and the best order to do it all. This Colorado trip planner even provides suggestions on where to stay.
If you can add a few extra days to your itinerary for Colorado – I'd highly recommend it. However, if you can't on this road trip to Colorado, no doubt you'll soon be planning your return trip as it really is a fabulous place for a family getaway.
Talk to other families about their tips on visiting Colorado and join our Thrifty Family Travel Facebook Group or get inspired with our Thrifty Family Travel Instagram Feed.
This post may contain compensated links. Please refer to my disclaimer here for more information.
Colorado Trip Planner
The 7 day Colorado road trip below is really for those wanting to see the highlights of Denver, Loveland and Fort Collins and covers the most popular things to do and see in each city.
When planning a trip to Colorado, every family is different and will want to see different things. So I'd recommend in addition to reading this Colorado itinerary 7 days guide you also check out our full guides on Denver, Loveland and Fort Collins. This will help you plan the very best Colorado road trip itinerary for your family.
7 Day Colorado Road Trip Itinerary
For this 7-day Colorado road trip, we're going to assume you arrive in town mid to late afternoon the day before the start of this itinerary. If that's not the case for you, just adjust the Colorado 7 day itinerary to suit your own schedule.
The other thing this Colorado road trip planner assumes is that you're visiting during the warmer months. So if you're looking for a Winter Colorado 1 week itinerary guide, this is not the guide for you.
If you're driving into town, great – head straight to your hotel to check in. If you're flying to the airport, I recommend you pick up a hire car at the airport.
I recommend for your few days in Denver; you stay at The Curtis Hotel. This is the hotel we stayed at during our 7 days in Colorado while in Denver and had a great stay.
The Curtis Hotel is in a fairly central location downtown, just a block from 16th Street Mall, so you'll have easy access to the free MallRide bus and lots of shops and places to eat.
Day 1 – Denver
Breakfast: Denver Biscuit Co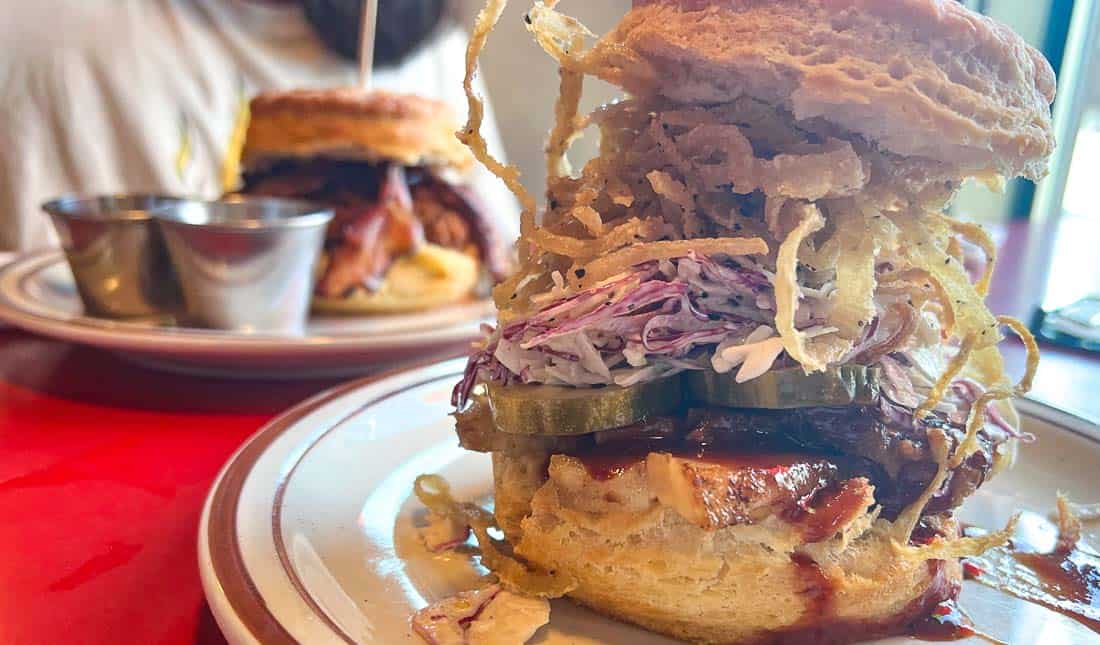 Start your 1 week Colorado itinerary and first day in Denver by filling up the kid's bellies with some delicious biscuit sandwiches from the Denver Biscuit Co. These guys make delicious buttermilk biscuits from scratch every morning and stack them with a range of fresh ingredients to cater to even the fussiest little eater.
I recommend aiming to have breakfast around 8 am, so you're at the next stop by 9 am.
Location: 3237 E. Colfax Ave, Denver
Open: Weekdays 8 am to 2 pm | Weekends 8 am to 3 pm
Prices: Meals range from $13 to $15 – check out their menu here.
Denver Musuem of Nature and Science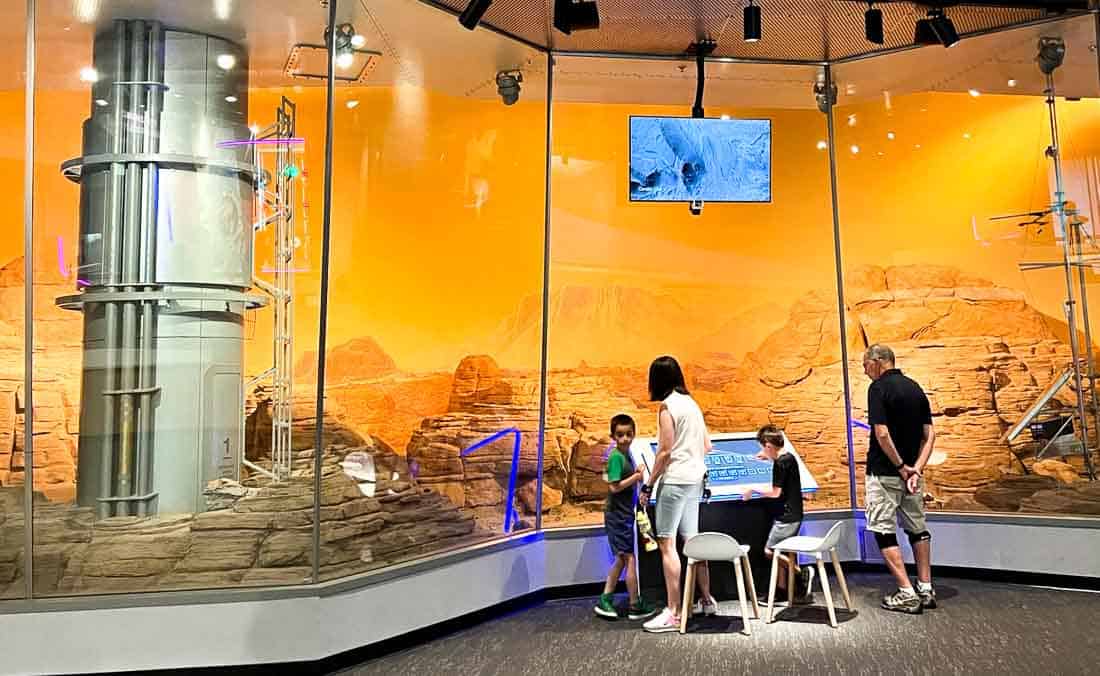 Now your bellies are full; it's time for your first Denver attraction. It's just a short 3 minute drive from the Denver Biscuit Co to the Denver Musuem of Nature and Science. There is plenty of free parking on site.
There is so much to do at the Musuem that you could pretty much spend the entire day here. However, on this Colorado vacation itinerary, you've only got time for about 4 hours.
The museum is massive, spread out across three levels. Various sections cover topics such as space, health, wildlife from around the world, dinosaurs, gems and minerals, Native American culture and more.
The Mazes & Brain Games section is fun for the kids and parents alike, where you can work together to get through large mazes, solve 3D puzzles and play games.
While some sections are more interactive than others, I love that throughout the museum; there are blocks and toys scattered around the place to keep younger children entertained. Plus, the little ones will love the Exploration Studio, where they can watch themselves interacting with dinosaurs and other larger than life creatures on screen. And there's the Discovery Zone, where they can play in sand pits, experiment with water and climb colossal insects.
Other attractions at the museum which have an additional charge are the planetarium, IMAX 3D theatre and any special exhibition which may be on – during our visit, there was an Egyptian mummies exhibit. These might be worth considering for families with older kids.
Plan to leave the museum around 1 pm.
Location: 2001 Colorado Blvd, Denver
Opening Hours:9 am to 5 pm daily
Price: Museum: $19.95 per adult | $14.95 per child Planetarium: $5 per adult | $4 per child IMAX: $7 per adult | $6 per child Special Exhibits: $9.50 per adult | $7 per child
Lunch: Denver Milk Market at the Dairy Block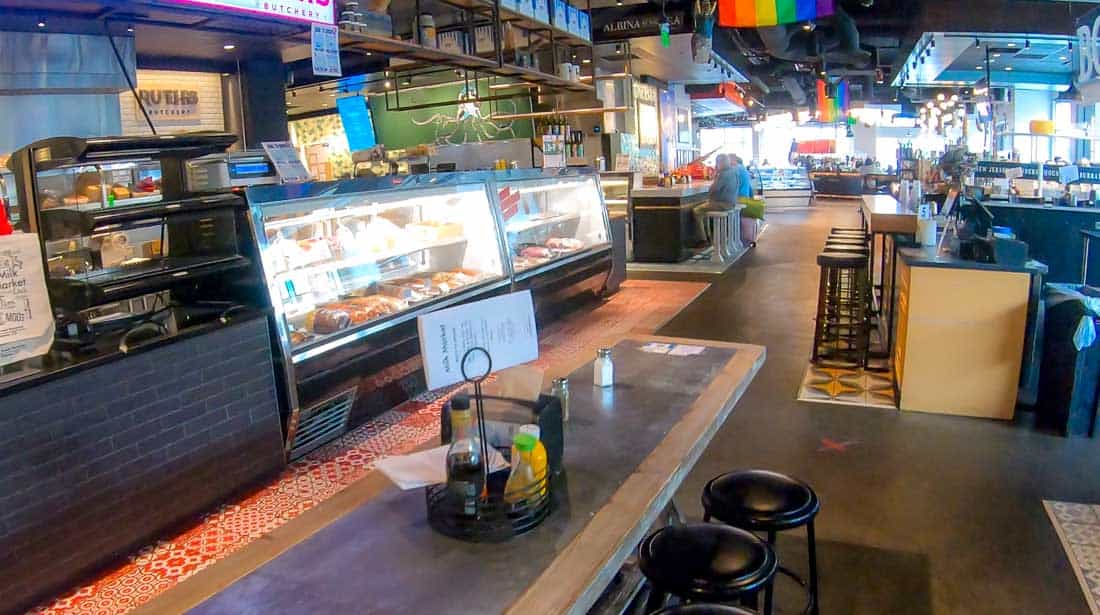 Hopefully, you've all now hungry and ready for lunch. If that's the case, drive to the Denver Milk Market – you'll find plenty of street parking nearby.
Previously home to the Windsor Dairy, the Dairy Block is a historic location that has been transformed into a vibrant area with shops, restaurants and bars, with the highlight being the Milk Market.
The Milk Market is an indoor eatery with 16 food and drink establishments in one location. With so many options available, this makes it the ideal place to dine when every family member wants something different to eat.
Location: 1800 Wazee Street, Denver
Open: 7 am to 2 am daily
Prices: Meals range in price, so for more information, it's best to check out their menu here.
Downtown Aquarium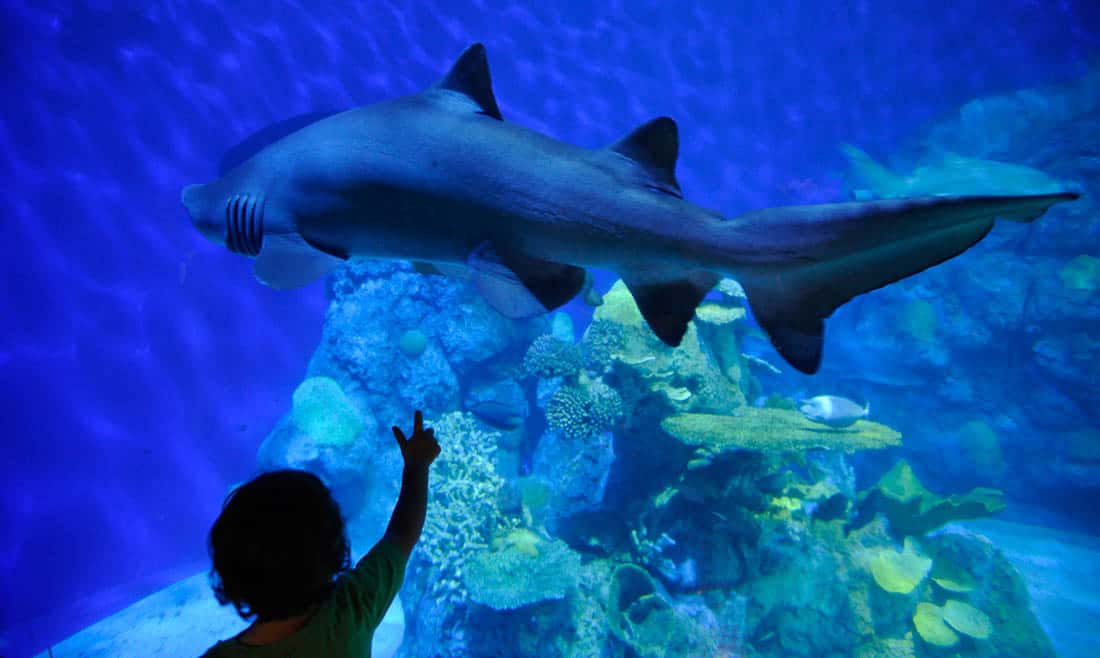 Image credit Visit Denver
Depending on your children's age, you might want to skip this attraction and move on to the next one. However, for children happy to continue sightseeing into the early evening, it's worth adding the Downtown Aquarium to your day.
The Downtown Aquarium features over a million gallons of underwater exhibits of species from across the world. Here you'll see aquatic life from the Rainforest, the Barrier Reefs, Shipwrecks, Beaches and loads more.
However, there are more than just underwater exhibits at the aquarium; there is also an impressive array of birds, reptiles, amphibians and swimming Sumatran tigers!
There are also paid interactive experiences, including snorkelling and diving with fish and sharks, becoming a marine biologist or zoologist for a day, and one-on-one animal encounters where you can meet the local sloth, snake, tortoise or porcupine.
Location: 700 Water St, Denver
Opening Hours: Sunday to Thursday 10 am to 9 pm | Friday and Saturday 10 am to 9.30 pm
Price: $24.99 per adult | $18.99 per child (3-11) | Under 3s are free
Meow Wolf Convergence Station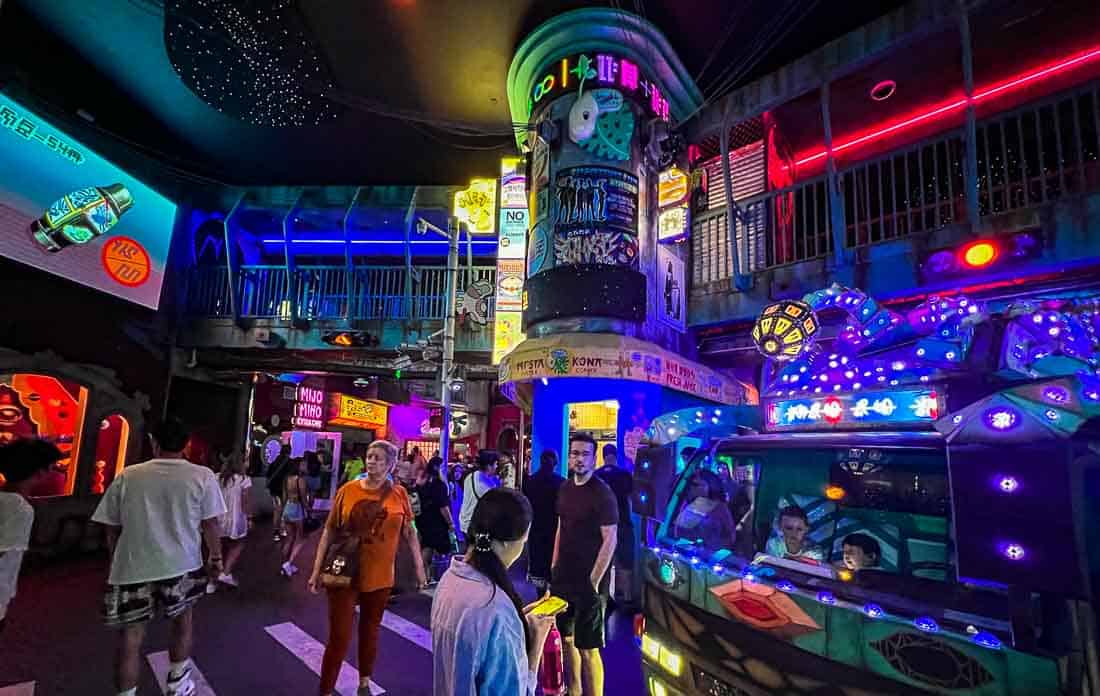 Just a short drive from the Downtown Aquarium is Meow Wolf Convergence Station. This is one of the newest family attractions in Denver and is an absolute must do no matter how old your kids are.
Meow Wolf is completely indoors, sprawled across four levels and features more than 70 one of a kind art installations. The basic concept is that the four parallel worlds of C Street, Eemia, Ossuary and Numina have somehow collided and now you can freely move from one world to the other.
This is not the kind of attraction where you start at one end and sequentially move through until you reach the end. Rather you're taken to the top level via a lift and then are free to go about the four levels as you please. Open secret doors, climb staircases, crawl through tight spaces – follow wherever your interest takes you – or more likely, wherever your kids go.
The art installation in this place is absolutely mind blowing and mind boggling all at the same time. The imagination and thought that went into dream this place up is phenomenal, let alone the attention to detail in the execution.
Little kids will love it as if it was one huge playground over four levels, while tweens and teenagers will love trying to make sense of what they see and using their imagination to explain the stories between the alien worlds colliding.
We spent around 2 hours here and Myla declared it the best place she's ever visited – so yeah, she absolutely loved it.
Location: 1338 1st St, Denver
Opening Hours: Sunday to Thursday 10 am to 10 pm | Friday and Saturday 10 am to 12 am
Price: $52.50 ages 14+ | $44 4-13
Dinner: 16th Street Mall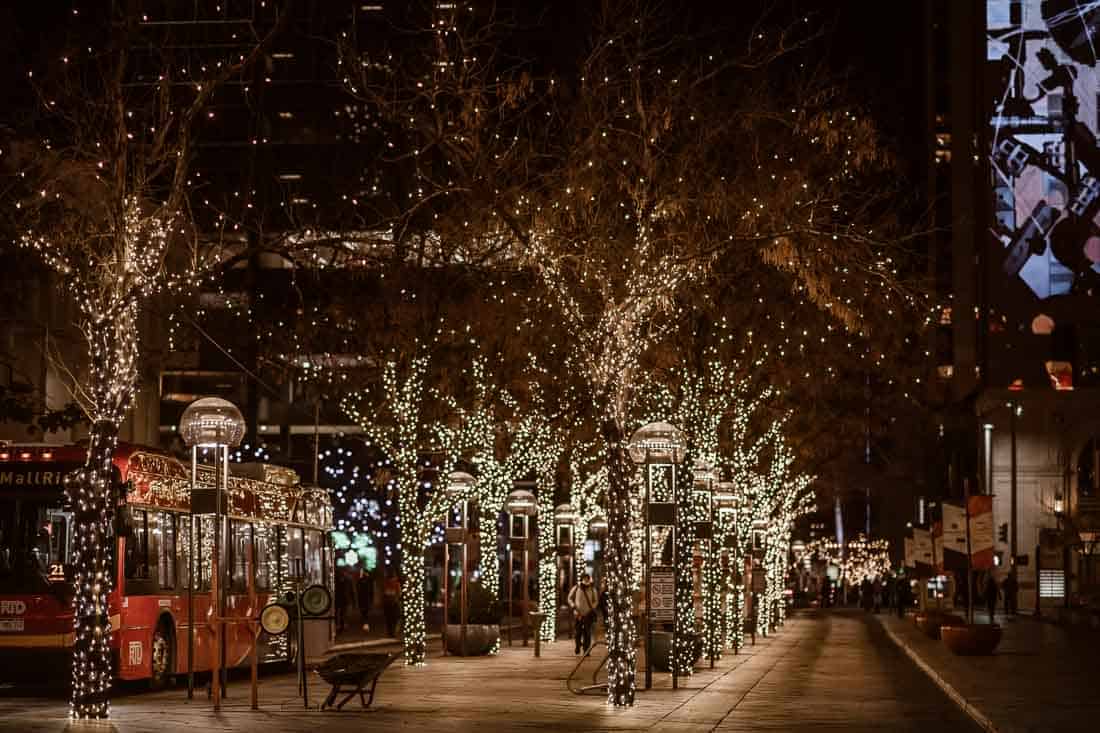 Image credit Kari Geha and Downtown Denver Partnership
By now, you and the kids are probably starving, so head back to your hotel, freshen up and then walk down to 16th Street Mall for something to eat.
16th Street Mall is a mile-long pedestrian mall with a wide variety of places to eat, including 42 outdoor cafes. Dining options include casual cafes, bakeries and delis, and family-friendly restaurants like Hard Rock Cafe and Earls Kitchen + Bar.
In addition to dining options, the Mall has numerous shops, attractions such as the Selfie Musuem, movie theatres and the free MallRide to get you around and after dark; there are even horse drawn carriage rides where you can sit back and relax while enjoying the beautiful lights that twinkle away in the trees that line the mall.
Stay: The Curtis Hotel
The whole family is probably beat now after a busy day in Denver, so head back to your hotel for a good night's sleep.
Day 2 – Denver
Breakfast: Snooze an AM Eatery at Union Station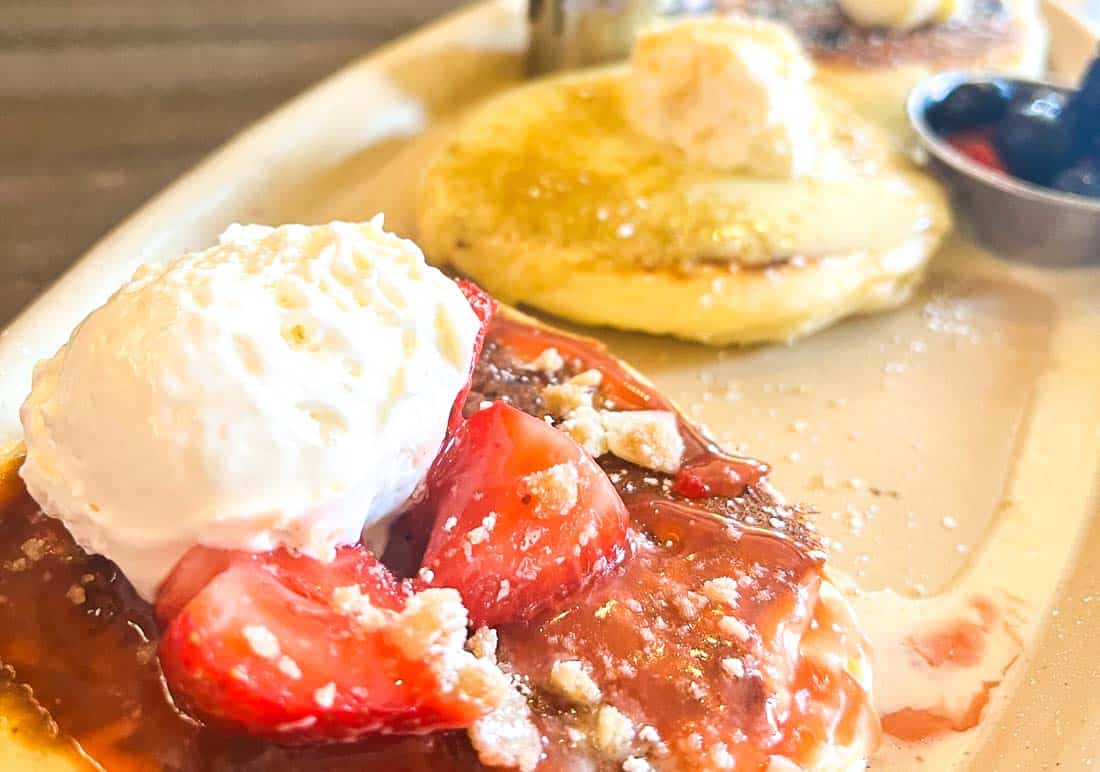 Start your morning by filling up with a hearty breakfast at Snooze an AM Eatery at Union Station. It's a 15 minute walk from The Curtis Hotel or a short drive away – there is street parking in the area.
The Snooze menu is an all day breakfast menu. While you've got your standard bacon and egg type meals, there are also tasty breakfast burritos, tacos, tostadas, pancakes and vegan and vegetarian options. They also have a great kids' menu, with all meals being $6.50, including a drink.
This place is super popular, so it's worth calling ahead the day before to make a booking.
Location: Union Station, 1701 Wynkoop St, Denver
Open: Weekdays 7 am to 2 pm | Weekends 6.30 am to 2.30 pm
Prices: Meals range from $10 to $16 – check out their menu here.
Elitch Gardens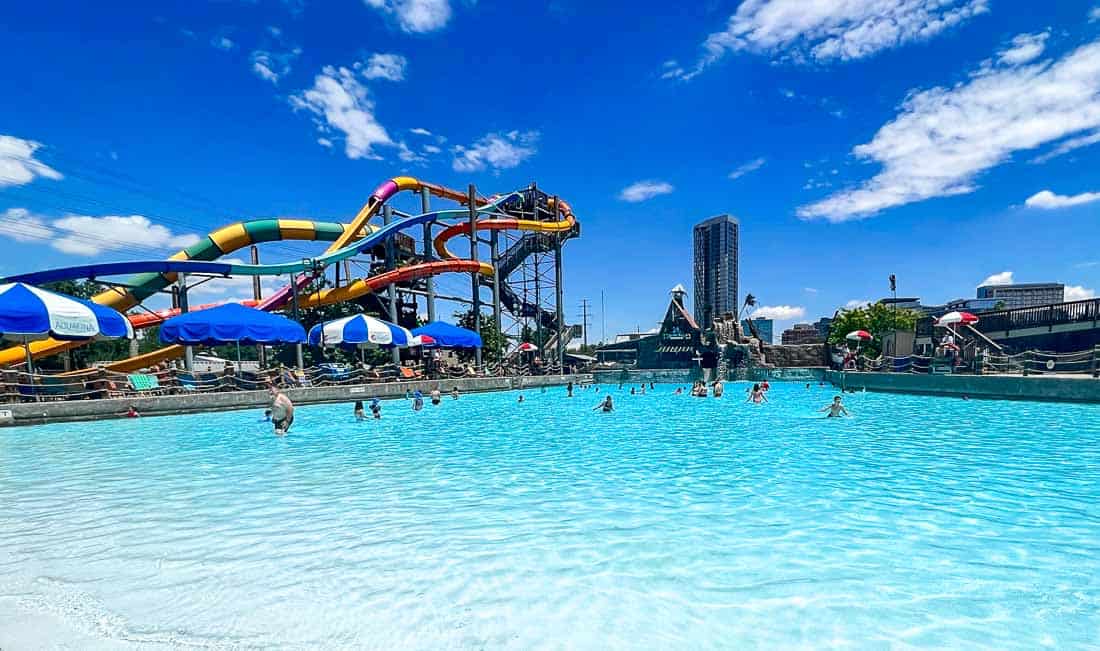 Today you're taking the kids to Elitch Gardens – are great theme park a short drive from the center of town. Elitch Gardens is perfect during the warmer months because it's a theme park and water park in one – so there's plenty to do here for the day.
In the theme park section, you've got all kinds of rides for all age groups. There's the Mind Eraser, the Sidewinder, Half Pipe and the Boomerang for the older thrill seekers. Family rides include Hollywood & Vine, the 100 feet tall ferris wheel and water rides like Disaster Canyon and Shipwreck Falls. While the littles will enjoy the carousel, tea cups, train rides and lots more.
Also scattered throughout the park are carnival-style games and plenty of places to get food and drinks.
As the day warms up, head to the 10 acre water park to escape the heat. Here you've got a huge wave pool, lazy river and a bunch of other water slides suitable for all ages, from tame aqua tube slides to the 65 foot tall Mega Wedgie. There is even an area for the younger kids to play, including a pirate ship with six mini slides, sprayers and a tipping bucket.
During the Summer, Elitch Gardens is open late, so if the kids are still going, you can stay here well after dinner time.
Location: 2000 Elitch Cir, Denver
Opening Hours: Hours change depending on the season
Price: Standard tickets are $99 per person, but they regularly have special deals – we paid only $30 each on the day we went – so do your research.
Dinner: Larmier Square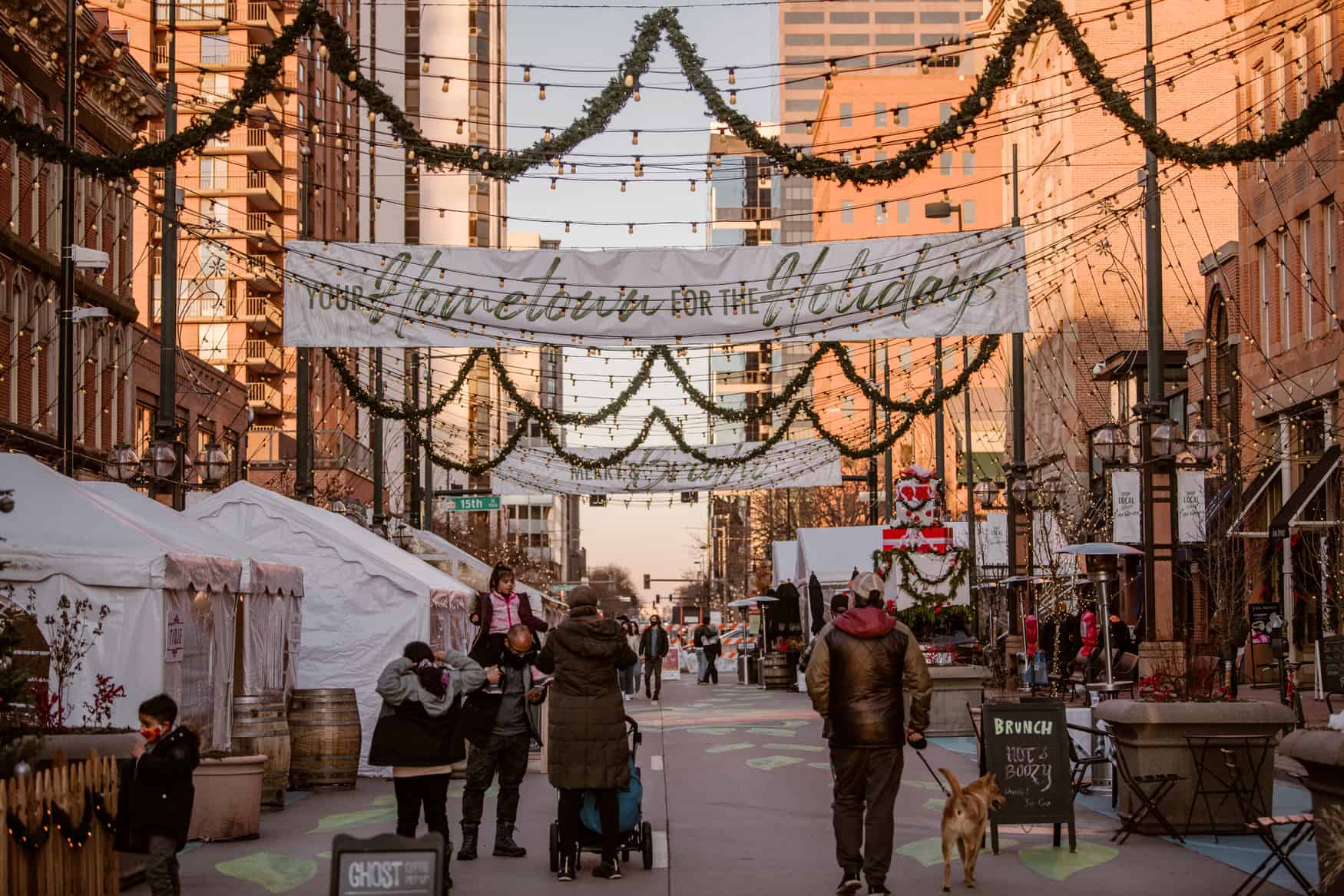 If you do manage to drag the kids away from Elitch Gardens before dinner time, head back to the hotel for a shower before walking down to Larmier Square for dinner. Larimer Square is just a 5 minute walk from the hotel and the perfect place for a family meal.
Larmier Square is full of beautiful heritage architecture, with modern shops housed in Victorian buildings. It is a lovely place to walk through, especially at night with lights strung overhead.
While the area is decked out with many high end restaurants, places to eat that are great for families include Bubu for quick and easy Asian fare or Smoke House for slow cooked BBQ.
Big Blue Bear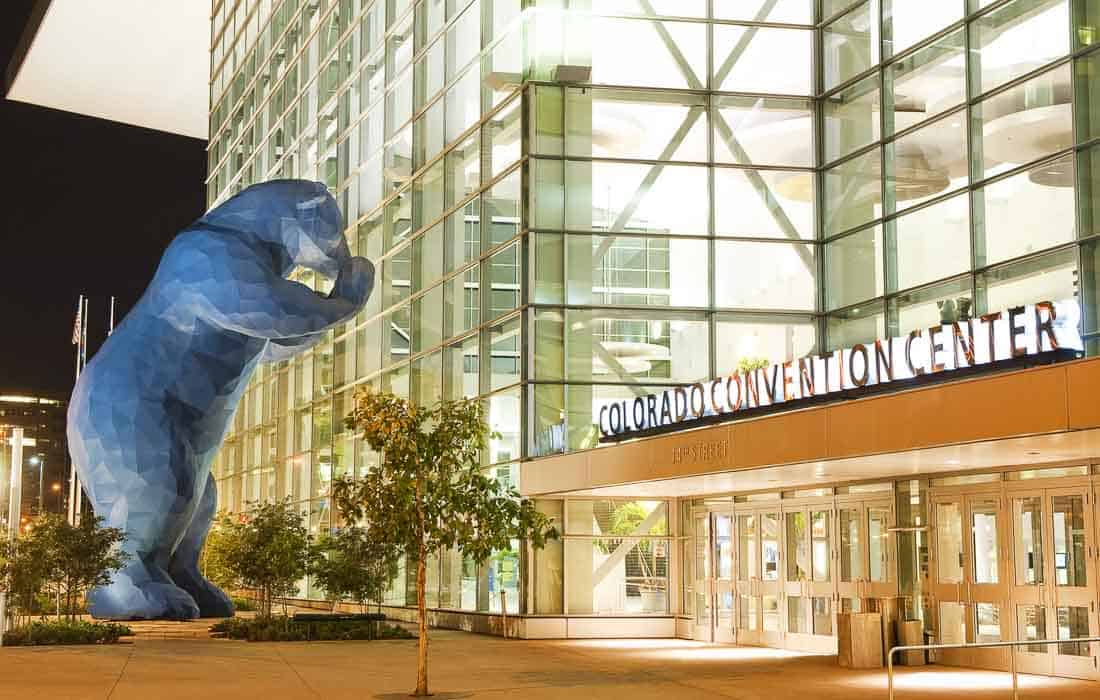 Image credit Visit Denver
On your way back from dinner, I recommend walking a few blocks further instead of going straight to your hotel to see the Big Blue Bear. Located just outside the Colorado Convention Center, the Big Blue Bear is a giant 40 foot sculpture peering into the window and is a great photo opportunity for the kids.
Location: 750-776 14th St, Denver
Opening Hours: Always
Price: Free
Stay: The Curtis
From the Big Blue Bear, it's just a short 5 minute walk back to the Curtis Hotel. Get your bags packed because on this 1 week itinerary Colorado offers, tomorrow you'll need to leave Denver bright and early for the Rocky Mountain National Park.
Day 3 – Loveland
Rocky Mountain National Park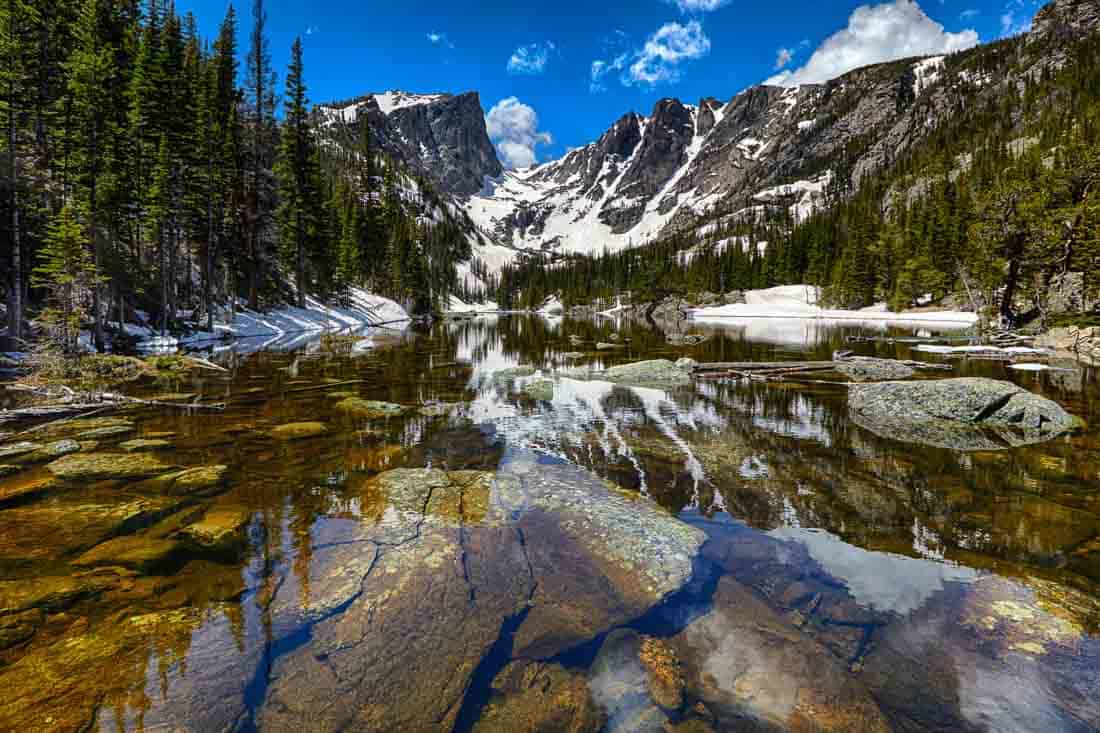 Get on the road as early as you can today because you've got some driving ahead of you. Depending on the time you leave, you can grab some breakfast at Starbucks near the Curtis Hotel otherwise stop for something along the way.
Your first stop will be the Kawuneeche Visitor Center, a 2 hour drive from Denver. Enjoy the stunning landscape along the way and perhaps do one of the short walks in the area. Be sure to stroll down Grand Avenue, a charming little village dating back to 1881 and a good spot to grab some lunch.
Next, you'll drive to the Alpine Visitor Center, which is a 40 minute drive away. This drive takes you along the scenic Trail Ridge Road, which has some of the park's best views. Be sure to factor in plenty of stops to admire the views.
At the Alpine Visitor Center, you can stop for a coffee, enjoy the views of the Continental Divide or take a short stroll on one of the tundra trails. There is also a small museum here.
Continue your drive along Trail Ridge Road to Fall River Visitor Center, which is a further 40 minute drive. The Fall River Visitor Center has a small museum with a few interactive exhibits and a restaurant if you're hungry.
15 minutes away from the Fall River Visitor Center is the Beaver Meadows Visitor Center. Here you can watch free films about the Rocky Mountain National Park.
It's an 8 minute drive back into the town of Estes Park. Some things to do in Estes Park include taking a ride on the aerial tramway, visiting the Open Air Adventure Park, visiting the Estes Park Musuem or browsing the shops along Elkhorn Avenue and Moraine Avenue.
Once you've had enough, it's time to head to Loveland, which is about a 45 minute drive from Estate Park.
Please note you will require a park pass and timed entry permit reservation to enter the Rocky Mountain National Park. Be sure to arrange these well in advance. More information can be found here.
Stay: TownPlace Suites Loveland
In Loveland, we recommend staying at TownPlace Suites. Its located in the center of the Downtown District, making it convenient for dining out and sightseeing. We stayed here during our 1 week Colorado road trip and really enjoyed it.
Dinner: The Foundry
After you've checked into your hotel and had time to freshen up – head out to the Foundry, which is directly across the road from your hotel. Here you'll find a range of place great places to eat.
Day 4 – Loveland
Breakfast: TownPlace Suites Loveland
You'll be pleased to know that your hotel provides a hearty breakfast for the entire family each morning. So just head downstairs and near the foyer, you'll find all you need for a great start to the day.
Chapungu Sculpture Park
After breakfast, continue your one week Colorado itinerary by driving to Chapungu Sculpture Park, about 10 minutes from your hotel. I'd recommend aiming to arrive here around 9 am.
At Chapungo Sculpture Park, 82 stone sculptures from Zimbabwe are sprawled across 26 acres of natural and landscaped parklands. These permanent outdoor exhibits tell Zimbabwean stories about family, children, elders and village life. These abstract sculptures are perfect for getting the kids to engage their imagination.
As well as the sculptures on display, the stroller and wheelchair friendly path lead you through a beautiful natural landscape, across bridges and along the canal.
Allow around 30 to 45 minutes to visit the Chapungu Sculpture Garden.
Location: East of the Promenade Shops at Centerra, Loveland
Opening Hours: Daily from 6 am until 10 pm
Price: Free
Loveland Visitor Center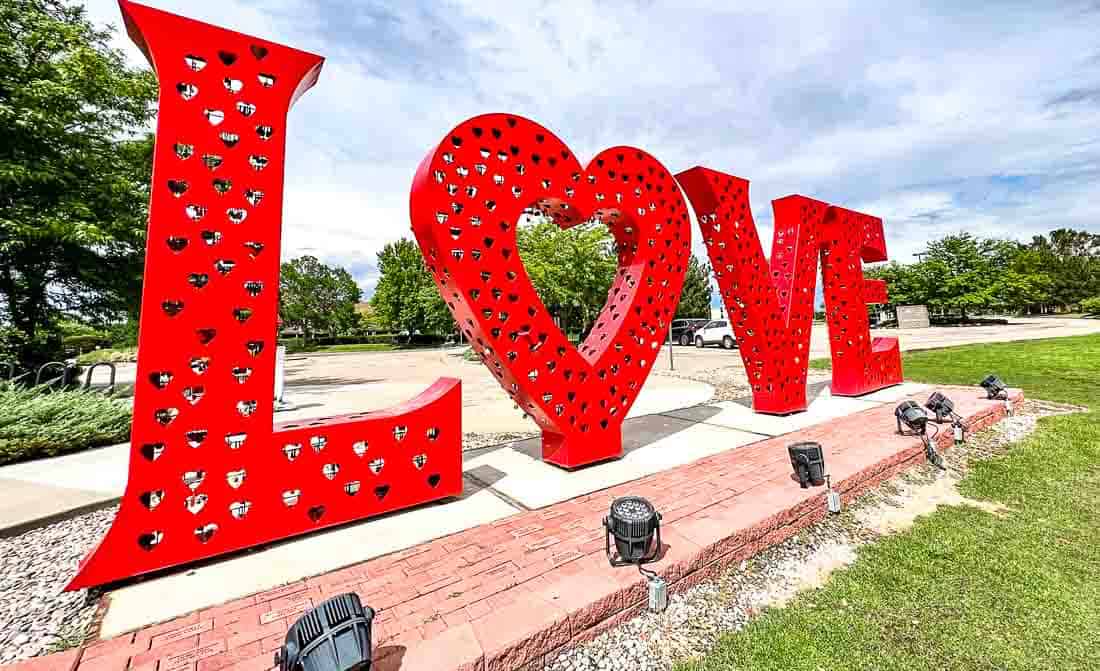 Next, it's just a 5 minute drove to the Loveland Visitor Center. While here, pick up a few brochures for information on the attractions in Loveland; but the main reason for visiting is to see the town's huge love lock sculpture.
The Loveland Visitor Center Love Lock is just one of two love lock sculptures in Loveland. This one is a 24,000 pound, 10 foot tall, 30 foot wide steel sculpture – the largest of its kind in the entire USA. So either bring your own padlock, or you can buy one for each of the kids at the center, which they can engrave for free and then attach to the giant "Love" love lock sculpture.
The Loveland Visitor Center is at McWhinney Hahn Sculpture Park. So as well as locking a padlock on the giant sculpture, it's a nice spot to wander around the pond, watch the cheeky ducks and admire the various bronze sculptures.
Allow around 20 minutes to visit the Loveland Visitor Centre, longer if you wish to also stroll around the pond.
Location: 5400 Stone Creek Circle, Loveland
Opening Hours: Monday to Saturday 9.30 am to 4.30 pm | Sunday 11 am to 3 pm
Price: Free
Loveland Musuem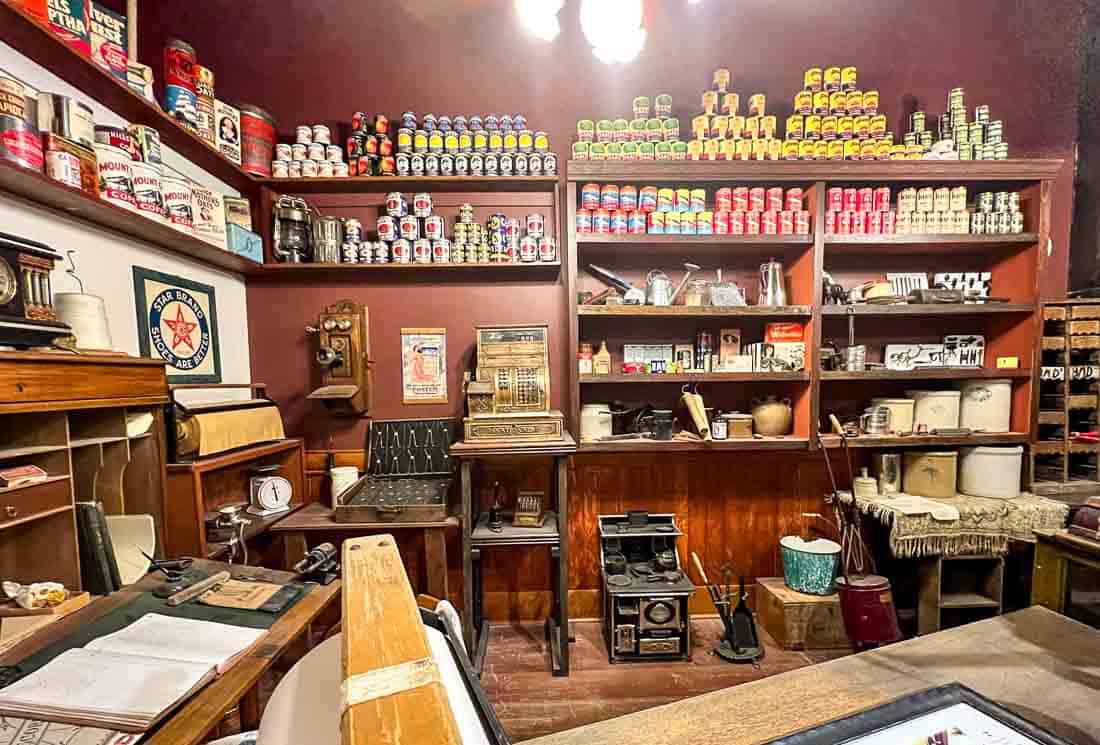 On your Colorado one week itinerary, it's now time to head back downtown to visit the Loveland Musuem. It's about a 10 minute drive into town.
The Loveland Musuem is a small but interesting museum perfect for families with young children. The museum covers the history of Loveland, including the town's largest industries over the years, such as sugar.
There are some great little exhibits where the kids can visit an old general store, a mock-up of Loveland's first jail cell, and Loveland's first hotel.
Allow around 45 minutes to an hour to visit the Loveland Musuem.
Location: 503 N Lincoln Ave, Loveland
Opening Hours: Daily from 10 am, except from 12 pm Sundays and closed Mondays
Price: Free – although the art exhibit is $7 per person for those 13+
Lunch: Sweet Heart Winery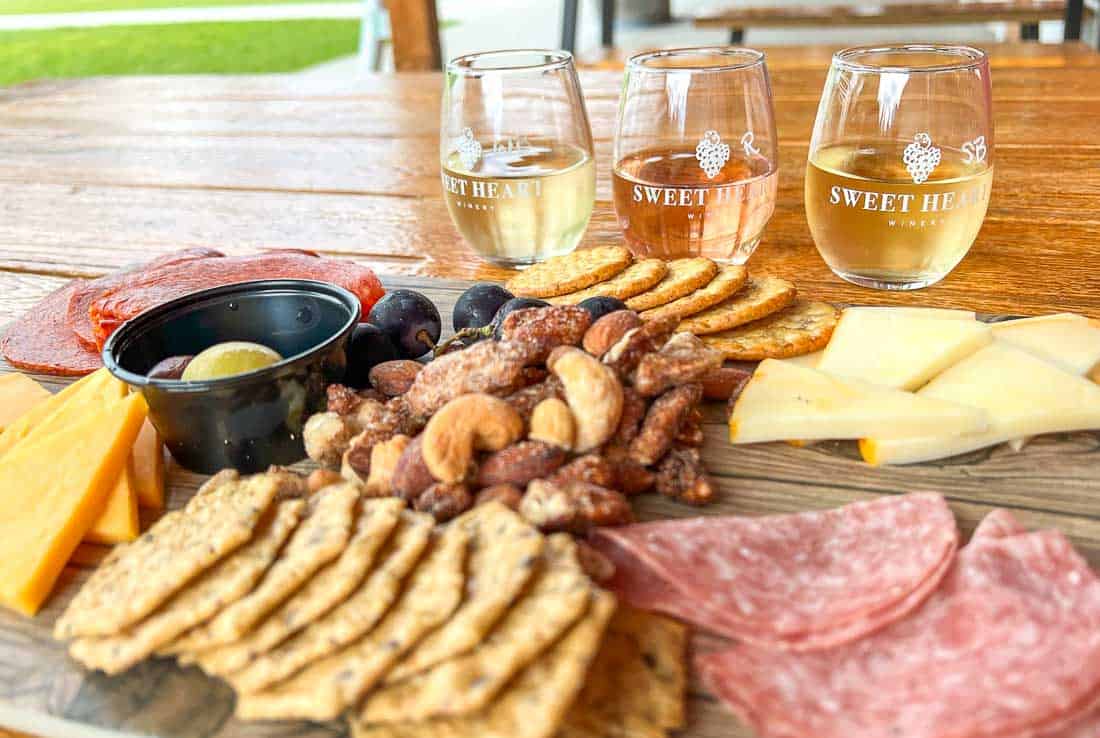 If you love your wine as I do, then some wine tasting at Sweet Heart Winery is a must! Its a just a 10 minute drive from the Loveland Musuem and the perfect place for lunch.
Sweet Heart Winery is a fabulous place for the entire family, with a beautiful outdoor area, with wide open spaces for the kids to play. Situated at the base of the Rocky Mountains, the 8 acre grounds around the Sweet Heart Winery are beautiful. Picnic tables are spread across the lawn and chairs are strategically placed along the river for privacy.
Of course, the main reason for your visit is wine tasting, so you'll be pleased to know various tasting options are available. Order a single glass of your favourite drop, enjoy a flight of wine or even a bottle.
For lunch, you can share charcuterie boards or pizza with the family.
Location: 5500 W US-34, Loveland
Opening Hours: Daily from 12 pm, closing at 8 pm Sunday to Thursday, 9 pm Fridays and 4 pm Sundays
Price: Glass of wine starts at $10 and flights start at $12
Sylvan Dale Ranch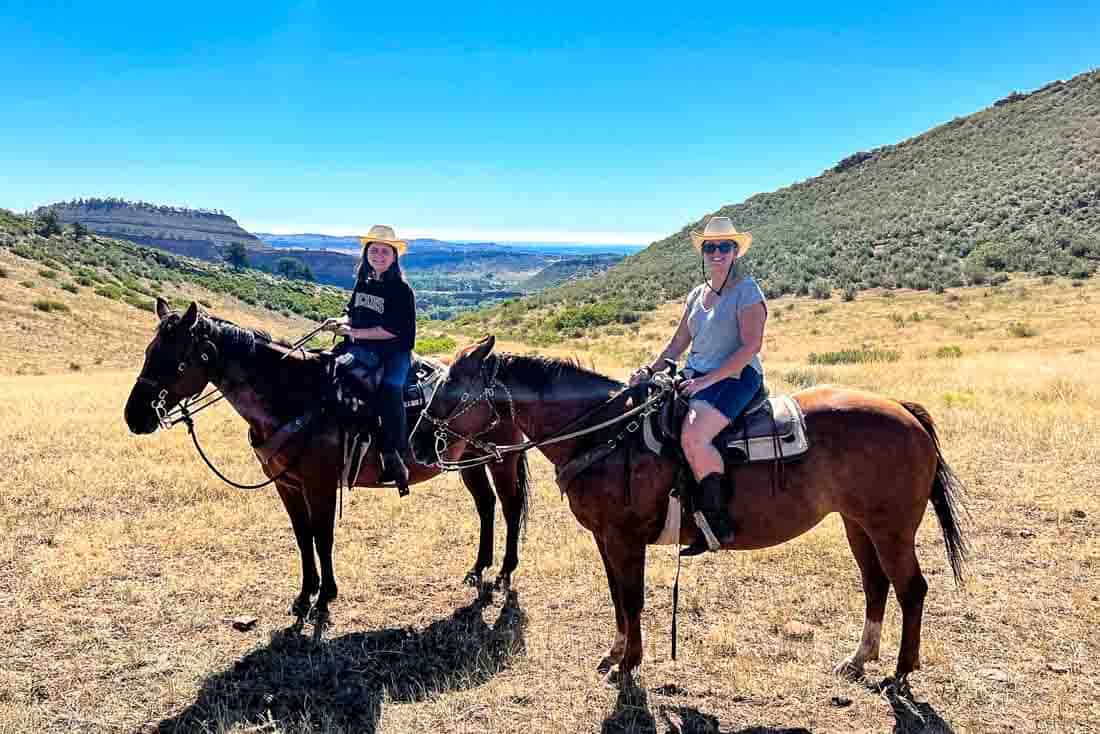 Just a 10 minute drive from Sweet Heart Winery is Sylvan Dale Ranch, where the kids can go horse riding. The ranch offers kids of all ages and all levels of experience horse riding opportunities.
For the younger kids (3-6), there are 15 minute horse rides available, where your little one will be seated on the horse as it's led around by a guide.
Then for ages 7+, horse rides are available from one hour to two hours, and you can choose from rides across gentle terrain to more challenging rides up to the ridge top, which offers fantastic views across the countryside and out to the Rocky Mountains.
There are longer 3 hour rides for those 13+ who consider themselves intermediate riders.
I recommend you book your horse riding prior to commencing your Colorado week trip and book a late afternoon ride.
Location: 2939 N Co Rd 31D, Loveland
Opening Hours: Horse riding tours vary throughout the year – check here for tour availability
Price: From $55 per person
Devil's Backbone Open Space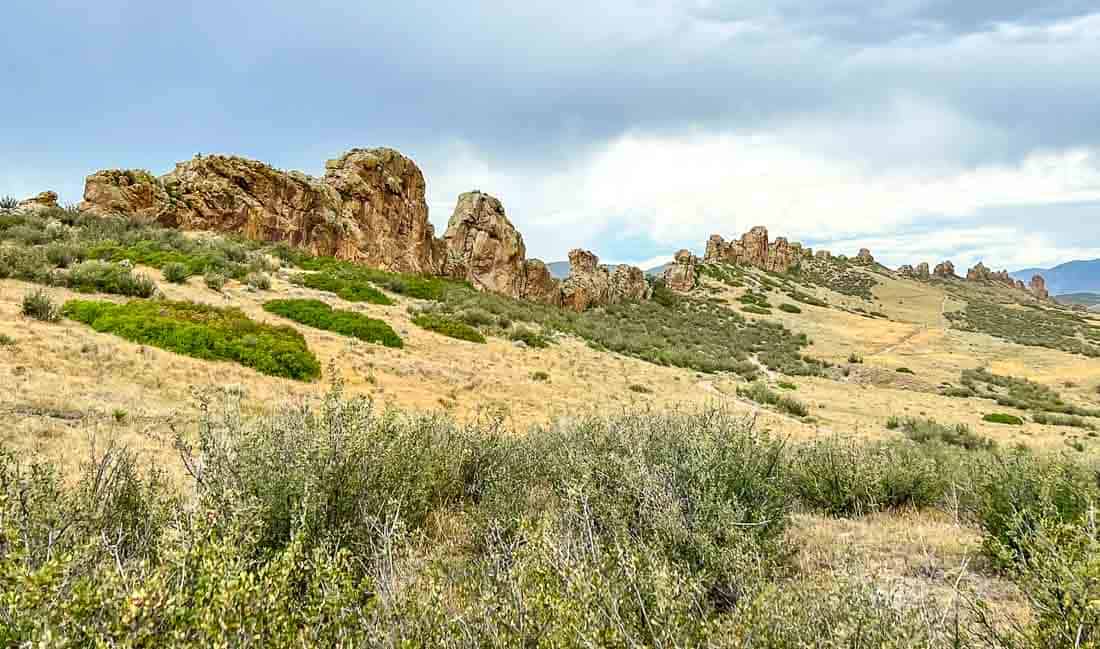 After your horse ride, head back towards town, stopping at Devils Backbone Open Space – 10 minute drive from Svulan Dale Ranch.
While Devil's Backbone Open Space offers a range of hiking and biking trails, for your 7 days in Colorado itinerary, you'll only have time for the short Keyhole hike via the Wild Loop – which takes around 1 hour return. You'll get fabulous views of the Devil Backbone and great views across Loveland and the Rocky Mountains.
It's an easy walk and most kids will have no problems doing it.
Location: Eisenhower Blvd, Loveland
Opening Hours: Sunrise to Sunset
Price: $10 per vehicle
Street Art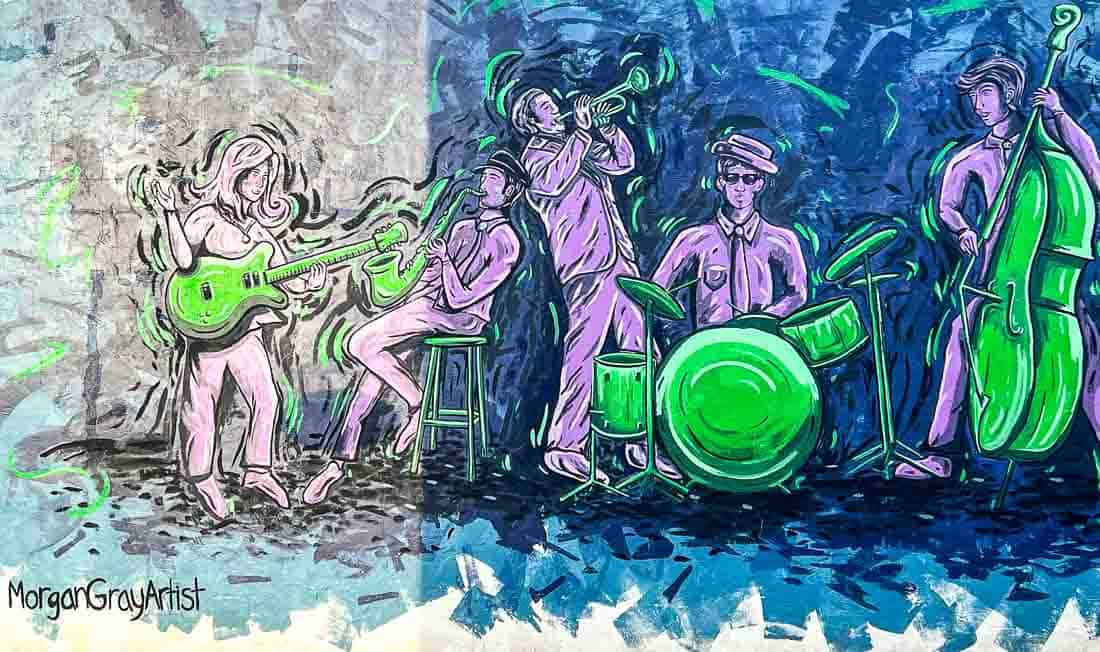 From Devil's Backbone, it's a 10 minute drive back to your hotel. I recommend everyone freshens up before heading out for dinner.
On your way to dinner, I suggest you detour down 4th and 5th Streets between Jefferson and Railroad Avenues to check out some of the town's street murals and sculptures. Also see if any of the kids can spot the 36 individually painted hearts scattered across the city.
Once you've had enough of admiring the street art – walk over to the Slice n'Roll Pizza – about a 5 minute walk away – depending on where you end up on your street art walk.
Location: Along 4th and 5th Streets from Jefferson to Railroad Avenues
Opening Hours: Always
Price: Free
Dinner: Slice n' Roll Pizza
Slice n'Roll Pizza is a fabulous place for dinner – you can eat in or grab some takeaway to have back at your hotel room. They offer pizza slices – more than enough for a child – even most adults, or you can get personal size pizzas and larger family size pizzas.
We ate here on our one week trip to Colorado and can highly recommend it!
Location: 141 E 4th St, Loveland
Open: Monday to Thursday 11 am to 10 pm | Friday to Saturday 11 am to 12 am | Sunday 10 am to 10 pm
Prices: Slices start at $4 and pizzas start from $10 – check out their menu here.
Stay: TownPlace Suites Loveland
From the Slice n' Roll Pizza, it's just a short 5 minute walk back to the TownPlace Suites.
Day 5 – Fort Collins
Breakfast: TownPlace Suites Loveland
Be sure to enjoy another hearty breakfast at your hotel before checking out and finishing your sightseeing in Loveland. It's now time on this 7 day trip to Colorado to drive to Fort Collins.
Lake Loveland Love Lock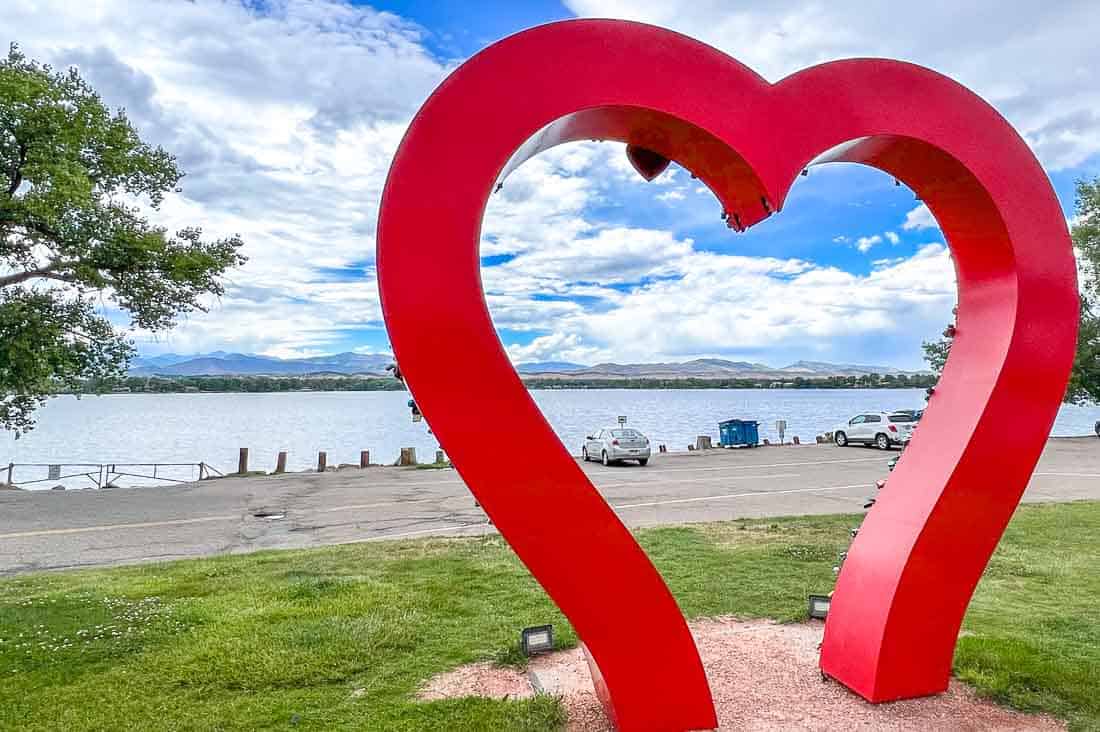 You've seen one love lock on Loveland, but now it's time to see the town's second one at Lake Loveland. This love lock is a 12 foot tall and 14 foot wide steel heart sculpture.
As well as locking a padlock to the back of the sculpture, this is a great spot for a family photo as the location is gorgeous with the lake and views of the Rocky Mountains in the background.
Location: Southeast corner of Lake Loveland
Opening Hours: Always
Price: Free
Benson Sculpture Garden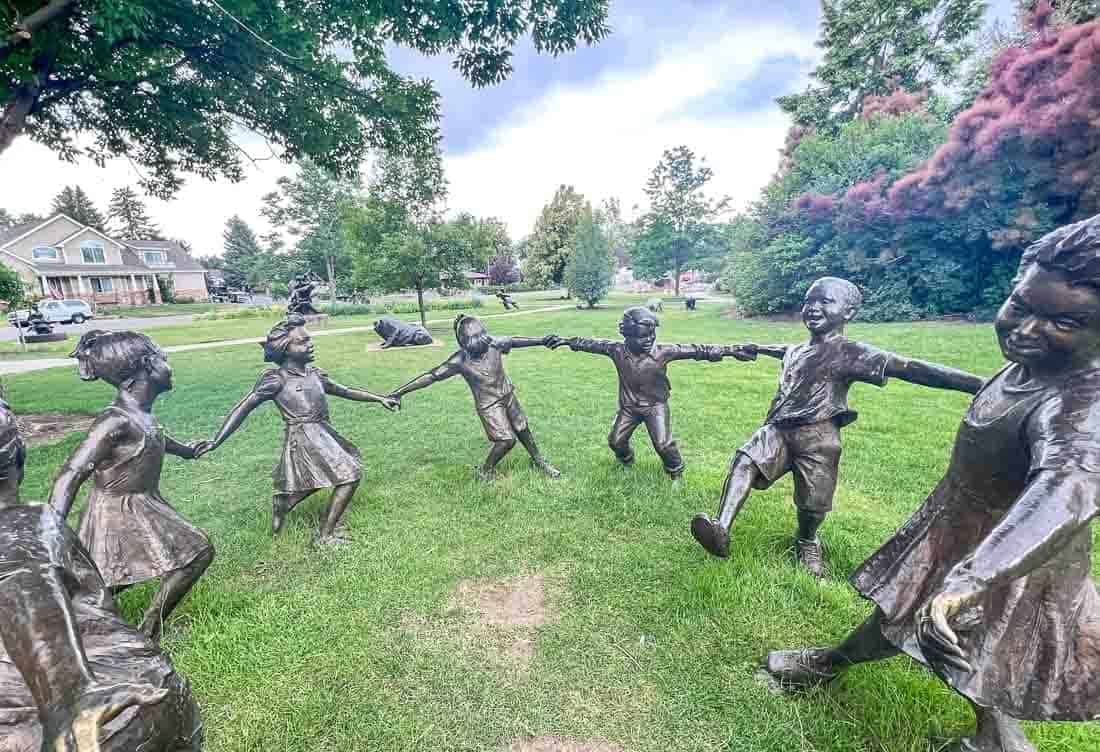 Just a 5 minute drive from Lake Loveland is the Benson Sculpture Garden. This is a 10 acre park with 172 permanent sculptures (valued at a huge $5 million!).
While all the sculptures are lovely, the ones in the children's garden will undoubtedly capture the kid's interest the most. They can join the ring of children playing ring a ring o' rosie, pose on top of a crocodile, pat the dog and take a few selfies with some of the more unusual sculptures, such as the banana on skates. The experiences are only limited by their imagination.
The gardens are the perfect place for some quiet family time, with wheelchair and stroller friendly paths, restrooms, picnic areas and a pond for watching ducks and other wildlife.
Allow around 30 to 45 minutes to visit the Bensons Sculpture Garden.
Location: 1125 W 29th Street, Loveland
Opening Hours: Always
Price: Free
Horsetooth Mountain Open Space and Horsetooth Reservoir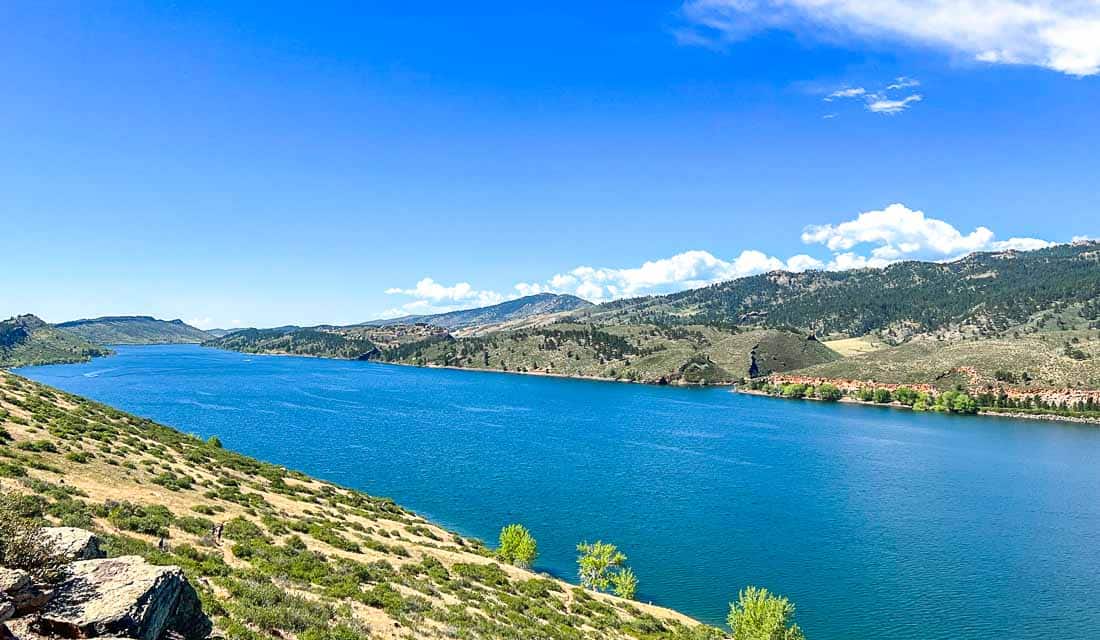 Before heading into the town of Fort Collins, head to the stunning Horsetooth Mountain Open Space and Horsetooth Reservoir, which is a 20 minute drive from Loveland. This place is gorgeous and perfect for spending a few hours with the kids.
Stop by the Horsetooth Mountain Open Space first and enjoy one of the short walks there. Afterwards, head to the designated beach area at the Reservoir, where the kids can swim. If you're keen, you can hire a kayak or stand up paddle board which could be a bit of fun.
It's probably worth stopping somewhere on the way for some snacks or lunch so you can have a bit of a picnic there. Also, ensure you have plenty of water with you.
Horsetooth Mountain Open Space
Location: 6550 W County Rd 38 E, Fort Collins
Opening Hours: Always
Price: $9 per vehicle
Horsetooth Reservoir
Location: 4200 W County Road 38 E, Fort Collins
Opening Hours: Always
Price: $9 per vehicle
Stay: Marriott Hotel
From Horsetooth Reservoir, it's just a 15 minute drive to the Marriott Hotel, our recommended place to stay while in Fort Collins. This is where we stayed while in Fort Collins on our one week Colorado road trip and had a very comfortable stay.
If for your Colorado one week road trip you'd prefer to stay in the centre of Downtown, we recommend the Elizabeth Hotel – however, it's very pricey and the fact is you won't spend all that much time in the center of Downtown anyway, which is why we recommend the Marriott instead.
The Marriott Hotel is surrounded by cafes, restaurants, and many department stores, so perfect for families wanting easy access to food and shops. Plus, you're only a 10 minute drive downtown.
The hotel also has a great pool, restaurants on site and plenty of free parking.
1879 Avery House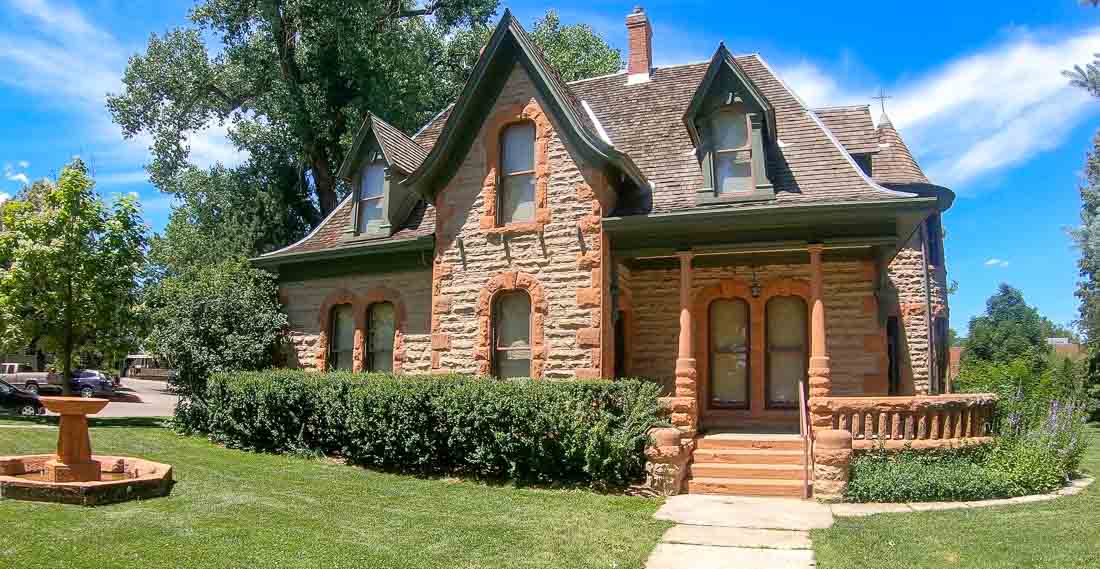 Provided it's a weekend, after you've had time to check in and freshen up at your hotel, head Downtown and take a tour of Avery House. Avery House is about a 10 minute drive from the hotel.
Avery House was built in 1879 by the Avery family and gives you an insight into what life was like in town during the 19th century. Guided tours go for 1 hour and take you through the home, which is furnished with items typical of the era. Throughout the tour, your guide tells stories about the Avery family and what it was like to live in Fort Collins during the 19th century.
Location: 328 West Mountain Avenue, Fort Collins
Opening Hours: Saturdays 11 am to 2 pm | Sundays 1 pm to 4 pm
Price: $6 per adult | $4 per child
Old Town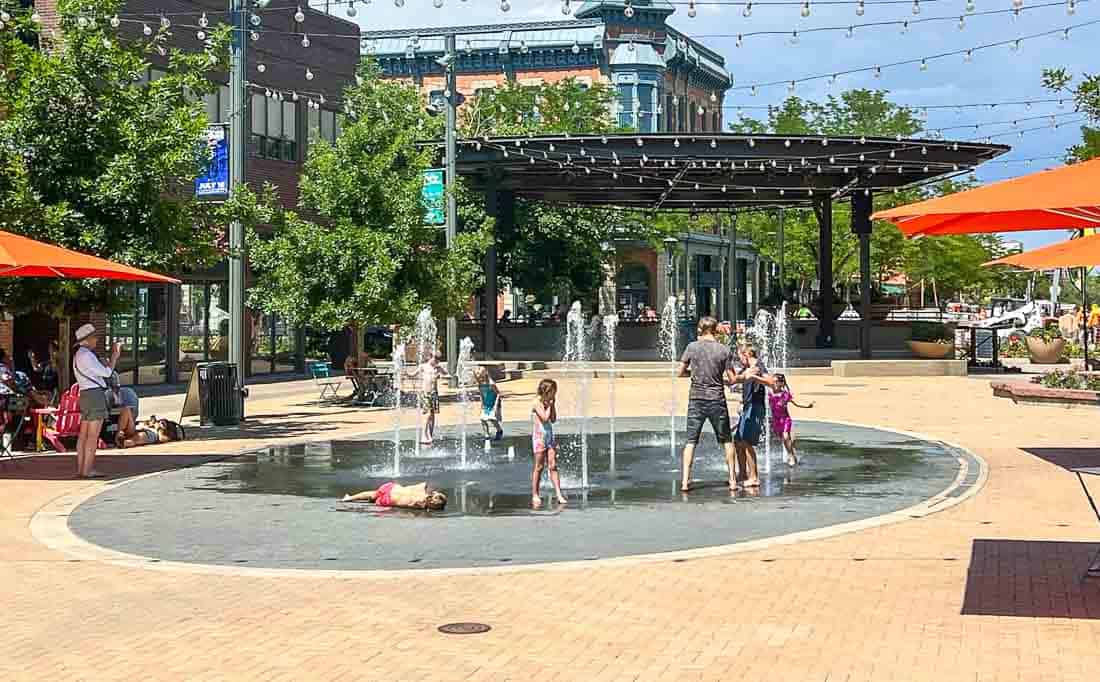 After your tour of Avery House, it's just a few minutes drive to Old Town (the name the locals give to the Downtown area), where you'll spend the remainder of the day.
Old Town is considered one of the prettiest downtown areas in the country; the wide walkways and charming street facades of Old Town Fort Collins were even the inspiration for Disneyland's Main Street.
The area is jam packed with cafes, restaurants and bistros to grab a bite and lovely boutiques for browsing. You'll find colourful street murals and sculptures and even talented buskers on the occasional street corner.
Wander around the streets at your leisure. If it's warm and you have little kids, perhaps let them have a splash under the fountain at Old Town Square. For families with older children, maybe spend an hour or two a Pin Ball Jones playing old school pinball machines and arcade style games.
Old Town is also the perfect place for dinner.
Ghost Tour
After dinner, if your kids are game, how about taking a ghost tour? On these tours, you visit the most haunted places around Old Town and hear some pretty epic stories.
There are a couple of different tour groups available, but one of the more popular ones is the Fort Collins Tours. The main tour takes you to sites both above and underground and your guide shares stories about local legends, ghostly sightings and strange occurrences. These tours are for kids 12 and above.
There is the Fort Collins Ghosts and Goodies Tour for families with younger children, which is a little less spooky. While you'll still visit haunted sites, you'll also stop along the way to sample some yummy treats.
Other tour options include history tours, haunted pub tours and alcohol tours.
Location: Tours commence in the Old Town Square by the fountain
Opening Hours: Tours times vary – check here for times.
Price: $22 per person
Day 6 – Fort Collins
Breakfast
Either grab some breakfast at the hotel, or there are plenty of fast food places and cafes within walking distance.
Gardens on Spring Creek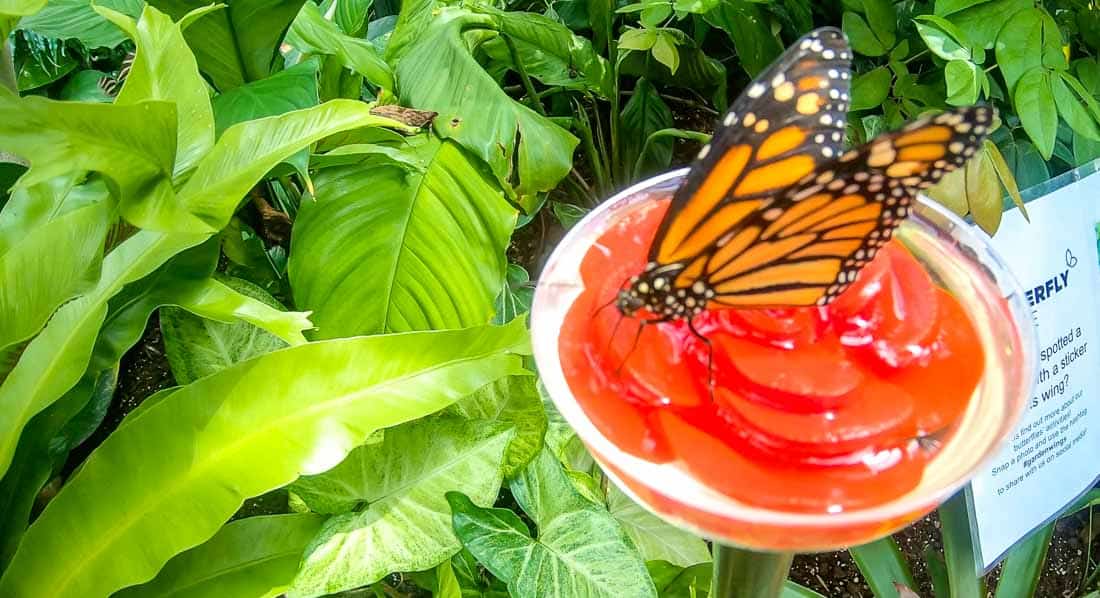 On your way Downtown this morning, stop into the Gardens on Spring Creek to visit the Butterfly Pavilion. It's just a 5 to 10 minute drive from the hotel.
This botanic garden is sprawled across 12 acres and has a range of attractions to keep the little ones entertained. But the real highlight is the tropical butterfly house. This attraction is home to hundreds of butterflies and tropical plants, where you can wander as the butterflies fly all around – even landing on you if you're lucky.
Another great spot for kids at the gardens is the Children's Gardens, where there are plenty of activities for the kids, including an interactive model train. Depending on what day you visit, you might be there for the Read and Seed Youth program, which includes story time and nature inspired craft activities (bookings are recommended).
The gardens have wheelchair and stroller friendly pathways throughout, and the entire loop of the gardens takes around an hour to complete. Allow additional time also to see the butterfly house. A cafe is also on site.
Location:2145 Centre Avenue, Fort Collins, Colorado
Opening Hours: Daily from 10 am to 5 pm
Price: $11 per adult | $8 per child (2-17) and under 2s are free
Farm at Lee Martinez Park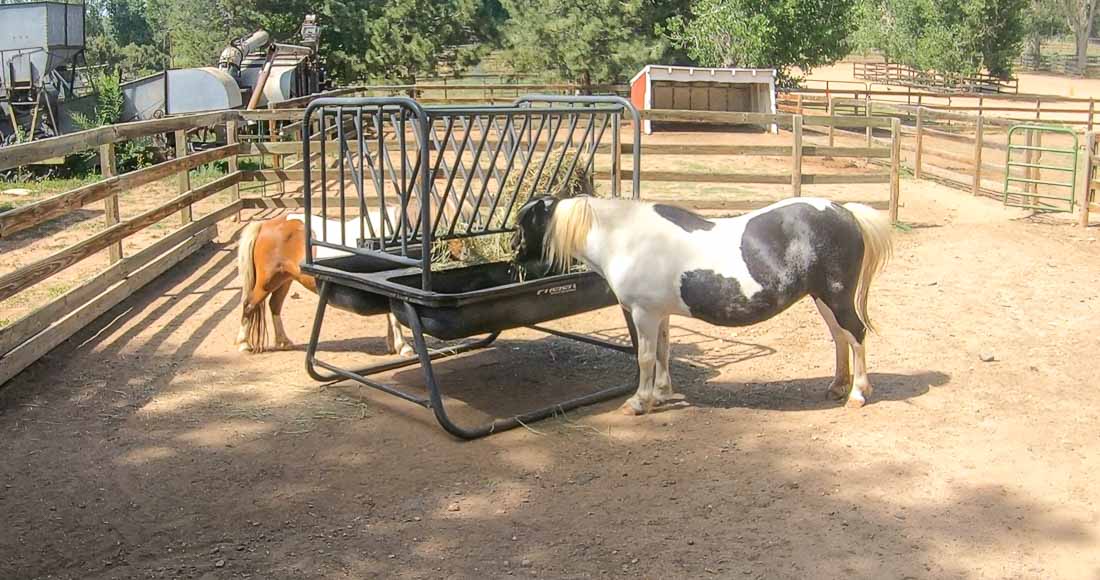 After you've visited the gardens, head over to the Farm at Lee Martinez Parks, it's about a 10 minute drive away.
Back in 1920, this was an old dairy farm, and today all your favourite farm animals are still here. There are chooks, pigs, ponies, horses and more. These friendly animals will come over for a pat if you're lucky.
A small museum also shows old farm equipment, tools and machinery. Then if you happen to stop by on the weekend during April and October, you can enjoy pony rides.
It's only a small farm, so allow around an hour to visit.
Location: 600 N Sherwood St, Fort Collins
Opening Hours: Tuesday to Saturday 10 am to 5 pm | Sunday 12 pm to 5 pm | Closed Monday
Price: $4 per person | $2 per person for a pony ride
Fort Collins Musuem of Discovery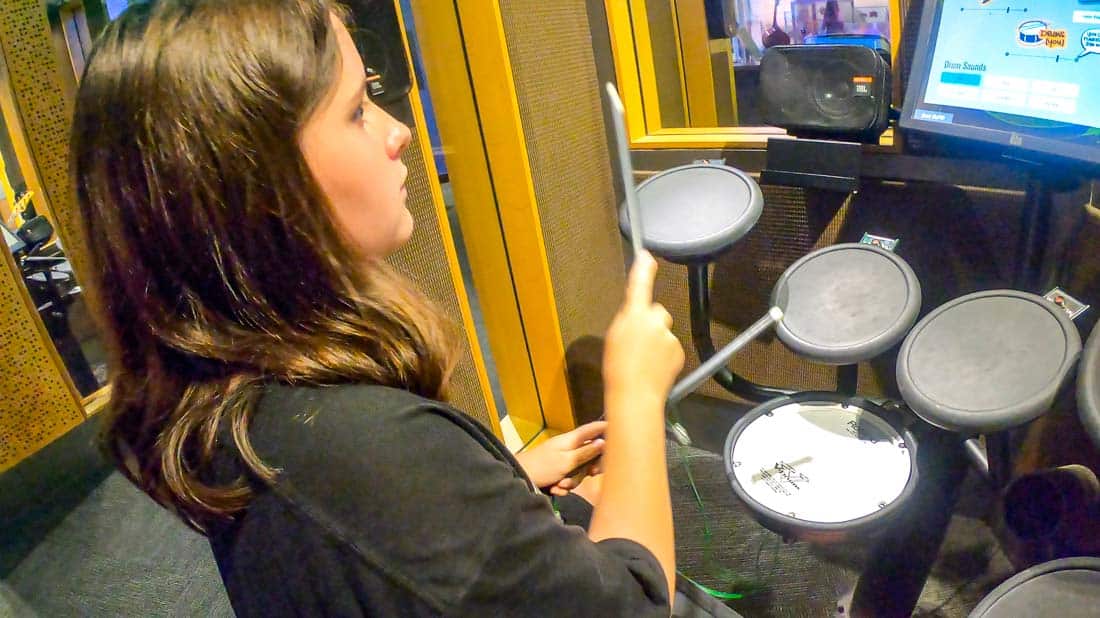 From the farm, it's just a 3 minute drive to the Fort Collins Musuem of Discovery. While some museums can be a little on the boring side – the Fort Collins Musuem of Discovery is one of those places your kids won't want to leave!
While not an overly big museum, with the number of hands on / interactive exhibits here, you'll want to allow plenty of time to explore. The museum focuses on culture, history and science, with more than 30,000 items on display.
One of our favourite sections of the museum is the Music and Sound Lab. Here the kids can play various musical instruments and jam with others. They can try out so many great instruments, including guitars, drums, keyboards, and xylophones – they can even try their hand at DJ scratching!
The Exploration Zone is also great fun where the kids can try out mini science experiments involving light, motion and air. While for toddlers, there is the Tot Spot – which has bite size exhibits especially for them, including water play, a train table, arts and crafts and more.
In addition to the museum, there is also the OtterBox Digital Dome Theater, Colorado's only 360° dome theater. The theater shows a range of educational programs across its 360° gigantic 35 foot dome screen, including programs on space, music, science and more.
You'll probably be here over lunchtime, so you'll be pleased to know there is a cafe on site.
Allow about 2 to 3 hours to visit the musuem.
Location: 408 Mason Court, Fort Collins
Opening Hours: Tuesday to Sunday, 10 am to 5 pm
Price: Musuem: $12.50 per adult | $9.50 per child (3-18) | children under 3 are free | Theater $4 per person
Fort Fun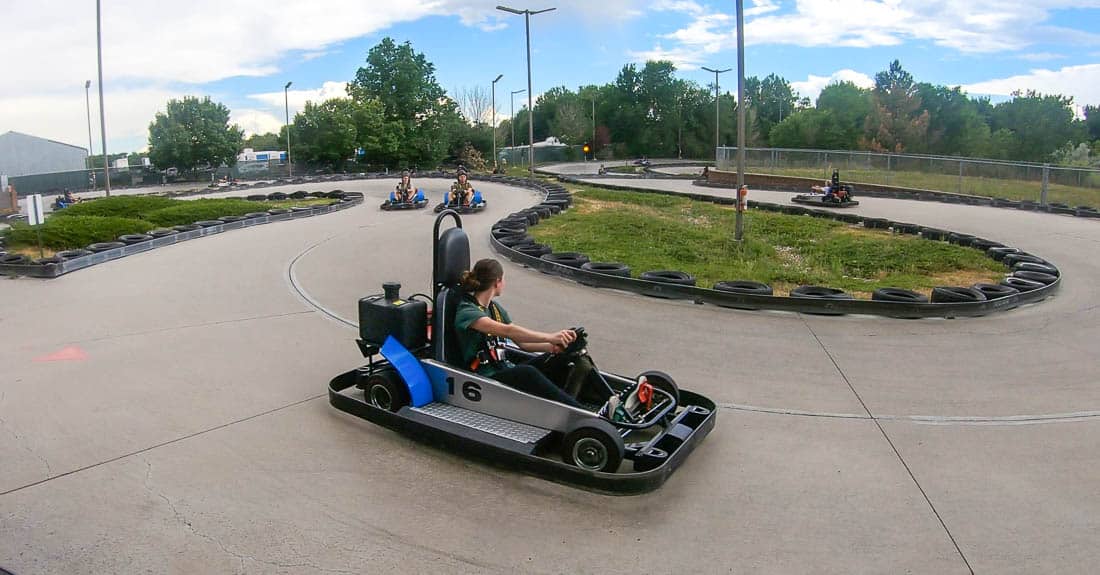 After visiting the museum, take a short drive to Fort Fun. I guarantee no matter how old your kids are; they will absolutely love it here!
There is so much to do at Fort Fun, from arcade games, VR rides, laser tag to escape rooms. Outside there is even more fun to be had with mini golf, bumper boats, a giant slide and even go karts.
You'll need a card pre loaded with some cash to play the arcade games. There are games for all ages and levels of experience, so perfect whether you've got tiny tots or teenagers. Don't forget to cash in all your winning tickets before going home for some prizes.
Outside you've got two mini golf courses. You can putt your way through the early pioneer history of North Colorado or play the fantasy course. Mini golf starts at $7 per person.
The whole family will love the wind in their hair as they wiz around the go cart track. If the kids are too little, they don't need to miss out as they can go as a passenger in a double kart. Rides start at $9.75.
For the little ones not too keen on speeding around the track – take them on a fun paddle on the bumper boats or even a leisurely paddle on the lake.
Location: 1513 E Mulberry Street, Fort Collins
Opening Hours: Monday to Thursday 12 pm to 9 pm | Friday 12 pm to 12 am | Saturday 10 am to 12 am | Sunday 10 am to 8 pm
Price: Prices range depending upon attraction
Dinner
For dinner tonight, depending on how long you stay at Fort Fun, you could grab dinner there as they have a restaurant on site. Otherwise, you'll pass plenty of fast food places and restaurants on your way back to the hotel.
Stay: Marriott Hotel
Enjoy your last night in Colorado!
Day 7 – Fly Home
Today is the very last day of your 1 week in Colorado itinerary. Whether you have time for sightseeing really depends on what time your flight home is or when you need to start the drive home. But if you have time for more attractions, then continue with the suggestion below.
Bee Family Centennial Farm Musuem
From the hotel, it's a 20 minute drive to the Bee Family Centennial Farm Musuem. The attraction takes you back in time to experience farming conditions in 1894 when the Bee family first started the farm.
As you tour the Bee Family Centennial Farm Musuem, you'll learn all about the farm's history and family heritage. Highlights include the fully furnished historic homesteads and the vintage farm vehicles and equipment. In addition, thousands of items are displayed, including letters, diaries, pictures and more.
There are also plenty of animals to meet and a range of activities, especially for the kids, such as milking a wooden cow, collecting eggs and even grinding corn.
Keep in mind the farm museum is only open Fridays and Saturdays.
Location:4320 East Country Rd 58, Fort Collins
Opening Hours: May to October – Friday and Saturdays 9 am to 4 pm
Price: Adults $8 | Kids (3-12) $4 | under 3s are free
Time to Head Home
Unfortunately your one week in Colorado itinerary has come to an end and it's now time to start your drive home or drive to the airport. From the Bee Family Centennial Farm Musuem, the Denver Airport is just over an hour's drive away.
7 Day Colorado Itinerary
: Final Words
Hopefully, this guide has helped you with some Colorado road trip ideas, so you can determine the best itinerary for your family.
Don't forget to help you plan the ultimate Colorado road trip we have a range of other guides including: