Most families heading to Los Angeles have a trip to Disneyland at the top of their list of things to do. However, most families seemed to get bogged down with how they go about getting from LAX to Disneyland. Just look at any Disneyland FB group, and you'll see that one of the most common questions asked is "how to get from LAX airport to Disneyland"?
So if you need assistance determining the best transportation from LAX to Disneyland area hotels – then you're in luck! This guide will cover all the different ways of getting to Disneyland from LAX, including how to get:
an

Uber from LAX to Disneyland

area;

a

private shuttle from LAX to Disneyland area

, and

Bus / train

ground transportation from LAX to Disneyland area

.
After reading each option, you can then choose the best way to travel from LAX to Disneyland that best suits your budget and family needs.
The guide will also cover options for transportation from Disneyland to LAX Airport, so even if you finish your trip to Los Angeles in Disneyland, you'll have your return trip to the airport covered.
So let's get into it and find you the best way to get to Disneyland from LAX.
Talk to other families about their tips on visiting Disneyland and join our Thrifty Family Travel Facebook Group or get inspired on our Thrifty Family Travel Instagram Feed.
This post may contain compensated links. Please refer to my disclaimer here for more information.
Best Transportation from LAX to Disneyland
: Uber
Before we get into all the different transportation options from LAX to Disneyland, if you're just after my suggestion for the best way to get from LAX to Disneyland – then take an Uber. The reason I recommend this as the best way from LAX to Disneyland Hotel or any other hotel in the area is that it is one of the most direct ways and most affordable.
I cover exactly how to get an Uber ride from LAX to Disneyland below
All Options for
Getting from LAX to Disneyland
While LAX to Anaheim (the city Disneyland is in) is around 35 miles / 56km and ideally only takes about 35 minutes by car, when there is lots of traffic, the drive could be up to 90 minutes. And in LA – there is often lots of traffic.
So how about public transportation? Well, unfortunately, there is no real direct route, so the transfer from LAX to Disneyland can take 2 hours or more! Not ideal when in tow with a few kids and all their luggage.
So there is not always one best way for LAX airport transportation to Disneyland. Which option of transportation between LAX to Disneyland is best for you will depend on your budget, how many people are in your group, how much luggage you have and the time of day you wish to travel.
Below covers in detail all the different ways to get from LAX to Disneyland so you can choose the best option.
Uber from LAX to Disneyland
For families of 4 or fewer, in most cases, your best option will be a rideshare, such as a Lyft or Uber ride from LAX to Disneyland.
There is the option of an Uber XL from LAX to Disneyland – which can take six passengers – but these aren't always readily available. For families of 4 or more people, I recommend a shuttle service from LAX to Disneyland hotels (see more below) so you can lock in your transport.
Also, if you have children that require car seats I'dso recommend pre arranging a shuttle like Karmel or Super Shuttle – LAX to Disneyland, as they can provide car seats.
Getting to the LAX-it Lot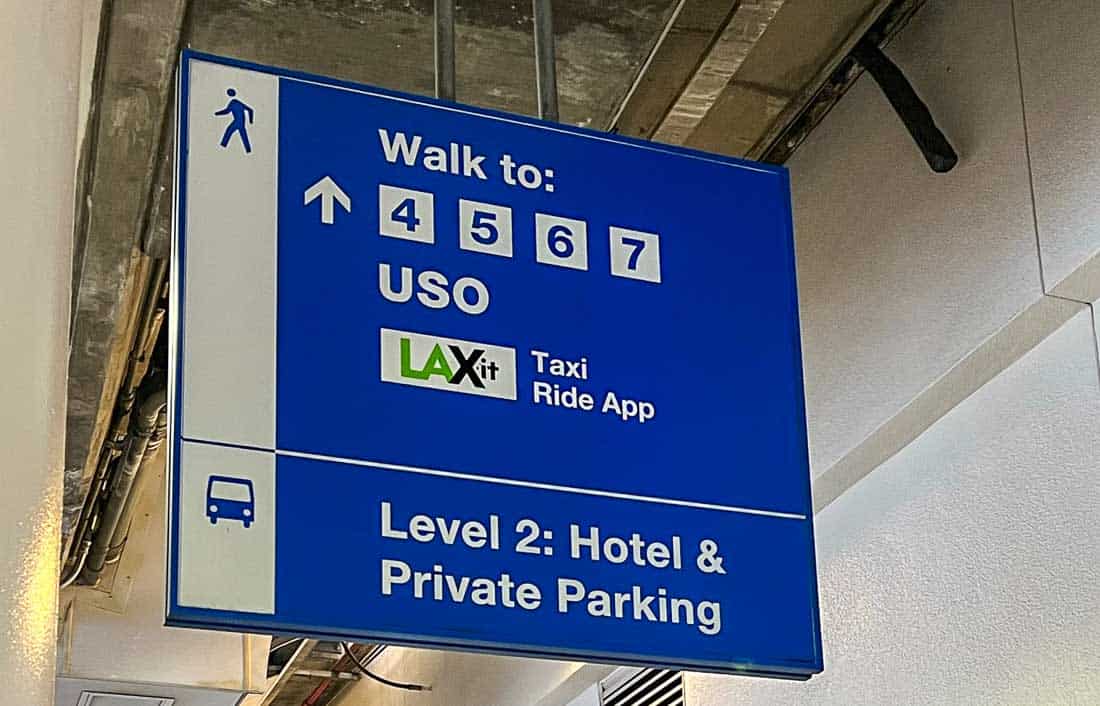 Most rideshares (see more on the exceptions below) pick up passengers from the LAX-it lot, which is next to Terminal 1. Depending on the terminal you arrive at, you may walk to Terminal 1 or take the free LAX-it shuttles.
To meet our LAX to Disneyland Uber, we decided to walk rather than wait for the LAX-it shuttle – it did take about 15 minutes to walk there, and we did see a few of the shuttles go past, so if you have little kids or lots of luggage, it might be just as easy to wait for the shuttle – they do come by fairly frequently. If you decide to walk, there are plenty of signs like the one above to ensure you're walking in the right direction.
It's worth noting that LAX is like a long oval shape, so if you decide to walk, take the time to note what terminal you're at and determine what direction to walk. We were a little flustered to start and just began walking in one direction and eventually realised it would have been much quicker to walk the other way. But we got there, in the end, all the same.
You'll find the LAX-it shuttle stops outside the baggage terminals – just go outside and look for the green LAX-it signs – you can't miss them; everything is very well colour coded. The LAX-it shuttle comes every 7 minutes or so and runs 24 hours a day.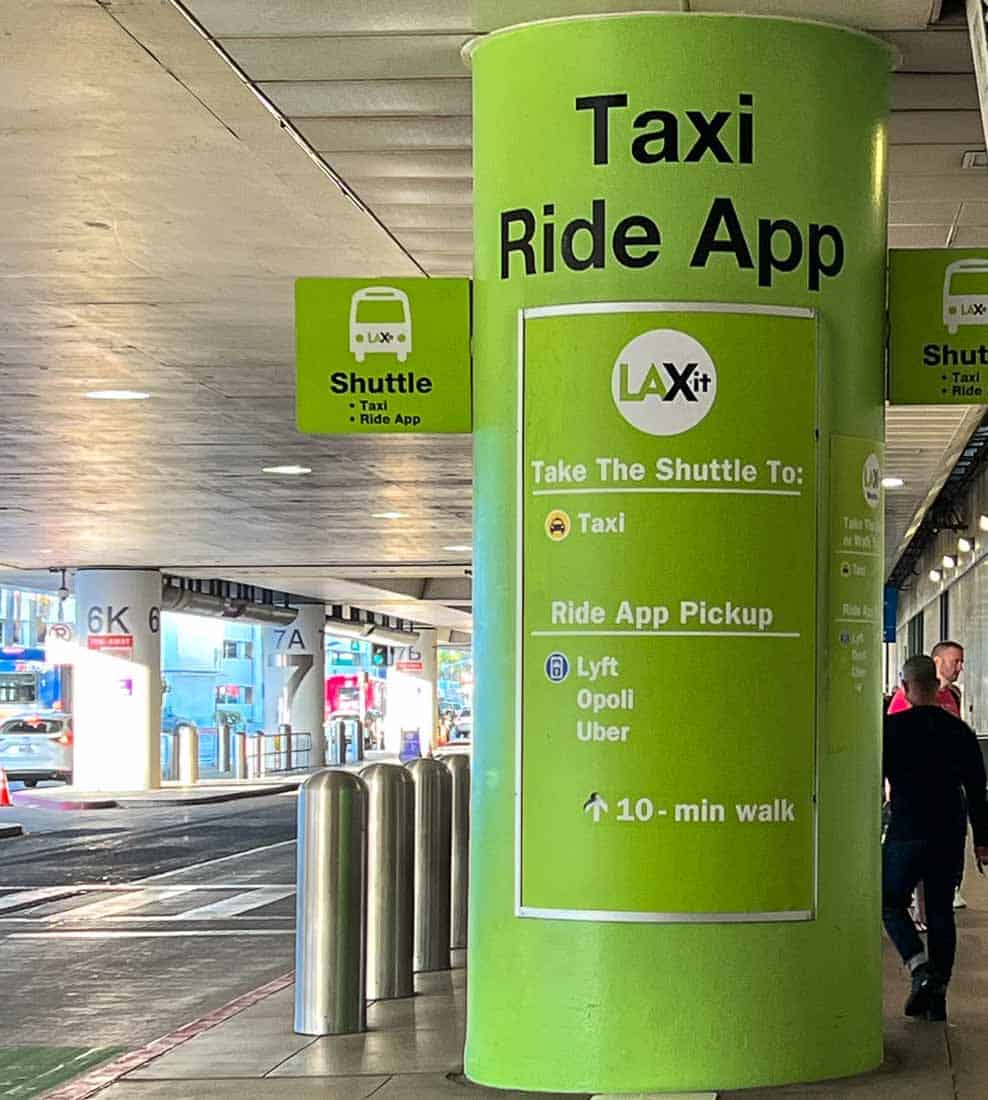 Locate your pick up point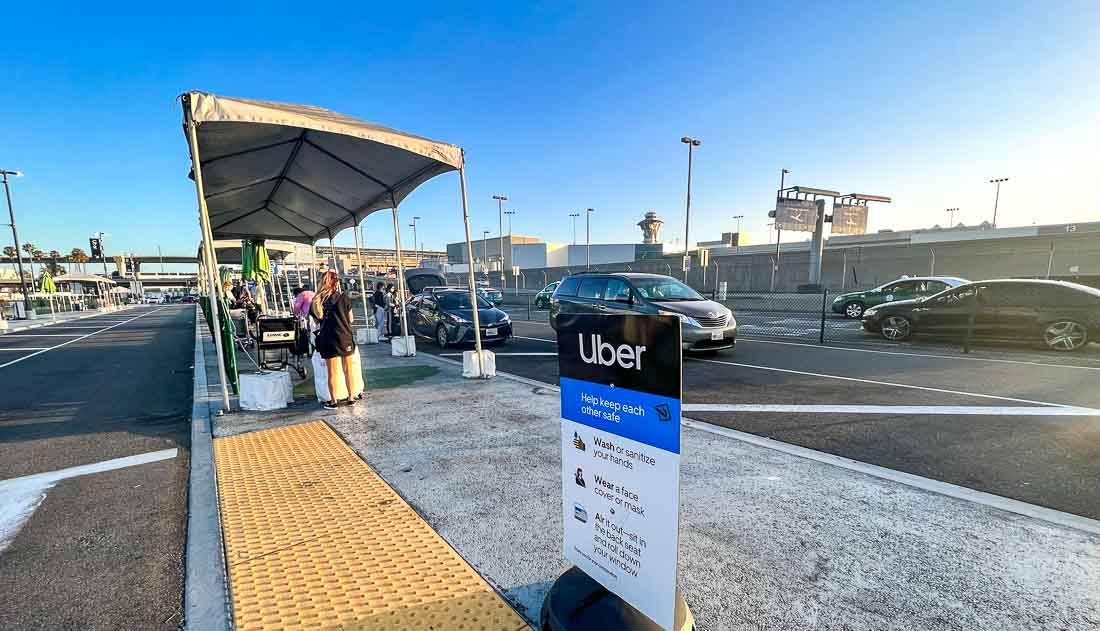 Once you arrive at the LAX-it lot (pictured below) – note that the different rideshares pick up from different areas. So if you've decided to take a Lyft from LAX to Disneyland – just note that this will be in a slightly different spot than Uber. But don't worry, everything is well signposted and there is staff on hand to ask questions.
I'd recommend finding the right rideshare location before ordering your LAX Airport to Disneyland Uber, as even among the same rideshares, there are different locations to wait – like Uber section A, Uber section B etc. So it's best to know what section you're in before ordering your rideshare, as most are hovering around the airport somewhere anyway and may only be 5 minutes or so away.
Rideshare from the Terminal
If you just want to be picked up from outside the terminal you arrive at – you'll need to pay quite a lot extra and book either LYFT LUX BLACK, LYFT LUX BLACK XL, UBER BLACK or UBER BLACK SUV.
Maybe check the Uber or Lyft cost from LAX to Disneyland before leaving the terminal (more on how to do this below) and decide whether the extra cash is worth it.
Rideshare Price
The Uber price from LAX to Disneyland varies depending on the time of day and demand. Generally, expect the LAX to Disneyland Uber cost to be anywhere from $60 to $90.
You can always check the cost of Uber from LAX to Disneyland before booking once you're at the airport. To do this, just put in your details as if you were making a booking – but don't finalise the booking. The estimated fee will be shown.
If the Uber cost from LAX to Disneyland seems a little more than you want to spend – take the kids for a drink and grab a coffee. Once the demand drops, the Uber from LAX to Disneyland cost will drop back down.
For example, as soon as we landed, I checked the Uber fare from LAX to Disneyland and saw that it was around $90 – however, by the time we got to the LAX-it lot, the price had decreased to $60.
Taxi from LAX to Disneyland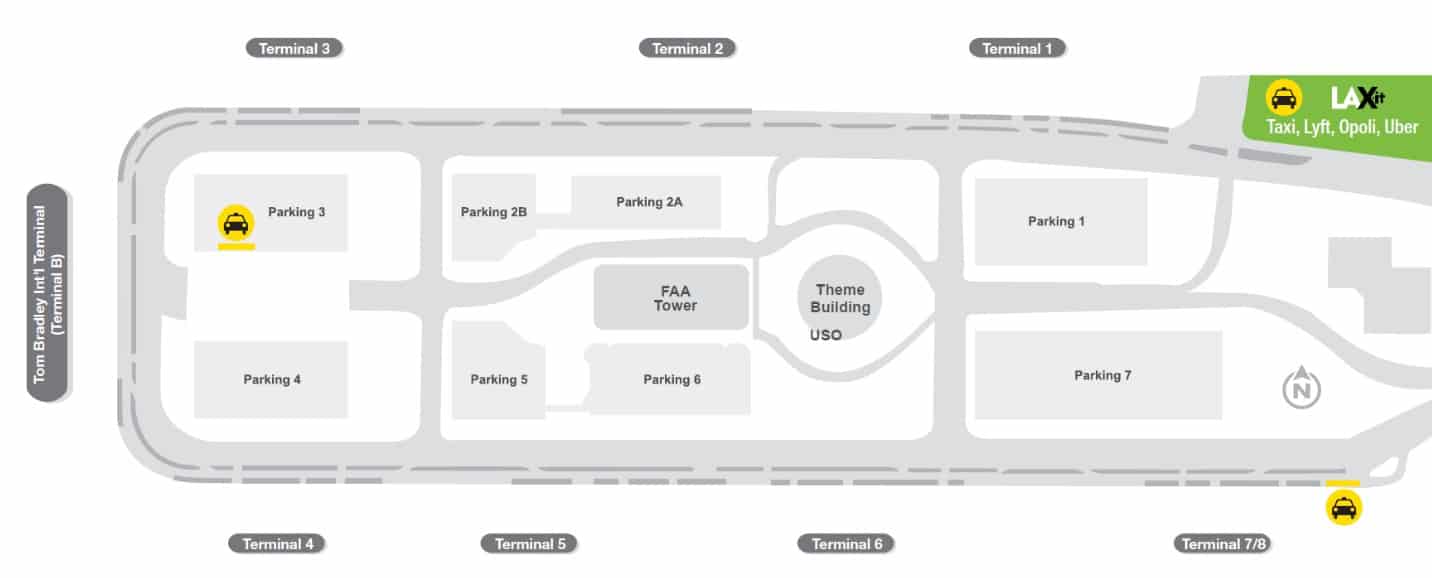 If you're not a fan of rideshare for whatever reason, you can also get a taxi which is basically the same but will cost you much more.
As with rideshare, a taxi from LAX to Disneyland is best for families of 4 or fewer. However, if you have a large family, lots of luggage or require car seats, then you're best to take a Disneyland shuttle from airport – more on that below.
There are three locations where taxis pick up passengers at LAX, either:
Inside parking lot 3, which is between Terminal B and Terminal 3;

Outside the arrival area of Terminal 7; or

The LAX-it lot – see the instructions above for rideshare on how to get there.
So if you plan on taking a taxi, check the number of the terminal you arrive at and determine where the best location is to pick up the cab.
The taxi cost from LAX to Disneyland is calculated using a taximeter and can be around double the price of a rideshare. Of course, you won't know the exact price in advance, but expect it to be around $100 – even more if there's a lot of traffic.
Shuttle from LAX to Disneyland

Before covid, the best way to get to Disneyland was via a shared Disneyland shuttle. You'd get picked up from the airport with loads of other tourists all excited about starting their trip to Disneyland.
Unfortunately, shared Disneyland airport shuttles are no more, and these days if you want to take a Disneyland express shuttle, you'll need to pre book a private shuttle bus from LAX to Disneyland – which isn't cheap.
Shuttles start at around $70 for a car with up to 3 passengers, then work their way to about $150 for vans able to transfer larger groups. So for larger families or those with lots of luggage, a Disneyland shuttle bus is probably the best way.
Some LAX airport to Disneyland shuttle companies regularly recommended in Disneyland FB groups include Super Shuttle Express, Prime Time Shuttle, Shuttle to LAX and Karmel Shuttle.
Also, note that private transfers generally are required to pick up from outside the upper departure level from each terminal. You will arrive at the lower level, so will need to make your way upstairs. However, check with your shuttle service to confirm where pick up is.
Public Transport from
LAX Airport to Disneyland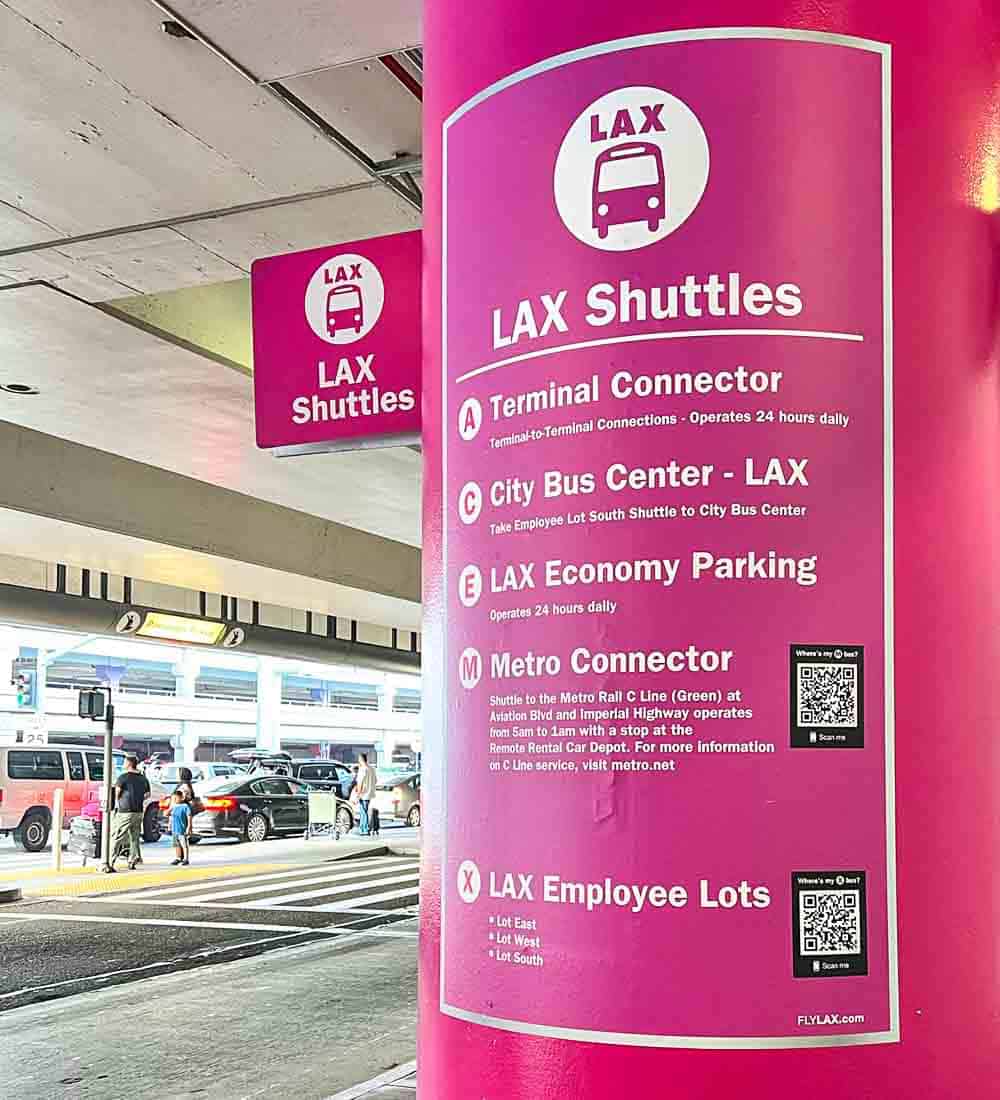 If you're after the cheapest way to get to Disneyland from LAX – then take public transport. However, the journey is long and somewhat complicated, so if you're travelling with a few kids and have luggage, you may find it isn't worth the hassle just to save a few dollars.
If you're set on public transport, you'll need to take the Metro Green Line Shuttle from LAX to Aviation / LAX Station.
To find the shuttle, after exiting the airport, look for the pink LAX Shuttle signs on the lower arrival level islands outside each terminal. As you can see from above, the pink signs are super easy to spot.
The shuttle comes every 10 minutes or so and is free to ride. The ride to Aviation / LAX Station takes about 6-15 minutes from LAX, depending on which terminal you board the bus.
From Aviation / LAX Station, take the Green Line Metro (train) to Norwalk Station. Trains leave every 30 minutes, and the journey will take 26 minutes.
To ride the train, you'll need a TAP card, which can be purchased for $2 from vending machines at the station. You'll also need to add at least $2.50 to cover the fare to Disneyland.
From Norwalk Station, you'll need to take the 460 bus to Disneyland. These buses leave every 45 minutes or so and take almost 90 minutes.
From Disneyland, you can walk or take another bus or taxi to your hotel.
The entire journey will take around 2.30 hours – so it's quite a lot of effort but a very cheap way of getting to or from Disneyland.
Rent a Car to
Travel from LAX to Disneyland

Another option to consider is to rent a car from LAX and drive yourself to Disneyland. If you are planning on renting a car anyway – you might as well do it from LAX and save yourself the money or time using any of the above options.
Everyone drives in LA, which means traffic is pretty full on, but it also means that hotels are well set up with car parks, as are most attractions.
Some car rentals will pick you up outside the terminal you arrived at and drive you to your rental car. If your car rental company offers this, just look for the purple rental car shuttles sign outside the arrival terminals.
Other car rentals will meet you at the Remote Rental Car Depot. To reach the depot, board one of the Metro Connector shuttles, which pick up passengers from the pink LAX shuttle signs outside the terminals when you arrive.
Check with your car rental where you will meet them well before arriving at LAX.
Transportation from Disneyland to LAX Airport
Families ending their time in Los Angeles from Disneyland will also need to know how to get from Disneyland to LAX. For the most part, getting from Disneyland to LAX is the same as the options provided above but in reverse.
The main difference to note is that if taking rideshare or a taxi, your vehicle is permitted to drop you directly outside your departure terminal and not at the meeting point, which was detailed above.
____________________________________________________________
Hopefully you've found this guide on getting to Disneyland helpful. We have plenty of other guides to help plan your trip to Disneyland including things to do in Anaheim, where to stay near Disneyland and how to get from Disneyland to Universal Studios. I'd also recommend you look here for discounted Disneyland tickets.