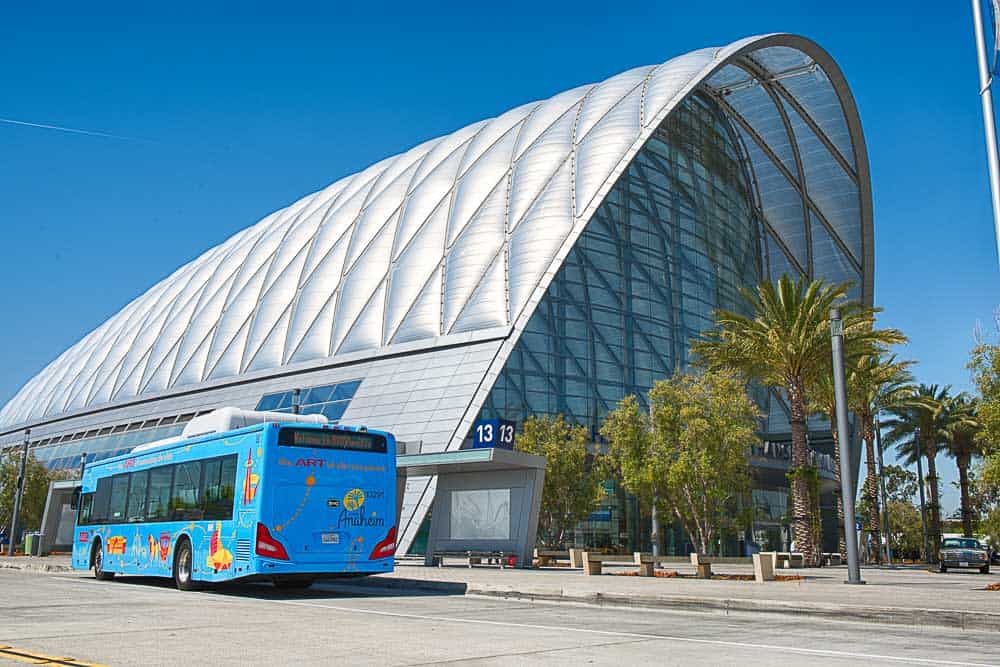 Families visiting Los Angeles no doubt have a visit to Disneyland and Universal Studios at the top of their list – however, you may be surprised that these two popular theme parks are nowhere near each other.
So if you're planning on visiting both parks, you're going to want to know the best way to get from Disneyland to Universal Studios Hollywood or vice versa? This is where this guide comes in handy.
In this guide, we're going to cover all you need to know to decide what is the best way for getting from Anaheim to Universal Studios – and vice versa. In particular, we cover:
How far is Universal Studios from Disneyland?

The

best way to get from Disneyland to Universal Studios

Disneyland to Universal Studios shuttle

options

Getting from Anaheim to Universal Studios

on public transport
After reading all of that, you'll easily be able to decide which is the best way to get from Anaheim to Universal Studios for your family.
Talk to other families about their tips on visiting Los Angeles and join our Thrifty Family Travel Facebook Group or get inspired on our Thrifty Family Travel Instagram Feed.
This post may contain compensated links. Please refer to my disclaimer here for more information.
How far is Universal Studios from Disneyland
?
In terms of how far from Disneyland to Universal Studios– it's really not that far at only 35 miles / 56 km. However, the main problem is a lack of good public transport options and the crazy, crazy Los Angeles traffic.
As we explain in more detail below, you'll see that getting from Disneyland to Universal Studios by car can take anywhere from 35 minutes to a whopping 90 minutes! By train or bus from Disneyland to Universal Studios, it's even worse at around 2.5 to 3 hours.
Please note that all prices mentioned were correct at the time of writing and are in local currency. To check the rate in your currency, click here.
Best Way to get from Disneyland to Universal Studios
With so much traffic, you'd think the best way to get from Disney to Universal Studios would be public transport – but as you'll see in the section below – this is not the case. Instead, the easiest and most convenient way for getting to Universal Studios from Disneyland is by car.
Below we outline how to get from Disneyland to Universal Studios by driving your own car, renting a car or via ride share.
Drive
If you have your own car with you while staying in Los Angeles, driving from Universal Studios Hollywood to Disneyland (or vice versa) is the easiest way. Both parks are close to freeway exits, so the journey is fairly straightforward.
It's recommended you use Google Maps to map out your best route.
Of course, with driving, you'll need to allow for parking costs at both Universal Studios and Disneyland. Parking at both theme parks starts at around $30 per day.
Renting a Car
If you don't have your own vehicle while in Los Angeles but still wish to drive, then you can rent a car just for the day while driving to either Universal Studios or Disneyland.
From Disneyland, it's easy to rent a car, with many car rental companies in the area. Most companies open from 7.30 am or 8 am and allow you to return the car after closing time. So you could easily hire a car for just the day while driving to Universal Studios.
From Universal Studios, renting a car is a bit harder, with most car rental companies located in and around Hollywood, which is about a 10 minute drive from the theme park. However, you could easily take an Uber or Lyft to the car rental in the morning and back to your hotel after dropping off the car in the evening.
You'll probably need to allow around $100 for hiring a car, plus gas. And then you'll also need to pay parking fees as well.
Ride Share
If you don't have your own car with you and are not comfortable driving in Los Angeles, then your best option will be to use ride share such as Uber or Lyft. There are plenty of drivers between Anaheim and Hollywood and you shouldn't have too many issues finding a driver.
Expect to pay around $60-$100 each way for Uber or Lyft. However, keep in mind that costs depend on demand and traffic, so it is possible that the rate could be much more than this, or even less. The good thing with ride share apps is you'll get a rough idea of the cost before booking. So if it's too much at any particular time and you have some time up your sleeve, just try again in 30 minutes or so and see if the price has reduced.
Taking the Anaheim to Universal Studios Uber or Lyft option will be more expensive than renting a car. Still, at least you don't have to mess around with picking up the vehicle or dropping it back or any parking fees. You also don't have to worry about driving in the insane Los Angeles traffic.
The downside with ride share is that the maximum number of passengers in most cases is four people – so not ideal for larger families.
Best time to Drive to Universal Studios from Disneyland
If you decide to drive your own car, hire a car or take a ride share, you'll need to consider the Los Angeles traffic. If you leave at the wrong time, you could be stuck on the freeway for hours!
Unfortunately, the drive between Universal Studios and Disneyland is a popular commute for Los Angeles workers. So it really does pay to plan your trip outside peak hour traffic to avoid long lengthy delays.
Traffic is worse on weekdays between 7.30 am to 10 am and 3 pm to 6.30 pm. So if possible, avoid these times at all costs. During these times, expect the Disneyland to Universal Studios drive time to be at least an hour or more.
So from a traffic perspective, the weekends would be the best time to drive to Universal Studios or Disneyland, but that's also when the parks will be the busiest. Some families like to go on a weekday but leave early before peak hour traffic and have breakfast outside the parks. Then you can stay inside the park until after peak hour traffic in the evening or hang around the downtown areas outside the parks.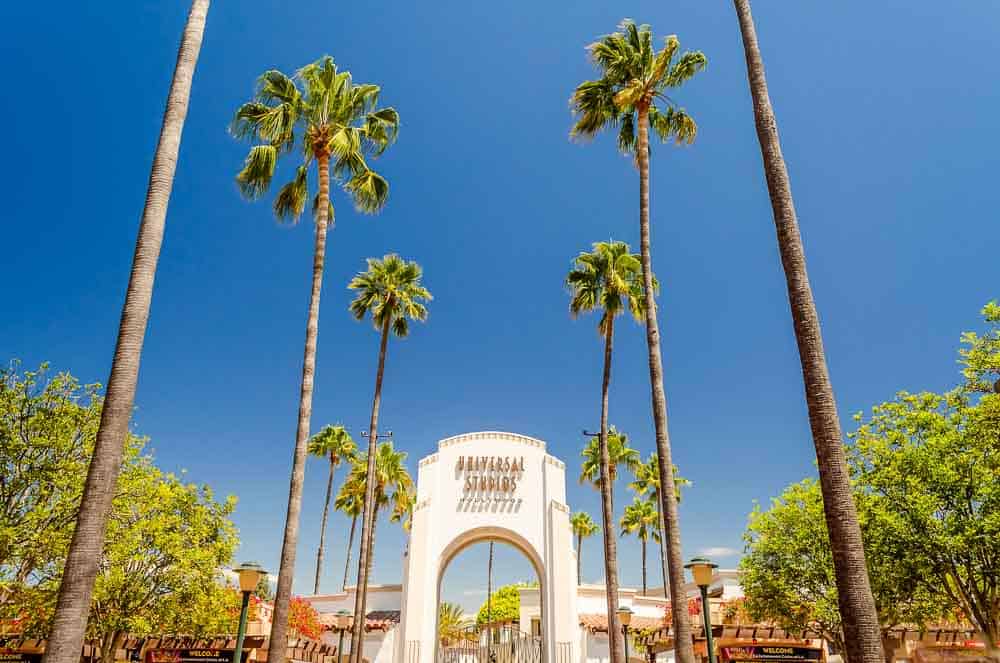 Shuttle from Disneyland to Universal Studios
Given Disneyland and Universal Studios is so popular among tourists to Los Angeles, you'd think there would be a shuttle from Disneyland to Universal Studios – but there isn't. However, you can book a private Disneyland to Universal Hollywood shuttle with a private vehicle and driver.
A private Disney to Universal Studios shuttle is probably the best option for those families that want to lock in a price and not have to worry about price surges Uber and Lyft sometimes experience. The price will be what it is, no matter what.
Another benefit of booking a private shuttle service from Disneyland to Universal Studios is that for families with young children, you can hire the necessary booster seats required. If using an Uber or Lyft, you'd need to provide these yourself.
You can also book a private shuttle well in advance and feel secure knowing the driver will turn up at the arranged time.
With companies such as Xpress Shuttles or Anaheim Town Car Services expect to pay around $150 to $200 each way for a private shuttle for up to 4 passengers or about $220 to $250 for seven or more passengers.
Renting a Charter Bus
Depending on how big your family is, or if you're travelling with other families in a group, going in on a charter bus could be a more affordable option than renting a car or a private shuttle.
Both parks accommodate tour groups and have bus parking available, and you typically have options for a minivan for up to 25 or a full charter bus of up to 57 (though that's a large family reunion!).
Hourly rates for charter buses in California can vary between $99 – 110 depending on who you choose, and usually, there is a minimum hour/spend. It can be a fast and affordable option if you're travelling with enough people.
Train or
Bus from Disneyland to Universal Studios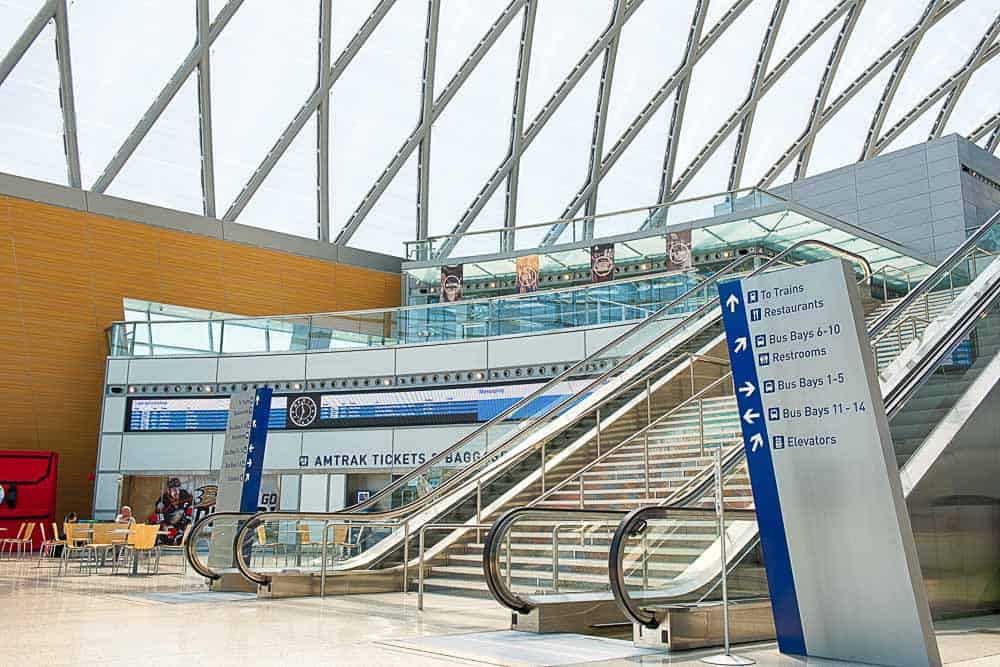 If you're after the cheapest Disneyland to Universal Studios transportation option, you can take the bus and train. However, getting from Disney to Universal Studios without a car can take around 2.5 to 3 hours one way!
The time of day you travel between Disneyland and Universal Studios will depend on your route; however you're likely to need to take a combination of buses and trains with multiple transfers along the way. There is no direct route between the two theme parks.
I'd recommend using Google Maps to plan your route, but expect your journey to be something like this:
Take the 460 Bus near Disneyland from the closest stop near your accommodation.

Get off the bus at Figueroa and 7th

Walk about 3 minutes to the 7th Street and Metro Center Subway Station

Take the Metro Red Line towards North Hollywood

Get off the subway at the Universal/Studio City Station

Take Universal Studios' free shuttle to the park (it runs about every 15 minutes) or walk for about 15 minutes to the park
However, the good news with this option is it's by far the cheapest way to travel
To ride the train and bus, you'll need a TAP card, which can be purchased for $2 USD from vending machines at the station. You can also download the TAP LA app and purchase cards there.
Now in terms of fares. The standard fare is $1.75 USD per 1 way trip on a bus and train with multiple transfers within 2 hours. Given this trip will take you more than 2 hours, $7 USD will get you a one day pass.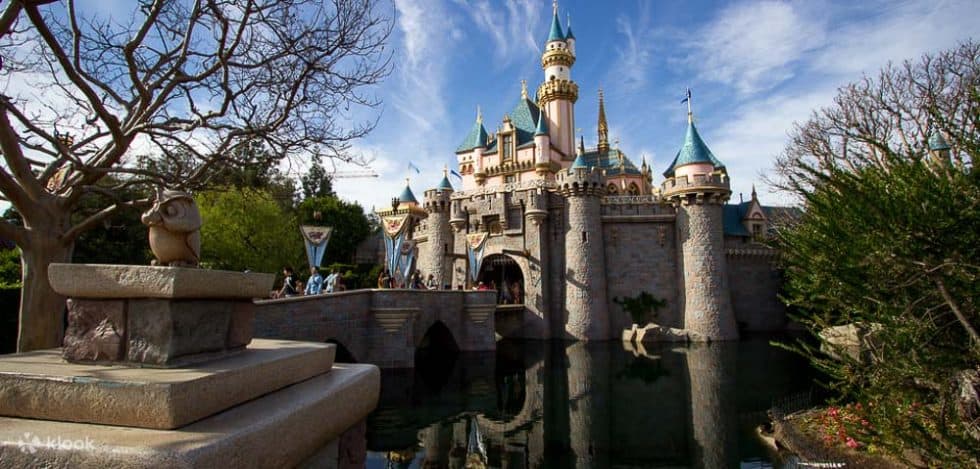 Final Tips
Hopefully, you've decided which is the best way to get to and from Disneyland to Universal Studios. However, my other tip would be to get your tickets to each theme park in advance. You can purchase Disneyland tickets here and Universal Studio tickets here.
We also have a range of other guides to help plan your trip to Disneyland and Universal Studios, including: