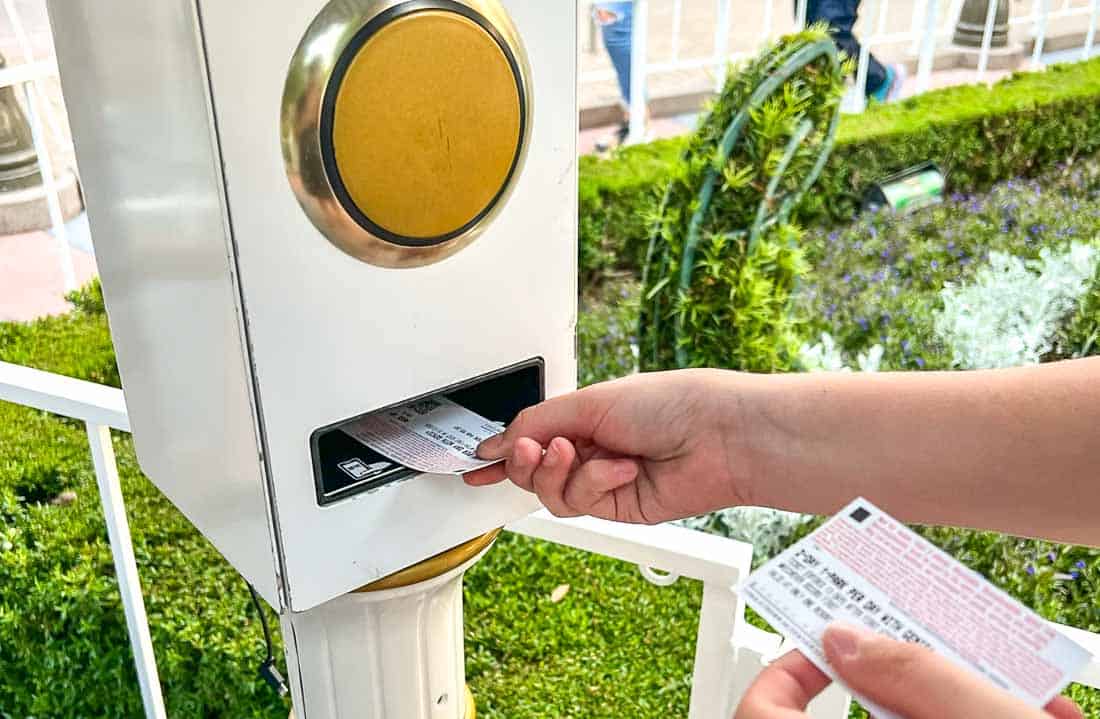 Jump into any of the Disneyland Facebook groups, and one of the most common questions you'll see is "Is Genie Plus Worth It For Disneyland?" I was even asking myself, Is Disney Genie plus worth it before our recent trip to California.
And the short answer is – it depends on a few different things.
So to help you decide is Disneyland Genie plus worth it for your upcoming trip, in this guide, I'm going to take you through everything you need to consider first.
In this Disney Genie Plus Disneyland guide – we will look at the following:
What is Disney Genie Plus

?

How Does Genie Plus Work

?

How to Use the

Disney Genie Plus App

?

What is the

Disney Genie Plus Rides List

?

What is

Disney Genie Plus Photopass

?

How Much is Genie Plus Disneyland

?

How to Purchase Genie Plus at Disneyland

?

Disney Genie Plus Tips and Tricks
And by then, I think you'll easily be able to decide whether or not the Disney Parks Genie Plus is worth it for you and your family.
Talk to other families about their tips on visiting Disneyland and join our Thrifty Family Travel Facebook Group or get inspired on our Thrifty Family Travel Instagram Feed.
This post may contain compensated links. Please refer to my disclaimer here for more information.
Is Genie Plus Worth it For Disneyland

?
So many of you may have come here for me to give a simple yes or no answer. And if I had to say yes or no, my answer would be yes; the Genie Plus Pass is worth it.
However, for larger families or groups weighing up the benefit of the additional cost or who'd rather save that extra money to buy some Mickey Mouse ears, there may very well be some situations where my answer would be, no – save the money.
However, before deciding if Genie Plus for Disneyland is worth it, you need to understand the bigger picture – so let's look at that first.
What is Disney Genie Plus

?
So first up – what is Geniey Plus Disney? Genie Plus is an optional service that guests can buy, allowing them access to shorter lines at certain Disneyland rides. With Disney Genie Plus at Disneyland, you can access the Lighting Lane entrance (more on Lighting Lane vs Genie Plus below), while those guests without Disney Genie Plus Pass line up in the regular stand by lines.
So basically, Genie Plus provides you access to shorter lines so you can spend more time on rides and less time standing around in lines.
However, it's not quite that simple – more on how does Disney Genie Plus work below.
How Does Genie Plus Work

?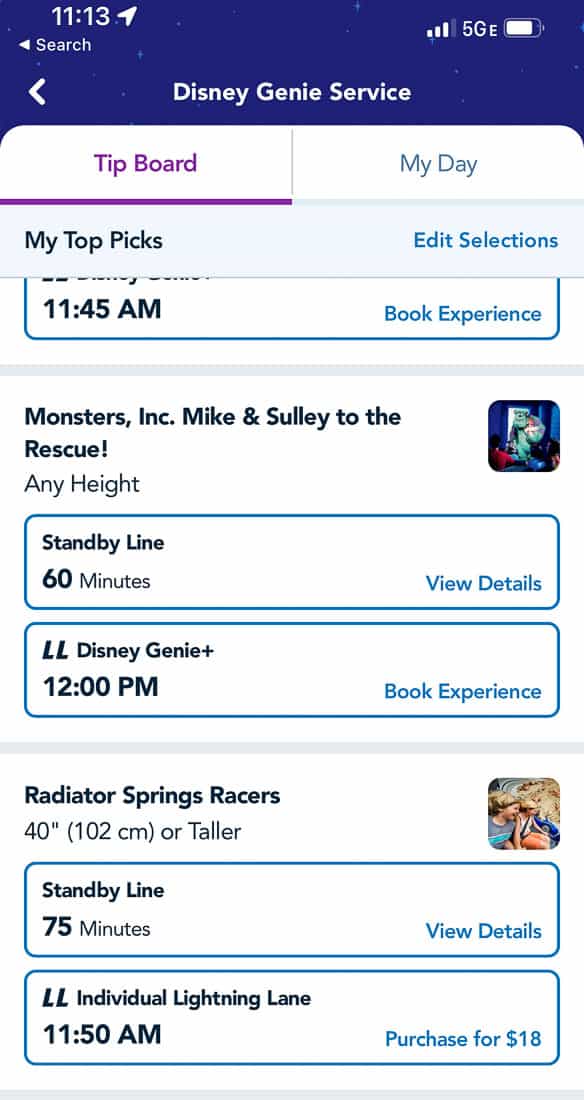 Regarding how to use Genie Plus, it isn't as simple as flashing your pass before going on rides. As mentioned above, you must "book" your spot using the App.
On the day of your visit, you can book your first ride at 7 am. You can choose which of the Genie Plus Disneyland rides you'd like to book and then you'll be provided with a range of one hour window timeslots where you can experience the ride. I recommend at this point, choosing one of the Disneyland Genie Plus rides with the earliest time slot you're available – more on why later.
At your booked time, you go to the ride, tap your ticket on the ride scanner and line up via the Lighting Lane entrance. While there may still be a lineup for the ride, it will be significantly shorter than the standard line. During our recent visit, some of the Lighting Lane entrances were just a few minutes, but more often than not, they were around 15-30 minutes. This may seem like a long time, but this is versus the standby line of 60-90 minutes.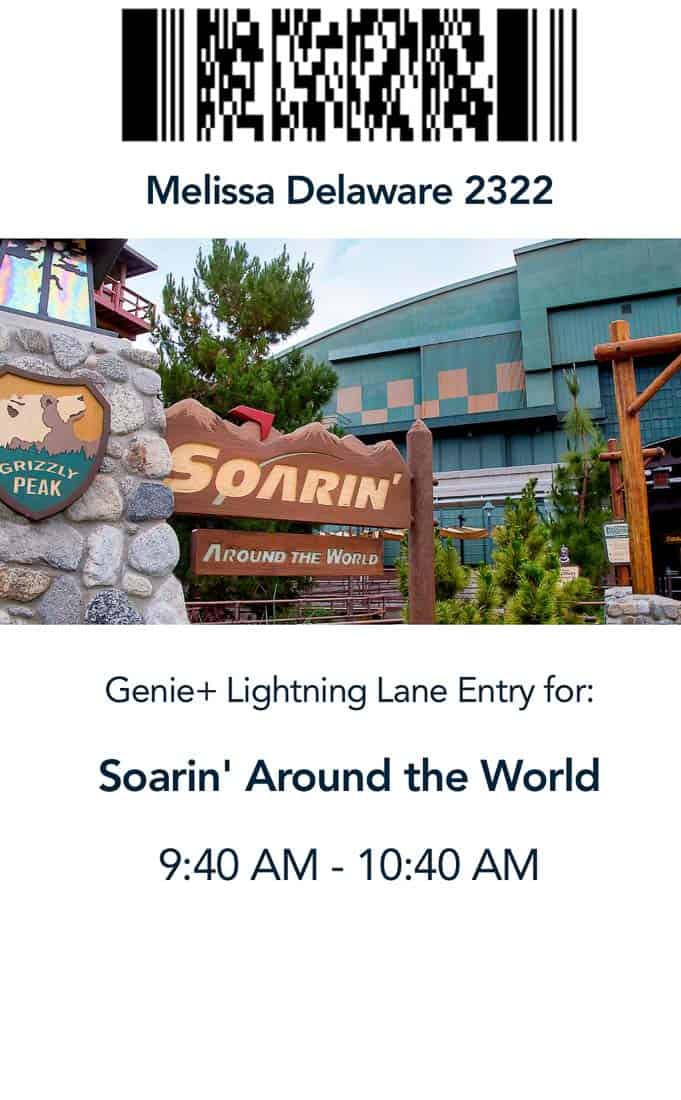 Note that despite the hour window time frame you are provided – you will be able to access the ride 5 minutes before this time as well as up to 15 minutes after this window. So you effectively have a time window of 1 hour and 20 minutes to ride. I recommend riding as early as possible, but if you're stuck in another line somewhere, it's good to know you have this additional time.
Once you've scanned your ticket for the ride, the Disney Genie Plus rules allow you to book another ride of your choice, so you can do this while waiting in line – and I recommend you do! However, if your ride reservation time isn't until much later in the day, the Disney Genie Plus Service also allows you to make another booking after 2 hours have passed since you last booked a ride.
This is why I recommend booking the earliest time slot for a ride as you can and going on that ride as soon as possible. Because as soon as you scan in for that ride, you can book another ride. However, if you book a ride for much later in the day, you won't be able to book another ride for another 2 hours, and in the meantime, you'll be stuck waiting in standby lines.
An example of how this works is at 7 am, you book the Peter Pan ride and your window timeframe to ride is 1 to 2 pm; you'll be able to book another ride at 9 am, even though your ride isn't until 1 to 2 pm. However, if your window timeframe was at 9 to 10 am, and you went on the ride at 9 am, you'd be able to make your next Genie Plus booking as soon as you scanned in, which would have been just before 9 am.
Unfortunately, how Disney Genie Plus works is that after you've made a booking, you cannot change it. Of course, you can cancel it and rebook, but changing bookings is not possible.
I'd only recommend cancelling if you really have to, as they only grant a certain amount of Genie Plus passes per time slot, and once they're all filled up for the day – that's it; you won't be able to book it in at all. Also, we found that the Disneyland timeslots booked up much faster than the California Adventure Park timeslots.
The other thing to note is that you can only use Genie Plus once per ride. So once you've experienced a ride with Disney Genie Plus, you'll need to join the standard line if you'd like to ride again.
How to Use the

Disney Genie Plus App

?
To make the most out of your day with the Genie Plus, it's super important that you have downloaded the official Disneyland App before entering the parks. You want to ensure the app has downloaded ok, that you can log in and that all your tickets are linked correctly to the App.
The App is the only way you can book your Disney Genie Plus attractions, so I'd recommend getting the Disneyland App sorted well before your trip, so if you have any issues, you can get them sorted out. Have a play around with the App too; it's not the easiest to use and I got confused with it a few times myself – but you'll soon get the hang of it.
To book any of the Genie Plus rides at Disneyland, from the home page, click on "My Day" and then "Tip Board".
From here, you'll see all the different attractions listed and the attractions that you can book for Genie+ or a Lighting Lane Pass. Then, simply click the "LL Disney Genie+" to book.
It's important to note that the App always defaults to Disneyland. So if you want to make bookings for California Adventure Park, you'll need to press "change park" from the top of this page.
What is the

Disney Genie Plus Rides List

?
While there are many, many rides at Disneyland and California Adventure Park, only certain rides are included in Disney Genie Plus.
It seems that the rides on the Disney Genie Plus ride list do change from time to time. However, at the time of publishing, these are the included rides on Genie Plus:
Disneyland:
Autopia

Big Thunder Mountain Railroad

Buzz Lightyear Astro Blasters

Haunted Mansion

Hyperspace Mountain

Indiana Jones Advenuture

It's a Small World

Matterhorn Bobsleds

Millennium Falcon: Smugglers Run

Splash Mountain

Star Tours – The Adventure Continues
California Adventure Park:
Goofy's Sky School

Grizzly River Run

Guardians of the Galaxy – Mission Breakout

Incredicoaster

Monsters, Inc Mike & Sulley to the Rescue?

Soarin' Around the World

Toy Story Midway Mania!
What is

Disney Genie Plus Photopass

?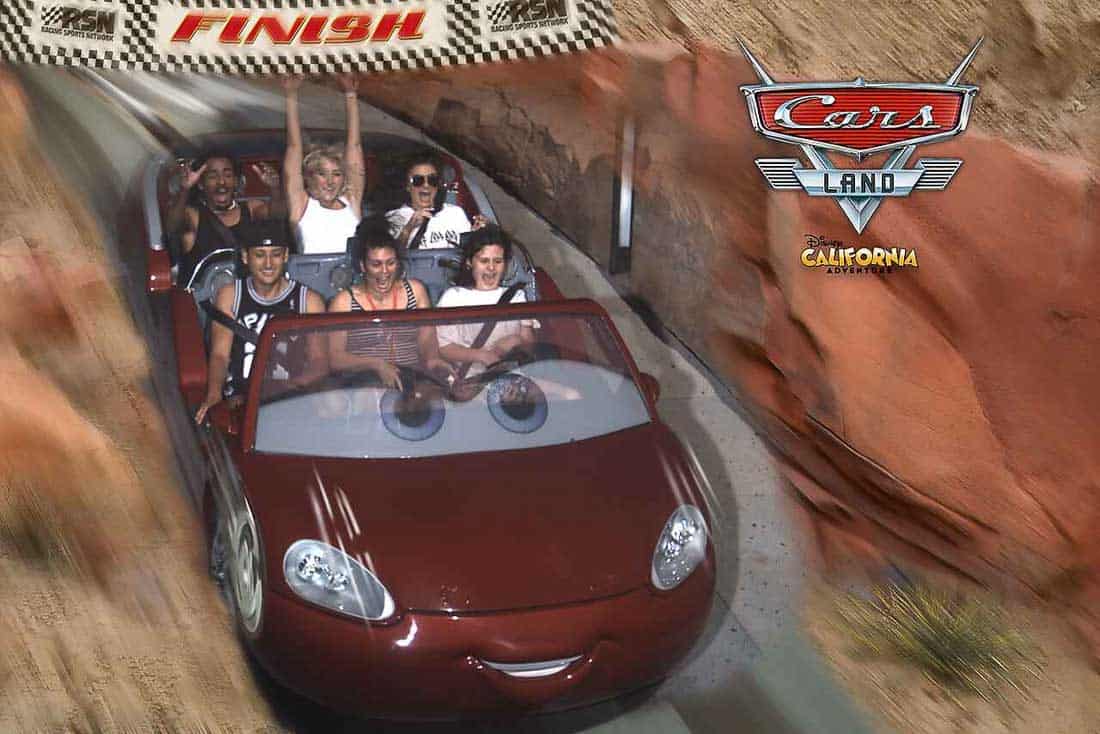 Another thing to consider when wondering is Genie Plus worth it at Disneyland is that in addition to shorter line times, you also get access to the Genie Plus Disney Photopass. This means that any official photos that are taken of anyone within your group during the day, you can access and download via the App completely free of charge.
You'll know if a photo was taken of you while on a ride because as you get off the ride, there will be computer monitors with photos. Simply go over and find your photo and then what I did was take a quick photo of the screen – as the photo will have a code on it which you will need to put into the Genie Plus app to download your photo. Then you can download the photo when you have a minute.
So while the Photopass may not be worth it on its own, it's a nice bonus. We certainly got some fun photos from the trip, like the one above on the Radiator Springs Racers (a great ride by the way!)
Another benefit of Genie Plus is you'll get access to audio guides that will provide you with additional information around the park. This might be something you listen to while waiting in ride lines, although we never did – so I wouldn't factor that in when making your decision.
How Much is Genie Plus Disneyland

?
The Disney Genie Plus Price is $20 per ticket per day. So for a large family, this could add up quite a lot, particularly for those families going to the parks over multiple days.
However, when weighing up the Disney Genie Plus cost – remember that you don't need to buy it for every day you visit the parks, and you don't need to buy it for every person. So if you had a few people in your group wanting to ride some of the scarier rides, perhaps just buy them the Genis Plus for one day. Then while they're off doing their rides, the rest of the group can do something else. Or, if they do decide to wait, they won't be waiting too long anyway.
How to Purchase Genie Plus at Disneyland

?
In terms of how to purchase Disney Genie Plus, there are two options. You can either buy Genie Plus Disney passes upfront when you purchase your Disneyland ticket, or you can opt to purchase Disney Genie Plus on the day of your visit via the Disney App once you've entered the park.
If you plan on buying them, I wouldn't wait until the day and I'd buy them upfront with your tickets. Things can be hectic at Disneyland, and stopping to buy Genie Plus passes is another time waster. However, if you haven't booked them and realise you really do need to, at least you know this is an option.
You can purchase your Disneyland and California Adventure Park tickets here.
Disney Genie Plus v Lighting Lane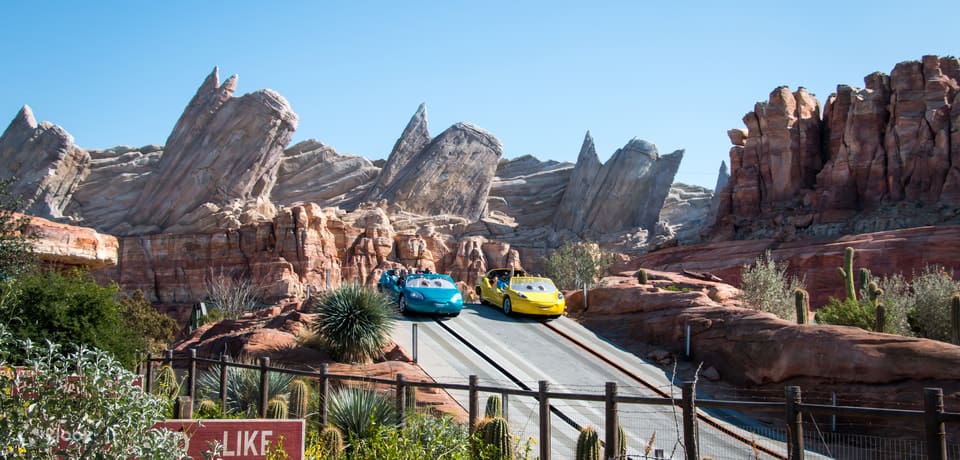 As well as your Disney Genie Plus purchase, you may decide to buy Lighting Lane passes. Remember we mentioned above that the Genie Plus gives you access to the Lighting Lane entrance for rides? However, Lighting Lane Passes are also something entirely different.
Lighting Lane Passes are tickets you buy for an individual ride that provides access to the Lighting Lane entrance – yes, the same line entrance you access with the Genie Pass.
Each guest may purchase up to two Lighting Lane Passes on any given day and each pass must be used for a different ride. So you can not use both passes for the same ride.
So some people may decide that instead of the Genie Plus, they may opt for Lighting Lane Passes. Or, some people may opt to have the Genie Plus AND the Lighting Lane Passes – it just depends on how much time you have in the park. But, in most cases, if you were to buy a day pass, Genie Plus and Lighting Lane Passes, this would still be far cheaper than paying for an extra day at Disneyland for every family member- and you get shorter lines.
Lighting Lane Passes are also purchased via the Disneyland App and you can buy these once the park opens on the day of your visit. The price of a Lighting Lane Pass ranges from $7 to $20 per ticket (prices are not set and change depending upon demand); you'll see the price listed against the ride in the app.
Below are the rides you can purchase Lighting Lane Passes for and the price on the day of publishing:
Disneyland:
Star Wars: Rise of the Resistance – $20
California Adventure Park
Radiator Spring Racers – $18

Web Slingers: A Spider-Man Avenutre – $18
You can hold reservations for a ride with Genie+ at the same time as having a reservation for a Lighting Lane.
Disney Genie Plus Tips and Tricks
If you have decided to get Disney Genie+, here are a few tips and trips to make the most out of the service:
Download the app and ensure it works at least the day before your visit, even earlier if possible.
As you require your mobile device to use Genie Plus, bring a portable charger to ensure your mobile has plenty of juice throughout the day.
Be prepared to use your own wifi, as the Disneyland wifi doesn't always work that well and you want to ensure you make the most out of your Genie+
Make sure to book your first ride at 7 am to make the most out of Genie+. I'd recommend this booking is for any rides that the first available time is later in the day, as these rides are the ones most likely to "sell out" on the Genie+ App.
If you plan on buying any Lighting Lane Passes, buy these as soon as you arrive in the park, as only so many are sold each day and so they do sell out.

If you're waiting 2 hours to make your next ride reservation, set a 2 hour alarm so you don't forget.
As soon as you've checked into a ride, book your next ride while waiting in line.
Don't forget that you can ride up to 5 minutes before your reservation time and up to 15 minutes after. So this can allow you to book two rides (one for Genie+ and one for Lighting Lane) in the same timeframe- provided you have enough time to get between the two rides within the timeframe.
Disneyland Genie Plus Review

– Is it Worth It?
Like I said in the introduction – it depends. If you're short on time, say you're only going to Disneyland for one day – then it's 100% worth it.
For our recent visit, we were visiting each park just for one day, so we didn't have much time to spend waiting in lines. Disneyland was packed on the day we visited; it was June school holidays after all – and even with Genie Plus, we only went on about 9 rides – even though we stayed well into the evening.
However, with California Adventure Park, with Genie Plus we were able to ride all the park rides (except the little kiddy rides) before 5 pm, as well as riding some rides multiple times using standby lines. If we were prepared to stay all day and night, we could have easily gotten on all the rides without the Genie Plus.
I also think for families with young children, where standing in lines all day is going to be problematic, the Genie Plus would be a godsend. Older children may be happy chatting or playing games on their devices while waiting, but this might not be possible for grumpy toddlers. Although you also need to consider what rides are included because not all of them are – so ensure your kids are going to go on the rides in the first place before spending the money.
I'd also consider when you're visiting the parks. During peak times, when it's the school holidays and you know the crowds are going to be insane – then definitely pay the extra. However, if you're visiting on a weekday when it's not school holidays, perhaps the Genie Plus isn't necessary.
At the end of the day, only you can decide whether the Genie Plus is worth it for your family. However, from my perspective – if you can afford the $20 per ticket per day – save yourself from waiting in line and buy the Genie Plus – it will ensure you spend more time enjoying the Disney attractions.
So what have you decided? Either way, you can purchase your Disneyland and California Adventure Park tickets here.
____________________________________________________________________________________
Hopefully, you've found this guide on Disney Genie Plus helpful in deciding whether or not it's worth it for your family. We also have a range of other guides you might find beneficial, including things to do in California, things to do in Anaheim (coming soon) and where to stay in Anaheim.