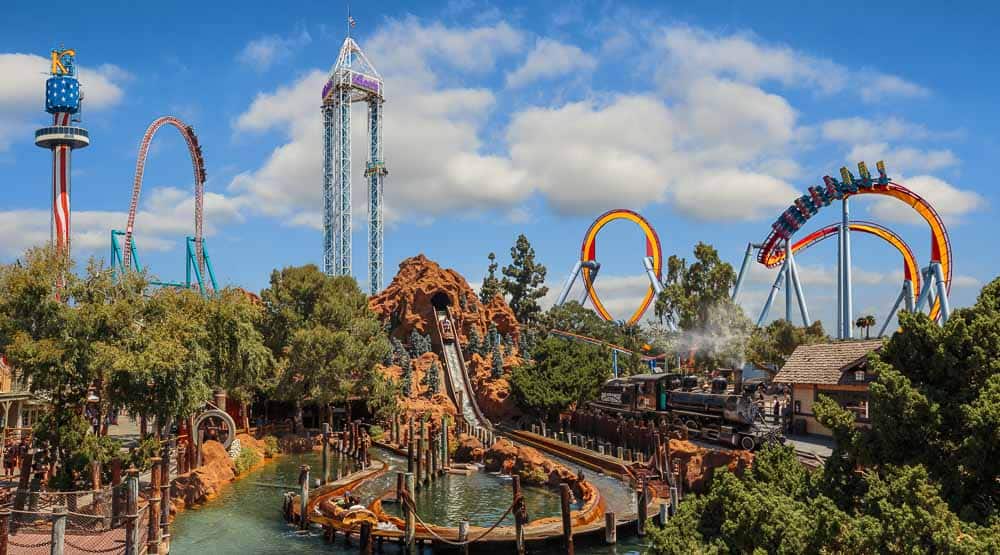 When most people think of things to do in Anaheim with kids – they straight away think of Disneyland! And of course, while most families take a trip to Anaheim to visit the Disneyland parks, there are actually heaps of other fun things to do in Anaheim besides Disneyland.
So if you're heading to Disneyland and need some inspiration for fun things to do with kids in Anaheim, this is the perfect guide for you. In this guide, of course, we cover the Disney parks, but we also cover other Anaheim things to do besides Disneyland and the best places to stay in Anaheim with kids.
So let's get started and find you some fun family things to do in Anaheim.
Main Image Credit: Visit Anaheim
Talk to other families about their tips on visiting California and join our Thrifty Family Travel Facebook Group or get inspired with our Thrifty Family Travel Instagram Feed.
This post may contain compensated links. Please refer to my disclaimer here for more information.
Best
Things to do in Anaheim with Kids
Map
Below in this kids activities Anaheim guide, I've provided a comprehensive list of what to do in Anaheim with kids. In addition, I've provided plenty of information to make your planning easier, including locations, opening hours and ticket prices.
Please note that all prices mentioned were correct at the time of writing, and prices may fluctuate depending on daily changes to currency exchange rates. To check the rate in your local currency, click here.
To help you plan what order to visit all the fun places for kids in Anaheim, I've also provided this handy map below, which shows you the location of all the different attractions. Zoom in and out for a better view.
Fun Things to do in Anaheim with Kids
So we're starting this guide with the most obvious things to do with family in Anaheim – but keep reading below for other things to do in Anaheim besides Disney parks.
Disneyland Park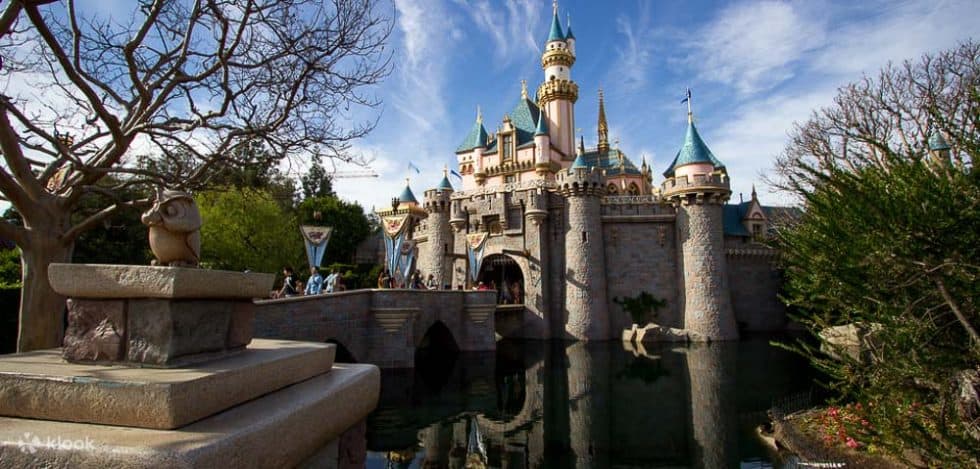 The Happiest Place on Earth should definitely be number one on your things to do in Anaheim California with kids list. This magical kingdom with eight enchanted lands will keep kids (and adults) entertained, thrilled and awed for as many days as you can handle.
Discover the Disney magic as your favourite characters parade down the street or meet them for a cuddle and photo op. Nighttime fireworks are spectacular and famous rides such as Space Mountain and It's a Small World will have you thrilled to bits.
Feeling peckish? There are loads of dining options and cuisines to choose from – including visits from your favourite Disney Characters.
While Disneyland Park is one of the family activities in Anaheim suitable for all ages, if choosing* between Disneyland and California Adventure Park – Disneyland is geared towards slightly younger children.
Many people spend multiple days at Disneyland, although one day per park is more than enough for those short on time. We recently visited during the peak season and still found this plenty of time, particularly when using the Genie Plus. You can also buy park hopper tickets to jump between parks within the one day if you prefer.
Location: 1313 Disneyland Dr, Anaheim
Opening Hours: Daily 8 am to midnight
Price: 2 Day Park Hopper Ticket – $255 per adult | $240 per child (3-9) | Under 3s are free – Click here to book tickets online and look at alternate combo passes
California Adventure Park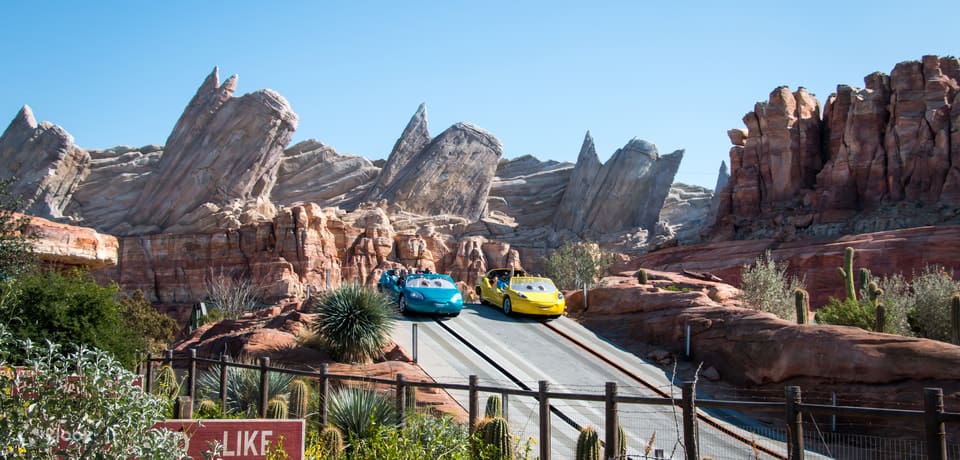 A quick one hundred steps from Disneyland Park, and you will enter the thrills and spills of California Adventure Park! Here, the stories of Disney and Pixar come to life across eight exciting lands.
Buckle up on the Incredicoaster – an exhilarating ride around Pixar Pier (and our absolute favourite ride in the park), or visit Ariel as you journey under the sea without ever getting wet. Ever wanted to fly? Join Goofy's Sky School for a lesson like no other. Whether you have tiny tots or teenagers, there are rides to cater for absolutely everyone here! The rides at California Adventure Park are just next level – easily one of the best theme parks I've visited anywhere in the world!
And after dark, the entertainment soars to life with a spectacular water and light show as scenes from beloved Disney and Pixar films are projected onto a grand fountain. But what happens if you also want to catch the Disneyland Park fireworks? No worries, if you have the Park Hopper Ticket, you can run between parks and watch both stunning shows! Although you can easily see the fireworks from anywhere in the surrounding area.
California Adventure Park is one of the Anaheim attractions for families with slightly older children. While there is definitely something for everyone at the Park, quite a few thrill rides have height restrictions.
We found California Adventure Park far less busy than Disneyland, and even during peak season, we could get on all the rides we wanted to within the day and even rode a few of the rides multiple times.
Location: 1313 Disneyland Dr, Anaheim
Opening Hours: Daily 8 am to 10 pm
Price: 2 Day Park Hopper Ticket – $255 per adult | $240 per child (3-9) | Under 3s are free – Click here to book tickets online and look at alternate combo passes
Fun Things to do in Anaheim Besides Disneyland
Here are our suggestions on the very best things to do in Anaheim besides Disneyland.
Great Wolf Lodge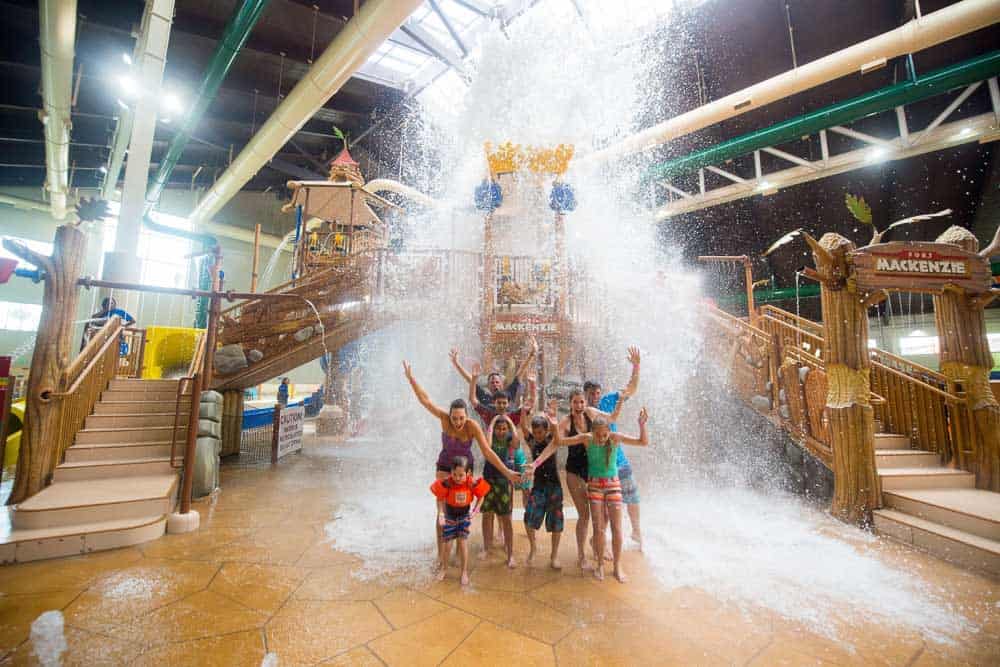 Image Credit: Visit Anaheim
Great Wolf Lodge is many things – accommodation with themed family suites (one of the best hotels for kids in Anaheim), attractions galore including a bowling alley, mini golf, arcade games… and best of all is the huge indoor splash-tastic waterpark! And the great thing is you don't need to stay at the Lodge to access the waterpark as you can purchase a day pass.
Located around a 10 minute drive from Disneyland, the waterpark is one of the fun things to do in Anaheim with kids besides Disneyland. There is a four-storey fort treehouse with dump buckets and slides galore, wave pool, lazy river, tube rides, water basketball, splash zone… and loads more. So if you're looking for things to do in Anaheim for toddlers or teens, the Great Wolf Lodge waterpark has you covered – there really is something for all ages here.
Location: 12681 Harbor Boulevard, Garden Grove
Opening Hours: Daily 9 am to 8 pm
Price: Varies depending on the date, prices start from $55 per person in off peak, with under 2s free. Check the Great Wolf website for accurate pricing on your dates of travel.
Adventure City
If you're looking for things to do near Anaheim besides Disneyland… we have the place for you – and only a ten minute drive from Disneyland. While still a theme park, Adventure City is on the smaller side; with 17 rides, it is known as 'the little theme park that's big on family fun'.
The tickets are well priced and parking is free, so your budget will thank you! The rides aren't as exhilarating as the larger Parks making Adventure City one of the things to do in Anaheim with toddlers, however there are still a few coasters with a bit of a tummy-drop-thrill. There is also a Petting Farm as a point of difference and certainly one of the Anaheim attractions kids will love!
Location: 1238 S Beach Blvd, Anaheim
Opening Hours: Varies; check the calendar for up to date information
Price: $26.95 for all ages
Anaheim Garden Walk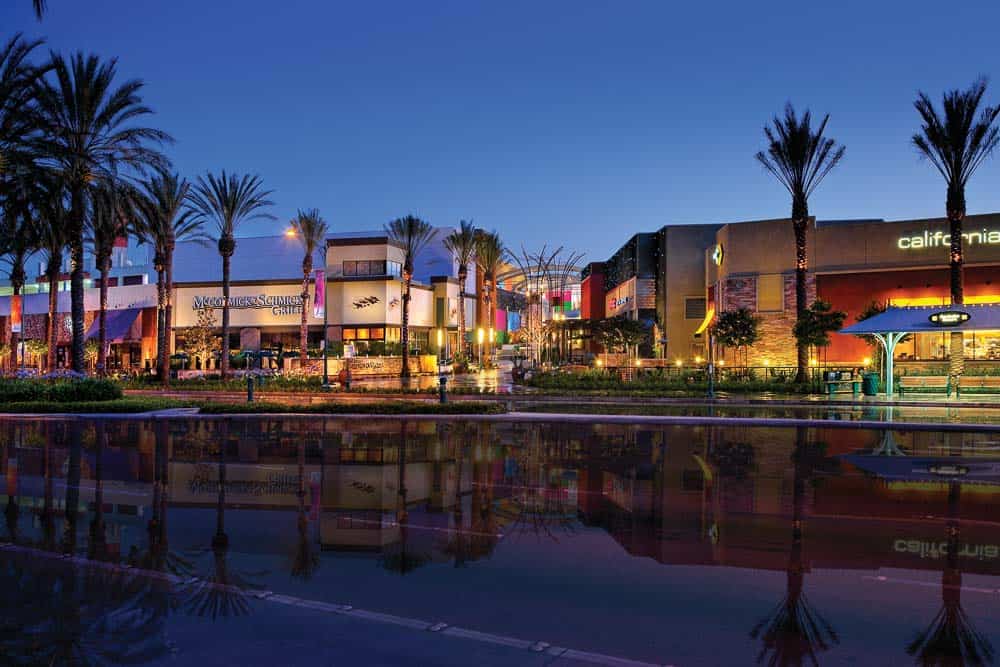 Image Credit: Visit Anaheim
Anaheim Garden Walk is an outdoor entertainment and shopping centre located around a 10-15 minute stroll from Disneyland and California Adventure Park. There's loads of undercover parking (paid available) if you're driving.
Stores and family restaurants Anaheim offers here are open late and are a mix of chains and local operators, along with a movie theatre, bowling and live music. The atmosphere is reminiscent of Hawaii at night with tiki torches flickering, palms swaying and everyone out late having a fantastic time!
If the kids still have the energy to burn, Billy Beez, is an indoor play centre with slides, tunnels, sports courts and more. Otherwise, just strolling around outside, the kids will have fun discovering all of the art – installations, murals and in the shop windows will keep them entertained. Finally, the Anaheim Garden Walk is one of the things to do in Anaheim at night with kids – perfect for those families staying nearby and after somewhere to eat.
Location: 400 Disney Way, Anaheim
Opening Hours: Anytime – Individual stores have specific hours you can check here
Price: Free (if you window shop)
Flightdeck Flight Simulator Center
Ever wondered what it would be like to be a fighter pilot (hello, Top Gun) or an airline pilot? Now you have the opportunity to become a pilot for a flight and either experience the thrill of air-to-air combat in an authentic military flight simulator or take the controls of a commercial Boeing 737 airliner. You will have classroom training and in-flight instruction to make the most of your adventure.
Whatever you decide, this is one of the things to do around Anaheim besides Disneyland… that will still give you the tummy-churning thrill of a rollercoaster, but you don't have to visit a Park. As the Simulator Center is at the Anaheim Garden Walk, you will be free from the crowds of the Parks to enjoy this exhilarating ride in peace.
Keep in mind though, that is one of the things to do for kids in Anaheim for older kids, as there is an age minimum of 10 and some height restrictions. But all guests who aren't flying can relax in the 'Officers Club' and watch others fly on TV's.
Location: Anaheim Garden Walk – 400 Disney Way, Anaheim
Opening Hours: Wednesday – Sunday 1 pm to 8 pm
Price: Fighter Pilot Experience $59 for all ages | Commercial Airliner Experience $110 (age and height restrictions on all flights)
Anaheim Packing District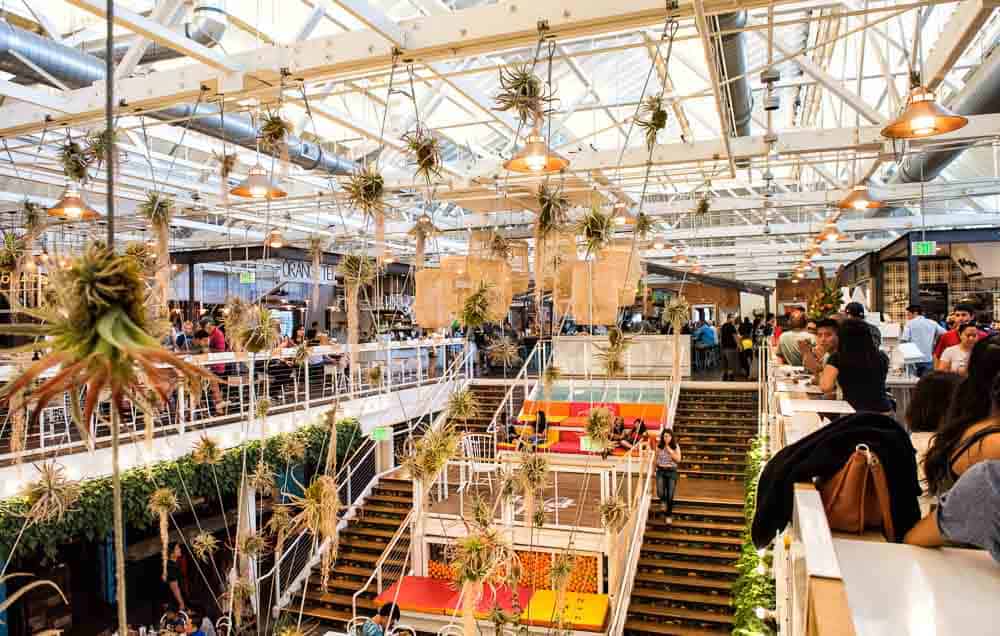 Image Credit: Visit Anaheim
Some of the best family restaurants in Anaheim would have to be at the Anaheim Packing District, located around a 5 minute drive from Disneyland. The District comprises four historic landmarks; The Packing House, Packard Building, Farmers Park and the MAKE Building, each with its own story to tell.
The Packing House is the old Sunkist facility and is now a food hall with a diverse range of cuisines available. The Packard Building is a former car dealership with some farm-to-table food options. At Farmers Park, you'll find activities such as gardening and yoga. And the MAKE Building was previously a marmalade factory and is now home to some brewing and wine houses.
If you're looking for things to do with kids near Anaheim that will also satiate any tastebuds, the Anaheim Packing District is one of the funky Anaheim attractions for kids that the whole family will enjoy! It's the perfect place to come for dinner or lunch on one of the days you're not at Disneyland.
Location: 440 S. Anaheim Blvd, Anaheim
Opening Hours: Sunday – Thursday 11 am to 9 pm | Friday & Saturday 11 am to 11 pm
Price: Free entry
Medieval Times
Family things to do in Anaheim California aren't much more exciting than sharing a four-course feast as you watch knights battle it out in the arena! From the moment you walk through the castle gates, you'll be immersed in Medieval Spain with gallant knights and majestic horses.
Explore the Museum of Torture, join the elite ranks in the knighting ceremony, and meet horses and falcons – and this is all before the show has even started. Once you're seated, the show begins and as you feast on your banquet, you can cheer on the knights as they joust and jostle until there is one winner.
If you're looking for things to do with kids Anaheim has on offer, don't miss this entertainment and dinner!
Location: 7662 Beach Blvd, Buena Park
Opening Hours: Set dining times on set dates; check the Medieval Times website for your dates of travel
Price: $65.95 per adult | $38.95 per child | Under 3s are free (if sitting on parents' lap and eating from their plate)
Knotts Berry Farm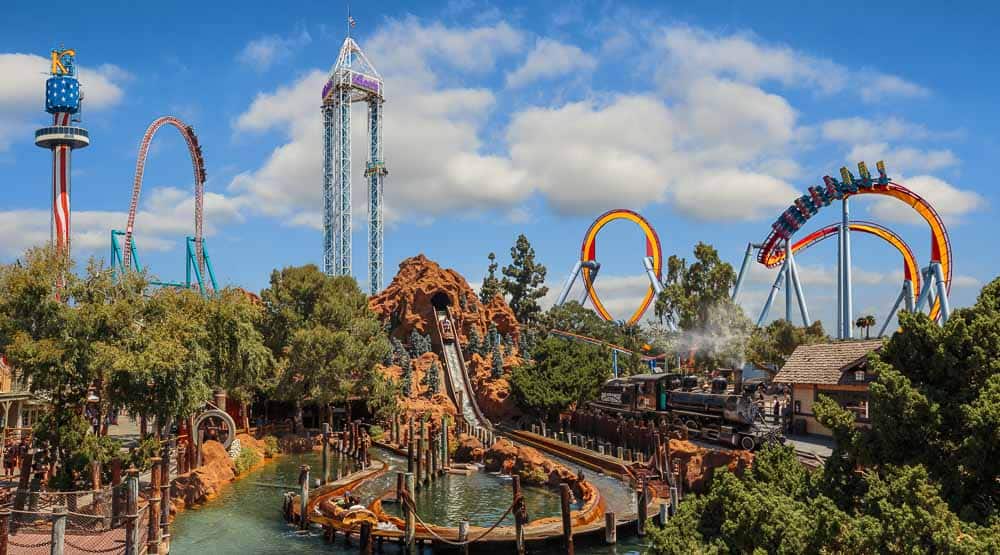 Image Credit: Visit Anaheim
Another much-loved California theme park is Knotts Berry Farm. This theme park is spread over 160 acres with rides, shows and attractions across four themed areas including Ghost Town, Fiesta Village, The Boardwalk and Camp Snoopy.
The older kids will love thrill rides such as Ghostrider, Supreme Scream and Hangtime, while the little ones will appreciate Camp Snoopy, which has a range of gentle rides.
Generally, if you've been on a family holiday to California before, you would have visited Disneyland. So, if you still want to take the kids to a theme park but want somewhere different, Knotts Berry Farm could be one of the other things for kids to do in Anaheim besides Disneyland. When we visited, it was certainly less busy than Disneyland with shorter ride times – I highly recommend it for families who are really into their rollercoasters as there a multiple to choose from here.
Location: 8039 Beach Blvd, Buena Park, which is near Anaheim
Opening Hours: Check out the website for seasonal operating hours.
Price: Prices vary depending on the day purchased – they will be approximately $75 online and $99 at the gate, click here to buy online
Knotts Soak City
If you visit Anaheim during the warmer months and need a break from the theme parks, head on to Knotts Soak City, just across the road from Knotts Berry Farm. It's another one of our top things to do in Anaheim besides Disneyland!
This seasonal waterpark is LA's largest water park boasting 22 speed, tube and body slides, a giant wave pool, a lazy river, and an interactive kid's area. You can hire cabanas for the day to have some time away from the crowds, and there are also a few dining options on site. Soak City is the perfect way to break up a Summer trip to Disneyland.
Location: Knotts Soak City is next to Knott's Berry Farm.
Opening Hours: Park hours are seasonal, check out their website for exact hours for when you plan to visit.
Price: Various ticket combinations, prices range from $50 for a general day admission ticket.
Pirates Dinner Adventure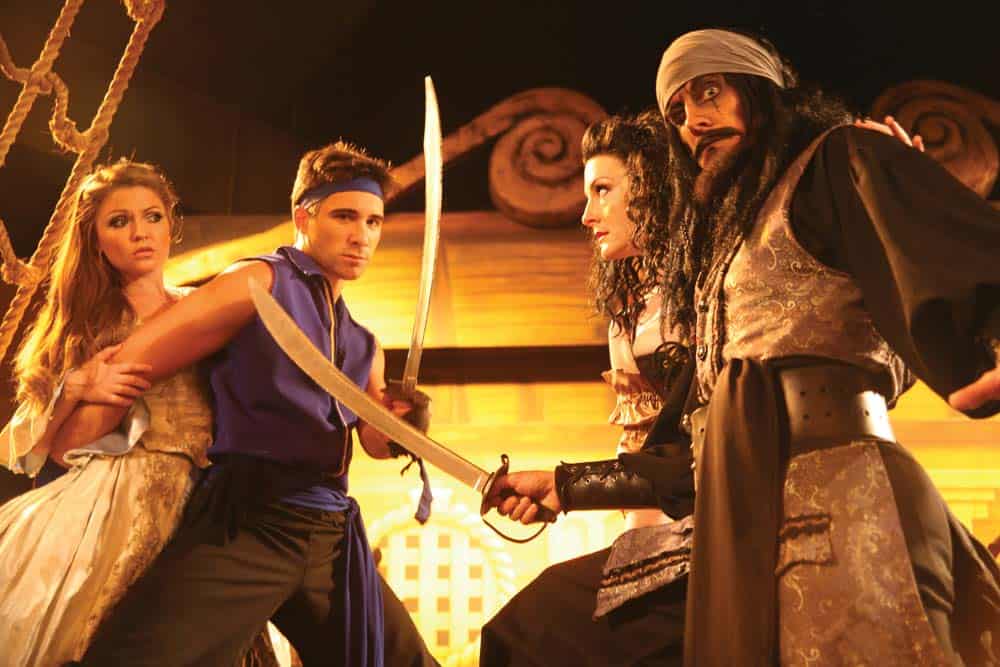 Image Credit: Visit Anaheim
Dining out with the kids certainly doesn't have to be boring! At least not when you join the swashbuckling adventure at the Pirates Dinner. Here you'll enjoy a 3-course bountiful feast aboard the Galleon Pirate ship as the family is entertained by death-defying stunts, beautiful aerial artistry and swordplay.
Cheer for your favourite pirate and if you want to truly be immersed in the show, they take up to 150 volunteers throughout the evening to participate – so raise your hand and get involved in the 'world's most interactive dinner show'! Definitely one of the things to do near Anaheim with kids – that the whole family will enjoy!
Location: 7600 Beach Boulevard, Buena Park
Opening Hours: Tuesday – Friday 7pm | Saturday 4.30pm & 7.30pm | Sunday 3pm & 6pm
Price: $64.95 per adult | $36.95 per child | Under 3s are free – Click here to book discounted tickets online
Camelot Golfland
Looking for cheap things for kids to do in Anaheim? You can't go past mini golf! And with Camelot Golfland being one of the largest mini golf courses in the USA, you sure get your money's worth. With three themed courses across the facility including; Castles of The World, Jungle and Surfs Up, you're bound to find one the whole family will enjoy!
And don't let the name fool you… Camelot Golfland also offers loads more attractions onsite besides golf, including a raceway, bumper boats, arcade games, laser tag, bumper cars… and best of all, a pizza parlour! So if you need Anaheim activities for kids that won't break the budget, Camelot Golfland could be worth considering.
Location: 3200 Carpenter Avenue, Anaheim
Opening Hours: Sunday – Thursday 10 am to 10 pm | Friday & Saturday 10 am to midnight
Price: 18 holes – $13 per adult | $11 per child (4-11) | Under 3s are free
Discovery Cube
Science education has been made fun at the Discovery Cube. With hands-on experiences that delight, challenge and encourage kids… they learn without feeling like they are.
With seasonal exhibits rotating across Solar System Encounters, Rocket Launch, Mars Rover Test Course and more, kids will love fully immersing themselves in these interactive exhibits where they can discover, play and learn. For unique things to do Anaheim with kids offers, check out the brightly coloured Discovery Cube.
Location: 2500 N Main Street, Santa Ana
Opening Hours: Daily 10 am to 5 pm
Price: $19.95 per adult | $14.95 per child (0-14)
Angel Stadium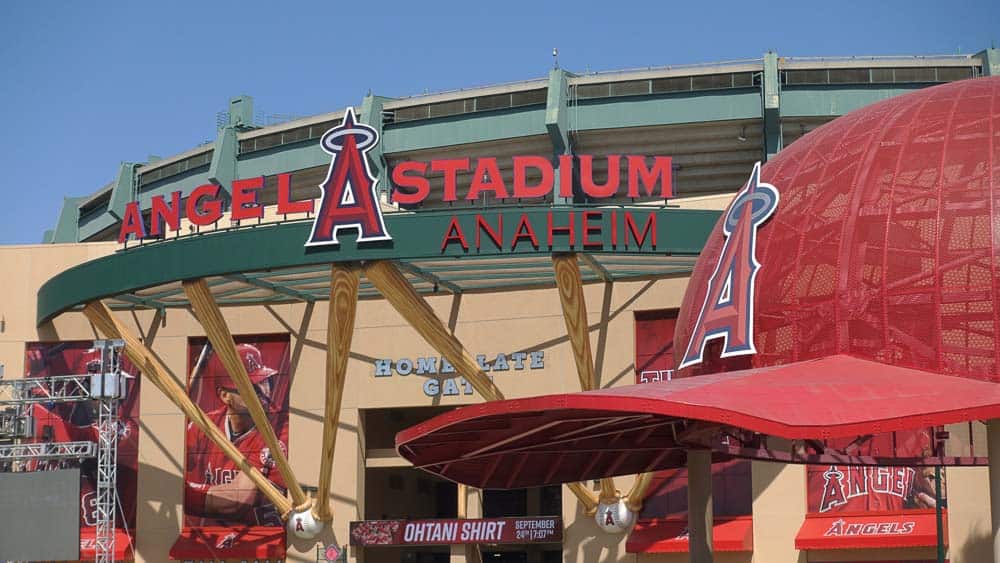 Image Credit: Visit Anaheim
Ever wanted to experience a behind-the-scenes tour of a baseball stadium? Now you can, at the Angel Stadium – Home of the 2002 World Champion Los Angeles Angels. You will be able to visit areas not open to the public and see the stadium from a whole new perspective.
The 75-minute tour includes visiting the Angels Dugout, walking around the field, checking out the Visitor's Clubhouse and Press Conference Room and more.
Of course, if you want to attend one of the games, you can do that too! Just check out the roster and tickets on the Angels website.
Location: 2000 Gene Autry Way, Anaheim
Opening Hours: Public Tours: April – September; 10:30am, 12.30pm, 2.30pm
Price: Public Tours: $12 per adult | $10 per child (3-14) | Under 3s are free
Oak Canyon Nature Centre
If you're the kind of family that likes the outdoors amongst nature and getting physical, then the Oak Canyon Nature Centre is one of the Anaheim things to do with kids for you. Located in the Anaheim Hills, around a 20 minute drive from Disneyland, the Oak Canyon Nature Centre is 58-acres of natural park waiting for you to discover.
There are four miles of hiking trails traversing oak woodland and coastal sage scrub with native wildlife waiting to be spotted. Onsite, there is also a small museum, the John J Collier Interpretive Center, with live animals and regional natural history exhibits.
Location: 6700 E Walnut Canyon Road, Anaheim
Opening Hours: Daily 7 am to 5.30 pm
Price: Free
Honda Center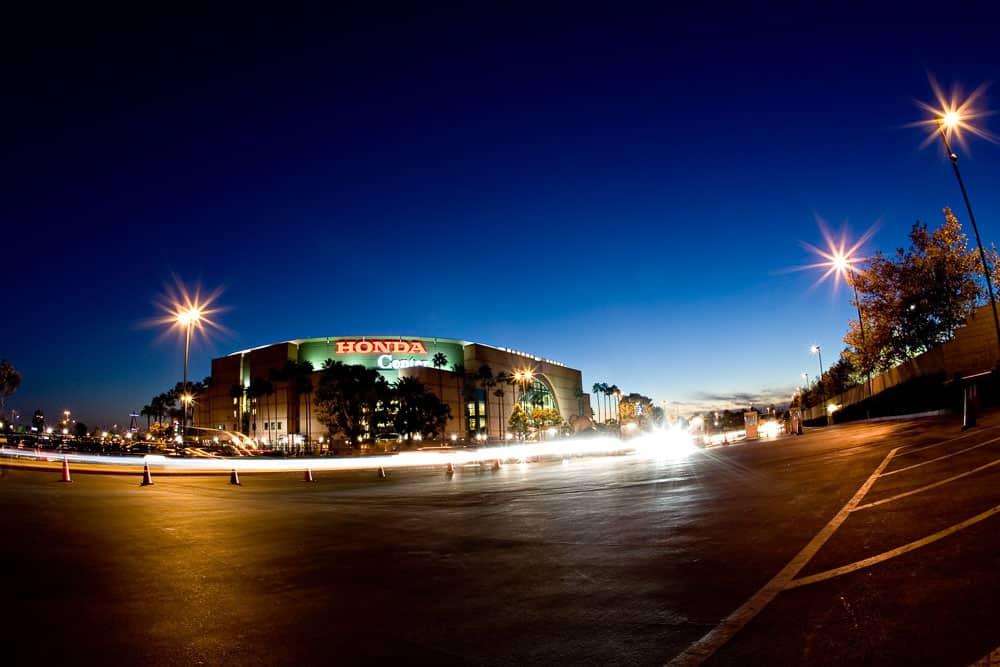 Image Credit: Visit Anaheim
The Honda Center hosts year-round top name concerts, sporting events and family favourites, including Disney on Ice. However, more importantly the center is home to the Anaheim Ducks, the professional ice hockey team who competes in the National Hockey League. So if the family wants to catch an ice hockey game while in town, this is just the place to do it.
Location: 2695 E Katella Ave, Anaheim
Opening Hours: Varies, pending events; check out the Honda Center event calendar here.
Price: Varies, pending event
Orange County Zoo
The Orange County Zoo is one of the perfect things to do with toddlers in Anaheim. First of all, it's free for kids under 2, and if you do have older children, entry is only $2 for everyone! The animals are exhibited in their natural habitats, including black bears, mountain lions, coyotes, and more.
There is also a petting zoo with domestic goats, sheep, pigs and chickens. You can purchase some grain to feed these animals. With picnic areas adjacent to the zoo and being inside the beautiful Irvine Regional Park, you can make a day of it and enjoy the zoo and surrounding area with the whole family. It certainly makes for a nice peaceful break from the crowds at the theme parks.
Location: 1 Irvine Park Road, Orange
Opening Hours: Monday – Friday 10am to 3.30pm | Saturday & Sunday 10am to 4.30pm
Price: $2 per person | Under 2s are free
Huntington Beach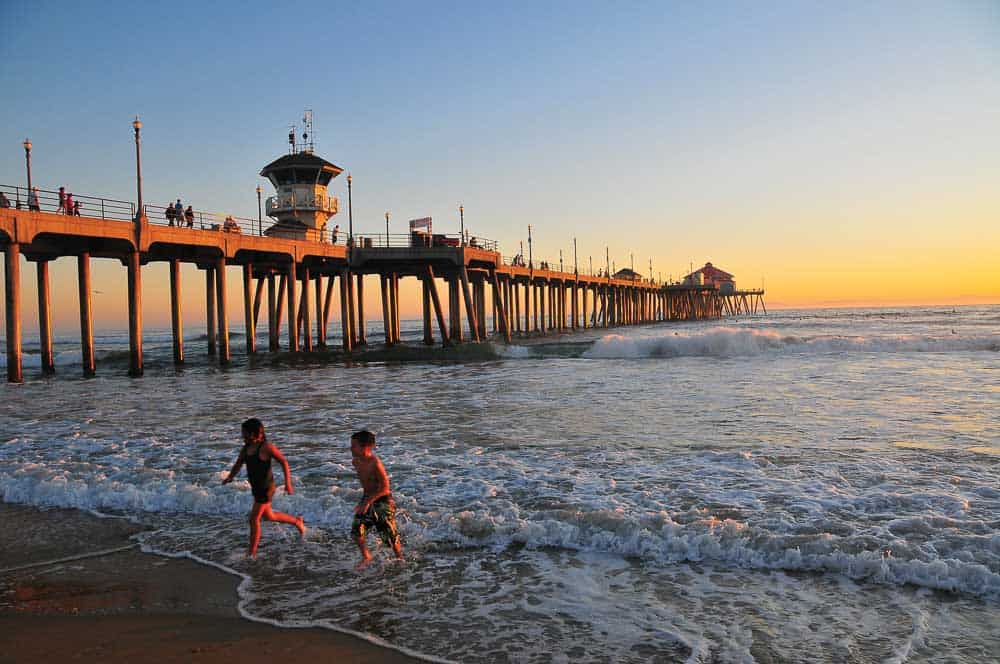 Image Credit: Visit Anaheim
Nicknamed 'Surf City' for its 8.5 miles of beautiful beach, mild climate and of course, excellent surfing – Huntington Beach is the seaside city within Orange County. While Orange County is known as a bit fancy (have you seen Real Housewives of Orange County?!) – there are loads to do here that don't cost a thing!
The beach is the major drawcard; there is also the Pier to people watch or fish from, Bolsa Chica Ecological Reserve walking trails, sample fresh produce at the Farmers Markets, enjoy live music most weekends at Pacific City, discover the Surfers' Hall of Fame, go for a skate at the Vans Off the Wall Skatepark… plus loads more you can check out here.
Of course, if you do budget to splurge, there are countless shops, eateries, activities, and spas to spend at! You can check them out here.
Location: Pier – 325 Pacific Coast Highway, Huntington Beach
Opening Hours: Anytime
Price: Free
Best Places to Stay in Anaheim with Kids
Not quite sure where to stay in Anaheim with kids? Well, below we've covered our top three picks when it comes to the best hotels in Anaheim for kids. Each of these hotels offers great value for money and are in excellent locations for visiting Disneyland.
Click here for our more comprehensive guide on accommodation Anaheim family options.
The Best Western Plus Park Place Inn – Mini Suites is hands down one of the best Disneyland hotels for families where you can just about walk everywhere. With only a 5 minute walk to Disneyland, this is by far the closest hotel to the parks in this guide.
Not only are you right across from the entrance of Disneyland, but you're also within walking distance to great places to eat. You've got IHOP just across the road, as well as Denny's and a range of other family friendly places just down the road. There's even a small convenience store across the street.
Accommodation for families comes as standard hotel rooms with two queen beds. Each room has tea and coffee making facilities and a microwave which is so handy for heating some breakfast before you hit the parks and heating any leftovers from the day.
If you're after Disneyland hotels for six people, the Best Western Plus Park Place Inn also has mini suites for larger families. These family suites near Disneyland feature two queen beds and a sofa bed – plus all the standard amenities the hotel rooms do.
The hotel also features a small swimming pool and spa, a kiosk where you can grab basic food items and groceries; there's also a free breakfast served each morning. Plus, onsite parking (extra) is available for those that have driven into town.
Click here for more information and to check the current price

The Kings Inn is an unassuming little gem located around a 16 minute walk to Disneyland or 9 minutes by bus. The location is super convenient, as it is next to the Garden Walk Shopping Center. It is filled with a range of eateries to suit every taste and budget.
Speaking of budget, the Kings Inn is one of the inexpensive hotels in Anaheim. But the price, or lack of it, does not mean this hotel is not up to par… it is! With rooms accommodating families of four in two queen beds, there is also a fridge and coffee facilities in the rooms, so snacks and caffeine are easily available, saving you some dollars!
The property features include a swimming pool, hot tub, coin operated laundry and parking (at a charge).
And if you want to experience the magic of Disney at the hotel, there is a Fireworks Viewing Deck at the Kings Inn, so your nightly entertainment is covered if you have left the parks for the day.
Click here for more information and to check the current price
Hotel Lulu has contemporary Californian vibes with a convenient location and fantastic amenities, making this one of the best hotels in Anaheim for family. Only a 10 minute walk to Disneyland or 5 – 10 minutes on the bus and directly across the road from the Garden Walk Shopping Center – which has all your dining needs.
Rooms are modern and fresh and accommodate families of four in two double beds with the added convenience of a fridge, microwave and coffee/tea facilities in each room.
The onsite facilities are great for families, with Lulu's Kitchen offering all day dining, which not many of the Anaheim hotels have. Meals can be easily ordered to eat poolside, in the restaurant or brought up to your room, with leftovers stored in the fridge. There is also a 'proper' coffee machine at the cafe, so you're all set for those craving a flat white or cappuccino.
The pool and surrounds look like a direct import from Palm Springs with yellow and white umbrellas, sun loungers and succulents. There is a giant Jenga the whole family can play or simply lounge in a cabana and enjoy some food from the restaurant.
Take advantage of the Best Western Premier Collection at Hotel Lulu while paying a mid-range price for modern accommodation in a good location.
Click here for more information and to check the current price
Getting Around Anaheim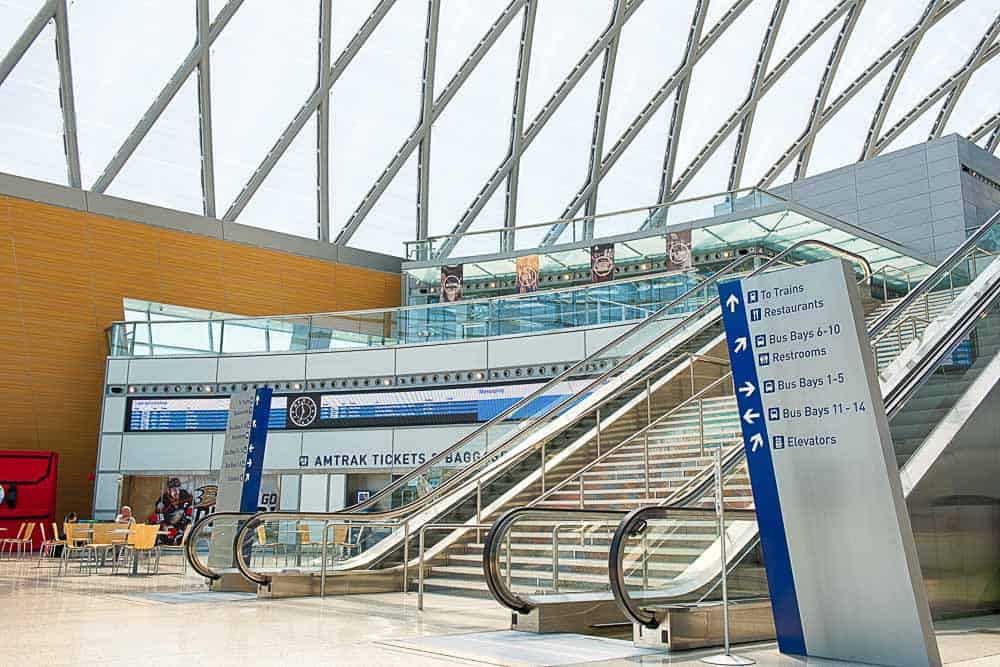 Below we've provided some tips on how best to get between the airport and Anaheim and how to get around between various attractions.
LAX to Anaheim
Depending on the time of your arrival in LAX and how many there are in your group will determine which is the best way to get from LAX to Anaheim. From LAX to Anaheim is around 35 miles / 56km and can take about 35 to 45 minutes, provided there is no traffic. However, during peak hours, the drive could be up to 90 minutes.
Public Transport
It is possible to take public transport, but if you're travelling with a few kids and have luggage with you – it isn't worth the hassle just to save a few dollars.
If you're set on public transport – the quickest way is to take the Metro Green Line Shuttle from LAX to Aviation / LAX Station. After exiting the airport, look for the pink LAX Shuttle signs on the lower arrival level islands outside each terminal. As you can see from below, the pink signs are super easy to spot. The Shuttle comes every 10 minutes or so and is free to ride.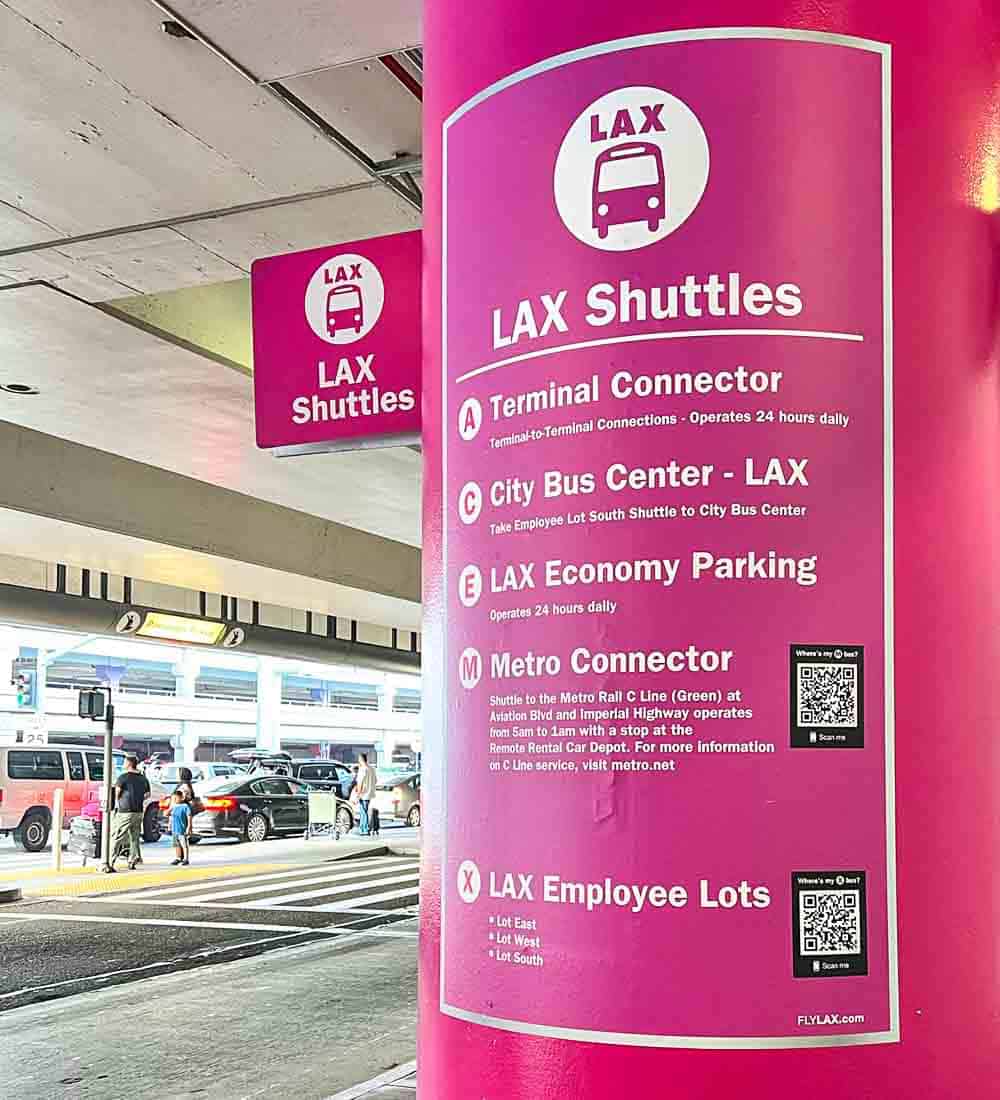 Take the Shuttle to Aviation / LAX Station, the ride takes 6-15 minutes, depending on which terminal you board the bus. From Aviation / LAX Station, take the Green Line Metro (train) to Norwalk Station. Trains leave every 30 minutes, and the journey will take 26 minutes.
To ride the train, you'll need a TAP card, which can be purchased for $2 USD from vending machines at the station. You'll also need to add at least $2.50 USD to cover the fare to Disneyland.
From Norwalk Station, you'll need to take the 460 bus to Disneyland. These buses leave every 45 minutes or so and take almost 90 minutes.
From Disneyland, you can walk or take another bus or taxi to your hotel.
The entire journey will take around 2.30 hours – so it's quite a lot of effort but a very cheap way of getting to or from Disneyland.
Shuttles
After reading the above, you're no doubt a bit put off by taking public transport and wondering if there are shuttles that will take you to and from Disneyland. Well, there are, but they aren't cheap!
I remember my first time to Disneyland back 20 odd years ago, catching the Disney Express Shuttle with many other tourists on their way to Disneyland – sadly, these shuttles don't exist anymore. These days you can only book private transfers for yourself and your group.
Shuttles start at around $70 USD for a car with up to 3 passengers, then work their way to about $150 USD for vans able to transfer larger groups. So depending on how many people are in your group, this may be the best way to go.
Some transfer companies regularly recommended in the Disneyland FB groups include Super Shuttle Express, Prime Time Shuttle, Shuttle to LAX and Karmel Shuttle.
Also, note that private transfers generally are required to pick up from the LAX-it Lot and not necessarily from the terminal you arrive at—more on the LAX-it Lot in the "Rideshare or Taxi" section below. Just check with your shuttle service to confirm where pick up is.
Depending on the size of your group, renting a charter bus could also be an option.
Rideshare or Taxi
For families of 4 or fewer, in most cases, your best option will be Lyft or Uber.
Most rideshares (see more on the exceptions below) and taxis pick up passengers from the LAX-it lot, which is next to Terminal 1. Depending on the terminal you arrive at, you may walk to Terminal 1 or take the free LAX-it shuttles.
We decided to walk rather than wait for the shuttle – it did take about 15 minutes to walk there, and we did see a few of the shuttles go past, so if you have little kids or lots of luggage, it might be just as easy to wait for the shuttle – they do come by fairly frequently. If you decide to walk, there are plenty of signs like the one below to ensure you're walking in the right direction. All I'd say is that LAX is like a long oval shape and so if you do decide to walk, take the time to note what terminal you're at to begin with and determine what direction to walk. We were a little flustered to start and just began walking in one direction and eventually realised it would have been much quicker to walk the other way. But we go there, in the end, all the same.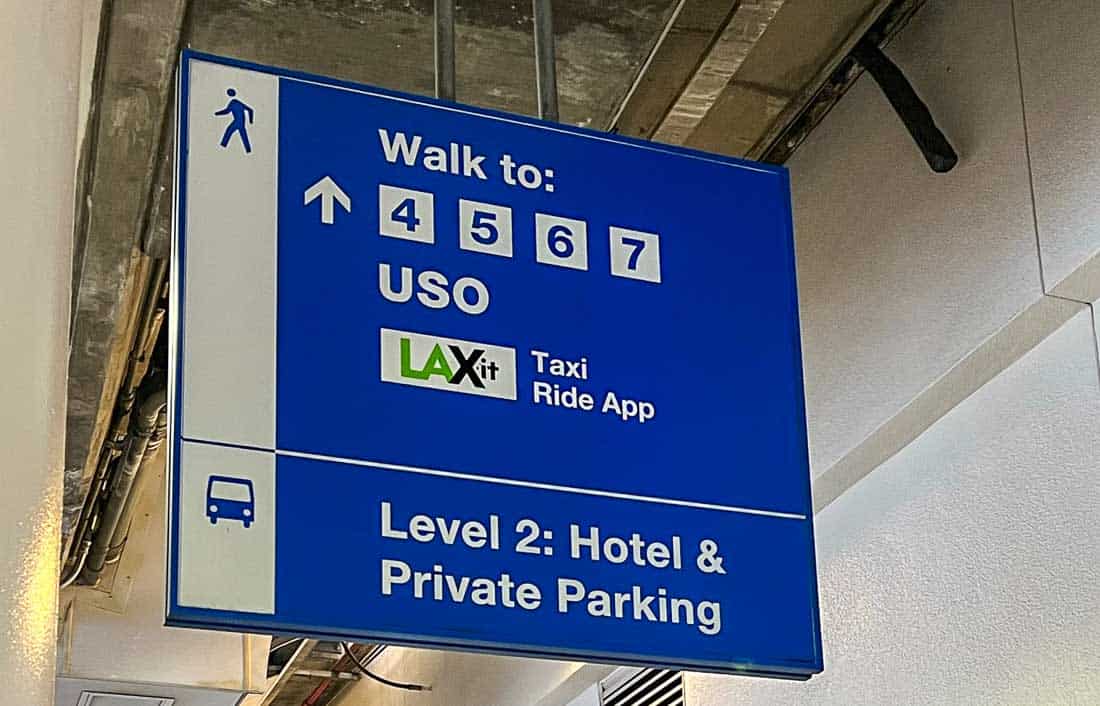 You'll find the shuttle stops outside the baggage terminals – just go outside and look for the green LAX-it signs – you can't miss them; everything is very well colour coded. The shuttle comes every 7 minutes or so and runs 24 hours a day.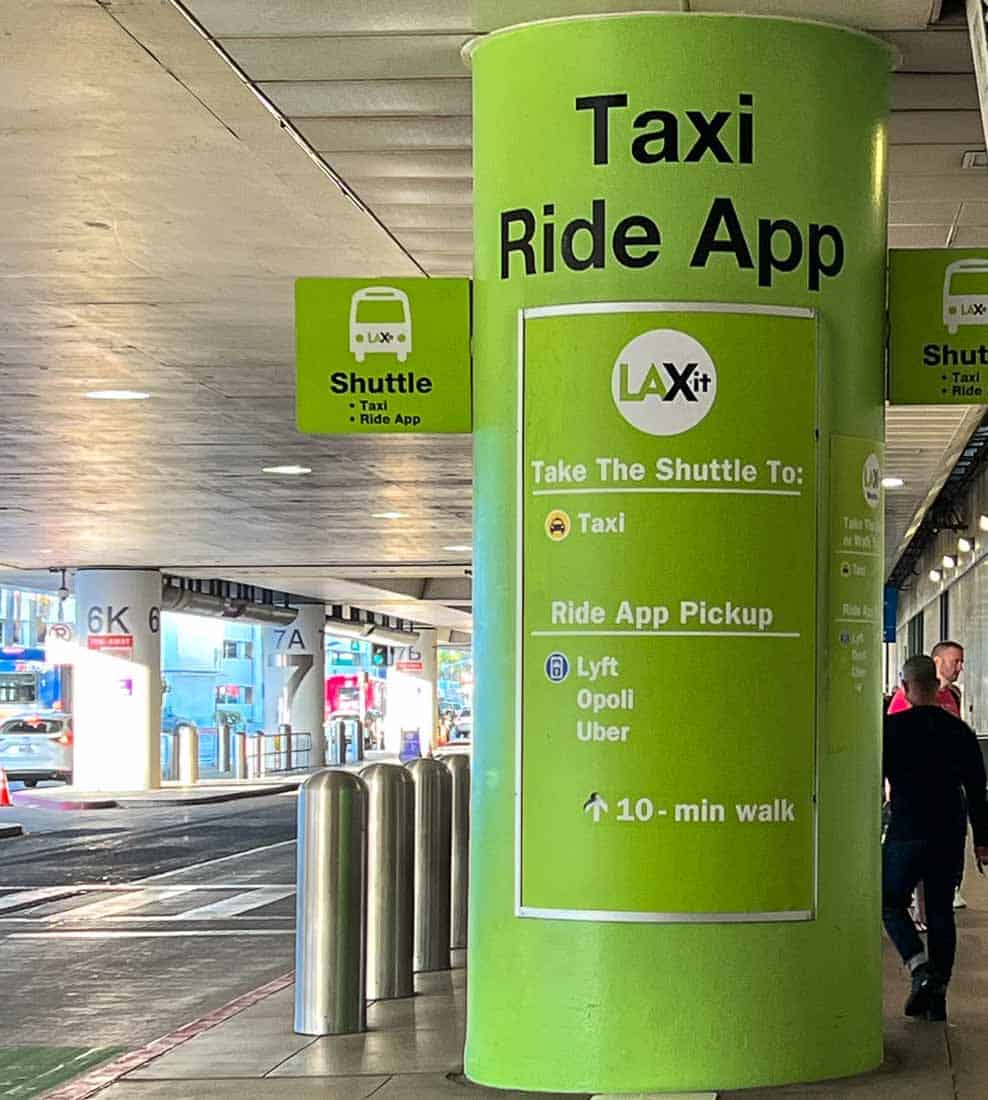 Once you arrive at the LAX-it lot (pictured below) – note that the different rideshares pick up from different areas. Again everything is very well signposted and there is staff on hand to ask any questions. I'd recommend finding the right rideshare location before ordering your car, as even among the rideshares, there are different locations to wait – like Uber section A, Uber section B etc. So it's best to know what section you're in before ordering your car, as most are hovering around the airport somewhere anyway and may only be 5 minutes or so away.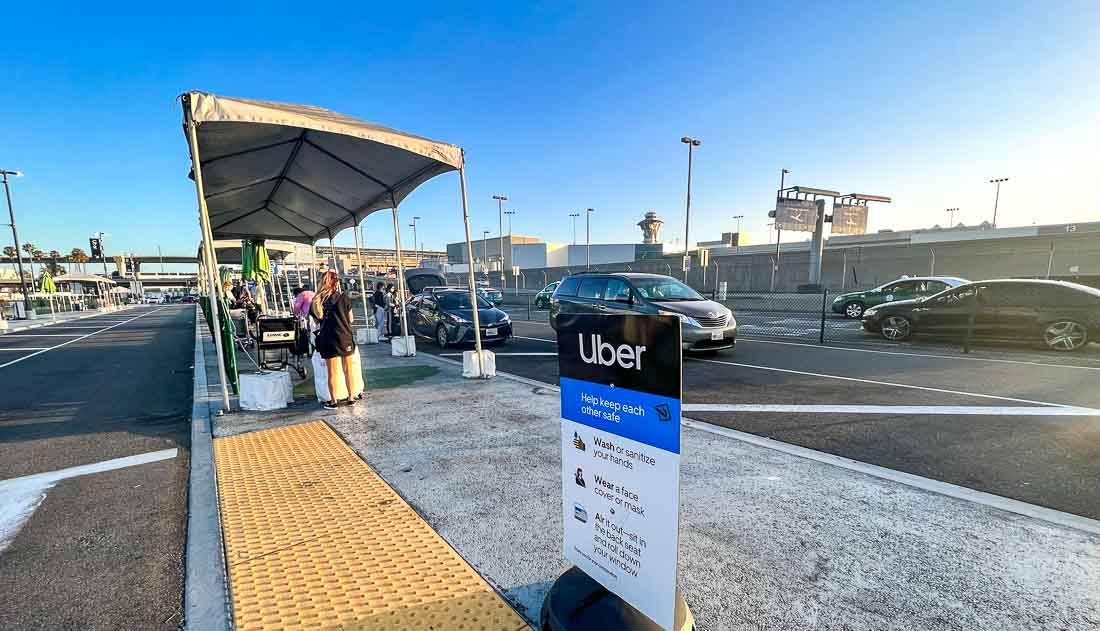 If you just want to be picked up from outside the terminal you arrive at – you'll need to pay quite a lot extra and book either LYFT LUX BLACK, LYFT LUX BLACK XL, UBER BLACK or UBER BLACK SUV. Maybe check the price before leaving the terminal (more on how to do this below) and decide whether saving the cash is worth it.
The price for a standard Uber or Lyft to Anaheim can vary depending on the time of day and demand, but you can expect to pay anywhere from $60 to $90 USD. You can always check the price before booking once you're at LAX. To do this, just put in your details as if you were making a booking – but don't finalise the booking. The estimated fee will be shown.
If the price seems too high – take the kids for a drink and grab a coffee. Once the demand drops off a bit, the price will drop back down. For example, as soon as we landed, I checked the price and saw that it was around $90 USD – however, by the time we got to the LAX-it lot, the price had decreased to $60 USD.
Also, yes the same Uber account you use in whatever country you live in will work the same here.
Rent a Car
Your other option is to rent a car from the airport. If you are planning on renting a car anyway – you might as well do it from LAX and save yourself the money or time using any of the above options. Everyone drives in LA, which means traffic is pretty full on, but it also means that hotels are well set up with car parks, as are most attractions.
Now while I didn't drive in Los Angeles myself, I did drive from Denver Airport in Colorado, and while it was a bit daunting at first, I got the hang of it very quickly. So for Aussies concerned about driving in LA, in particular about driving on the right side of the road – I wouldn't be. Just set your Google maps up for the GPS and follow every other car on the road and you'll be fine. Remember, in the USA, the right hand side is the slow lane. So if I can do this – you can do this!
Los Angeles to Anaheim
From Anaheim to most places in Los Angeles is around 45 minutes to 1.5 hour drive depending upon traffic. However, if you prefer to take public transport, the trip is about 2.5 hours depending on where you're headed.
For a family, generally the most convenient way to make this trip is by rideshare or by hiring a car. However, if you're coming to LA from Anaheim for just the day – many people even just hire a car for the day. There are plenty of places around Anaheim where you can pick up a car first thing in the morning and drop it off the last thing in the afternoon.
If however, you're just making a one way trip, as you're splitting your time between Anaheim and LA, hiring a car from Anaheim and returning it to LA won't likely make sense. In this case, it'd be best to compare prices between hiring and returning the car from LAX or taking rideshare.
However, for those interested in how to take public transport between Los Angeles and Anaheim, read on!
Public Transport
Los Angeles is a big city and it will depend on where you're staying as to where you start this journey. But because you're likely to be a tourist, I'm going to assume you're staying somewhere around Hollywood.
From Hollywood, you're going to take the Metro B Red Line (train) to Union Station. There are multiple metro stations around Hollywood, so choose the one closest to your hotel. Metro trains leave every 10 minutes or so and the ride to Union Station is around 20 minutes.
Don't be afraid to catch the trains around Los Angeles; unlike other big cities like London or New York, where multiple platforms and trains go in every which direction – in Los Angeles, there is only one platform, and trains go in two directions only. So as you can see in the photo below, you simply go to the one platform and decide if you're heading to North Hollywood or Union Station – that's it!.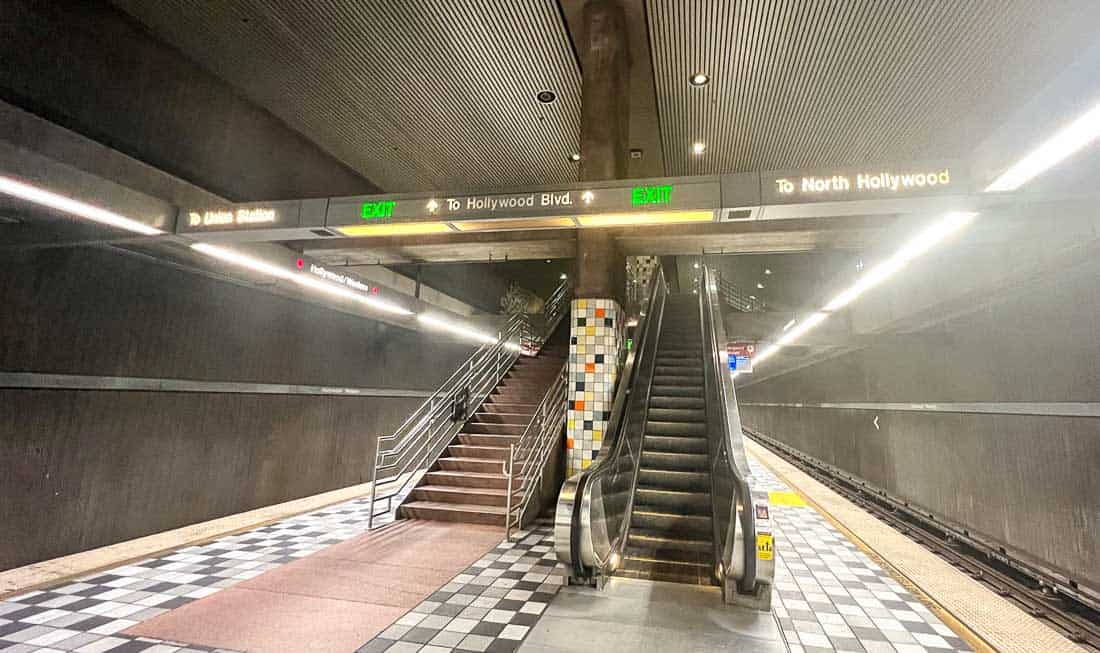 From Union Station, depending on the time you're there, you'll need to change trains to either the Metrolink 91 Peris Valley Line or the Pacific Surfliner. Whichever train you take, get off at Fullerton Station.
From Fullerton Station, again depending on the time of your arrival, either walk a few minutes to the Harbor Santa Fe bus stop and take bus 43 to Disneyland. Or from Fullerton Station take bus 543 to Disneyland.
To ride the train, you'll need a TAP card, which can be purchased for $2 USD from vending machines at the station. You can also download the TAP LA app and purchase cards there. The vending machines are super easy to use; just follow the instructions on the screens. You will need to buy one card at a time though. As a family, I found it easier to buy cards, so each person has their own card rather than messing with Apps.
Now in terms of fares. The standard fare is $1.75 USD per 1 way trip on a bus and train with multiple transfers within 2 hours. Given this trip will take you more than 2 hours, you'll need to pay $3.50 USD. Alternatively, $7 USD will get you a one day pass – which may be the cheaper option if you have any other trips that day.
There may be slight variations to the above depending on the time of your trip and where your exact starting and finishing points are. So I recommend you use Google Maps on your phone when planning your trip to ensure you take the most direct route.
Universal Studios to Anaheim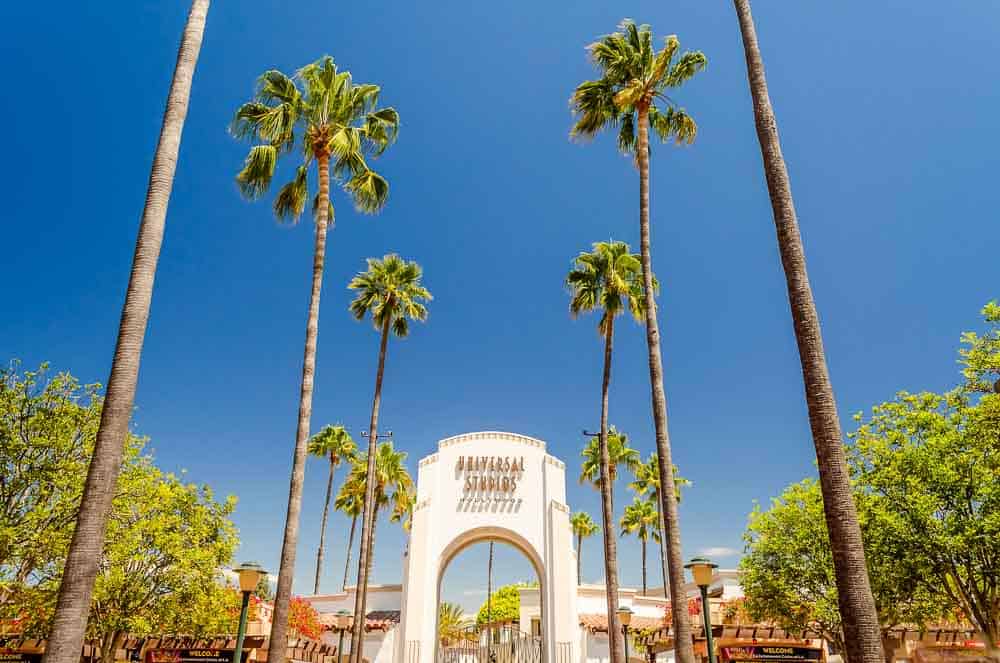 Honestly, I don't think this is a trip you'd want to do by public transport – except maybe one way. At more than 2 hours each way – it would make for a huge day! The trip via public transport is very similar to the above directions.
Again, the same information as above for Los Angeles applies in that a hire car or rideshare would be the best way to go. It's generally a one hour drive if you can avoid traffic.
Click here for our detailed guide on getting from Disneyland to Universal Studios.
Around Anaheim Attractions
In terms of getting around Anaheim, there are a few options. Depending on where your hotel is and what attractions you plan on visiting, you may just be able to walk. However, after a long day of walking around Disneyland, kids and parents will likely get tired legs and appreciate transport from time to time.
The most common way of getting around Anaheim is via the ART buses. These buses service Disneyland, local hotels and other tourist attractions such as Knott's Berry Farm, Anaheim Packing District, Honda Center, Angel Stadium and Gardenwalk.
The ART buses generally run from one hour before Disneyland opens and about 30 minutes after it closes. Buses typically depart from stops every 20 minutes.
You can not pay for your tickets on the bus – these need to be purchased in advance. The best way to do this is by downloading the A-Way WeGo App to your mobile and buying there. The App also helps with planning your bus trips. Plus you can also see where the buses are. Some mornings, I'd look to see where the buses were while we were still in our hotel room; this helped us know whether we needed to hurry up or had plenty of time to get ready.
One way fares are $4 USD for 10+ and $1.50 USD for kids 3 to 9. Children 2 and under ride for free. However, you're probably best to buy either a day pass or even a multi day – these are as follows:
1 Day Pass: $6 USD for 10+ and $2.50 USD for kids

3 Day Pass: $16 USD for 10+ and $3.50 USD for kids

5 Day Pass: $25 USD for 10+ and $5.50 USD for kids
Please note that multi day passes are for consecutive days, and you will need to show your pass to the driver each time you get on. The App can store multiple passes too, so you can easily hold the entire families passes on the one phone.
We used a combination of the ART buses and rideshare during our recent visit. Generally, we used the buses to get to and from the Disney parks and rideshare for everything else.
____________________________________________________________
We hope this guide has got you excited to visit Anaheim! In addition, we have some great guides on exploring California with kids – including the complete guide to California with kids, things to do in Hollywood with kids, things to do in Santa Monica with kids and lots more.