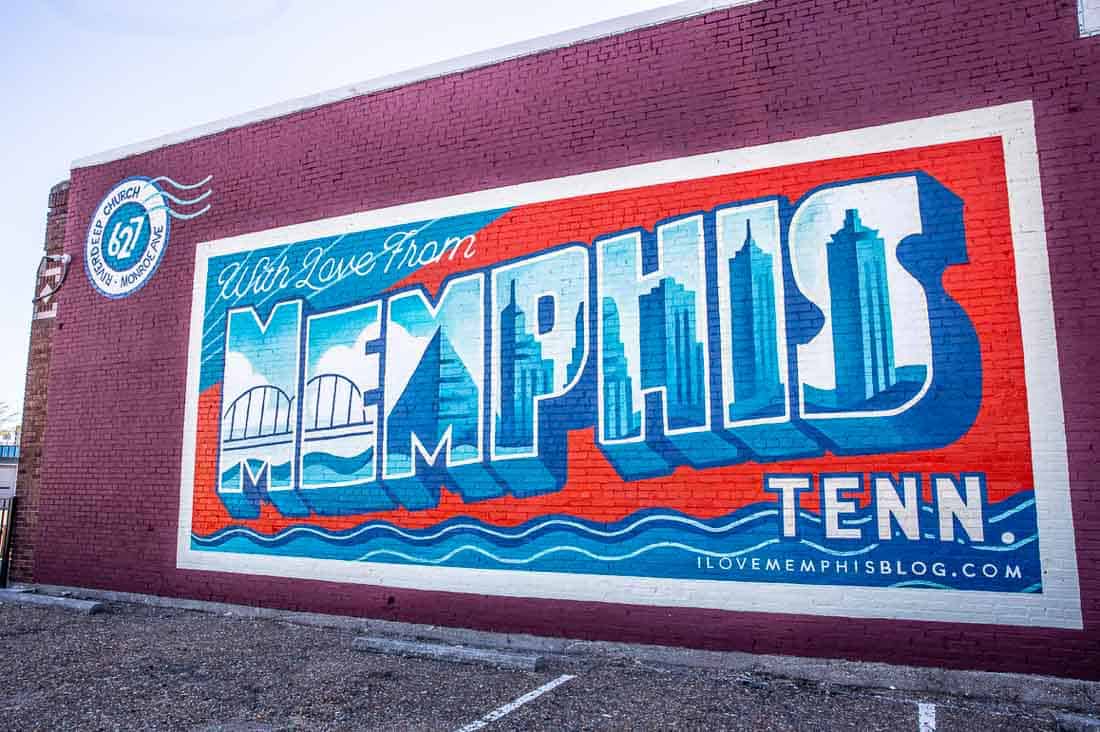 There are so many fun things to do in Memphis with kids that you'll need at least a week here!
Main image credit thanks to Craig Thompson
Memphis is such a fascinating and colourful city with so much to offer families, particularly those with a passion for music and history. Being the birthplace of Elvis and where many other music legends got their start, there is no shortage of fun music museums in Memphis, as well as the lively and always entertaining Beale Street. Other fabulous family friendly attractions include the Memphis Zoo, the Children's Museum, Shelby Farms Park and of course, the duck parade at the Peabody Hotel is an absolute must.
There are also fantastic museums for families wanting to learn about Memphis's darker history, most notably the Civil Rights Museum. Here, you'll learn about slavery, racial segregation, the Civil Rights Movement and the assassination of Dr Martin Luther King. Slave Haven is also worth a visit, where you'll learn how people escaped slavery and hid beneath trapdoors and within hidden passages before fleeing to the north.
With a range of such diverse attractions and activities, you certainly won't be left wondering what to do in Memphis with kids. Whether you're in town with young or older children, there really is something for everyone visiting Memphis with kids.
This guide will help plan your own family trip to Memphis, as it covers all the fun things to do in Memphis for kids. In addition to the great Memphis family attractions, the guide includes the best kid friendly restaurants in Memphis, the best hotels in Memphis for families and tips on how best to get around.
So let's get started and find you all the incredible family things to do in Memphis.
Talk to other families about their tips on visiting Memphis and join our Thrifty Family Travel Facebook Group or get inspired with our Thrifty Family Travel Instagram Feed.
This post may contain compensated links. Please refer to my disclaimer here for more information.
Fun Things to do in Memphis for Kids
Map
To help you prepare a shortlist of the things to do with kids in Memphis, I've provided the map below. The map shows the location of all the different attractions in Memphis for families and will come in handy when planning your itinerary.
Zoom in and out for a better view.
Fun Things to do in Memphis with Kids
This section covers a fairly comprehensive list of things for kids to do in Memphis, including the attraction's location, opening hours and ticket prices to make planning and budgeting easier.
Please note that all prices mentioned are in USD and were correct at the time of publishing. To check the rate in your local currency, click here.
Graceland and the Exhibition Center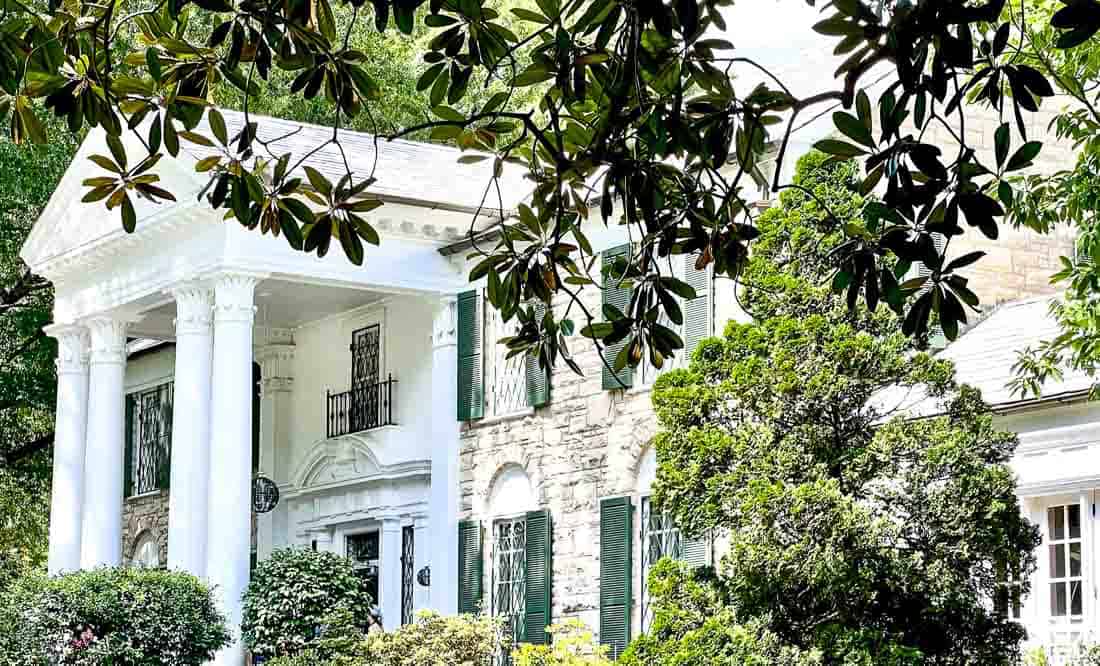 Whether you visit Memphis with kids or without, Graceland is usually at the top of the list. And before you ask if this is one of the Memphis kid's things to do because your children haven't even heard of Elvis, once you arrive in Memphis, there is Elvis stuff absolutely everywhere and the entire family won't be able to help but become wrapped up in Elvis fever!
Visiting Graceland is so much more than just visiting the former home of the King of rock 'n' roll. There is a massive Exhibition Center with various areas each dedicated to a different part of Elvis' life. There's his classic car collection, his jewelled jumpsuits, his gold and platinum records, you can kick back and watch some of his movies, and the kids will enjoy the interactive stuff like driving golf buggies around a virtual Graceland, posing on the front cover of an Elvis' album or even singing a duet with him.
You can spend hours exploring all the sections of the Exhibition Center – so ensure you allow plenty of time before or after your tour time to see Graceland itself. The tour of Graceland is self guided, but you have an iPad with audio and video to help you along and which provides information about each of the rooms on display.
Not all rooms at Graceland are on display – for example, you can't go upstairs, and so you won't see Elvis' bedroom. However, you will see the living room, dining room, kitchen, the famous Jungle Room, TV room and all the home's outdoor areas.
Your tour at Graceland will finish at the mediation garden, which is Elvis' final resting place. Some members of his family are also here, including his parents, grandmother and grandson.
You'll want to put the whole day aside to explore everything on offer at Graceland and the Exhibition Center. We spent around 5 hours there and still didn't see it all. There are two restaurants on-site, so you can refuel during the day or buy some snacks and drinks.
Being 11, Myla really didn't know anything about Elvis before visiting Memphis, but she couldn't help but become wrapped up in Elvis while there and she really enjoyed Graceland. She's now an official Elvis music fan too – so Elvis' music really does live on even 45 years after his death.
Location:3717 Elvis Presley Blvd Memphis
Opening Hours: Daily from 9 am to 4 pm
Pricing: $77 per adult | $44 per child (5-10) | 4 and under free
Sun Studio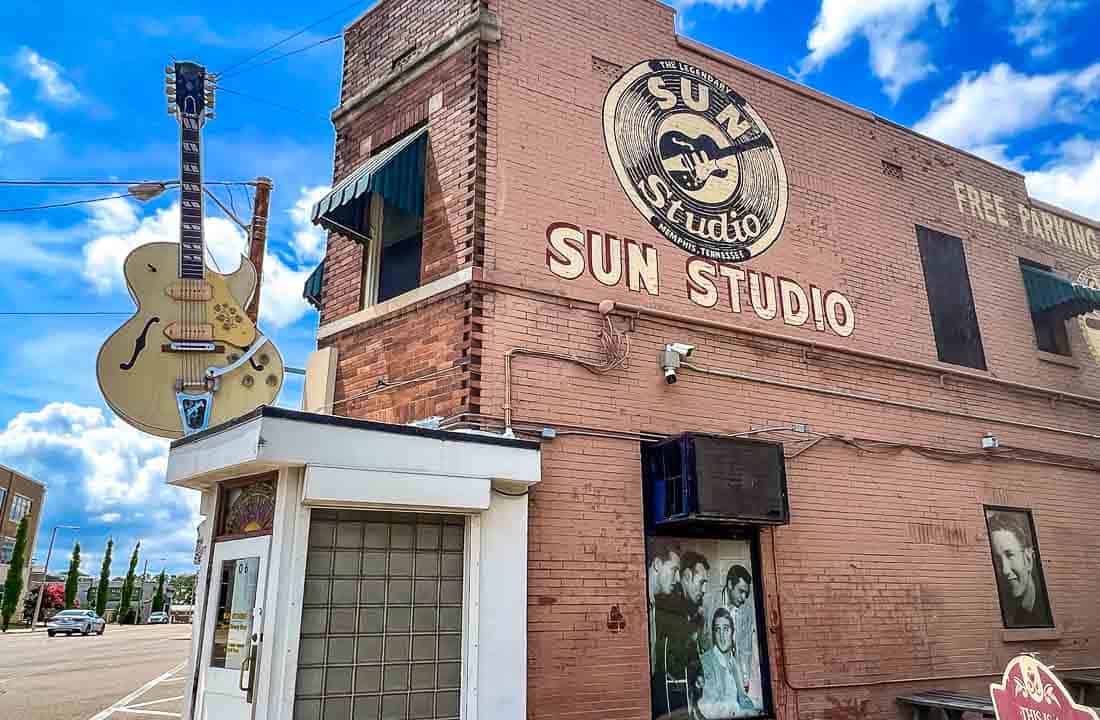 To continue your Elvis experience, a tour of Sun Studios is an absolute must! Not only did Elvis record his very first song here, other music legends recorded here too such as Johnny Cash, Roy Orbison, BB King and Jerry Lee Lewis. Even modern music artists such as Bob Dylan and U2 have recorded here.
A visit to Sun Studio is via a 45 minute guided tour. During the tour, you'll get to stand in the very place music royalty stood – including where Elvis sang – you can even touch the microphone he once sang from.
But that's not all; your guide will give you the inside gossip and share stories about what went on within the studio. You'll also hear outtakes and conversations by the music legends that were recorded within the Studio.
It really does feel like you're going back in time and you can easily imagine yourself standing among the legends themselves as they recorded music that changed the world.
Please note tours cannot be booked in advance, tours are filled on a first served basis. So if you want to get on a certain tour, it's best to arrive early. There is a bar serving drinks and snacks there to enjoy while you wait.
Location: 706 Union Avenue Memphis
Opening Hours: Tours are half past the hour – Sunday to Thursday 10 am to 5.15 pm | Friday and Saturday 10 am to 6.15 pm
Pricing: $15 per adult | $13 per child (12-18) | $10 per child (5-11) | Under 5s not permitted
Duck Parade at the Peabody Hotel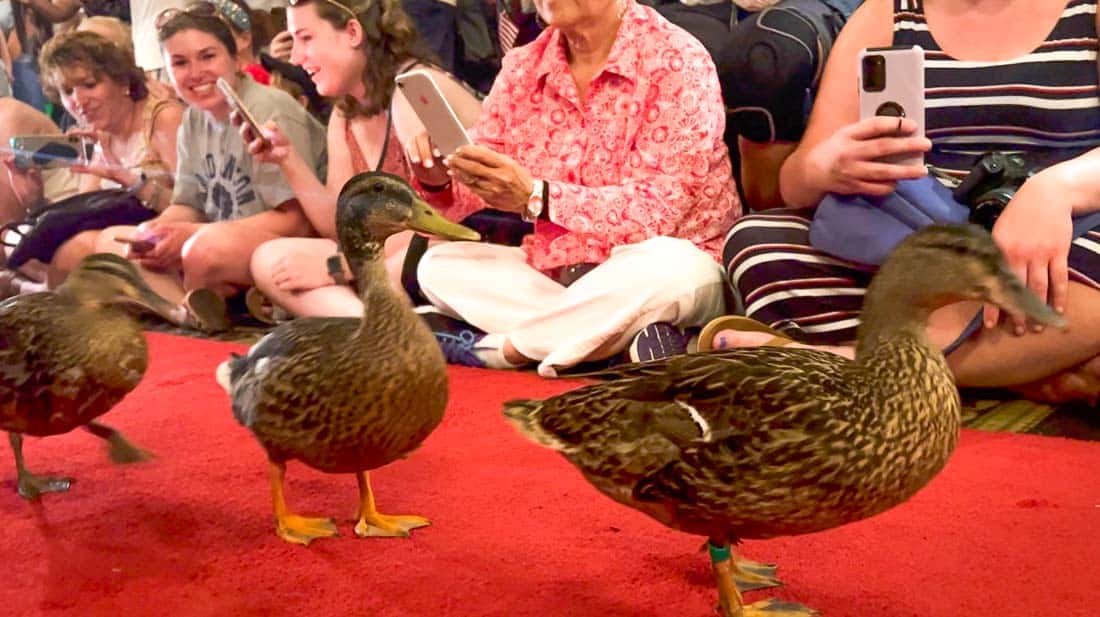 The duck parade at the Peabody Hotel has to be among the best family fun Memphis offers.
Why a duck parade in a hotel you ask? Well, the story goes that in 1932 the general manager of the hotel stopped into the hotel with his hunting buddies and live decoy ducks for a drink. They let the ducks out for a swim in the fountain for a bit of a laugh and low and behold a tradition was formed.
So every day since the 1930s, at 11 am, under the special guidance of the Duck Master, these ducks make their way down from their rooftop via the elevator where they waddle down the red carpet and jump into the fountain in the Peabody Hotel foyer. Here they spend their day splashing about before returning to the rooftop at 5 pm.
While the duck parade itself only takes a few minutes (if that), the Duck Master has a chat with the audience beforehand for around 20 minutes.
While it might sound like a bit of an odd thing to do, it was just wonderful seeing the kids and adults alike all with giant grins across their faces watching these super cute little ducks (and noisy) waddling down the red carpet. And the ducks themselves looked absolutely ecstatic in the fountain- I don't think I have ever seen such happy ducks.
The duck parade is one of the more popular Memphis attractions for kids, so for a great viewing spot get there early. We arrived at 10.30 am and got a front row seat (on our bottoms) along the red carpet.
And it won't cost you a cent either – this is one of the free things to do in Memphis with kids.
Location: Foyer of the Peabody Hotels – 149 Union Ave, Memphis
Opening Hours: 11 am daily
Pricing: Free
National Civil Rights Museum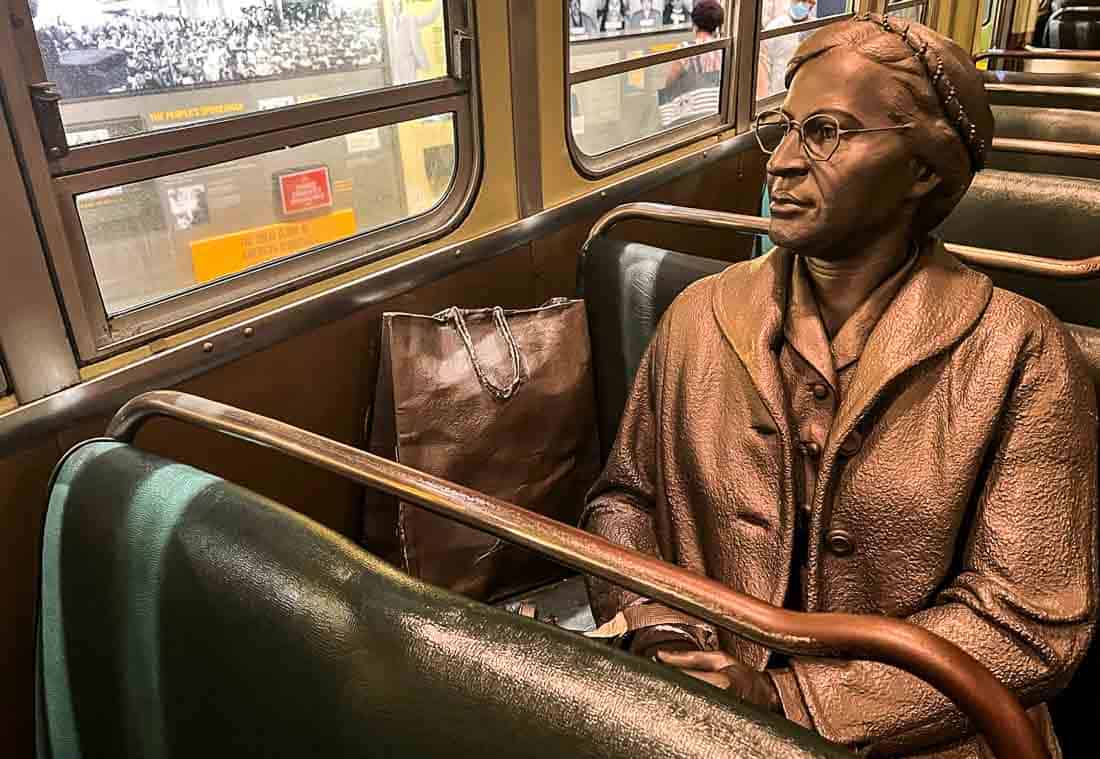 While the National Civil Rights Museum may not be one of the fun family things to do in Memphis, it is incredibly interesting and does a fantastic job of bringing to light the struggles faced by the African American people from the 17th century to the present.
The museum is built around the Lorraine Motel – which is where Dr Martin Luther King was assassinated 1968. However, the museum goes back much further than that, starting with how slavery began in America, the Montgomery Bus Boycott, the March on Washington, voting rights, segregation and more.
The museum ends with a visit to the room where King was staying before he was shot. Also across from the Lorraine Motel, you can visit the hotel room where the fateful shots were fired. There are additional exhibits on display within this building as well.
For families visiting Memphis, I think this museum is an absolute must, particularly to fully understand where we've come from in terms of Civil Rights but also how far we've still got to go.
During our visit, we saw children of all ages there, from young ones to teenagers so it's certainly one of the things for families to do in Memphis with kids of all ages. While much of the museum requires a lot of reading, it is multi media, with the information displayed in several ways to keep the kids interested – even for those children who may not be able to read yet.
We only had 2 hours to explore the museum and it was nowhere near enough time for us. The museum is absolutely huge and I could have easily spent 4 to 5 hours here – there really is that much to see. So do ensure you have plenty of time available while visiting.
Location: 450 Mulberry Street, Memphis
Opening Hours: Monday, Wednesday to Sunday from 9 am to 5 pm (closed Tuesdays)
Pricing: $17 per adult | $14 per child (5-17) | 4 and under free
Slave Haven Underground Railroad Museum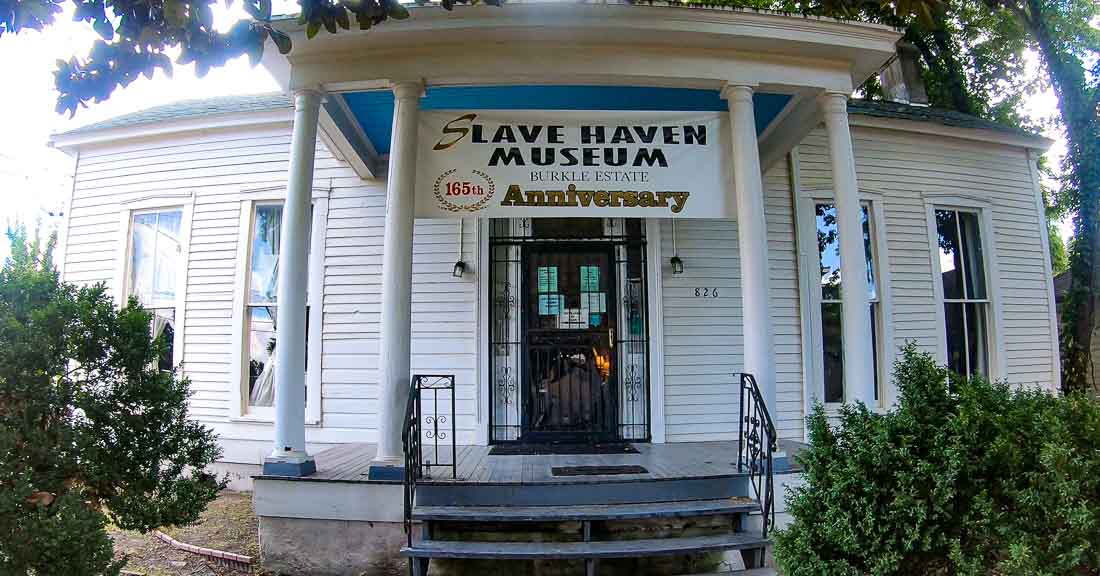 For families with an interest in African American history, the Slave Haven Underground Railroad Museum is another fascinating place to visit. The museum was previously the home of Jacob Burkle, a german immigrant who used his cellar to house enslaved Africans wanting to escape.
Visits to the museum are only by tour and are extremely informative. Our guide took us right back to the beginning explaining how Africans were bought and sold in Memphis. She also talked about how safe homes were secretly set up (such as Burkle's home) and how secret codes were embedded into quilts and strategically hung outside homes to guide runaway slaves to safety.
Escaped slaves stayed beneath trapped doors and hidden passageways until it was safe to continue their journey to freedom. At Slave Haven, you'll be able to visit these areas, as well as see numerous artifacts on display.
The tour lasts for around 1 hour and afterwards, you're welcome to further explore the house.
Slave Haven is probably better suited to older children, so perfect if you're after things to do in Memphis with teenager kids. However, younger children are more than welcome.
Location: 826 North 2nd Street, Memphis
Opening Hours: Tours are hourly from 10 am to 5 pm Tuesday to Saturday (June to August) and to 4 pm the remainder of the year
Pricing: $12 per adult | $10 per child (4-17)
Memphis Botanic Gardens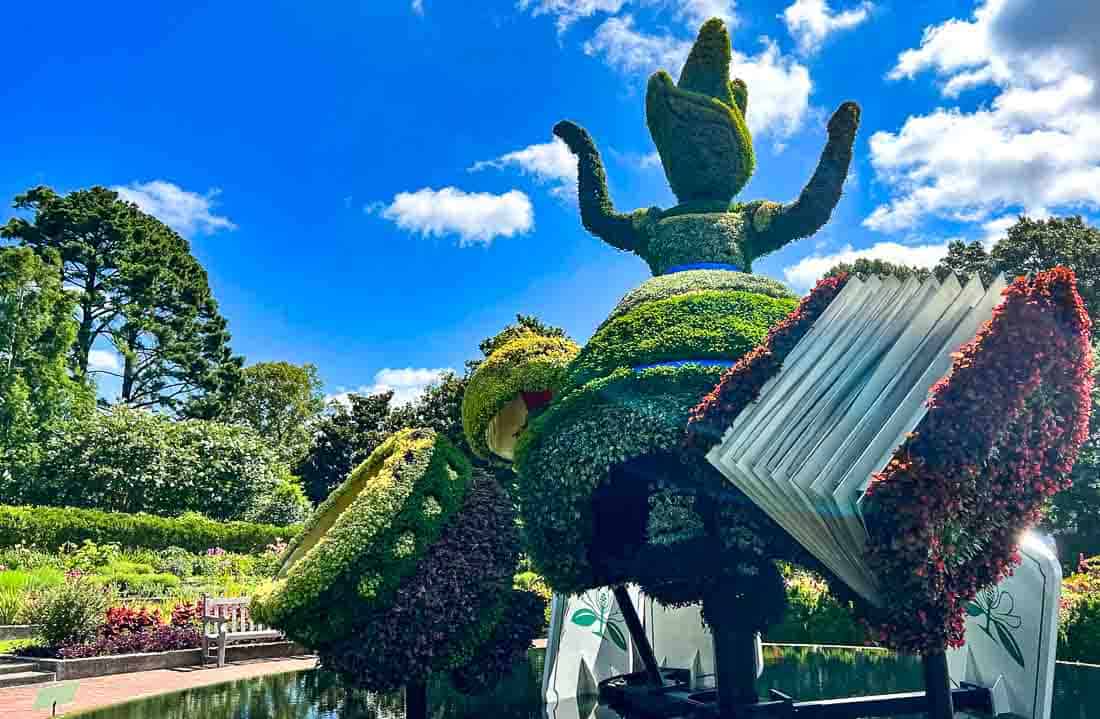 One of the lovely things to do in Memphis with family is to take a stroll around the Memphis Botanic Gardens. Across the 96 acre gardens, you'll find beautiful landscapes, tree covered parks and lovely walking trails.
There are also 30 speciality gardens to explore. Some of the best options for families would be the Japanese Garden where you can watch the very entertaining koi fish, the Sensory Garden where the kids can play with water and touch and smell the various plants, or My Big Backyard where they can weave through the maze, wiggle like worms, play musical instruments and much more.
The gardens often have special exhibits, and during our visit, we were lucky enough to see Alice Adventures at the Gardens (May to October 2022). This special exhibit included four Alice in Wonderland inspired sculptures made from thousands of plants. The sculptures require daily watering and trimming and are just fabulous to explore.
The gardens are one of the perfect family attractions in Memphis, particularly for those with younger children wanting to run about and play. You can even bring a picnic or enjoy a meal at the cafe onsite.
Location: 750 Cherry Road, Memphis
Opening Hours: Daily from 9 am to 6 pm
Pricing: $12 per adult | $7 per child (2-12) | Kids under 2 are free
Memphis Riverboat Cruise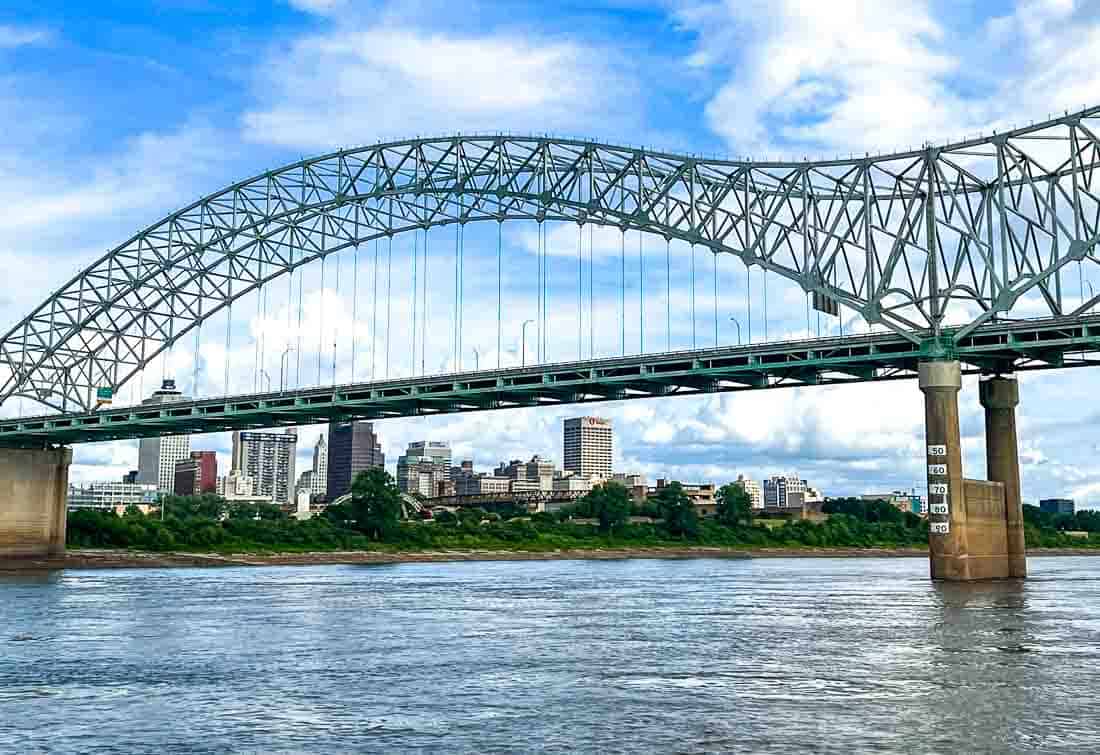 A Memphis Riverboat cruise is the perfect activity if you're after things to do in Memphis for family where you can sit back and relax. Onboard a charming old paddle wheeler, you can relax with style as you learn about the history of the Mississippi River and a little about the city of Memphis too.
The return 90 minute trip takes you both south and north along the river so you'll enjoy views of Downtown Memphis, the riverfront and the Big River Crossing. Along the way, the commentator points out various landmarks around the city and provides interesting historical information about the mighty Mississippi.
There are multiple levels across the boat you can sit. You can either sit inside with the comfort of air conditioning or outside enjoying the breeze. There is plenty of space for the little ones to move about – so don't be concerned about them needing to sit still for the entire time – it is definitely one of the kid friendly things to do in Memphis.
Between the commentary, iconic Memphis music plays and on our boat an impromptu dance floor appeared – which is good fun for the kids (and parents I might add). Onboard is also a snack bar, selling chips, candy and drinks including alcoholic drinks.
Location: 45 Riverside Drive Memphis
Opening Hours: Daily 2.30 pm March to October | Weekends only November
Pricing: $25 per adult | $21 per child (13-17) | $15 per child (3-12) | $5 per child (0-2)
Stax Museum of American Soul Music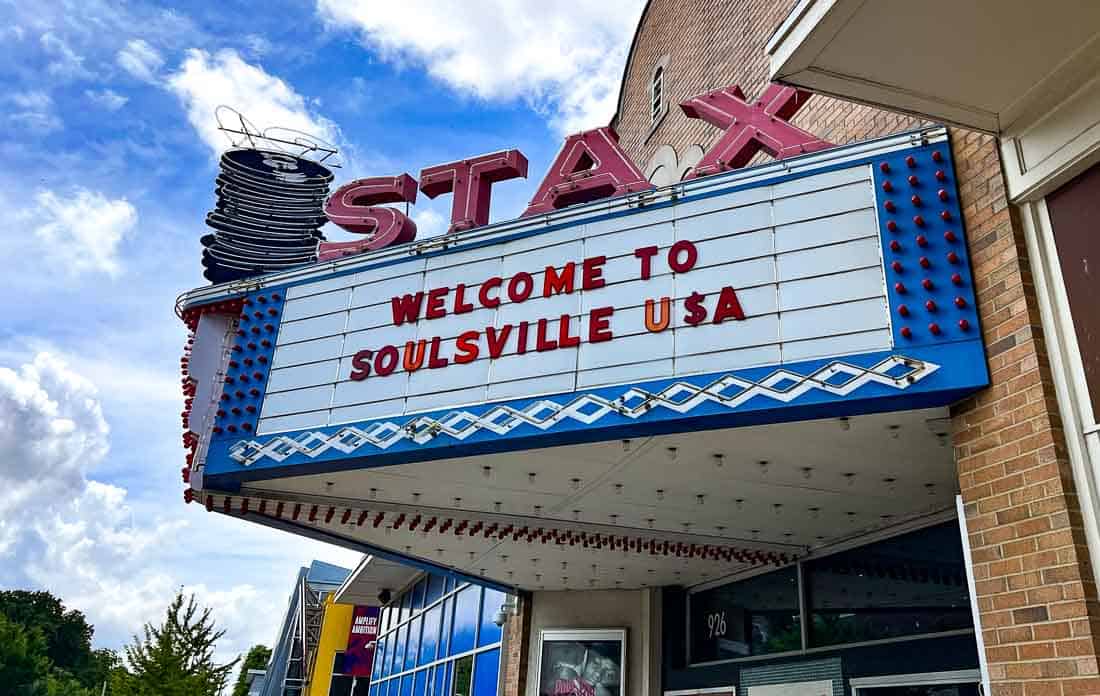 For the music lover, the Stax Museum of American Soul Music is another must see and one of the fun things to do in Memphis for families. Once a music recording studio, Stax produced hit records by artists including Carla Thomas, The MGs, Otis Redding and many others. While the recording studio is no longer there, a museum has been built in its place.
A visit to the STAX starts with an introduction video that takes you through the history of Stax, the Memphis music story and its link to gospel music and the Civil Rights Movement. You'll learn how Blues and Soul music was ultimately born from the hardships suffered by the people at the time and provided a release to those who sang it and of course to those who listened to it.
After the video, you make your way through the museum which has over 2500 exhibits on display including costumes, records, awards, a replica recording studio and even a dance floor. There are also a few interactive displays to keep the kids entertained and a dance floor where they can try out their moves while watching old episodes of Soul Train.
Not only does this museum talk about the music legends that were recorded at STAX, but it also shows that despite the segregation laws designed to keep people apart, music was actually bringing people together regardless of race. This certainly makes it another great place to get an understanding of the history of racism in Memphis.
Allow about 90 minutes or so to see STAX and I can assure you; that you'll be wiggling your hips and singing a tune the minute you step foot in this place – soul music does that to you – it gets in your blood!
Location: 926 E McLemore Ave, Memphis
Opening Hours: Tuesday – Sunday 10 am to 5 pm
Pricing: $13 per adult | $10 per child (9-12) | Kids 8 and under are free Click here to book tickets online
Memphis Zoo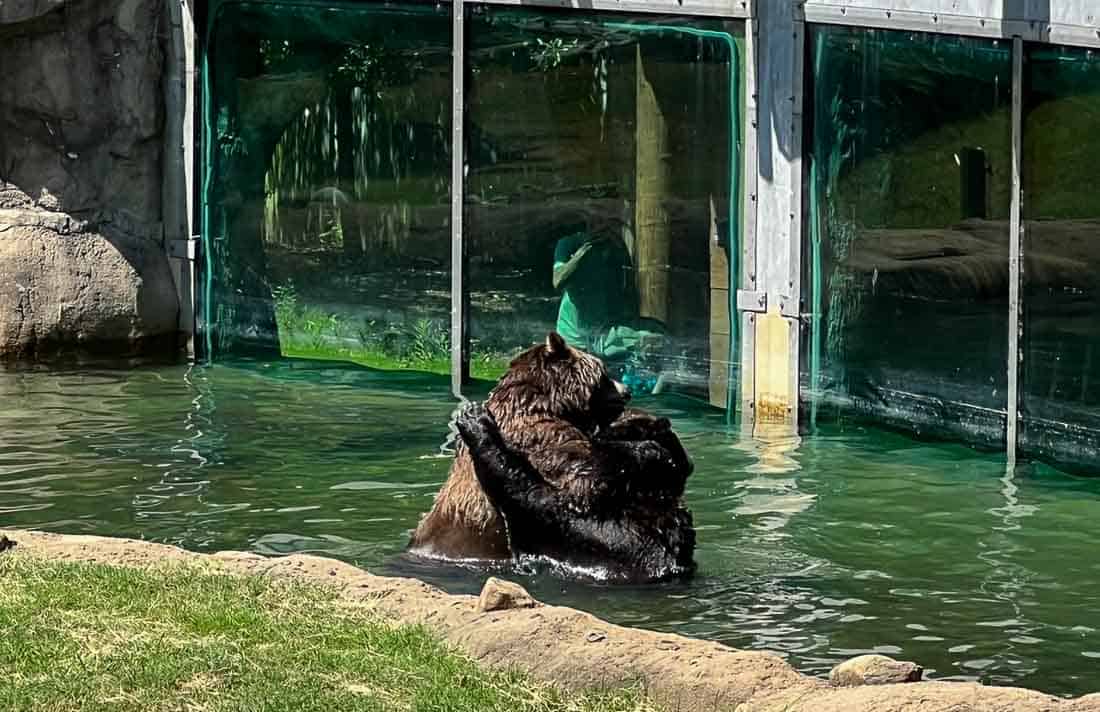 A trip to Memphis Zoo is yet another one of the awesome and fun things to do in Memphis with family. Across 70 acres, the Memphis Zoo is home to more than 3500 animals from more than 500 species across a range of specially designed habitats.
While we're massive animal lovers, we're not always that fond of zoos – however, I have to say the Memphis Zoo is certainly one of the good ones. I like to do my research on zoos in advance and am pleased to say the Memphis Zoo is an accredited member of the Association of Zoos and Aquarium and participates in a range of conservation initiatives.
The animal enclosures at the Memphis Zoo are massive and they do a great job of recreating the animal's natural habitats. The animals are not made to be on "display" and are allowed to move freely within their enclosure – which meant for us that some of the animals weren't out and about so we could see them.
We just loved visiting the polar bears, the gorgeous panda bears, the hippos splashing about, the lions, the cheeky monkeys and the grizzly bears who were having fun wrestling each other in the water. Honestly, I could have sat and watched some of these animals all day.
Like most zoos, throughout the day are a range of zoo keeper chats where you can learn more about the animals. There's a chat about the hippos, pandas, snakes, polar bears and more. You can also watch the bears and penguins being fed (not at the same time of course) and there is a sea lion show. To ensure you don't miss anything I'd recommend checking the times on arrival and making a bit of a plan upfront.
The day we visited the zoo it was hot! But what I like about the zoo is they have lots of little shallow water areas where the kids can splash about and cool off. But what's even better is the brand new Splash Park! The Splash Park has a range of slides and water sprayers etc where the kids will just have a ball. There is also a playground at the zoo too.
With all that's on offer at the zoo, you could easily spend the entire day here. However, if you're just coming to see the animals around 3 hours is a good amount of time to allow.
It's also worth mentioning that the Memphis Zoo is located in Overton Park, which is a 342 acre park that has other Memphis children's attractions such as the popular Rainbow Lake Playground and East Parkway Playground.
Location: 2000 Prentiss Pl, Memphis
Opening Hours: Daily from 9 am to 6 pm
Pricing: Weekdays / Weekend Prices – $21 / $23 per adult | $16 / $18 per child (2-11) | Kids under 2 are free
Splash Park
Opening Hours: May to September – two sessions per day 9.30 am-1 pm and 2 pm -5.30 pm
Pricing: $10 per person – kids under 2 are free
Beale Street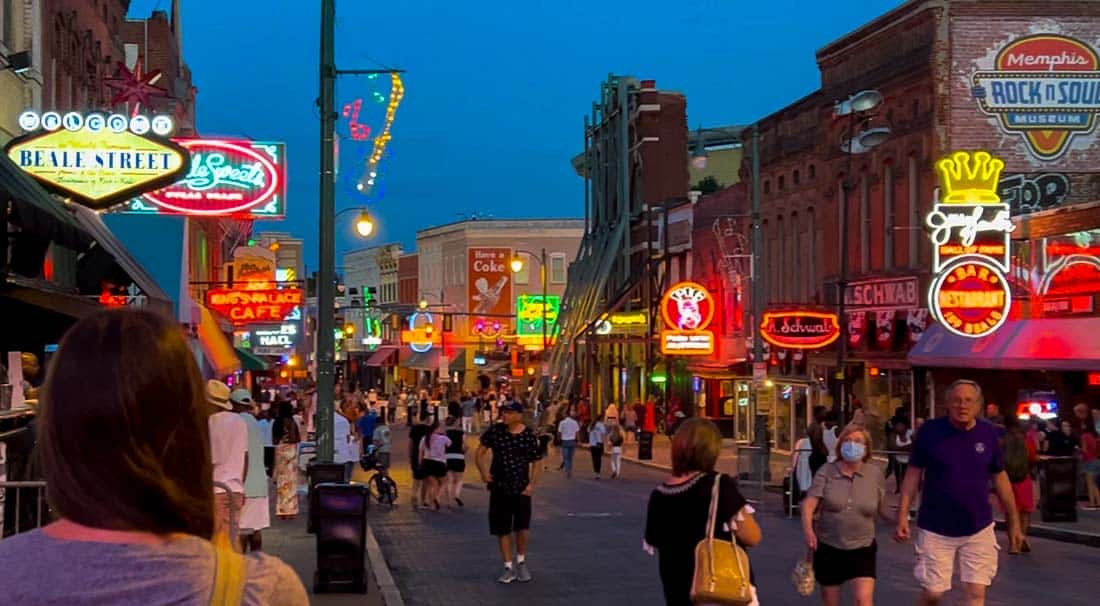 While you mightn't think Beale Street is one of the things to do with family in Memphis – Beale Street actually has something to offer everyone – no matter how old you are!
The historic Beale Street is the heart of Memphis music and across three blocks, you'll find neon flashing lights, live music, restaurants selling delicious barbeque and shops aplenty. Back in its heyday, this is where music legends such as Elvis and BB King got their start and Martin Luther King marched just days before he was assassinated.
You can still hear all the music which put Memphis on the map in Beale Street. Blues, jazz, rock 'n' roll, R & B and gospel music – you'll hear it just walking down the street as the music spills out of the clubs that line the street. I guarantee you can't walk down Beale Street without either singing a tune, wiggling your hips or with a grin ear to ear – or in most cases, all three – the vibe in this place is just electric!
For families, I recommend visiting Beale Street mid to late afternoon. Enjoy a stroll down the street stopping into whatever place takes your fancy – this is certainly the place to get your fill of Memphis souvenirs!
A Schwab is worth a look; this is Memphis' oldest store opening in 1876. Here you can find a range of souvenirs, candy and an old soda foundation. Also, take the kids to see the goats at Silky O'Sullivan's, it's a pub but kids are welcome before 6 pm. If you have time, the Withers Collection Museum and WC Handy Home Museum are also worth a look.
Before it gets too late, I recommend heading into BB Kings for an early dinner (see more about eating at BB Kings below) – or at least just a few drinks. There is a $10 cover charge for adults, but kids are free. Now don't baulk at the cover charge because you're about to hear some seriously awesome Memphis music! It's a great place to have a dance with the kids.
Myla loved BB Kings so much that she asked to go back every night we were in Memphis. We did go back once, but it was a bit later in the evening and the line to get in was long – which is why I recommend going late afternoon before dinner time.
Early evening most nights, you should be able to see the Beale Street Flippers. These guys have always been a Memphis favourite, but now since appearing on America's Got Talent, they're loved across the US. These guys are amazing with their crazy aerial somersaults – they usually end their show by getting a few bystanders to line up and crouch down while they flip over them. Myla was lucky enough to be pulled out of the audience but chickened out before the major event!
I recommend leaving Beale Street by around 9 pm – this is when it starts to get a little rowdier and they have a security checkpoint. Kids are allowed into Beale Street until 9 pm, however if they are already there, they can stay until 11 pm, when Beale Street is then strictly 21 and over.
As you can see, there is plenty to do in Beale Street making it a great place whether you're travelling with little ones or after fun things to do in Memphis for teens.
If you're interested, you can do an hour long guided tour of Beale Street where you'll learn more about its history.
Location: Beale Street
Opening Hours: Always
Pricing: Free – although some nights there is $5 charge per person from 9 pm
American Safari Dream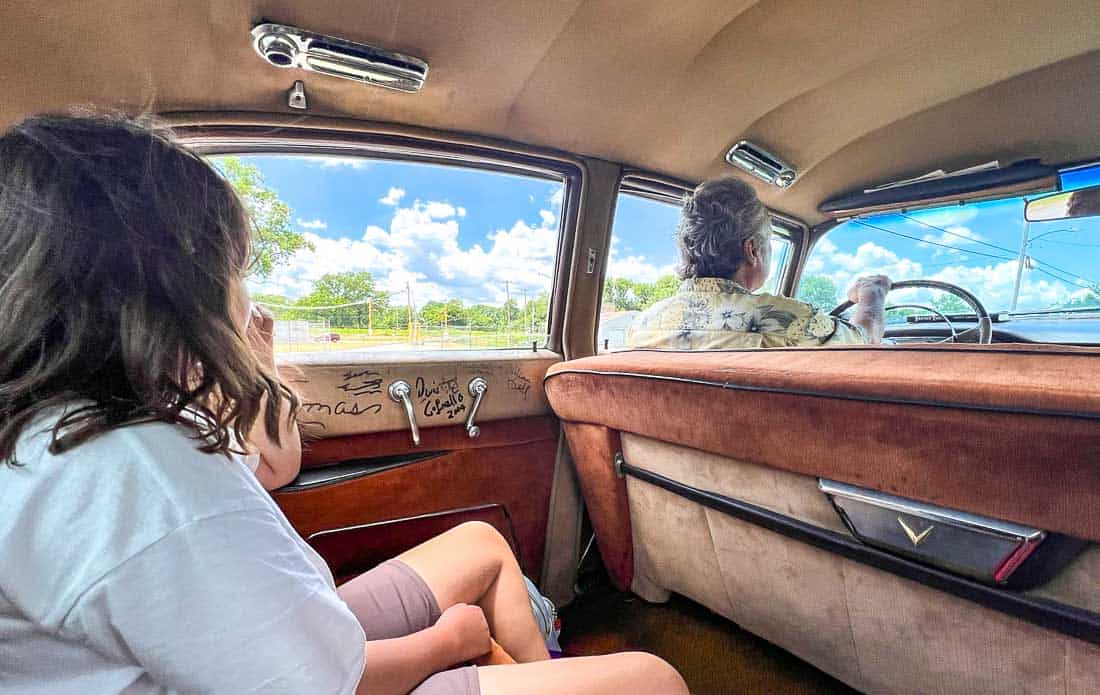 For an introduction to Memphis, I can't recommend a tour with Tad from American Safari Dream enough! I mean what better way is there to explore Memphis than cruising around town in a 1956 Cadillac, where the tour is specially put together to match your interests?
I had asked Tad to show us all the Elvis sites around town, with the exception of Graceland given we were going there the following day. So we stopped at Humes Middle school where Elvis went to school, as well as Lauderdale Courts where he first lived with his parents from 1949 to 1953.
I had also heard that Memphis had some great street murals, so he took us to see a few of these, and given my interest in the Civil Rights Movement, he showed us places such as I am a man plaza. Along the way, he shared interesting tidbits of Memphis' history as well as gave us suggestions for things to do and see during the rest of our time in Memphis.
But whatever you're into Tad will put together a tour just for you. The tour isn't set in stone, so he's happy to modify the tour along the way depending on your interests.
Price: 3 hour tours start at $200 for 4 passengers – contact Tad through FaceBook to book a tour.
Big River Crossing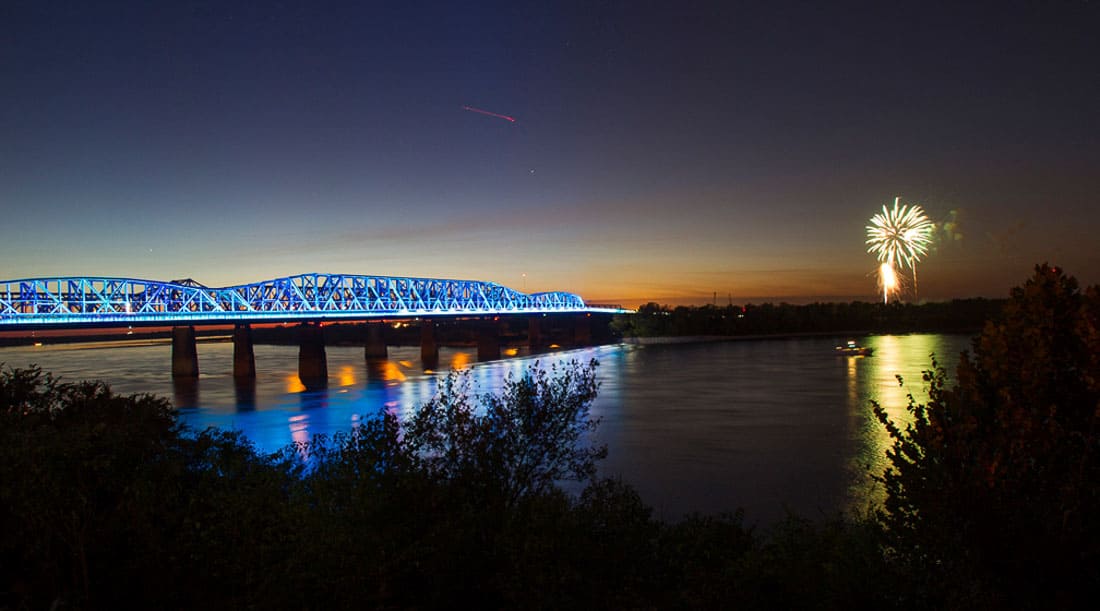 Image credit thanks to Big River Crossing
If the kids have got some energy to burn and you're looking for free things to do in Memphis for kids, take them for a walk, run or bike ride across the Big River Crossing. Crossing the Mississippi River, this is the longest pedestrian and biking bridge in the USA and you'll get some great views of Memphis and the river from the bridge. The bridge connects the state of Tennessee with Arkansas, so you can get some cool photos of the kids with one foot in each state.
Another one of the free family things to do in Memphis is to see the 10 minute Mightly Lights show on the Big River Crossing. Each evening, the bridge lights up with a 100,000 LED light show. The show takes place hourly and half hourly from after sundown to 10.30 pm.
The show can be seen anywhere from the riverfront, however for the best views head to Martys Park, Beale Street Landing or the lookout of the Pyramid. Being actually on the Big River Crossing during the show also offers a cool perspective.
Location: Access from Channel 3 Dr / Virginia Ave W, with parking available on Channel 3 Dr
Opening Hours: 6 am to 10 pm
Pricing: Free
The Children's Museum of Memphis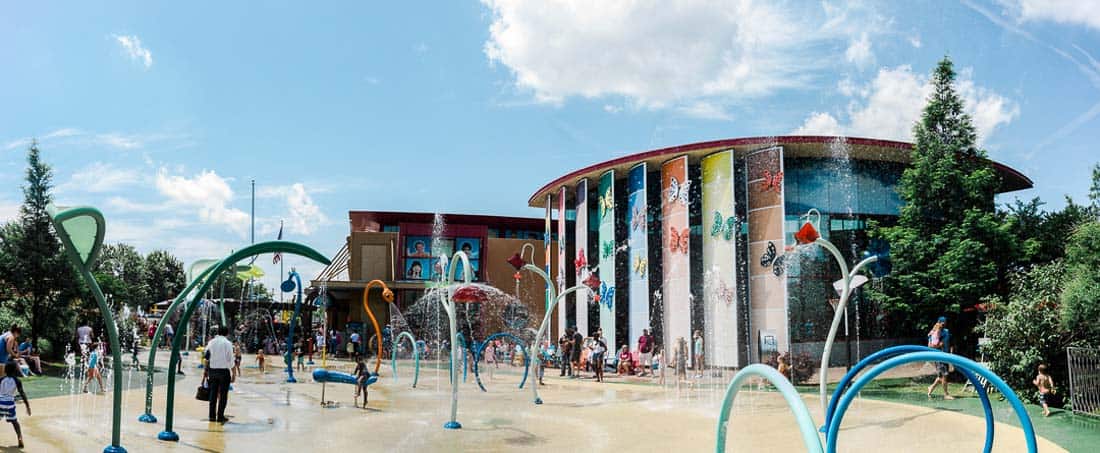 Image credit thanks to Jacob Geyer
A visit to the Children's Museums of Memphis is definitely another one of the fun things for kids in Memphis – particularly for those families with younger ones. This museum is spread out across different rooms and has a range of hands-on interactive activities designed to encourage their creativity, imagination and problem solving skills. This is not your typical museum – here the kids are encouraged to touch everything!
Kids will love the art stations, emergency vehicles, the 22 foot tall skyscraper they can climb, the child sized grocery store where they can shop and bank, experience what it's like to be in a real tornado, a dig area where they can dig for fossils and during the Summer months there's even an outdoor splash park. There's also a beautiful old restored 1909 carousel.
This museum is one of the children attractions in Memphis, which is best suited to kids up until age 10 or so.
Location: 2525 Central Avenue Memphis
Opening Hours: Daily from 9 am to 5 pm
Pricing: Museum: $15 per person – under 1s are free | Carousel: $3 per ride | H2Oh! Splash Park: $20 includes general admission
Victorian Village
One of the interesting family things to do in Memphis is to visit the Victorian Village, the first suburb in Memphis.
Once named Millionaire's Row, the suburb was built along Adams Avenue during the mid to late 1800s. The three and four story homes were built by cotton magnates and riverboat tycoons and were once the most sought after residential area in Memphis.
A small cluster of 19th century mansions remain and have been restored to their former glory. Some of the mansions have been converted into museums, B&Bs, restaurants and cocktail lounges and six of the homes are on the National Register of Historic Places.
Some of the mansions worth a visit (even if just admiring from the front) include:
Magevney House

(198 Adams Ave) – A small 1830s cottage once home to Irish immigrant Eugene Magevney. It's furnished as it may have been in 1850 with some of the Magevney family possessions.

Mallory – Neel House

(652 Adams Ave) – A 25 room mansion featuring original 1890s furniture, gorgeous stained glass windows, stencilled ceilings and parquet flooring. Open for tours Wednesday to Saturday 10.30 am to 5 pm.

Mollie Fontaine Lounge

(679 Adams Ave) – Built as a wedding gift for Mollie Fontaine by her father, this is now a bar and lounge.

Woodruff Fontaine House Museum

( 680 Adams Ave) – Showcases fashion and textiles from the Victorian era to the 1920s. Open Wednesday to Sunday 12 to 4 pm.

Click here to purchase tickets

James Lee House

(690 Adams Ave) – Built by a riverboat tycoon, this home now runs as a B&B.
Location: Adams Ave, Memphis
Opening Hours: Varies depending on business
Pricing: Varies depending on business
Memphis Rock 'n' Soul Museum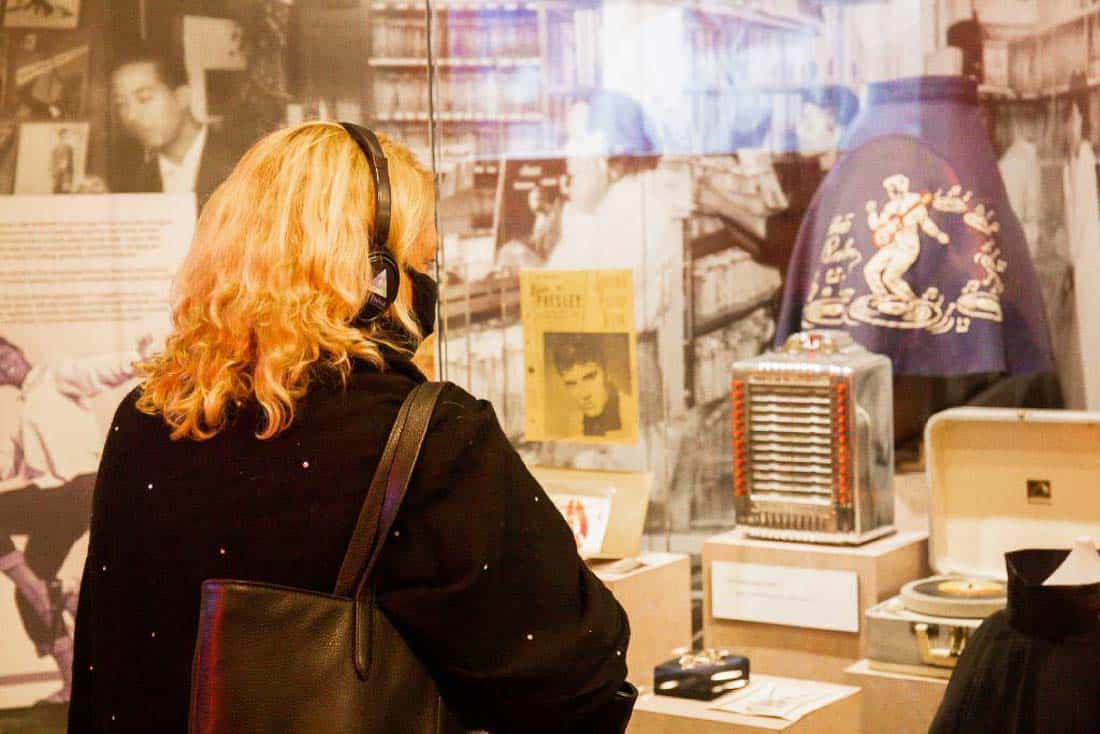 Image credit thanks to Alex Shansky
Another one of the things to do in Memphis with children where you can learn about the history of music is the Memphis Rock ' n' Soul Museum. This museum tells the story of how musicians came together regardless of racial and socio-economic backgrounds for their love of music that eventually changed the world.
There are seven galleries in the museum which are explored via a self guided audio tour. The audio is packed with over 300 minutes of information, including 100 songs from the 1930-70s that were recorded in Memphis. Along the way, you'll see three audiovisual programs, more than 30 instruments, 40 costumes and much more.
While you can take as long as you like at this museum, it's recommended to allow around 1 to 2 hours.
Location: 191 Beale Street, Memphis
Opening Hours: Daily 10 am to 5 pm
Pricing: Adults $13 | Kids (5-17) $10 | Under 4s free – Click here to purchase tickets online
Memphis Music Hall of Fame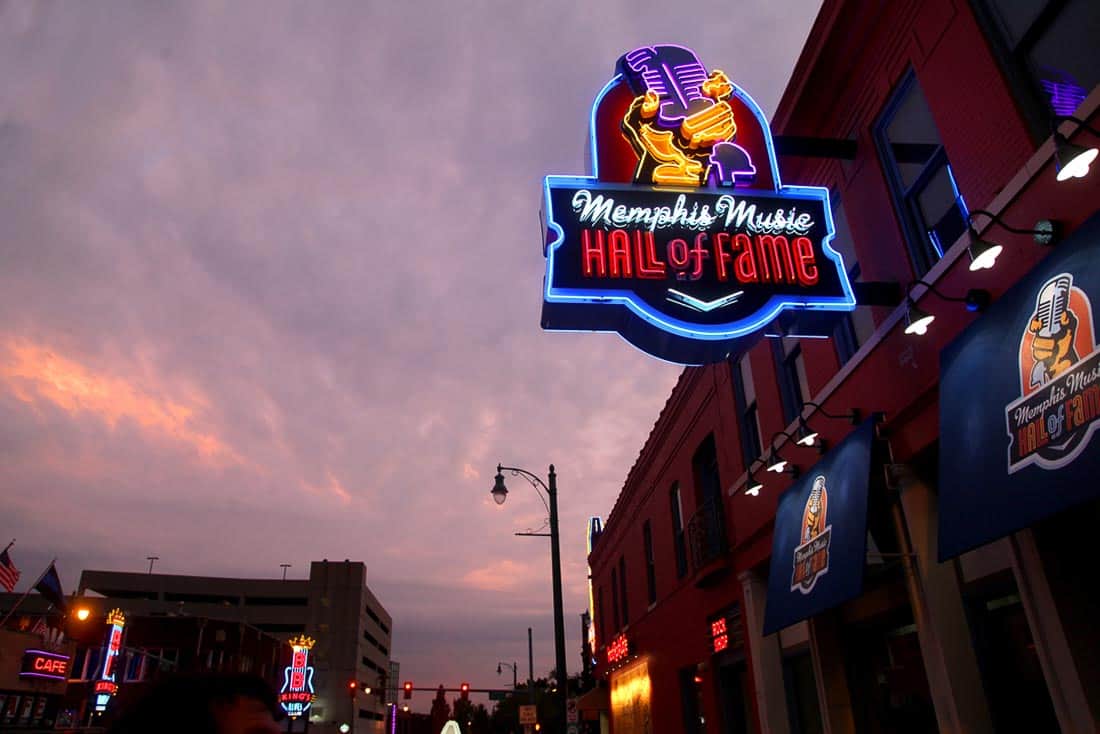 Image credit thanks to Troy Glasgow
Yes, another music attraction – the Memphis Music Hall of Fame honours Memphis music legends for their achievements and contributions to music. Here you'll find both old and new artists alike such as Jerry Lee Lewis, Elvis Presley and Justin Timberlake.
Throughout the museum, you'll see never seen before memorabilia, rare video footage of performances and interviews as well as interesting interactive exhibits and much more.
Location: 126 S 2nd St, Memphis
Opening Hours: Wednesday to Sunday from 10 am to 5 pm
Pricing: Adults $8 |Kids (5-17) $6 | Under 5s free Click here to purchase tickets
Memphis Museum of Science and History
At the Memphis Museum of Science and History (formerly called the Pink Palace Museum), kids can learn about the area's cultural and natural history of the mid south from the time of the Spanish explorers through to the Civil War and the Yellow Fever epidemics.
The museum is housed in a pink stone clad mansion, which was once the home of Clarence Saunders, the founder of the Piggly Wiggly grocery stores. Today the mansion is home to a range of exhibits on display with in depth audiovisuals.
As well as seeing the grand mansion, here you can see prehistoric fossils, items and tools once belonging to the Native Americans and early settlers, uniforms and weapons from the Civil War and more. And the kids will just love meeting Tyra the animatronic Tyrannosaurus Rex.
If you happen to visit over a weekend be sure to time your visit with one of the educational demonstrations and activities which are at 12.30 pm and 1.30 pm. And complete your visit by catching a show at the planetarium or watching spectacular 2D and 3D films at the giant screen theatre.
A few hours spent at the Museum of Science and History is certainly one of the fun things to do for kids in Memphis.
Location: 3050 Central Ave, Memphis
Opening Hours: Wednesday to Sunday 10.30 am to 5 pm
Pricing: Museum – Adults $18 | Kids (3-12) $13 | 2 & Under free | Giant Screen Theater – Adults $10| Kids (3-12) $8 | 2 & Under free | Planetarium – Adults $8 | Kids (3-12) $6 | 2 & Under free.
Shelby Farms Park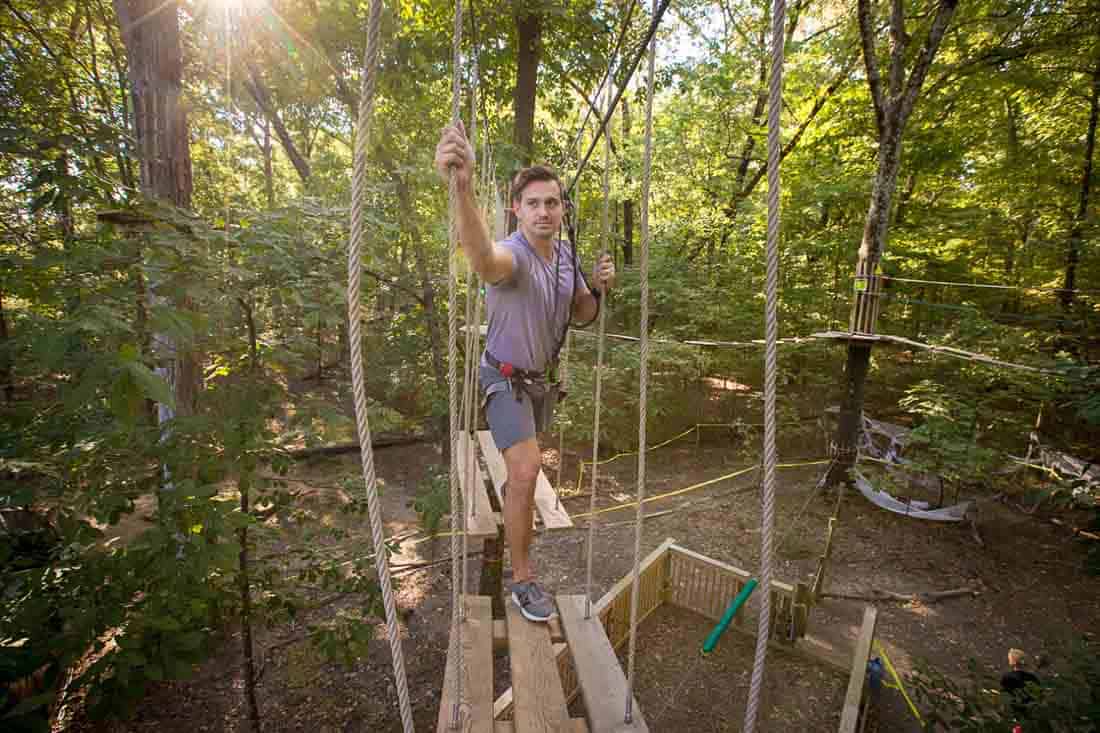 Image credit thanks to Allen Gillespie and Memphis Convention & Visitors Bureau
At 4500 acres, Shelby Farms Park is one of the largest urban parks in the USA. This recreational oasis is home to 10.65 miles of hiking and bike trails, fishing and boating, the Woodland Discovery Playground and a massive zero depth water play area.
The Go Ape Zipline and Adventure Park is perfect for older children, offering a range of thrilling and heart-racing activities. Not for the faint hearted, here you'll get to climb over obstacles dangling between the trees and zoom through the air via multiple zip lines.
Other fun things include visiting the herd of buffalo, having a game of laser tag or paintball, and renting a bike or boat to cruise around the lake.
There is so much to do here; you're gonna want to put the entire day aside. It's certainly a great place to visit whether you're after fun things to do in Memphis for teenagers or little ones.
Location: 6903 Great View Dr N, Memphis
Opening Hours: Ranges depending on the individual experience
Pricing: Ranges depending on the individual experience – click here for more information
Fire Museum of Memphis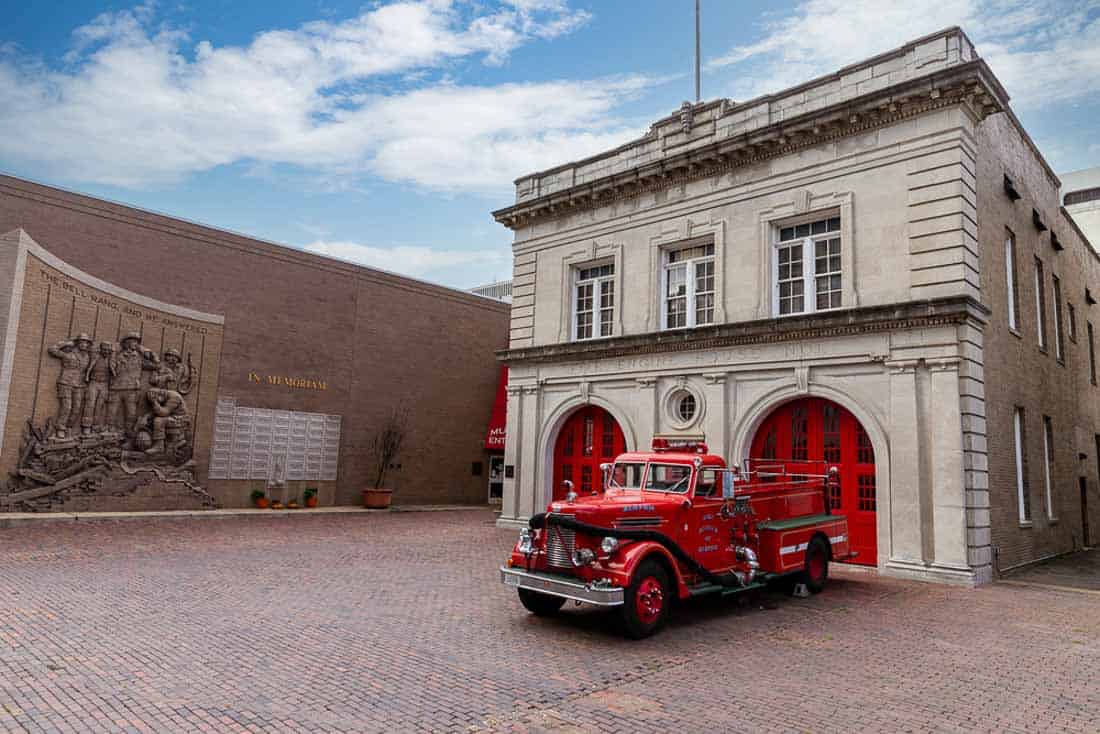 Housed in the old Engine House Number One, which was built in 1910, the Fire Museum has a range of exhibits where kids can learn about the day in a life of a firefighter as well as fire safety and prevention.
There are plenty of hands on activities for the little ones. They can crawl through a smoke alarm maze, slide down the brass fire pole, put on firemen uniforms and play with real life fire equipment – even putting out a simulated fire in a high rise building. Perfect for families after fun things for kids to do in Memphis.
The Fire Room is a must, where you'll actually feel what it's like to be in a burning house – you'll even feel the heat of the fire while watching firefighters tackle the huge flames. Other exhibits include an original fire alarm bell from 1865, a 1910 horse drawn steam engine, a model firehouse, vintage fire equipment, other emergency vehicles and much more.
There's also a lovely 22 foot high sculpted memorial wall dedicated to each of the firefighters who have lost their lives in the line of duty since 1880.
So if you're after family fun things to do in Memphis, particularly with the younger ones, certainly consider a visit to the Fire Museum.
Location: 118 Adams Ave Memphis
Opening Hours: Monday to Saturday 9 am to 4.30 pm
Pricing: Adults $10 | Kids (3-12) $8 | Children 2 & under free
I Am A Man Plaza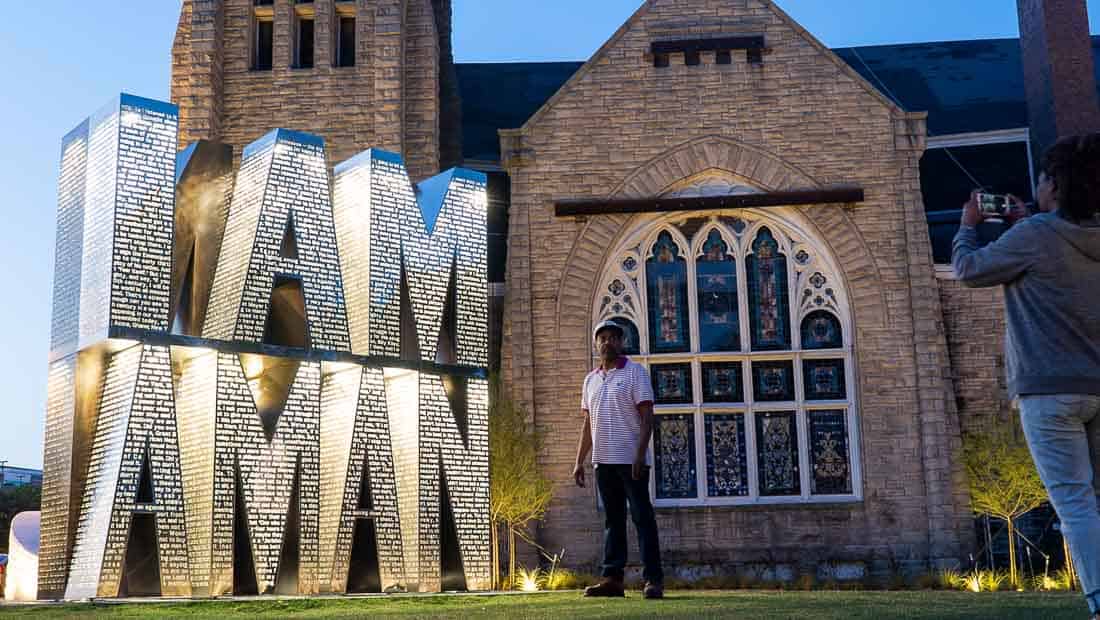 Image credit thanks to Logan Young
For those interested in the life of Martin Luther King and the Civil Rights movement in general, a visit to the I Am A Man Plaza is an absolute must.
The plaza was a key rallying point for the Memphis Sanitation Workers Strike in 1968 where the workers gathered in protest for better working conditions after two African American sanitation workers died after an accident with a city truck.
The strike brought Martin Luther King to Memphis, where on 3 April 1968, at the Mason Temple the plaza he gave his "I've Been to the Mountaintop" speech in support of the workers. During his speech he made reference to threats on his life and appeared to indicate that his death was imminent saying "..I've been to the mountaintop. And I don't mind. Like anybody, I would like to live – a long life…". The following day King was assassinated.
The plaza today features a sculpture of the words "I AM A MAN" which is the slogan that came to represent the fight of the working poor and the civil rights movement in Memphis and beyond.
Location: Hernando St, Memphis
Opening Hours: Always
Pricing: Free
Mud Island River Park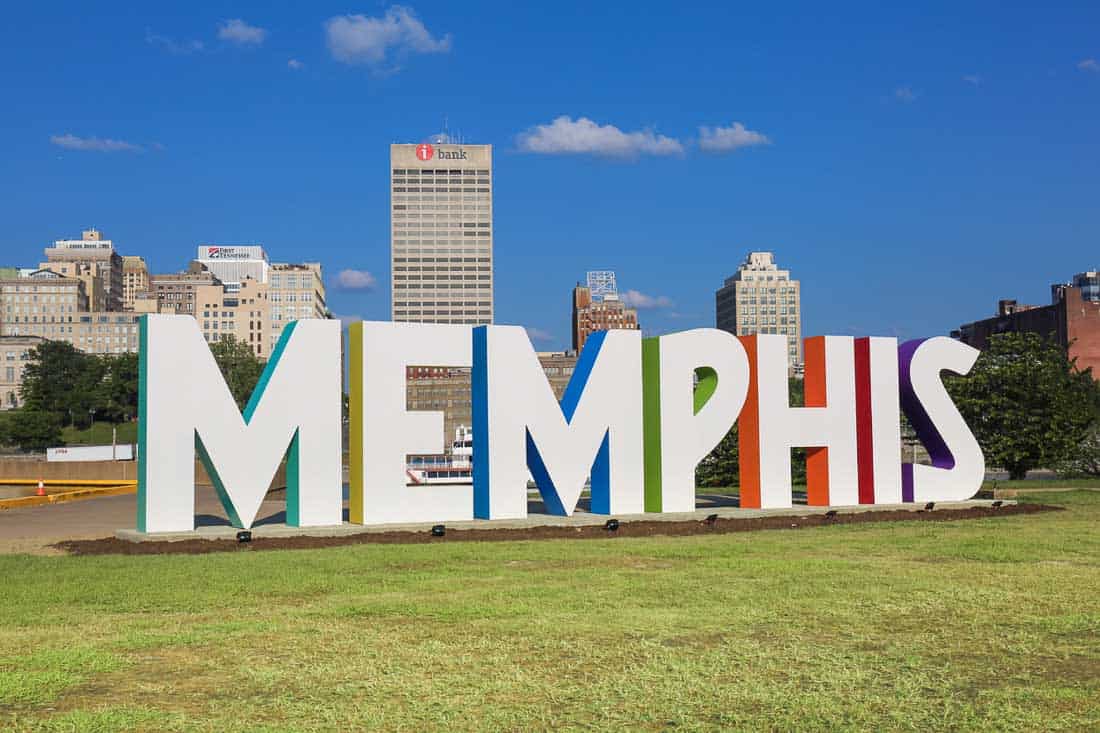 Image credit thanks to Alex Shansky
Sitting alongside the Mississippi River, Mud Island River Park is one of the fun places to go in Memphis for kids. It's an easy walk across the Skybridge from the Downtown area and there is a range of things here to keep the kids busy.
First up don't forget to take a photo of the whole family with the "Memphis" sign – this 50 foot sign is fairly new and makes a great memento from your trip to Memphis. Then take the kids to check out Riverwalk – a concrete scale model of the Lower Mississippi River where you can walk or splash your way across six USA states and through 20 cities – the size of five city blocks.
Location: 101 N Island Drive, Mmephis
Opening Hours: Daily from 6 am to 8 pm in Summer and 6 pm in Winter
Pricing: Free
Bass Pro at the Pyramid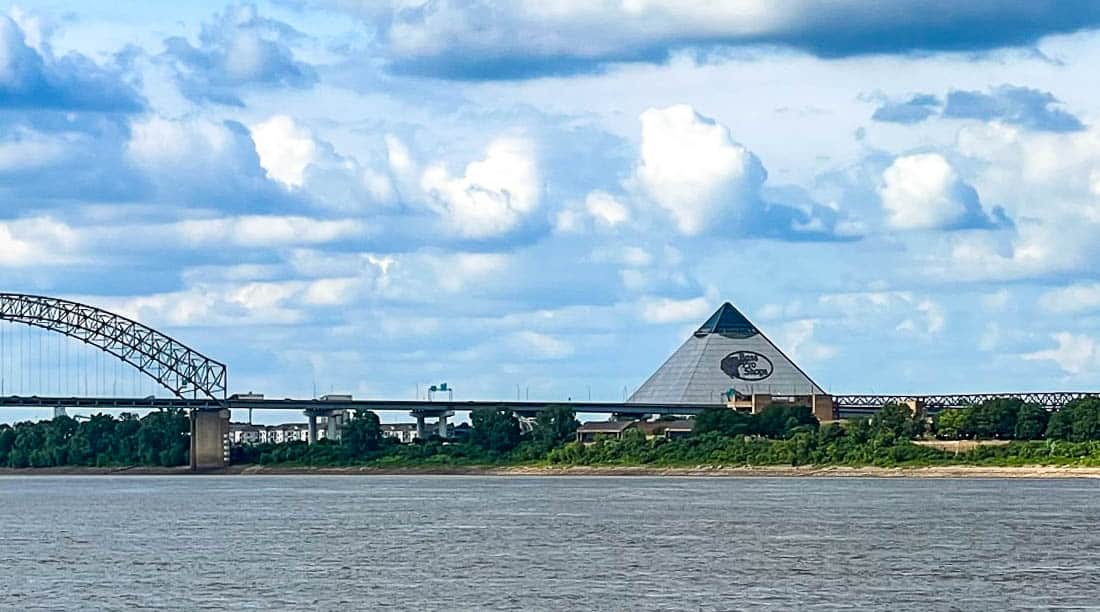 Another interesting place for kids activities in Memphis is the Bass Pro at the Pyramid. The Bass Pro is actually a fishing shop, but it's located in the Pyramid an iconic building in Memphis where you can ride the world's tallest freestanding elevator at 28 stories. Once you reach the top, you can walk out onto the glass floor observation deck and enjoy fantastic views 300 feet above Memphis and the mighty Mississippi River.
Not only is the Pyramid a great place for Memphis views, but you'll find stacks of Memphis activities for kids here including a 13 lane aquatic themed bowling alley, a gun range and there's even a 5 star resort. The Bass Pro shop itself features a swamp filled with fish and alligators, ten aquariums with more than 1800 fish and an interactive National Waterflowing Heritage Centre.
So if you're after a range of indoor activities for kids in Memphis – Bass Pro at the Pyramid is the place to go.
Location: 1 Bass Pro Dr, Memphis
Opening Hours: Monday to Saturday from 9 am to 9 pm and Sundays from 10 am to 7 pm
Pricing: Varies depending on experience
C.H. Nash Museum at the Prehistoric Chucalissa Archaeological Site
The CH Nash Museum is an interesting place to visit with the kids, where they can learn about the earliest Native Americans in the area. Located at the prehistoric Chucalissa archaeological site, the museum features a replica of a house the Chucalissa people would have lived in some 500 to 1000 years ago.
As well as the replica house, there is also a museum that features a range of artifacts and objects found in the area and interactive displays and videos about the African American community of Southwest Memphis.
It is a great place for families to learn about the Southeastern Indian cultures and the early history of the Mid South.
Location: 1987 Indian Village Dr, Memphis
Opening Hours: Tuesday to Saturday from 9 am to 4.30 pm
Pricing: Adults $6 | Kids (4-11) $4 | Children under 22 & under free
Blues Hall of Fame Museum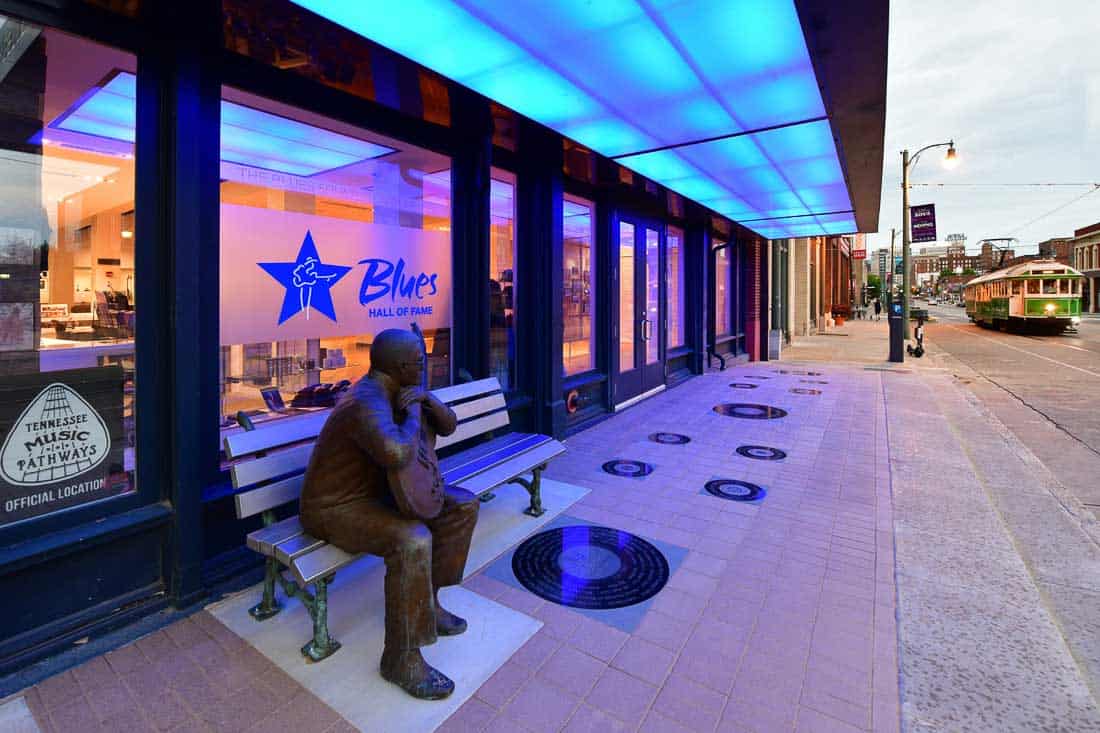 Image credit thanks to Andrea Zucker
The Blues Hall of Fame Museum is a multi media museum where you can learn about the past and present musicians whose work has made an impact on the blues genre of music Memphis is so famous for.
On display, you'll find instruments, costumes and memorabilia from musical legends such as BB King, WC Handy and more. The museum also has an interactive database where you can browse through biographies, photos songs and much more relating to the various inductees of the Hall of Fame.
New performers are inducted into the Hall of Fame each May, so the museum is regularly growing with inductees' music, videos and memorabilia added to the museum each year.
It's recommended to allow an hour or two to see all that's on offer at the museum.
Location: 421 S Main St, Memphis
Opening Hours: Wednesday to Saturday 10 am to 5 pm | Sunday 1 pm to 5 pm
Pricing: Adults $10 | Kids (13-18) $8 | Children 12 & under free
Edge Motor Museum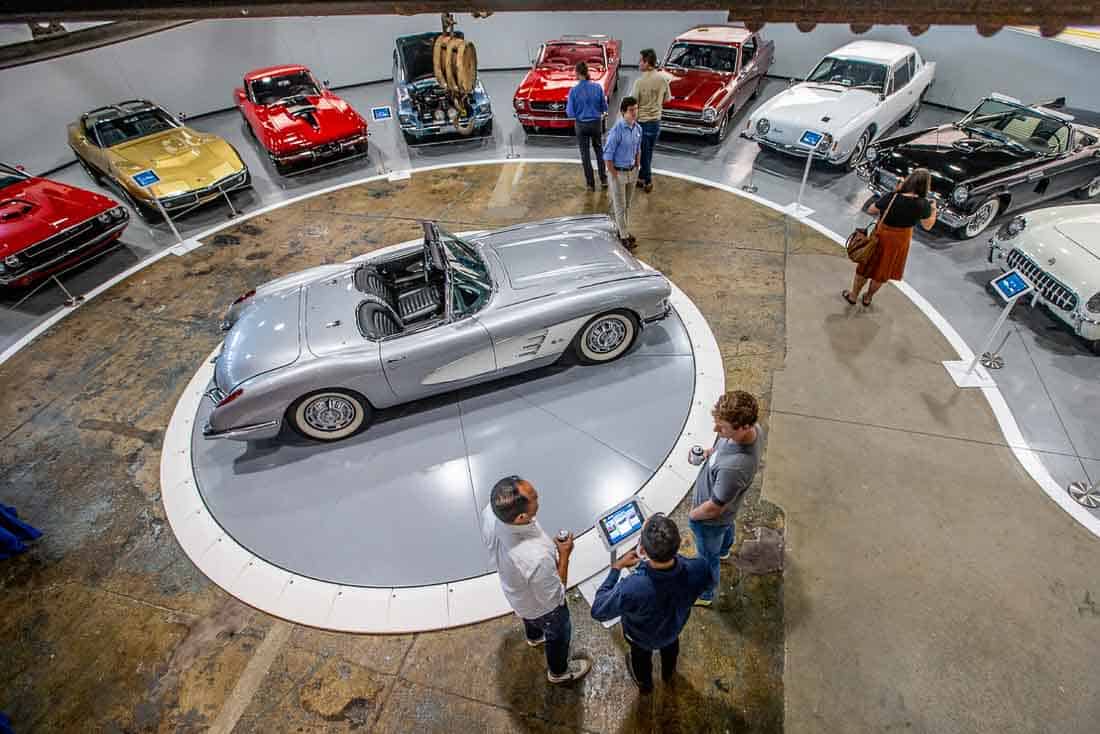 Image credit thanks to Craig Thompson
For those families with car lovers, a visit to the Edge Motor Museum is a must! This museum has selected a range of cars to showcase American history, with each vehicle on display being carefully chosen based on its historical and cultural significance.
The museum is an educational museum with a focus on preservation rather than restoration of the cars on display. As well as educating visitors about each of the cars, the aim is to showcase trends in politics, economics, culture, and technology at the time each vehicle was made.
Location: 645 Marshall Ave, Memphis
Opening Hours: Monday to Friday 10.30 am to 5 pm, Saturday 11 am to 3 pm and Sunday 12 to 4 pm
Pricing: Adults $10 | Kids $5 | Family (4 or more) $30 – Click here to purchase tickets
Cotton Museum at the Memphis Cotton Exchange
The cotton industry played a significant role in Memphis' history and culture. Cotton tycoons made their millions sending carrying bales of cotton on steamboats down the mighty Mississippi River. While the industry profited off the backs of slave labour who hollered songs from the fields, eventually bringing us the blues.
A great place to learn about this history is at the Cotton Museum. Through a variety of exhibits, the Cotton Museum tells the story of cotton and how it shaped the culture of the south, in particular its influence on music, food and the history of Memphis.
Location: 65 Union Ave, Memphis
Opening Hours: Monday to Saturday 10 am to 5 pm and Sunday 1 to 5 pm
Best Kid Friendly Restaurants in Memphis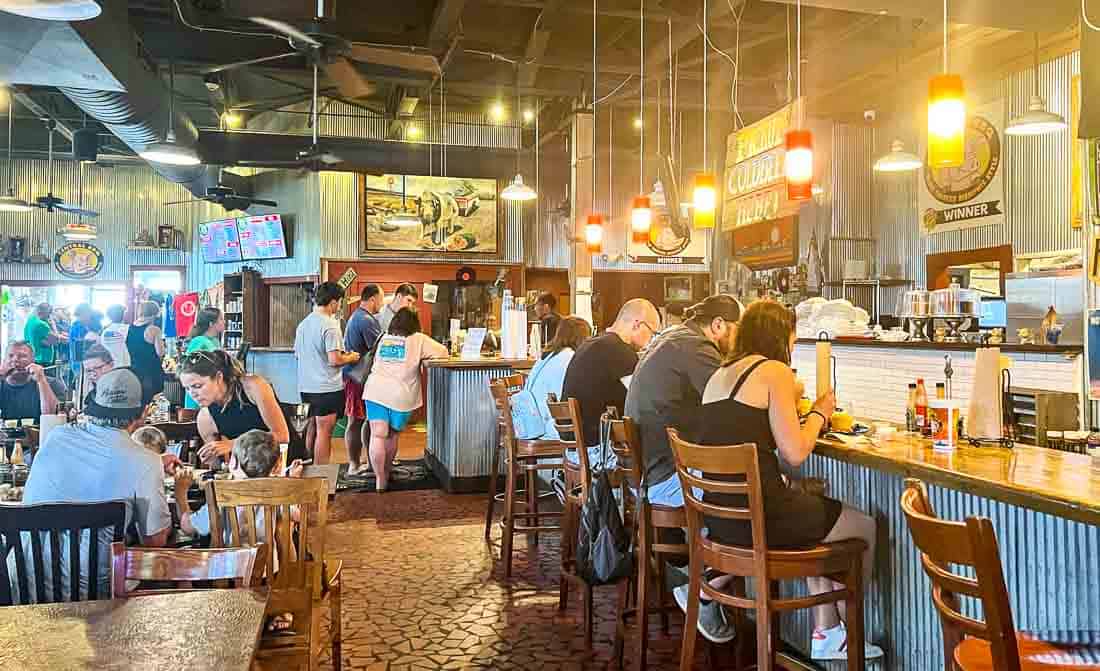 As well as some great attractions, Memphis also has some uber cool places to eat particularly their famous barbeque restaurants. To help you decide where to eat while in town, below I've listed some of the best kid friendly restaurants in Memphis. Myla and I ate at all these places while in town and highly recommend each and every one of them.
For further details on where to eat with kids in Memphis – click here to read our full guide.
Central BBQ: The best place in Memphis to try barbecue. Menu items include ribs beef brisket plates, pork plates, chicken, nachos, hot wings and more. While the setting is nothing fancy – the whole family is guaranteed a delicious meal at a great price.
Arcade Restaurant: This 1950s diner style serves breakfast and lunch and use to be Elvis' favourite place to eat in Memphis. Popular menu items include a southern style breakfast of breakfast casserole, biscuits, gravy and country fried steak with eggs while lunch includes salads, sandwiches, pizza and the famous fried peanut butter and banana sandwich.
BB Kings Blues Bar: This is the best place to come not only for a great meal but also to hear the blues, soul, and rock 'n' roll Memphis is so famous for – AND it's absolutely family friendly! The menu is diverse including barbecue, southern fried chicken, creole catfish and something called a sausage and cheese platter which I was told I must have. There's also a kids menu with meals including fries, drink and ice cream.
By the Brewery: Serving breakfast and lunch with some great house made biscuit breakfast dishes piled with crispy fried chicken or chilli spiced brisket, as well healthier options like a yoghurt bowl or fresh fruit. Lunch includes Jewish favourites like matzo ball soup or the New Yorker (pastrami on rye), classic deli style sandwiches, seasonal salads and sweet treats.
Edge Alley: Edge Alley is the perfect place for breakfast or lunch, where all meals are not only made from scratch but all beautifully plated almost like a piece of art. The menu includes a range of sandwiches and salads as well as a few plates perfect to share among the family. Be sure to leave room for something from the scrumptious dessert menu.
Fancy's Fish House: Located along the Missipppsi River, Fancy's Fish House is the perfect place to go when the kids want the classic fish and chips but you want something a little more upscale. Menu items include shrimp, crab, oysters, mussels, gumbo, fish or even steak for non seafood eaters. While there's no kid's menu, no doubt they'll be happy with fish and chips, burgers or chicken tenders.
Curfew: Curfew is a great place for breakfast, lunch or dinner when you're wanting a classic pub style menu but with a classy vibe. Here you'll find classics such as pizza, salads, beef, fish and pasta. While there isn't a kid's menu, they're happy to adapt the menu to your kid's liking where they can.
Bishop Restaurant: French fare is served at Bishop with brunch menu items including croque madame, fish sandwiches, biscuit dishes topped with chicken or sausage and eggs, burgers, steak and salad. Dinner has a focus on seafood with items including mussels, octopus, clams and more. Although there are plenty of non seafood items on the menu too.
CIMAS Restaurant: CIMAS Restaurant has fantastic views across the Mississippi River and a fabulous Latin American-inspired menu serving breakfast, lunch and dinner. The menu includes classics like bacon and eggs, burgers and steaks, but also spicy breakfast tacos, nachos and quesadillas.
Charlie Vergos Rendezvous: Rendezvous is famous for its unique dry rub ribs; with other menu items including pork shoulder, beef brisket, lamb, chicken and shrimp. Apparently, their sausage and cheese platter is said to be a bit of a Memphis speciality.
Best Hotels in Memphis for Families
Not quite sure where to stay in Memphis with family? Below we've listed our recommendations for three of the best hotels in Memphis for families. Each of these hotels offer great value for money and are in excellent locations for sightseeing around town.
You can find a more detailed guide here on the best Memphis hotels for families with many more suggestions.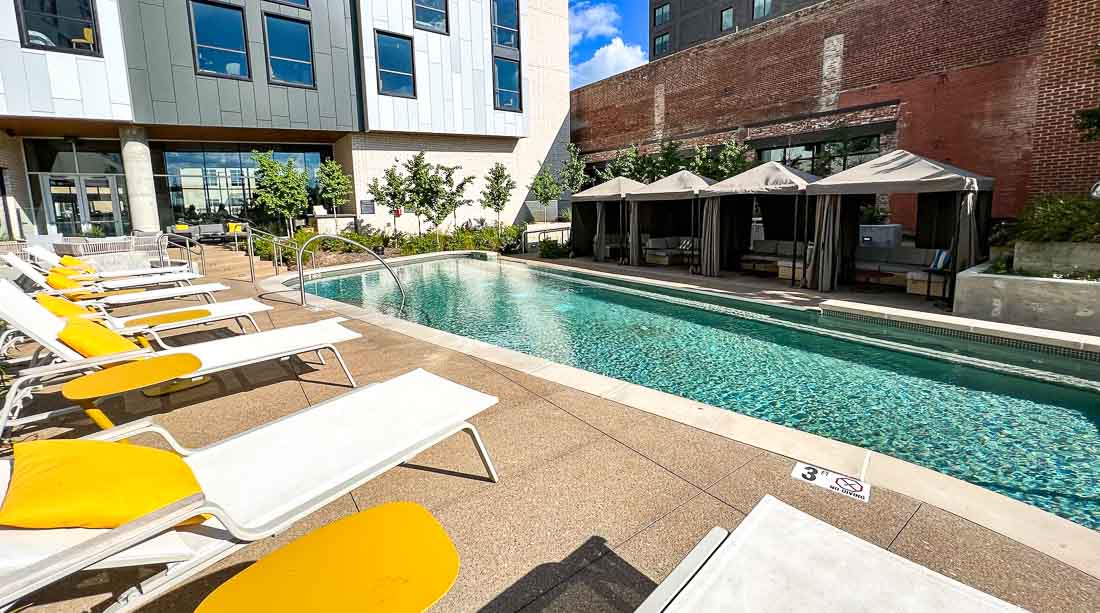 In our view, one of the best hotels Memphis has for families is the Hyatt Centric. Located on Beale Street, the Hyatt Centric is in the perfect position for exploring all the attractions around Downtown. It's just a 5 minute walk to the heart of the Beale Street Entertainment District, but even attractions further away, such as the National Civil Rights Museum are just a 12 minute walk.
The standard queen rooms at the Hyatt are super spacious and come with two large double beds. For larger families or those who like their privacy, you can also get interconnecting rooms. All of the rooms come with a large bathroom, with a massive shower, coffee and tea making facilities, air conditioning and a flat screen TV. Rooms also come with fantastic views of the Mississippi River or the Memphis city skyline.
The kids will absolutely love the outdoor swimming pool while parents will love lazing in the private cabanas. The hotel also features a gym, CIMAS restaurant and cafe and a rooftop bar with amazing views of the city and Mississippi River.
The Hyatt Centric was the hotel we stayed at while exploring Memphis and the location was absolutely perfect. It's certainly an excellent choice for those after one of the best places to stay in Memphis for families.
Click here for more information and to check the current price
If the Hyatt Centric wasn't close enough to Beale Street, the Hampton Inn & Suites is literally a two minute walk away to the centre of all the action – without a doubt one of the best Memphis hotels near Beale Street. You're also super close to FedExForum and AutoZone Park, so perfect for those families catching a game or two while in town.
Despite being one of the cheap Memphis hotels near Beale Street, this hotel comes with some great amenities. To start with you get a free hot breakfast each morning, as well as an indoor swimming pool and a fitness centre.
Family rooms come with two queen beds, with the option of having interconnecting rooms for larger families. All rooms come with a coffee maker, flat screen TV and air conditioning.
From the Hampton Inn & Suites you can walk to all the Downtown area has to offer and your accommodation is not going to cost you a small fortune either – this is an excellent option for families after the top Memphis cheap hotels.
Click here for more information and to check the current price
The Rambler Hotel is a great alternative for families wanting to have a home away from home experience while in Memphis. This property offers families apartments complete with a full kitchen and laundry facilities, which is perfect for those having an extended stay in Memphis or for those families wanting to save a little cash by preparing some of their own meals.
Location wise, the Rambler isn't as centrally located as the previous two hotels. However, it's in the trendy South Main Arts District and from here all the downtown attractions are still within walking distance. Alternatively, there's a trolley stop right in front of the property – this takes you pretty much everywhere in the Downtown area.
Family apartments come either in a one or two bedroom configuration. Each of the bedrooms has a double bed, while there is a sofa bed in the living area. Apartments feature fully equipped kitchens, dining areas, laundry facilities, and air conditioning. The Rambler also features a lovely outdoor swimming pool.
The Rambler Hotel is a gorgeous place for families to stay. The building has been beautifully renovated and each of the apartments are modern and spacious. If you don't mind being a little further from the central downtown area, this is an excellent property for families.
Click here for more information and to check the current price
Getting Around Memphis

Image credit thanks to Alexis Teichmiller and Jessica Steddom
Memphis is a pretty walkable city in that you can easily walk from one attraction to another in the Downtown area. If little legs do get tired, there is the trolley that runs from one end of Downtown to the other, reducing the required walking time.
For attractions that are outside of Downtown, such as Graceland or the Memphis Zoo – there is the option of getting a bus, but the journey is long considering these destinations really are just a short drive away. So for attractions outside of the Downtown area, I'd recommend making use of Uber or Lyft.
That also goes for getting to and from the airport. While it is possible to get a bus to and from the airport, the journey is more than an hour long, whereas it's just a short 15 minute drive by car.
The other option of course is to rent a car while in town or bring your own if coming from interstate. There are plenty of car rental companies at the airport, so you can pick up your car as soon as you arrive. Parking is plentiful around town and most attractions (particularly those outside of Downtown) have their own parking lots, so parking won't be an issue.
Click here for a more detailed guide to getting around Memphis.
Memphis – Our Verdict
Oh Memphis! The city that stole my heart. While I may not have known much about Memphis before visiting, I quickly fell in love with this city.
Despite playing a dark and disturbing role in the forced migration of Africans to work as slaves in the cotton industry and forever be remembered as where Martin Luther King was assassinated, Memphis has also brought us so much joy thanks to its incredible music icons.
You cannot help but walk down the street in Memphis and feel the music warming your soul. You also can't help but feel inspired that you too can make a difference in the world after you hear the stories of the people who risked their lives to aid those enslaved or to bring about equality in the Civil Rights Movement.
You might think with all the history and old music that it's not a place the kids will enjoy – however, let me say this – Myla has travelled to possibly hundreds of cities around the world and she loved Memphis so much she asked if we could live there!
I asked Myla why she loved Memphis so much and she said she didn't know. I suspect she feels what I feel and that's the magic of its people, music and inspiring stories of incredible hardships and that regardless of her youth, she can't help but form a very special attachment to the city of Memphis.
____________________________________________________________
We hope this guide has got you excited to visit Memphis! To help plan your visit to Memphis we have a range of other guides including the best hotels for families in Memphis, the best kid friendly restaurants in Memphis, how to get around in Memphis, as well as a Memphis weekend itinerary guide.