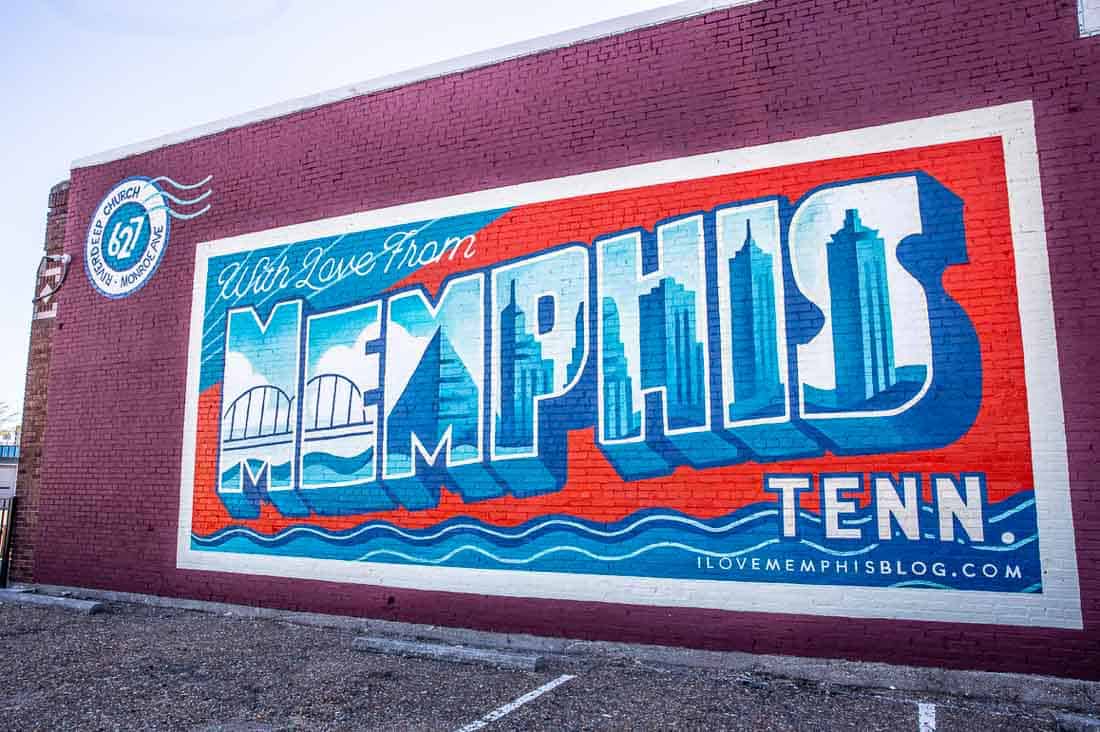 While a weekend trip to Memphis is certainly not enough time to see all the city's fabulous attractions, a Memphis weekend getaway will at least give you a taste of what the city has to offer. We recently spent 4 days in Memphis and still didn't get to see everything!
This guide will help plan your Memphis weekend itinerary, covering the most iconic attractions, the very best family friendly restaurants and the best order to do it all in. The guide even provides tips on where to stay on your weekend Memphis trip.
If you can add a few extra days to your weekend getaway in Memphis we highly recommend it. However, if you can't on this occasion, no doubt you'll soon be planning your return trip as it really is a fabulous place for a family trip.
Main image credit thanks to Craig Thompson
Talk to other families about their tips on visiting Memphis and join our Thrifty Family Travel Facebook Group or get inspired with our Thrifty Family Travel Instagram Feed.
This post may contain compensated links. Please refer to my disclaimer here for more information.
Weekend in Memphis Itinerary with Kids
Obviously, each family is different and will want to see different things on their Memphis weekend trip. The itinerary below is really for the first timers to Memphis and covers the most popular things to do and see in town.
You may wish to check out our full guide on all the top things to do in Memphis with kids here and play around with the itinerary below to better suit your needs.
Memphis Weekend Getaway: Friday Night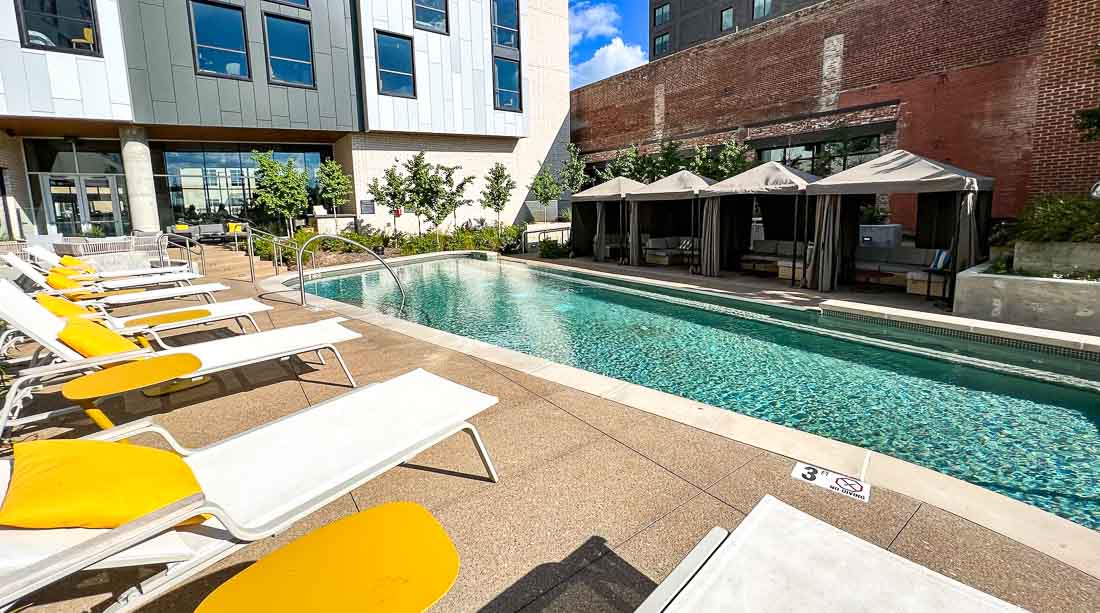 For the purpose of this 2 days in Memphis itinerary, we're going to assume you arrive in town mid to late afternoon on Friday.
If you're driving into town, great – head straight to your hotel to check in. If you're flying into the airport, I recommend you take an Uber or Lyft to your hotel. Unless you have a large family and need more space than an Uber or Lyft offers, I don't think it's necessary to hire a car while in town just for a few days.
For your two days in Memphis, I recommend you check into the Hyatt Centric – it's a fabulous hotel – this is where we stayed while in Memphis and it has a great pool the kids will love – so perfect if you're visiting during the warmer months.
Beale Street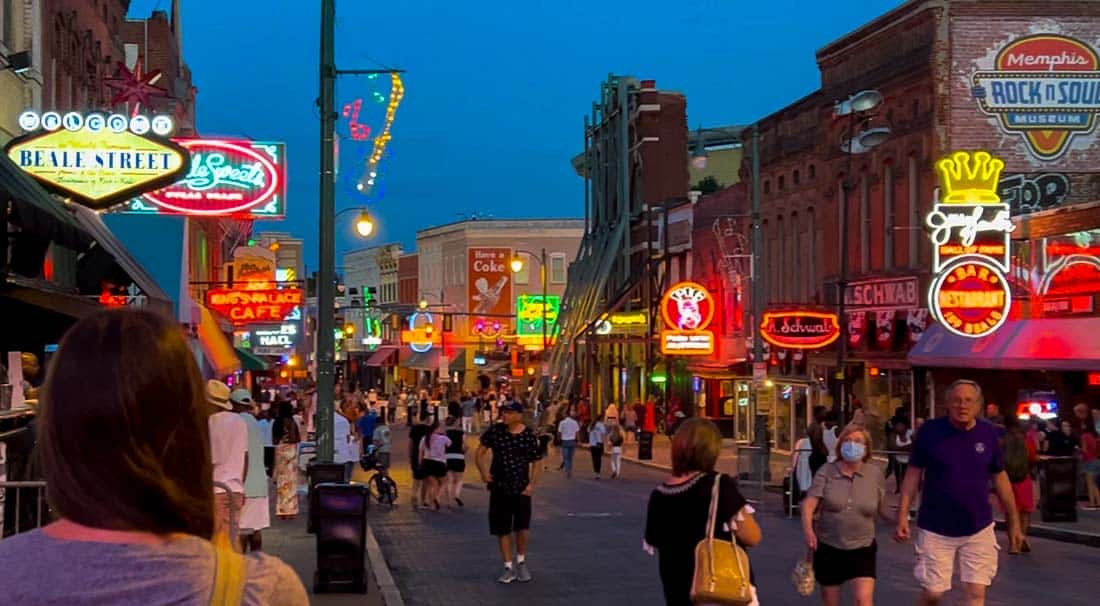 After you've checked in and dropped your bags, it's time to head out to the iconic Beale Street. While you mightn't think Beale Street is one of the things to do with the kids – it is fabulous for the entire family!
Now depending on what time it is when you arrive, you may want to head straight to dinner – see below, or if you have time you can do a bit of exploring first. Just stroll down the street and stop wherever you fancy.
A Schwab is worth a look; this is Memphis' oldest store opening in 1876. Here you can find a range of souvenirs, candy and an old soda foundation. Also, take the kids to see the goats at Silky O'Sullivan's, it's a pub but kids are welcome before 6 pm. If you have time, the Withers Collection Museum and WC Handy Home Museum are also worth a look.
Early evening most nights, you should be able to see the Beale Street Flippers. These guys have always been a Memphis favourite, but now since appearing on America's Got Talent they're loved across the US. These guys are amazing with their crazy aerial somersaults – they usually end their show by getting a few bystanders to line up and crouch down while they flip over them.
I recommend leaving Beale Street by around 9 pm – this is when it starts to get a little rowdier and they have a security checkpoint. Kids are allowed into Beale Street until 9 pm, however if they are already there, they can stay until 11 pm, when Beale Street is then strictly 21 and over.
Location: Beale Street
Opening Hours: Always
Pricing: Free – although some nights there is $5 charge per person from 9 pm
Dinner: BB Kings Blues Bar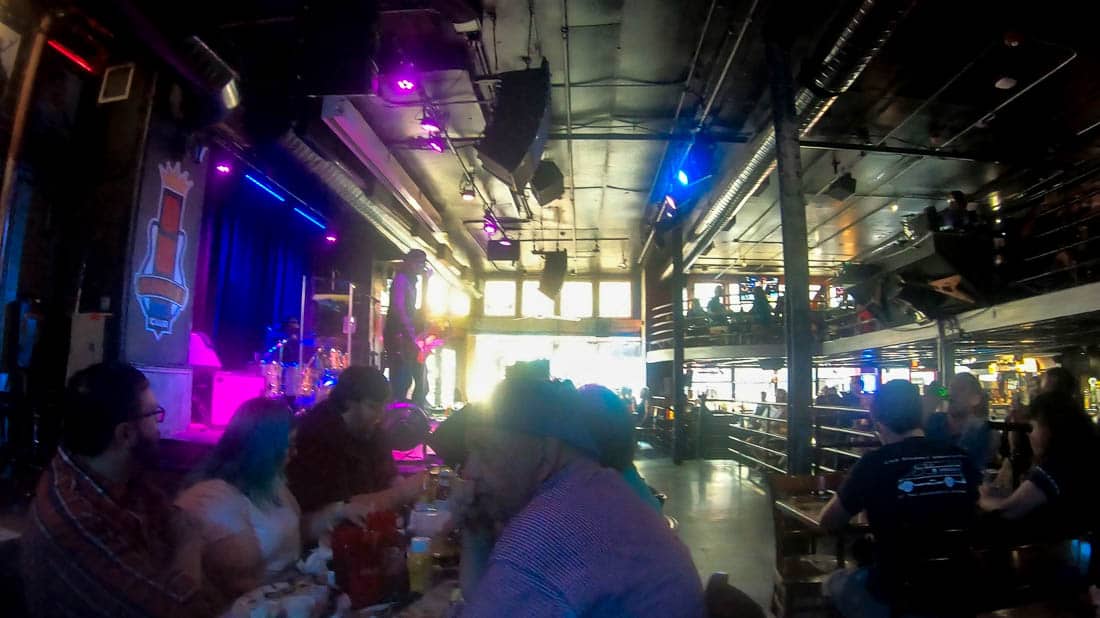 Either before or after you explore Beale Street, take the kids for a meal at the fabulous BB Kings Blues Bar. Here not only will you get a good meal, but you'll also get to hear the blues, soul, and rock 'n' roll Memphis is so famous for – AND it's absolutely family friendly!
The menu is pretty diverse with all your Memphis favourites including barbecue, southern fried chicken, creole catfish and something called a sausage and cheese platter which I was told I must have. So I did and let me say it was different! Meals are around $20.
There's also a kids menu with the usual suspects with meals coming with fries, a drink and ice cream for $9.
But forget the food – the live music is really what makes this one of the reasons to visit. There is a $10 per adult cover charge – but believe me, this is worth every penny!!
I was a bit nervous that Myla wouldn't enjoy it, knowing she wasn't that familiar with Memphis music. But she loved every minute of it – so much so that she asked every night we were in Memphis if we could go back to BB Kings!
The evening we visited, we went around 4 pm and got straight in. We did go back another night around 7 pm and there was a massive line up so we skipped it. So when visiting with kids, I'd recommend going early afternoon/evening.
Location: 143 Beale St, Memphis
Opening Hours: Daily from 11 am to late
Memphis Weekend Getaway: Saturday
Hopefully, by now you've taken the kids to see the Elvis movie, so now it's time to show them where he lived, ate and record the music that rocked the world!
Breakfast: Arcade Restaurant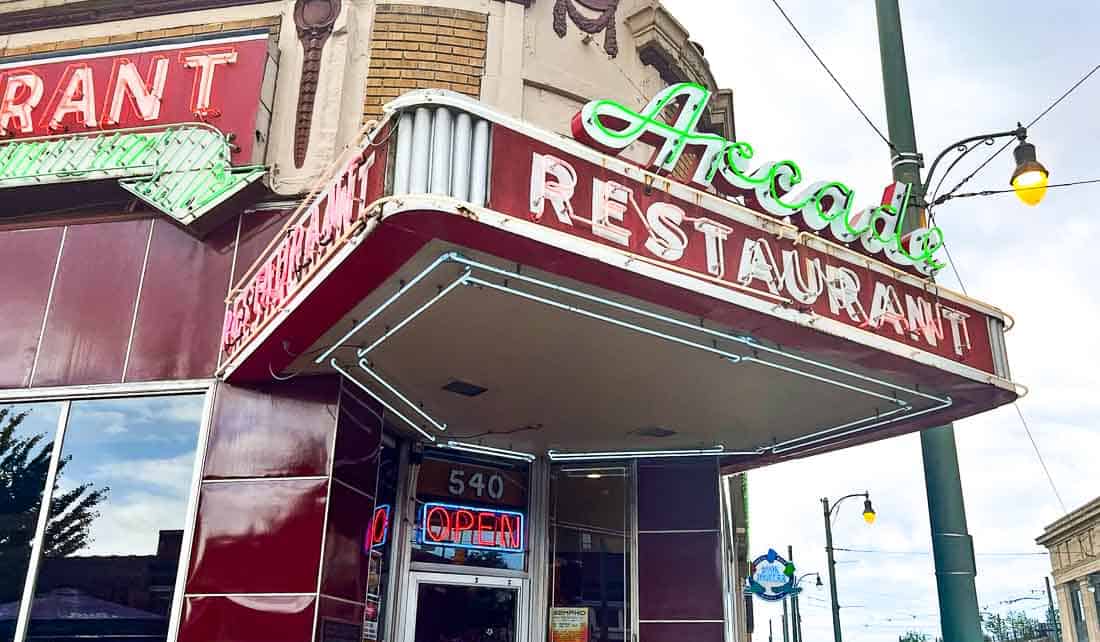 For breakfast take the family to one of Elvis' favourite diners, the Arcade Restaurant. This 1950s style diner opened in 1919 and is Memphis' oldest diner in town.
Depending on where you're staying in Memphis it shouldn't be more than a 10 to 15 minute walk at the most. If you can, I recommend arriving at the Arcade around 7.30 am for two reasons, number one it gets super busy on the weekend and number two, you want to arrive early at your next stop.
When you arrive at Arcade Restaurant, ask the waitress if Elvis's favourite booth is available. The booth is at the back near the exit and a glass mirror. The story goes, Elvis used to sit here facing the mirror so he could make a quick getaway if too many fans came in the other way. The booth doesn't cost any extra or anything so it's worth asking if it's available.
We had breakfast here one morning and look it was nothing special, although Myla did say her pancakes were very yummy. Proportion sizes are generous and popular menu items include a southern style breakfast of breakfast casserole, biscuits, gravy and country fried steak with eggs. There's also all the basics to keep the kids happy.
Location: 540 S Main Street, Memphis
Opening Hours: Daily from 7 am to 3 pm
Graceland Mansion and Exhibition Center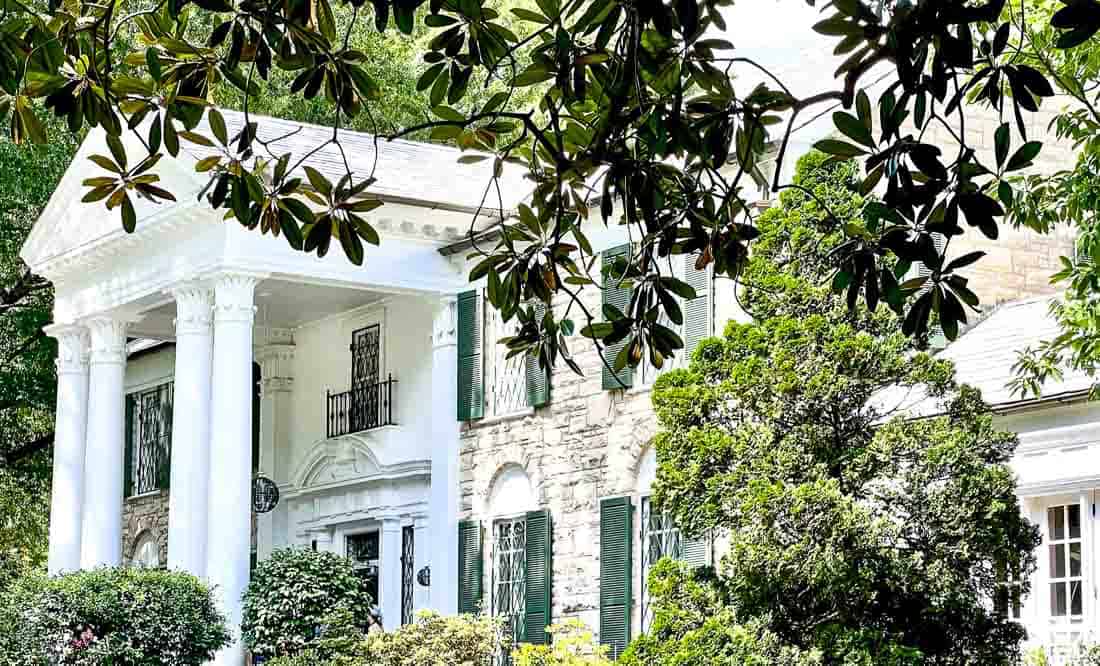 After your breakfast at the Arcade, if you don't have your own car with you, I recommend getting an Uber or Lyft out to Graceland. It's about a 15 minute drive, so if you can, leave breakfast around 8.30 am so you arrive in time for the opening.
Visiting Graceland is so much more than just visiting the former home of the King of rock 'n' roll. There is a massive Exhibition Center with various areas each dedicated to a different part of Elvis' life. There is his classic car collection, his jeweled jumpsuits, his gold and platinum records, you can kick back and watch some of his movies, and the kids will enjoy the interactive stuff like driving golf buggies around a virtual Graceland, posing on the front cover of an Elvis' album or even singing a duet with him.
The tour of Graceland is self guided, but you have an iPad with audio and video to help you along and which provides information about each of the rooms on display.
Not all rooms at Graceland are on display – for example, you can't go upstairs, and so you won't see Elvis' bedroom. However, you will see the living room, dining room, kitchen, the famous Jungle Room, TV room and all the home's outdoor areas.
Your tour at Graceland will finish at the mediation garden, which is Elvis' final resting place. Some members of his family are also here, including his parents, grandmother and grandson.
Graceland Mansion and the Exhibition Center are absolutely massive and it will take you at least half a day if not more to see it all. Which is the reason I recommend getting there as soon as it opens.
I also recommend you book in advance and take the first Graceland Mansion tour which is at 9.15 am. As the day goes on, the entire center gets super busy and lines start getting long – which is where a lot of time was wasted when we visited.
We spent around 5 hours there and still didn't see it all. However, our tour of the Mansion was in the middle of the day and lines were long by this time.
The Exhibition Center wasn't so busy and even if it does get busy there are so many different areas you can just move on to something else and come back to the busy area later.
Given you will be at Graceland for a few hours, you'll be pleased to know there are two restaurants on site – Vernon's Smokehouse serving BBQ or Gladys' Diner for classic American food.
Location: 3717 Elvis Presley Blvd Memphis
Opening Hours: Daily from 9 am to 4 pm
Pricing: $77 per adult | $44 per child (5-10) | 4 and under free
Sun Studio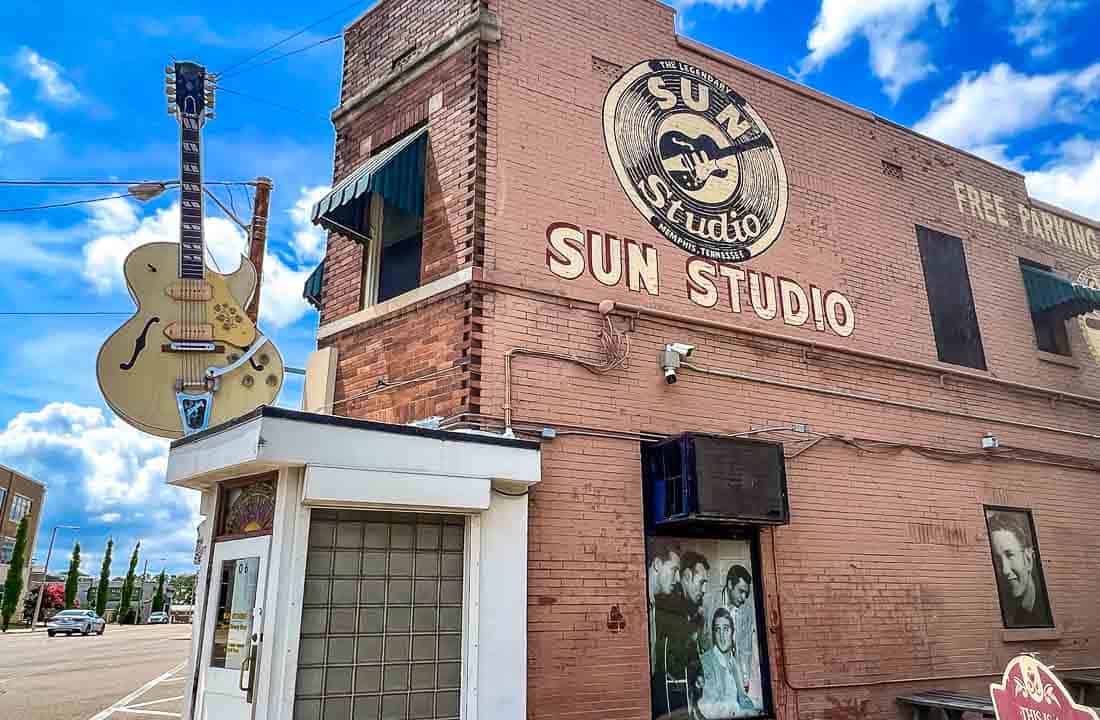 Once you've finished at Graceland, either drive yourself or jump in an Uber or Lyft and head on over to Sun Studio to continue your all things Elvis day.
Not only did Elvis record his very first song here, other music legends recorded here too such as Johnny Cash, Roy Orbison, BB King and Jerry Lee Lewis. Even modern music artists such as Bob Dylan and U2 have recorded here.
A visit to Sun Studio is via a 45 minute guided tour. During the tour, you'll get to stand in the very place music royalty stood – including where Elvis sang – you can even touch the microphone he once sang from.
But that's not all; your guide will give you the inside gossip and share stories about what went on within the studio. You'll also hear outtakes and conversations by the music legends that were recorded within the Studio.
Tours at Sun Studio can't be booked in advance – which really isn't such a bad thing – because this means there is no rush for you to leave Graceland by a certain time. Simply head on over to Sun Studios when you're ready and you'll be put on the next available tour.
Location: 706 Union Avenue Memphis
Opening Hours: Tours are half past the hour – Sunday to Thursday 10 am to 5.15 pm | Friday and Saturday 10 am to 6.15 pm
Pricing: $15 per adult | $13 per child (12-18) | $10 per child (5-11) | Under 5s not permitted
Relax at your Hotel
Before dinner, it's probably a good idea to give the kids a bit of a break at the hotel. If it's Summer and you're staying at one of the hotels with a pool, then a swim is probably in order. This is another reason I recommend the Hyatt Centric – they have a fabulous pool area!
Dinner: Fancy's Fish House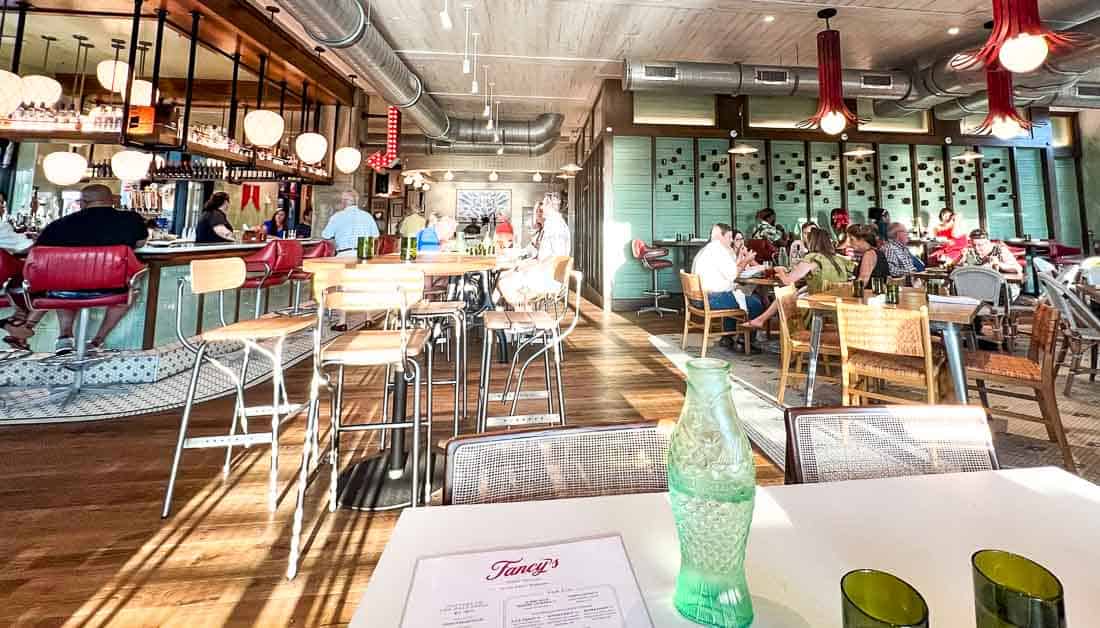 After you've had time to relax and freshen up, it's time to have a nice dinner at Fancy's Fish House. Located along the Mississippi River – this is a great spot to enjoy some freshly caught seafood in a gorgeous yet casual setting.
Depending on where you're staying in Downtown, you should be able to walk to dinner – just check the distance first. If its too long you can drive or take an Uber or Lyft.
Fancy's Fish House is the perfect place for those seafood lovers with menu items including shrimp, crab, oysters, mussels, gumbo, fish or even steak for the non seafood eater. There's no kid's menu, but no doubt they'll be happy with fish and chips, burgers or chicken tenders.
We're not that adventurous with our seafood so when we dined at Fancy's, Myla and I both ordered the platter of Atlantic cod fish and chips – which I recall declaring at the time that it was the best fish I've ever eaten – it stands true even today!
Meals range from $17 to $40 – depending on if you want to have a burger or classic fish and chips, or take it up a notch with a chef inspired seafood dinner.
Do make a reservation for Fancy's at least the day before as it is one of the more popular top Memphis restaurants.
Location: 1 Doctor M.L.K. Jr Ave #101, Memphis
Opening Hours: Daily from 4 pm to 9 pm Sunday to Thursday and 10 pm Friday and Saturday
Mighty Lights Show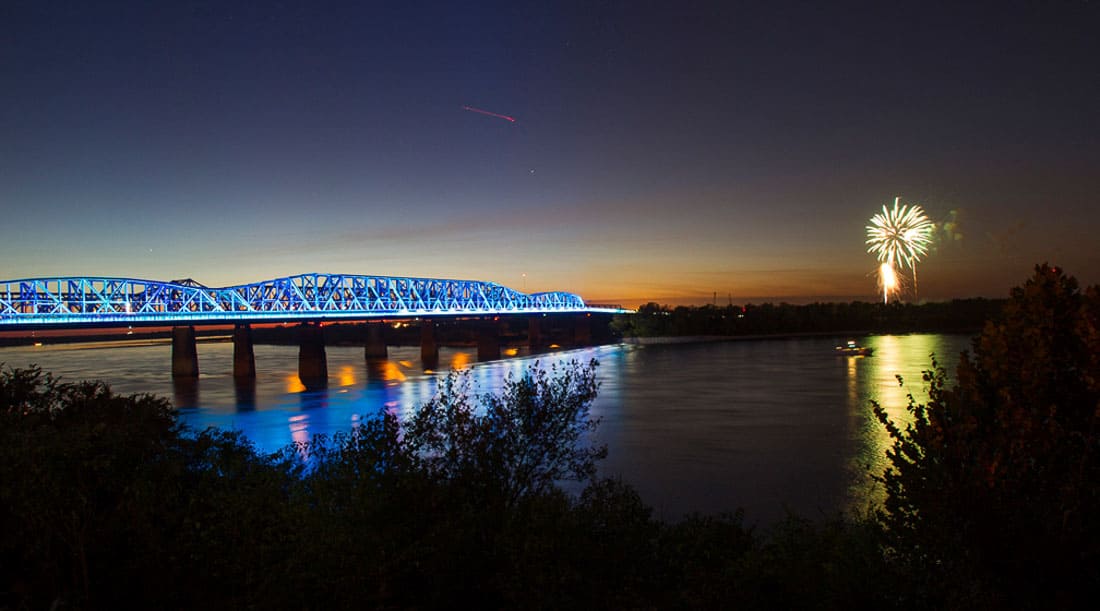 Image Credit thanks to Credit: Big River Crossing
After dinner, it's time to go down to the riverfront to enjoy the free Mighty Lights Show. The 10 minute light show is on each evening when the Big River Crossing bridge lights up with a 100,000 LED light show.
For the best views of the show, from Fancy's Fish House take a 5 minute walk down to Beale Street Landing.
The show takes place hourly and half hourly from after sundown to 10.30 pm.
Memphis Weekend Getaway: Sunday
While Saturday was all about Elvis, your last day in Memphis is going to be an eclectic mix of ducks and the Civil Rights Movement.
Before you head off for the day, pack your bags, check out and leave your bags at reception. You'll come back for them after your final day of sightseeing in Memphis.
Breakfast: By the Brewery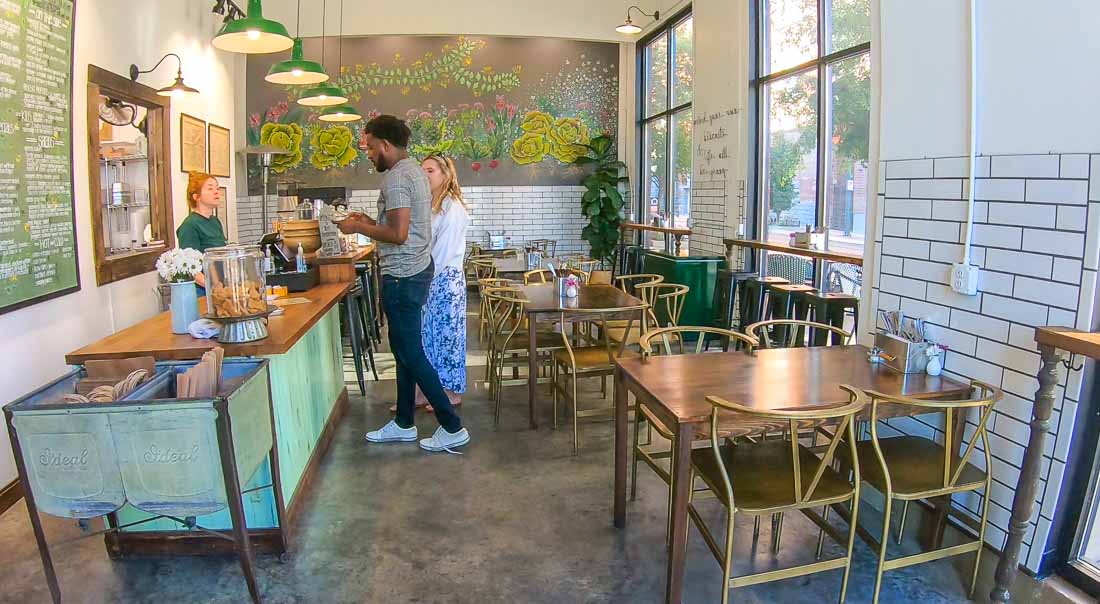 It's your choice this morning – have a lazy morning, or get up early for breakfast and afterwards take a walk (see more below).
Whatever you choose, start the day with breakfast at By the Brewery – a 10-15 minute walk depending on where you're staying Downtown. By the Brewery has some great house made biscuit breakfast dishes piled with crispy fried chicken or chili spiced brisket, as well as some healthier options like a yoghurt bowl or fresh fruit. Breakfast dishes are around $7 to $9
When we visited, I opted for a BLT biscuit which was topped with bacon, potato latke and tomato jam. It was the perfect proportion too.
For the kids, there's a choice of biscuits with chicken or biscuits with bacon and eggs and at $4 / $4.50 respectively – you're not going to be too upset if they don't eat it all.
Location: 496 Tennessee Street, Memphis
Opening Hours: Tuesday to Sunday from 8 am to 2 pm
Big River Crossing
If you have younger children, you've probably opted for the early start to the day – so after breakfast, it's time to take a walk across the Big River Crossing.
Crossing the Mississippi River, this is the longest pedestrian and biking bridge in the USA and you'll get some great views of Memphis and the river from the bridge. The bridge connects the state of Tennessee with Arkansas, so you can get some cool photos of the kids with one foot in each state.
From By the Brewery, it's about a 20 minute walk, along the Bluff, to the start of the Big River Crossing.
Location: Access from Channel 3 Dr / Virginia Ave W, with parking available on Channel 3 Dr
Opening Hours: 6 am to 10 pm
Pricing: Free
Peabody Ducks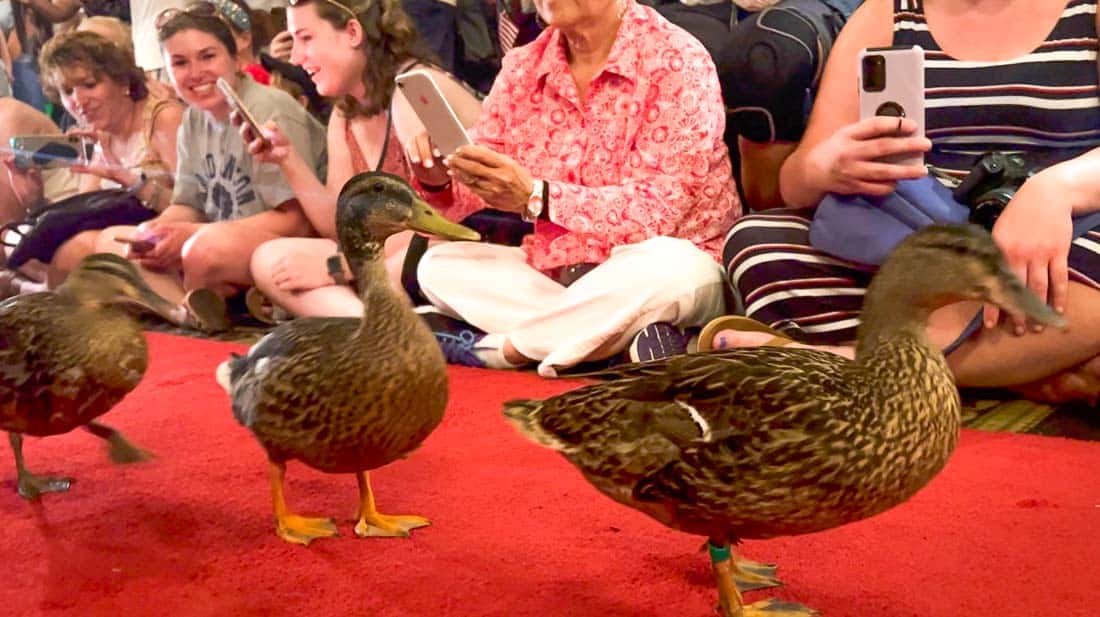 If you opted for the walk across the Big River Crossing, you've probably had enough of walking and so drive yourself or jump in an Uber or Lyft to the Peabody Hotel.
If however, you opted for a lazy morning after breakfast at By the Brewery you can either walk 20 minutes to the Peabody Hotel or drive as above.
Anyway – you're at the Peabody Hotel now – you probably already know why – the famous duck parade of course!
If you don't know the backstory of the duck parade, the story goes that in 1932 the general manager of the hotel stopped into the hotel with his hunting buddies and live decoy ducks for a drink. They let the ducks out for a swim in the fountain for a bit of a laugh and low and behold a tradition was formed.
So every day since the 1930s, at 11 am, under the special guidance of the Duck Master, these ducks make their way down from their rooftop via the elevator where they waddle down the red carpet and jump into the fountain in the Peabody Hotel foyer. Here they spend their day splashing about before returning to the rooftop at 5 pm.
While the duck parade itself only takes a few minutes (if that), the Duck Master has a chat with the audience beforehand for around 20 minutes.
We arrived at 10.30 am and got a front row seat along the red carpet. However we were one of the first – so I think even if you got there at 10.45 am you'd still be able to get the kids seated along the red carpet.
Location: Foyer of the Peabody Hotels – 149 Union Ave, Memphis
Opening Hours: 11 am daily
Pricing: Free
Lunch: Central BBQ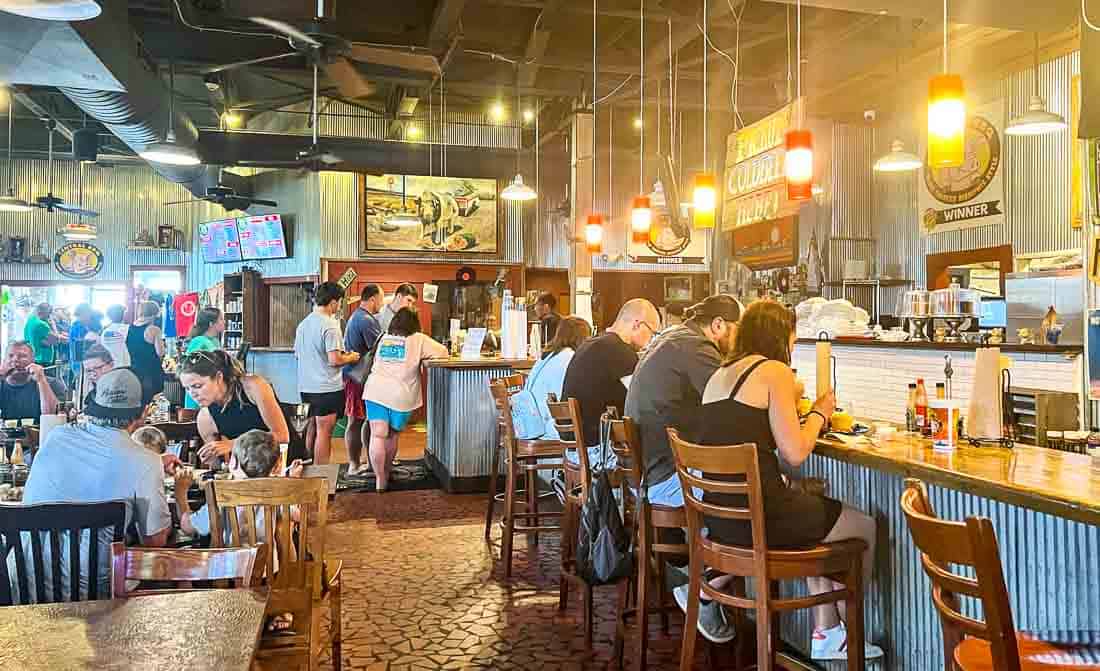 After the duck parade, it's time for some delicious BBQ that Memphis is so famous for at Central BBQ.
If you have your own transport, drive down from the Peabody Hotel, otherwise you can either walk 15 minutes or take the trolley which goes down Main Street
While Central BBQ place is nothing flash, the food is AMAZING!!!! Of course, we ordered the ribs to share and Myla declared it the best thing she has ever eaten in her life and begged me to order more!
Other menu items include beef brisket plates, pork plates, chicken, nachos, hot wings and more.
Prices are really good too with meals starting at around $12. The ribs are more expensive starting at $27.50 but you can easily share them (although apparently not if you're sharing with Myla!). They also have kids' meals starting at $6.
Location: 147 E Butler Ave, Memphis
Opening Hours: Daily from 11 am to 9 pm
National Civil Rights Museum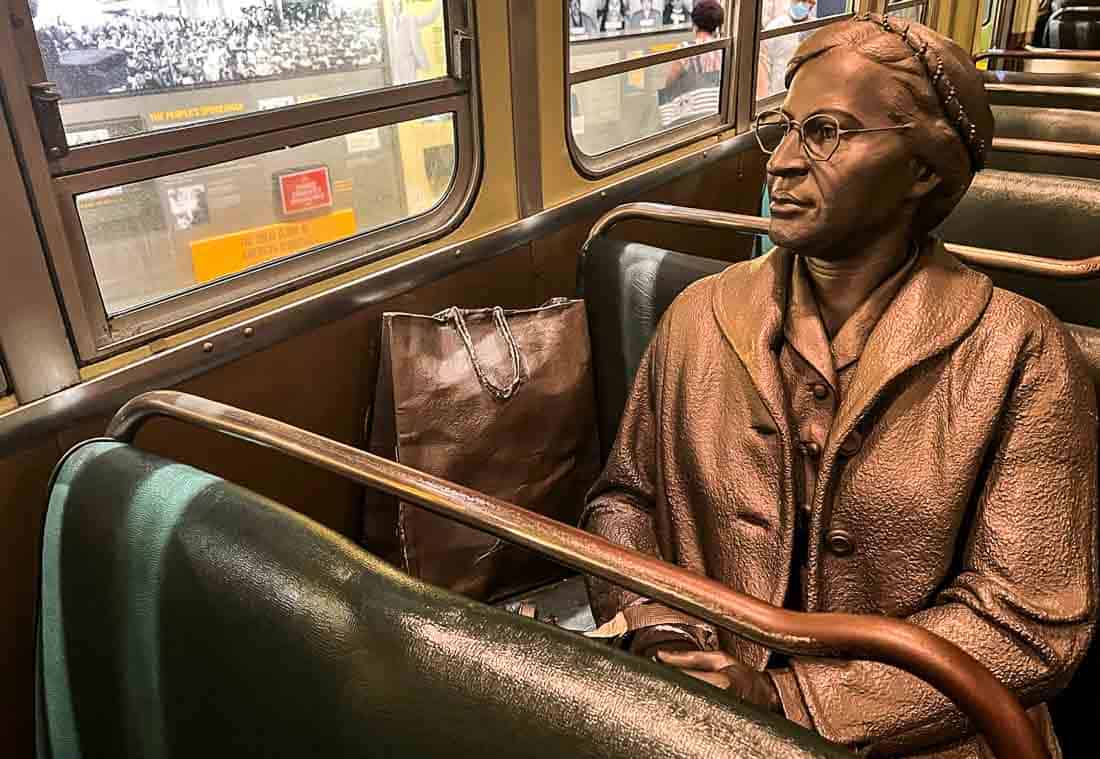 From Central BBQ, it's just a 2 minute walk to the National Civil Rights Museum. This is an absolutely fantastic museum, without a doubt one of the best museums around the world I've ever been to. While the content is certainly heavy and quite possibly be moved to tears, no doubt you will also be inspired to do your bit in making the world a better place.
The museum is built around the Lorraine Motel – which is where Dr Martin Luther King was assassinated in 1968. However, the museum goes back much further than that, starting with how slavery began in America, the Montgomery Bus Boycott, the March on Washington, voting rights, segregation and more.
The museum ends with a visit to the room where King was staying before he was shot. Also across from the Lorraine Motel, you can visit the hotel room where the fateful shots were fired. There are additional exhibits on display within this building as well.
During our visit, we saw children of all ages there. While older children were exploring the museum themselves, we saw parents explaining the content to younger ones at an age appropriate level.
There is a lot to see at this museum – so you will need at least 3-5 hours to see it all. We only had 2 hours to explore the museum when we visited and it was nowhere near enough time for us. So do ensure you have plenty of time available while visiting.
Location: 450 Mulberry Street, Memphis
Opening Hours: Monday, Wednesday to Sunday from 9 am to 5 pm (closed Tuesdays)
Pricing: $17 per adult | $14 per child (5-17) | 4 and under free
Time to Say Goodbye
Unfortunately, that's all you have time for in Memphis and it's now time to head back to your hotel for your luggage and make your way home or to the airport.
If it is possible to add another day or two to your Memphis itinerary, then read on for suggestions for the remainder of your time.
3 Days in Memphis
This 3 days in Memphis itinerary picks straight up from where we left off at the National Civil Rights Museum.
Dinner: Curfew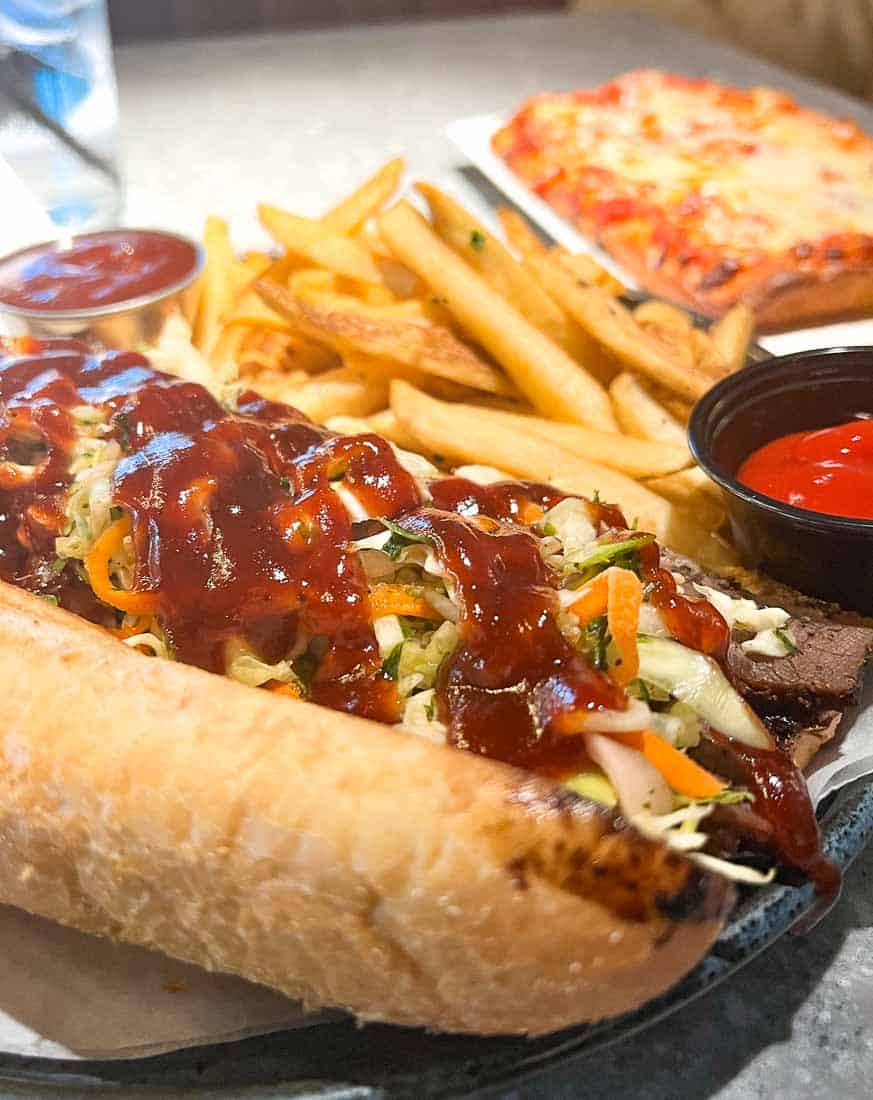 After you've had time to relax and freshen up, it's time to head out to dinner at Curfew. Depending on where you're staying Downtown it shouldn't be more than a 5 to 10 minute walk.
Curfew is located at the bottom of the Canopy Memphis Hotel and has a modern feel with funky décor, yet its comfy booths are perfect for a casual family meal.
Here you'll find all the usual pub classics such as pizza, salads, beef, fish and pasta, but with a Memphis flavour. For example, I ordered the BBQ brisket sandwich which came beautifully smoked and topped with cider slaw – it was delicious! Main meals range in price from $22 to $40 plus if you're wanting something a little fancier.
There isn't a kid's menu at Curfew and Myla was in a fussy mood at the time saying she didn't like anything on the menu. But I'm pleased to say our waitress was more than happy to request the chef to make a pizza to her liking. Like most pubs, servings were generous, so it's worthwhile considering getting the kids something to share.
Location:164 Union Ave, Memphis
Opening Hours: Daily from 7 am to 10 pm Monday to Thursday, to 11 pm Friday and Saturday and to 9 pm Thursday
Breakfast: CIMAS Restaurant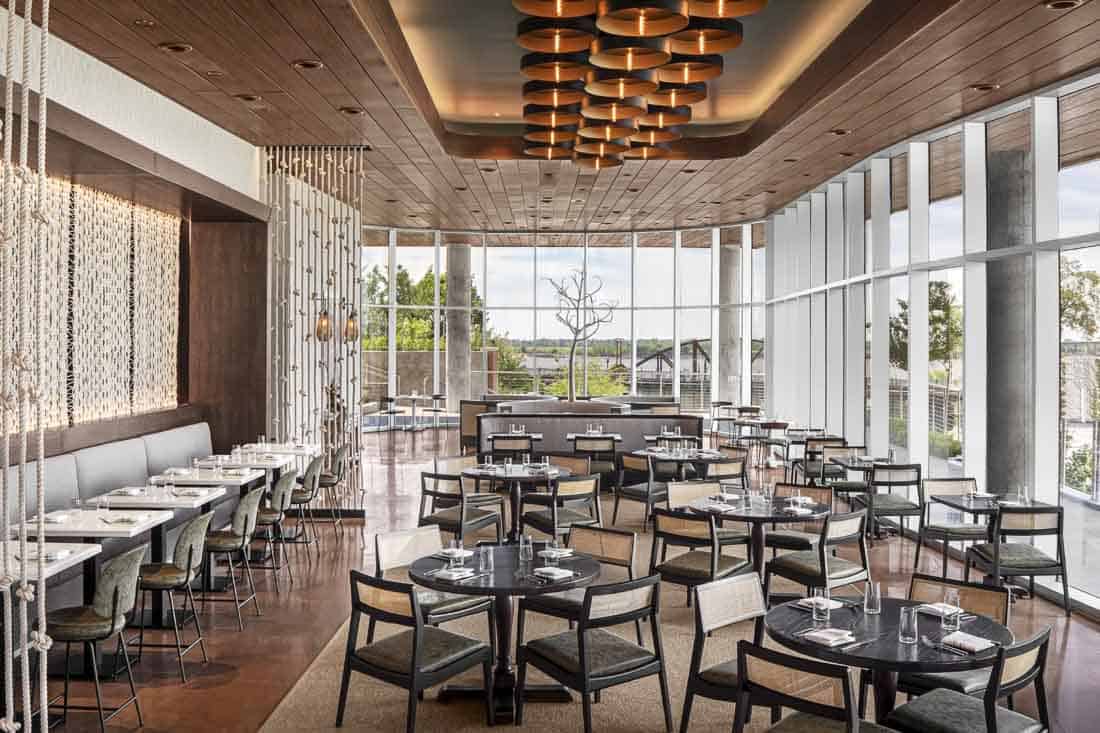 Image credit thanks to Christoper Villano
If you're staying at the Hyatt Centric as recommended, this is easy for you, as CIMAS is located downstairs in the foyer. The restaurant has prime position with floor to ceiling windows, providing fabulous views across the Mississippi River.
Myla and I had breakfast here one morning. I had breakfast tacos – filled with chorizo, scrambled eggs, potato and a concoction of spicy salsa- amazing! Myla stuck with a more traditional breakfast of bacon and eggs which can be cooked however you like them.
Breakfast is well priced too with meals between $8 and $14 and there are a bunch of basic items like eggs, fries etc you can get the kids for just $4.50 each.
After breakfast its time to check out of your hotel and leave your baggage at reception to pick up later.
Location: At the Hyatt Centric – 33 Beale St, Memphis
Opening Hours: Breakfast – Monday to Friday 8 am to 11 am | Brunch weekends 8 am to 2 pm | Dinner Wednesday to Sunday 5 pm to 9 pm
Memphis Zoo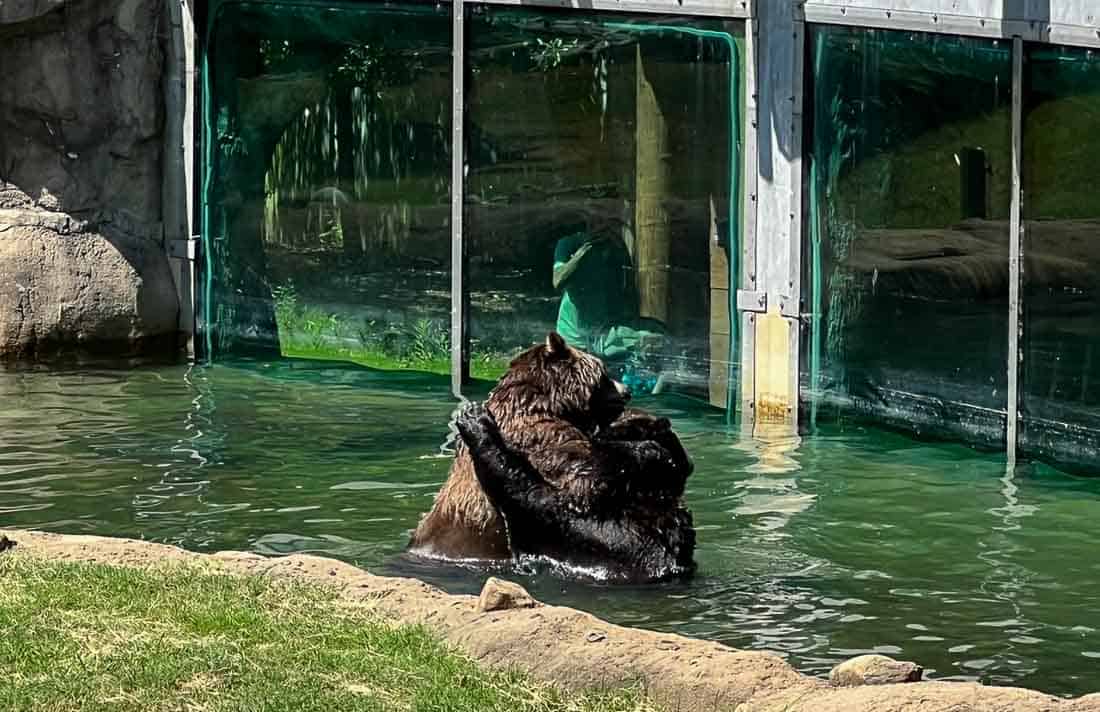 With three days in Memphis, you'll have time to visit the Memphis Zoo. The Memphis Zoo is about a 10 to 15 minute drive of Downtown so you will need to drive or take an Uber or Lyft.
While we're massive animal lovers, we're not always that fond of zoos – however, I have to say the Memphis Zoo is certainly one of the good ones. I like to do my research on zoos in advance and am pleased to say the Memphis Zoo is an accredited member of the Association of Zoos and Aquarium and participates in a range of conservation initiatives.
The animal enclosures at the Memphis Zoo are massive and they do a great job of recreating the animal's natural habitats. The animals are not made to be on "display" and are allowed to move freely within their enclosure – which meant for us that some of the animals weren't out and about so we could see them.
Across 70 acres, the Memphis Zoo is home to more than 3500 animals from more than 500 species across a range of specially designed habitats. We just loved visiting the polar bears, the gorgeous panda bears, the hippos splashing about, the lions, the cheeky monkeys and the grizzly bears who were having fun wrestling each other in the water. Honestly, I could have sat and watched some of these animals all day.
Like most zoos, throughout the day are a range of zoo keeper chats where you can learn more about the animals. There's a chat about the hippos, pandas, snakes, polar bears and more. You can also watch the bears and penguins being fed (not at the same time of course) and there is a sea lion show. To ensure you don't miss anything I'd recommend checking the times on arrival and making a bit of a plan upfront.
The day we visited the zoo it was hot! But what I like about the zoo is they have lots of little shallow water areas where the kids can splash about and cool off. But what's even better is the brand new Splash Park! The Splash Park has a range of slides and water sprayers etc where the kids will just have a ball. There is also a playground at the zoo too.
With all that's on offer at the zoo, you could easily spend the entire day here. However, if you're just coming to see the animals, around 3 hours is a good amount of time to allow.
Location: 2000 Prentiss Pl, Memphis
Opening Hours: Daily from 9 am to 6 pm
Pricing: Weekdays / Weekend Prices – $21 / $23 per adult | $16 / $18 per child (2-11) | Kids under 2 are free
Splash Park
Opening Hours: May to September – two sessions per day 9.30 am-1 pm and 2 pm -5.30 pm
Pricing: $10 per person – kids under 2 are free
American Safari Dream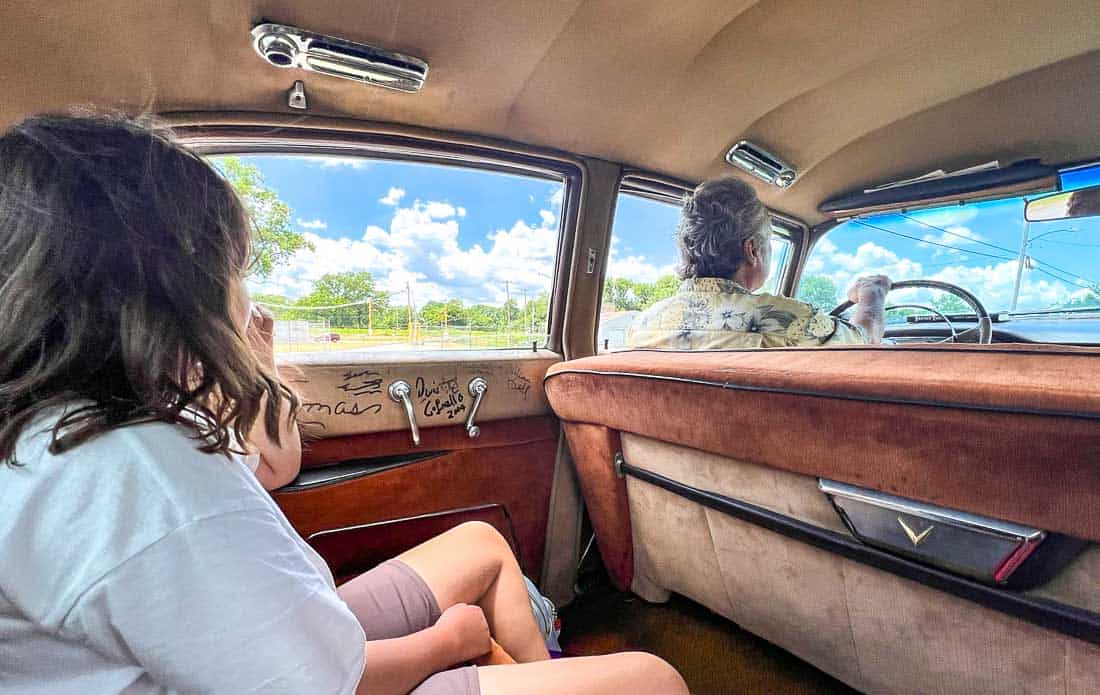 Depending on when you need to leave Memphis, after the zoo you may have time to do a tour with American Safari Dream. It's a great way to spend your last few hours in Memphis seeing the sights you missed and learning a little a about Memphis' history.
Tad will pick you up from either the Memphis Zoo or your hotel and take you cruising the streets in his 1956 Cadillac. The tours are put together just for you, so can cover whatever you like.
I asked Tad to show us all the Elvis sites around town, with the exception of Graceland given we were going there the following day. So we stopped at Humes Middle school where Elvis went to school, as well as Lauderdale Courts where he first lived with his parents from 1949 to 1953.
I had also heard that Memphis had some great street murals, so he took us to see a few of these, and given my interest in the Civil Rights Movement, he showed us places such as I am a man plaza. Along the way, he shared interesting tidbits of Memphis' history as well as gave us suggestions for things to do and see during the rest of our time in Memphis.
But whatever you're into Tad will put together a tour just for you. The tour isn't set in stone, so he's happy to modify the tour along the way depending on your interests.
Price: 3 hour tours start at $200 for 4 passengers – contact Tad through FaceBook to book a tour.
Time to Say Goodbye
Unfortunately, your 3 perfect days in Memphis have come to an end and it's now time to head back to your hotel for your luggage and make your way home or to the airport.
If it is possible to add another day to your Memphis itinerary, then read on for suggestions for the remainder of your time.
4 Days in Memphis
This 4 days in Memphis itinerary picks straight up from where we left off from your American Safari Dream Tour.
Dinner: Charlie Vergos Rendezvous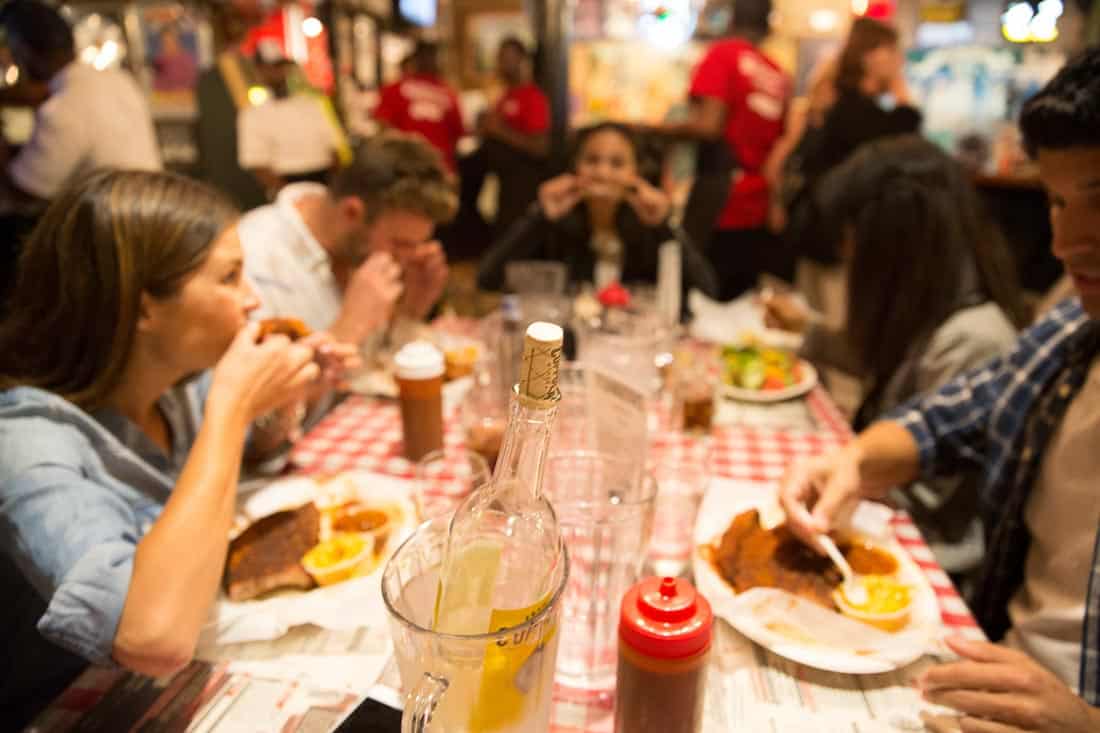 Image credit thanks to David Meany
After you've had time to freshen up at your hotel, its time to head out for dinner at Rendezvous. Depending on where you're staying in Memphis, Rendezvous shouldn't be more then a 10 minute walk.
Rendezvous is famous for its unique dry rub ribs as opposed to most other places that serve their ribs with slashings of sauce. In addition to their barbeque ribs, other menu items include pork shoulder, beef brisket, lamb, chicken and shrimp.
Main meal prices are around $20 with kids' meals being all $6 and including a drink.
Location: 52 S 2nd St, Memphis
Opening Hours: Tuesday to Thursday 11 am to 9 pm | Friday and Saturday from 11 am to 10 pm
Breakfast: Bishop Restaurant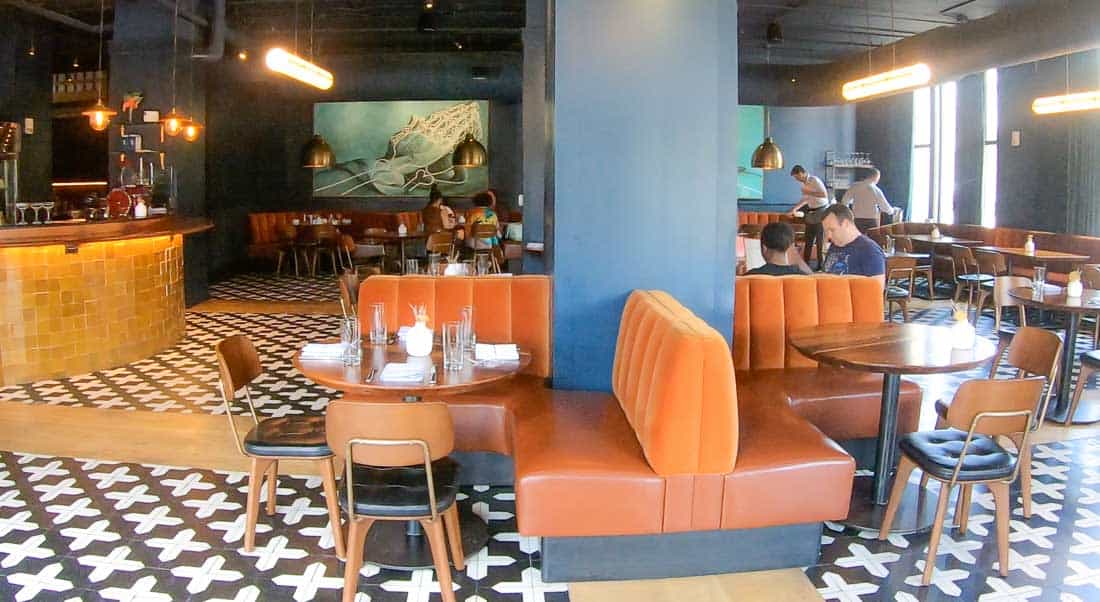 On your last day in Memphis, you've got time to have a bit of a sleep in, before heading down to breakfast at Bishop. Before leaving your hotel, check out and leave your bags at reception to pick up later.
You've got plenty of time this morning, so take a nice stroll from your accommodation if you don't have a car, it won't take more then 15 minutes depending on where you're staying. However if you do have a vehicle you'll want to take it, as you'll need it straight after breakfast.
Bishop is a french style bistro located in the foyer of the uber cool Memphis Central Station. Despite its sleek and classy design, reminiscent of a bygone era, Bishop has a relaxed environment and like most nice restaurants in Memphis, families are more than welcome to come in for breakfast, lunch or dinner.
Items on the brunch menu include biscuit dishes with chicken or sausage and eggs, burgers, steak and salad. Meals are from $9 to $25. While Bishop doesn't have a kids menu, you'll no doubt find something on the menu for all family members.
Location: 545 S Main St #111, Memphis
Opening Hours: Daily from 7 am to 2 pm and then 4 pm to 10 pm
STAX Museum of American Soul Music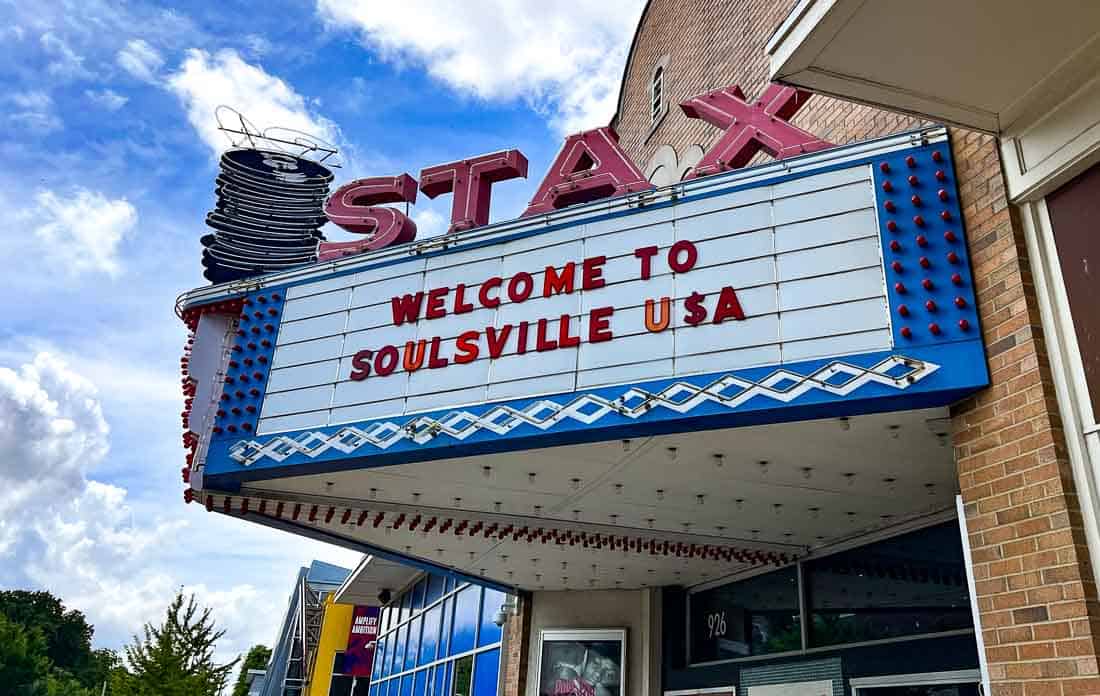 Try and leave Bishop no later then 9.45 am, so you can arrive at STAX as it opens at 10 am. You'll need to drive here or take an Uber or Lyft as its about a 6 minute drive.
STAX was once a music recording studio, which produced hit records by artists including Carla Thomas, The MGs, Otis Redding and many others. While the recording studio is no longer there, a museum has been built in its place.
A visit to the STAX starts with an introduction video that takes you through the history of STAX, the Memphis music story and its link to gospel music and the Civil Rights Movement. You'll learn how Blues and Soul music was ultimately born from the hardships suffered by the people at the time and provided a release to those who sang it and of course to those who listened to it.
After the video, you make your way through the museum which has over 2500 exhibits on display including costumes, records, awards, a replica recording studio and even a dance floor. There are also a few interactive displays to keep the kids entertained and a dance floor where they can try out their moves while watching old episodes of Soul Train.
Allow about 90 minutes or so to see STAX and I can assure you; that you'll be wiggling your hips and singing a tune the minute you step foot in this place – soul music does that to you – it gets in your blood!
Location: 926 E McLemore Ave, Memphis
Opening Hours: Tuesday – Sunday 10 am to 5 pm
Pricing: $13 per adult | $10 per child (9-12) | Kids 8 and under are free Click here to book tickets online
Slave Haven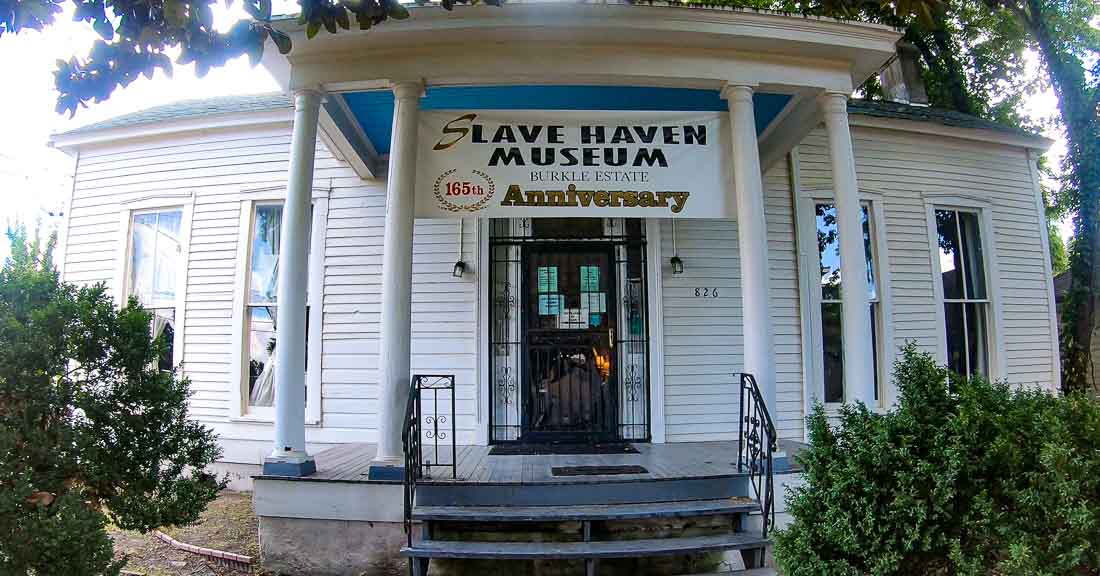 After you've been to STAX, drive your car or get an Uber or Lyft across to Slave Haven – about a 10 minute drive away.
The Slave Haven Underground Railroad Museum was previously the home of Jacob Burkle, a German immigrant who used his cellar to house enslaved Africans wanting to escape.
Visits to the museum are only by tour and are extremely informative. Our guide took us right back to the beginning explaining how Africans were bought and sold in Memphis. She also talked about how safe homes were secretly set up (such as Burkle's home) and how secret codes were embedded into quilts and strategically hung outside homes to guide runaway slaves to safety.
Escaped slaves stayed beneath trapped doors and hidden passageways until it was safe to continue their journey to freedom. At Slave Haven, you'll be able to visit these areas, as well as see numerous artifacts on display.
The tour lasts for around 1 hour and afterwards, you're welcome to further explore the house.
Slave Haven is probably better suited to older children, so perfect if you're after things to do in Memphis with teenager kids. However, younger children are more than welcome.
Location: 826 North 2nd Street, Memphis
Opening Hours: Tours are hourly from 10 am to 5 pm Tuesday to Saturday (June to August) and to 4 pm the remainder of the year
Pricing: $12 per adult | $10 per child (4-17)
Lunch: Edge Alley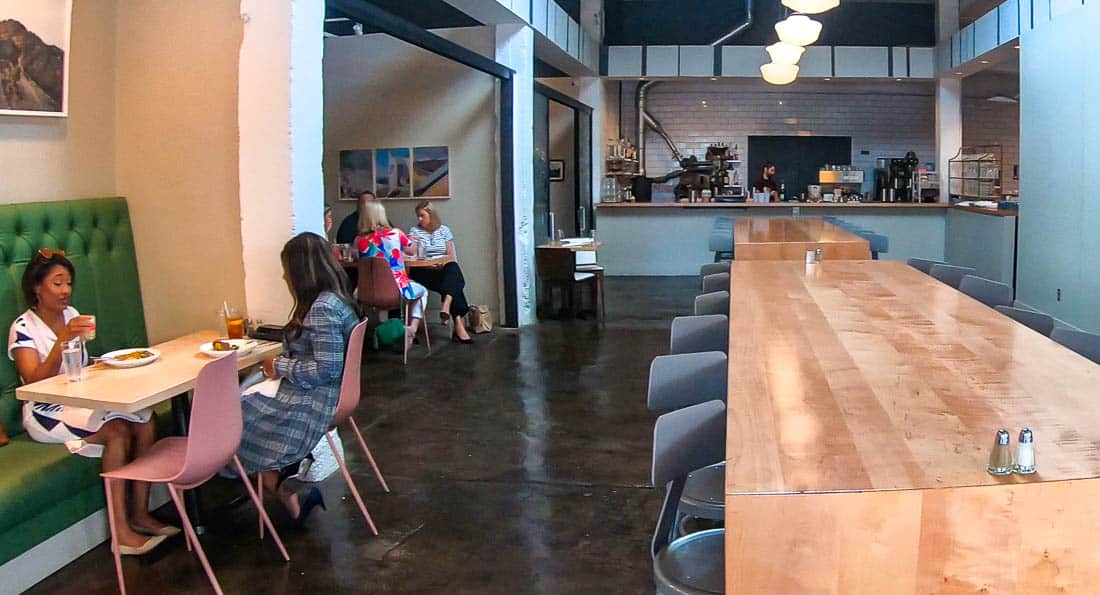 After Slave Haven, drive or take an Uber or Lyft down to Edge Alley for lunch. It's about a 5 minute drive away.
We had a delicious lunch at Edge Alley where all meals are not only made from scratch but all beautifully plated almost like a piece of art. The Edge Alley menu includes a range of sandwiches and salads as well as a few plates perfect to share among the family. Meals range in price from $12 to $20.
For our lunch, I choose a delicious chicken salad. While Myla had a burger adapted to her liking. They don't have a kid's menu, but they are more than happy to be flexible with their main menu and help you choose something your kids will eat.
They also have a scrumptious looking dessert menu – but we just didn't have the room to squeeze it in.
Location: 600 Monroe Ave, Memphis
Opening Hours: Thursday and Friday 10.30 am to 3 pm and 5 pm to 9 pm | Saturday 9.30 am to 3 pm and 5 to 9 pm | Sunday 9.30 am to 3 pm
Memphis Riverboat Cruise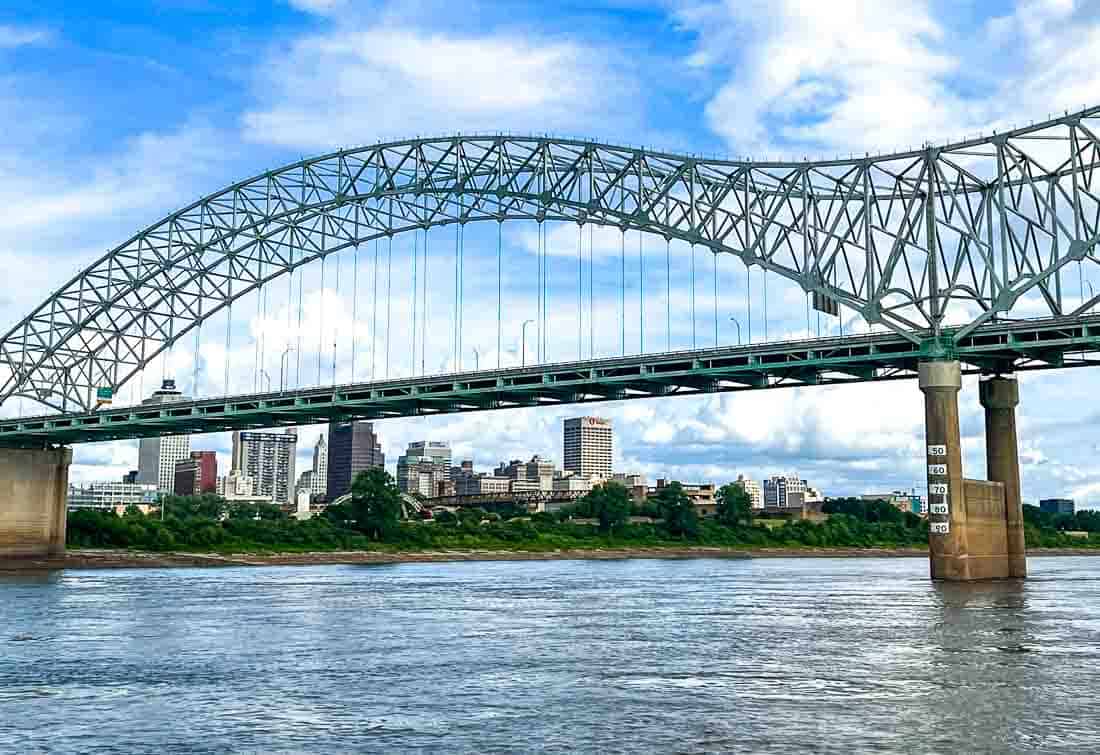 Now depending on what time you need to leave Memphis, you may or may not have time to take a Memphis Riverboat cruise down the Mississippi River. If you do have time, its a short 3 minute drive away from Edge Alley or a 20 minute walk.
A cruise is a lovely way to end your time in Memphis. Onboard a charming old paddle wheeler, you can relax with style as you learn about the history of the Mississippi River and a little about the city of Memphis too.
The return 90 minute trip takes you both south and north along the river so you'll enjoy views of Downtown Memphis, the riverfront and the Big River Crossing. Along the way, the commentator points out various landmarks around the city and provides interesting historical information about the mighty Mississippi.
There are multiple levels across the boat you can sit. You can either sit inside with the comfort of air conditioning or outside enjoying the breeze. There is plenty of space for the little ones to move about – so don't be concerned about them needing to sit still for the entire time – it is definitely one of the kid friendly things to do in Memphis.
Between the commentary, iconic Memphis music plays and on our boat an impromptu dance floor appeared – which is good fun for the kids (and parents I might add). Onboard is also a snack bar, selling chips, candy and drinks including alcoholic drinks.
Location: 45 Riverside Drive Memphis
Opening Hours: Daily 2.30 pm March to October | Weekends only November
Pricing: $25 per adult | $21 per child (13-17) | $15 per child (3-12) | $5 per child (0-2)
Time to Say Goodbye
Unfortunately, that's all you have time for in Memphis and it's now time to head back to your hotel for your luggage and make your way home or to the airport.
Best Hotels in Memphis for Families
Below we've listed our recommendations for three of the best hotels in Memphis for families.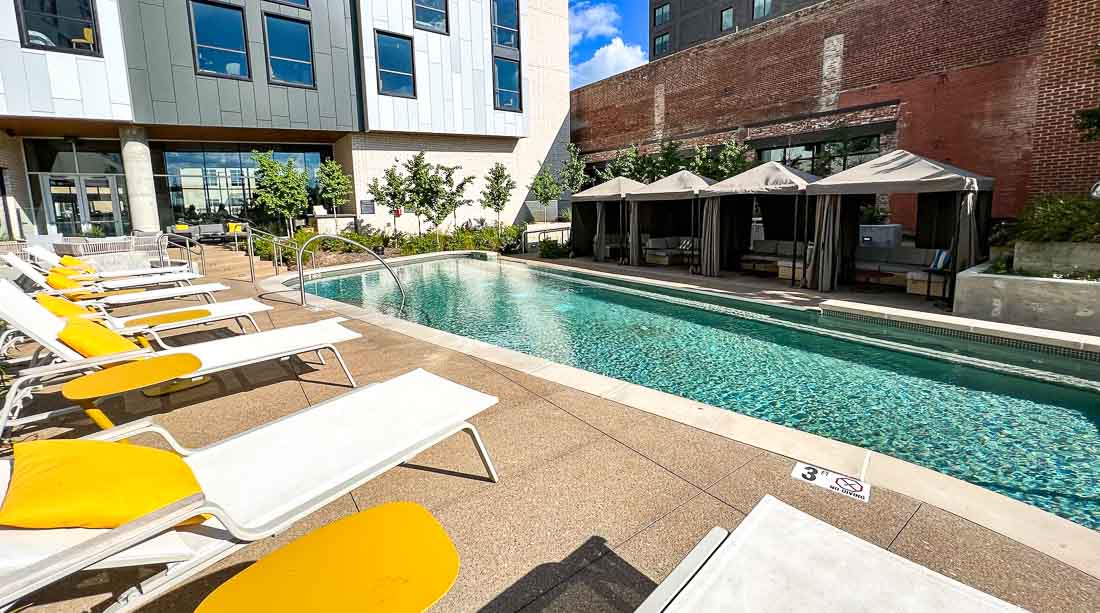 In our view, one of the best hotels Memphis has for families is the Hyatt Centric. Located on Beale Street, the Hyatt Centric is in the perfect position for exploring all the attractions around Downtown. It's just a 5 minute walk to the heart of the Beale Street Entertainment District, but even attractions further away, such as the National Civil Rights Museum are just a 12 minute walk.
The standard queen rooms at the Hyatt are super spacious and come with two large double beds. For larger families or those who like their privacy, you can also get interconnecting rooms. All of the rooms come with a large bathroom, with a massive shower, coffee and tea making facilities, air conditioning and a flat screen TV. Rooms also come with fantastic views of the Mississippi River or the Memphis city skyline.
The kids will absolutely love the outdoor swimming pool while parents will love lazing in the private cabanas. The hotel also features a gym, CIMAS restaurant and cafe and a rooftop bar with amazing views of the city and Mississippi River.
Click here for more information and to check the current price
If the Hyatt Centric wasn't close enough to Beale Street, the Hampton Inn & Suites is literally a two minute walk away to the centre of all the action – without a doubt one of the best Memphis hotels near Beale Street. You're also super close to FedExForum and AutoZone Park, so perfect for those families catching a game or two while in town.
Despite being one of the cheap Memphis hotels near Beale Street, this hotel comes with some great amenities. To start with you get a free hot breakfast each morning, as well as an indoor swimming pool and a fitness centre.
Family rooms come with two queen beds, with the option of having interconnecting rooms for larger families. All rooms come with a coffee maker, flat screen TV and air conditioning.
Click here for more information and to check the current price
The Rambler Hotel is a great alternative for families wanting to have a home away from home experience while in Memphis. This property offers families apartments complete with a full kitchen and laundry facilities, which is perfect for those having an extended stay in Memphis or for those families wanting to save a little cash by preparing some of their own meals.
Location wise, the Rambler isn't as centrally located as the previous two hotels. However it's in the trendy South Main Arts District and from here all the downtown attractions are still within walking distance. Alternatively, there's a trolley stop right in front of the property – this takes you pretty much everywhere in the Downtown area.
Family apartments come either in a one or two bedroom configuration. Each of the bedrooms has a double bed, while there is a sofa bed in the living area. Apartments feature fully equipped kitchens, dining areas, laundry facilities, and air conditioning. The Rambler also features a lovely outdoor swimming pool.
Click here for more information and to check the current price
Getting Around Memphis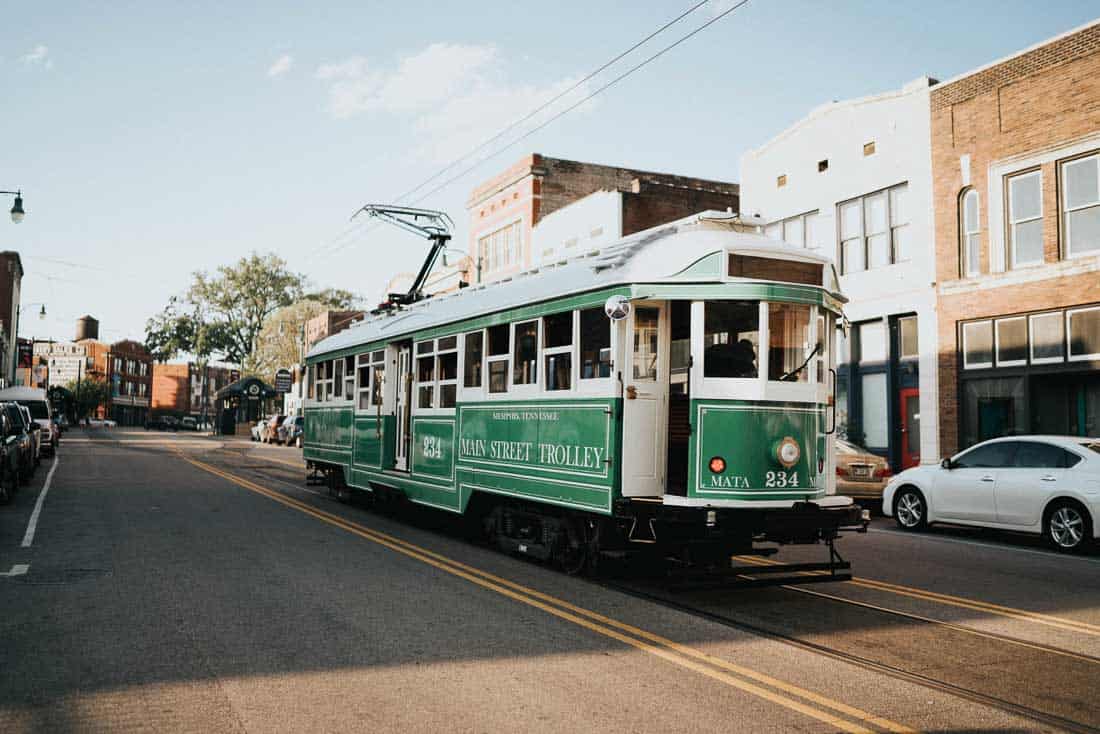 Image credi thanks to Alexis Teichmiller and Jessica Steddom
Memphis is a pretty walkable city in that you can easily walk from one attraction to another in the Downtown area. If little legs do get tired, there is the trolley that runs from one end of Downtown to the other, reducing the required walking time.
For attractions that are outside of Downtown, such as Graceland or the Memphis Zoo – there is the option of getting a bus, but the journey is long considering these destinations really are just a short drive away. So for attractions outside of the Downtown area, I'd recommend making use of Uber or Lyft.
That also goes for getting to and from the airport. While it is possible to get a bus to and from the airport, the journey is more than an hour long, whereas it's just a short 15 minute drive by car.
The other option of course is to rent a car while in town or bring your own if coming from interstate. There are plenty of car rental companies at the airport, so you can pick up your car as soon as you arrive. Parking is plentiful around town and most attractions (particularly those outside of Downtown) have their own parking lots, so parking won't be an issue.
Click here for a more detailed guide to getting around Memphis.
____________________________________________________________
We hope this guide has helped you plan your weekend in Memphis. If you need any other assistance planning your trip other guides we offer include the best things to do in Memphis with kids, the best hotels for families in Memphis, the best kid friendly restaurants in Memphis and how to get around in Memphis.