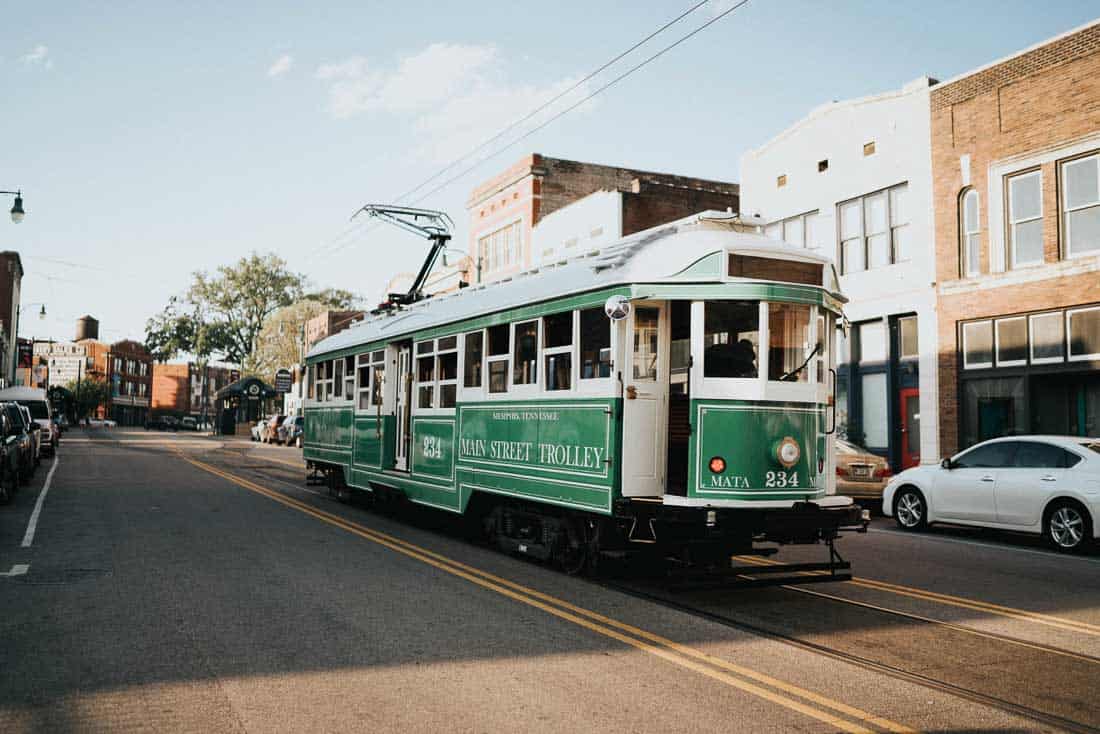 Memphis is a fabulous place to take the kids whether it's for a weekend or a week. There is so much to do and overall it's a relatively easy city to get around. However if you want some help in planning how to get around while in Memphis then this is the perfect guide for you.
This getting around Memphis guide provides details on not just getting around all the attractions while in town but also tips on to get to and from Memphis from the airport.
Main image credit thanks to Alexis Teichmiller and Jessica teddom
Talk to other families about their tips on visiting Memphis and join our Thrifty Family Travel Facebook Group or get inspired with our Thrifty Family Travel Instagram Feed.
This post may contain compensated links. Please refer to my disclaimer here for more information.
Getting from the Airport to Memphis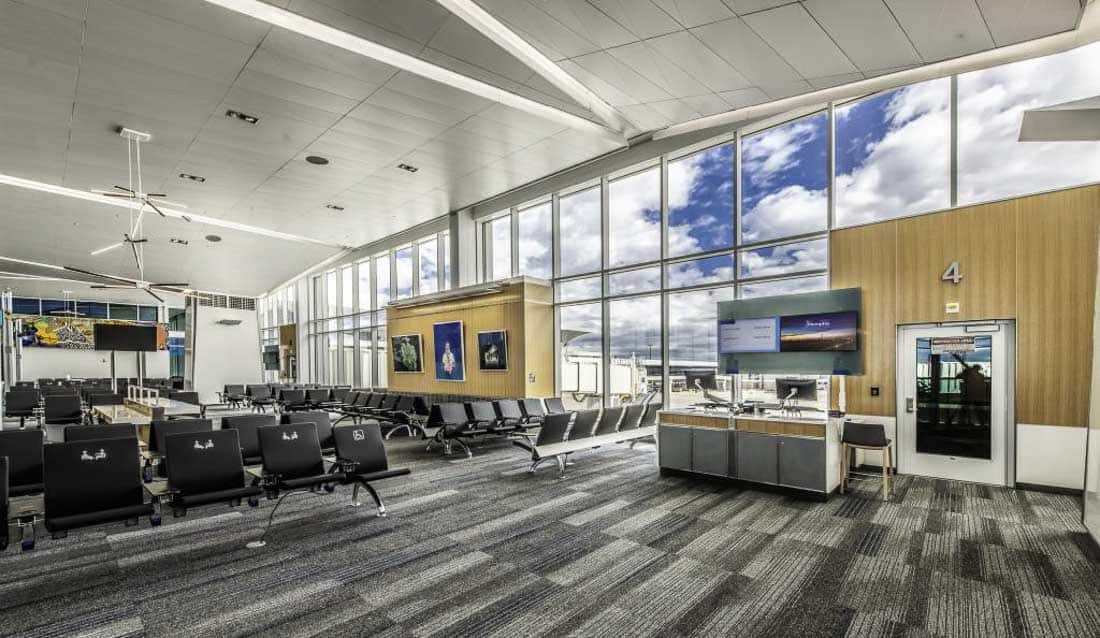 Image credit thanks to Steve Austell
Downtown Memphis is only about a 15 to 20 minute drive from the airport, although by public transport this can be closer to an hour. For this reason, a taxi or ride share is your best bet getting to and from the airport – particularly if you have a few kids with you and luggage.
Below we've provided suggestions on getting around Memphis including how to get from the airport to Downtown Memphis and around all the attractions in town.
Rent a Car
If you plan on renting a car to get around Memphis, then you're best to pick it up from the airport. There is a range of car hire companies located at the Ground Transportation Center, which is one level below the baggage claim area.
To get to the Ground Transportation Center simply follow the signs for "Rental Cars" after claiming your baggage. Once you reach the Ground Transport Center, you'll see signs pointing you to the correct car rental counter.
Rideshare
For families that don't plan on renting a car while in Memphis, often the best way to get from the airport to your hotel is to use a rideshare app such as Uber or Lyft.
The drive into town takes between 15 to 20 minutes depending upon traffic and the fee will vary depending upon demand. Expect to pay anywhere from $20 to $40.
To meet your rideshare, you'll need to head to the Pickup Area, which is located upstairs outside A, B and C ticketing exits. From there you can follow the Uber/Lyft signs to the designated areas for pick up. It's probably a good idea to wait until you get here before ordering your ride.
Private Shuttles
If you'd like to have someone prearranged to either take you to the airport or to be there waiting for you when you land, you can book a private shuttle. However, keep in mind that a private shuttle can cost double or even three times the amount a ride share would cost. But for families with more than 4 people or lots of luggage, this may be the only option.
Click here for private transfers to the airport or here for private transfers from the airport.
Public Transport
With a couple of kids and all your luggage, it's really not worth getting public transport to or from the airport to Downtown Memphis. It will take you about an hour or an hour and a half by bus and you still might need to walk or get a rideshare from where the bus drops you off to your hotel anyway.
However, if you do want to take the bus, bus 28 will take you from the Airport to the Hudson Transit Center. To get to or from the Hudson Transit Center, you can take the trolley or a bus – depending on where your hotel is.
Bus 28 only departs the Hudson Transit Center or the Airport every 2 hours though, so depending on when you get in or need to go – you could be in for a long wait. The buses also only operate between the hours of 5 am to 7 pm – and even less on certain days of the week.
The fare to ride the bus one way is $1 per person.
Getting Around Memphis
Below are tips on how to get around to all the attractions during your stay in Memphis.
Renting a Car
May tourists simply hire a car on arrival and use this as their method of getting around town. Car rental can be reasonably affordable and most hotels have parking as do most attractions you're likely to visit.
If you're flying into Memphis, the airport can be the best place to pick up your car rental.
Ride Sharing
If you don't want the hassle of having a vehicle while in Memphis, then another option is to use ridesharing apps such as Uber or Lyft. While we were in Memphis, this is mostly how we got around, or we walked where we could. It was super easy to use and we never waited more than 5 to 10 minutes for a ride.
You will need to rely on taxis or ride share during the evenings anyway as public transport doesn't operate after 6 pm, although the trolley operates until 12 am.
Public Transport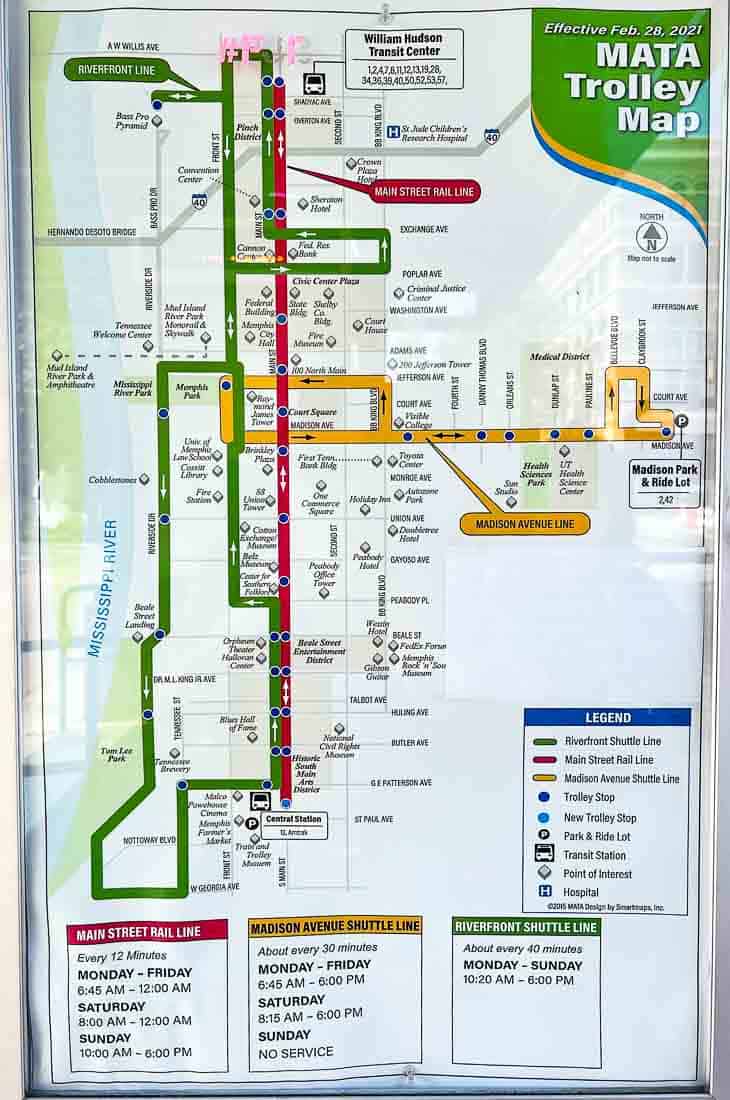 The good news is that public transport is cheap and reasonably efficient. Supplied by The Memphis Area Transit Authority (MATA), public transport consists of bus routes and trolley lines.
There are three main lines that are ideal for those getting around downtown Memphis. These routes pass popular tourist attractions such as the Main Street trolley line (every 12 minutes), the Madison Avenue Shuttle Line(every 30 minutes) and the Riverfront Shuttle Line (every 40 minutes).
These shuttles run from around 6.45 am to 6 pm, while the trolley runs until 12 am – there is no public transport outside these times, so you'll need to use taxis or rideshare outside of these times.
There are other bus routes to get you further afield – these run roughly between 5 am and 7 pm. Routes can be long though – for example, a 15 minute car ride might be more than an hour by bus. Often it's just better to take a ride share.
Use the MATA website to plan your journey or I prefer to simply use Google Maps. When boarding a trolley or bus have the correct change to pay for your fare which is $1 for one way or $2 for an all day pass. You can also obtain 3 day passes for $9. Children under 5 travel for free.
Another great way to buy tickets is via the MATA GO901 mobile app. Download the app to your smartphone and you purchase fares here.
____________________________________________________________
We hope this guide to getting around Memphis has been helpful! To help plan your visit to Memphis we have a range of other guides including the best things to do in Memphis with kids, the best hotels for families in Memphis, where to eat in Memphis with kids, as well as a Memphis weekend itinerary guide.