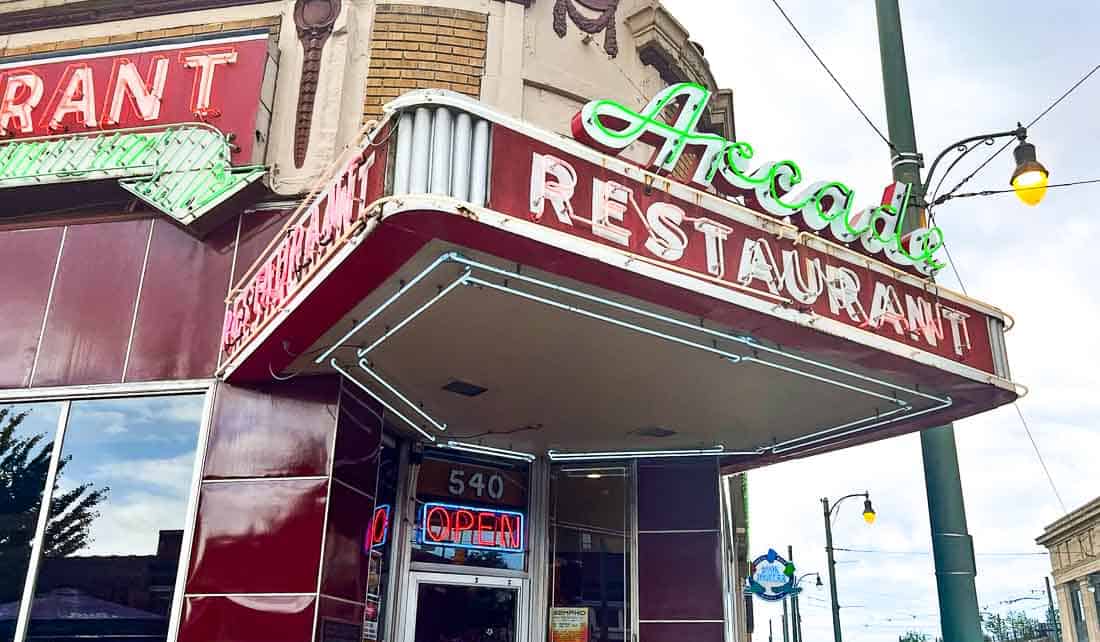 You've read our guide on all the awesome things to do in Memphis with the kids, and now you're after tips on the best kid friendly restaurants in Memphis. Well, you've come to the right place because this guide covers all our top picks for the top kid friendly restaurants Memphis offers families.
You really are in for a treat because there are some uber cool places to eat in Memphis with kids. And what I love about Memphis is there are so many awesome restaurants serving top quality food, which are also 100% family friendly – so you don't need to compromise on food, location or service – just to feed the kids!
So let's get started and find you all the incredible Memphis family restaurants.
Talk to other families about their tips on visiting Memphis and join our Thrifty Family Travel Facebook Group or get inspired with our Thrifty Family Travel Instagram Feed.
This post may contain compensated links. Please refer to my disclaimer here for more information.
Best Kid Friendly Restaurants in Memphis
Below in no particular order are our top picks for the best family friendly restaurants Memphis offers.
Central BBQ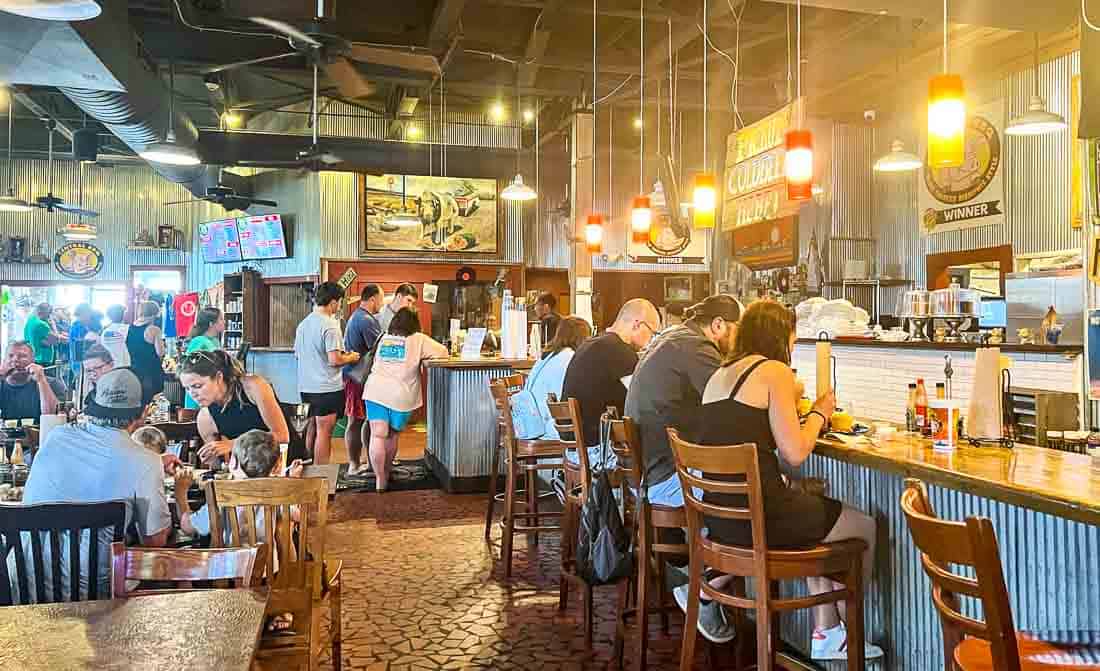 A must do while in Memphis is to eat barbeque. While there's a stack of different places you can try this official cuisine of Memphis, one of the famous Memphis restaurants for BBQ is Central BBQ.
Central BBQ has three locations in town Downtown, Midtown and East Memphis. We went to the Downtown location for lunch just after we had visited the National Civil Rights Musuem (it's basically across the road).
While the place is nothing flash the food is AMAZING!!!! Of course, we ordered the ribs, to share and Myla declared it the best thing she has ever eaten in her life and begged me to order more!
Other menu items include beef brisket plates, pork plates, chicken, nachos, hot wings and more. Prices are really, good too with meals starting at around $12. The ribs are more expensive starting at $27.50 but you can easily share them (although apparently not if you're sharing with Myla!). They also have kids meals starting at $6.
So if you're looking for one of the best restaurants in Memphis Downtown to try barbeque – I can't recommend Central BBQ enough. You won't be disappointed.
Location: 147 E Butler Ave, Memphis
Opening Hours: Daily from 11 am to 9 pm
Arcade Restaurant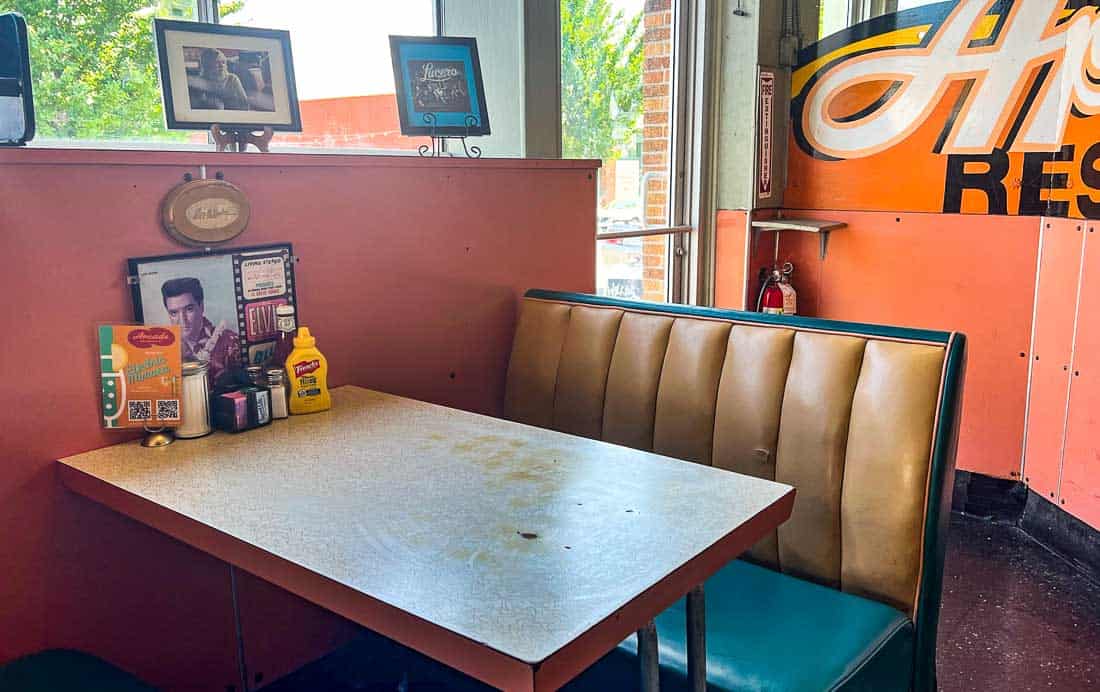 Another one of the more famous restaurants in Memphis is the Arcade Restaurant. Opened in 1919 – not only is this Memphis' oldest diner in town – but it was also Elvis' favourite place to eat!
The Arcade Restaurant is a 1950s diner style and serves breakfast and lunch. Proportion sizes are generous and popular menu items include a southern style breakfast of breakfast casserole, biscuits, gravy and country fried steak with eggs. Lunch includes salads, sandwiches, pizza and the famous fried peanut butter and banana sandwich. Meals are around $10 to $13.
For the movie buffs, you might even recognise the Arcade Restaurant from movies such as Walk the Line, The Client and Great Balls of Fire.
If you're lucky – you can even sit in Elvis' favourite booth – just ask the waitresses if it's available. The booth is at the back near the exit and a glass mirror. The story goes, Elvis use to sit here facing the mirror so he could make a quick getaway if too many fans came in the other way.
We had breakfast here one morning and look it was nothing special, although Myla did say her pancakes were very yummy. The place was packed when we went but the service was fast. So while I don't recommend you come here for awesome food, it's certainly worth visiting at least once for its place in history.
Location: 540 S Main Street, Memphis
Opening Hours: Daily from 7 am to 3 pm
BB Kings Blues Bar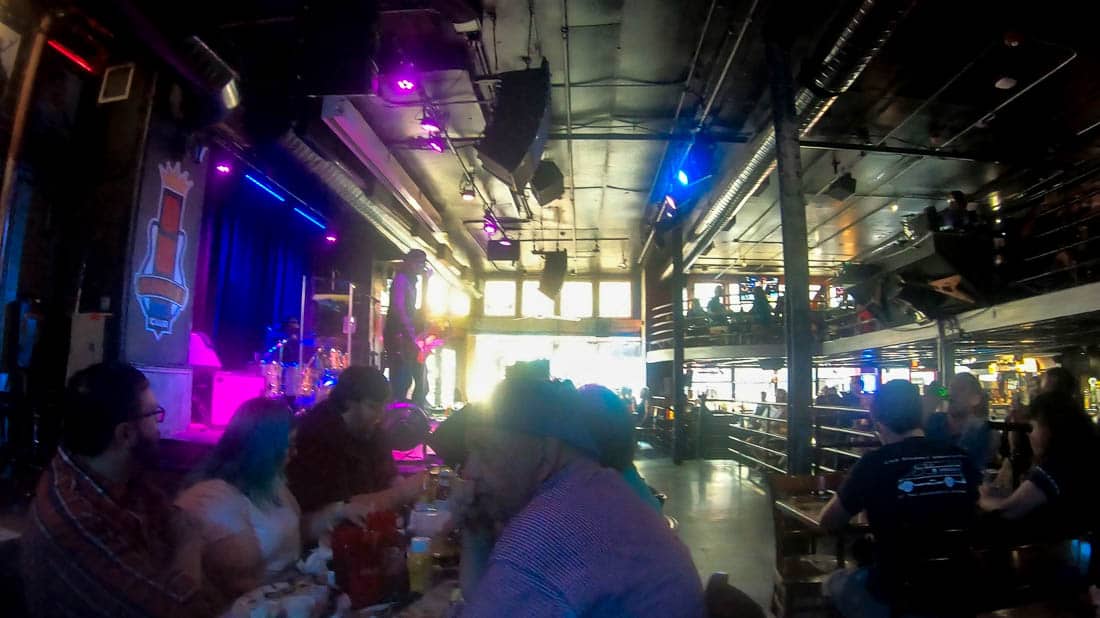 If you're after fun places to eat in Memphis for kids and parents alike – then you absolutely cannot go past the BB Kings Blue Bar. This is the best place to eat in Memphis not only for a great meal but also to hear the blues, soul, and rock 'n' roll Memphis is so famous for – AND it's absolutely family friendly!
BB Kings is open for lunch and dinner with live music generally starting from the early afternoon. When a band is playing there is a $10 per adult cover charge – but believe me this is worth every penny!!
The menu is pretty diverse with all your Memphis favourites including barbecue, southern fried chicken, creole catfish and something called a sausage and cheese platter which I was told I must have. So I did and let me say it was different! Meals are around $20.
There's also a kids menu with the usual suspects with meals coming with fries, a drink and ice cream for $9.
But forget the food – the live music is really what makes this one of the fun places for kids to eat in Memphis! On the evening we visited Memphis Jones was playing.
I was a bit nervous Myla wouldn't enjoy it, knowing she wasn't that familiar with Memphis music. But she loved every minute of it – so much so that she asked every night we were in Memphis if we could go back to BB Kings!
The evening we visited, we went around 4 pm and got straight in. We did go back another night around 7 pm and there was a massive line up so we skipped it. So when visiting with kids, I'd recommend going early afternoon/evening.
So if you want the best Memphis restaurant where you can enjoy a great meal and listen to great music – then do not miss BB Kings!
Location: 143 Beale St, Memphis
Opening Hours: Daily from 11 am to late
By the Brewery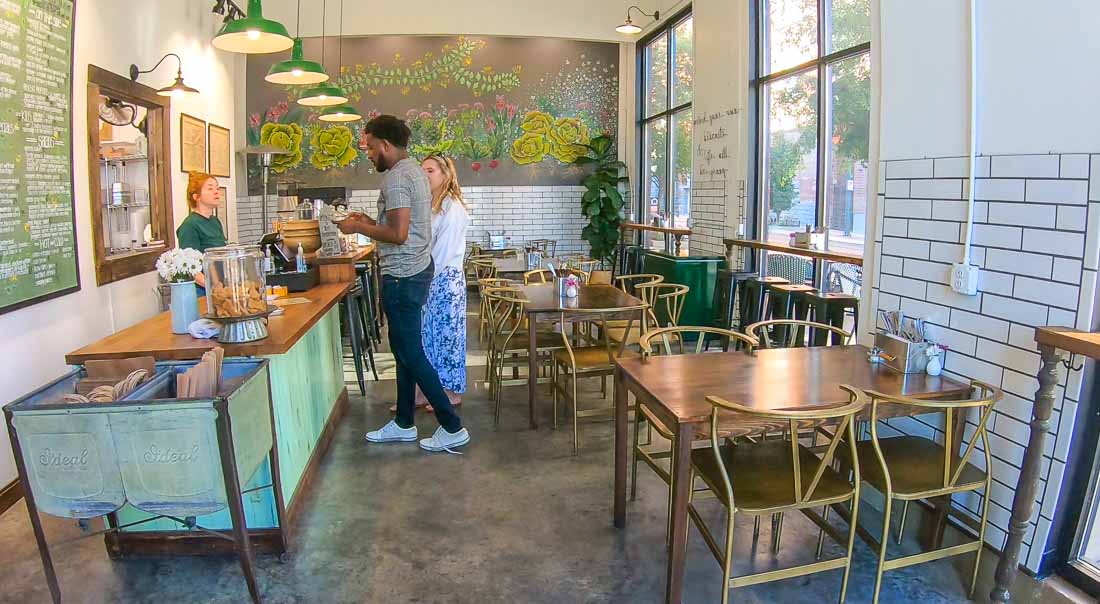 Another one of the best places to eat in Memphis for breakfast or lunch is By the Brewery. Given its location, it's the perfect place if you're looking for somewhere to eat before or after visiting the National Civil Rights Musuem.
As the name suggests, the restaurant is by the historic Tennessee Brewery – which has now been converted into a lovely apartment building. You're also just a short stroll from the Bluff Walk, which is the perfect place to take the kids before or after to burn off some energy.
In terms of food, they have some great house made biscuit breakfast dishes piled with crispy fried chicken or chilli spiced brisket, as well as some healthier options like a yoghurt bowl or fresh fruit. I opted for a BLT biscuit which was topped with bacon, potato latke and tomato jam. It was the perfect proportion too.
For the kids, there's a choice of biscuits with chicken or biscuits with bacon and eggs and at $4 / $4.50 respectively – you're not going to be too upset if they don't eat it all.
They also serve lunch including Jewish favourites like matzo ball soup or the New Yorker (pastrami on rye). There is also a great range of classic deli style sandwiches, seasonal salads and sweet treats.
Breakfast dishes are around $7 to $9, while lunch items are around $10 to $13.
Location: 496 Tennessee Street, Memphis
Opening Hours: Tuesday to Sunday from 8 am to 2 pm
Edge Alley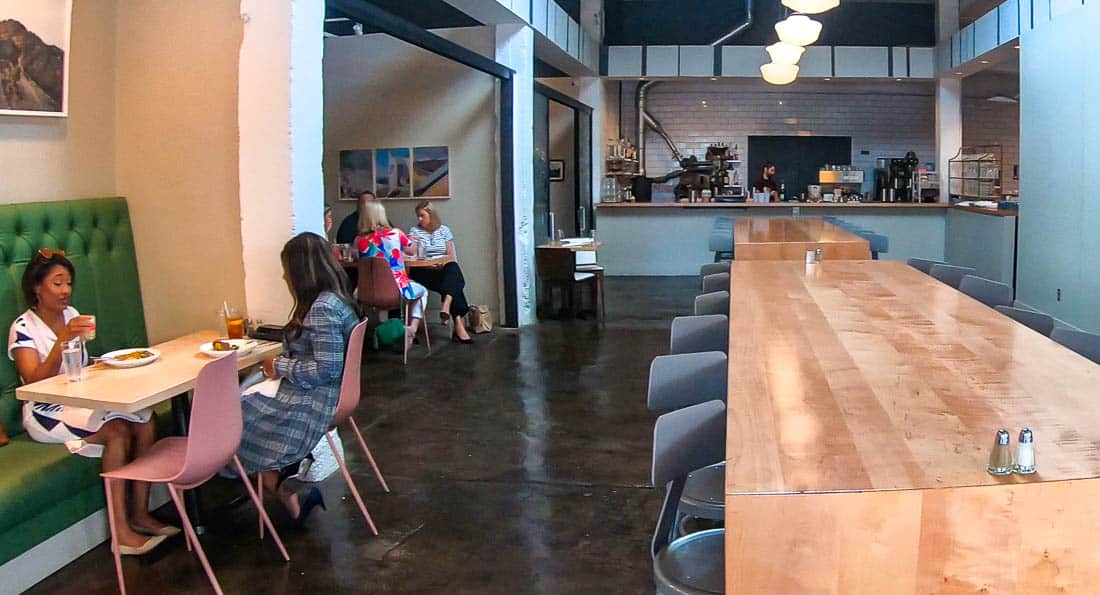 Aptly named, given its location in what's called the Edge District, Edge Alley is one of the good places to eat in Memphis for breakfast or lunch before or after your tour of Sun Studios.
We had a delicious lunch at Edge Alley where all meals are not only made from scratch but all beautifully plated almost like a piece of art. The Edge Alley menu includes a range of sandwiches and salads as well as a few plates perfect to share among the family. Meals range in price from $12 to $20.
They also have a scrumptious looking dessert menu – but we just didn't have the room to squeeze it in.
For our lunch, I choose a delicious chicken salad – as you can see it was presented so beautifully and so good too. While Myla had a burger adapted to her liking. They don't have a kid's menu, but they are more than happy to be flexible with their main menu and help you choose something your kids will eat.
Certainly put Edge Alley on your list of where to eat in Memphis with the kids.
Location: 600 Monroe Ave, Memphis
Opening Hours: Thursday and Friday 10.30 am to 3 pm and 5 pm to 9 pm | Saturday 9.30 am to 3 pm and 5 to 9 pm | Sunday 9.30 am to 3 pm
Fancy's Fish House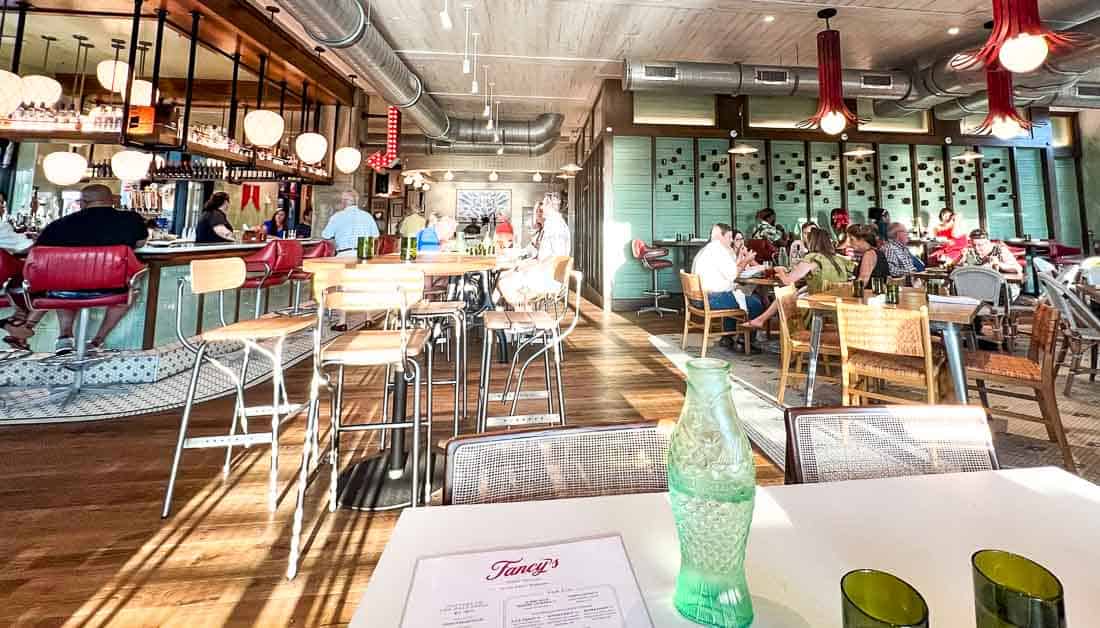 If the kids want the classic fish and chips but you want something a little more upscale, then one of the best restaurants Memphis has is Fancy's Fish House. Located along the Mississippi River – this is the perfect place to enjoy some freshly caught seafood in a gorgeous yet casual setting.
Fancy's Fish House is the perfect place for those seafood lovers with menu items including shrimp, crab, oysters, mussels, gumbo, fish or even steak for the non seafood eater. There's no kids menu, but no doubt they'll be happy with fish and chips, burgers or chicken tenders.
We're not that adventurous with our seafood so both Myla and I enjoyed a fantastic platter of Atlantic cod fish and chips – which I recall declaring at the time that it was the best fish I've ever eaten – it stands true even today!
Meals range from $17 to $40 – depending on if you want to have a burger or classic fish and chips, or take it up a notch with a chef inspired seafood dinner.
I'd recommend having dinner at Fancy's Fish House just after you've been on a Mississippi River Cruise, as where you disembark from the boat is just a short walk to the restaurant. And do make a reservation, as this is one of the more popular top Memphis restaurants.
Location: 1 Doctor M.L.K. Jr Ave #101, Memphis
Opening Hours: Daily from 4 pm to 9 pm Sunday to Thursday and 10 pm Friday and Saturday
Curfew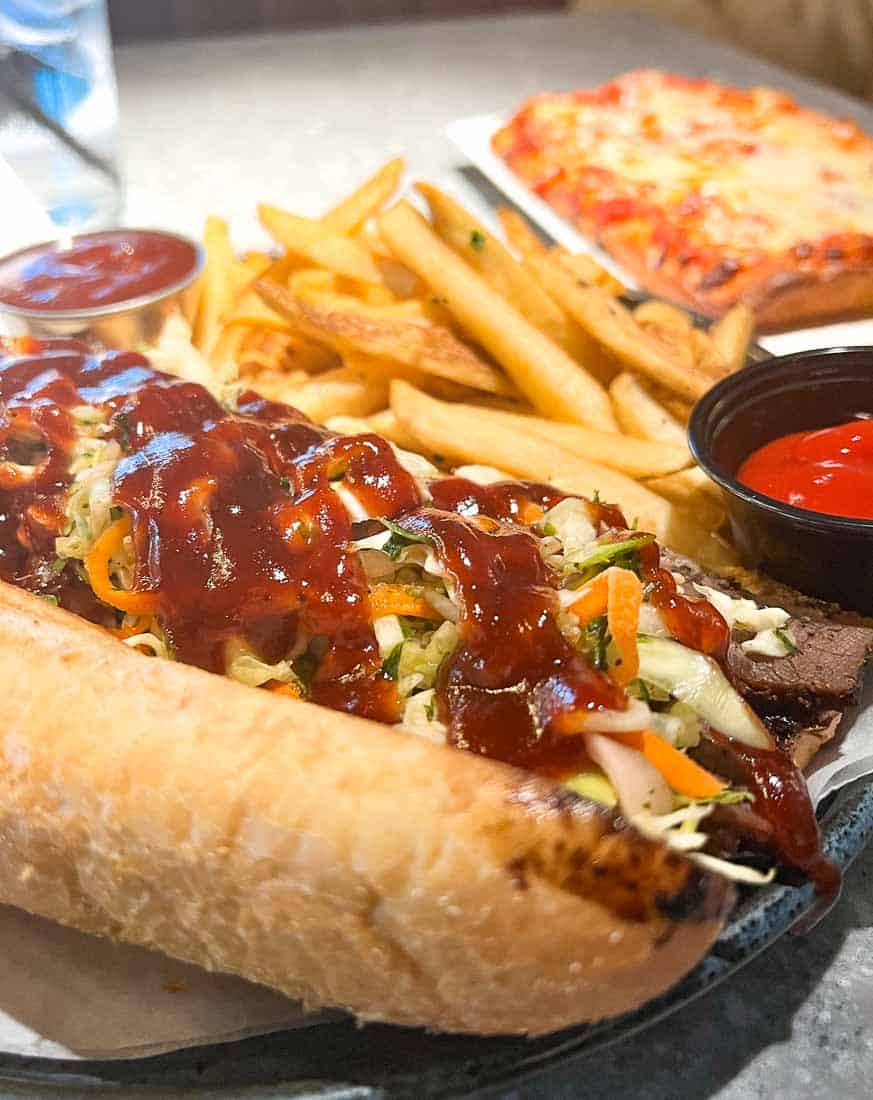 Curfew is another one of the best places to eat in Downtown Memphis, particularly if you're wanting a classic pub style menu but wanting a more classy vibe. Located at the bottom of the Canopy Memphis Hotel, Curfew has a modern feel with funky decor, yet its comfy booths are perfect for a casual family meal.
Here you'll find all the usual pub classics such as pizza, salads, beef, fish and pasta, but with a Memphis flavour. For example, I ordered the BBQ brisket sandwich which of course came beautifully smoked and topped with cider slaw – it was delicious! Main meals range in price from $22 to $40 plus if you're wanting something a little fancier.
There isn't a kid's menu at Curfew and Myla was in a fussy mood at the time saying she didn't like anything on the menu. But I'm pleased to say our waitress was more than happy to request the chef to make a pizza to her liking. Like most pubs, servings were generous, so it's worthwhile considering getting the kids something to share.
While we had dinner at Curfew, they are also open for breakfast and lunch too. They have a great bar too if you're simply feeling like a drink before heading elsewhere.
Location:164 Union Ave, Memphis
Opening Hours: Daily from 7 am to 10 pm Monday to Thursday, to 11 pm Friday and Saturday and to 9 pm Thursday
Bishop Restaurant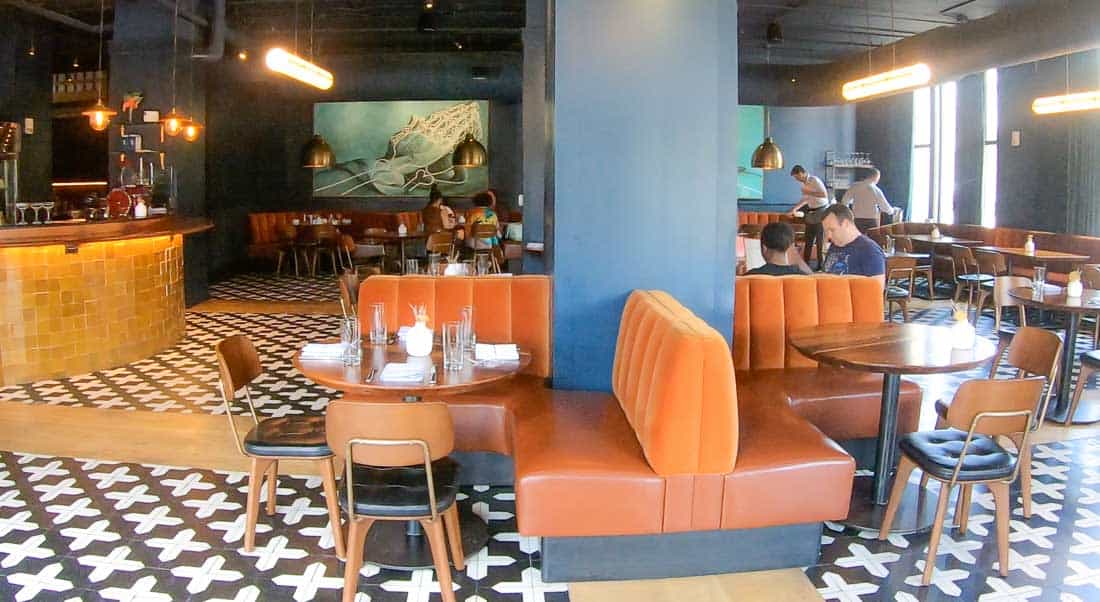 Bishop is a french style bistro located in the foyer of the uber cool Memphis Central Station. Despite its sleek and classy design, reminiscent of a bygone era, Bishop has a relaxed environment and like most nice restaurants in Memphis, families are more than welcome to come in for breakfast, lunch or dinner.
At the recommendation of our waiter, I ordered the croque madame and Myla had the fish sandwich- both of which came with shoestring fries. The waiter was right – our meals were delicious, so much so that unfortunately Myla even refused to let me try hers.
While Bishop doesn't have a kids menu, you'll no doubt find something on the menu for all family members. Other items on the brunch menu include biscuit dishes with chicken or sausage and eggs, burgers, steak and salad. Meals are from $9 to $25.
For families who love their seafood, you'll want to head to Bishops for dinner with menu items including mussels, octopus, clams and more. Although there are plenty of non seafood items on the menu too. Dinner menu items are from $20 to $35
Bishop Restaurant is a great spot for families to stop for a bite to eat before or after visiting the National Civil Rights Musuem.
Location: 545 S Main St #111, Memphis
Opening Hours: Daily from 7 am to 2 pm and then 4 pm to 10 pm
CIMAS Restaurant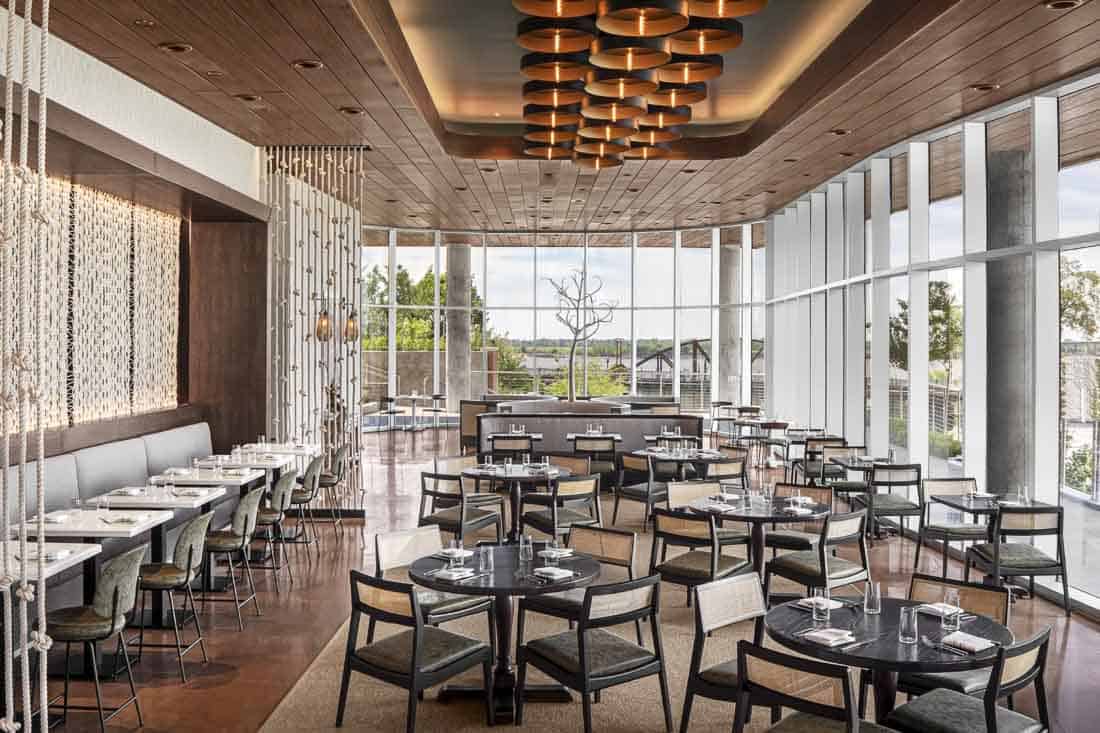 Image credit thanks to Christopher Villano
Located in the foyer of the Hyatt Centric, CIMAS Restaurant has prime position with floor to ceilings windows, providing fabulous views across the Mississippi River. They have a fabulous Latin American inspired menu which is right up my alley – perfect for those that like a little spice with their food.
Myla and I stopped here for breakfast one morning. I had breakfast tacos – filled with chorizo, scrambled eggs, potato and a concoction of spicy salsa- amazing! Myla stuck with a more traditional breakfast of bacon and eggs which can be cooked however you like them. Breakfast is well priced too with meals between $8 and $14 and there are a bunch of basic items like eggs, fries etc you can get the kids for just $4.50 each.
While we didn't eat again at CIMAS, I did check out their lunch and dinner menu and it looks amazing! It's one of the best places to eat Memphis offers for an early dinner with the kids as between 4 – 6 pm they have happy hour meals including nachos, burgers and loaded fries which are just $5-$13.
Their dinner menu includes seafood such as fish and scallops, or steak, burgers and quesadillas. Meal prices are between $20 and $35.
Location: At the Hyatt Centric – 33 Beale St, Memphis
Opening Hours: Breakfast – Monday to Friday 8 am to 11 am | Brunch weekends 8 am to 2 pm | Dinner Wednesday to Sunday 5 pm to 9 pm
Charlie Vergos Rendezvous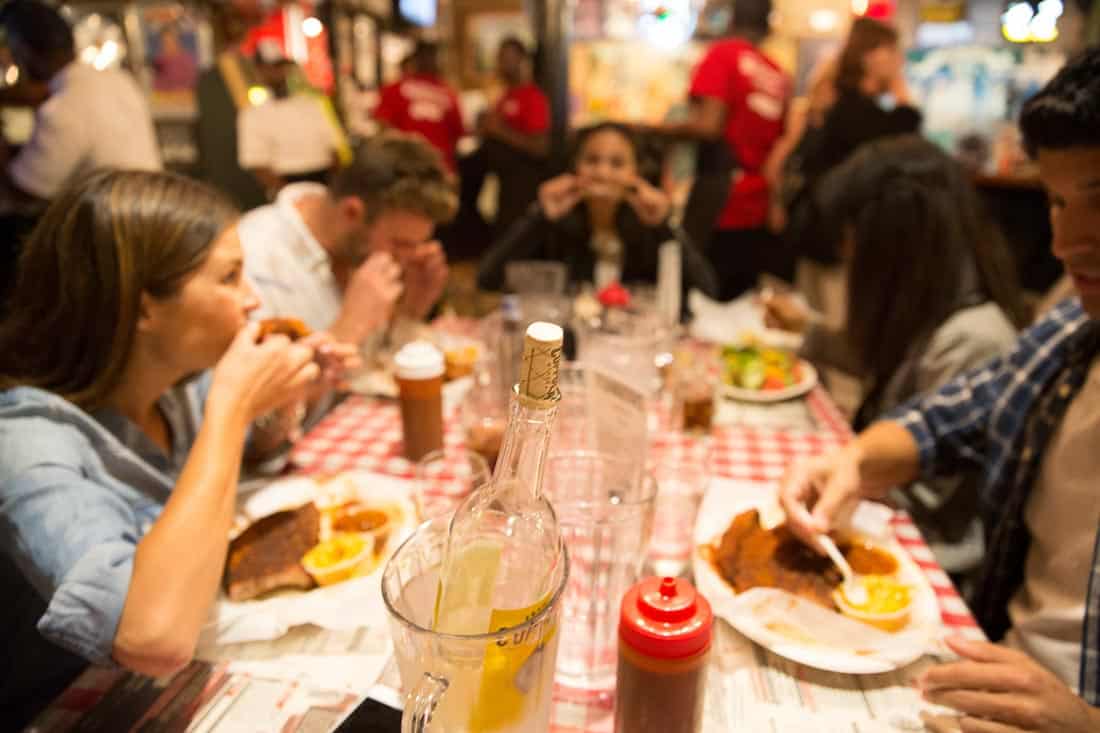 Image credit thanks to David Meany
Unfortunately, we didn't make it to Charlie Vergos Rendezvous during our recent visit to Memphis but it was recommended by several people as apparently, it is another one of the best Memphis restaurants for fabulous barbeque.
Rendezvous is famous for its unique dry rub ribs as opposed to most other places that serve their ribs with slashings of sauce. And while we didn't get to eat them ourselves, we did take home some of their dry rub spice and have used it ourselves to make some delicious ribs.
In addition to their barbeque ribs, other menu items include pork shoulder, beef brisket, lamb, chicken and shrimp. I was recommended their soaked sausage and cheese platter which is said to be a bit of a Memphis speciality.
Main meal prices are around $20 with kids' meals being all $6 and including a drink.
Location: 52 S 2nd St, Memphis
Opening Hours: Tuesday to Thursday 11 am to 9 pm | Friday and Saturday from 11 am to 10 pm
____________________________________________________________
We hope this guide has got you excited to visit Memphis! To help plan your visit to Memphis we have a range of other guides including the best things to do in Memphis with kids, the best hotels for families in Memphis, how to get around in Memphis, as well as a Memphis weekend itinerary guide.